We had been to Prime Time many times before, but this was the first time dining here while using the Disney Dining Plan. Being on the regular Dining Plan, this entitled us to have an entree, beverage (alcoholic or non-alcoholic), and dessert for 1 Table Service credit.
Though we did want to have one of our Prime Time favorites, the Peanut Butter & Jelly Milk Shake, and could have ordered it for one of our included beverages, we decided to wait and have it as one of our included desserts.
So instead we each chose something from Dad's Liquor Cabinet…
Here is what we ordered…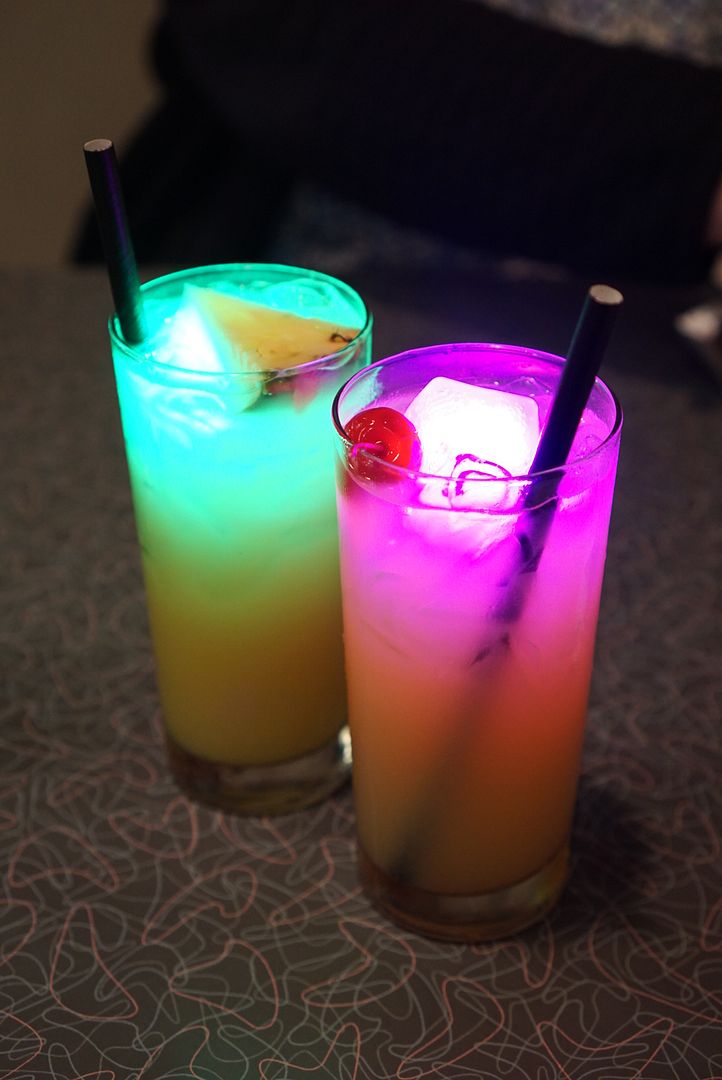 Magical Star Cocktail with X-Fusion Organic Mango and Passion Fruit Liqueur, Parrot Bay Coconut Rum, Pineapple Juice ($15.00) and the Mowie Wowie with Parrot Bay Coconut Rum, Melon Liqueur, Peach Schnapps, Orange Juice, and Pineapple Juice ($15.00)
Both of these were served with a souvenir multicolored glow cube, which was fun. They were also both very good. Plus at $15 each, they were a much better use of our included DDP beverage than a milkshake, which is priced at $9.00.
Now for our entree choices, which were selected from this menu…
Let's start with Andrew's choice…
Aunt Liz's Golden Fried Chicken served with Roasted Garlic Mashed Potatoes, Chicken Gravy, and Seasonal Vegetables (Corn) – $24.00
This came with 4 pieces of fried chicken (breast, wing, thigh, leg). We could have actually split this, as he prefers dark meat and I like white (really just the breast). And speaking of that, I have in the past been able to get this with just 2 chicken breasts instead of the 4 pieces. So I think you have some flexibility here with this entree. It certainly doesn't hurt to ask if you have a particular preference. Anyway, we both like the breading on Prime Time's chicken. The seasonings in the batter (I think includes some garlic powder and paprika) give the chicken a nice flavor. Andrew also enjoyed the sides. He liked the corn much better than the collard greens they used to serve with the fried chicken years ago.
As for me, my entree choice was the…
A Sampling of Mom's Favorite Recipes – Golden-fried Chicken, Fork Tender Pot Roast, and Traditional Meatloaf with all the fixings – $26.00
I'm not sure but I think this normally comes with a chicken thigh but I requested a breast. While the chicken was definitely my favorite of the three meats, I did also enjoy the pot roast, what little there was of it…
However, just like the last time I tried the meatloaf here, it was again not very good…
I did like the green beans and garlic mashed potatoes with gravy though. But the julienned carrots and celery which topped the roast beef were pretty much just flavorless garnish.
Now on to our included (with the Dining Plan) desserts. We followed through with our plan and got a Peanut Butter & Jelly Milk Shake ($9.00) for one of our desserts…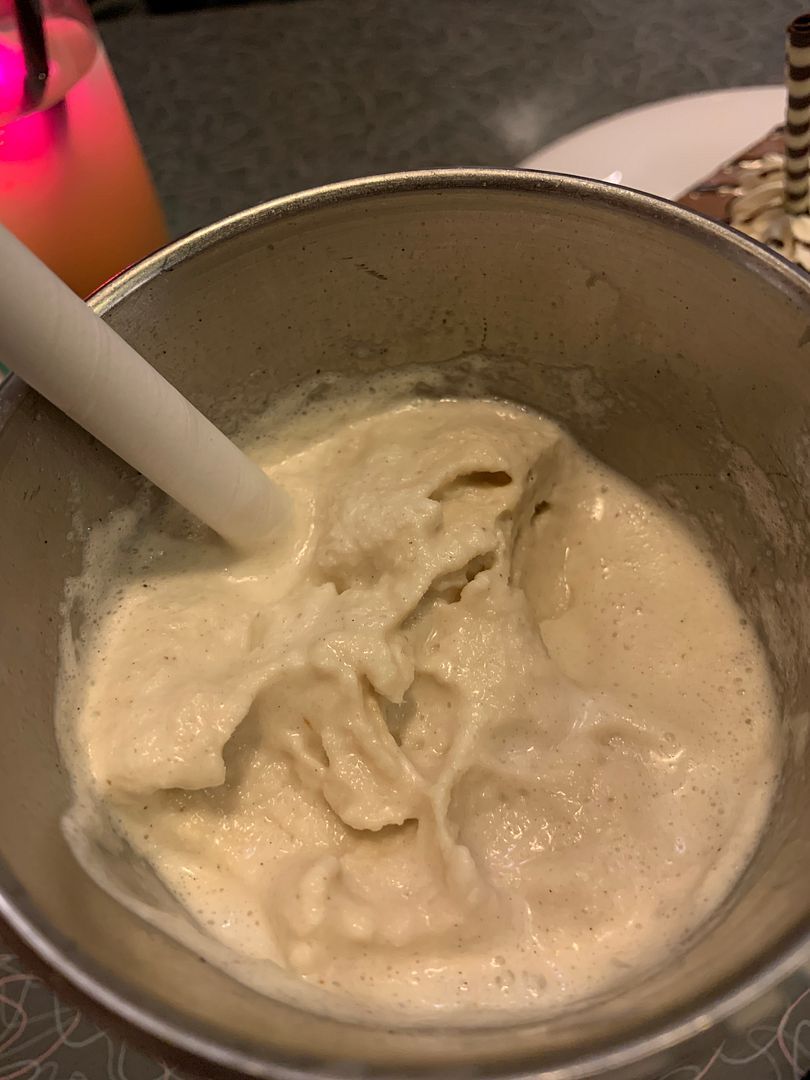 This was plenty big enough for us to share…
And as usual, it was DELICIOUS!!!
I've been able to make this milkshake at home, as the recipe is included in a Disney cookbook that my kids gave for Christmas a few years ago.
The simple recipe has just 4 ingredients…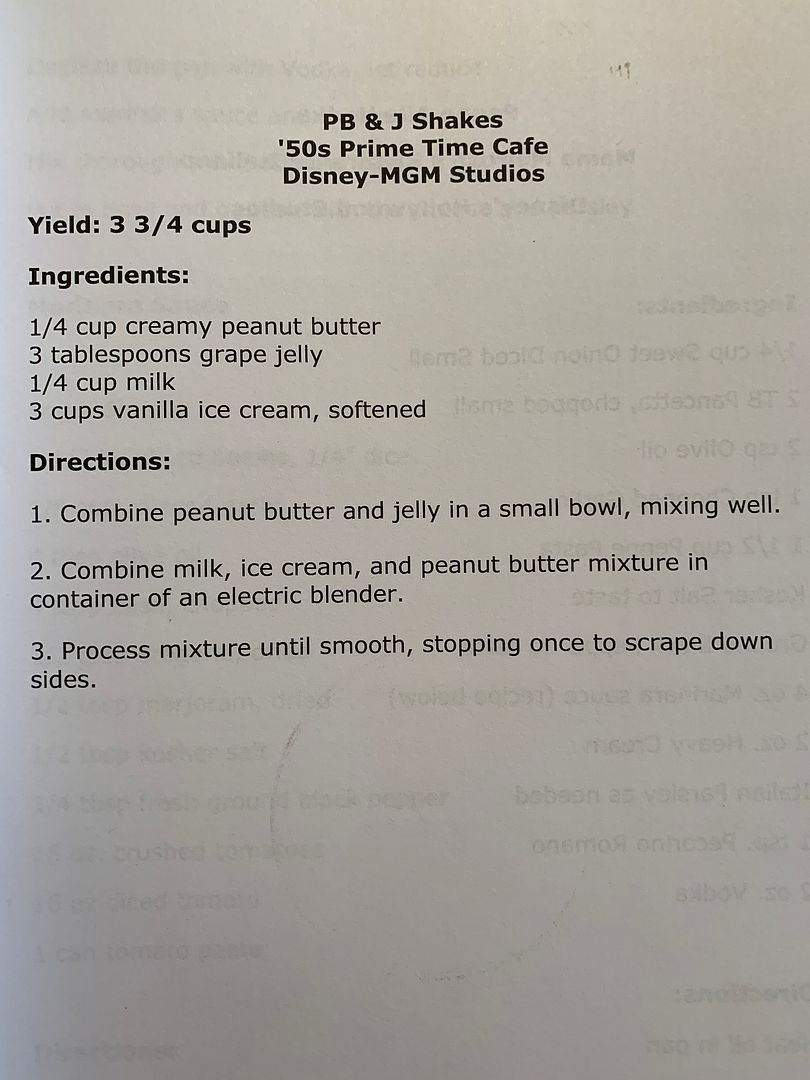 While the home version is good, it's not quite as good as when I have the PB & J shake at Prime Time. I think it probably has something to do with the atmosphere.
Anyway, having had this before, we knew it would be enough to satisfy both of us for dessert. But we were still entitled to another dessert with our Dining Plan. So we asked to see a Dessert menu to check out our options…
We decided that we wanted to order something that would travel well, as we planned to take the second dessert to go. This eliminated the ice cream sundae and the Mom's brownie and ice cream.
But this one sounded like it would be a winner…
Dad's Favorite Chocolate-Peanut Butter Layered Cake À la Mode – $10.00 (or $8.00 without the scoop of ice cream)
And a closer look…
Because I wanted to take photos of this dessert before it was boxed up so it would look its best, I didn't tell our server when I ordered it that we would be taking this dessert to go. He therefore took it upon himself to make this dessert a la mode (adding a scoop of ice cream) without asking first, which added $2 to our bill. This was covered by our Dining Plan so it only cost me the small amount of the additional tip. However, since we didn't eat the scoop of ice cream (we had plenty of ice cream with our milkshake) and of course we couldn't take it with us, it ended up going to waste.
But the cake (minus the ice cream and whipped cream) went into a box and we shared it for breakfast the next morning. Yep, we had chocolate cake for breakfast and had no regrets. It was DELICIOUS! Equally as delicious as the PB & J milkshake. It is going to be hard to choose between the two next time.
And so that just leaves the ratings and rankings. While Yelp reviewers have given 50's Prime Time Cafe an average rating of 3 1/2 stars, those on Trip Advisor have rated it 4 stars. I would agree with the higher rating of 4 stars. As for the Trip Advisor ranking, Prime Time currently ranks #267 of the approximately 2,500 Orlando area restaurants reviewed there (so just short of the top 10%). Narrowing this down to just the approx. 275 Disney World area restaurants, Prime Time ranks #80, so in the top 30%.
2 Disney Dining Plan Table Service Credits Used – $105.44 (including tax)