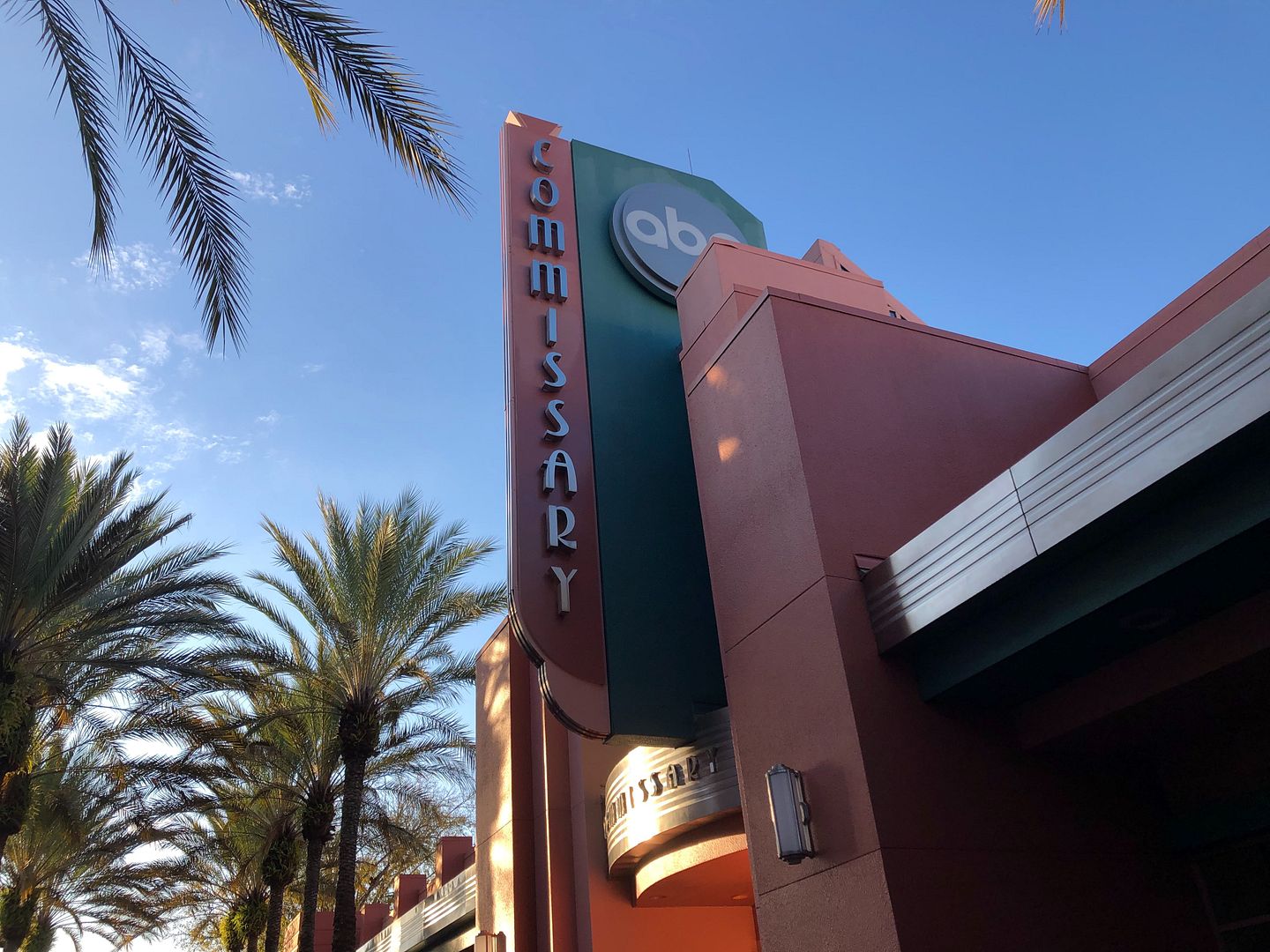 I was surprised to discover during our short March trip that ABC Commissary served breakfast.  After our trip though I read that it had just started doing so on March 1, just 3 days before we had breakfast there.  So we stumbled upon a almost brand new dining experience at Hollywood Studios.  Was that a good thing or not so good thing?  Read on to find out.
I think my family might have eaten at ABC Commissary once, years ago.  It was so long ago that I can't remember what we had or if we liked it.  The fact that we haven't ever been back there makes me believe that it wasn't anything special.  It was likely not bad enough to make it memorable but not good enough to warrant eating there again when there are other restaurants at Hollywood Studios that we enjoy.  However, most of those places are not open for breakfast.  But now ABC Commissary is a conveniently located, indoor quick service restaurant with air conditioning and plenty of seating, which offers breakfast.
If it also serves decent food then that could be a game changer.
So let's take a look at their Breakfast menu…
Although there were no prices listed on this menu that was posted outside of the restaurant, the prices turned out to be reasonable…for theme park food, anyway.  The prices ranged from $8.99 to $10.99 for the adult entrees and $5.99 to $6.99 for the Kids' meals.
And regarding their menu, I would also like to thank whoever decided to include some more trendy breakfast options rather than sticking to the usual options of the Breakfast Platter, Breakfast Sandwich, Mickey Waffles, etc. that are available at most Disney World quick service restaurants.  Don't get me wrong, I love Mickey waffles, but it's nice to have other options.  The only thing missing from this trendy breakfast menu is Eggs Benedict, so I wouldn't be surprised to see it added at some point in the future.
So anyway, there were 3 things on the Adult menu that interested me…the Chilaquiles, Smashed Avocado Toast and Egg, and Fried Chicken and Cinnamon-Sugar French Doughnuts.  I was thinking that I would get one of these and Andrew another.  However, Andrew said he was wasn't that hungry and wanted to share.  Wanting to try more than one thing from their menu, I proposed another option.  That other option was to get both of the Kids' meals that they offer, as they are usually smaller portion sizes.  He agreed to my plan, so we ordered both of the Kids' meals…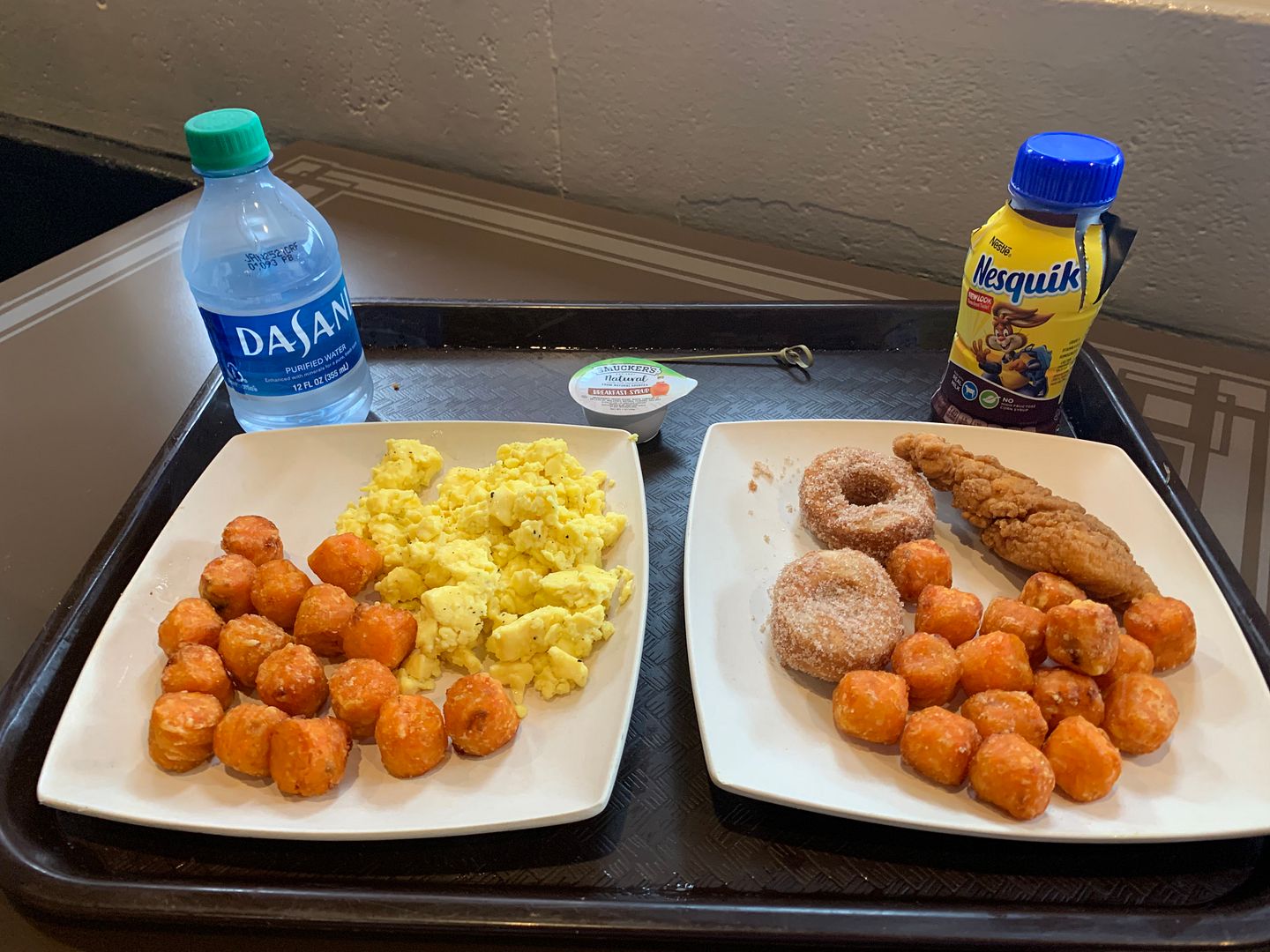 Scrambled Eggs and Sweet Potato Bites ($5.99) and Fried Chicken and Cinnamon-Sugar French Doughnuts ($6.99)
Included with each Kids' meal is your choice of a small milk or water.  I chose the Dasani water and Andrew got the Nesquik chocolate milk.  I'm thinking these would have each cost around $2 – $3 if purchased, so this makes the Kids' meals an even better value.
Now on to the food, which was served on reusable plates rather than disposable ones, which was nice.  They also had reusable flatware rather than plastic, another plus…
Let's begin with the Scrambled Eggs and Sweet Potato Bites…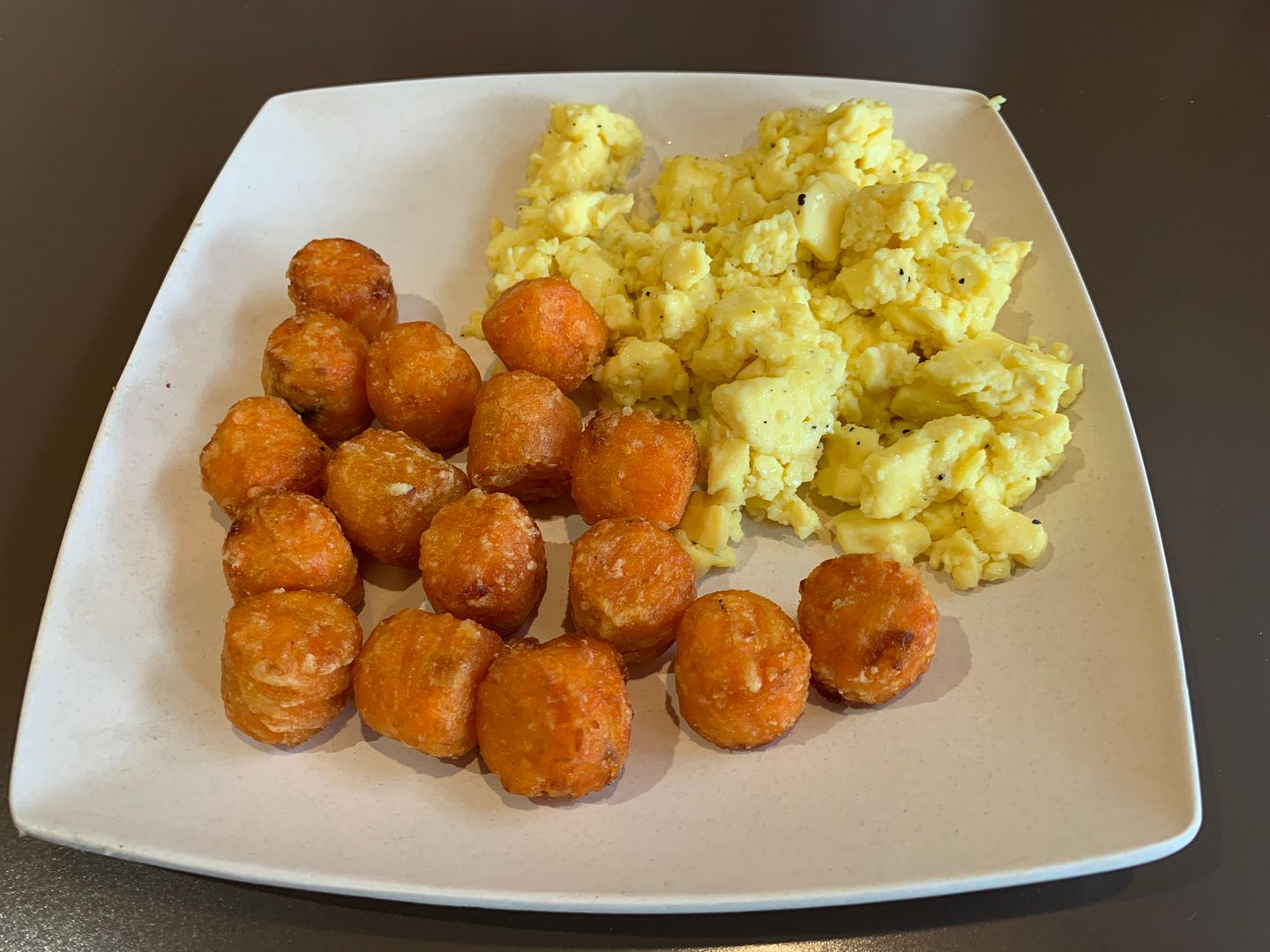 A pretty good size portion (especially for a Kids' meal) of Sweet Potato Bites was included with both of the Kids' options…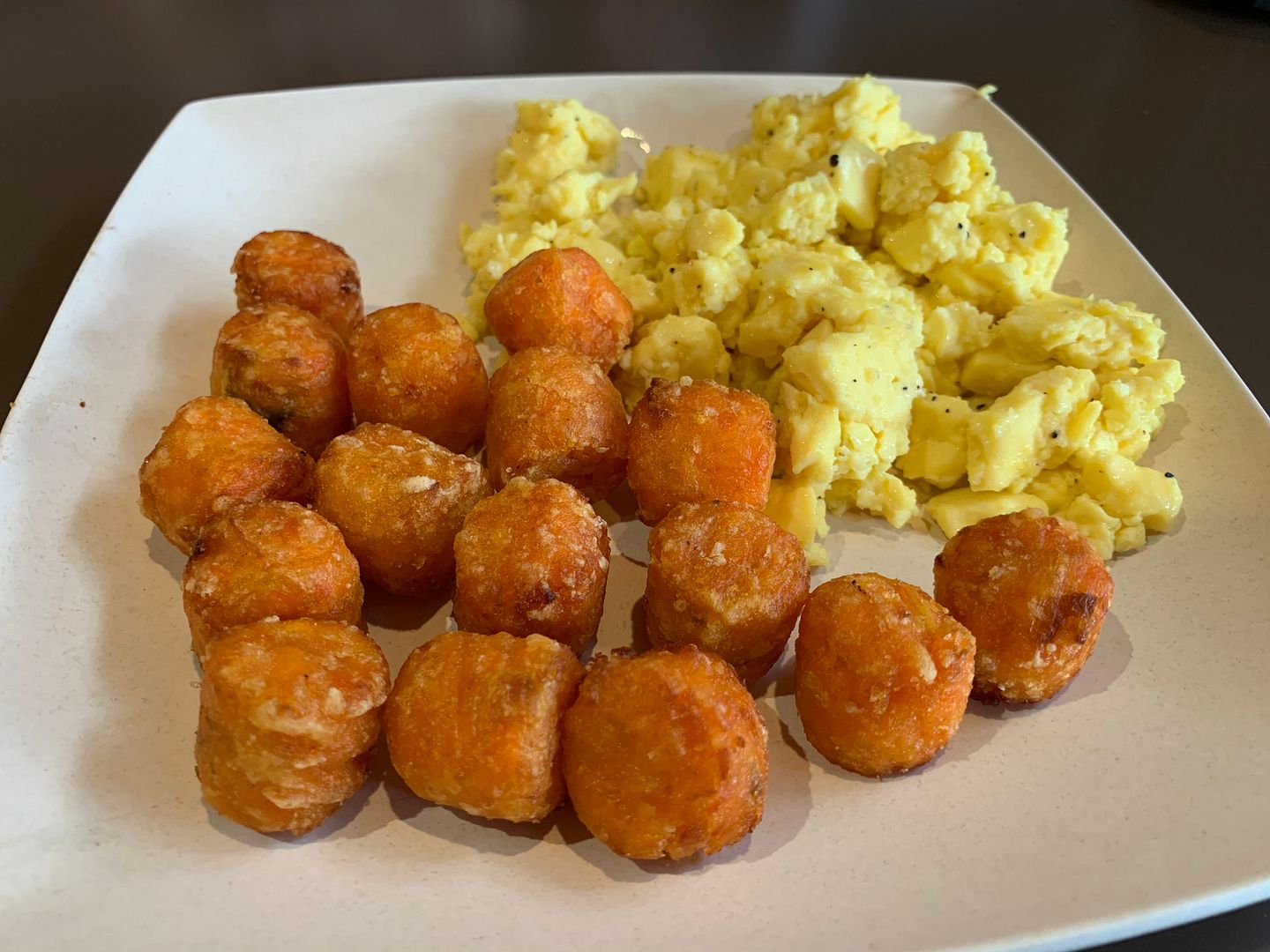 We both really liked these.  If you like sweet potatoes and tater tots then I bet you will like these too.  They were nice and crispy on the outside and soft and sweet on the inside.  Very tasty!
The Scrambled Eggs were also good…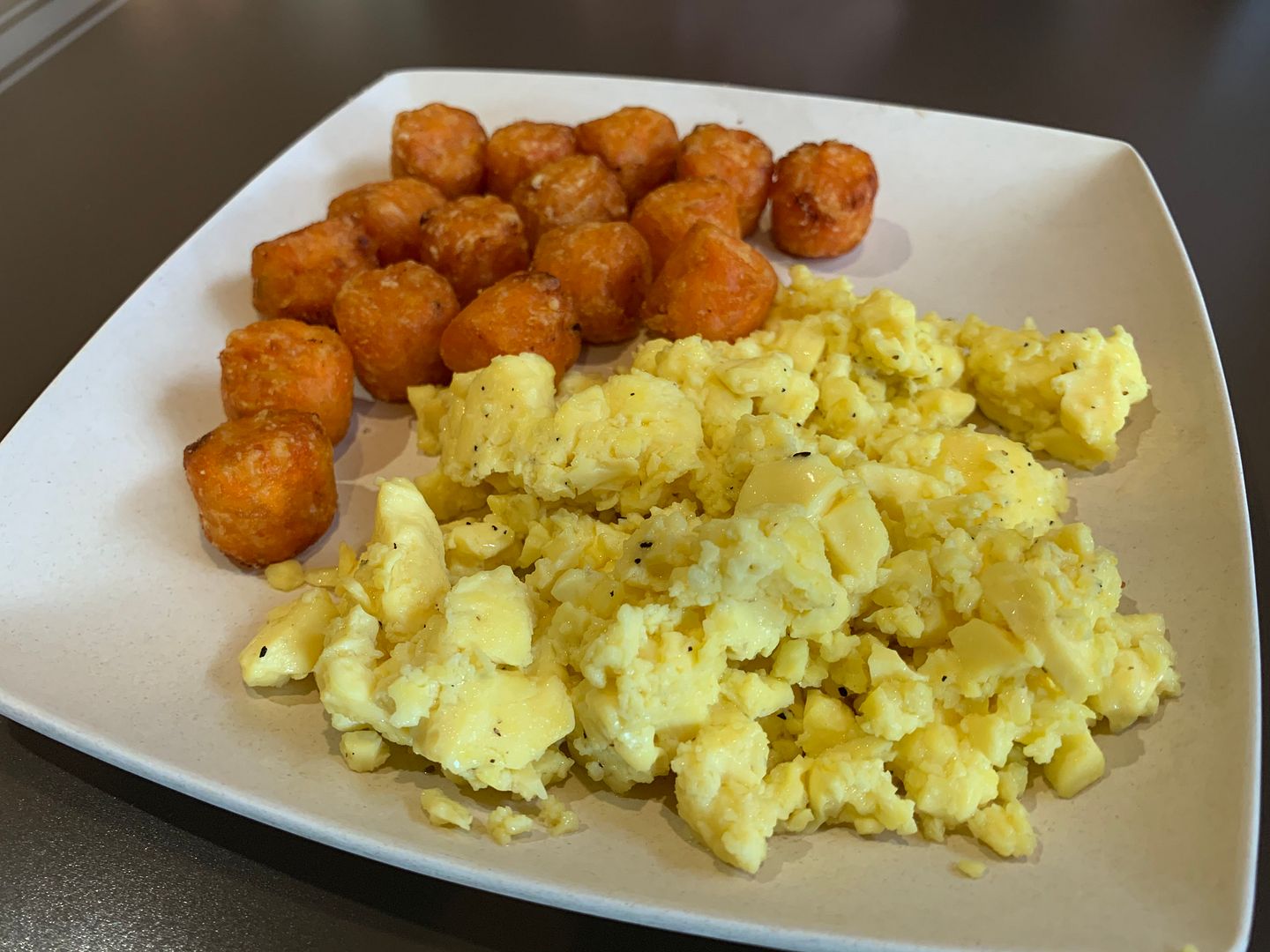 They were well-cooked and nicely seasoned with salt and pepper.  Again this was a pretty large portion size, I would say at least two eggs.
Next the Fried Chicken and Cinnamon-Sugar French Doughnuts…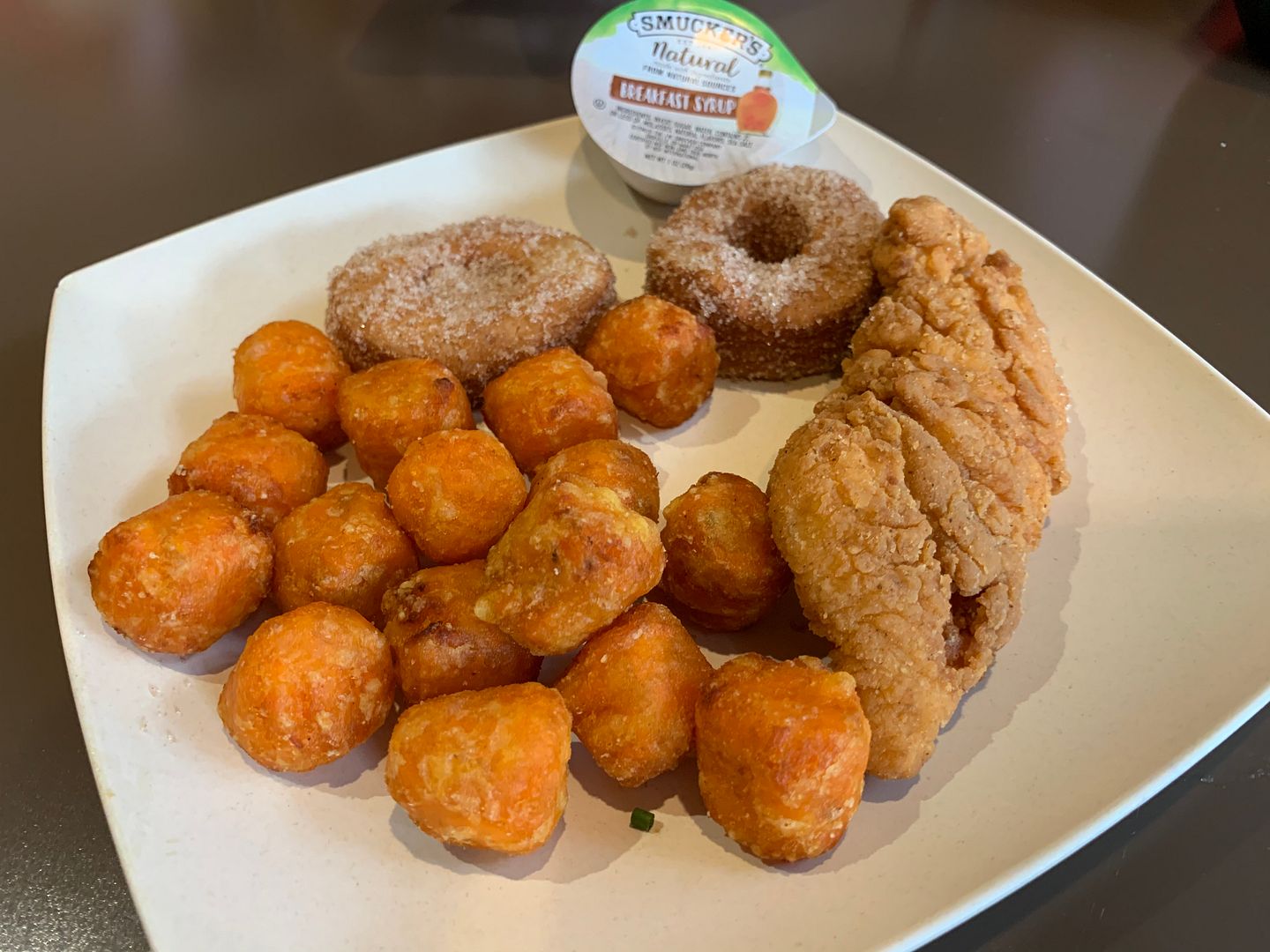 Again the yummy Sweet Potato Bites…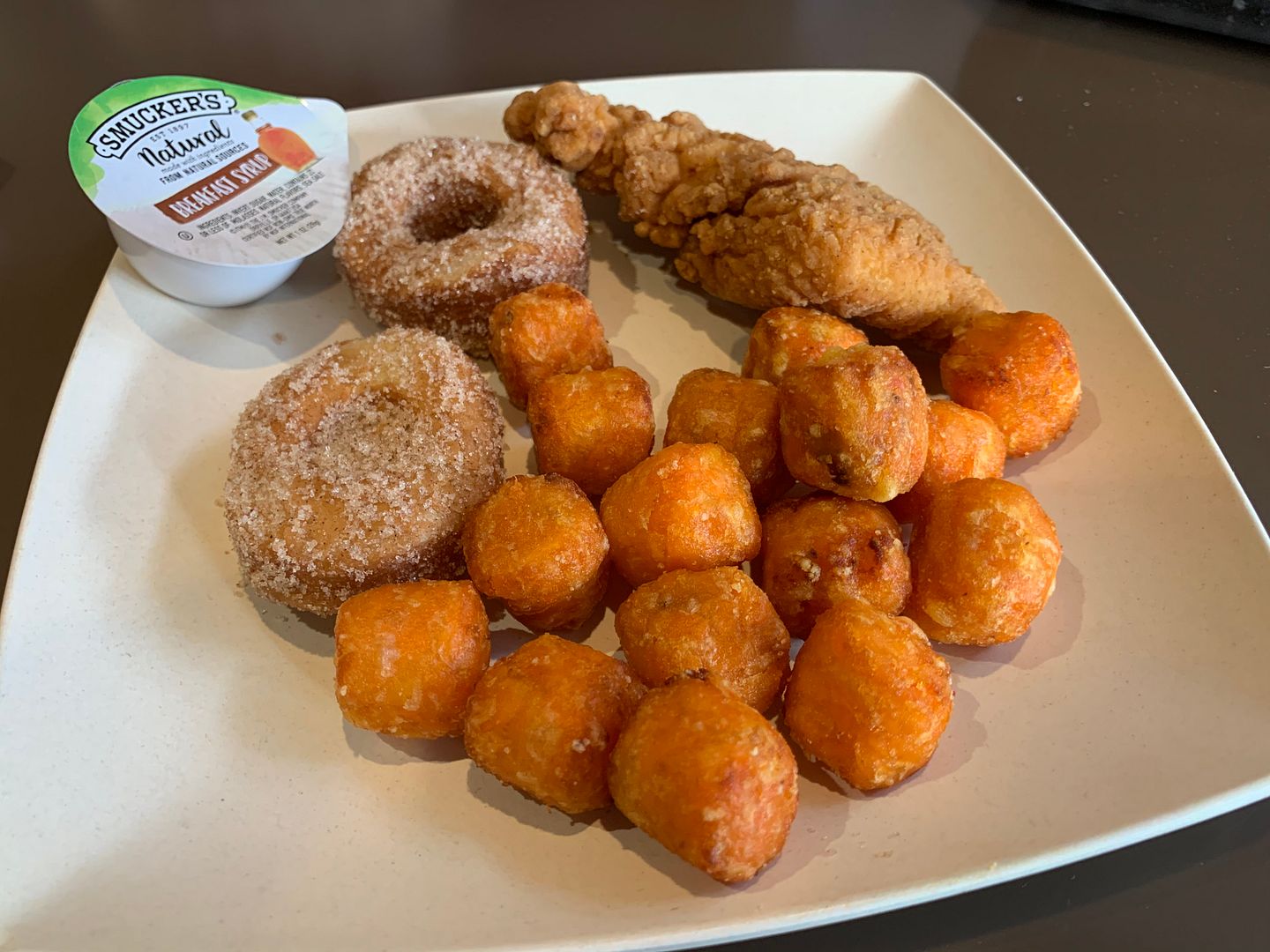 The Cinnamon-Sugar French Doughnuts turned out to be mini-Cronuts (croissant-doughnut).  They were covered with a lot of cinnamon-sugar so very sweet but tasty.  As for the Fried Chicken part of this meal…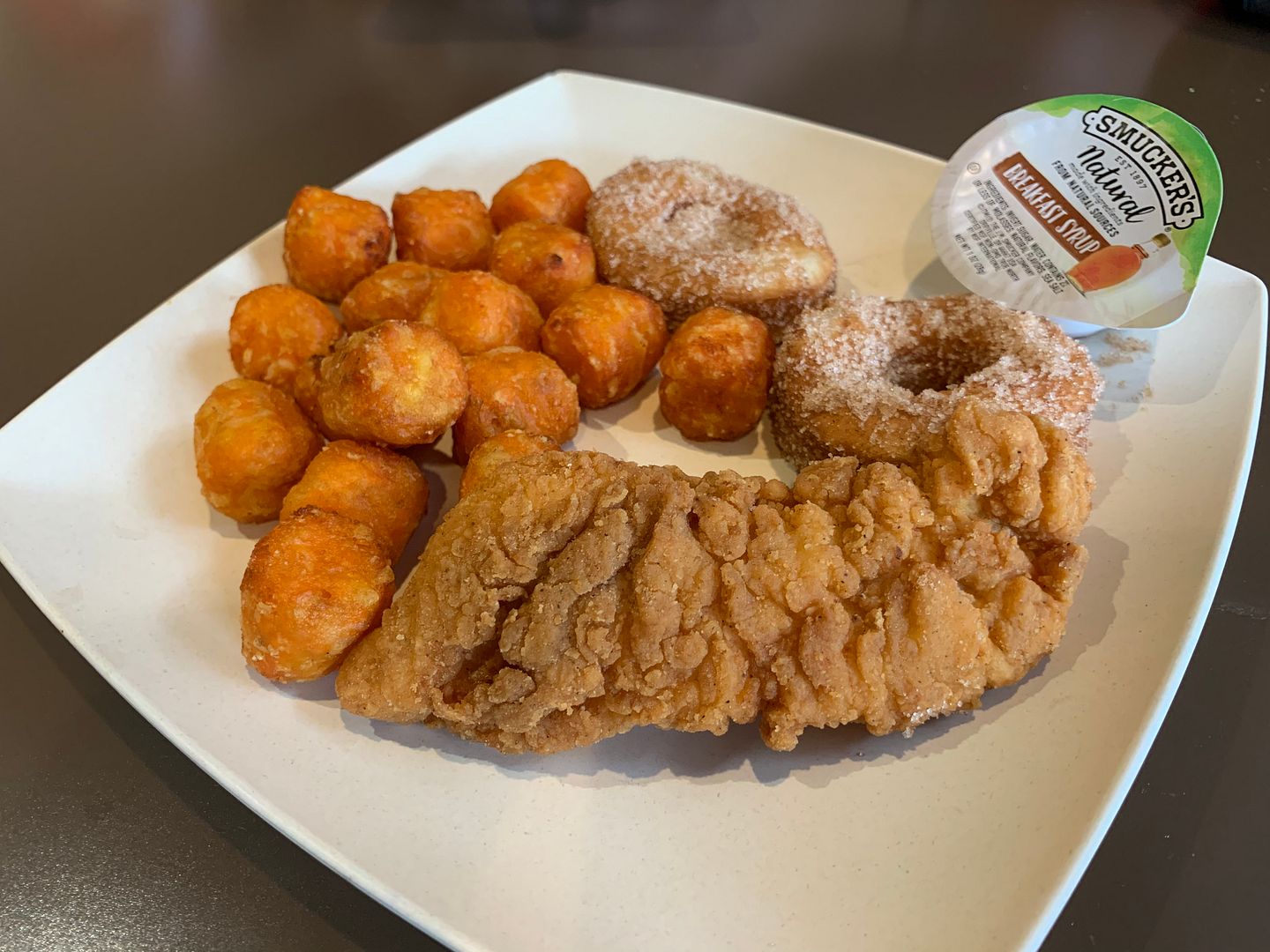 There was one chicken breast strip (I think you get two strips with the Adult meal).  In a Disney Food Blog review that I read they said that their (Adult version) chicken strips had a bit of spice to them but our chicken strip was not spicy at all.  So perhaps because our's was a Kids' meal, we had a plain fried chicken strip.  It was good, but nothing out of the ordinary.  We tried dunking our tater tots in the breakfast syrup that came with this meal.  They were good (and extra sweet) with the syrup but they were also good (and naturally sweet) without the syrup.  So I guess it depends on how much of a sweet tooth you have.
Overall I was pleasantly surprised by our unplanned breakfast at ABC Commissary and was happy that we had stumbled upon it.  Based on this first experience there I would give ABC Commissary a rating of 4.  However, our opinion of it seems to be better than most others, as Trip Advisor reviewers have given it 3 1/2 stars and on Yelp it only received 3 stars.  But keep it mind that since breakfast is a new thing there (was only available for a few weeks before the park closed due to COVID-19) it is likely that there are few breakfast reviews on either Yelp or Trip Advisor.