We checked in about 15 minutes early for our 9:20 breakfast reservation.  We had pre-ordered our meal online earlier that morning so at the outside check-in desk we were given a rose and then allowed to by-pass the room inside where there are ordering screens.  Instead we went directly to the cashier.  It was here that I decided to change my pre-order from coffee to a bottle of Dasani water as it was already pretty warm outside.  We used 2 Quick Service Dining Plan Credits, so had no out of pocket expense other than the (optional) tip that we left on our table, which was just a couple of dollars.
We then were allowed to choose our own table.  Of the 3 dining rooms, the Castle Gallery (off to the right side of the Ballroom, which is the main dining room) was by far the least crowded plus it had the best lighting for photos.  We sat at a 2-top table at the base of the 7-foot tall music box of Beauty and The Beast, which spins and plays music.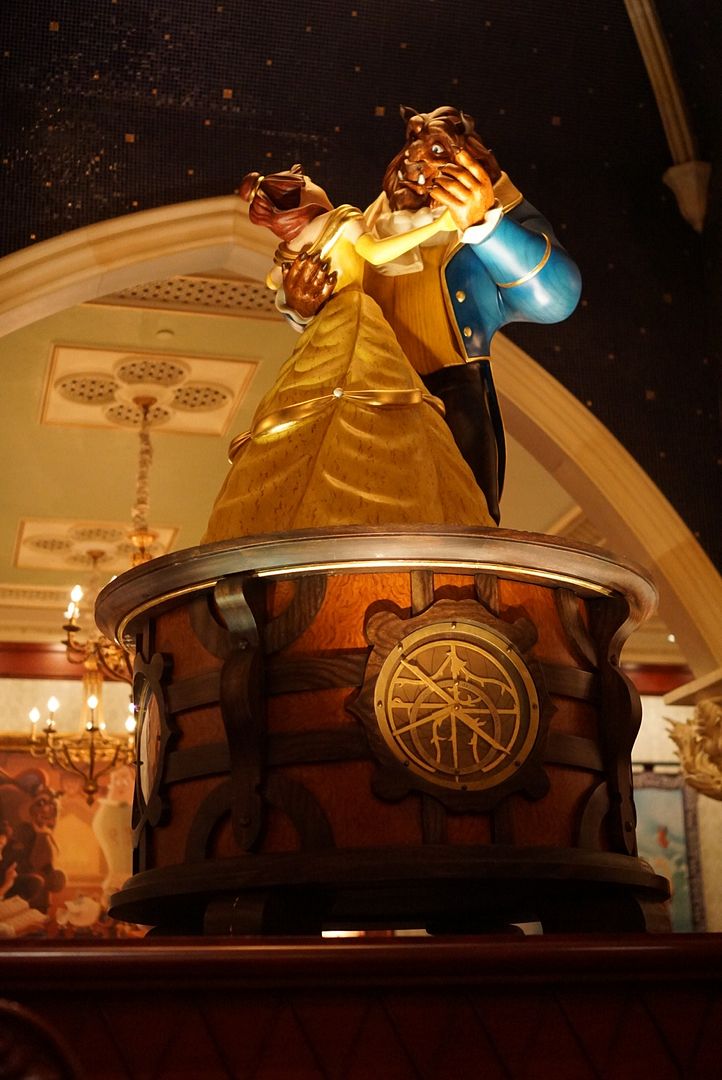 On the walls are pictures which depict scenes from the movie…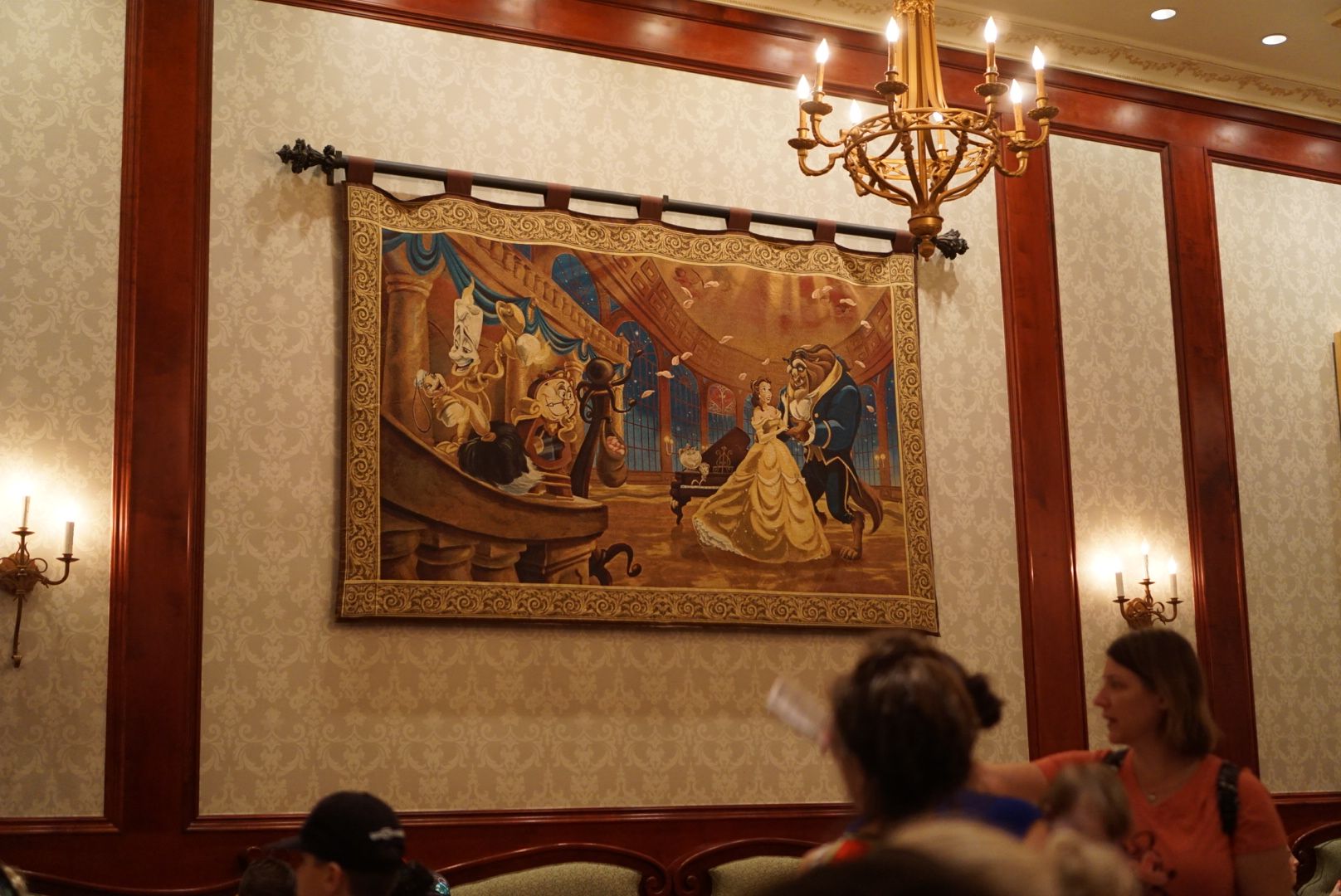 A server stopped by our table to look at our receipt and then told us that my son could go to the self-serve beverage station in the corner of the room to get the hot chocolate that he had ordered for his (included with the meal) non-alcoholic beverage.  He came back though with both hot chocolate and orange juice plus a cup of water for me, as everything at the beverage station was self-serve and free for the taking.  The only thing not there was my bottle of water, which was delivered to our table with our food.  I ended up not opening it and saving it for later in the morning when we were hot and thirsty.
Soon our alcoholic beverages (included with the Dining Plan) were delivered to the table…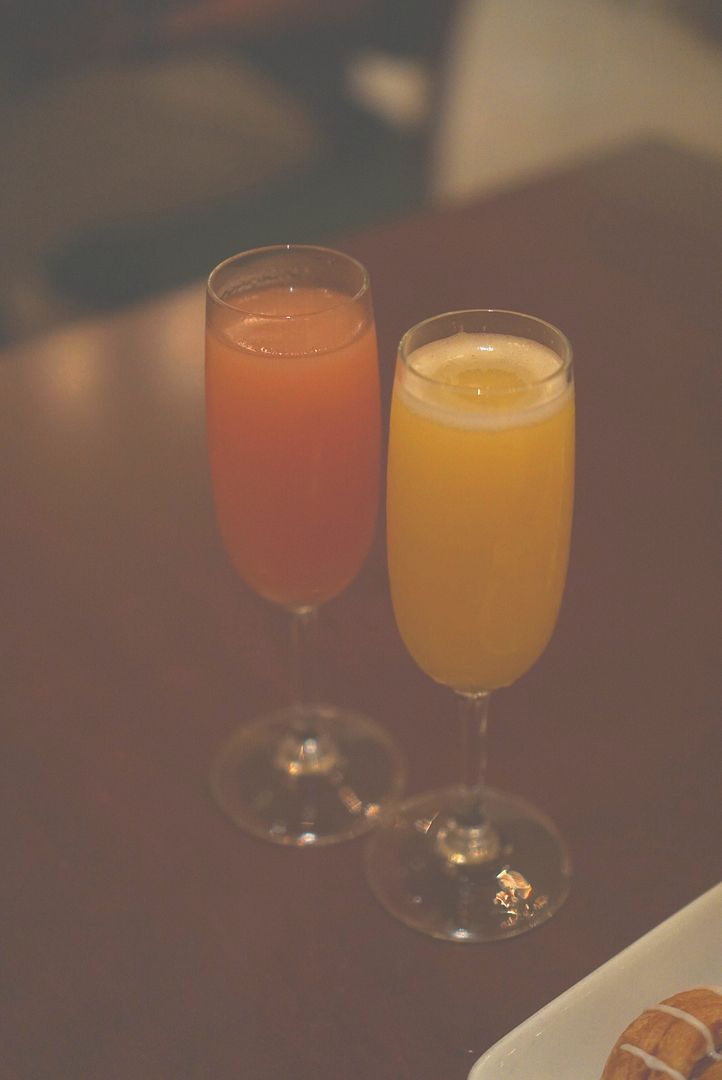 I got the Mimosa (on right) and Andrew got a Peach Bellini.  Each would have been $11.00 had we not been on the Dining Plan.  We were surprised by the generous amount of alcohol in these, especially in my mimosa.
At the same time as our drinks, we were brought a shared platter of breakfast pastries…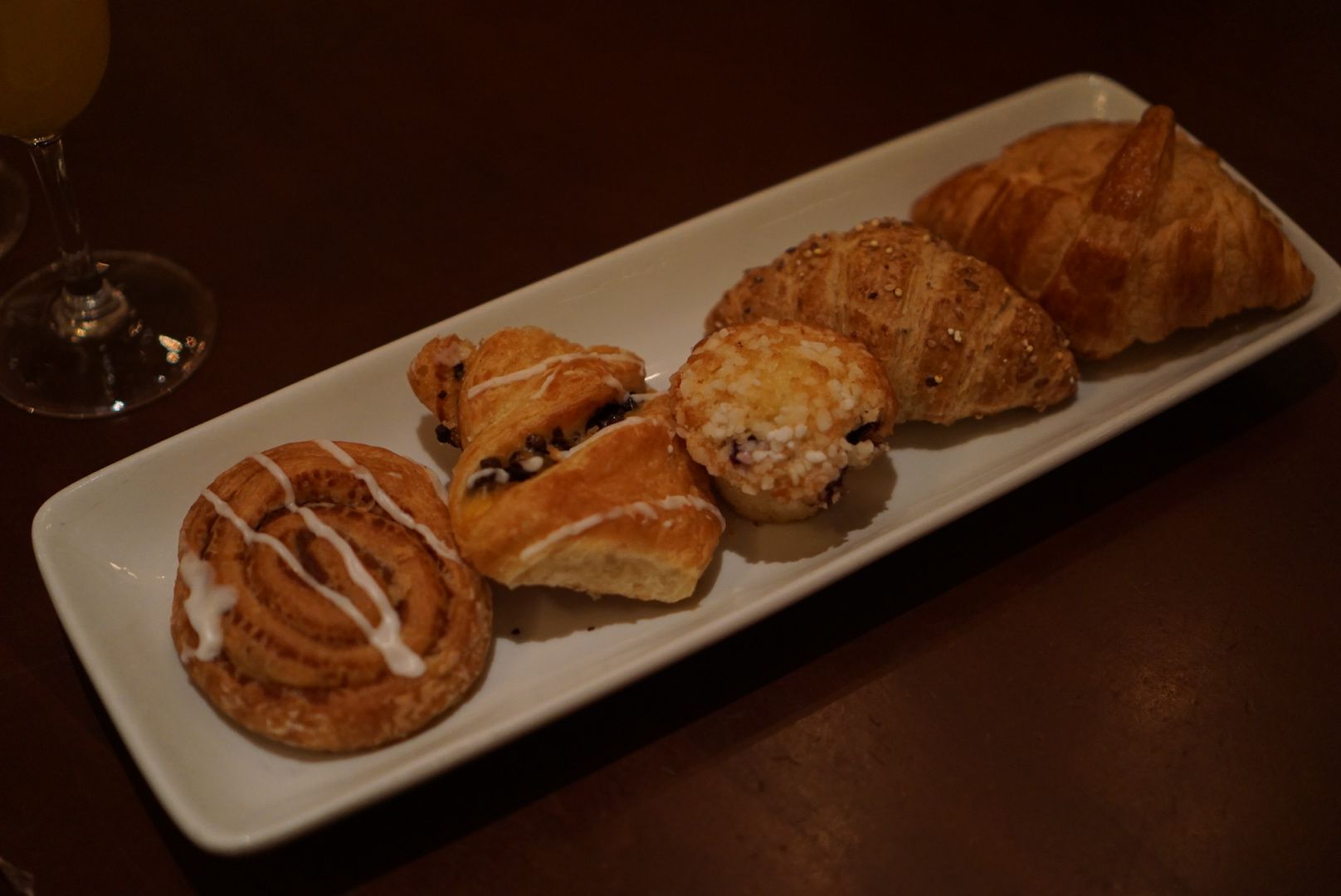 From left to right this included a cinnamon roll, chocolate croissant, mini blueberry muffin, and both a multi-grain and plain croissant.  I knew that we would probably be too full to eat these so I had brought a large ziploc bag from home specifically for the purpose of taking these with us.  However in our rush to get to the park that morning I forgot to take the ziploc out of my suitcase and pack it in my park bag.  So we had to improvise.  I got two plastic cups with lids from the beverage station and was able to get two pastries in each cup (we left behind the multi-grain croissant, lol).  This probably ended up working better than the ziploc bag as the plastic cup kept them better protected from getting smashed in my bag for the next 4 hours or so that we were at the park.  The next morning Andrew had the chocolate croissant and muffin for breakfast and he said both were good.  I had the cinnamon roll, which was pretty dry and flavorless, and the croissant, which was okay but could have used some butter (which I didn't have back in my room).
Next our entrees arrived, which for Andrew was the…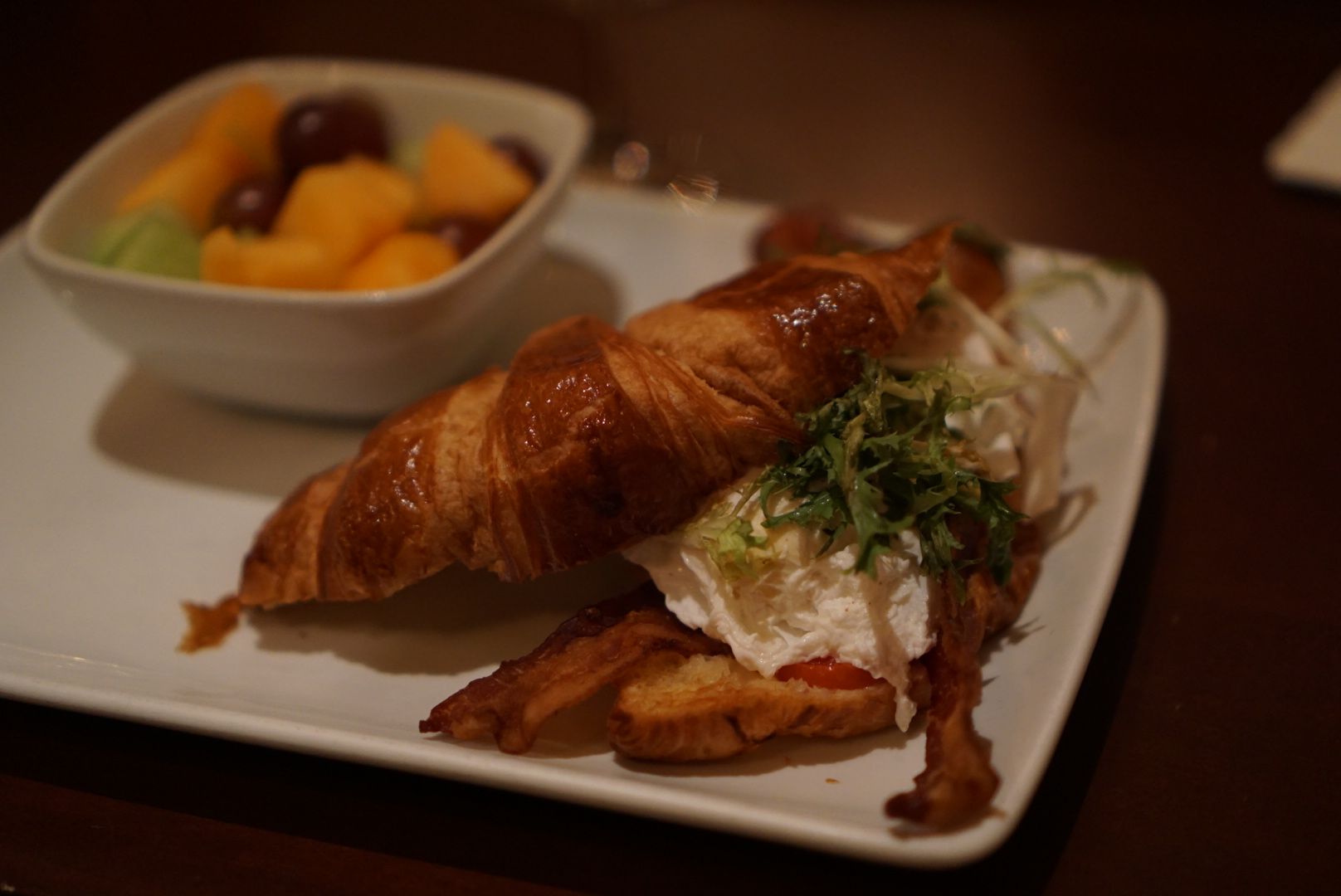 Belle's Préféré – Poached Eggs, Applewood-smoked Bacon, and Brie on a Toasted Croissant served with Fresh Fruit
And a closer look…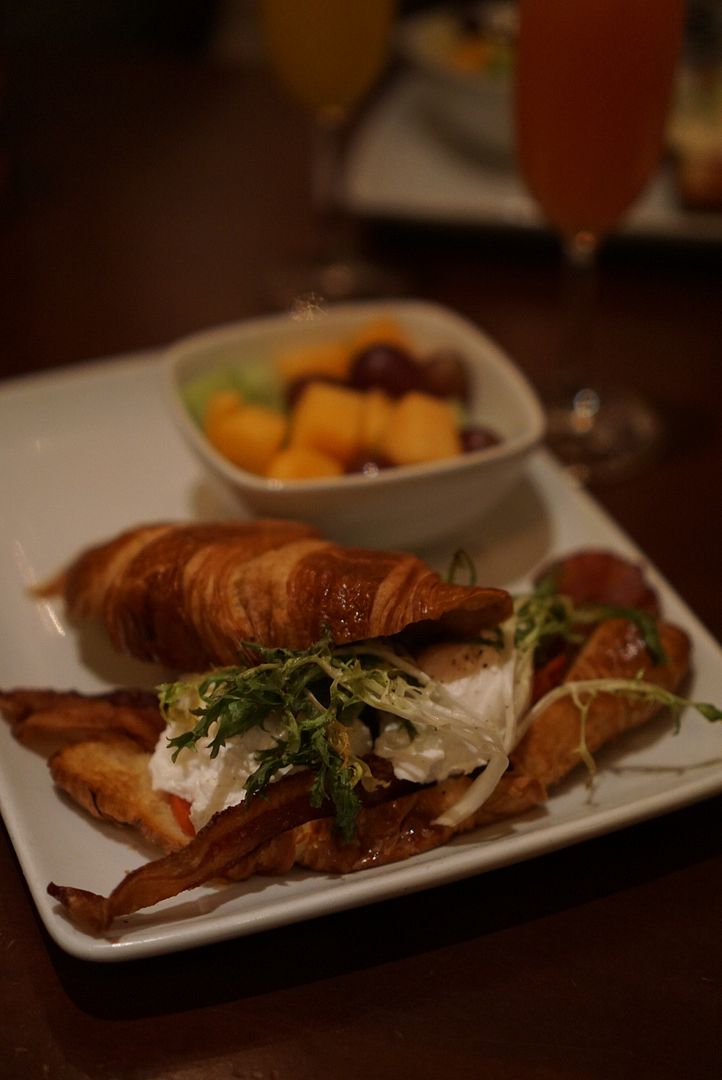 There were two poached eggs in his croissant sandwich.  One of these was cooked correctly and the other he said was overcooked.  Other than that, he enjoyed his sandwich.
As for me, I got the…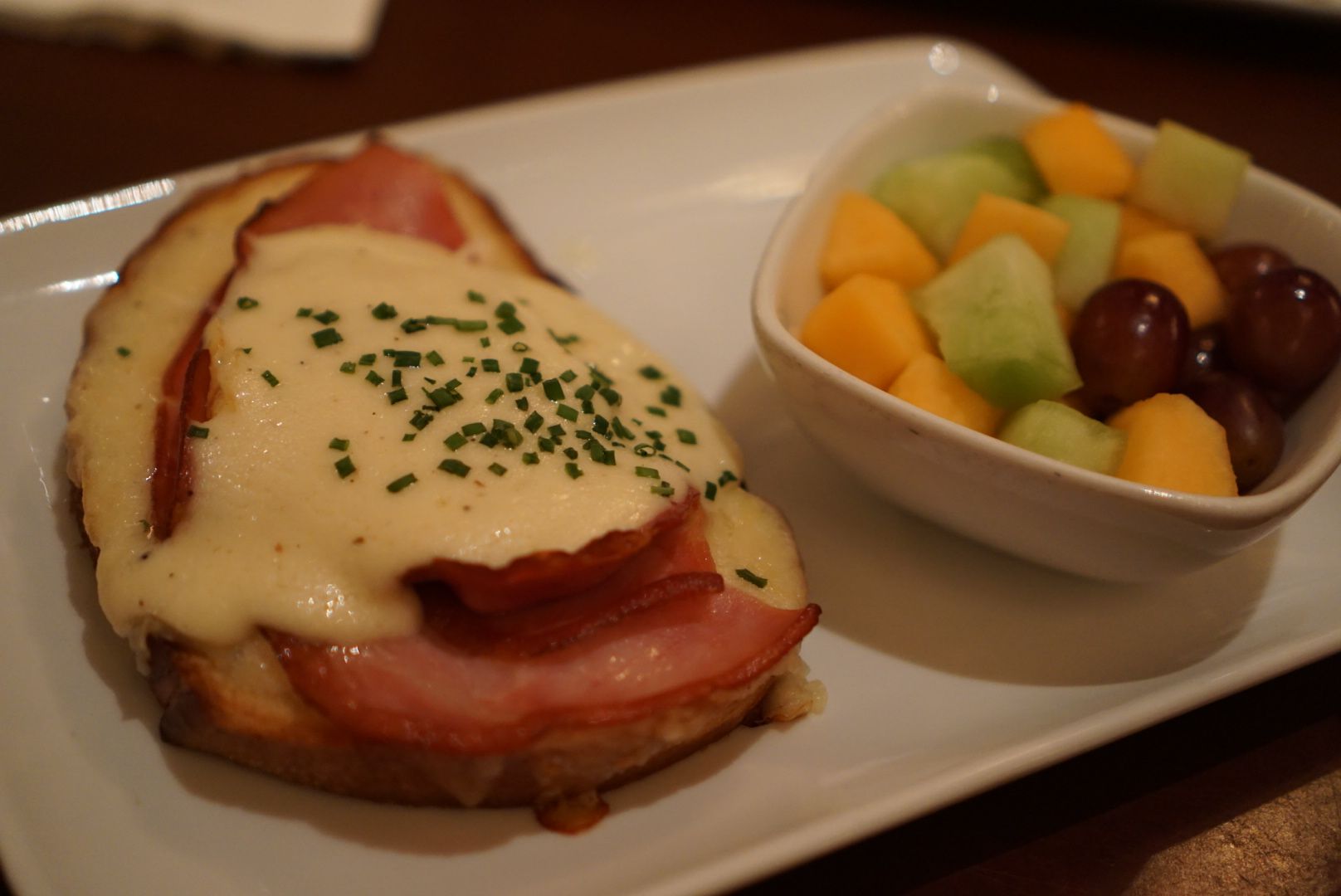 Croque Madame – Open-faced Ham Sandwich topped with a Fried Egg, Gruyere Cheese, and Béchamel, served with Fresh Fruit
And a closer look…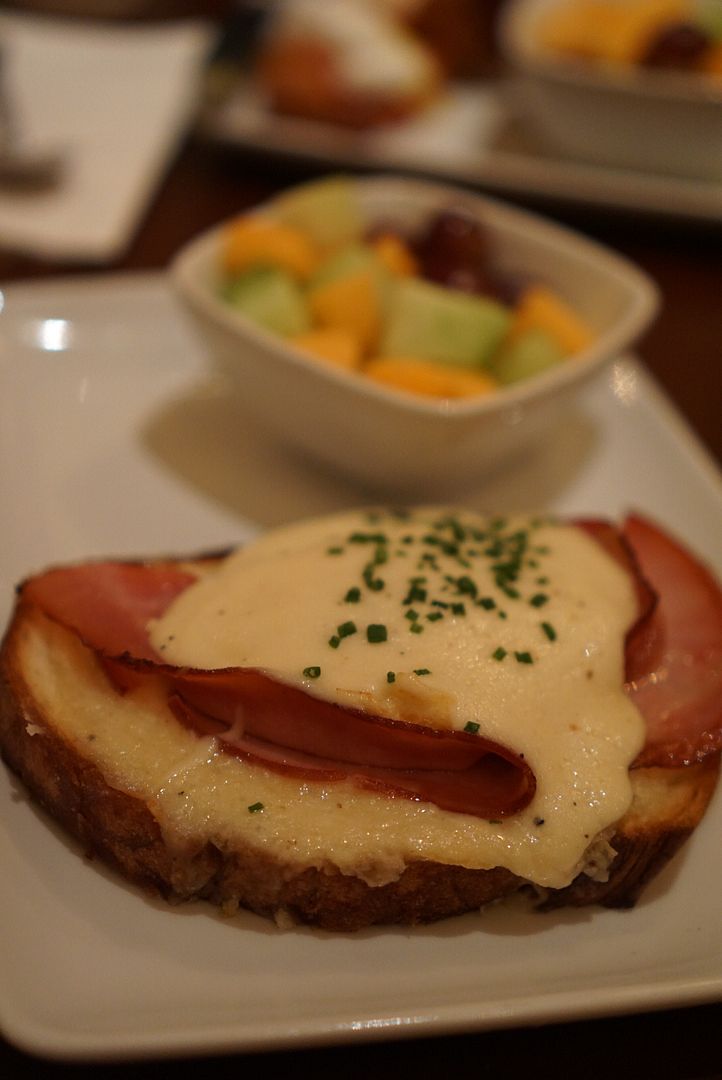 I was a bit disappointed with my sandwich.  The edges of the bread were hard from being overcooked, as were the edges of the ham.  I did like the cheese and bechamel sauce though.
I also liked the bowl of fresh fruit that was served with our sandwiches…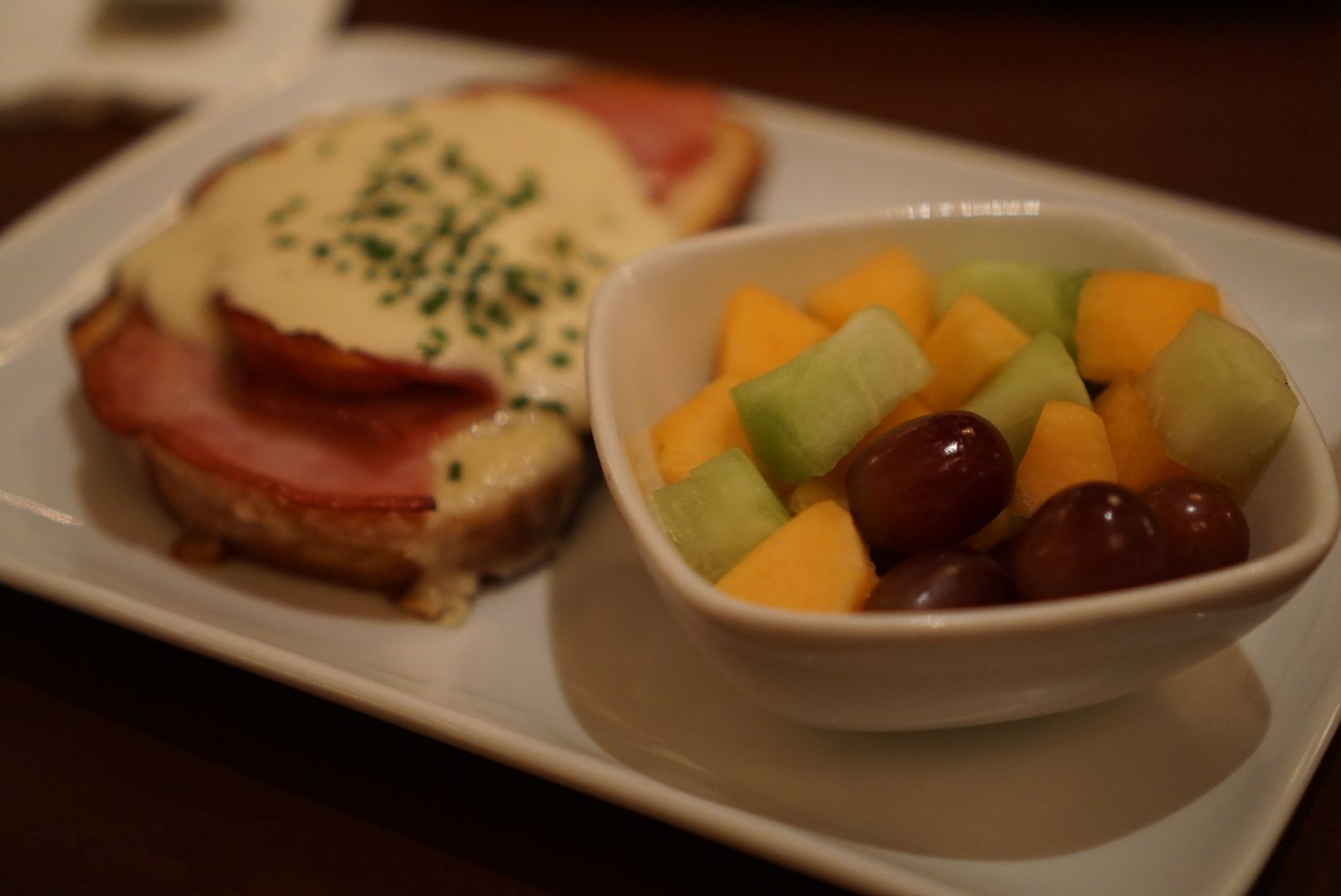 This included red grapes, cantaloupe, and honey dew melon.  The fruit was all ripe and tasty.
Currently all of the breakfast entrees at Be our Guest have a set price of $29, which includes the shared platter of pastries and non-alcoholic beverages.  With our $11 alcoholic beverages added on the total of each of our meals (including tax) was $42.60 (or $85.20 for both).  While $42.60 is an outstanding value for 1 Quick Service Dining Plan credit, this meal is definitely not worth that price if paying out of pocket.  So if you are not on the Dining Plan I would recommend having lunch here, as you would get much more bang for your buck.
That just leaves the ratings and rankings.  Be our Guest has a rating of 3 1/2 stars from Yelp reviewers and 4 stars from the reviewers on Trip Advisor.  We though would probably only rate our breakfast 3 stars.  As for the Trip Advisor ranking, Be our Guest ranks #378 of the nearly 3000 Orlando area restaurants reviewed there.  Narrowing it down to just the 250+ restaurants in the Disney World area, Be our Guest ranks #119, so just barely in the top 50%.
2 Quick Service Dining Plan Credits Used – $85.20 Value (or $42.60 per credit)