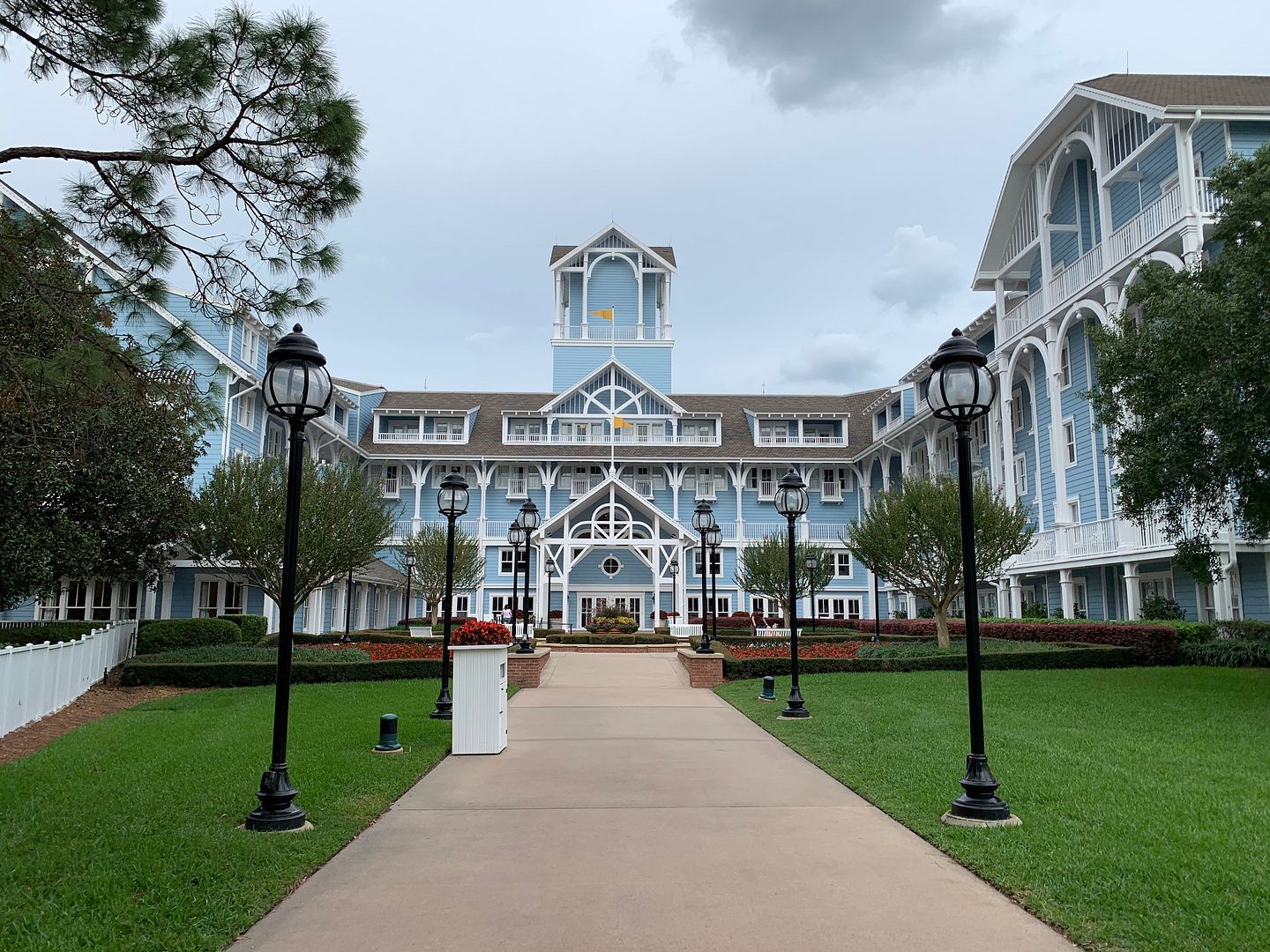 I had just spent 9 nights (11/3 – 11/12/19) at the Beach Club Resort so it felt quite familiar to me.  My one complaint on my last stay was the location of our standard view Room #3705.  Our view was of the rooftop (which was a bit of a bummer)…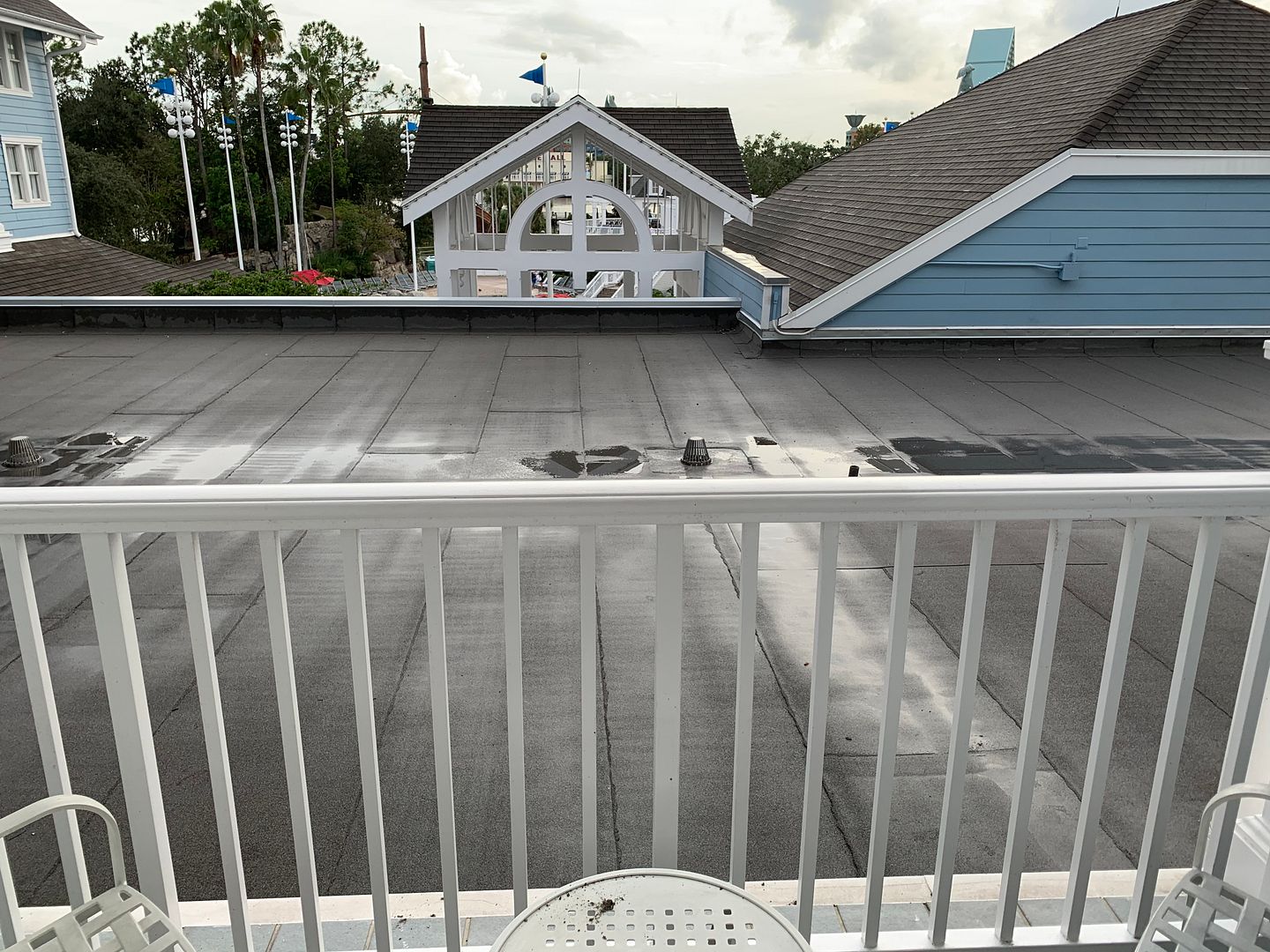 But the worst part was that it was like walking through a maze to get to our room.  After getting off the elevator on the 3rd floor there were 8 turns before reaching our room.  Here is an old Beach Club Room Location map of the 3rd floor that I found online to help you visualize our room location (#3705) from our November 2019 stay…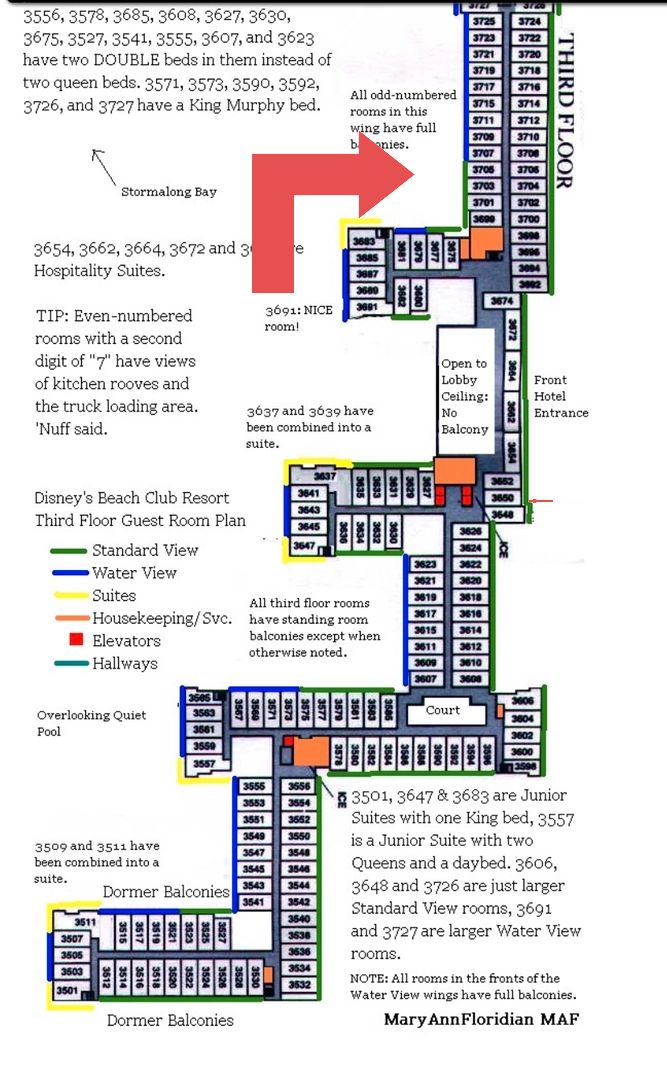 When the above map was posted there were only two regular room view classifications, Standard and Water View (with a view of the lake or pool).  Since then they added a Garden View room, which is how Room #3624 is classified.  When I made my reservation just two days prior to arrival on 3/2/20 all that was available at the Beach Club with a 35% Annual Passholder discount was a Garden View room (the less expensive Standard view or the more expensive Water view were not available).  However, with the 35% AP discount I actually ended up paying a nightly room rate that was $30+ less for this Garden view room than I did for the Standard view room in November 2019.  This made me feel just a little bit better about having paid almost $1200 for my Annual Pass.  I've also now used my Annual Pass for 15 days at the parks and am planning another trip in the Fall before it expires (plus have taken advantage of the 10% AP discounts at many Disney restaurants and stores) so that crazy price is becoming more tolerable…but still, $1200!!  Really, Disney?!?!
Ok, rant over.  Now on to the great location of our Room #3624.  If you look again at the map, our room was just to the left of the word, "ICE"…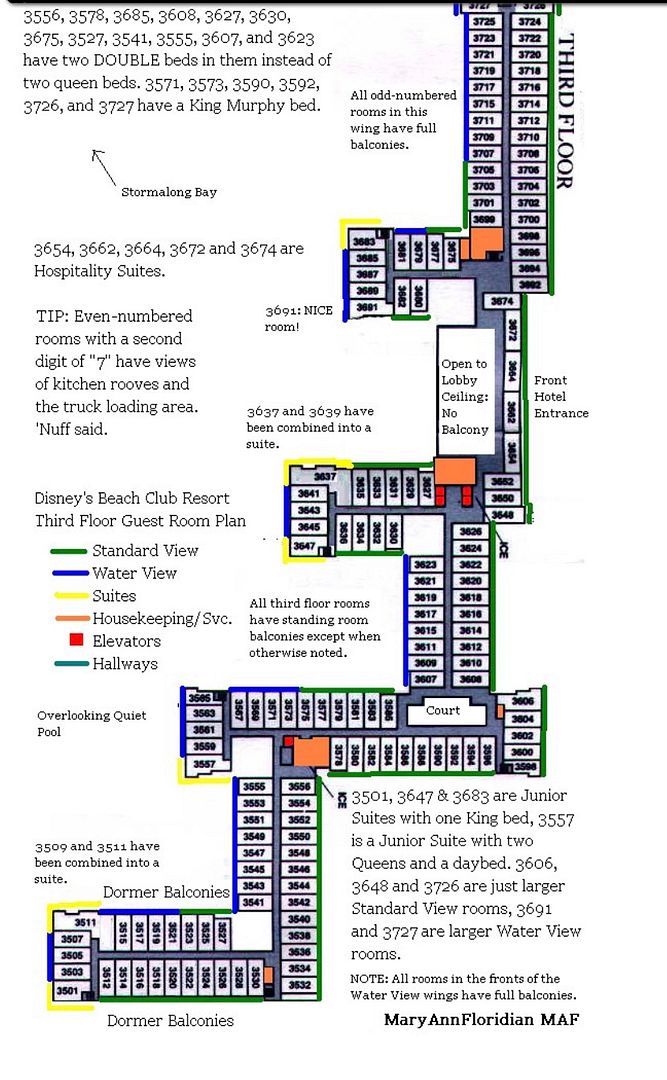 And most importantly, it was just one room down from the main elevators.  HALLELUJAH!!!
I took this photo just outside the door to our room and my son is standing in front of the elevator…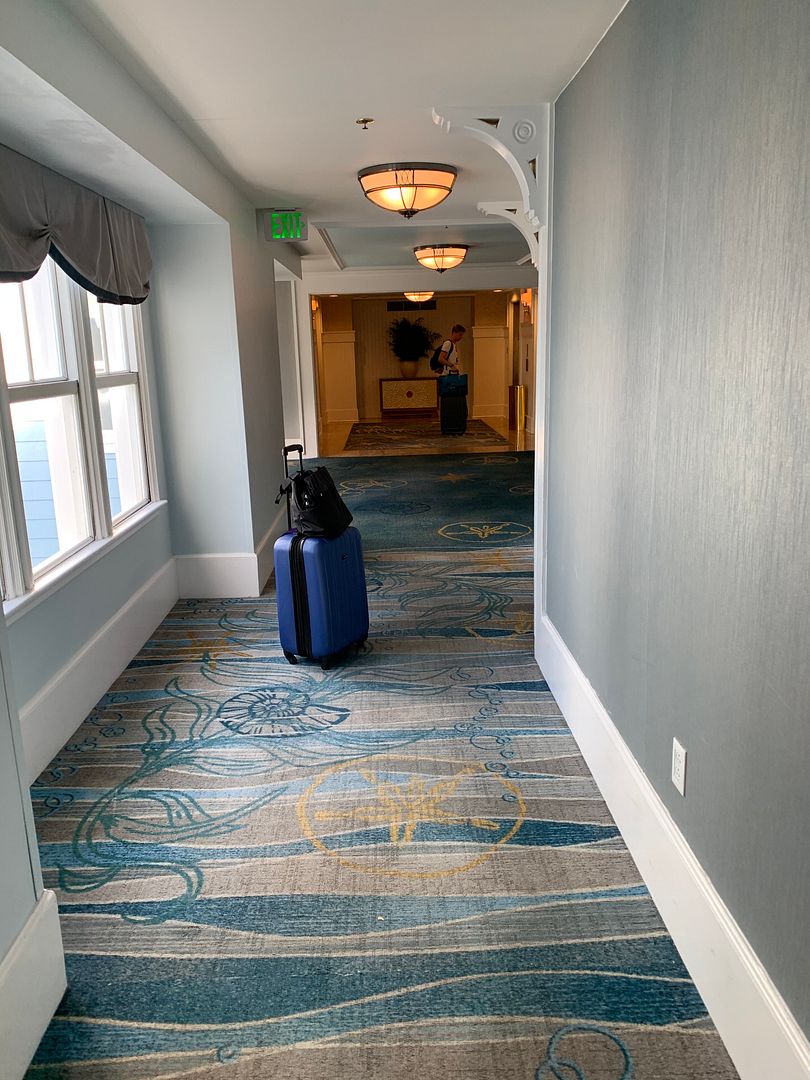 This made me sooooo happy!!  LOL
The view too was a big improvement over the rooftop (standard view) we had last time.  Here is the view from Room #3426…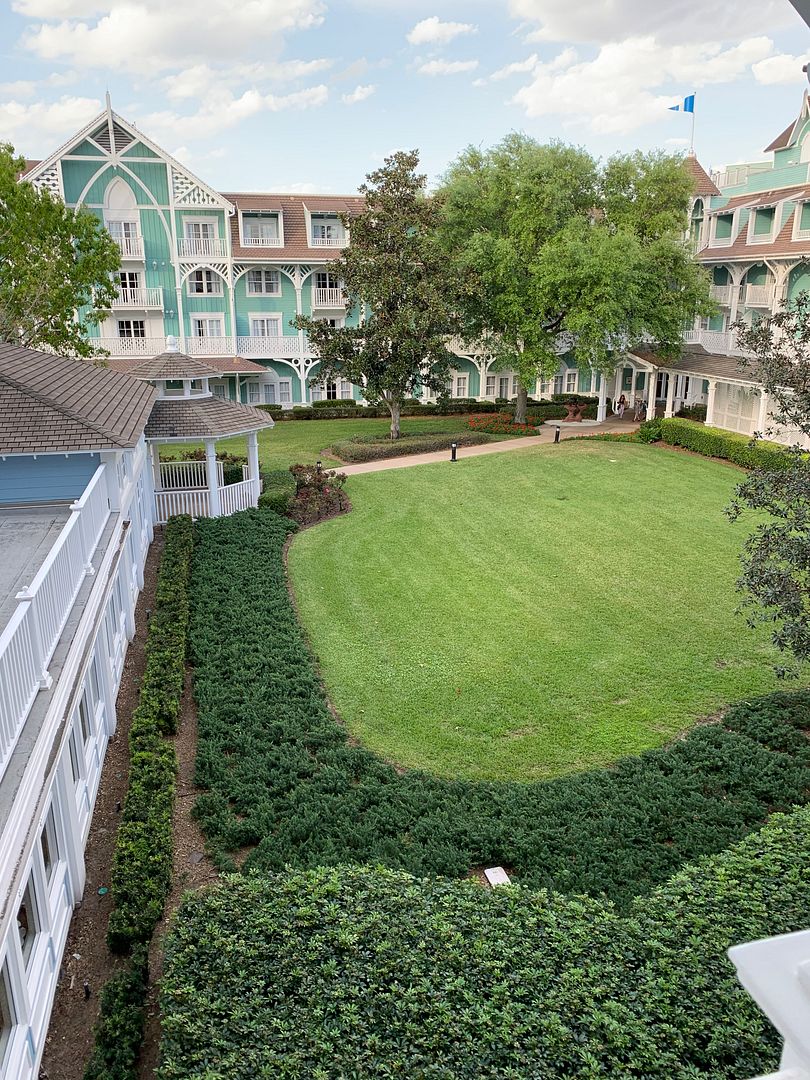 This is the lawn/landscaping which lies between the Beach Club (blue colored buildings) and the Beach Club Villas (green building)s, the Disney Vacation Club part of the Beach Club Resort.  In the photo you can see the walkway between the two.
Although we did have a full balcony (with two chairs and a table) on our last trip, our view was of the hotel's rooftop so we didn't use it.  Here is a photo of our full balcony (and view) from our November 2019 in Room #3705…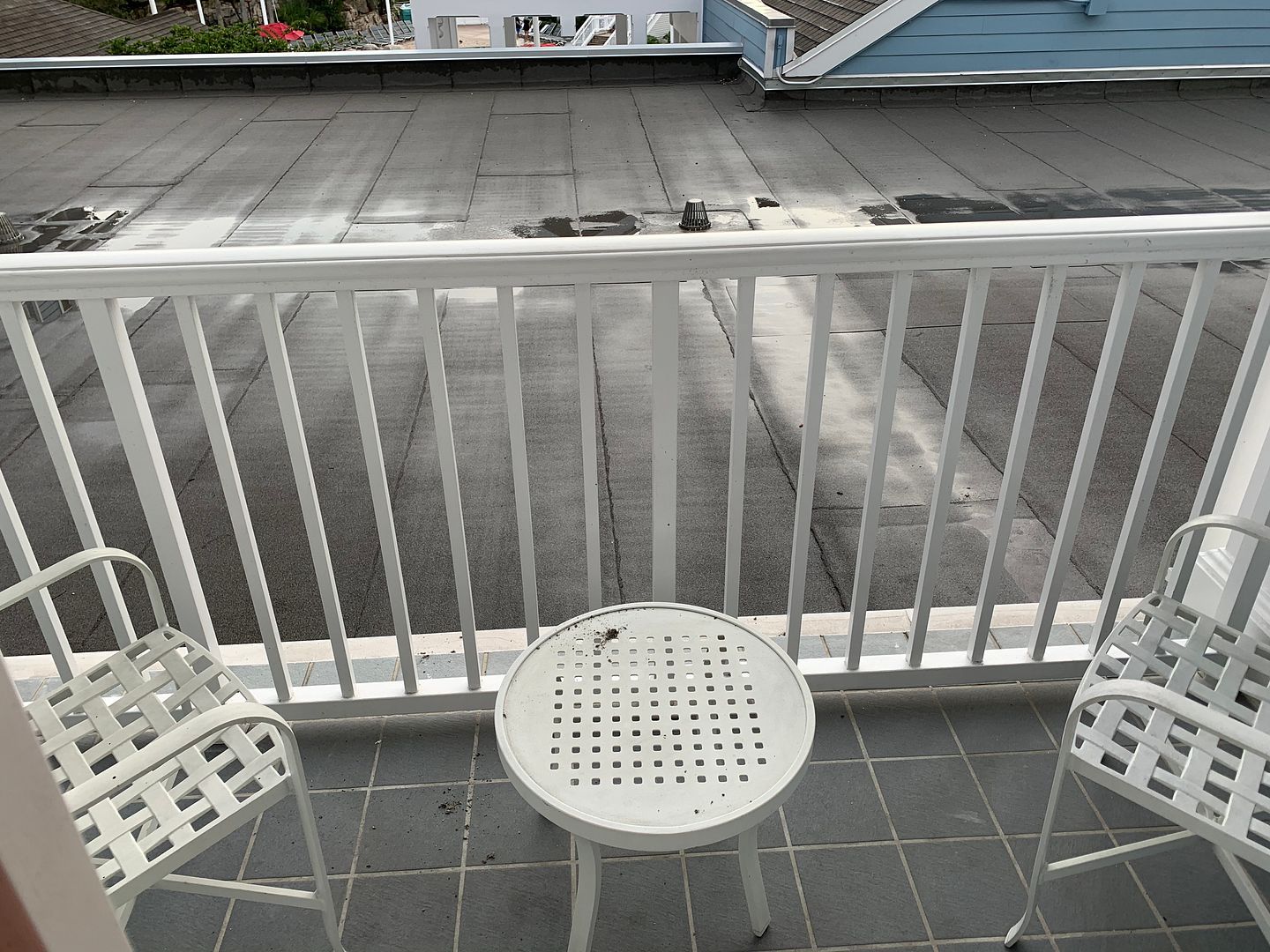 It would have been nice to have a full balcony with this view though, but unfortunately we had only a small balcony (I think they call it a Standing Room Balcony, as there is only room for one, maybe two if you squeeze together, to stand).  Here is a photo of the balcony from Room# 3624…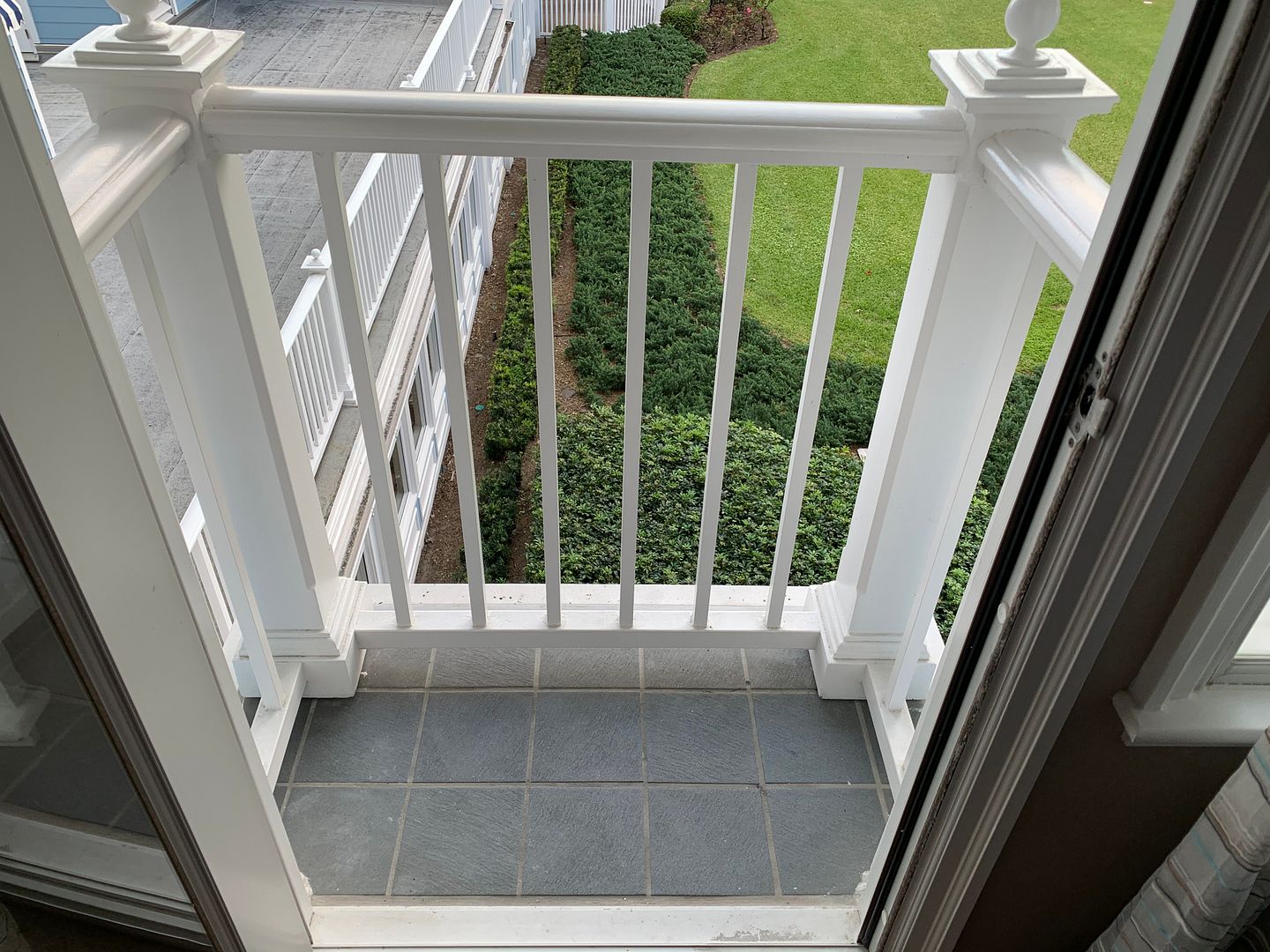 Now for the room furnishings, which seemed to be mostly the same as our Nov. 2019 room…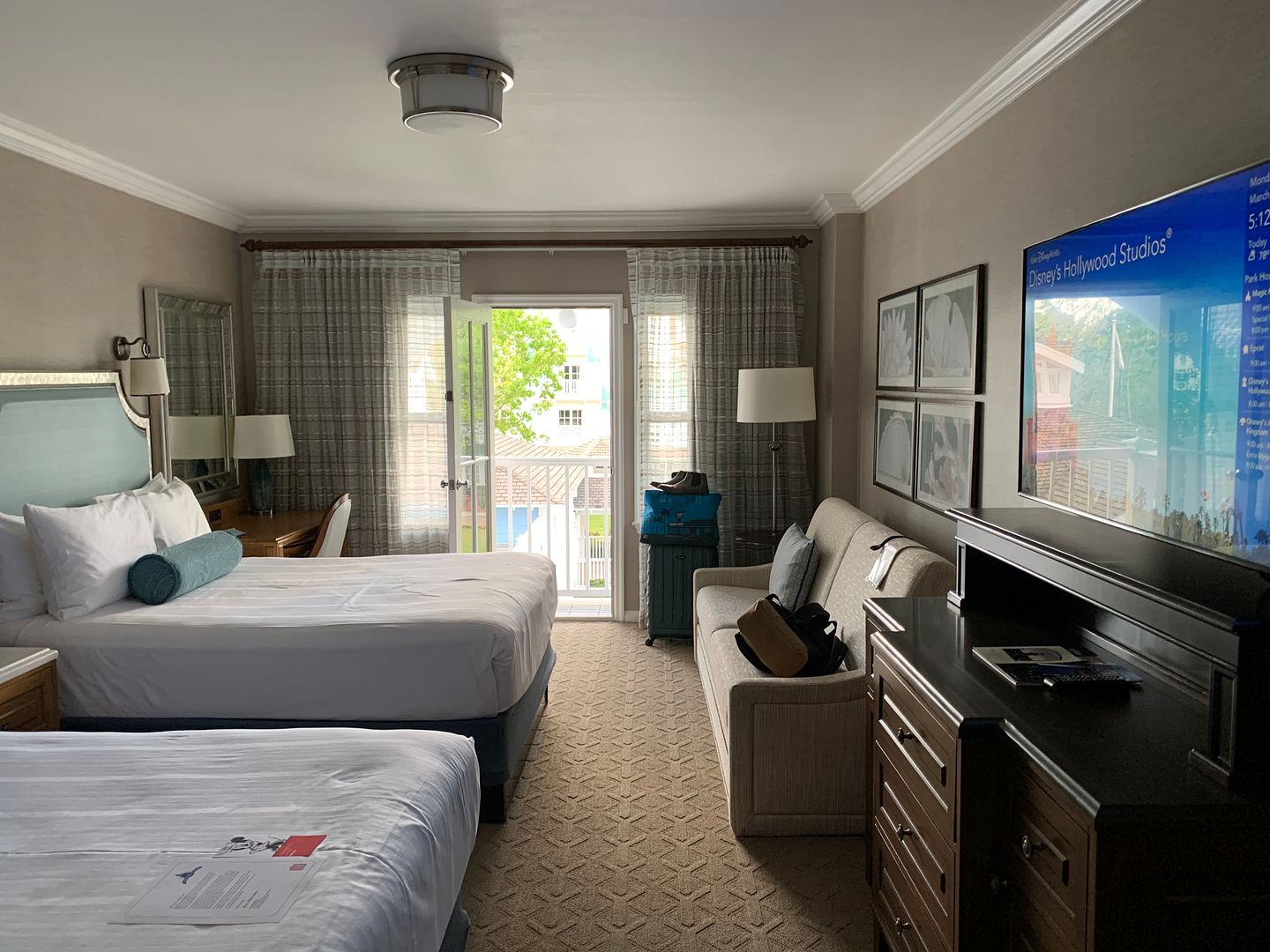 We again had two Queen-size beds…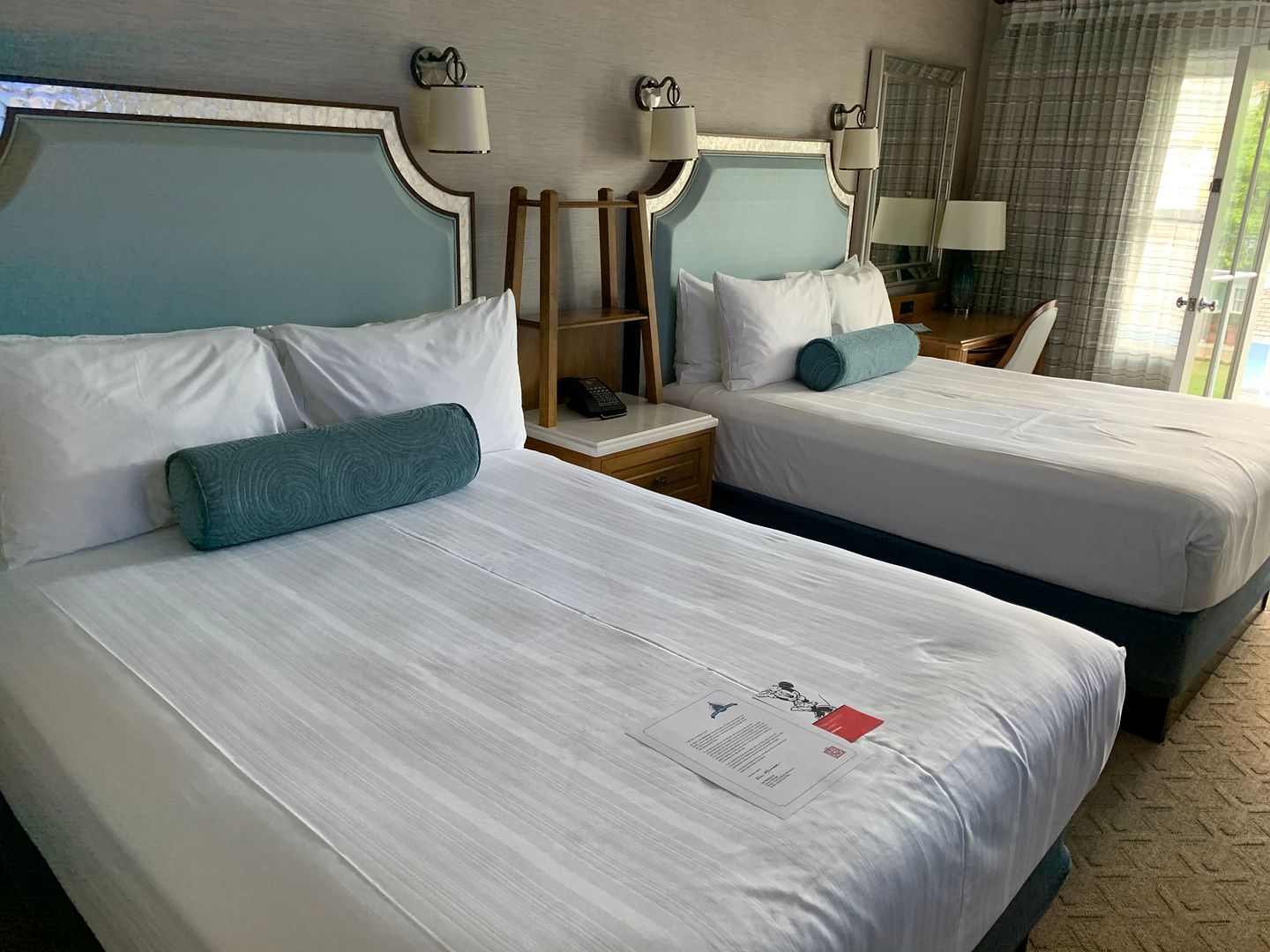 However this room was larger than Room #3705, as it also had a sofa which could be converted into a twin size bed…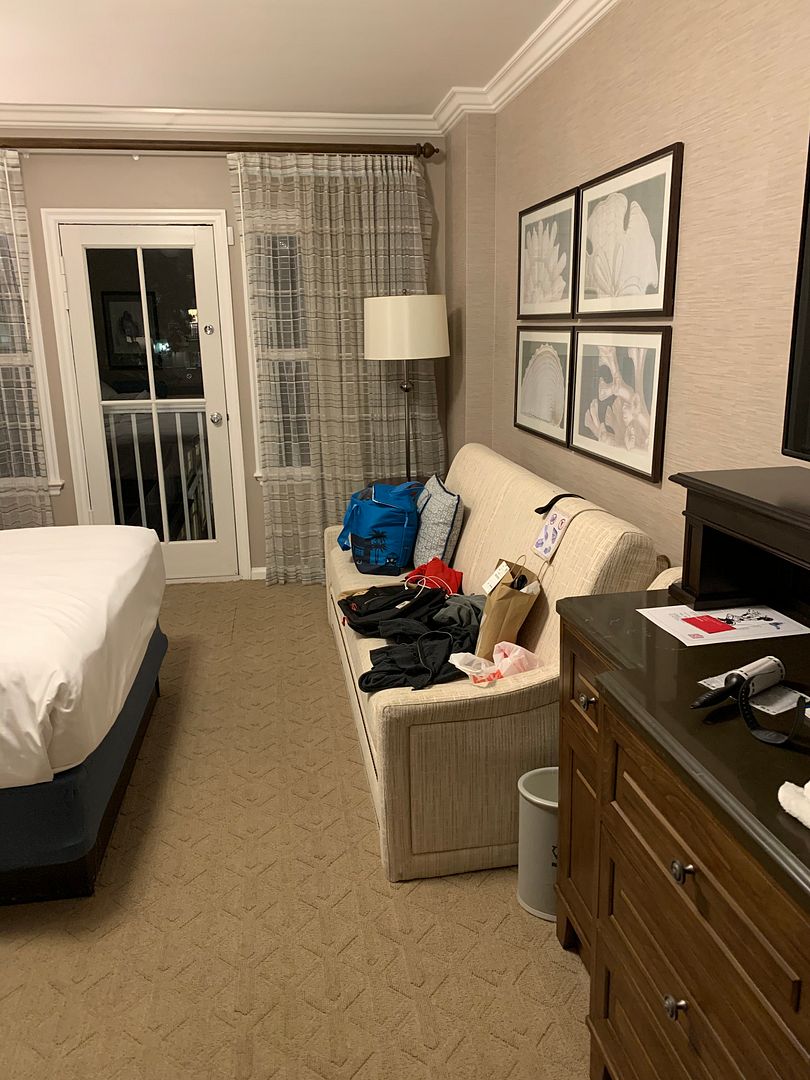 The flat screen T.V. (I'm guessing a 55″) and the dresser with plenty of storage space (5 drawers plus two large compartments) seemed the same as the November room…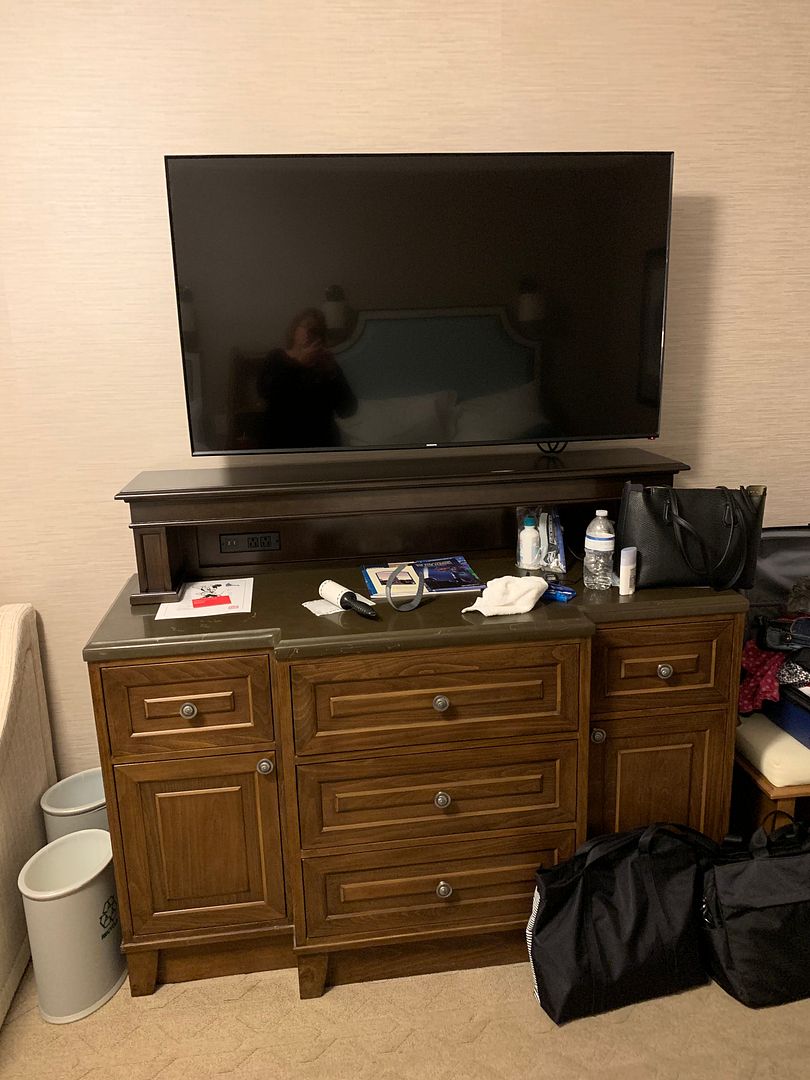 The bathroom area also seemed identical, with the double sinks/large counter space in a separate room from the toilet and shower/tub (which I love, especially when I'm not traveling alone)…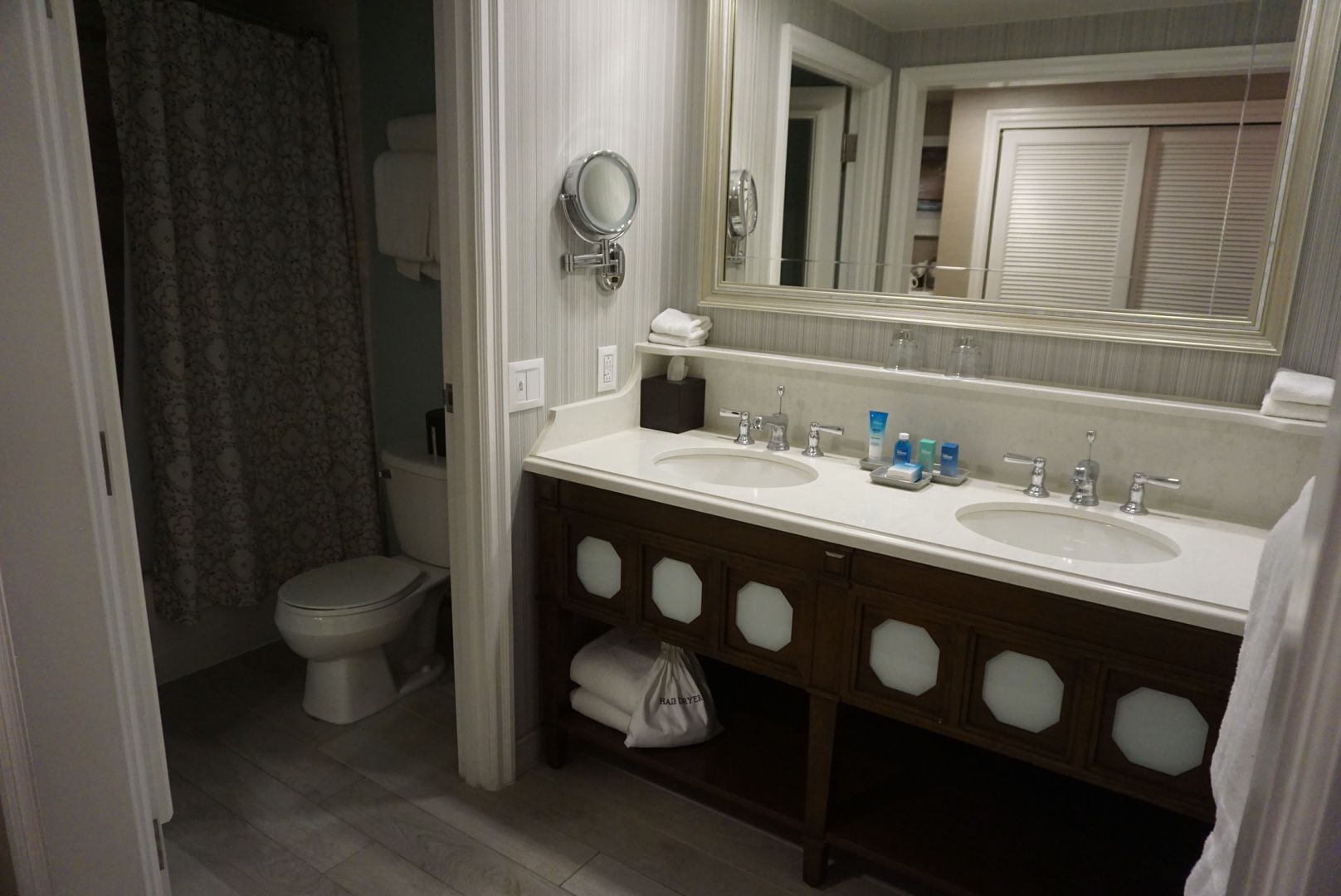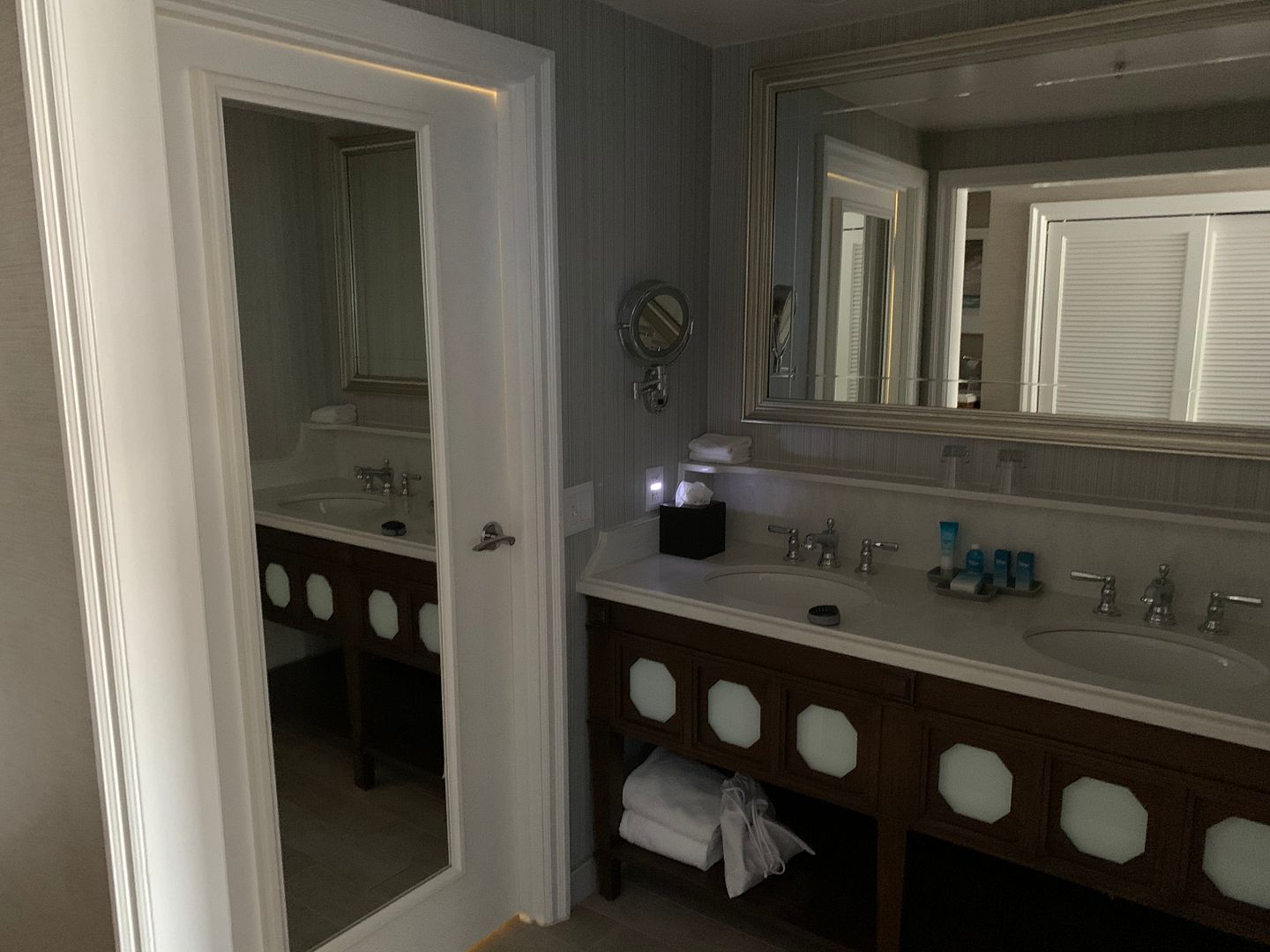 I also like the full-size mirror on the bathroom door, as well as a vanity mirror on the wall.  All of these things are also available at the Boardwalk Inn and probably the Yacht Club too, although I haven't stayed there for a few years.
I was happy to see that they still provide the individual-size toiletries here…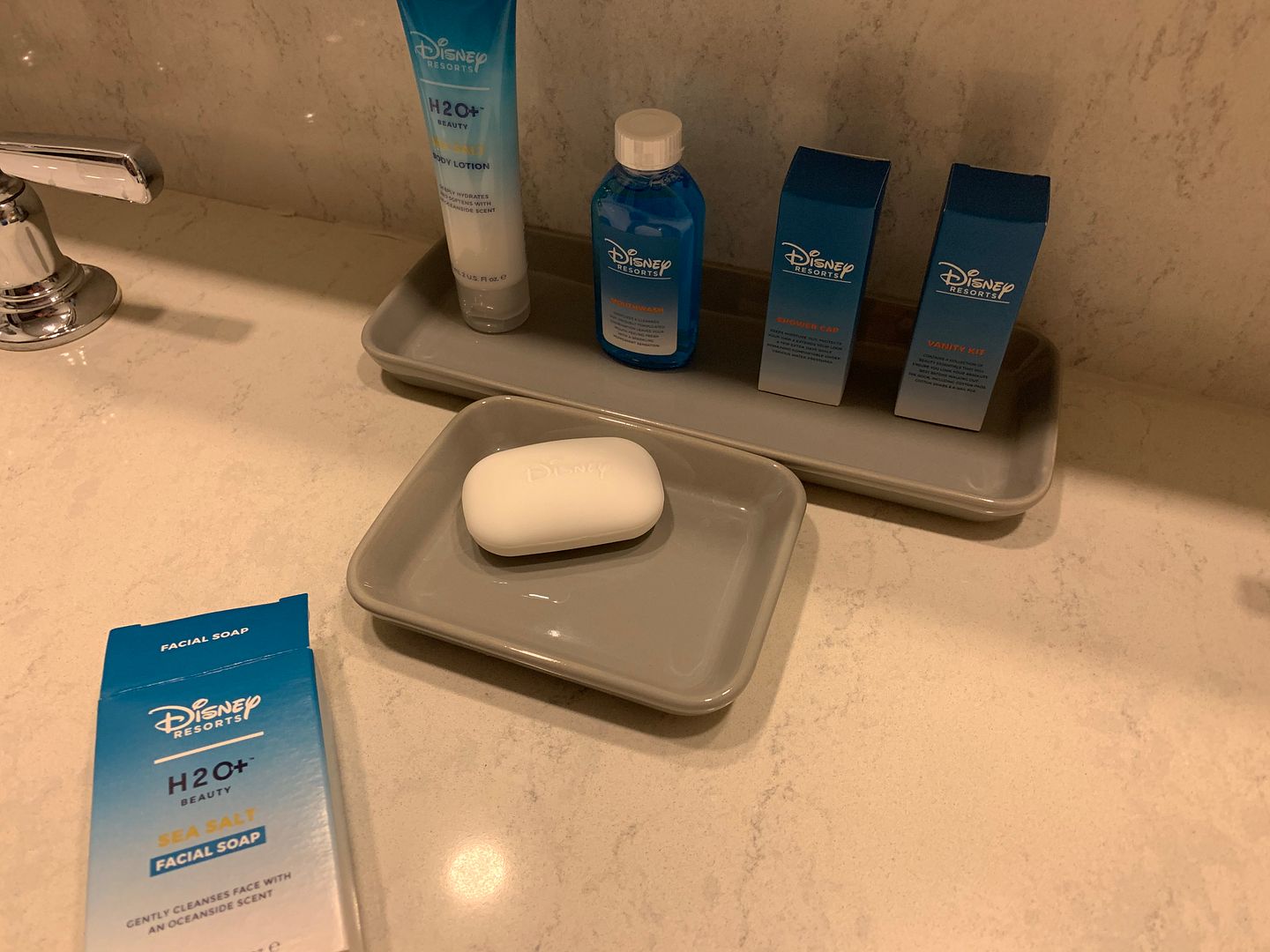 With the rest (shampoo, conditioner, and body wash) located on the shelf in the shower/tub…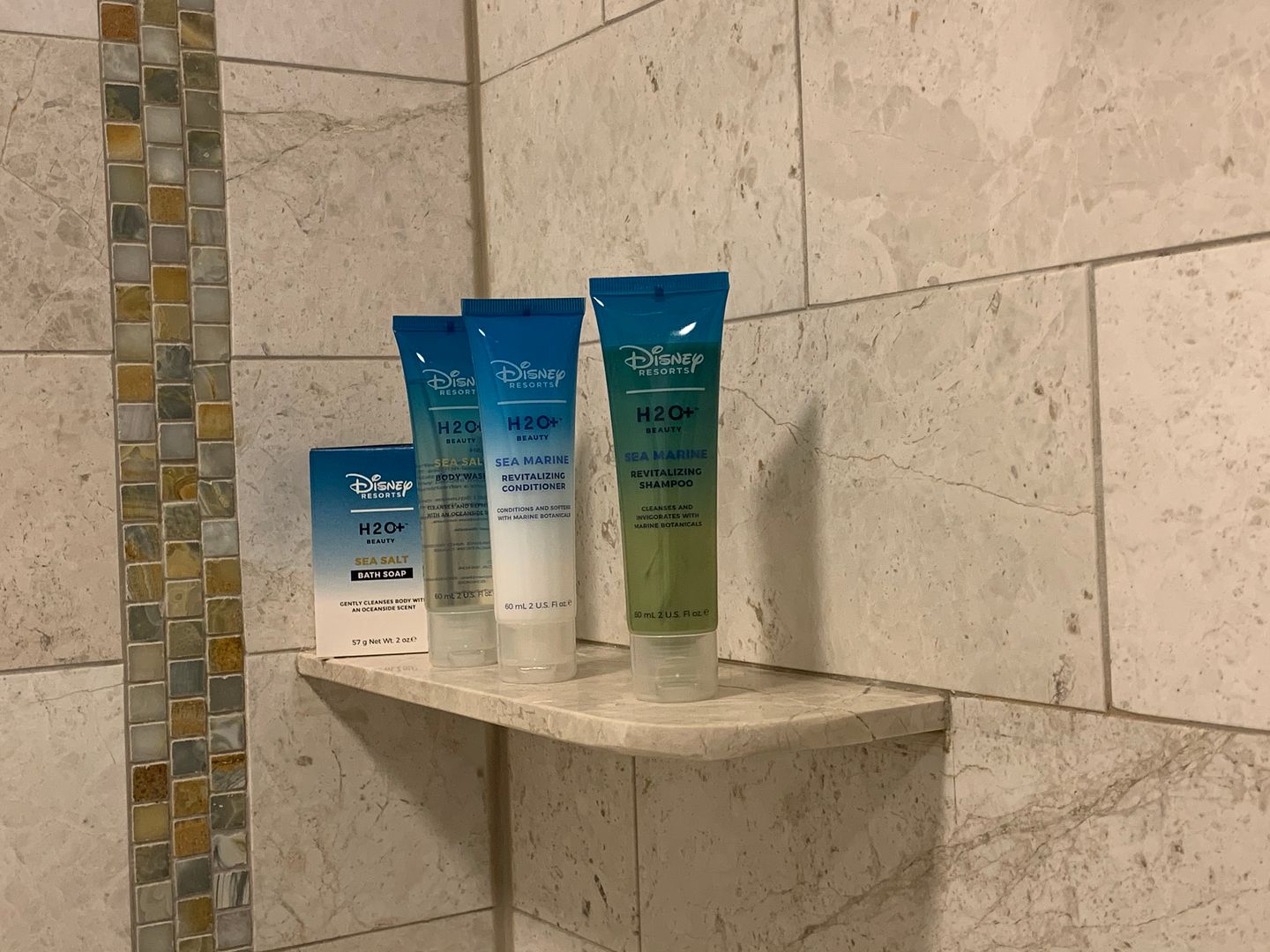 During our travels on this trip we stayed at 4 non-Disney hotels and all but one of them had converted to the bulk dispensers for their toiletries.
I also like the large (double sliding door) closets that the Beach Club and Boardwalk Inn (& probably the Yacht Club) have (the photo below shows only half of the closet)…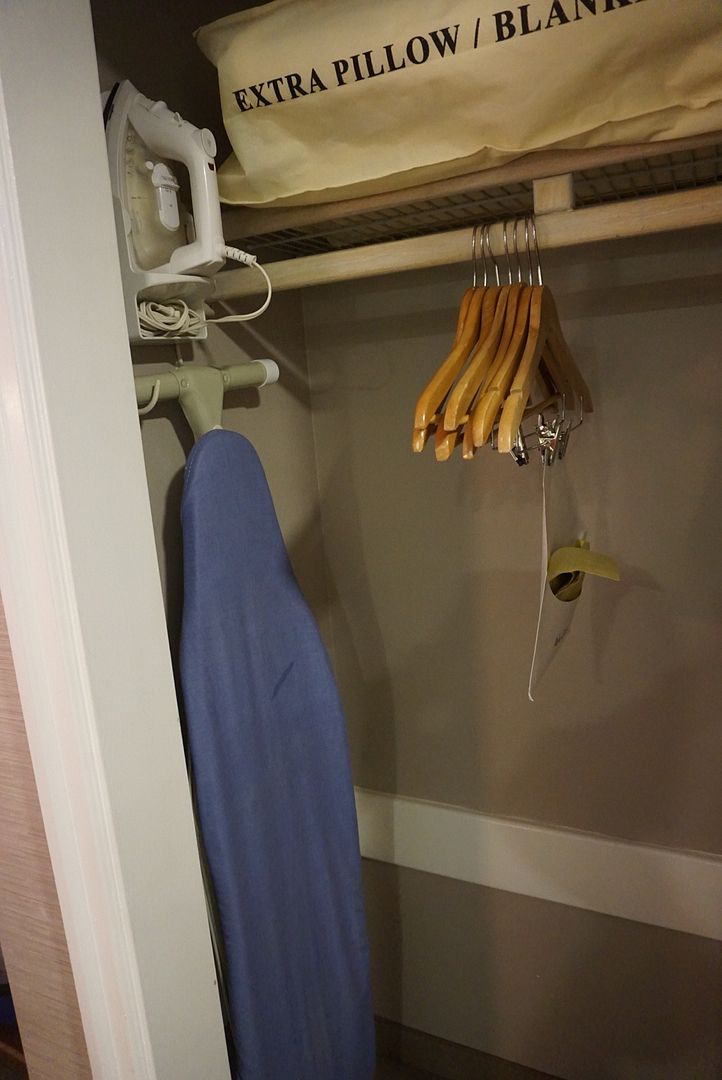 I didn't take a photo of the cabinet which holds a mini-fridge at the bottom and then an ice bucket, glasses, coffee mugs, and a Keurig coffee maker like this…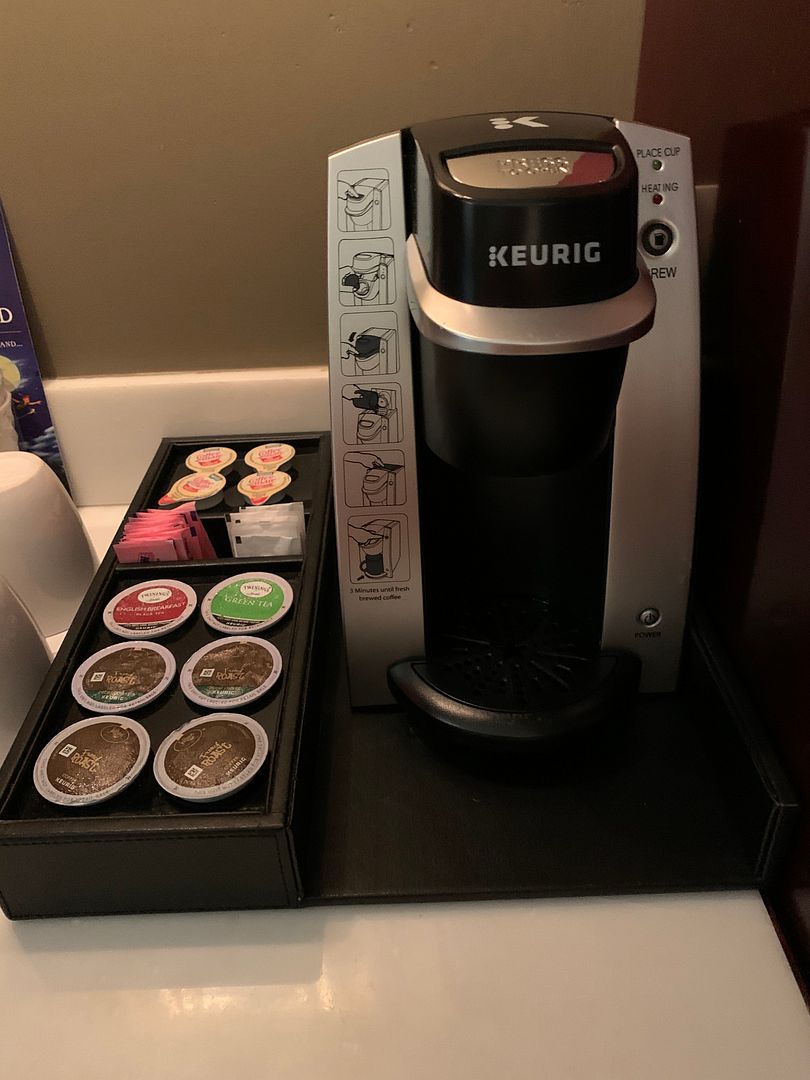 The above photo was taken in our Contemporary Resort on our last trip but the same coffee maker (and coffee pods, etc.) was in our Beach Club room, both this time and last.  That leads me to believe that Disney has switched out their coffee makers to the single-cup Keurigs at all of their hotels.
I have just one more (unusual) thing to point out regarding the night stands at the Beach Club…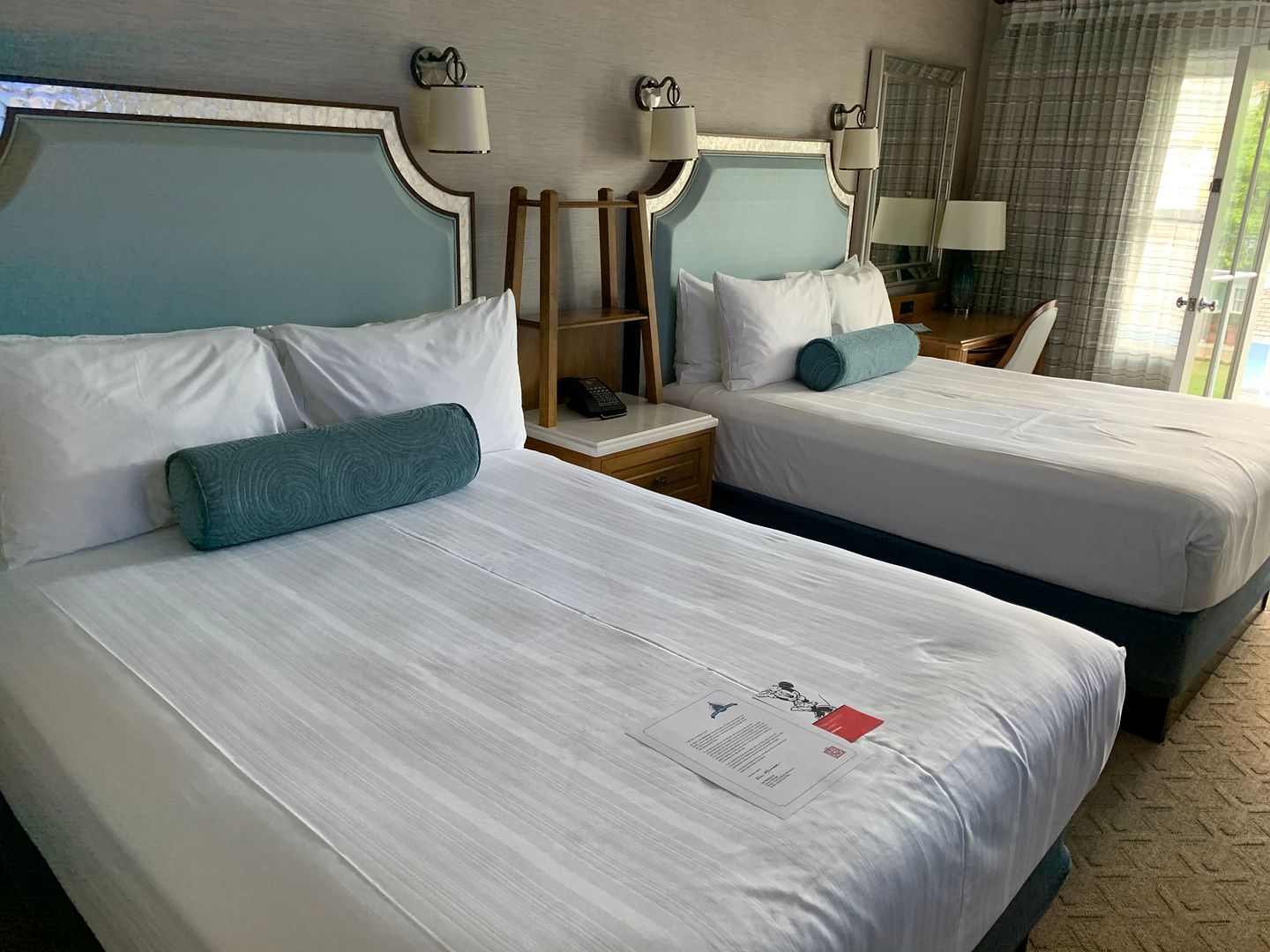 Notice the two-tiered wooden shelf that is perched on top of the night stand?  I'm not really sure what purpose these serve, but I suppose they allow for extra storage space for things that you would like to keep close to your bed.  Anyway, we did not have this shelf on the night stand in our Beach Club room in November 2019 so perhaps they are a new addition???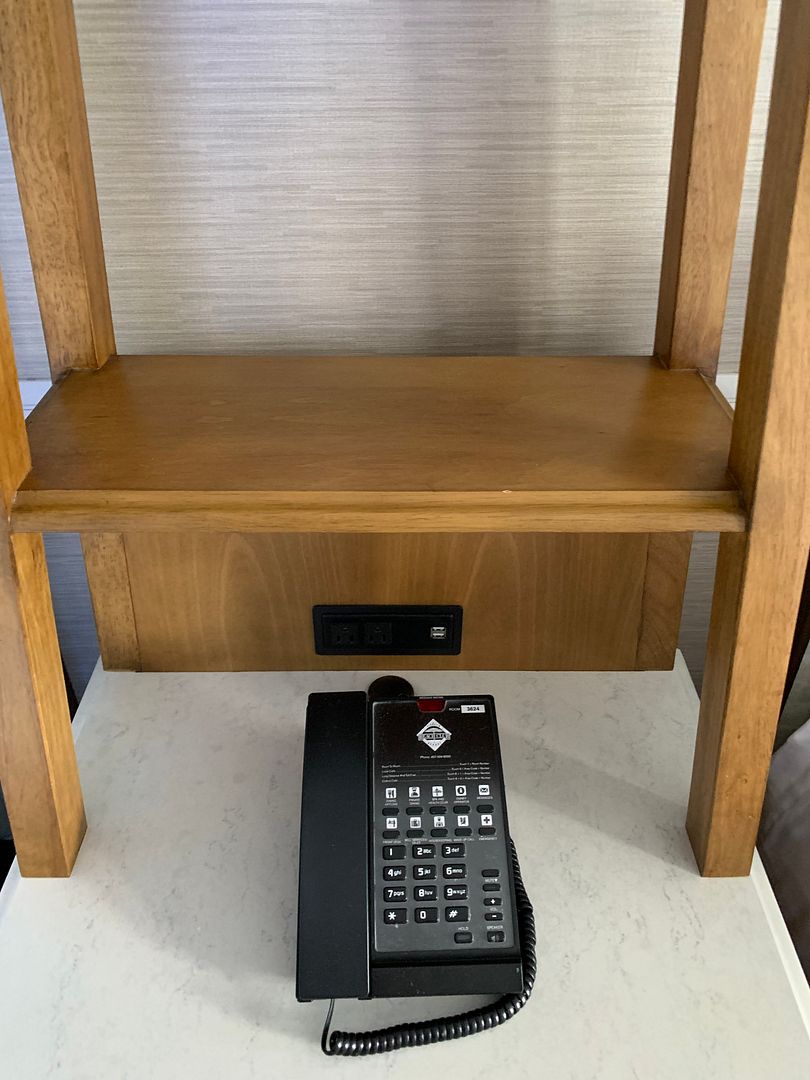 I like that the Beach Club has two electrical outlets and a USB port conveniently located next to your bed.  That is not the case in all of the Disney hotel rooms I've stayed in.
So as far as the floor plan and room setup, the Beach Club and Boardwalk Inn are the most ideal for my needs/wants of the Disney resorts I've stayed in in recent years.  Again, I'm guessing the Yacht Club rooms are set up similarly to the Beach Club but since I've not stayed there for a few years I can not confirm this.
Oh, and I almost forgot.  After our second night (of our 3 night stay) we came back to our room to find this Mousekeeping creation…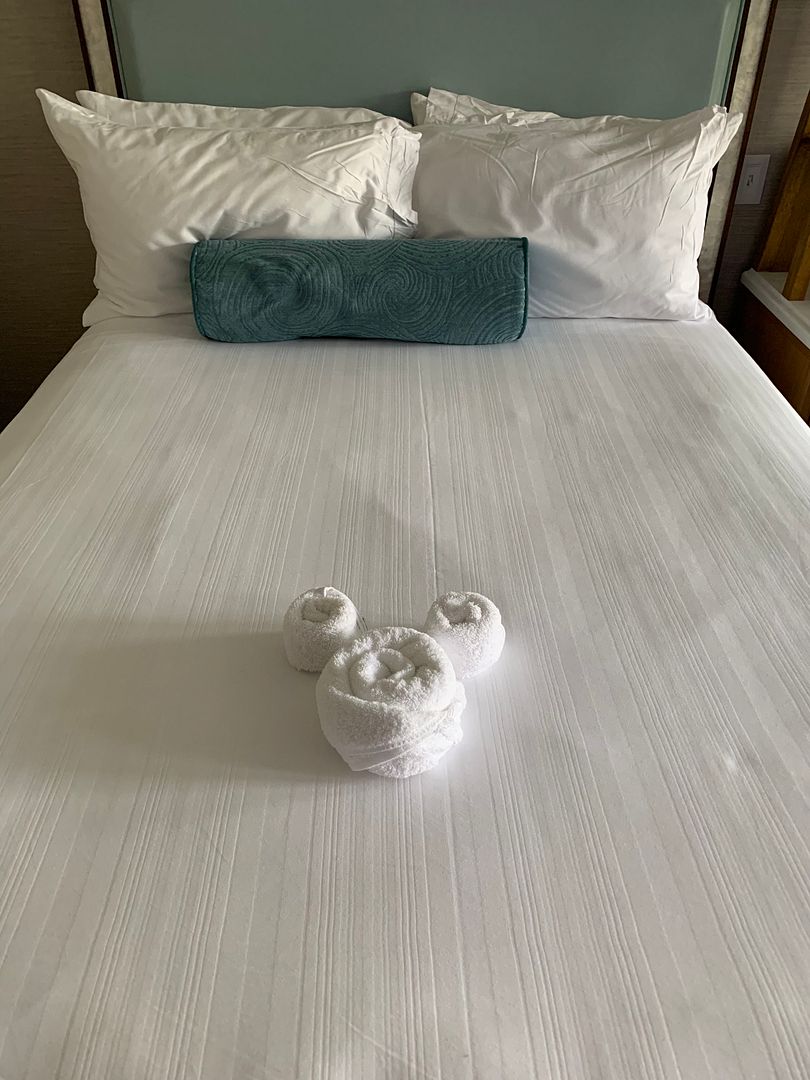 It had been awhile since I'd been the recipient of one of these so I was happy to see it!