As a walk-up guest without a reservation, I was pleasantly surprised to be able to have dinner at this small, but very popular soda shop located by the pool at the Yacht & Beach Club Resort.  The only available seating was at the counter but that was perfectly fine for me, especially since I was dining solo.
Let's start here with their menu, as of October 28, 2018…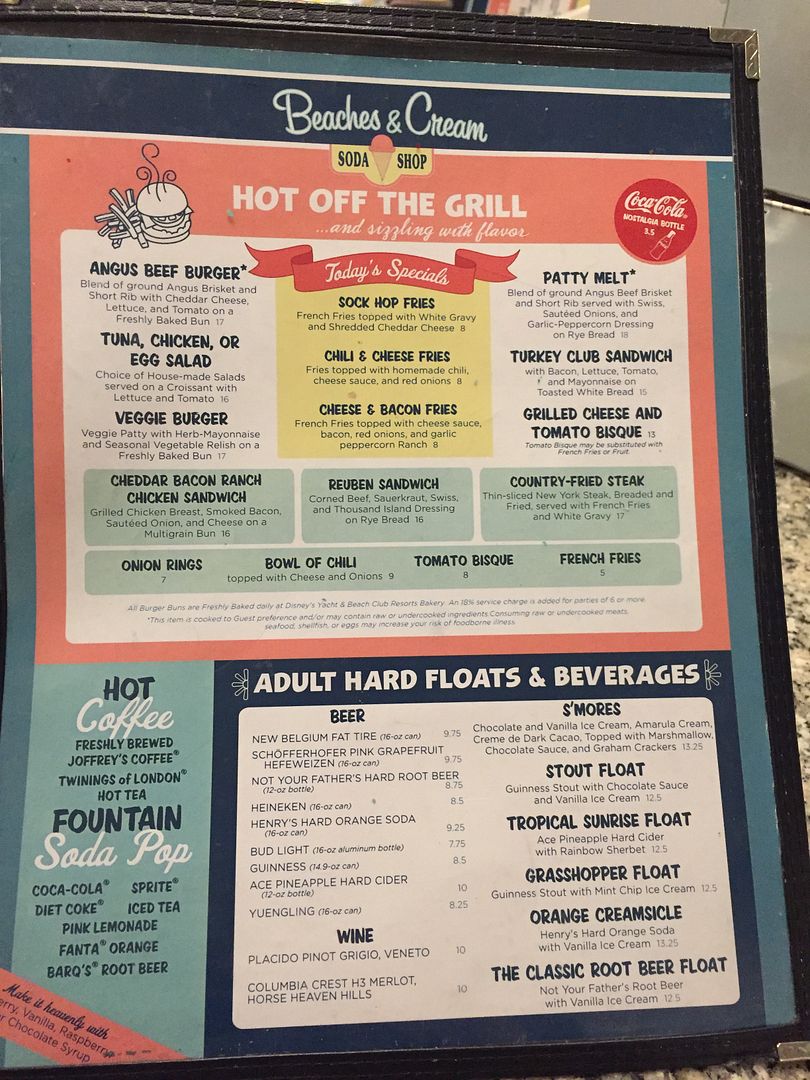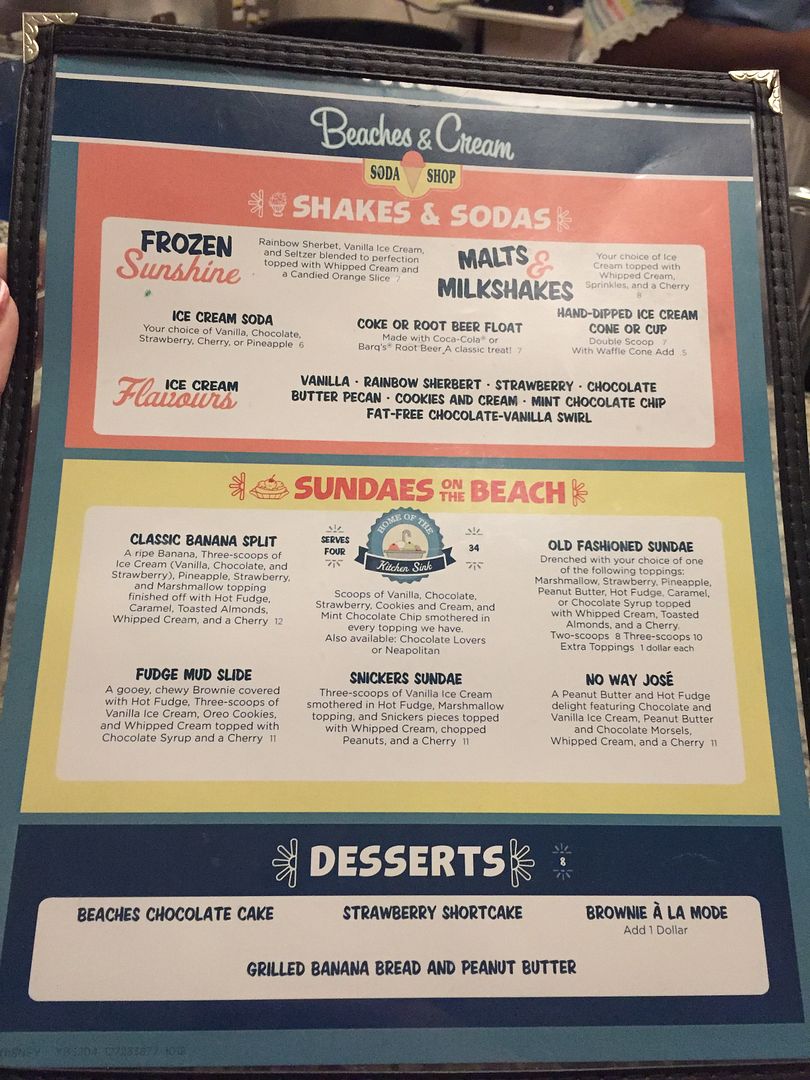 An advantage to sitting at the counter was having a great view of their delicious ice cream creations in the making.  Many of these were being made for guests at Beaches & Cream's take-out counter.  Here is a photo of their To Go menu…
The Mini Mickey Sink seems to be a very popular To Go option, as I saw several being made that night…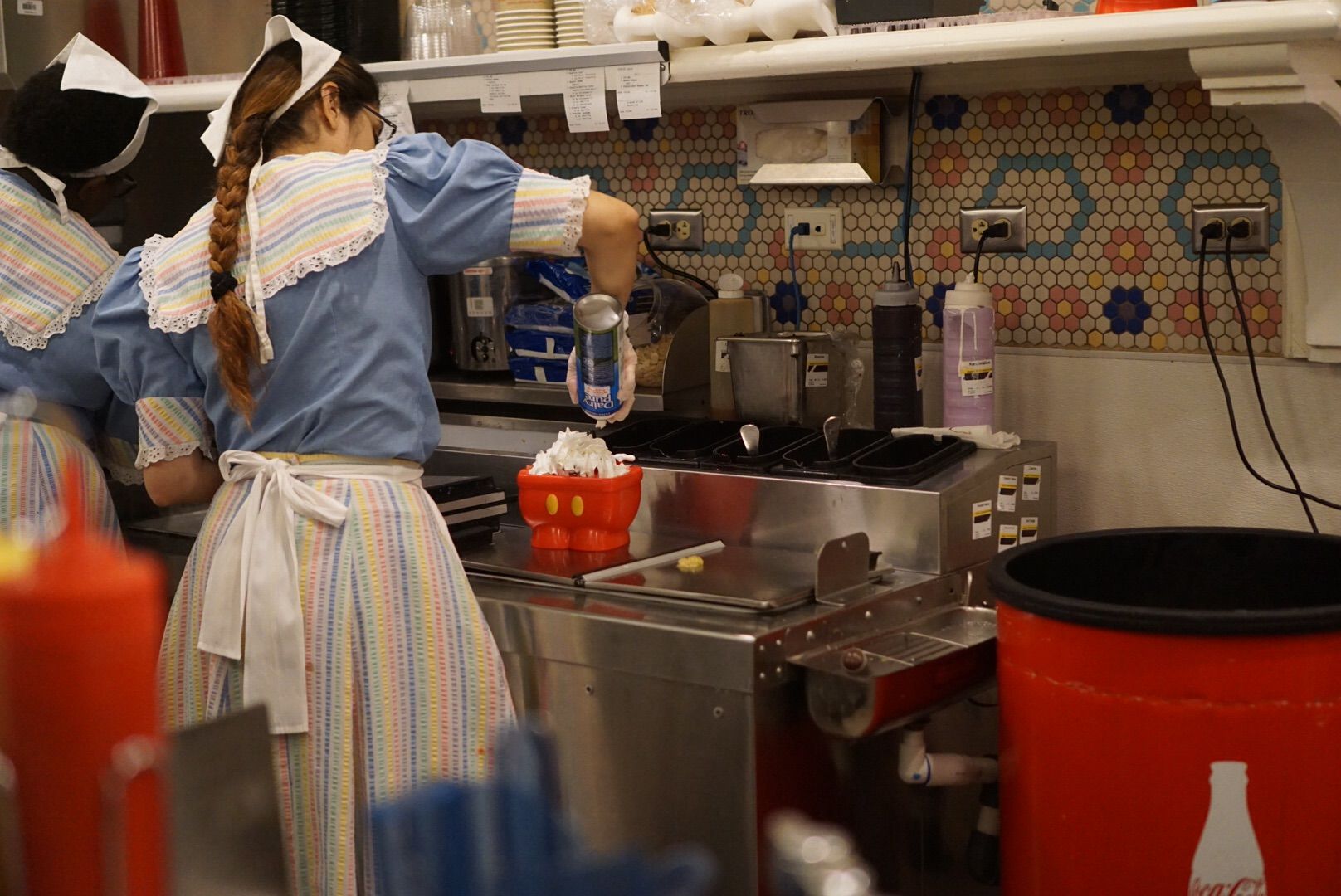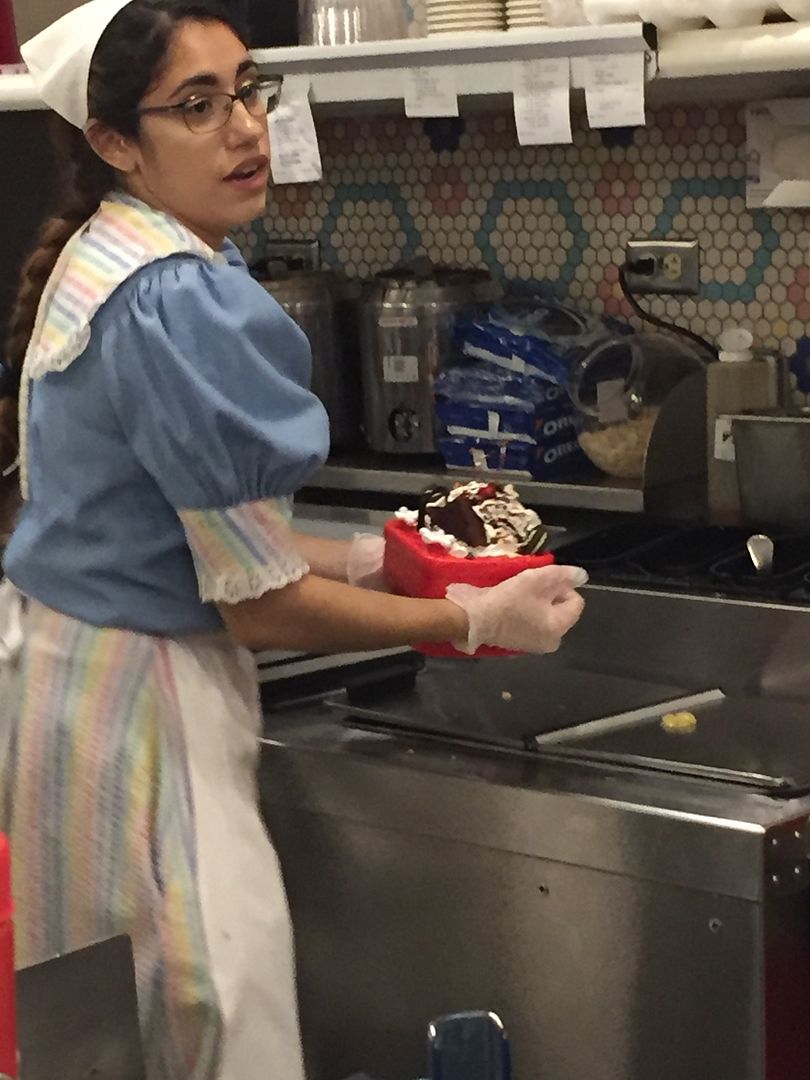 The Mini Mickey Sink has Vanilla, Chocolate, and Strawberry Ice Cream topped with Pineapple, Strawberry, Hot Fudge, Peanut Butter, Whipped Cream, Oreo Cookies, Brownies, an Assortment of Sprinkles and Morsels, and Cherries.  All of this served in a cute Mickey Mouse pants kitchen sink container for $23.00…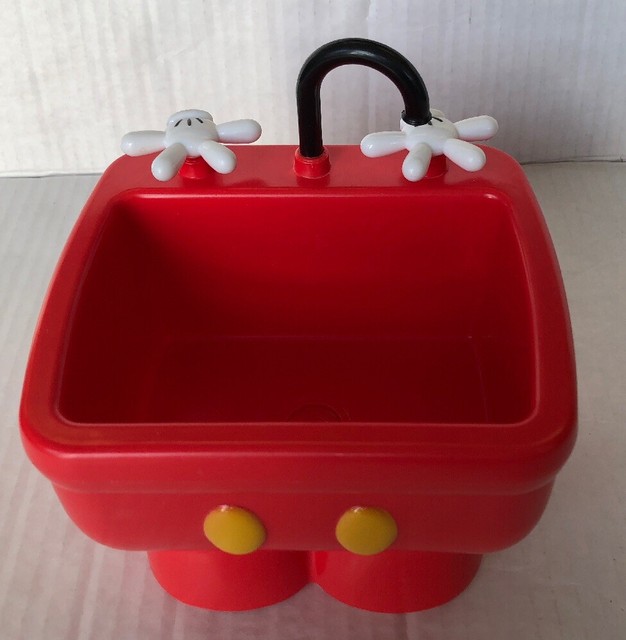 This is the miniature version of the Kitchen Sink sundae that is served inside at the restaurant.  The Kitchen Sink is huge (the menu says it serves four), with more scoops of ice cream and more toppings than the mini and the higher price of $34.00…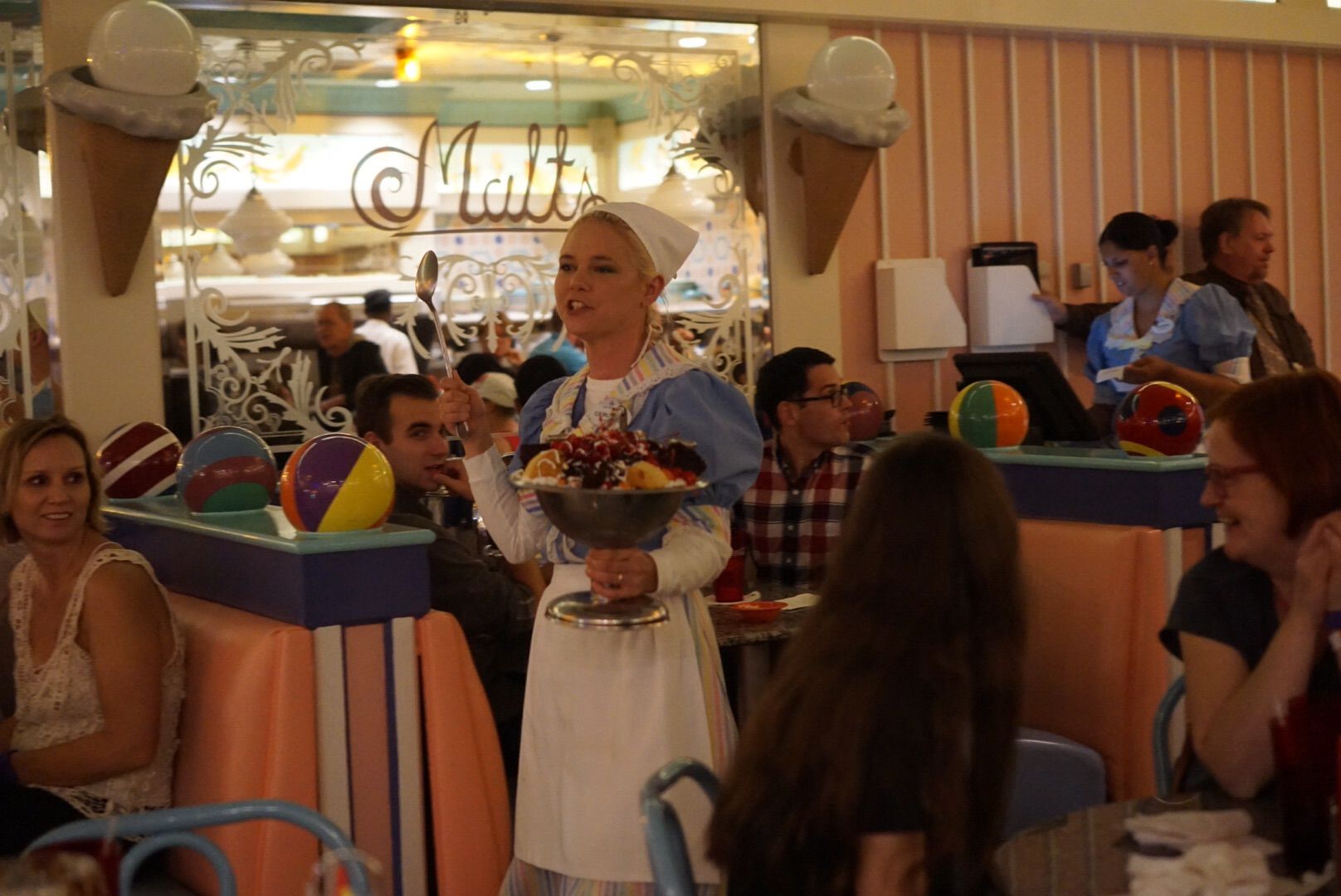 However, what I saw being made that night which most interested me was the To Go version of my favorite Beaches and Cream sundae, the No Way Jose…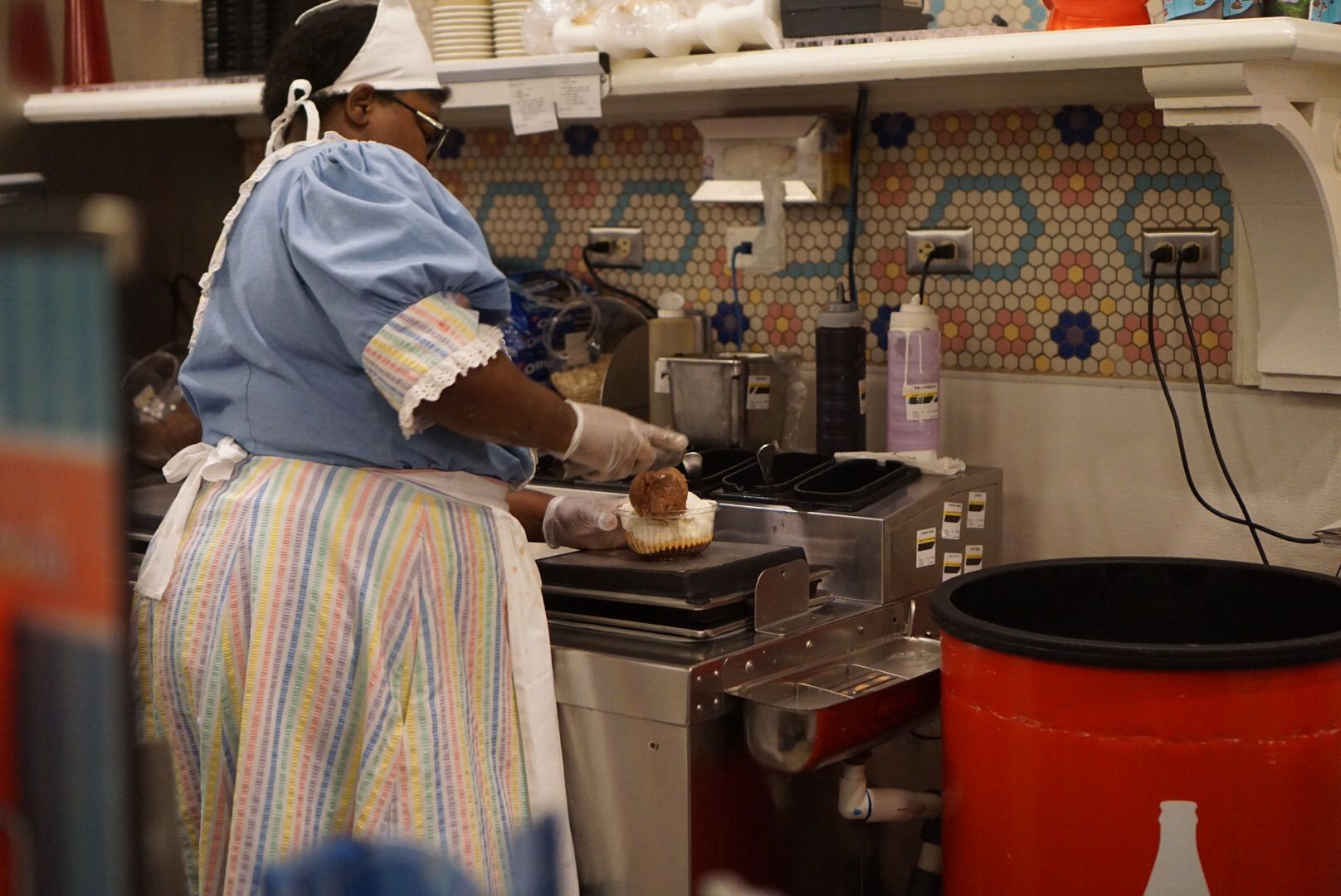 Though this was not specifically mentioned on their To Go menu, I discovered that the No Way Jose sundae was an available option and filed that information away for later in the week.
But now back to this dinner and what I chose to have…
Grilled Cheese and Tomato Bisque – $13.00
A photo of just the sandwich…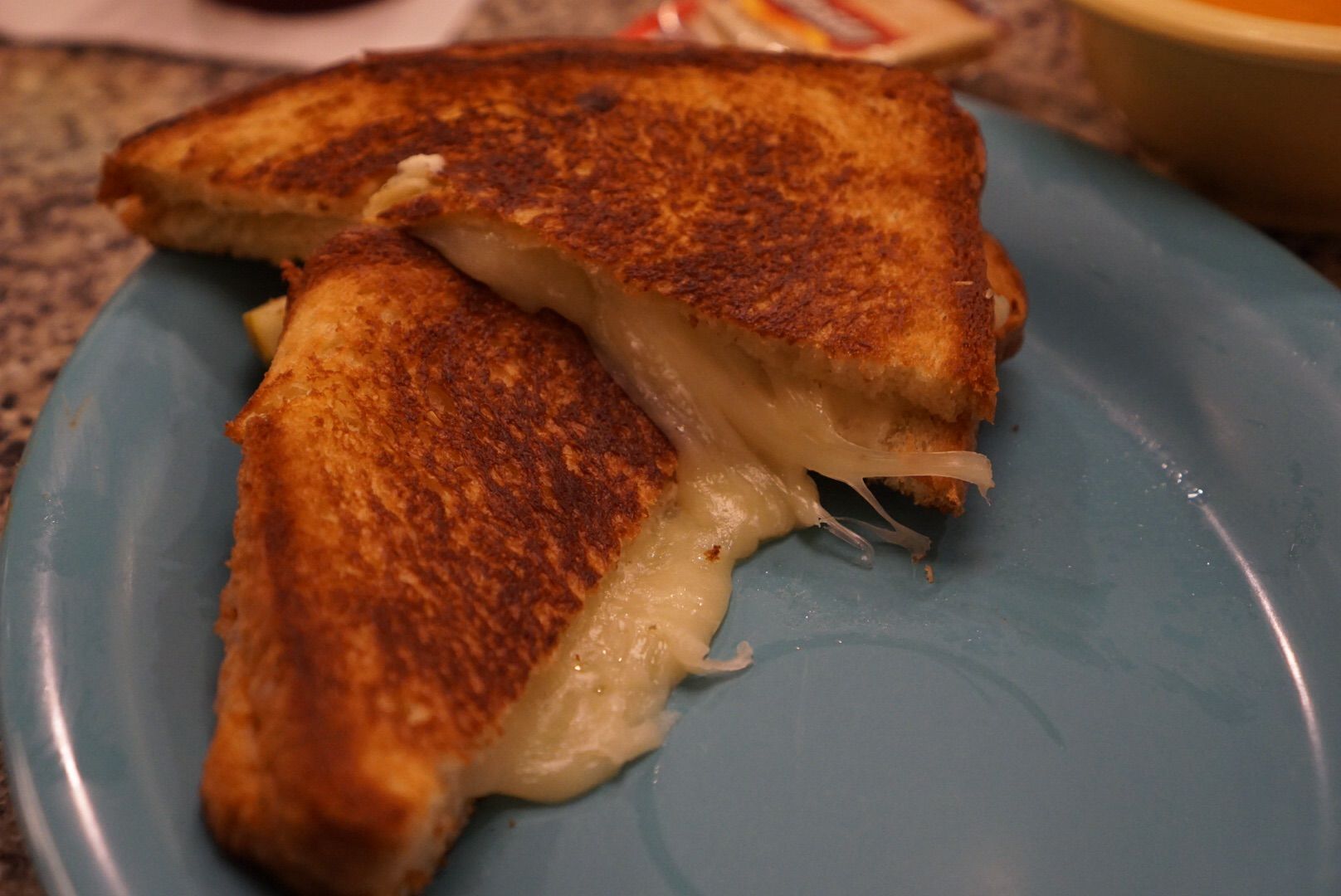 As you can see, this sandwich is filled with lots of cheese.  I've heard it has 6 different kinds of cheese.  I've also heard that this is one of the best grilled cheese sandwiches on Disney property.  So what did I think?  Well, the sandwich was good, and so was the tomato soup.  However, for $4 less (not counting the additional tax & tip) I actually prefer the Grilled Three-Cheese Sandwich (with provolone, cheddar and cheddar cheese spread on garlic buttered artisan French bread) and Tomato-Basil Soup that I had a couple of days earlier at Woody's Lunch Box, a counter service restaurant at Hollywood Studios.
Though the Beaches and Cream sandwich and soup were not as good as Woody's, they more than satisfied my hunger.  So sadly I had no room for my favorite No Way Jose sundae, not even the smaller 2-scoops of ice cream version that I usually get.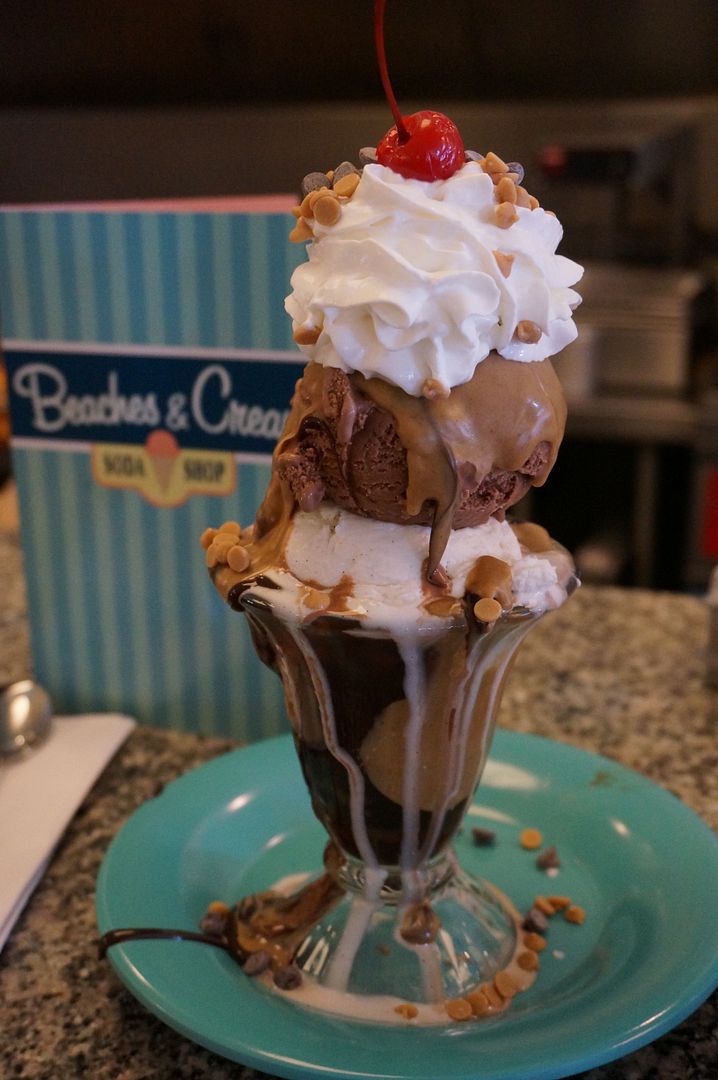 Therefore, that just leaves the ratings and rankings.  While Yelp reviewers gave Beaches & Cream 4 stars. it was given 4 1/2 stars by the reviewers on Trip Advisor.  Based on just this visit (which sadly didn't include the always delicious No Way Jose), I would agree with the 4 stars on Yelp.  As for the Trip Advisor ranking, Beaches and Cream ranks #44 of the eateries in the Disney World area.
FYI: Beaches & Cream Soda Shop at Disney's Beach Club Resort will be undergoing a lengthy three month refurbishment beginning in early August 2019.  Since the Arcade next door is also going to be closed, I'm hoping they are expanding the soda shop to accommodate more guests.   I am planning to include a stay at the Beach Club during my Fall trip this year so I hope that Beaches and Cream reopens by then.  However, I did hear that during the closure, there will be a temporary location at Disney's Beach Club Resort available to offer guests their ice cream fix, so maybe I'll at least be able to have my much-loved No Way Jose.