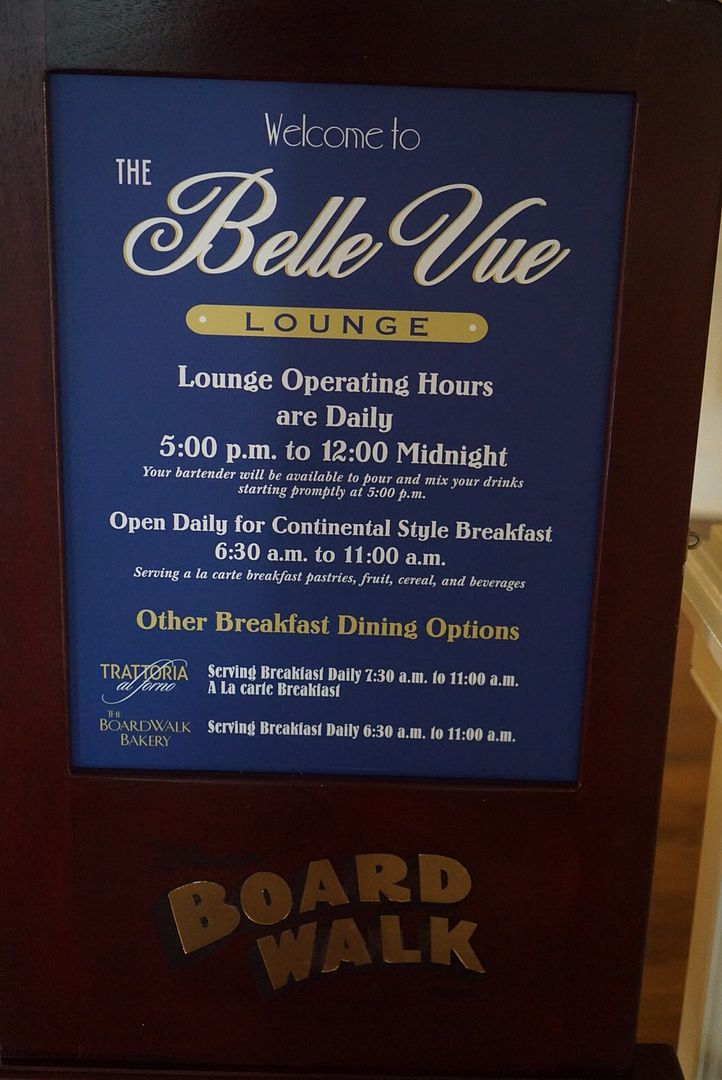 For those unfamiliar with the Belle Vue Lounge, it is located on the 2nd floor (same floor as the lobby) of the Boardwalk Resort, on the "Inn" side of the resort rather than the "Villas" side.  If you have been a guest of the Boardwalk Inn, you've probably walked by the Belle Vue either on your way to the elevators to go up to your room, on your way out to the Boardwalk via the indoor staircase or on your way to the lobby/bus stop.  And if you did this between the hours of 11:00 a.m. – 5:00 p.m. or Midnight – 6:30 a.m. there wasn't much to see there.  It looks like just a quiet sitting room…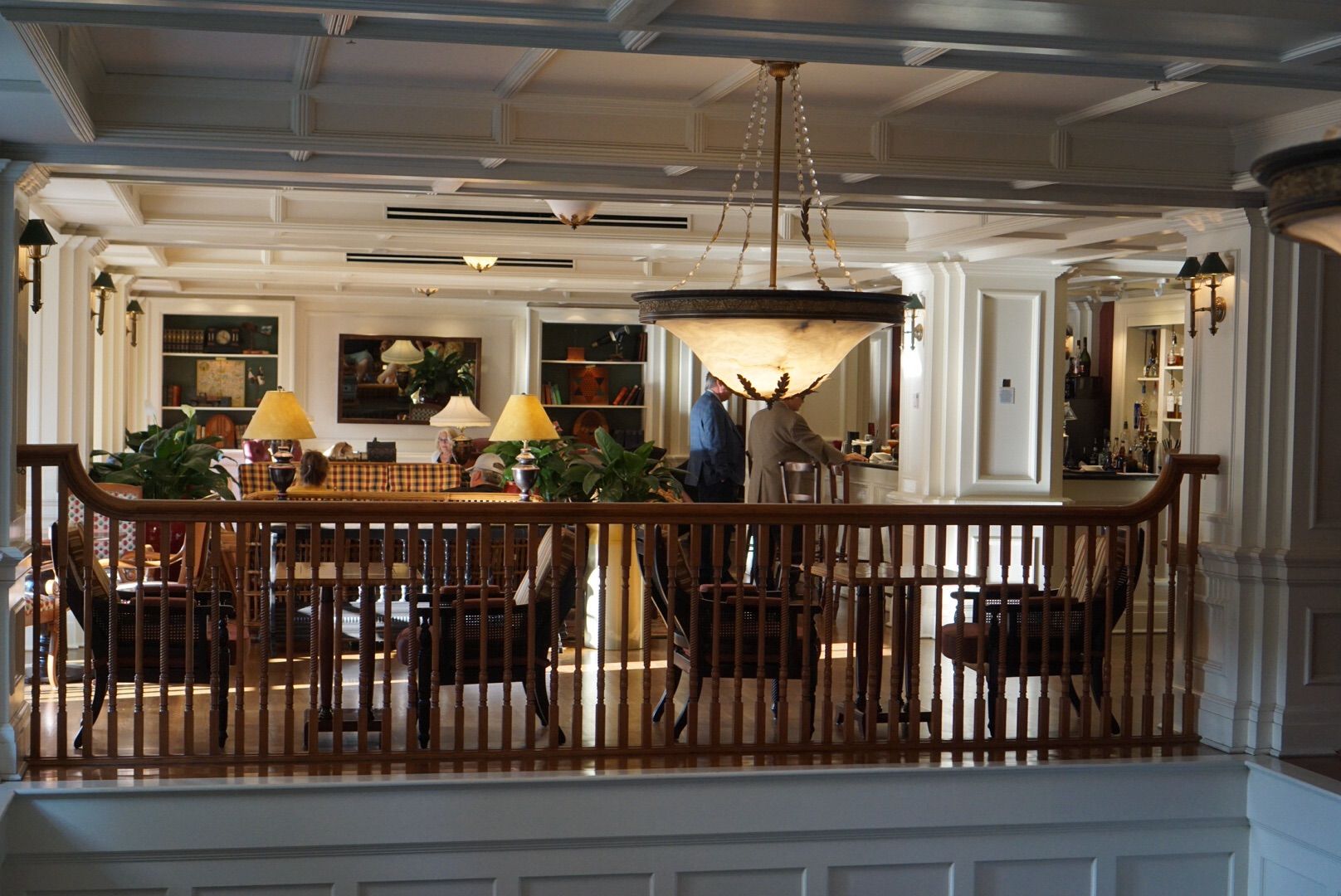 But starting at 6:30 a.m. it becomes a very convenient place to get your coffee and continental-style breakfast.  Since I've often stayed at the Boardwalk Inn, this is my go-to place for coffee most every morning plus a light breakfast at least once during my stay…this time it was twice.
Though they have fruit (bananas and apples I believe) and cereal (individual boxes of dry cereal), I usually get one of their breakfast pastries.  These pastries come from the Boardwalk Bakery and are the same price here as what is charged for them at the bakery.  So if you are staying at the Boardwalk and only want a breakfast pastry and cup of coffee in the morning then I highly recommend the Belle Vue to save yourself some time (shorter lines) and steps.
Ok, now on to my choices.  There were many of the same breakfast pastry options as what I found at the bakery during my visit there earlier in the week, including muffins, danish, croissants, cinnamon rolls, sticky buns, bagels, and scones.  So on Thursday morning I chose…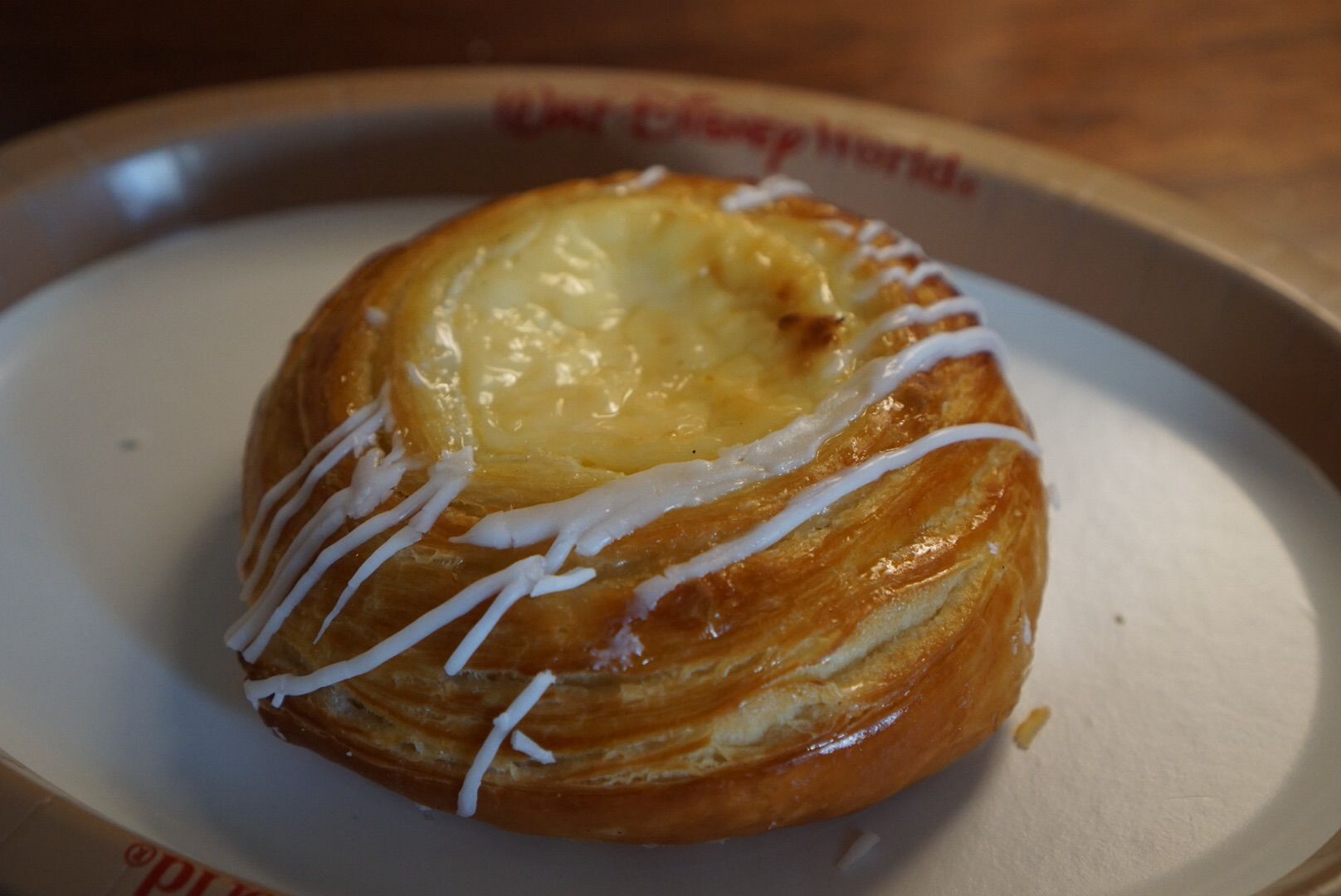 Cheese Danish – $3.99
And from a different angle…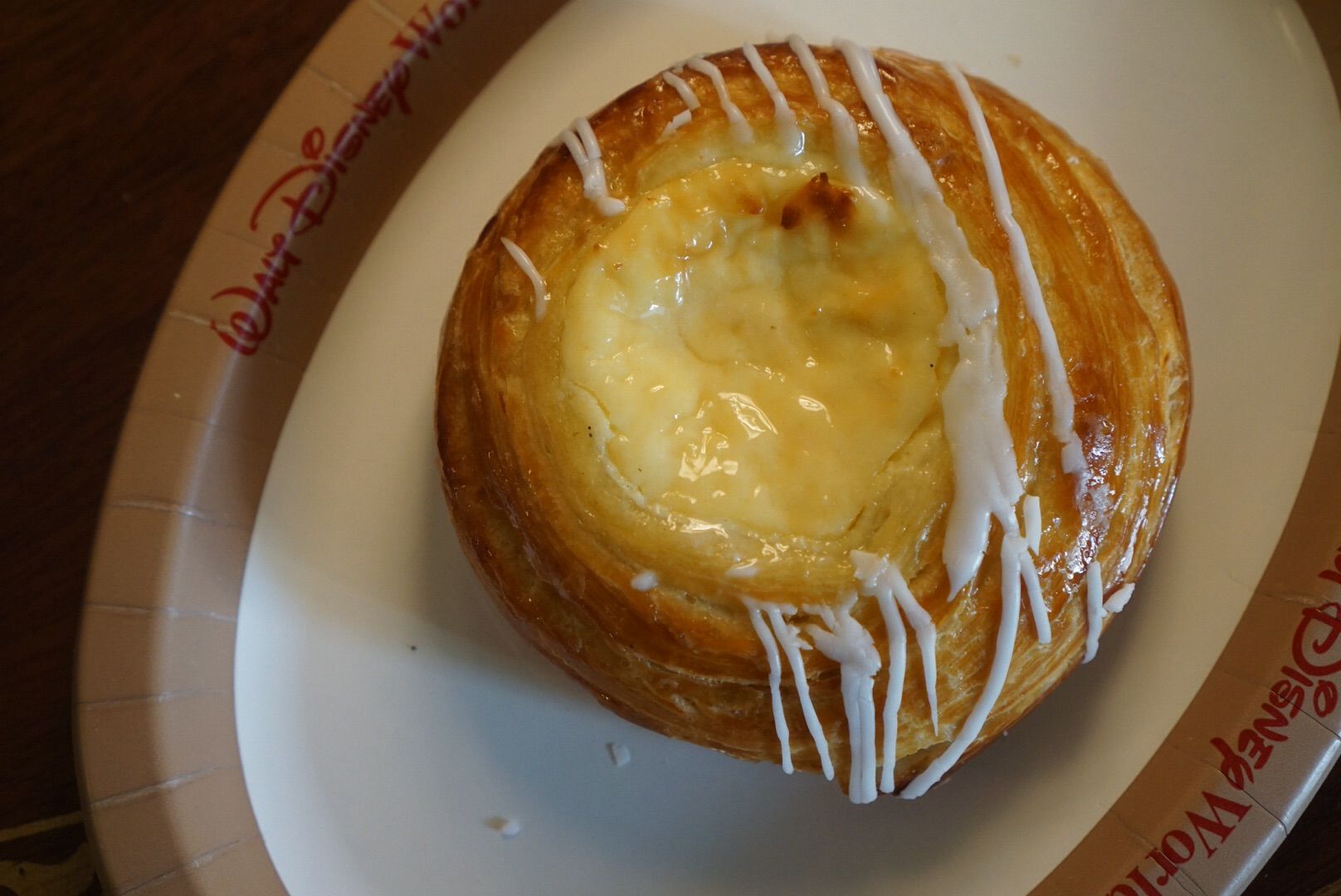 Earlier in the week I had taken a photo of the Cheese Danish in the Boardwalk Bakery's display case…
As you can see there was much more icing on those than the one I got at the Belle Vue, so if lots of icing on your danish is your thing than you might want to head on down to the bakery.   But I was content with the smaller amount of icing on my danish.  It was really good…as the cheese danish at Disney World always are.  Moist, fresh, delicious!
Two mornings later, on my last morning at the Boardwalk, I again wanted a light breakfast that I could eat in my room, as I was busy packing up.  So this time I went with…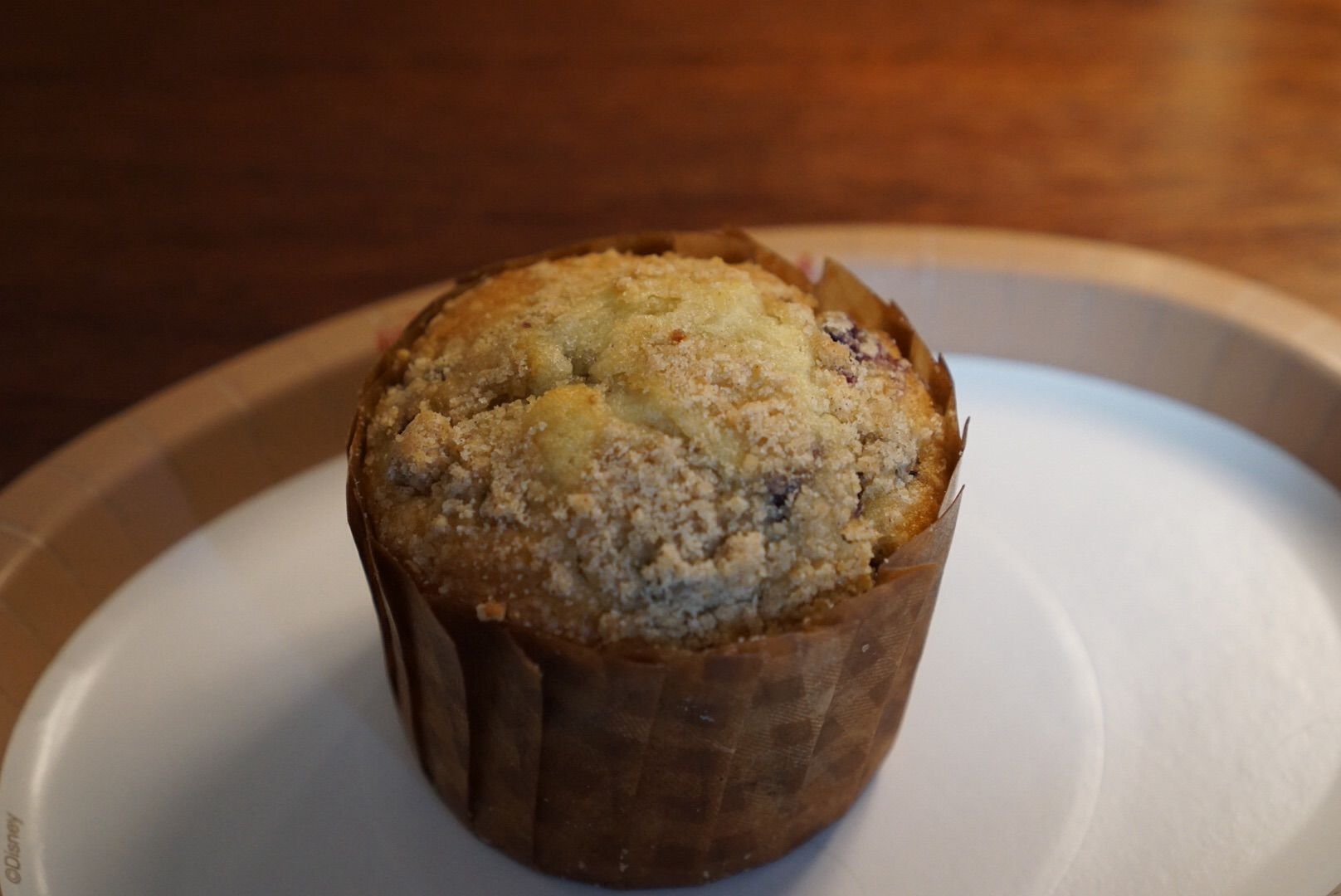 Blueberry Muffin – $3.49
Some more photos, this time with the wrapper off…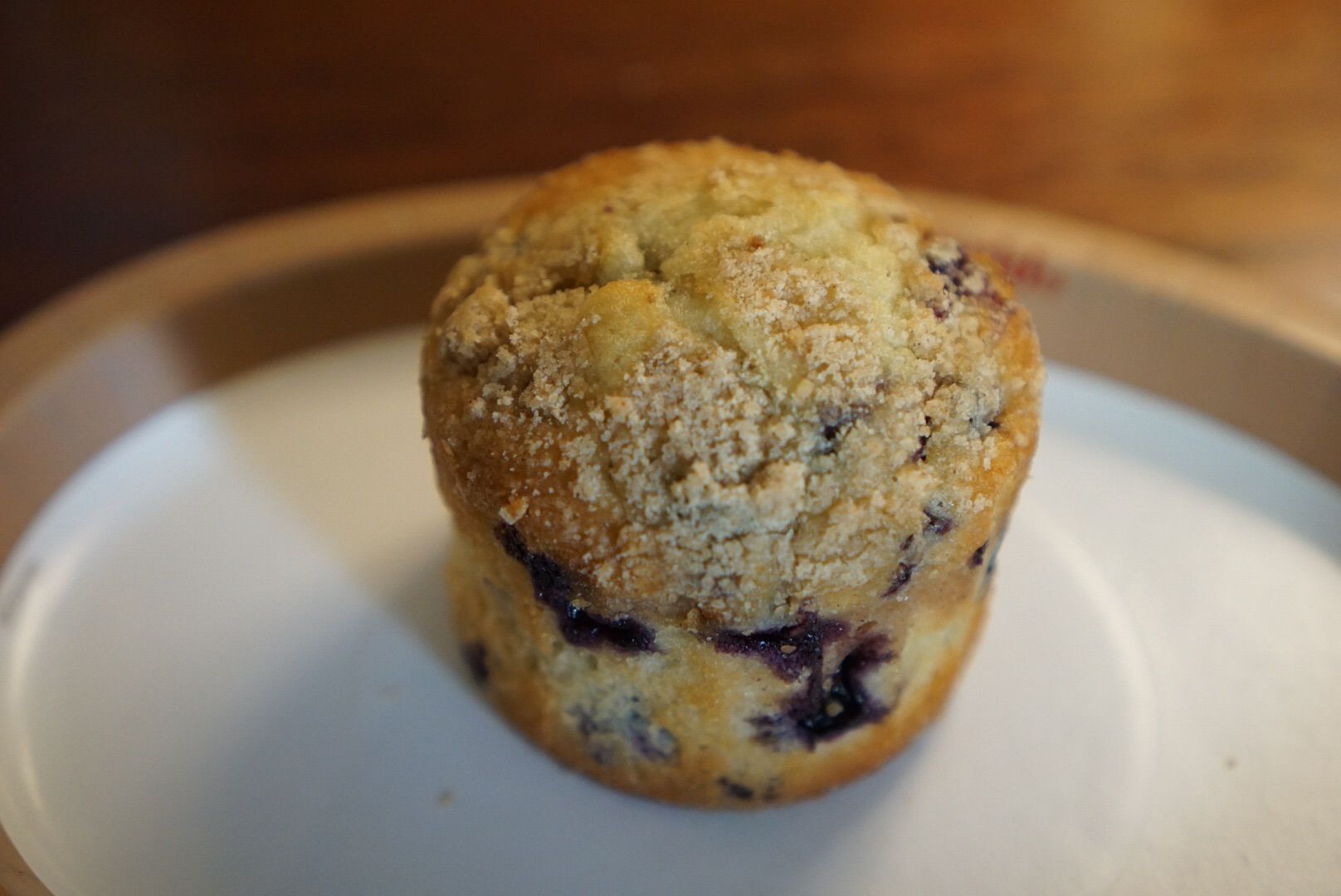 And then a look inside…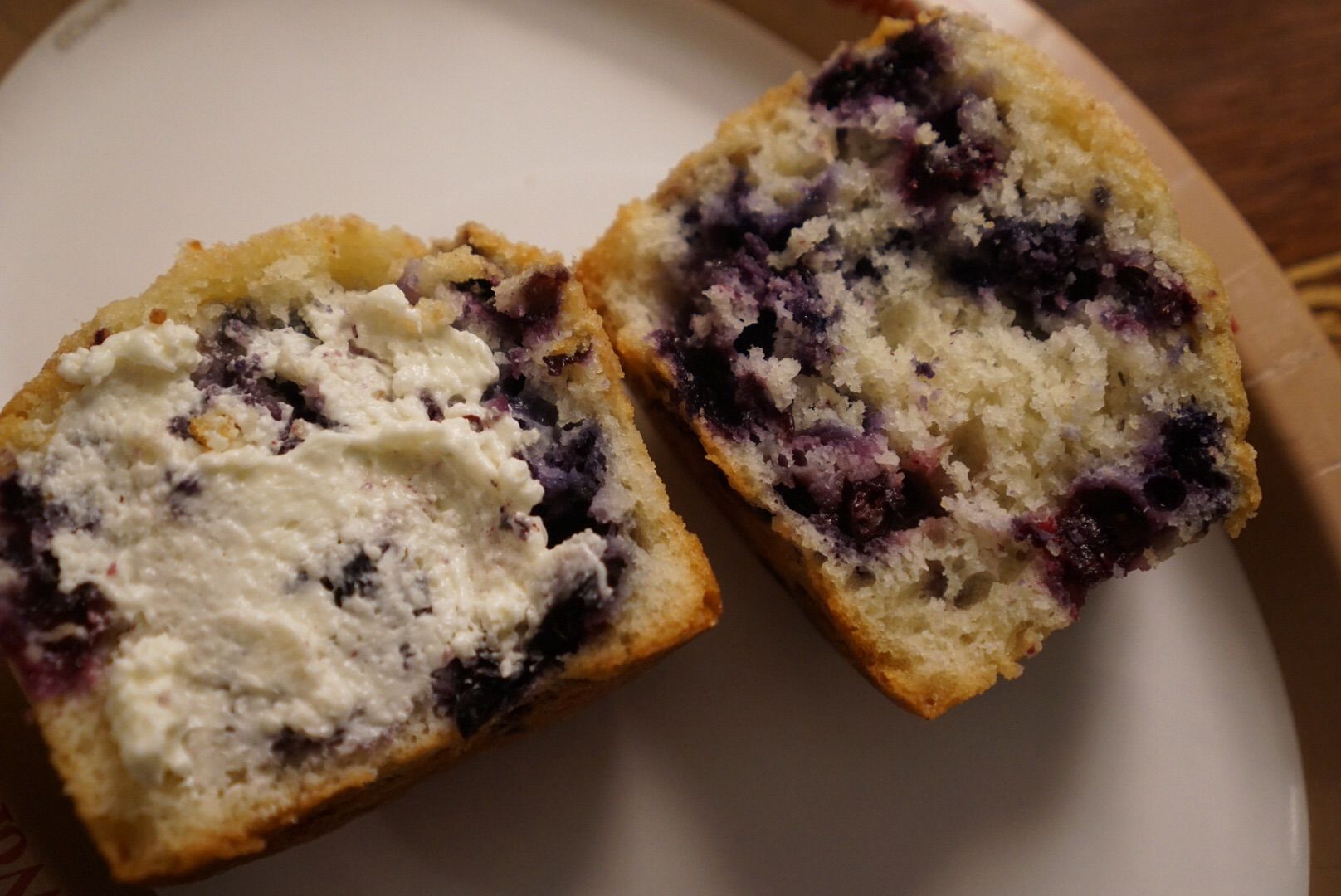 As you can see, it had a good amount of blueberries.  Also there was a small amount of crumbly streusel on top.  The muffin was good, but would have been even better heated for a few seconds in a microwave.  Sadly though, I was staying on the Inn side and not the Villa side so no microwave in my room.
While both my danish and muffin were good, if I had to choose just one it would definitely be the Cheese Danish.  Yum!
Oh, and by the way, I was able to use my refillable mug (which I got at the beginning of my trip when I was on the Dining Plan) here for coffee in the morning.  Also they accept Dining Plan snack credits at the Belle Vue during breakfast.
One more thing of note, the cast member  who works here most every morning (and has for many years) is super nice and always serves you with a smile.  I wish I could remember her name to give her a shout out for years of great service but sadly it escapes me.
As for evenings, starting at 5:30 p.m. (until midnight) the Belle Vue transforms into a cocktail lounge. Sadly no food is served at night so I've never taken the time to stop in for just a cocktail.  Maybe someday.
So that just leaves the ratings.  Yelp, Trip Advisor reviewers and I all give the Belle Vue Lounge a rating of 4 1/2 stars.