It was about 12:45 when we arrived at the podium outside of Big River Grille, after walking there from the Epcot Skyliner station. We were able to get a table immediately without a reservation, which was nice. We were given the option of sitting inside the air-conditioned restaurant or outside at one of their tables, shaded from the sun by an umbrella. We decided to dine outside so that we could enjoy this view…
I really loved sitting along the Boardwalk and watching the Friendship boats traveling back and forth between the Boardwalk and the Yacht & Beach Club docks.
We started our lunch by sharing the…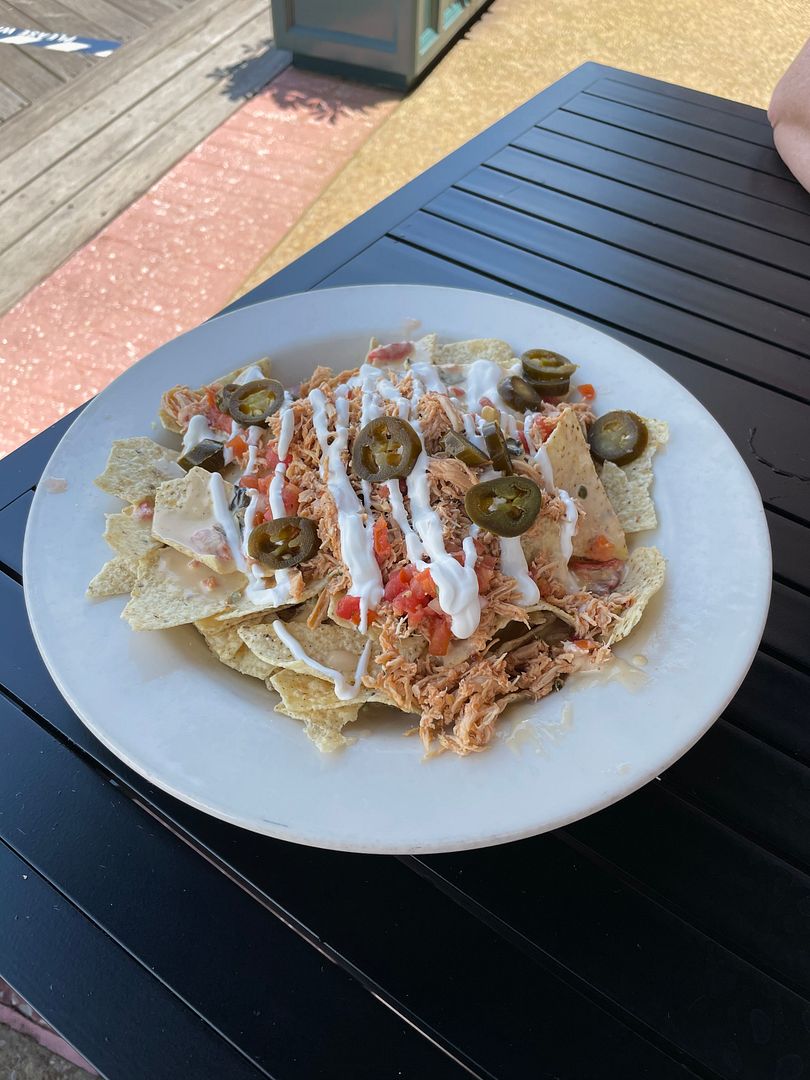 Brewery Nachos with Chicken – Tortilla Chips with Pepper Jack Cheese, Jalapeño, Pico de Gallo, Sour Cream and Shredded Chicken – $15.99
We also added a side of Guacamole for $2.99…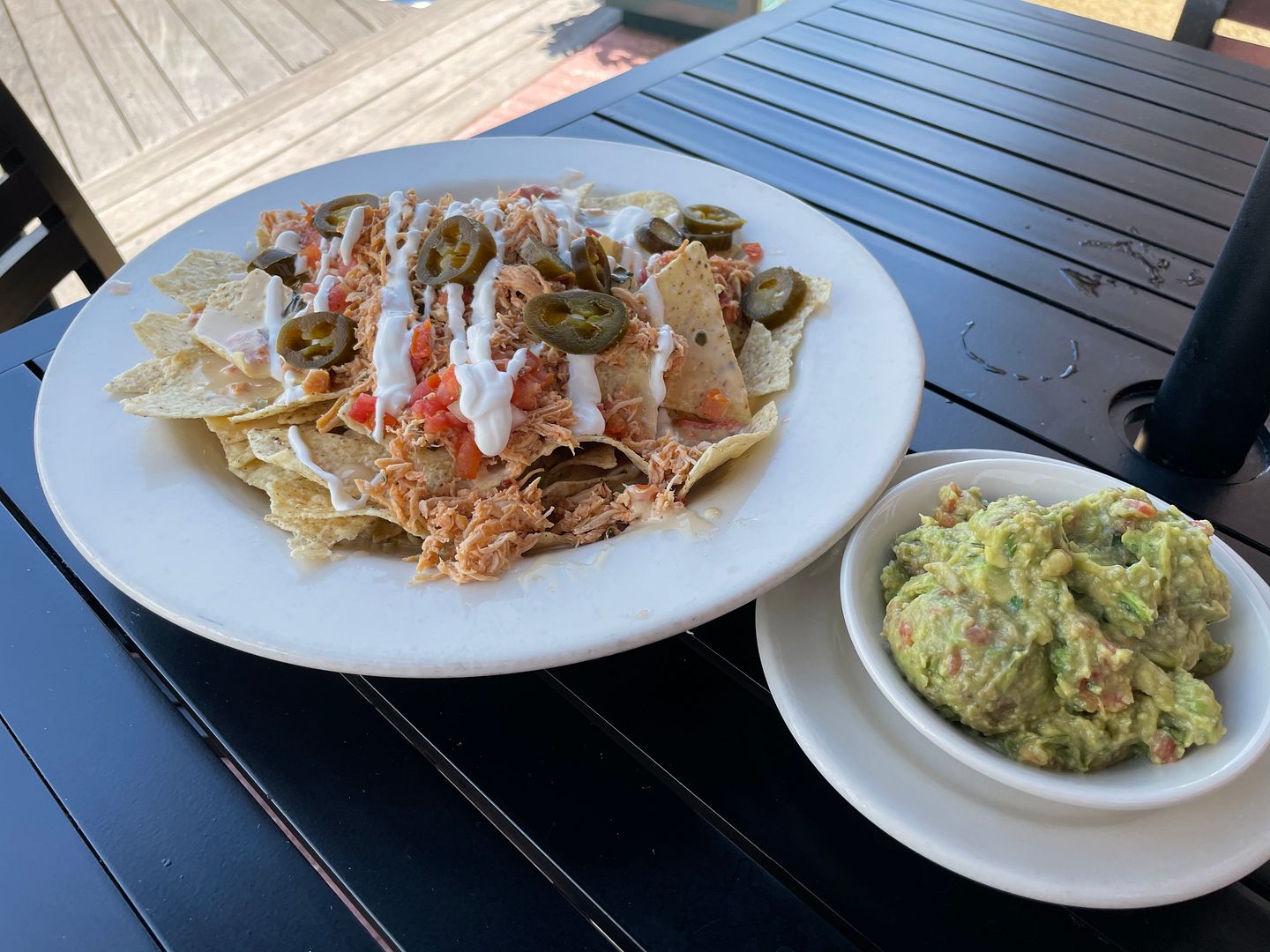 The nachos were very good. The chicken was moist and flavorful and the cheese sauce added a little spice. Also the guacamole was tasty and a great addition.
We decided to also share a sandwich, which we chose from this section of their menu…
All of the sandwiches sounded good to me so I let Andrew choose…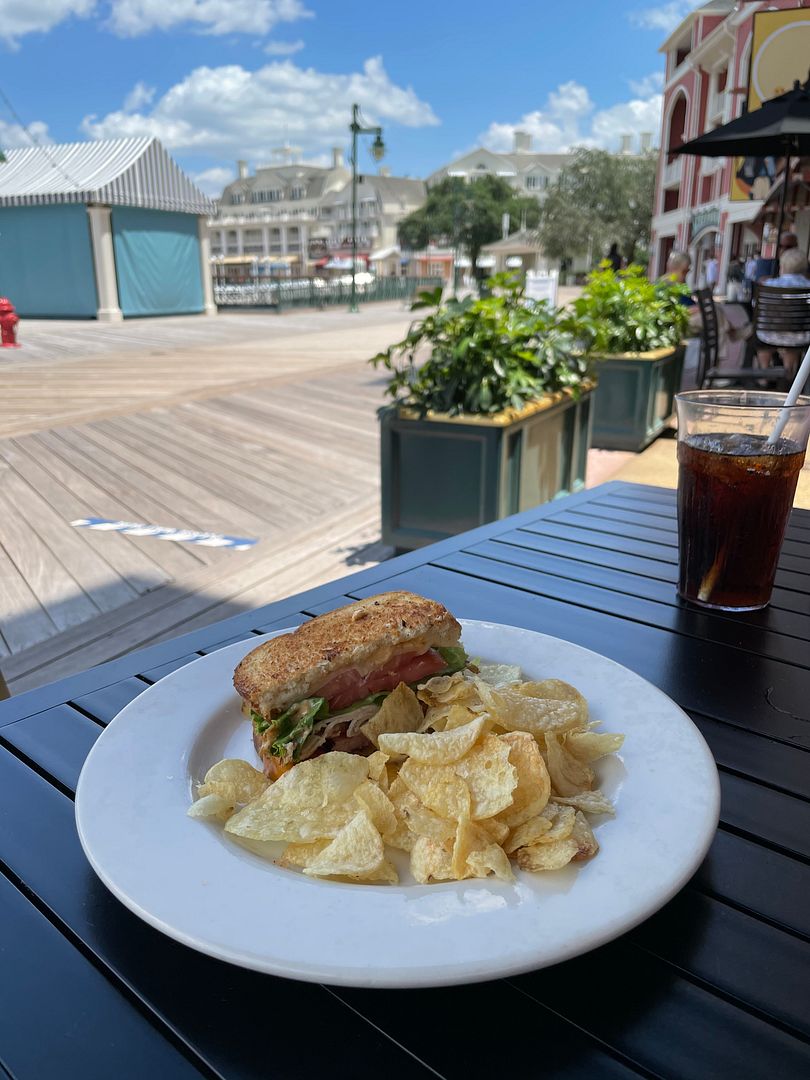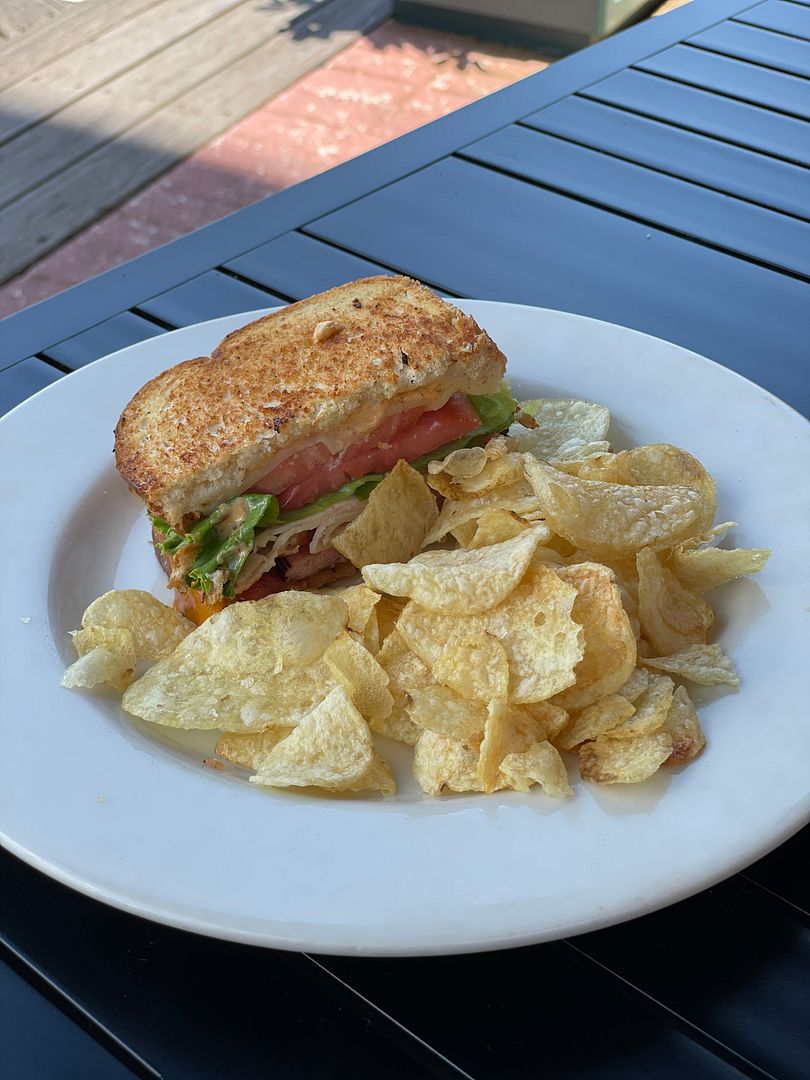 Brewer's Club – Roasted Turkey, Ham, Bacon, Cheddar and Swiss Cheeses, Tomato, and Lettuce with Chipotle Mayonnaise and Kettle Chips – $15.49
They divided the sandwich for us in the kitchen and as you can see, we both got a generous amount of Kettle chips. It was a nice sandwich with good quality meats and cheeses.  The chipotle mayo gave it a little more flavor.  Though it was good, I think I probably would have preferred one of their burgers.  Someday I'd like to try their Black & Blue Burger or their California Chicken Sandwich sounds like a winner too.  
So overall I was pleasantly surprised by our lunch at Big River Grille.  Sometimes those spur of the moment dining choices pay off.  My last visit to BRG was in 2013, but I don't think it will take 8 more years before I return.  
And that just leaves the ratings.  I would give Big River Grille a rating of 4 stars.  The food was good, the service was good and the view was great.  However, it received only 2 1/2 stars by Yelp reviewers and 3 1/2 stars on TripAdvisor.  So in my opinion this restaurant is underrated.  With the ESPN Club and Flying Fish both still closed, I think Big River Grille is a very good option for dining along the Boardwalk.