So I've had some of my best Disney World meals at California, but unfortunately I've also had some of my most disappointing meals there too.  My last dinner at California Grill (during my 2017 trip) was of the disappointing variety.  However, earlier in this trip I had tried brunch at California Grill for the first time and I really enjoyed it, so I was optimistic about this dinner…
Which was a late dinner at 9:30, with the intention of being there for the Magic Kingdom fireworks.  This was Halloween night so the fireworks show (HalloWishes) was scheduled at 10:15.  Also, my friends, Nicole & Mike, joined me for this meal.
Let's start with the menu…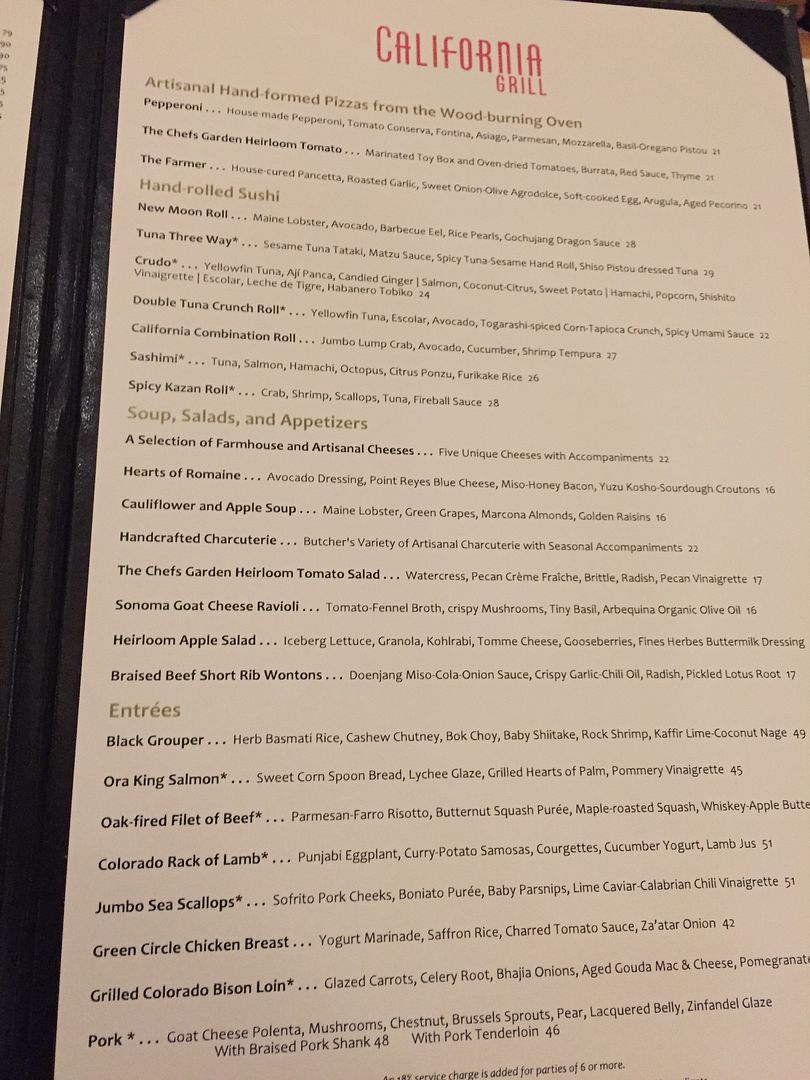 Unfortunately I didn't take a photo of the Cocktail menu, but I'm not sure that Nicole's cocktail was one of the Specialty cocktails listed on their menu…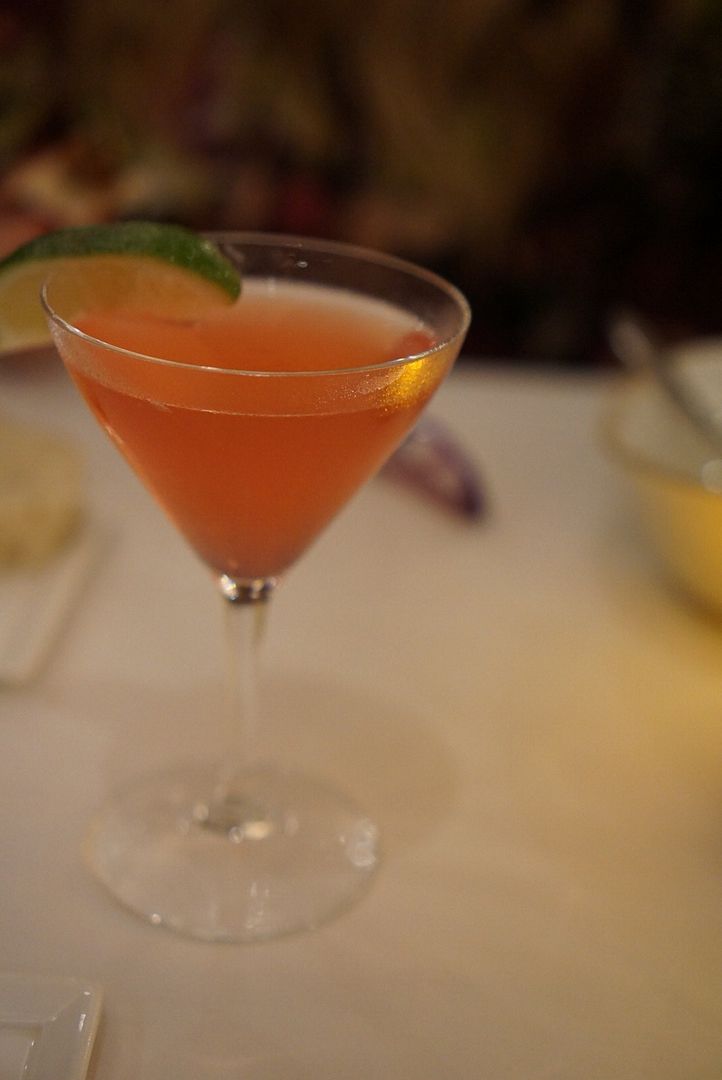 I believe this was a Cosmopolitan and she seemed to enjoy it.  I think Nicole & Mike also ordered a bottle of wine, however I stuck with an iced tea.
The complimentary basket of bread was delivered to our table and I remembered that they no longer served the lavender-infused focaccia that they had had for the last 4 years or so.  At first I really disliked the lavender taste it but it had started to grow on me.  However I liked the Sourdough Bread we were served better…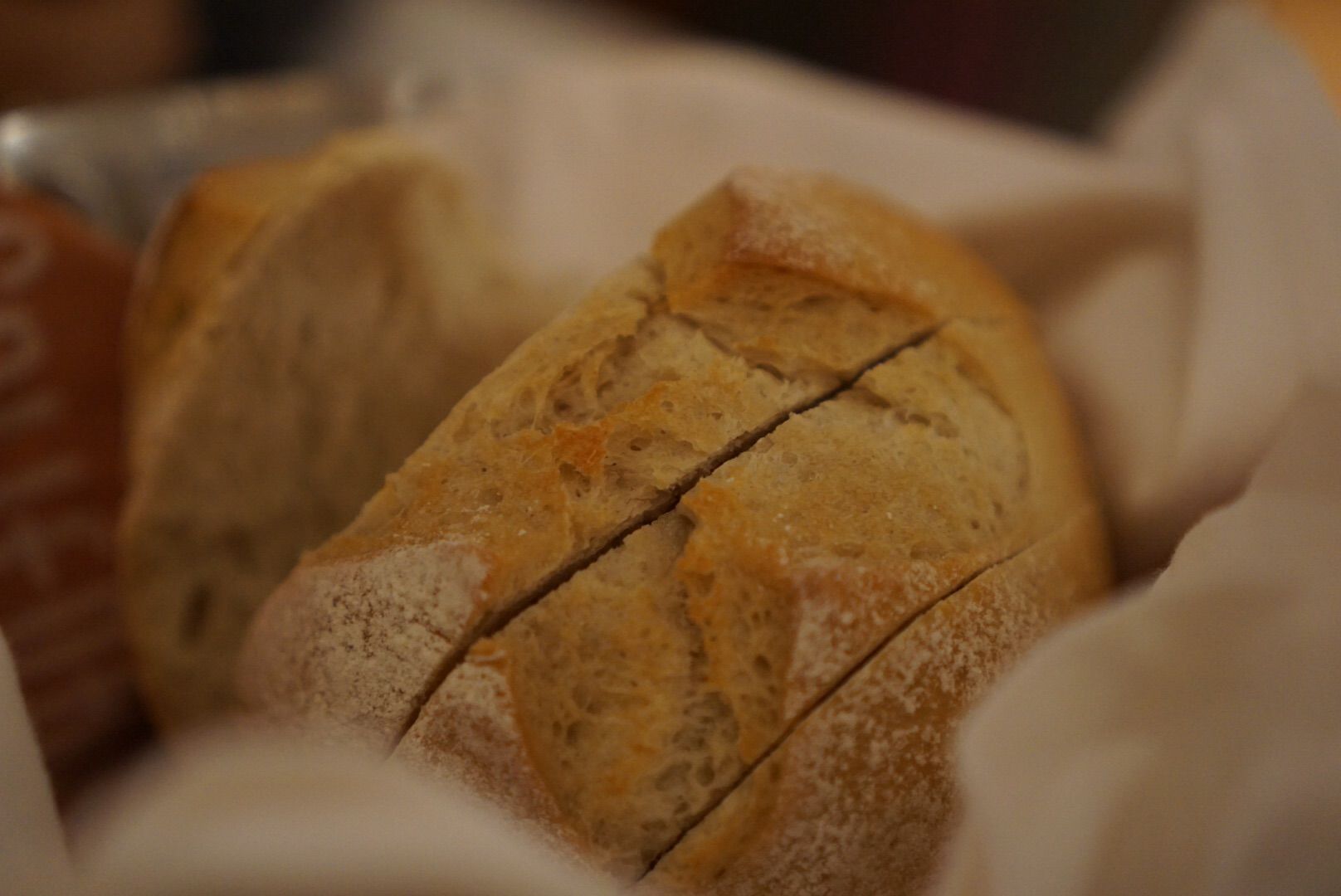 Not really unique (in fact it was pretty much the same as what is served at Narcoossee's)  but it was warm and tasty.  And unlike Narcoossee's (which serves sea salt topped butter with their sourdough bread), at California Grill the bread is accompanied by a bowl of olive oil seasoned with garlic and sundried tomatoes…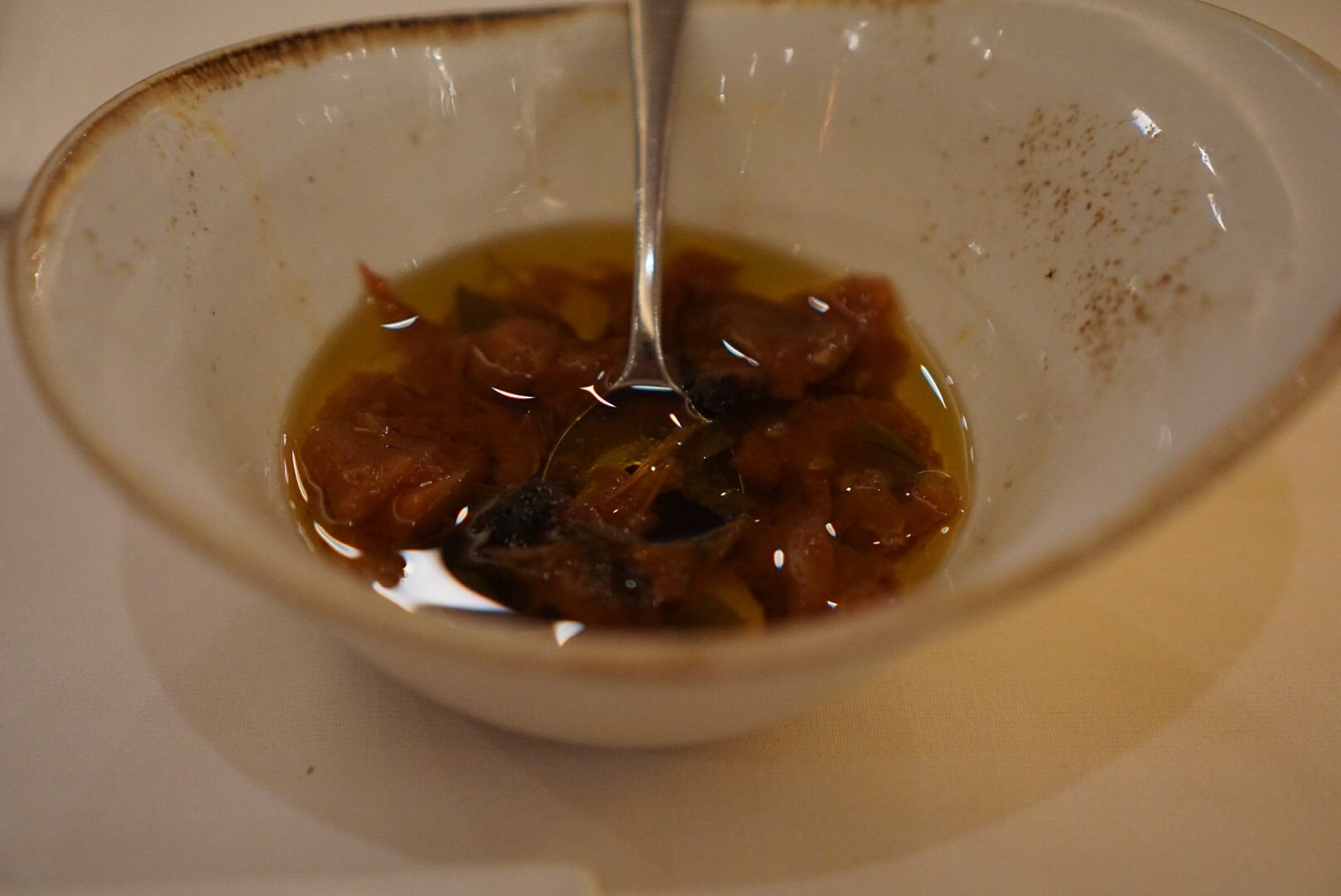 Instead of an entree, Nicole & Mike shared two sushi rolls.  The first of these was the…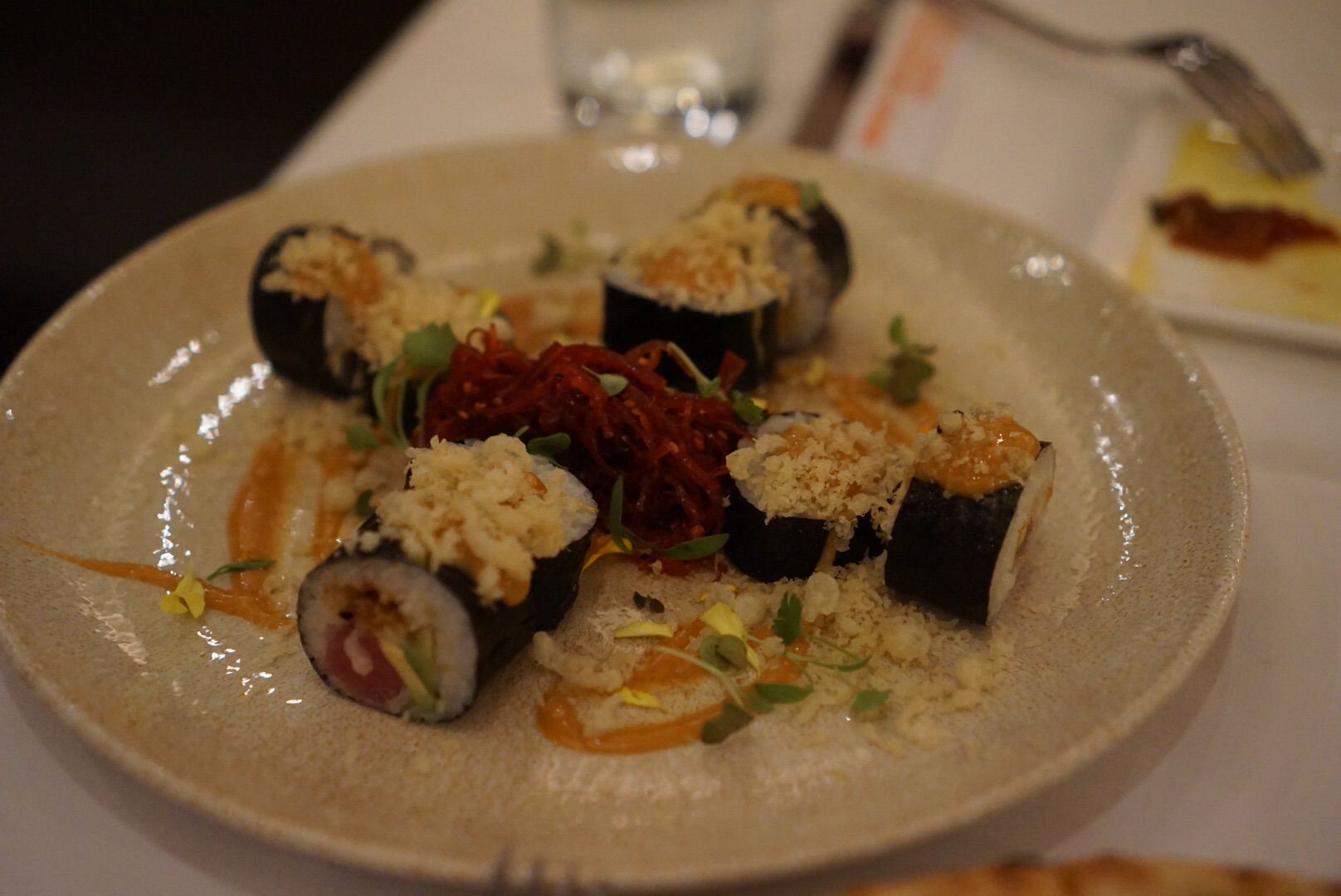 Double Tuna Crunch Roll with Yellowfin Tuna, Escolar, Avocado, Togarashi-spiced Corn-Tapioca Crunch, Spicy Umami Sauce – $22.00
Nicole commented that the tuna in this roll was really good.
For their other roll, they chose the very popular…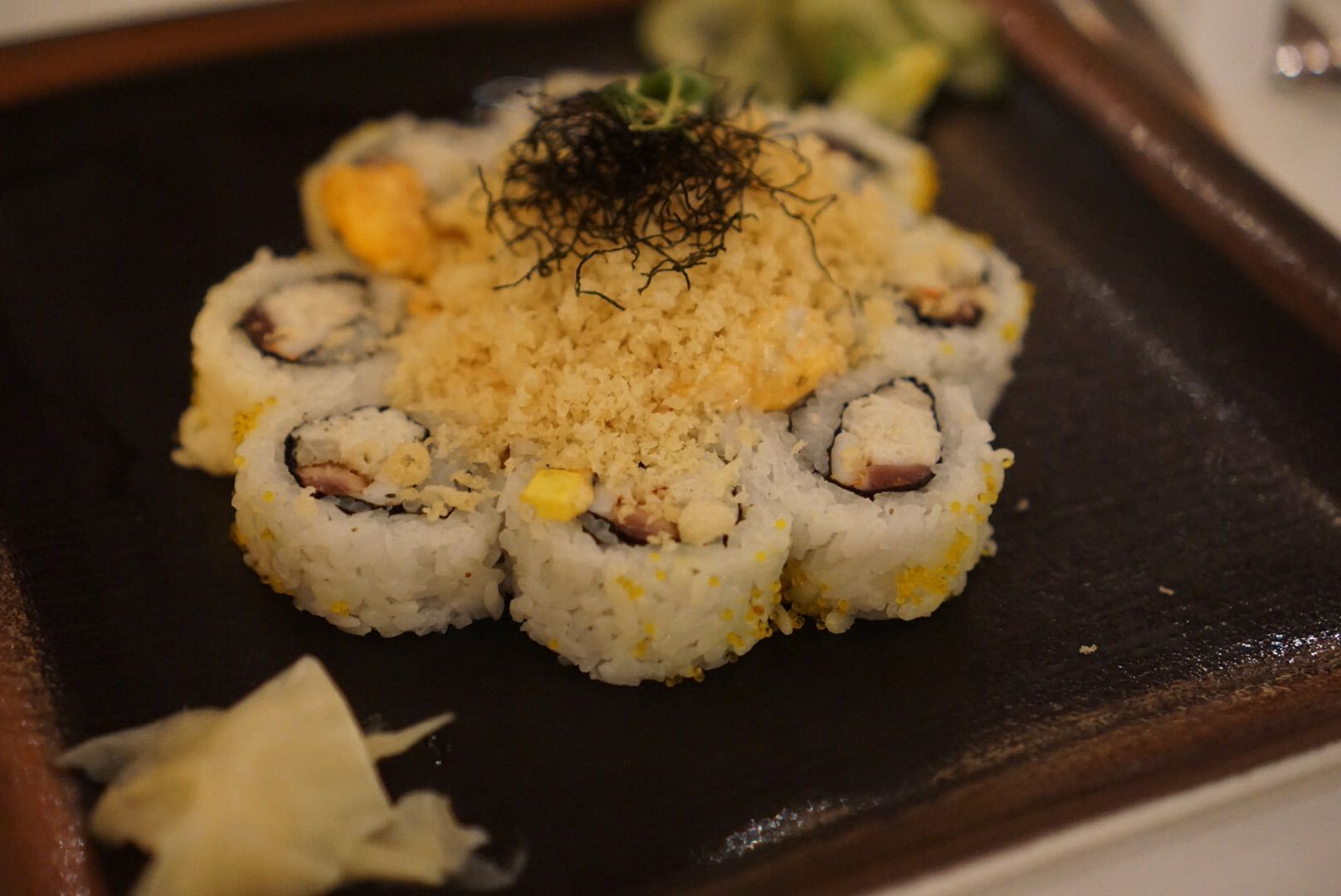 Spicy Kazan Roll – Crab, Shrimp, Scallops, Tuna, & Fireball Sauce – $18.00
Though I've never tried this, I have friends who have and loved it…including Nicole & Mike.
As for me, I ordered a pizza for my entree…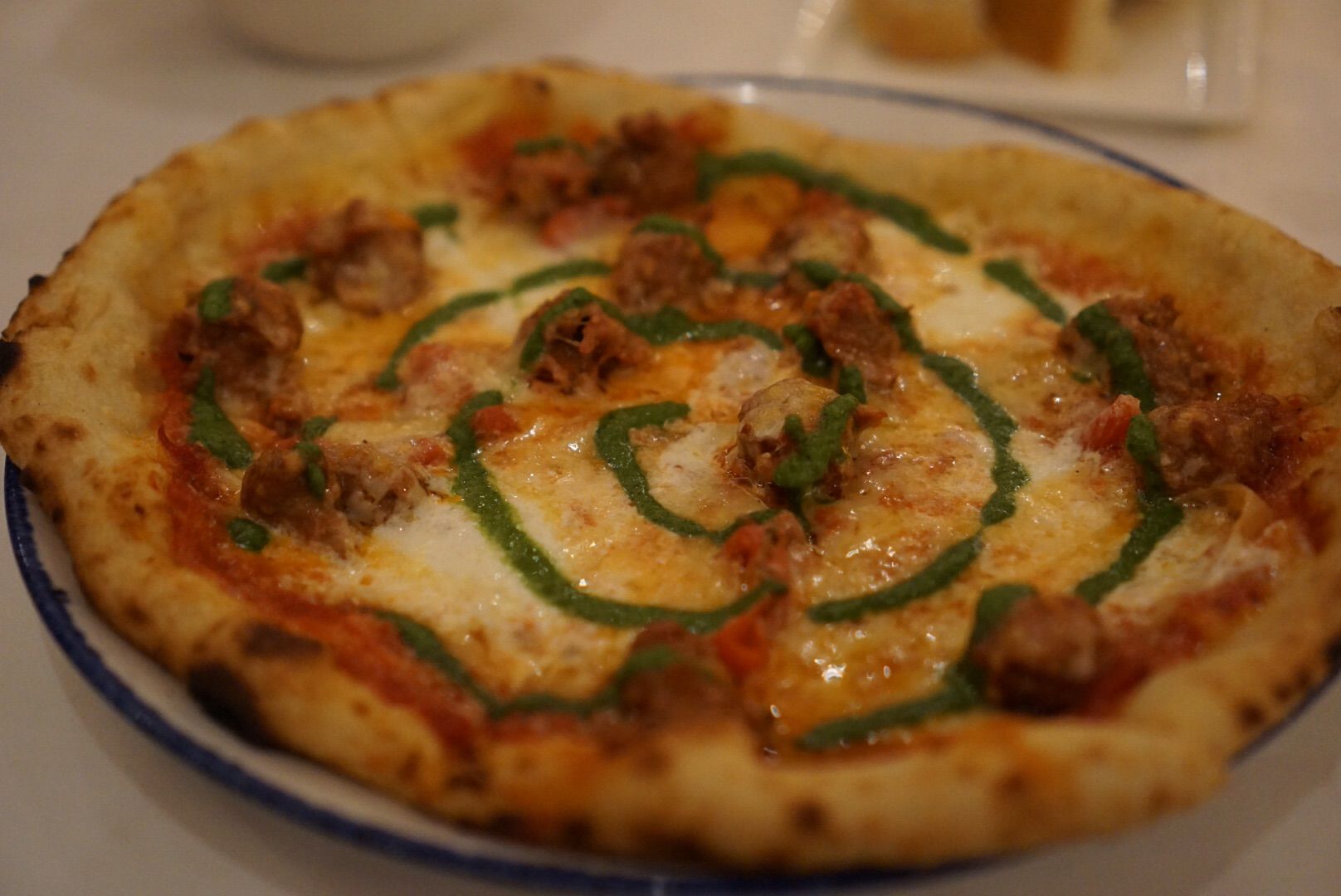 Artisanal Hand-formed Pepperoni Pizza with House-made Pepperoni, Tomato Conserva (slow-roasted tomatoes), 4 Cheeses (Fontina, Asiago, Parmesan, & Mozzarella), and Basil-Oregano Pistou  – $21.00
In the past I've had a few good flatbreads at California Grill, but also several bad ones.  My last visit here we had two different flatbreads and they were both bad.  I thought then that I was done with California Grill's flatbreads, but then my friend Rachel told me about their change to artisanal pizzas and that the one she had tried (Poached Pear & Prosciutto) was really good.  So when I saw pepperoni (one of my favorite pizza toppings) pizza on their menu I had to give it try.  Unfortunately though this looked much better than it tasted.
The pepperoni was not the usual slices of spicy salami.  Instead it was little balls of spicy Italian ground sausage…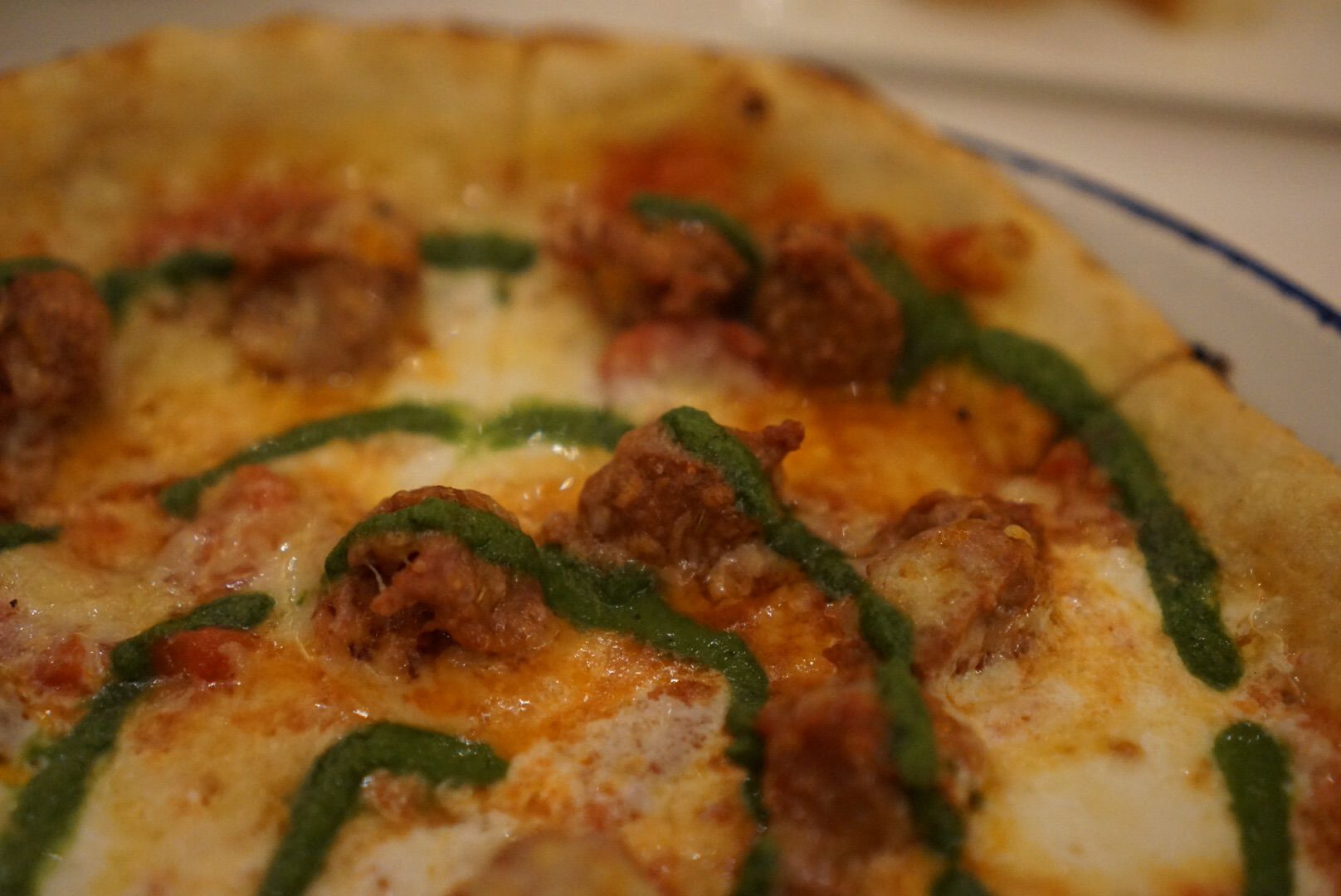 I could have lived with this though.  However, the center crust of this pizza was soft and limp, much like the flatbreads that we had had here last time.  This was not good.  I ate a few bites of the outer crust (the only part that was crispy) and then I was done.
Though I did not enjoy my food I did again enjoy watching the HalloWishes fireworks from California Grill's outdoor observation deck.  Here are some photos…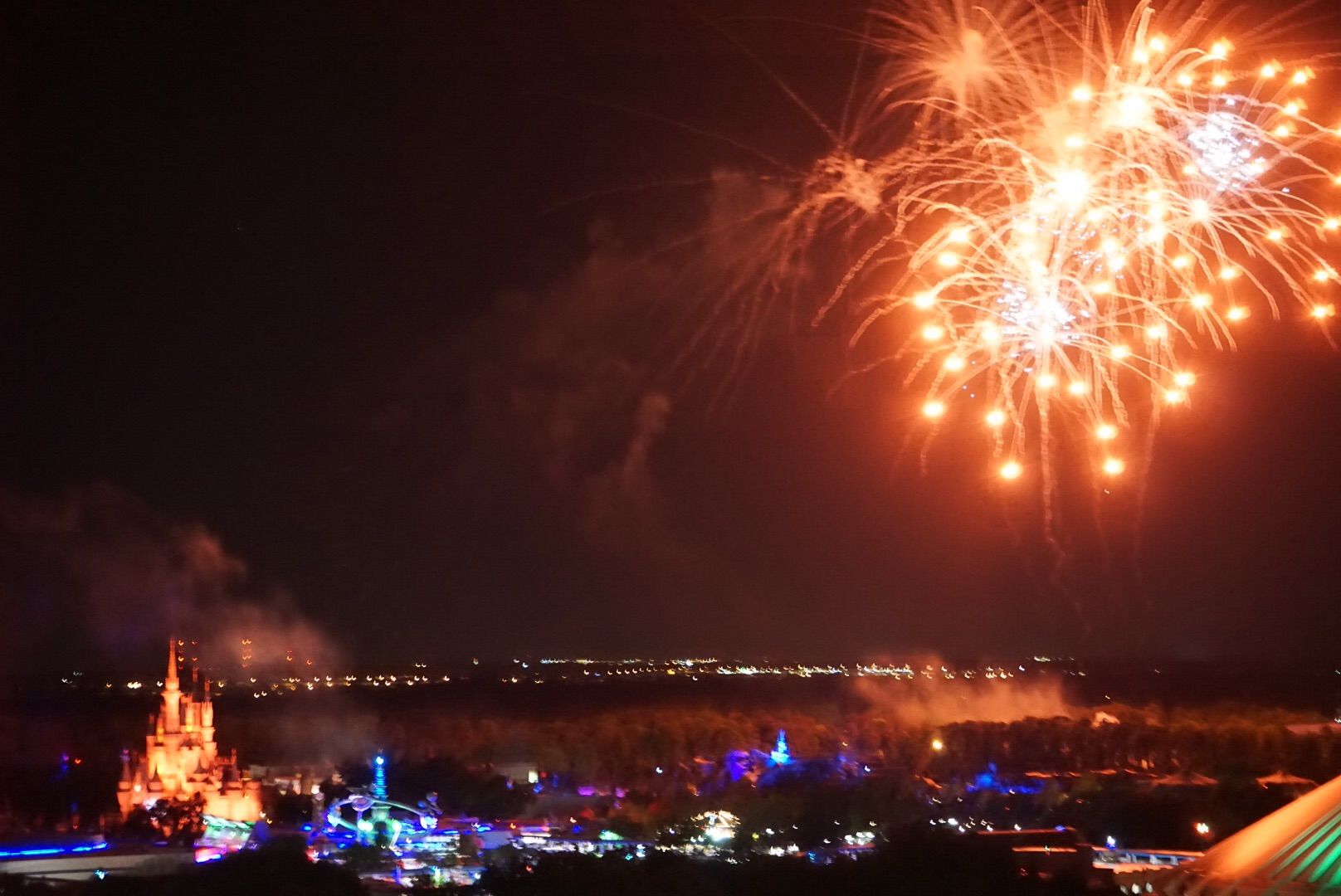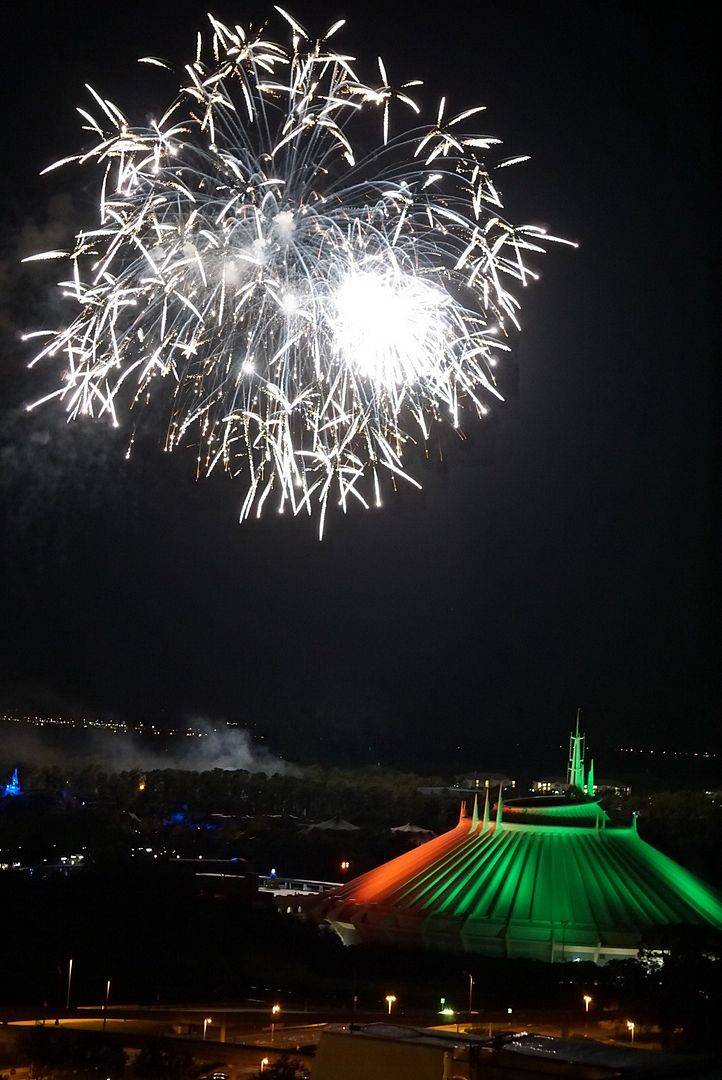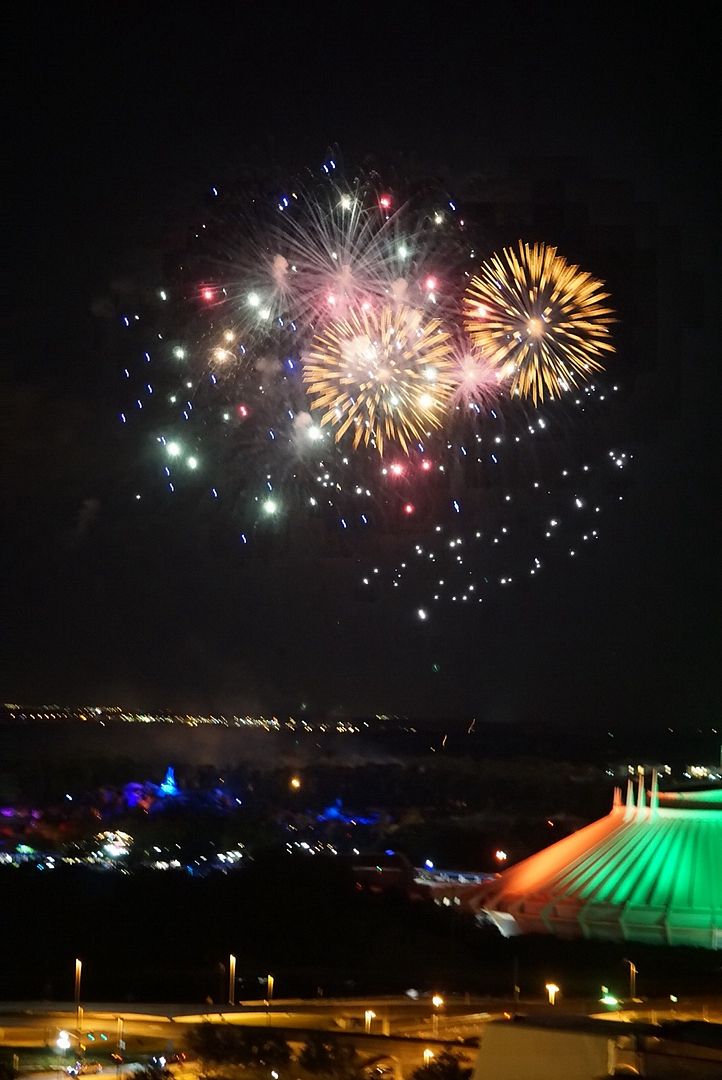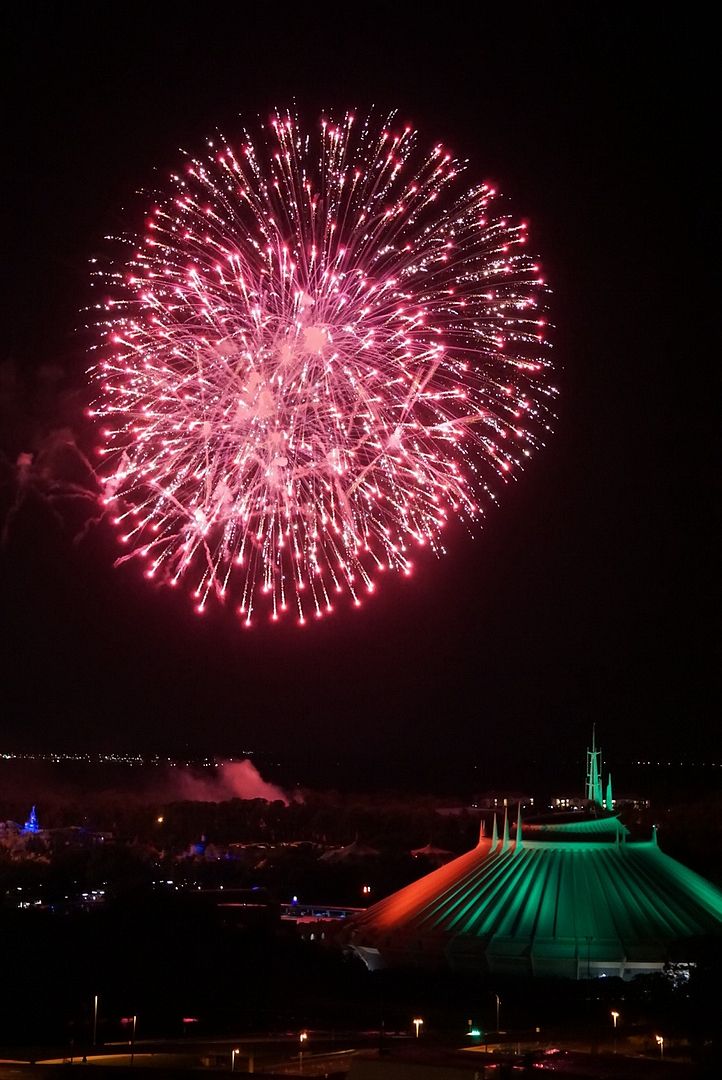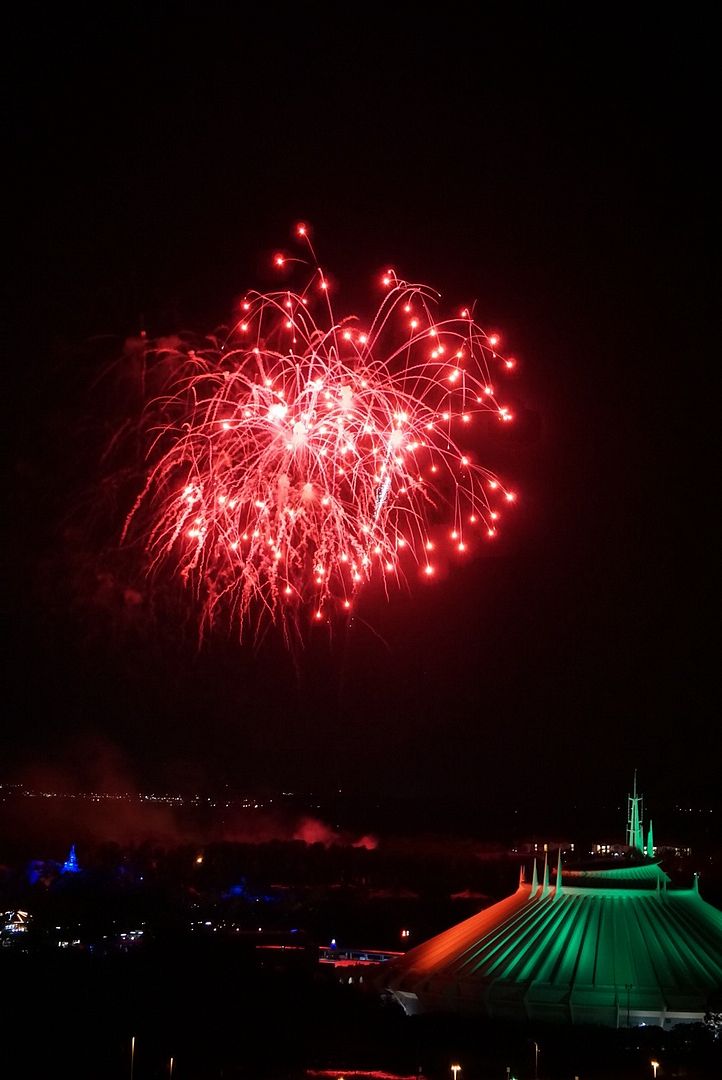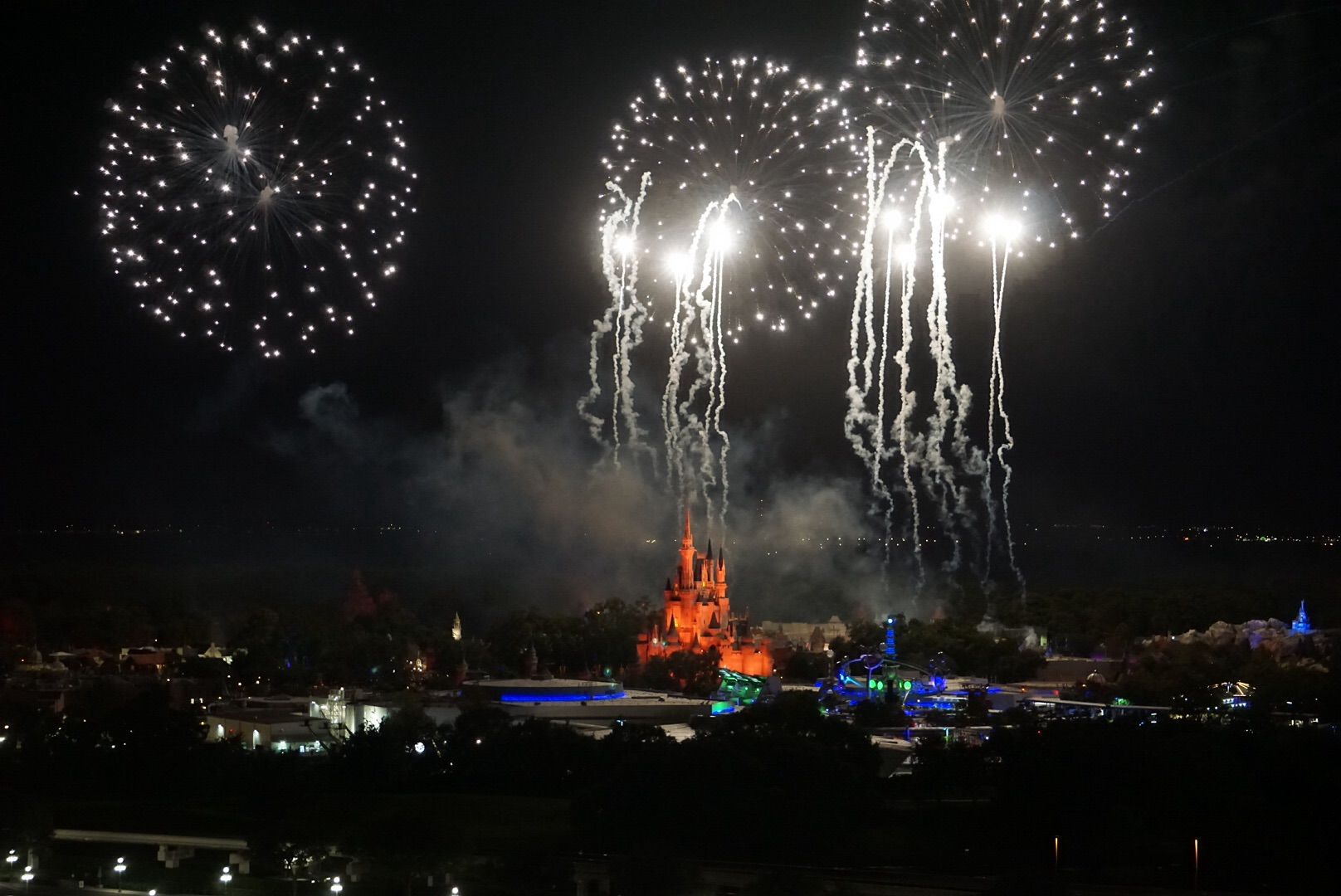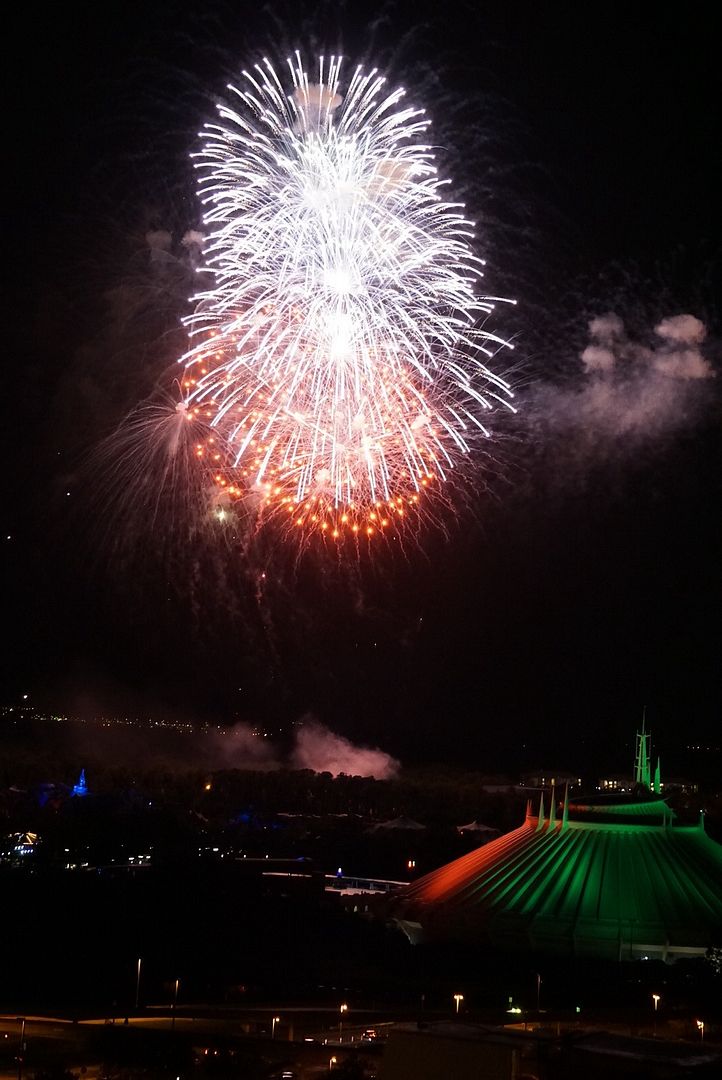 After returning to our table after the fireworks, Nicole & Mike decided to order dessert…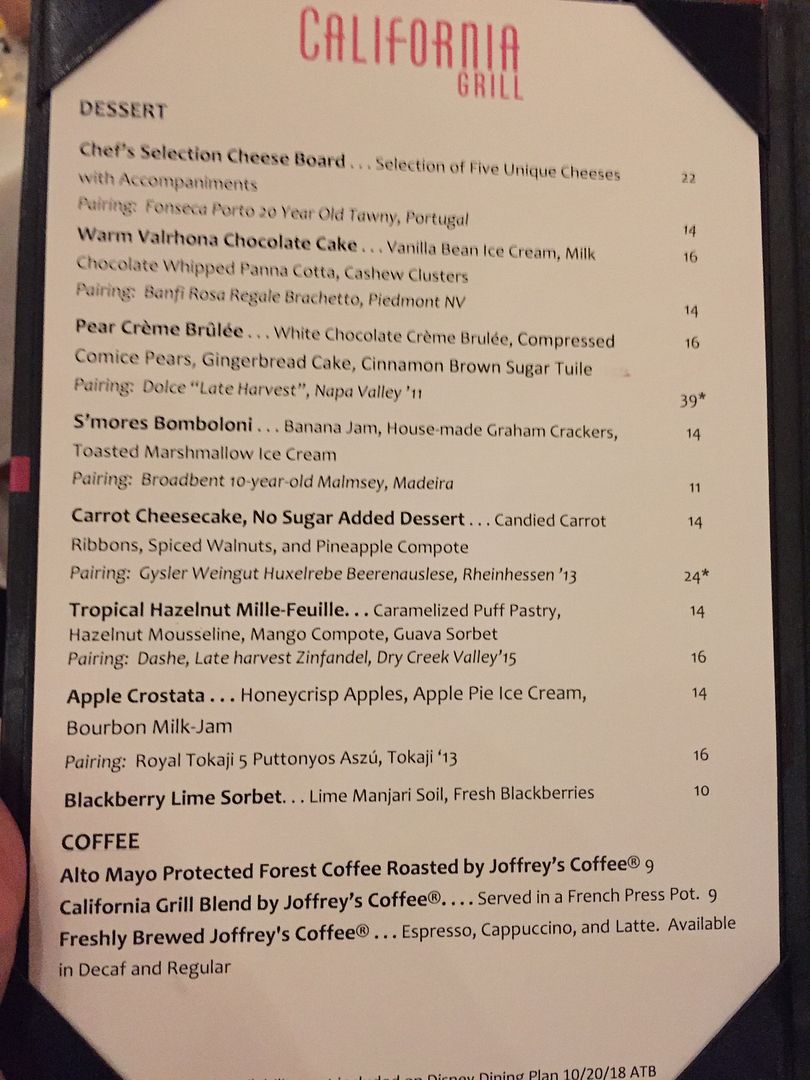 Here is what they chose…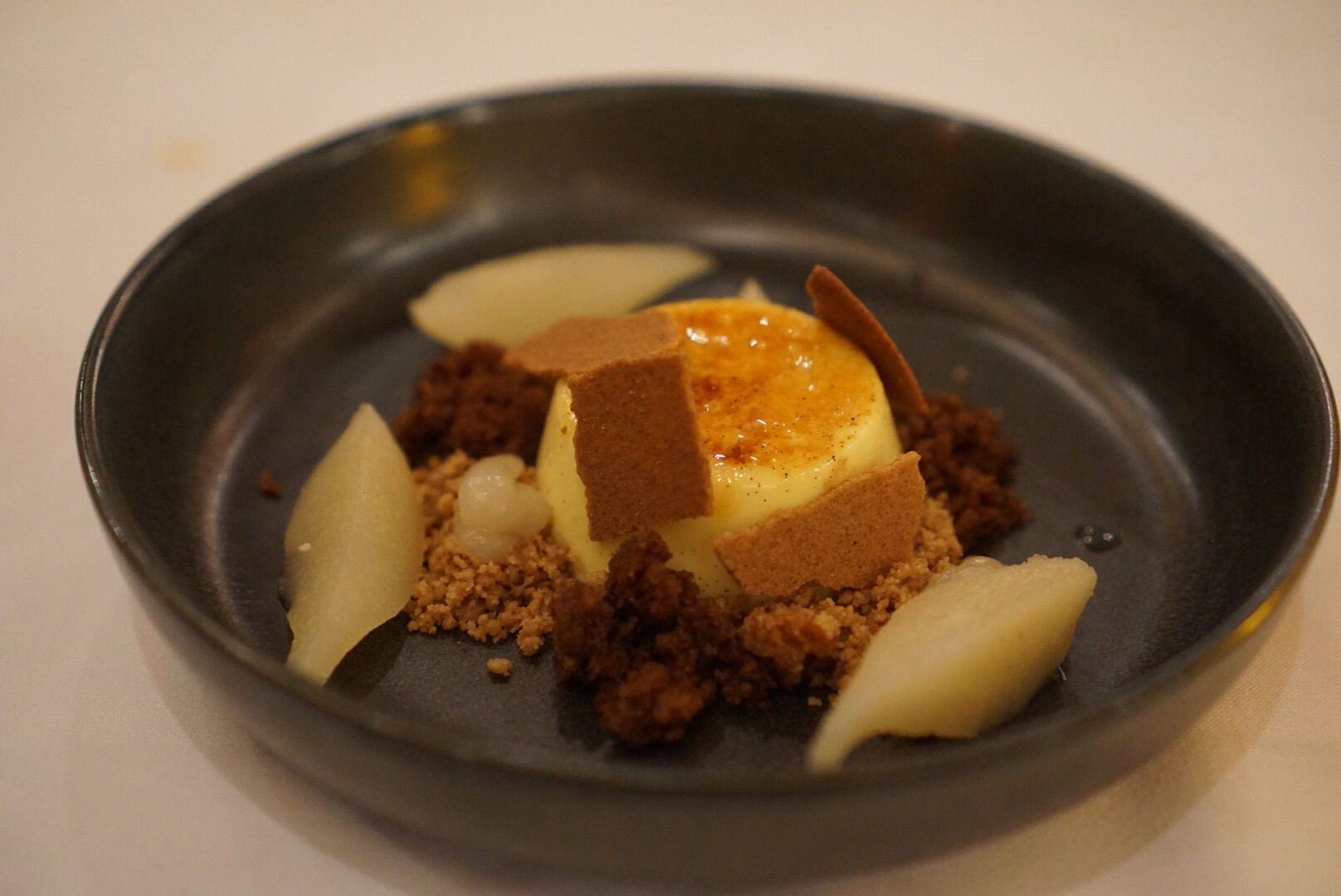 Pear Creme Brulee – White Chocolate Creme Brulee, Compressed Comice Pears, Gingerbread Cake, and Cinnamon Brown Sugar Tuile 
Nicole said it was very tasty!
Now for the ratings and rankings.  While Yelp reviewers rate California Grill 4 stars, those on Trip Advisor give it 4 1/2 stars.  Though I rated my brunch that I had earlier in this trip 4 1/2 stars, this meal (which for me only consisted of the pizza) I would rate only about 2 1/2.  So an average of 3 1/2 stars for the two meals.  Factoring in Nicole's review of their choices here, the overall rating for California Grill on this trip would probably be about 4 stars.  As for the Trip Advisor rankings, California Grill ranks #107 of the nearly 3,000 restaurants in the Orlando area.  Narrowing it down to just those in the Disney World area restaurants, California Grill ranks #33.   Interestingly, these rankings are a little lower than they were when I did my California Grill brunch review about 3 months ago.  At that time they ranked #100 and #28, so perhaps they've had some negative reviews recently???