My search for breakfast first took me to the refrigerated Grab and Go case at Captain Cook's.  It was here that I saw Muffins for $3.49…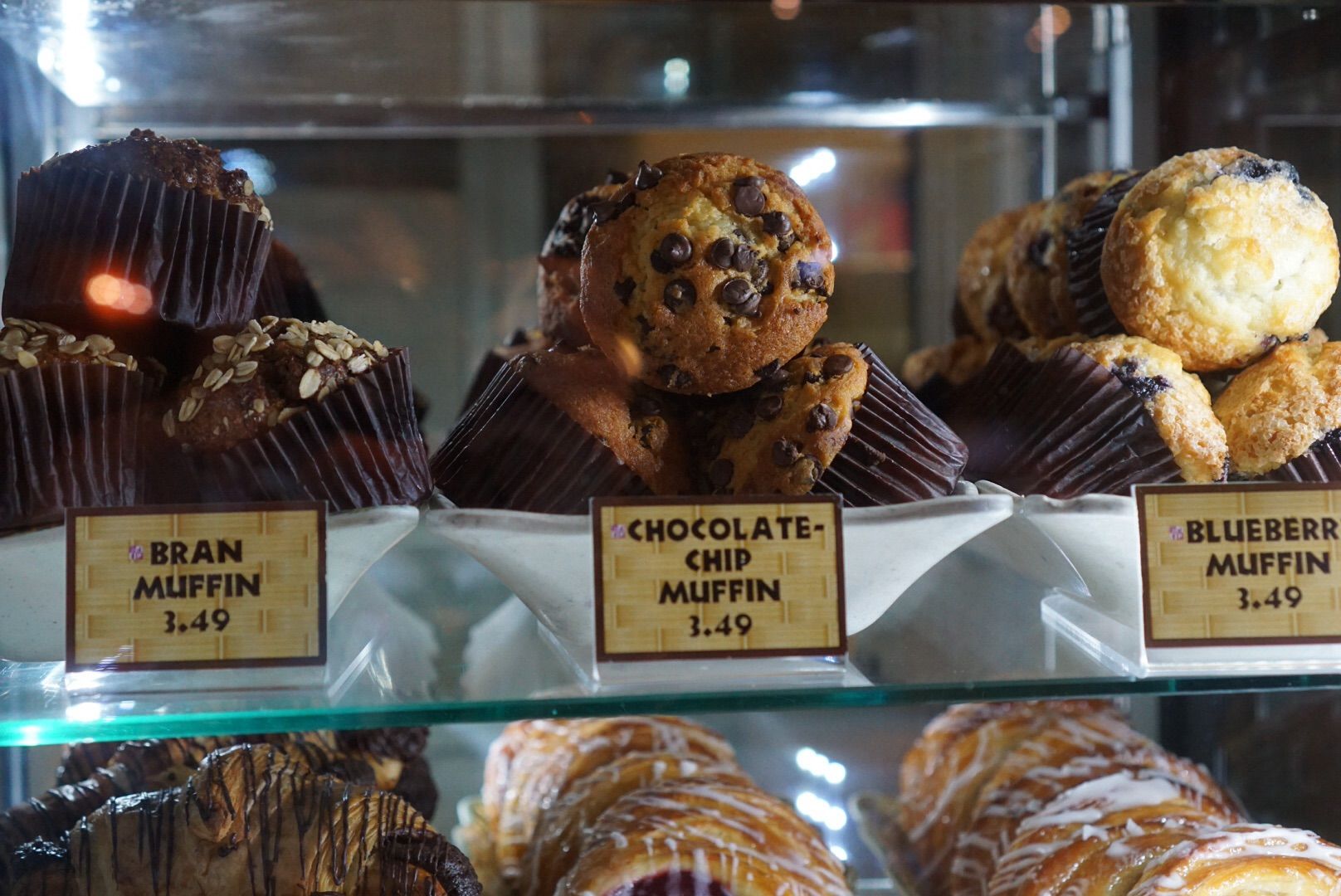 Chocolate Croissants and two kinds of Danish for $3.99…
Cinnamon Rolls for $4.29…
Plain and Cinnamon Raisin Bagels for $3.49…
Plain Croissants for $3.49 and slices of white bread…
Here is a screen shot that I took that day of their online Grab and Go menu…
It seemed to match up nearly perfectly with what they had, except I saw no scones.
Here is a photo of the Grab and Go menu they had on display by the case…
I took photos of their two cupcakes.  The first was their Millennial Pink Cupcake…
… which is a vanilla cupcake filled with guava cream and topped with pink buttercream icing and fondant Minnie ears.
The other cupcake was called a Mickey's Haunted Chocolate Cupcake…
But I was there only to get something for breakfast.  Not seeing anything in the Grab and Go section that I wanted, I turned my attention to their Breakfast Menu…
I decided that I wanted Mickey Waffles for the first breakfast of my trip but didn't really want the adult-size portion of 3 waffles plus bacon or sausage.  So instead, for $2.00 less, I got the Kid's Mickey Waffle Meal…
In addition to two Mickey waffles, this also came with three slices of bacon, a small bag of sliced apples, and my choice of either a small bottle of Dasani water (my choice) or small carton of low fat milk.
This along with coffee (in my refillable mug) made for a good, inexpensive breakfast.
My only complaint with this meal was that the bacon was overcooked to the point that it was very dry and brittle.  Otherwise, the waffles and apple slices were good and the coffee (Joffrey's brand) was good too.  I saved the bottle of water (which normally sells for $2.50 at Disney) and took it with me to the park to drink later.  So overall this was a great breakfast deal, and one that I would repeat the next morning…with just one change.
And speaking of that second breakfast, I'll wait until after that to give you the ratings and rankings for Captain Cook's.