This was my third visit to Homecomin', with my first being dinner with friends in 2016 that was not good.  My second visit, a solo lunch in 2017, was great though.  So with one good and one bad, this 3rd visit would be the tie breaker.
For this tie breaking meal, I met my friends Nicole & Mike at Homecomin' for lunch.
We first looked over their Moonshine & Cocktails menu…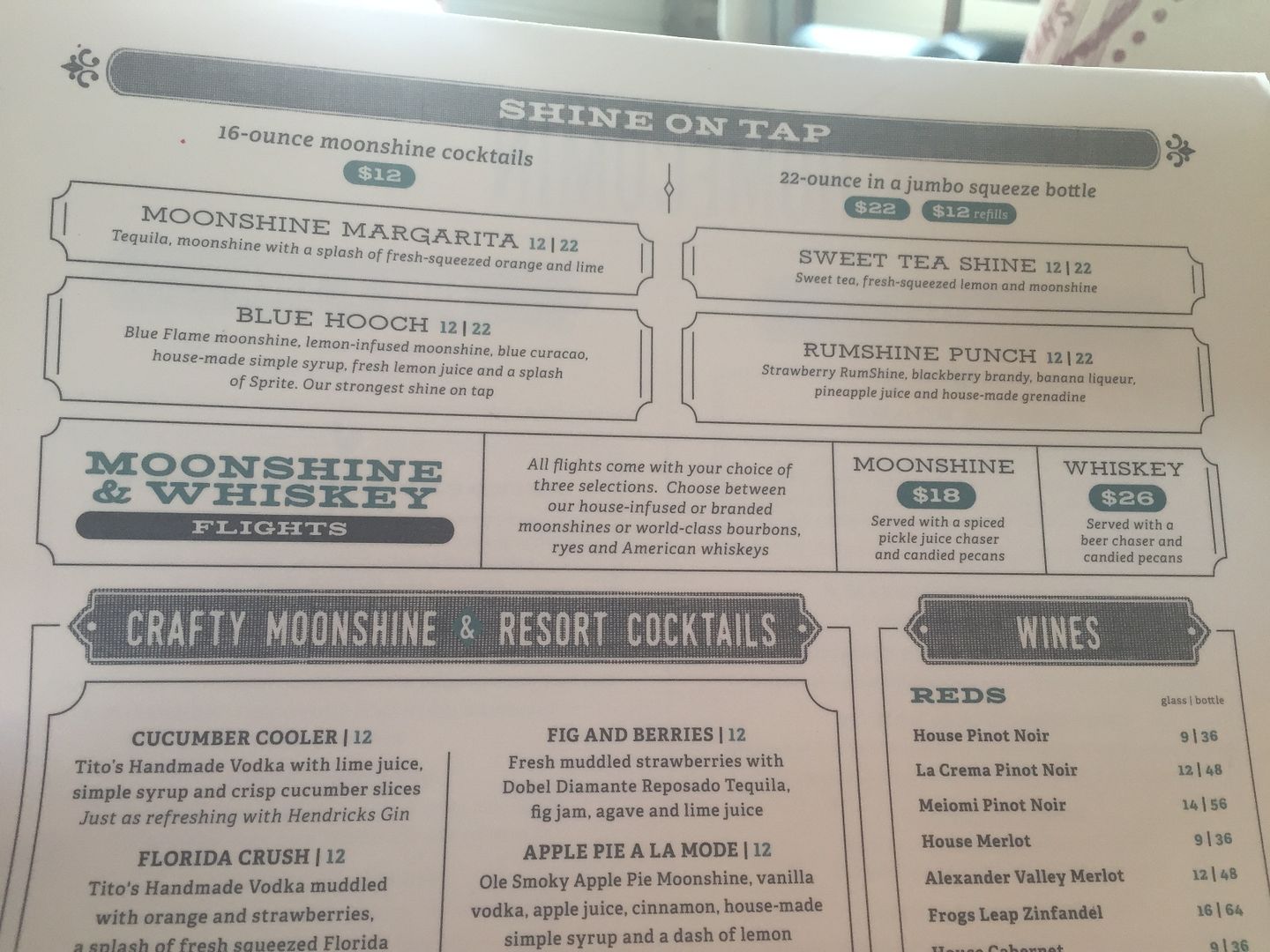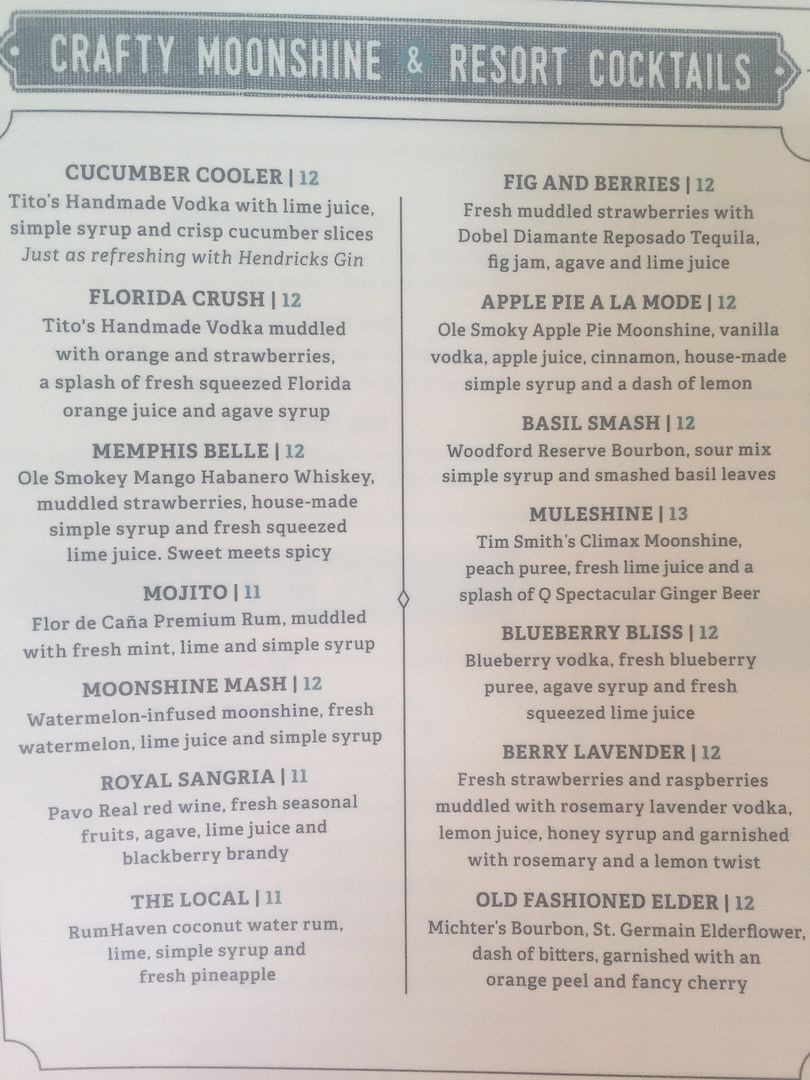 Nicole chose the Rumshine Punch…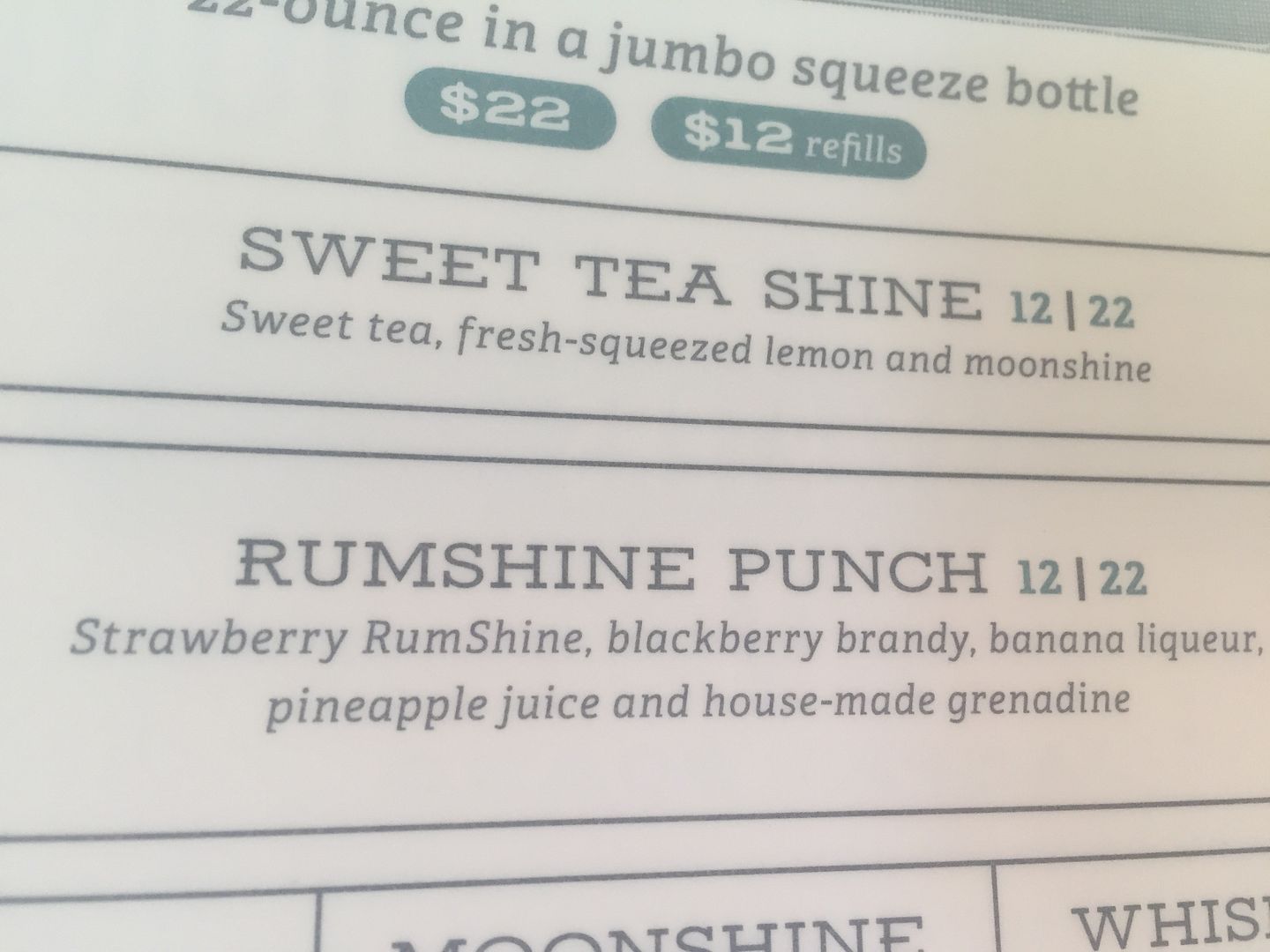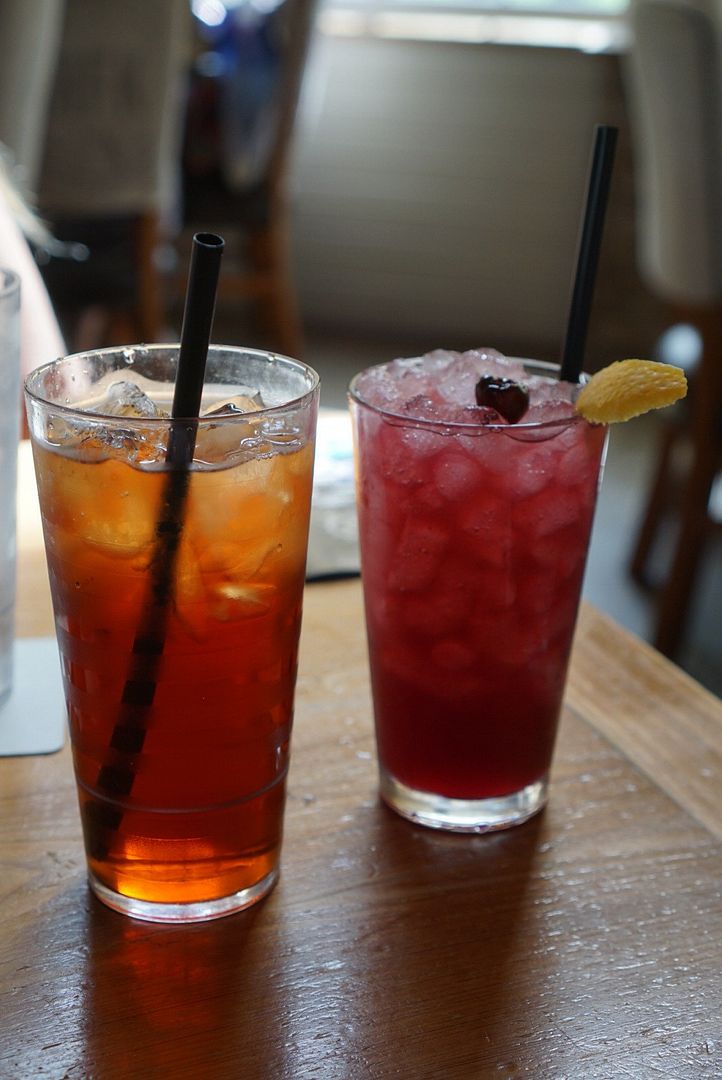 Nicole's Rumshine Punch (shown on the right in the above photo) had strawberry rumshine, blackberry brandy, banana liqueur, pineapple juice and house-made grenadine.  Nicole's review of her drink, "WOW!! This was strong and sweet and super YUMMY! I would have this again in a heartbeat."
My drink (shown on the left) is just plain Sweet Tea (no moonshine).  While it was good sweet tea, I was a bit jealous of Nicole's punch, as it sounded like something I would have liked.  Oh well, maybe next time.
Now on to our food, starting with the appetizers, which we chose from the Starters section of their menu…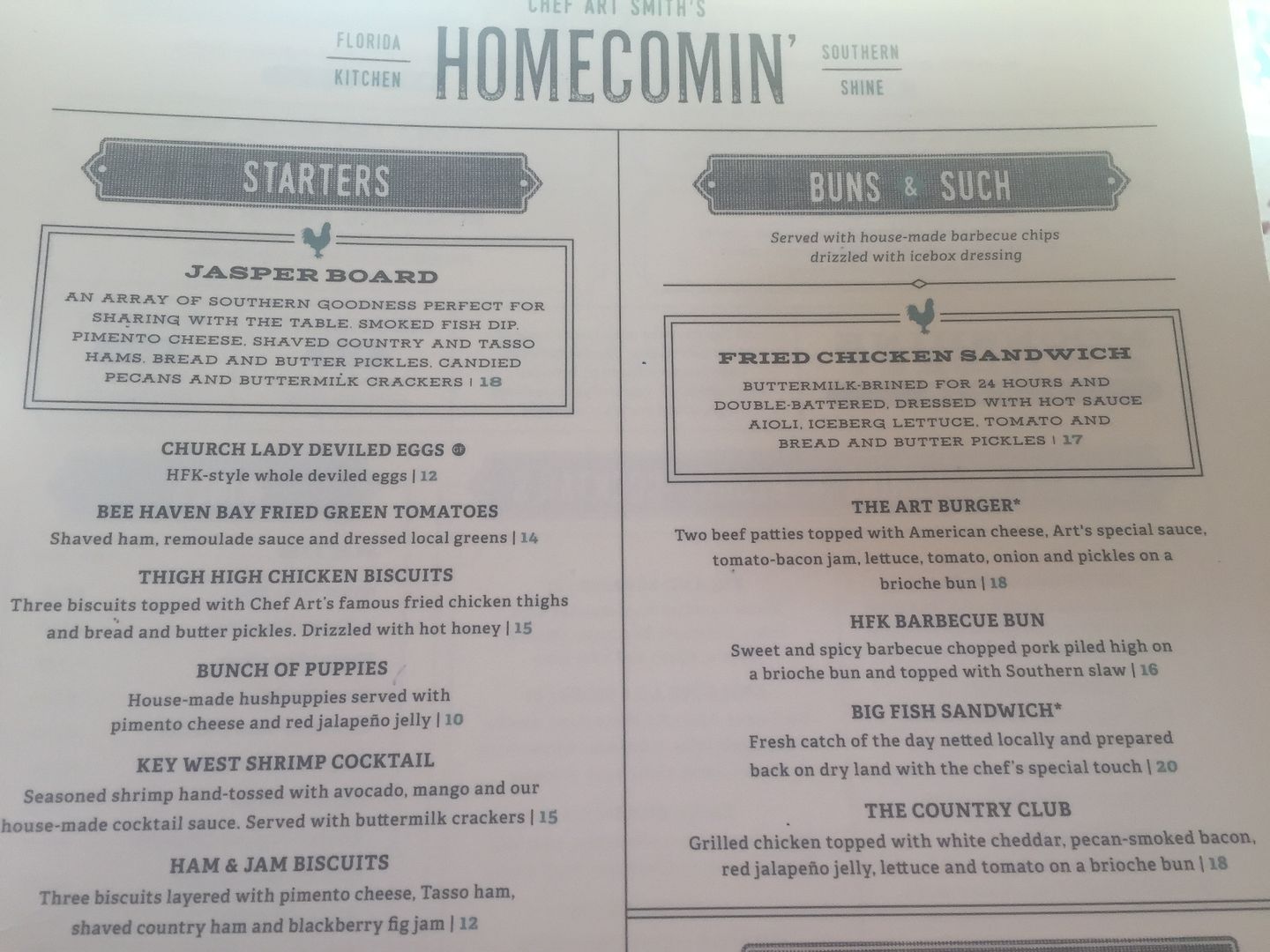 Going from the good, to the better, to the best, our first shared appetizer was the…
Church Lady Deviled Eggs – HFK-style whole deviled eggs – $12.00
I love the presentation of these. As for their taste, they were good…better than I remembered them being the first time I tried them in 2016.  However, the Deviled Eggs came in third behind our other two appetizer choices.
Coming in second, as we all liked them better than the deviled eggs were the…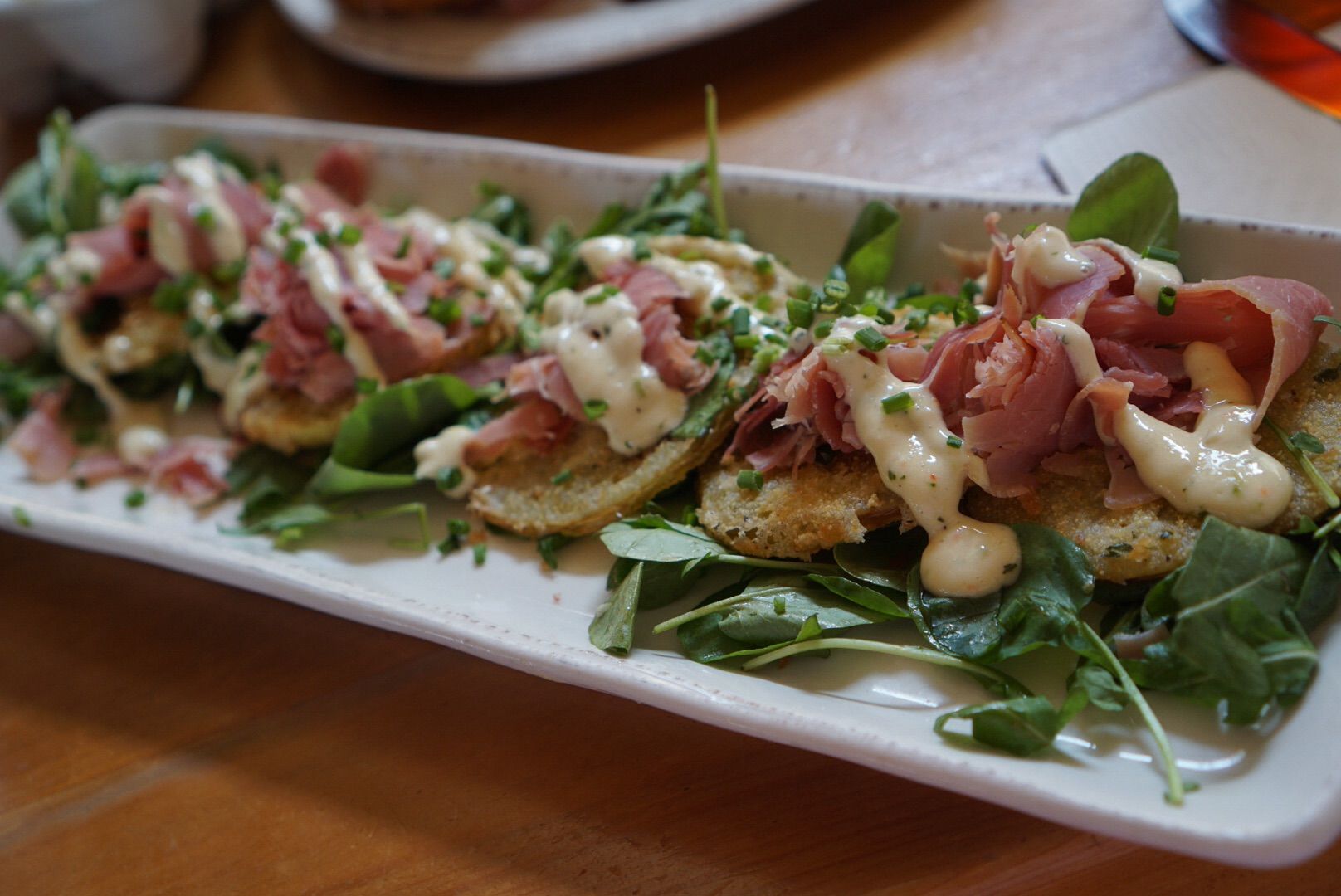 Bee Haven Bay Fried Green Tomatoes topped with Shaved Ham, Remoulade Sauce, and Dressed Local Greens – $14.00
And a closer look…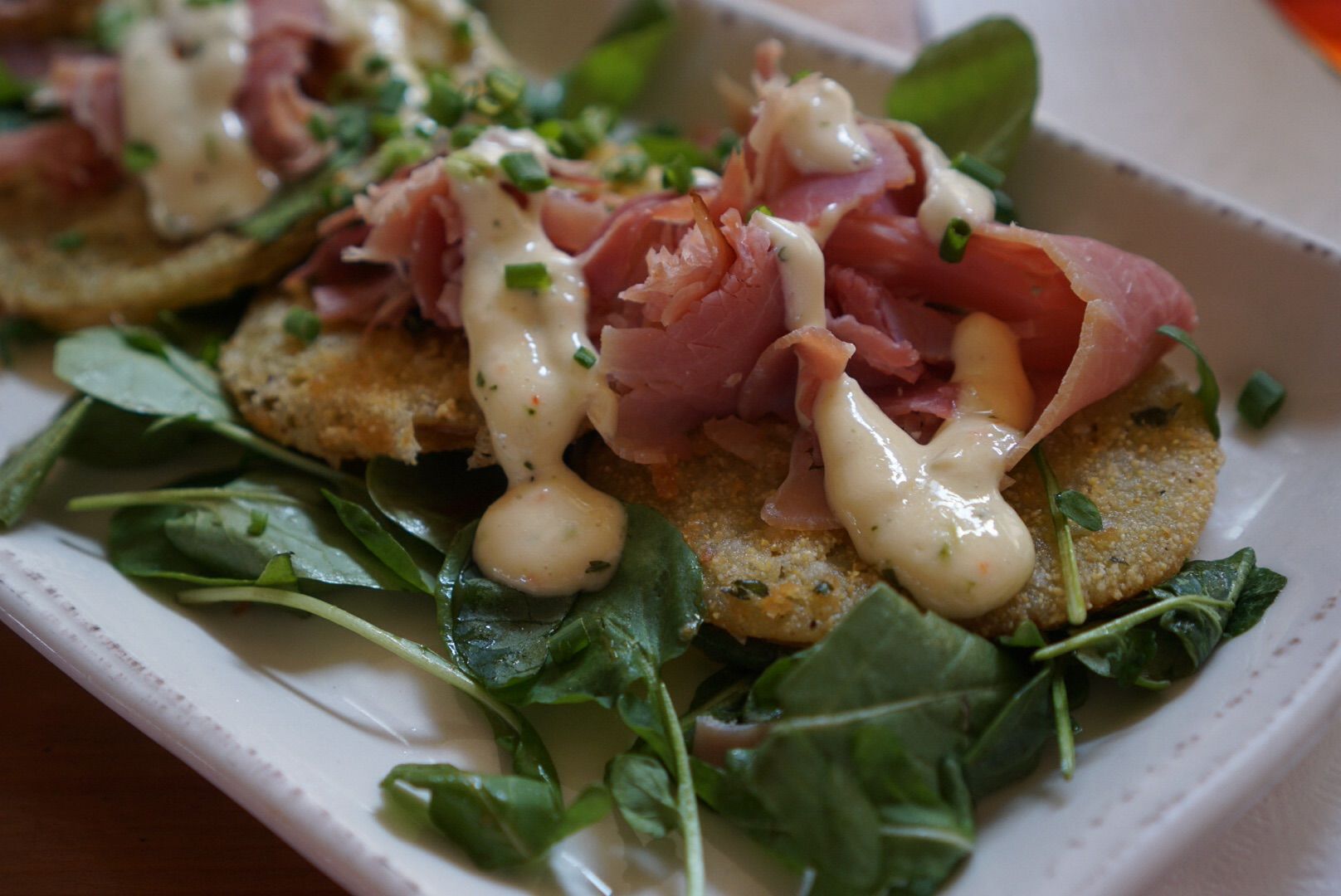 The fried green tomatoes were pretty tasty but the ham and sauce were delicious!  They took the tomatoes up a notch from good to very good.  I would order these again.
So what topped the Fried Green Tomatoes?…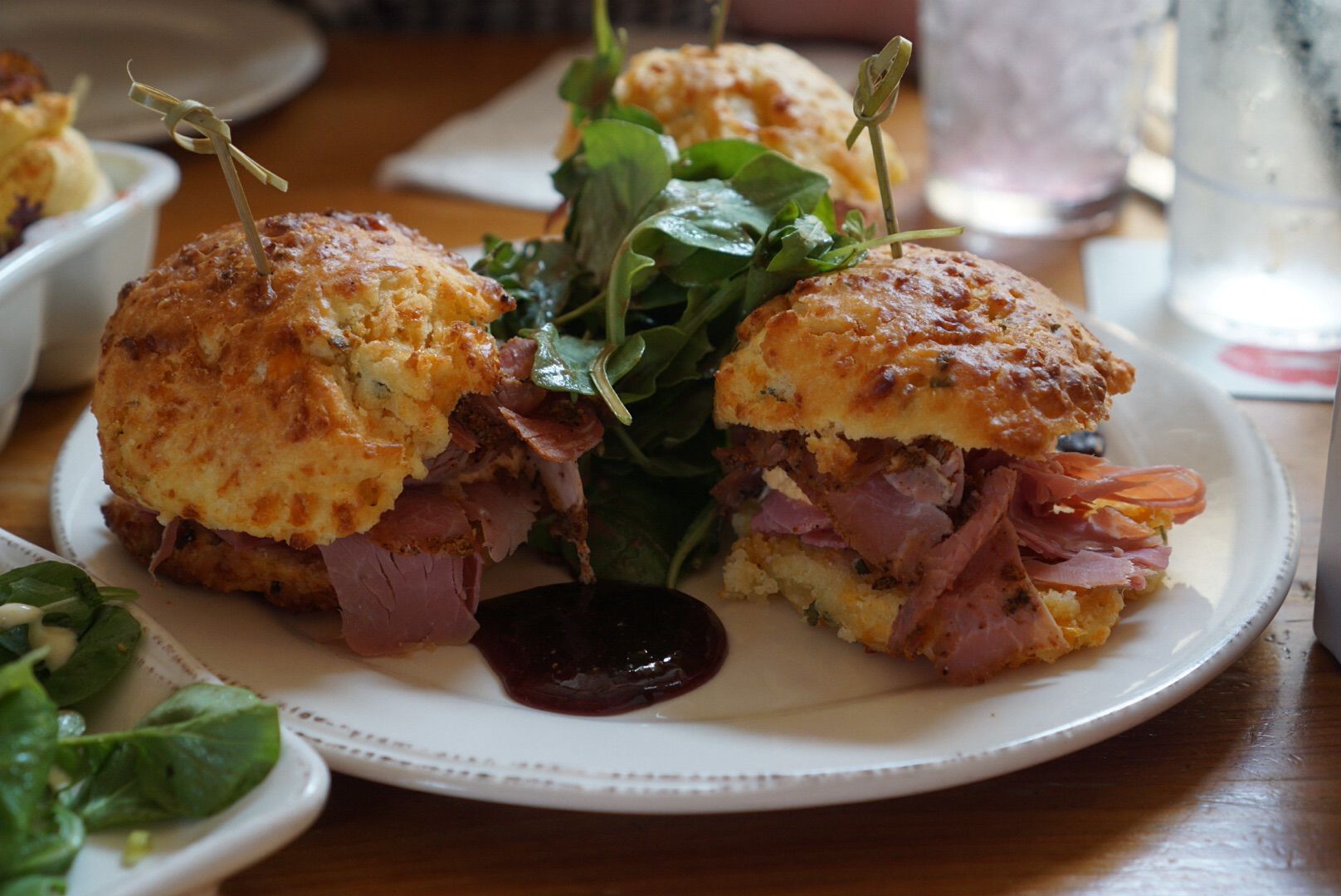 Ham & Jam Biscuits – Three Biscuits layered with Pimento Cheese, Tasso Ham, Shaved Country Ham and Blackberry Fig Jam – $12.00
And a closer look…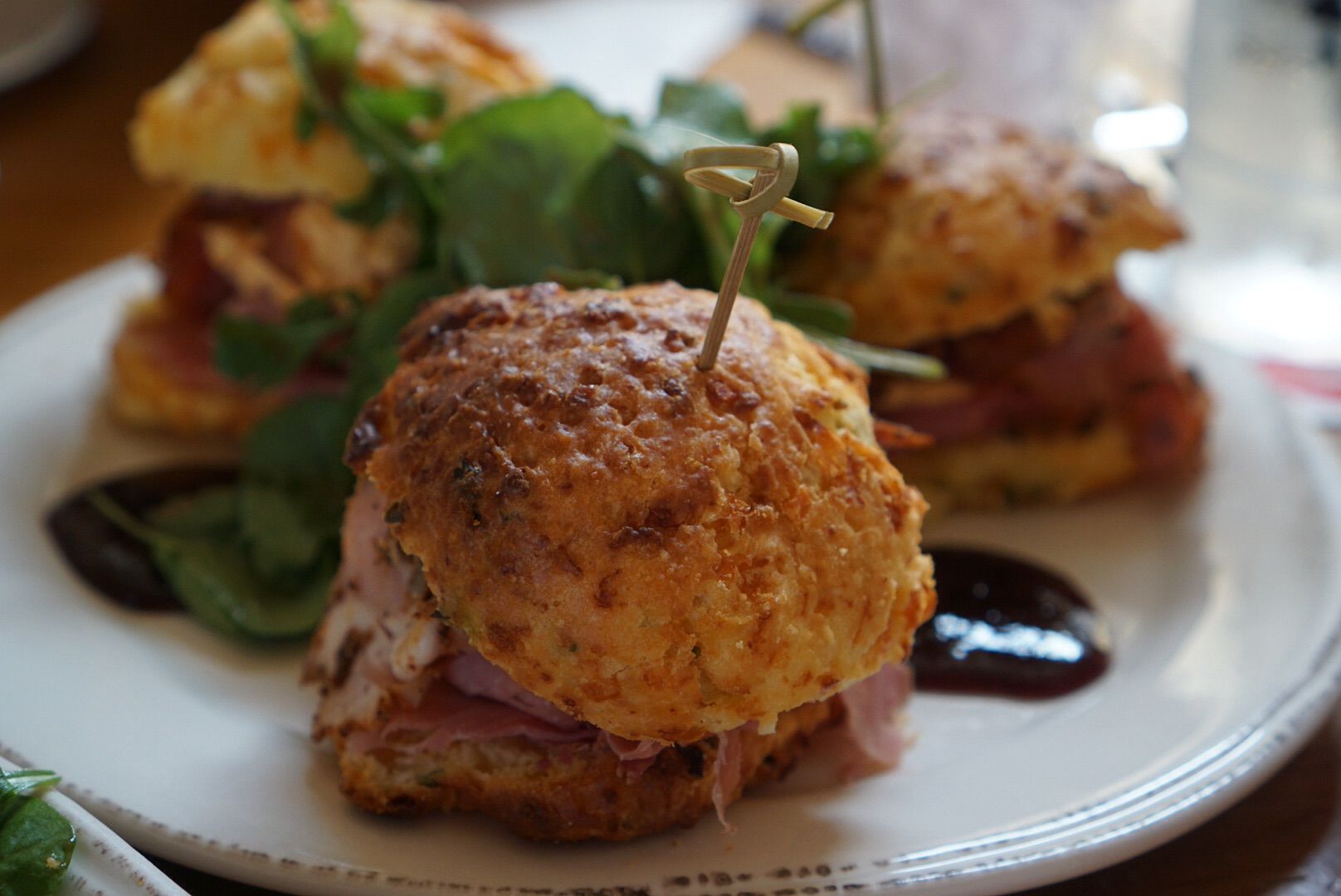 These were so good!!!  We all loved these.  They were the best thing that we had on this visit to Homecomin'.  But sadly they are no longer on their menu.  WHAT?!?!
Yes, here is their current menu as of August 2019…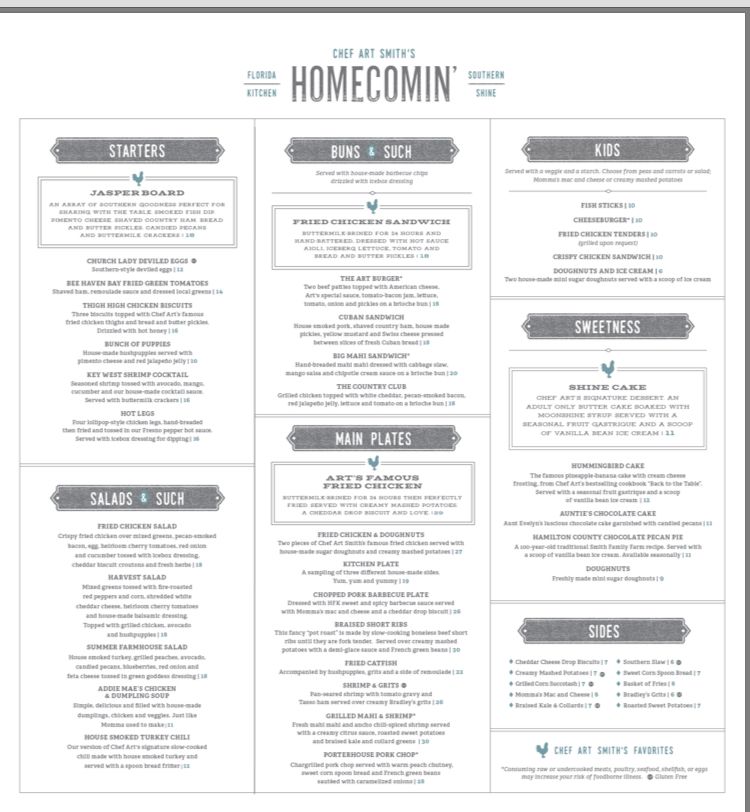 The delicious Ham & Jam Biscuits have been replaced by Hot (Fried Chicken) Legs.  I'm so sad about that.
One last look at my Ham & Jam Biscuit along with my other two appetizers…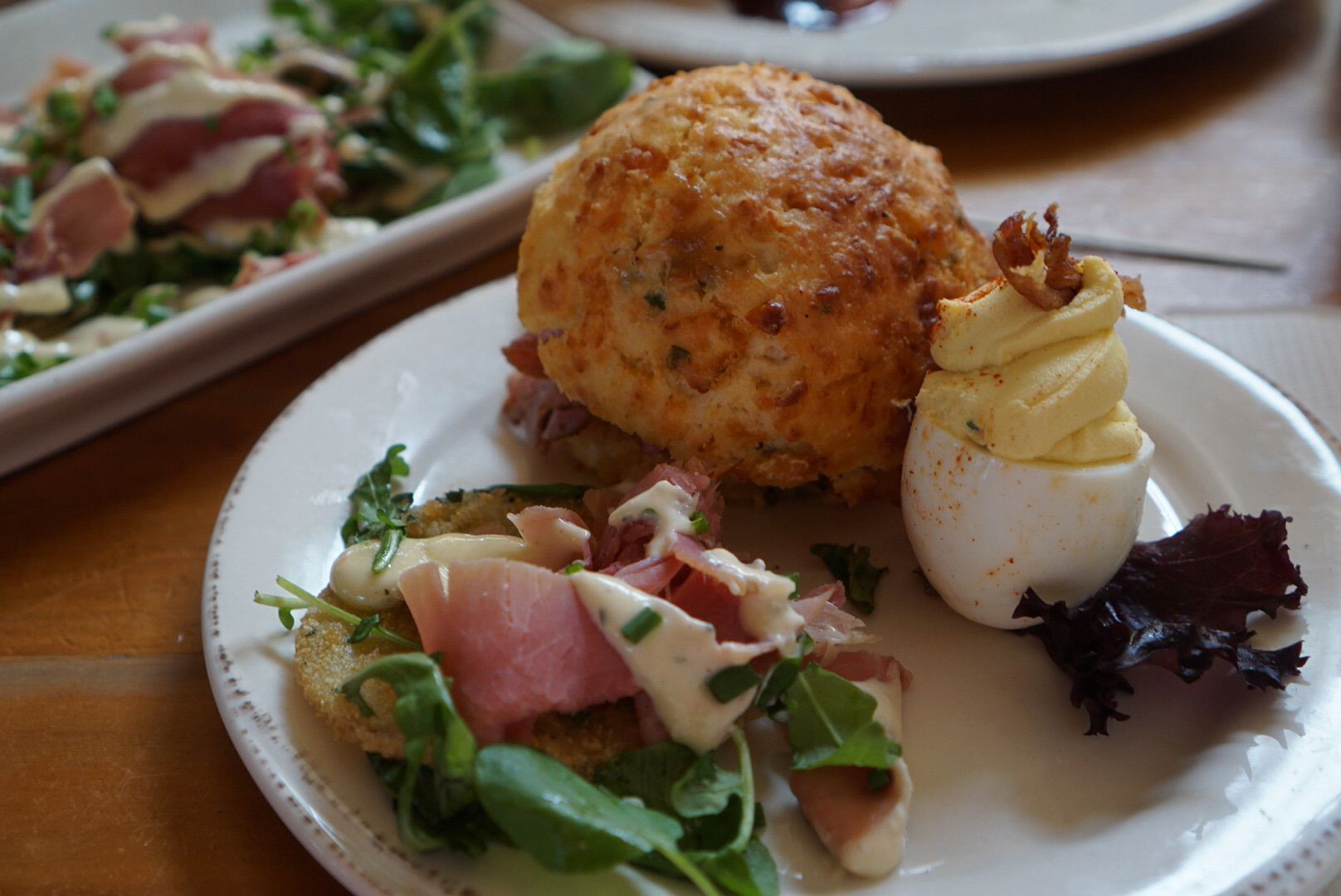 Ok, now on to our entree choices.  Nicole & Mike chose their's from the Main Plates section of the menu…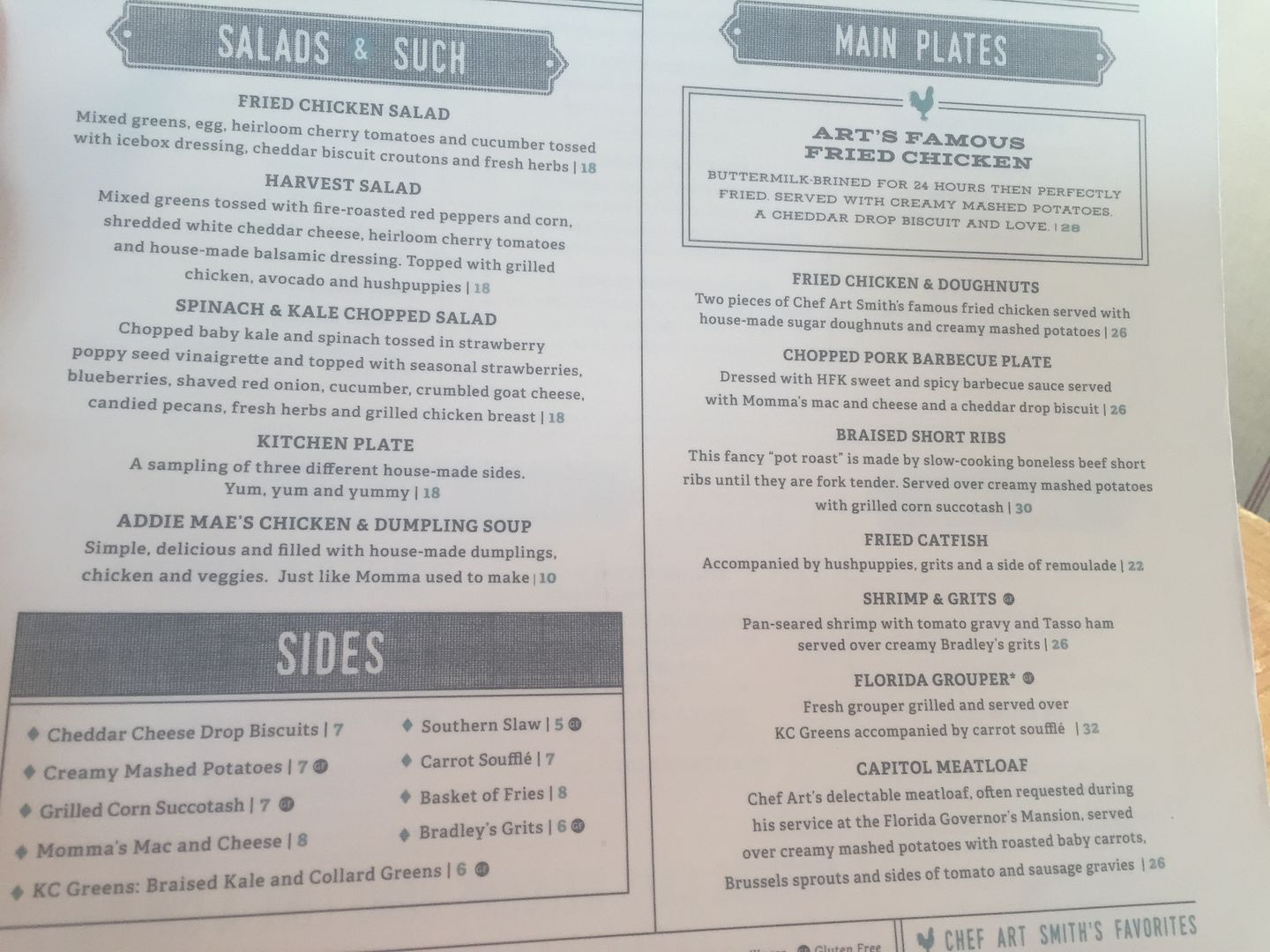 Here is Nicole & Mike's shared entree…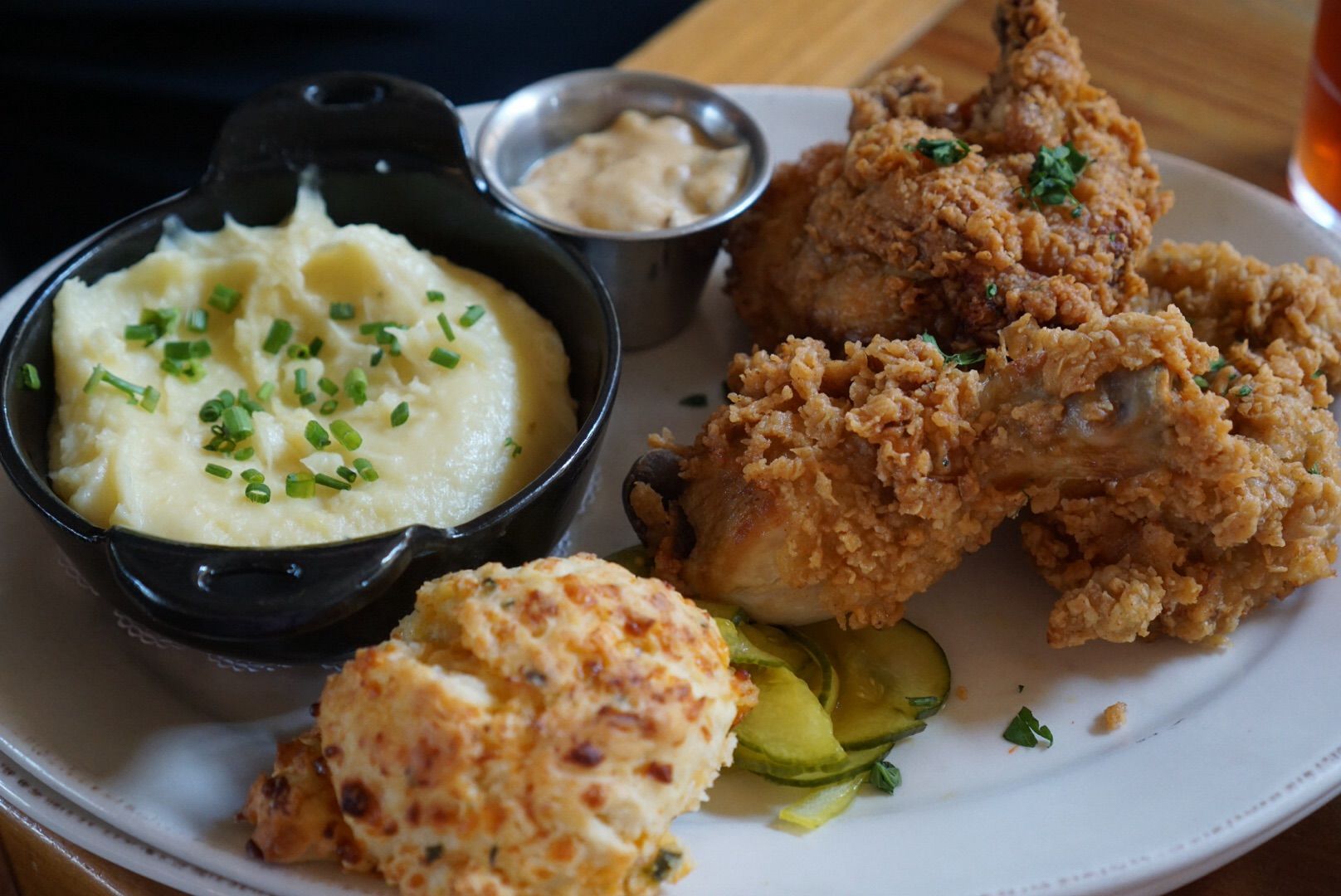 Art's Famous Fried Chicken – Buttermilk Brined for 24 hours then fried.  Served with a Cheddar Drop Biscuit that was very good and Creamy Mashed Potatoes that were just okay…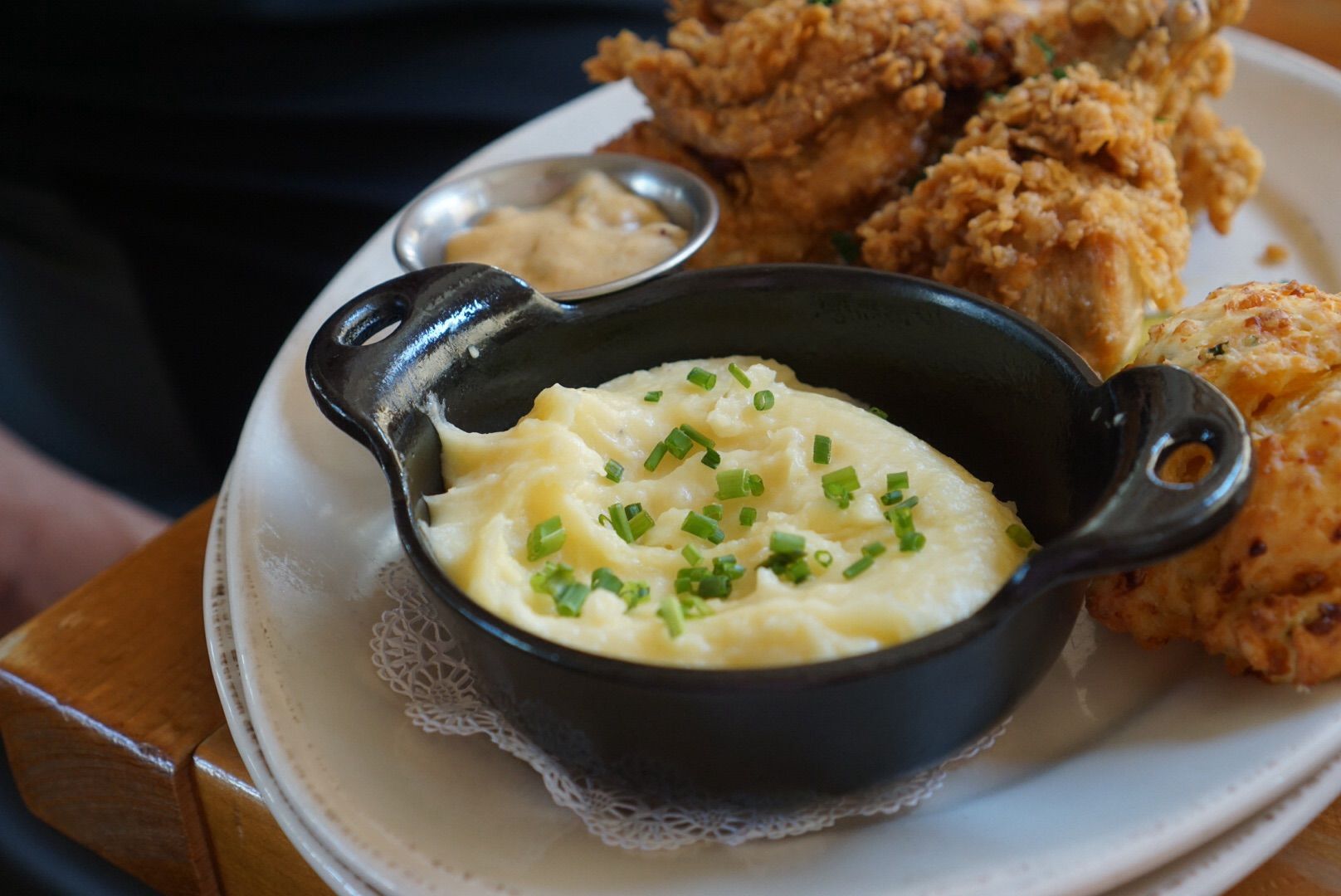 They were disappointed with the fried chicken (the signature dish of the restaurant) just as I was disappointed when I had it on my first visit to Homecomin's in 2016.
However, I had enjoyed the boneless pieces of the fried chicken that were in the Fried Chicken Salad that I had had during my second visit in 2017.
So I decided to try another form of the fried chicken, this time from the Buns & Such section of the menu…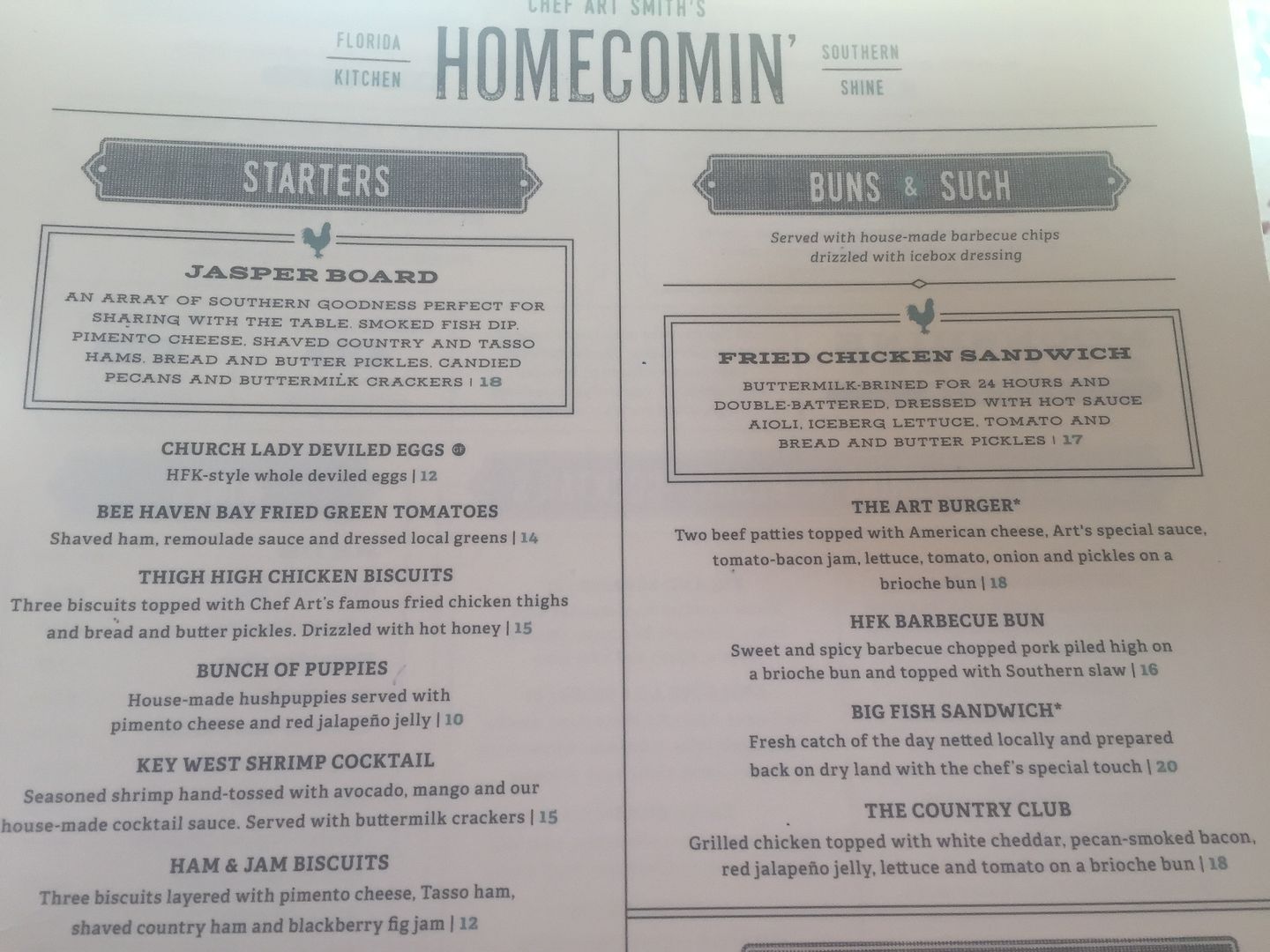 My choice was the Fried Chicken Sandwich…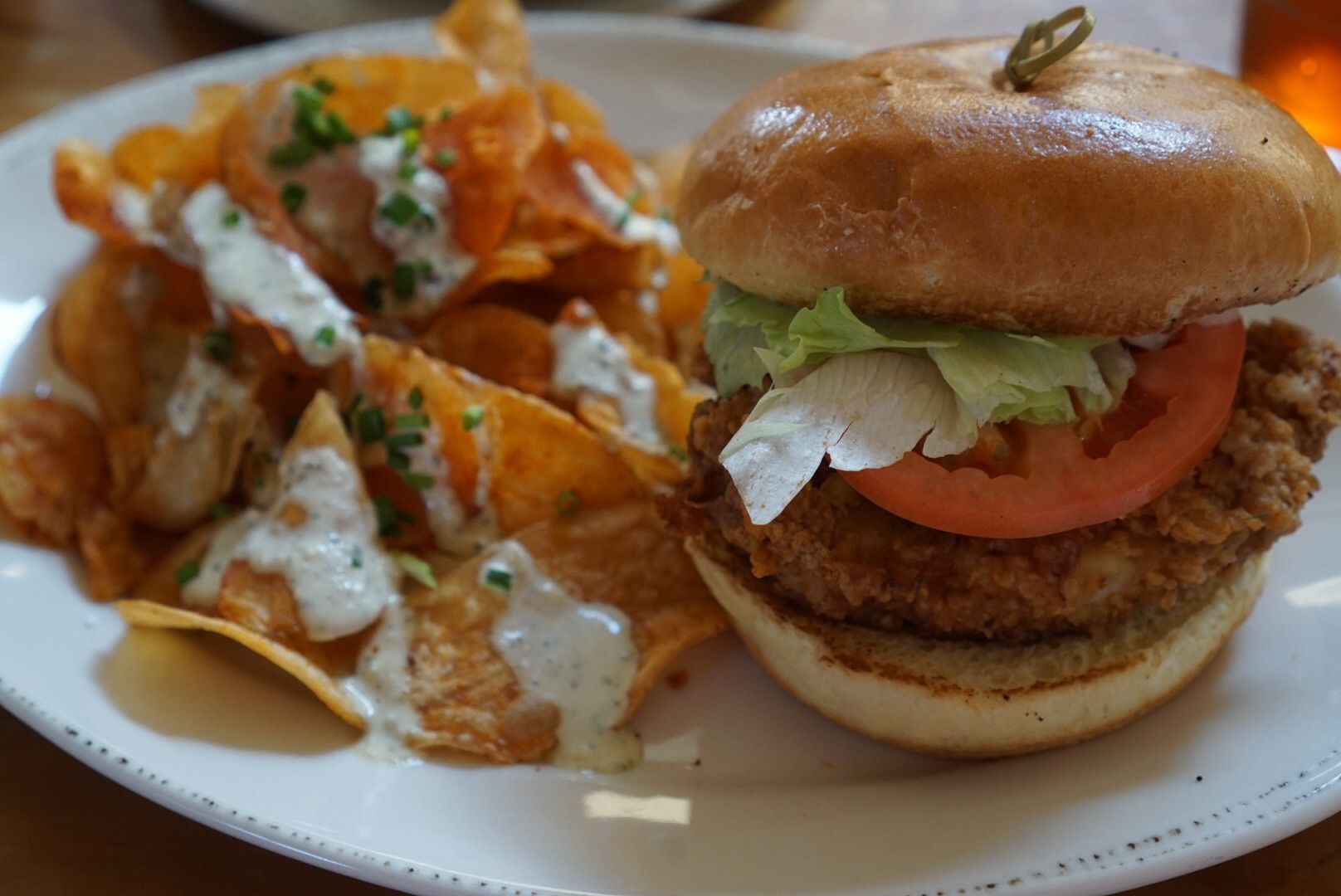 And a close up of the sandwich…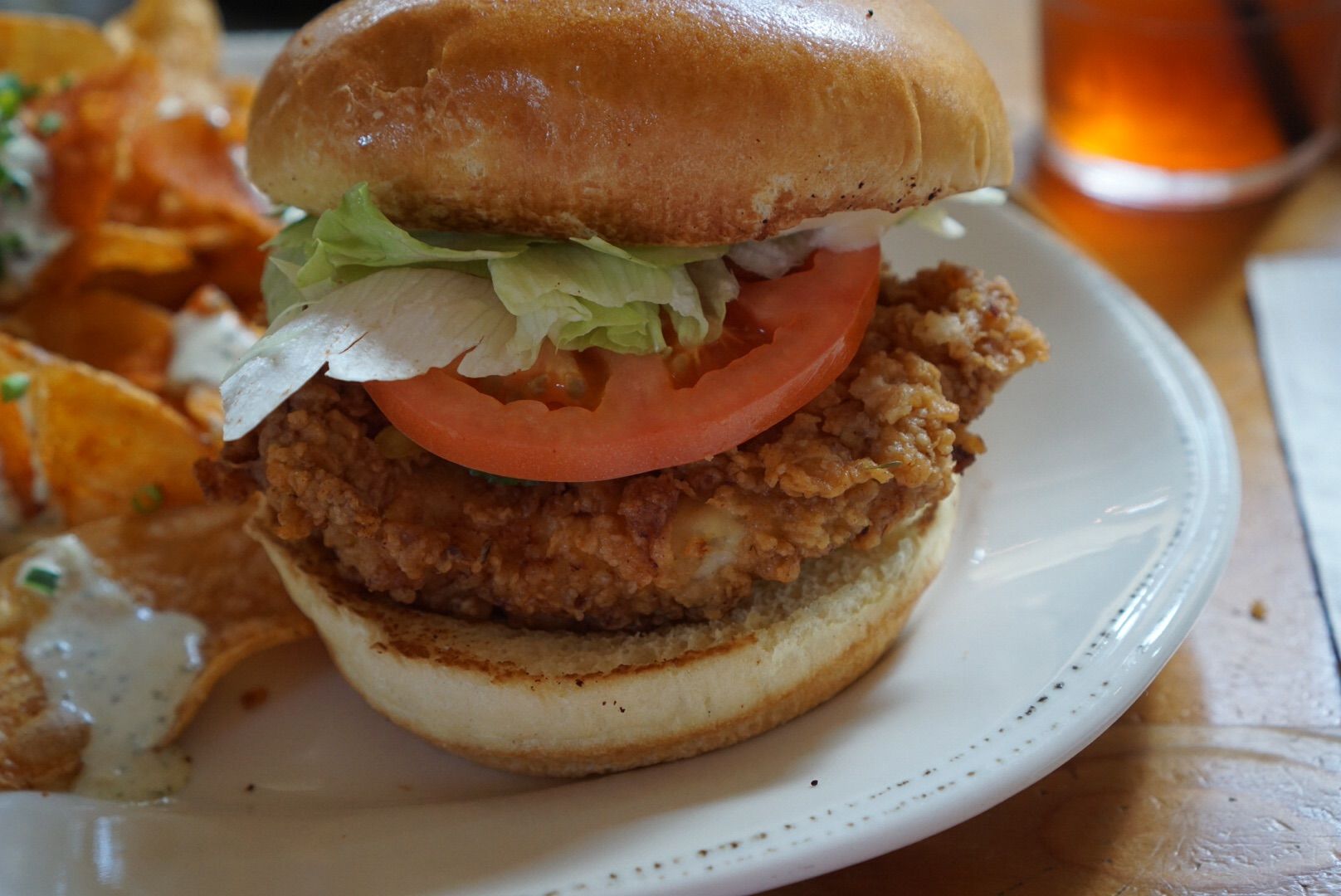 The fried chicken breast was good.  I especially liked the hot sauce aioli that it was dressed with.
My sandwich was served with these tasty House-made Barbecue Chips drizzled with Icebox Dressing…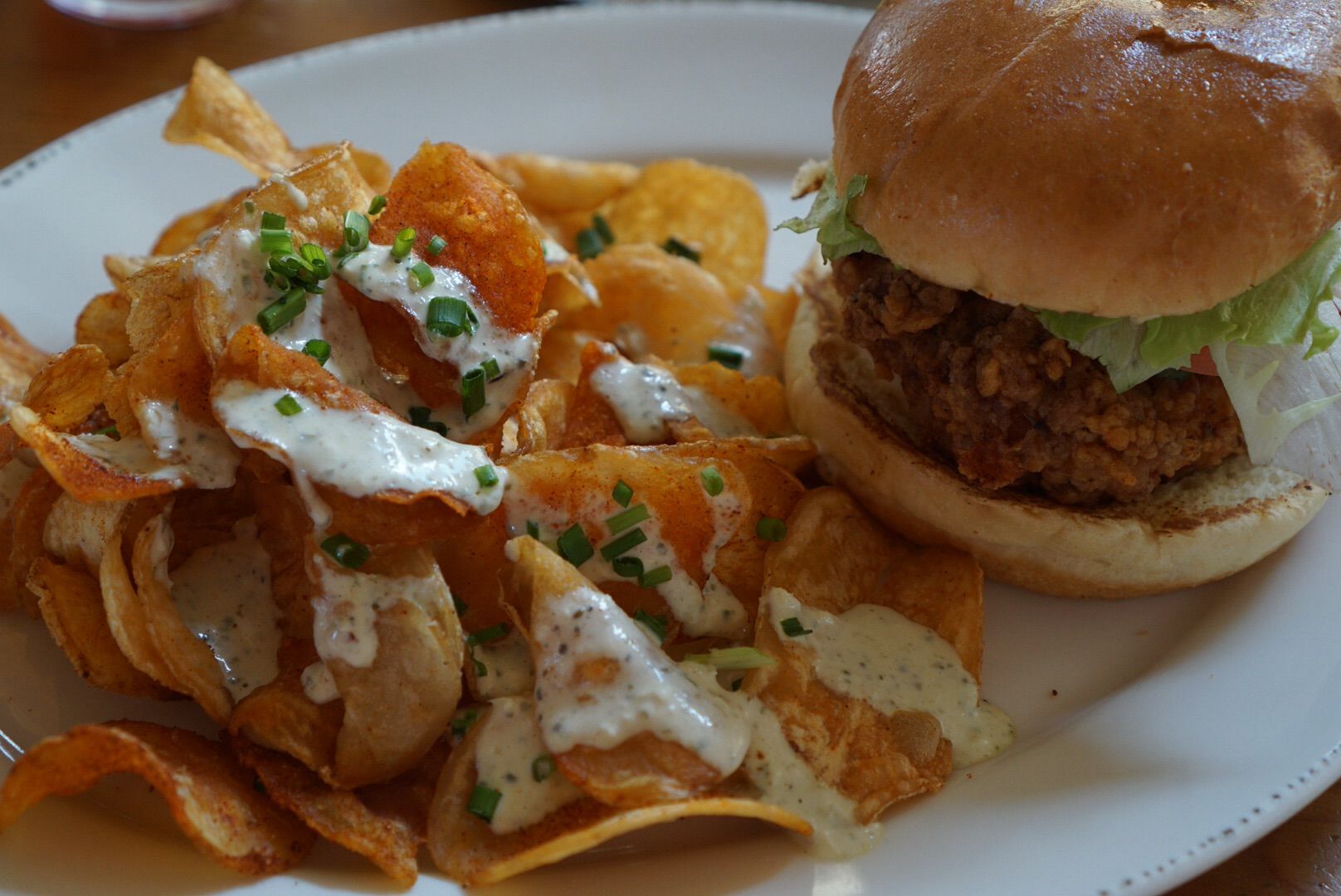 Though I still preferred the Fried Chicken Salad from my last visit, the boneless chicken breast sandwich was far better than the Fried Chicken I'd had the first time there.
Nicole & Mike also ordered a side dish…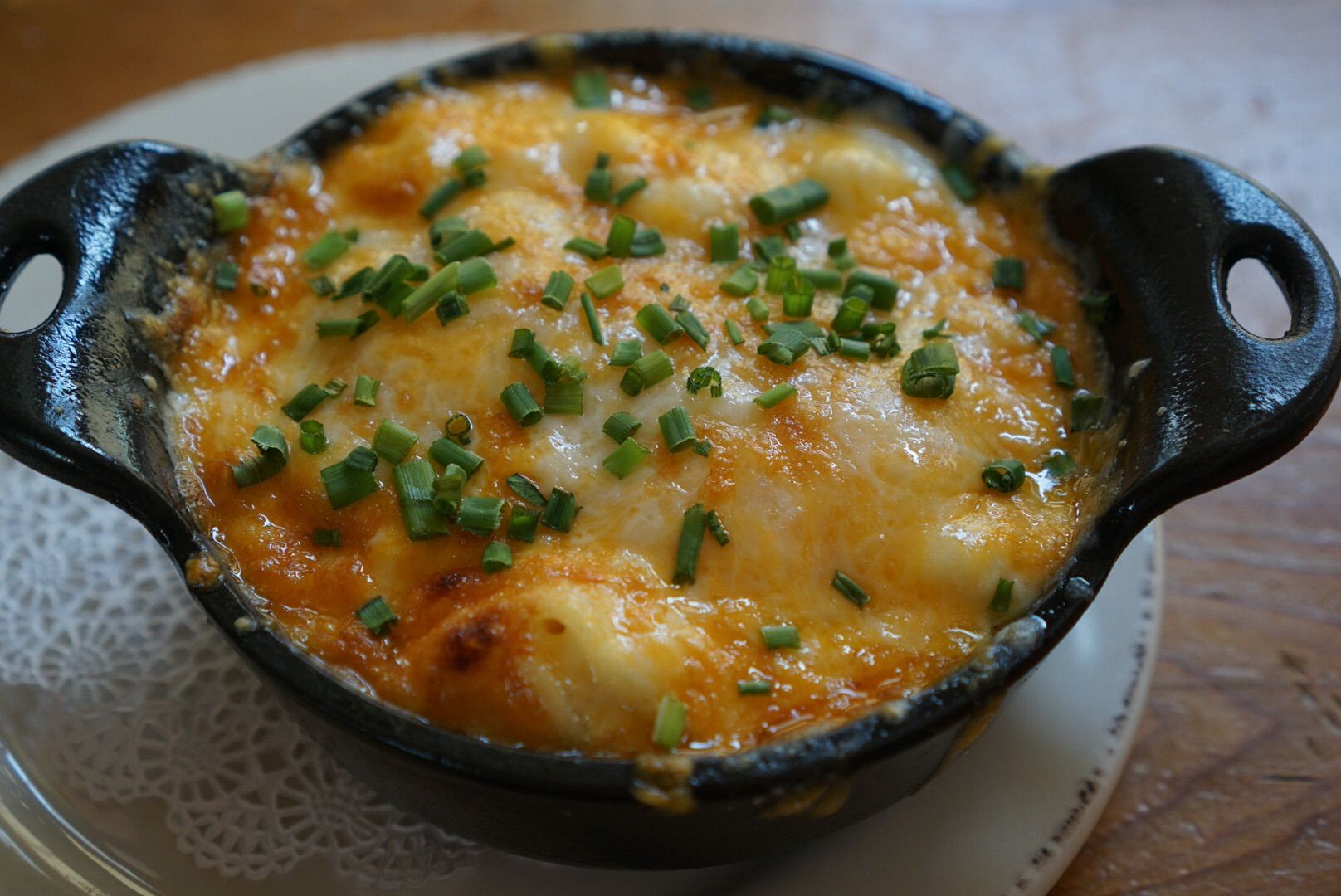 Momma's Mac and Cheese – $8.00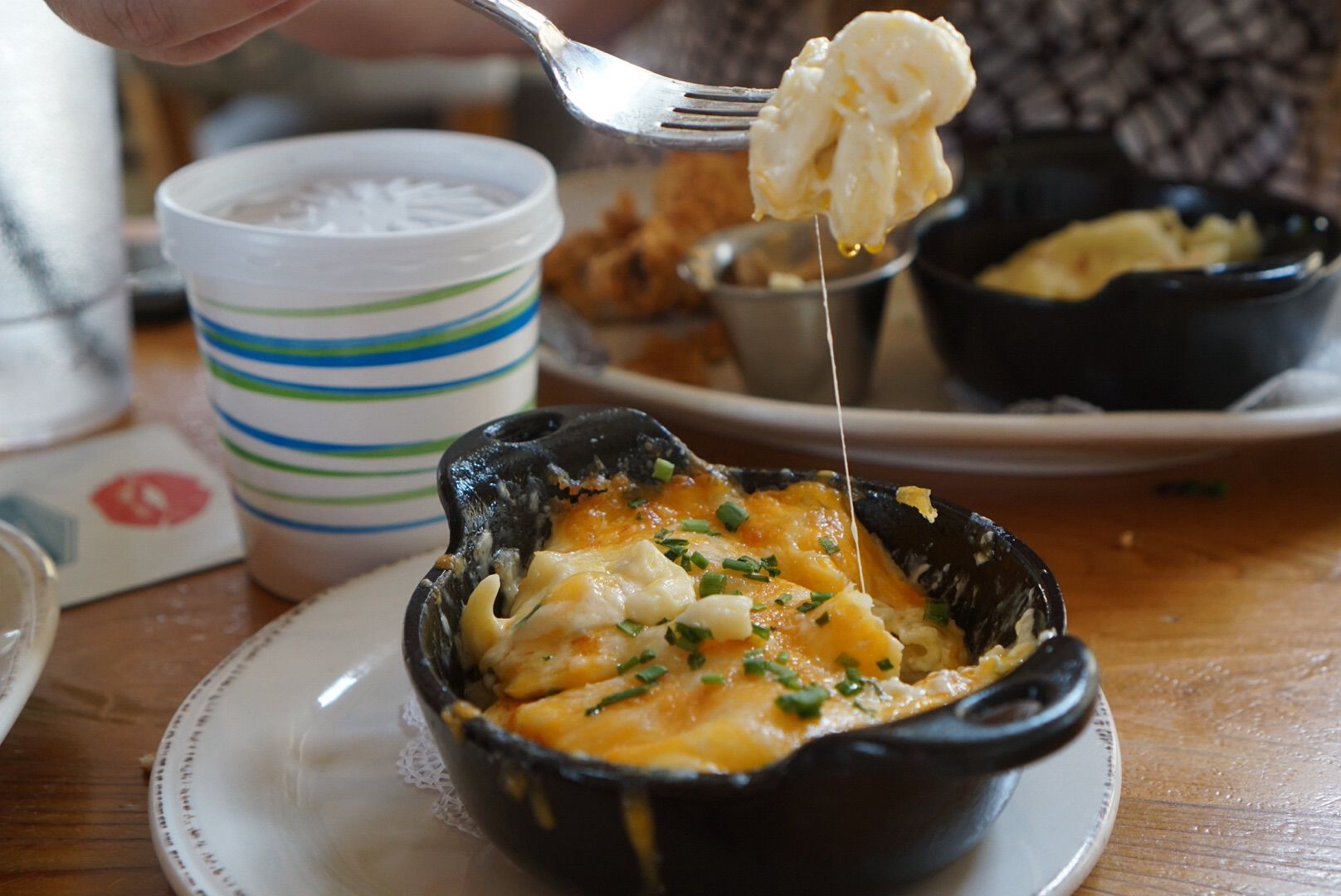 They loved this mac and cheese!  I had a taste and thought it was much better than what I had had here on my first visit to the restaurant.  That mac and cheese tasted like it had sat under a warmer for way too long.
And though I was quite full by this time, I could not dine here without ordering a certain dessert…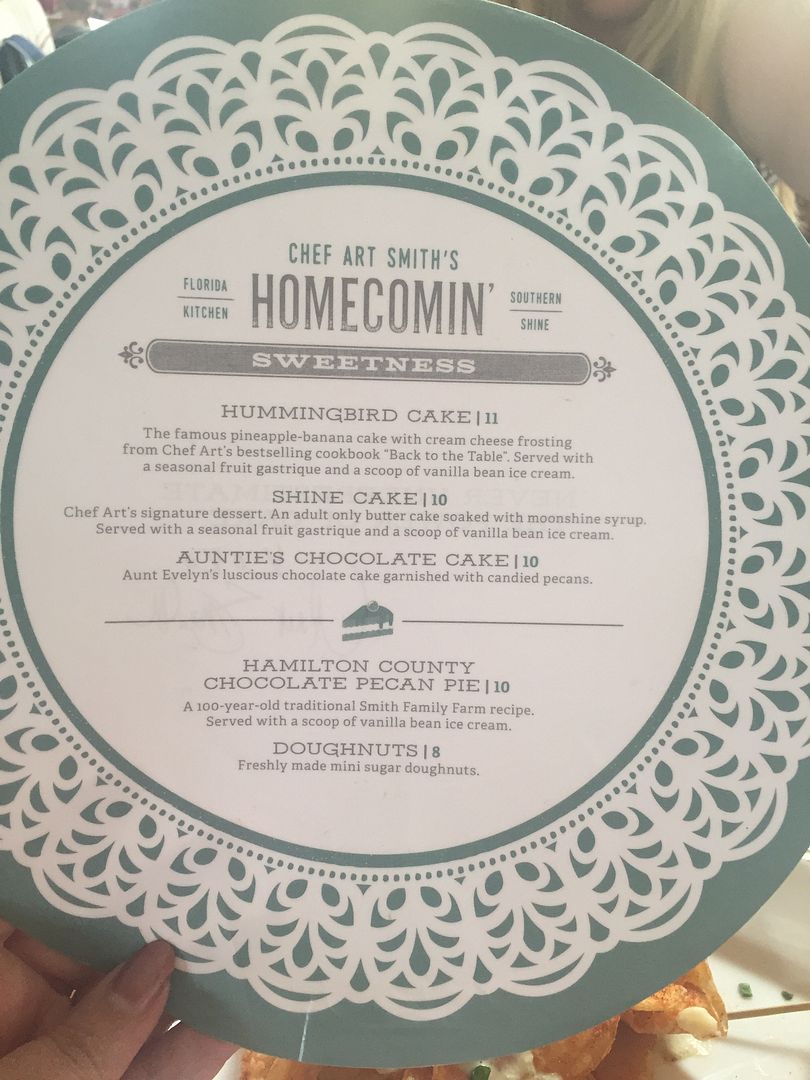 On my last visit I had discovered the delicious…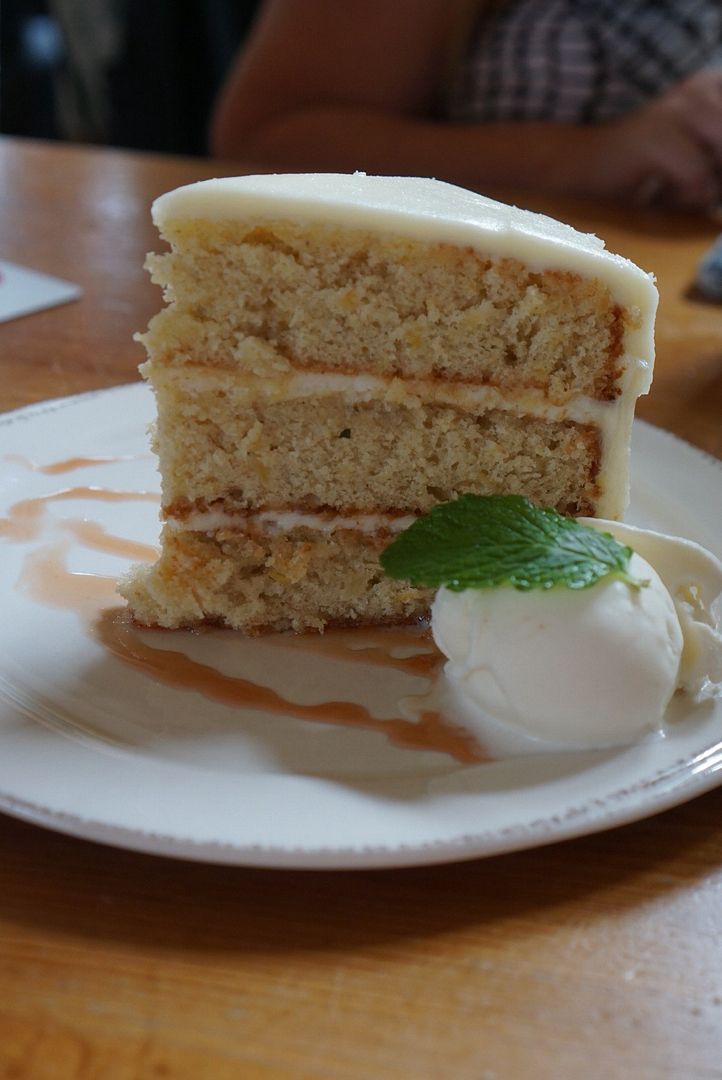 Hummingbird Cake – Pineapple-Banana Cake with Cream Cheese Frosting served with Fruit Gastrique and a scoop of Vanilla Bean Ice Cream – $11.00
This is soooo good but it is huge.  The first time I had it I was dining solo so I ate the ice cream and a few bites of the cake then had them box the rest of it up.  I took it home with me on the plane and shared it with my husband the next day.  Though he does not generally like cake (other than some versions of carrot cake) he really liked this.  This time around I thought the three of us might be able to finish it but I still ended up taking some of the cake back to my room with me.
Although I'd like to try their signature dessert, Shine Cake, sometime, I'm not sure that I could resist not getting the Hummingbird Cake.  That would be a tough one.
And so, that just leaves the ratings & rankings.  Yelp reviewers gave Homecomin' a rating of 4 stars and I would probably agree with that.  If they hadn't removed the Ham & Jam Biscuits from their menu I would probably have given it a 4 1/2 though based on my meal, which is the rating that Trip Advisor reviewers gave it.  Also, Homecomin' ranks #78 of the nearly 3,000 Orlando area restaurants reviewed on Trip Advisor.  Narrowing it down to just the restaurants in the Disney World area, Homecomin' ranks an impressive #18.  At #16, only Narcoossee's ranks higher among the Disney World restaurants that I visited on this trip.