First some photos of the menu at this large kiosk located outside and to the left of the Mexico pavilion at Epcot.   First the Food & Non-Alcoholic Beverage section of their menu…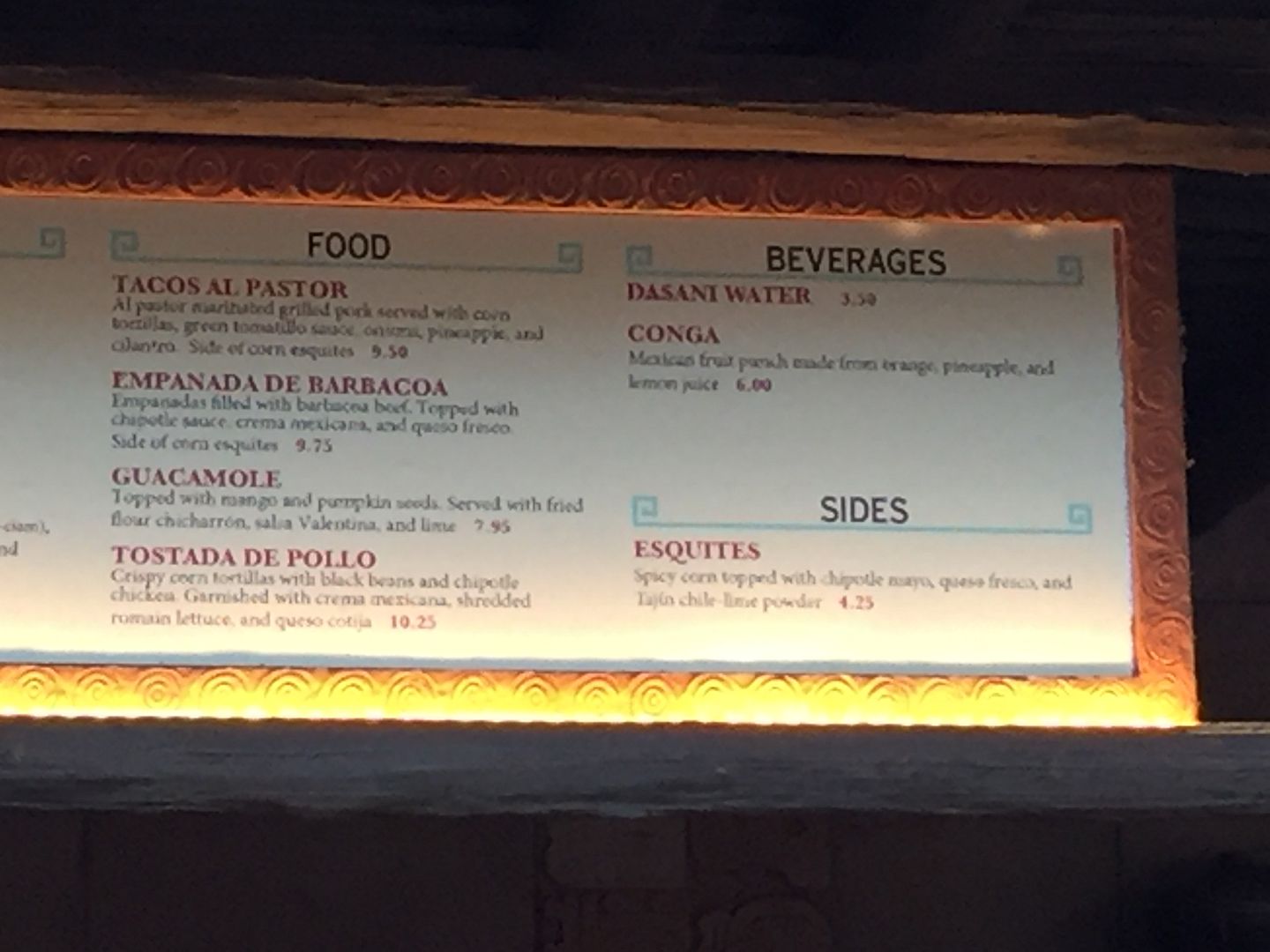 Three kinds of beer on their Cerveza menu (two of which are Dos Equis)…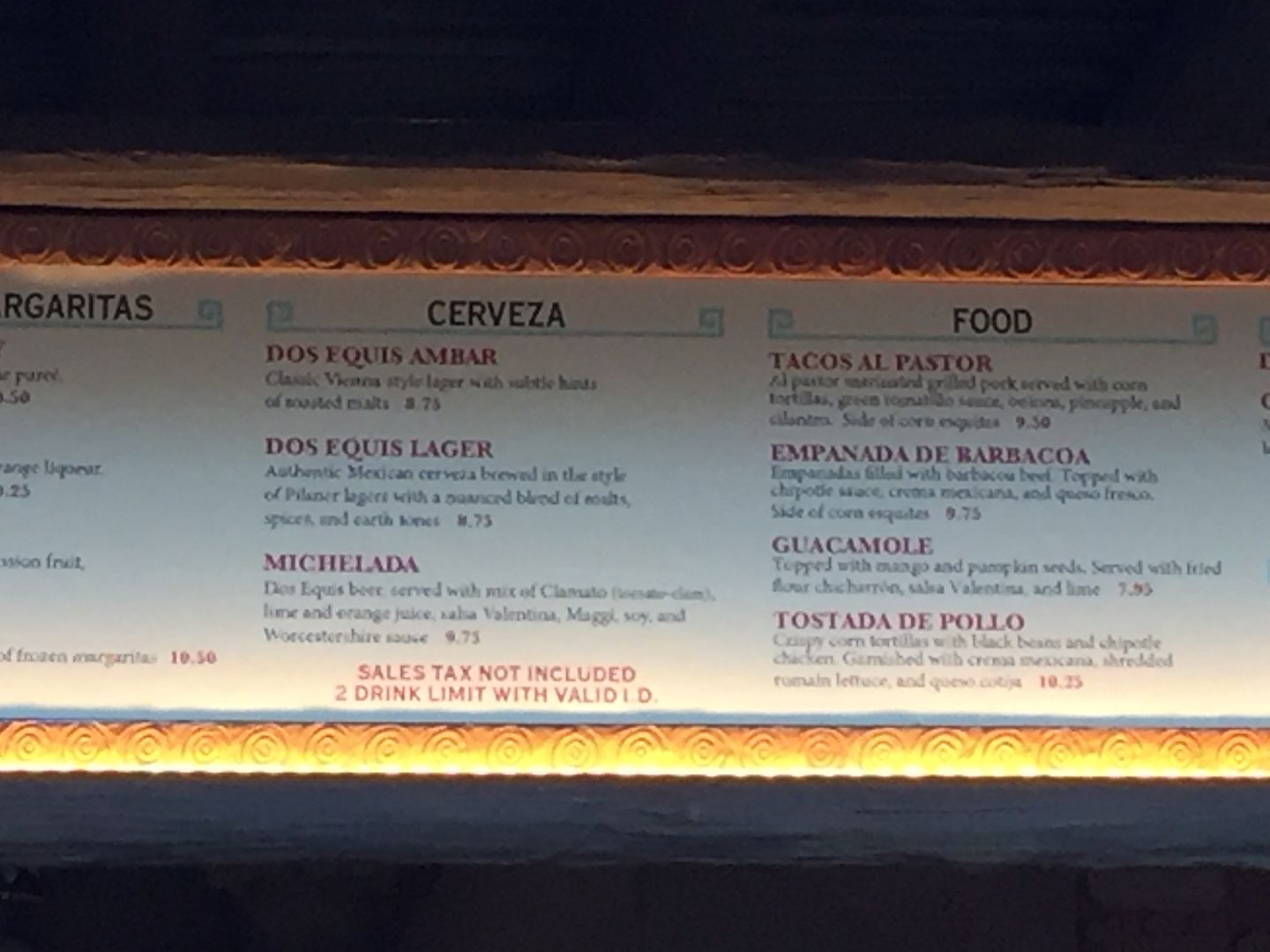 NOTE: TWO DRINK LIMIT WITH VALID I.D. listed on the menu above.  Is that drink limit policy something new, or have I just never noticed it before?
Then 8 different margaritas, 4 served on the rocks and 4 frozen…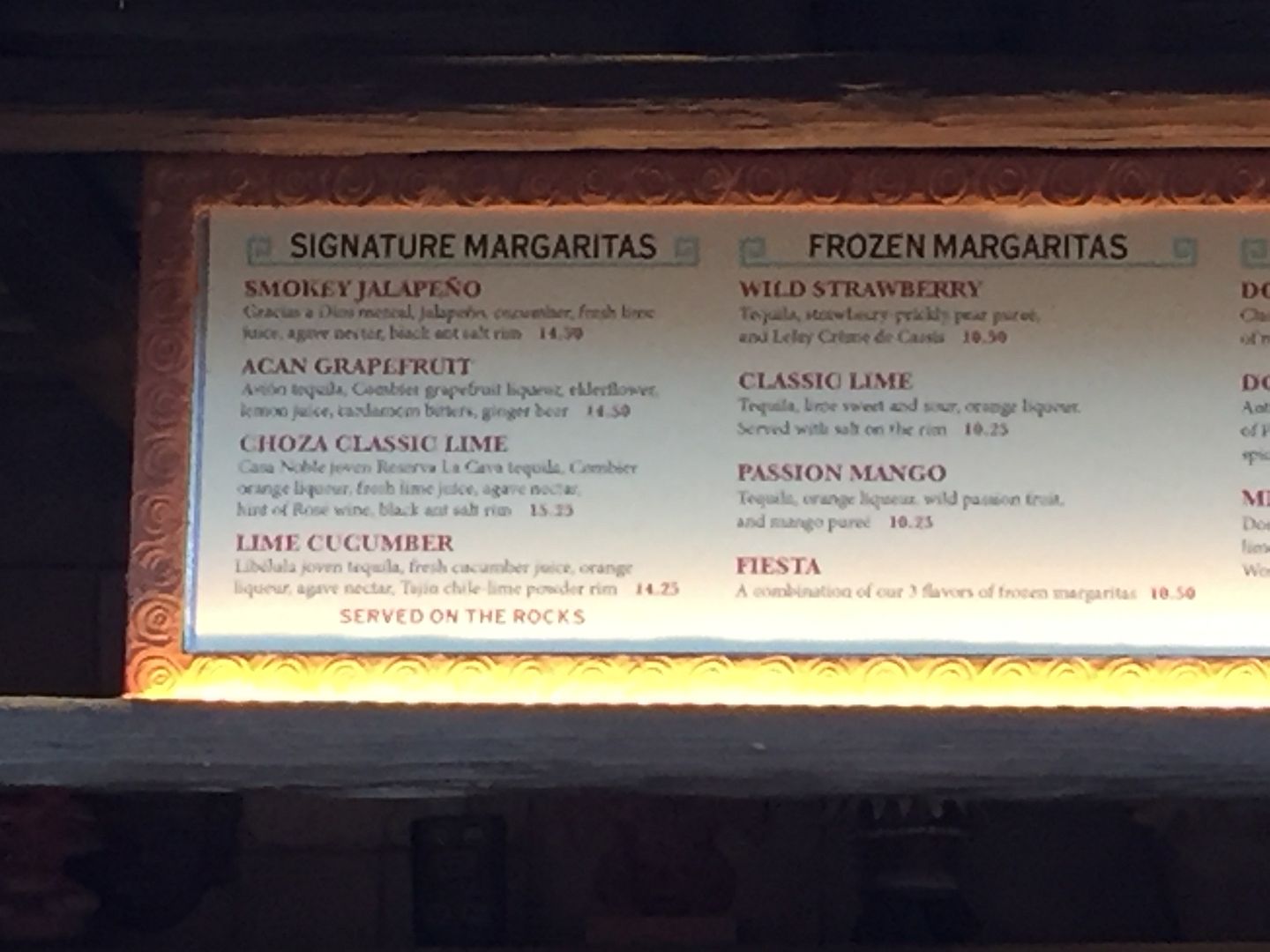 The frozen flavors sounded like the same ones that were served at the previous margarita stand that Choza de Margarita replaced.  Also I noticed that the margaritas were pre-made and served from a dispenser.
However, I wasn't there for a margarita, as my favorite margarita that is served at Epcot is the avocado margarita and it is not offered here.  Instead I had my eye on one of their food items.
I had always enjoyed the Chicken Tostadas which were served at the Mexican restaurant inside the pavilion, San Angel Inn.
Tostadas de Tinga – Pulled Chicken seasoned with Roasted Tomato and Chipotle Peppers, served over Tostadas with Refried Black Beans, fresh Green Tomatillo Sauce, Queso Fresco, and Sour Cream (3 Tostadas for $11.00)
Sadly, for a short time (including Fall 2018) these were removed from their menu.  However, I noticed that Tostada de Pollo appeared on the menu at Choza de Margarita so I was curious if these tostadas were the same/as good as the San Angel Inn tostadas.
And so, here they are…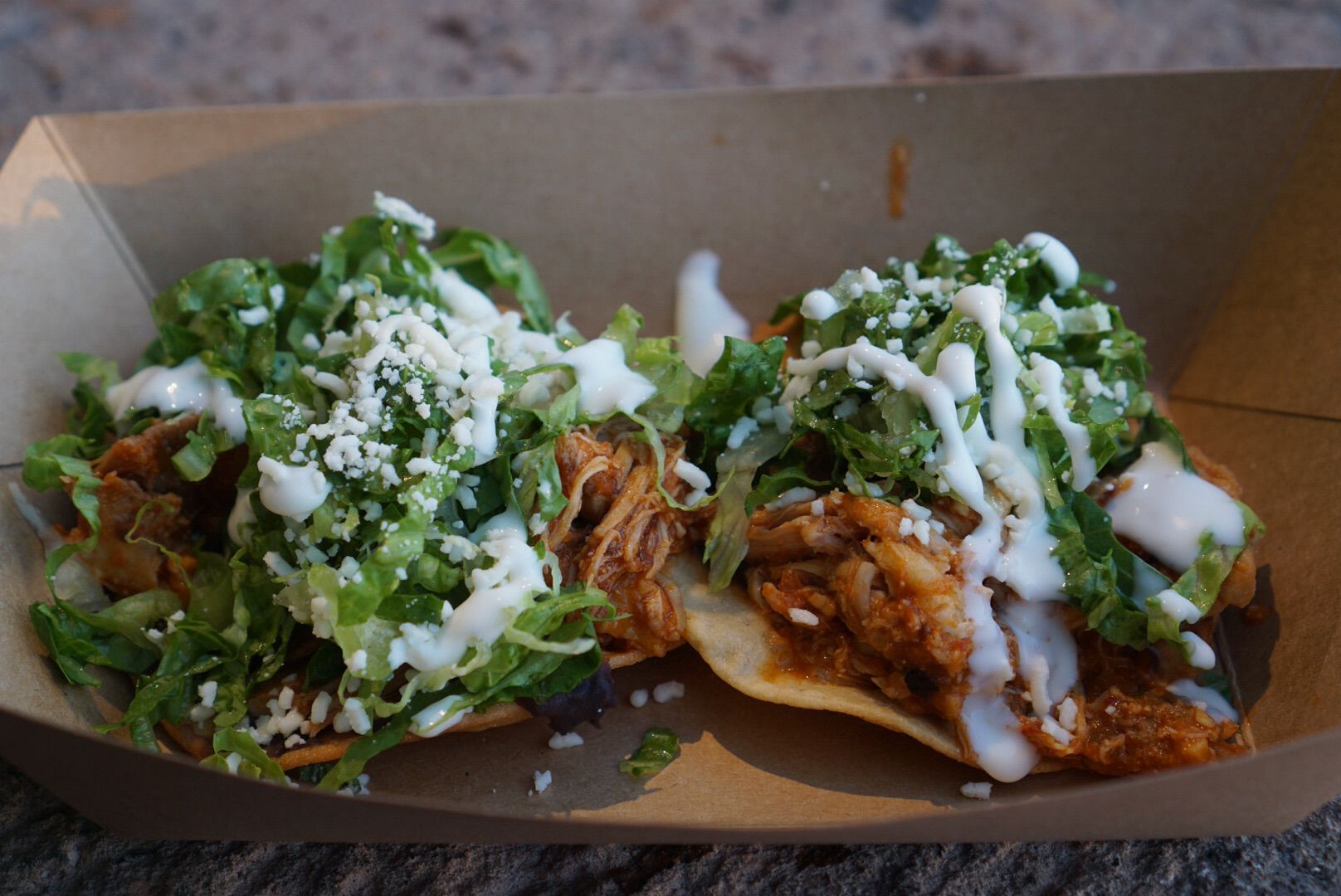 Tostada de Pollo – Crispy Corn Tortillas with Black Beans and Chipotle Chicken.  Garnished with Crema Mexicana, Shredded Romaine Lettuce, and Queso Cotija (2 Tostadas for $10.25)
And a closer look…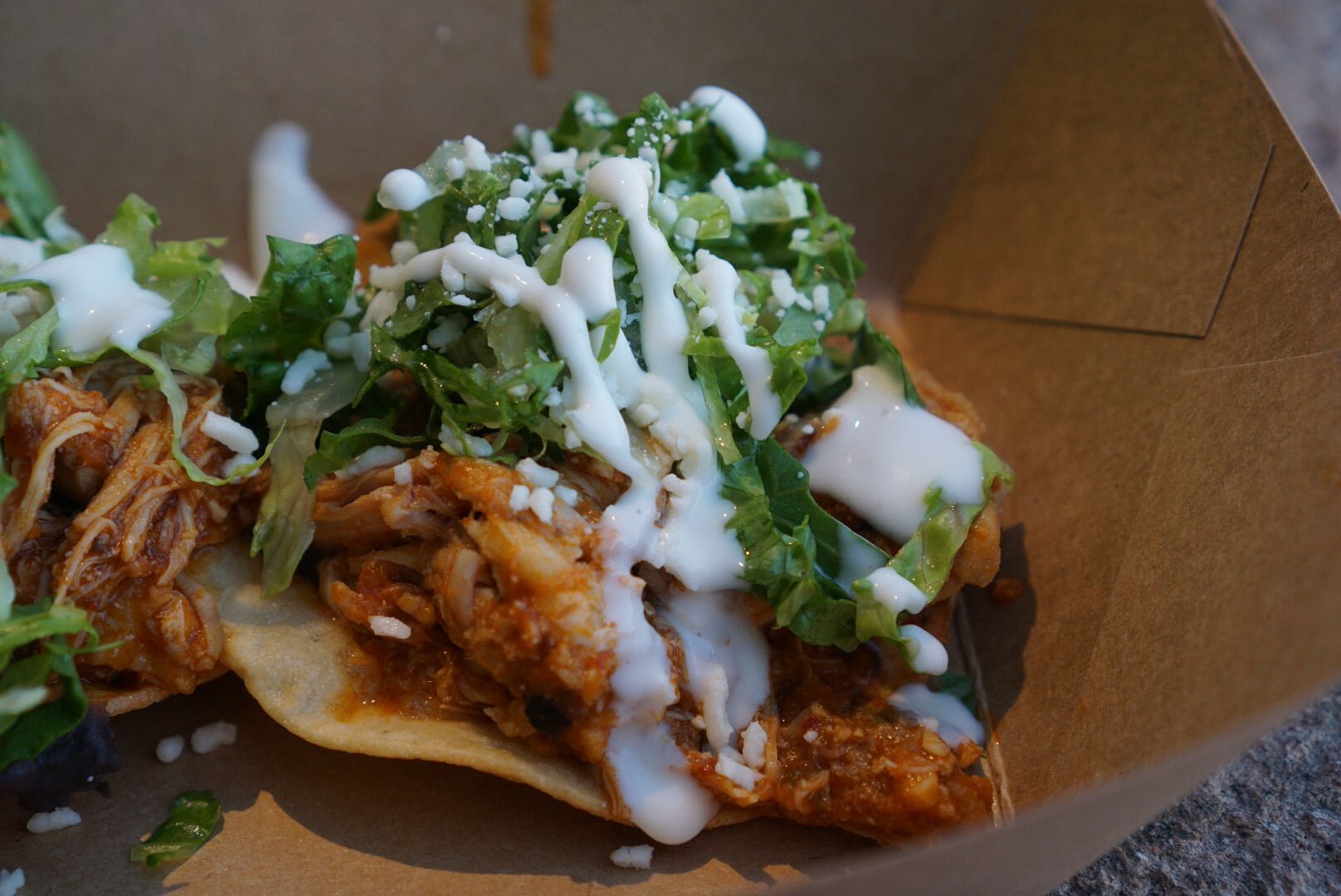 In appearance these tostadas seemed to have an abundance of toppings, more so than those at San Angel Inn.  However, most of that topping was shredded lettuce…a filler topping that I could do without.  The chipotle chicken was good but not as flavorful as I remember the chicken being on the San Angel tostadas.  Also, I missed San Angel's avocado-tomatillo sauce.  In addition, at $10.25, these two tostadas cost almost as much as the three tostadas at San Angel (when I last had them there in 2016).  Their current online menu shows the price has increased to $10.50, so $5.25 per tostada.  Not really worth it in my opinion.
Also of note, as I peruse the current online menus while planning for my next trip, I see that Tostadas de Pollo are back on the menu as an appetizer at San Angel Inn.  However, I also see that the price is now $12.50, $1.50 more than I paid for them in 2016.  Now I'm wondering if you still get three tostadas or if they have cut the portion size back to two?  I may need to pay a visit to San Angel Inn to find out.  Oh, and to make things even more interesting, San Angel Inn also has Tostadas de Camaron (tostadas with shrimp and avocado) now.  Yum!
And finally, though I don't feel that I have enough experience with Choza de Margarita to rate it, having tried only the tostadas, the reviewers on Yelp give it 4 stars.