Initially I had two reasons for my visit to the Contempo Cafe.  The first of these was to get the refillable mugs that were included with our Disney Dining Plan.
They were were on display near the cash registers…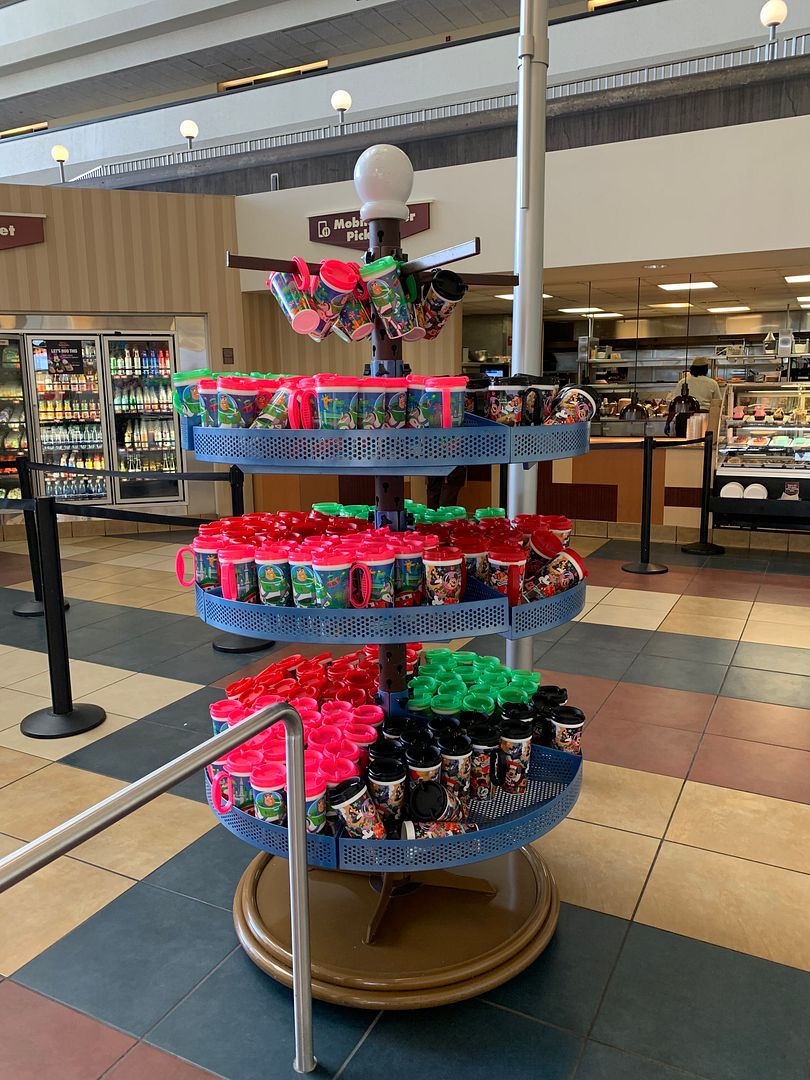 There were 2 designs available, Buzz Lightyear (with a pink or green lid & handle) or Mickey (with a black or red lid & handle).  We chose the black and red Mickey designs.  I was a little disappointed that neither a Halloween (this was Oct. 30th) or Christmas design was available.
We took our chosen mugs to a cash register, where they were charged to our Dining Plan and activated (I believe for a 14 day period).   Had we been paying for these out-of-pocket they would have cost $19.99, or $21.29 with tax.  Our mugs could be filled at the self-service beverage stations of the Quick Service locations at any Disney Resort Hotel for the next 14 days (so my entire trip), even though we were only on the Dining Plan for the first 5 nights.  At the Contempo Cafe, the beverage station is along the wall on the right side of the dining room…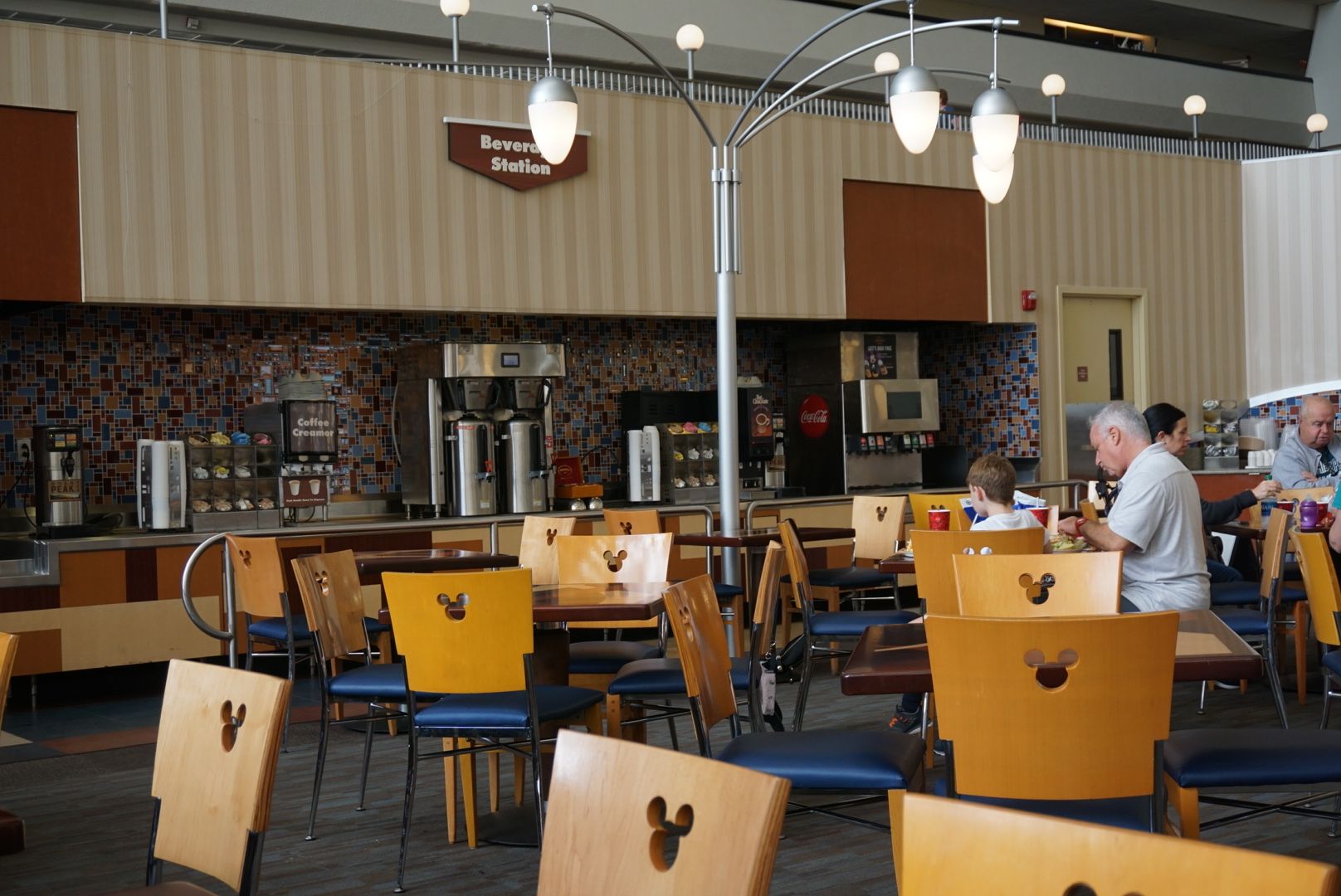 There were two soda dispensers (with Coca-Cola products).  We filled our new mugs with Sprite and Coke.  Andrew took his Sprite up to our room, as he wanted to take a nap before getting ready for dinner.
I though wanted to find the Contempo Cafe dessert that I'd read about…
Peanut Butter Pie
I searched their display case and found…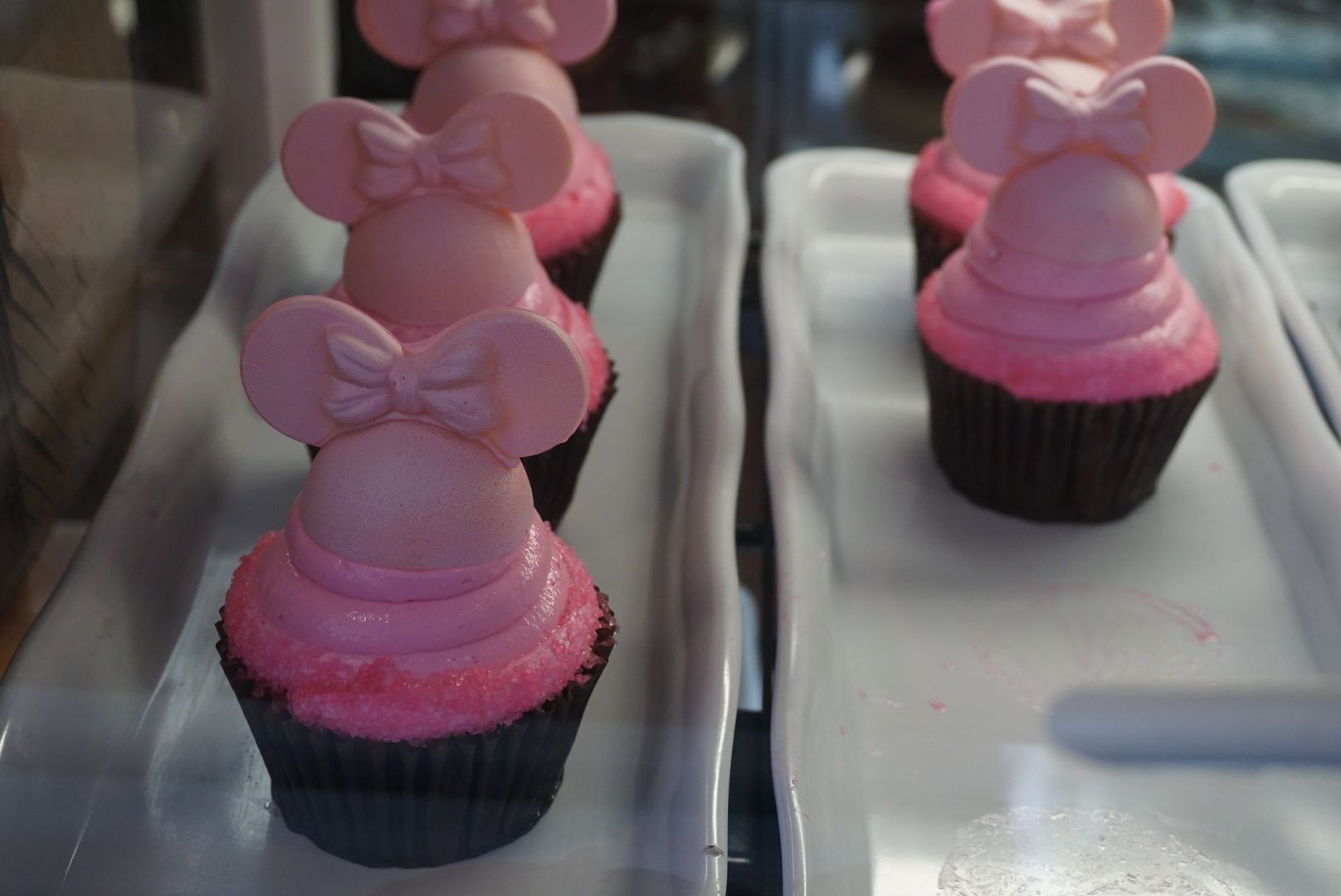 Imagination Pink Cupcake – Strawberry Cupcake with Pink Sprinkle Center and Vanilla Buttercream Icing – $5.49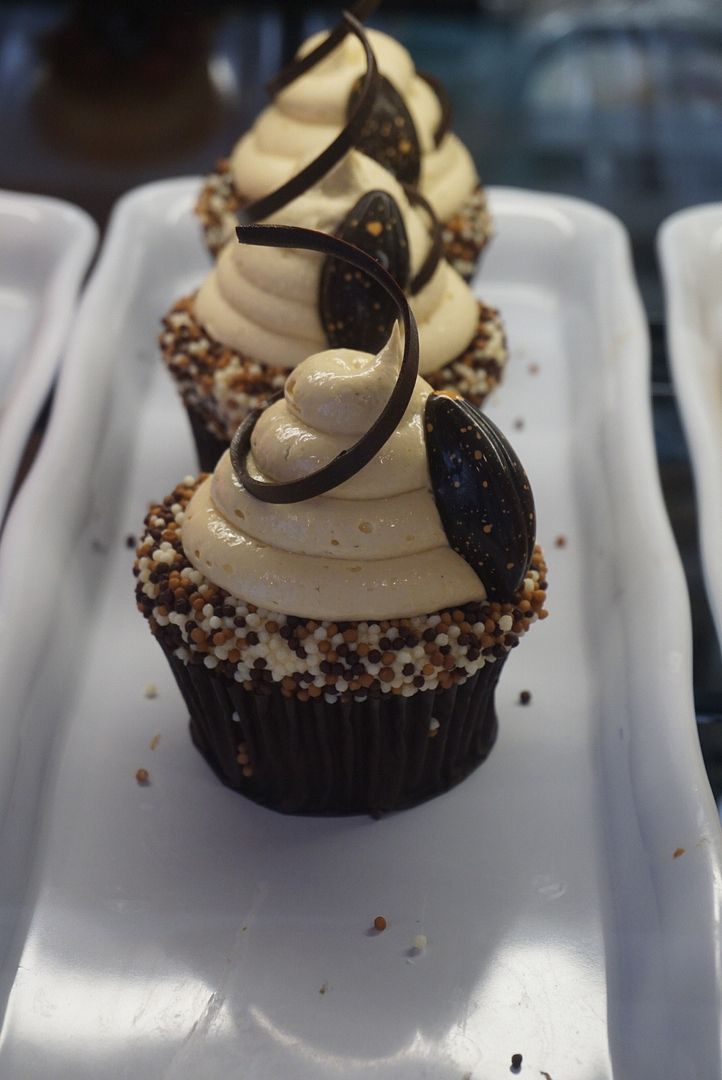 Dulce de Leche Cupcake – Yellow Cupcake filled with Dulce de Leche caramel and topped with salted caramel buttercream icing, candy crisps, a chocolate swirl, and a large salted caramel truffle chocolate – $5.49
Frozen 2 themed Pumpkin Spiced Doughnut Tart – Vanilla tart shell filled with pumpkin custard and topped with a spiced doughnut cake top, cinnamon glaze, and chocolate leaves  – $4.99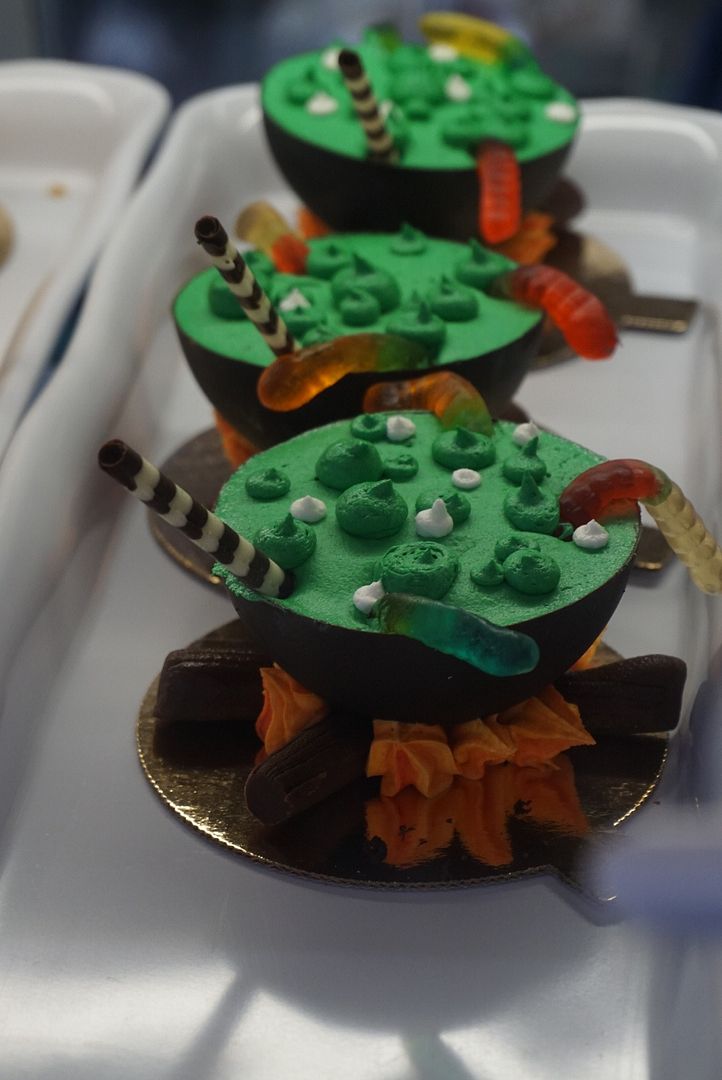 Cauldron Cake – Dark Chocolate Cauldron filled with Chocolate Cake and Candy Bar Filling – $5.49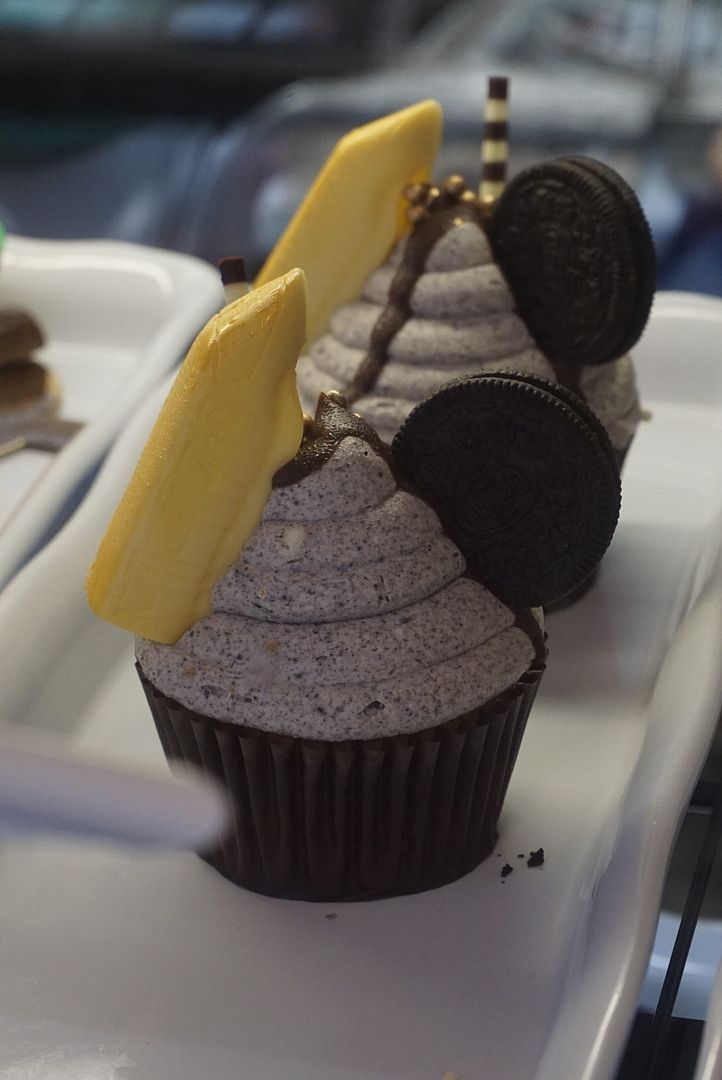 Cookies 'n Cream Monorail Cupcake – Vanilla cupcake with cookies and cream filling and topped with cookies and buttercream frosting, an Oreo cookie, chocolate straw, and a white chocolate monorail – $5.99
NOTE: I recognized the white chocolate monorail as the same as was on the Welcome Platter of desserts in our room.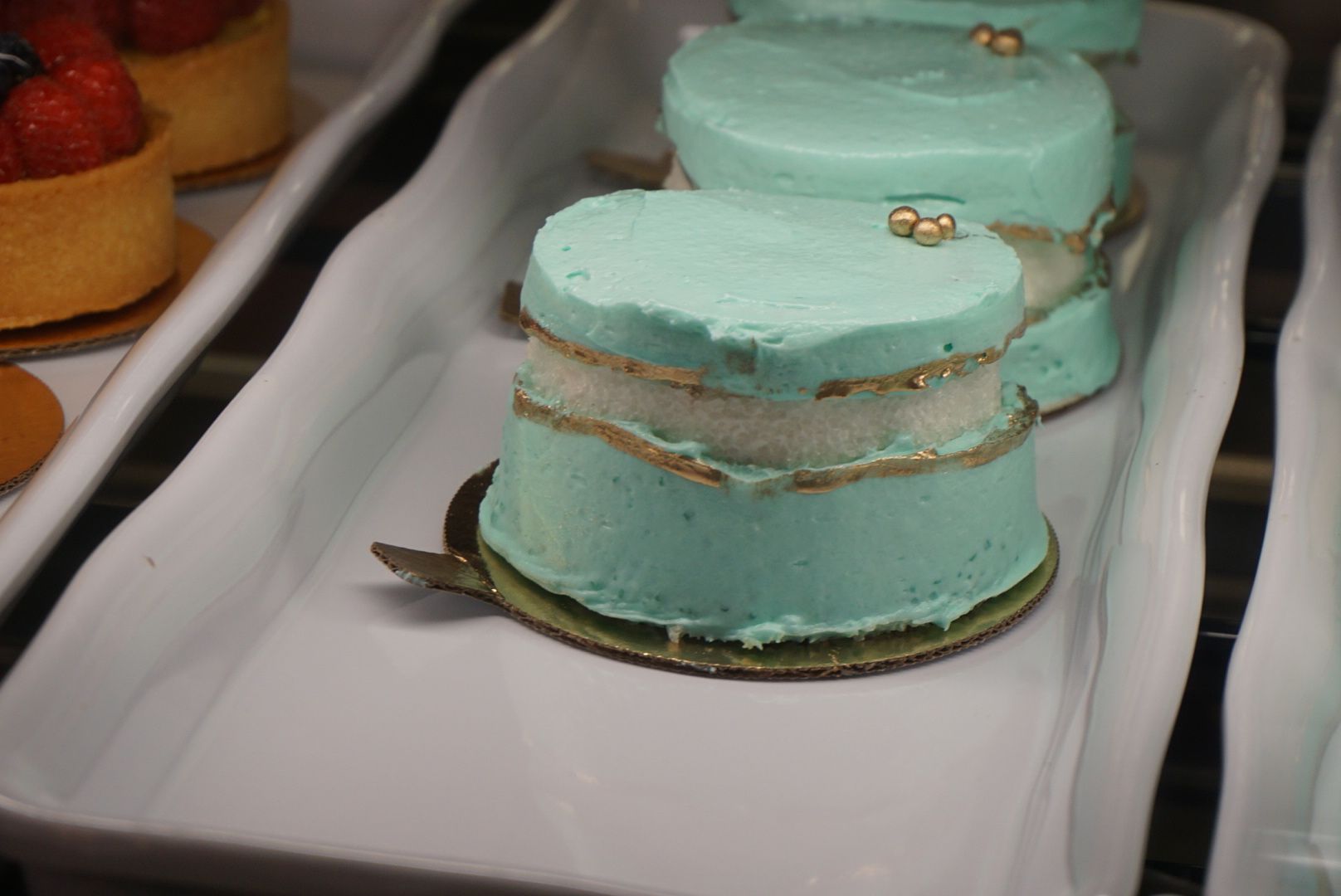 Arendelle Aqua Cake – Vanilla Cake with Blueberry Jame filling, blueberry cream icing, and decorated with edible gold paint and sugar crystals – $5.99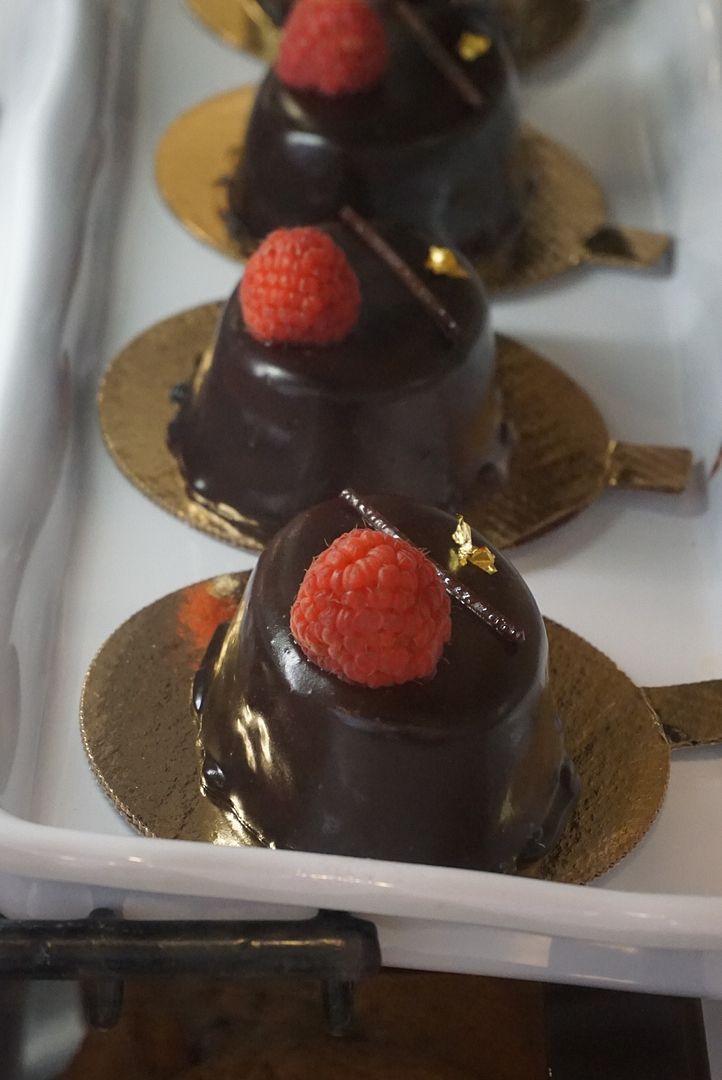 Flourless Chocolate Cake – Gluten-free Chocolate Cake covered with Chocolate Glaze – $4.69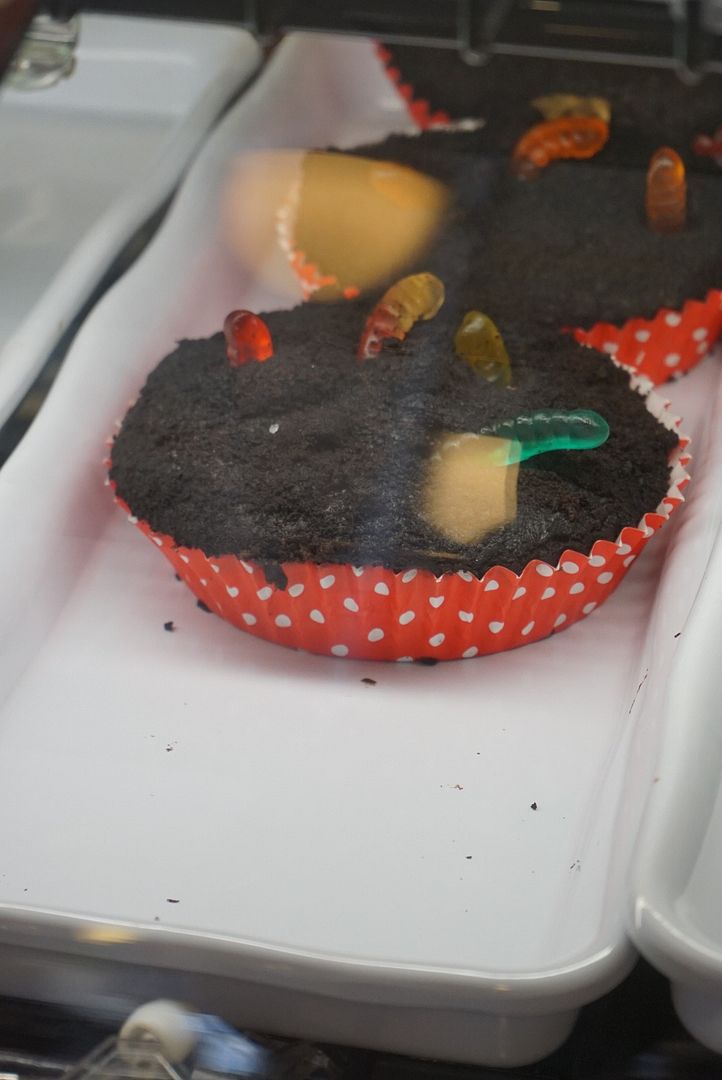 Dirt and Worms Cupcake – Chocolate Cake topped with Ganache, Cookie Crumble, and Gummy Worms – $5.49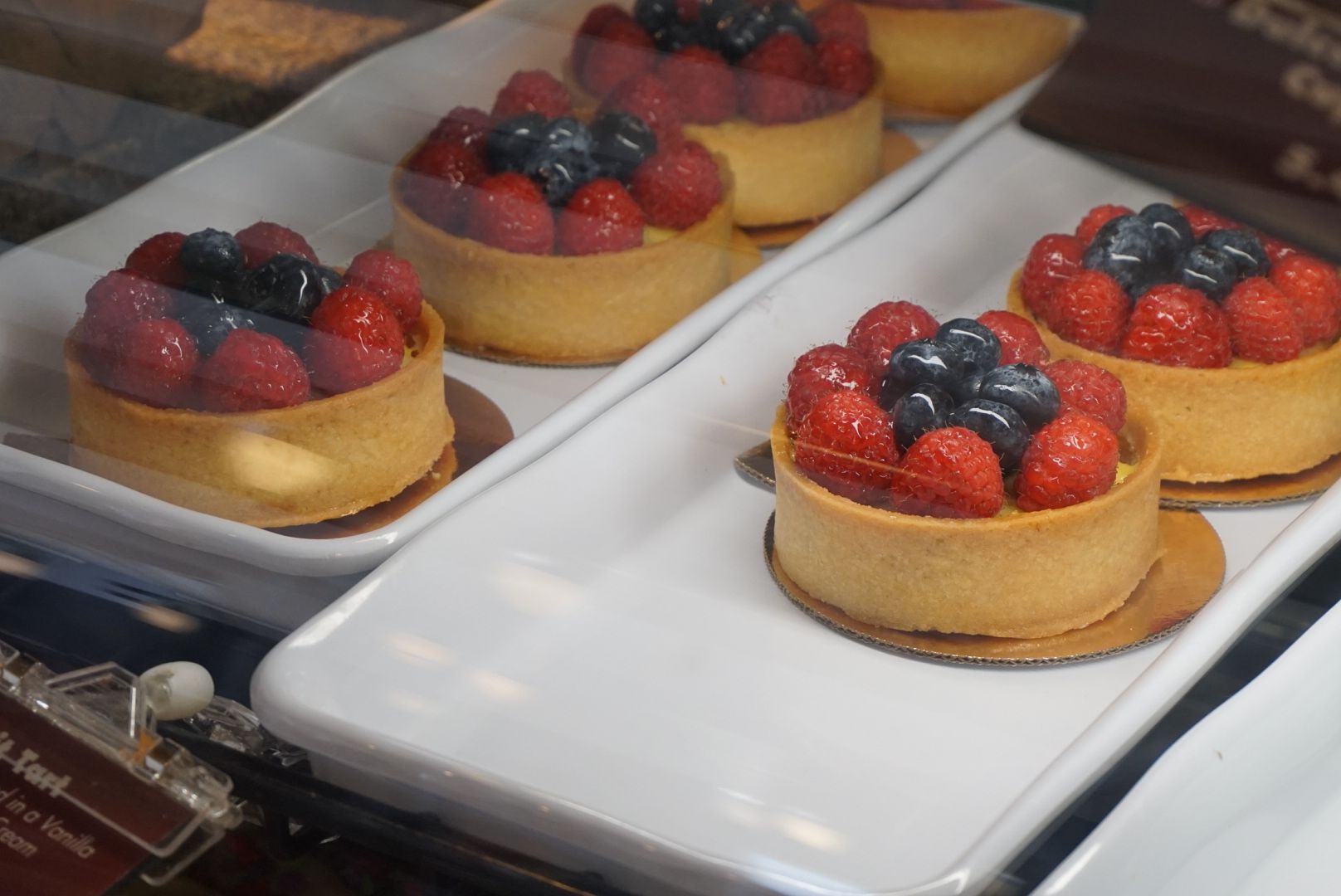 Fruit Tart – Tart filled with Vanilla Custard and topped with fresh strawberries and blueberries – $4.79
I could have had any of these desserts for a Dining Plan snack credit, however the one I wanted (the Peanut Butter Pie) was nowhere to be found.
Looking at the desserts though did make me hungry so I decided to order something for lunch.  Here are photos of their Lunch menu…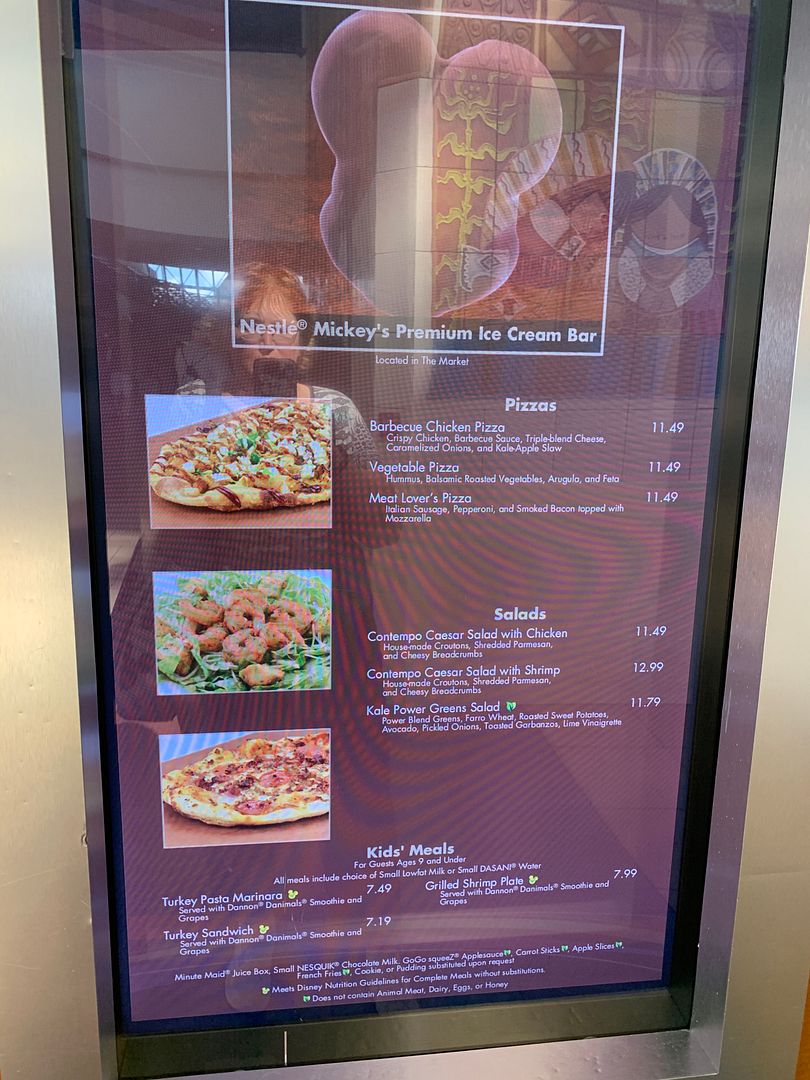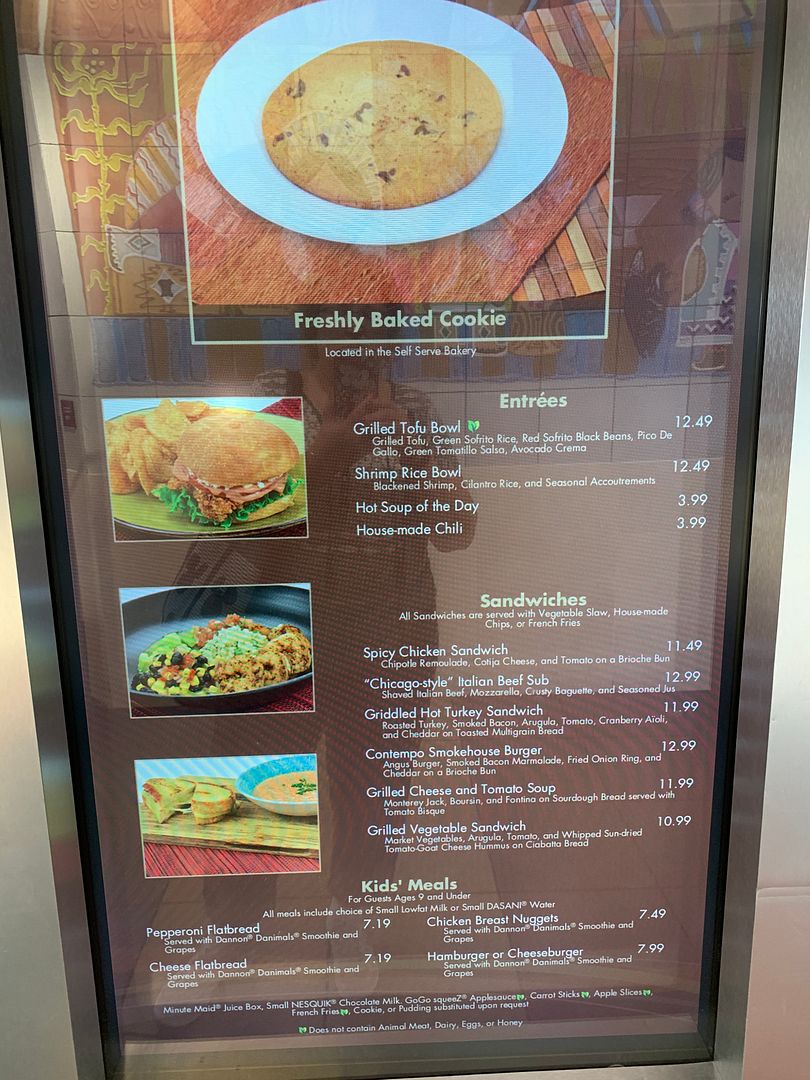 I chose something from the Sandwich section of their menu.  I placed my order and paid for it out-of-pocket at the cash register.  It was only $11.99 (plus tax) so I decided not to use one of my Quick Service credits.  I was given this tracking device to put on my table…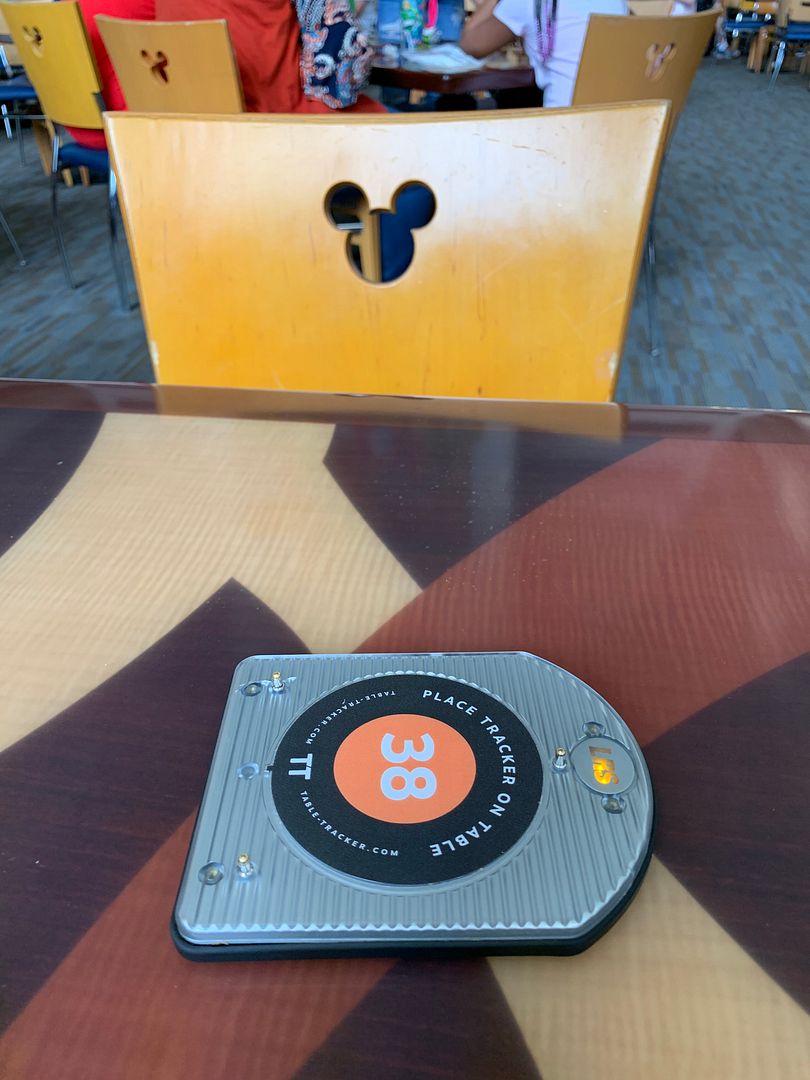 There were several tables available so I chose one and sat and watched the monorails come through the restaurant…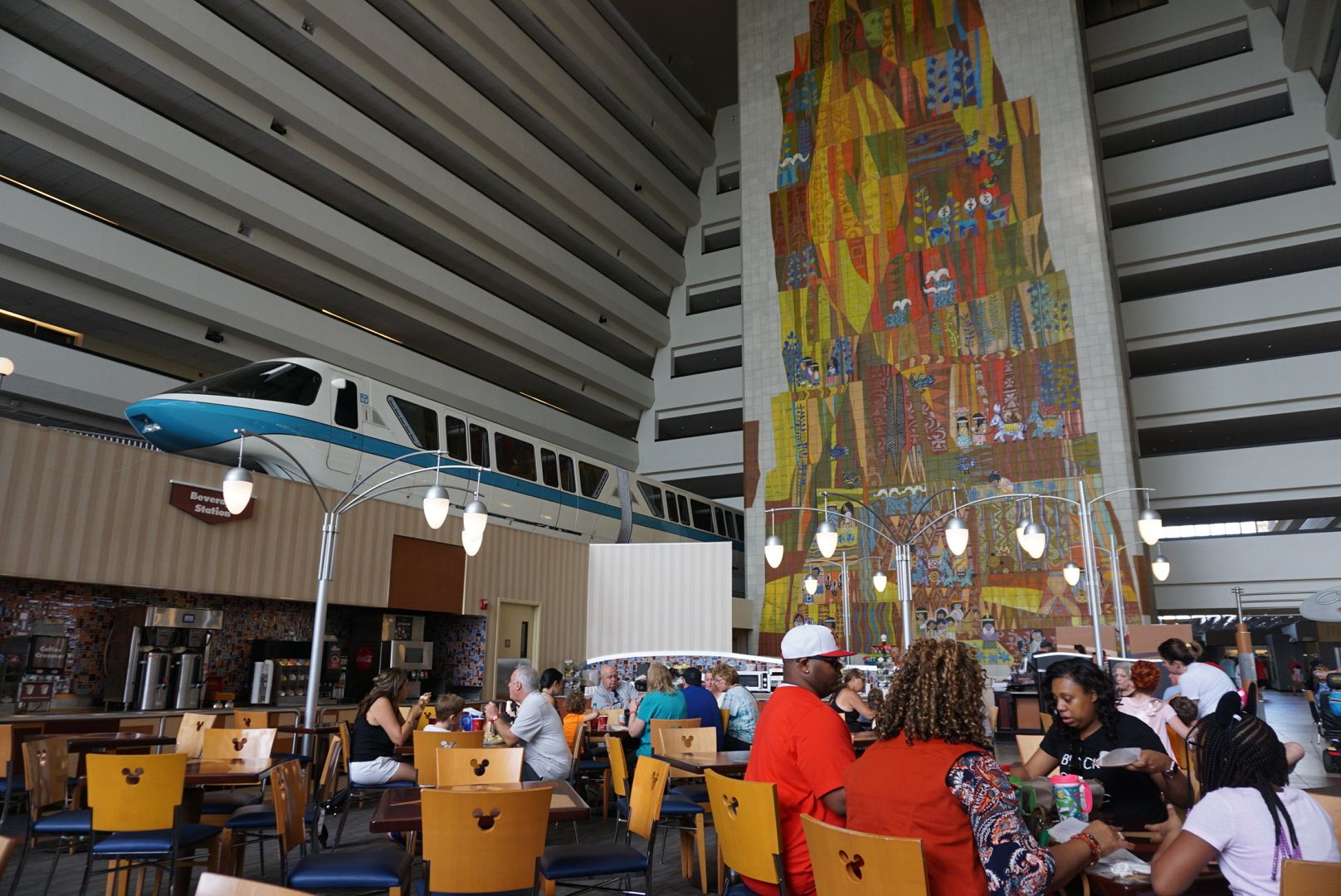 Between the monorails passing through and the 90 foot high mural designed by Disney legend Mary Blair, there was plenty to look at and occupy my time during the short wait for my food.
Soon my order was delivered to my table…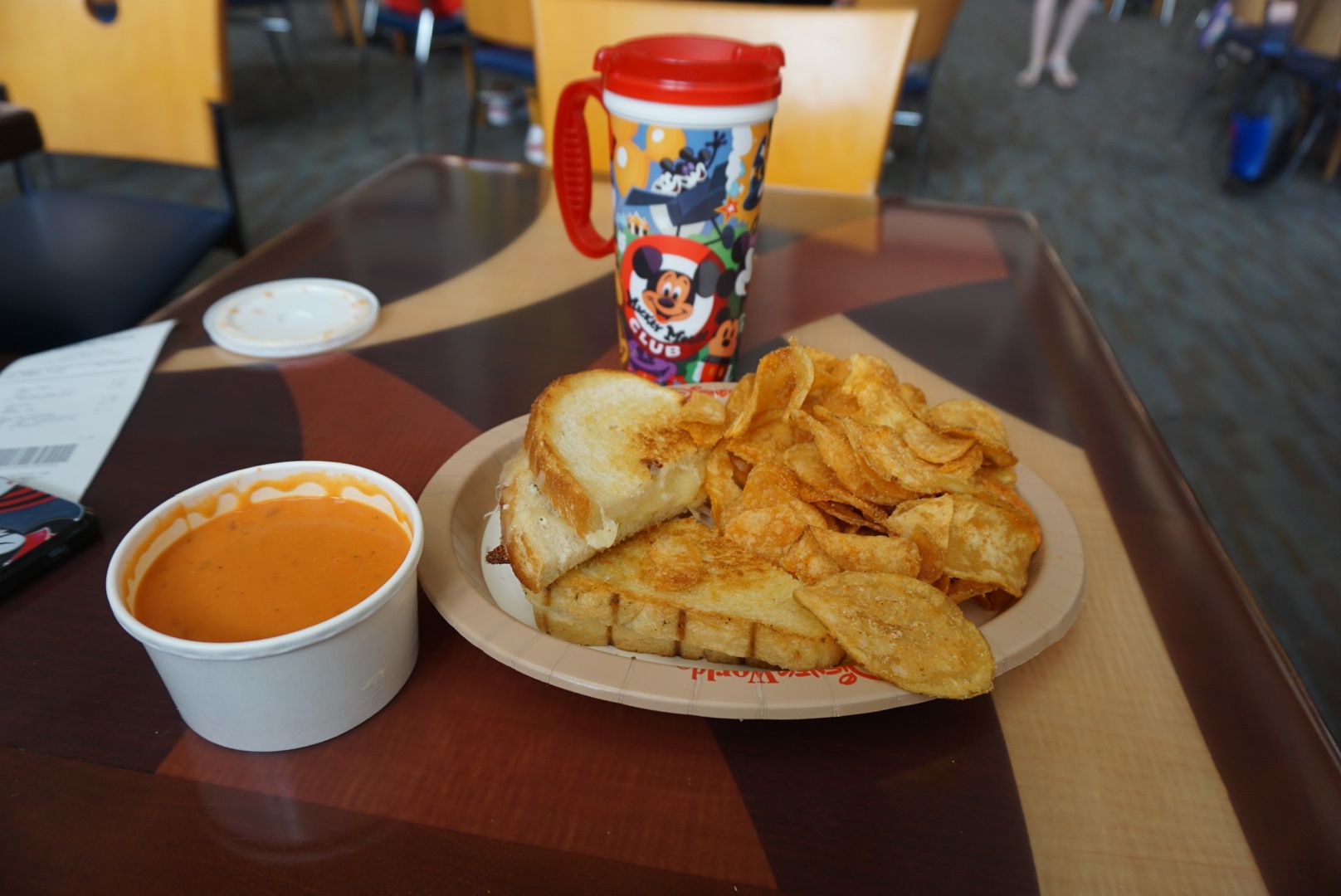 Grilled Cheese and Tomato Soup – Grilled Monterey Jack, Boursin and White Cheddar Cheeses on Sourdough Bread and Tomato Bisque served with your choice of Vegetable Slaw, French Fries, or House-made Chips – $11.99
Note: This is considered a Lunch Specialty and only listed on their Lunch menu served from 11:30 – 5:00 p.m.
And some closer looks…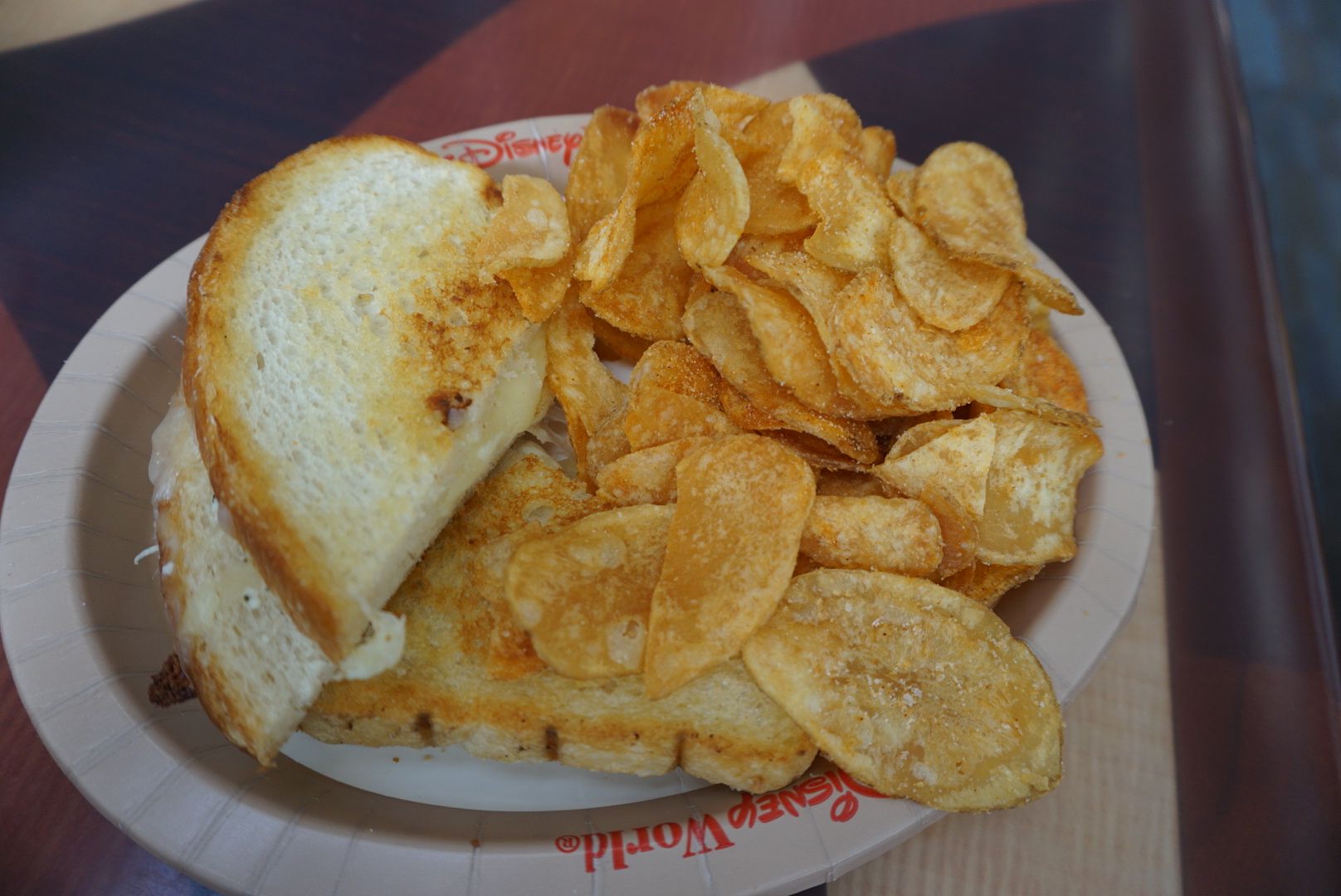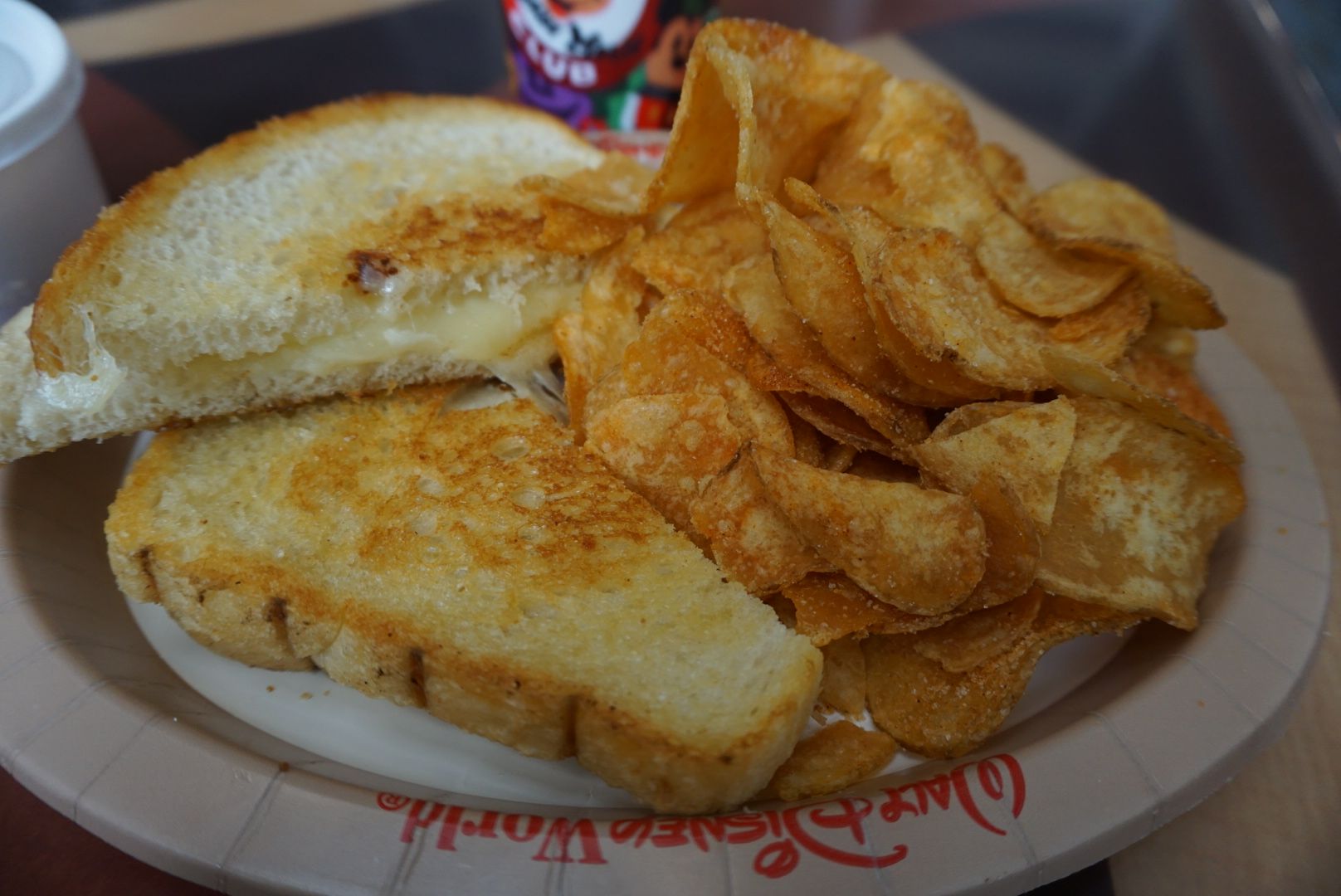 The bread of the sandwich was a bit dry and overcooked around the edges but I liked the blend of three cheeses (Monterey Jack, Boursin, and White Cheddar).  I still prefer the grilled cheese at Hollywood Studios' Woody Lunch box though.  Woody's version also has three cheeses but they are different ones (Provolone and Cheddar cheese combined with a cheddar cream cheese spread), plus it has the added bonus of a hint of garlic in the bread.
I did though love the House-made Chips that I chose for my side…
FYI: These can be ordered separately for $4.49 or a snack credit.
I showed restraint though and saved most of these for my son to snack on later, as I knew he would enjoy them.  These house-made "kettle-cooked" style chips tasted fresh and were perfectly seasoned.  They were so much better than regular store-bought potato chips.
As for the Tomato Bisque…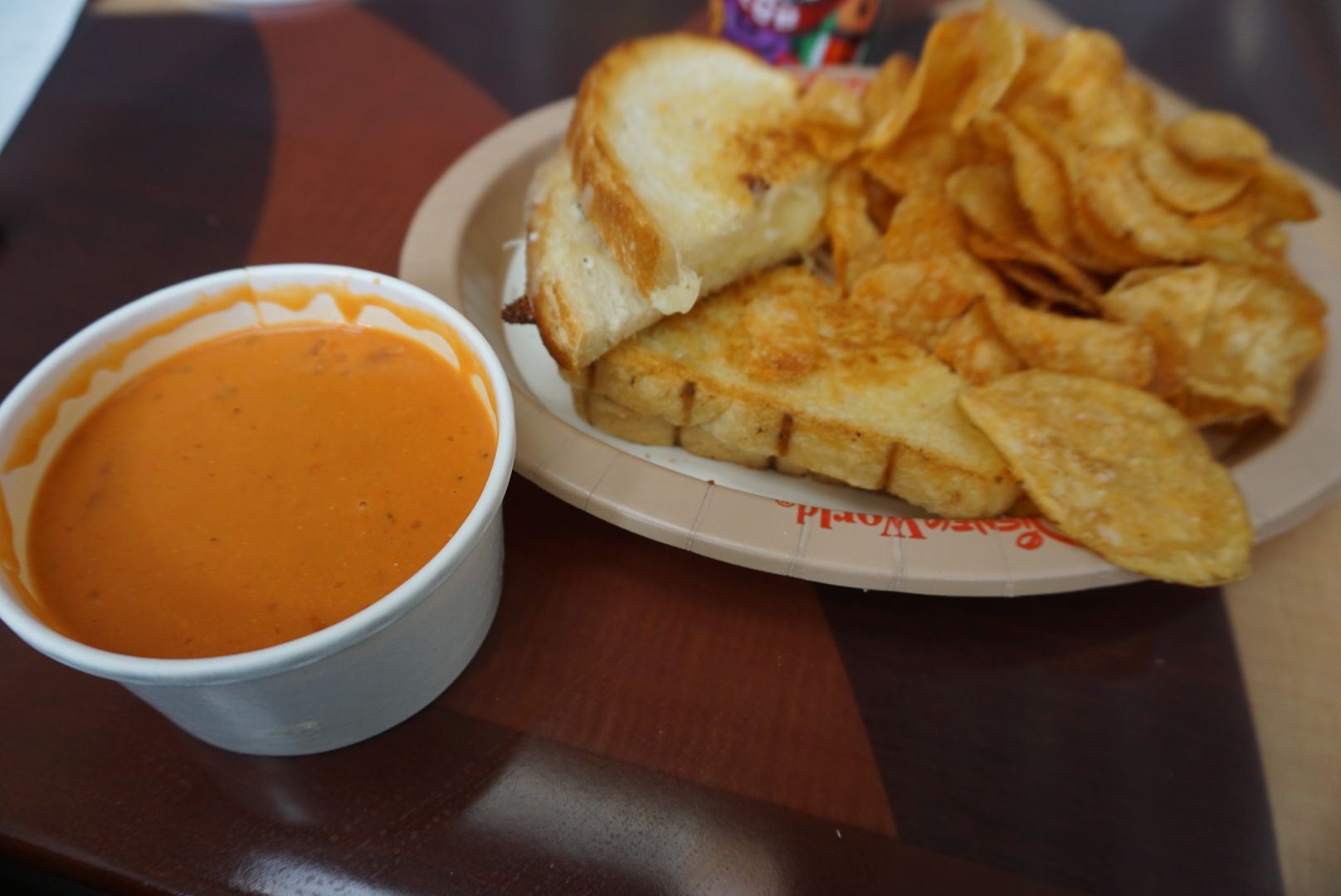 It was creamy and filled with bits of tomato and basil.  It seemed similar to the tomato bisque served at Woody's Lunch Box.  I enjoyed it.
As I was eating my lunch I noticed a young boy walk by with a Peanut Butter Pie on his plate.  At this point I was too full to investigate but I made a mental note to return to the Contempo sometime before we checked out on Sunday to track down the missing pie.
That opportunity did not occur until Sunday morning.  When I checked out the display case at about 10:00 a.m. it was still filled with breakfast pastries rather than desserts…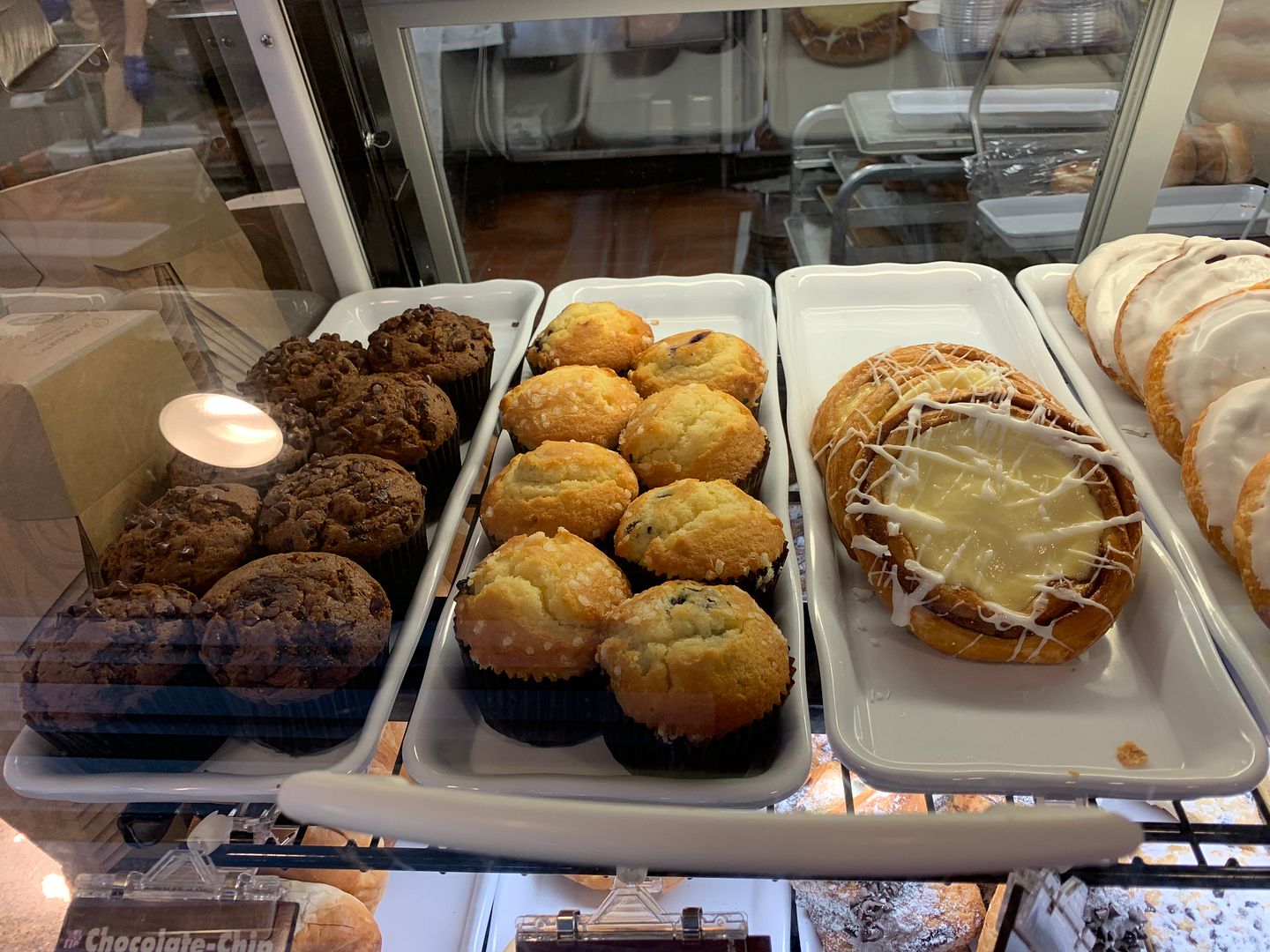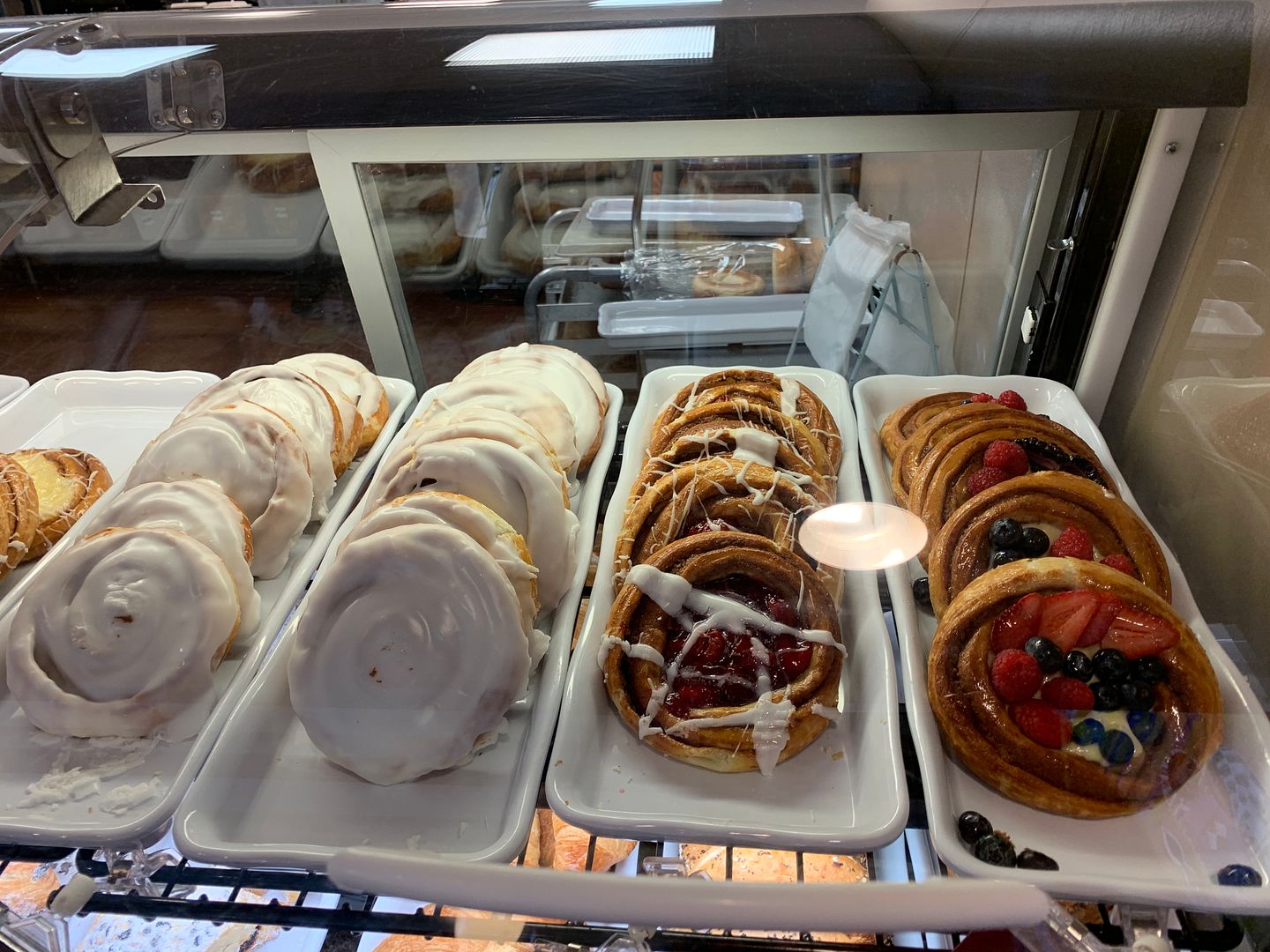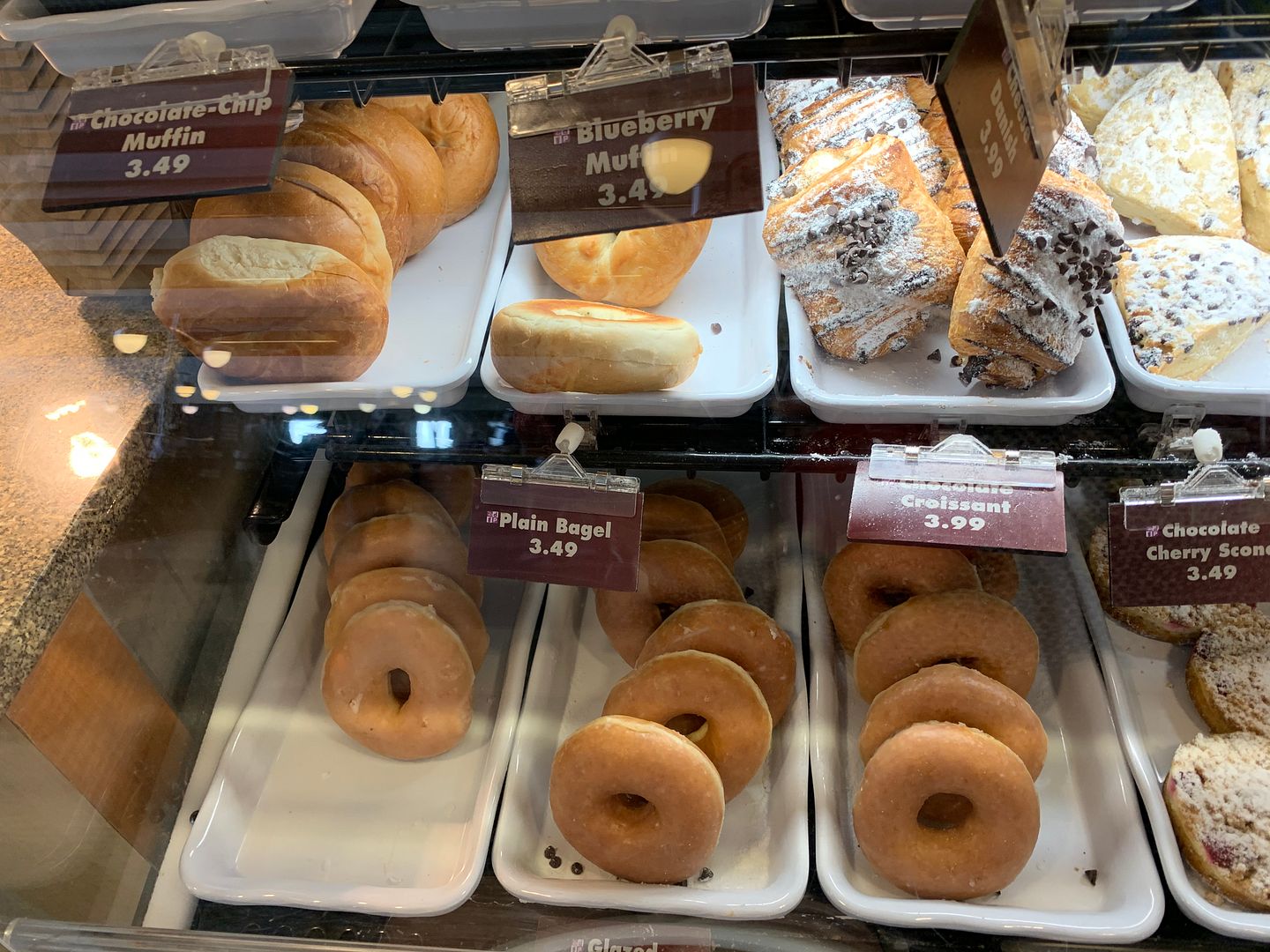 I believe these are replaced by the desserts at about 11:30 each day, when they switch from their breakfast menu to their lunch menu.  However, I made a point of asking the cast member behind the counter about the Peanut Butter Pie.  I was told that it had been temporarily replaced by the Frozen 2 pumpkin tarts.  She said the PB pies would return eventually but she didn't know when exactly.  So I guess the boy I had seen with one earlier in the week had been lucky??  Regardless, I thought it was odd that they replaced what I thought was their "signature" dessert for a seasonal one.
Anyway, that just leaves the ratings.  Contempo Cafe received only 3 stars by Yelp reviewers but did better on Trip Advisor, receiving 4 stars from the reviewers there.  I would probably split the difference and give the Contempo Cafe 3 1/2 stars.  While my grilled cheese was just okay, the bisque was good and the house-made chips were great.  Plus it was fun watching the monorail pass through the restaurant.
DINING PLAN: 2 Refillable Mugs = $42.58 Value