First, I must admit I've never been a big fan of Starbucks, as the closest one is more than 17 miles from my house.  I know, shocking right?  However, Andrew (being a recent college graduate) is a Starbucks fan, as there were at least two Starbucks located on campus and several more close by.  So when I suggested that we use some of our snack credits (we still had 5 to use or lose by day's end) to have breakfast at Creature Comforts (Animal Kingdom's Starbucks), he was all for it.
While he knew exactly what he wanted for his beverage (his usual Starbucks order), I had to look over the menu (and take a few photos) before I could decide…
I saw something on their Fall Season menu that sounded very good to me…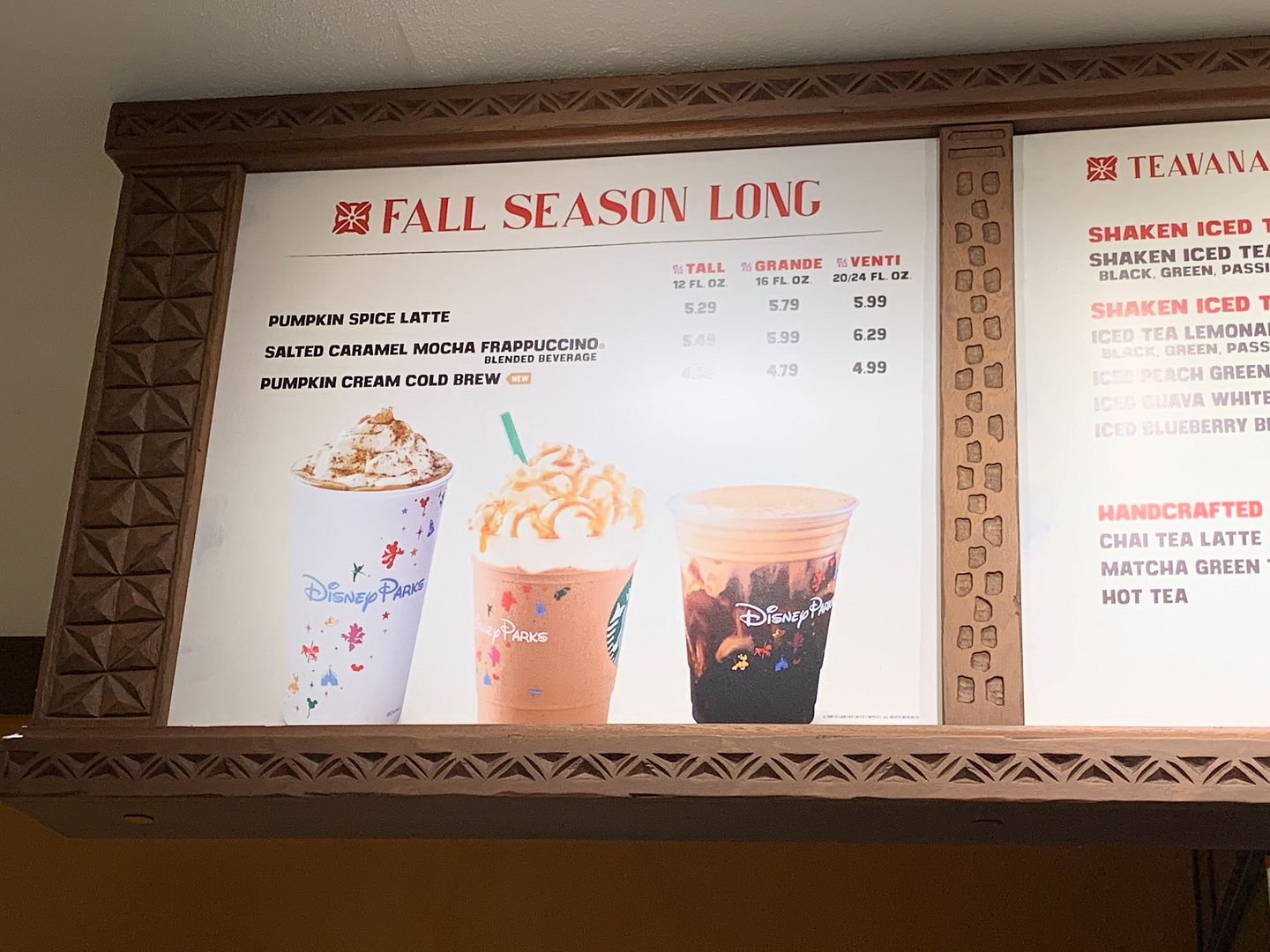 And so that is what I ordered, in the largest size (Venti) because you could get any of the 3 sizes for a snack credit, so why not get the most bang for your "snack credit" buck?
Though Andrew's usual Starbucks beverage was not listed on their menu here, he was still able to get it (he just had to ask)…
We also used a 3rd snack credit for some food to go along with our beverages.  So here was our 3 snack credit breakfast…
Let's start with our drinks…
Pictured on the left is my Salted Caramel Mocha Frappuccino (Venti//24 oz. size – $6.29).  It's ingredients are Ice, Milk, Coffee Frappuccino Syrup, Whipped Cream, Vanilla Syrup, Coffee, 2 pumps of Mocha Sauce, 2 pumps of Toffee Nut Syrup, Caramel Sauce, and Sea Salt Topping.  This was delicious, though very sweet and loaded with calories.  "Weighing in" at 570 calories, this one drink was more than 1/4 of the 2,000 recommended calories per day.  But I didn't let that ruin my enjoyment of this very tasty beverage, because calories don't count at Disney World, right?
Pictured on the right is Andrew's Matcha Green Tea Creme Frappuccino in the Venti (24 oz.) size.  It's ingredients are Ice, Milk, Creme Frappuccino Syrup, Whipped Cream, Vanilla Syrup, Classic Syrup [Starbucks' version of simple syrup or liquid sugar], and Matcha Tea Blend [Sugar, Ground Japanese Green Tea].   He also had them add two pumps of raspberry syrup to this, which there was no extra charge for (still included for a snack credit).  Without the added raspberry syrup, his beverage was a mere 520 calories.
  Since this wasn't on their menu and we used a snack credit for it (so price not listed on the receipt), we don't know exactly the cost of this drink (if paying out of pocket) so will estimate the price to be the same as mine, $6.29.   Anyway, as usual, he enjoyed it.  He likes this because it doesn't have either coffee or mocha, neither of which he likes. 
But our calorie intake did not stop there, as we also shared this…
Colossal (Mickey-shaped) Cinnamon Roll – $7.49  
We'd shared this once before (actually had 3 people sharing then) at Kusafiri Coffee Shop (the other Animal Kingdom location where it is available) on a previous trip and loved it.  The second time around, this did not disappoint.  It was again soft, warm, buttery, and cinnamon-filled on the inside.  I've read complaints that they don't put enough of the buttercream icing on top but I thought it had the perfect amount.  In my opinion, it was plenty sweet and gooey enough as is.  This is probably my favorite Disney World cinnamon roll.
So overall we were very pleased with our breakfast and felt it was an excellent use of our three snack credits.  Both Yelp and Trip Advisor reviewers gave Creature Comforts a 4 star rating.  I would agree with their assessment, and maybe even bump this up to 4 1/2 stars because of the ability to use our Disney Dining Plan snack credits here.
3 Disney Dining Plan Snack Credits Used – $21.37 (approx., including tax)