Though I'd had breakfast at Ale & Compass a few years ago, I had yet to try it for dinner. Since we were staying right there at the Yacht Club on this trip, I thought this would be a good time to change that.
Soon after doing mobile check in, we were called. But first, I had just enough time to take photos of both the dinner and breakfast menus posted outside the restaurant…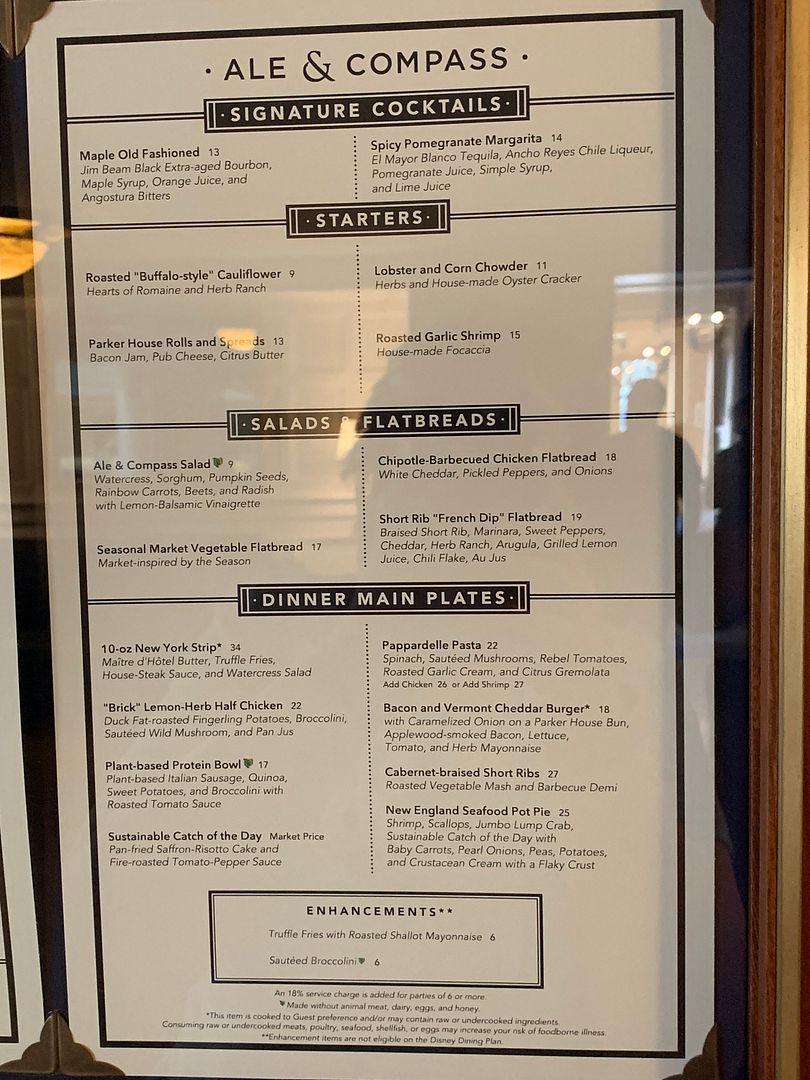 After having our temperatures checked we were led past the open kitchen in the main dining room…
And on to a small room in the back, which looked like it could be made into a private dining area by closing the french doors…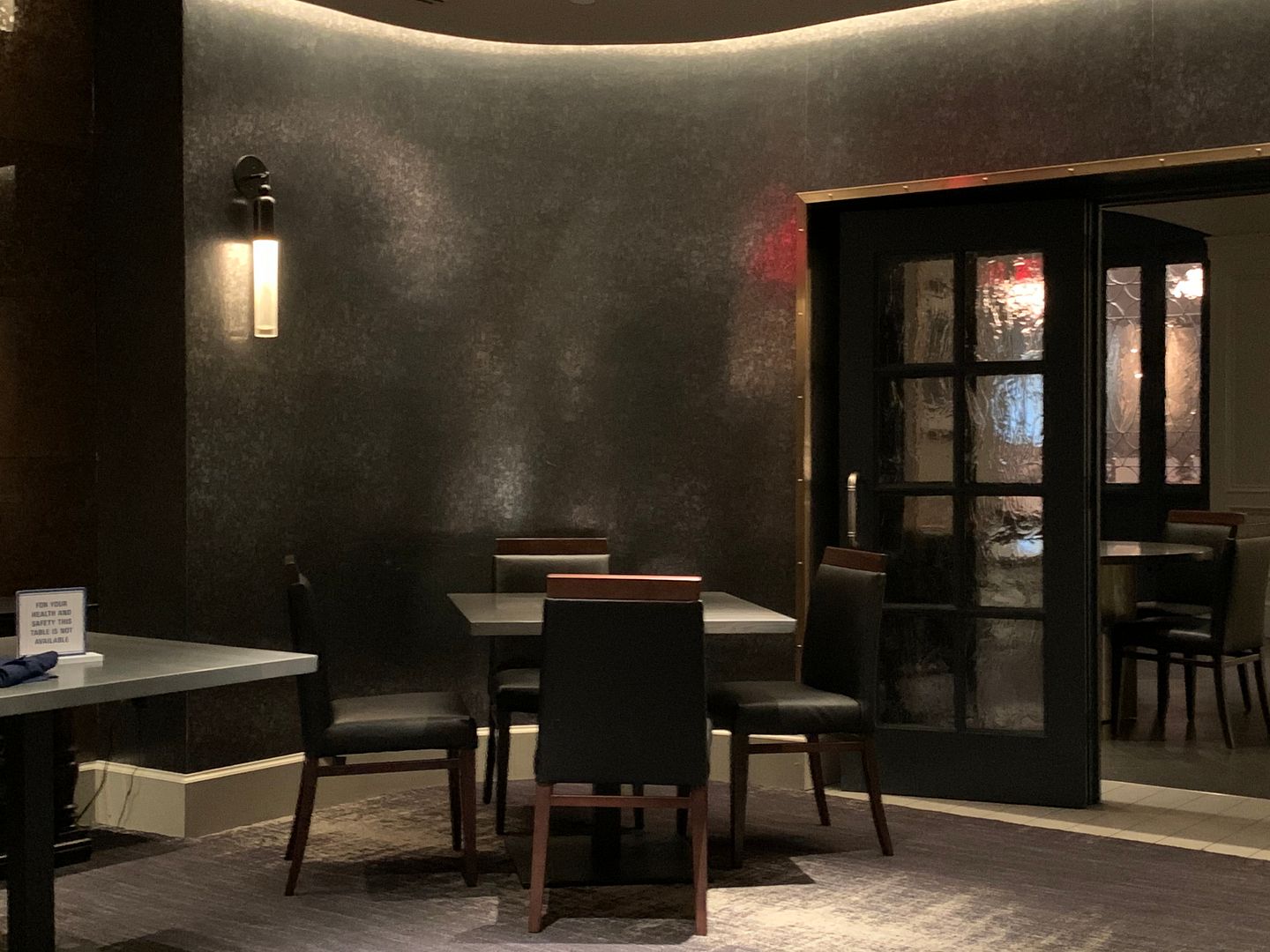 They were only seating guests at a few tables in this back room, which I'd never noticed before during my breakfast at Ale & Compass and my many meals at its predecessor, Captain's Grille. Therefore it was nice and quiet back there, which was very enjoyable. It had the feel of a private dining experience.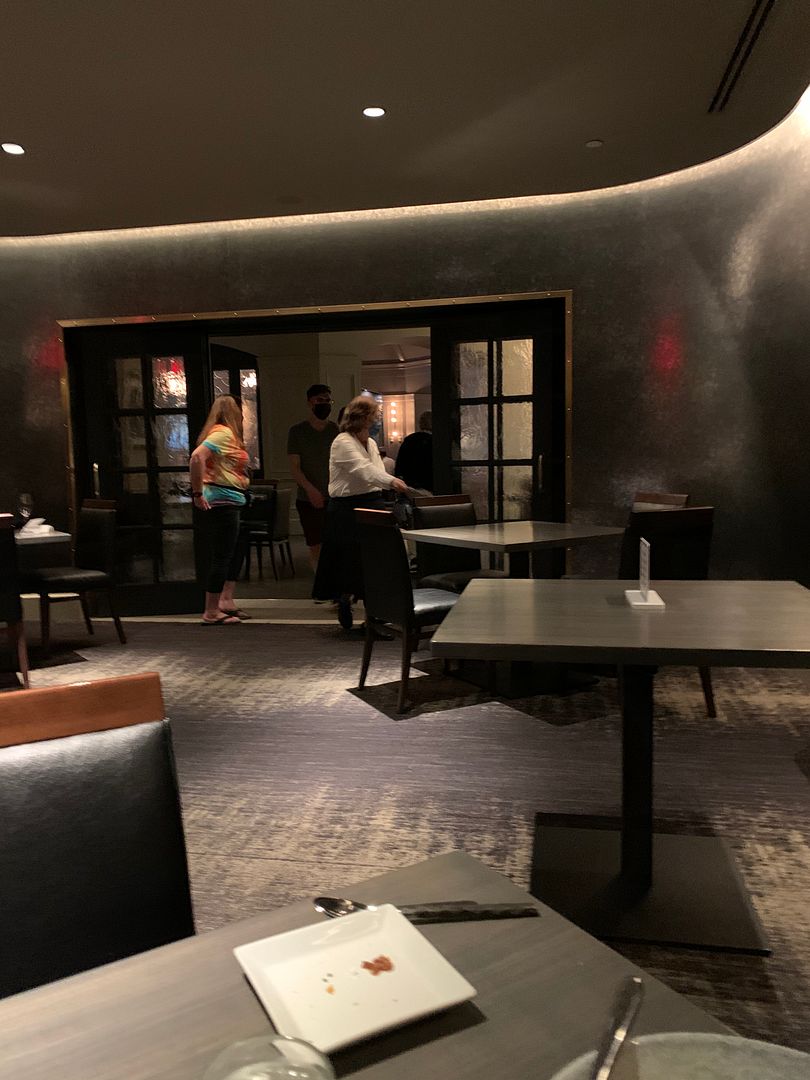 I started with this for my appetizer…
Lobster and Corn Chowder served with House-made Crackers – $11.00
NOTE: The current online menu (Oct. 2021) shows the price for this has increased to $12.00.
While the flavor was good, there wasn't much lobster in this Lobster & Corn Chowder.  It seemed more like vegetable soup with lots of corn, potatoes, and celery. 
Since Andrew is a bread lover and no complimentary bread basket is provided here, we ordered the…
Parker House Rolls and Spreads – $13.00
The three spreads (from closest to furthest in the above photo) were Citrus Butter, Bacon Jam, and Pub Cheese.  The Citrus Butter was similar to what was served at the Grand Floridian Cafe with our complimentary plate of biscuits.  However, we both agreed that it went better with the biscuits than with the Parker House rolls.  The Bacon Jam sounded like it would be delicious…because ummm, BACON.  But it was just okay with the rolls.  Our favorite of the three was definitely the Pub Cheese, which was quite tasty.  Regular butter would have also been good with the Parker Rolls too though.  But then again, they probably wouldn't be able to justify the $13.00 charge then for something that is complimentary at many other restaurants.  
Moving on to our entrees,  Andrew went with the…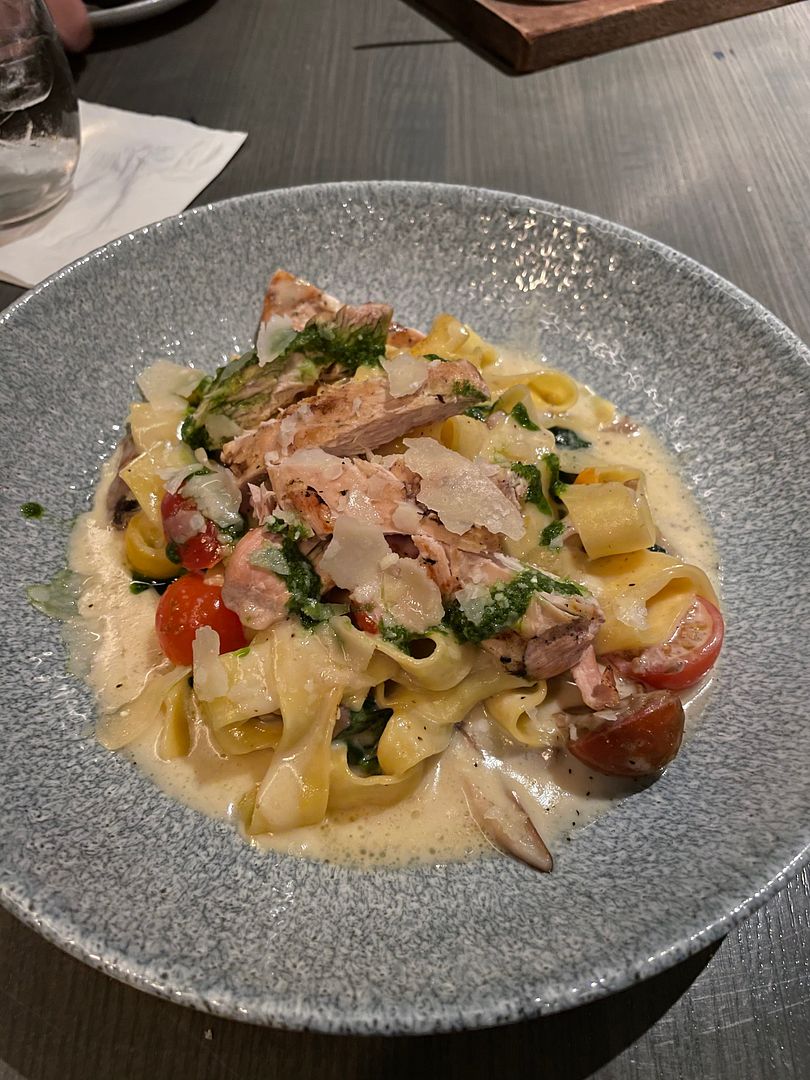 Pappardelle Pasta with Chicken, Spinach, Sautéed Mushrooms, Rebel Tomatoes, Roasted Garlic Cream, and Citrus Gremolata – $26.00
I was surprised when he ordered this. Although he likes chicken and pasta dishes with alfredo/white cream sauces, he does not like spinach, mushrooms, and tomatoes. But I guess he was hungry for chicken and pasta so he decided to get this and just eat around the stuff he didn't like. He said this was fine, nothing more.
As for me, I was torn between two entrees on their menu. First was the 10 oz. New York Angus Strip Steak and the other was their Bacon & Cheddar Burger. I had hoped that Andrew would choose one of these so that I wouldn't have to decide between the two. But he chose the pasta so I was forced to make a choice. Having had steak the night before at Shula's and planning to have steak the next night at The Boathouse, I decided to go the other (and $16 cheaper) route…
Bacon and Vermont Cheddar Burger – Burger topped with Caramelized Onion, Applewood-smoked Bacon, Vermont Cheddar Cheese, Lettuce, Tomato, and Herb Mayonnaise on a Parker House Bun, served with French Fries – $18.00 
Let me start by saying that I hate it when the bread/bun part of a sandwich does not hold up to its contents. That was exactly my problem with this burger. Though the Parker House Bun tasted good, it was soft and fell apart very quickly. I ended up just discarding it and eating the meats and cheese with the help of a knife and fork. The burger itself was a good quality beef patty and the bacon, cheddar cheese and herb mayo were good additions. The caramelized onion, tomato and lettuce for me were all unneeded filler that added to the "wetness" of the sandwich, which probably led to the bun's quick demise. The french fries that were served with my burger were good. They didn't have any special seasoning on them and were just served with ketchup, no special sauce. So they were just your typical thick-cut french fries.
We were both too full for dessert so I asked for the check. When our server brought the check he also brought this complimentary birthday dessert, as Andrew had indicated that we were celebrating a birthday when he did mobile check-in for us.
This small Mickey-shaped chocolate mousse dome was good though and between the two of us we managed to finish it.  
So overall I would have rated our dinner at Ale & Compass a 3 but bumped it up to 3 1/2 due to the birthday dessert.  Though we enjoyed the privacy and quietness of dining in their back room, the food was a bit disappointing.  Although I can't say that any of it was bad, nothing stood out as being really good.  I might try A & C again if I'm staying at the Yacht Club but in my opinion it's not worth going out of my way to have dinner here.   Yelp reviewers agree with me and also give A & C a 3 1/2 star rating but on TripAdvisor they were given 4 stars.  Also on TripAdvisor, Ale & Compass ranks #259 of the nearly 2500 Orlando area restaurants reviewed there, so they almost made the top 10%.  Narrowing this down to just the roughly 300 Disney World area restaurants reviewed there, the Ale & Compass ranks #80.