This review is a difficult one for me to write because of our different opinions of this meal. Our experience started off on the wrong foot when I said we would take the first available table when we checked in for our reservation. We were immediately seated inside, where the tables were quite close together. The tables here were much closer than any of the other indoor dining restaurants we visited on this trip. This made Andrew very anxious and uncomfortable. The lack of social distancing didn't bother me as much but I must admit that the noise level was quite annoying. It was nearly impossible to carry on a conversation at our table. So if either the closeness of the tables or the noise level are concerning to you, I would recommend requesting a table outside here. You might have to wait longer but I think it would be worth it.
But speaking of tables, how about this one at The Boathouse…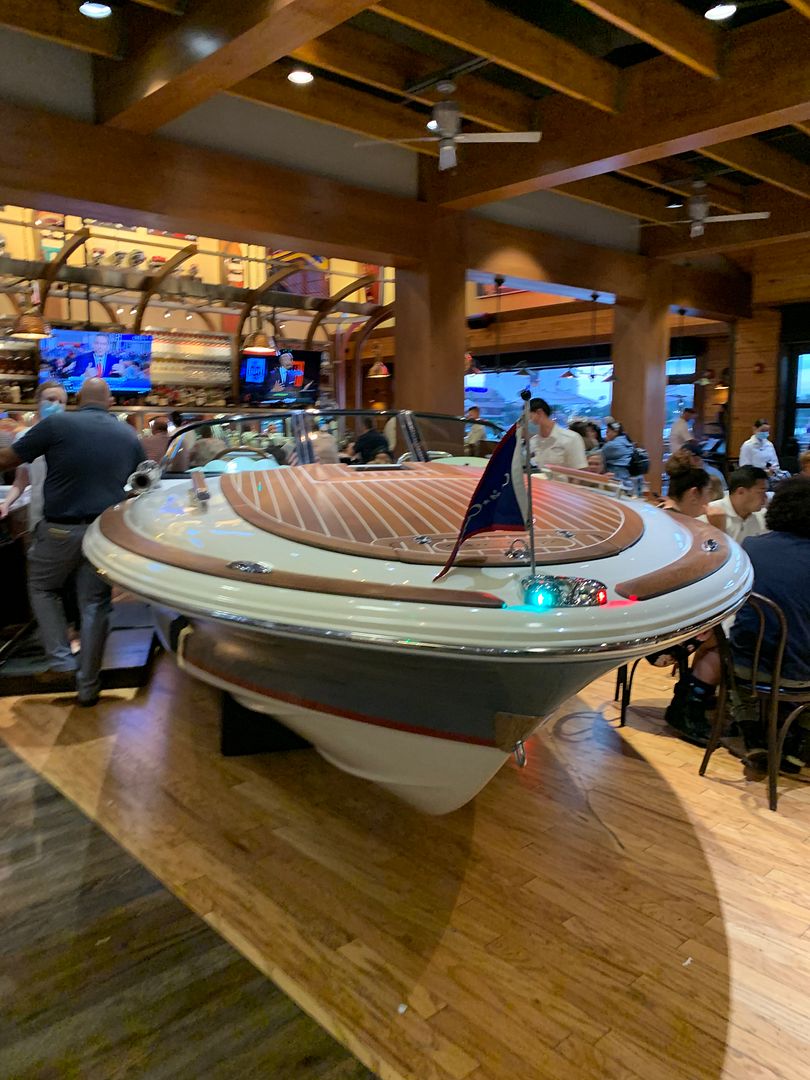 Ok, now on to the food. We pulled up the menu by scanning the QR code on the card given to us…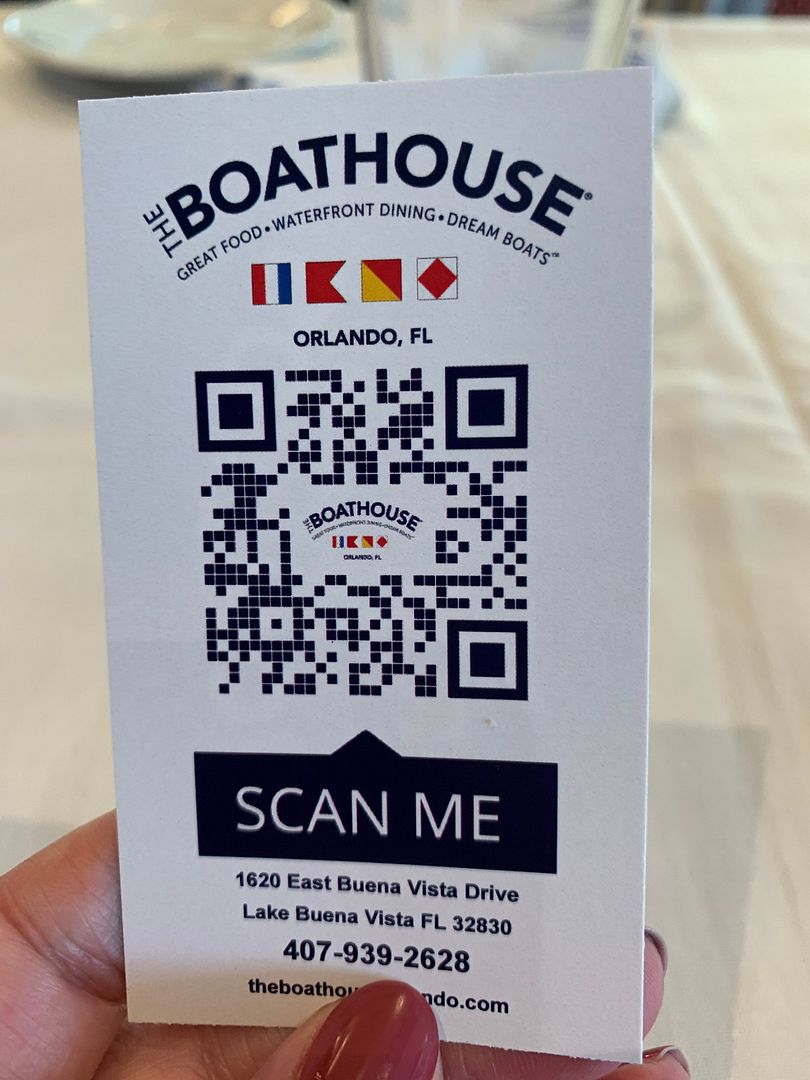 Here are some screen shots…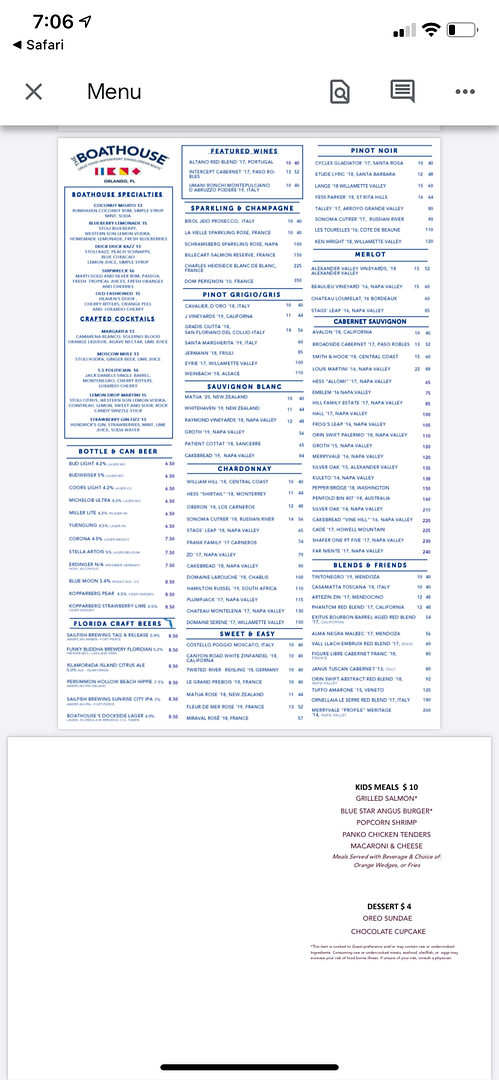 The first food brought to our table was this complimentary plate of rolls and butter…
I thought these were delicious! They were like freshly baked Parker House rolls with the added bonus of a honey glaze/drizzle on top for a bit of sweetness. Andrew enjoyed these too, but they were actually the only enjoyable part of this dinner for him.
I had long wanted to try this appetizer at The Boathouse so I went ahead and ordered the…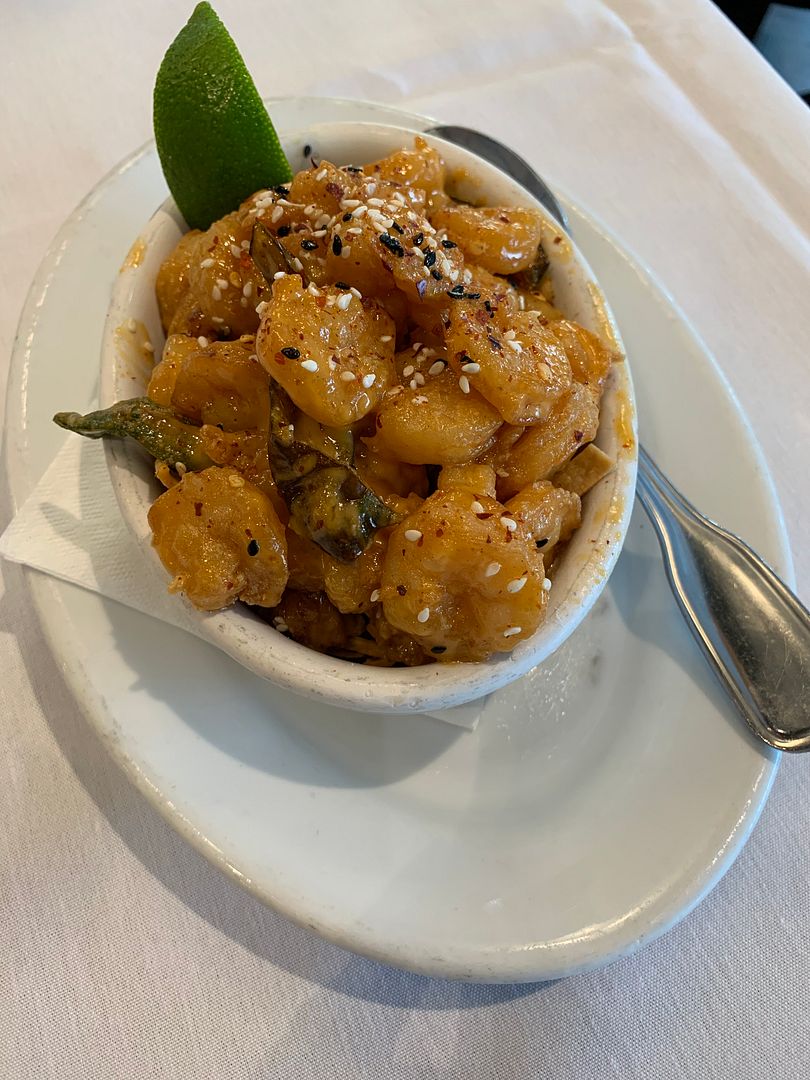 I think my ordering of an appetizer annoyed Andrew because he didn't want to prolong our time here. As further proof and much to my surprise, he didn't even order a cocktail here so I knew he was out of sorts. But I enjoyed my appetizer enough to withstand his irritation with me for ordering it. The shrimp were crispy and flavorful, with just the right amount of spice from their siracha mayo glaze (aka firecracker sauce).
I also really enjoyed my entrée choice, one of their Gibson's Heritage Angus Beef Steaks…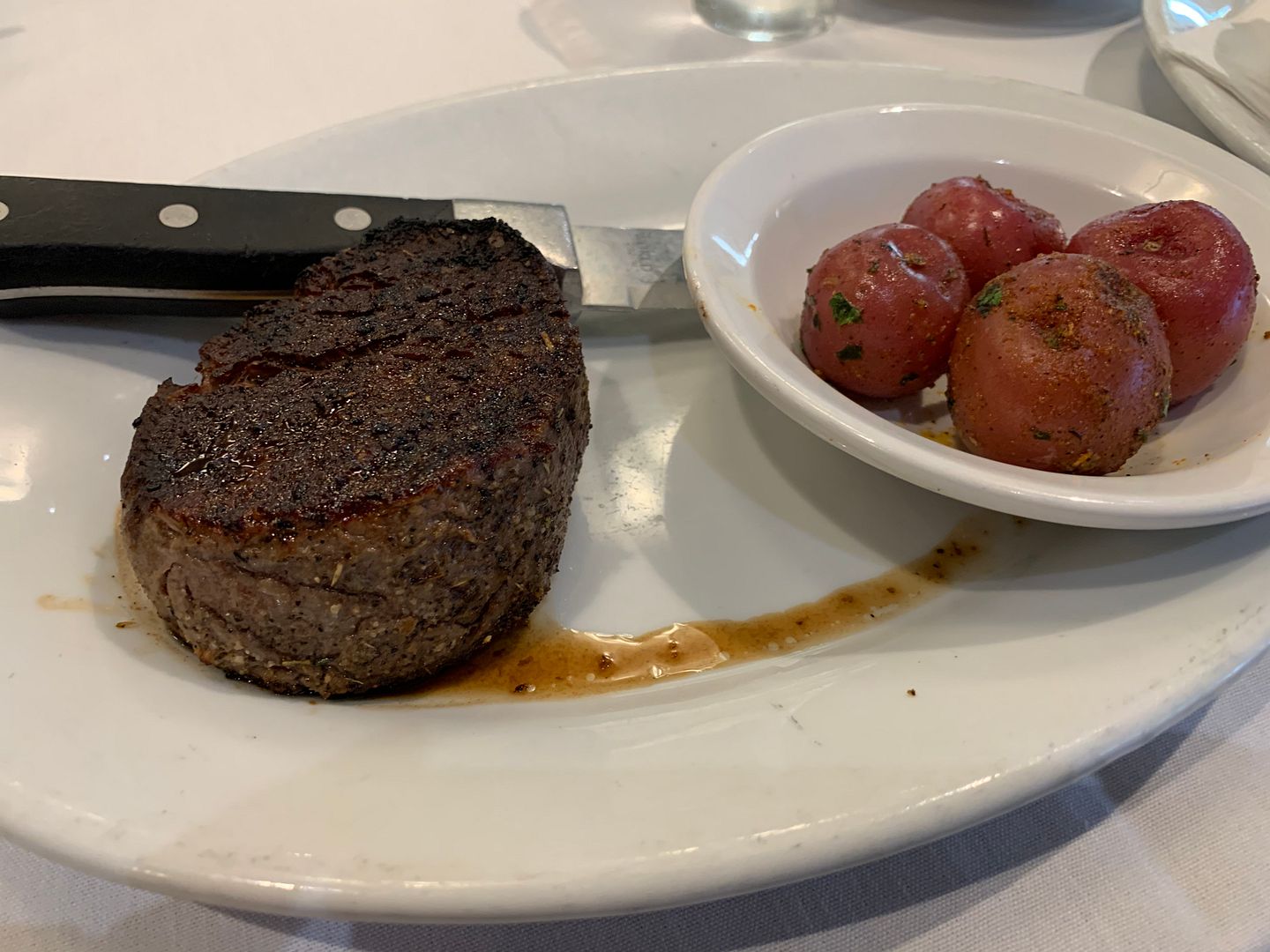 Petite Filet Mignon served with Parsley New Potatoes – $39.50
This was much better than the filet we had at Shula's two nights earlier. This was probably due mostly to the fact that it was cooked properly to the temperature requested (medium) and not overcooked to well done. Consequently this steak was much more juicy and flavorful. The parsley new potatoes that came with the filet weren't anything special. They pretty much tasted like boiled red potatoes covered in butter, salt and fresh parsley. There were fine but I generally prefer mashed potatoes or a baked potato with my steaks. Next time I would probably ask to substitute for a different side, even if I had to pay an extra charge.
Which is what we did with Andrew's meal…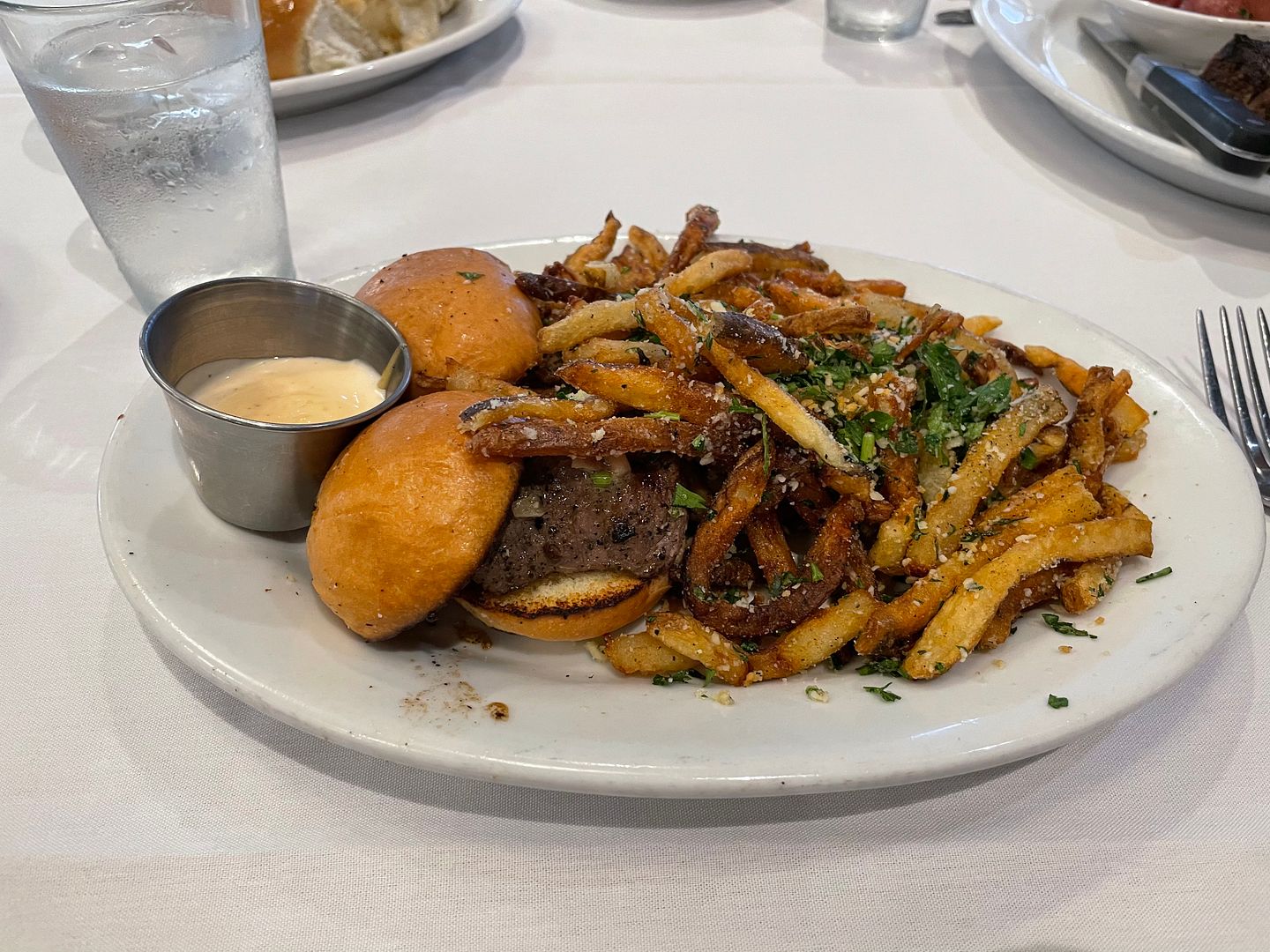 Filet Mignon Sliders – $14.00
The two sliders are normally served with regular french fries but he requested instead their Truffle Fries for an extra $2.50 charge. The fries were fine (not nearly as good as the ones we had the Enchanted Rose Lounge) but he said the sliders were bad, adding that the meat was chewy and poor quality. Again he compared them to the smoked brisket sliders we had shared at the Enchanted Rose Lounge, saying they weren't even close to being as good as those were. But keep in mind that those were $16.00 for 3 smaller sliders plus $14.00 for the truffle fries while these were $16.50 for both. But then again, you know that old adage, "You get what you pay for."
I didn't dare even think about ordering dessert here so this completed our meal. To Andrew's relief we were out of the restaurant by 8:00, just one hour after our 7:00 reservation time.
And that just leaves the ratings and rankings. While I would rate The Boathouse a 4, Andrew's rating was only 2. So our average would be a 3. The Boathouse has been given a rating of 4 1/2 stars by the reviewers at both Yelp and TripAdvisor though. On TripAdvisor it is ranked #48 of the nearly 2500 Orlando area restaurants reviewed there, so in the top 2%. Narrowing this down to just the nearly 300 Disney World area restaurants reviewed there, The Boathouse ranks in the Top 10, coming in at #9. So Andrew is definitely in the minority on this one. The Boathouse seems to be a very well-liked restaurant.