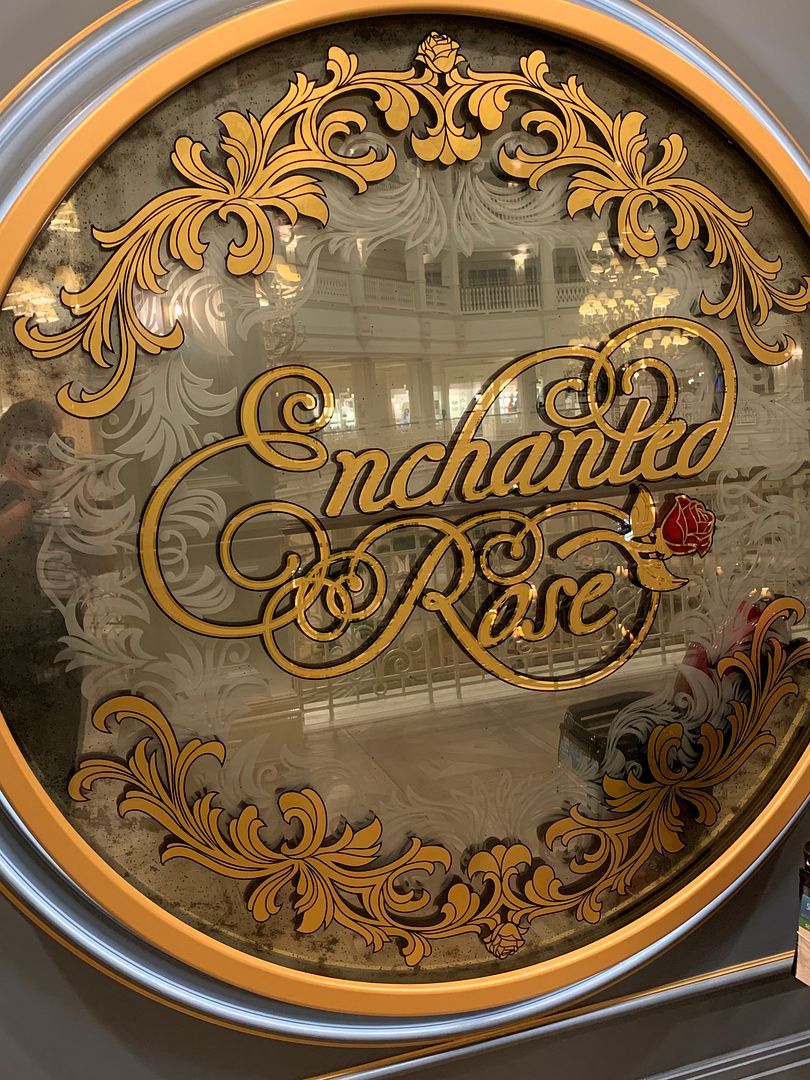 This was my second and Andrew's first visit to this beautiful lounge inspired by the Beauty & the Beast movie.  It opened in the Fall of 2019 on the second floor of the Grand Floridian, replacing Mizner's Lounge.  
The lounge wasn't very crowded on this Sunday evening and we were able to get a table by the window, which provided a lovely view at sunset…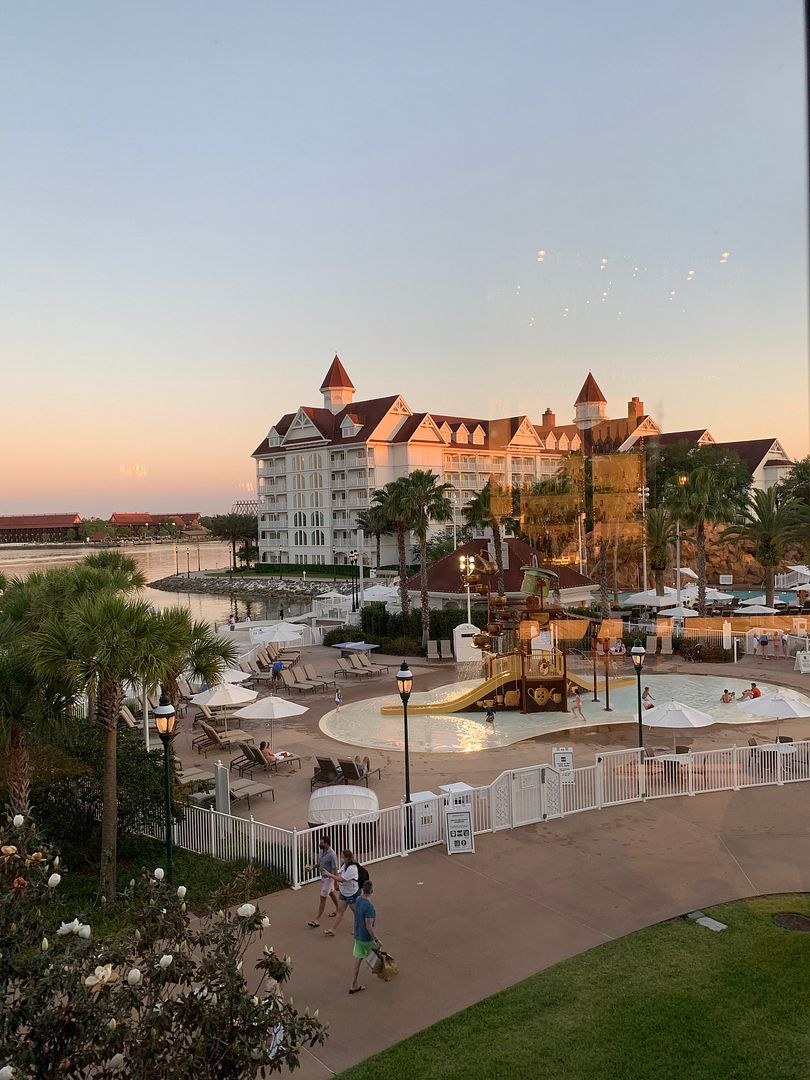 And later in the evening (at about 9:00) for the Electrical Water Pageant…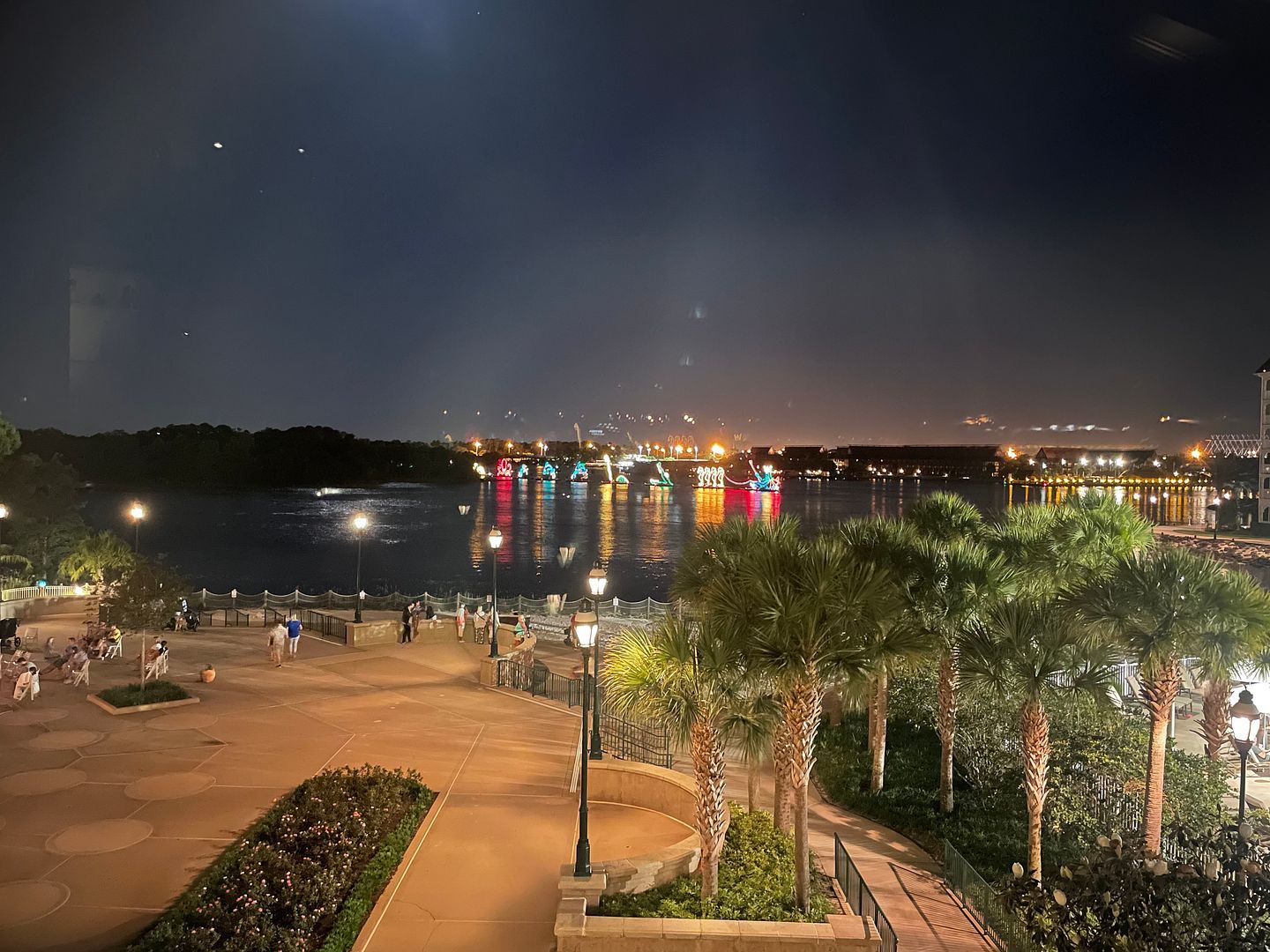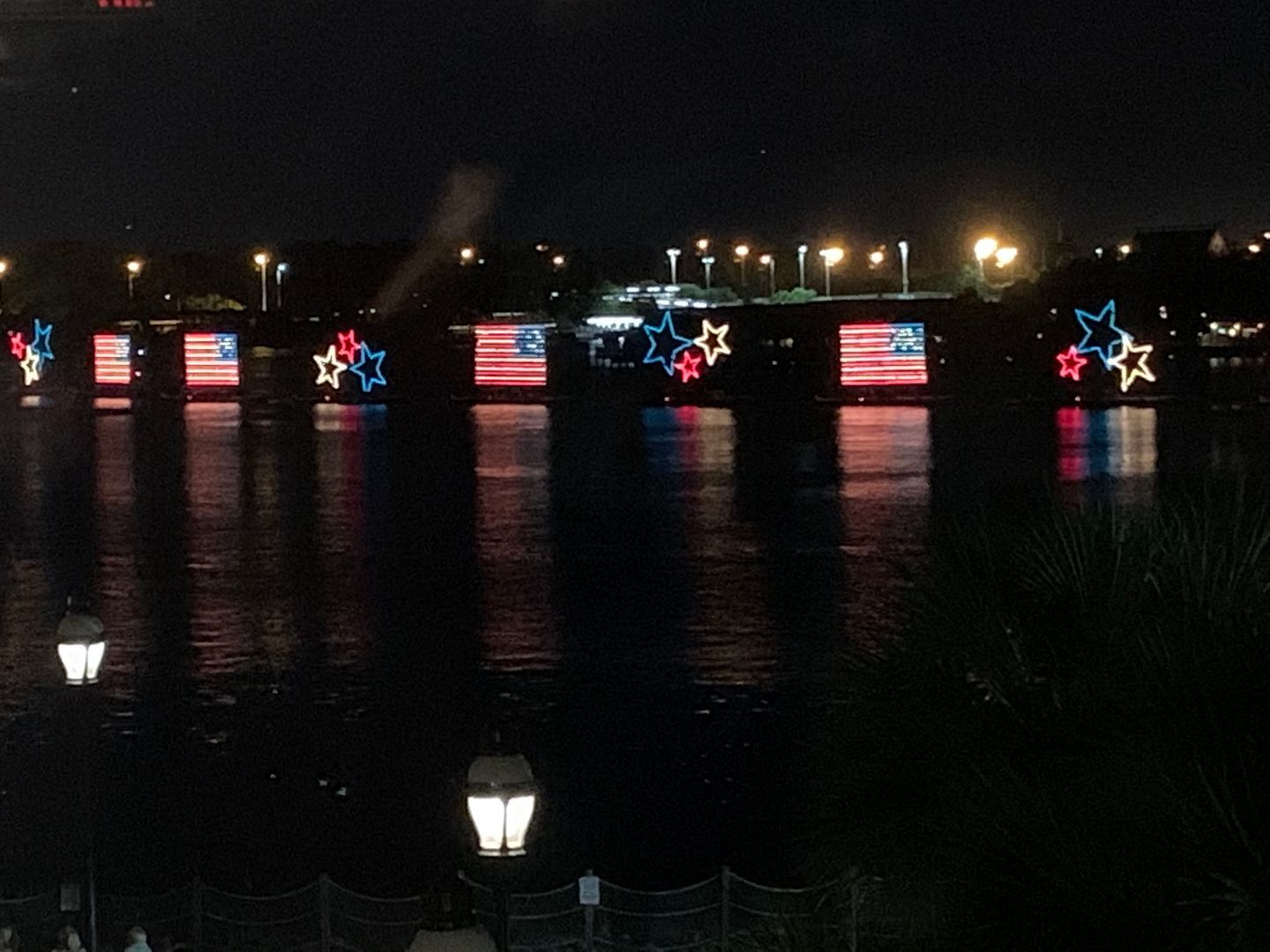 We were also close to the bar and its beautiful golden chandelier, inspired by Belle's gold ball gown…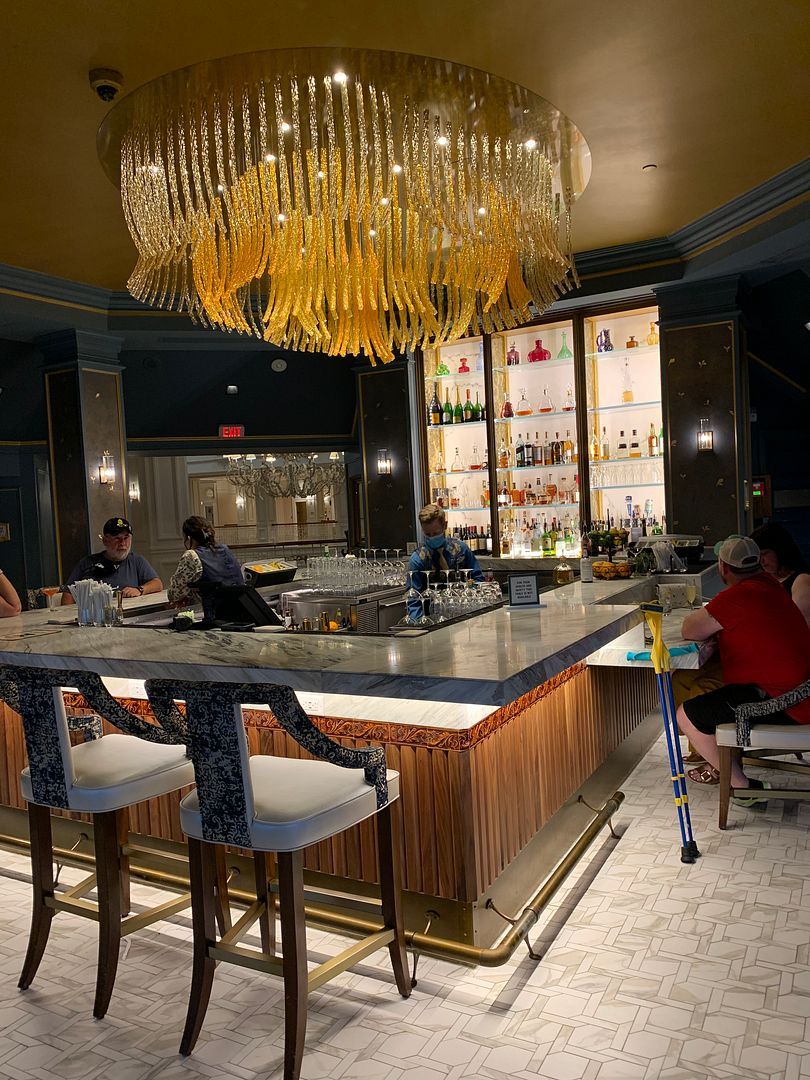 We first ordered our drinks from their Featured Cocktails menu…
Our drinks were served on these lovely enchanted rose coasters…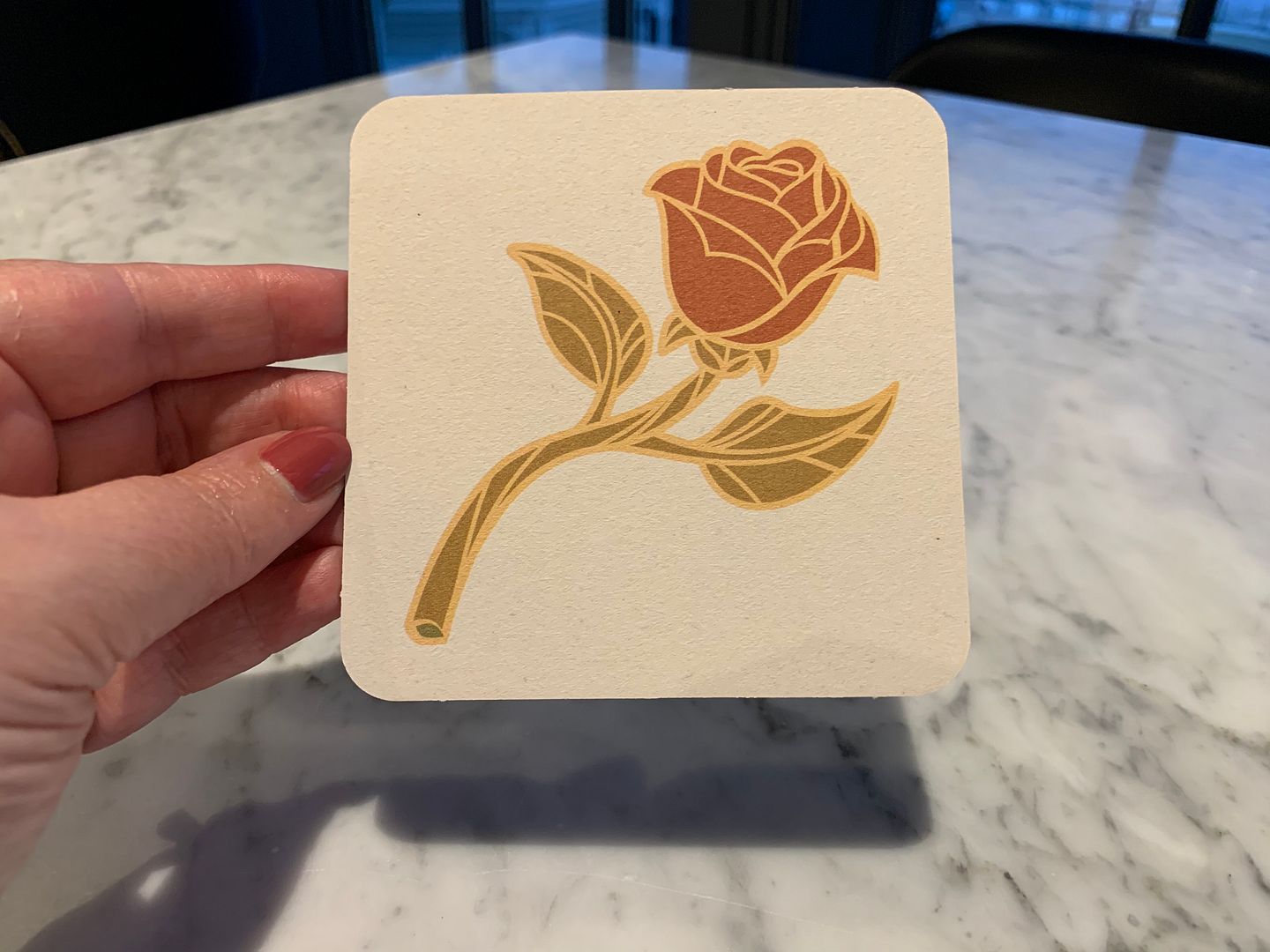 Andrew's cocktail choice was the Island Rose with Ketel One Grapefruit & Rose, Lime, Orgeat (Almond), Pineapple, Bitters, and Rose Water for $15.00 (on the left in the photo). I tried a sip of his drink and didn't care for it because of the grapefruit taste but Andrew had no complaints.
As for my cocktail, I had the Sunny Margarita with Patrón Silver Tequila, Grand Marnier Cordon Rouge, Orange and Lime Juices, and Agave for $19.00. During my first visit to Enchanted Rose in October 2019 I had enjoyed this cocktail. Normally, for the benefit of my blog I would have tried something different this time but there wasn't really any other of their specialty cocktails that sounded appealing to me. However, I should have read my own review before ordering this again because I had forgotten how small this was for the $19.00 price. It did though seem to have more tequila than I remembered, so that little drink packed a punch. Regardless though, if I had read my previous review I probably would have spent $2.00 more to get one of their two special interactive cocktails…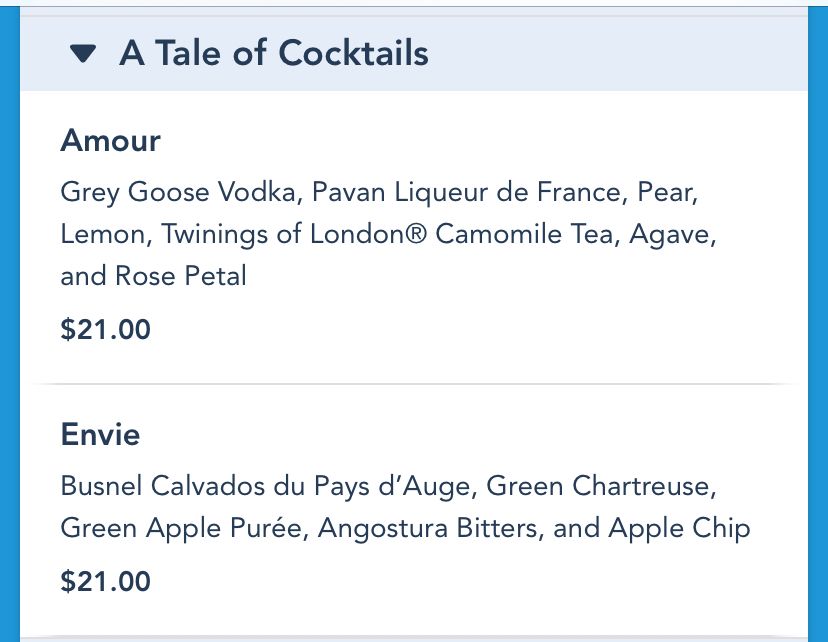 Each one is prepared at your table and presented with a story behind it. So next time, if I remember. ha, ha. But there will likely be a next time because the food we had here was really good.
And speaking of their food, the options are pretty limited…
And note that food is only served from 5:00 – 10:00, even though the lounge is open from 3:30 – 11:00 currently.
Andrew doesn't eat seafood (except for an occasional fish & chips), nuts, raisins, or broccolini. So through the process of elimination we ordered two of the five options to share.
The first of these was the…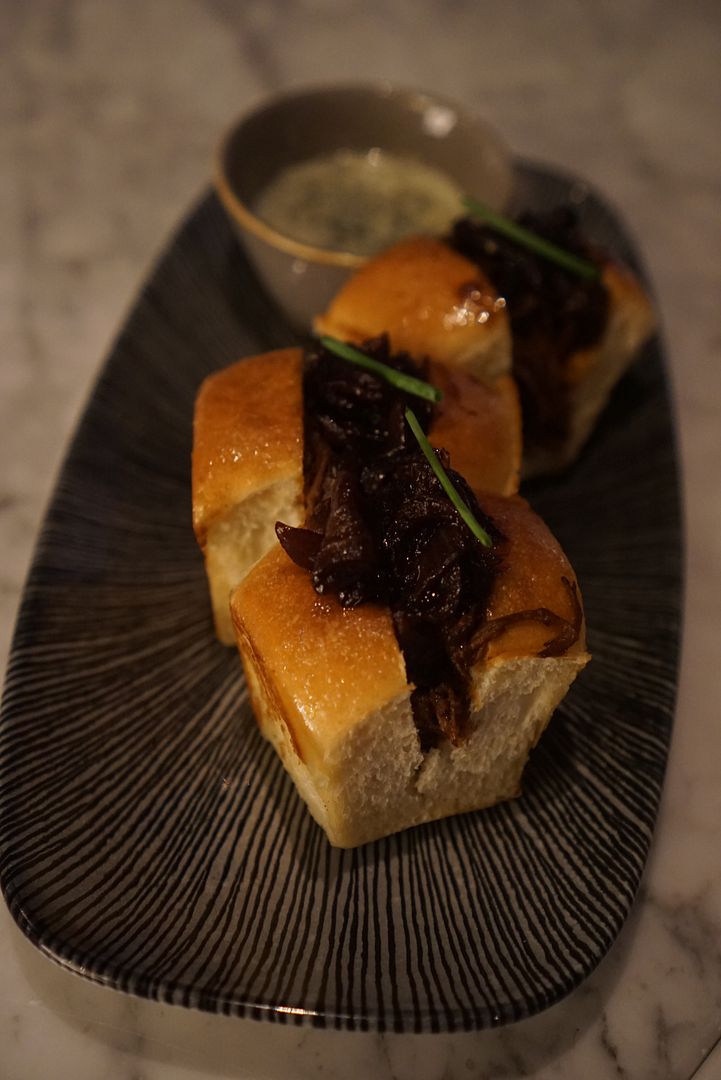 Mini Smoked Brisket Sliders topped with Onion Marmalade – $16.00
Normally these are also topped with a blue cheese sauce but blue cheese is something else that Andrew won't eat. So we requested the sauce be served on the side, as I love blue cheese.
And another view of the sliders…
These were delicious! The onion marmalade added some sweetness to the brisket, which was nicely seasoned. The buns tasted fresh and held up well to the meat and marmalade. I loved the added flavor of the blue cheese sauce on my slider…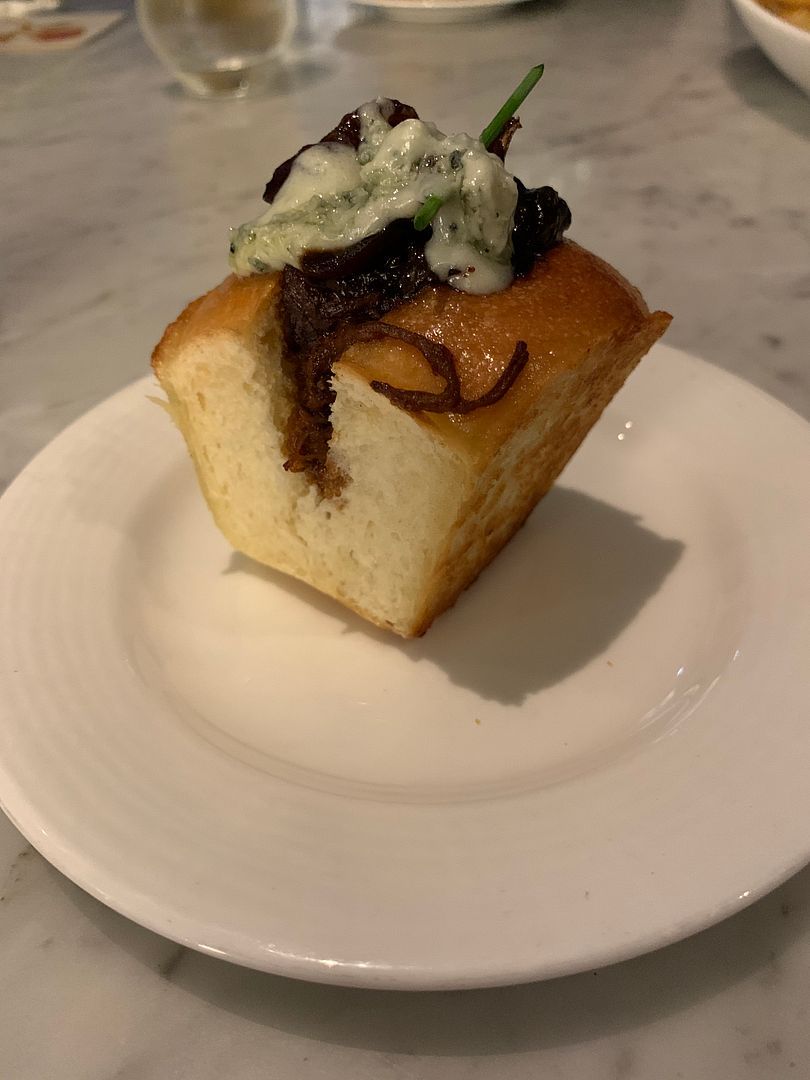 My only complaint was that there were only three. I was a nice mom and let Andrew have the third one but secretly I was a bit envious. ha,ha.
Our other choice was equally delicious…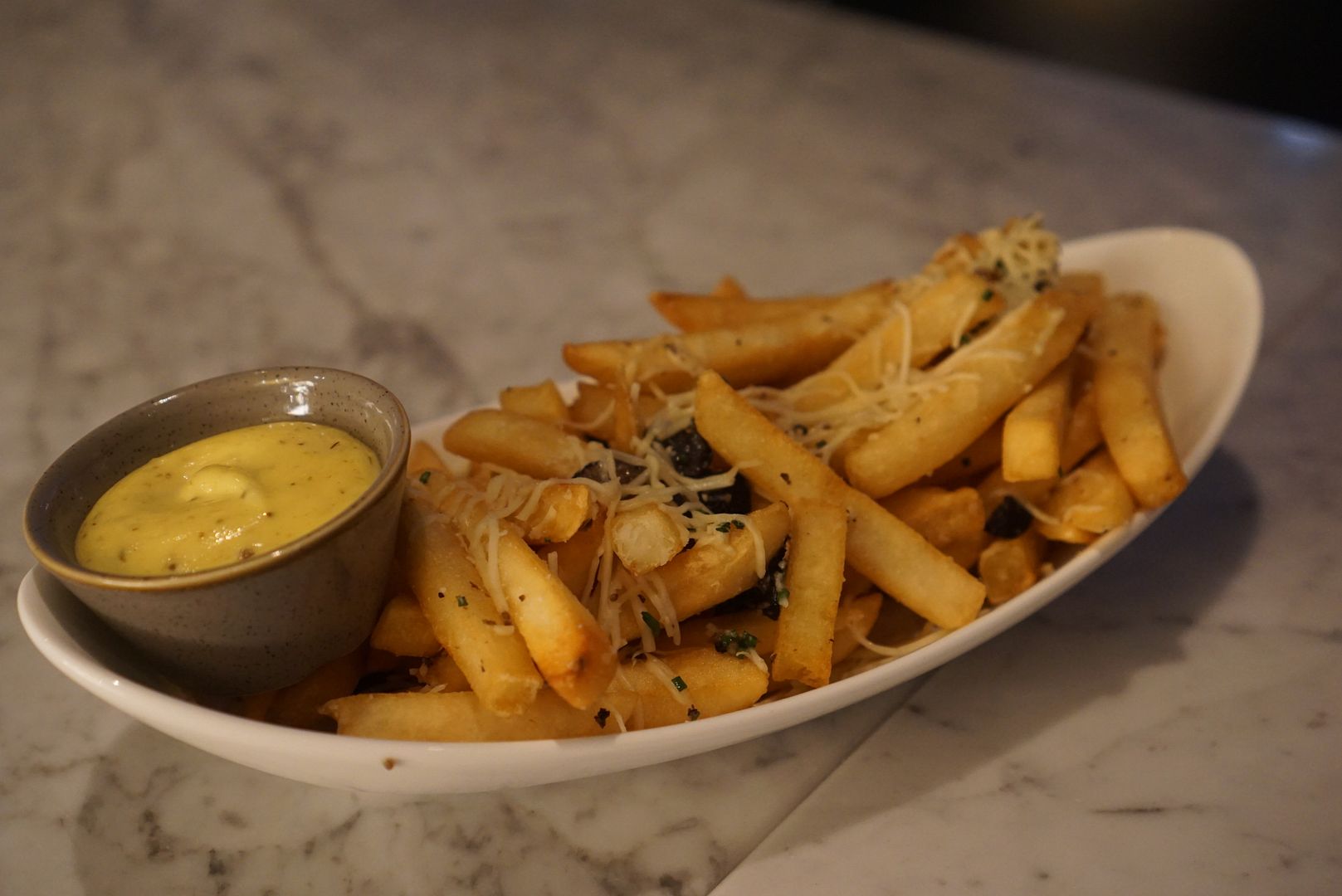 Truffle Fries topped with Shaved Black Truffles and 18-Month Aged Parmesan – $14.00
These were served with a side of truffle aioli sauce, which was delicious. We were trying to save room for dessert (at another location, as they don't serve any desserts here), but it was soooo hard to stop eating these because they were so good. Though we had "Fancy Fries" a few more times on this trip, we both agreed that these were the best. At $14.00 though they were the most expensive. However, they were so good and a large portion size so I felt that they were worth the extra money.
Before leaving the lounge I showed Andrew the library section of the lounge, which was roped off and not being used at that time.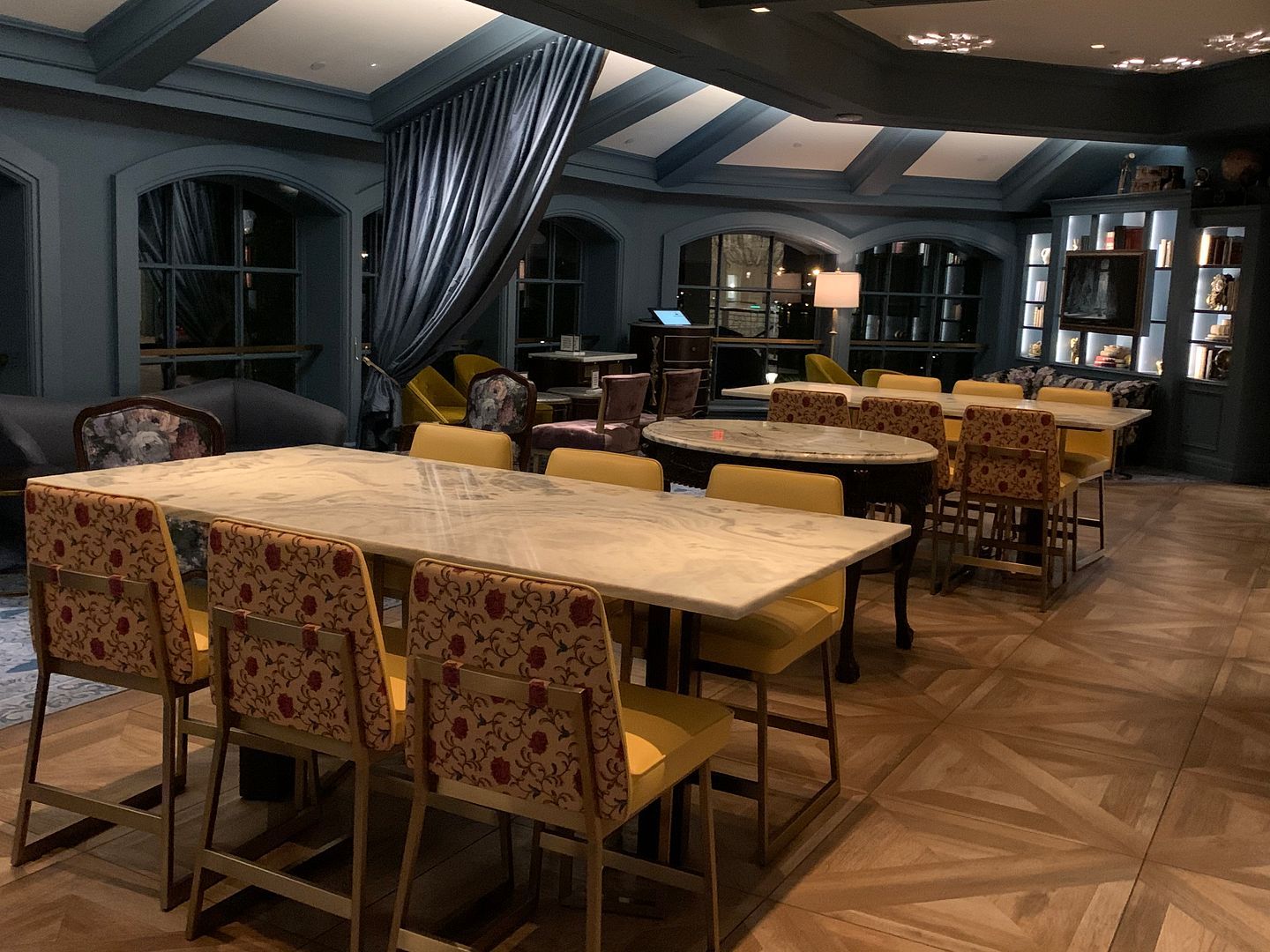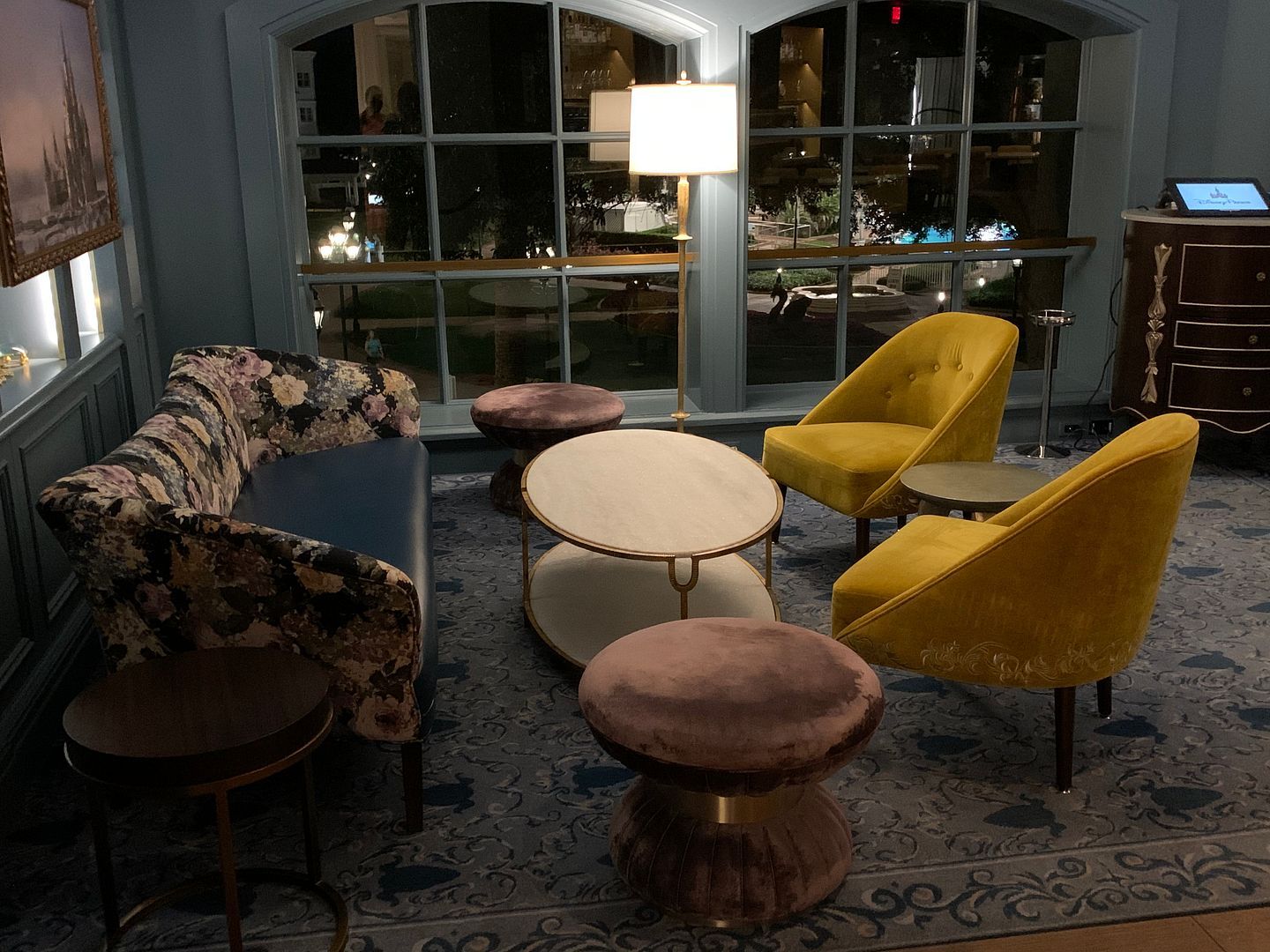 The Library room is filled with Beauty & the Beast-themed details, including a Cogsworth-like clock sitting on one of the bookshelves…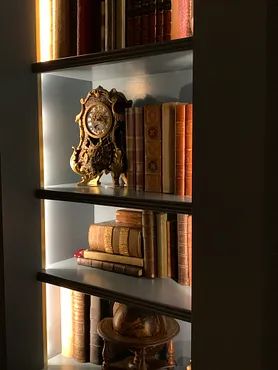 The first time I was here I sat in the Garden room and this time we were in the Bar area. So maybe next time I'll look for a table in the Library if that section is open.
So this ended up being one of our favorite meals of this trip, even though it was not at an actual restaurant. While the cocktails were a bit overpriced, the food was delicious and the ambience and theming are great. Because of the pricey (and small) drinks I would deduct 1/2 star and give the Enchanted Rose 4 1/2 stars. The majority of reviewers on Yelp and Tripadvisor don't agree with me though, as the Enchanted Rose Lounge is rated only 3 1/2 stars on both sites. Of the nearly 2500 Orlando area locations reviewed on Tripadvisor, Enchanted Rose only ranks #1456, so not even in the top 50%. Narrowing it down to just the approximately 300 Disney World area locations, Enchanted Rose comes in at #233.