There are many good restaurants at Disney Springs, but I wanted to try one of the places that I hadn't yet been to. I think there are about 8 table service restaurants that are still on my list. I narrowed those 8 down to just three and then changed my mind a few times before I attempted to make a reservation through the Disney website just a few days before I wanted to dine there. So of course the only available times were much earlier or much later than we wanted to eat dinner. I then thought to check my Open Table app and discovered that reservations could be made at Wolfgang Puck and most of the other Disney Springs table service restaurants. Additionally, reservations can be made at three out of the four signature restaurants at the Swan & Dolphin through Open Table. So not only was I able to get a better dinner reservation time at Wolfgang Puck (better than what was available through Disney Dining) but I also used Open Table to make reservations for Shula's and bluezoo (both at the Dolphin) for other nights during our trip. Again these were better times than what I could get through Disney, so my advice is to check both sites to have a better chance of getting the restaurant you want at the time you want to eat there.
Ok, moving on now to my review. Let me start it by saying that our dinner at Wolfgang Puck was a pleasant surprise. I'd read some pretty negative reviews on Tripadvisor at the time I was planning our dining for this trip. Reviews titled,
"Choose another place to eat, this place across the board sucked", "Service was very slow", and "Problems in the Kitchen" were worrisome. However, I found their menu very appealing…
So I decided to take a chance, because as you may know, I don't always agree with the Tripadvisor reviewers.
So anyway, we checked in about 15 minutes early for our reservation but still didn't have to wait long for a table. We were seated at a booth with a great view of the pizzas being made and baked in their wood fired pizza oven…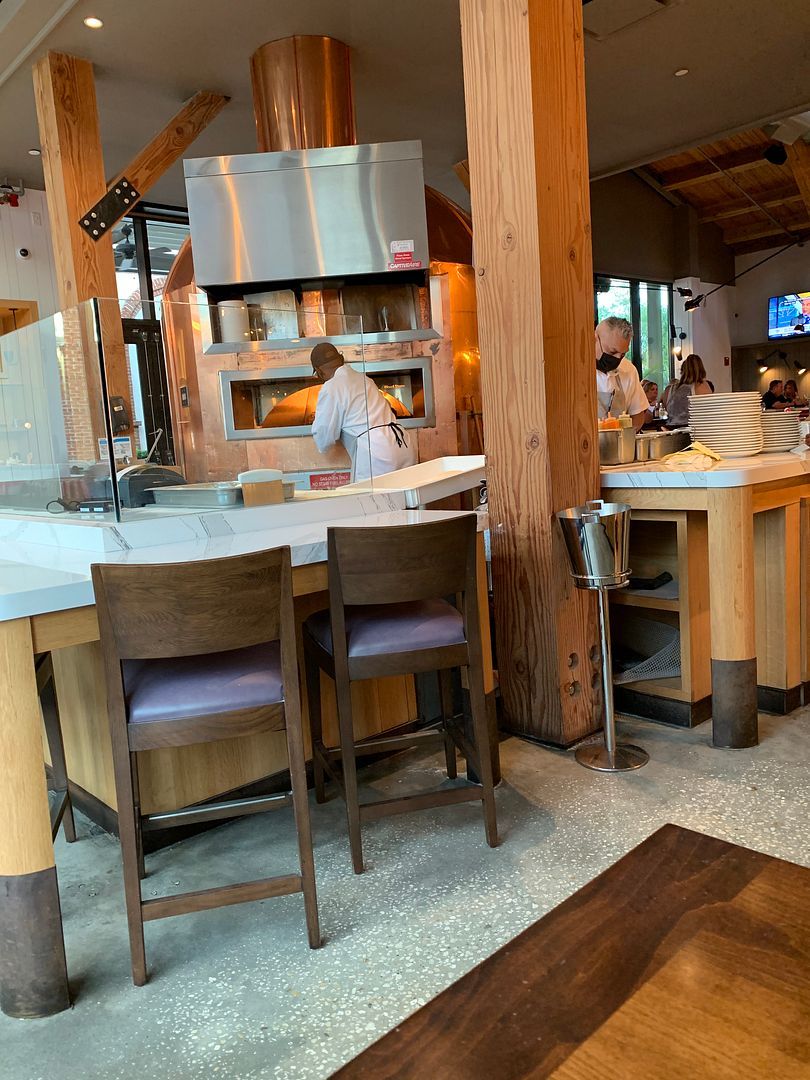 And speaking of pizza, that is one of their specialties.  I had originally planned to order a pizza here.  The Taco pizza with chili spiced beef, cheddar cheese, pico de gallo, and sour cream had caught my eye when I had previously looked at their menu.  But I had had pizza for lunch so I was hesitant to have it twice in one day.  
So I was happy when Andrew decided to order a pizza…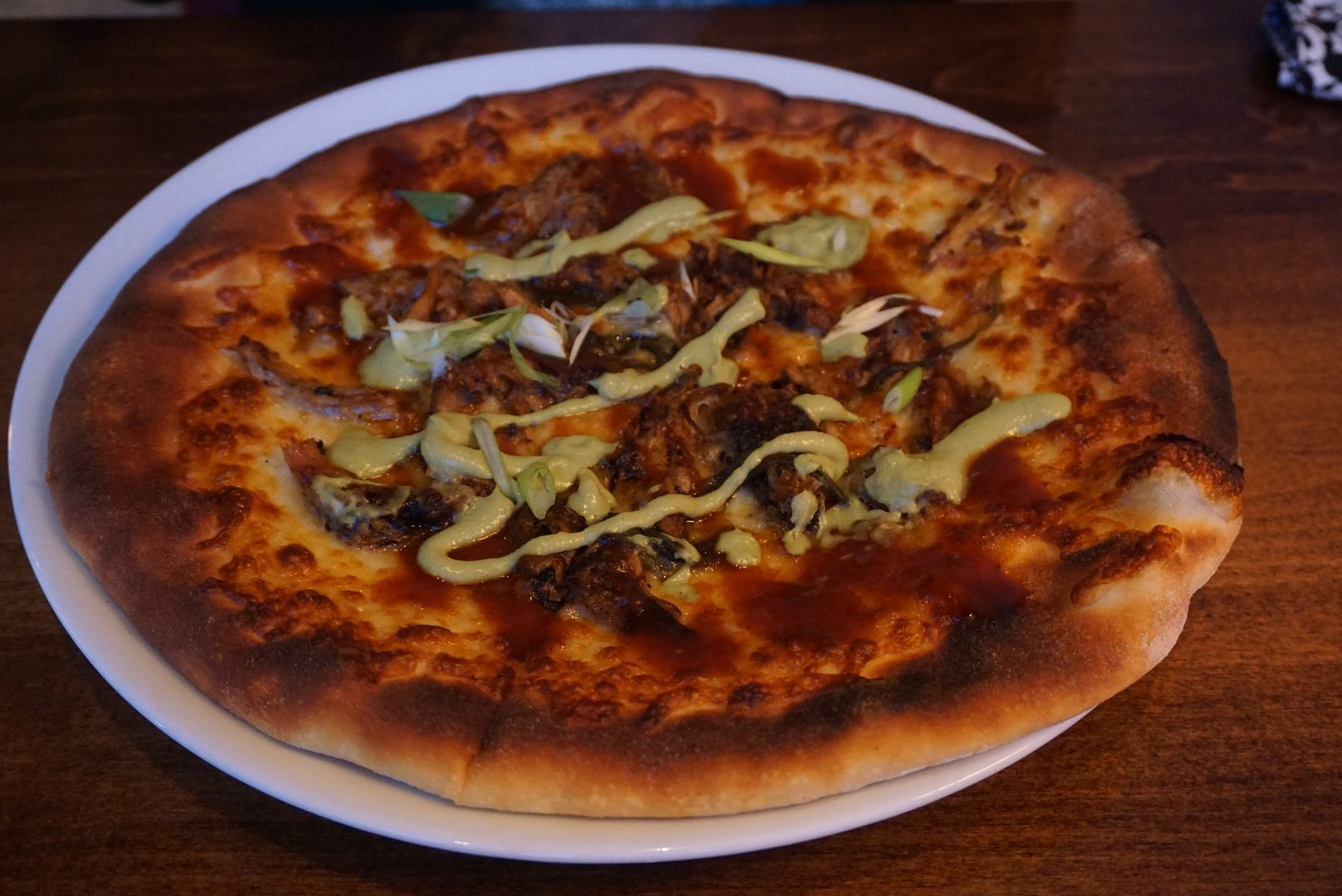 BBQ Pulled Pork Pizza with Pasilla Peppers, Red Onions, and Avocado & Tomatillo Cream – $18.00
He doesn't like onion so I believe he asked that it be left off…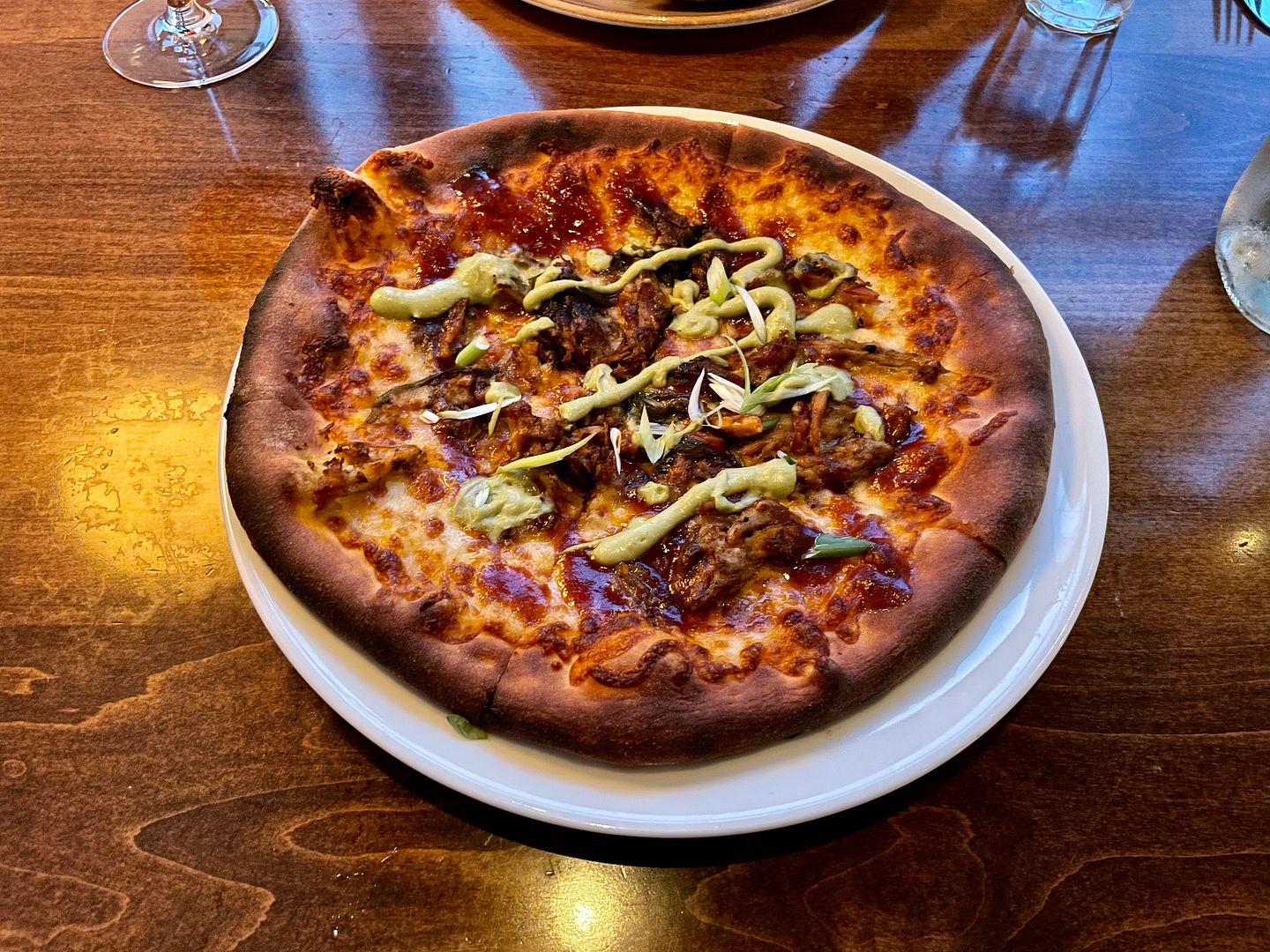 Though this wasn't the Taco pizza that I had wanted, this was very good. I liked the wood fired flavor of the crust. It was charred but not burnt. And the pulled pork, bbq sauce and avocado cream were delicious together. I really enjoyed the piece that I had. And Andrew loved it. In fact he later said that this pizza and the cocktail he chose were his favorite meal of the trip.
And speaking of his cocktail…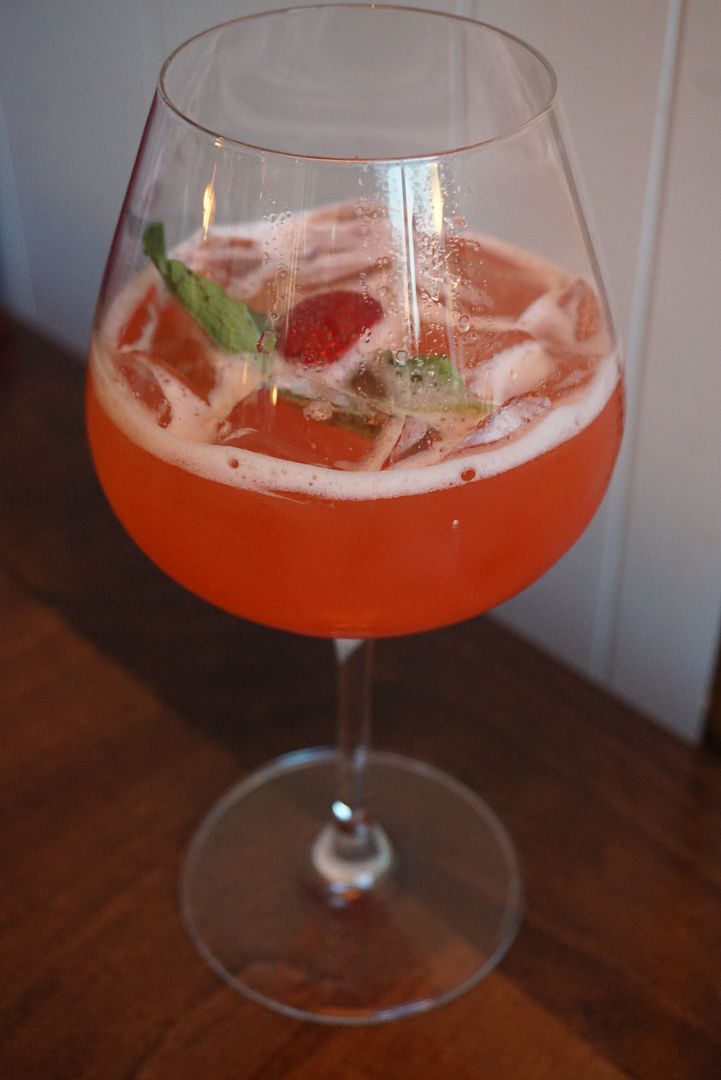 WP Spritz with Moscato d'asti, Aperol, St. Germain, strawberry, and lemon – $16.00
This was a sweet cocktail and quite delicious. When I took a sip of it I liked it so much that I ordered one of my own. If it hadn't cost $16.00 each we probably would have both gotten a refill.
As for my entree, my second choice after the Taco pizza was the…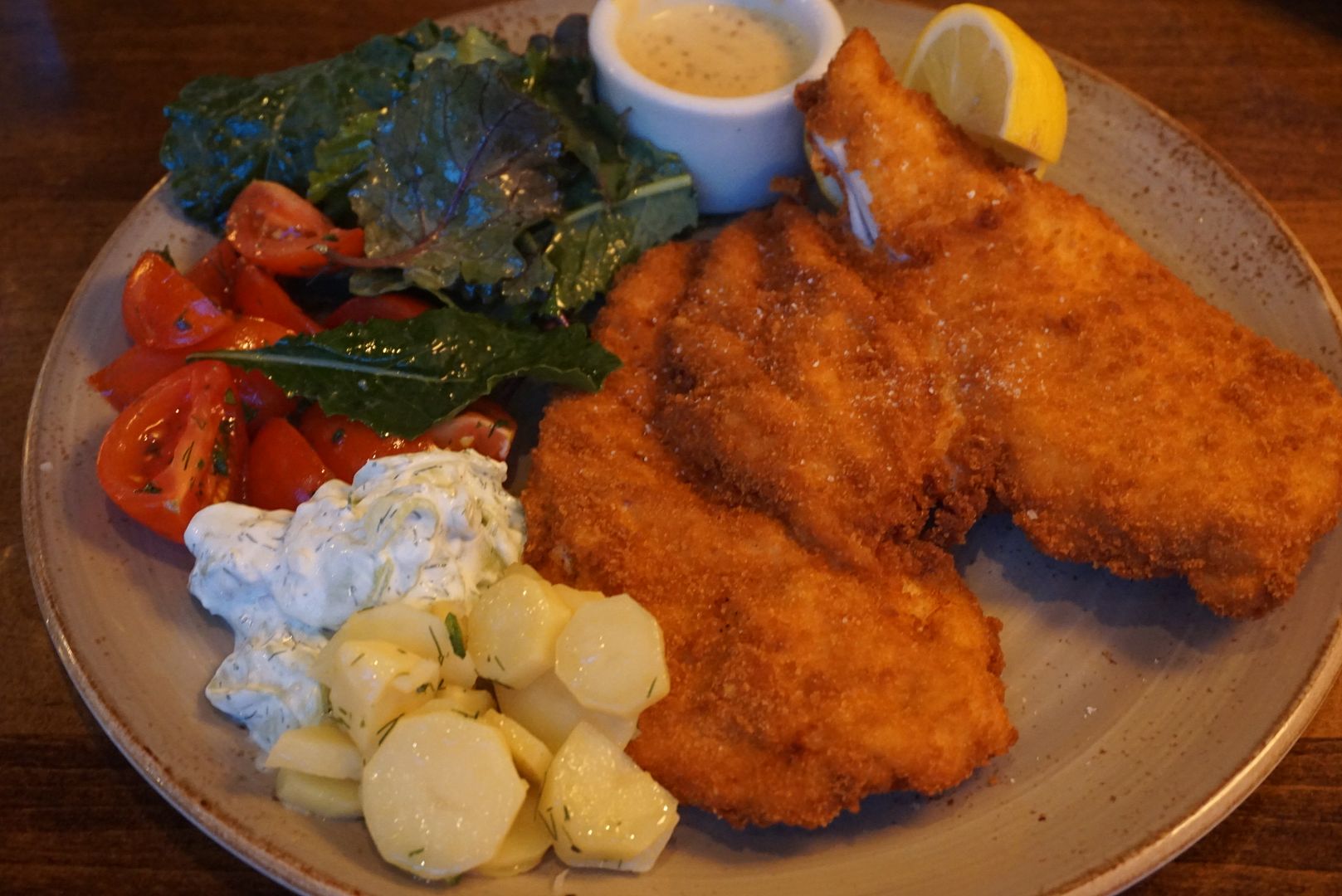 Chicken Wienerschnitzel served with Fingerling Potatoes, Tomatoes, and Dill Cucumbers – $28.00
I really enjoyed everything on this plate with the exception of the greens, which were a little too bitter for me.  But let's begin with the chicken schnitzel, which, as you can see, was a large portion.  Though I've had pork and veal schnitzel before, I think this was my first time having chicken and I loved it.  The chicken breast was pounded nice and thin and fried to a perfect crispiness on the outside but the meat was still tender on the inside.  As for the sides, my favorite was the tomatoes.  They were ripe and sweet and tasted like they were fresh out of my garden.  The fingerling potatoes had a bit of a vinegar taste, similar to a warm German potato salad.  I enjoyed both them and the cucumbers, which had a a creamy dill sauce that was tasty.  
So our food and cocktails were delicious and would have easily rated 5 stars.  However, I would deduct 1/2 star because the service was a bit slow.  I would say it took at least 1/2 hour (maybe even a little longer)  from the time we ordered our food until it arrived at our table.  And when I ordered the cocktail it took a long time also.  I was beginning to think that she had forgotten but then it finally came.  But "slow service" was one of the complaints in the reviews I'd read prior to our dinner so it did not come as a surprise.  And in the end, I suppose the food (and cocktail) were worth the wait.  So how does our 4 1/2 stars rating compare to the current ratings on Tripadvisor and Yelp?  Well, Yelp reviewers give Wolfgang Puck Bar & Grill only 3 1/2 stars.  They fared a bit better on Tripadvisor with a rating of 4 stars.  The recent reviews have been much more positive though so they seem to be trending up.  As for the Tripadvisor ranking, Wolfgang Puck comes in at only #601 of the 2450+ Orlando area restaurants reviewed there.  Narrowing it down to just the 280 or so Disney World area restaurants reviewed there, Wolfgang Puck ranks only 161…so not even in the top 50%.  Wow, I have to respectfully disagree.