November 2019 Review
First the menu posted outside of this quick service restaurant, located in Star Wars: Galaxy's Edge at Disney's Hollywood Studios…
Then as we walked inside we were given this laminated menu, which included prices…
We were both using a Quick Service Disney Dining Plan credit, which entitled us to each have an entree and a beverage (either alcoholic or non-alcoholic).   We placed our order with a Cast Member at a register and then Andrew went off to find a table for us.
While they do have a nice outdoor dining area at Docking Bay…
He chose a table inside to get a break from the heat.  Here is a photo of a nearby table to give you an idea of what the indoor seating looks like…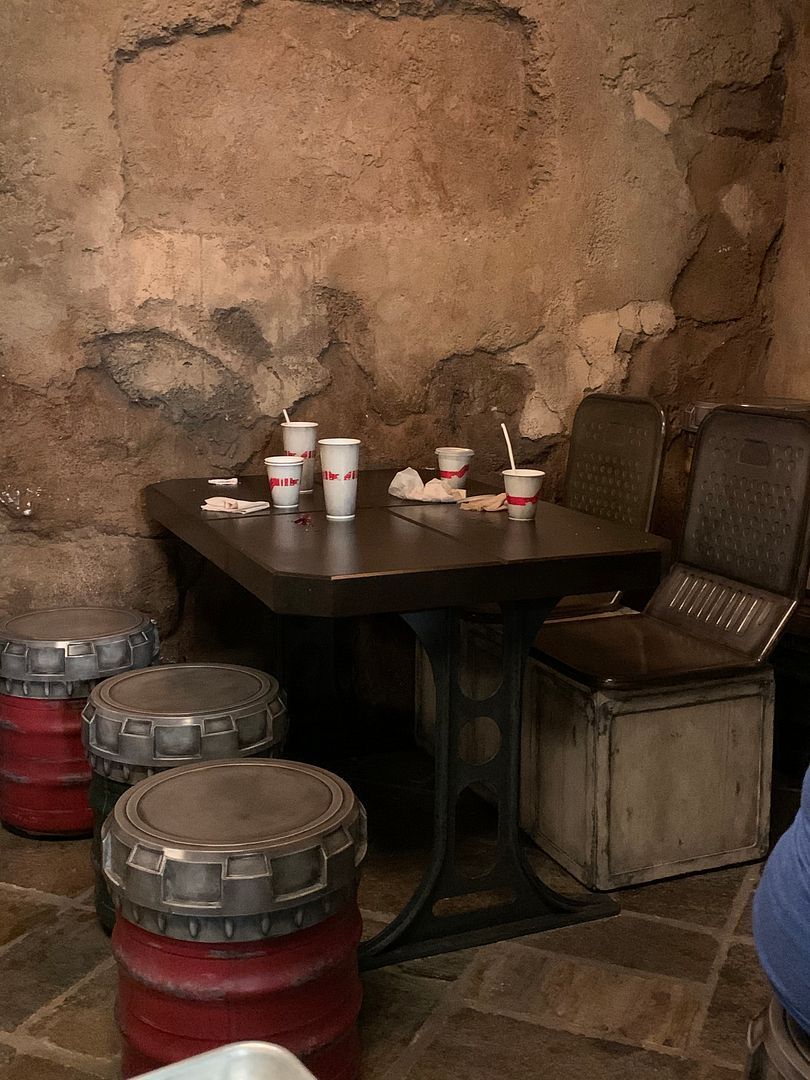 The seating is designed more with "theming" in mind than comfort.  But it was nice and cool in there, though pretty dark…which made it a little challenging to take photos.
Anyway, while I was waiting for our order to be processed, I got our silverware, napkins, and a couple of cups of water from their self-serve water dispenser.  So we ended up with a total of 6 beverages for this meal…
In addition to our waters and the Blue & Green Milks which we had just purchased (with Snack Credits) outside at the Milk Stand, we also each had an alcoholic beverage.
Docking Bay has only 3 alcoholic beverage choices, one of which is Lager beer.  Since neither of us drink beer, we got one of each of the two other options.
Both of these are pre-mixed cocktails served on ice…lots of ice.  The green drink on the right is the Takodana Quencher.  This was a mixture of Bacardí Dragon Berry Rum, Blue Curaçao, Simply® Orange Juice with Pineapple, and Kiwi Juice. On the left is the Surly Sarlacc with Ketel One Botanical Grapefruit and Rose Vodka, Minute Maid© Limeade, Raspberry and Spicy Mango Flavors.  I usually like fruity (other than grapefruit) cocktails, especially those with rum, so I wasn't surprised that I preferred the Takodana Quencher.  However, Andrew also liked it much more more than the Surly Sarlacc.  But at $15.00 and $13.00 (if paying out of pocket), I don't think either of these cocktails are worth the money given the ratio of ice to drink (and light on the alcohol).  So overall, thumbs up for the Takodana Quencher, but only if you are on the Dining Plan.
Now on to our entree choices…
…starting with Andrew's pick.
Endorian Fried Chicken Tip Yip – Crispy Chicken with choice of Vegetable Mashed Potatoes with Herb Gravy or Macaroni and Cheese and Roasted Vegetables – $15.49
I told him that I had read that the macaroni and cheese at Docking Bay was very good so he followed that recommendation and got the mac & cheese for his side.  Though the mac & cheese was good (I actually thought it was better than the fancy mac & cheese that had come with Andrew's steak at California Grill), it pretty much tasted like Kraft Mac & Cheese sauce, but with Ditalini pasta rather than elbow macaroni.  The roasted vegetables consisted only of a few pieces of roasted broccoflower.  As for the chicken, though its shape is odd, it tasted like…well. like chicken.  It's a rectangular block of fried, boneless, white meat chicken.  It was fine, he enjoyed it.
Now for my entree choice.  I had previously considered getting the Smoked Pork Ribs but had recently read a review that said their sauce had a strong vinegar taste, which didn't appeal to me.  So instead I ordered the…
Batuuan Beef Pot Roast – Braised Beef Pot Roast, Cavatelli Pasta, Wilted Kale, Mushrooms – $18.99
This dish consisted of two small chunks of pot roast, some cavatelli pasta shells, a few pieces of wilted kale, and some enoki mushrooms, pearl onions, and shredded carrots.  At $18.99 (if paying out of pocket), this is the most expensive entree on Docking Bay's menu (the ribs are $16.99).  So again, while it was fine and a good value when using a Dining Plan credit, it was not really worth $18.99 in my opinion.
Overall, though the theming is cool at Docking Bay, as is the air conditioning on a warm day, we weren't all that impressed with the food and alcoholic beverages. So my advice is to go there for the experience, especially if you are on the Dining Plan, but with low expectations for the food.  That way you won't be disappointed.
And that just leaves the ratings.  Both Yelp and Trip Advisor reviewers have given Docking Bay 4 stars.  That's a bit higher than I would rate it.  I would probably give it 3 1/2 stars though.  If you are in Galaxy's Edge and are hungry, Docking Bay provides convenient and adequate sustenance while still staying in the Star Wars themed bubble.
2 Disney Dining Plan Quick Service Credits Used – $66.54 (including tax)