We arrived at the entrance to the Docking Bay 7 quick service restaurant (located in the Star Wars: Galaxy's Edge area) at about 9:20 a.m. (the rides & restaurant had opened at 8:00 that morning).  A Cast Member was handing out menus to whoever wanted one and I saw that it was their Lunch/Dinner menu.  When asked, she said that they had switched from serving Breakfast to Lunch at 9:00 a.m.  WHAT?!?!  I have no idea why they would start serving lunch at 9:00 a.m. but that's how it was…at least that's how it was on the morning of March 3, 2020.
NOTE: I've noticed though that on some online menus they state that lunch starts at 10:00 (or even 10:30) so I'm not sure if this earlier time is now an everyday occurrence or if they had cut off serving breakfast an hour early on that particular day for some reason.   So my advice would be, if you have your heart set on eating breakfast there rather than lunch then you should check in with the restaurant early to find out when they will stop serving breakfast that day.    
We thought about backtracking and going to the Trolley Car Cafe (aka Starbucks) for breakfast but we thought we should stay in the Star Wars area since they were getting close to calling our Boarding Group for the Rise of Resistance ride.  So we decided to stay there at Docking Bay and order a dessert to tide us over until we had lunch.
They have only two dessert options at Docking Bay, one is the Oi-Oi Puff, which I had tried with Allison during my last trip.  The other is a chocolate dessert called, Batuu-bon.  Since I had already tried the Oi-Oi Puff, I wanted to try the Batuu-bon this time.  However, Andrew wanted the Oi-Oi Puff so we ended up ordering both.
Since I didn't want to bring a bag to the park that morning (so I could by-pass the bag check line and save some time) I didn't have my camera so these photos were taken with my phone.  I apologize that they aren't very good.
First up is the Oi-Oi Puff…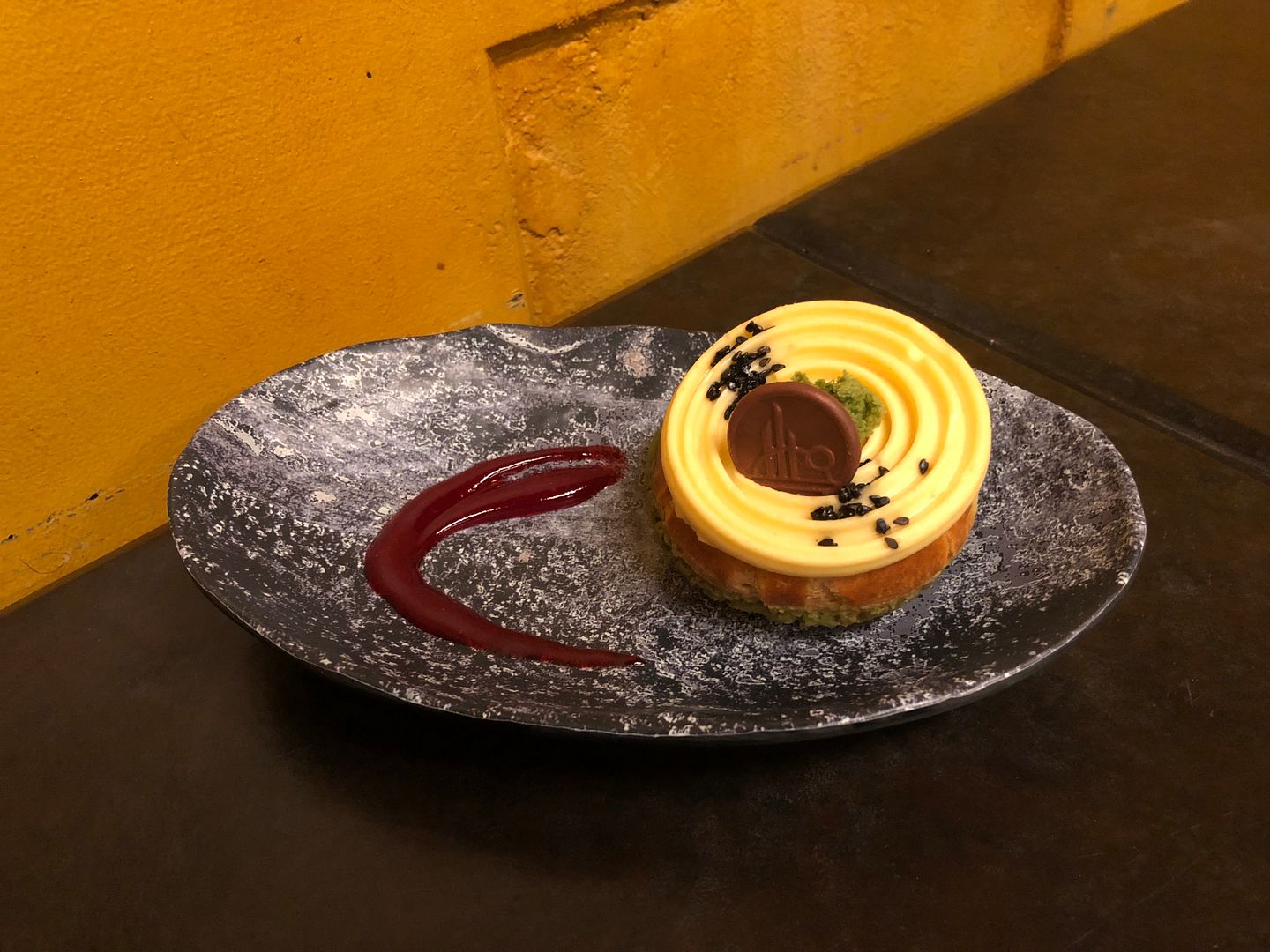 Oi-Oi Puff – Creme Puff filled with Raspberry Mousse and then topped with Passion Fruit Mousse – $6.49
For me this didn't taste quite as good as it did the first time I tried it.  The passion fruit  mousse (which has a panna cotta-type texture) seemed more tart than it was last time.  Andrew described it as too "tangy".  The spoonful of green stuff is apparently matcha micro-sponge cake and is edible, however it didn't really have much flavor.  The Black Spire Post chocolate medallion was good though and so was the swirl of raspberry sauce on the side of the plate.
I though preferred the other dessert this time…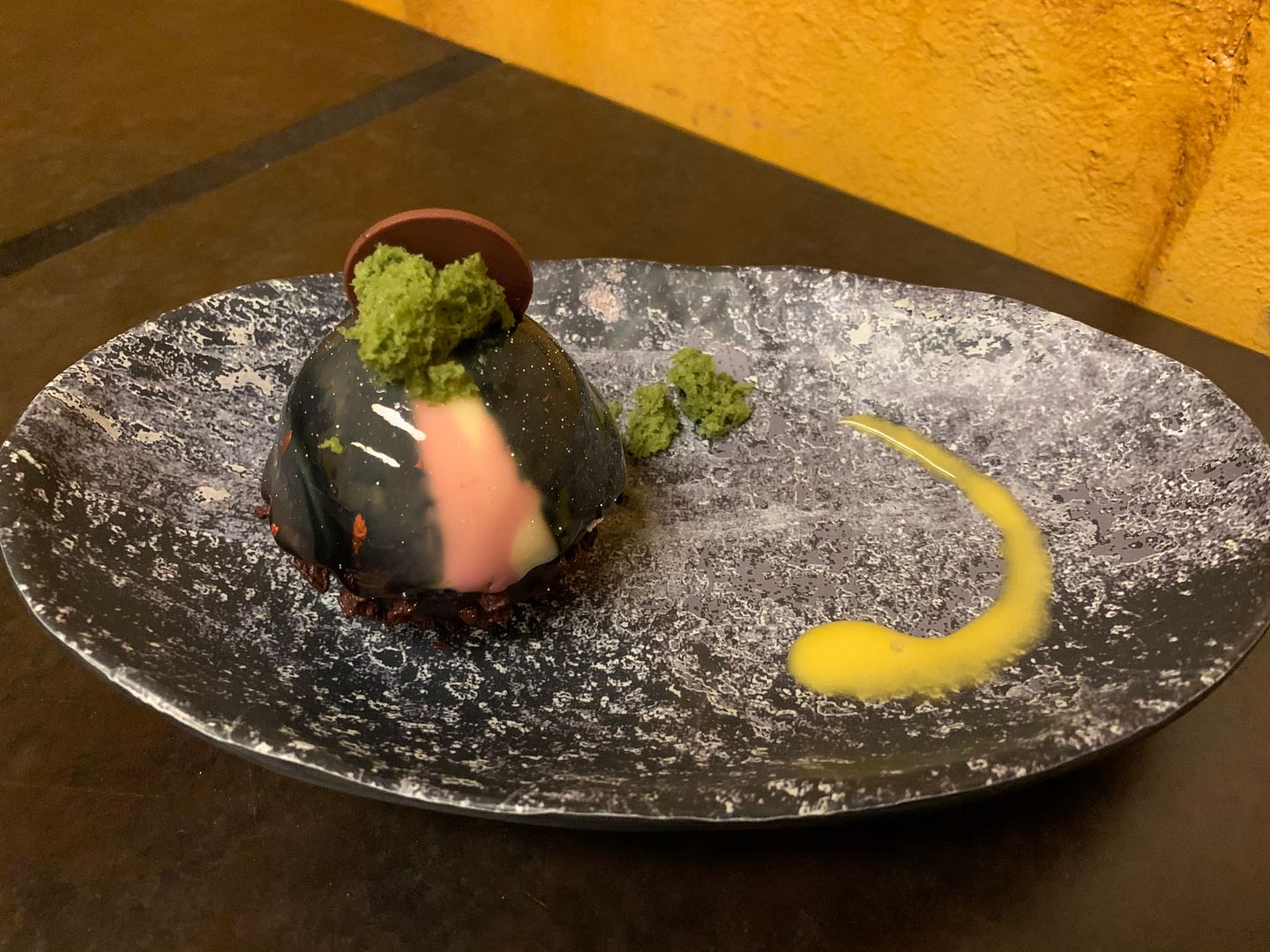 Batuu-bon – Chocolate Cake topped with a White Chocolate Mousse and Coffee Custard filled Dome – $6.99
Though Andrew liked this one better than the "tangy" Oi-Oi Puff, he doesn't really like the flavor of coffee so didn't enjoy the coffee custard part of this dessert.  I though thought it tasted mostly like chocolate, with just a hint of coffee flavor.
Since we only got dessert during this visit to Docking Bay, I won't include ratings or rankings in this review.  I'll save those for the review of the lunch we had here during our October 2019 trip.