Round 1 – Thursday, October 31
On our first visit to the Food & Wine Festival booths my son and I were on the Disney Dining Plan and had many snack credits to burn.  I wanted to maximize the value of those snack credits though so I steered my son towards some of the more expensive booth items at this year's festival.
So our first booth was Australia…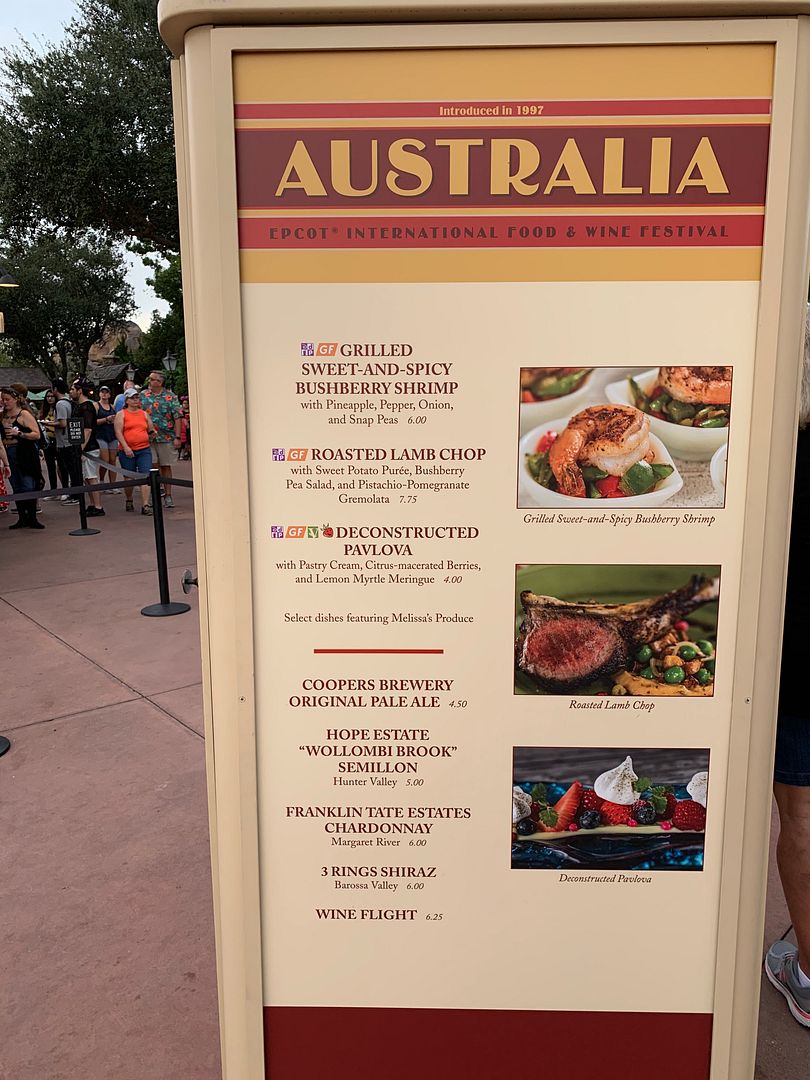 We chose the most expensive item on their menu…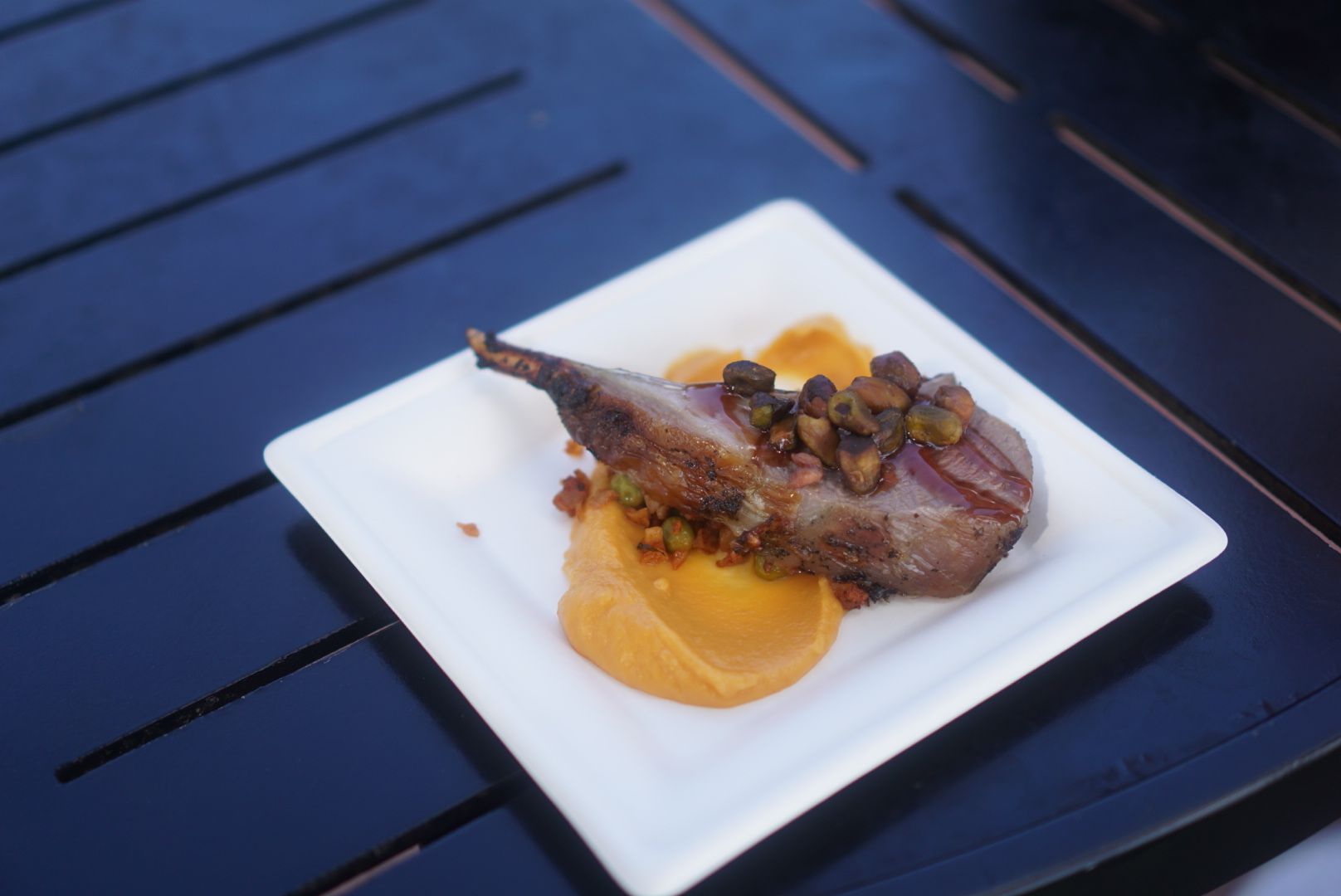 Roasted Lamb Chop with Sweet Potato Purée, Bushberry Pea Salad and Pistachio-Pomegranate Gremolata (Gluten-Free) – $7.75, DDP Snack Eligible
Though this was small (with only 6 bites of meat, or 3 each when sharing), what meat there was was good.  I liked the rest of this dish as well, especially the sweet potato purée and the pistachios in the sauce.
Our next stop was Canada…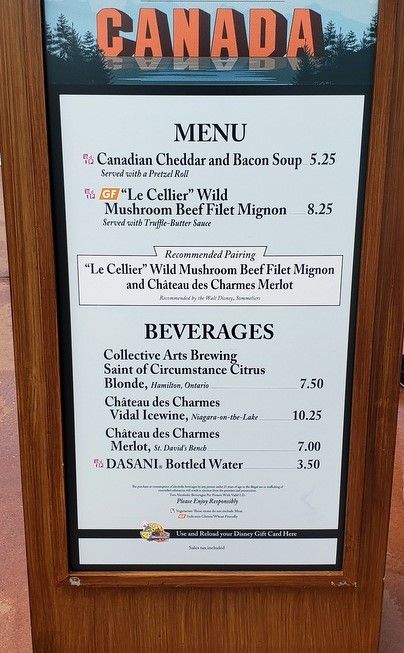 Where we again got the most expensive (DDP snack eligible) item on their menu…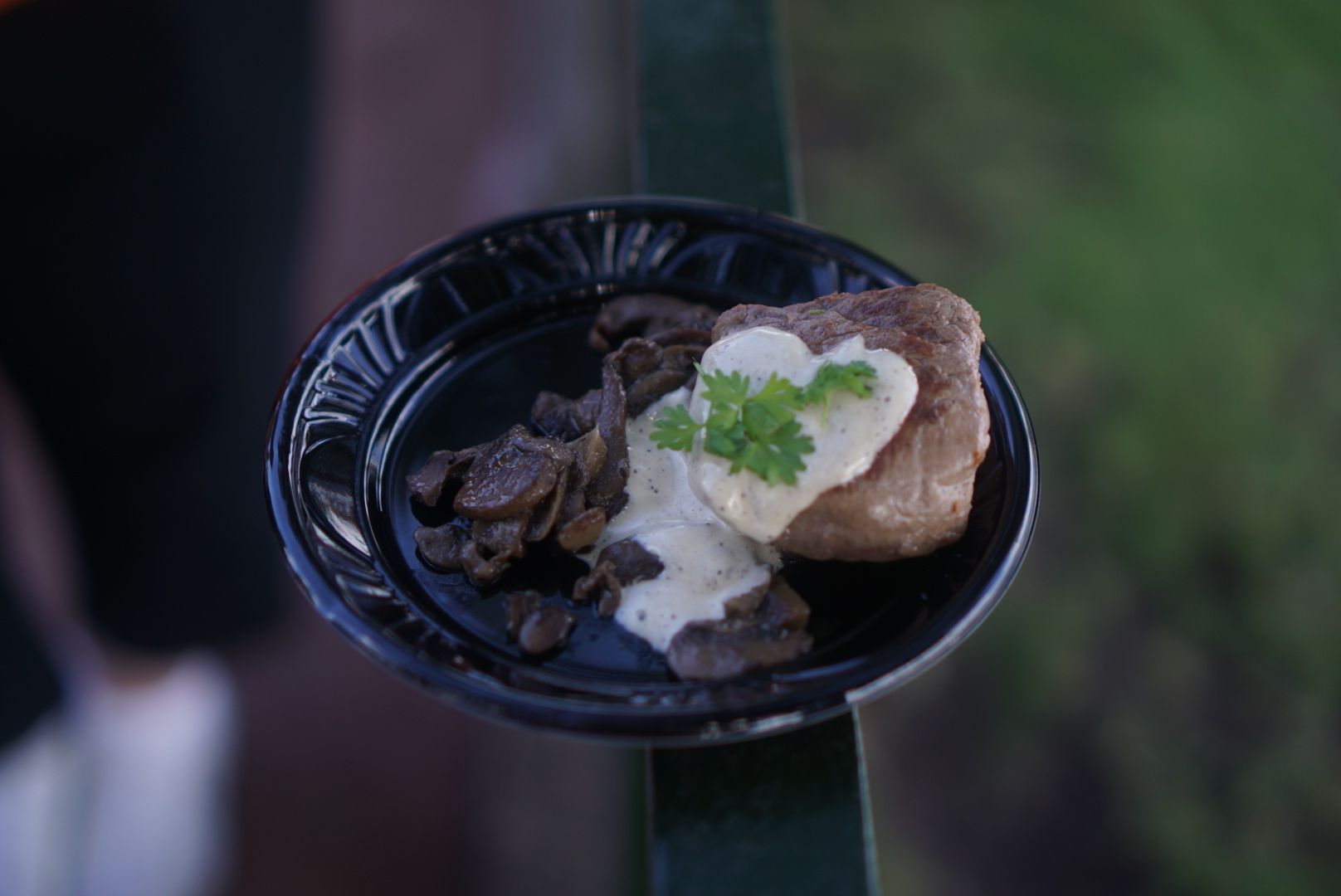 Le Cellier Wild Mushroom Beef Filet Mignon with Truffle-Butter Sauce (Gluten-Free) – $8.25, DDP Snack Eligible
This was again good, but not quite as good as the filet I got here last year.  Since my son doesn't eat mushrooms, I got to have them all to myself and they were delicious.  Again though this was only about 6 bites of meat.
But on the positive side, because of the small size of the lamb chop and filet (especially when sharing) we still had room for more.
We then moved on past both the Ireland booth…
And the France booth…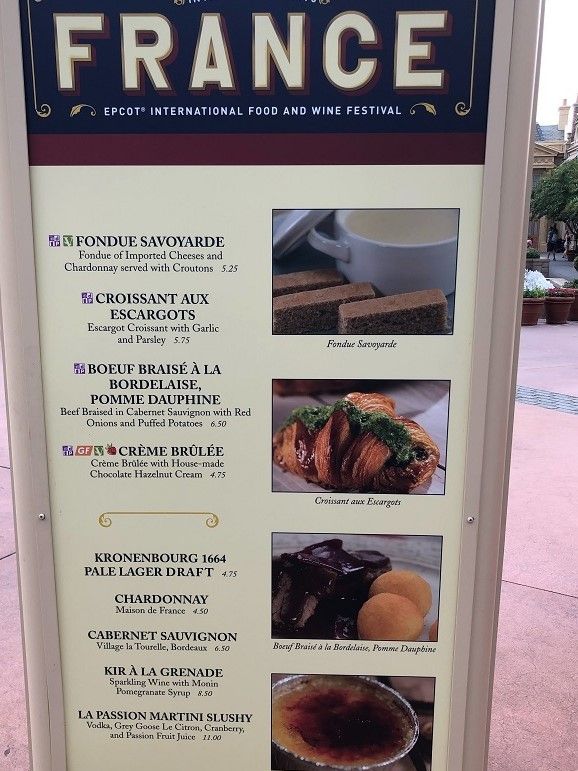 …since we were looking for items that were $7.00 or higher and neither booth had anything priced that high.
However, the Morocco booth had two such items…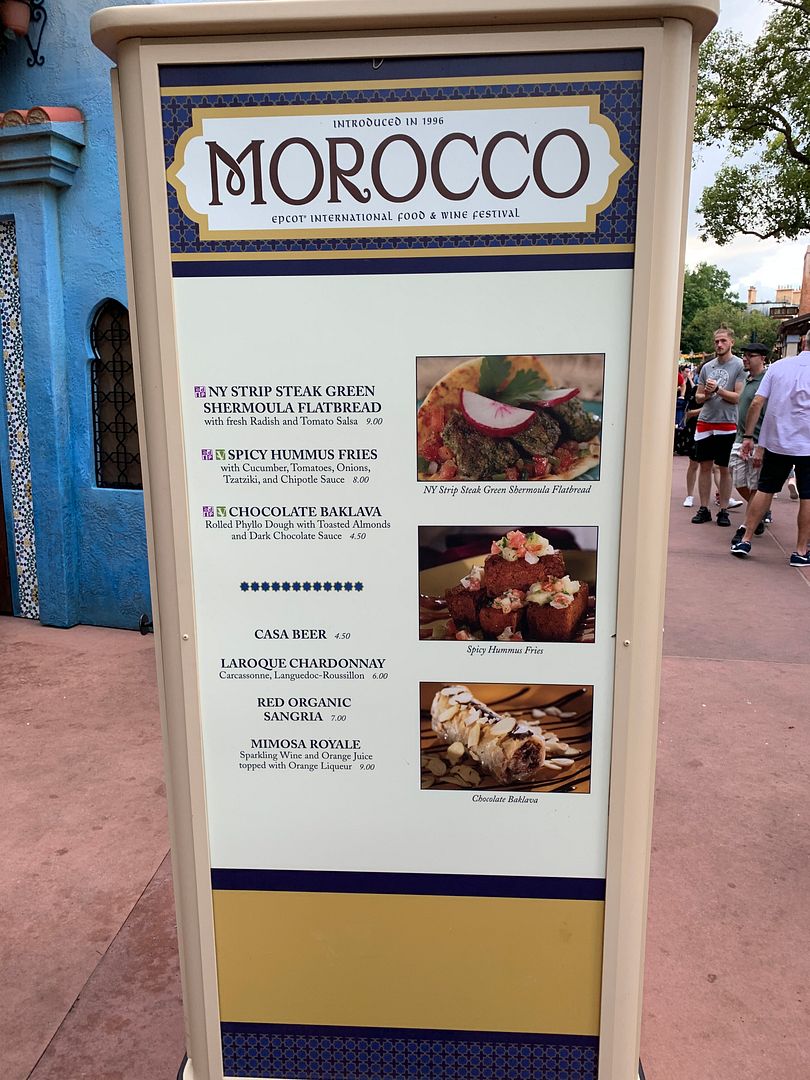 In fact, at a price of $9.00, Morocco had the most expensive (DDP snack eligible) item at this year's festival.  So of course we had to try it…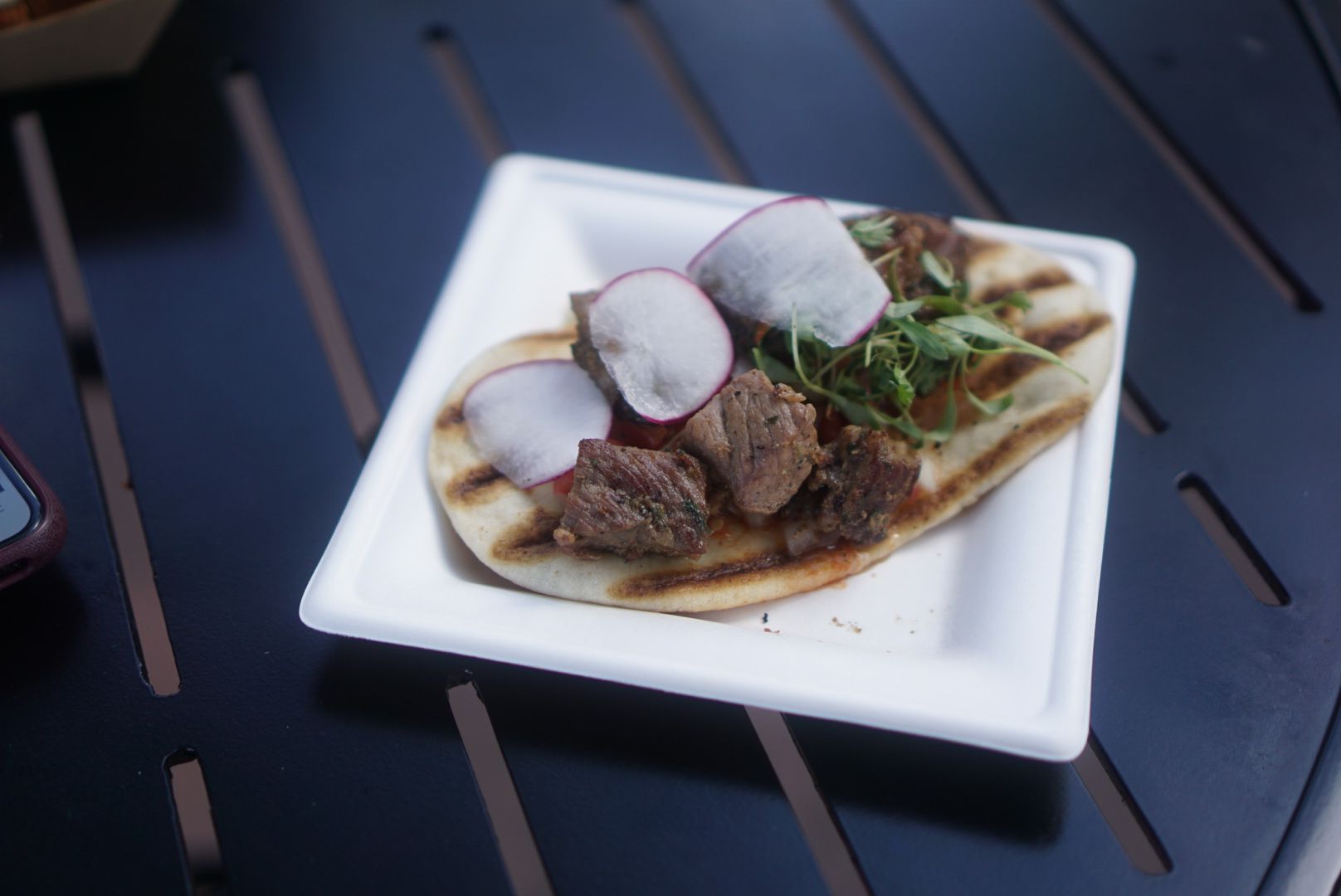 NY Strip Steak Green Shermoula Flatbread with fresh Radish and Tomato Salsa – $9.00, DDP Snack Eligible
This was not very good.  The steak was very fatty.  If I had paid $9.00 (out of my pocket) rather than using one snack credit (of many) I would have been very unhappy.
The other item we tried from the Morocco booth was also a disappointment…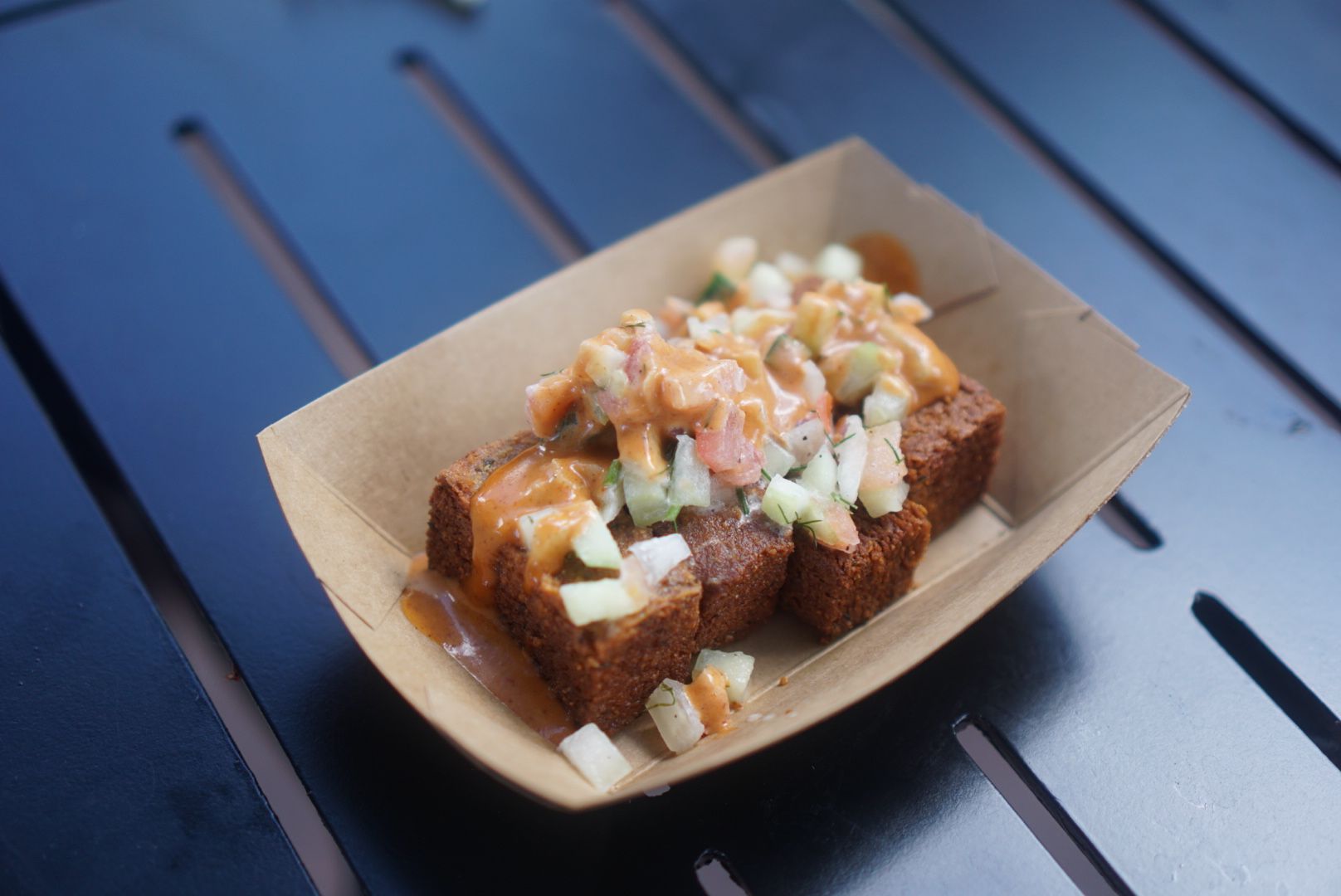 Spicy Hummus Fries with Cucumber, Tomatoes, Onions, Tzatziki, and Chipotle Sauce – $8.00, DDP Snack Eligible 
These were overcooked and very dry.  We could only eat one (of 4) of these and the rest went into the nearest garbage can.  Again if I had paid $8.00 ($2 each) for these rather than just a snack credit then I would have been unhappy.
Between the heat (on this warm day) and the dry hummus fries, we were badly in need of something to drink.  Nearby was a cart which sold bottled drinks and my son wanted a blue (Mountain Berry Blast) Powerade.  So though I had set a goal to only use our credits on more expensive snacks, I agreed to use one for a $5 Powerade…and it was soooo good.  
Next I wanted to go to the Hops & Barley booth next to get an $8.25 Lobster Roll, something I had enjoyed last year while snacking on the Dining Plan at the festival booths.  However, Andrew is not a fan of seafood and I wasn't hungry enough to eat the whole thing by myself.  So this concluded Round 1 at the Food & Wine Festival booths.
– to be continued on another day –