During our March 2021 one night stay at the Yacht Club I decided that any trip to Disney World, no matter how short, requires having a breakfast of Mickey waffles. So after scoring a Boarding Group number for the Star Wars: Rise of the Resistance ride from our room at exactly 7:00 a.m., the next order of business on the MDE app was to attempt to place a mobile order from The Market at Ale & Compass, the quick service restaurant at the Yacht Club. Though it had supposedly just opened at 7:00, the mobile order app was indicating that any order placed would not be ready for pick up until after 8:00 a.m. Our goal was to be out of the hotel at 8:00 so I decided that if I was going to get my Mickey waffles that morning I needed to take a different approach. So down to the lobby I went, where I was surprised to find a line of socially distanced people standing in the hallway outside of the entrance to The Market. Once it was my turn to enter, I was totally confused about where I was to place my order. There seemed to be multiple lines and no signs or Castmembers directing traffic. So I jumped into one of the lines that appeared to lead to a CM taking orders and hoped for the best.
During my attempt to place a mobile order I had looked at The Market's breakfast menu…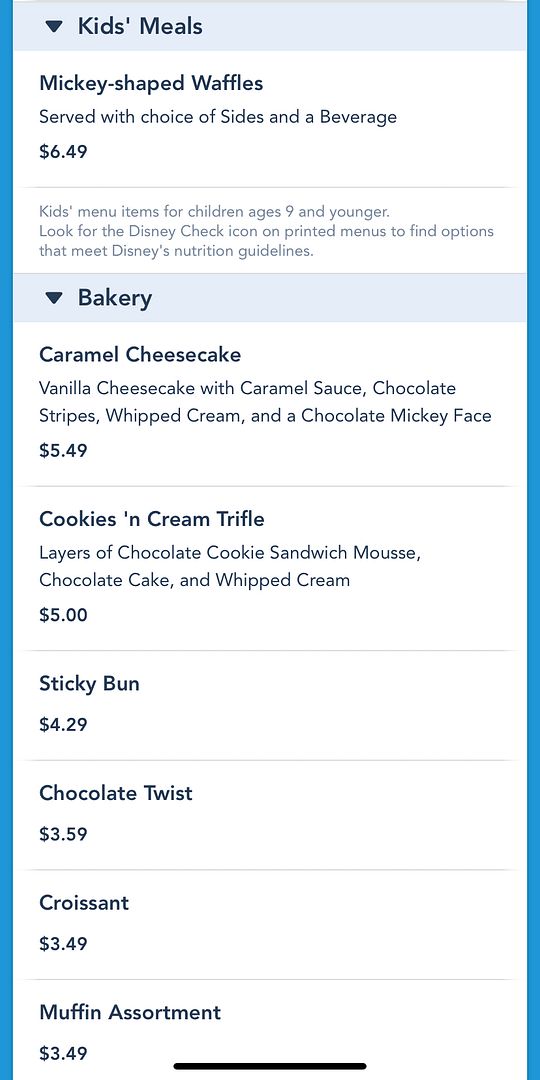 Having seen all of the different coffees offered on their menu, I was not surprised to see a counter at the The Market devoted to taking orders and preparing coffees. But my husband and I were satisfied with the complimentary Joffrey's coffee brewed by the Keurig coffeemaker in our room.
So when I got to the front of the line I placed my order and paid for the Kids Mickey waffles meal and for my husband I ordered one of the breakfast sandwiches. Having had the Kids Mickey waffles meal at several other Disney resorts, I knew that it came with a small drink (I usually always get a bottle of water or orange juice). So when the CM motioned to the refrigerated cases and said something about "serving myself" (with her wearing a mask I couldn't understand exactly what she said), I walked across the room and took an orange juice out of the case. I then went to another area where they appeared to be making the food and packaging it up. There was a PICK UP HERE sign…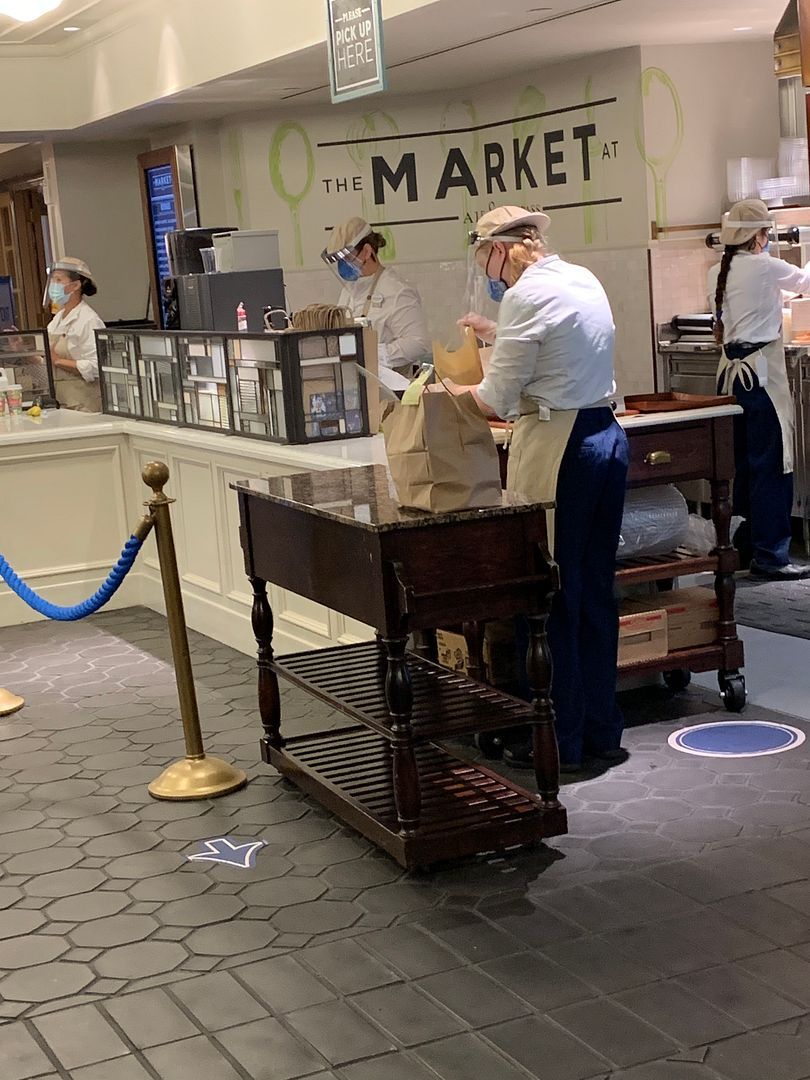 While I waited I picked up napkins, plastic silverware, and syrup for my waffles from a nearby station, however there was no butter to be found anywhere. There was another guest also looking for butter so when his name was called he asked for some butter. He was given more than his hand could hold so offered the overflow to me.
Then my name was finally called but they handed me only the plate of Mickey waffles, no breakfast sandwich. I asked if the sandwich wasn't yet ready and was told that they were pre-made and stored in a heated case, located in the general area of the refrigerated cases which held the drinks. So anyway, that was a bit disappointing, knowing that their sandwiches were not made-to-order. However, I also knew that the restaurant had only been open less than a half hour at this point so I figured the sandwiches should not have sat in the warmer for too long.
I then returned to our room with the food and at this point looked at my receipt. This is when I realized that I had paid $8.49 for and received the Adult portion of the Mickey waffles (you get 3 waffles instead of 2 and a smaller portion of breakfast meat ). NOTE: The Kids Mickey Waffle meal is only $6.49. Another big difference is that the Adult breakfast does not include a beverage. The light bulb then went off and I realized that the CM who I thought was directing me to get my own drink was actually directing me to grab my sandwich from the other case. Oops!
But anyway, here was my breakfast…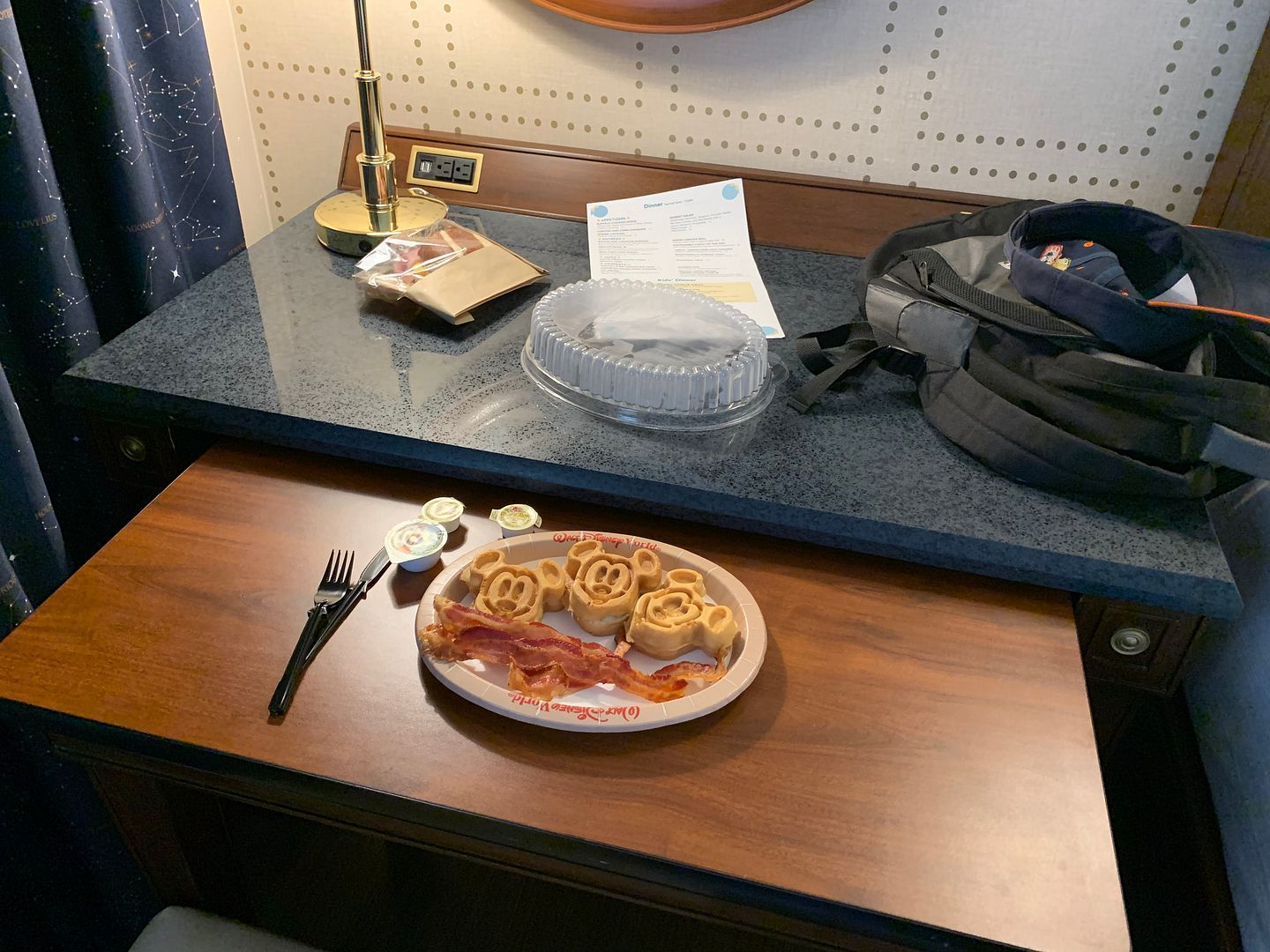 And my husband's breakfast…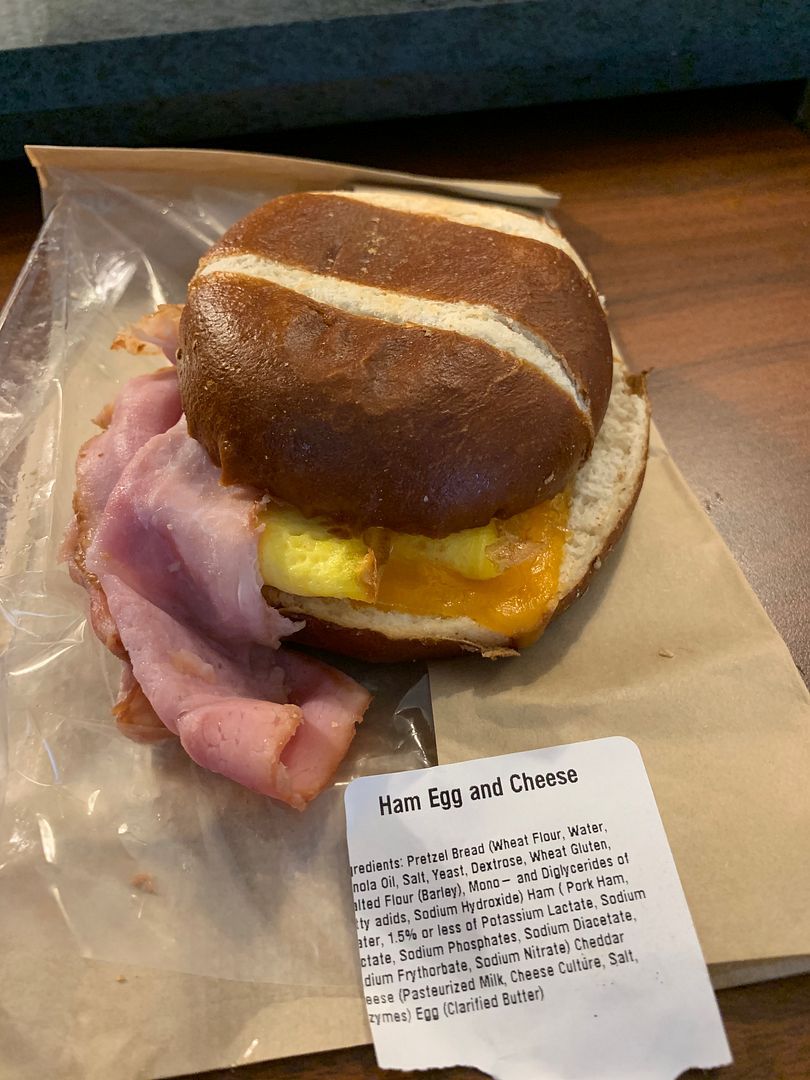 Ham and Cheese Breakfast Sandwich with Eggs, Ham, and Cheddar Cheese served on a Pretzel Roll – $7.29
Though it's possible that the confusing, disorganized experience of obtaining our breakfast affected my taste buds that morning, but my Mickey waffles just didn't seem up to par. They were cold and pretty tasteless. As for my husband's sandwich, he said it was okay. Nothing about it worth noting.
So I'd have to say that my first visit to The Market was a disappointing one. I've been more satisfied with my visits in the past to the Beach Club Marketplace, the quick service location at the Beach Club (the Yacht Club's sister resort).