It had been at least 5 years since we had eaten at Flame Tree Barbecue, a quick service restaurant at Animal Kingdom.  It used to be a favorite of Andrew's and since we were on the Dining Plan I thought this would be the perfect opportunity to re-introduce ourselves to Flame Tree.  Seeing on their sign that Mobile Ordering was available  (through the MDE app on our phone), we decided to first find a table.  We chose one down by the water, which seemed like a very peaceful setting to have our lunch.  
To give you an idea of where we sat, here is a photo from the Disney Food Blog…
In the water near our table were ducks., like this one…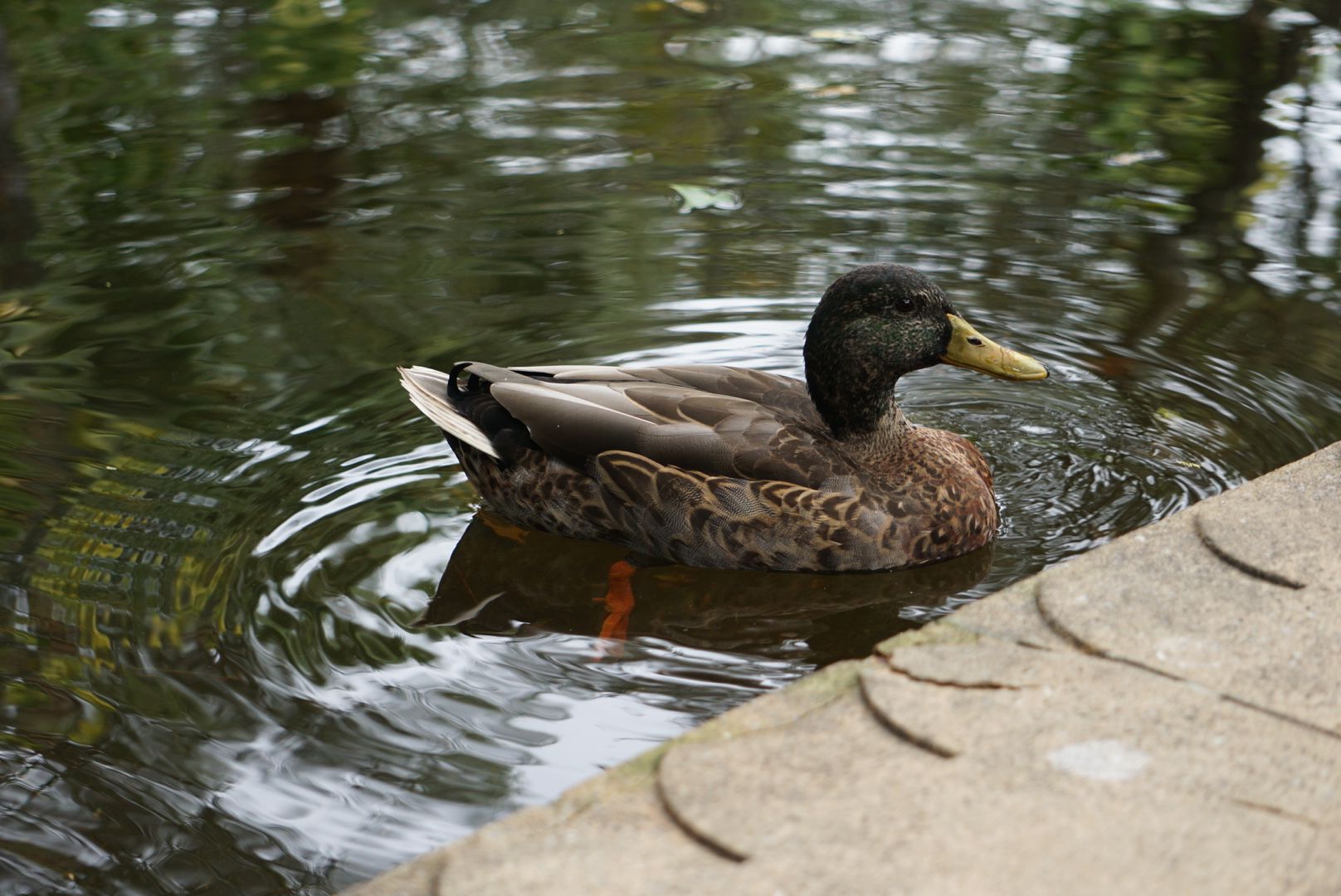 Also, as we sat at our table placing our order and then waiting to receive notification that it was ready for pick up, we saw this white ibis strolling around, seeming to mind his own business…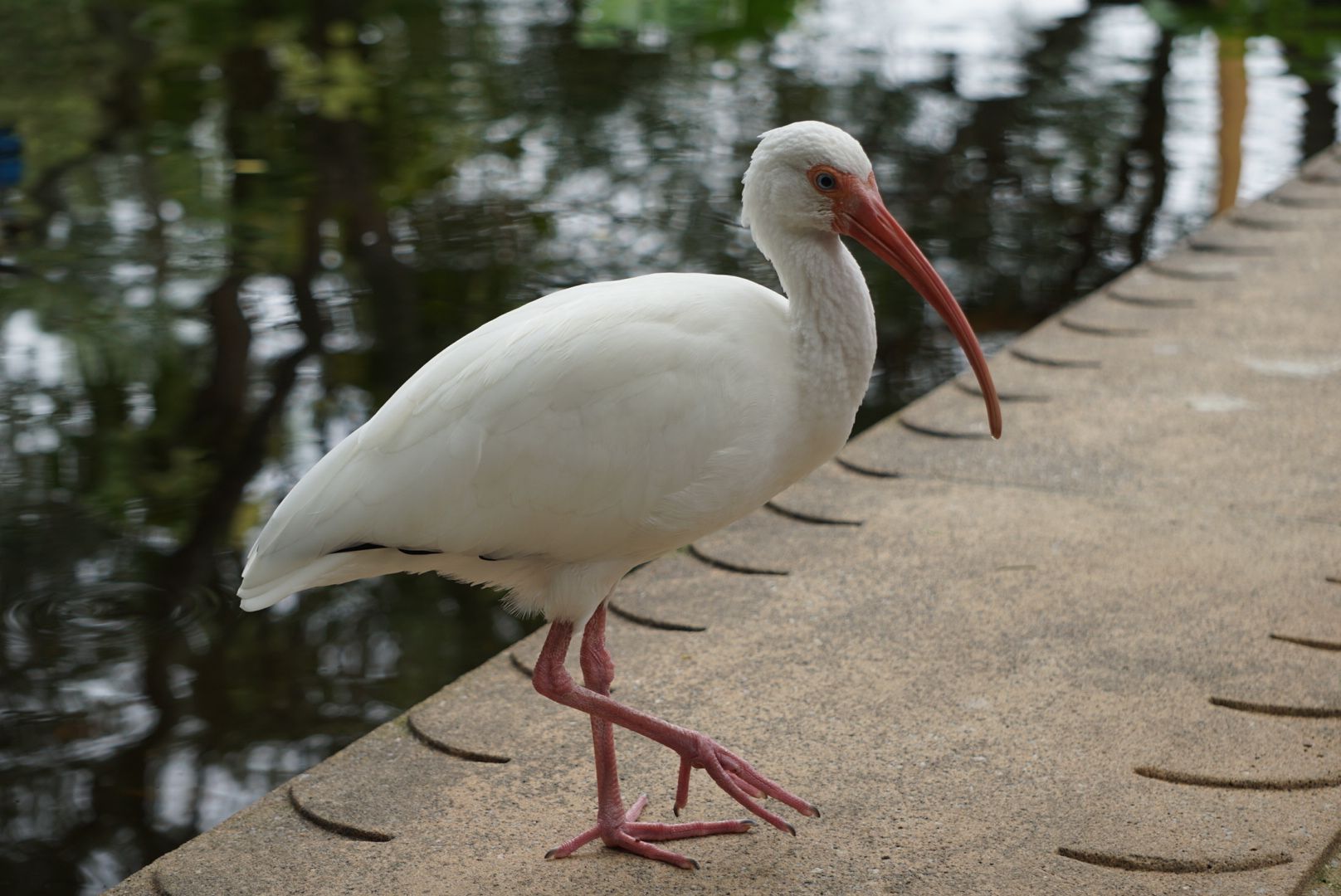 Until we brought food to our table, that is.  Then he became very annoying and he called on his friend to help him try to steal our food…
We kept having to "shoo" these guys away.  Therefore, if I were to eat at Flame Tree again I would probably choose a different area to sit…somewhere that your lunch is not for the birds.  
So anyway, we had 3 QS Dining credits to use before they expired at midnight that day.  Though we were to be on the Dining Plan for two more days after this, we had had to book two consecutive hotel reservations, so all of our dining credits from our first (3 night) reservation would expire at midnight.  Originally our plan was to use 2 credits during our visit to Epcot on the previous day but we ended up only using 1 QS plus some snack credits at the Food & Wine Festival booths.  So with our leftover credit we decided to use only 1 credit and share a meal at Flame Tree so that we could save the other two to try the new "Fast Casual" dining experience at Restaurantosaurus.  
So here is all that we ordered for our shared lunch, using 1 QS Dining credit plus 1 Snack credit…
For our entree we chose the…
Ribs and Chicken Combo served with their Signature Baked Beans and Coleslaw – $15.49
Note: If we'd wanted to maximize the value of our Dining Plan credit, we could have gotten the Ribs, Chicken and Pulled Pork Sampler.  If paying out of pocket this would have cost $3.50 more (or a value of $18.99).  However, neither of us wanted more pulled pork than the pile of it that came on our fries.  
Though the portions were small for the baked beans and coleslaw, there was no fighting over either of these because neither of us liked them.  Having visited the Regal Eagle Smokehouse during our March 2020 trip and the Polite Pig later on during this trip, I can honestly say that the sides are far better at either of those barbecue places.   In comparing the meats though to the chicken and ribs at Regal Eagle, in our opinion Flame Tree is the winner.  Neither of us had ribs or chicken at Polite Pig so can't compare the two.  
An alcoholic or non-alcoholic beverage was also included with our QS Dining Plan credit.  The Specialty Beverage here is a Mandarin Orange Lemonade for $4.99, which you could also get with Vodka added.  That is what we chose…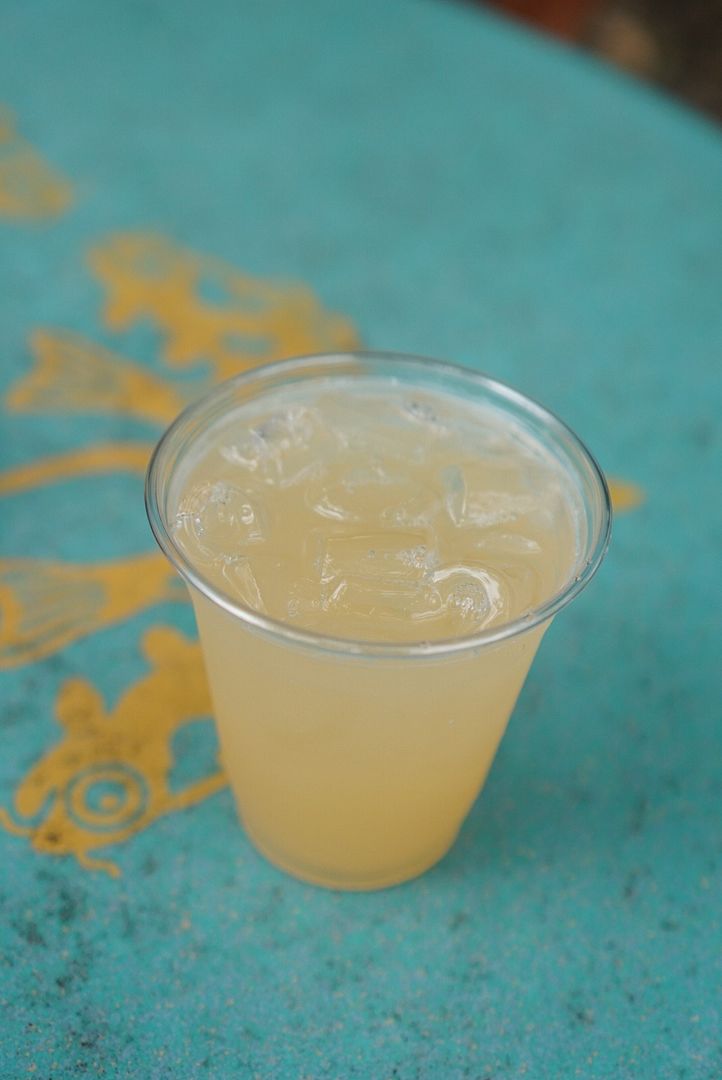 Mandarin Orange Vodka Lemonade – $11.00 
Like the Raspberry Rum Lemonade that we had had the day before at Sunshine Seasons, there didn't seem to be much alcohol in this.  Therefore I don't feel it would be worth paying $11.00 out of pocket for, but as part of the Disney Dining Plan it was a good choice.  In regard to its price though, I found a review online that was written just a little over a year before our visit (review date of February 2018) and the price of  this drink was (a much more reasonable) $8.50.  I guess when they started including alcoholic beverages in the Dining Plan in 2018 that may have affected the prices of drinks like this one.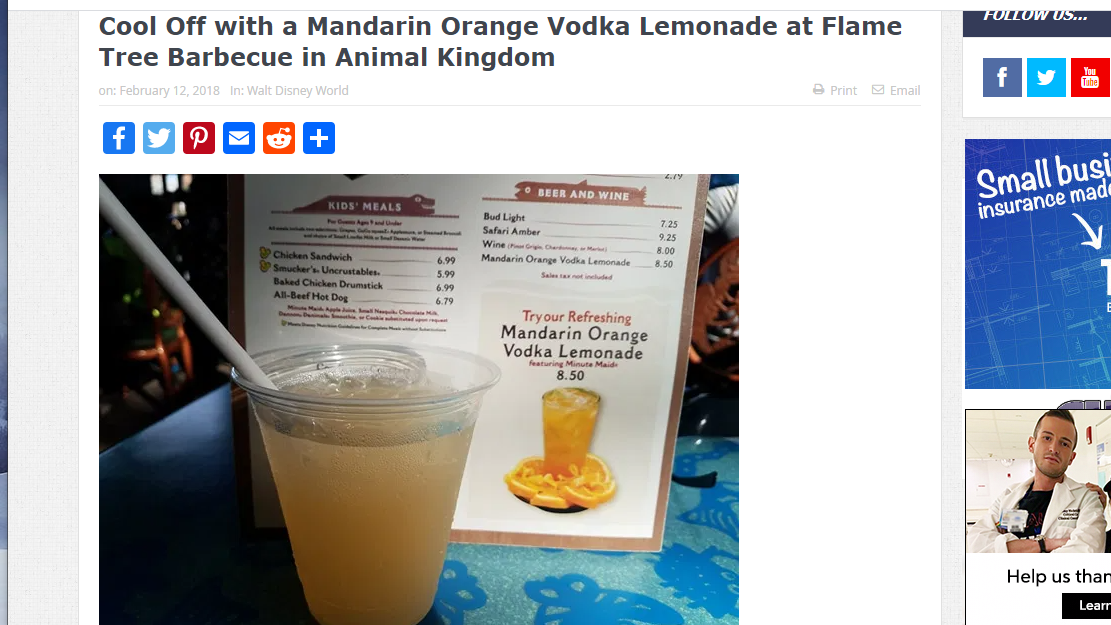 But speaking of the Dining Plan, did you know that you can get this for 1 snack credit?…
French Fries with Pulled Pork and Cheese – $6.99
And from another angle…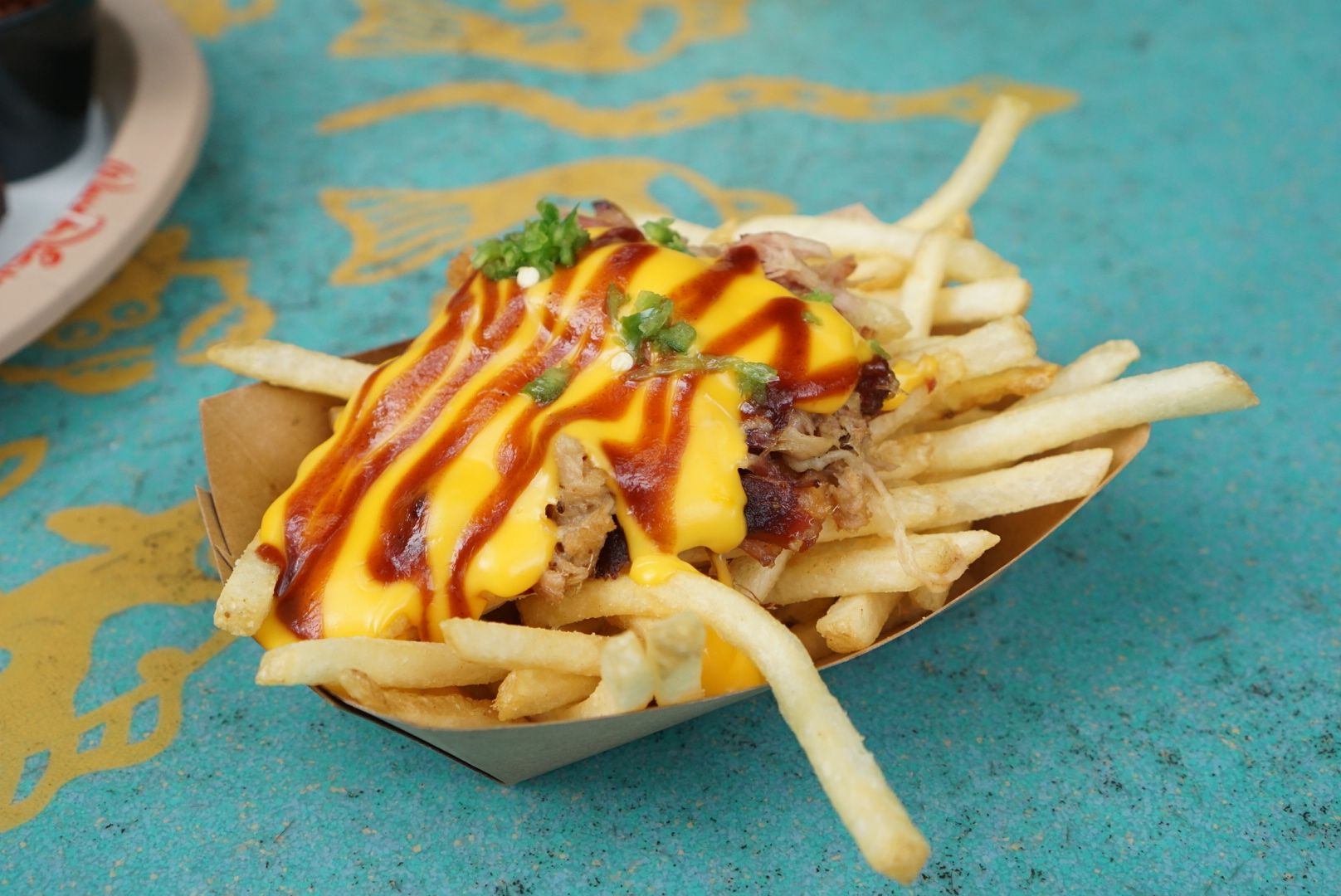 These were really good.  Definitely a good use of a snack credit! 
And so, that just leaves the ratings and rankings.  Based on only the food, I would rate Flame Tree a 4.   However, because of the annoyingly aggressive birds that stalked us as we were trying to eat our lunch, I would have to lower their rating  by 1/2 star to 3 1/2.  The reviewers on both Yelp and Trip Advisor rate Flame Tree Barbecue 4 stars.  As for its ranking, Trip Advisor reviewers rank it #272 of the more than 3,000 eateries reviewed in the Orlando area (which includes those classified as restaurants and quick bites/fast food) or #96 of the nearly 400 eateries in the Disney World area. So not bad, but not nearly as good as Satuli Canteen, another quick service option at Animal Kingdom. ( FYI: Satuli Canteen ranks #117 in Orlando and #41 in Disney World.)  Just something to consider when choosing where to eat when you are at Animal Kingdom.  
1 Quick Service Dining Plan Credit Used – $28.21 (including tax)
1 Snack Credit Used – $7.44 (including tax)