Epcot's Frozen Ever After Dessert Party as advertised on the Disney World website…
"Satisfy your sweet tooth during a water-side viewing of IllumiNations: Reflections of Earth"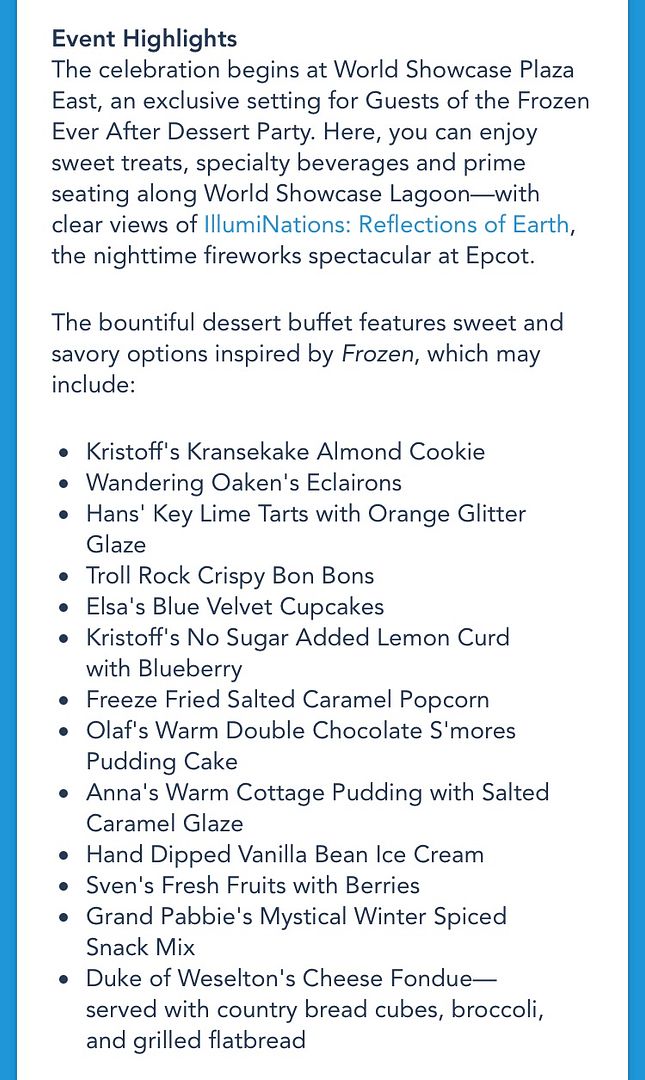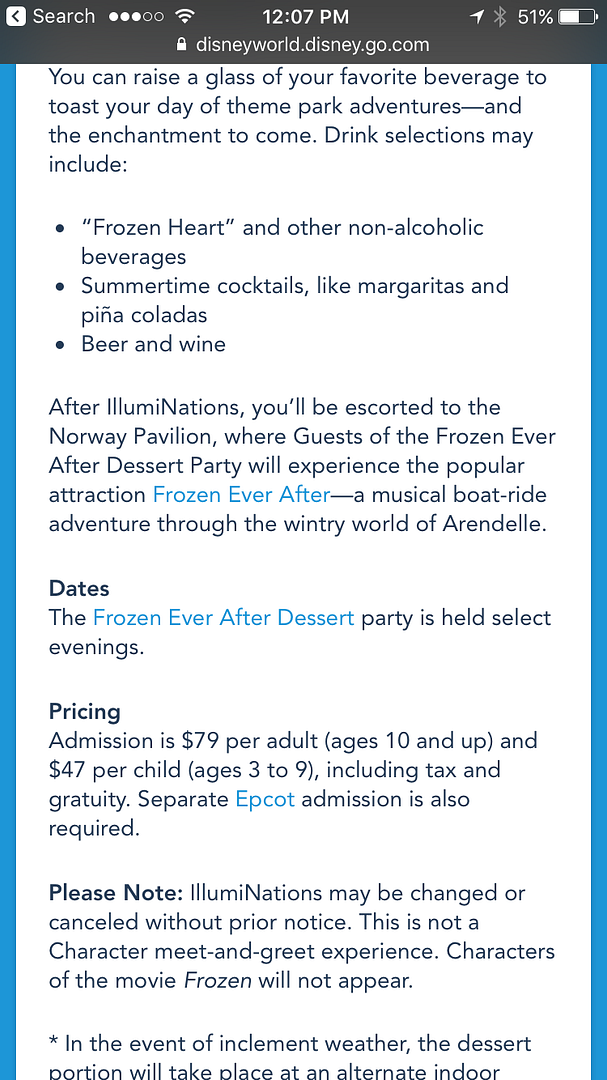 So all the dessert and alcoholic beverages I could eat and drink plus a seat at a reserved table with a great view of Illuminations and a "fast pass" (after-hours) ride on Frozen?? SOLD!! For the (not so) low price of $79.
But what's that saying?  "The best-laid plans of mice (including Mickey) and men (or women) often go awry."
My plan to attend the Dessert Party on the evening of Friday, Nov. 2nd (2018) went awry because it was a rainy night.  So sadly the asterisk* went into effect…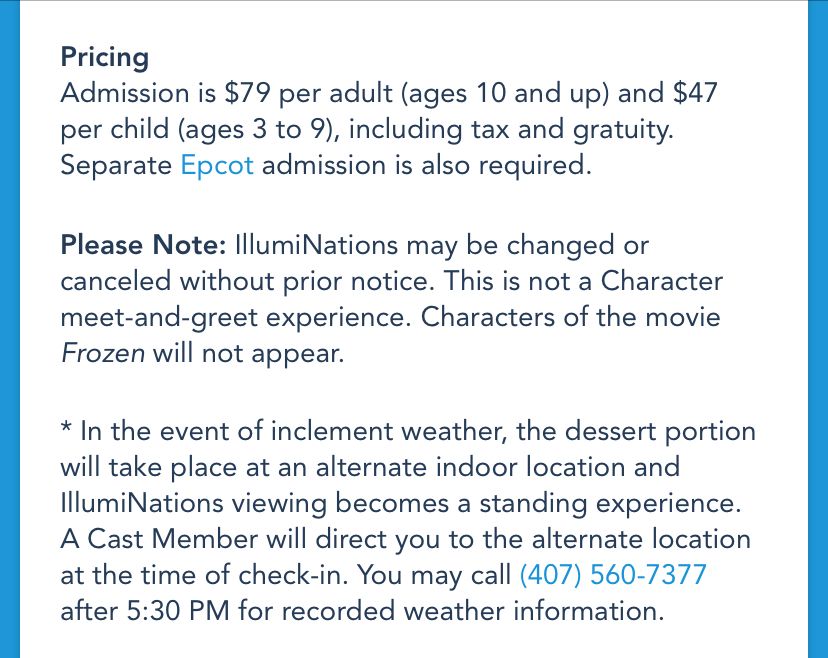 When I went to the World Showcase Plaza East (the outdoor location for the party) to check in, I saw this sign…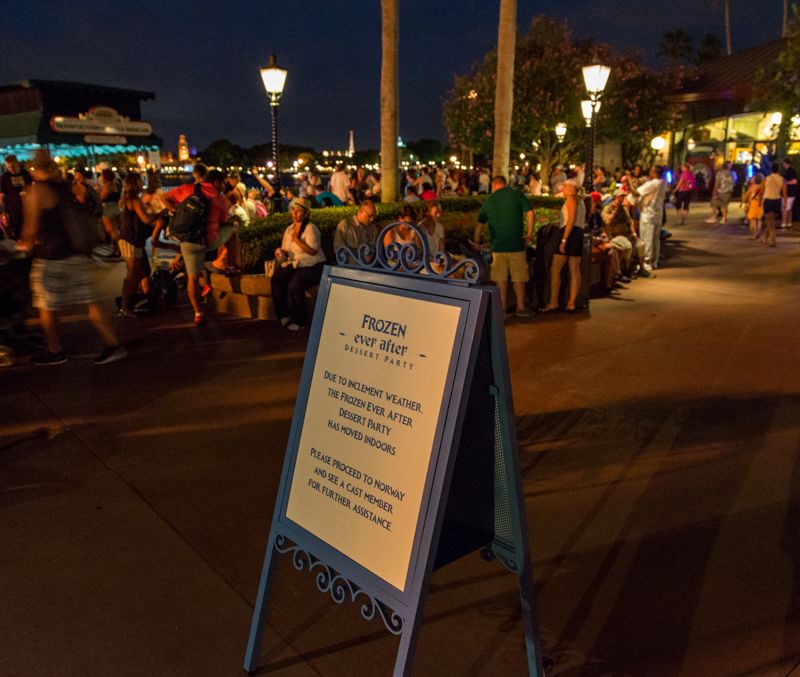 So it was off to Norway to the alternate (indoor) location for the party.  Once there I was directed to a door near the entrance to the Frozen ride where a Cast Member checked me in and placed a wristband on my wrist.  It was sparkly blue of course…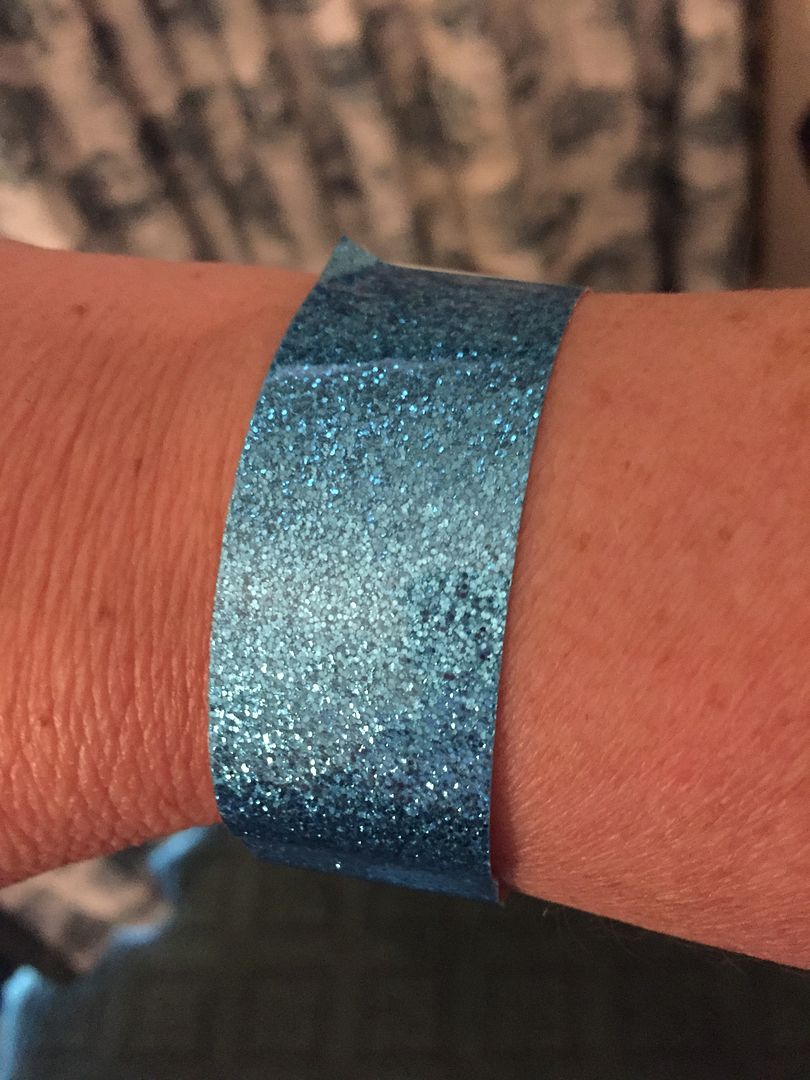 With Illuminations scheduled for 10:00 p.m. that night (as it was a weekend night during the Food & Wine Festival) the official start time for the party was at 9:00.  However, I believe they began checking people in and allowing them to go upstairs at about 8:45.
Anyway, once inside I climbed the stairs (although I think there was an elevator) to the lounge area that was set up for the party.  There were Cast Members upstairs awaiting the guests arrival.  One of these had a clip board with a guest list and others were there to show you to your preassigned table.
The lounge was divided into sections.  My assigned table (along with 8 or 9 other party guests) was in the section which held the bar.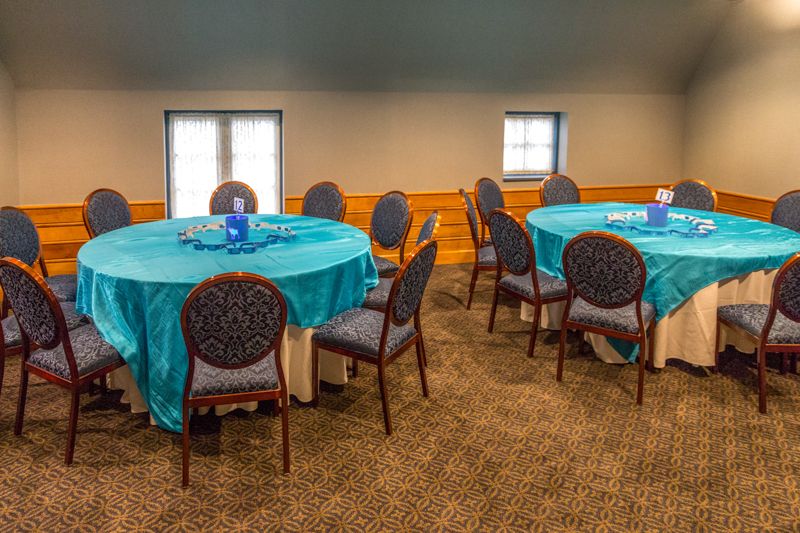 I was the first at my table to arrive so I chose my seat, left my bag on the chair to reserve it, and went to the section of the lounge which held the buffet table…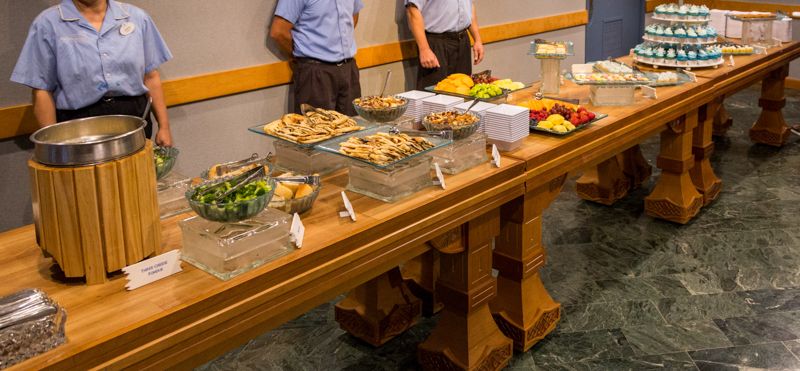 I then quickly took photos of its contents before more guests arrived.  I found there most of the options which were listed on the website…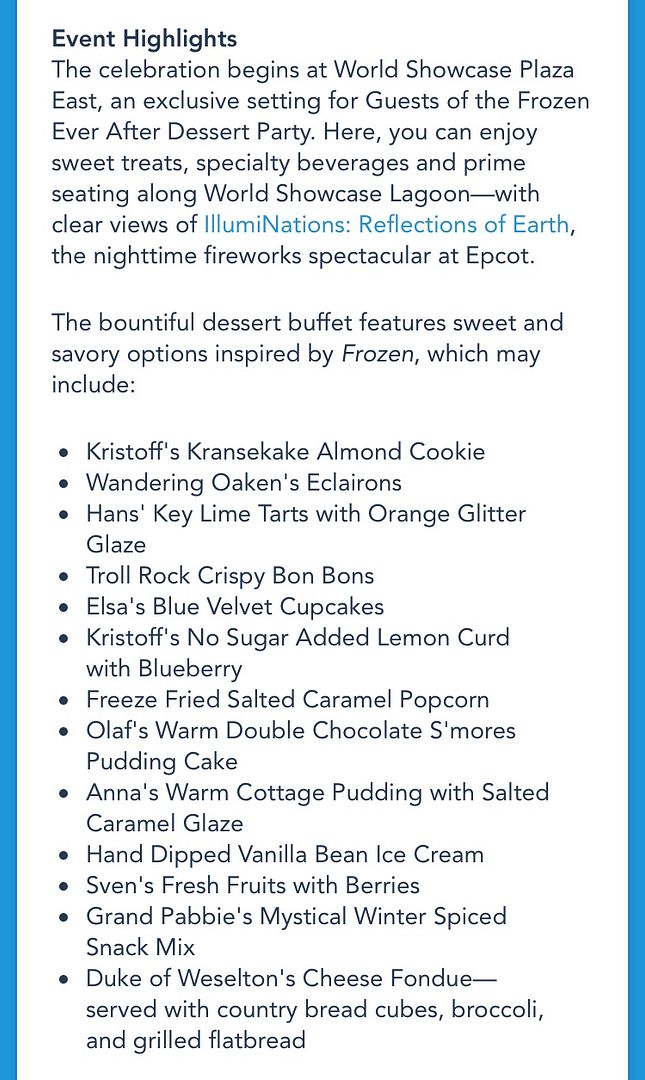 First on the list, the Kristoff's Kransekake Almond Cookies…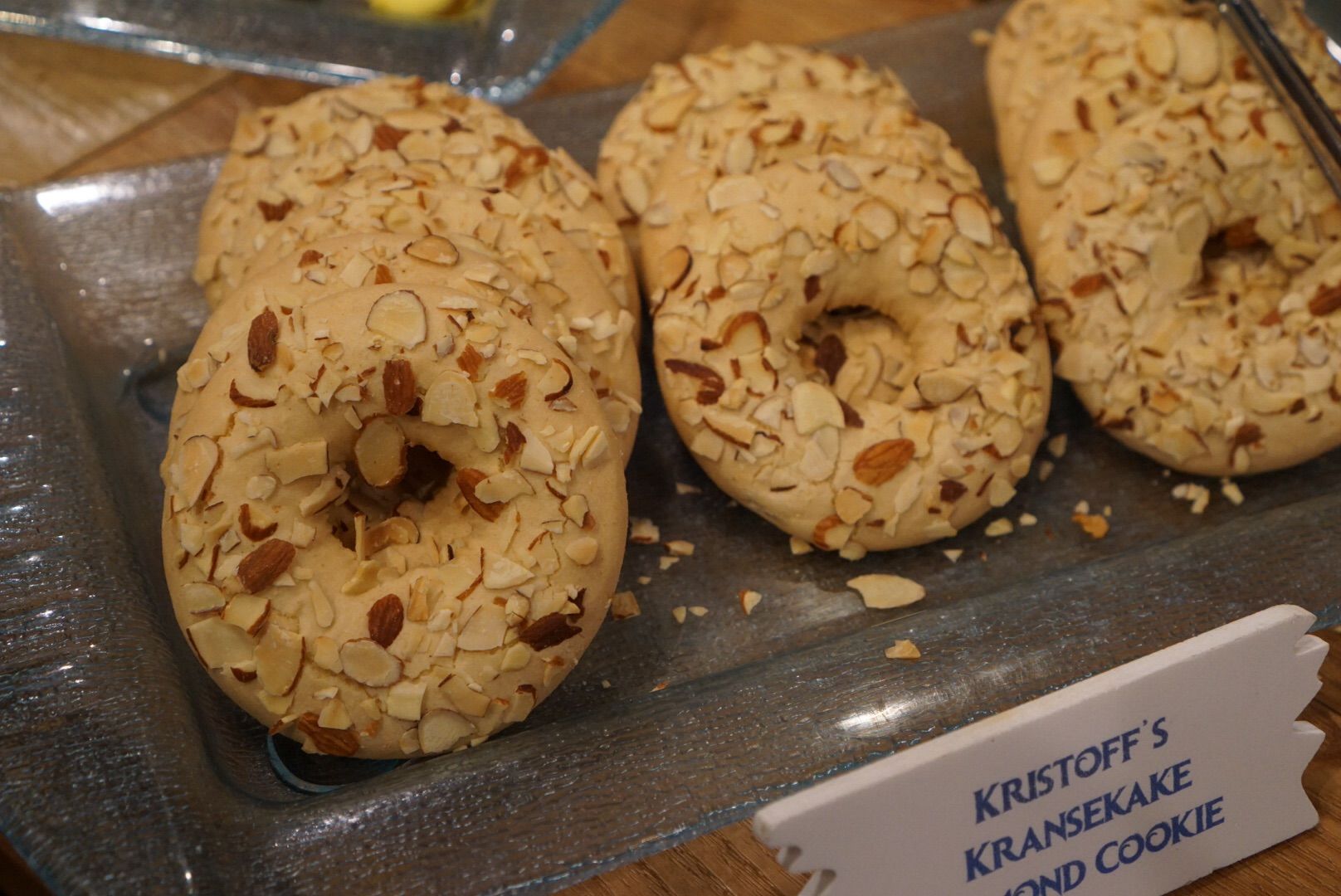 Next the Wandering Oaken's Eclairons…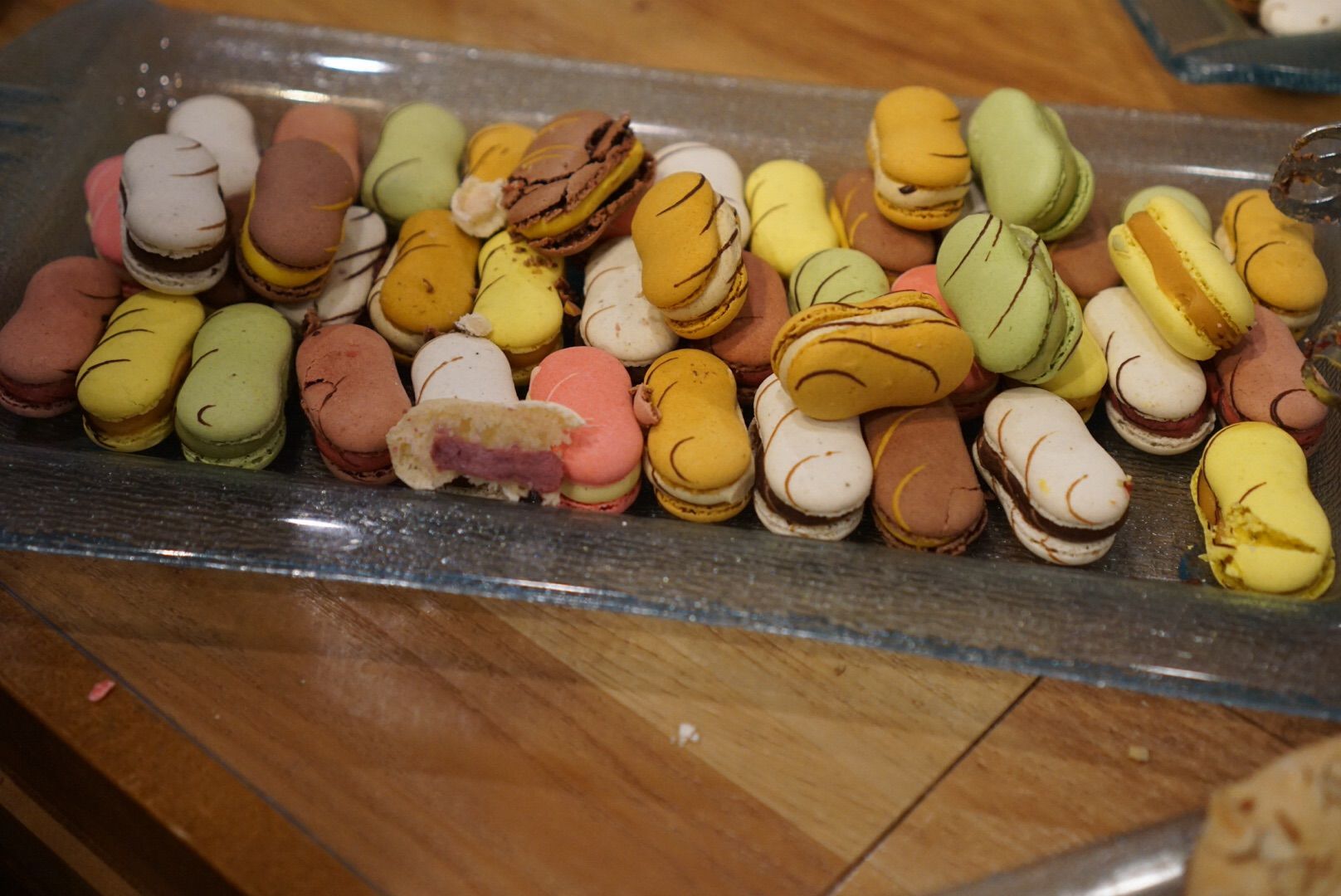 Then the Hans' Key Lime Tarts with Orange Glitter Glaze…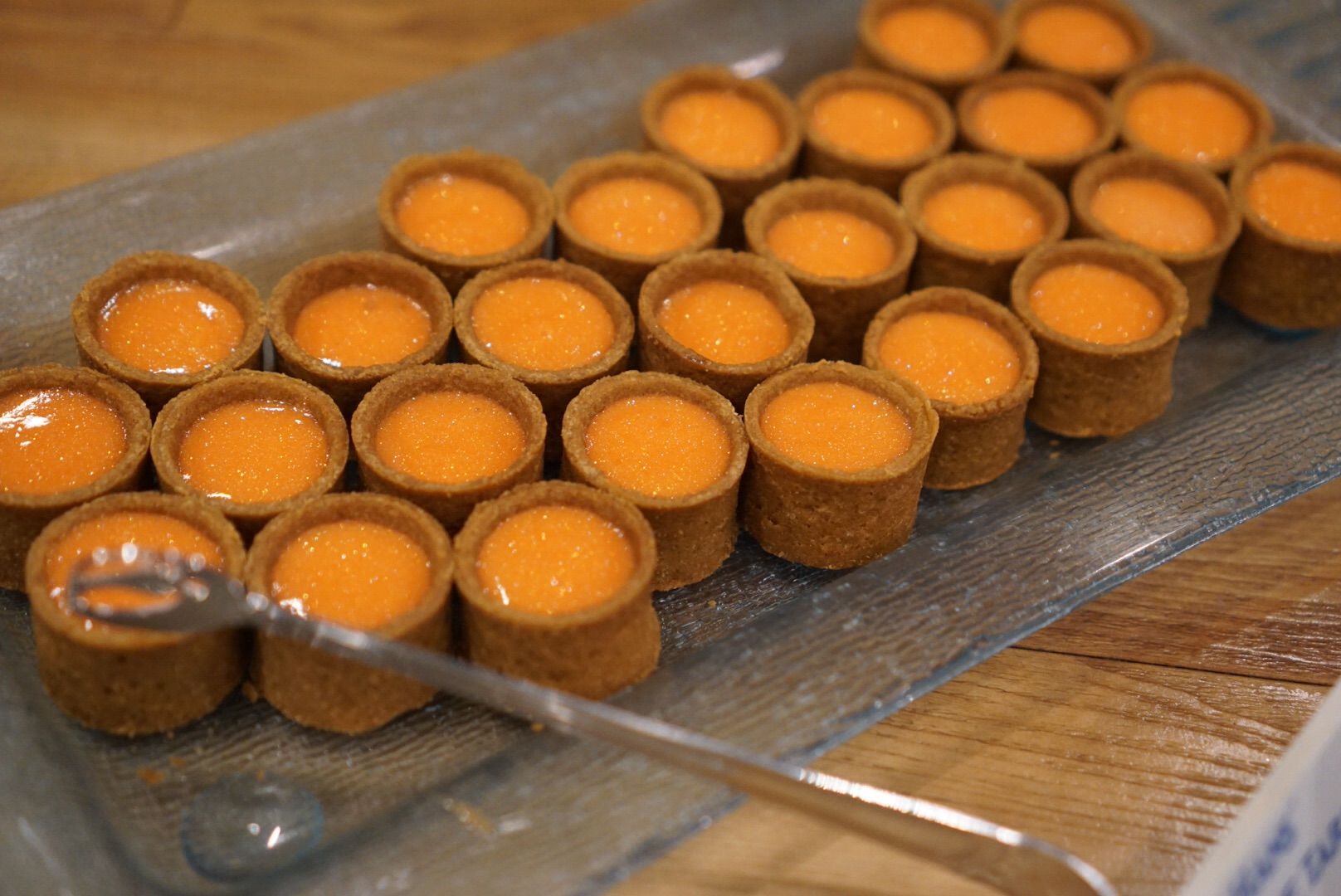 The next item on the website list was missing though (Troll Rock Crispy Bon Bons).  In its place were these Coconut Macaroons (which didn't have a fun Frozen-themed name)…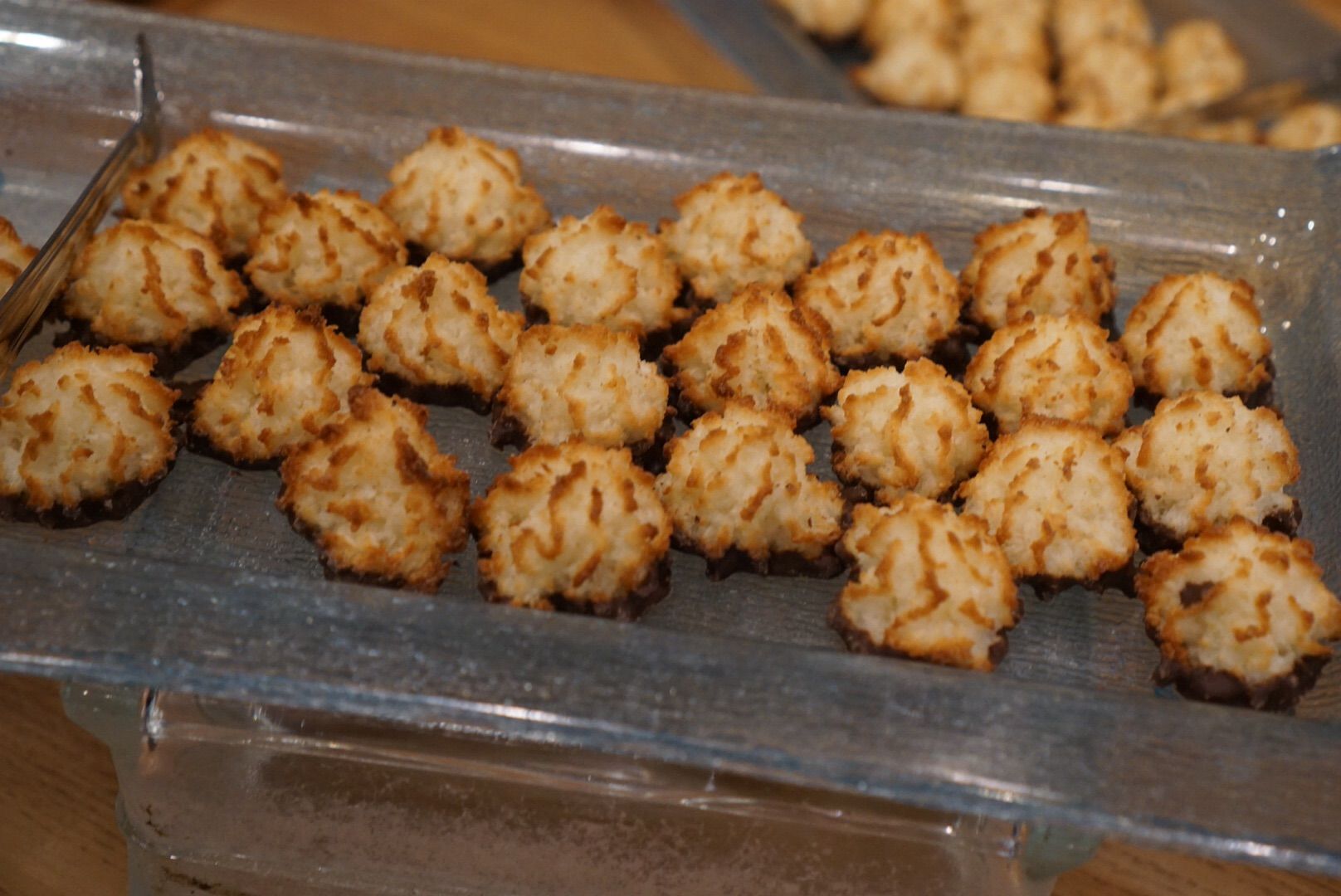 Moving on to the next item on the list, Elsa's Blue Velvet Cupcakes…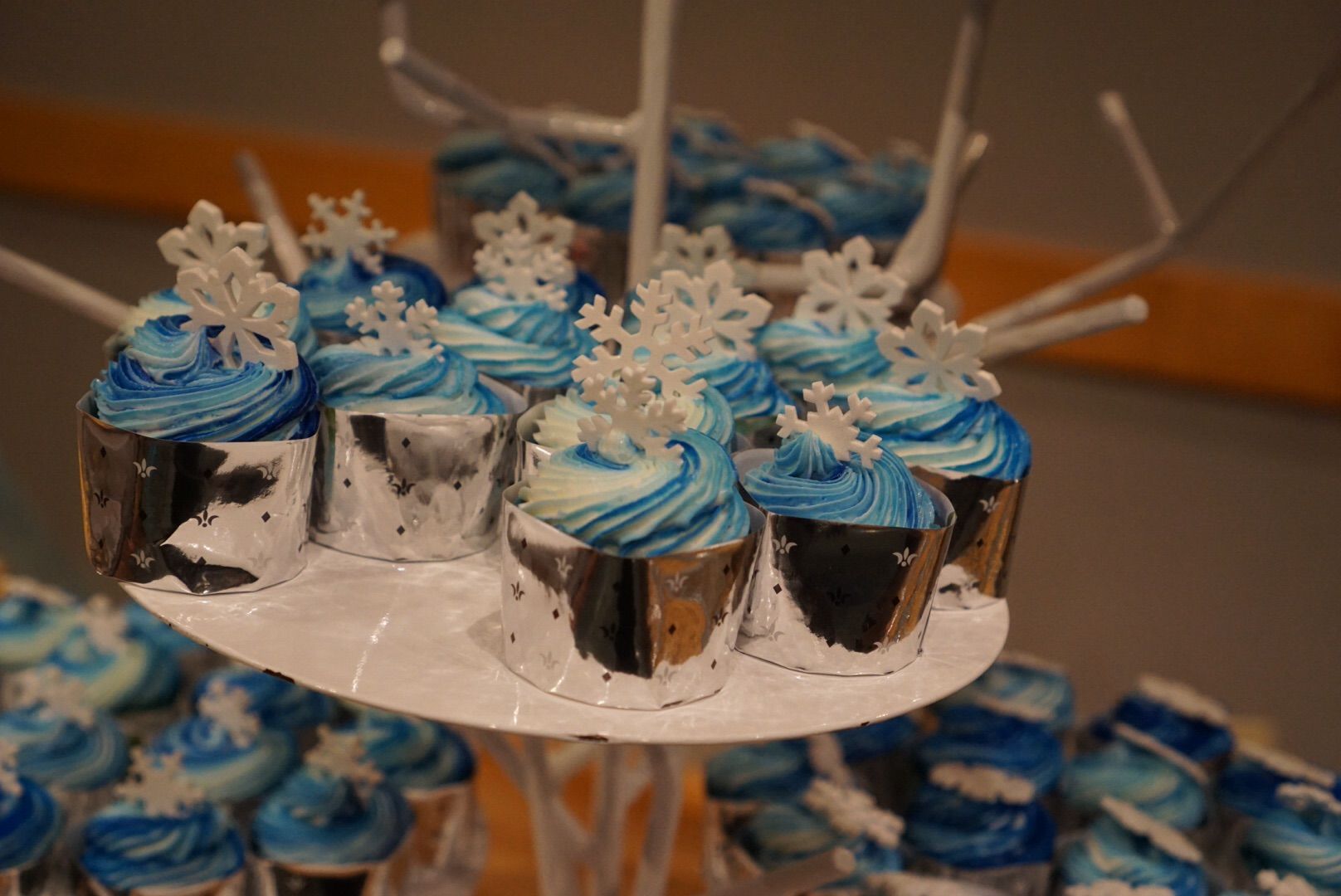 Then the Kristoff's No Sugar Added Lemon Curd with Blueberries…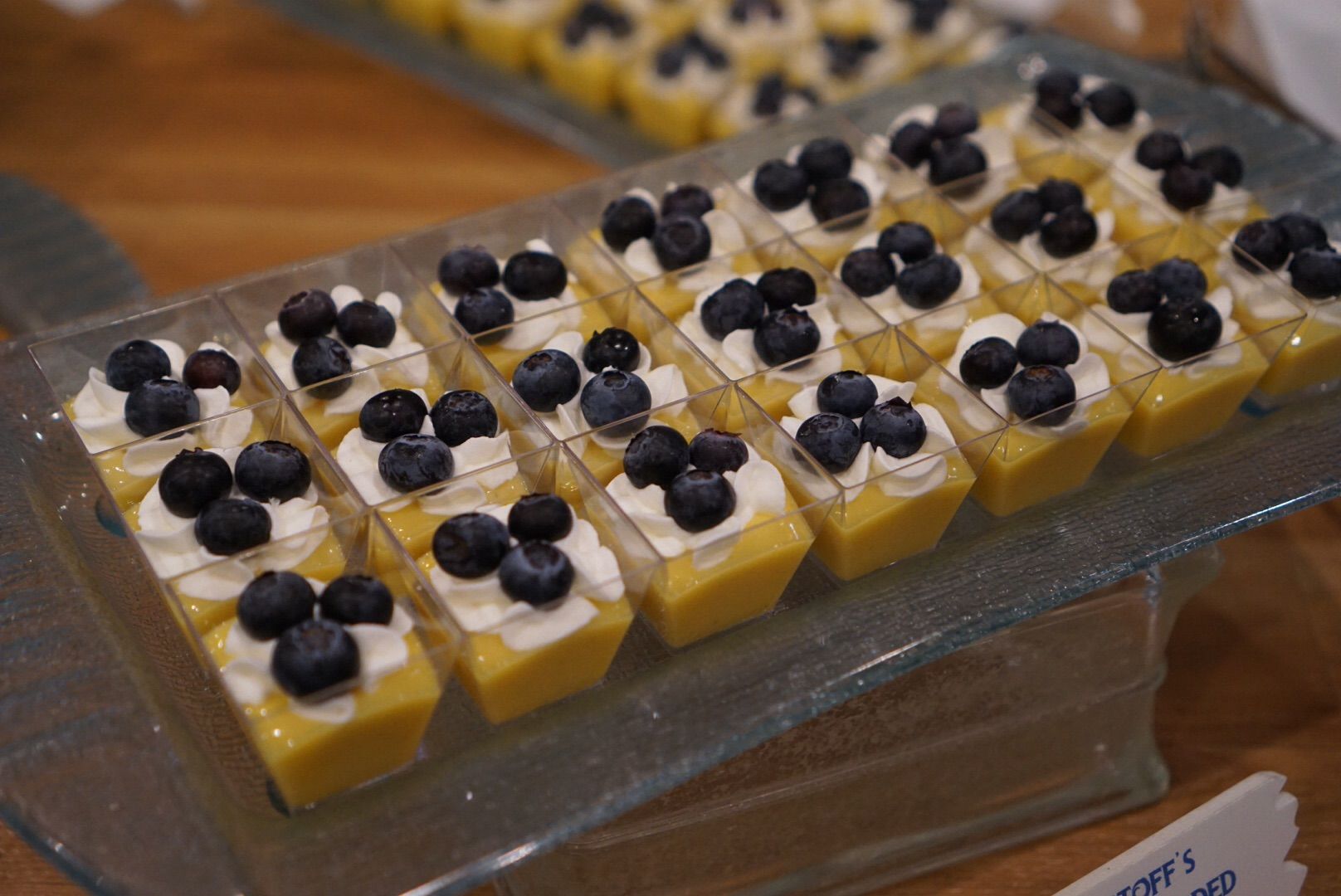 Then instead of the Freeze Fried Salted Caramel Popcorn they had a station set up serving this…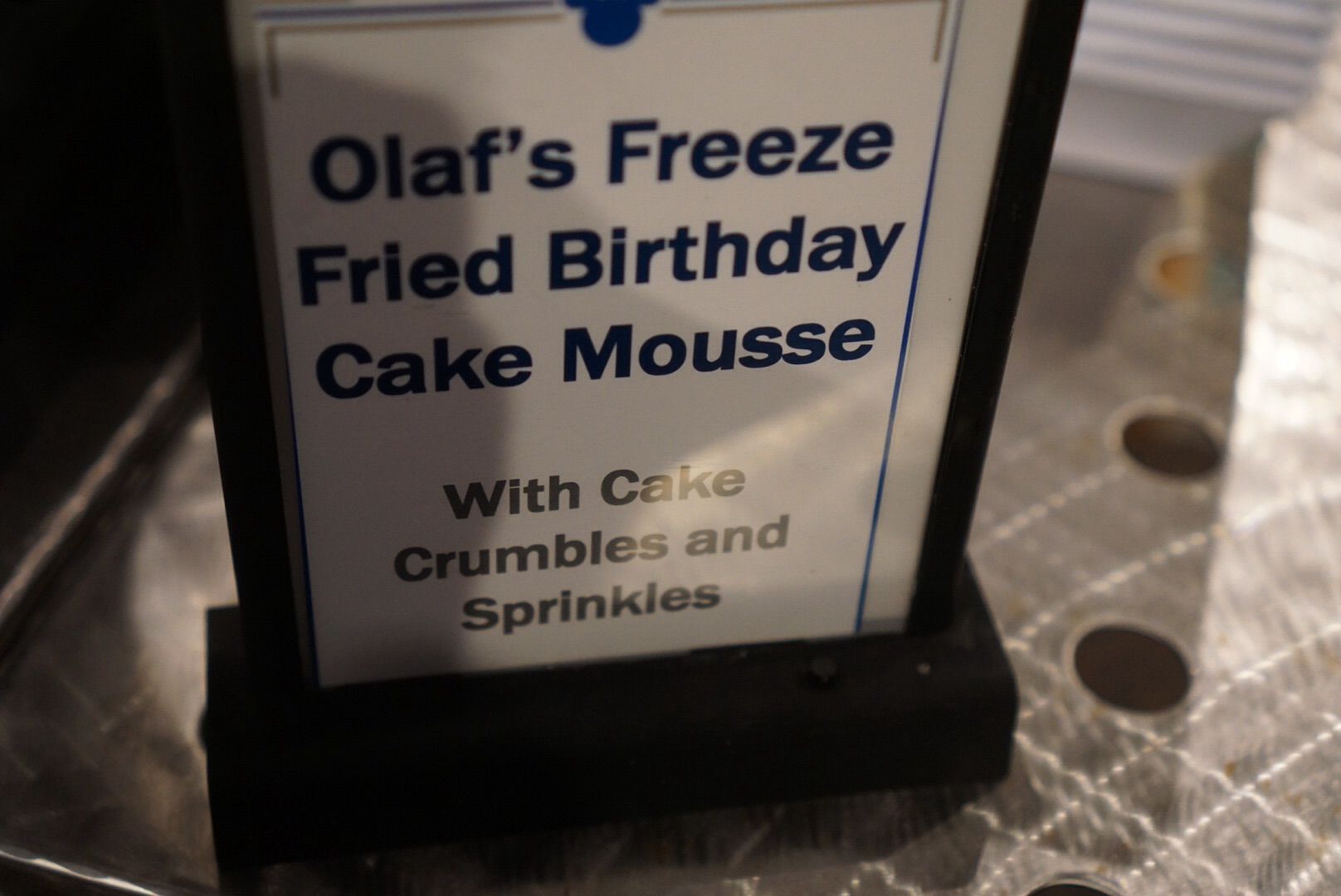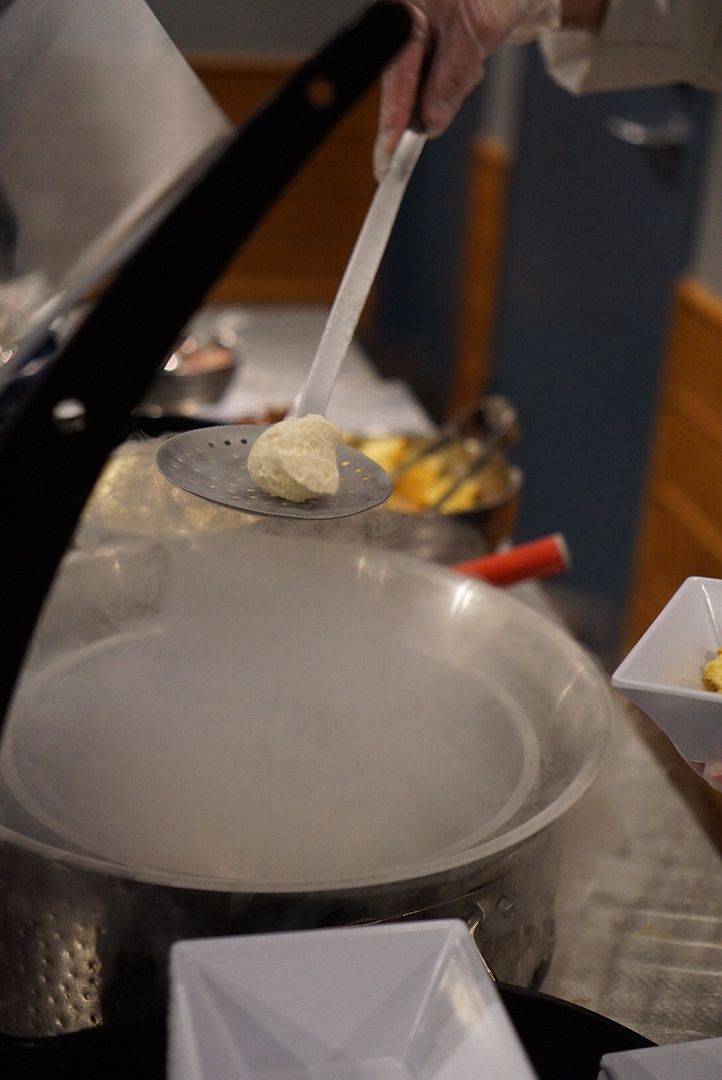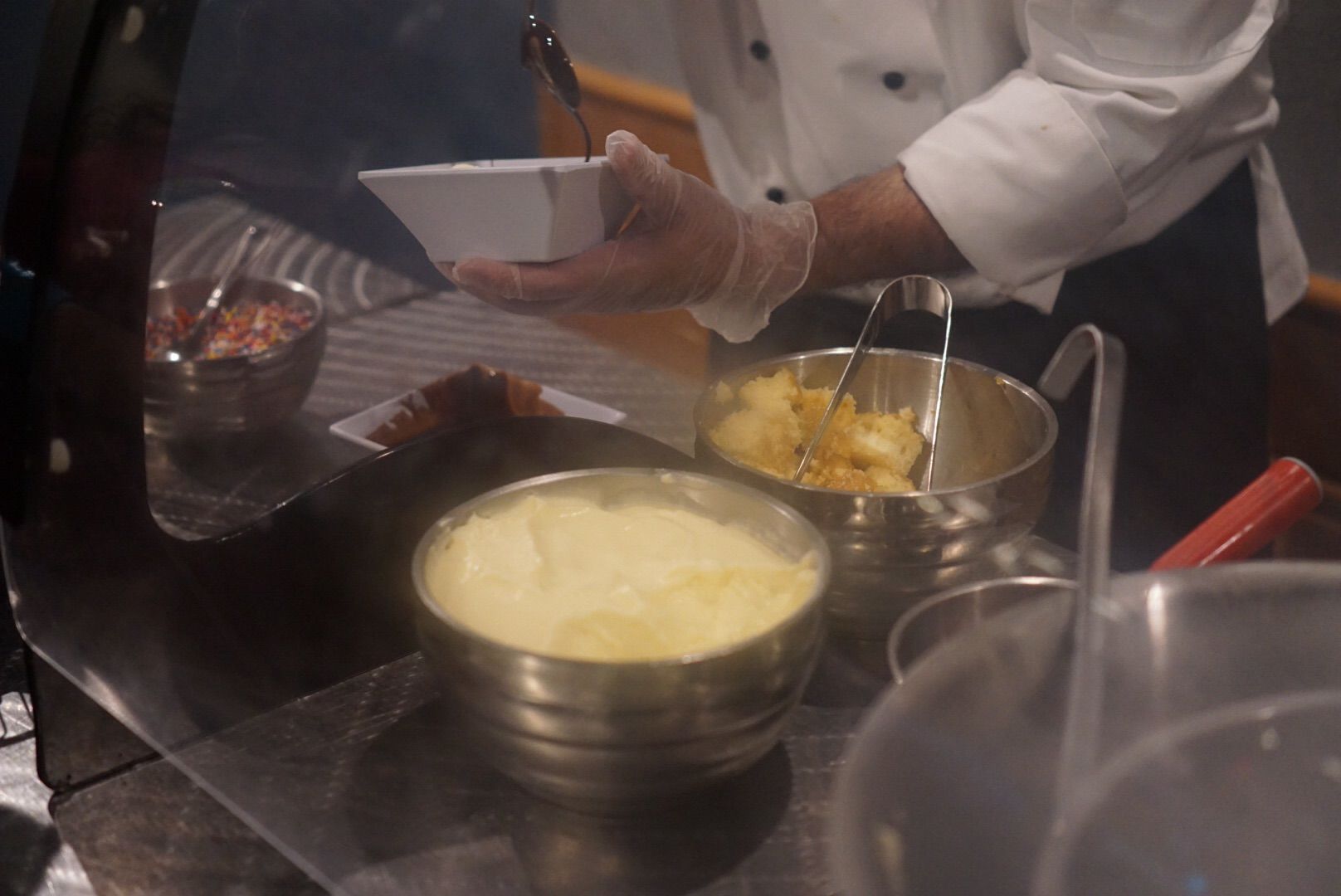 Next from the list, Olaf's Warm Double Chocolate S'mores Pudding Cake…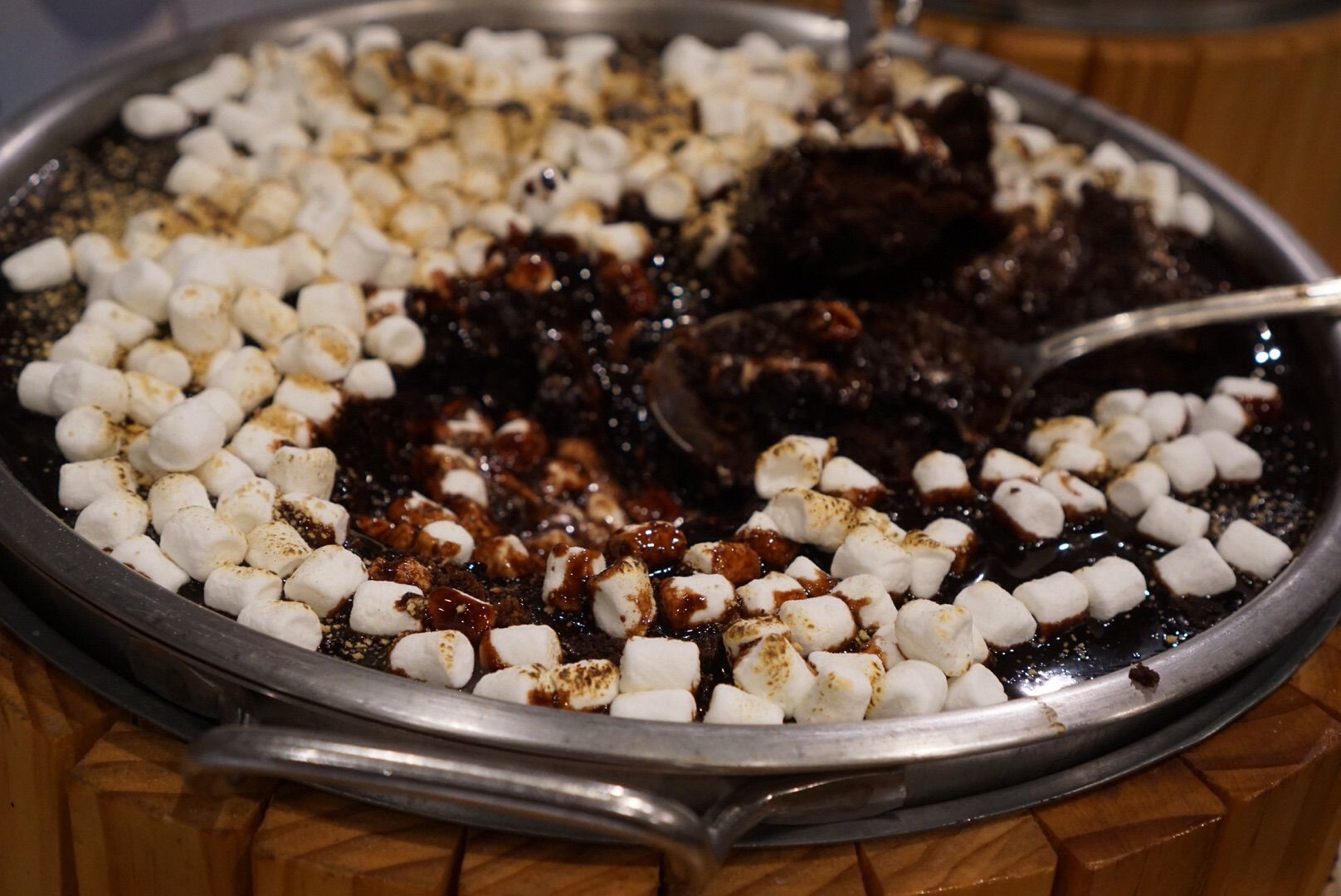 And another warm dessert at this station was the Anna's Warm Cottage Pudding with Salted Caramel Glaze…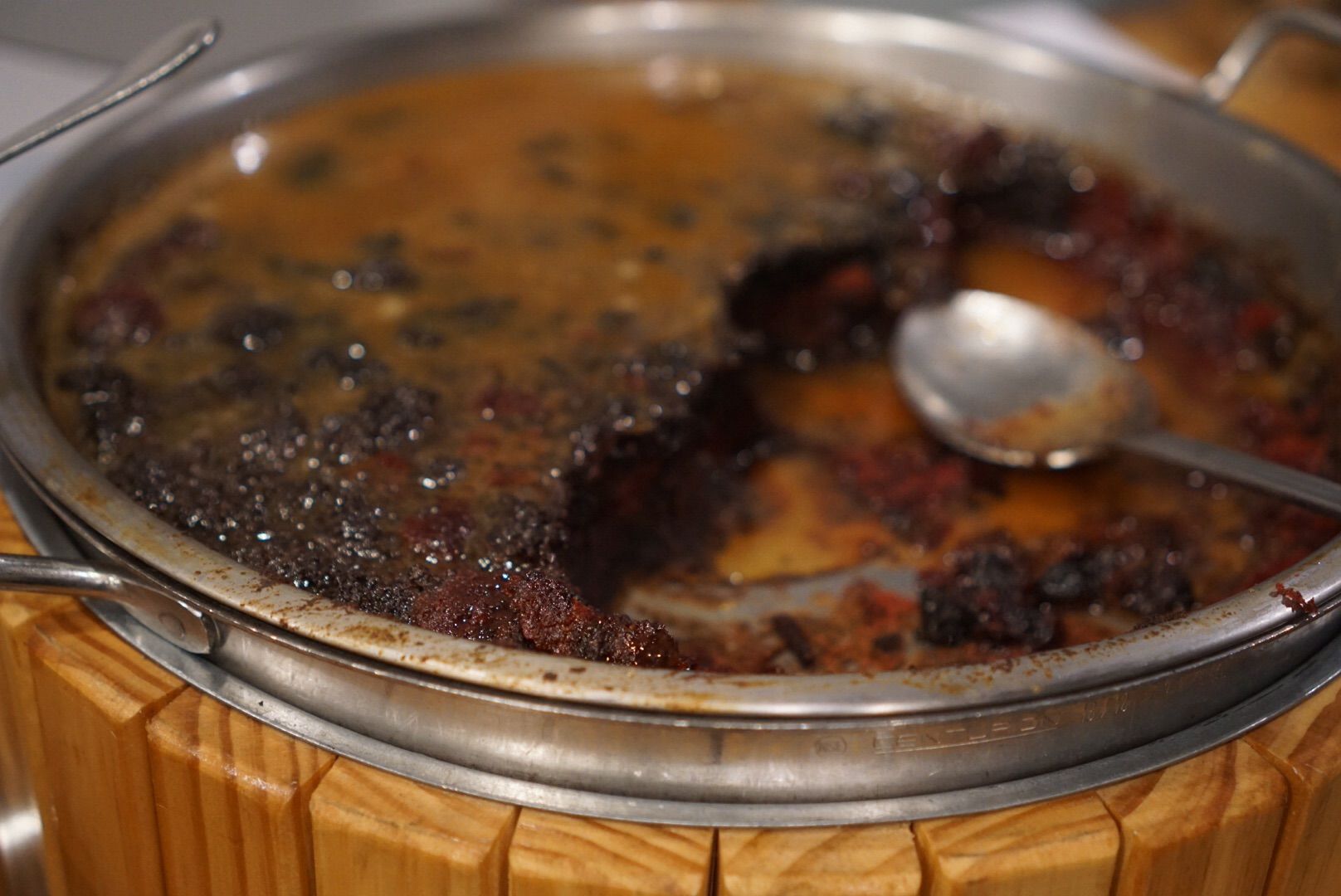 These warm desserts could be made "a la mode" with the addition of a scoop of Vanilla Bean Ice Cream…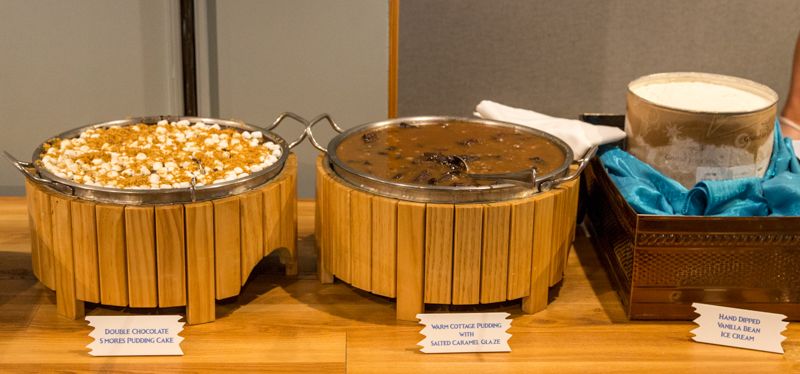 Next is the platter of Sven's Fresh Fruits (green apples, pineapple, cantaloupe, strawberries, and red grapes) with Berries (blueberries, raspberries, and blackberries)…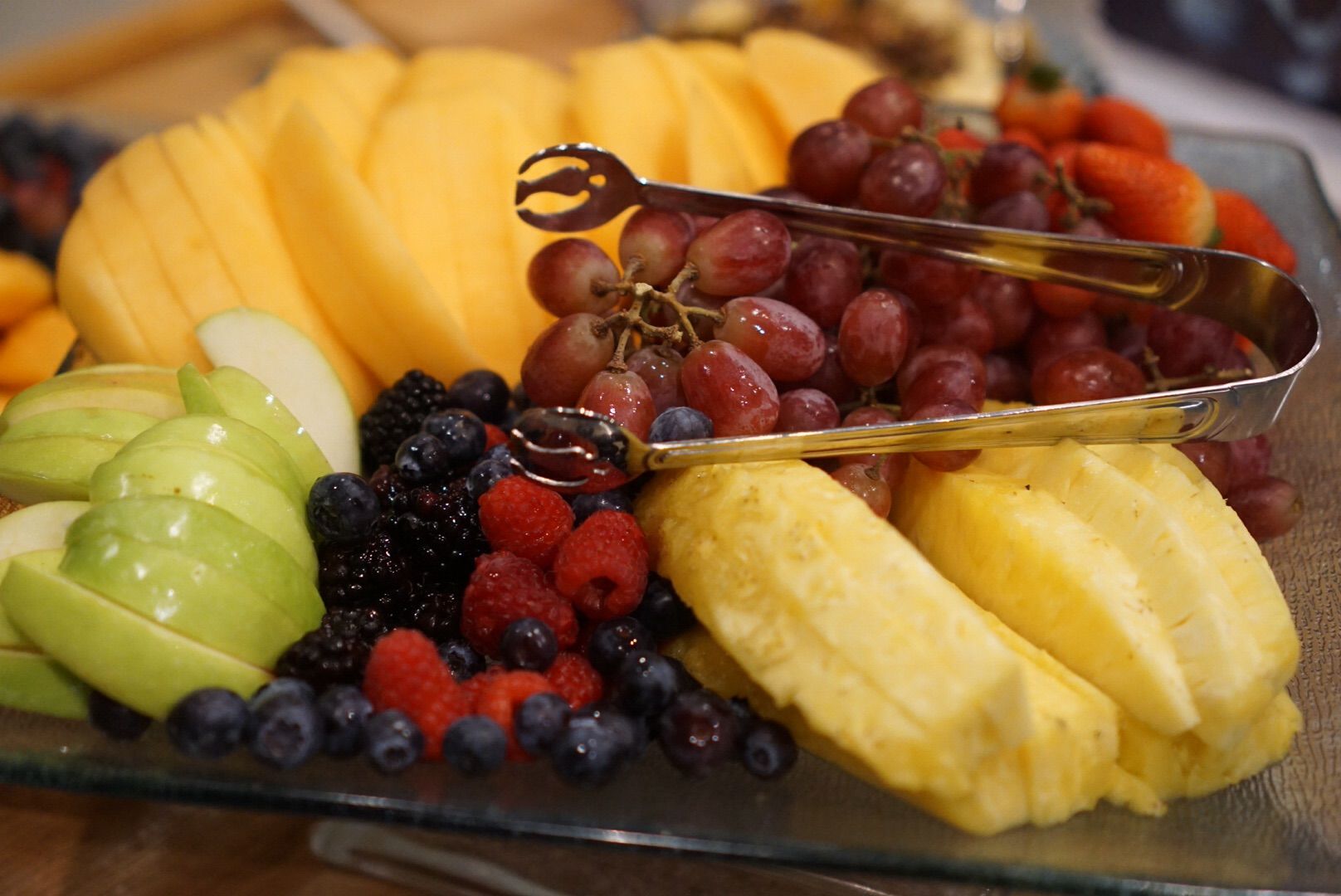 Then the Grand Pabbie's Mystical Winter Spiced Snack Mix (with nuts and dried fruits)…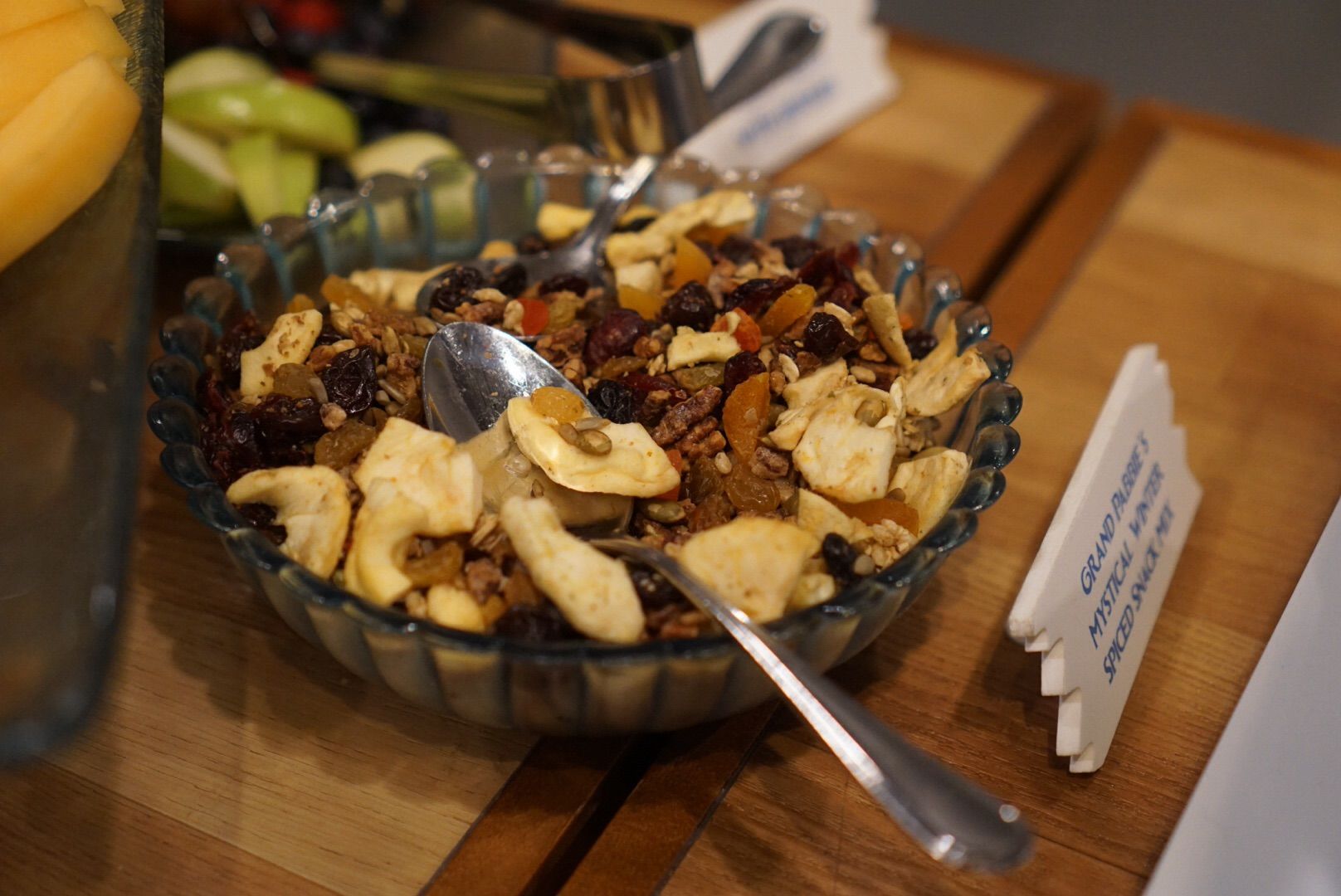 And then last was the one savory option, the Duke of Weselton's Cheese Fondue…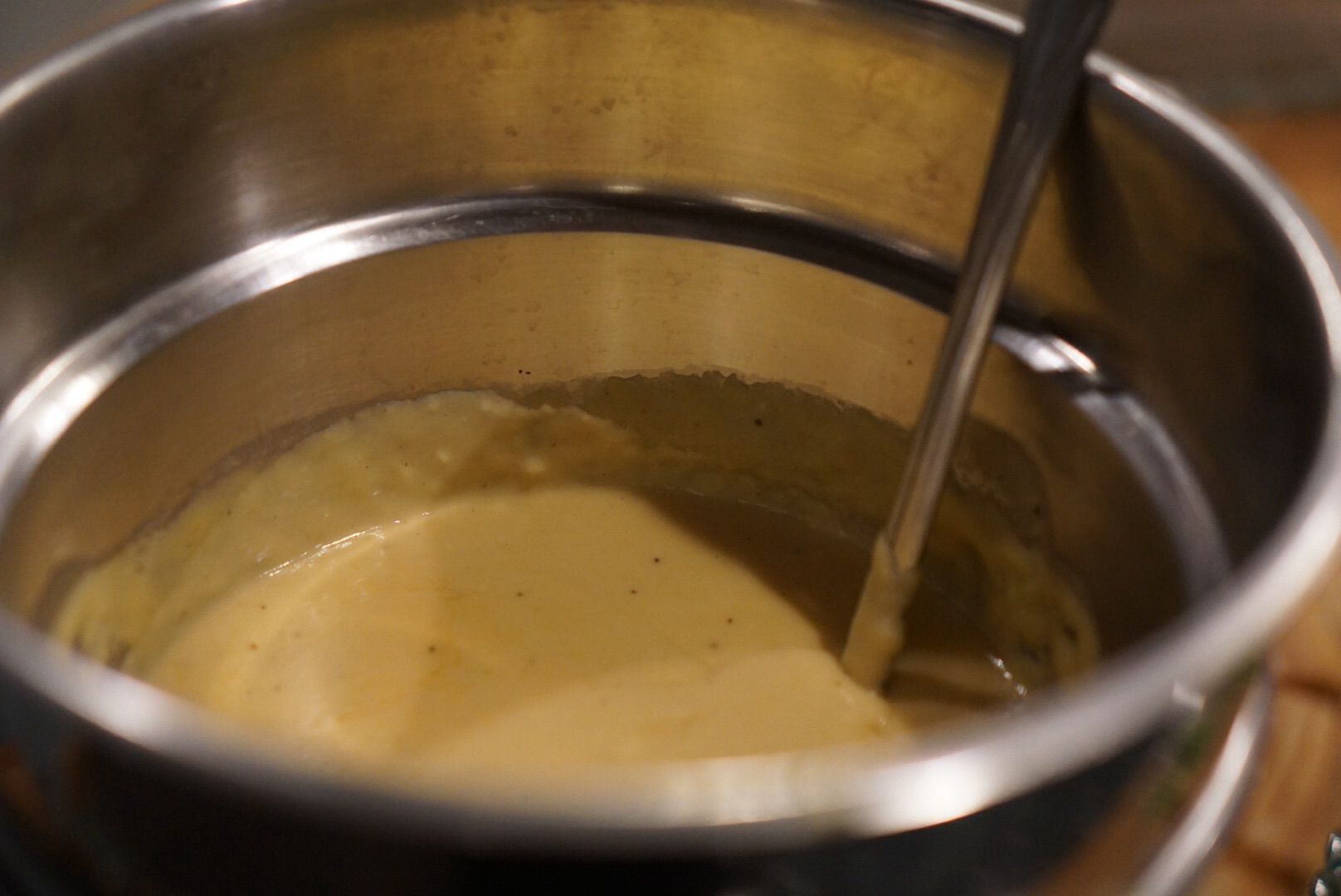 This was served with Country Bread Cubes…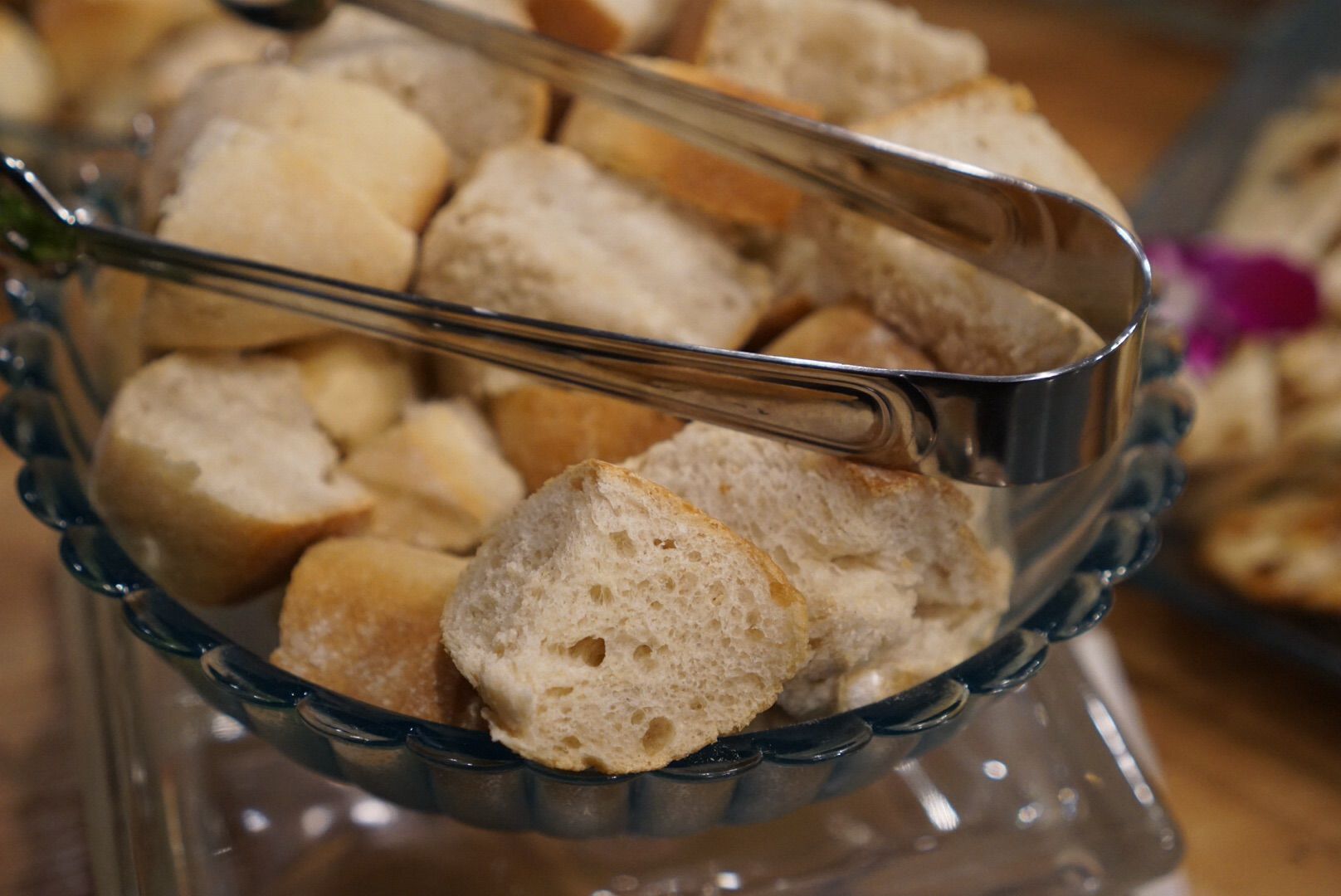 Broccoli???…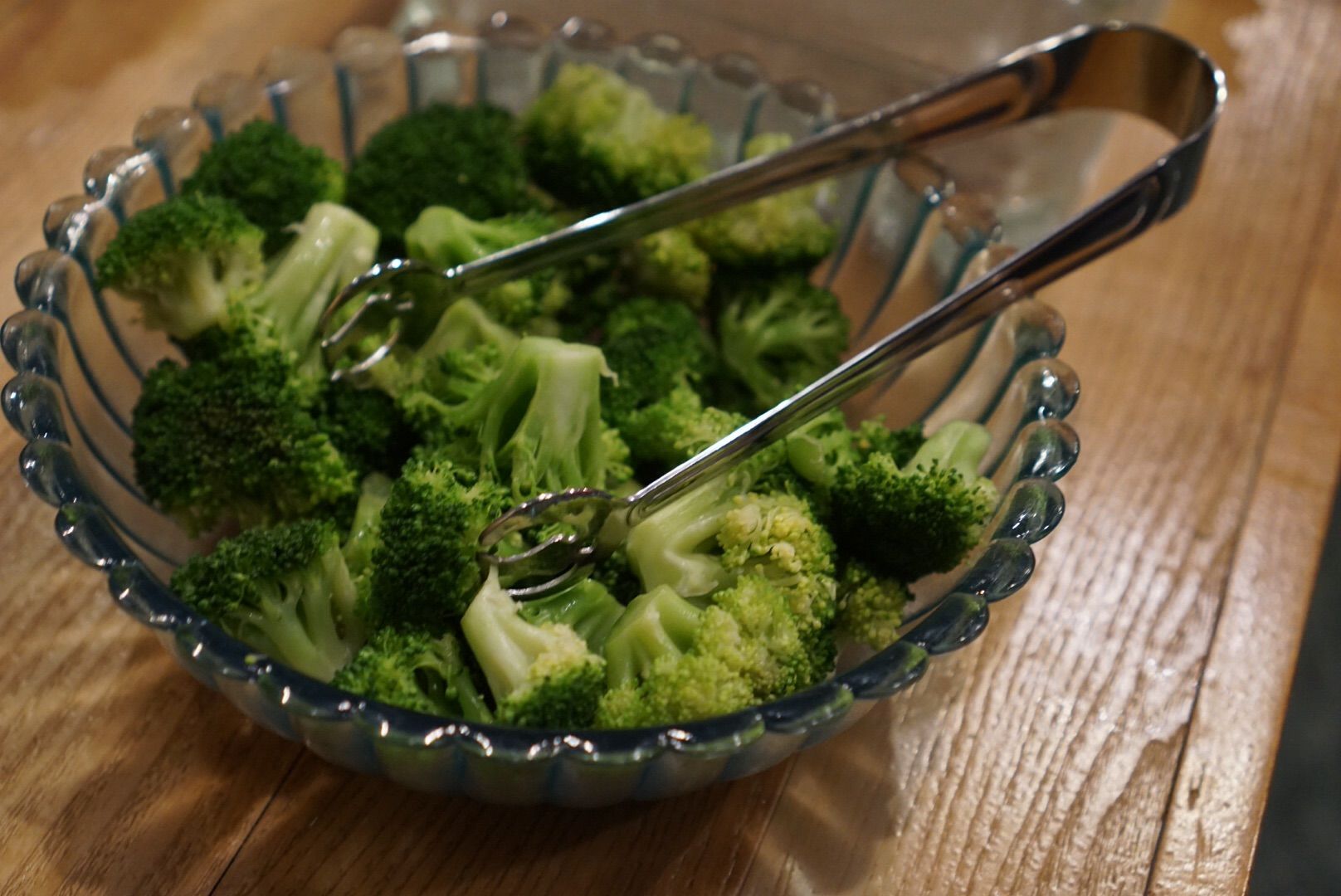 And Grilled Flatbread…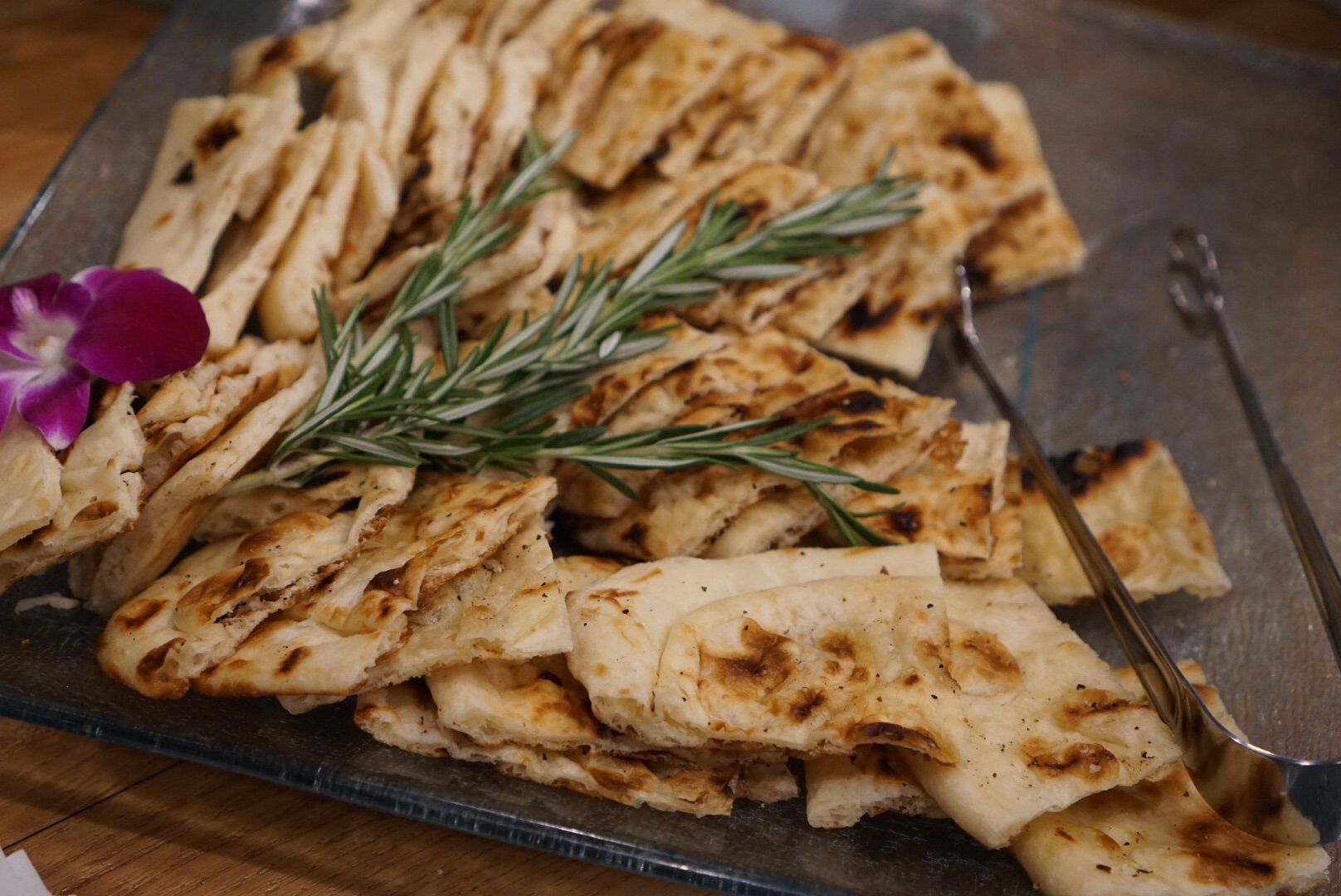 Then in the same area as the buffet table and other food stations was the (non-alcoholic) Beverage Station…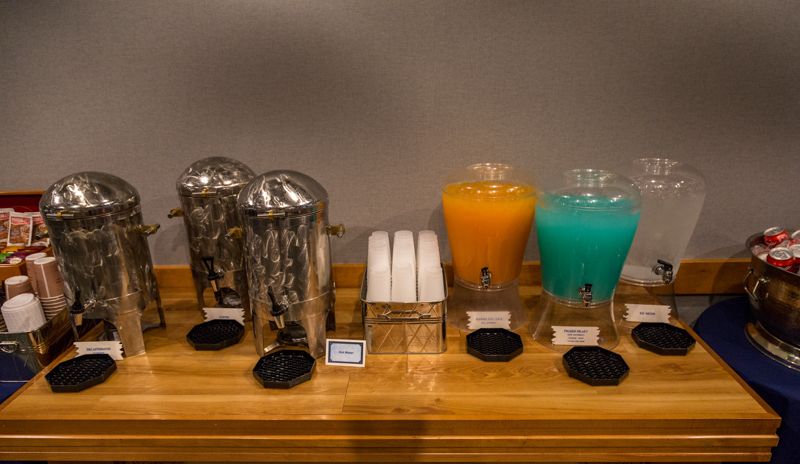 In addition to the usual Ice Water, Coffee (both decaf and regular) and hot water to make Hot Chocolate or Tea…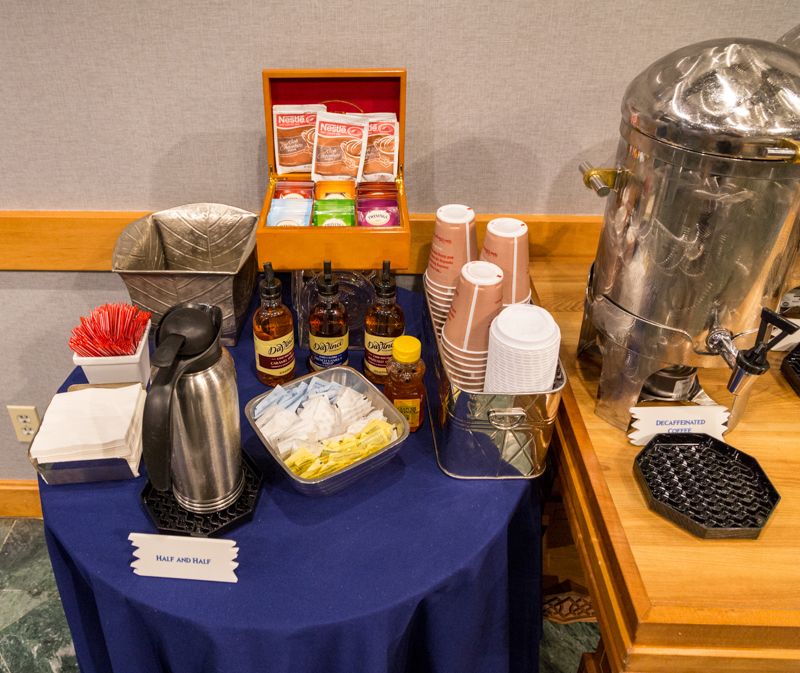 There was also POG (passion fruit, orange, and guava) Juice…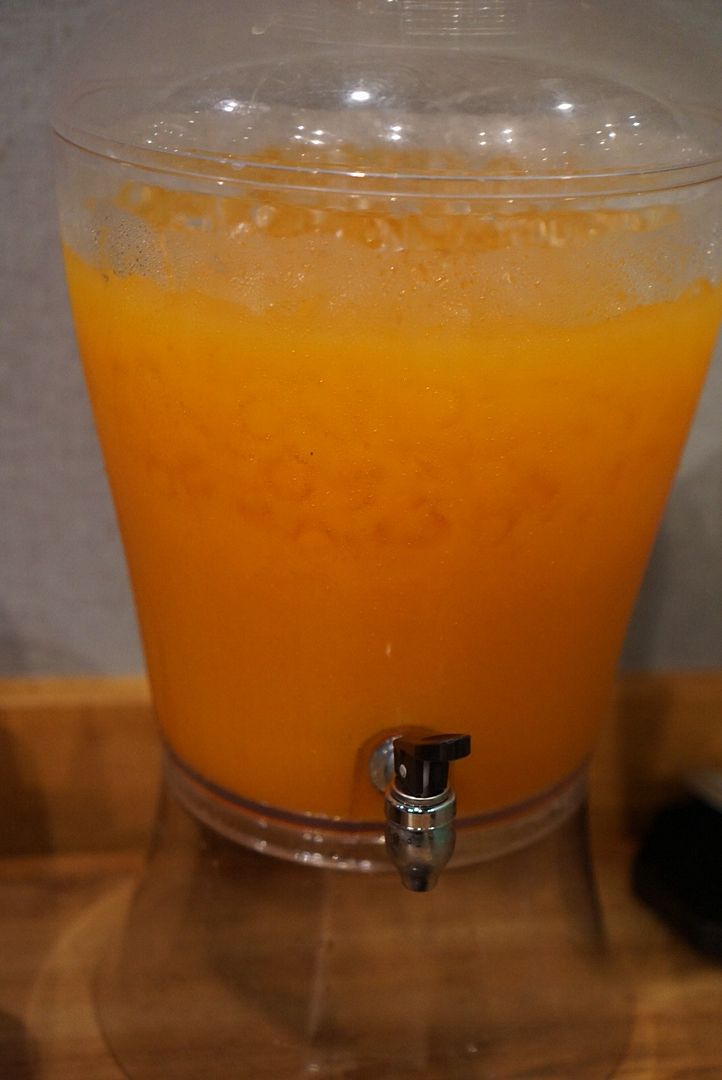 As well as a beverage called Frozen Heart with Lemonade, Sprite, and Cotton Candy  Monin flavored syrup…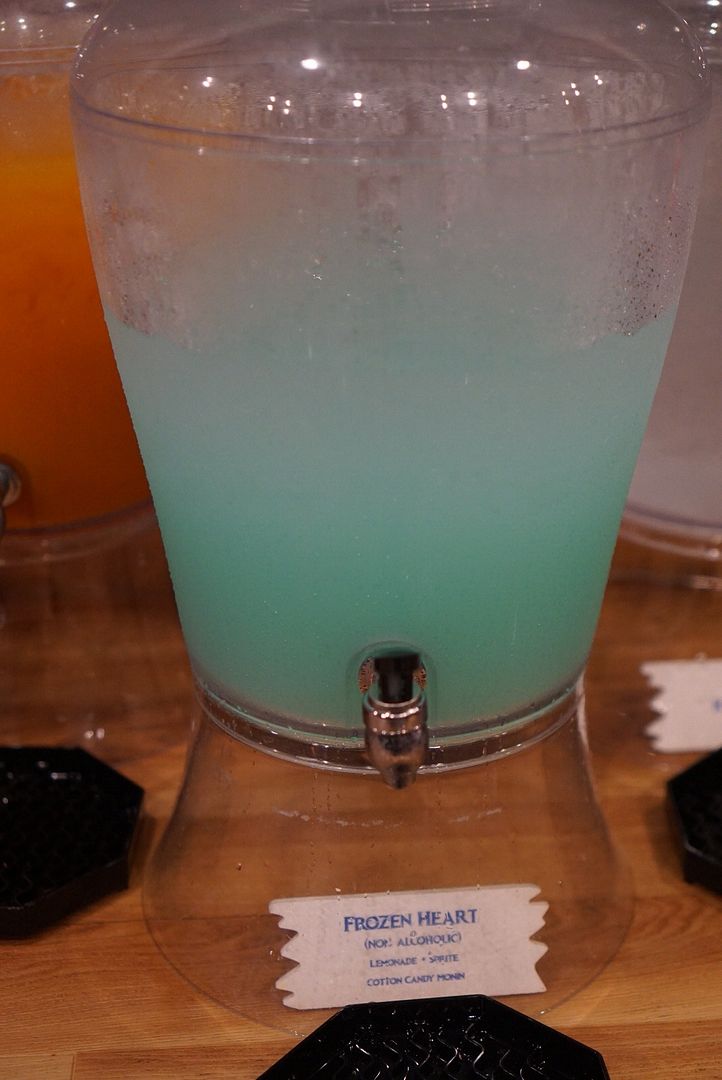 Additionally, I was happy to see cans of soda on ice available for the taking…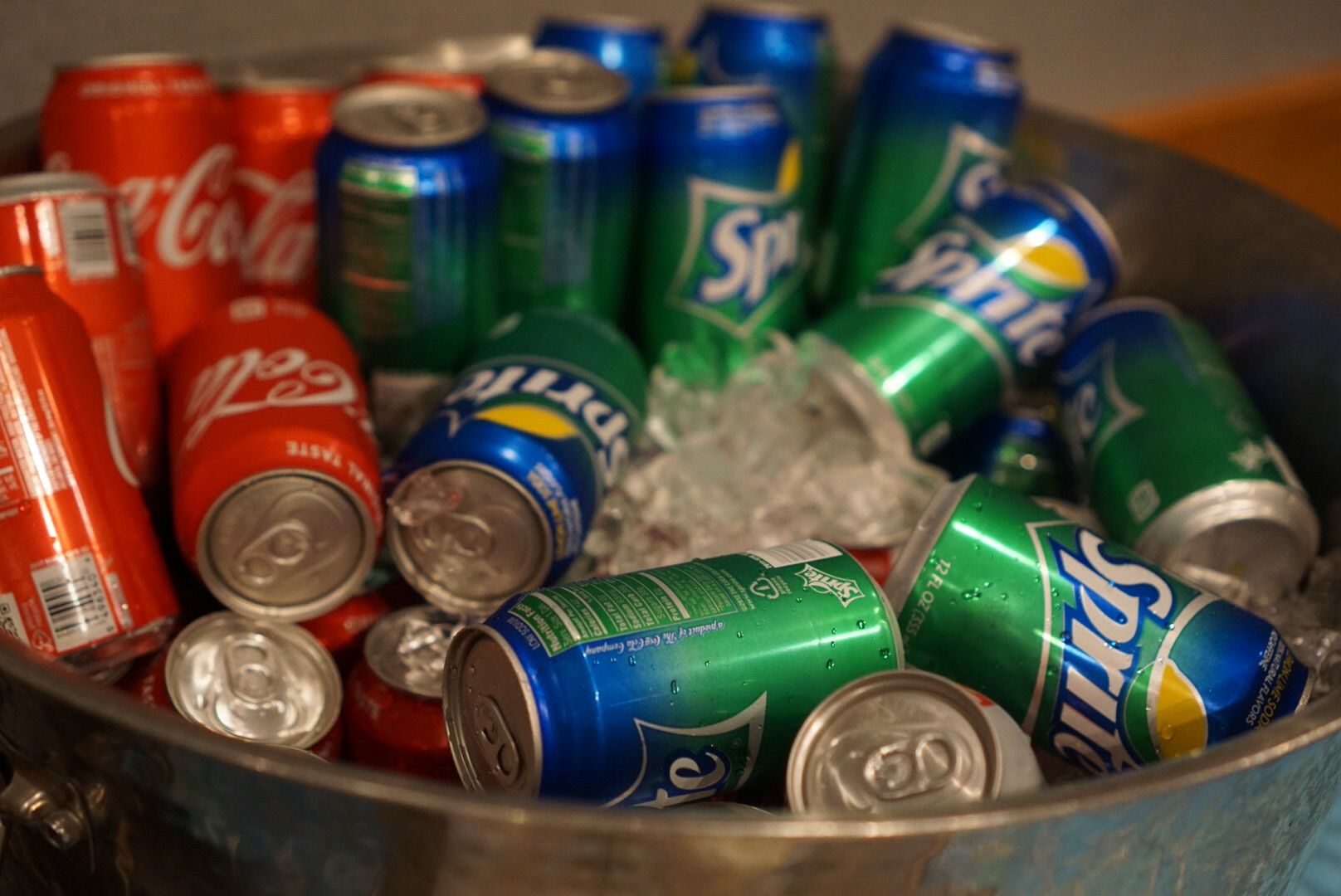 I believe there was mostly Coke and Sprite, with just a few cans of Diet Coke in there when I took this photo later in the party.  Soda was not available at the Magic Kingdom Happily Ever After Dessert Party I attended earlier in this trip so to see them here was a pleasant surprise.
I then took two small plates of food (one for the savory fondue and the other for a few sweets) and left them off at my table before heading to the bar.  By this time there was a line at the bar, as I think many guests headed there first upon arrival before going to the buffet.
Here were the Beers, Cider, and Wines which were available at the bar (all were included in the price of the party)…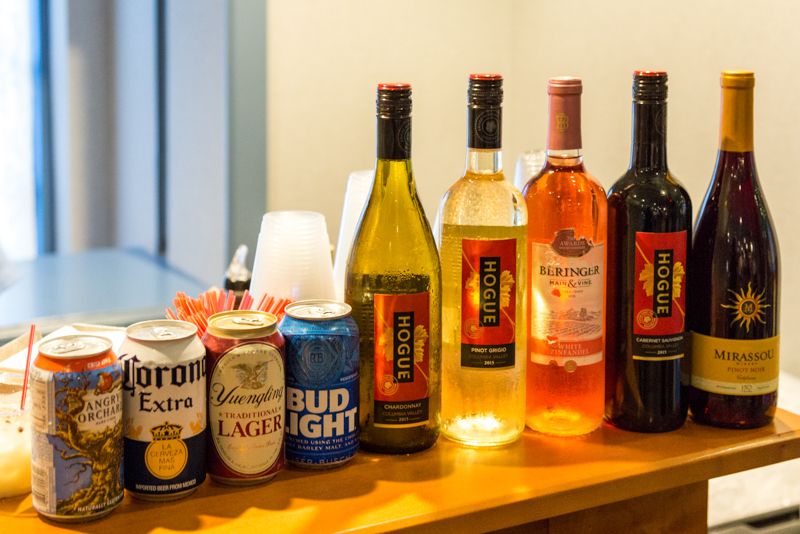 But I was more interested in trying one of their three cocktails…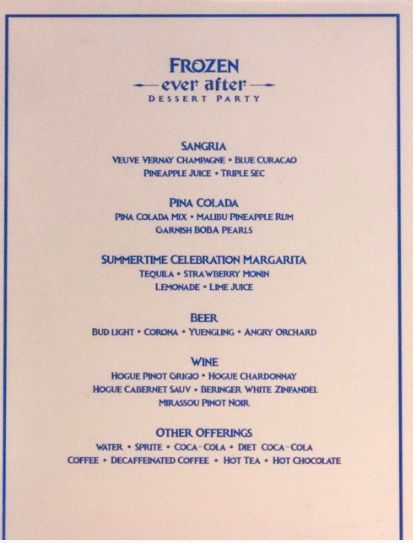 Here's what they looked like…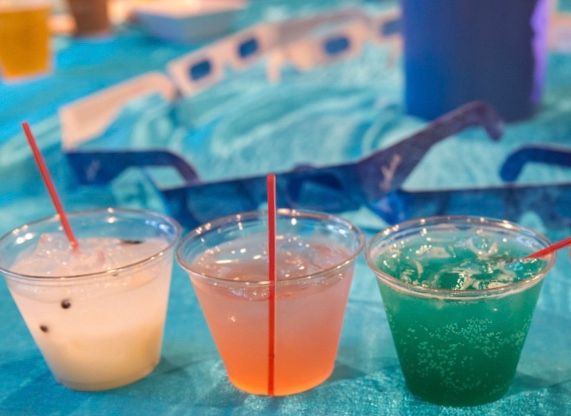 From left to right: Pina Colada, Margarita and Sangria
I first got the…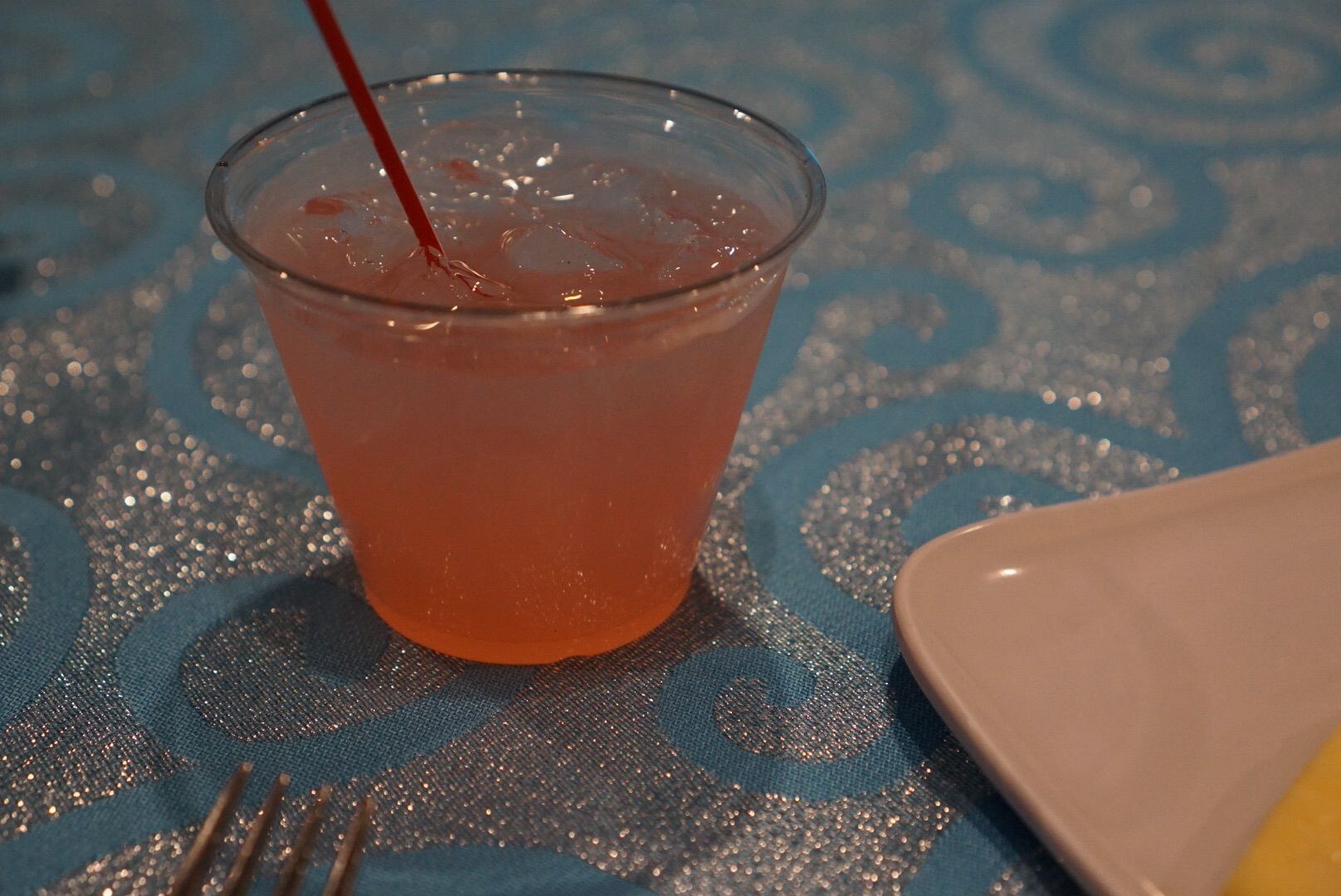 Summertime Celebration Margarita with Tequila, Strawberry Monin Flavored Syrup, Lemonade and Lime Juice
I didn't really like it so went back to the bar for this…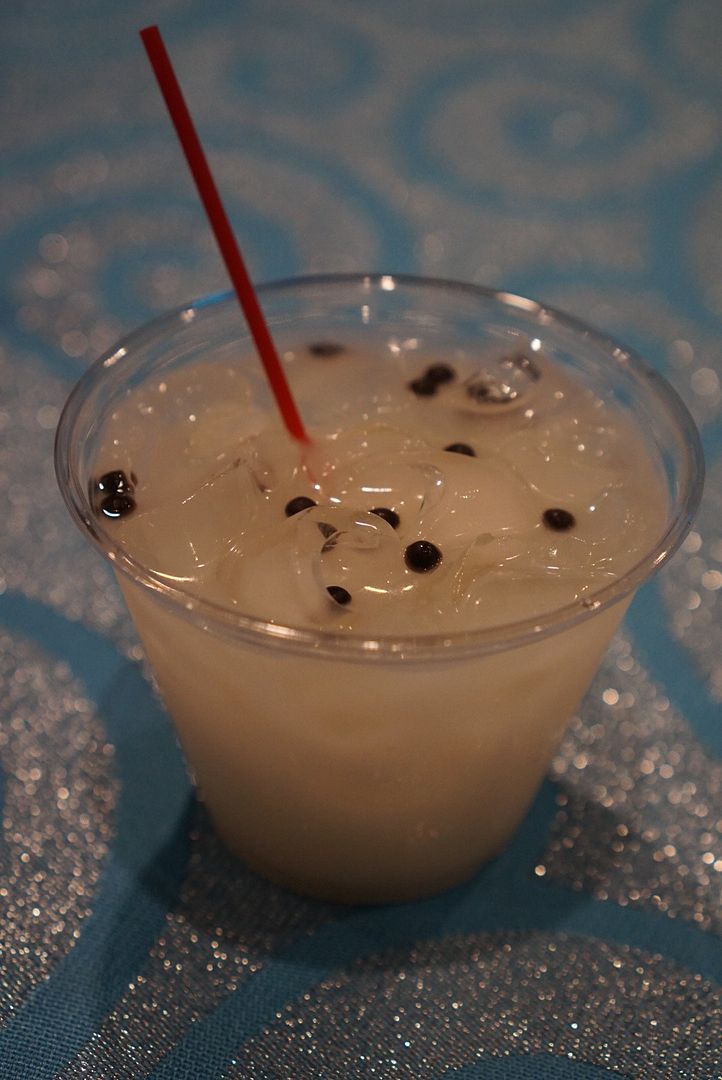 Pina Colada – Pina Colada Mix and Malibu Pineapple Rum, garnished with Boba Pearls
This was a little better but still not great.  I ended up getting a can of soda after that.
Now on to my food.  First my plate of fondue…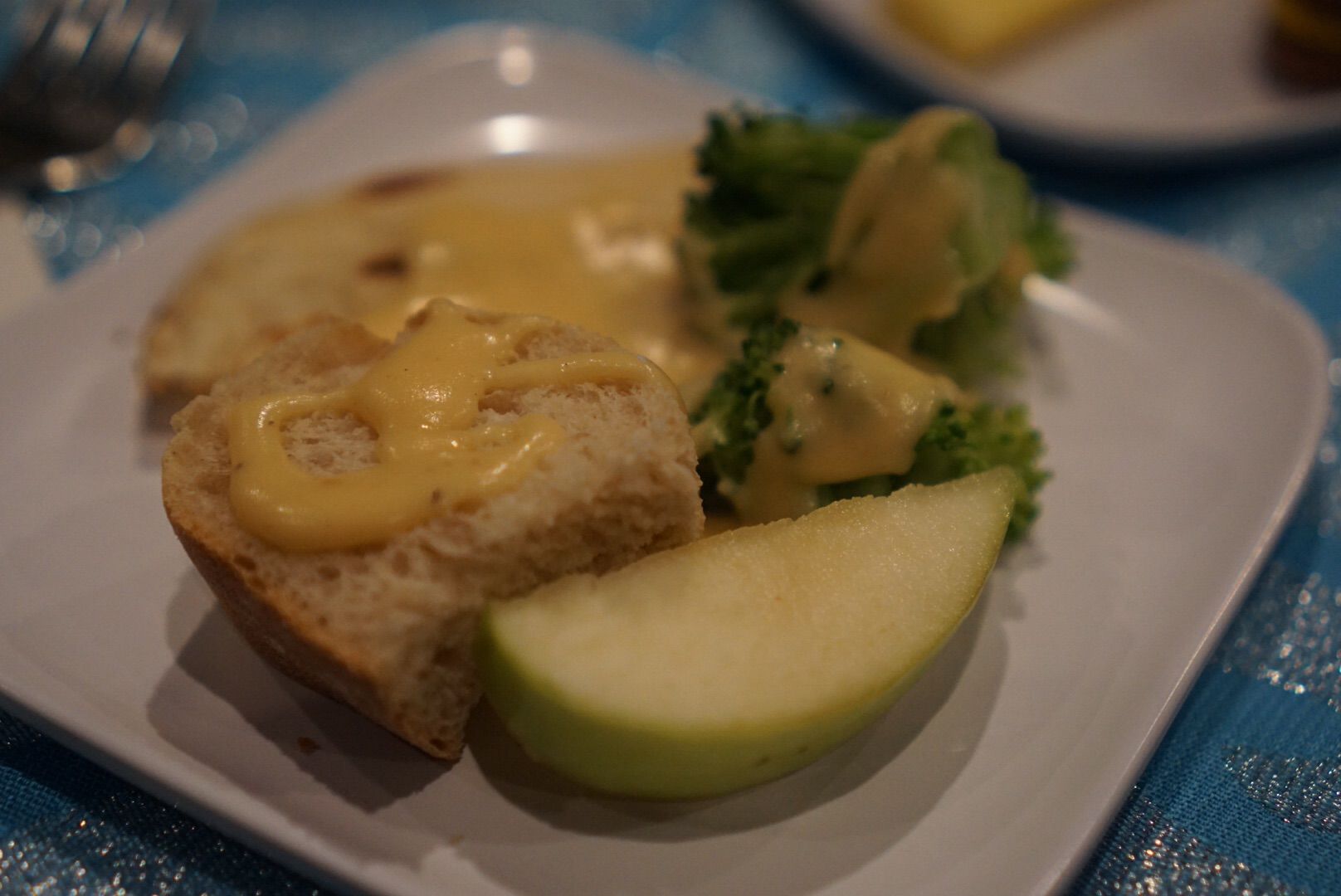 I tried the fondue (a tasty blend of 3 cheeses) with an apple slice, bread cube, flatbread, and even some broccoli.  While I liked it with the bread and apple, the flatbread was burnt on the bottom and the broccoli was a little more "al dente" than I like it.
As for my first plate of sweets…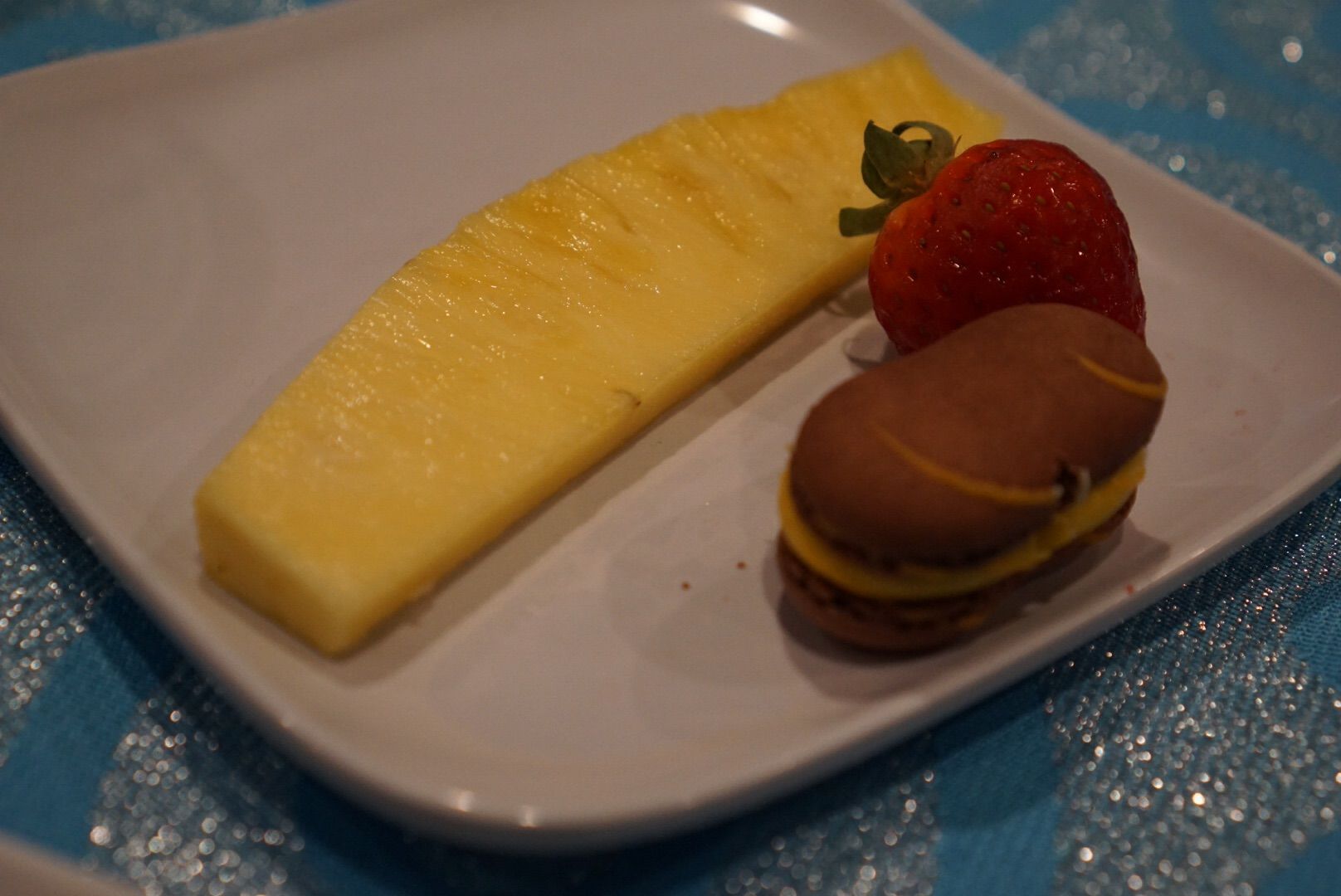 I had only a slice of pineapple, a strawberry and an eclairon.  This was a cross between an eclair and a macaron.  I liked it better than a macaron but not as much as an eclair.  The fruit was good.
I then went back for more fondue, this time with just bread and apples…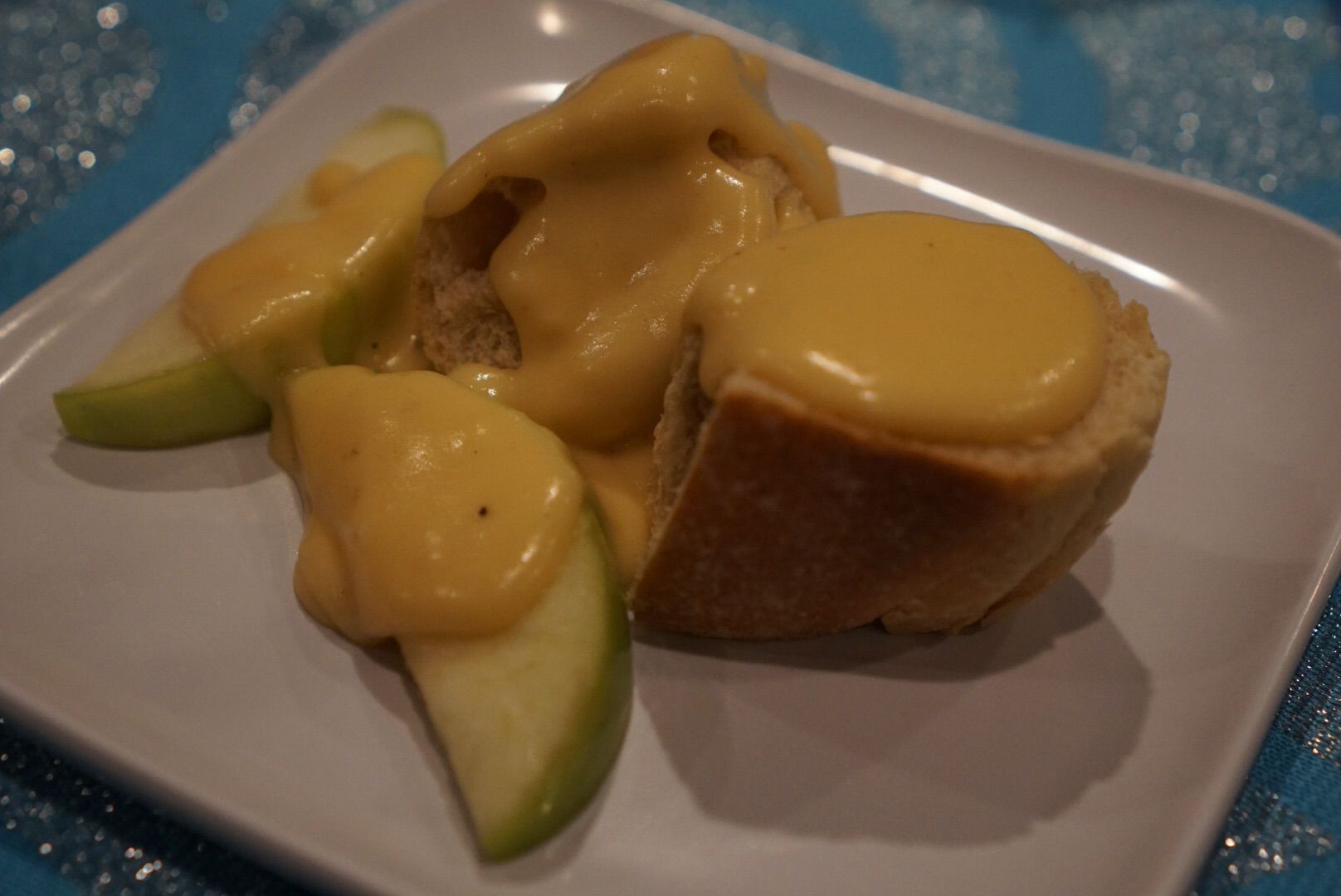 I also got a few more sweets…
I was disappointed with the almond cookie.  I thought it was pretty dry and flavorless.  However, others at my table seemed to enjoy them.
As for the Blue Velvet Cupcake, the cake tasted like regular vanilla cake dyed blue…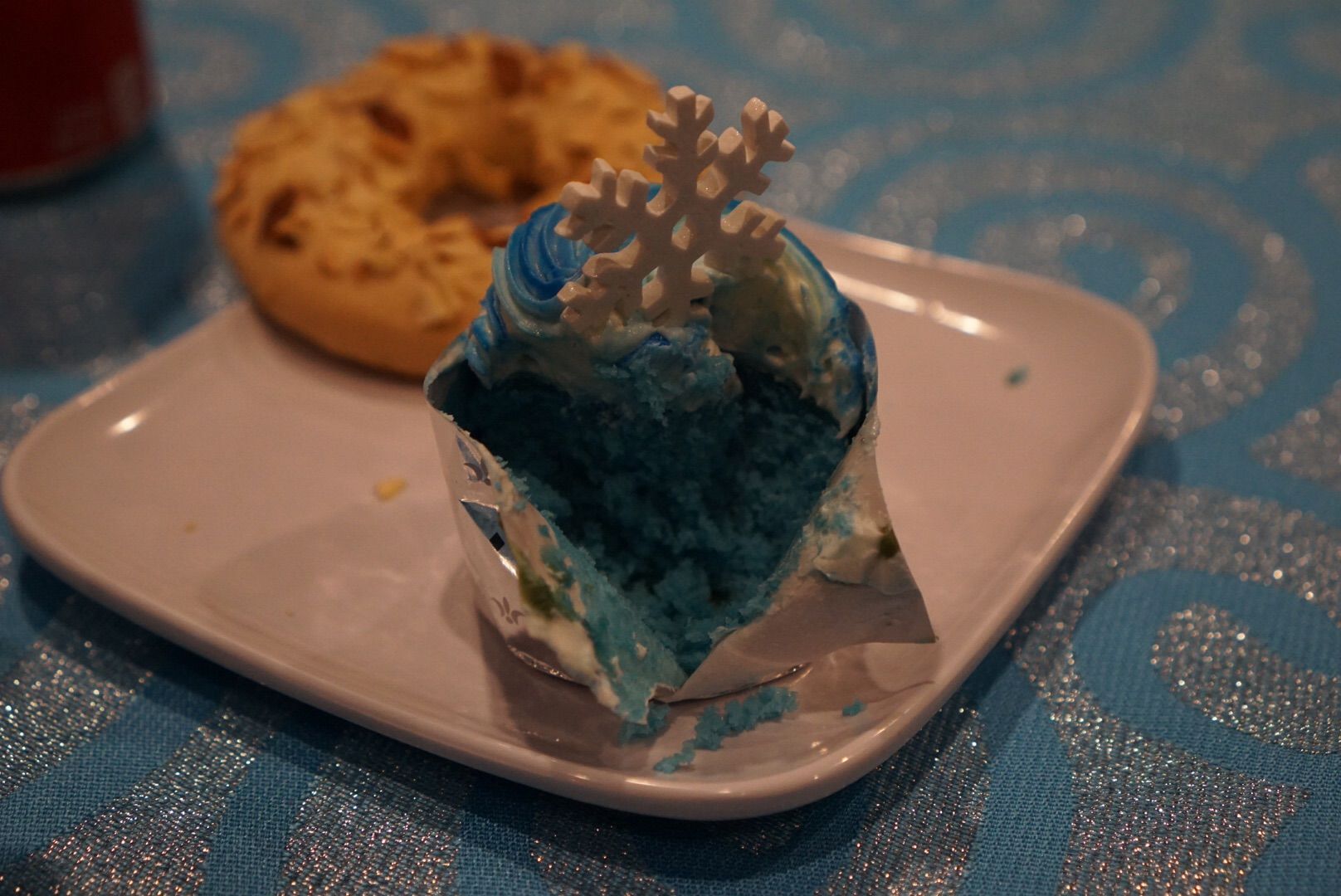 The last dessert that I chose was the best of those I tried…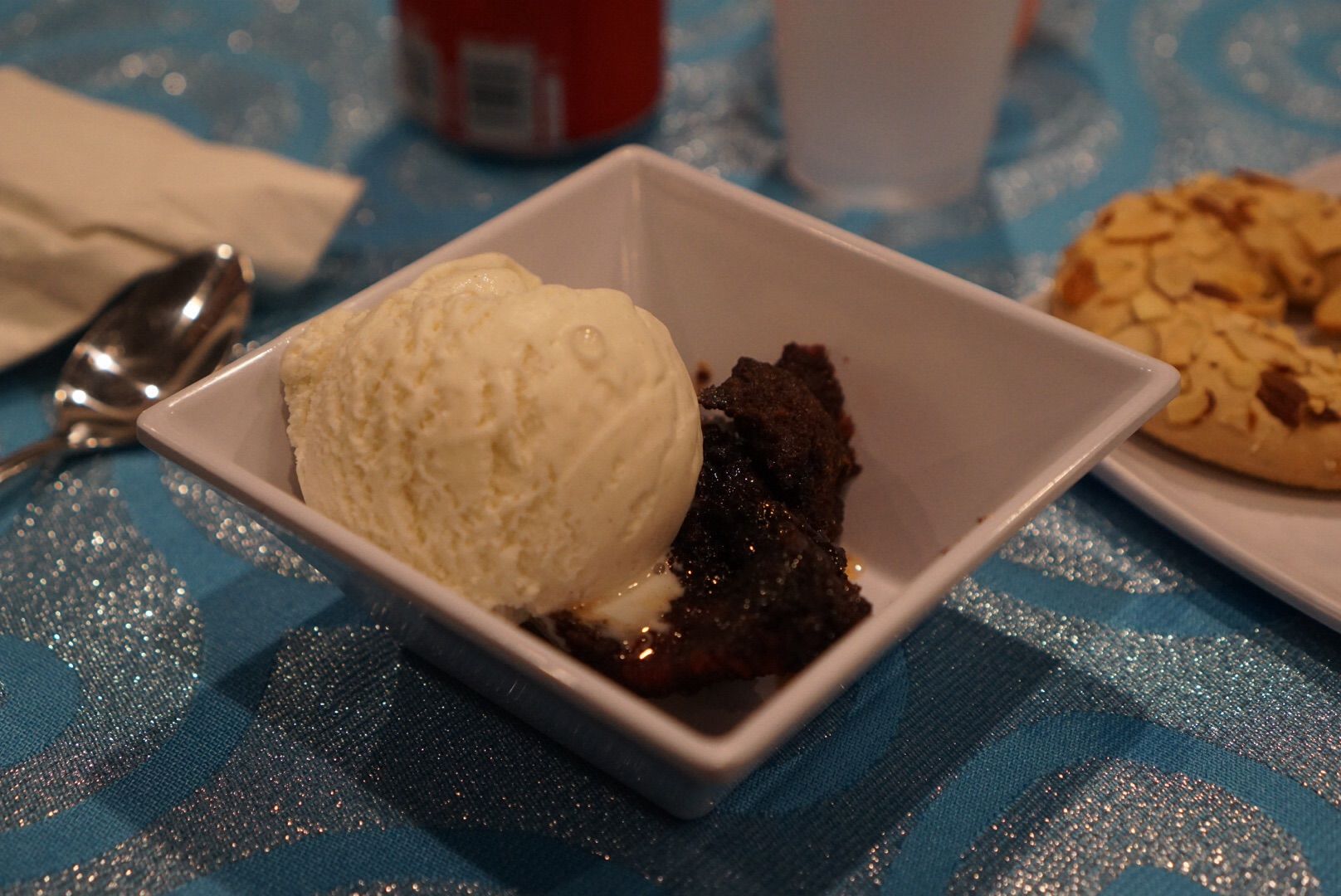 Anna's Warm Cottage Pudding with Salted Caramel Glaze topped with a scoop of Vanilla Bean Ice Cream
And a closer look…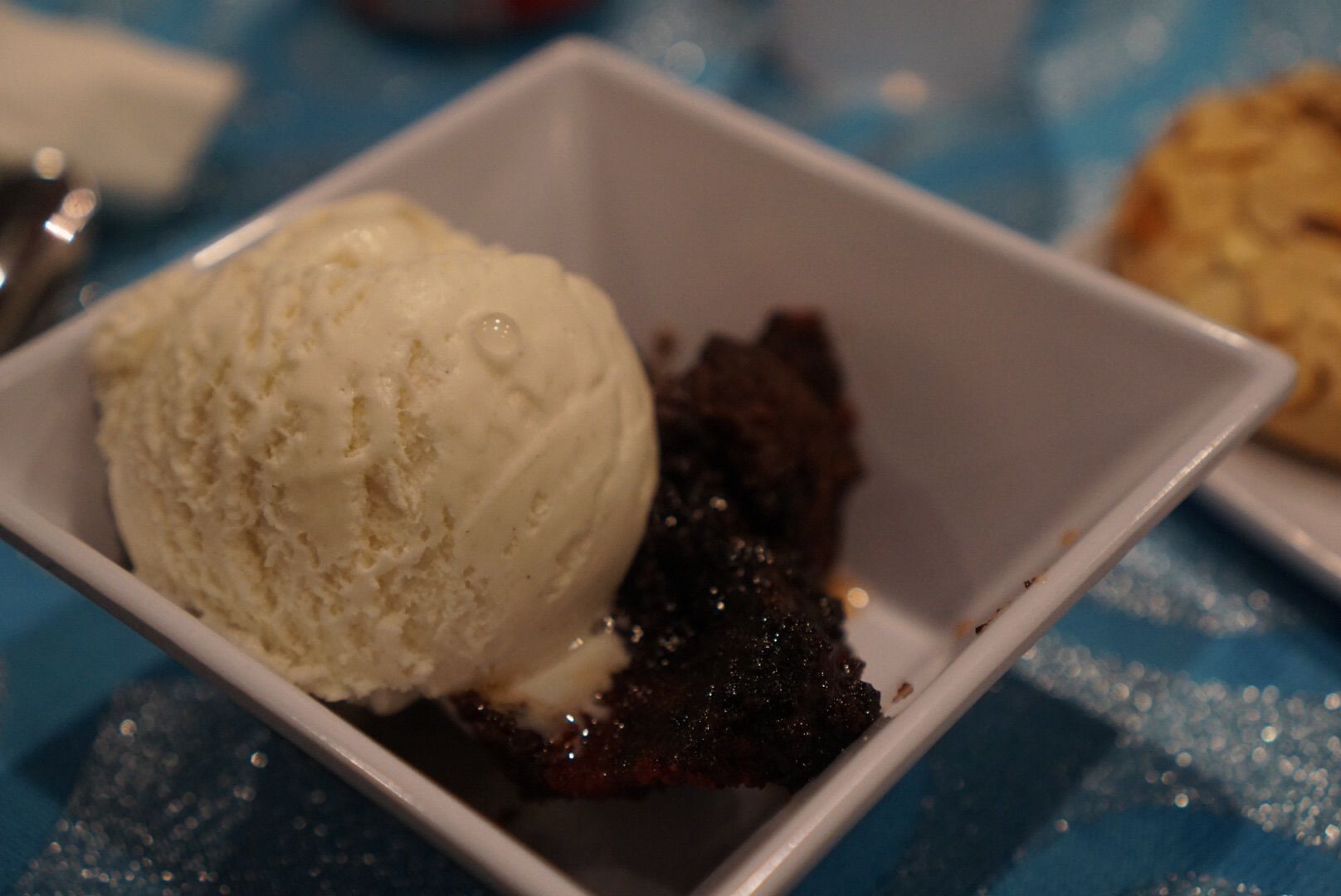 This was very good but super sweet, rich and quite filling.  So after I ate this I was done…too full to try anything else.
At about 9:45 (15 minutes before Illuminations was to begin), they made an announcement that they would be escorting us from Norway over to the reserved viewing area along the water in World Showcase Plaza.
So I picked up my 3D glasses from my table…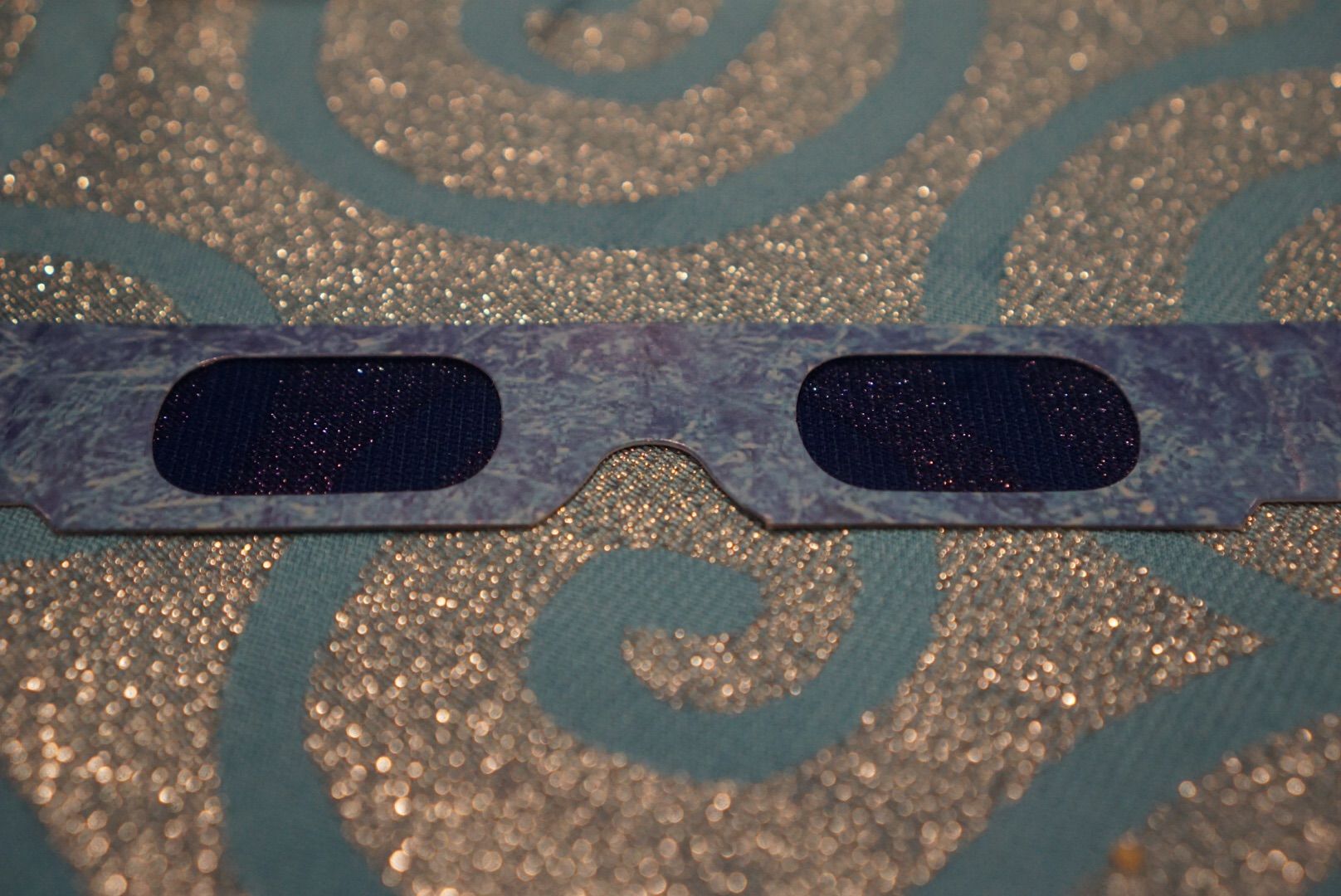 …and a can of soda for later, then followed the Cast Members down the stairs and out of the building.  I was sad to see that it was again lightly raining, but "the show must go on."
The view was pretty much the same as the Fast Pass viewing area (which is just to the right of the Party's reserved area).  There were not nearly as many people though and we were standing there for only about 5 – 10 minutes before the show started.  Keep in mind though, that if it had not been a rainy night we would have been seated at preassigned tables in this outdoor area and would have remained there during Illuminations…which would have been quite nice.  Due to the inclement weather however, there were no tables set up so the party guests all stood in this area to watch the show.
I only took a few photos, as I didn't want to get my camera wet…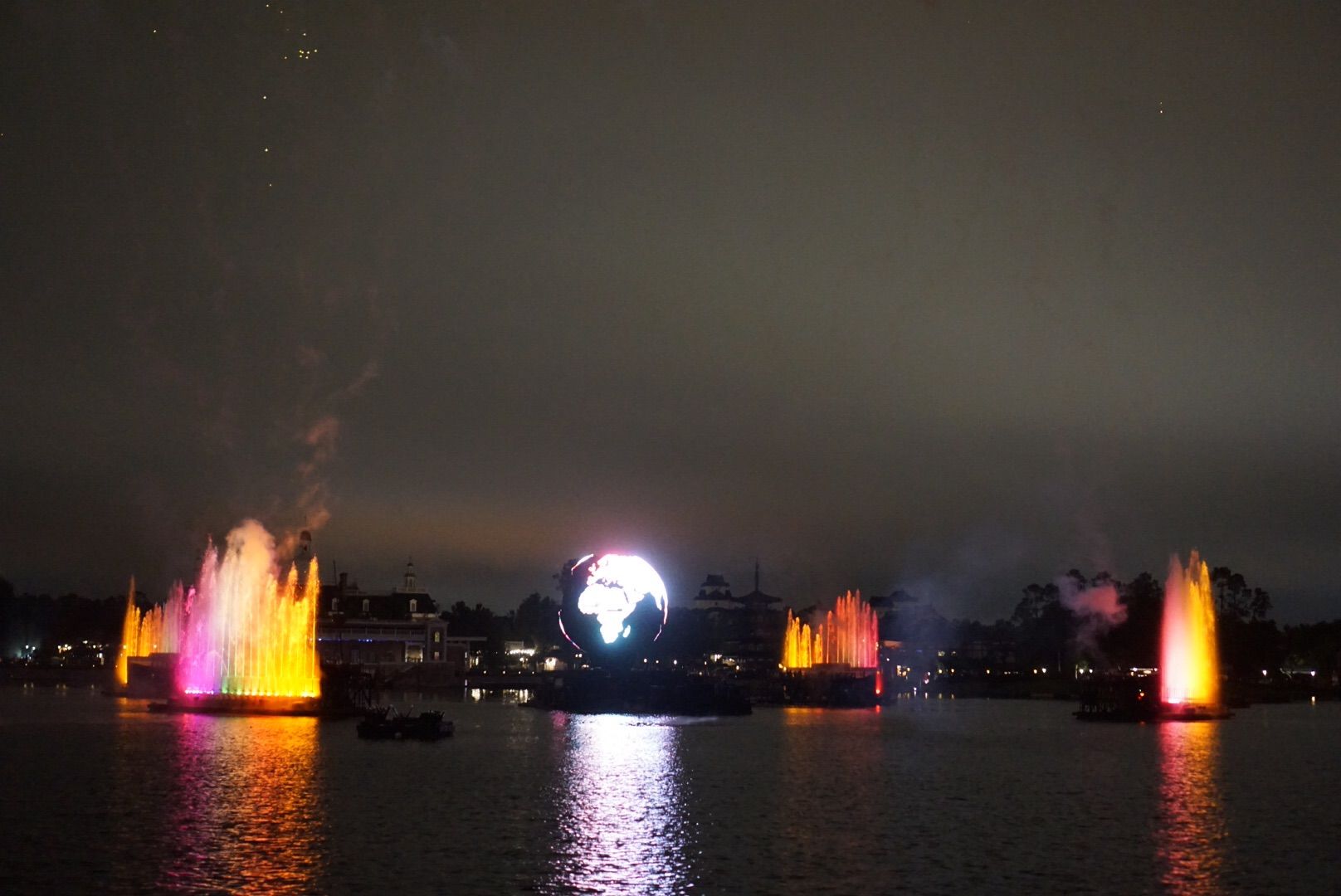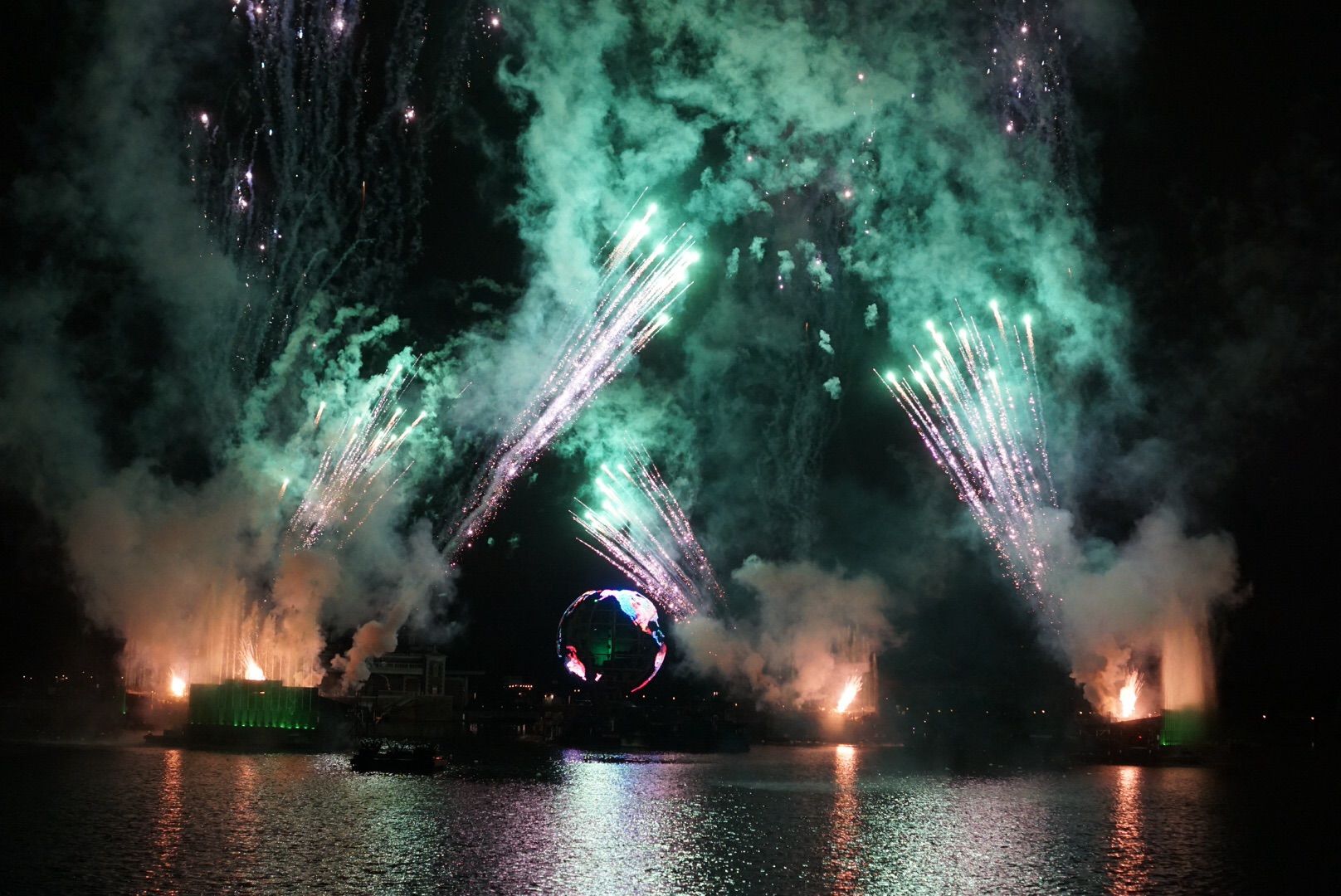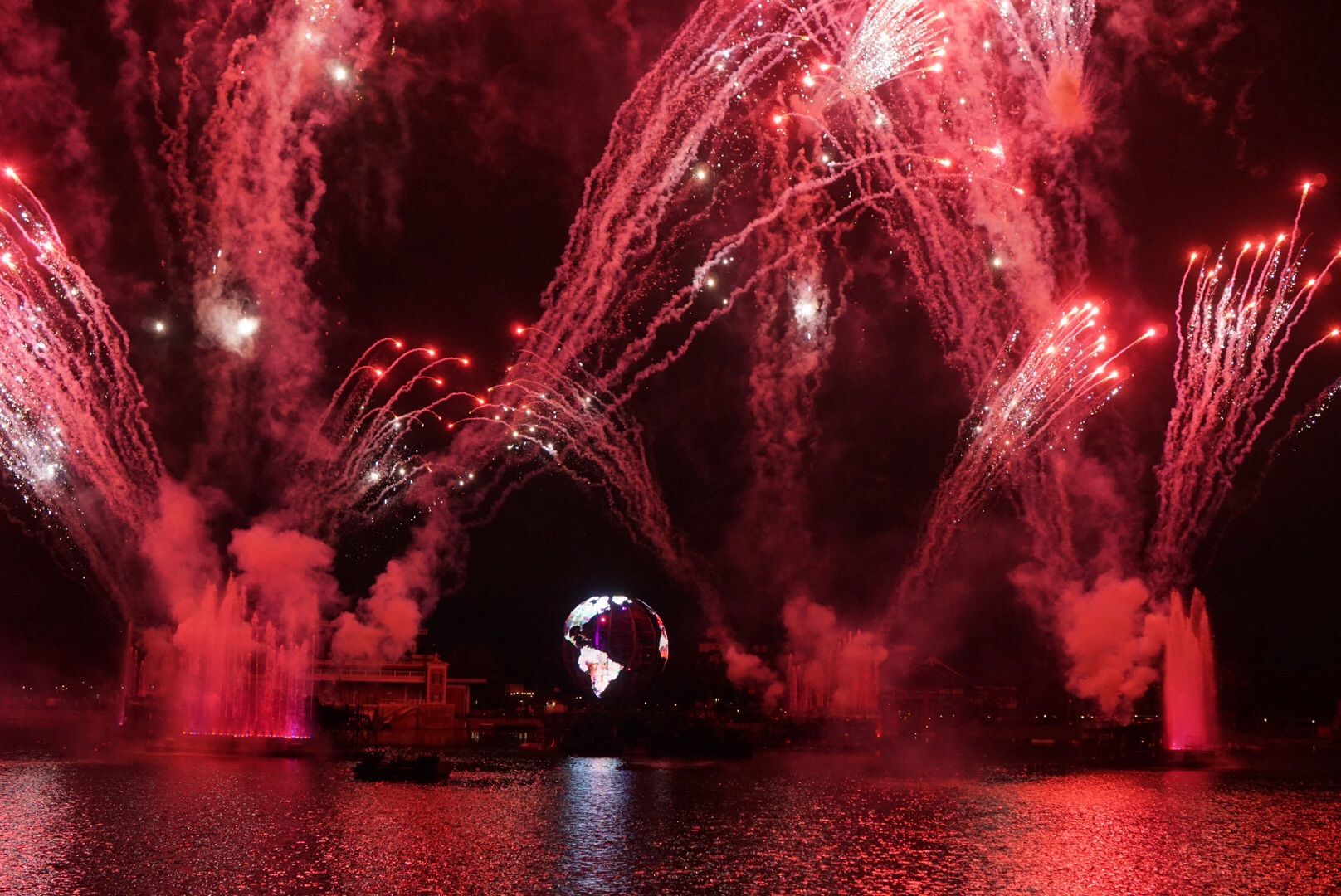 After the show ended at about 10:15 we were instructed to wait in this area for a minutes to give a chance for the crowds to clear…otherwise it would have felt like trying to swim upstream while everyone else is swimming downstream.
Our group was then led back to Norway for our after-hours ride on Frozen Ever After.  By 10:40 I had boarded the ride and was taking these photos…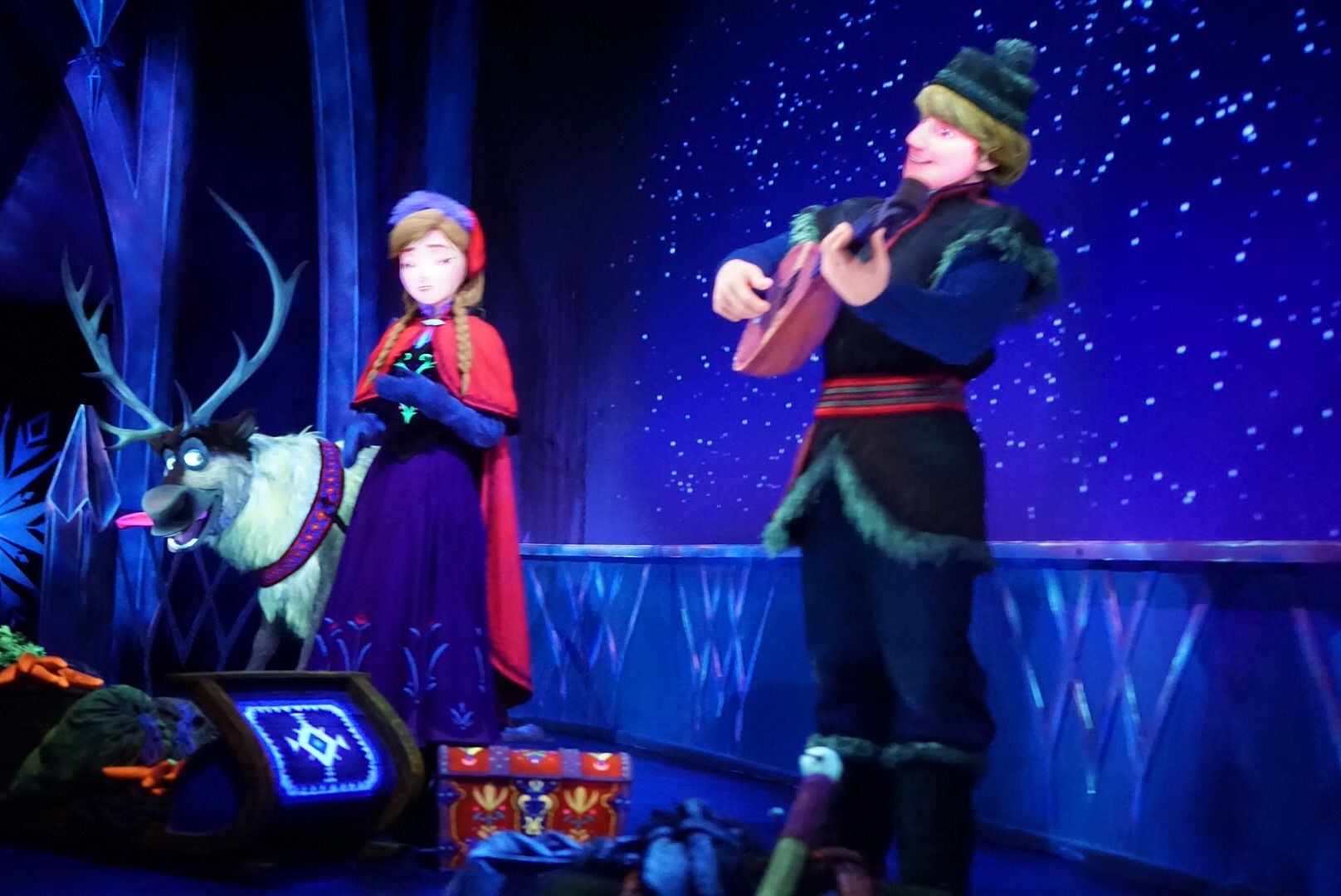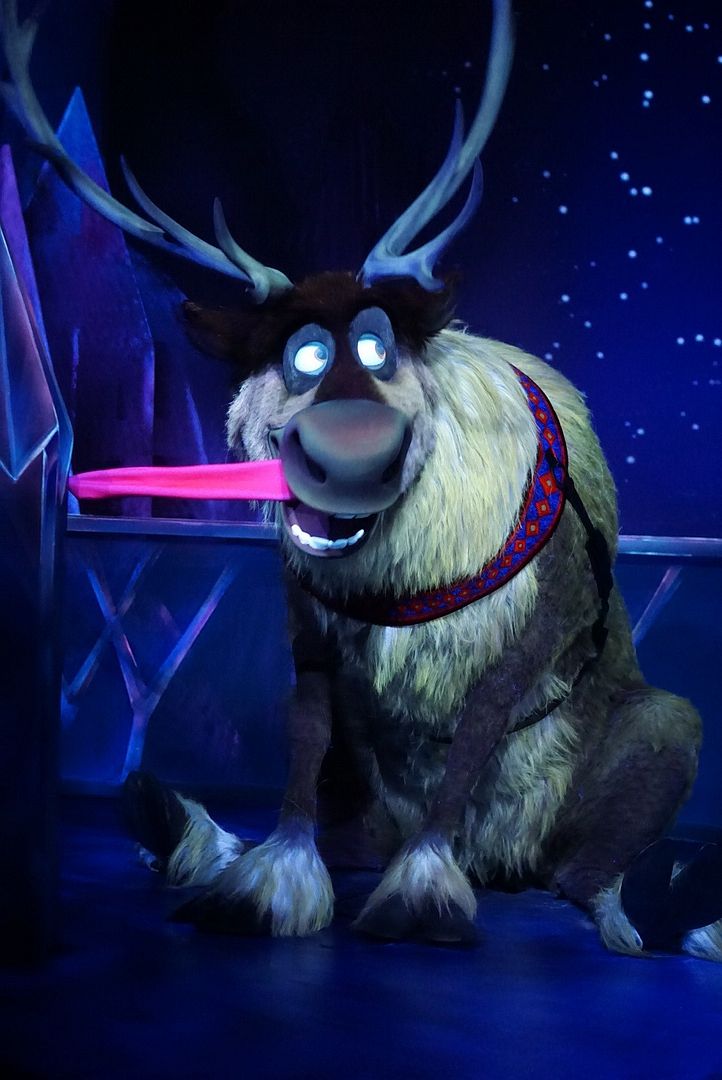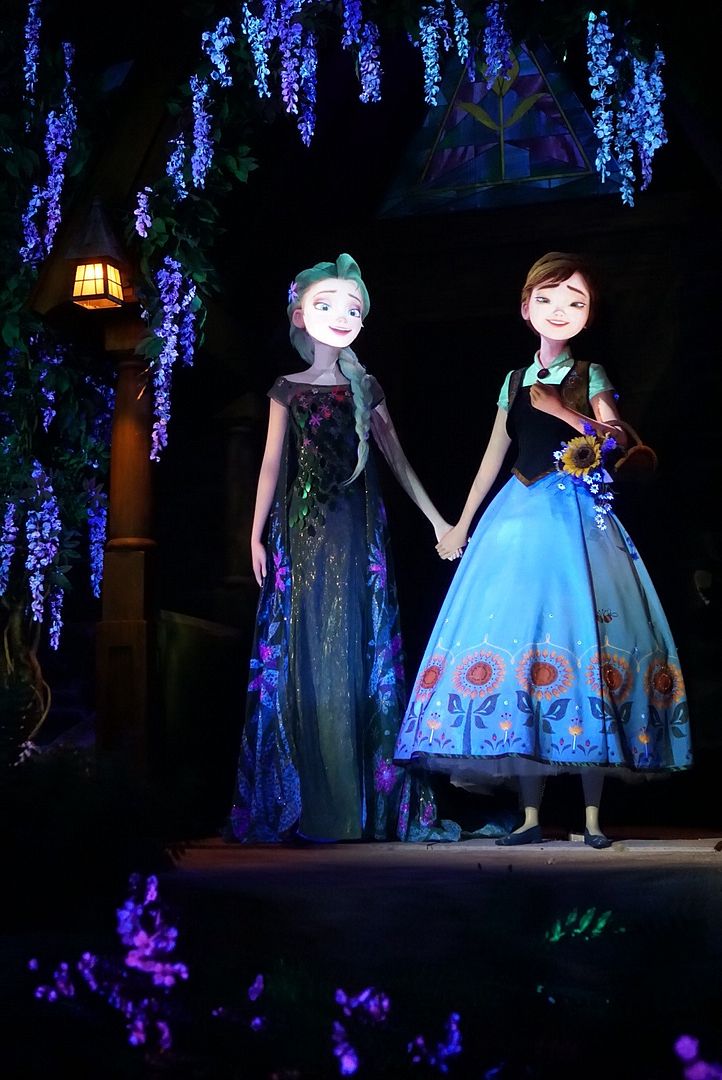 Oh, and in case you are interested, the Photo Pass camera was apparently still on even though the ride was closed to regular park guests…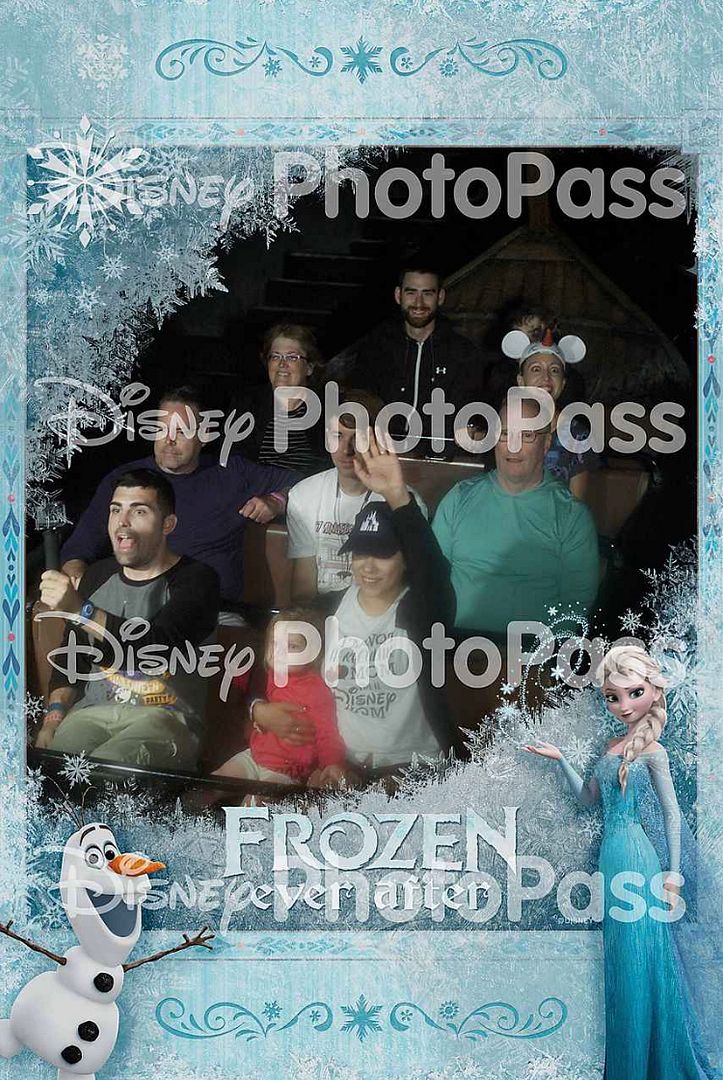 That's me in the 3rd row…sadly not the one with the cool Mickey ears though.
So overall I'd have to say I was disappointed with the Frozen Ever After Dessert Party.  It might have been more enjoyable if I'd been able to experience it outside in the reserved area.  But to be fair, the weather is not something in Disney's control.  However, what is in their control, the food and drinks, were not all that great.  In my opinion, the food was better at the Happily Ever After Dessert Party.  Of course there was no alcohol served at the Magic Kingdom party but it was also $20 cheaper ($59 instead of $79).  So for an extra $20 I got two small "not very good" cocktails.  Maybe someday I will give this another try (and hopefully will have better luck with the weather) but it will likely not be for a few years.