It had been nearly 5 years since I'd last had dessert at Ghirardelli at Disney Springs.  A shocking revelation!  It's not that I didn't enjoy the Ocean Beach Sea Salt Sundae that I had (which in December 2013 cost $9.45)…
In fact, I thoroughly enjoyed that sundae.  My problem was, in the last 5 years there has been so very many restaurants that have opened in Disney Springs.  With so many new restaurants that I've wanted to try (many are still on my list), there never seemed to enough room in either my schedule or my stomach to add a visit to Ghirardelli for dessert.  But I decided that 5 years was long enough and on this 2018 trip I was determined to again have a Ghirardelli sundae.
And I had a particular sundae in mind.  Do you remember Ghirardelli's Gold Rush sundae?
Vanilla ice cream alternated with layers of hot fudge and melted peanut butter, and topped with whipped cream, almonds and a cherry.   Sounds a lot like a No Way Jose, right?  Since I'm a huge fan of the No Way Jose sundae served at Beaches & Cream, I really wanted to try the Gold Rush sundae in order to compare the two.
But when I arrived at Ghirardelli and looked over their sundae menu I noticed that the Gold Rush sundae (or anything similar) was not on it…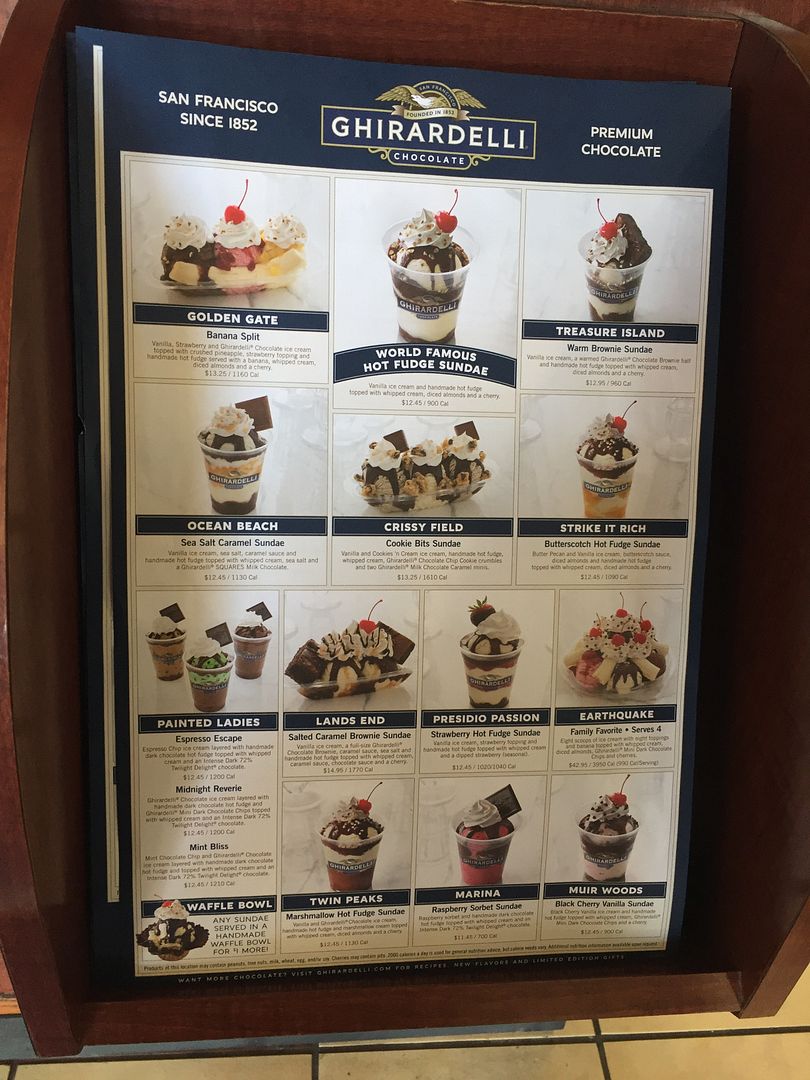 With some quick research on the internet I found that Ghirardelli went peanut-free and quit serving the Gold Rush sundae back in March 2015.  I completely missed that one!
So now I needed to quickly come up with a Plan B.  I looked over the other options on their menu, like shakes, floats. cones, waffle bowls, brownies, etc…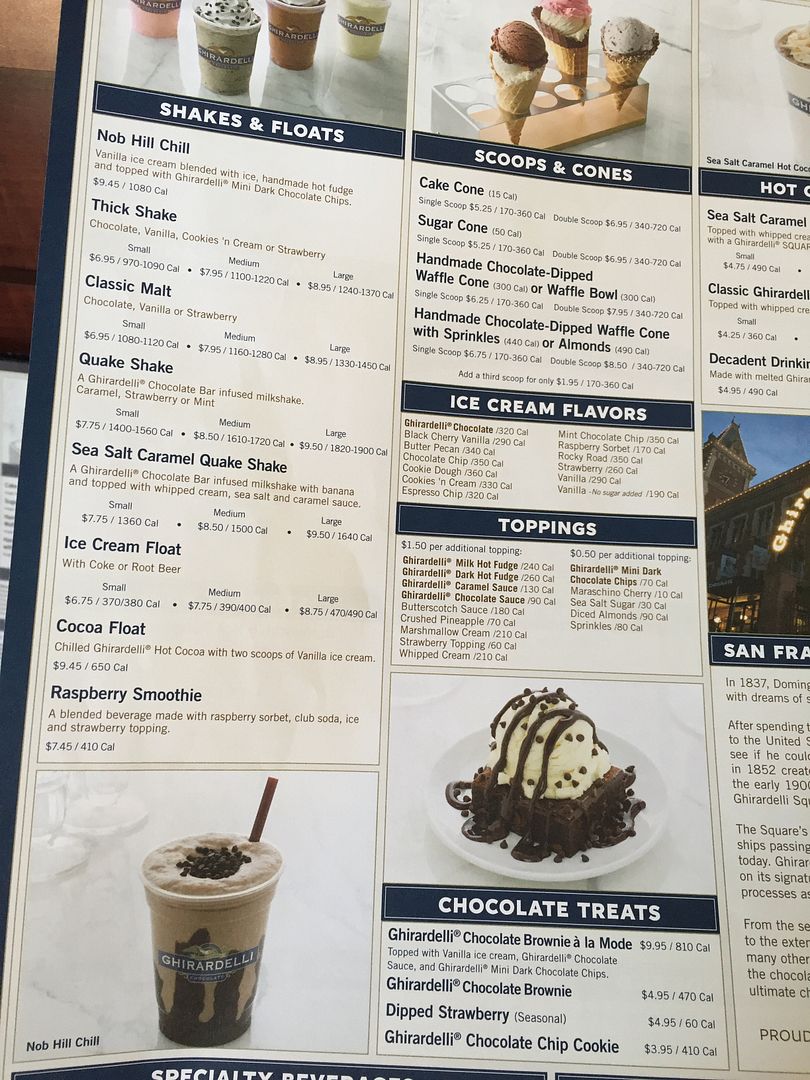 But decided that I really wanted a sundae.  I strongly considered their Twin Peaks sundae (aka Marshmallow Hot Fudge Sundae)…
I also considered getting this Limited Time Only sundae…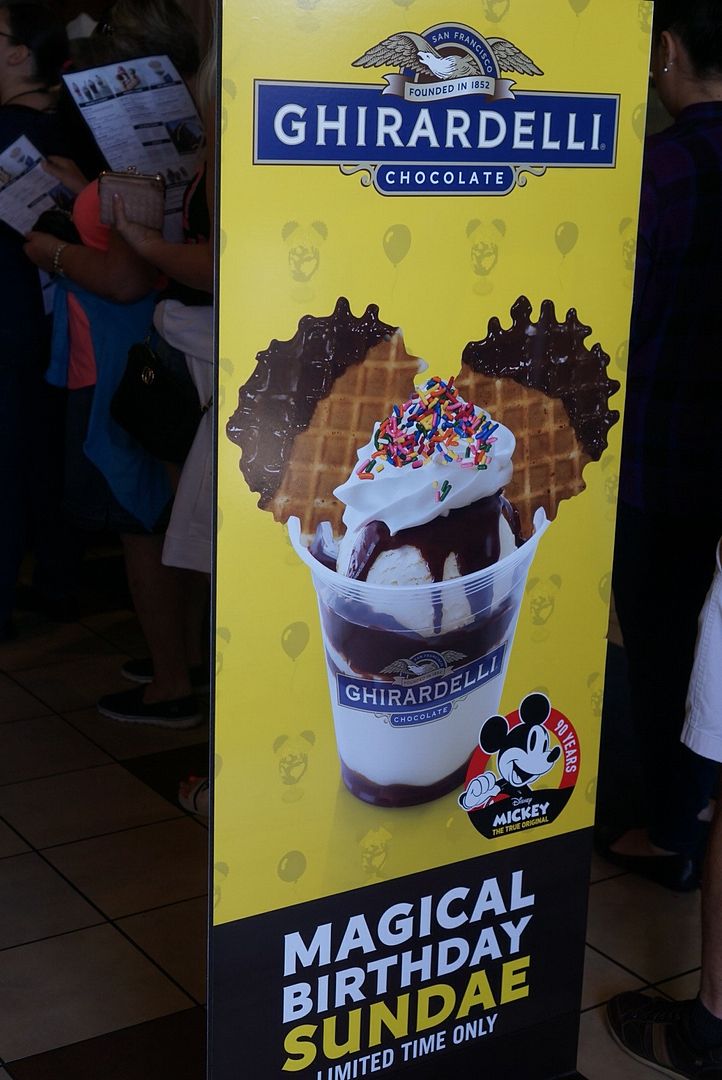 This Magical Birthday Sundae had vanilla ice cream and hot fudge sauce,  topped with whipped cream, colorful sprinkles, and two chocolate-dipped waffle ears.  I thought it would look super cute in my photos.  However, you had to pay extra for that "cuteness", as the Magical Birthday Sundae cost $13.45, which was $1.00 more than most of their other sundaes.
So ultimately, partly due to it having the added bonus of a Ghirardelli Milk Chocolate Square (for the same price as the Marshmallow sundae), the Ocean Beach (aka Sea Salt Caramel Sundae) again won out…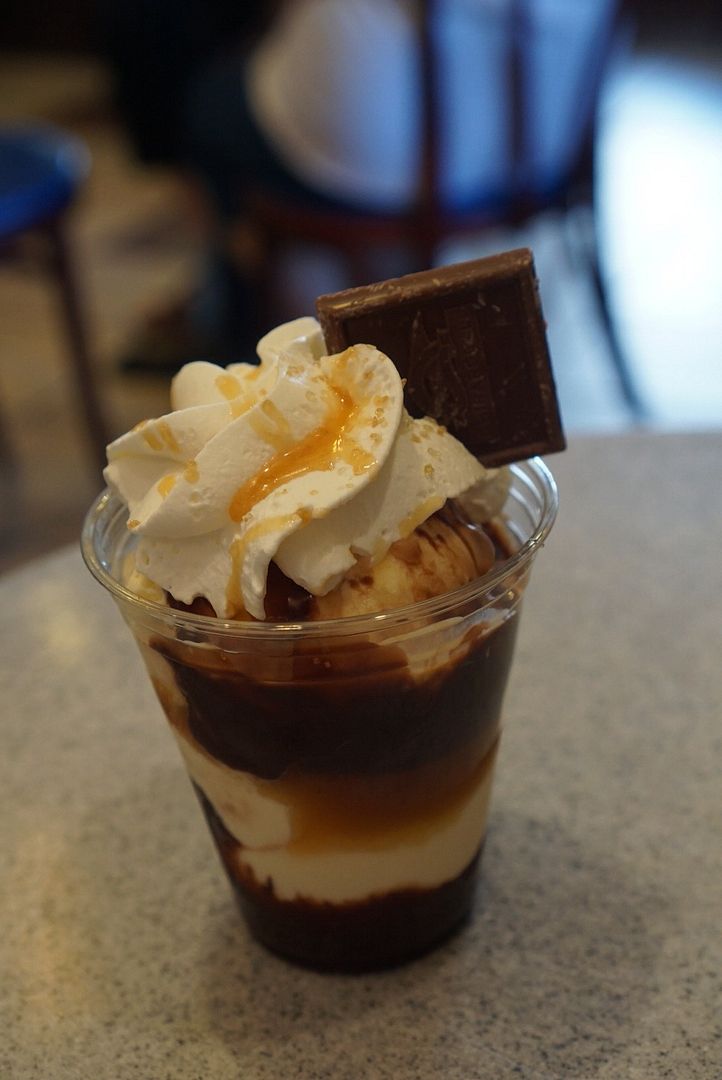 Ocean Beach – Sea Salt Caramel Sundae with Vanilla Ice Cream, Sea Salt, Caramel Sauce and Handmade Hot Fudge topped with Whipped Cream, Sea Salt and a Ghirardelli Milk Chocolate Square – $12.45
And a closer look…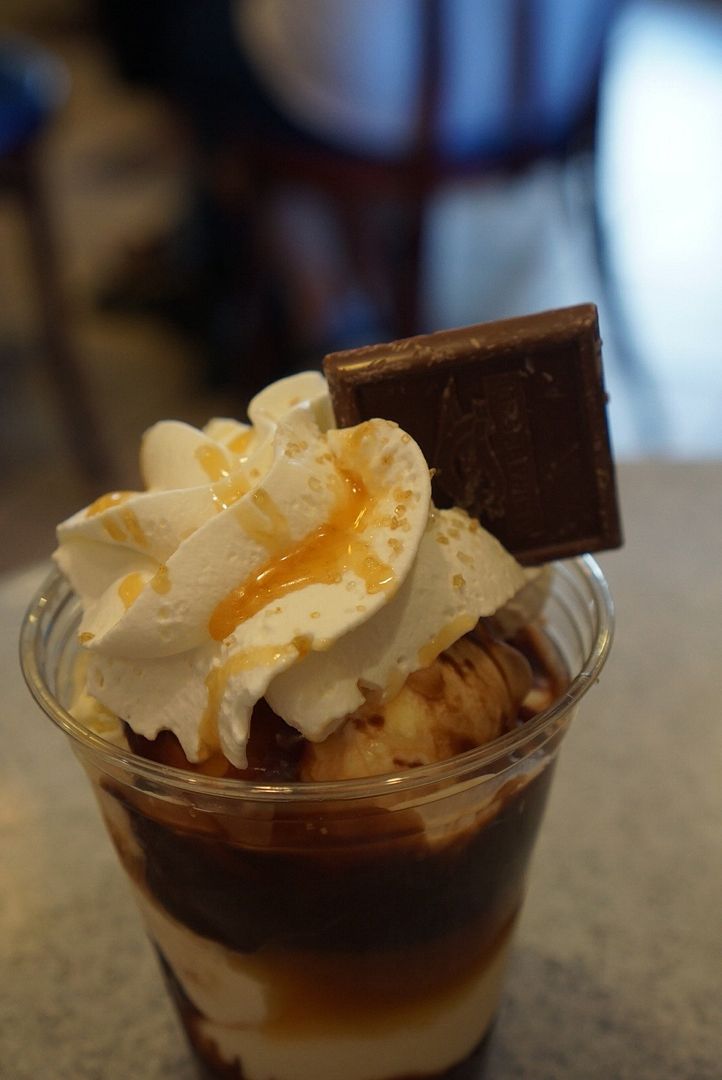 This was just as good as I remembered it being 5 years ago.  However, the price had gone up $3.00 since December 2013.  Also, though they aren't exactly the same (one with caramel and the other with peanut butter), when comparing this to the No Way Jose sundae at Beaches & Cream, I would still give the edge to the No Way Jose.  The fact that the No Way Jose sundae is $11.00 (or $1.45 cheaper) than the Ocean Beach sundae helps to tip the scale in its favor.
So that just leaves the ratings.  The reviewers on Yelp gave Ghirardelli 4 stars.  Trip Advisor reviewers gave it 4 1/2 stars though and I would probably agree with them.