The Grand Floridian Cafe has long been one of my favorite places to have breakfast at Disney World. The primary reason for this is their French Toast. With only one exception (and I regretted it afterward) I've always had the French Toast during my many breakfasts at the Grand Floridian Cafe. It had now been 3 1/2 years since I'd had it though, so I was loooong overdue. And since we were planning to stay right there at the Grand Floridian, I thought having breakfast at the GFC (and more specifically, their French Toast) was inevitable. But then during my trip planning process I was shocked to discover that the French Toast was one of the items that was removed from the GFC menu when they reopened after the pandemic closure in 2020. Now I understood why many of the WDW restaurants reopened with limited menus, but for the GFC to drop their French Toast was unthinkable. Consequently I'd decided to skip having breakfast at the GFC in protest. But then about one week before our trip they added the French Toast back to their menu, along with some of their other previously popular breakfast items that had been missing, like their Chicken & Waffle, Lobster Benedict and Grand Mimosa. So then I unsuccessfully attempted to get a reservation…many, many times. But finally the day before our last morning at the Grand Floridian there was a 7:35 breakfast reservation available for the next day…which just happened to be my birthday. Happy Birthday to me!
With a short walk from our room to the restaurant, we arrived at the GFC a few minutes before they opened at 7:30. Andrew did mobile check in for us and then while waiting for our turn to be seated, I took photos of their "Teaser" menus which are displayed on the wall just outside of the restaurant's entrance…
Notice that there is just one menu for both breakfast and lunch. At the GFC they call this "Blunch" rather than the usual term of "Brunch" and it is served from 7:30 a.m. until 2:00 p.m. (per their sign)…
Unfortunately we weren't seated at any of their many tables by a window, which I would consider the prime spots here…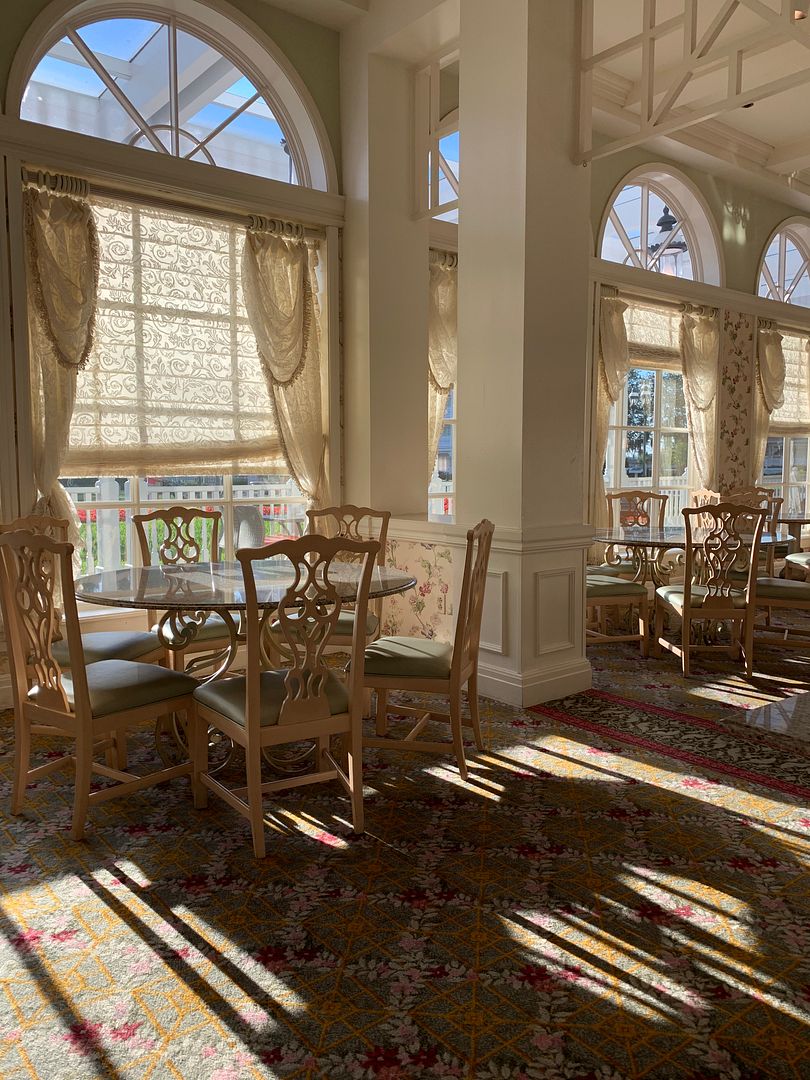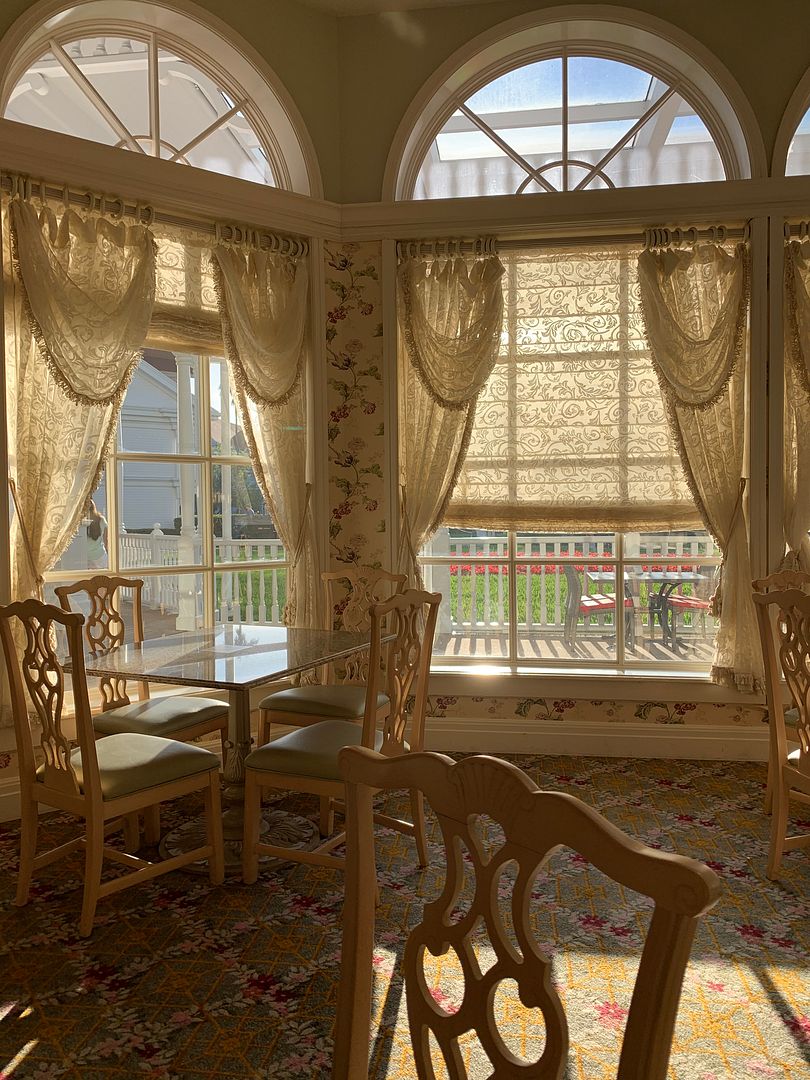 The windows here look out onto the beautiful grounds of the Grand Floridian resort.
But instead of one of the vacant window tables we were seated at a 4-top table in the line of tables in the middle of the restaurant…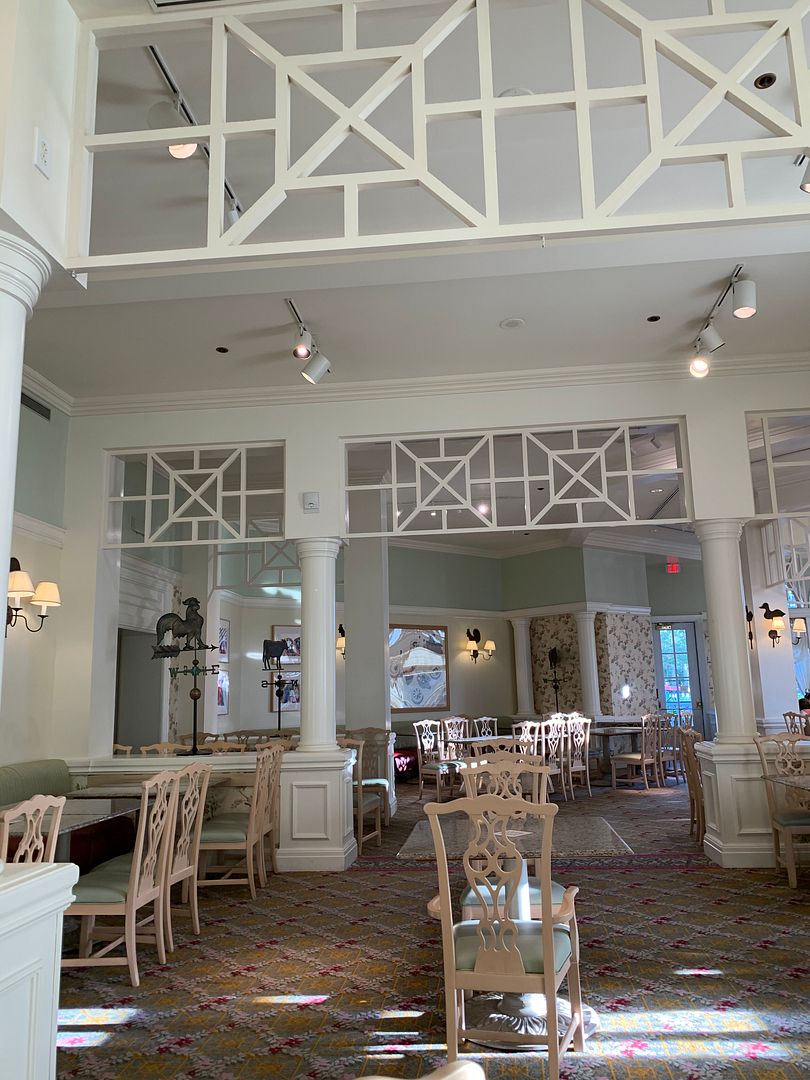 Oh well, not a big deal. I was more disappointed by the fact that they no longer had roses on each of the tables. Here is a photo of the beautiful pink rose that was on my table at one of my last visits…
I had also noticed that there was no longer a beautiful bouquet of fresh flowers on display outside the entrance to the restaurant like there had always been before. Here is one that I photographed a few years ago…
I guess the Grand Floridian has probably cut their floral budget as a result of the pandemic closure. Very sad.
Ok, now on to our breakfast, which started with…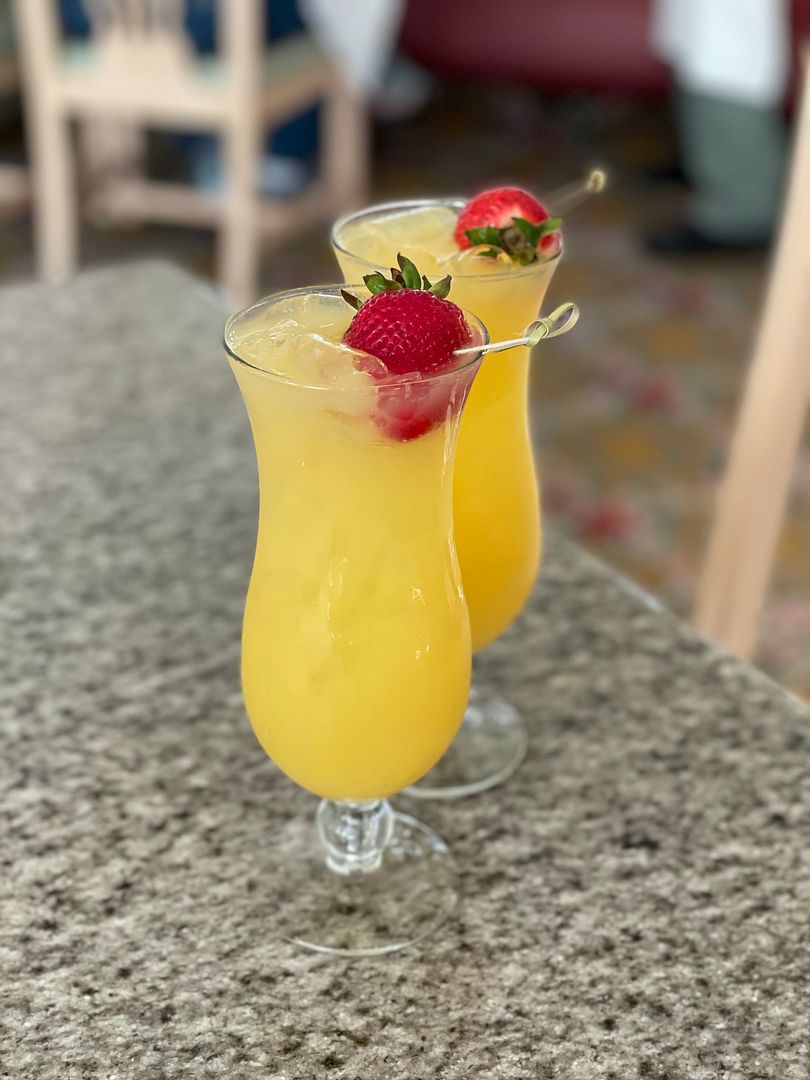 Grand Mimosas – Champagne, Orange Juice and a Splash of Grand Marnier – $14.00
Mimosas were a great way to start off my birthday! The addition of the Grand Marnier makes this mimosa extra good.
I also requested coffee and was brought a whole pot, left on our table…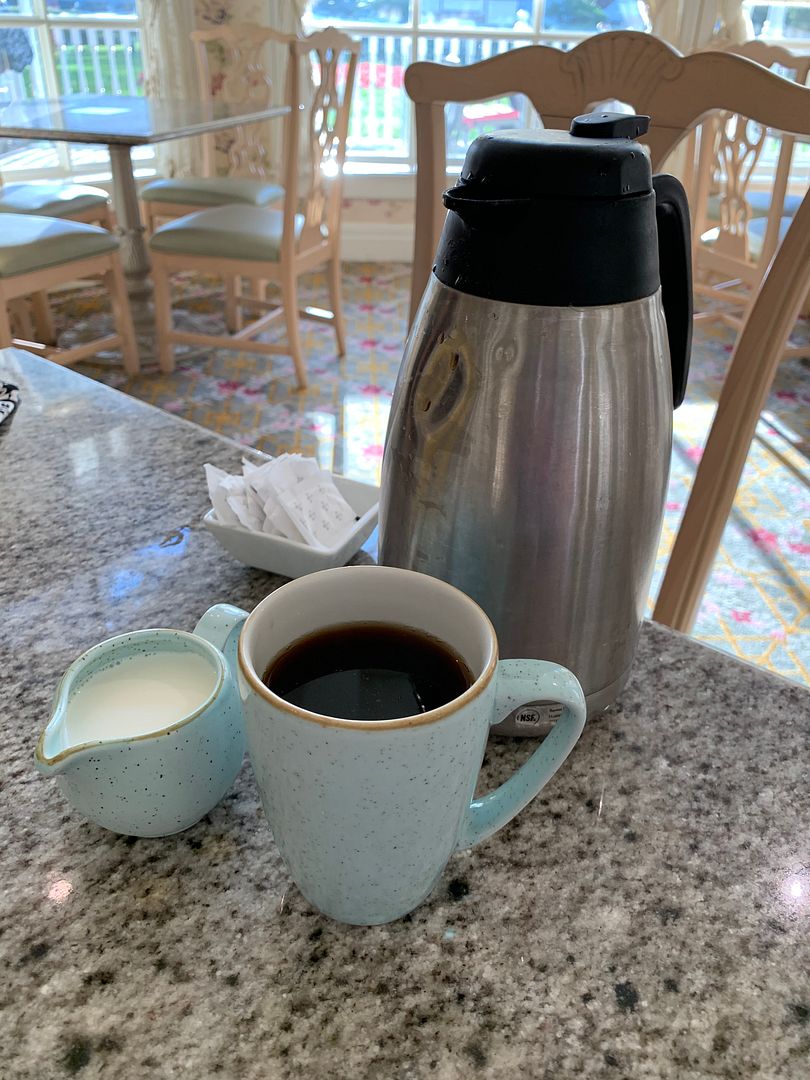 I was charged just $3.79 for this whole pot of Joffrey's coffee. The alternative was to get their special Grand Blend press pot of coffee for $9.00 but the regular Joffrey's coffee was fine with me.
We were also brought a complimentary tray of two biscuits along with citrus butter, which were tasty…
The tray also held the syrup for my entrée, but before I show that to you let's talk about Andrew's choice.
The last time that Andrew and I had "blunch" (late breakfast/early lunch) here in 2019, he ordered their plant-based Impossible burger (which is still on their "blunch" menu). Though not a vegetarian, he had enjoyed plant-based burgers at other restaurants as well as prepared plant-based meats at home. He did not like the one he was served at the Grand Floridian Cafe though and remembered how much he didn't like it, even after almost 1 1/2 years…which is very unusual for him. So anyway, he stayed clear of the Impossible burger this time and chose a more traditional breakfast entrée…
Traditional Eggs Benedict – Two-poached Eggs, Toasted English Muffin, Canadian Bacon, and Hollandaise served with Marinated Tomato Salad – $16.00
He enjoyed this.  While he said it wasn't the best Eggs Benny he's ever had, it was good.  
During our previously mentioned last visit to the GFC, I too made a mistake when choosing my entrée.  Wanting to try something different than my usual choice here of French Toast, I ordered their Chicken & Waffle.  While it was fine, it was not a good substitute for the French Toast.  So I did not make that mistake again…
Brioche French Toast – Madagascar Vanilla Bean-scented Brioche French Toast served with Bacon or Sausage – $16.00
Note: The price has since been increased to $17.00
First of all, WOW!  The presentation was quite underwhelming.  Three very thin half slices of toast and two thin slices of overcooked bacon.   These only occupied 1/2 of the plate!  They should have at least added some fruit or garnish to better fill out the plate.  
Here is a photo for comparison, so you can see what the French Toast used to look like and understand my disappointment with the current version…
As you can see, the bread used now is much thinner.  I guess though it's possible that the bread is the same but they are cutting it into thinner slices.  And, while the addition of the vanilla sauce drizzled on top did help its visual appeal a bit, it still looked rather sad and puny. 
But the taste was still good and it was filling.  I was still not able to eat all 3 (half) slices.  The bacon though was way overcooked.  What was left of it was very dry, brittle and flavorless.  I believe this was the worst bacon I've ever had a Disney table service restaurant, at least in recent memory.  
One more note of interest, by using my Disney VISA Rewards card to pay for this meal I received a 10% discount.
So overall this meal was a bit of a disappointment, especially since it was my birthday breakfast.  Though it started out quite promising with delicious mimosas, a whole pot of coffee for the price of a cup, and free biscuits, it went downhill after that.  The eggs benny was good but nothing out of the ordinary.  As for my French Toast, if I had not had it many times before I might have been perfectly satisfied with this version.  But with that not being the case, it just left me reminiscing about the wonderful GFC French Toast of yesteryear.  
And that just leaves the ratings & rankings.  Both the Yelp reviewers and those at TripAdvisor give the Grand Floridian Café 4 stars.  For nostalgic reasons I also want to give GFC 4 stars but if I based my rating solely on this meal I would have to give it only 3 stars.  As for its TripAdvisor ranking, it ranks #171 of the nearly 2500 Orlando area restaurants reviewed there.  Narrowing it down to just the nearly 300 Disney World area restaurants, the Grand Floridian Café ranks #50.  Previously I probably would have agreed with this assessment, but now…probably not.