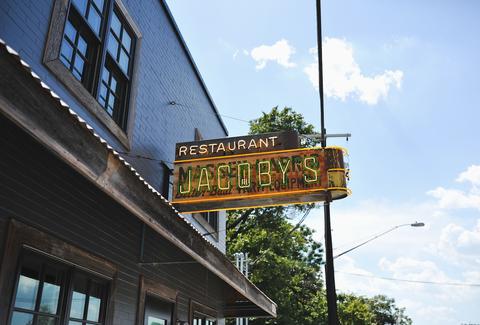 We had Saturday brunch at Jacoby's located at 3235 E Cesar Chavez Street.
The 6 of us started our meal by sharing these Bacon & Jalapeno Hushpuppies…
These were tasty but unfortunately are not currently on their menu.
Four of us also started with a delicious Bloody Mary…
Then between the 6 of us we ordered 4 different entrees.  Two of our group had the…
Duck Confit Migas with Queso, Ranchero Salsa, Scrambled Eggs, Pico, and Corn Chips
Both of them really enjoyed their migas!
My son also enjoyed his…
Country Ham Schnitzel with poached eggs, smoked gouda gravy, and a house biscuit
My daughter's choice is no longer on their menu…
I believe these were Chocolate and Hazelnut Pancakes and according to her they were really good.  While they aren't on the current Jacoby's menu, they do still have pancakes available to order, but they are Seasonal Berry.
My daughter is also a big fan of Mac & Cheese so she also ordered this…
It was another winner!
As for me, I think I chose the best entree of our meal…
And a close up…
Chicken Fried Steak and Waffles with House Sausage Gravy and Maple Syrup
A little different take on "Chicken & Waffles" and it was an exceptionally good one.  I really enjoyed everything about this dish.
So overall we gave our Jacoby's brunch a perfect 5 rating!  So we did not agree with both the Yelp and Trip Advisor ratings of only 4 stars and the Trip Advisor ranking of only #182 best of Austin restaurants reviewed.  I also believe that Jacoby's deserves a higher ranking than the #165 that it has on Yelp's top 1000 list of Austin's best restaurants.