Liberty Tree is currently my favorite Magic Kingdom table service restaurant for lunch.  Consequently I dine here on nearly every trip, but this was the first time I dined here solo.
I was seated at a 2 top table and presented with their lunch menu.  While you can order their All-You-Care-To-Enjoy Bill of Fare for lunch (which is their only option at dinner)…
I much prefer the A La Carte menu that is available to order from at lunch time…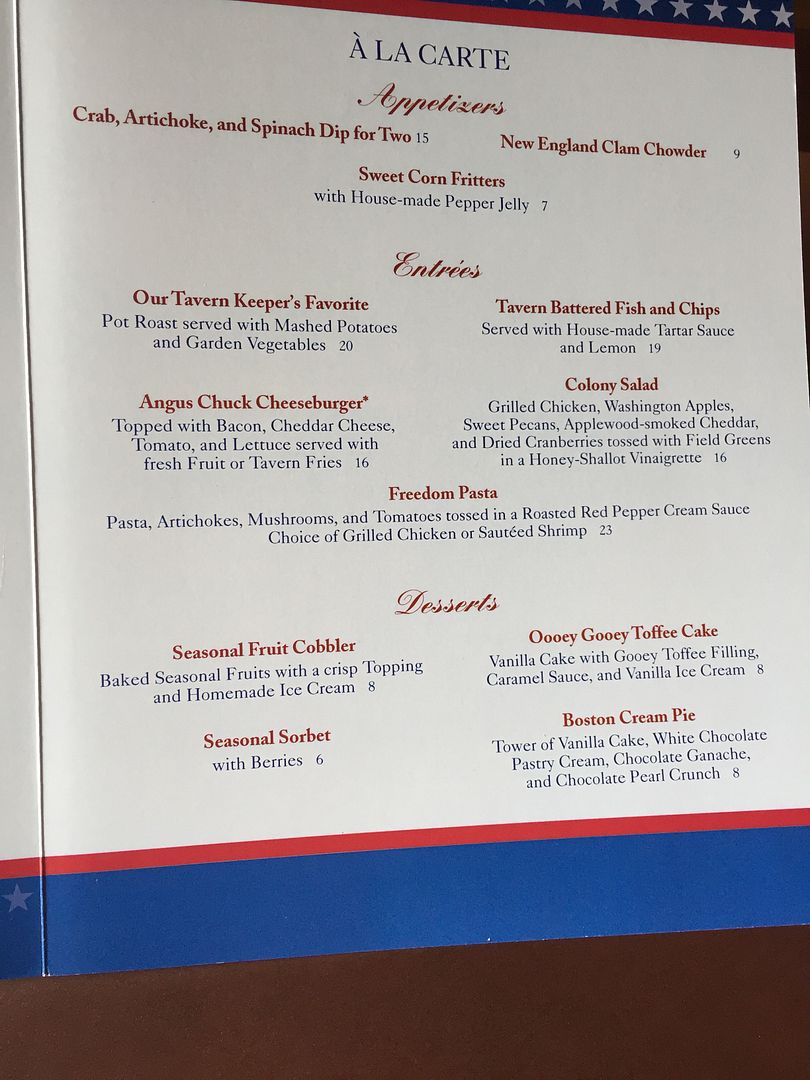 At this time (November 2018) their Appetizer selections were limited to only three.  Though I had previously had their Sweet Corn Fritters and enjoyed them, I wanted to try new things on this visit so decided to skip the appetizers in the hope of leaving room to try a new (to me) dessert.  But in regard to their appetizers, Liberty Tree Tavern now has twice as many options listed on their current (Aug. 2019) menu.  It looks like they've added lobster to their sweet corn fritters, which sounds like something I would enjoy.
But back to this lunch in November 2018 and the entree which I chose…
Angus Chuck Cheeseburger topped with Bacon, Cheddar Cheese, Tomato, and Lettuce, served with Tavern Fries – $16.00
And a closer look…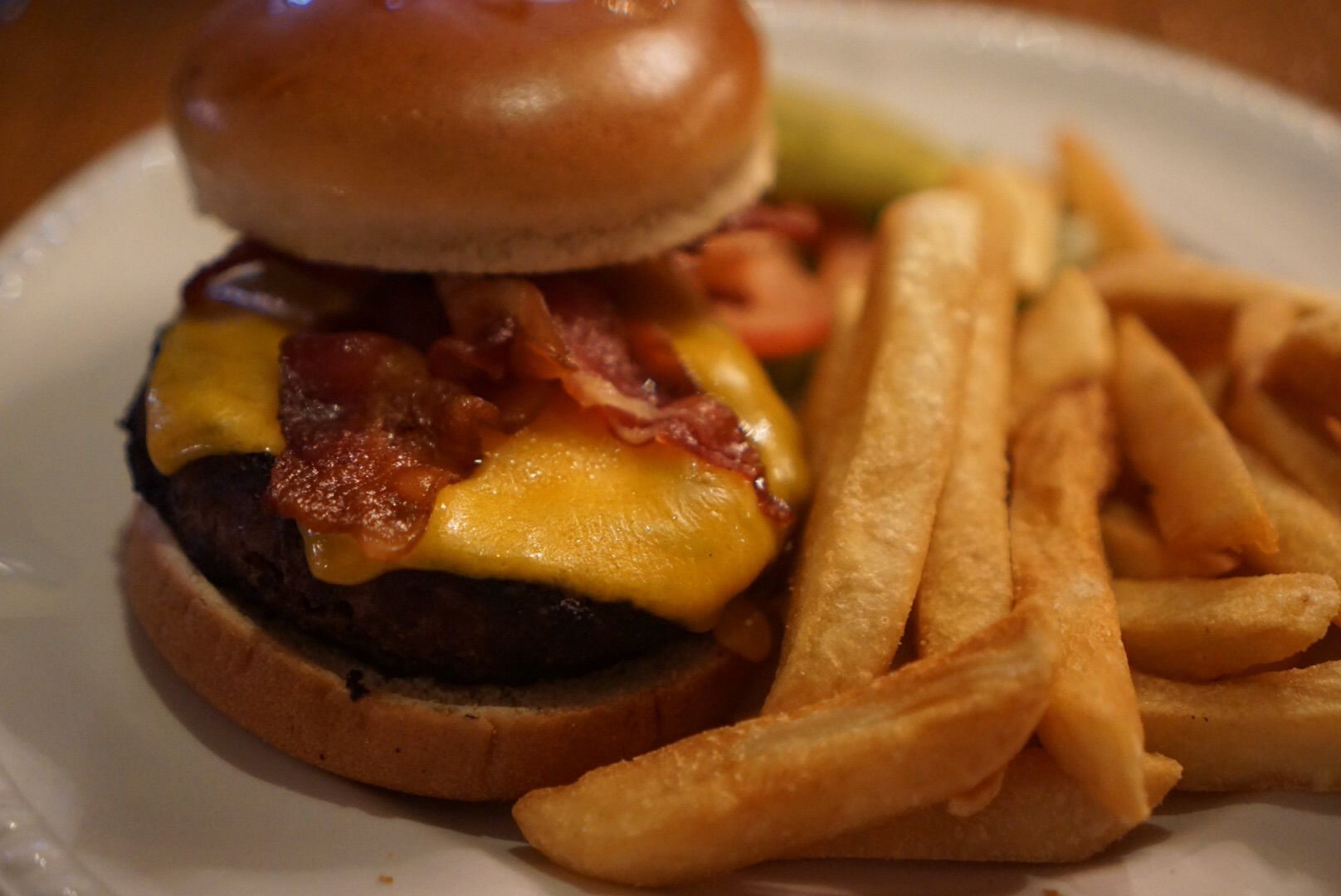 Unfortunately the burger was way overcooked, so the meat was pretty dry and flavorless.  It was helped by the cheddar cheese and bacon but overall was a disappointment.  The thick-cut fries looked good but tasted like they had been sitting under a warmer for awhile.  I've had these previously at Liberty Tree and they were really good so again this was a disappointment.
Hoping to end this meal on a positive note, I decided that I needed to order dessert…
Although I love the Oooey Gooey Toffee Cake (it's one of my favorite Disney World desserts), I was able to have it already at the Fireworks Dessert Party I had attended earlier in this trip.
So I decided to try something new…
Boston Cream Pie – Tower of Vanilla Cake, White Chocolate Pastry Cream, and Chocolate Ganache – $8.00
And another look…
With "tower" in the description, I was expecting this dessert to be a little bigger than it was.  In reality though it was a thin layer of vanilla cake topped by some thick vanilla pudding and then a thin layer of chocolate ganache.  It was tasty but nowhere near as good as their Ooey Gooey Toffee Cake.
I have one more photo that could be of interest to those with kids, the Kids Menu…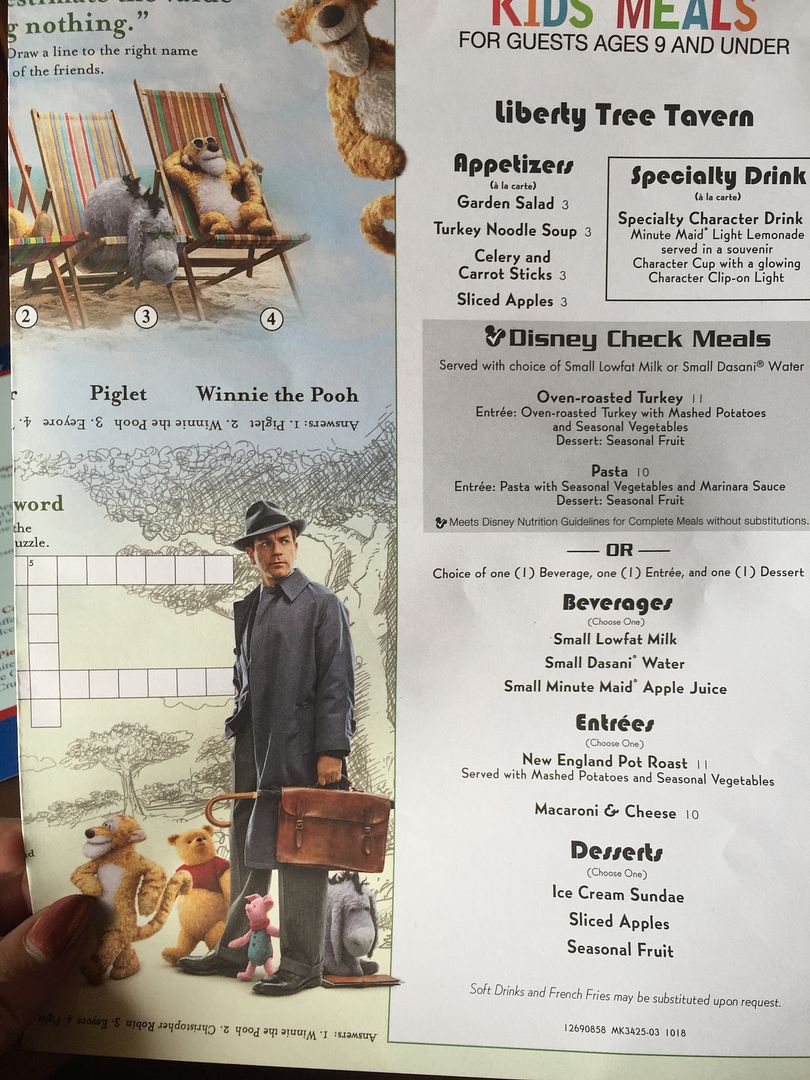 Though I still have faith in Liberty Tree Tavern and it remains my favorite place for lunch at Magic Kingdom,  I must say that they let me down this time.  Hopefully next time (which there will definitely be) they will do better.
And that just leaves the ratings and rankings.  Both Trip Advisor and Yelp reviewers gave Liberty Tree Tavern 4 stars.  Normally I would give Liberty Tree 4 stars or more.  However, sadly this lunch was not close to a 4.  Instead my meal (entree & dessert) was about a 3.  As for the rankings, Liberty Tree Tavern ranks #194 of the nearly 3,000 Orlando area restaurants reviewed on Trip Advisor.  Narrowing it down to just the Disney World area restaurants, Liberty Tree Tavern ranks #59 or in the top 25%.