After checking out the menus at La Cantina de San Angel and Choza de Margarita, both in the Mexico area of Epcot's World Showcase, we found things which sounded appealing at both of these quick service dining locations. So what tipped the scale in La Cantina's favor was the fact that it has much more designated seating available, including the option of sitting inside the adjacent, air-conditioned table service restaurant, La Hacienda de San Angel, if dining earlier in the day (more on that later).
So let's begin by showing you their menu posted outside…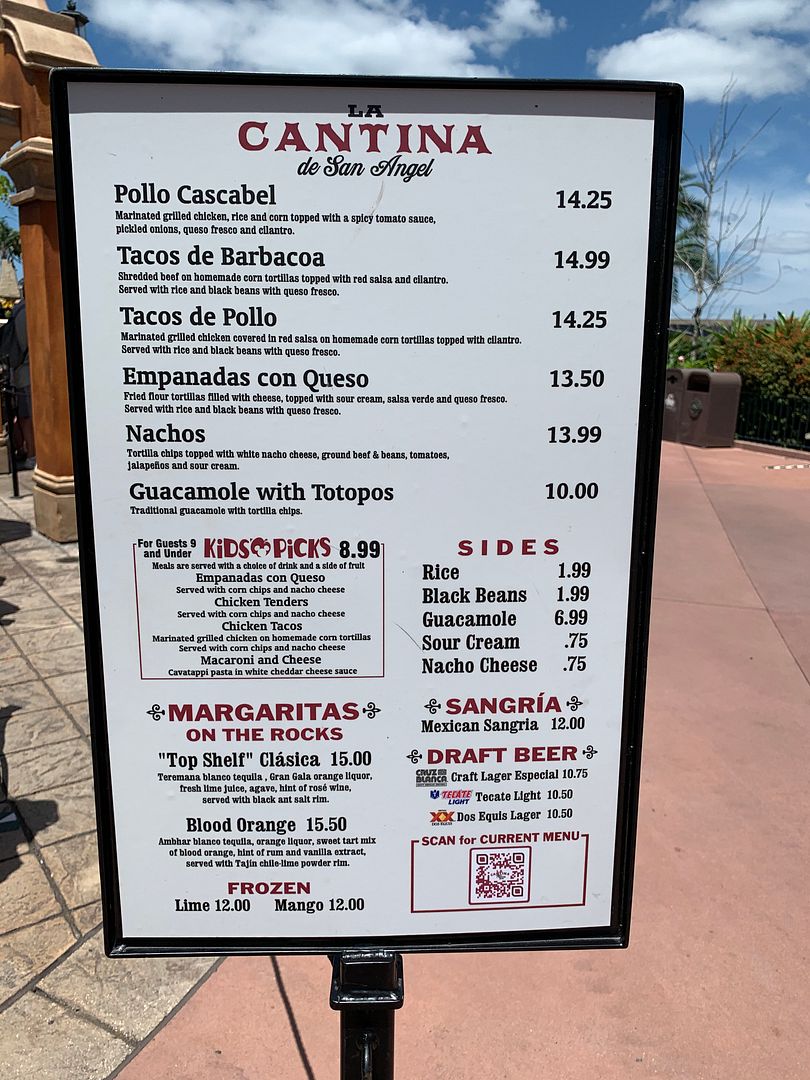 From this menu, Andrew chose the…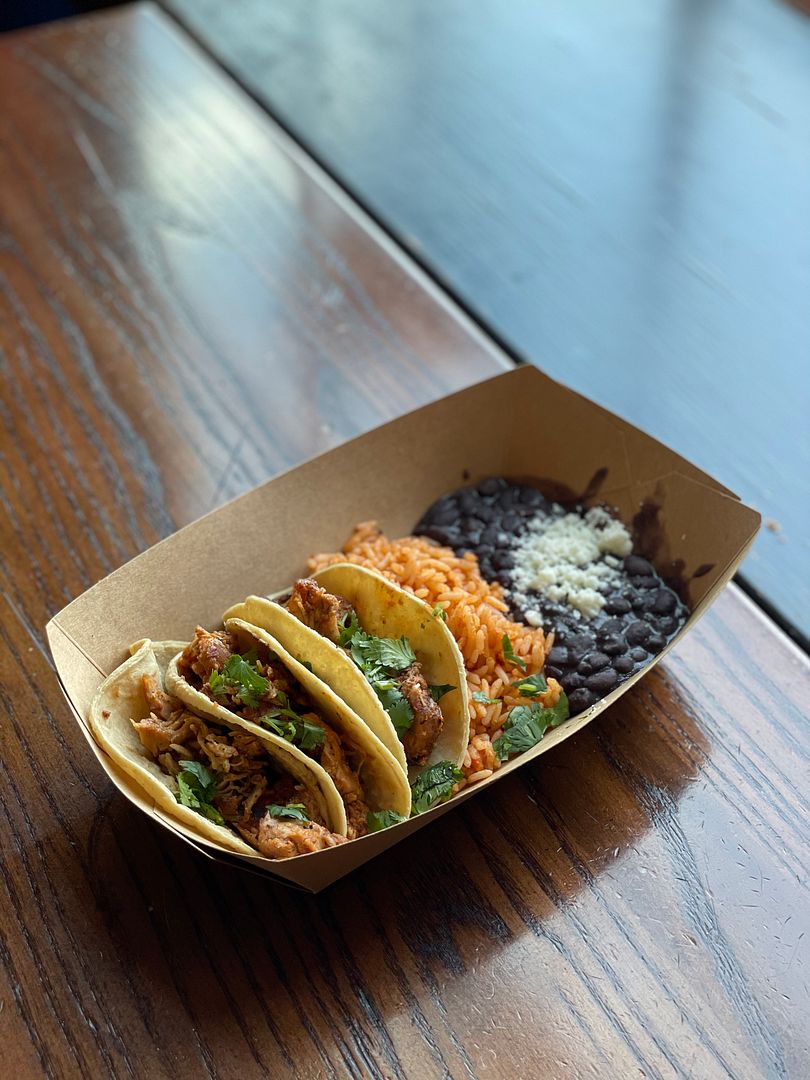 Tacos de Pollo – Marinated Grilled Chicken covered in red salsa and topped with cilantro on Homemade Corn Tortillas. Served with Mexican Rice and Black Beans topped with queso fresco.  – $14.25
He enjoyed the tacos and both of the sides.  One very minor issue is that he generally prefers flour tortillas when given the choice but it wasn't a big deal.  
I feel the same way about my taco shells, preferring flour tortillas over corn if served soft, so I didn't have the (fish, chicken, or beef) tacos here.  Since we had tried the nachos on our last visit to La Cantina, I decided to have another option on their menu…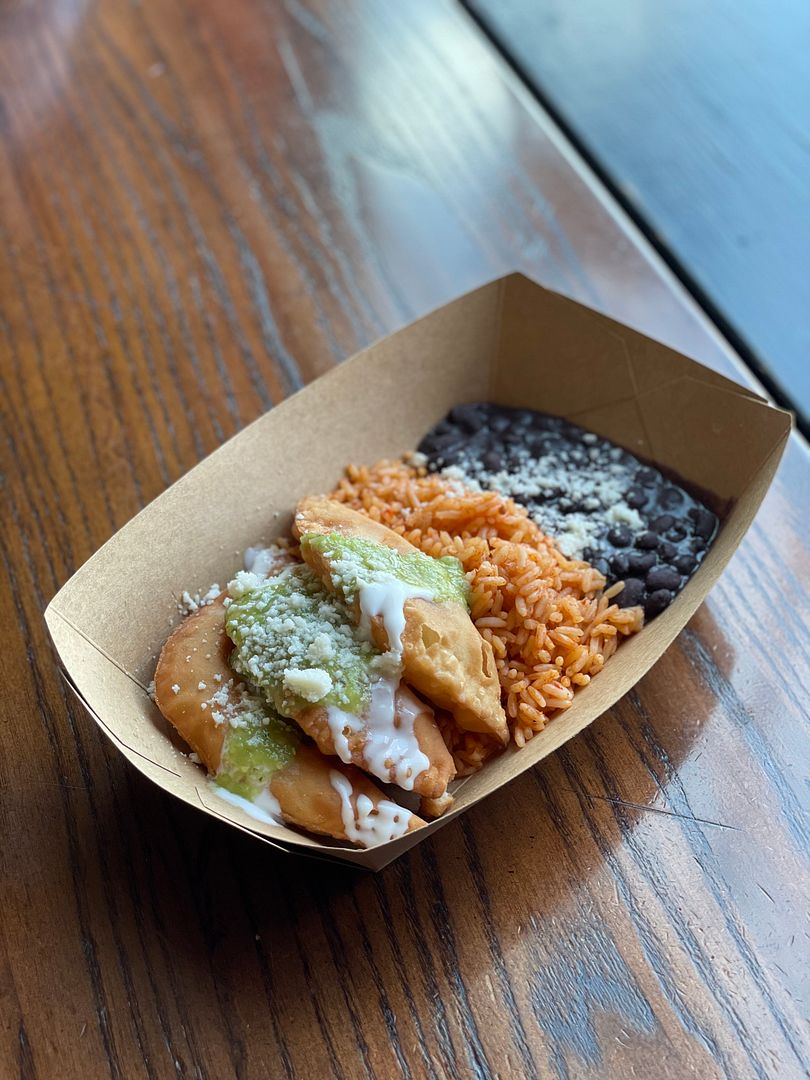 Empanadas con Queso – Fried Flour Tortillas filled with Cheese and topped with sour cream, salsa verde, and queso fresco.  Served with Mexican Rice and Black Beans topped with queso fresco. – $13.50
And a closer view…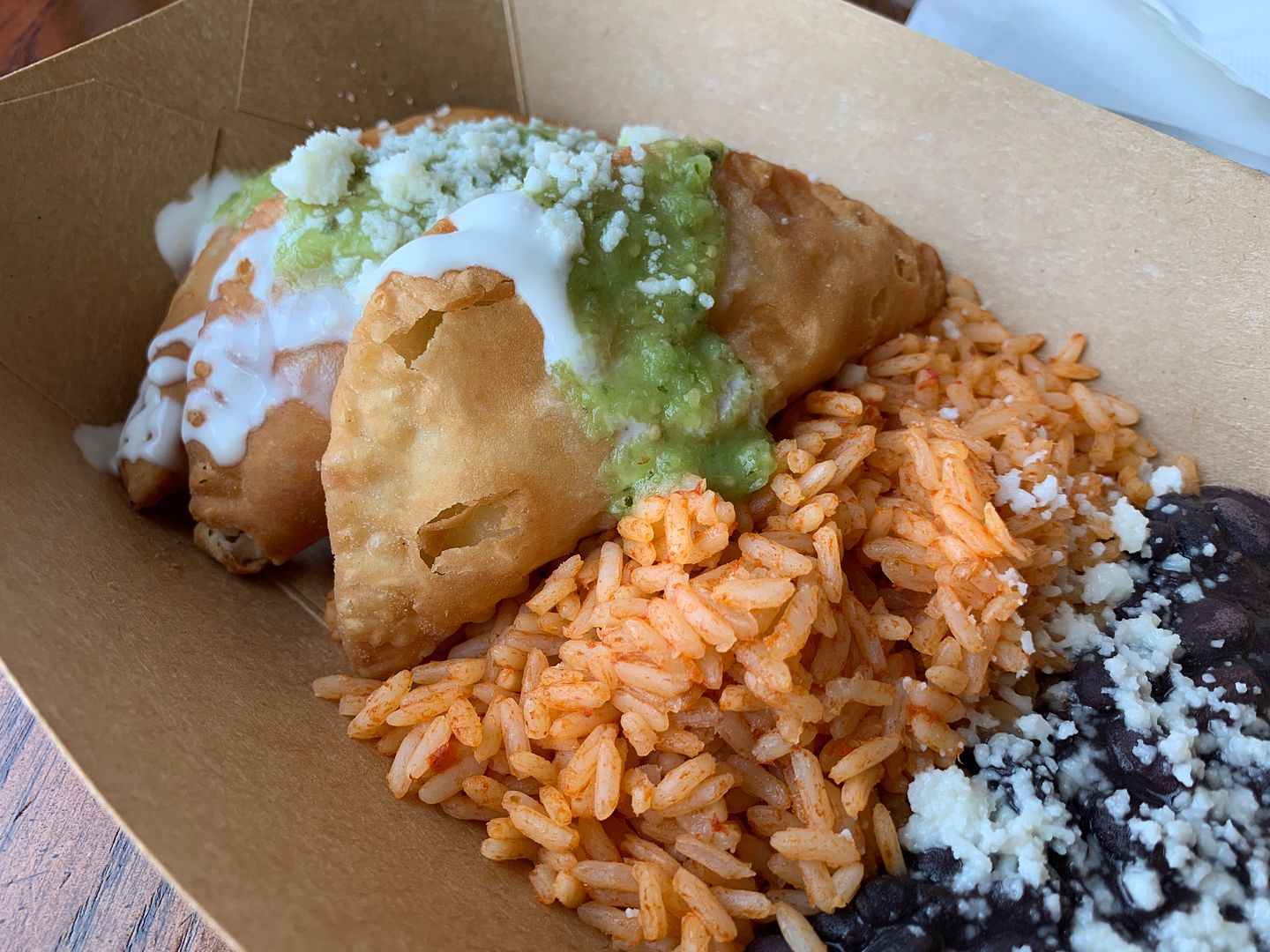 I've noticed that on the current menu on the official Disney World website, the side listed for the Empanadas is Mexican slaw. I liked the rice and beans so if given a choice I would recommend substituting them for the slaw. As for the empanadas, they were very good. I liked that they were made with flour tortillas. This is something I would get again, however first I would like to try the Empanadas with Barbacoa Beef that are served at Choza de Margarita. I think it would be fun to compare the two, cheese vs. meat filling.
One more thing to add in regard to our beverages here. No non-alcoholic beverages were listed on the menu posted outside so we did the bar code scan for their current menu to find out our options.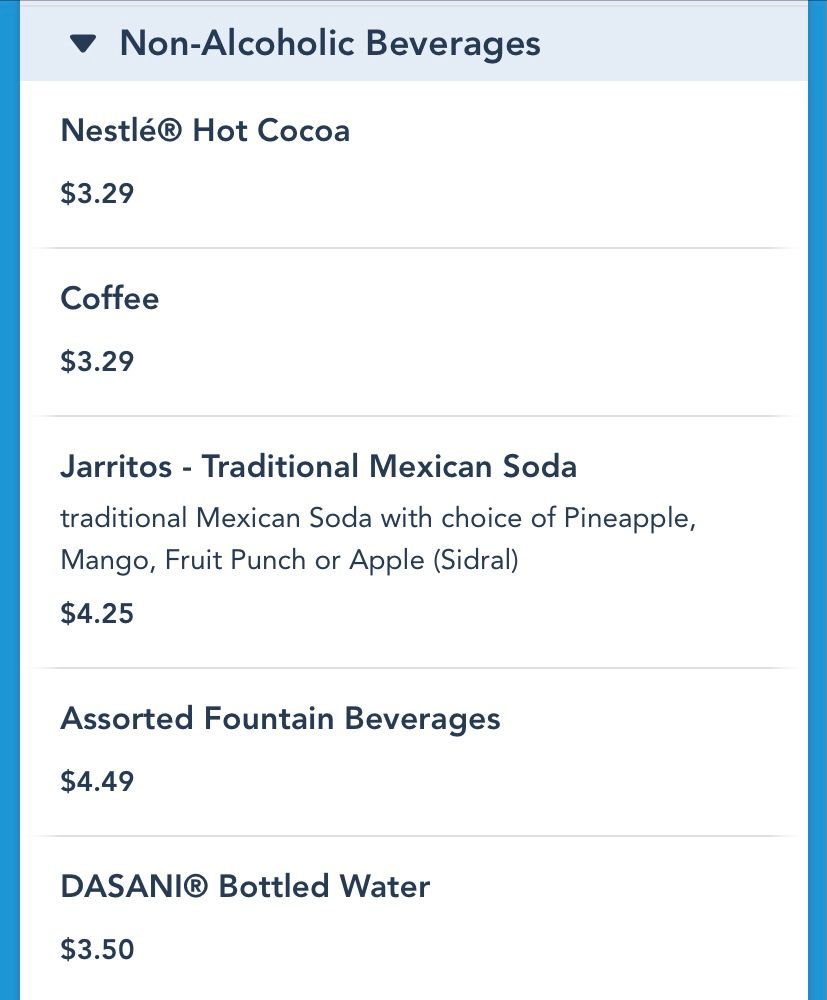 Under the category of Traditional Mexican Sodas we were both happy to see the apple flavored soda, Sidral Mundet, and both planned to order it. But when we got up to the register to place our order with a Castmember (no Mobile Order service available here), we were told that it was not available. And I see that it is no longer listed on the current online menu so I guess it wasn't just that they were temporarily out of it. Boo! Andrew switched to the Pineapple flavored Jarritos soda (for $4.25) but I opted for a free glass of ice water, which I was given just a small glass here. (Note: Other quick service locations gave us large glasses of ice water). Anyway, after tasting Andrew's I wished I too had gotten the pineapple soda…however it still wasn't as good as the Sidral apple.
Regarding our seating, we opted to take our food inside La Hacienda, where we were able to choose our own table. We of course chose a table by one of their large windows, so had a great view of the World Showcase Lagoon and the Harmonious barges (not so affectionately known as the giant tacos)…
This made for a very comfortable (due to the air conditioning) and relaxing lunch. Plus it was quiet enough in there for Andrew to take part in an online work meeting, which worked out quite well. I was surprised by how few people chose to dine inside. Perhaps they didn't realize it was an option??
We were even visited by this cute little gecko (I think that's what it was?), who peered at us over the outside window ledge…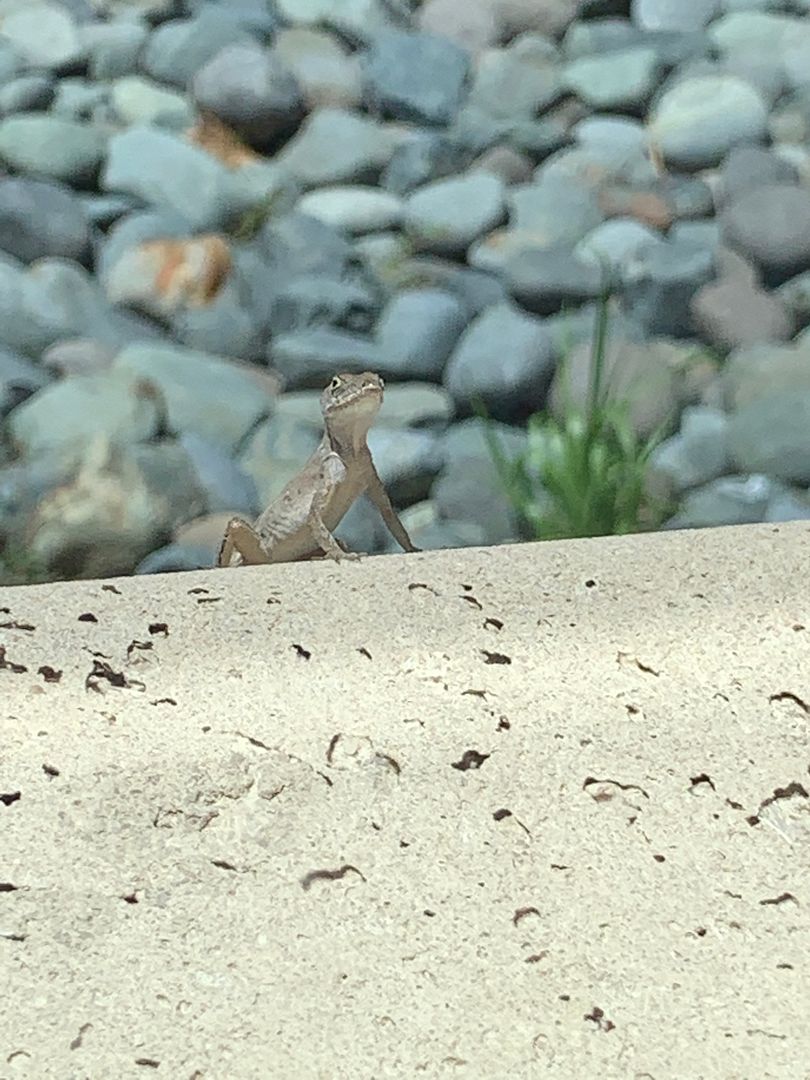 So anyway, it was so pleasant in there that we ended up staying for a little more than an hour. At about 2:00 we saw that the waitstaff were starting to get the restaurant ready for their dinner guests, which was an hour before they were due to open that day, at 3:00 p.m. So we knew it was time to move on.
And so, that just leaves the ratings. Though the reviewers on Yelp gave La Cantina only 3 1/2 stars, those on TripAdvisor gave it 4 stars. I would tend to agree with the 4 star rating. All the food that we've had here during our two recent visits (nachos, chicken tacos, and empanadas) has been good and being able to sit inside in the air conditioning on a hot day made our lunch quite enjoyable. If the tacos had been made with flour tortillas and if they had Sidral apple soda, we probably would have rated it even higher, lol.