At the time that we visited Gasparilla Island Grill, the quick service restaurant at the Grand Floridian resort, mobile ordering was required. There was a cast member standing at the restaurant's entrance to verify that you had placed your mobile order and that you had been notified that it was ready for pick up. We had placed our order while still in our room at the Grand Floridian and then walked over to the restaurant and found a place to sit outside while we waited for our notification.
Here was the Lunch menu that we ordered from…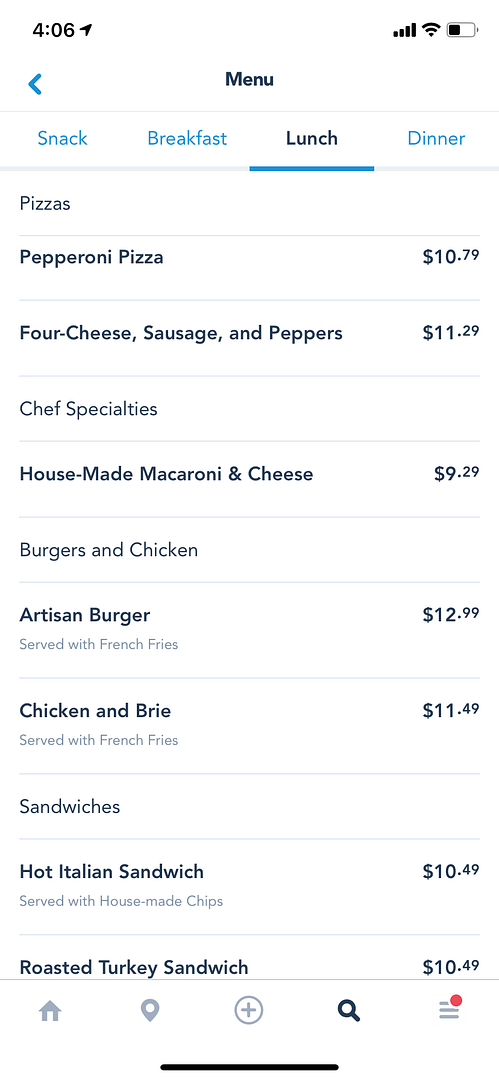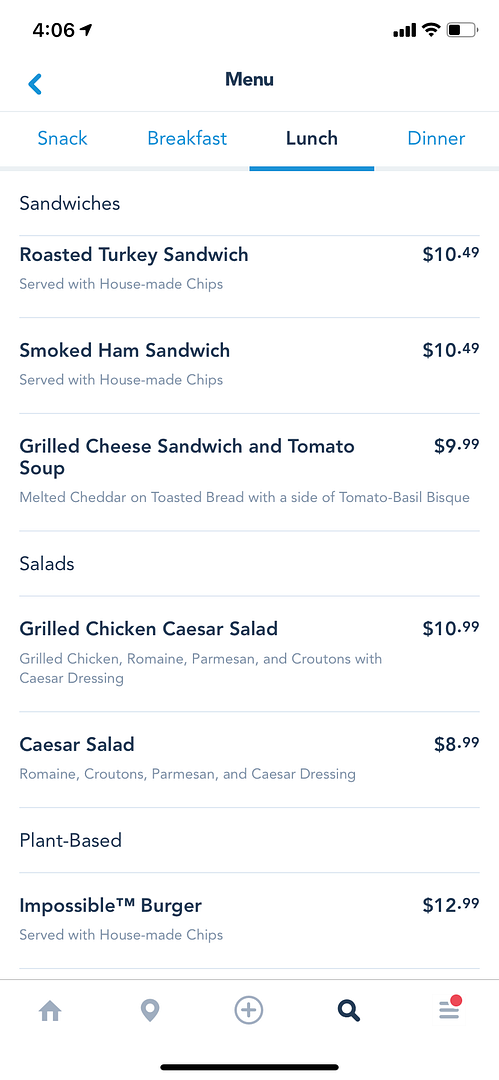 The outside area in front of of the restaurant had a few tables, all of which seemed to have a nice view. Here were a few pics that I took from our table…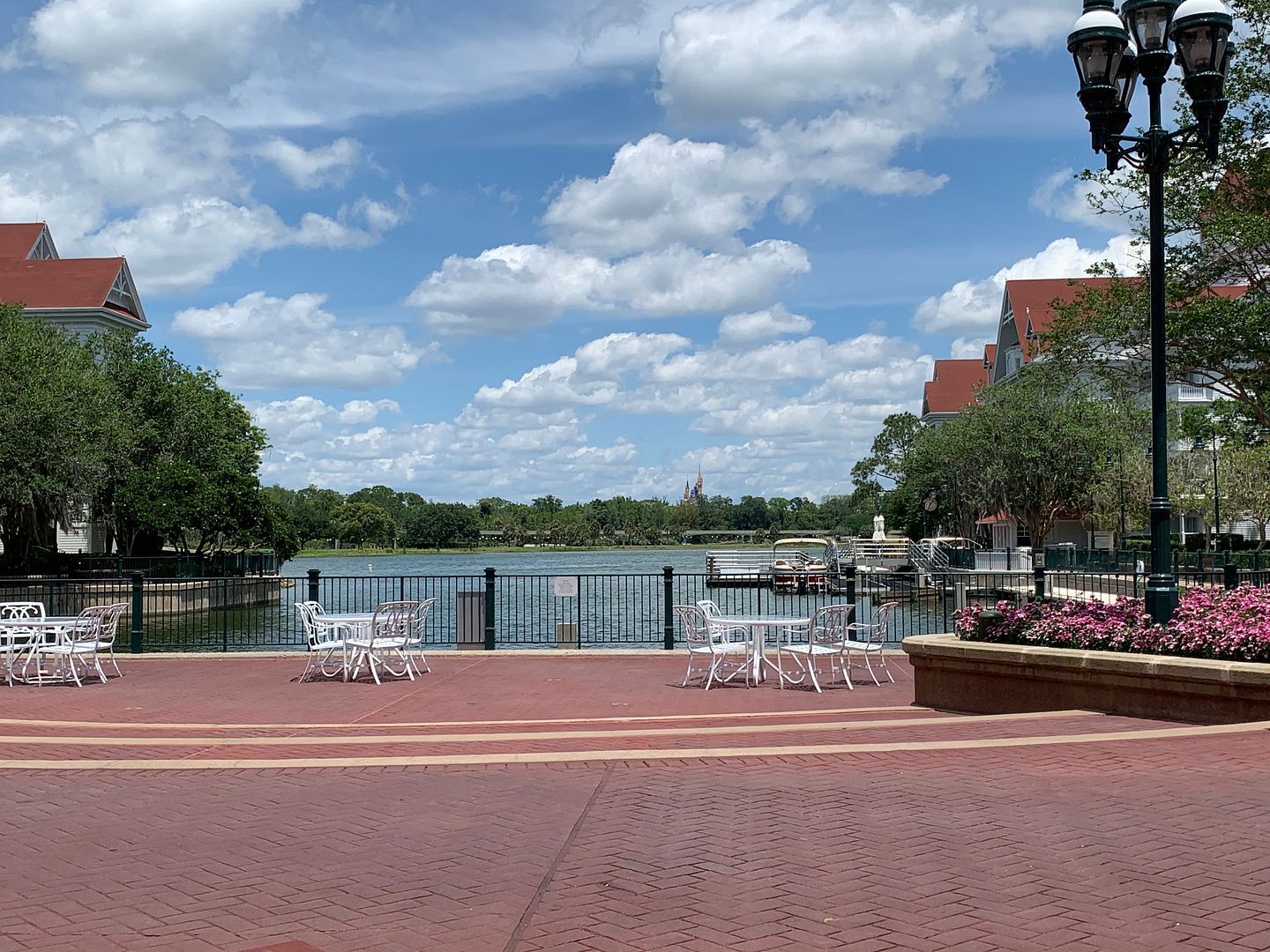 Here's one with the monorail…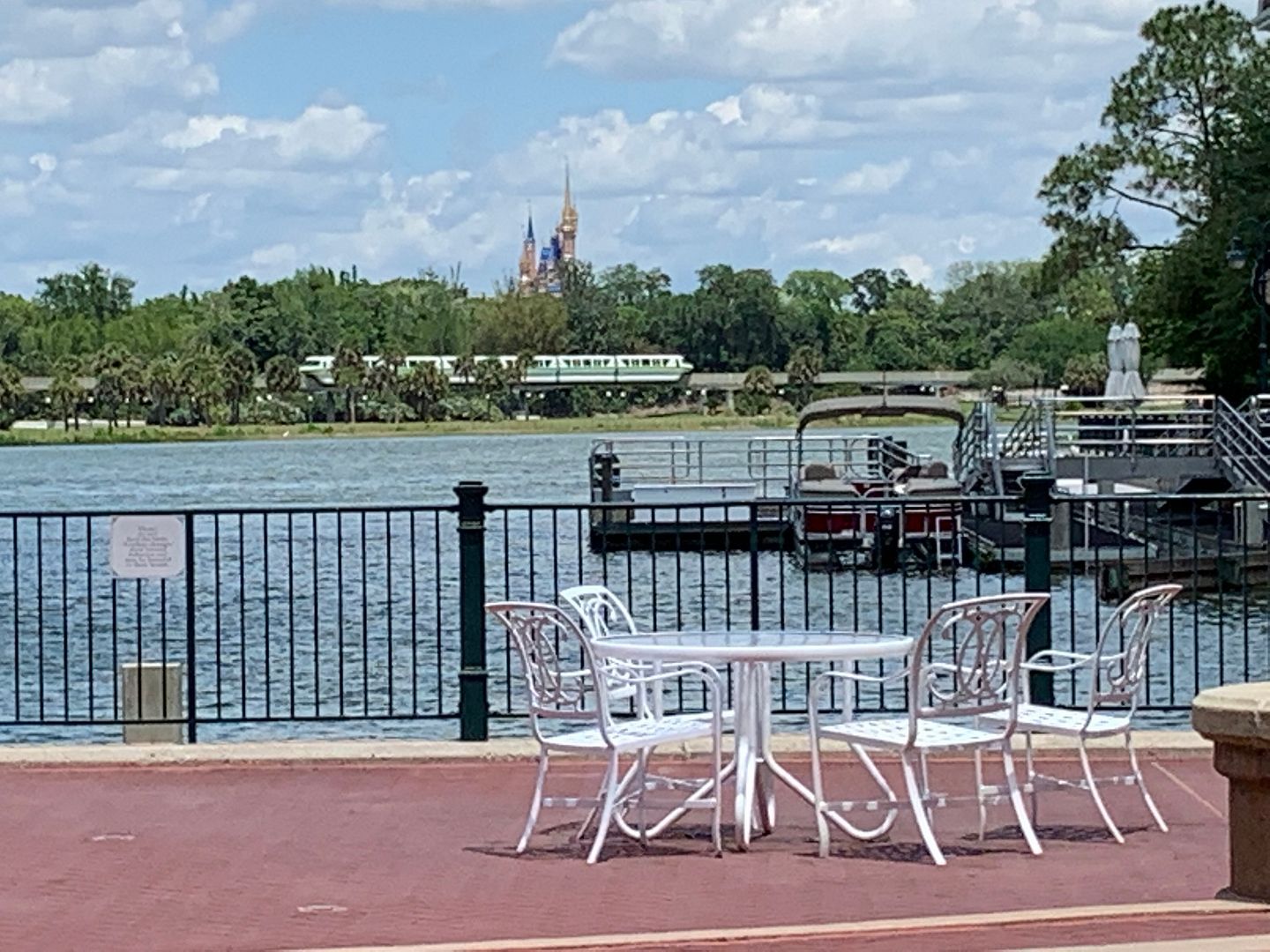 After about a 20 minute wait I finally received the notification that our order was ready. I showed this to the cast member so that I could enter the restaurant. Once inside I saw some bags on a table, which appeared to be filled orders. I found the one that had my name on it…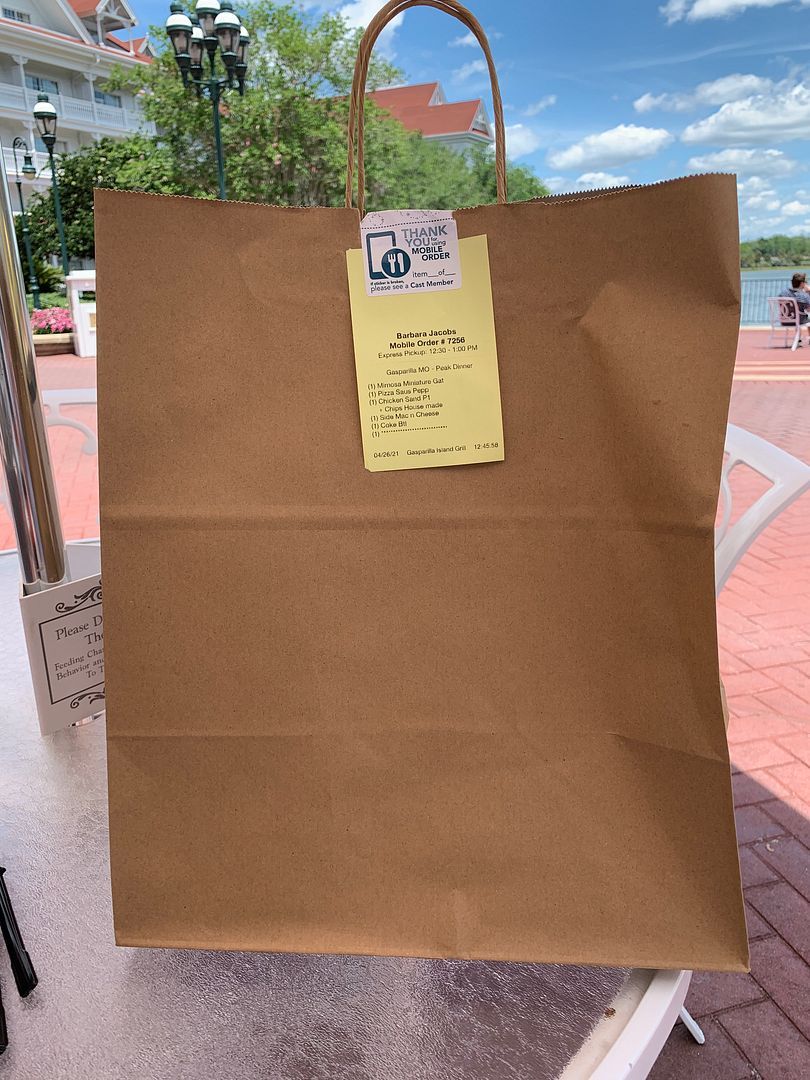 I brought the bag outside, where Andrew was saving our table. Inside our bag was the sandwich that Andrew chose…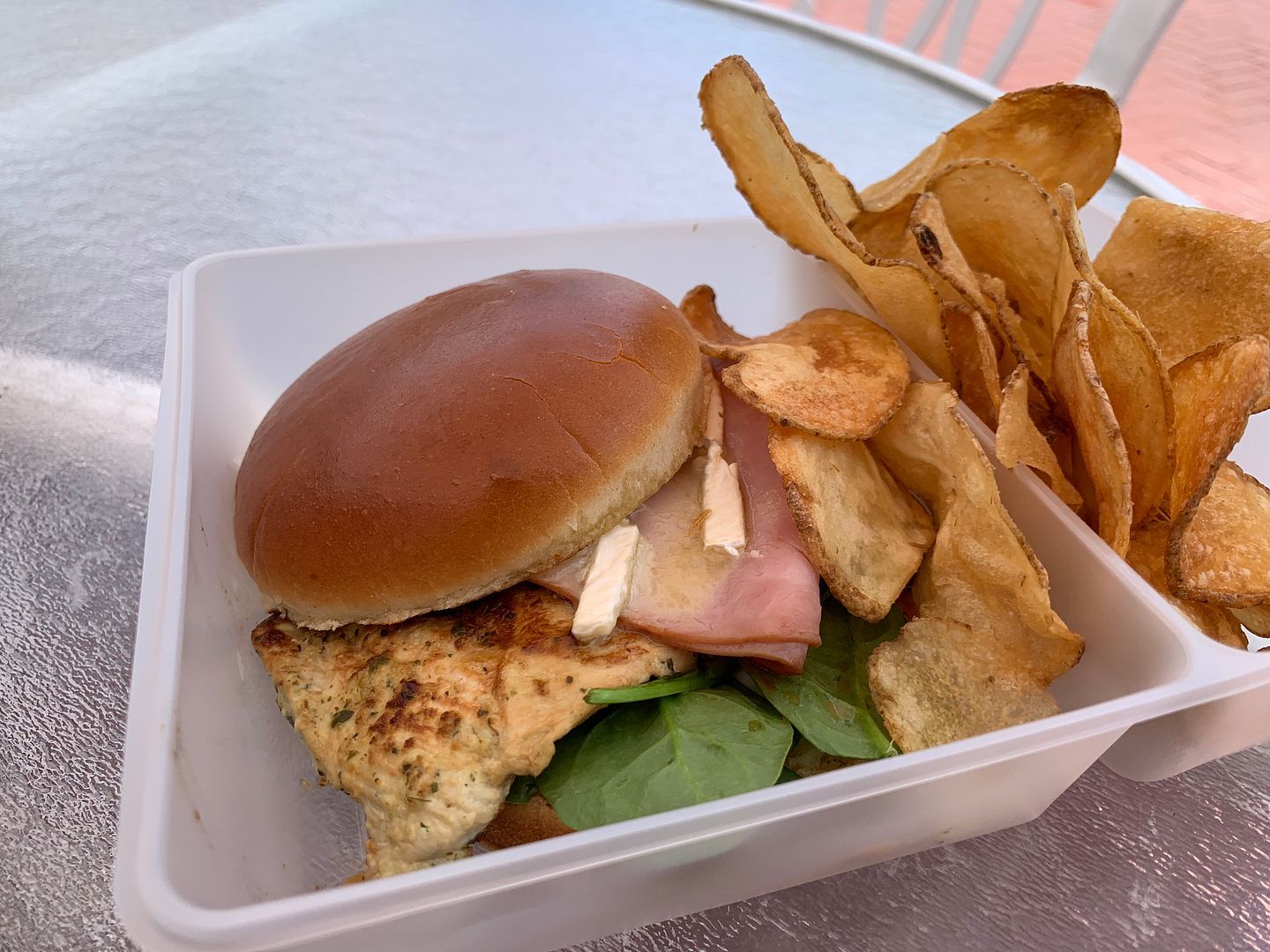 Chicken and Brie – Grilled Chicken, Ham, Brie, Spinach, Raspberry Mustard and Mayonnaise on a Brioche Bun served with French Fries or House-made Chips (he chose the chips) – $11.49
The bottom of the brioche bun was already soggy and falling apart. The chicken breast though was nicely grilled and well seasoned. However, Andrew didn't think the slice of ham complemented the chicken very well and also he thought there wasn't enough cheese. As you can see from the photo, there were just a few thin strips of brie on top of the ham. But that would have been more easily forgiven if the bun had held up to its contents. He was also disappointed by the raspberry mustard. Though he likes both raspberries/raspberry flavor and mustard, he did not like the two combined. Andrew did like the house-made chips though, probably more than the sandwich.
I had originally thought I would get the chicken sandwich so when Andrew chose it, I went with Plan B…
Four-Cheese, Sausage, and Peppers Pizza – $11.29
I was thinking this would be more of a flatbread-style pizza with a thin, crispy crust but the crust was thicker than I'd expected. It was though, better than the less expensive "pillowy" pizza that is sold at several quick service restaurants at Disney World. I liked the slices of roasted red and yellow peppers, which added a little sweetness to the flavor of the pizza. I would have liked to have more cheese on it though and more sausage, or maybe smaller pieces of sausage that better covered the entire pizza.
Another thing that I had wanted to try here was their House-Made Macaroni & Cheese, which is listed on the menu as a Chef Specialty. I knew I couldn't eat both the pizza and a full-size order though. However, when I saw that it was available as a side on their menu I decided to go for it.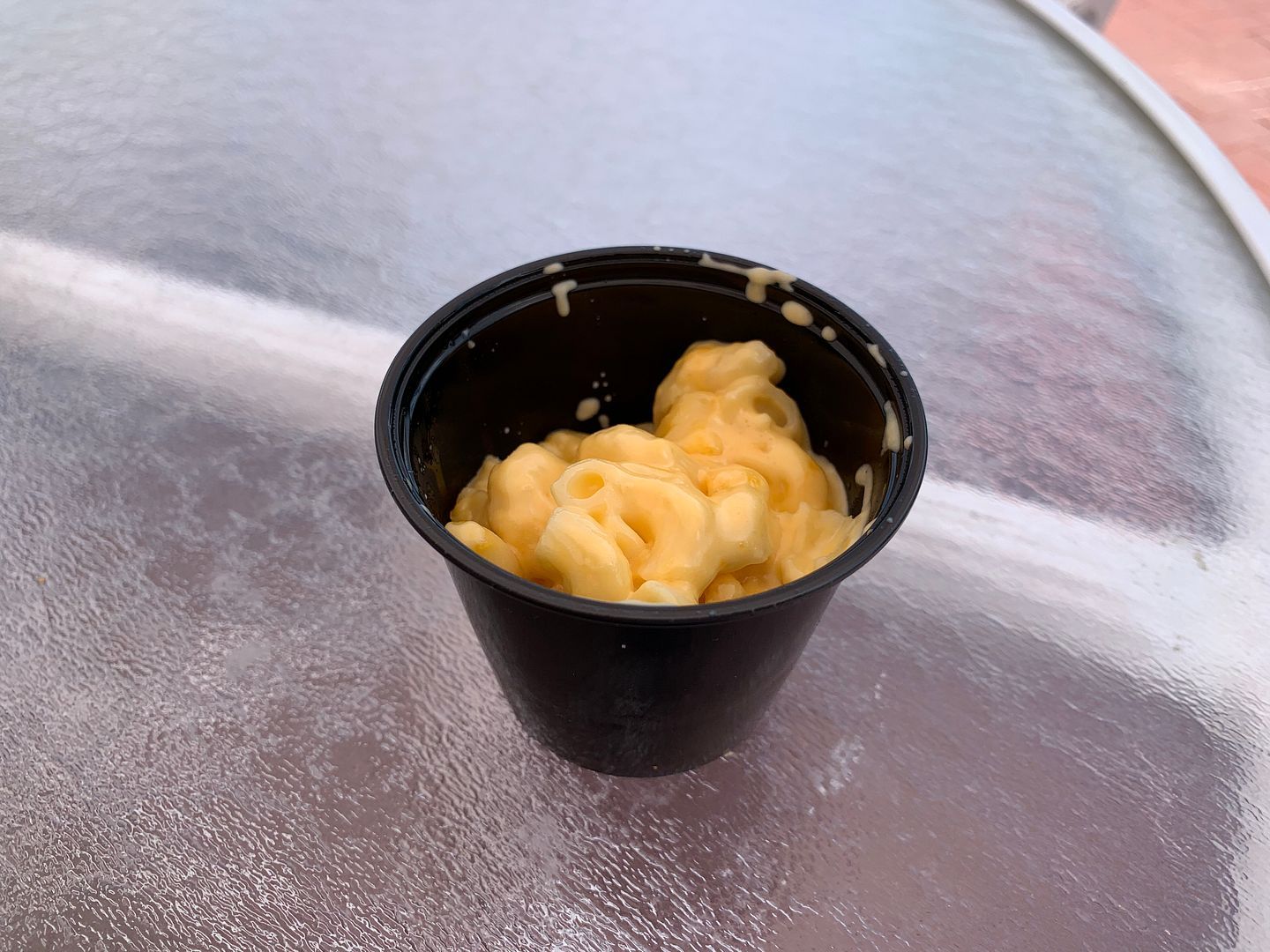 Side of House-Made Macaroni & Cheese – $4.49
I was shocked when this came in a condiment size cup and the cup was not even full. I thought it was pretty good, Andrew did not. But at $4.49 for a few bites, this was WAY OVERPRICED!!!
Now for the best part of this meal. During the mobile order process a surprise popped up at the top of the menu…
This Mother's Day cake looked too pretty to pass up, so of course I had to get it. I then took it back to our room and did a photo shoot from the balcony, lol…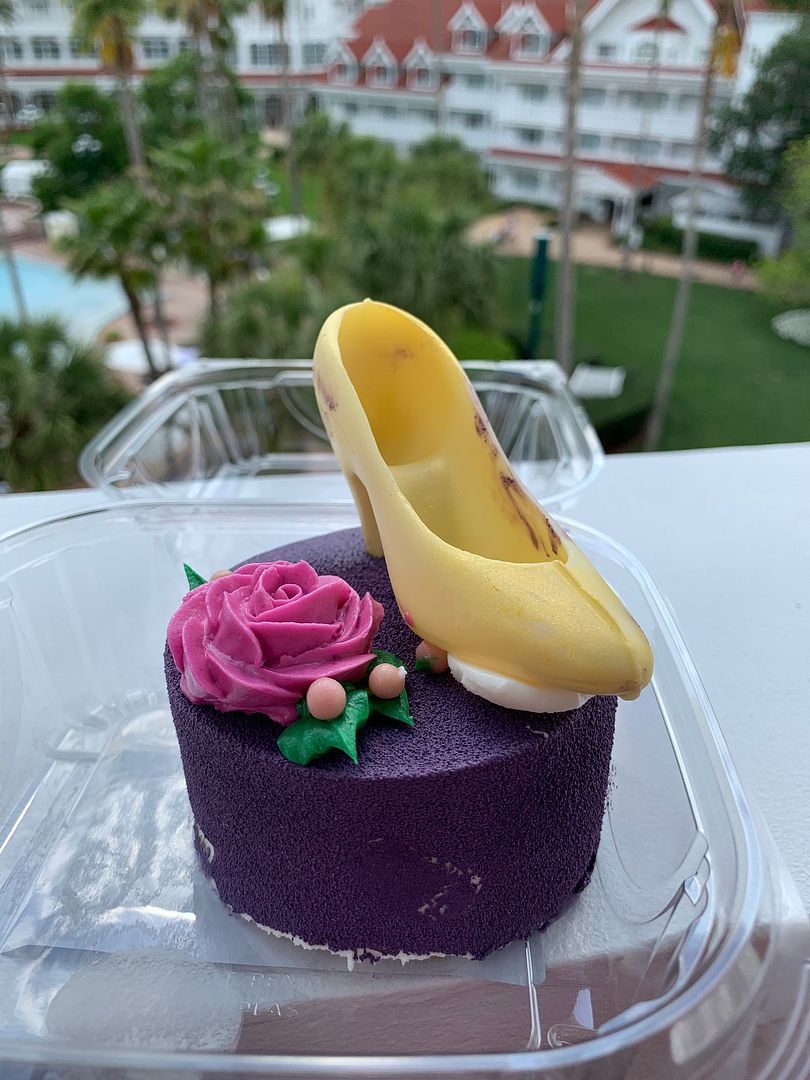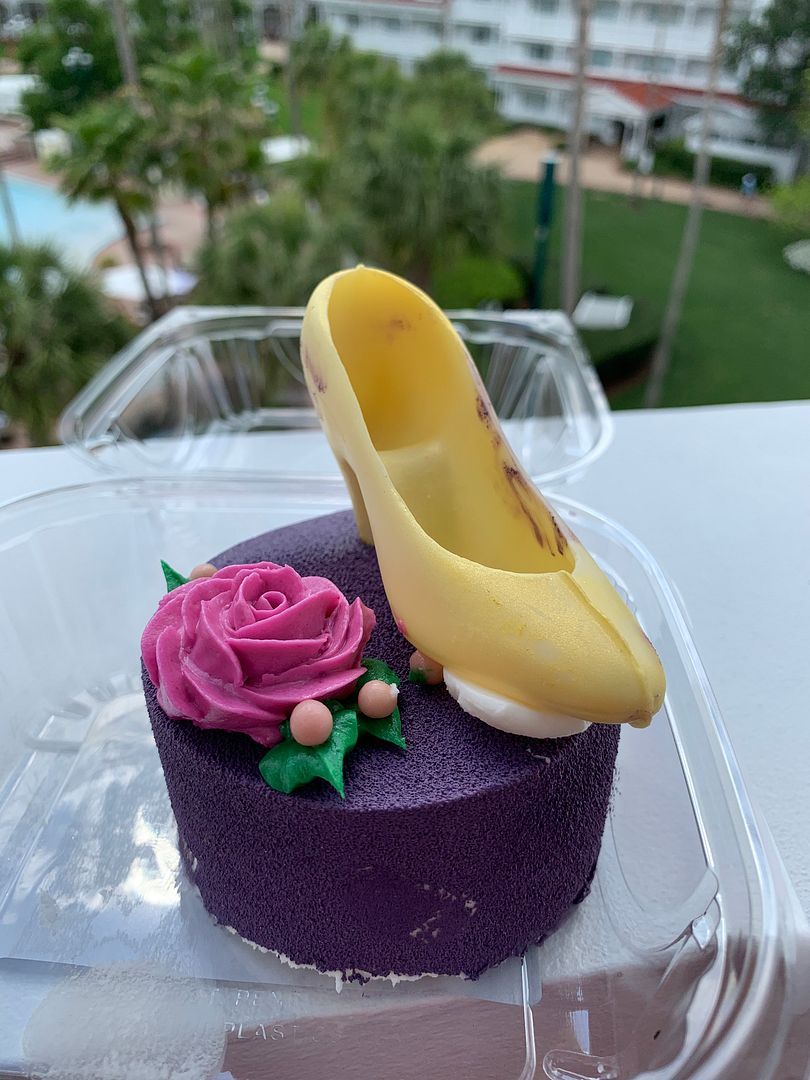 Mother's Day Mimosa Miniature Gateau – Golden Sponge Cake filled with Mimosa-flavored Mousse and topped with a White Chocolate Cinderella Slipper – $7.99
Andrew thought I was nuts, but for $7.99 I wanted to at least get a good Instagram photo from it. I figured it was too pretty to actually taste good. But I was wrong!!! The cake was delicious! Much to my surprise, it was probably my favorite dessert of the trip. Yes, even better than the Narcoossee's almond cheesecake. The only negative was that the white chocolate slipper was too hard to bite into. Oh well, I guess you can't have your cake and eat the slipper too, lol.
So overall this lunch was a bit disappointing. I'd read some great reviews so my expectations were probably too high. While the cake was a winner, it was only offered for a very limited time. The rest of the food was fine but not anything memorable.
And that just leaves the ratings. The reviewers on Yelp have given Gasparilla Island Grill a rating of 3 1/2 stars and I would agree with that assessment. Tripadvisor reviewers though gave it 4 stars. One of the recent reviews there said, "Excellent Dessert – OK Meals." Based on this experience (our first and only one here) I would have to agree.