My experience began by giving my name and phone number to a Gideon's employee working outside of the shop. This was required in order to join the virtual queue to allow access into the actual "physical" line waiting outside to enter Gideon's. Quite a process, but I guess preferable to having mile long lines of people waiting for hours just to enter the shop. This is quite the popular place!
Soon after adding my name, which was at about 7:00 p.m., I received this text…

Yep, you read that right.  That means a wait of almost 2 hours just to be allowed to enter the actual line to wait some more.  Yikes!  
We were done with our dinner at The Boathouse by around 8:00, but as was expected I had not yet received a text inviting me to enter the line.  So I found a seat across from Gideon's and did some people watching while I awaited my summons.  Here is what some of the socially distanced line in front of Gideon's looked like at 8:15…
At 8:32 I received my text…
So this came about 1 1/2 hours from the time I entered the virtual queue, which was about 20 minutes earlier than expected (per the estimate I was given). I followed the instructions and showed my text to one of the two greeters who were guarding the end of the line by the Return sign.
As I stood in line I couldn't help but eavesdrop on the conversations of those standing in the line around me. I overheard the recommendation by a man who lived locally that his favorite thing at Gideon's was not the cookies, but instead was their Red Velvet cake. Hmmm, I like red velvet cake.
After about a 15 – 20 minute wait in the outside line it was my turn to enter the shop. I actually didn't know what to expect once I stepped inside because I hadn't taken the time to read any reviews. This visit to Gideon's had not really been something that I'd planned. Instead it was just a spur of the moment decision based on the recommendation of a Disney friend, who I accidently bumped into while walking around Disney Springs to kill time before our dinner reservation.
And so I was quite surprised by the décor of the shop. From the light fixtures…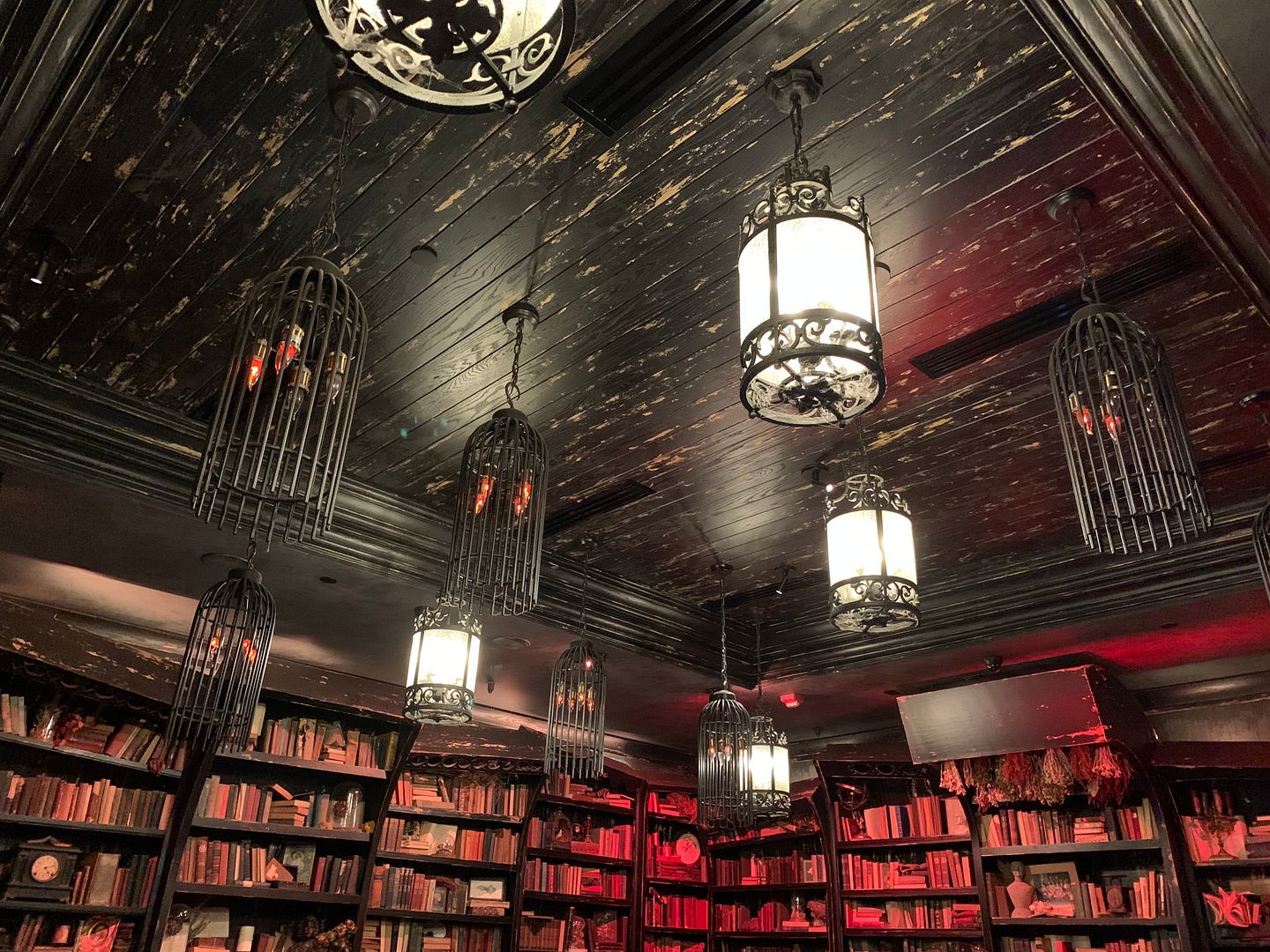 To the walls lined with bookshelves, which were filled to the brim with old books, clocks, framed photos and various other knickknacks.  For me, this shop had a Harry Potter Diagon Alley vibe.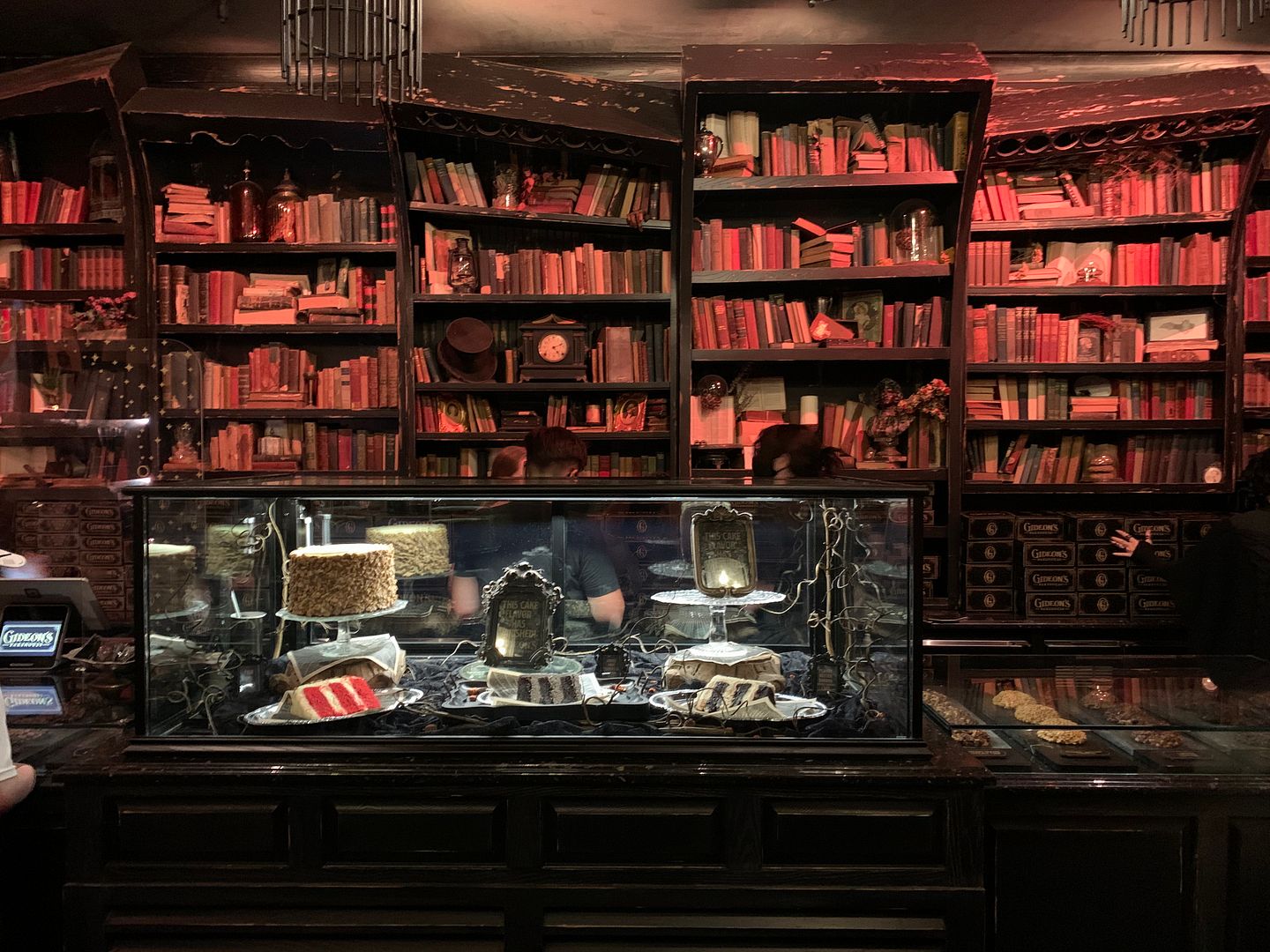 But I was soon called to place my order so it was time to focus on my options and make a decision…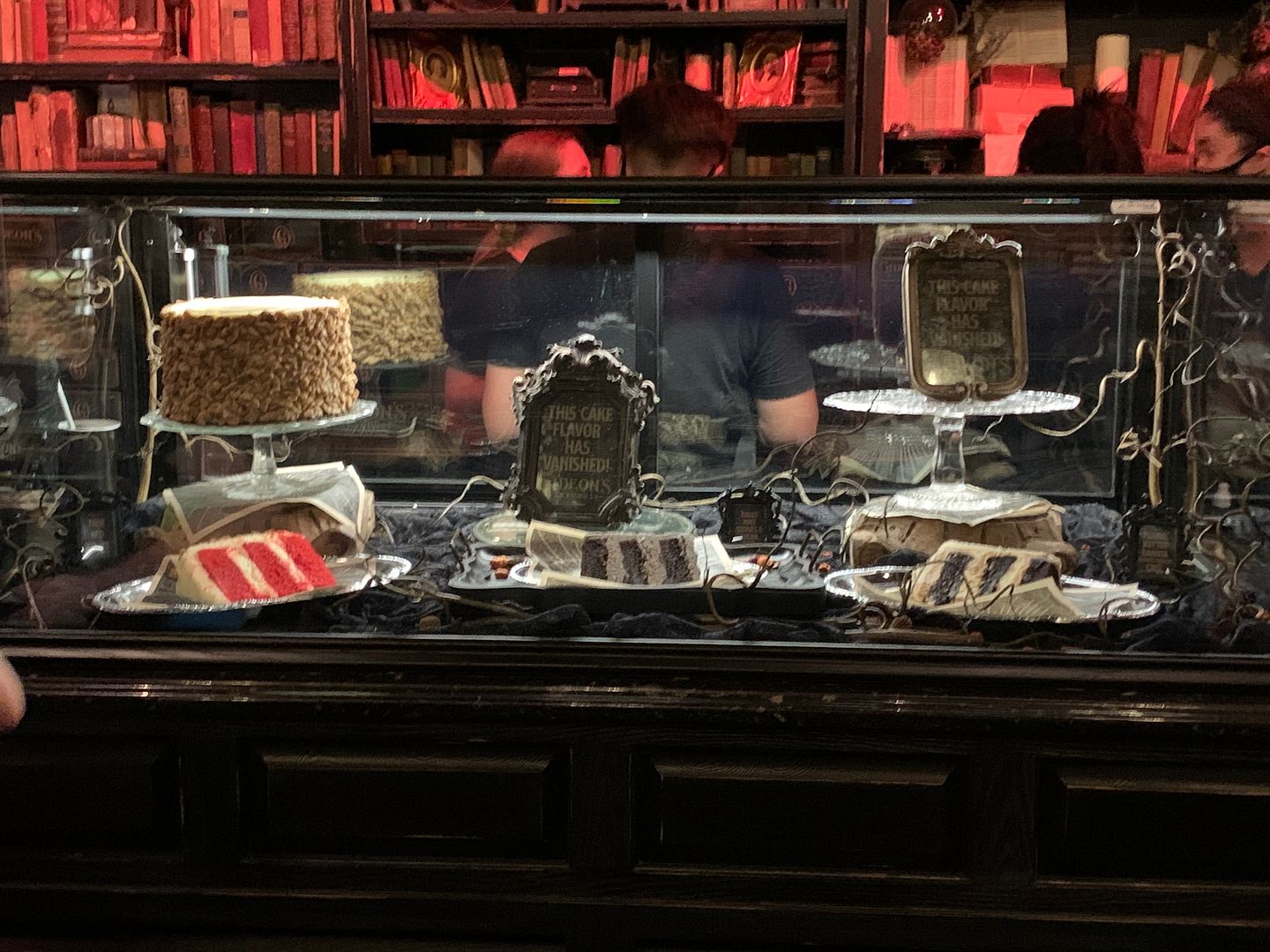 In the cake display case I spotted the Red Velvet cake. While they had run out of the other two cake flavors (the signs said they had "vanished"), they still had the Red Velvet one. So I took that as a sign that I was meant to try it.
It was packaged for me in this fancy box…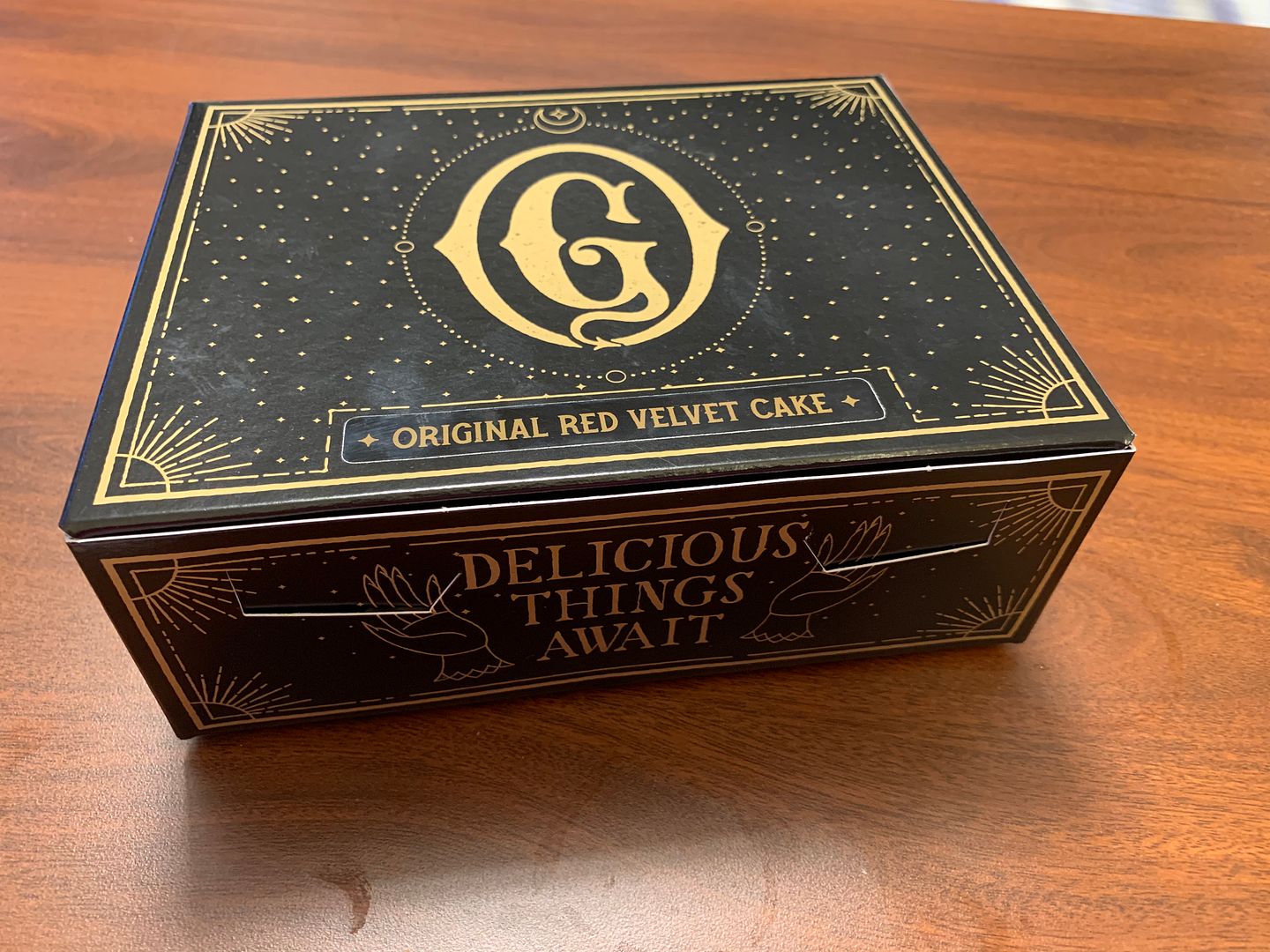 And here is my slice of Red Velvet cake, which cost $9.00…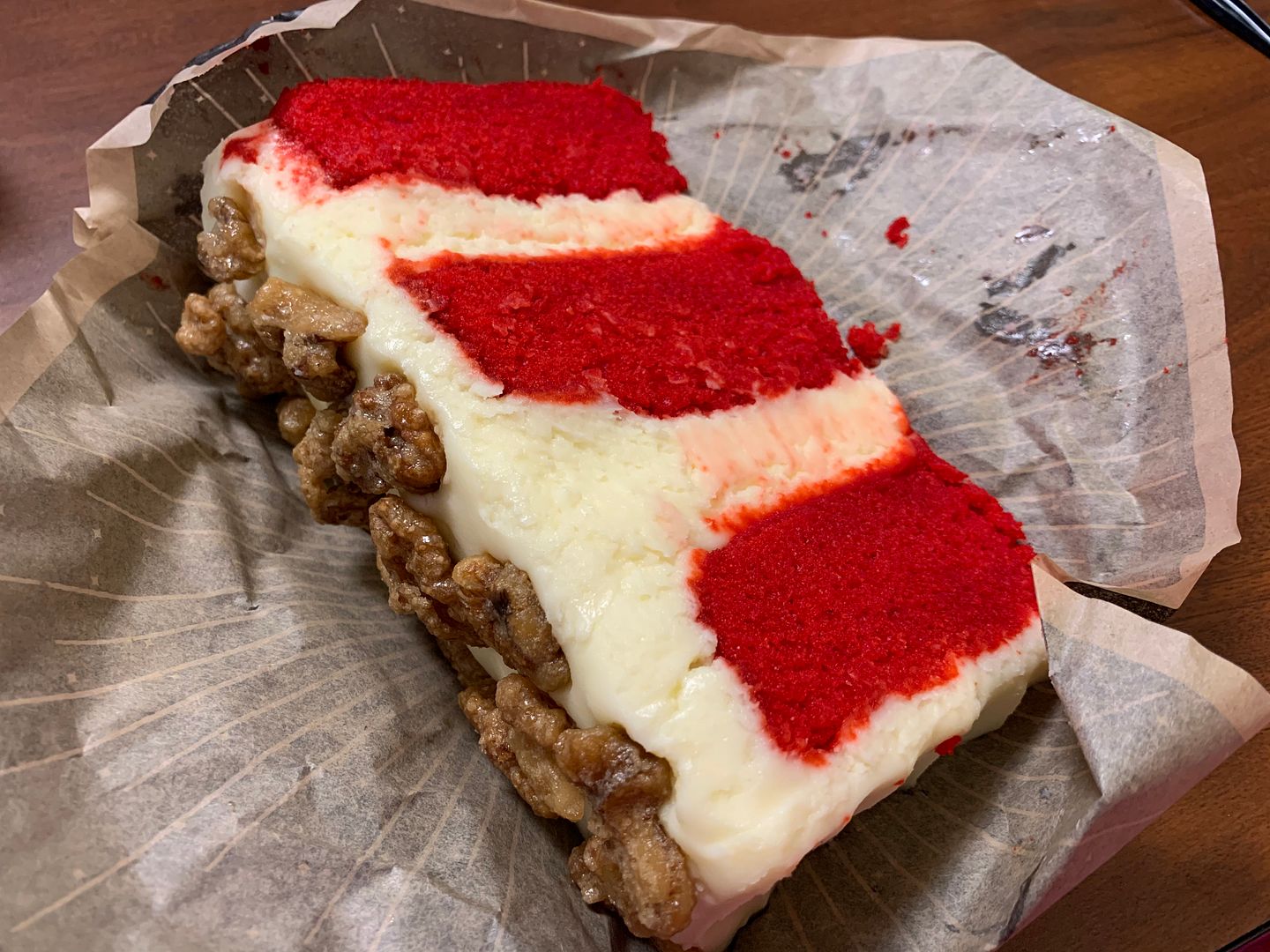 This was a huge slice of cake and it was a heavy sucker! The cake was very moist and dense and the frosting was quite thick. The cake's texture was a bit gooey and tasted a little undercooked. They advertise it as being "real red velvet cake" made from buttermilk and not just chocolate cake with red food coloring added. But I realized after eating some of this that I prefer the "fake red velvet cake". Haha. The flavor of the cake was just "blah", although it was helped by the cream cheese frosting, which was good but also very rich. The frosting was topped with candied walnuts. I suppose if you are a fan of walnuts this would be a nice bonus but I'm not really a walnut fan. So the red velvet cake was pretty much a fail for me. I ate a few bites, put it in our hotel room refrigerator and then threw it out when we checked out of our room two days later.
Now I of course also had to get some cookies because that is what Gideon's is known for. Plus I felt like going through a 2 hour process just to enter a store, and then only buying a single slice of cake would be silly. Haha.
So I also purchased 2 of their Original Chocolate Chip Cookies and 2 of their Peanut Butter Crunch Cookies, which cost $6.00 each. Here is my photo showing the two different kinds of cookies…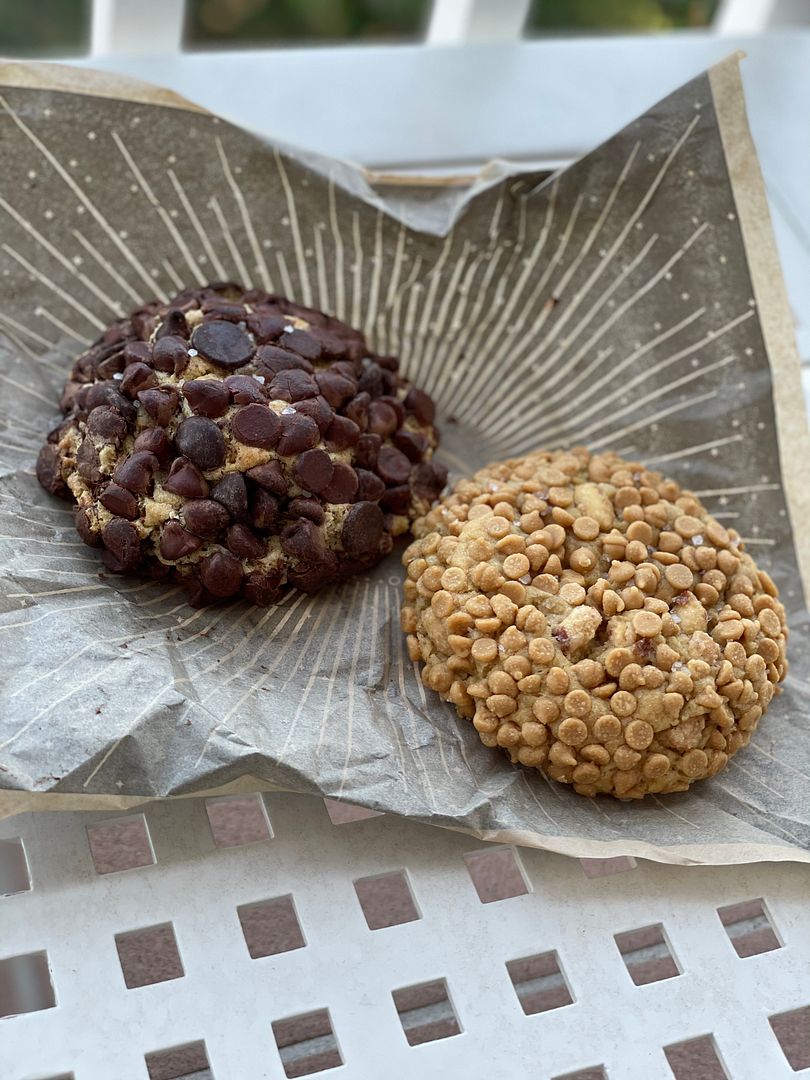 I saved the cookies and brought them home with me to share with my husband.  Though they were better than the cake, sadly I'd have to say that they too were a bit disappointing.  However,  I should have prefaced that remark by first saying that I prefer a different dough to chip ratio than what these cookies had.  These cookies were loaded with chips…way too many chips, in my opinion. But my husband enjoyed these, because he is a chip lover, especially chocolate chips.  He can eat Nestle's Tollhouse semi-sweet chocolate chips straight from the bag, but not me. 
So anyway, it's probably unlikely that I'll be waiting in a virtual and actual line for hours to buy these cookies or red velvet cake again.  But it's obvious that I'm in the minority regarding Gideon's.  I mean, just look at the reviews on TripAdvisor, where reviewers have given Gideon's Bakehouse a 4 1/2 star rating.  So I guess I should visit Gideon's again sometime and try something else.  Until then I give Gideon's a rating of  3 stars, mostly due to the cool atmosphere.  After all, I do love Harry Potter!