Arriving at 10:30 p.m., much later than I had expected, I was unable to try any of the appetizers/small plates at Enchanted Rose.  They stop serving food at 10:00, which seems very early for a Disney World lounge.  I was also exhausted (as I had been up since 5:15 that morning for Extra, Extra Magic Hours and had gotten only 4 hours of sleep), hot & sweaty, and very embarrassed about making my friend wait for me for about 45 minutes.  I had not seen Linda (my friend from the UK) since our Disney Divas trip back in December of 2013…
(Linda, and her husband, Philip, are on the far left in the above photo)
Linda looked great, the same as she did when I last saw her nearly 6 years ago.  I, on the other hand, looked like a hot mess so sadly I did not suggest a photo be taken of our reunion meeting.
Now on to the Enchanted Rose Lounge, which had just opened 3 weeks ago on October 9, 2019.  Linda was waiting for me at a table in the Garden Room, which had this large mural of the Enchanted Forest on the wall…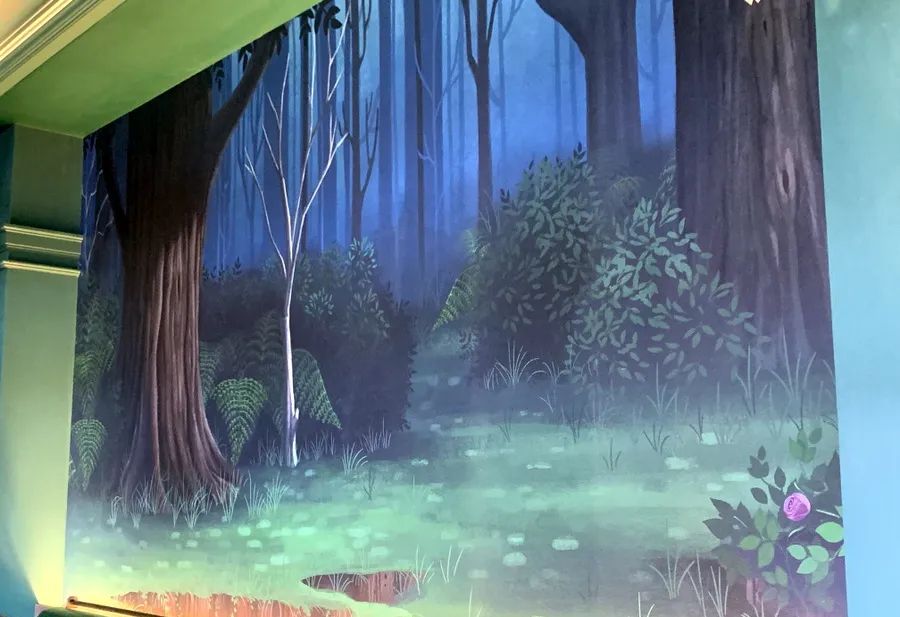 I quickly looked over their cocktail menu and picked the first drink on the list that sounded sweet and fruity.  I was so flustered by all that had occurred in the last hour that I completely forgot to take photos of their menu.  So here are some screen shots of their online cocktail menu…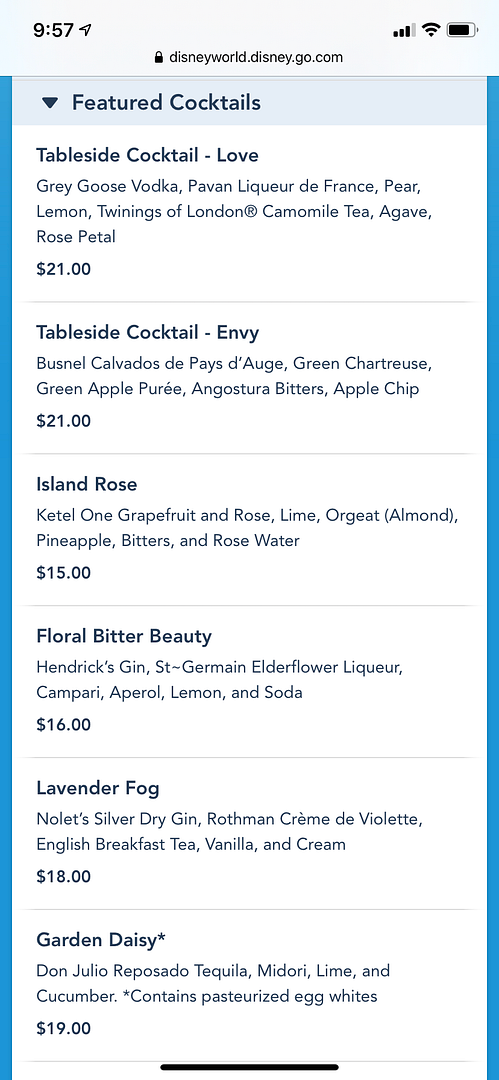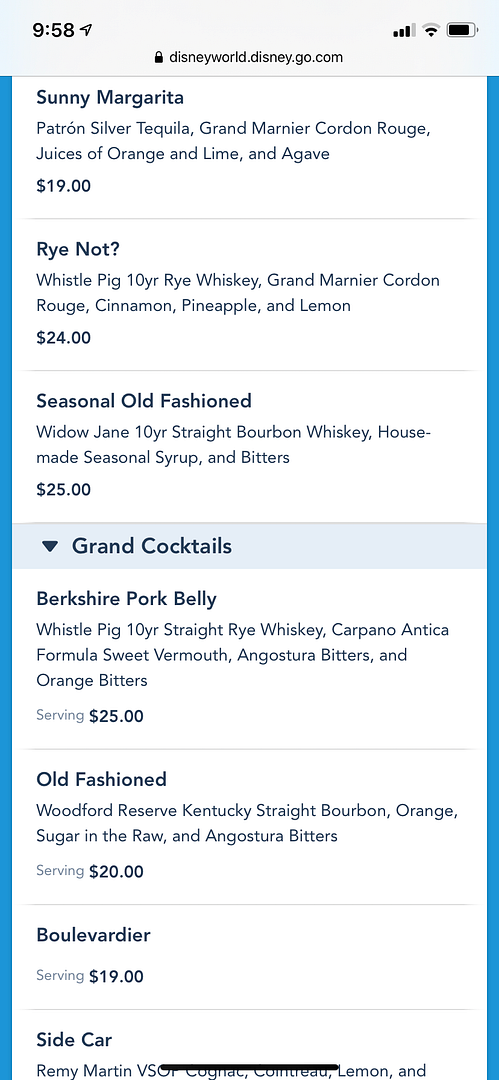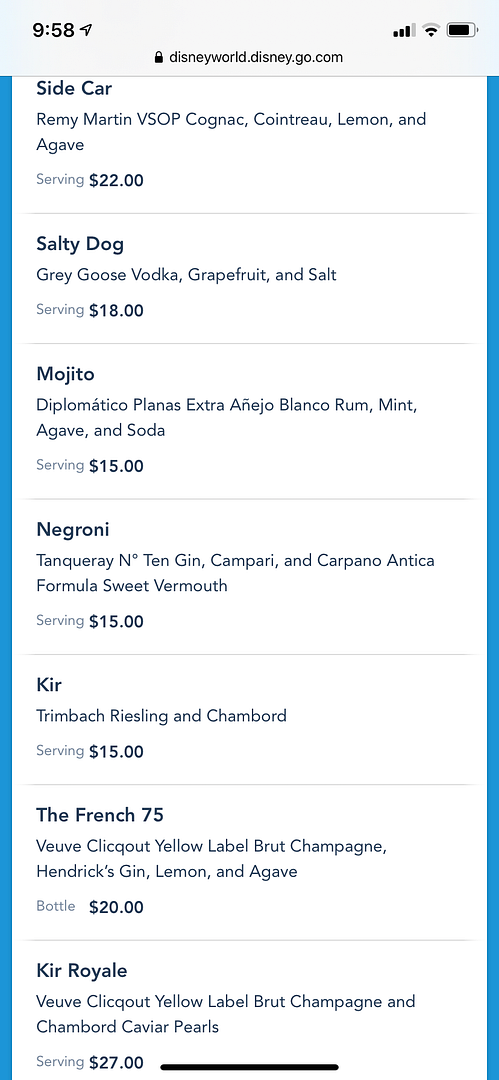 I ordered one of their Featured Cocktails, the…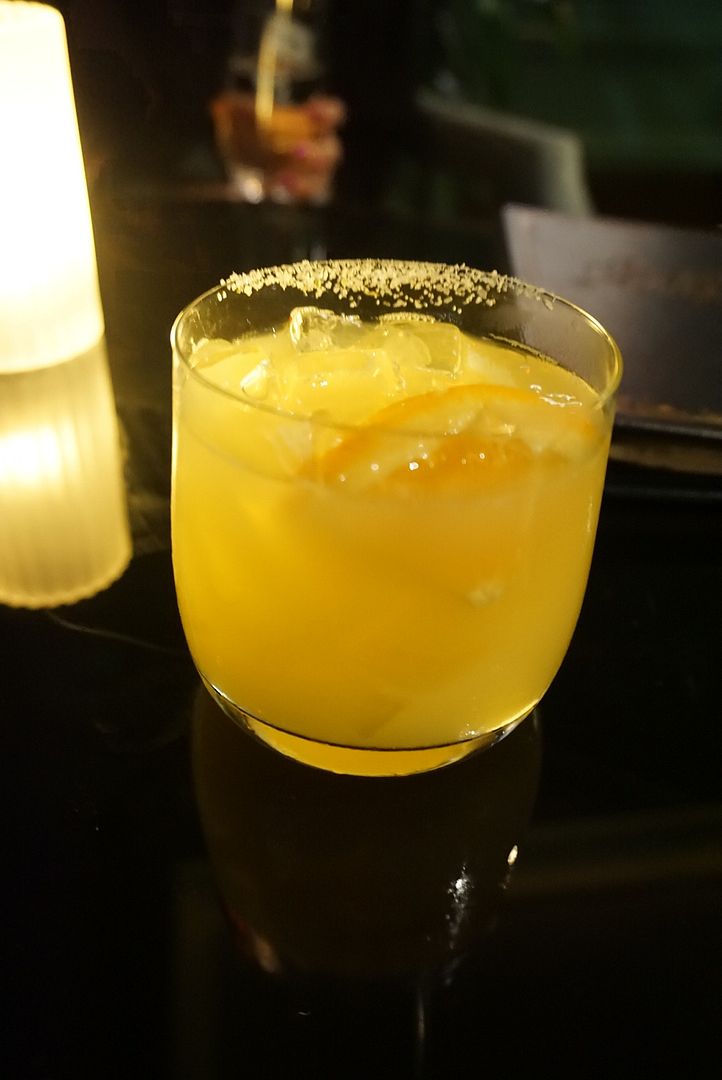 Sunny Margarita with Patrón Silver Tequila, Grand Marnier Cordon Rouge, Juices of Orange and Lime, and Agave – $19.00
When this was delivered to our table I was a bit shocked by how small this margarita was for the price of $19.00.  While it was tasty, it was way overpriced…even by Disney standards.  However in looking at their cocktail menu, the drink prices are all between $15 – $27 so it is likely that they are all very overpriced.  I see now that for $2 more I could have had one of the "show" cocktails that they prepare at your table, but then again neither of them sound appealing to me.
In hindsight, I should have taken a little more time to look at their menu.  If I'd gotten past the cocktails, I would have found a glass of pinot grigio wine for just $12 and probably would have been quite satisfied.
They did last call at 11:30 (with a midnight closing) but we declined the offer to order another drink.  Instead we paid our bills and took a look around the other rooms of the lounge.  First was the bar area.  Here's a Disney photo which best shows this part of the lounge…
The Bar area has the stunning golden chandelier in the center of the room. This chandelier was inspired by Belle's gold ballgown…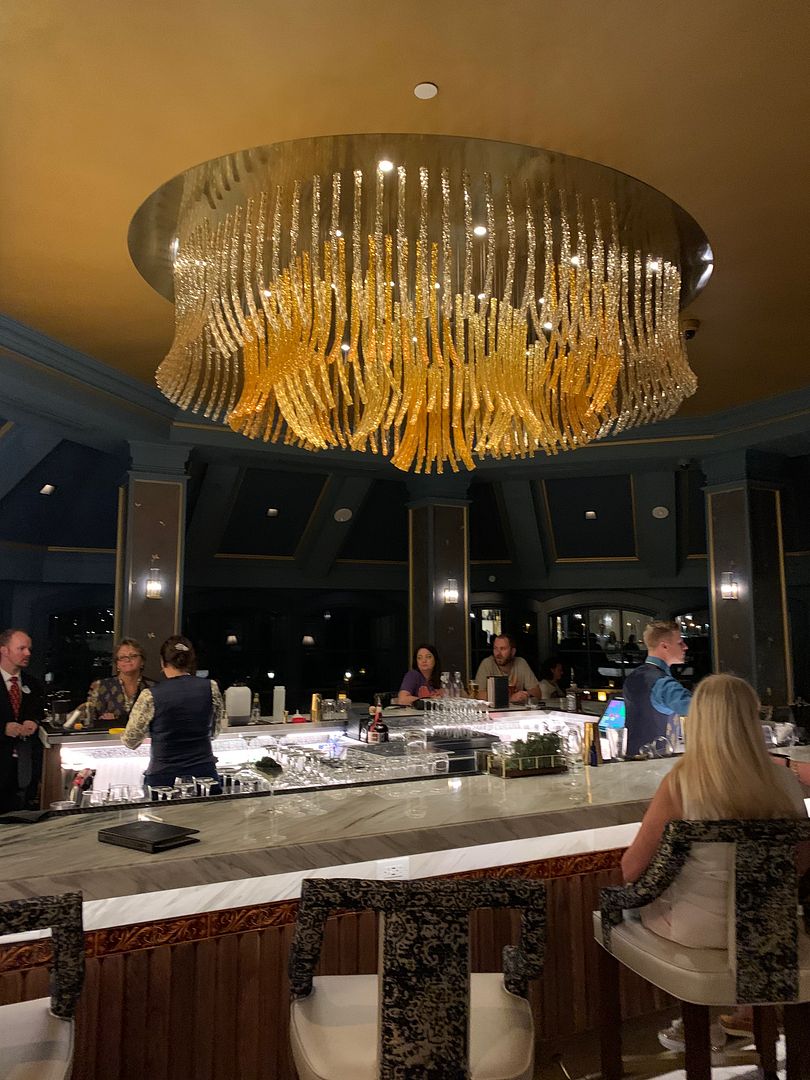 There were still quite a few people in the Bar area at about 20 minutes before closing.  However, the Library room was pretty empty so I took some photos there…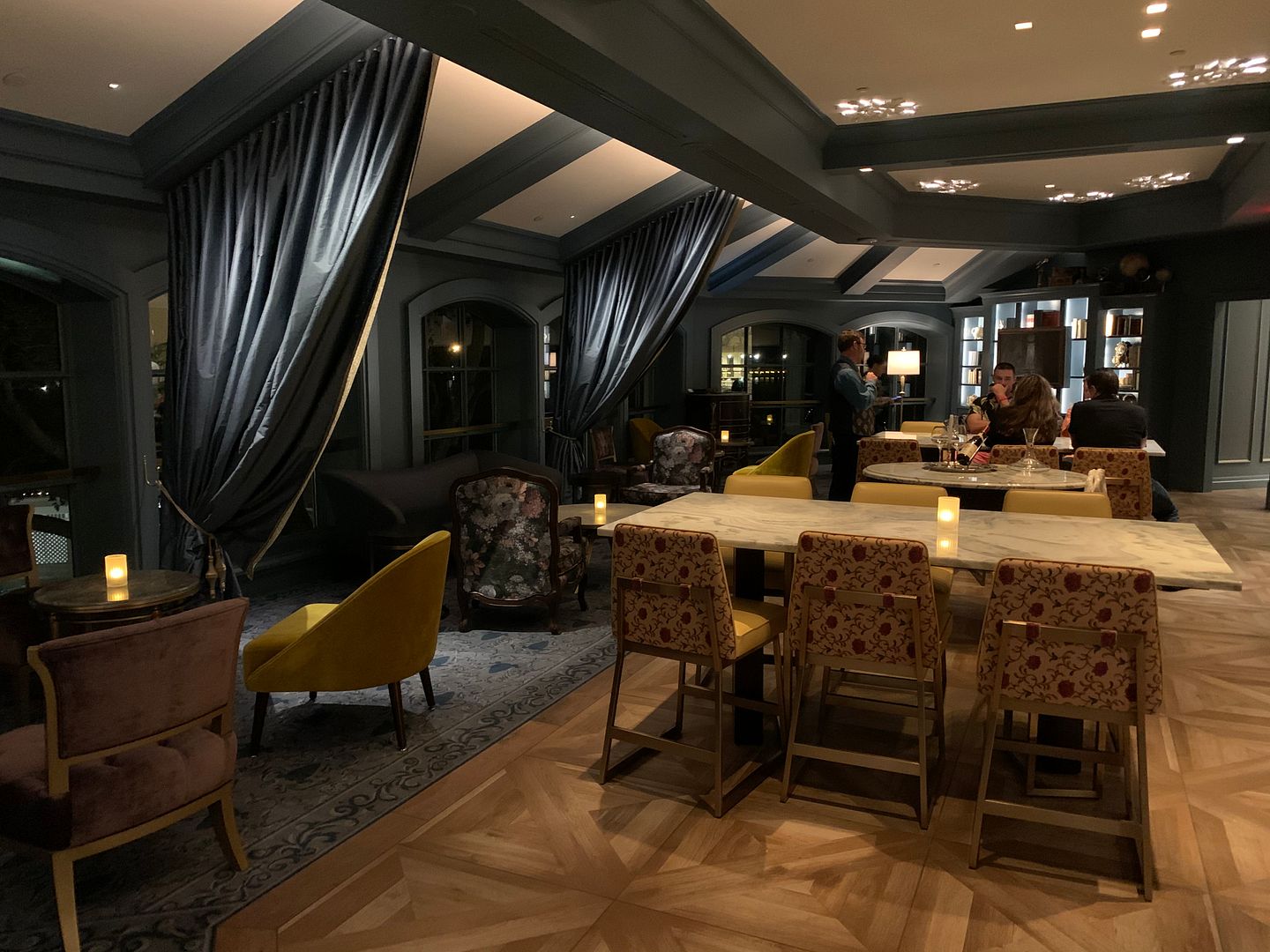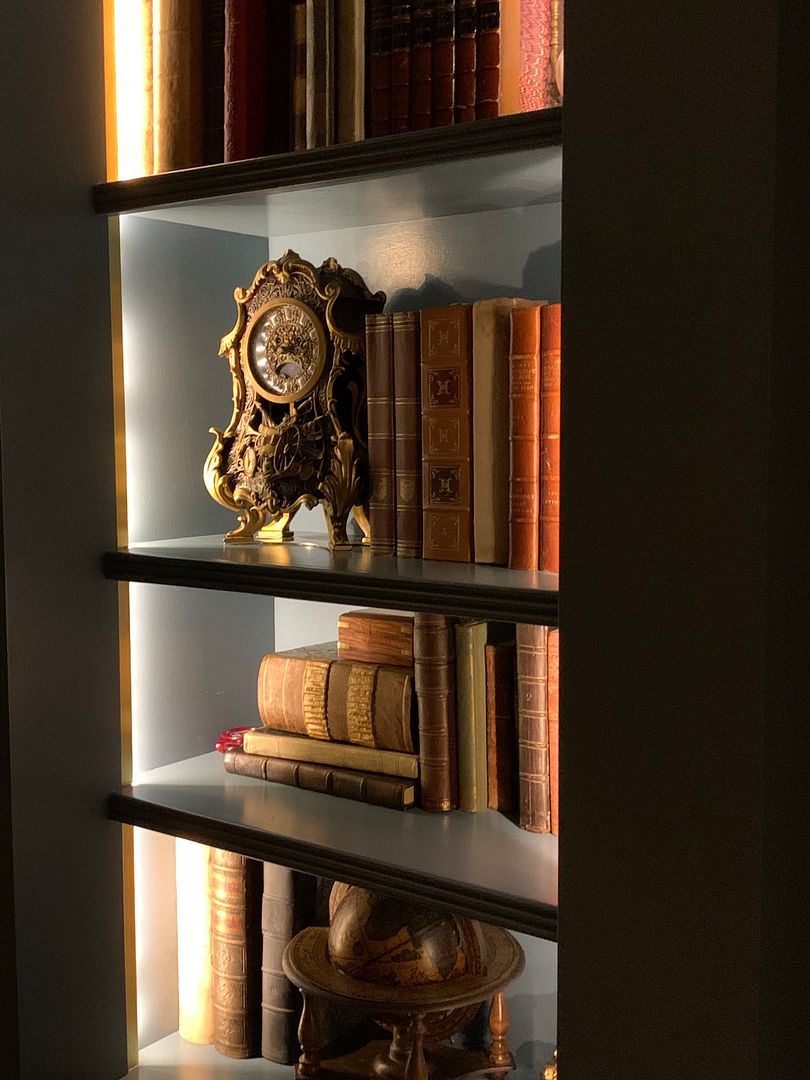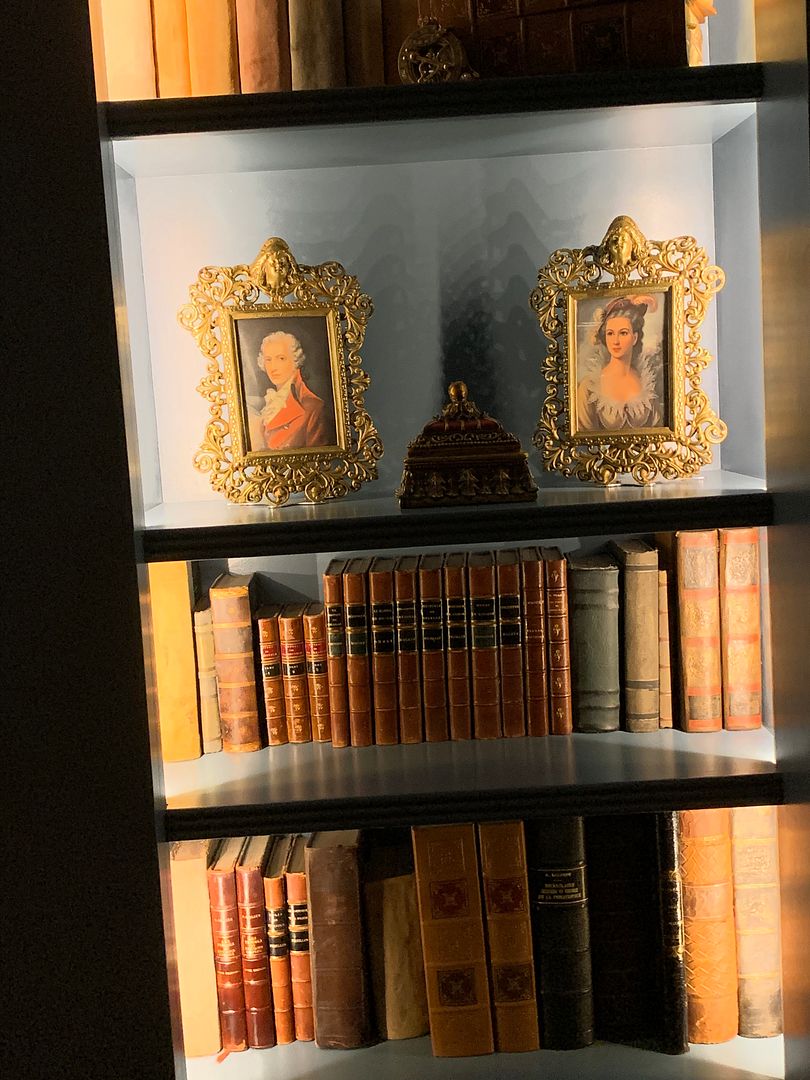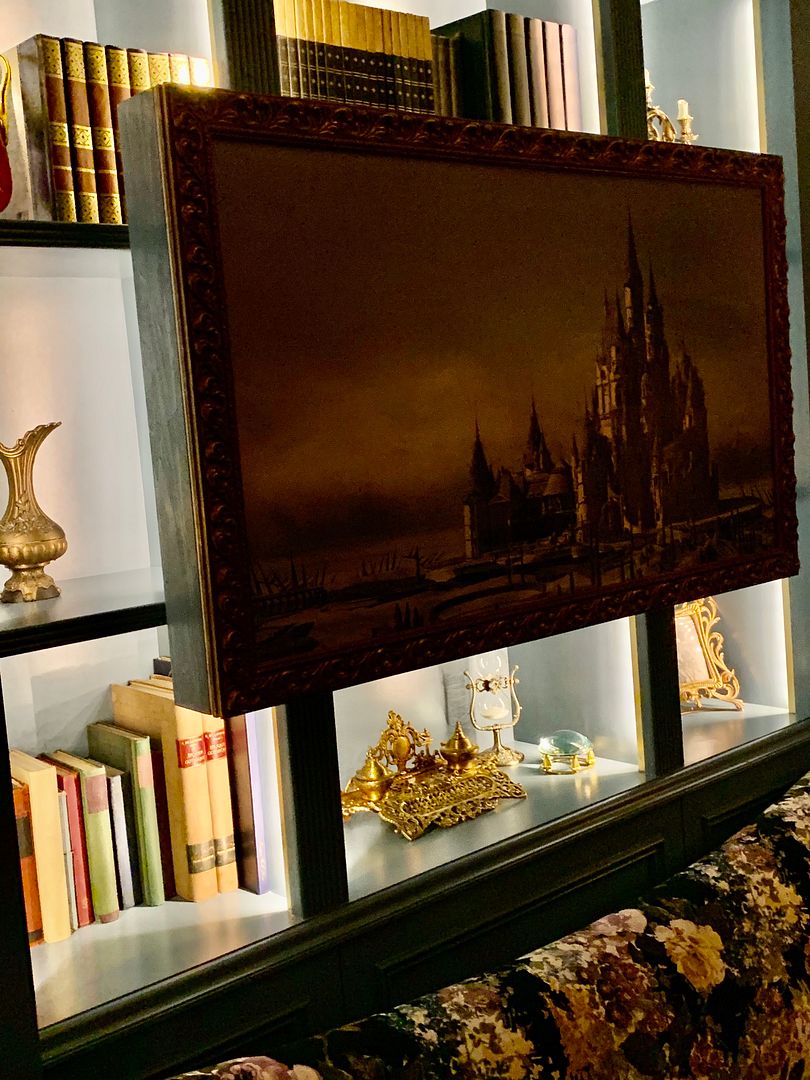 And I had completely missed these pretty red roses on display by the entrance to the lounge in my hurry to get inside and find Linda…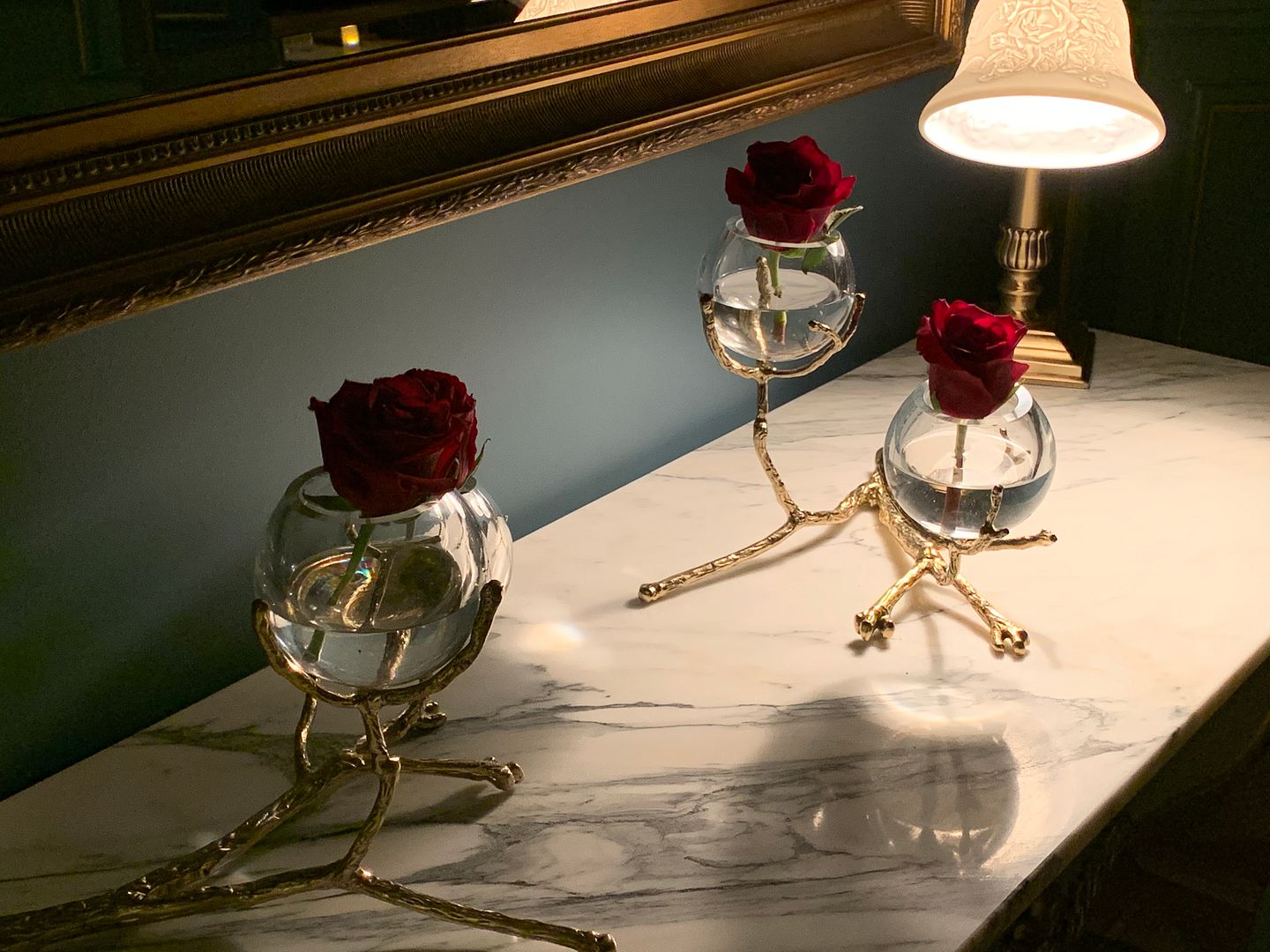 So overall, my first visit to the Enchanted Rose Lounge was a bit of a mixed bag.  While I greatly enjoyed seeing Linda again, and the Lounge's Garden Room turned out to be a nice, quiet place for our meeting, I had a bit of sticker shock from the price of my cocktail, especially given its small size.  I was also disappointed that they quit serving food two hours before they closed.  I might give this place another try though when I'm able to go earlier in the evening and try the food.  I will though probably skip the cocktails and go with the much cheaper option of a glass of wine.
And so that just leaves the ratings and rankings.  I must admit that I was surprised to see how low others have rated the Enchanted Rose.  Both the reviewers at Yelp and Trip Advisor have given it only 2 1/2 stars.  Additionally, on Trip Advisor it is ranked only #2393 of the nearly 3,000 restaurants in the Orlando area.  That's in the lower 20%, which is the lowest ranking I've encountered so far for a Disney restaurant/lounge.  Since I haven't yet tried their food I can't really offer an opinion as to whether these low marks are justified though.  Since the Enchanted Rose has been open for only a few months, I will hope that by the time I visit again it will have some of its "kinks" worked out and rate a better score from me than 2 1/2 stars.