Narcoossee's is currently one of my favorite signature restaurants at Disney World. So when I began planning this trip (only about 6 weeks prior) and decided to stay at the Grand Floridian, I started looking for a Narcoossee's dinner reservation. But there were never any openings during our 3 nights at the Grand Floridian. But then on April 24th, a 9:20 p.m. dinner reservation popped up for the next day, April 25th. Now 9:20 is pretty late to eat dinner but I booked it anyway. And then I had the idea of ending our evening with dessert at Narcoossee's. Afterall, one of my favorite things about Narcoossee's is their dessert…one particular dessert, which I hadn't had since my Fall 2018 trip.
But lets start at the beginning. We arrived at the main entrance to the restaurant at about 9:15. We were met outside by the manager, who took our temperature before allowing us to go inside. This was a COVID procedure done at all resort table service restaurants on this trip. Once inside I checked in for us at the podium and we were seated at a table by the window about 5 minutes later.
During the 5 minutes that we waited in the lobby I took a photo of the "Nemo's Under the Sea Adventure" on display there…
This colorful display is made from 75 pounds of white chocolate and is entirely edible! This has been on display here at least since October 2018 (my last visit to Narcoossee's) because I took pictures of it and included them in my dinner review.  So either that's some very old chocolate or they redid it at some point and made it look exactly the same.  
Our table by the window provided us with a view of Cinderella's Castle and Space Mountain across the water at Magic Kingdom…
But no fireworks, as the Happily Ever After Fireworks show did not return until July 1st.
Narcoossee's has always been a good place to watch the Magic Kingdom fireworks, especially from outside on the deck.
When we were seated we were given a paper menu showing their wines, beers & ciders…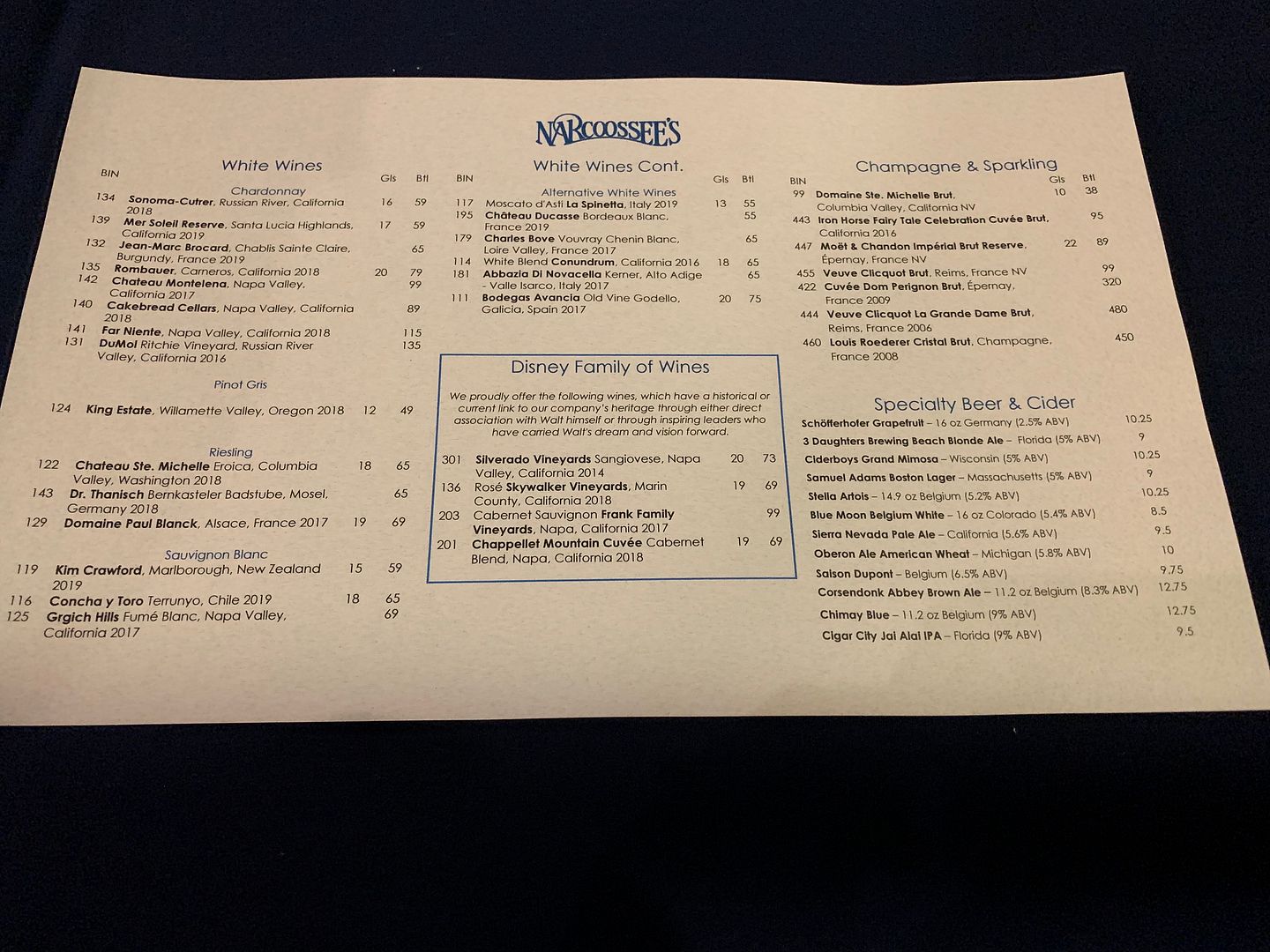 But their was a bar code card displayed on the table, which we scanned with our phones for the food menu. When our server came by to introduce himself I told him that we planned to have only dessert, which he seemed fine with.
Here was the Dessert menu at Narcoossee's, as of April 25, 2021…
Andrew chose the…
Banana Cream Tart with Salted Caramel and Whipped Cream – $13.00
Sadly Andrew only had a few bites of his tart, not because he didn't like it but because he was just too tired to eat anymore. We had it boxed up and took it back to our room. However, it sat uneaten in the refrigerator until we left 2 days later.
I though ate most of my dessert, which of course was their longtime signature dessert…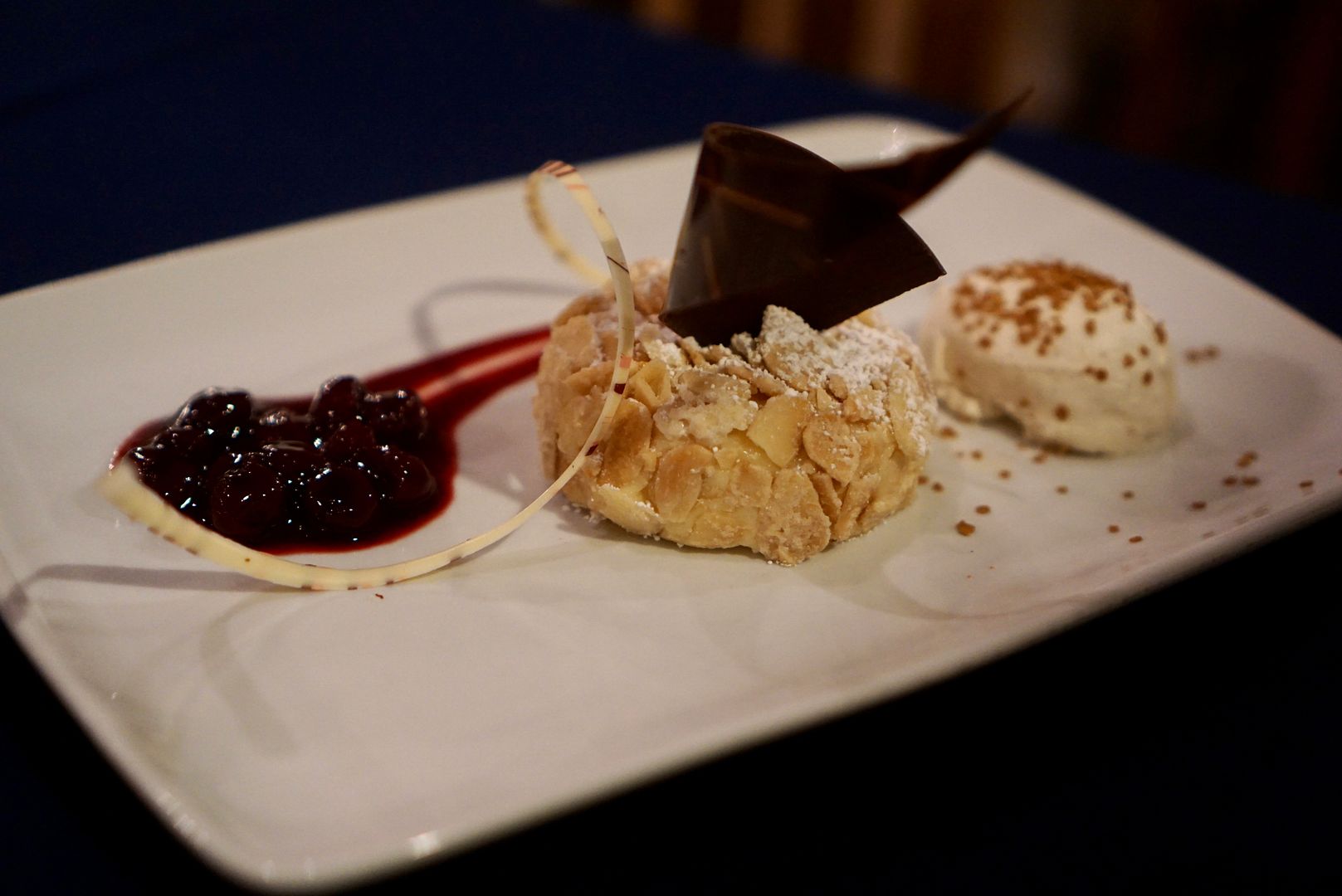 Almond-crusted Cheesecake with Lambert Cherry Sauce – $16.00
I just love the combination of the salty almond slivers and the sweet, creamy cheesecake. Add a little whipped cream and sweet Lambert cherries and it makes for a nearly perfect dessert. The only negative regarding this dessert is that it is expensive. In Nov. 2017 this cheesecake was $12.00 but then when I had it just one year later the price had increased to $16.00. Thankfully no price increase since then though.
I also asked for coffee to have with my dessert. The coffee choices here were either a specialty coffee drink, which included liqueurs like Kahlua, Bailey's Irish Cream, and Frangelico, or a press pot. A single cup of regular coffee was not an option. So I chose the press pot of Joffrey's coffee, which was brewed and pressed at our table (for $9.00)…
He also brought a small pitcher of cream and packets of sugar, as I usually add both of these to my coffee…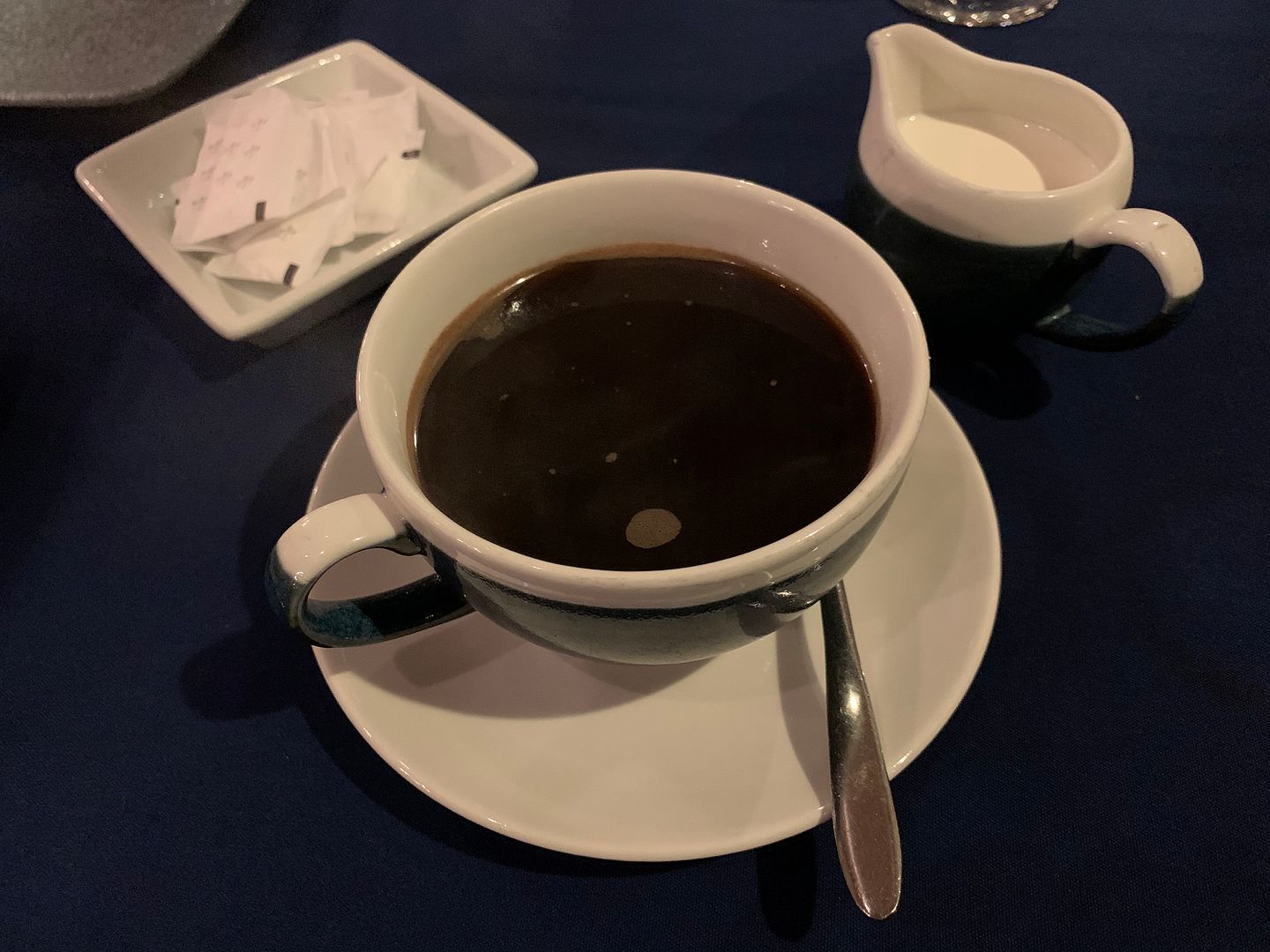 He poured me a cup and then left the press pot on our table. Later he brought a second, fresh pot without being asked. The service here was great, even when we were only have desserts and coffee.
One more thing to add, when I paid here with my Chase Disney VISA card I received a 10% discount. So it made me feel a little better that I paid only $14.40 for my cheesecake instead of $16.00. Haha.
We finished up at about 10:30 and I took these photos of their dinner menu posted outside of the restaurant…
And so, that just leaves the ratings and rankings. I would have to deduct 1/2 star due to the price of their signature dessert. Though I love their almond cheesecake, $16.00 is a bit steep for an individual-size dessert. So my rating for Narcoossee's is 4 1/2 stars, which is the same rating that is given to it by the reviewers on Tripadvisor. Yelp reviewers though give Narcoossee's 4 stars. As for the ranking, Narcoossee's ranks #106 of the nearly 2500 Orlando area restaurants reviewed on Tripadvisor, so in the Top 5%. Narrowing this down to just the nearly 300 Disney World area restaurants reviewed there, Narcoossee's ranks #32.