Located in Animal Kingdom's Pandora between the exit/gift shop for Flight of Passage and the quick service restaurant, Satu'li Canteen, I've walked by the Pongu Pongu snack and beverage kiosk many times. However, I'd never really noticed it because it pretty much blends in to its surroundings…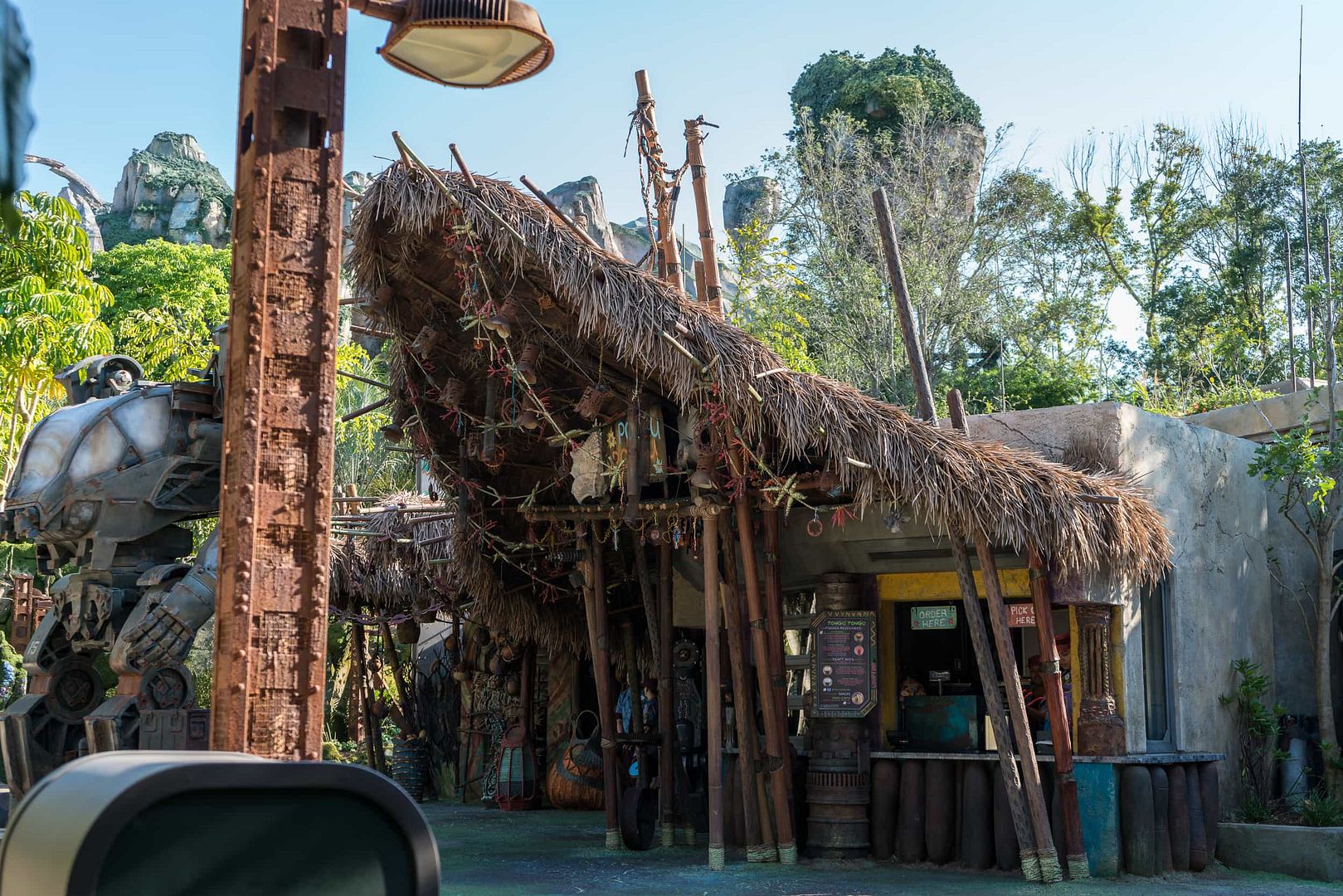 However, I had heard of their specialty food item, the Lumpia, described as a pineapple cream cheese spring roll. I was very curious about this, as it sounded delicious, but had never taken the time to check it out. My curiosity was finally satisfied on this trip.
It was about 9:00 a.m. when we approached Pongu Pongu, so we were just looking for some breakfast food. Although Pongu Pongu means, "Party Party," in the Na'vi language, it was a little too early in our day to begin "partying". haha.
Here was their Breakfast menu, which I read is available until 10:30 a.m…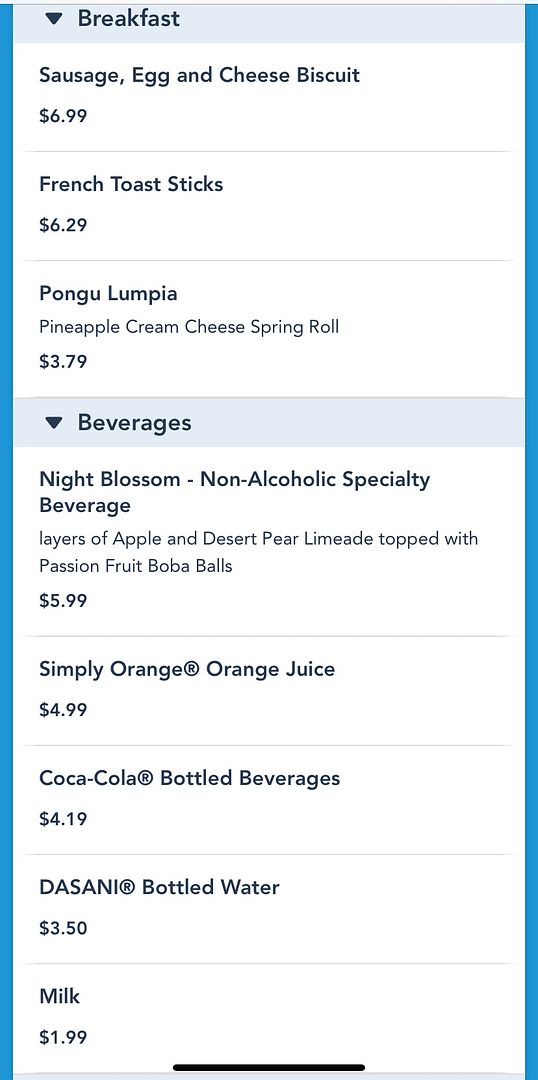 There were just 3 food items listed on their Breakfast menu and we were pretty hungry so decided to try all three. Unfortunately Pongu Pongu does not do Mobile Ordering, so we got into the very short line to place our order at the window. In addition to our food, I tried to talk Andrew into sharing their specialty beverage with me…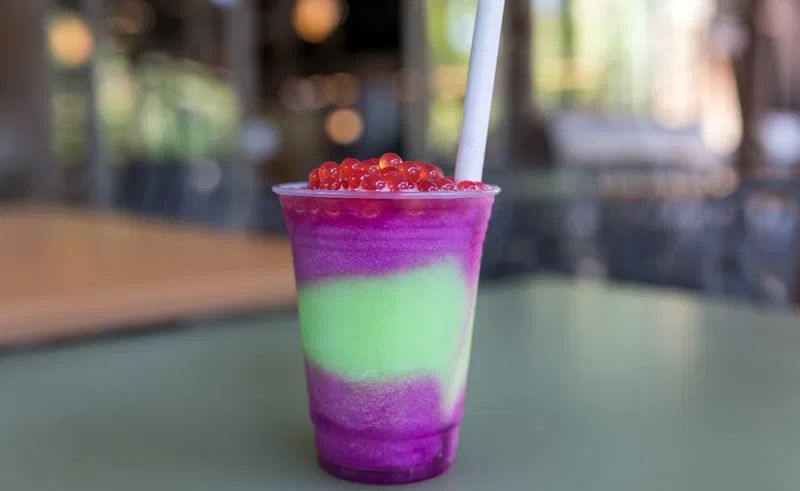 Night Blossom – Non-Alcoholic Specialty Beverage with layers of Apple and Desert Pear Limeade topped with Passion Fruit Boba Balls – $5.99
Sadly he wasn't feeling it though, and instead really wanted chocolate milk, so he was disappointed when he found out that they only had white milk here. In the end we just got a bottle of DASANI water to share, along with our food.
Pongu Pongu has no designated seating area but it is located next to Satu'li Canteen (which is not open for breakfast) so there were several open tables in the covered, outdoor area in front of the restaurant. This is where we sat to have our breakfast.
Now on to the food…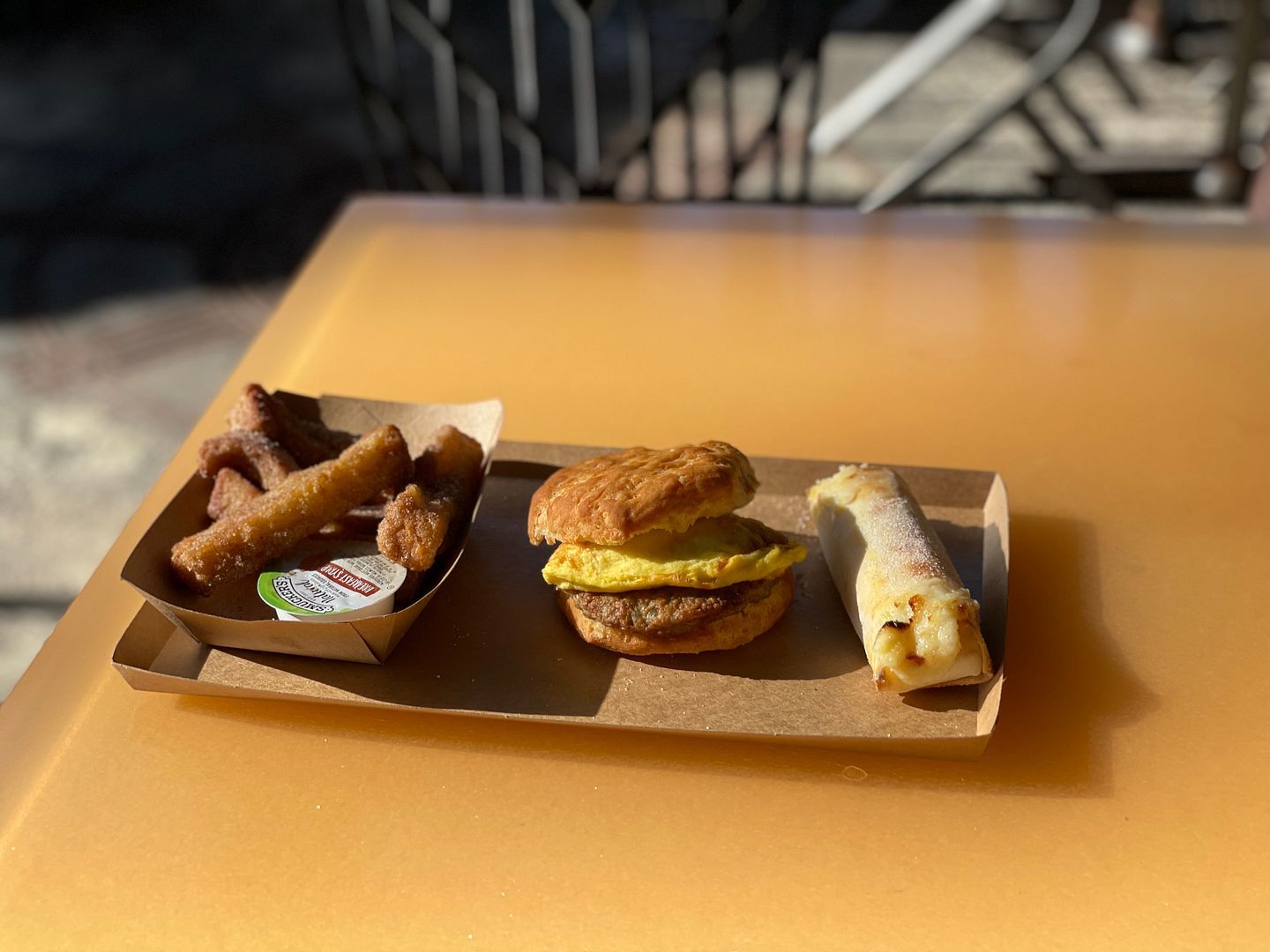 Let's start on the left with the…
French Toast Sticks (served with a small plastic cup of Smucker's Natural Breakfast Syrup) – $6.29
I hadn't had French Toast Sticks since my kids were young so I was looking forward to eating these.  As you can probably tell from the photo, they are pretty well covered with sugar, so it's probably a good thing that they are served with Smucker's Natural syrup (which has less sugar added) rather than their regular syrup.  I don't remember the french toast sticks that I occasionally served my kids years ago being so "sugary"…I hope they weren't. So anyway, the french toast sticks were fine for a sweet breakfast treat and brought back some fond memories but they are not something I would go out of my way to have again.  
The next item was the only savory option on their Breakfast menu…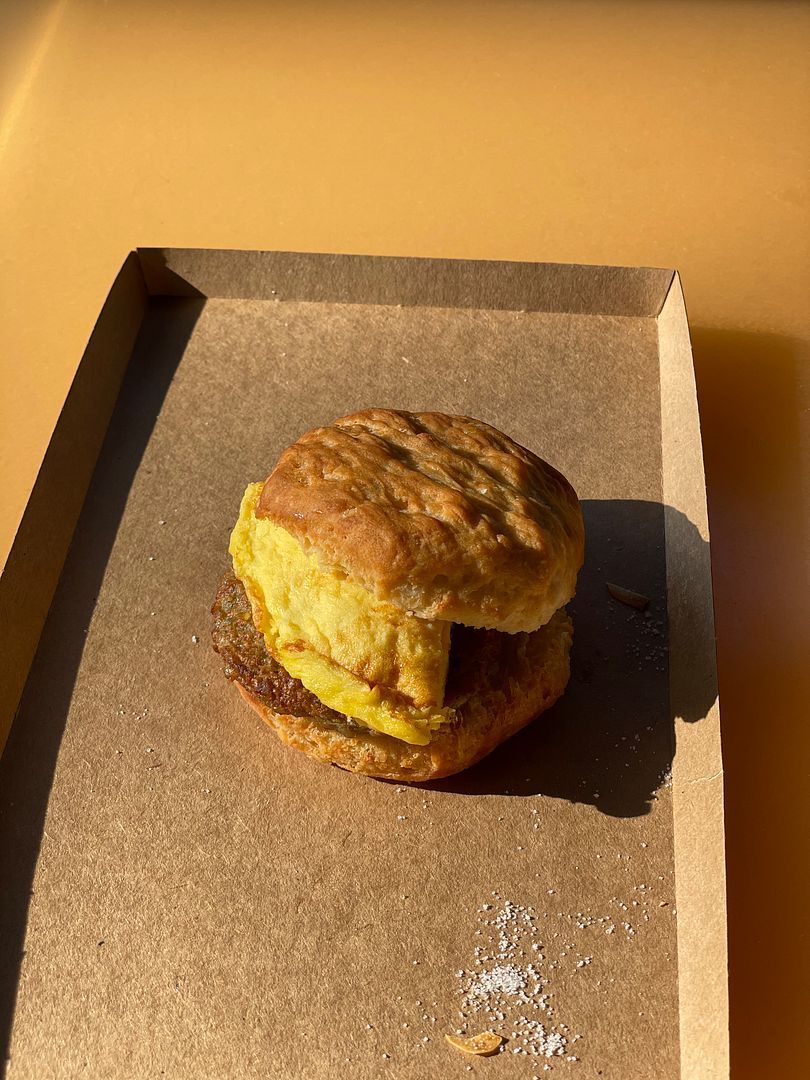 Sausage, Egg and Cheese Biscuit – $6.99
This was not as warm as I would have liked, so it wasn't the best breakfast sandwich I've ever had but it was edible.  Plus it was good to have this to offset the sweetness of the other two breakfast items we shared.  
Which leads me to the third item we tried, which was the primary reason why we chose Pongu Pongu for our breakfast…
Pongu Lumpia (Pineapple Cream Cheese Spring Roll) –
$3.79
This was not exactly what I was expecting.  In my mind I was thinking the filling of this spring roll would be a layer of cream cheese topped with crushed pineapple.  Instead the filling was like a pineapple flavored tapioca pudding.  Again, like the other two breakfast options, it was fine but probably not something we would get again.  
NOTE: The Lumpia is available throughout the day at Pongu Pongu, not just at breakfast.  The other two food options though are replaced by a
Colossal Pretzel
with Beer Cheese Sauce once they quit serving breakfast, which I think is at 10:30.  I've read that this pretzel is really good, so it's on my list to try sometime.  
So overall we were a bit disappointed with our breakfast from Pongu Pongu and would probably rate it only 3 1/2 stars. But, yet again, we are in disagreement with the reviewers on Yelp and Tripadvisor, which both give Pongu Pongu a 4 1/2 star rating.