It had been 15 years since I last stayed at the Port Orleans Riverside resort.  Back in 2003 my family of 5 was able to stay on the Alligator Bayou side of the resort, as those rooms could accommodate 5 people as long as one of them was small enough to sleep on a trundle bed which fit underneath one of the full size beds (they were full size beds back then).  My youngest child was 7 at the time so he didn't mind sleeping on the trundle.  Though we enjoyed our stay in Building 15 (which is now considered a preferred location and therefore you pay more), our son outgrew the trundle bed and we ended staying at Deluxe resorts on future trips, as their pullout sofas were bigger and more comfortable for our 5th person.
When I needed to add one night to my trip in order to allow me to take a direct flight home to my local airport, I attempted to just add the night to my stay at the Boardwalk but they had no availability on Saturday night, Nov. 3rd.  Since I was planning to spend my last full day at Disney Springs, I thought it might be both fun and convenient to spend the last night of my trip at one of the Port Orleans resorts.  Because I had never stayed there, I first checked at the French Quarter (the smaller of the sister resorts) but they too were fully booked for that night.  However, I was able to book a standard room at Riverside so I was looking forward to returning to this beautiful resort after 15 years.
Taking the boat there from Disney Springs, my excitement grew as we passed by a couple of the lovely mansions of the Magnolia Bend section of the resort.   After looking at a resort map, I believe the first of these was Parterre Place…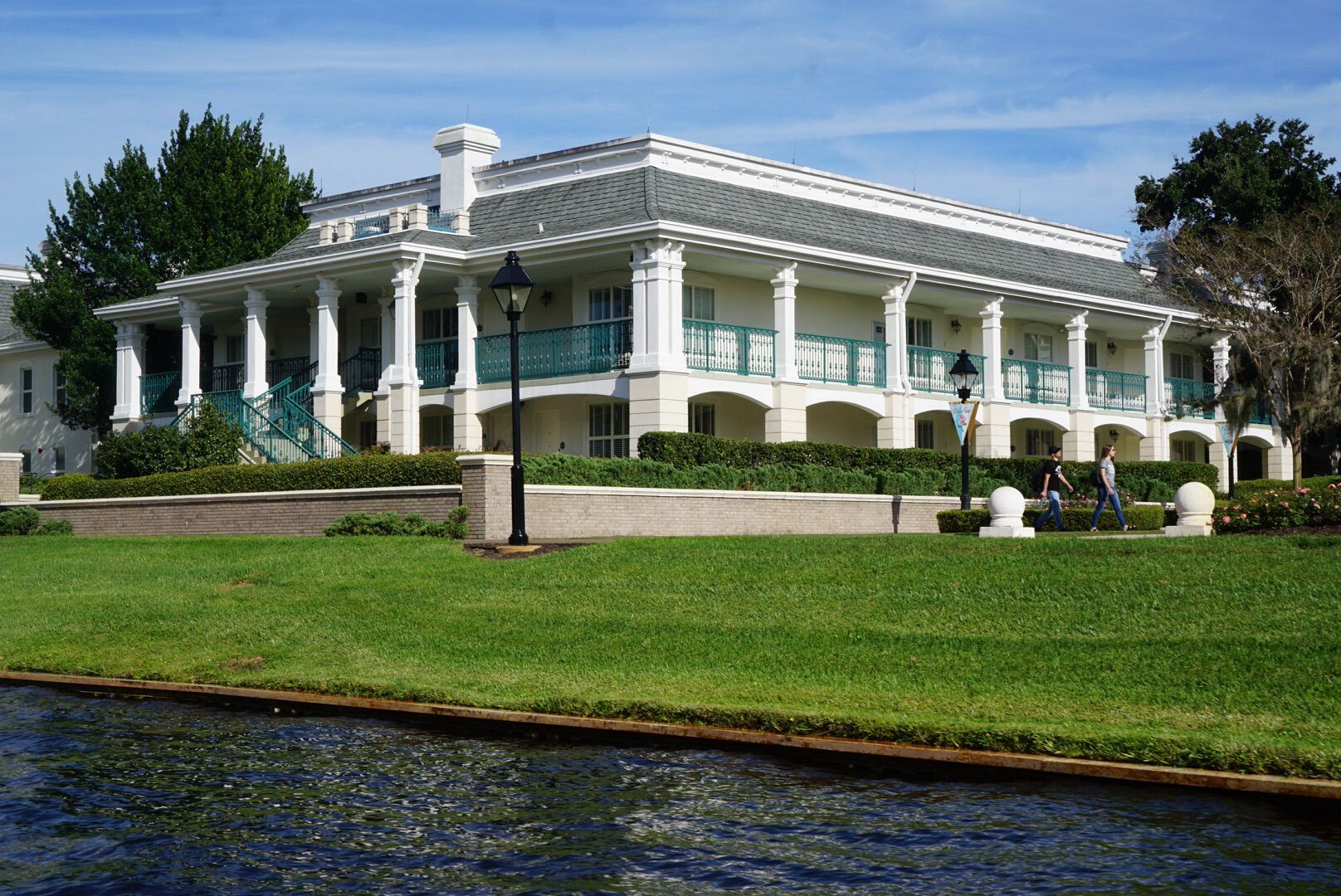 And the next was Oak Manor…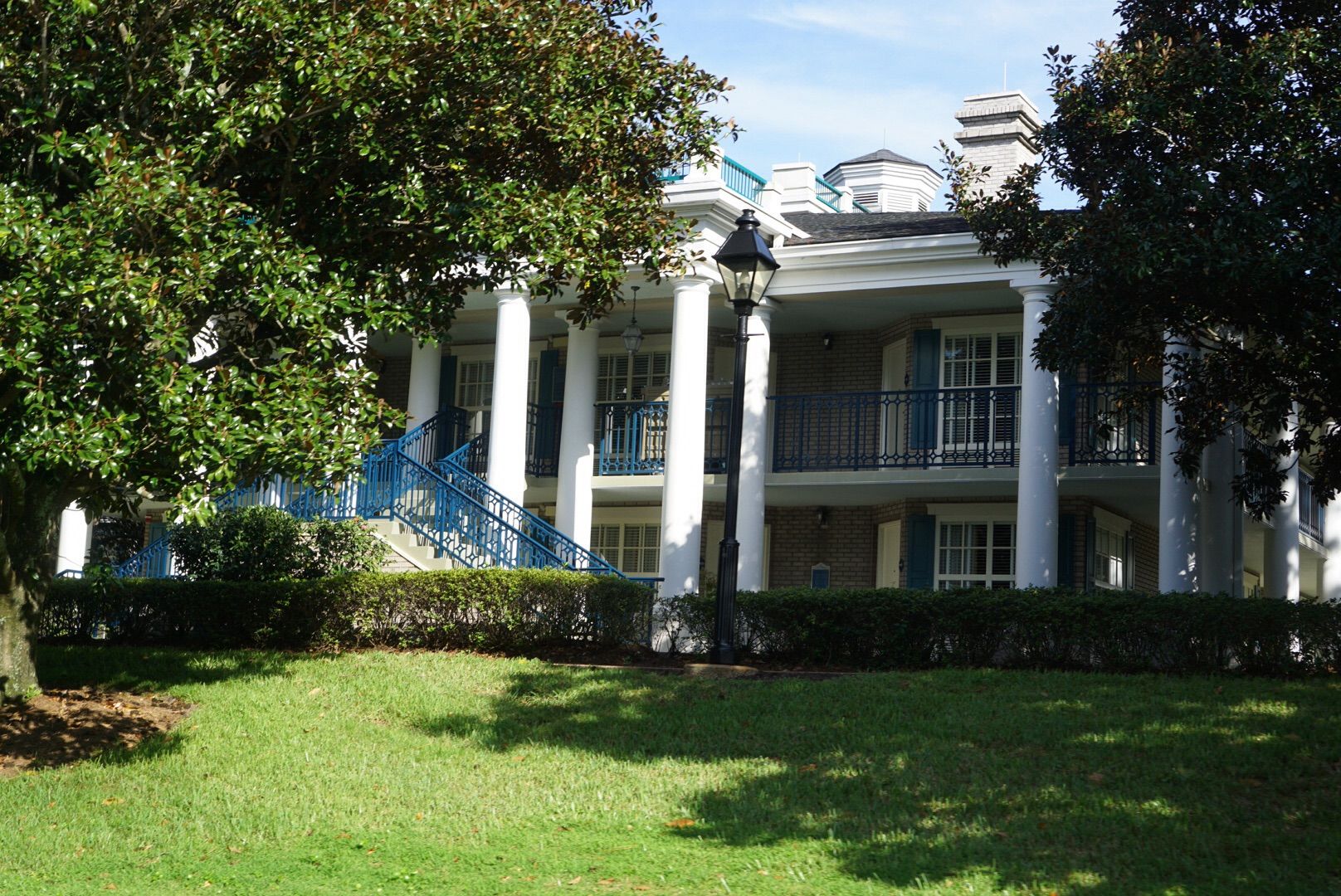 I've read that the rooms in both of these mansions had been converted to Royal Guest rooms back in 2011…
But I had paid for just a standard room so I knew that my chances of being assigned (upgraded) to one of these rooms were slim to none.
Our boat then went under this bridge…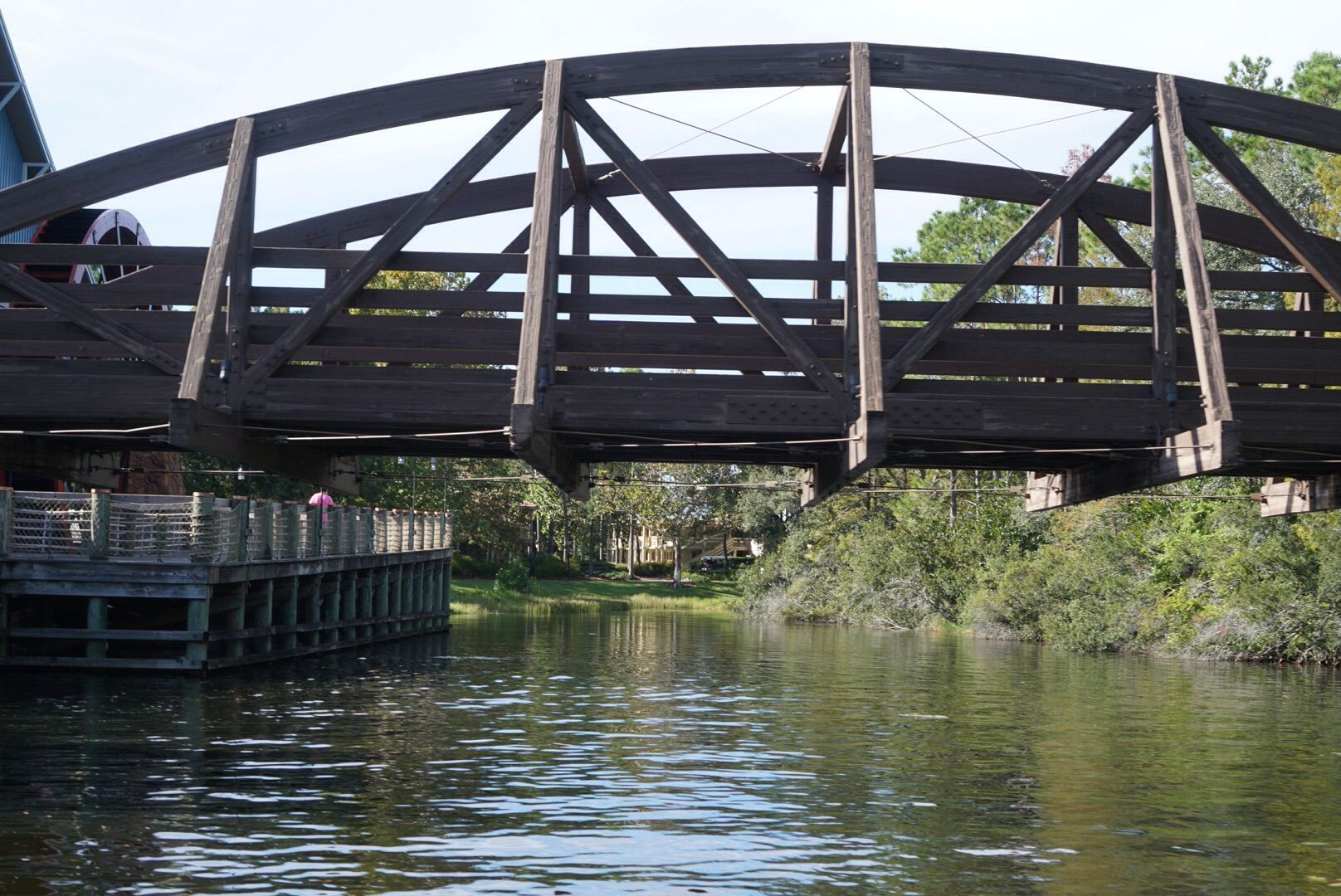 And docked at the Port Orleans Riverside Resort's marina…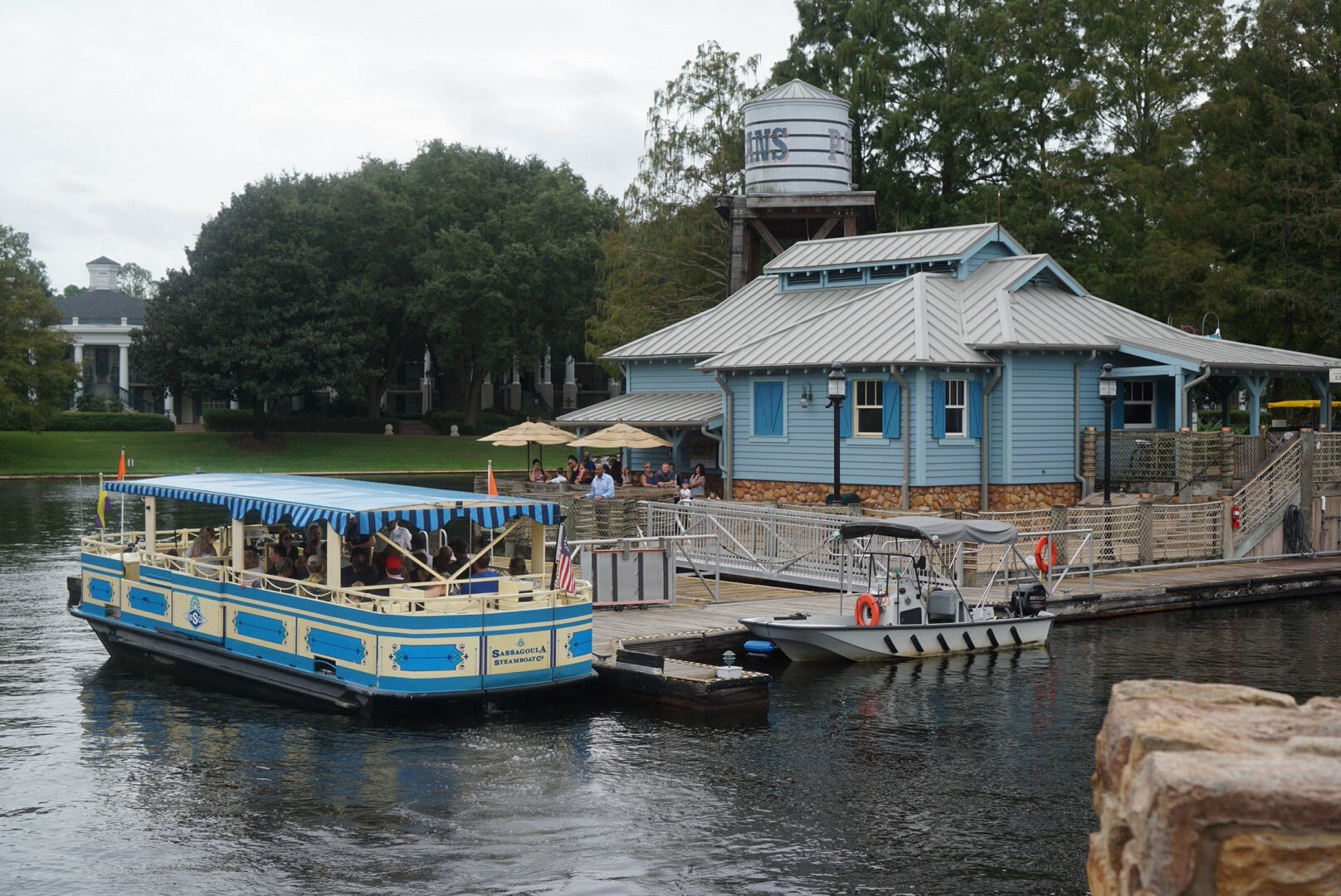 I was impressed by what I saw…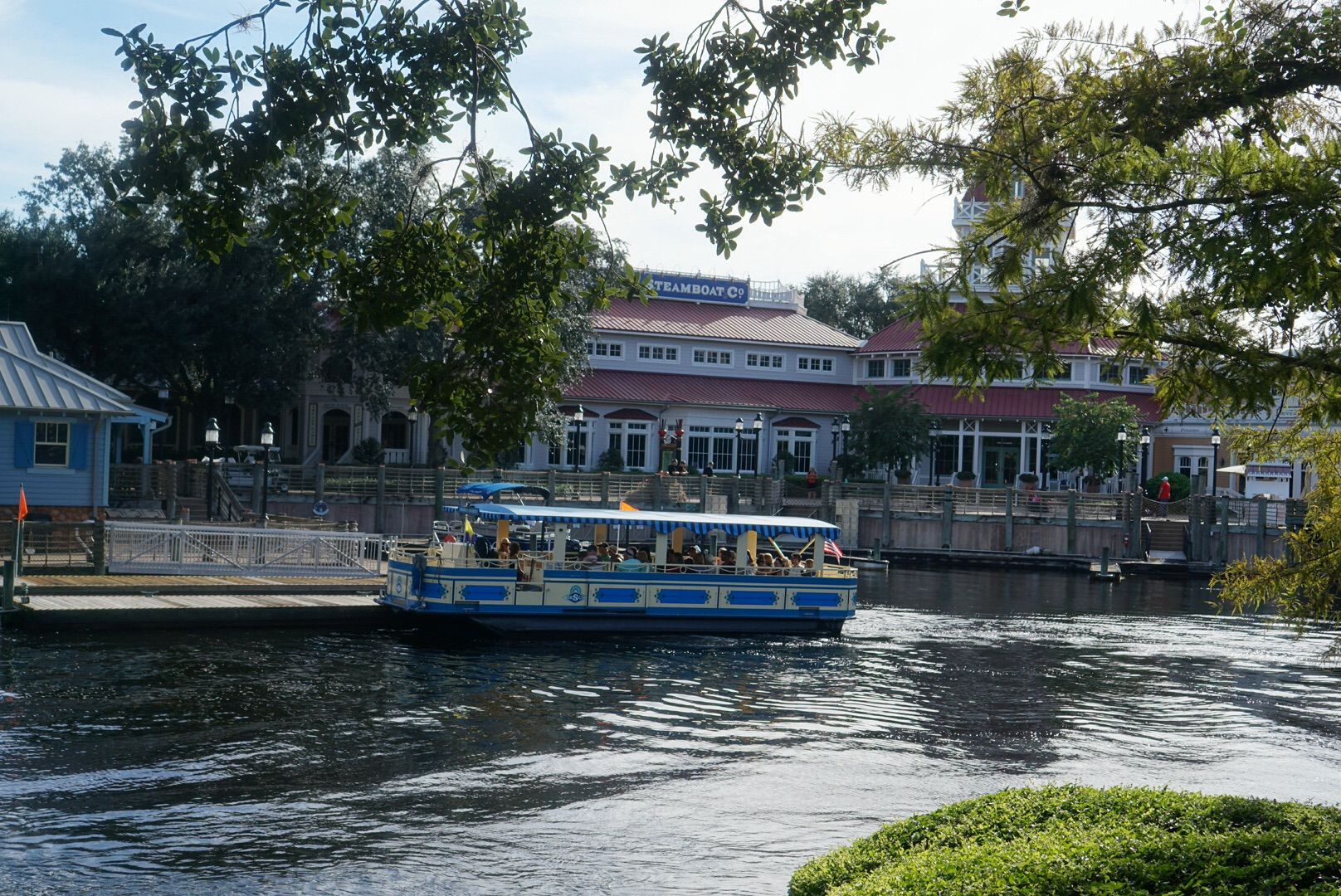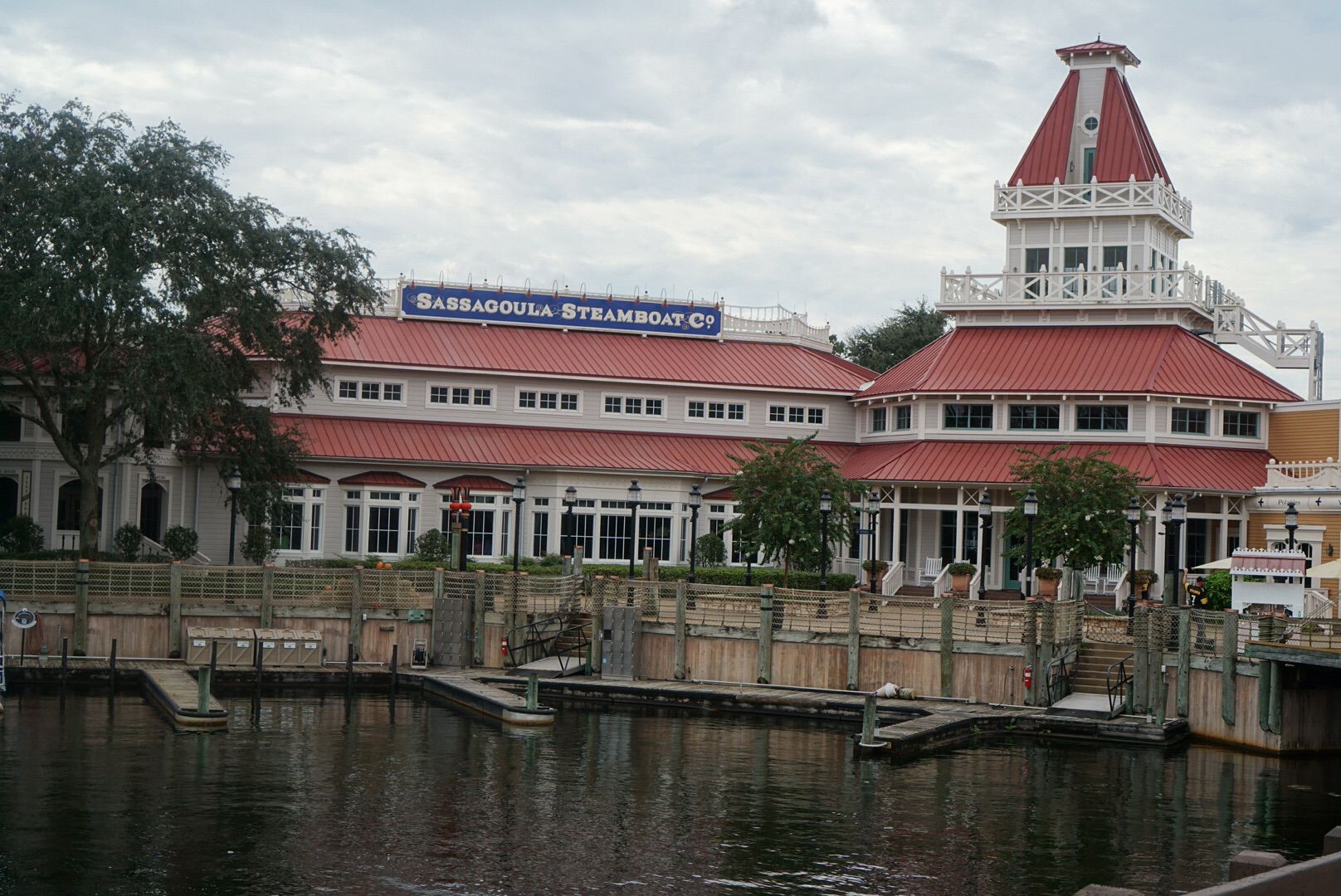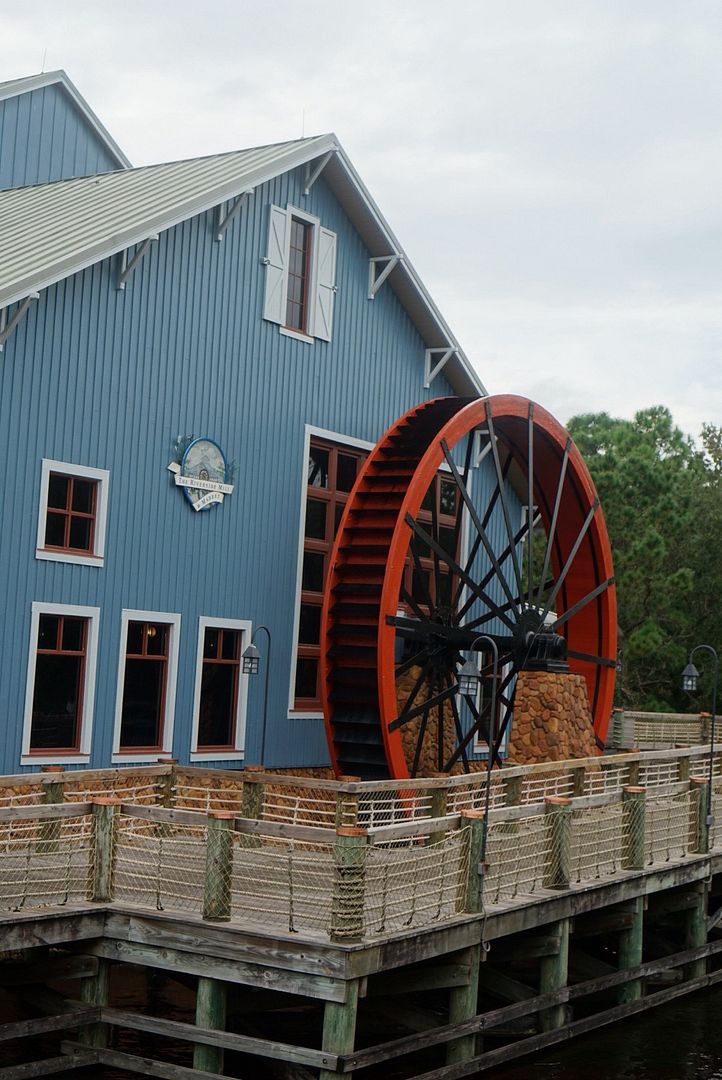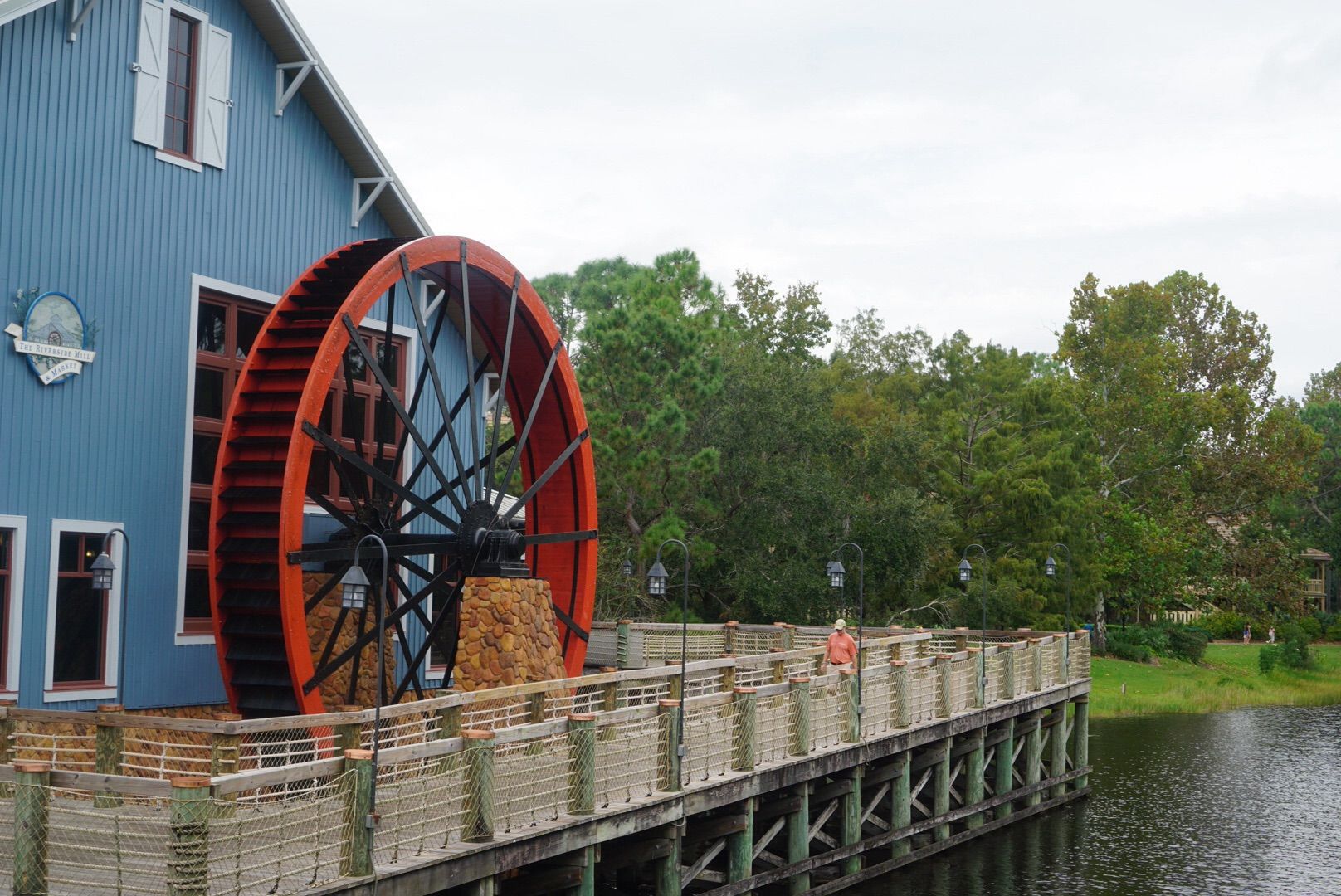 Though I had done online check-in, it was after the resort's 3:00 check-in time and I hadn't yet received a text with my room assignment so I went inside the main building to find the front desk…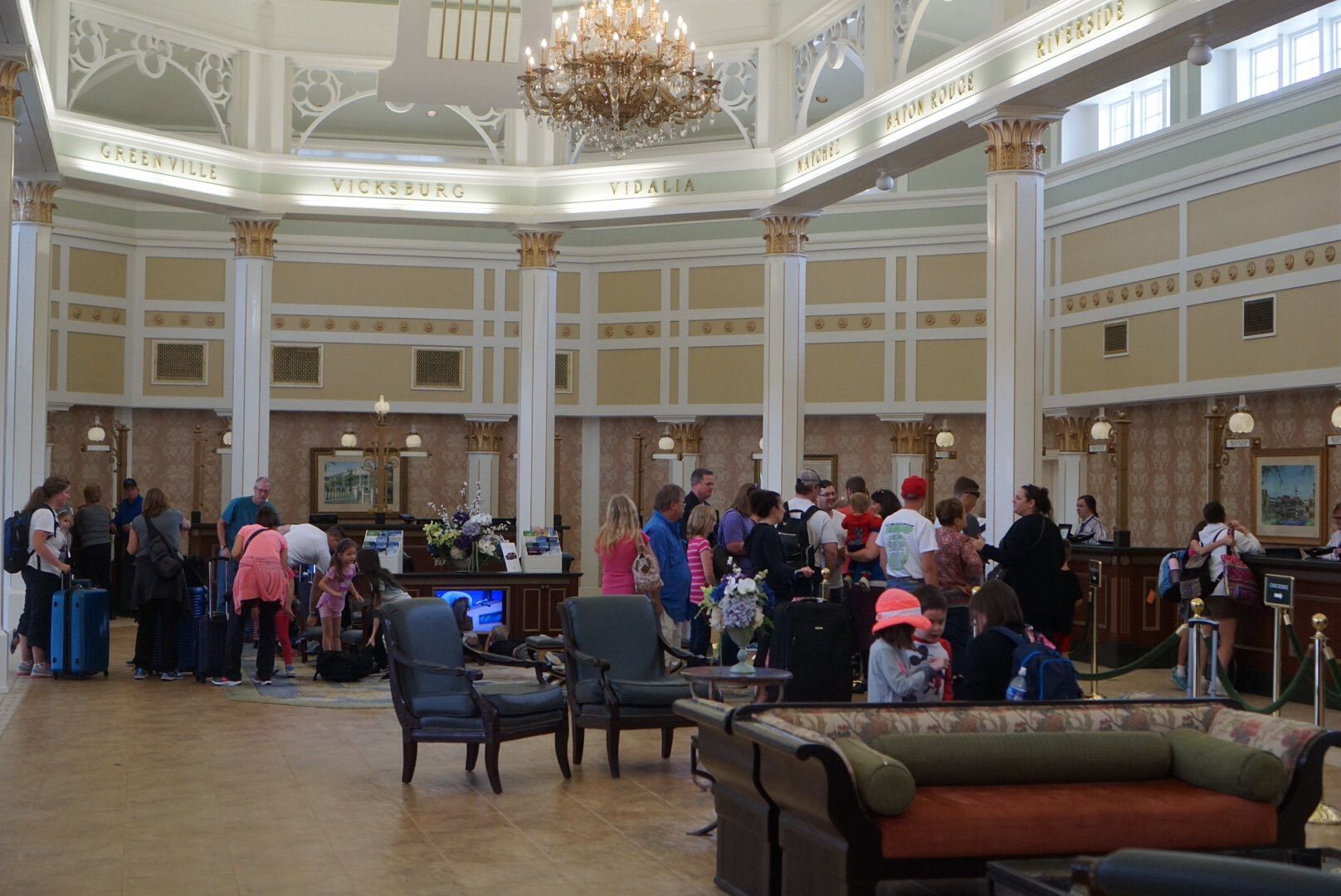 The line was long and slow-moving.  Eventually I made it to the front of the line and was told I had been assigned to Room 8088 of Acadian House, one of the four mansions on the Magnolia Bend side of the resort.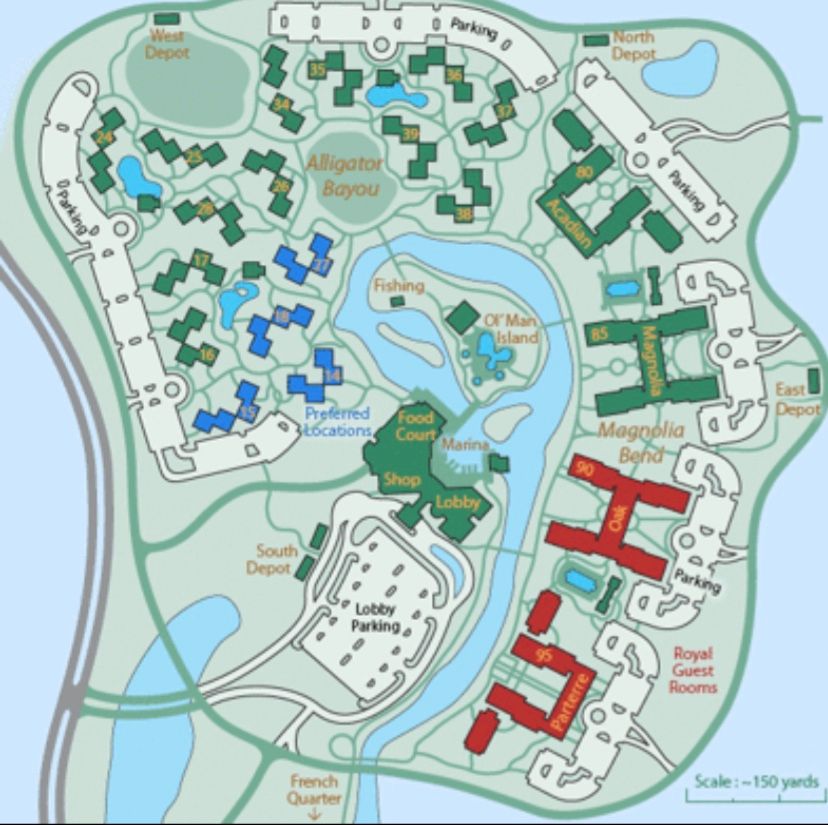 I then went to the Bell Services desk to ask if my luggage had arrived from the Boardwalk.  I was told that it had but that it would be awhile before they could bring it to my room, as they were very busy.  So I made the mistake of trying to wheel my luggage from the lobby to my room myself…not realizing that Room #8088 of the Acadian House was one of the furthest away.  Eventually I made my way across the bridge to Ol' Man Island (the resort's main swimming pool) and then across another bridge which brought me just to the side of the Magnolia Terrace mansion.
I turned to the left and kept walking, in search of the Acadian House.  When I saw the pool (one of two leisure pools on the Magnolia Bend side of the resort) I knew I was getting close…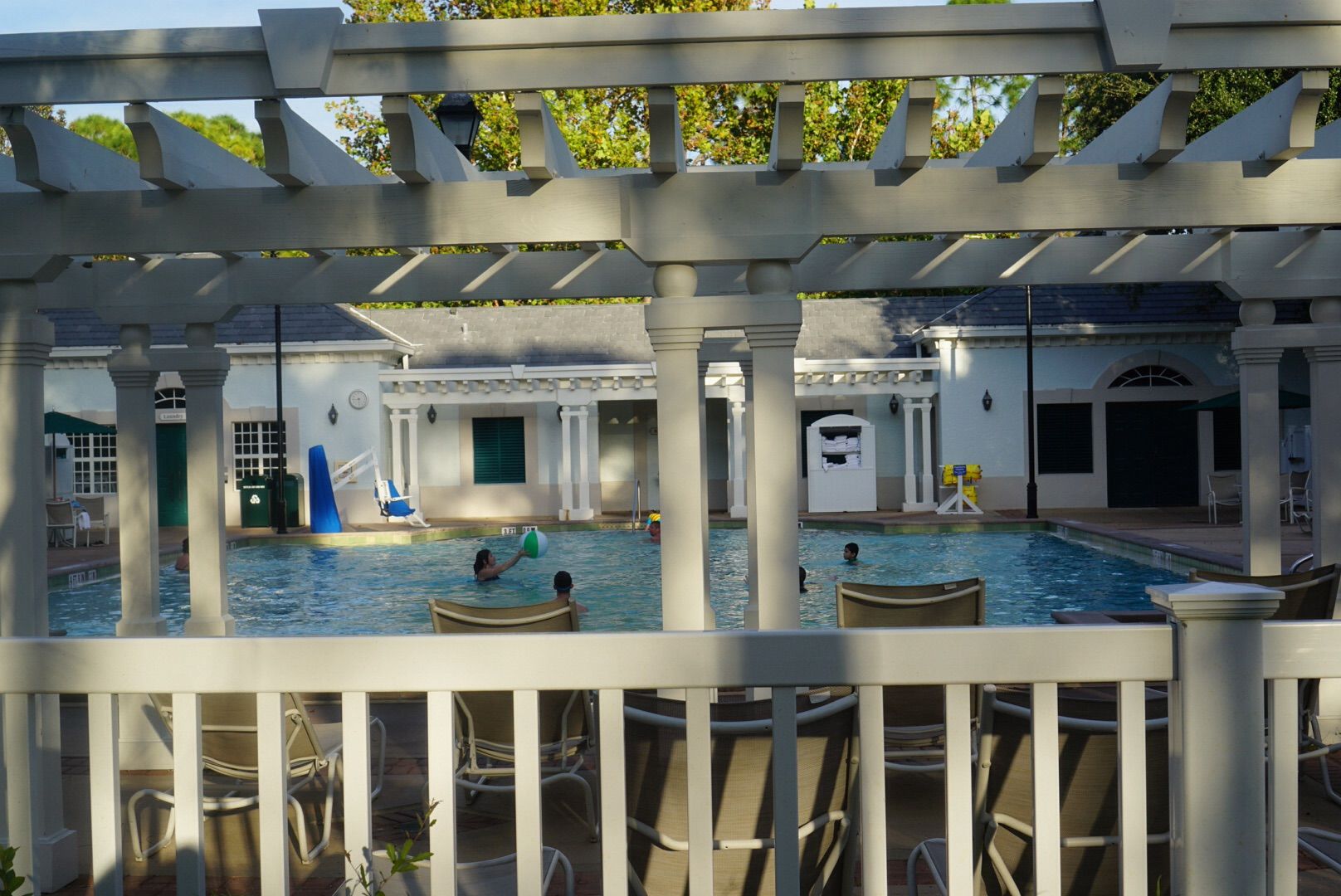 And then I found Acadian House…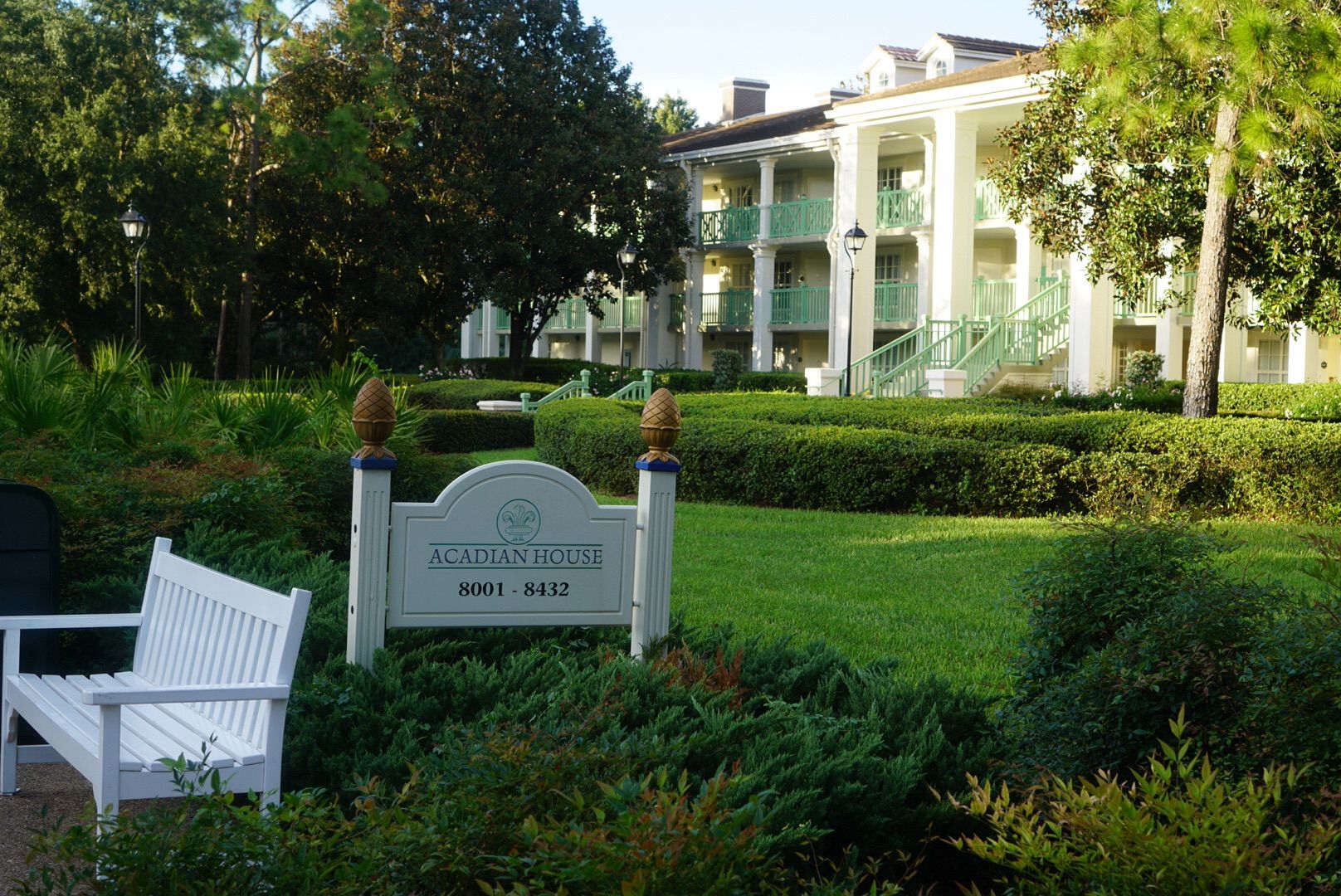 After walking around the first floor of the building twice and not finding Room 8088, I finally crossed paths with a housekeeper and asked her to point me in the direction of my room.  This is when I discovered that my room was actually located in one of the side wings (see #8088 above the red arrow in the room map below)…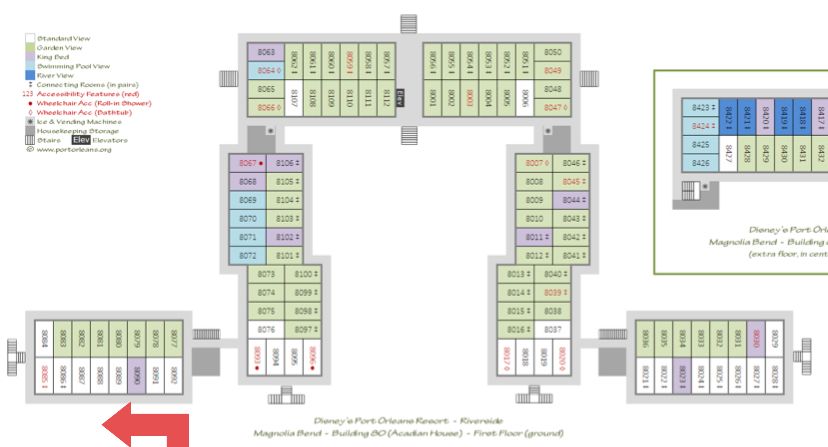 And a closer look at my room location…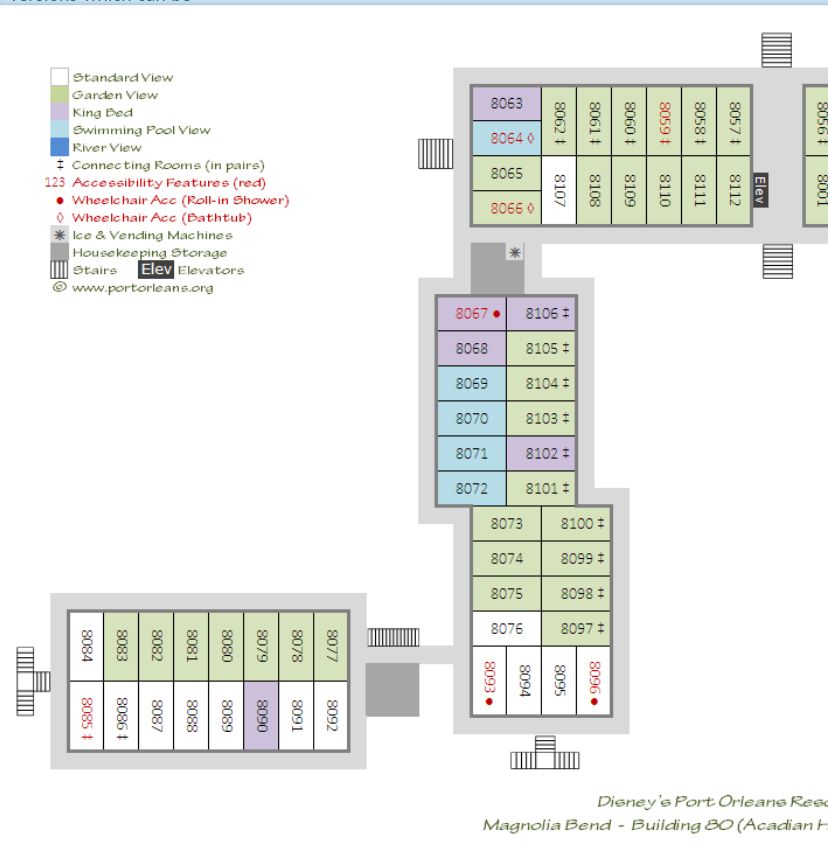 The regular mansion building rooms come in five category options: Standard (mostly parking lot views), Garden View, Pool View, River View, and King Bed (which could have any of the previous view types).  I had reserved and paid for a standard view room and that is exactly what I got.  The view out my room window was of the parking lot located behind Acadian House…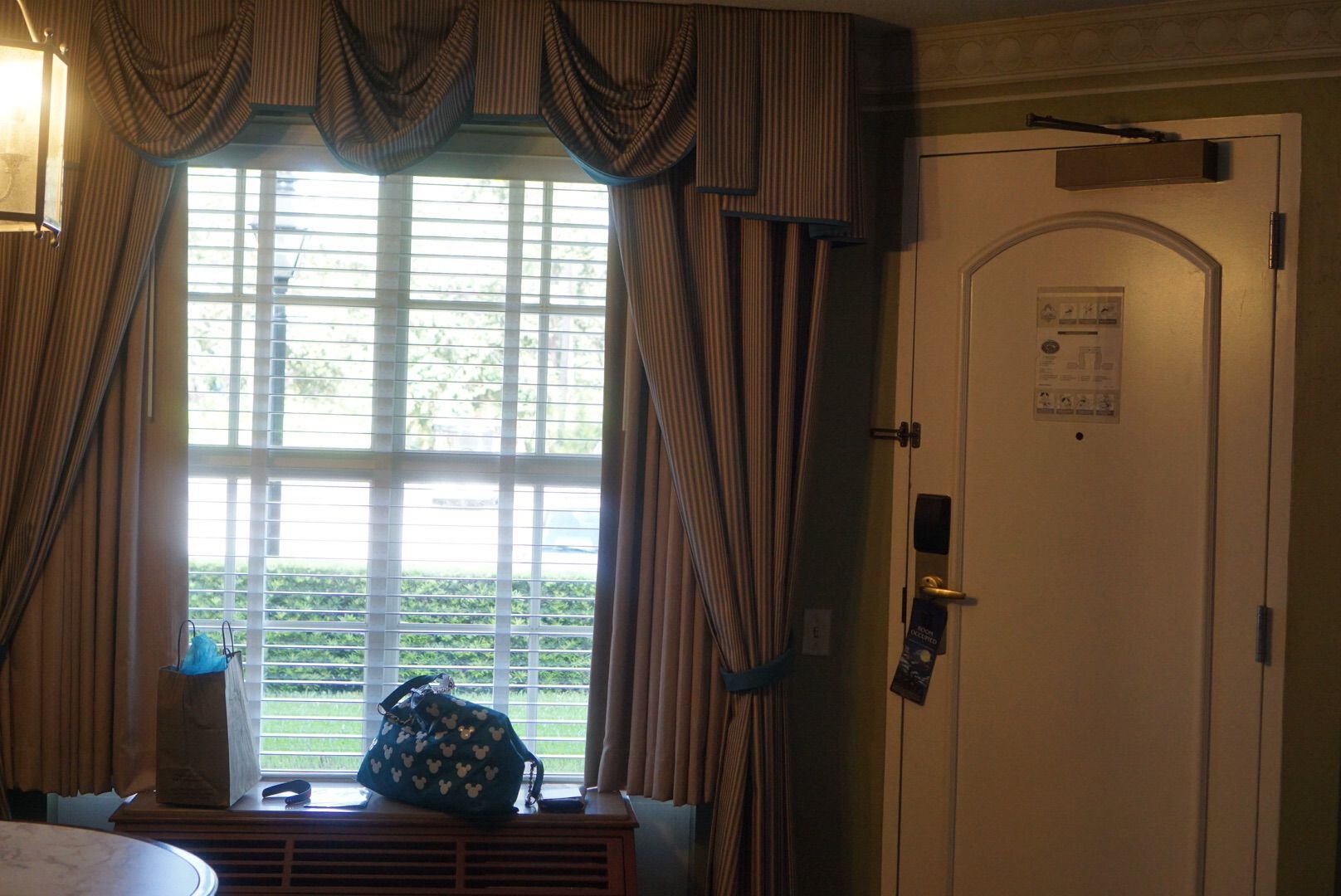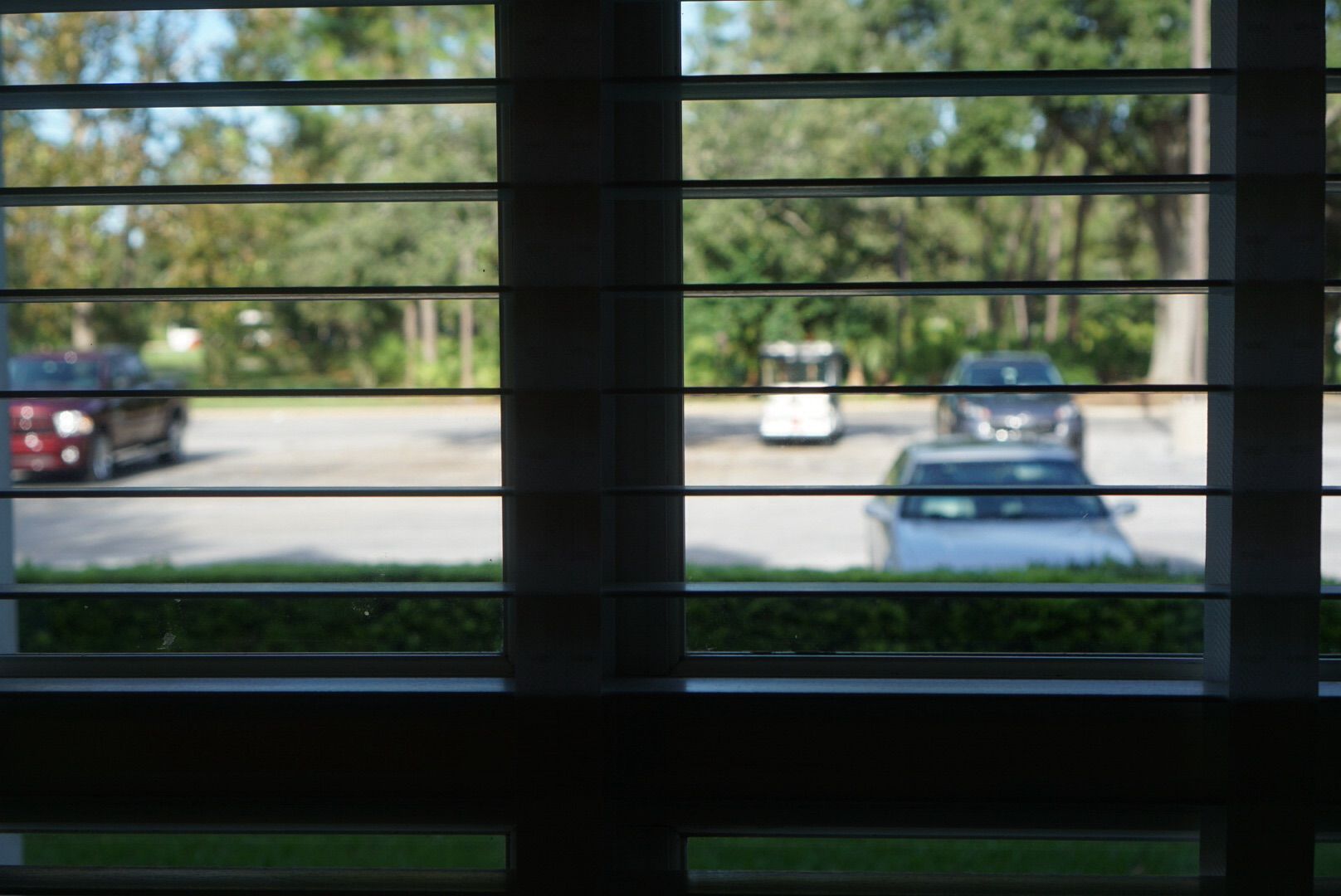 As for the inside of the room, there were two queen-size beds with the usual (and boring) white bedding that all of the Disney resorts seemed to have gone to…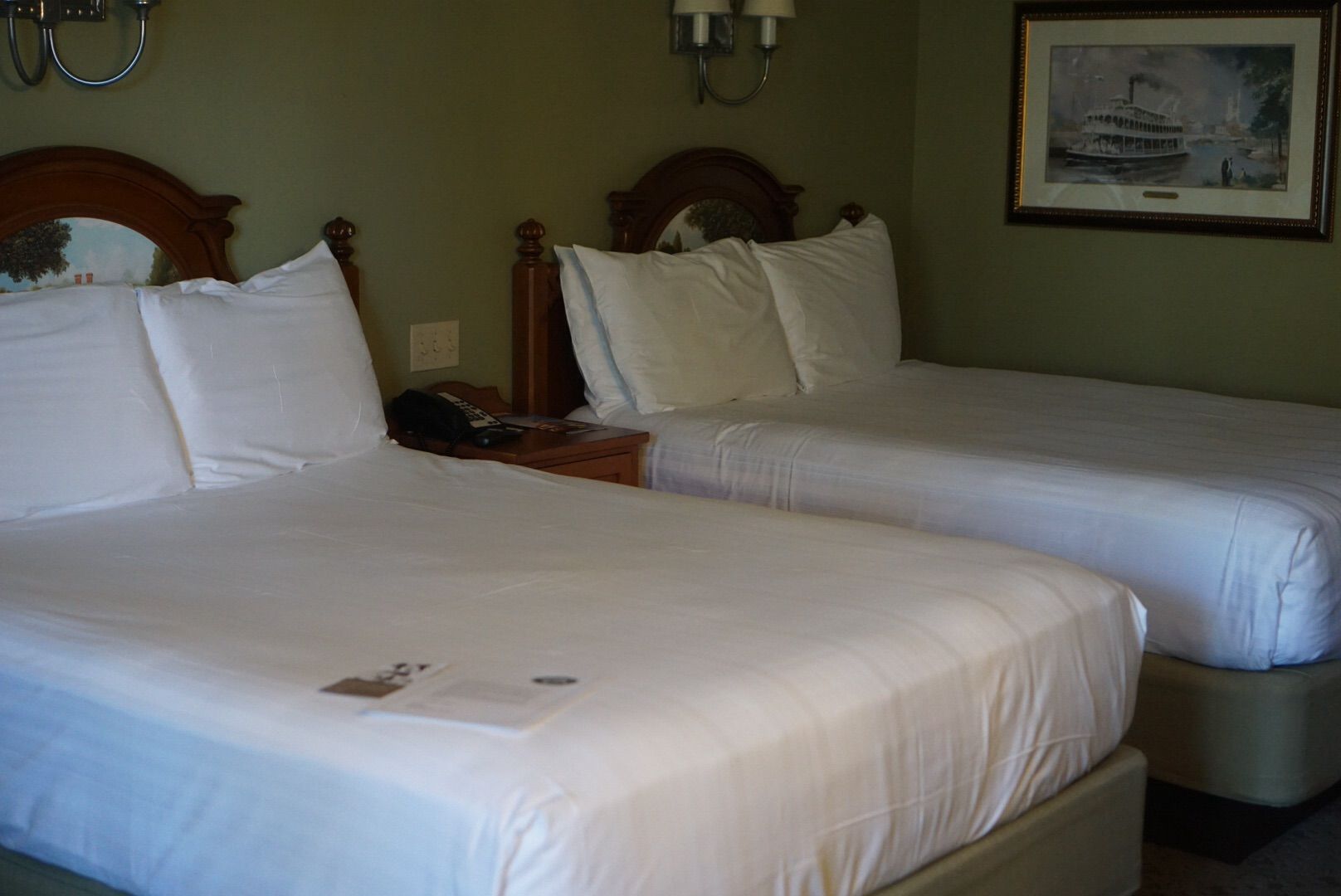 These did have headboards that gave the beds some character…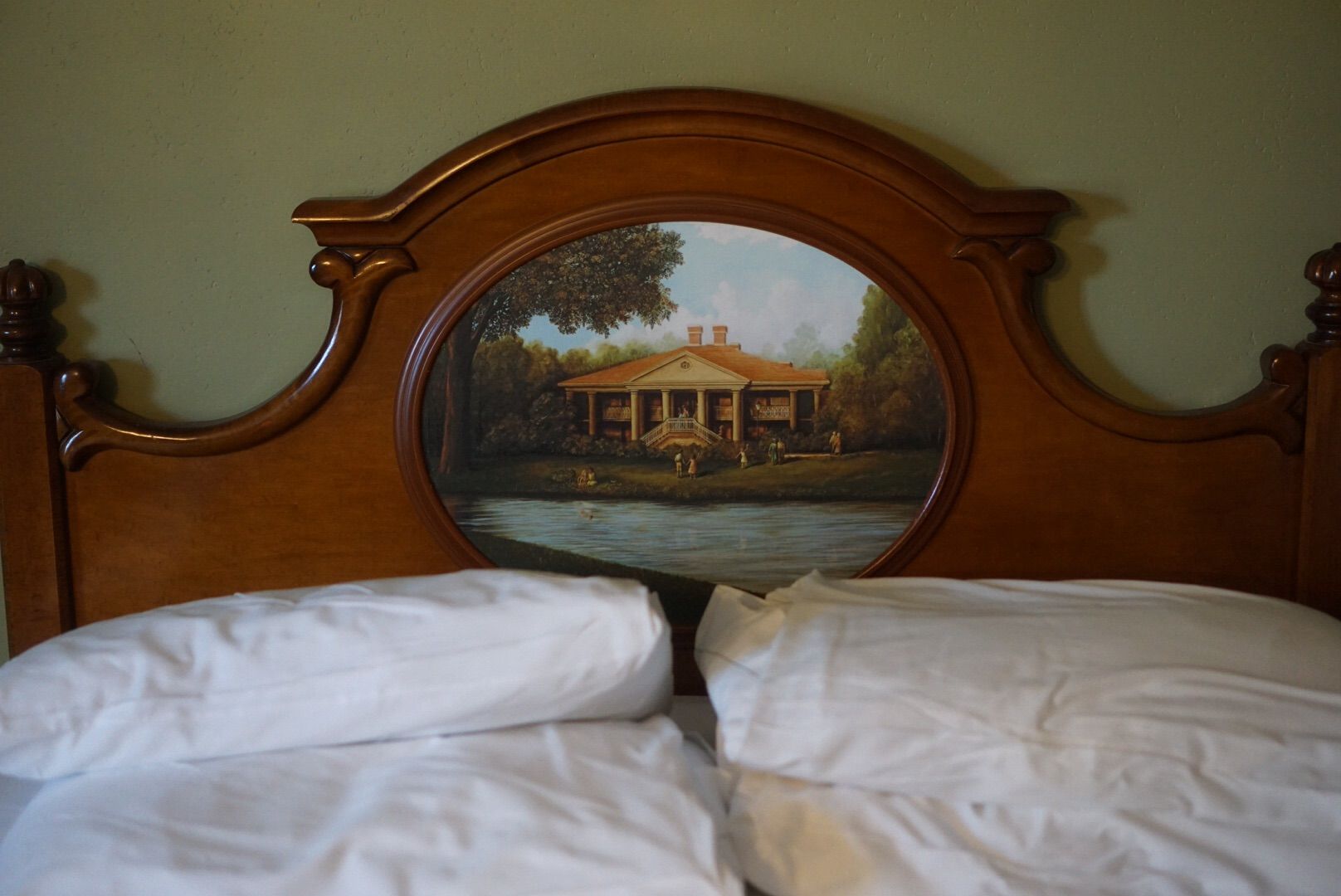 There was a small table, two chairs and a large mirror…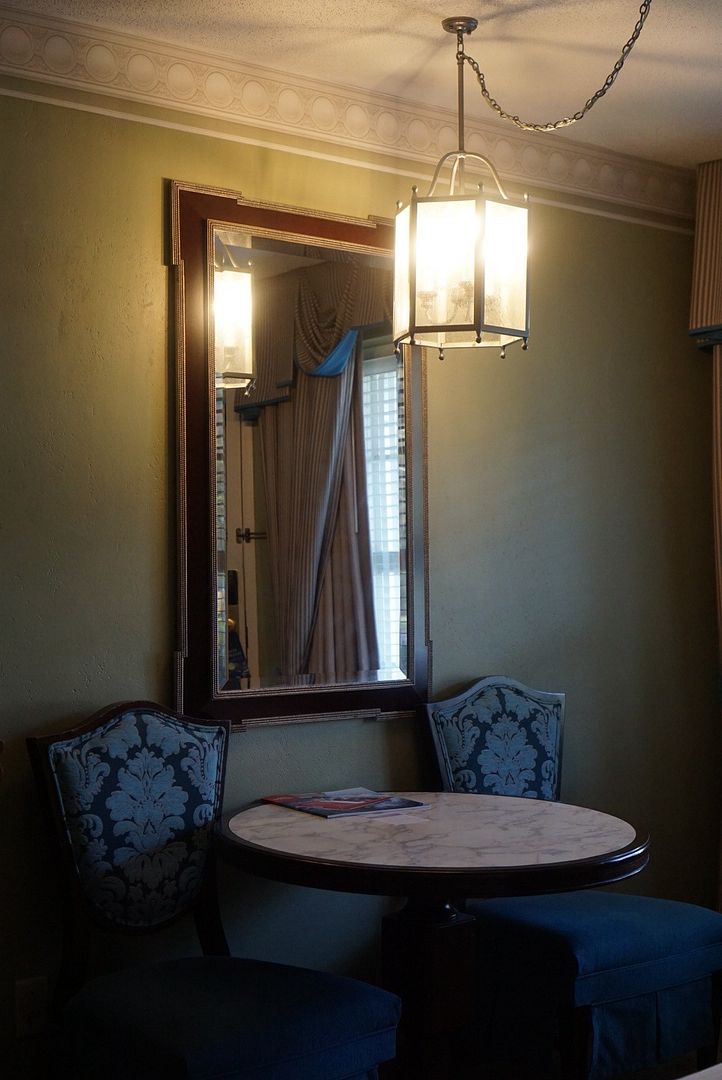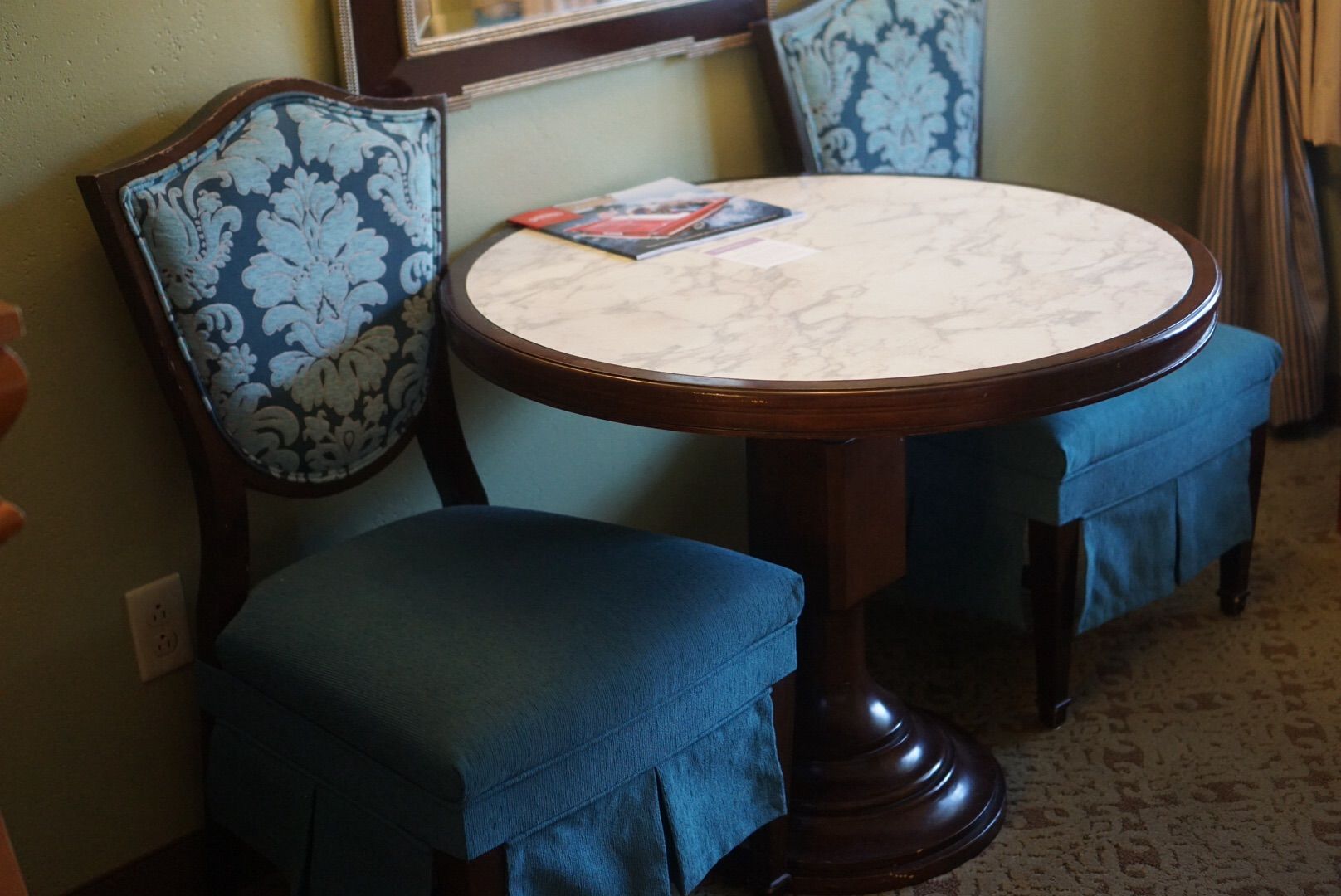 A small  LG t.v. sat on top of a cabinet., along with an ice bucket, glasses, plastic cups, and a small coffeemaker…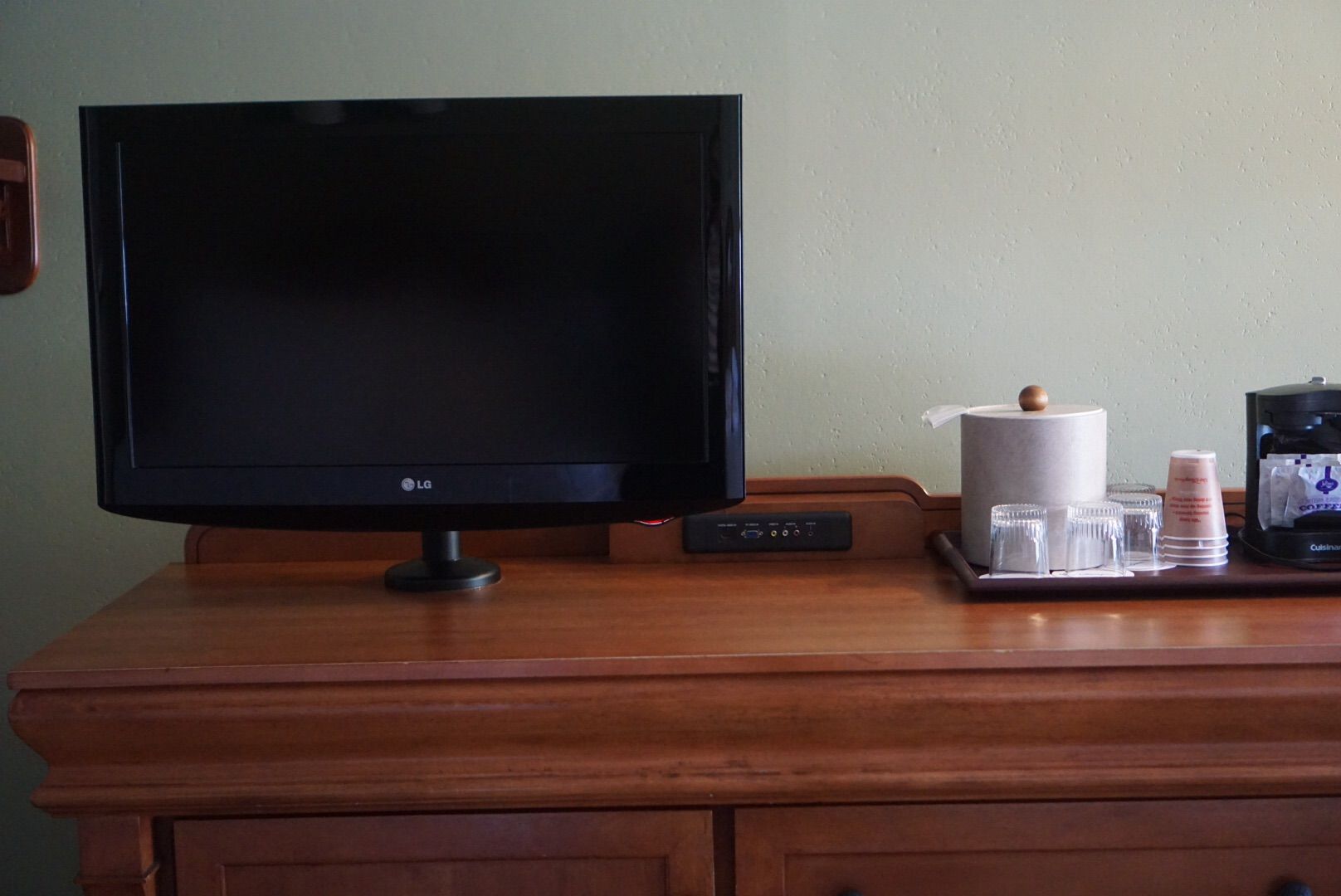 A small refrigerator was inside the cabinet below the t.v…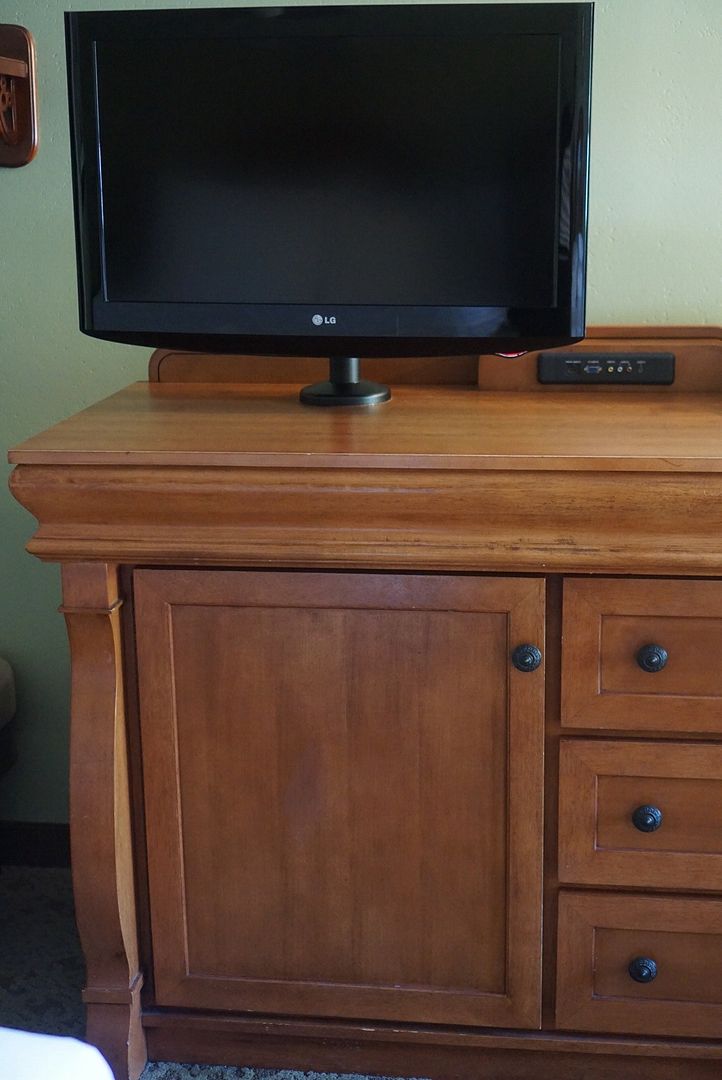 There was nice size vanity with two sinks and two mirrors…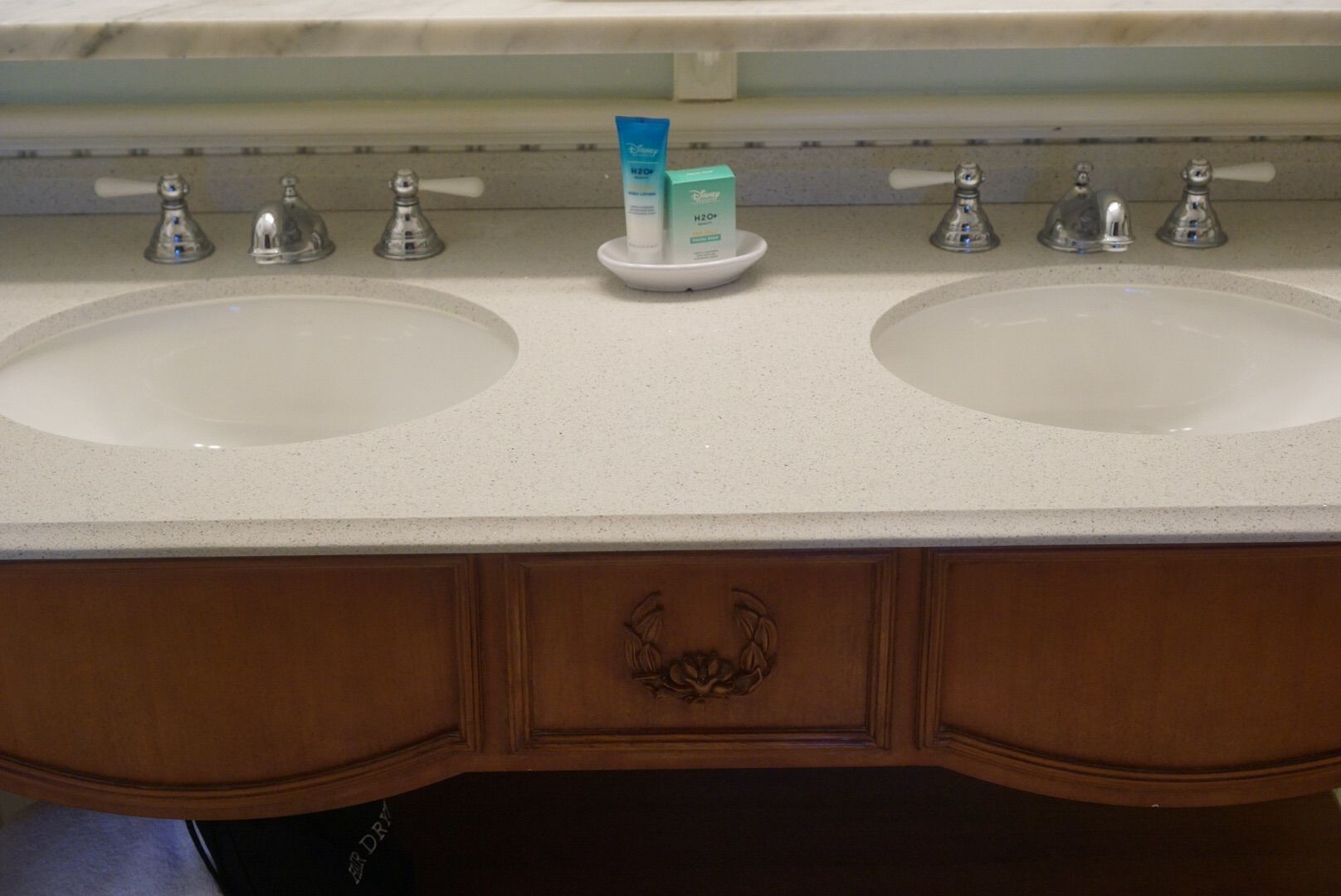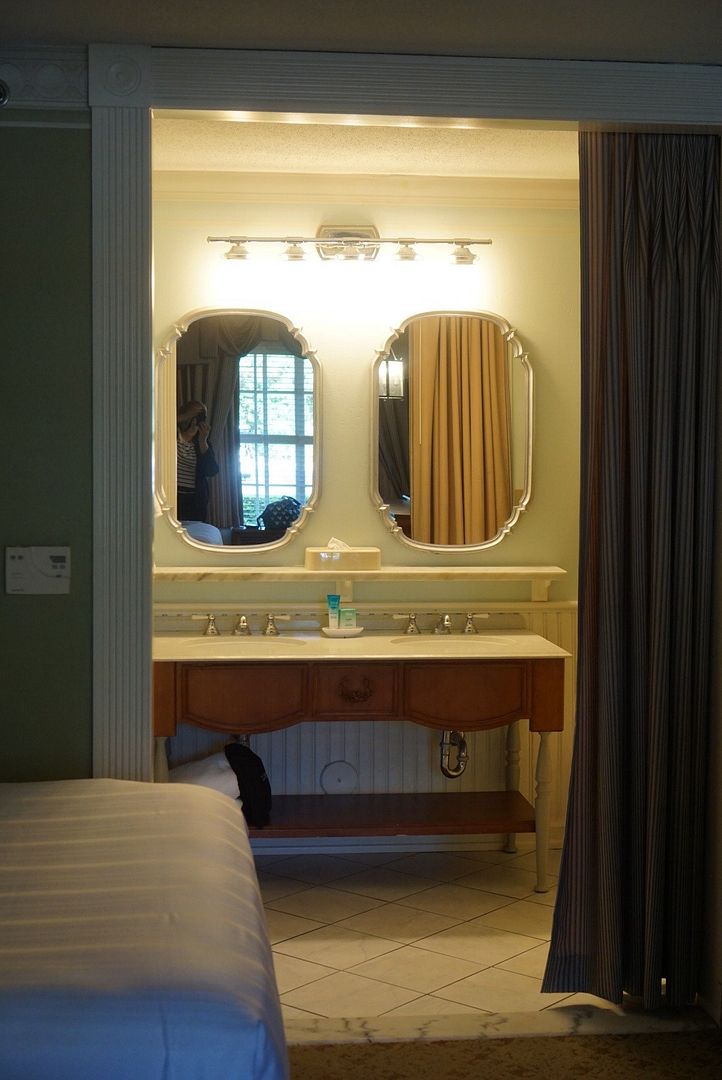 There was a privacy curtain that could be closed to separate this area from the bedroom.  To one side of this vanity was a rod and some hangers for hanging your clothes…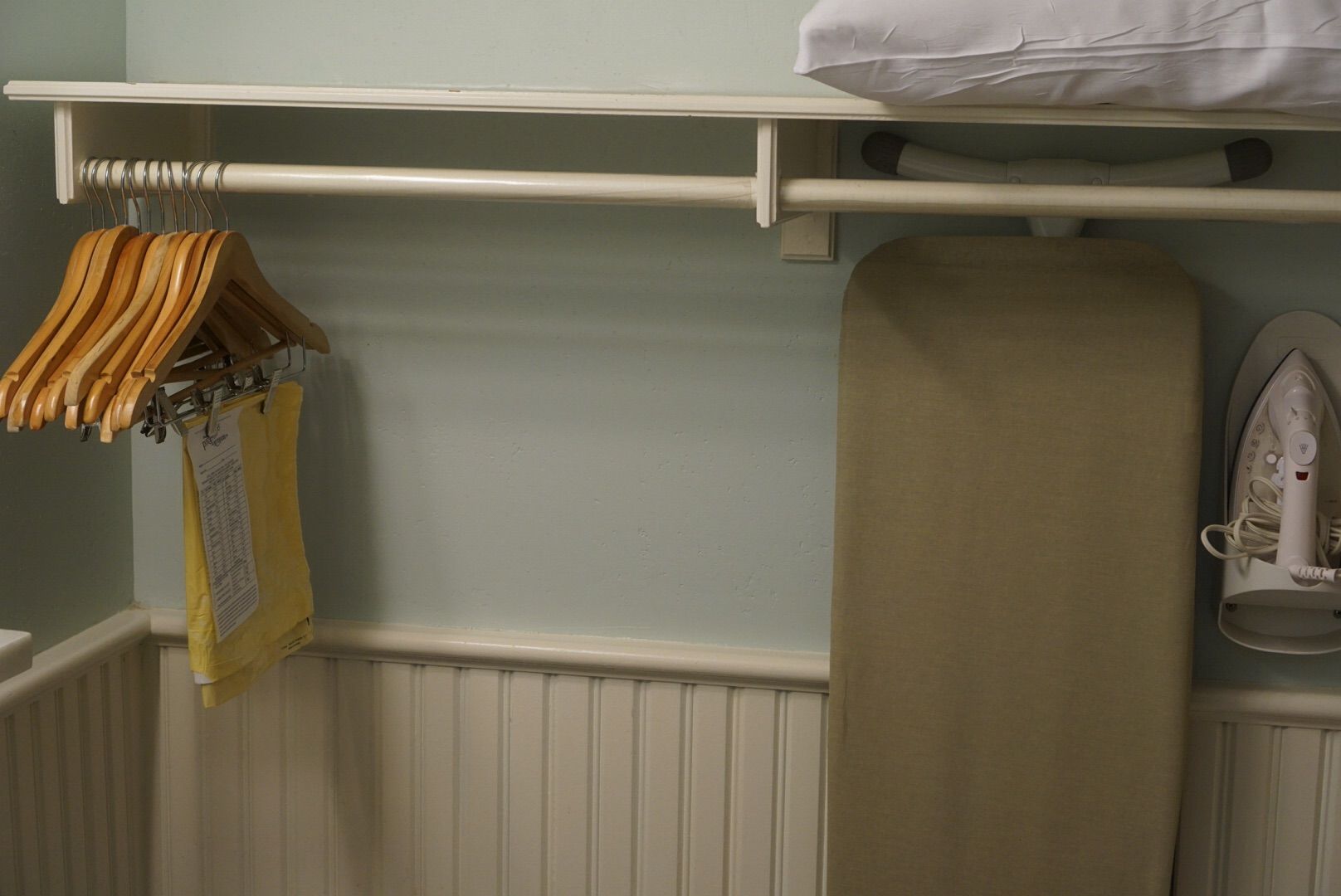 There was also an iron and ironing board here.
Only a bar of soap and body lotion were provided in the sink area…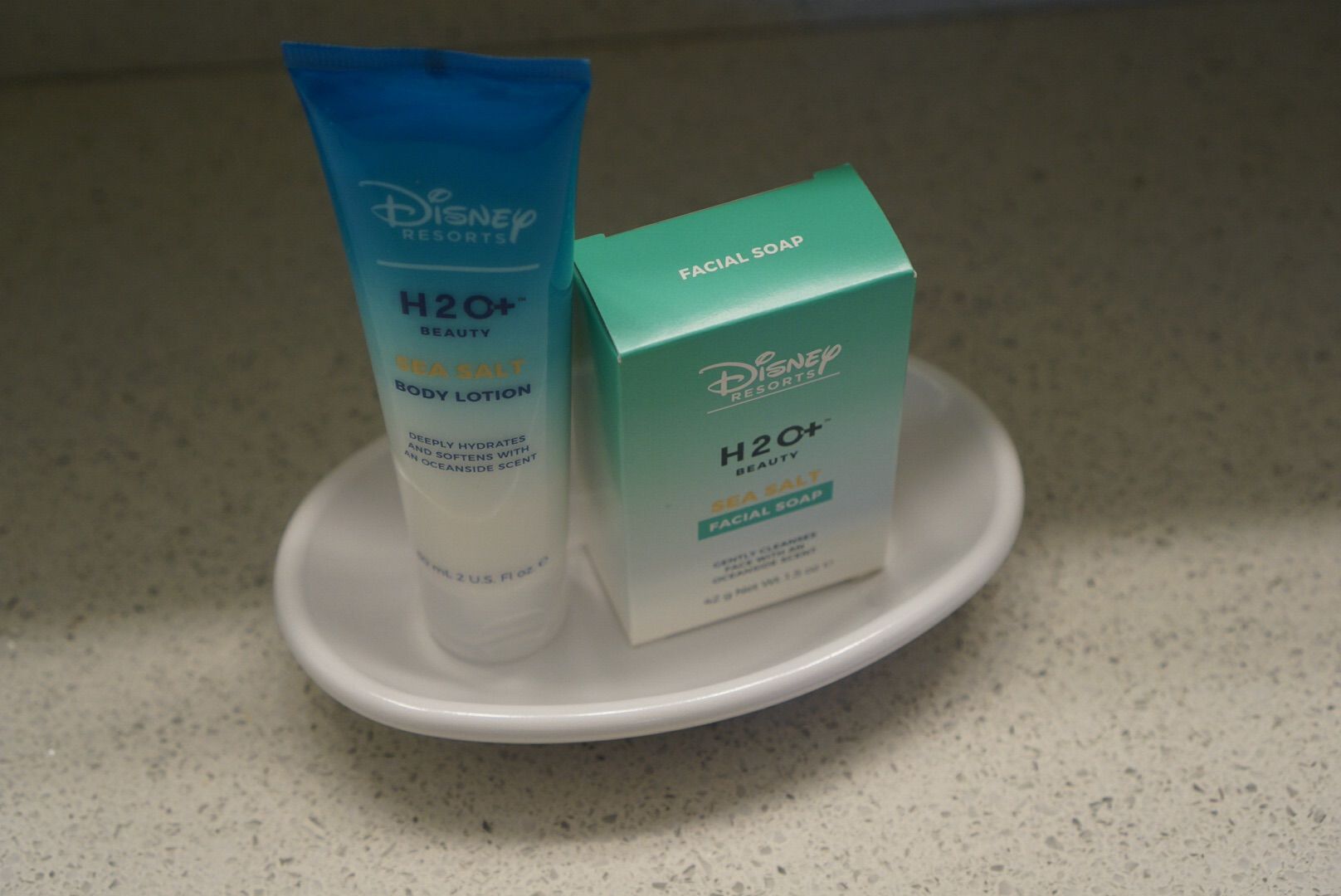 The rest of the complimentary toiletries were found in the tub/shower…
I do like the individual-size toiletries that I can take home with me so I hope all of the resorts don't go to this dispenser-style toiletries.
And speaking of the shower/bathtub and toilet, they were in a separate room from the vanity/sinks (which I always like, especially when I'm not traveling solo) but this room was super small.  I could barely open the door without hitting the bathtub…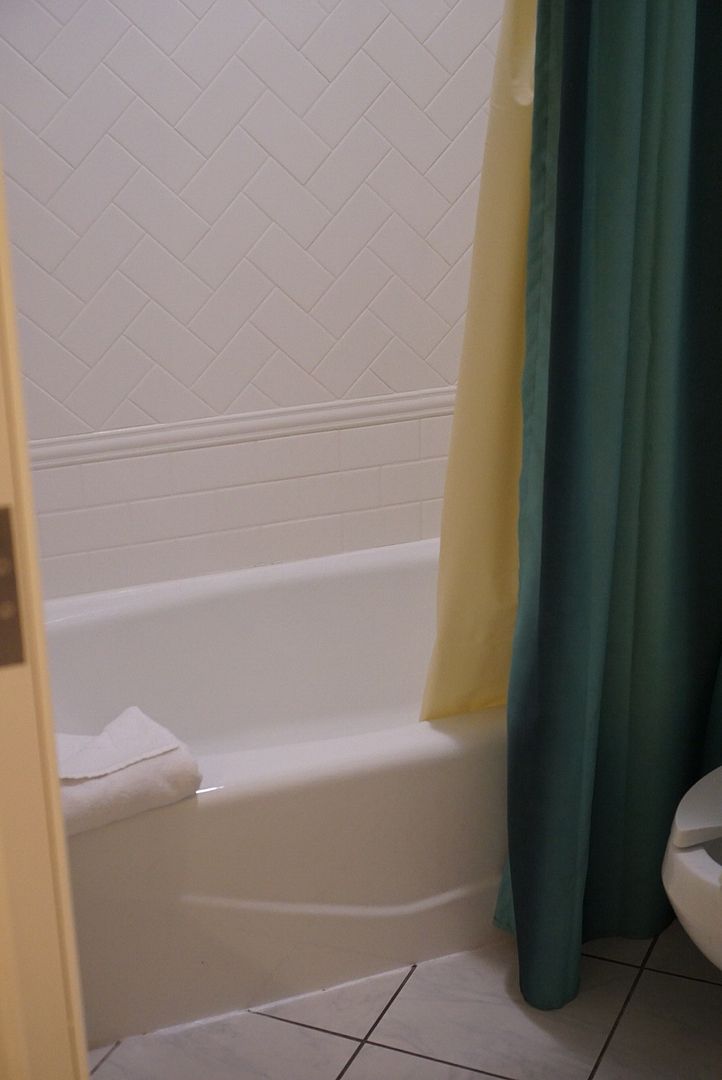 By the way, on the outside of that door was a full-length mirror, something that I didn't have in my room at the Polynesian.
Just a few more notes regarding my room, one positive and two negatives.  On the positive side were the beds, which were quite comfortable.  But the negatives, there was no charging station on the nightstand or even an outlet that was easily accessible from the beds.  The other negative was that the air conditioning unit (located below the window) was very noisy.
I have one more negative regarding the resort in general.  When walking back to my room by myself in the dark (after having dinner at Boatwright's) I was a bit nervous.  There were areas along my path that were not well lit.  Long walk outside (sometimes in the dark) in an unfamiliar area by myself = an uncomfortable me.  Because of this, I probably wouldn't stay at Port Orleans again on my solo trips.  However, even though I wouldn't recommend this resort for solo travelers, for everyone else I would.  It's a beautifully-themed resort with both a great quick service and table service restaurant.  Plus the room rates are much more reasonable than those at the Deluxe resorts.