From the time that my friend, Rachel, told me how good her August 2018 meal at Satu'li Canteen was and sent these photos…
Create-Your-Own Satu'li Bowl with Slow-Roasted Sliced Grilled Beef and Hearty Salad topped with Crunchy Vegetable Slaw and Bursting Boba Balls – $13.99
Create-Your-Own Satu'li Bowl with Chopped Wood-Grilled Chicken and Red & Sweet Potato Hash topped with Creamy Herb Dressing, Crunchy Vegetable Slaw and Bursting Boba Balls – $12.49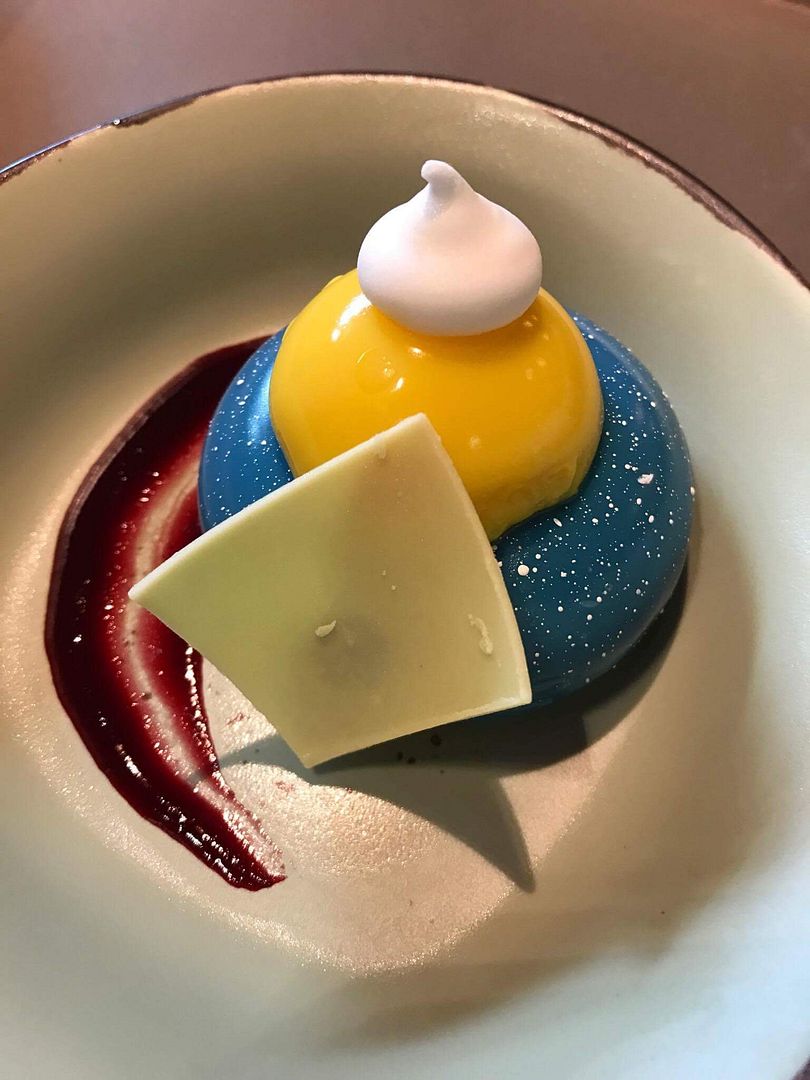 Blueberry Cream Cheese Mousse – $5.29
…it had been on my list of new restaurants I wanted to try.
So with this being the last day of this trip that I would be visiting Animal Kingdom, I decided to make it a priority to have lunch at Satu'li Canteen.
Being there when they opened for the day at 10:30, I was one of the first guests in the door.  I was greeted by a Cast Member and given a menu to look at…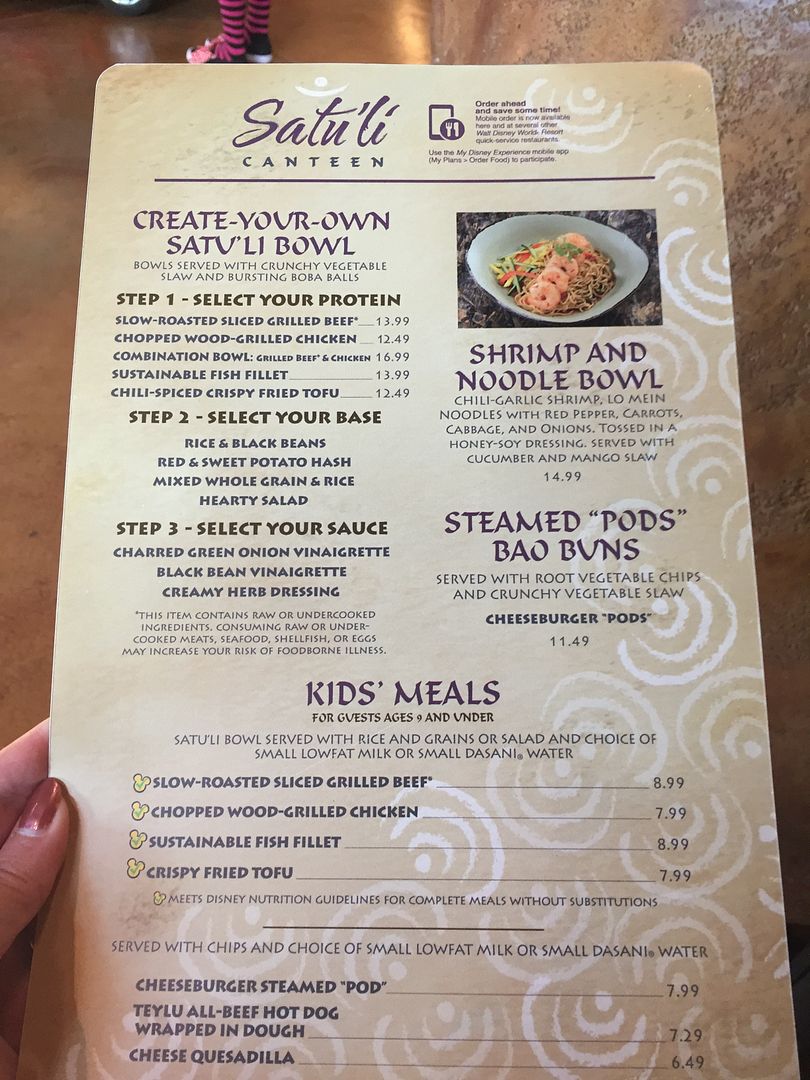 On my way to the counter to place my order, I passed by the grill where the meat was cooking.  It smelled wonderful.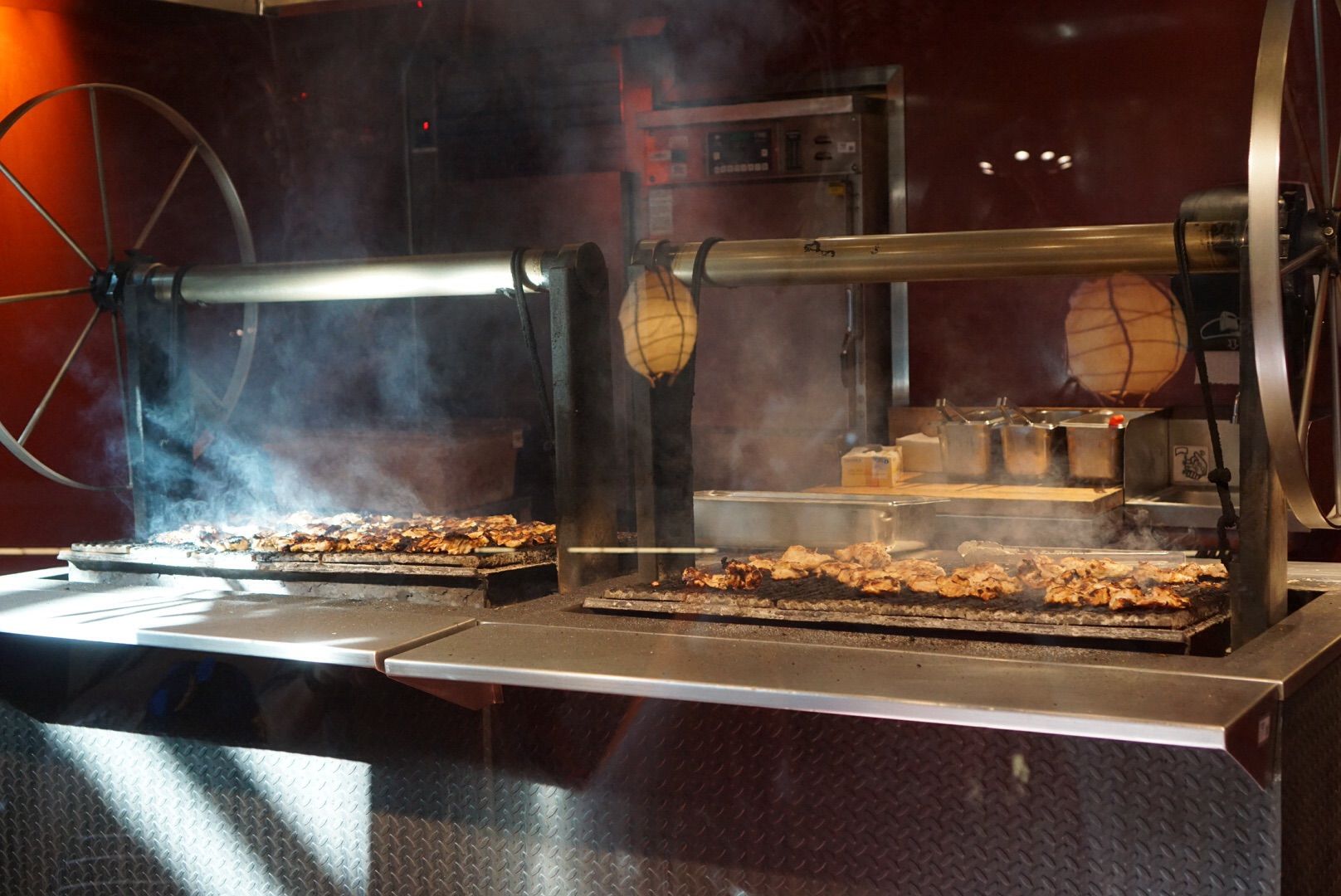 Then it was time for me to order.  After seeing Rachel's photos I had decided that I wanted to try both their beef and chicken so I chose their Combination Bowl…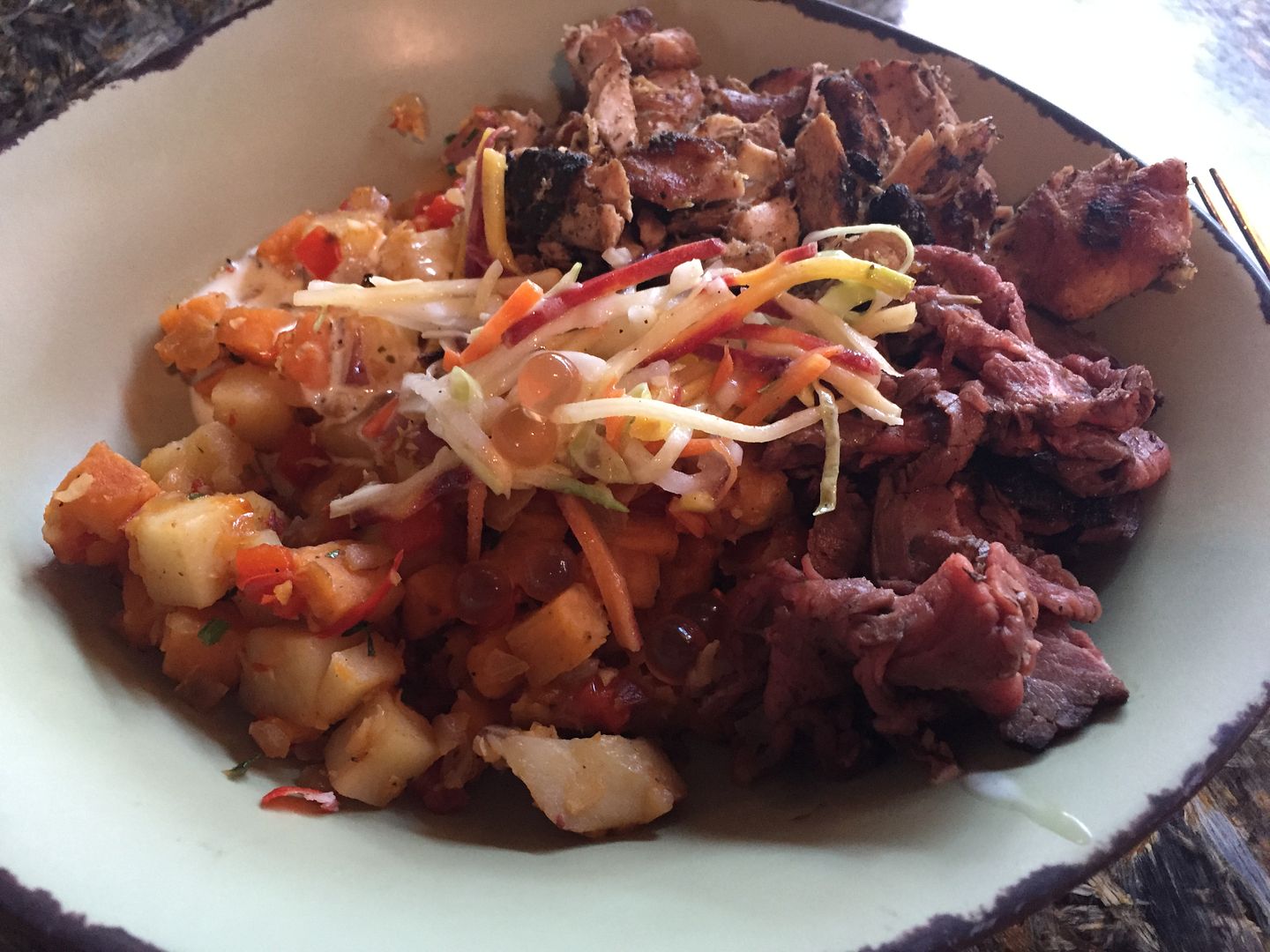 …with both Grilled Chicken…
And Grilled Beef…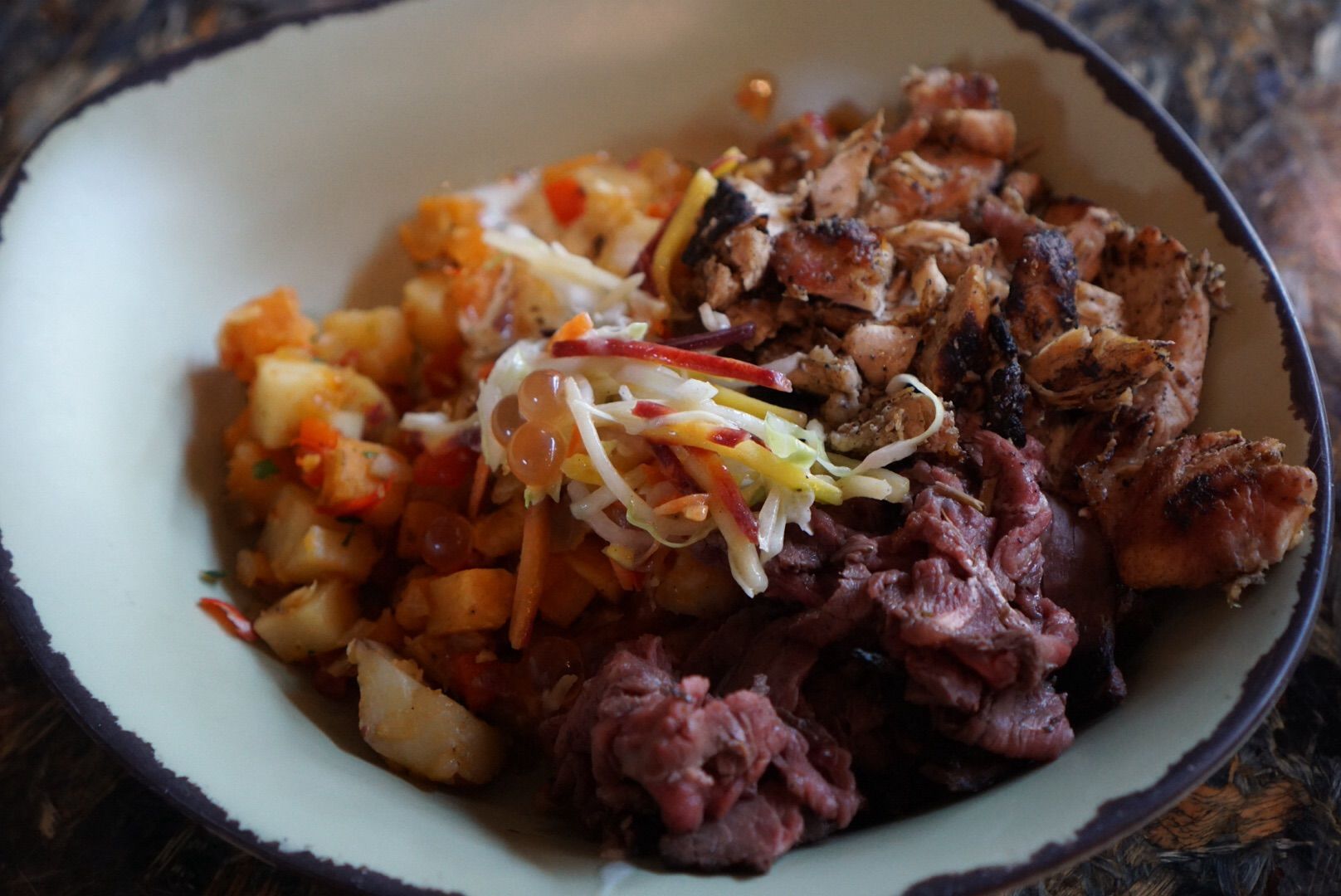 And for my side/base and sauce I chose the Red & Sweet Potato Hash and Creamy Herb Dressing…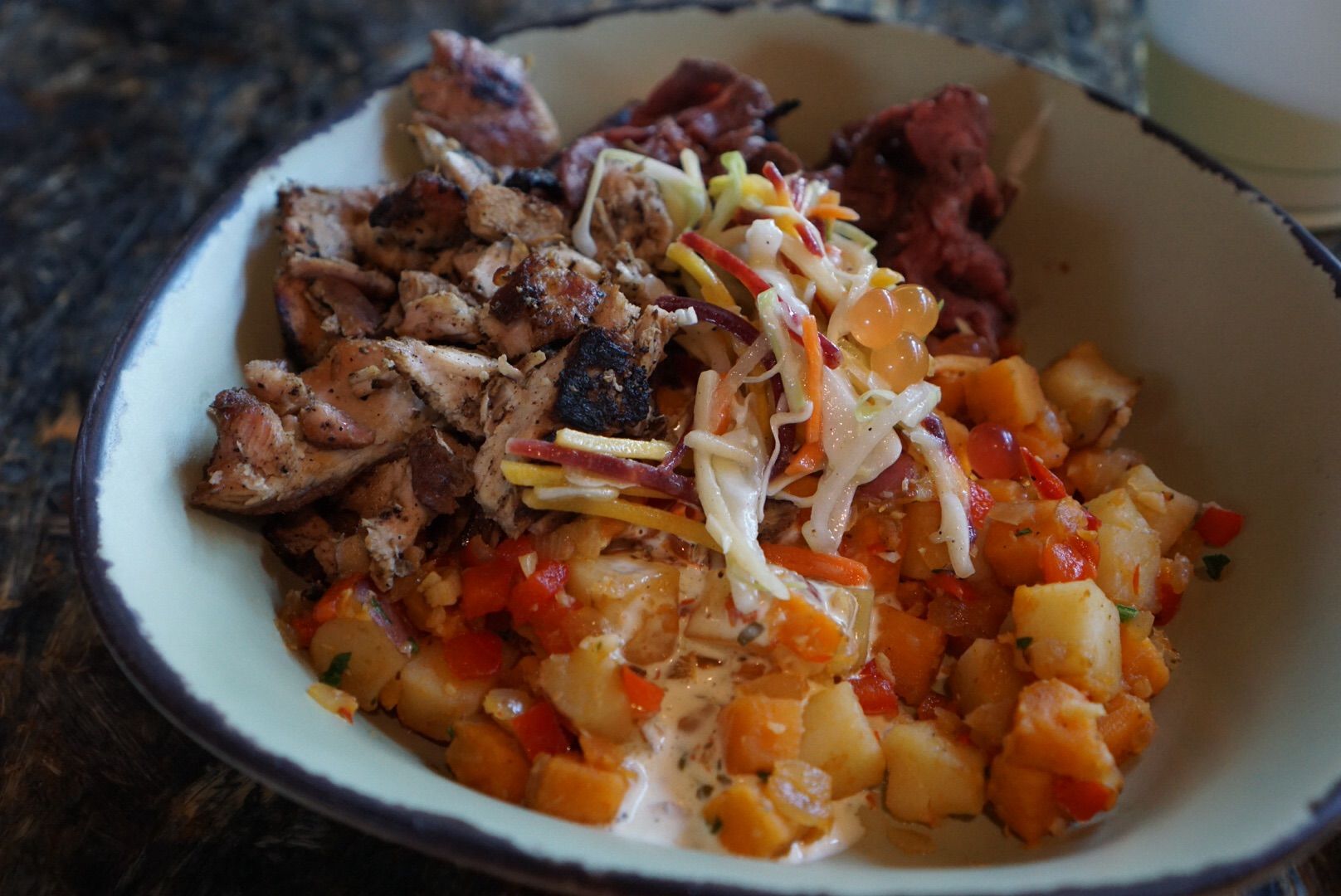 Plus, as with all of their Create-Your-Own Bowls, this was topped with Crunchy Vegetable Slaw and Bursting Boba Balls.  
Though my beef didn't look nearly as good as Rachel's, it was very flavorful…much more flavorful than the chicken.  The beef had been marinated in a blend of garlic, herbs, red pepper spice and red wine vinegar before being grilled so it was very tasty.  The chicken (marinated in just garlic and olive oil) was fine, but there were some pieces that were a little overcooked and dry.  Also the chicken was thigh meat and I prefer white (breast) meat.  I did though enjoy the potato hash, slaw and creamy herb dressing, but didn't care for the boba balls, which were sour tasting.
At $16.99, the Combination Bowl was/is the most expensive entree on Satu'li's menu.  So while I'm glad that I tried both of their featured grilled meats, on my next visit I would probably go with just the beef.  Or perhaps I'll try something different and have their Chili-Garlic Shrimp Bowl??
Anyway, in addition to the Combination Bowl, I also ordered this beverage…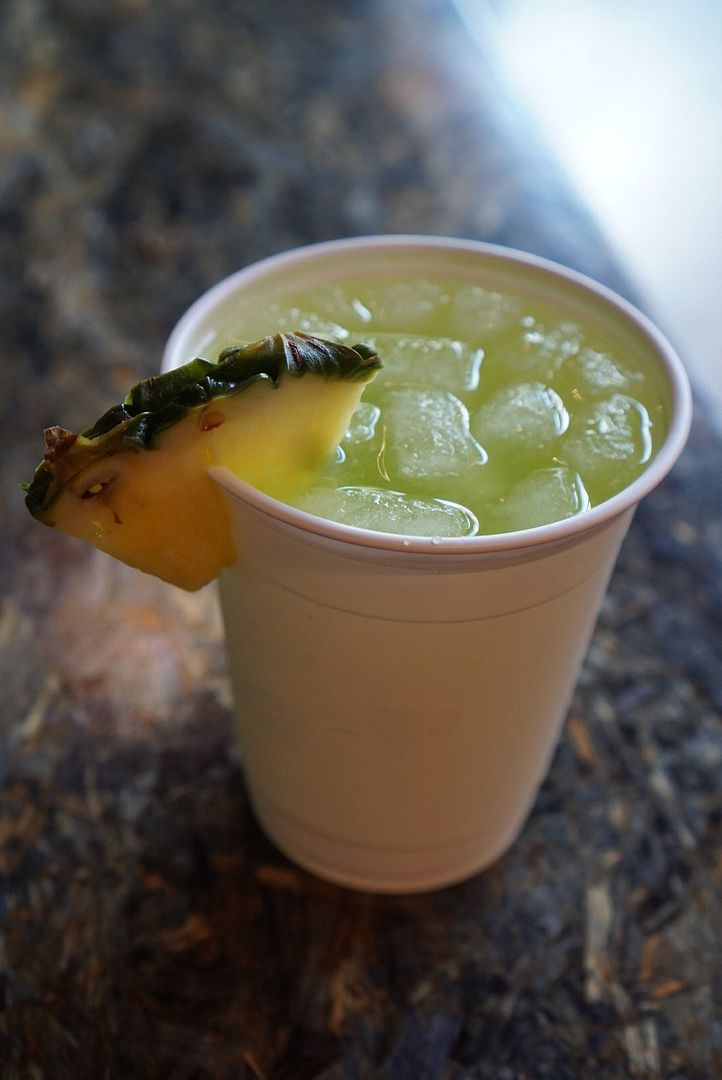 Pandoran Sunrise – Tropical Juices blended with Melon flavored Powerade® – $4.49
This didn't have a lot of flavor.  Perhaps it was watered down from the ice.  The highlight was actually the garnish.  The pineapple slice was sweet and delicious.  For me though, it was not really worth $4.49.
And for dessert…
Blueberry Cream Cheese Mousse
A look inside…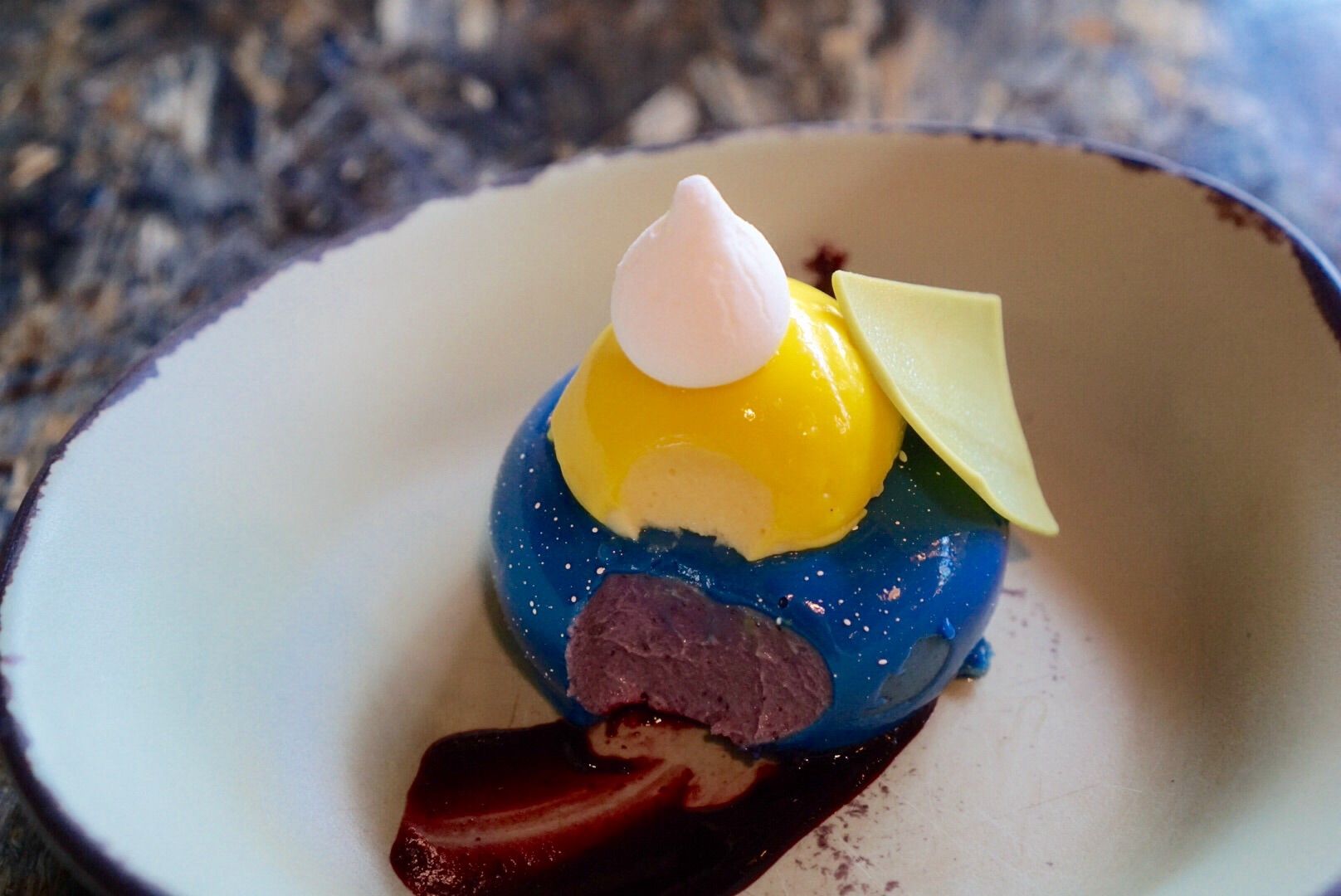 This was as tasty as it is photogenic.  I love the pretty blue and yellow Navi colors of this dessert.  The combination of the sweet blueberry flavored cheesecake, the slightly tart passion fruit curd, the meringue kiss, and the white chocolate square was delicious.  Although I'd like to try their other dessert, which is chocolate cake, it will be difficult not to have this again on my next visit to Satu'li.
So that just leaves the ratings and rankings.  The Yelp and Trip Advisor reviewers are in agreement on Satu'li Canteen, both giving it 4 1/2 stars.  Because the chicken was not as moist and flavorful as I'd hoped, I would probably give Satu'li a slightly lower score of 4 stars.  As for its Trip Advisor ranking, Satu'li Canteen was ranked #124 of the nearly 3,500 Places to Eat in the Orlando area.  Narrowing it down to just those in the Disney World area, Satu'li Canteen ranks #31…pretty impressive for a quick service restaurant!