With an 11:30 a.m. lunch reservation (the opening time of The Edison) I was one of the first guests to be checked in and seated by one of the hostesses, which were wearing flapper dresses at this 1920's themed restaurant.
The decor here, described as industrial gothic-style was very cool.  From the time you walk inside the door there is so much to look at, starting with a big working clock tower…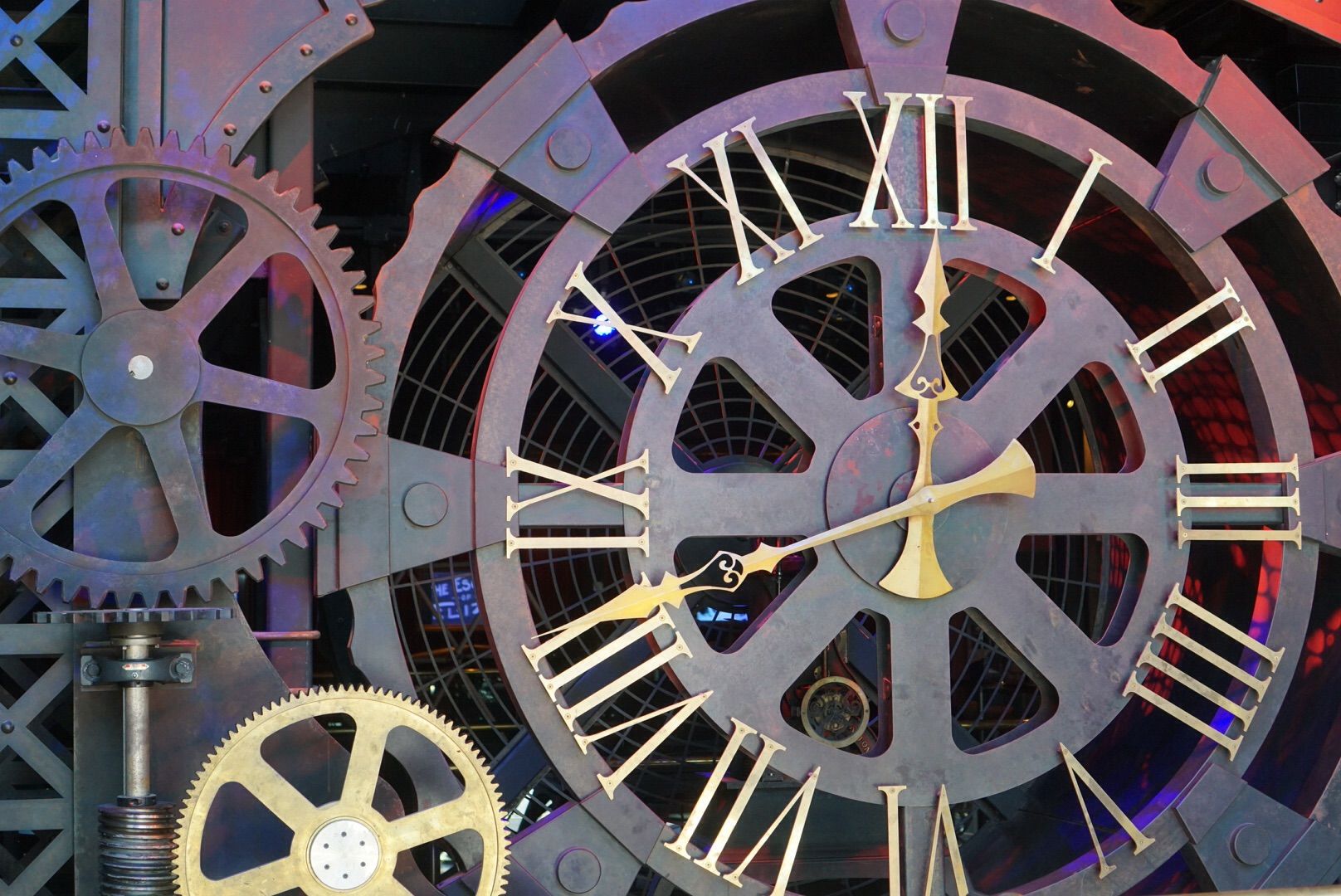 The restaurant is designed to look like a 1920's electric company…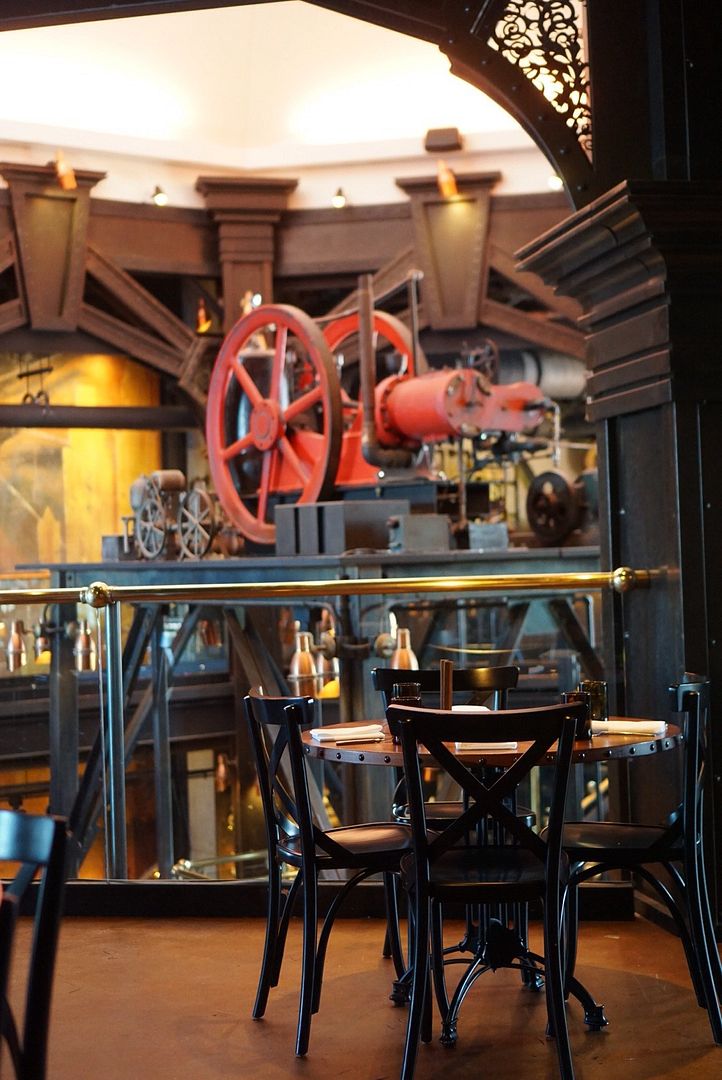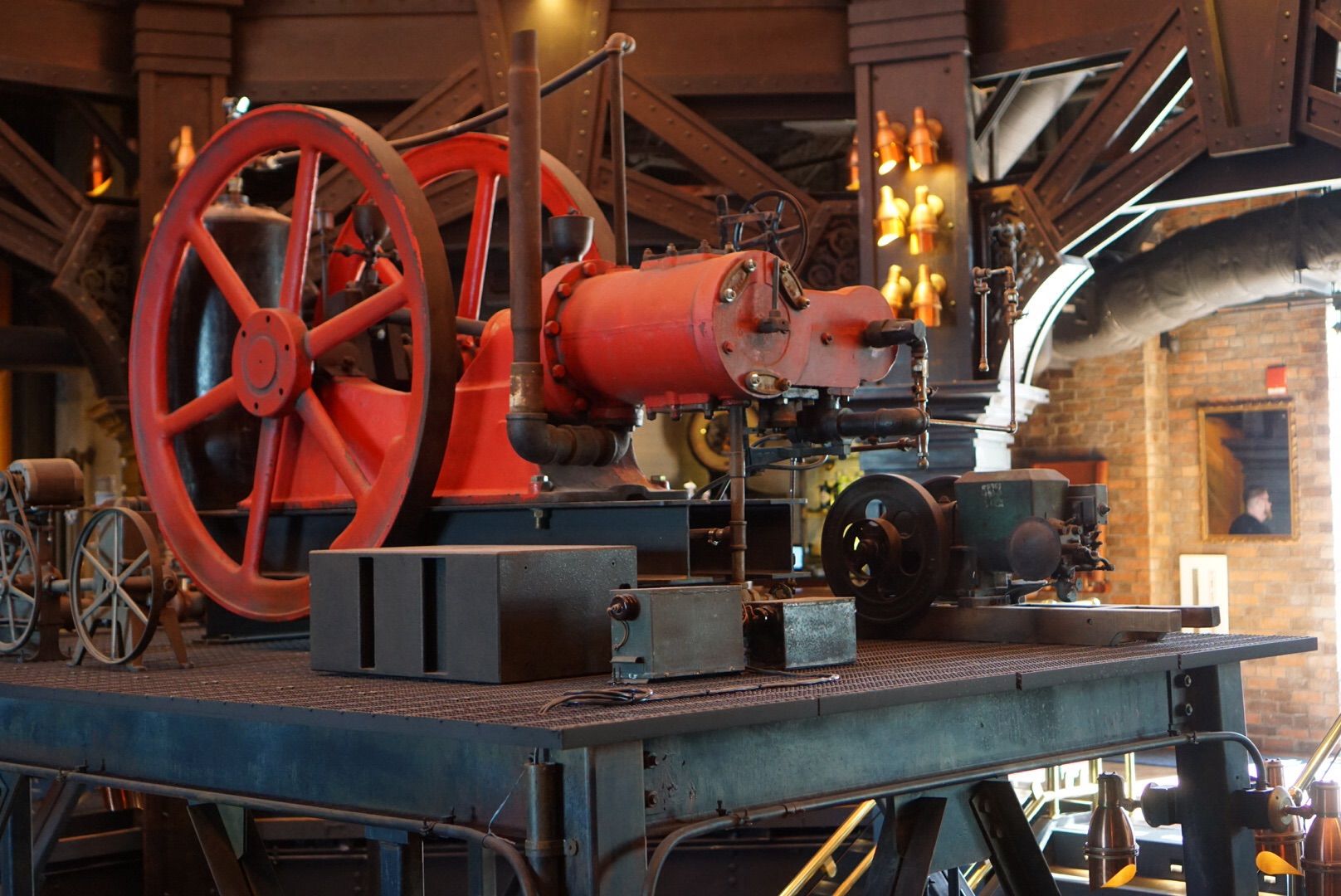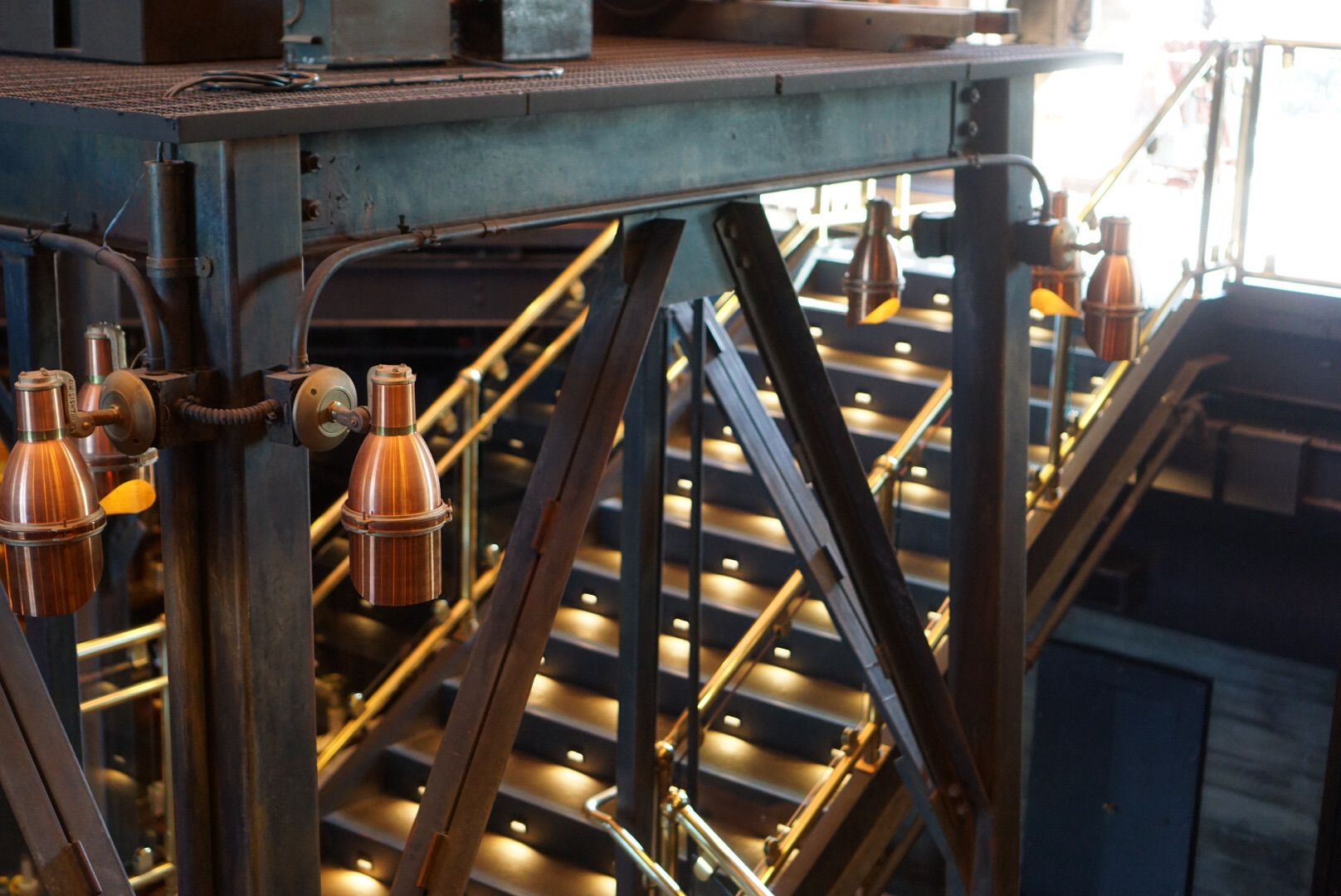 I was seated at a two-top table on the same floor as the restaurant's entrance…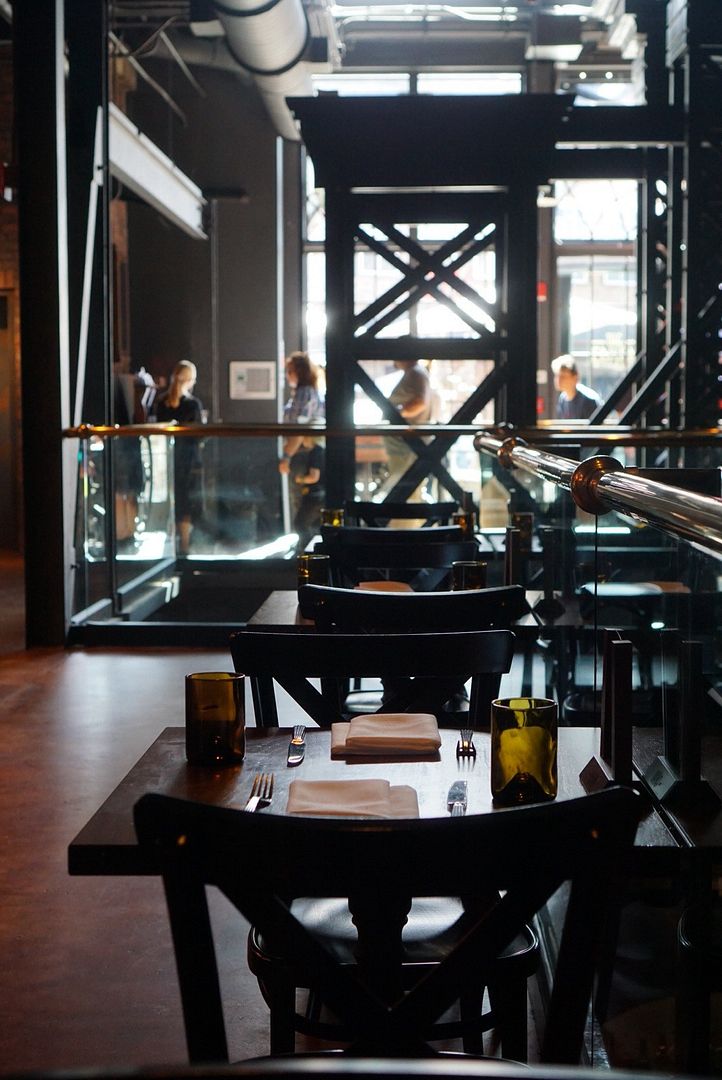 My table was up against the railing so I had a good view of the bar area down below…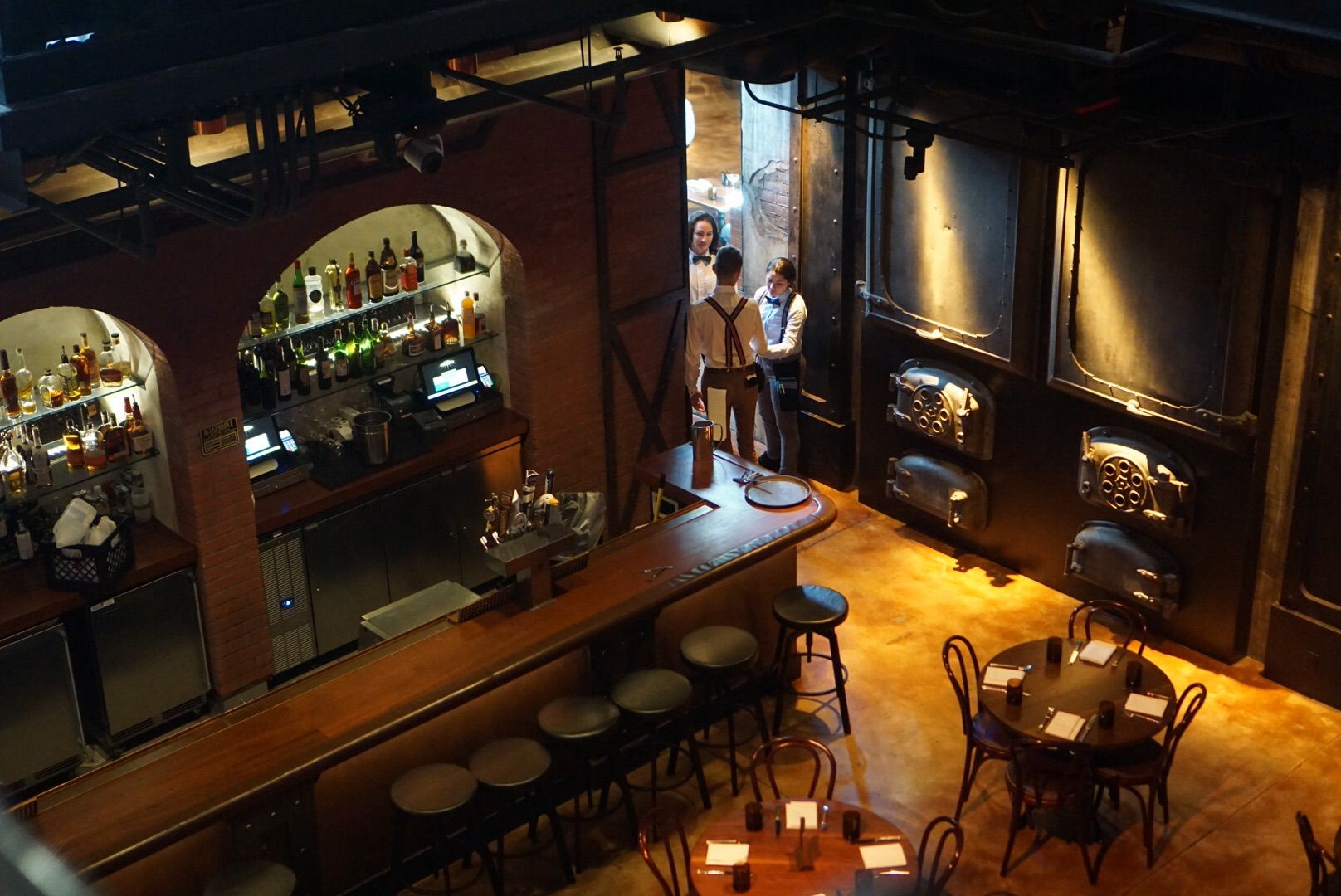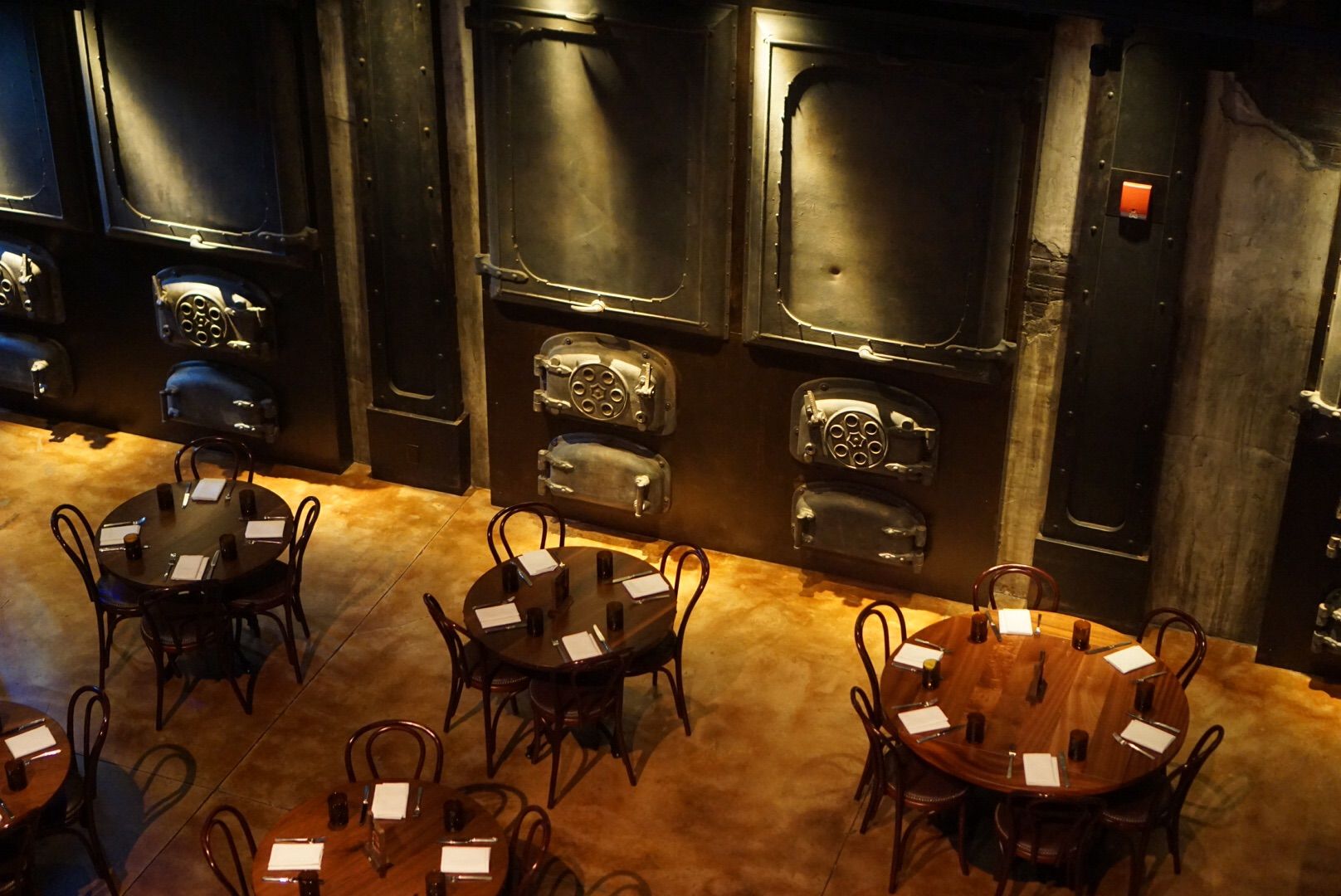 I could also see a stage down below, where I suppose a band performs in the evening…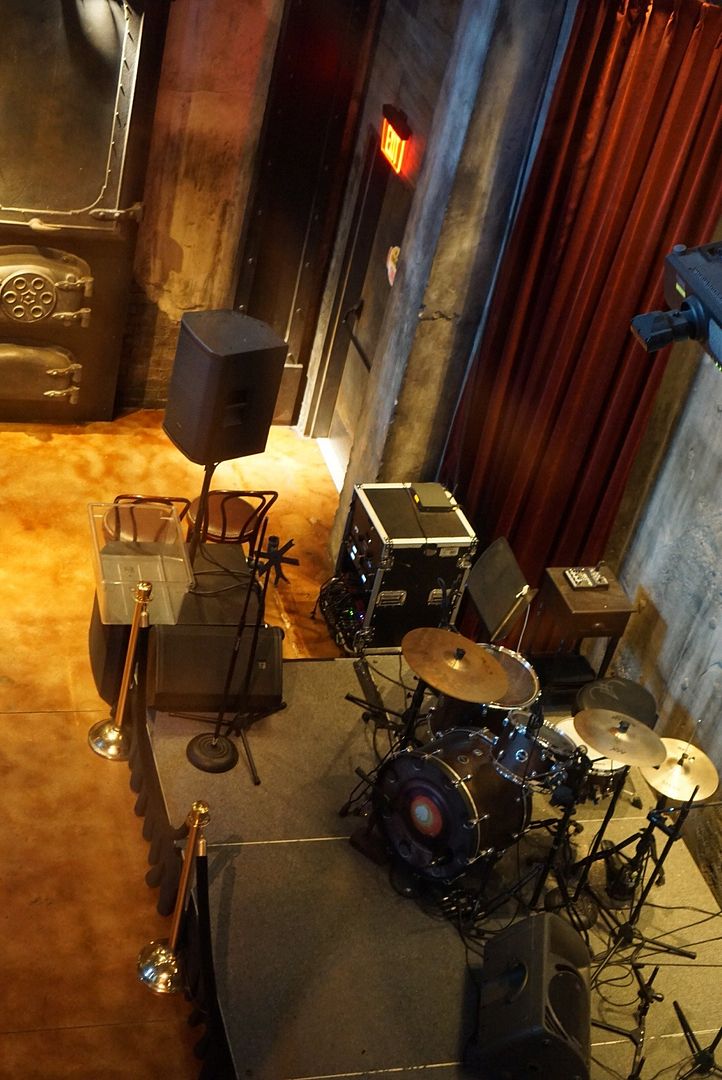 Then it was time for me to concentrate on the menu and what I was going to order, starting with my drink choice…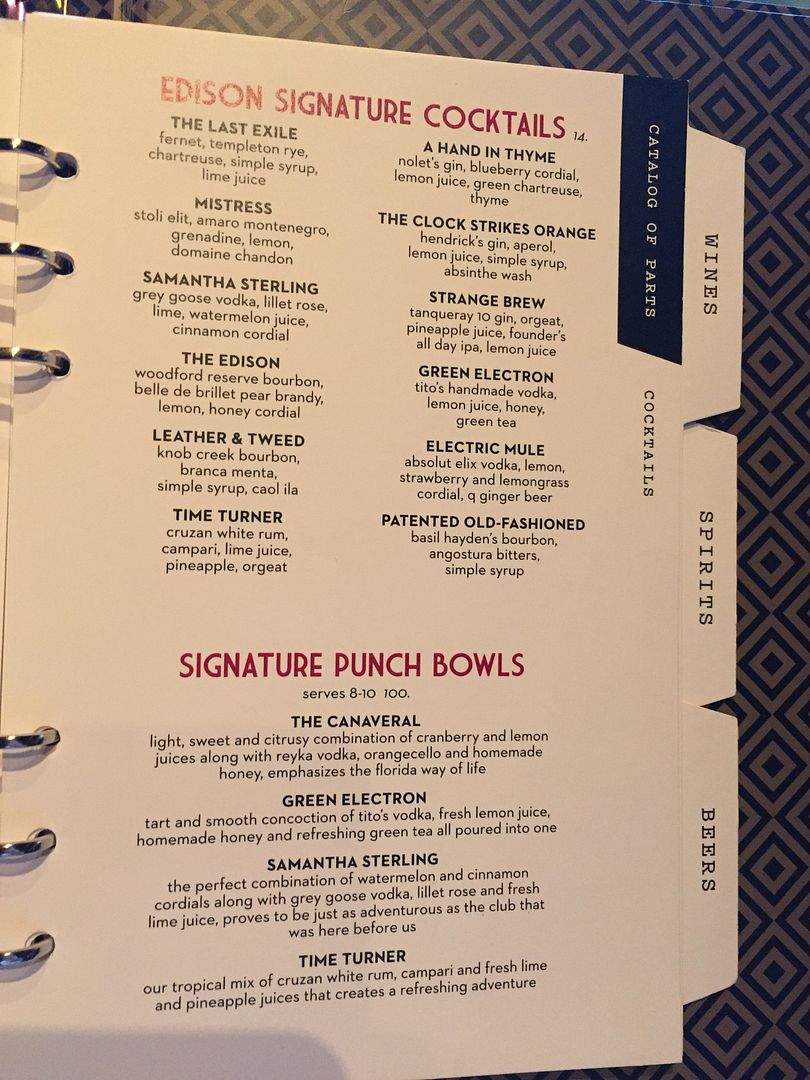 I asked for my server's suggestion for a sweet, fruity cocktail.  This is what he recommended…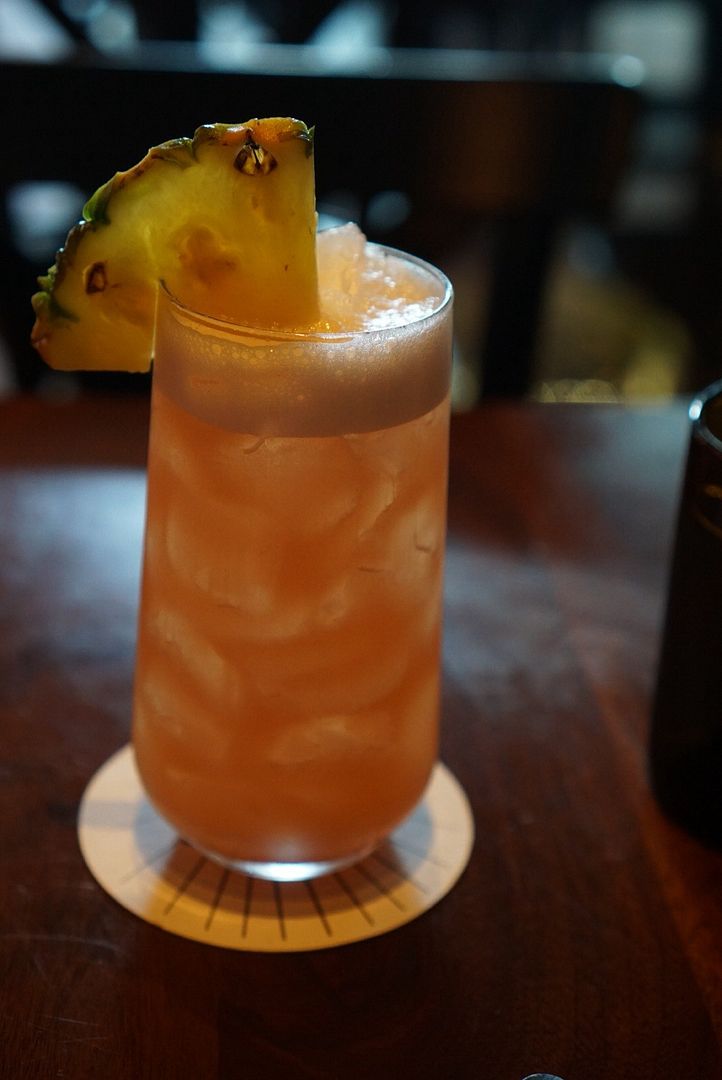 Time Turner – Cruzan White Rum, Campari Liqueur, Lime Juice, Pineapple Juice, and Orgeat – $14.00
My server had said this cocktail was The Edison's version of a pina colada (minus the coconut) and warned me that it was a little strong.  It did in fact seem to have a generous amount of alcohol, which was fine.  However the campari liqueur gave this a slightly bitter taste that I didn't like.  I eventually got used to the flavor and thought it was okay but not really worth $14.00 and not something I would order again.
Now on to my appetizer choice, which I chose from the Shares & Nibbles section of the Catalog of Parts (aka the menu)…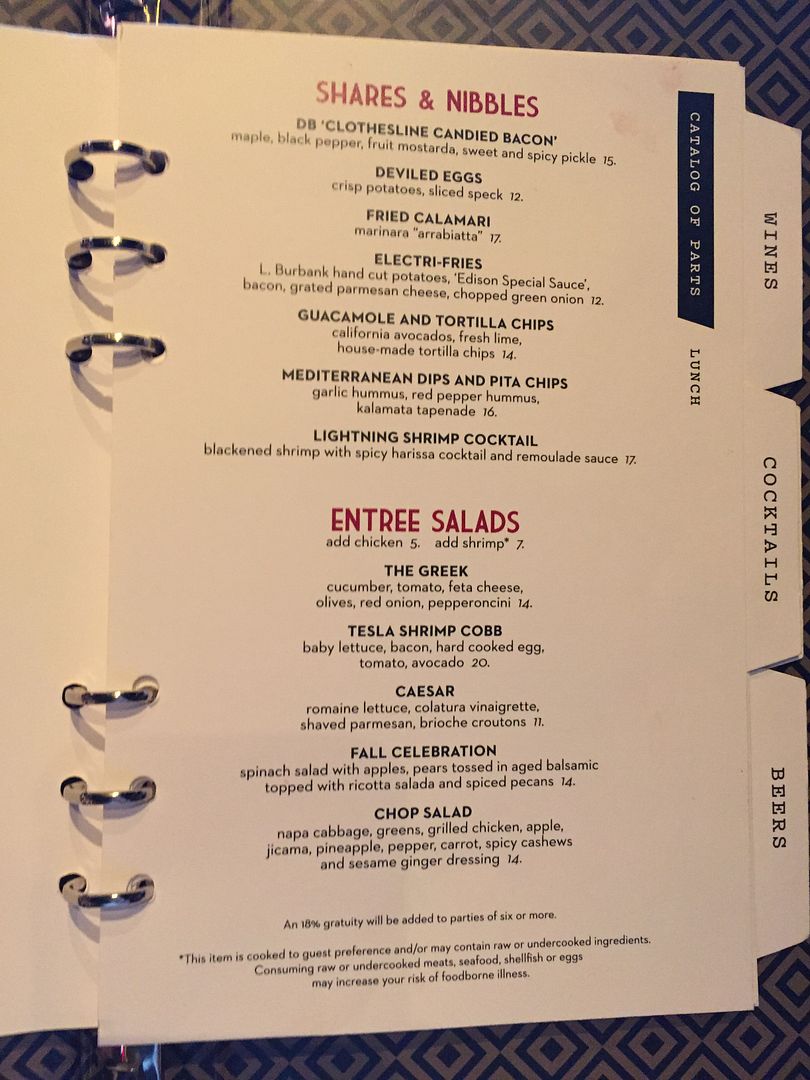 The photos I had seen of this had intrigued me so much that I decided to splurge on this $15.00 appetizer…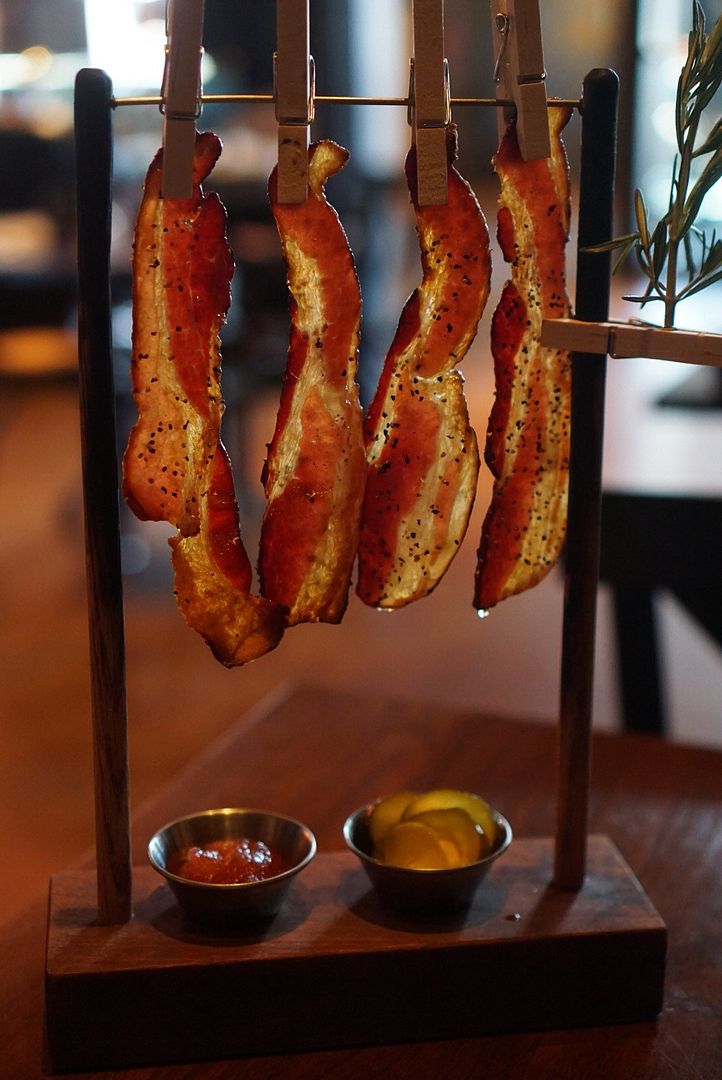 DB 'Clothesline Candied Bacon' – Maple & Black Pepper Bacon served with Mostarda and Sweet & Spicy Pickles – $15.00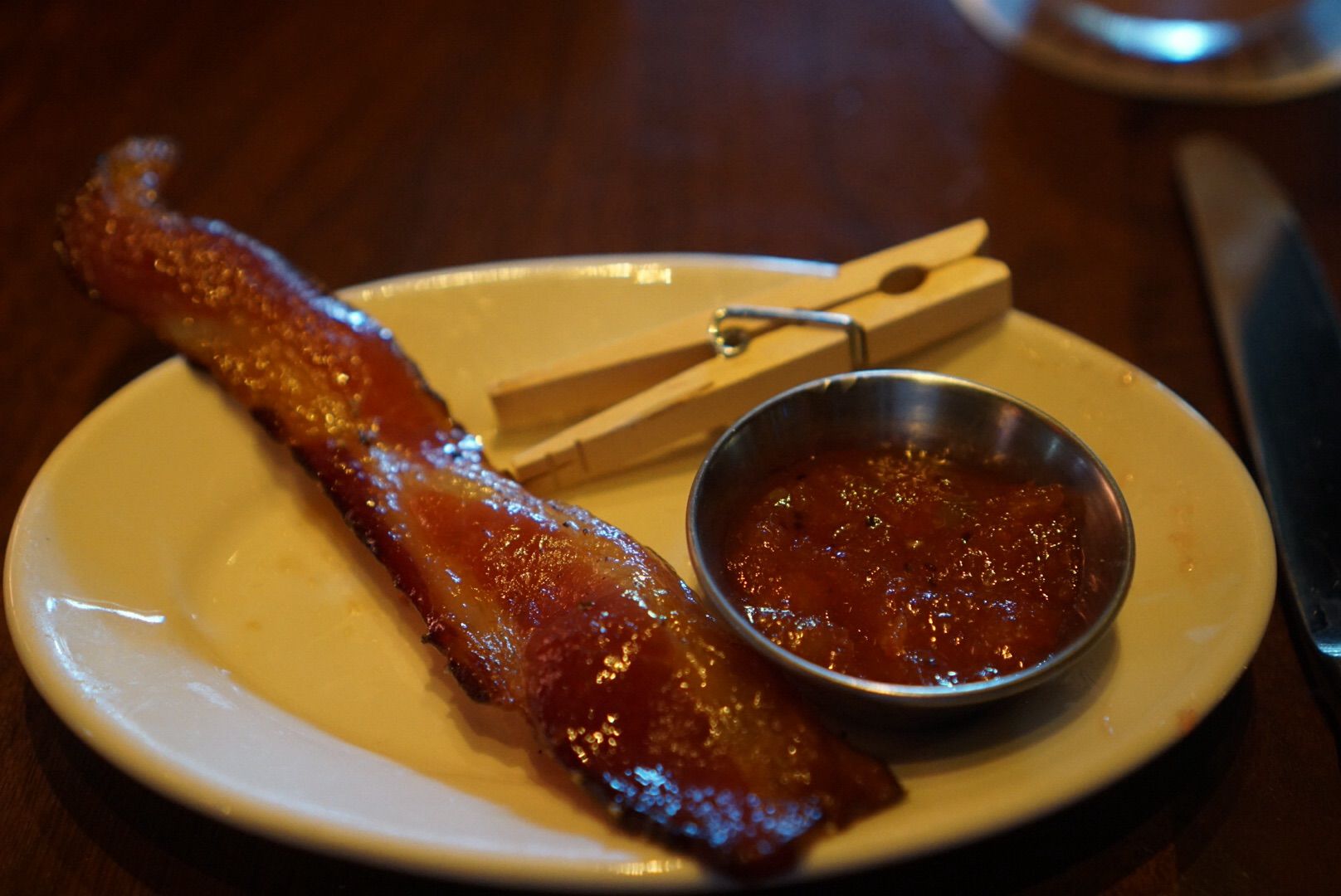 This was really tasty bacon.  I enjoyed it with the mostarda (a jelly/jam made from candied fruit and mustard-flavored syrup) but I also liked the bacon by itself.  The maple and pepper made the bacon very flavorful, both sweet and savory.  I was able to eat two of the four slices and then had the other two boxed up to take with me.  I ate them cold for breakfast the next morning and they still were really good.  The one drawback is the price though. $3.75 per slice is a bit steep.  Initially when the restaurant first opened earlier in 2018 this appetizer was $12.00 (or $3.00 per slice), which I thought was a little overpriced.  Now with a 25% price increase in less than a year, I would be hesitant to order this again.  That said, I am glad that I tried it.  It was a very tasty treat.
Next up, my entree, which was chosen from the Burgers & Bites section of their Lunch menu…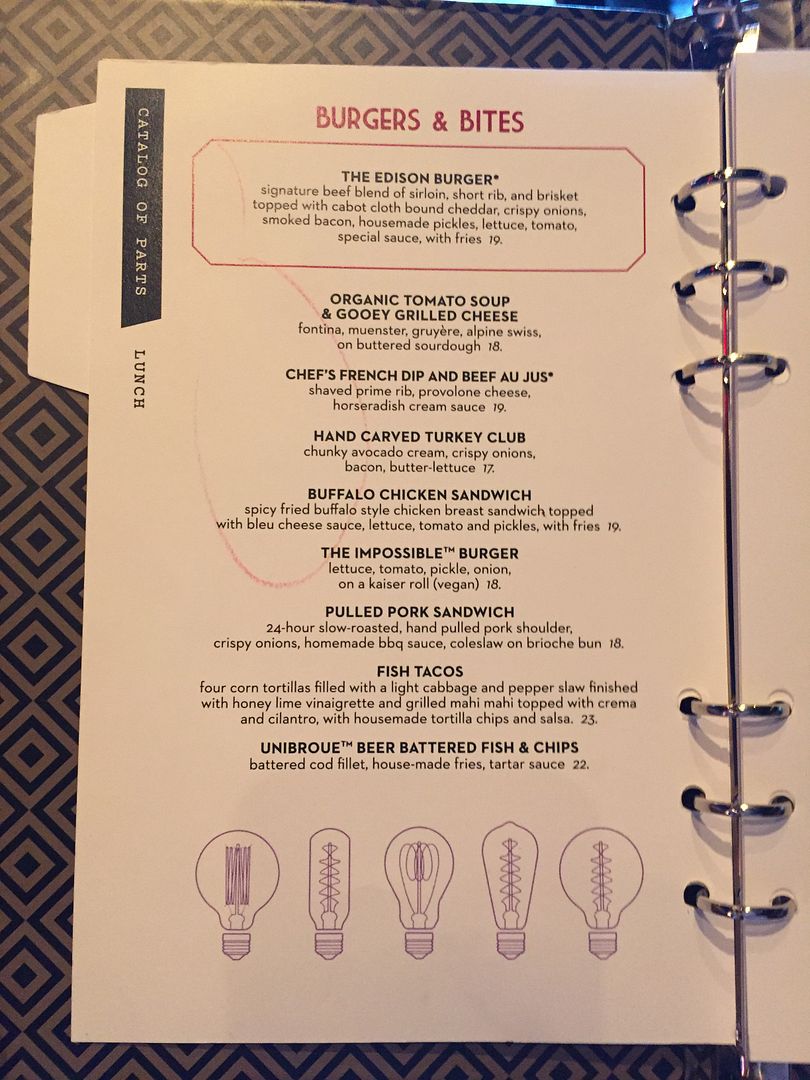 I went with their signature sandwich…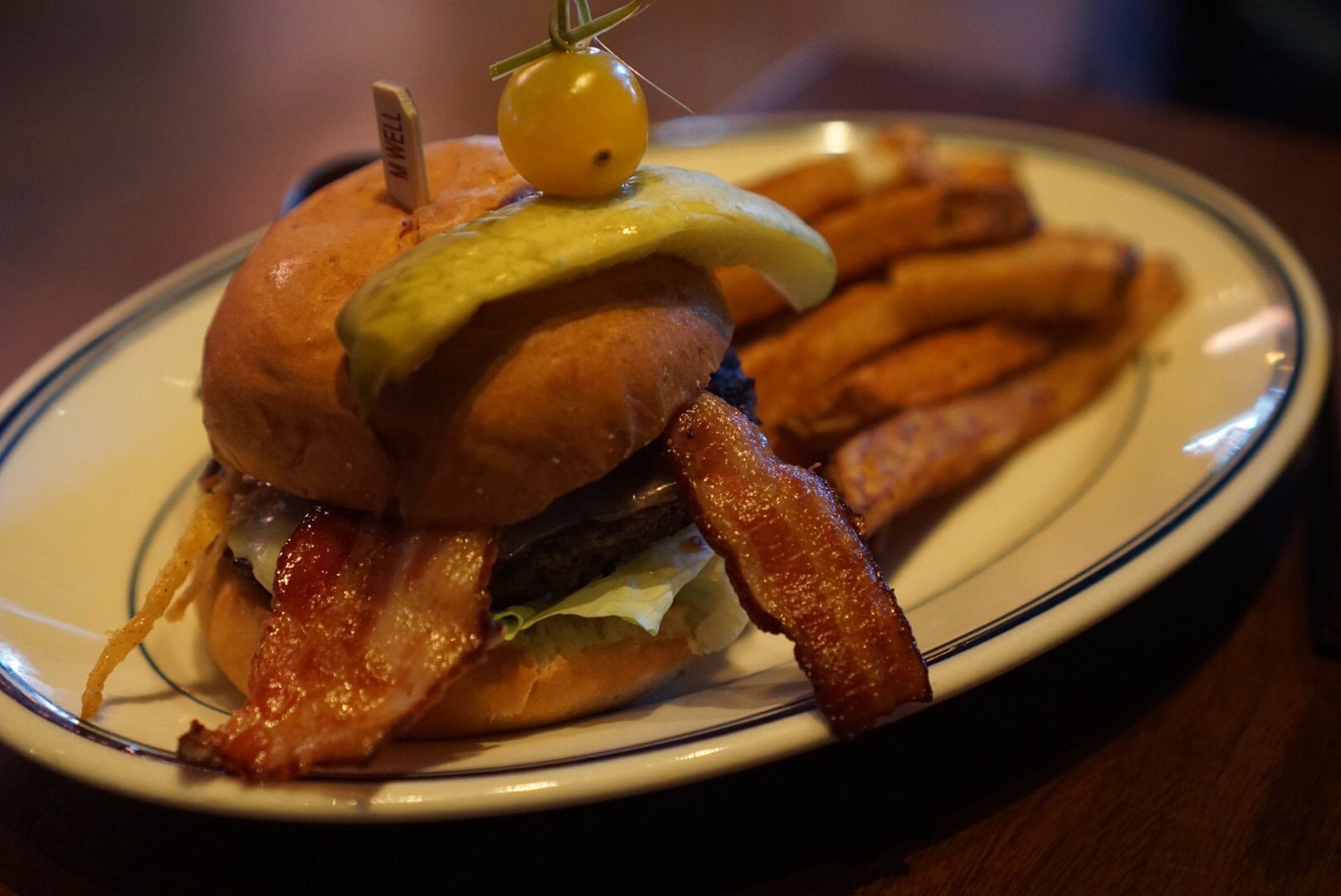 The Edison Burger – Signature Beef Blend of Sirloin, Short Rib, and Brisket topped with Cabot Cloth Bound Cheddar, Crispy Onions, Smoked Bacon, Housemade Pickles, Lettuce, Tomato, and Special Sauce.  Served with French Fries.  – $19.00
And a look underneath the bun…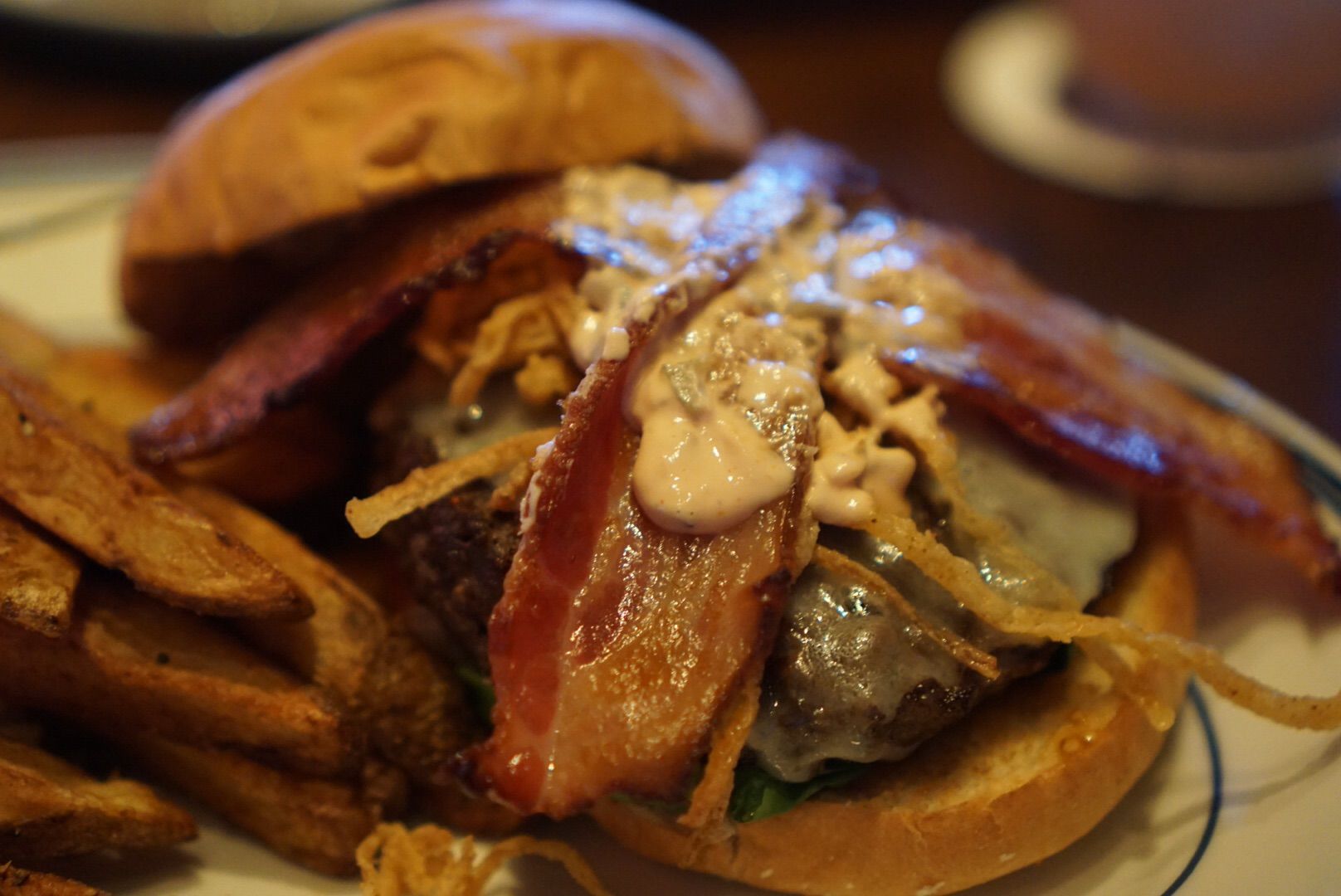 The burger was delicious!  Much better than the one I had had the day before at Liberty Tree Tavern.  It was cooked to the temperature which I had requested (medium-well), so was still a little pink in the center and nice and juicy.  Also it was very well seasoned.  The cheese, bacon, special sauce, pickles, and fried onions which topped the burger were all good additions.  However underneath the burger were lettuce, tomato, and and already soggy bun, which continued to get worse as I picked up the sandwich to try and eat it.  Soon the bottom bun had pretty much disintegrated into a sloppy mess.   I eventually gave up and just ate the burger with a knife and fork.  The thick cut fries served with the burger were again better than those that I had had at Liberty Tree the day before.  They were nice and crispy on the outside but still soft inside.
Though I didn't order dessert here (as I had something else in mind), I did take a photo of the Dessert (Sweets) section of their menu…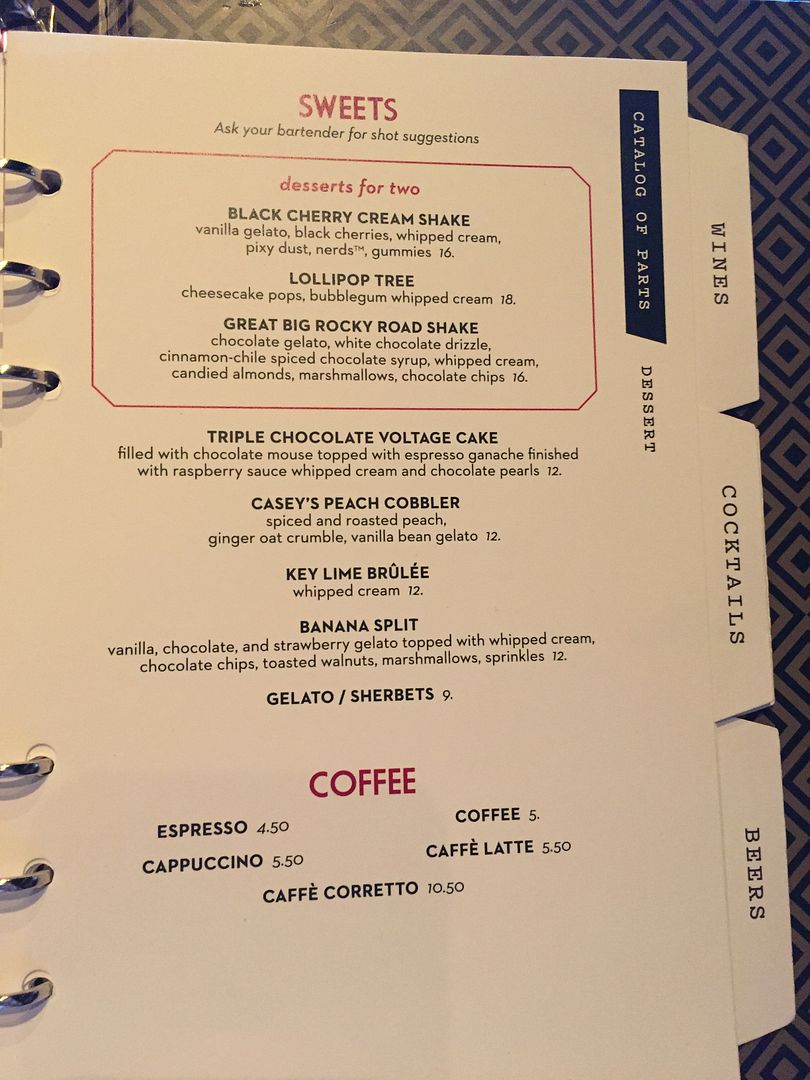 So that just leaves the ratings and rankings.  My lunch was mostly good.  I didn't really care for the slightly bitter taste of the campari in my suggested cocktail, but it was drinkable.  The bacon appetizer was delicious but overpriced.  And the burger and fries were very good but I wish they would use a bun that would better hold up to the weight of the burger and toppings.  So overall I would probably rate this lunch, my first experience at The Edison, a 4.  Both Trip Advisor and Yelp reviewers rate The Edison 3 1/2 stars though.  As for its Trip Advisor ranking, The Edison ranks #845 of the approximately 3,000 eateries in the Orlando area.  Narrowing it down to just those in the Disney World area The Edison ranks only #188, so not all that well.