I believe this November 3, 2018 visit was my 3rd to The Ganachery since it opened in Disney Springs in late 2015.  Since I had already (pretty extensively) covered the many flavors of chocolate squares that they always have on display in my previous reviews, this time I only took a few photos of these…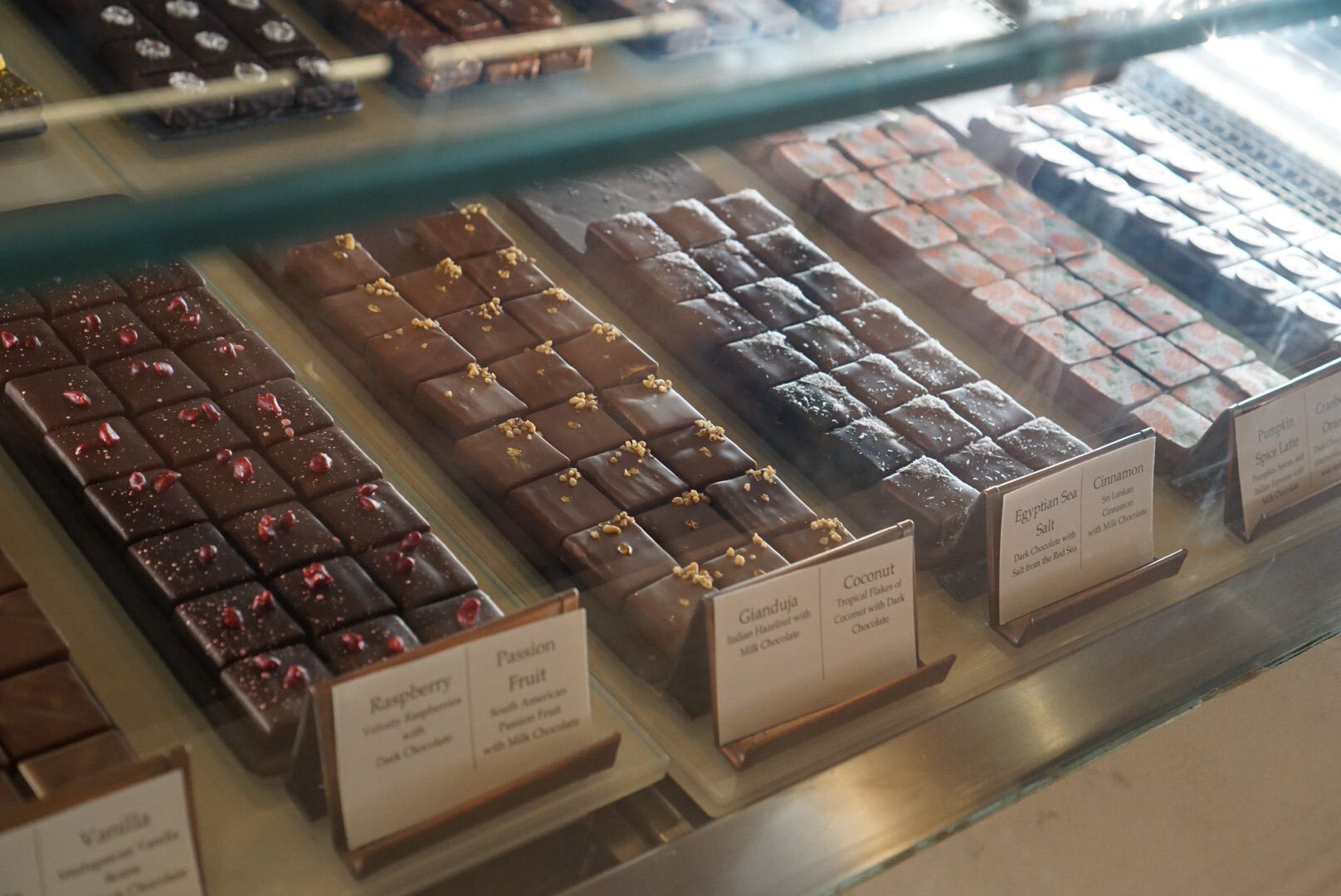 Here is a menu (aka Flavor Reference Card) which shows all of the usual flavors in their display case…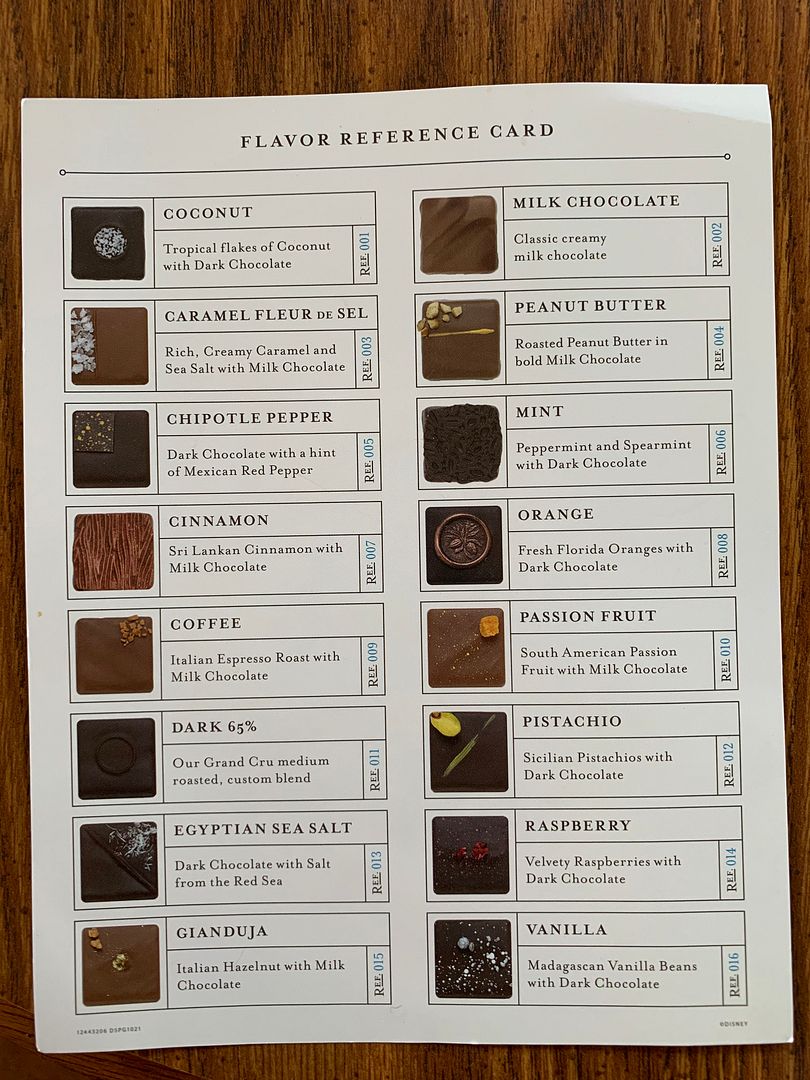 Then they also had these two seasonal flavors…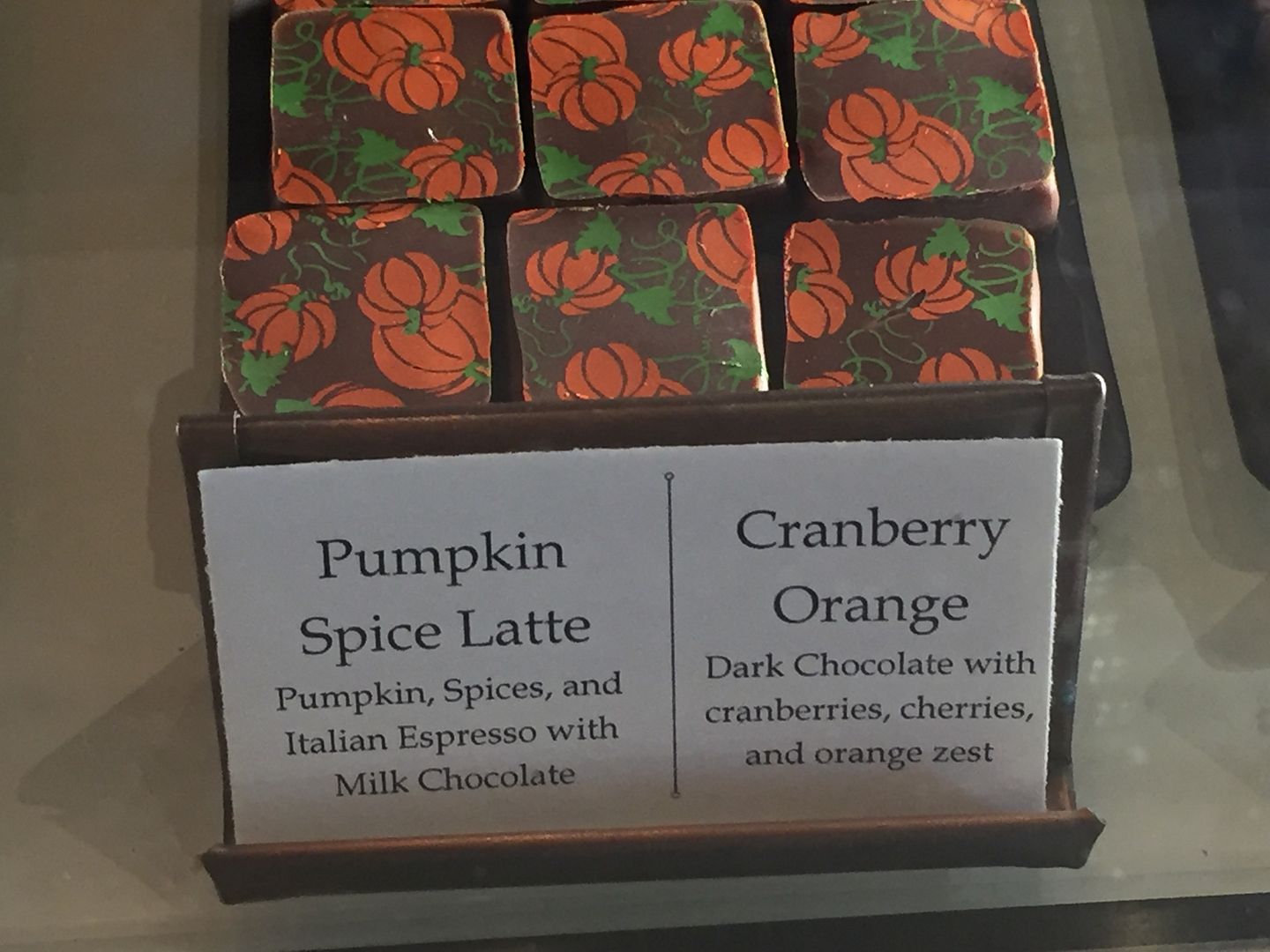 The Pumpkin Spice Latte was one they also had during my last visit to The Ganachery in Fall 2017…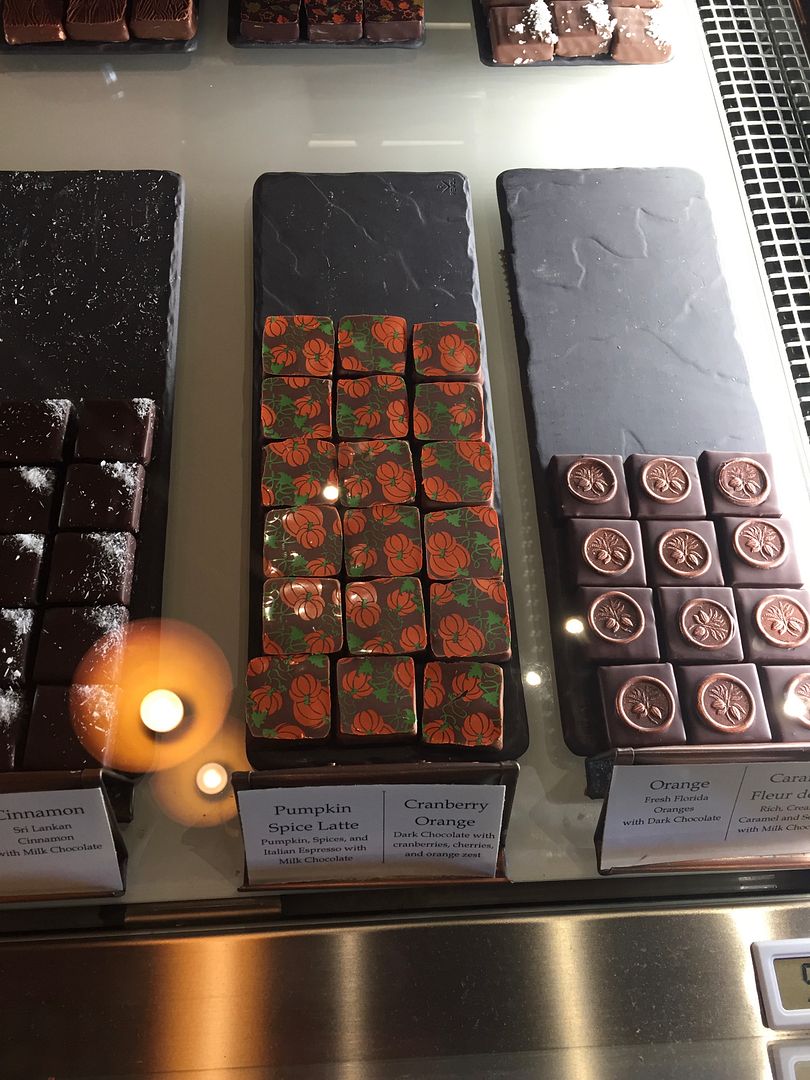 However, I believe the Cranberry Orange must have replaced the Maple Pecan (seasonal) flavor that they had last year…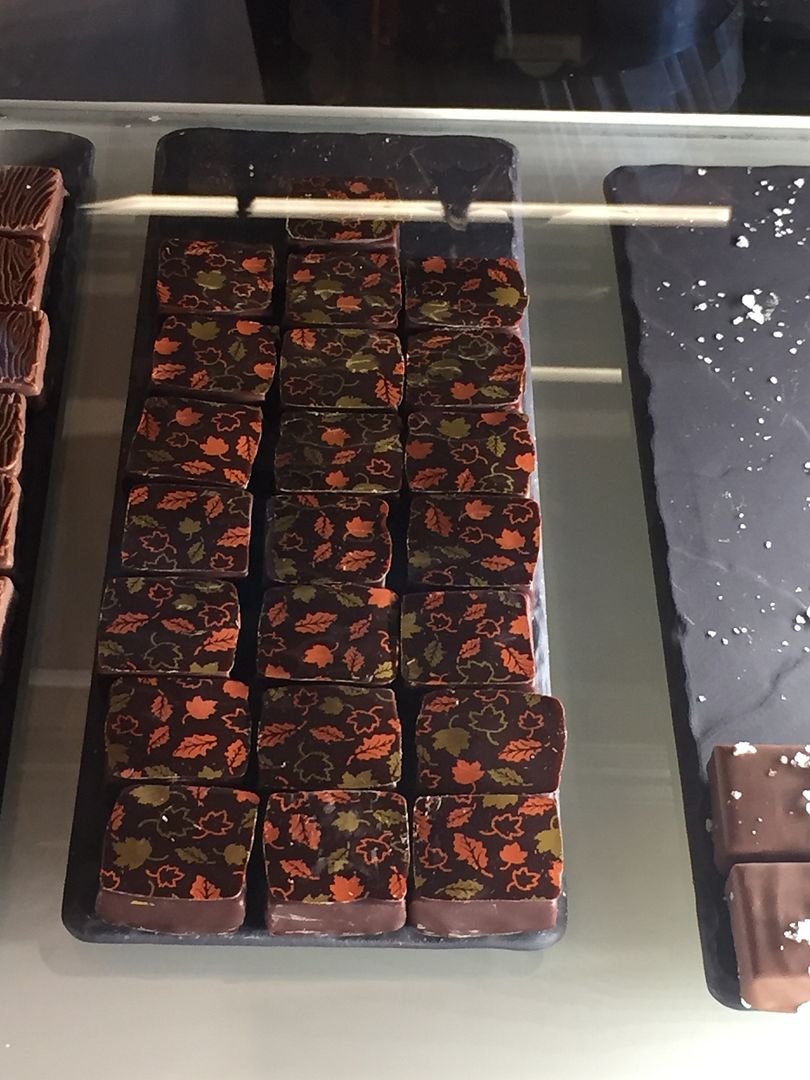 Anyway, I was happy to see that the prices of the chocolate squares had not changed from last year…
However, the price of the Rosa Regale and chocolate square had gone up from $9 (in 2017) to $10 in 2018.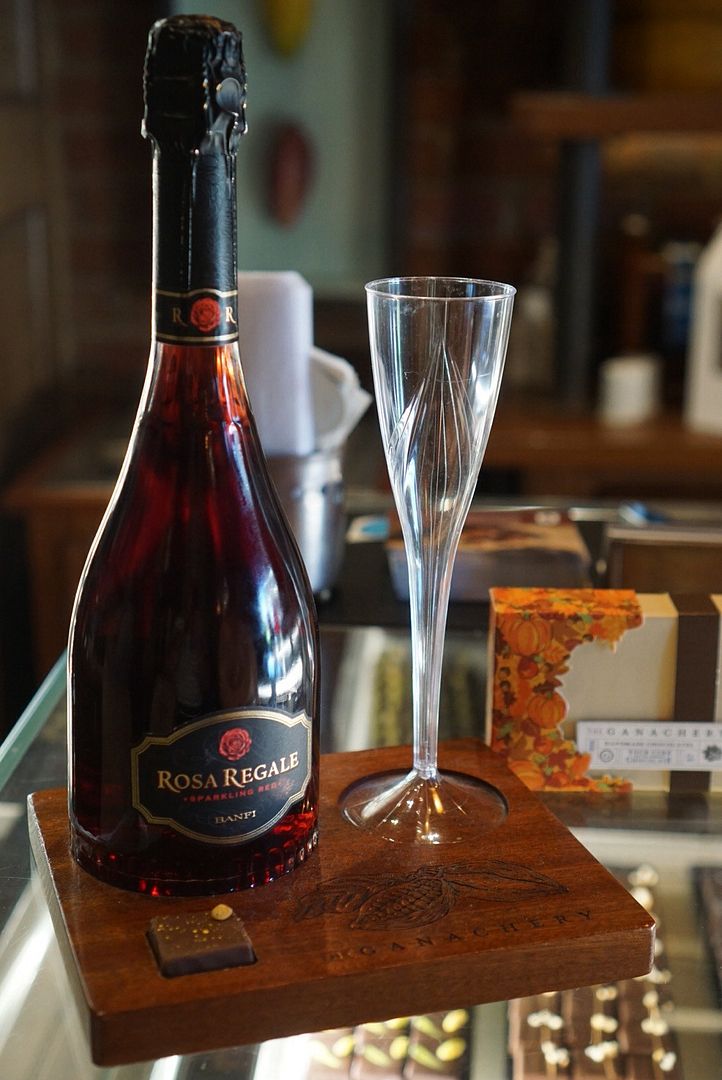 This year they were also offering a free chocolate bar with the purchase of a 16 piece box for $36…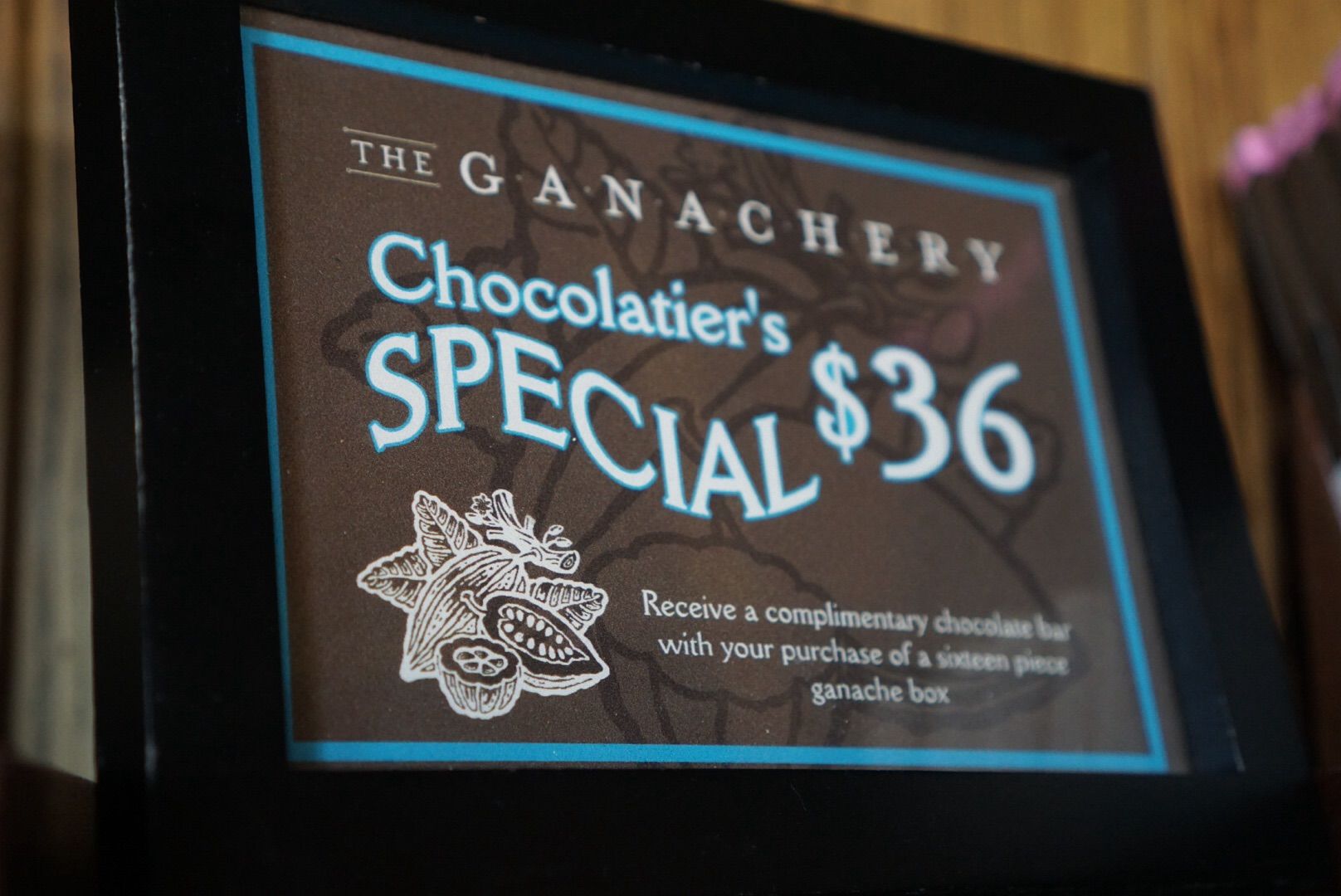 However, I don't think that the free chocolate bar was one of these Princess Chocolate Bars that they were selling for $16.00…
My photo didn't turn out well but I believe the princesses that were imprinted onto these chocolate bars were Ariel, Snow White, and Jasmine.  And I think (or at least I hope) that you get a package of 3 chocolate bars (with all 3 of the princesses) for the $16.00 price.
Anyway, they were also advertising these Custom 2-piece boxes…
You could get 2 squares in a regular Ganachery box for $6.50 ( since the squares sell for $3.00 each I guess you are paying an extra $.50 for the fancy box).  You could also get your two chocolates in a cute Cinderella's Coach box for $7.50 (or $1.50 for box)…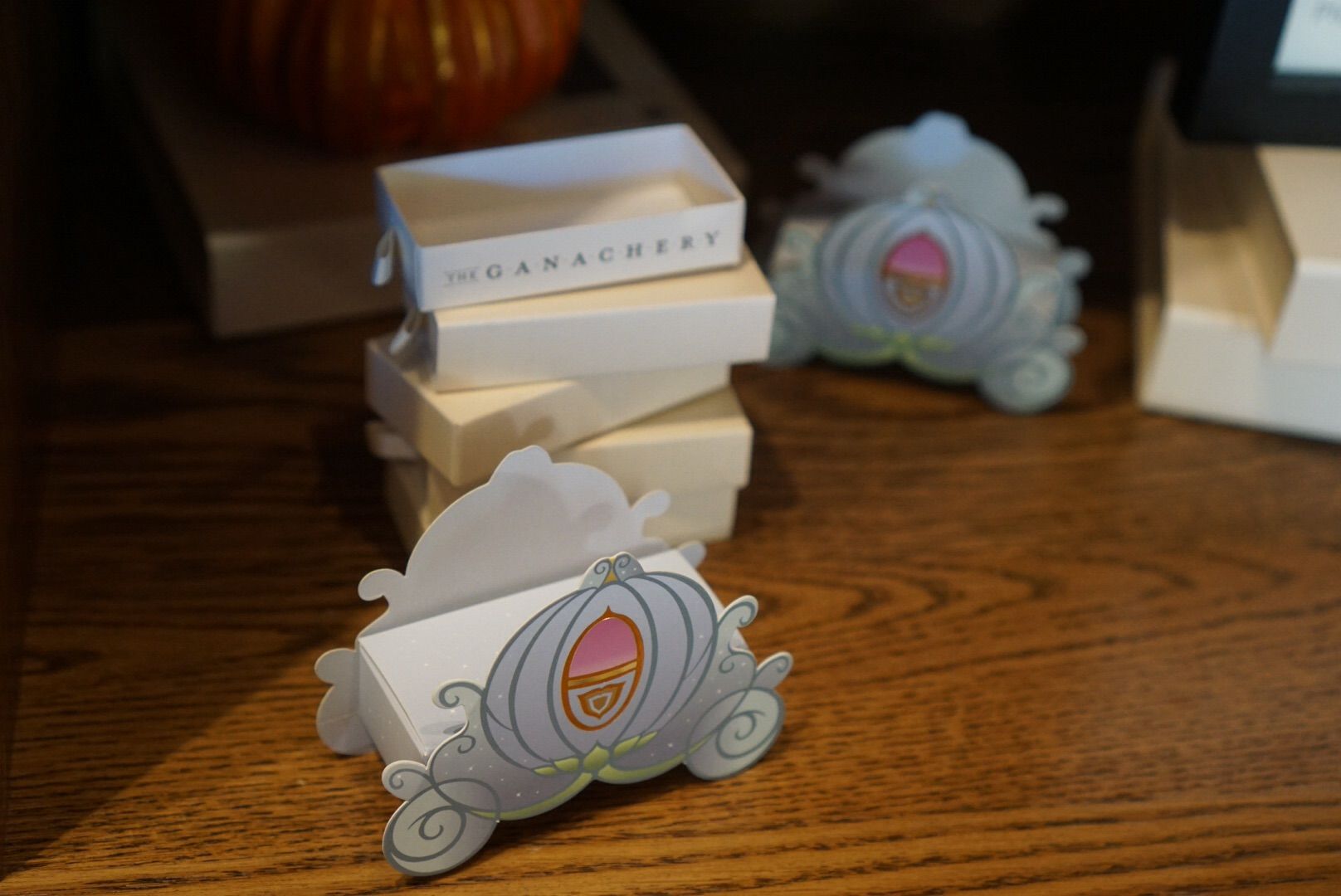 I don't recall seeing before these Crispy Chocolate Pearls (in various flavors) for $6.50…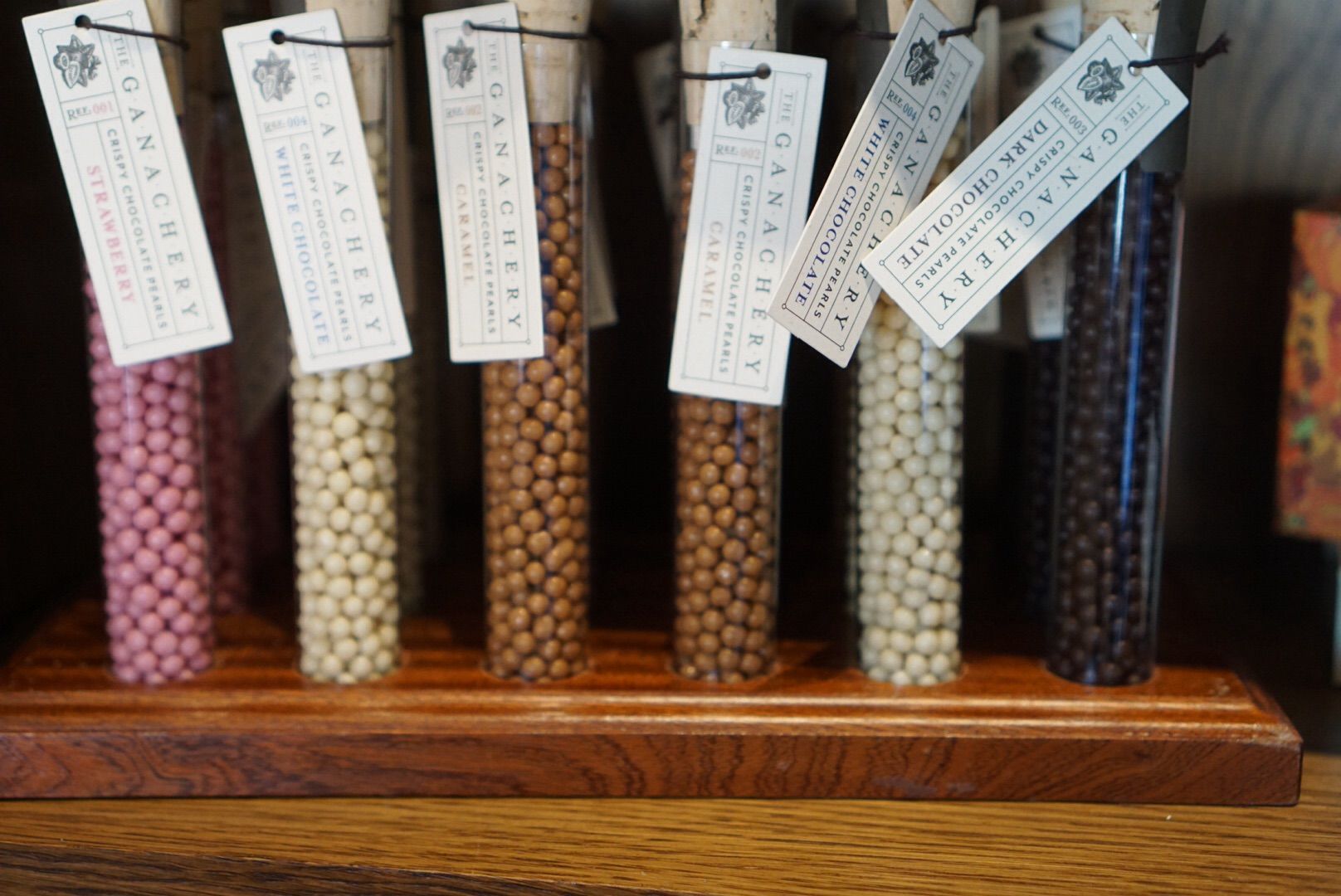 The flavors (from left to right) were: Strawberry, White Chocolate, Caramel and Dark Chocolate.
Then they had their usual variety of Chocolate Pops for $6.00 (same price as last year), including my favorite, the Salted Caramel Ganache Chocolate Pop…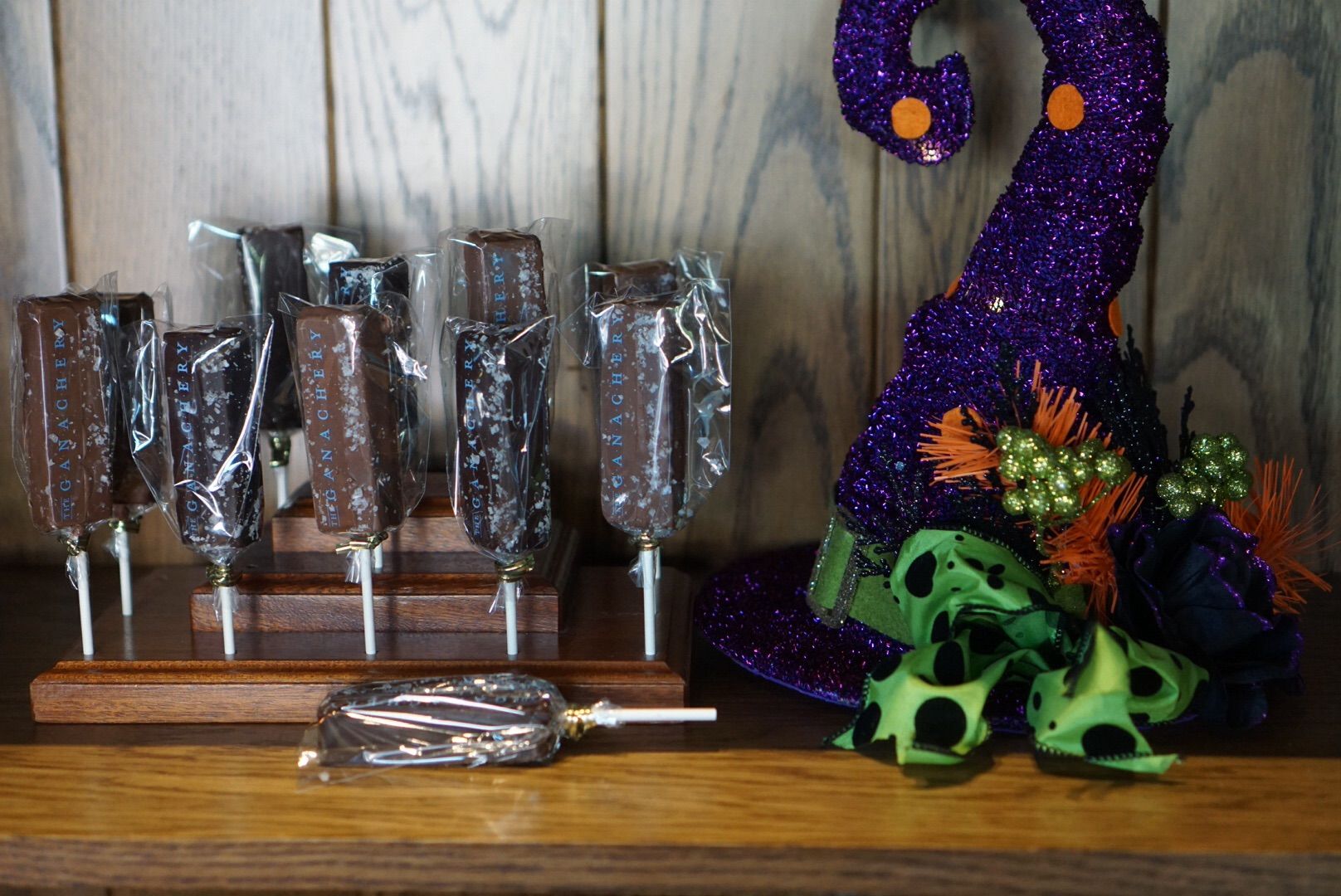 As well as the cute Mickey and Minnie Chocolate Pops (also for $6.00 each)…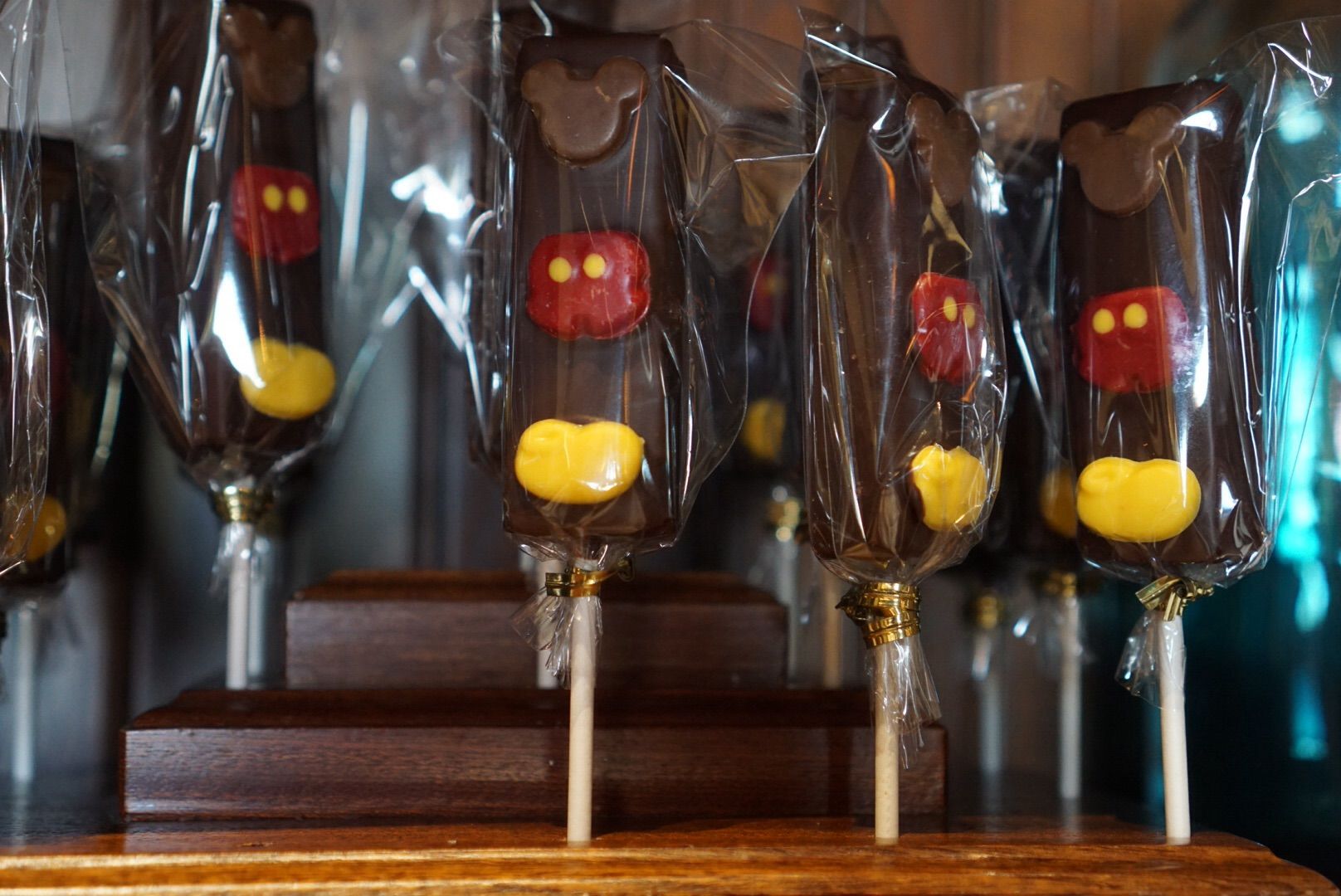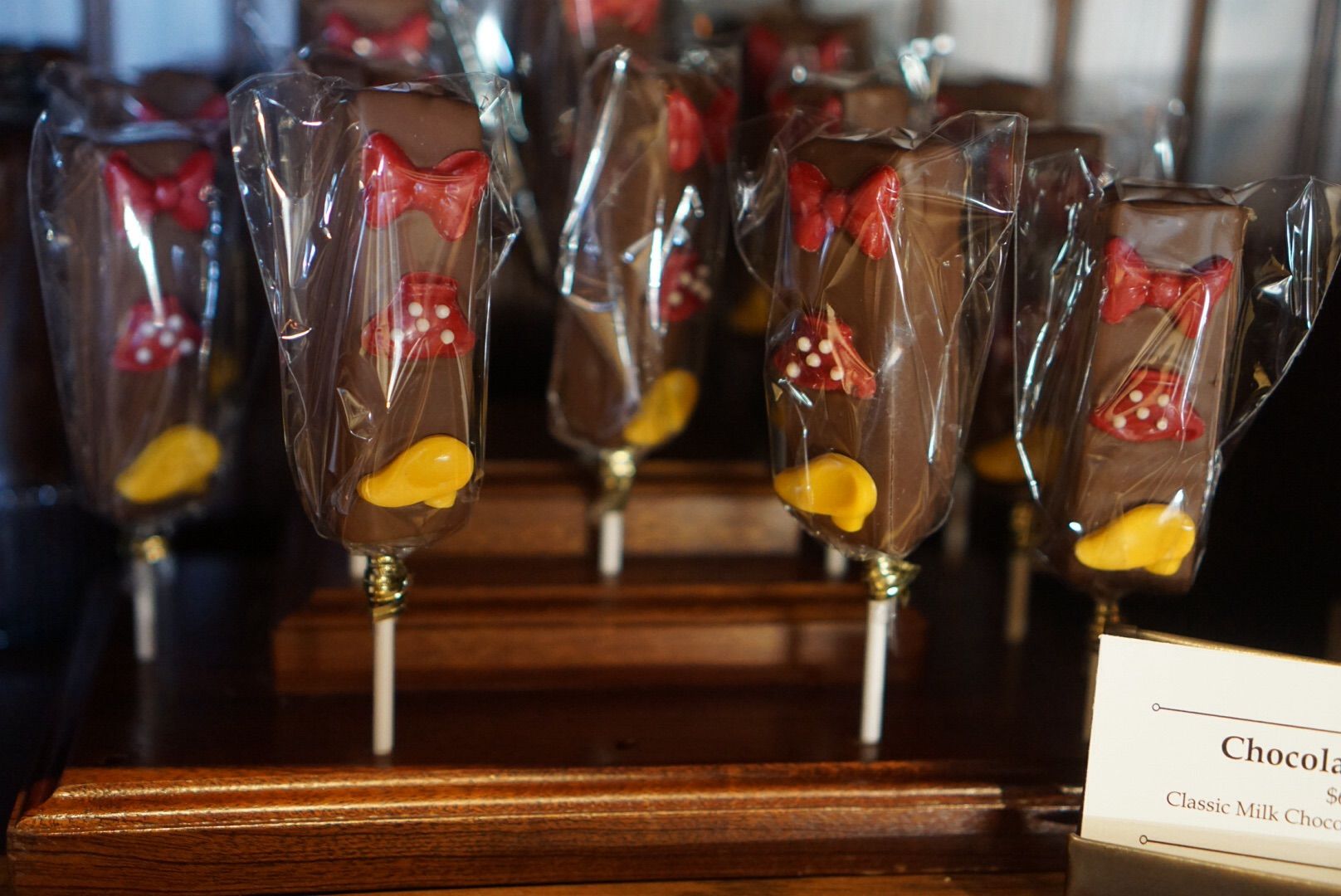 They again had these Chocolate-covered Marshmallows for $8.00…
This time I bought a box and they were very good.
I also got a small burlap bag filled with pieces of Chocolate Toffee Crunch (with Pecans) for $10.00…
The chocolate toffee was also very good.
The chocolate pops, marshmallows, and toffee were all that I brought home with me this time but there were a few other items that caught my attention.  Like these giant Dark Chocolate Skulls for a mere $25.00?!?!…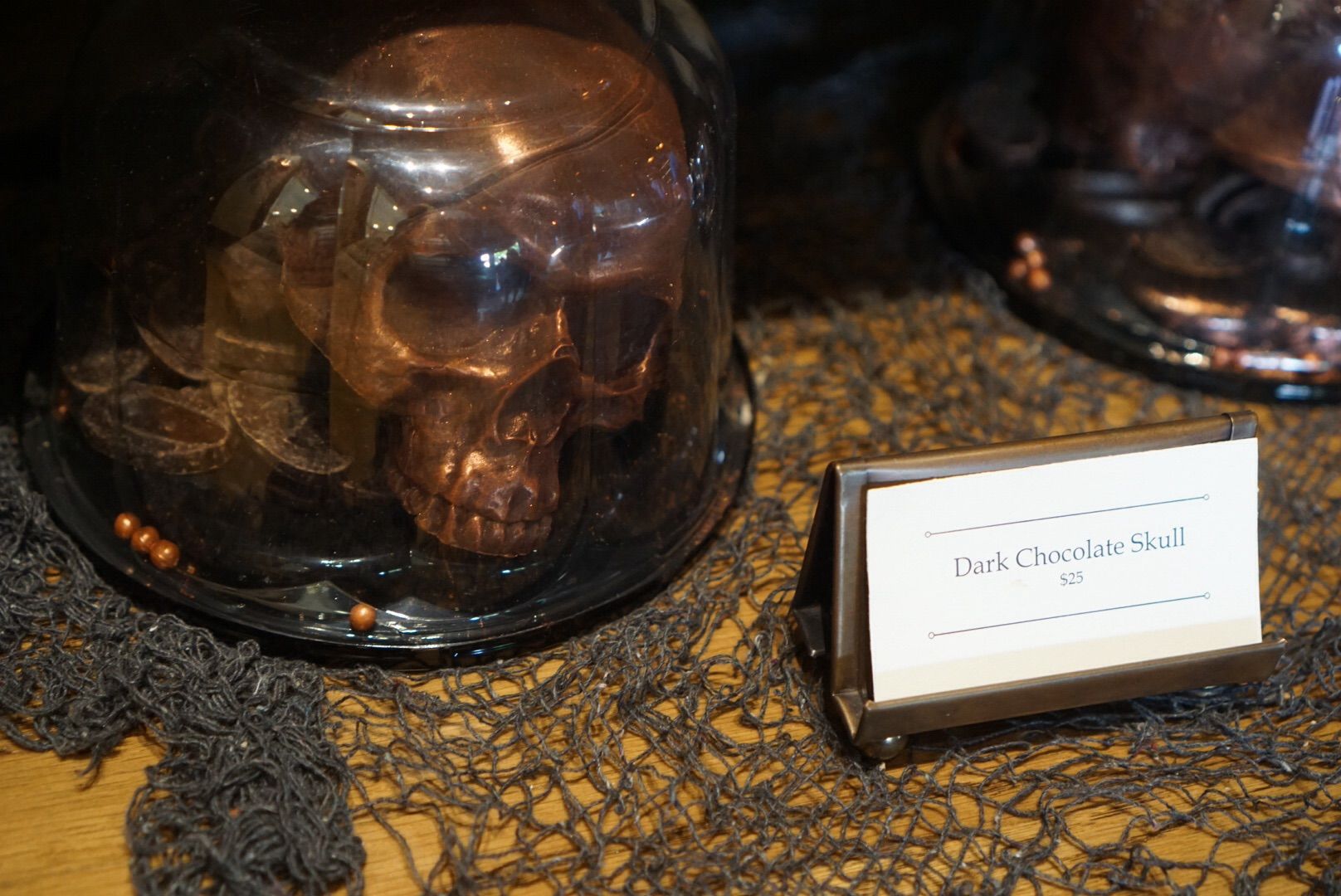 They were probably something that was offered for the Day of the Dead (this was 2 days later on Nov. 3rd).  I read recently that The Ganachery is currently offering (as of Sept. 2019) these skulls but that the price has gone up to $28.00 this year.  YIKES!
Per WDW News Today they are also currently selling a 4 pack of miniature skulls filled with caramel ganache for $15.00 (which I find more reasonable if you are into the Day of the Dead/Skull thing)…
But speaking of holidays, they were already selling these (Dark) Chocolate Christmas Cottages for $40.00…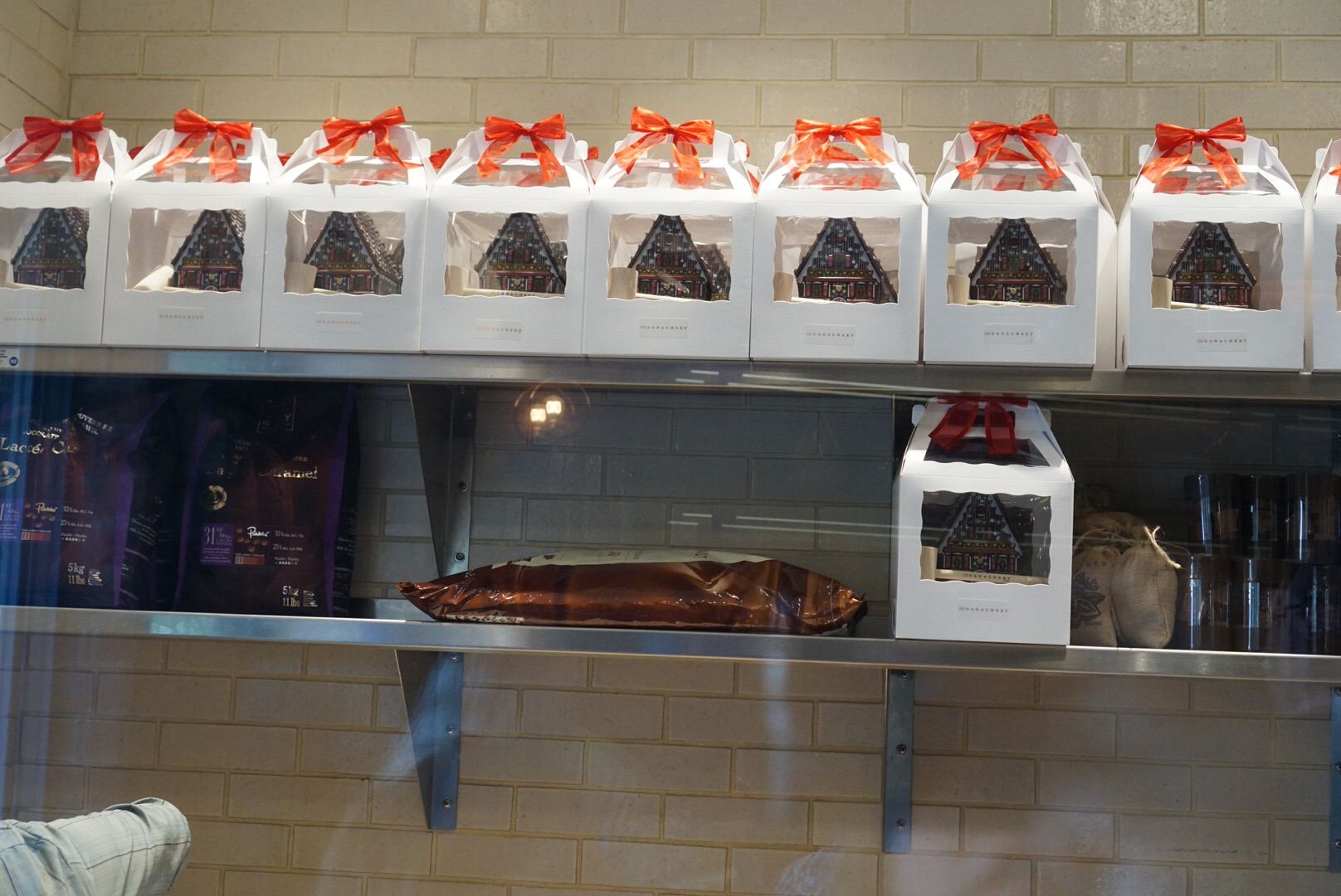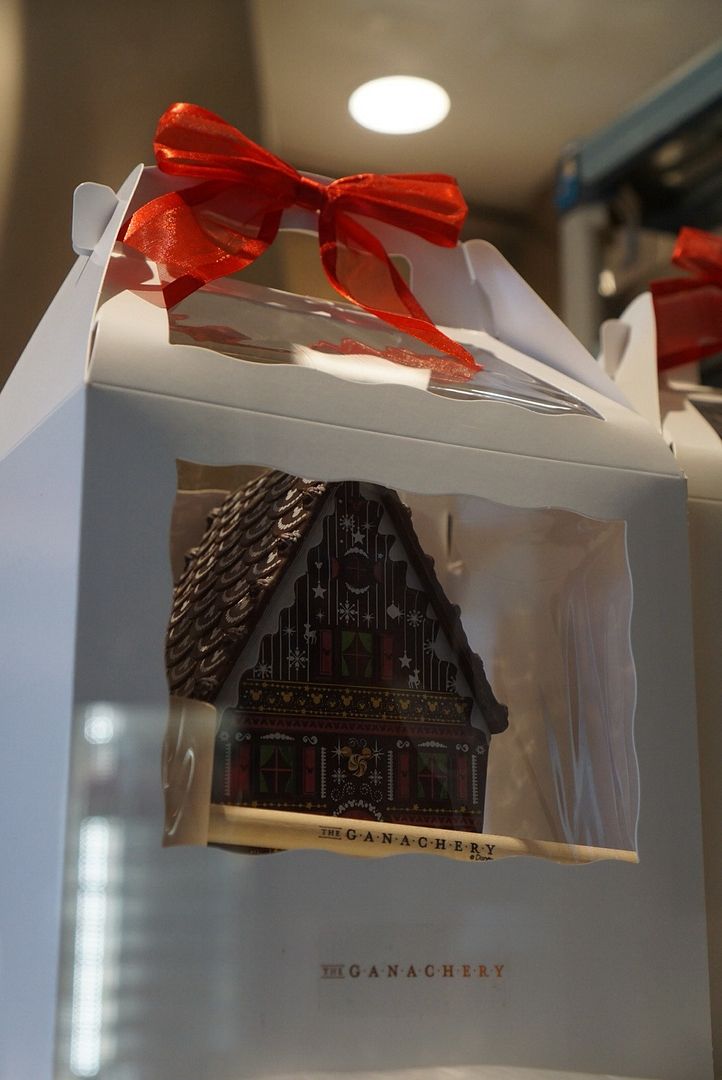 This is what they looked like out of the box…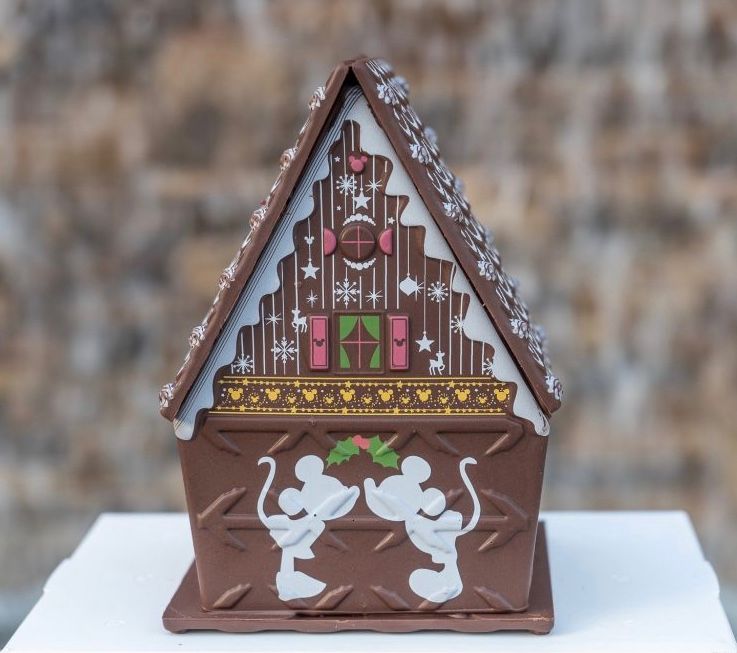 And inside they contained several pieces of  Peppermint Chocolate Bark…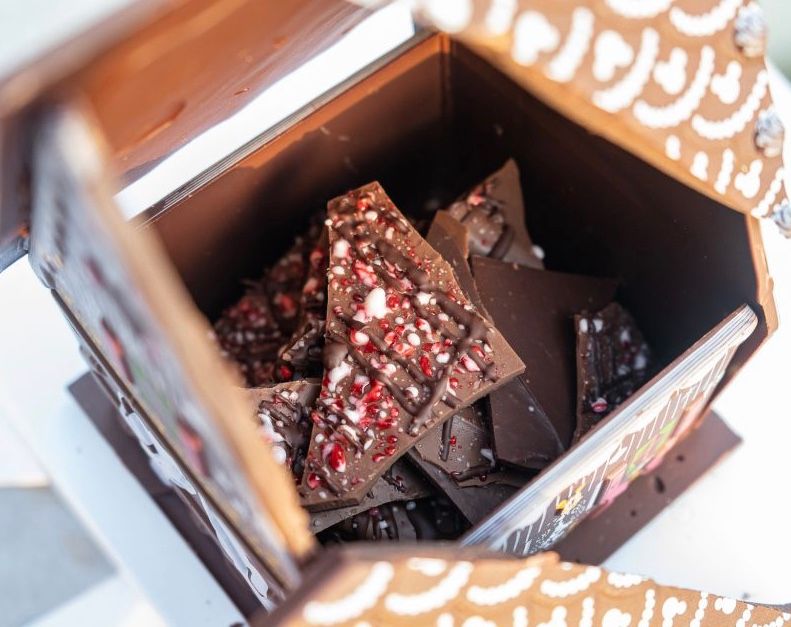 Then as I was leaving the store I noticed this sign outside their door…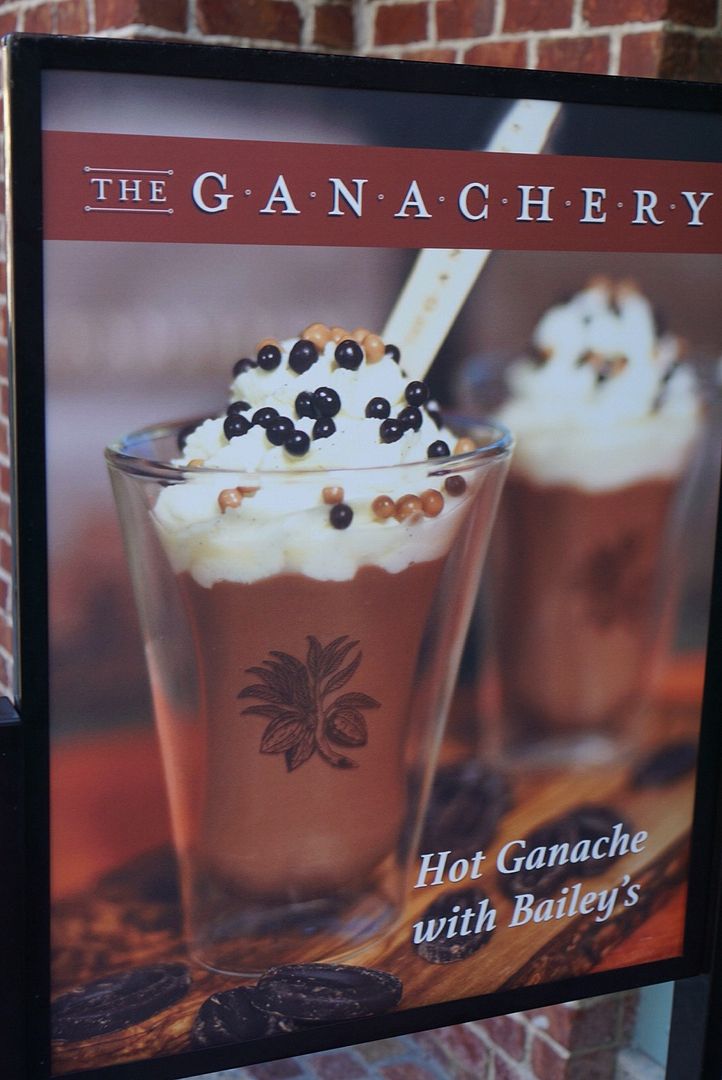 I wished that I had noticed this sign on my way in, as hot (sipping) chocolate with Bailey's Irish Cream Liqueur sounds pretty delicious.  I've enjoyed Bailey's in my coffee before and Peppermint Schnapps in my hot chocolate but never this combo.  If they are offering this again when I visit next month, I may need to give this a try.
And that just leaves the ratings, which we all seem to be in agreement on this one.  Yelp reviewers, Trip Advisor reviewers and I all give The Ganachery 4 1/2 stars.  I've enjoyed everything that I've purchased/tried from The Ganachery during my 3 visits there plus I've always received great service.