Due to a change in my plans for the following day (the last day on which I'd be on the Dining Plan), I needed to use my one remaining dining credit for dinner on this, my second to last day.  Since I was attending the Mickey's Not So Scary Halloween Party at Magic Kingdom that evening, having dinner at a Magic Kingdom restaurant before the party seemed to be the best choice.  However, many of the Table Service restaurants were already fully booked that evening, including Crystal Palace and Liberty Tree Tavern.  Cinderella's Royal Table and Be our Guest also had no availability, however both require 2 dining credits and I had only 1 remaining.  Tony's had open spots but I had had lunch there so that was out.  That left The Plaza Restaurant and Skipper's Canteen, neither of which I'd been to for a few years.  After doing some online research, I discovered some very favorable reviews (on the Disney Food Blog) for The Plaza.  They especially raved about two things.  The first was something that has been on their menu for many years but I had never tried in my three visits there (the last of which was May 2015).  Here is a portion of their review which talks about The Plaza's Meatloaf Meal…
Hmm…I like meatloaf and this one sounded really good with the combination of the sweet baked ketchup topping and the savory beef gravy.
Though their meatloaf review got my attention, it was the Disney Food Blog's Jan. 2018 Plaza review which sealed the deal.  A review which included a very enthusiastic thumbs up for a new dessert…
Butterscotch Bread Pudding topped with Vanilla Ice Cream
They rated this among their top 3 favorite WDW bread puddings, behind only O'hana's (which I love) and the bread pudding dessert at House of Blues in Disney Springs (which I don't think I've ever had, but need to sometime).
SOLD!!!  
And so, my last of 9 dining credits was used for a pre-MNSSHP dinner at…
I always love the seasonal decorations at The Plaza.  The October decorations included a family of pumpkins…
With the official start of the Party being at 7:00 p.m., I made my dinner reservation for 5:40.  This ended up working perfectly.  Being done with my 3 fast passes by 5:30, I decided to try and check in a little early for my dinner.  I ended up waiting about 10 minutes to be seated so at 5:40 (my reservation time) I was seated in the corner of the room at a 2-top table on their enclosed patio.
Though this was a very tight space, I actually enjoyed sitting here because I was able to watch the Party guests (many in creative costumes) swarm into the park…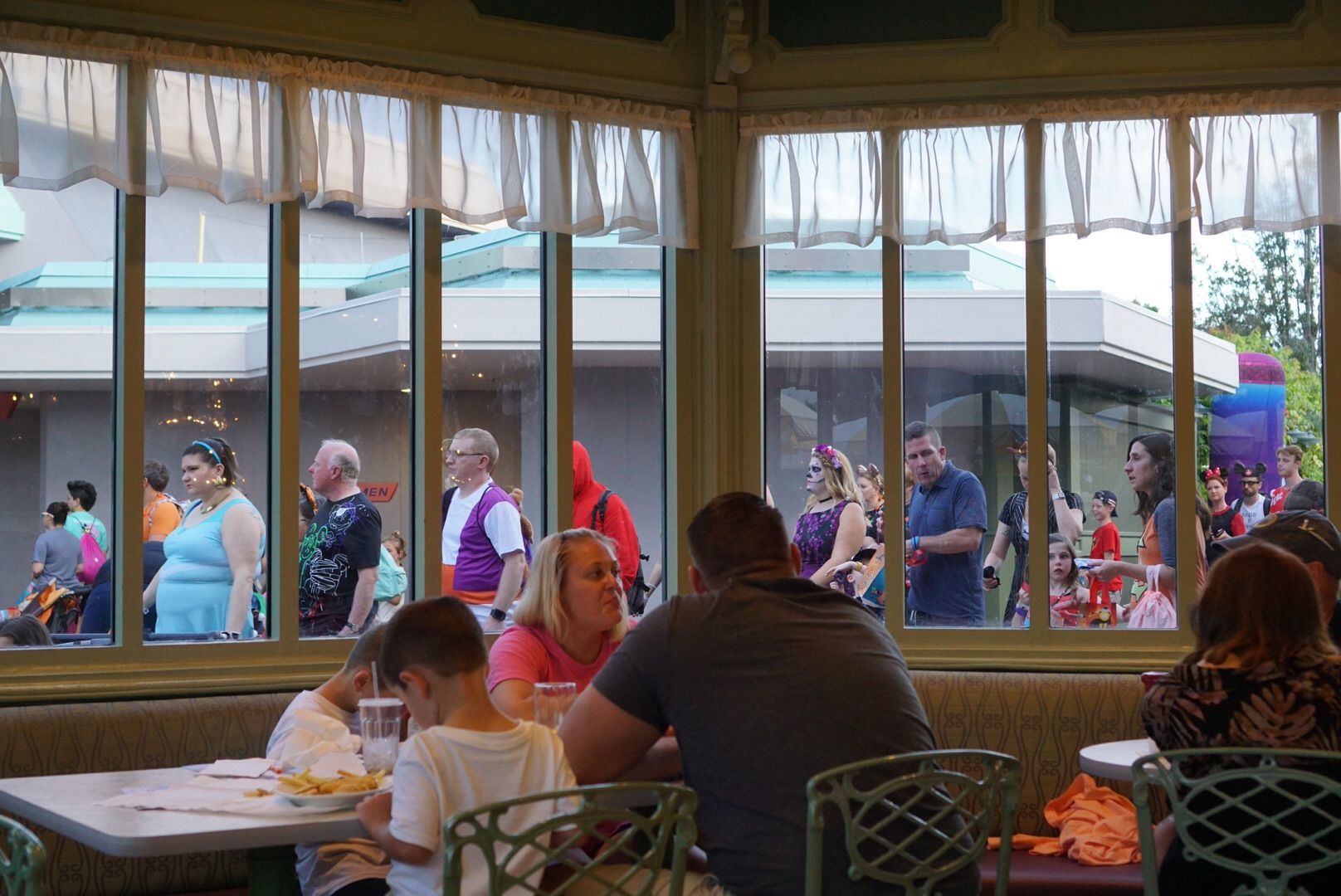 Beginning at about 4:00 Disney allows guests to enter the park with their MNSSHP ticket, but they are funneled through a path that is located behind the Main Street stores (on the right side of Main Street) and the path ends right next to the The Plaza restaurant.  So from Jafar, who looked identical to the "real" Jafar until I saw that he was pushing a baby stroller (something very un-Jafarlike, lol), to Santa Claus (wrong season?), to Harry Potter (wrong park?), to a very scary-looking (un-Disneylike?) Devil, I was treated to a sneak peek of many of the guests' costumes worn that evening at the Party.
Ok, now on to my food and beverage.  Being on the Dining Plan I could choose an alcoholic beverage from their limited Beer/Wine/Cocktail menu…
But I instead chose a non-alcoholic beverage listed in the "From the Fountain" section at the bottom of their menu…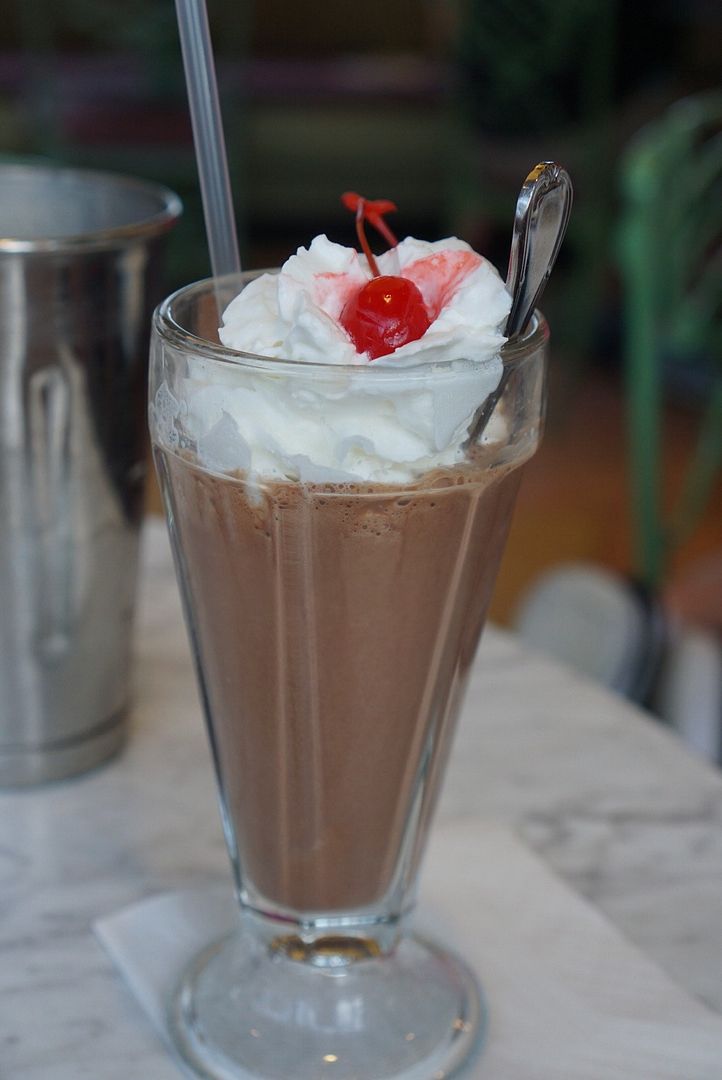 All-You-Care-To-Enjoy Milk Shake – Hand-dipped Milk Shake topped with Whipped Cream and a Cherry. Choose from the following flavors: Chocolate, Vanilla, Strawberry, or Mint Chocolate Chip – $9.00
With a price of $9.00, which was similar to the cost of most of the beer and wine options here, I didn't feel like I was losing much value by not having an alcoholic beverage with my Dining Plan credit.  However, I ended up not liking my flavor choice of chocolate.  For me, it was just too chocolatey and the chocolate tasted a little weird, like the powdered variety (think Nesquick).   I couldn't even finish the milkshake in the glass so didn't touch the overflow in the mixing cup that was also brought to my table.  It appeared though that the mixing cup held enough to refill the glass.  Since it was advertised as, "All-You-Care-To-Enjoy" I probably could have asked for another flavor (my second choice would have been strawberry), but I was wanting to save room for that Bread Pudding dessert so I was okay with just part of the milkshake plus the glass of water that they also brought me.
Now for my food.  Since I was on the Deluxe Dining Plan my meal started with my choice of appetizer, which at The Plaza there were only three options…
There was Soup, Salad or my choice…
Plaza Loaded Fries – French Fries topped with Melted Cheese, Bacon, Lettuce, Tomatoes, and Ranch Dressing – $9.00
And a little closer look…
The first thing I noticed when they set these down in front of me is that the French fries were different.  On all of my previous visits (twice in 2014 and the last time in May 2015) they always served these delicious, thick-cut fries…
Now their fries were similar to McDonald's.  They were still pretty good but not as good as they once had.  As far as the toppings, I could have done without the shredded lettuce and maybe the chopped tomatoes but would have liked more of the yummy "plastic" cheese sauce and more bacon (there was very little bacon).  So overall, the loaded fries were a little disappointing.
For my entrée, I of course chose the…
Home-Style Meatloaf – Hearty Slices of Meatloaf served with Red Skinned Garlic-Mashed Potatoes and Seasonal Vegetables (Green Beans) – $22.00
And some closer views…
The meatloaf was good but it seemed to have changed a bit since it was reviewed on the Disney Food Blog back in November 2014.  There was no ketchup involved.  While I think I would have liked the baked-on ketchup topping that they referred to in the review, I still preferred this ketchup-less meatloaf with beef gravy over the Cousin Ann's meatloaf with ketchup squirted all over it that I had at 50's Prime Time Café a few years ago…
As for the Plaza's meatloaf, it was a good size chunk of meat and was moist.  The (skin-on) mashed potatoes were good, better than the pureed "pasty" potatoes that I'd had recently at the signature restaurants.  The green beans were also very good.  The only thing(s) on my plate that weren't good were the fried onion rings.  When I first saw them I was surprised and wondered why The Plaza doesn't serve onion rings.  After tasting one, I know why they don't.  Blech!
Now for the main reason I chose The Plaza for my final Dining Plan meal, DESSERT…more specifically their Butterscotch Bread Pudding, which I was very happy to see on their Dessert menu…
My server returned to my table to take my dessert order and just as I was about to ask for the Bread Pudding she said, "By the way, we don't have the Bread Pudding.  In its place we have an Apple Blossom Pie topped with Vanilla Ice Cream."  I was crushed.  Now I see that it's still listed now on their online menu so I guess it was only a temporary thing.  But as (bad) luck would have it, I was there on an Apple Blossom day rather than a Bread Pudding day.  BOOO!!!
So I had to quickly choose another dessert.  In a spur of the moment decision I chose the. Banana Split…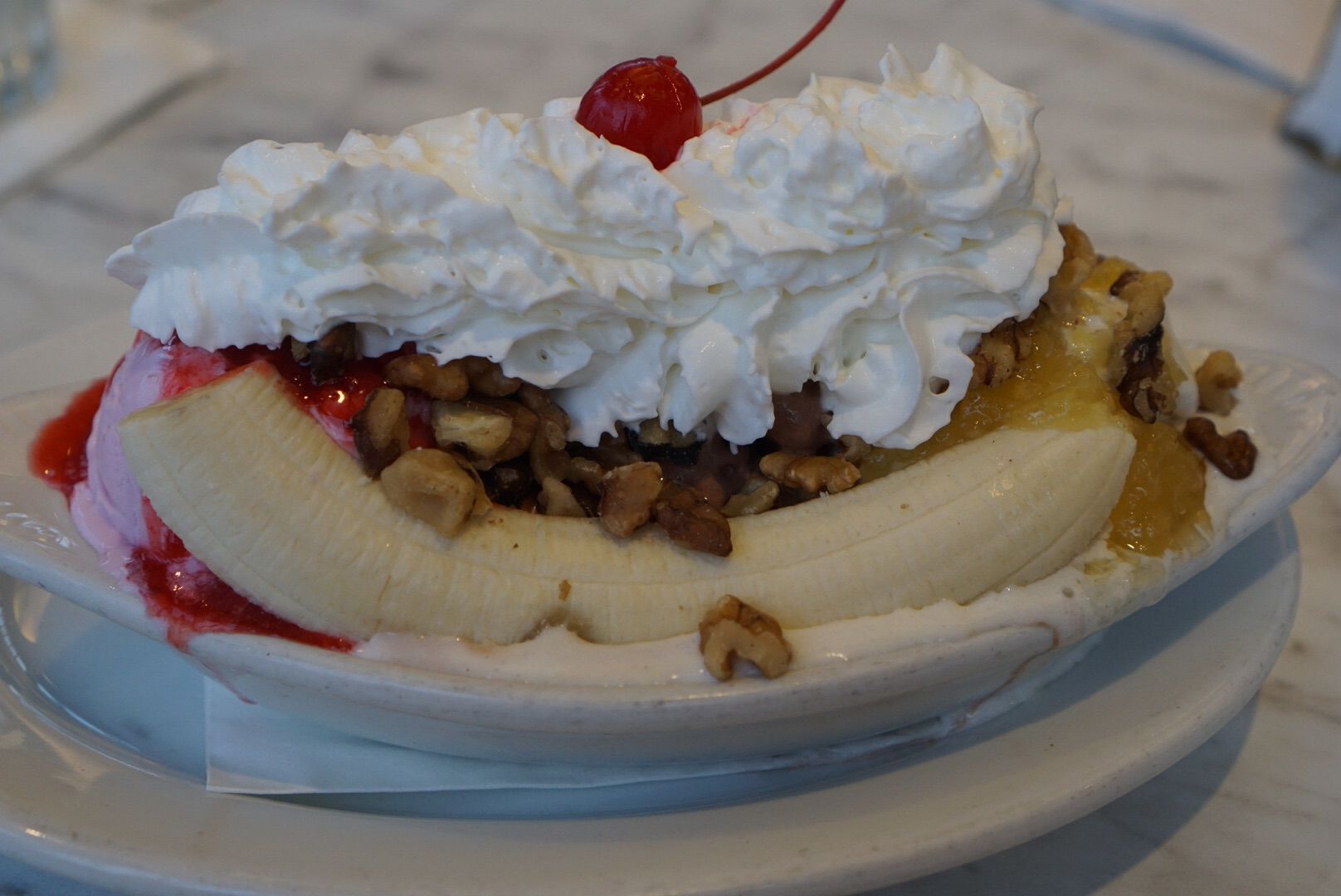 Last time I visited The Plaza I shared this massive dessert with three other people.  This time it was all mine.  Yikes!  This had three scoops of ice cream (one each of chocolate, vanilla, and strawberry).  The strawberry was my favorite, which confirmed my thought that I should have gotten the strawberry milkshake.  There was also a whole banana (split in half), crushed pineapple, hot fudge sauce, strawberry sauce, chopped walnuts, a ton of whipped cream and of course a maraschino cherry on top.  It was so good, but way more than I could eat.
And my bill…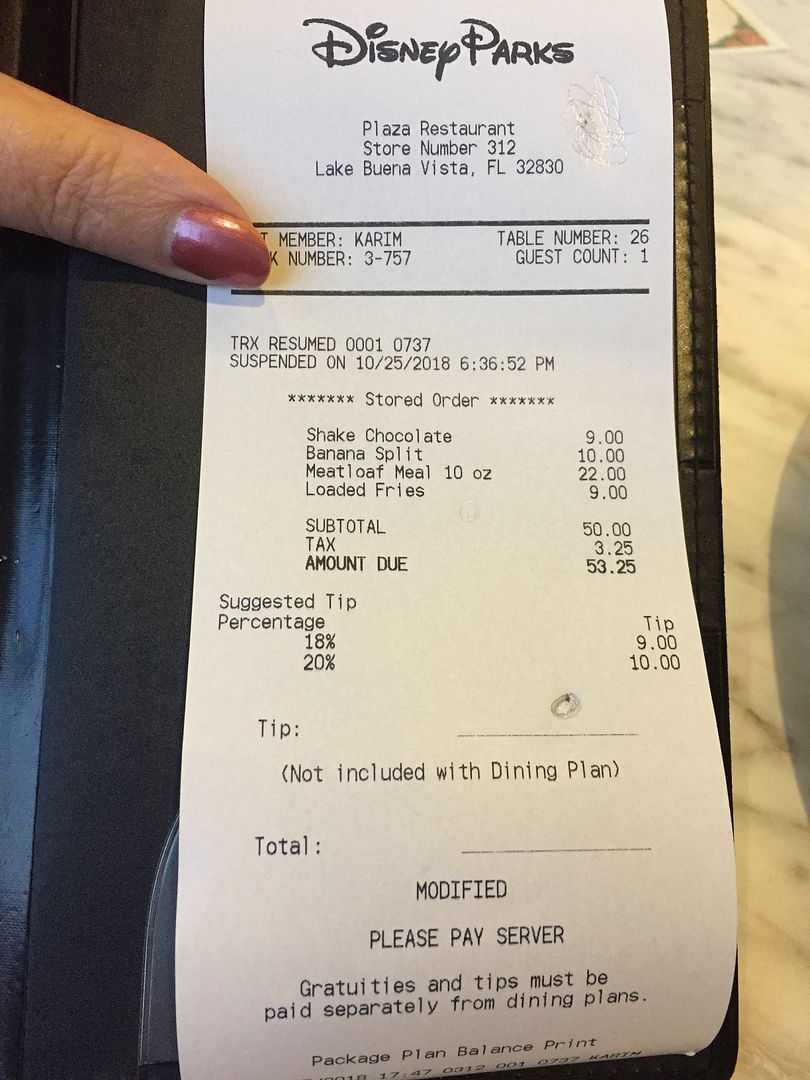 Deluxe Dining Plan Credits Used – 1 (My Last One)
Cost of my Meal had I paid Out of Pocket – $53.25
So that just leaves the ratings and rankings.  While Yelp reviewers gave The Plaza 3 1/2 stars, the reviewers on Trip Advisor gave it 4 stars.  This one is a bit difficult for me to rate though.  While everything I had at The Plaza was pretty good, I went here with high expectations (especially since I was using my last Dining credit on this meal) and left feeling a little disappointed.  So I guess I would lean towards the lower rating of 3 1/2.  As for The Plaza's ranking on Trip Advisor, it sits currently at #455 of the nearly 3,000 Orlando area restaurants reviewed there.  Narrowing it down to just the roughly 300 Disney World area restaurants, The Plaza ranks #136.