The Trolley Car Café is a quick-service restaurant conveniently located on the corner of Hollywood Boulevard and Sunset Boulevard at Disney's Hollywood Studios.   It serves both Disney baked goods and Starbucks La Boulange™ pastry items along with Starbucks coffee and espresso beverages.
We dropped in here on my son's birthday (in Dec. 2016), as he is a Starbucks member and therefore qualified for a birthday reward (free beverage).  However, he discovered that this location would not honor the Starbucks birthday reward promotion.  But I went ahead and bought him a beverage anyway…since it was his birthday and all.  
While he waited on his Caramel Frappuccino to be made, which looked something like this..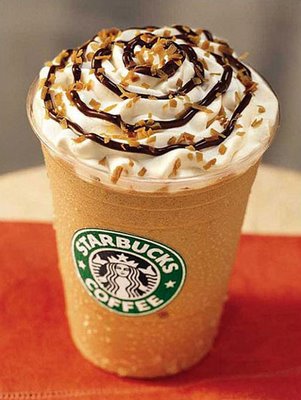 …I took photos of some of the food offerings they had on display.
All of the above cupcakes, M & M brownie, napoleon, and fruit tart were also served at Starring Rolls Cafe at Hollywood Studios until it closed in February 2017.
They also had some lunch/dinner items available like this Roast Beef Sandwich (served with potato chips)…
…Pastrami Sandwich
…and Turkey Sandwich.