It had been more than 6 years since I'd dined at Tutto Italia.  I'm not really sure why it had taken me so long to return.  Perhaps because I'd been attending the Food & Wine Pairing Italian Luncheon held at Tutto Gusto for the last 4 years (5 if counting this year's luncheon) and since they share a kitchen I thought it would be redundant to also dine at Tutto Italia.  Or maybe because there are so many great dining choices at Epcot, many of which are less expensive than Tutto Italia (including its sister restaurant at Epcot, Via Napoli).  However, when I decided to experiment with the Deluxe Disney Dining Plan on the first 3 nights of this trip, the idea of dining at Tutto Italia became much more intriguing.
And so, on the first full day of my trip I headed to the Italy pavilion of Epcot's World Showcase for a solo lunch at…
Upon entering the restaurant's waiting area I was greeted by some really delicious smells.  Having done some snacking at the festival booths earlier I was afraid that I wasn't up for the 3 course meal that is provided with the Deluxe Dining Plan, but the wonderful smell quickly changed my mind.
I checked in at the desk and was immediately seated at a two-top table in the enclosed patio area (sunroom) at the front of the restaurant…
It was a quiet, relaxing location with several of the tables empty around me…
For a patio area, the décor was quite nice.  I especially liked the light fixtures…
However, inside in the main dining room it is much more ornate (but also more crowded, and therefore not as quiet)…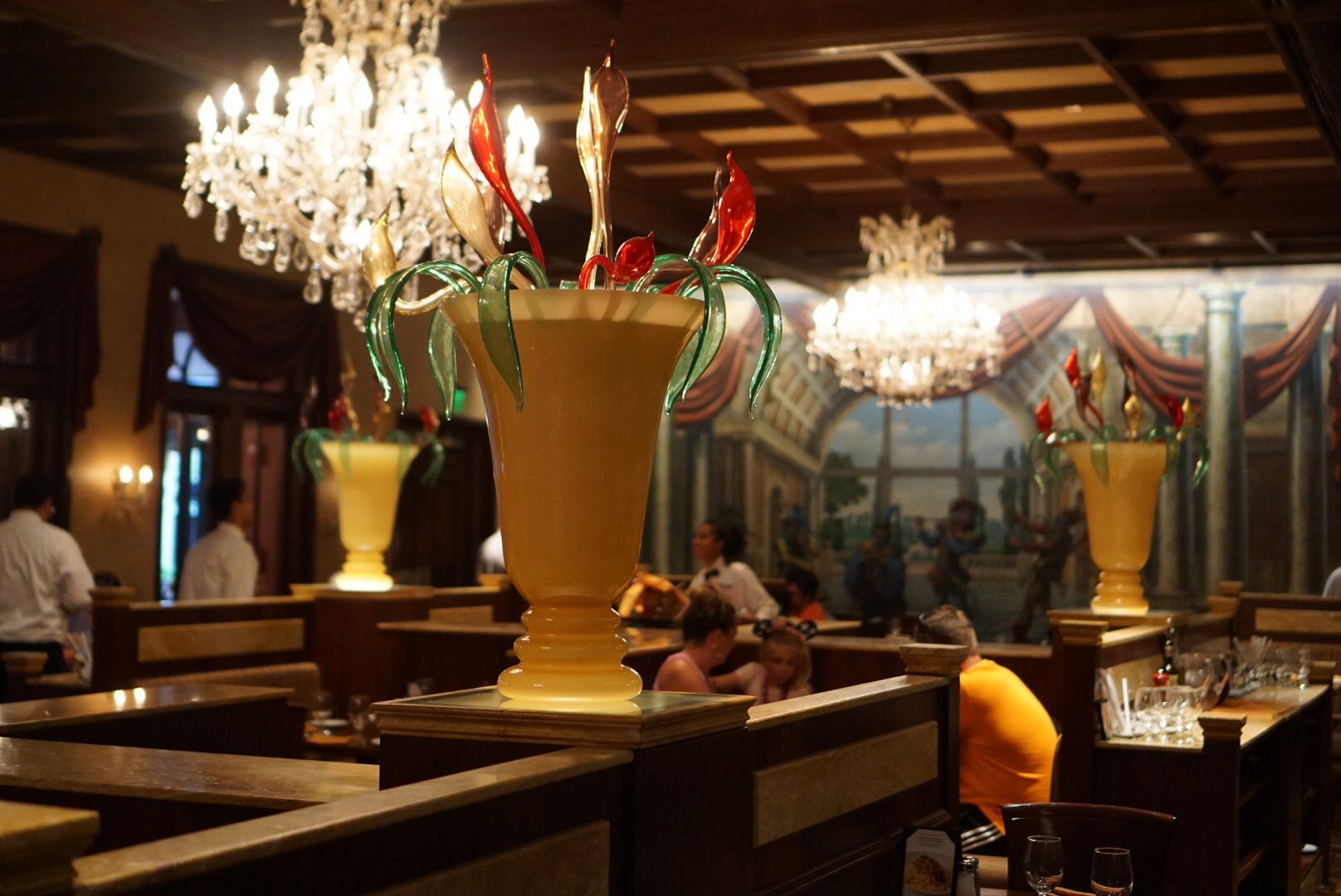 Let me begin my review by saying the service I received here was excellent, probably the best of my trip.   It was the kind of service you expect to have at a Disney signature restaurant, but seem to rarely receive these days.
The girl who was bussing the tables was quite diligent in keeping my water glass full, which was good because I was very thirsty.  I had forgotten my water bottle and had been walking around Epcot for the last few hours in the hot sun so I was quite parched.  Needless to say, the ice water tasted particularly wonderful and refreshing here!
As for my server, Matteo, he was a gem.  Matteo was very attentive throughout my meal, making sure to check on me soon after each course was delivered to my table to make sure that I liked it and that I didn't need anything, etc.  Unfortunately though Matteo was near the end of his 12 month term as a Cultural Representative and was returning to Italy at the end of November.  Hopefully he was replaced by someone who is equally good at his job.
Now on to my food and cocktail choices.  Included with the Deluxe Dining Plan is a beverage (which can be alcoholic).  I chose my beverage from this section of their menu…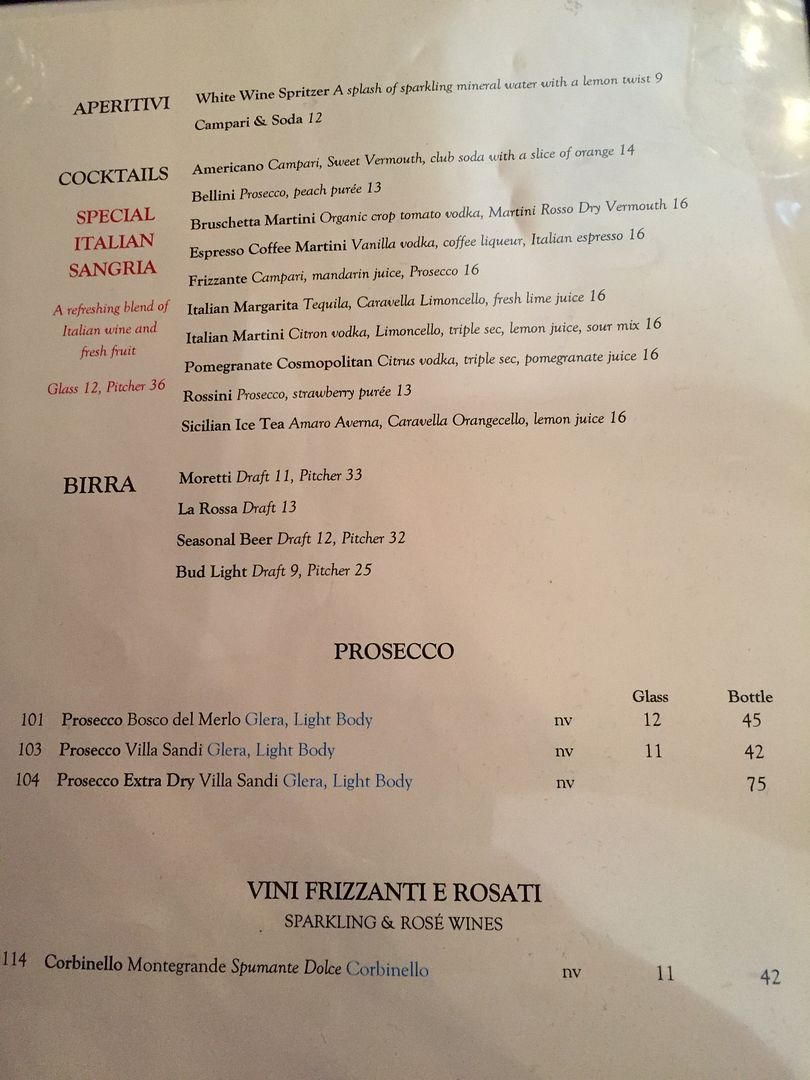 Matteo told me that any wine, beer or cocktail up to $16.00 was Dining Plan eligible.
Here is what I chose…
Pomegranate Cosmopolitan with Citrus Vodka, Triple Sec, and Pomegranate Juice – $16.00
I chose this thinking it would be a light, sweet fruity cocktail but it was not very sweet.  Actually it was fairly tart.  Though I didn't like it at first, it grew on me as I slowly slipped it throughout my meal and I ended up liking it.  However, it's probably not something I would order again.  Instead I would probably order the Bellini (Prosecco & peach puree), which I guess would be more Italian.
Along with my cocktail a complimentary bread plate (which included a package of breadsticks) was brought to me table…
I was disappointed that the delicious focaccia bread that had always been served at the Italian luncheons I had attended was missing.  So wanting to save room for my 3 course lunch, I decided to skip the bread.
I also did not partake from the platter of olives and olive oil…
Next was my appetizer choice, chosen from the Antipasti section of their menu…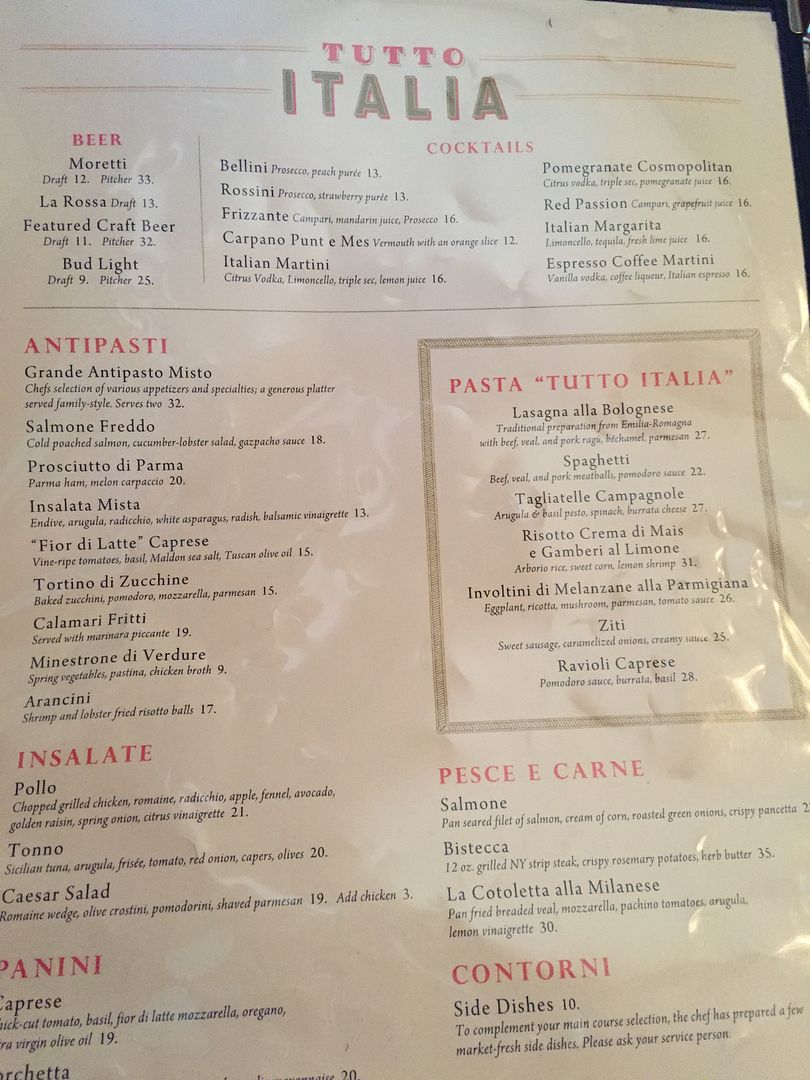 Though I had planned to order something else, the "Fior di Latte" Caprese was delivered to the table next to me and it looked really good.  But I stuck with my original plan and ordered the…
Arancini (Shrimp and Lobster Fried Risotto Balls) – $17.00
And a closer look…
I was very happy with my decision.  The risotto was delicious, filled with small pieces of shrimp and lobster, which are two of my favorite seafoods.  These were very filling though, so I ate only 2 of the 3 in an effort to save room for the next two courses.  But I was sad to leave that one behind because they were so good.
I had also pre-planned out my entrée order and was intending to order Lasagna from the Pasta section of their menu…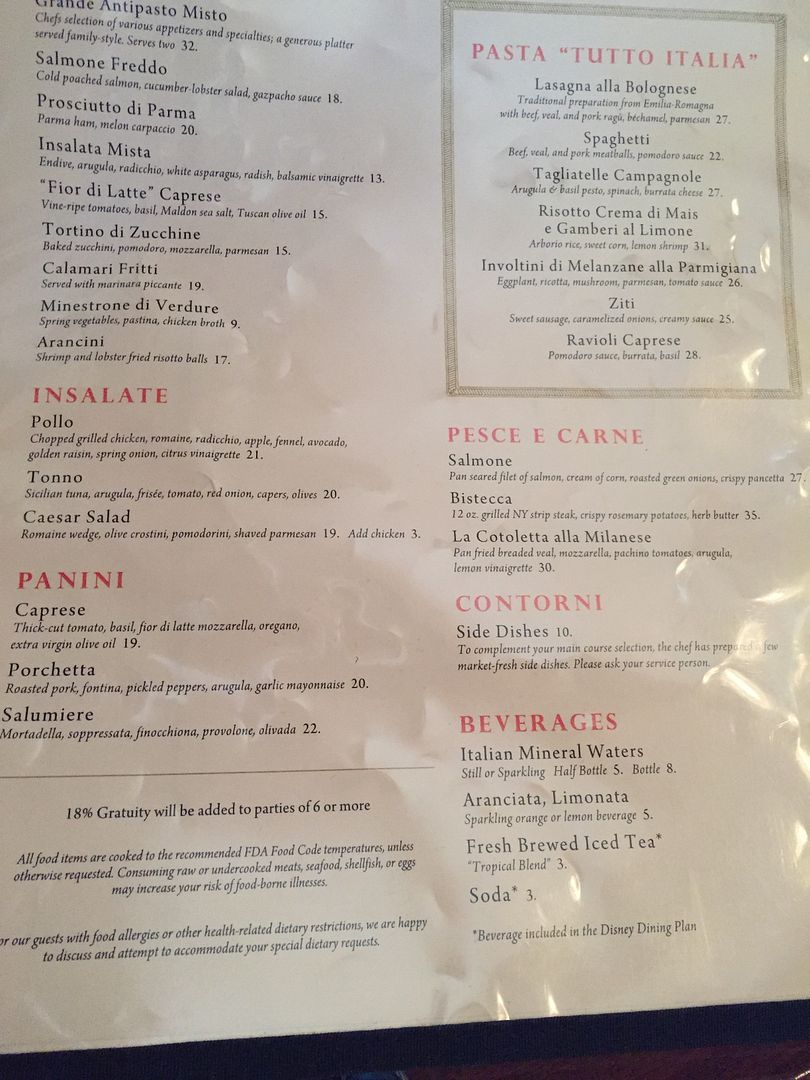 While I love lasagna and remembered that on my last visit to Tutto in 2012 I had enjoyed it, this flyer displayed on my table caught my attention…
I asked my server, Matteo, for his recommendation and he steered me towards the…
The Best of Italy – Fettucine alla Panna con Petto di Pollo all Griglia (Fettucine with Parmesan Cream Sauce and Grilled Chicken Breast) – $30.00
And closer…
Closer…
Close-up…
And from a different angle…
Matteo had said that while their lasagna was very good and a classic Italian pasta dish, the Best of Italy entrée (which combined both a meat and a pasta) better represented a complete Italian meal.   And it was in fact a very complete and filling plate of food…so filling that I was only able to eat about half of it.  The fettuccine was good.  It reminded me of the Fettucine Alfredo that I had enjoyed at Tutto's predecessor Italian restaurant at Epcot, L'Originale Alfredo di Roma Ristorante.  I especially liked that they offered (which I happily accepted) to top it off with as much fresh grated parmesan cheese as you wanted.  The grilled chicken breast was quite large.  While it was moist and tender, I thought it could have used a little more seasoning.  It was though good when eaten with the alfredo cream sauce.  This was a good choice, but next time I'd like to try the lasagna again.
Next came dessert…
I didn't think I could possibly eat another bite, but dessert was included in my Deluxe Dining Plan so I decided to give it my best shot.  Initially I was thinking Tiramisu then considered the Chocolate Cake.   But in a spur of the moment decision I instead ordered the…
Torta Di Ricotta – Lemon Ricotta Cheesecake with Marinated Strawberries $12.00
And a little closer look…
Though I generally don't like "lemony" desserts, the lemon flavor was not prominent.  The ricotta cheese instead of the usual cream cheese made the consistency/texture of the cheesecake a little less creamy but nonetheless was delicious.  The strawberries were ripe and sweet and the graham cracker crust was tasty.  It was so good that I couldn't stop eating it until it was all gone.  This dessert gives the Narcoossee's cheesecake a run for its money, especially now that the Narcoossee's one is $16 compared to $12 for this one.
Had I not had the Deluxe Disney Dining Plan this is what this 3 course meal plus cocktail would have cost me…
So for one Deluxe Dining Plan credit I received nearly $80 worth of food.  An excellent Dining Plan value!
That just leaves the ratings and rankings.  While Yelp reviewers rated Tutto Italia only 3 1/2 stars, those on Trip Advisor gave it 4 stars and ranked it #182 of the nearly 3,000 Orlando area restaurants reviewed there.  Narrowing it down to just the approximately 275 restaurants in the Disney World area, Tutto Italia ranks in the top 20% at #53.  As for me, based on the good food and excellent service I received at this meal,  I would rate Tutto Italia at least 4 1/2, maybe even a 5.  It was one of the best meals of this trip!  I won't make the mistake of waiting another 6 years before returning to Tutto Italia.
Deluxe Dining Plan Credits Used – 1
Cost of my Meal had I paid Out of Pocket – $79.88