It had been almost two years since I last stayed at the Wilderness Lodge, however I noticed very few changes in the room decor.  Just like all of the other Disney resorts, the decorative bed runner/scarf had been removed and the bedding was all (boring) white, with the exception of a decorative pillow…
In case you don't recall the bed runner which once added some color to the beds at the Wilderness Lodge, here is my room photo from 2016…
The headboards though still remain and do give their beds some character…
These are especially unique because of the carved animals which are perched at the top of the bed posts…
So now I'll compare this Standard view room with the Standard view room that I had just stayed in at the Polynesian.  [Keep in mind though that I paid $117 (including tax) less per night at the Wilderness Lodge than at the Polynesian.]
First of all, the room at the Wilderness Lodge was a bit smaller.  Though it still had two queen-size beds there are no pull-out couches in the rooms at the Wilderness, so they sleep only 4 people.
The t.v. was a bit smaller at the Wilderness…
In my Polynesian room I had both an alarm clock and outlets to charge my phone on the nightstand between the beds…
But in my Wilderness room I had neither of these.  In fact the electrical outlet behind the nightstand did not even work.  So I had to plug in my phone across the room at the table, which was kind of annoying…
Like at the Polynesian, my room again had a ceiling fan however this one had no light, which made for a darker room…
The regular full-size closet here is better though than the small cabinet/closet in the Polynesian room…
And I always like having the bathroom sinks in a separate area outside of the room with the toilet and tub/shower, which is something you don't have at the Polynesian.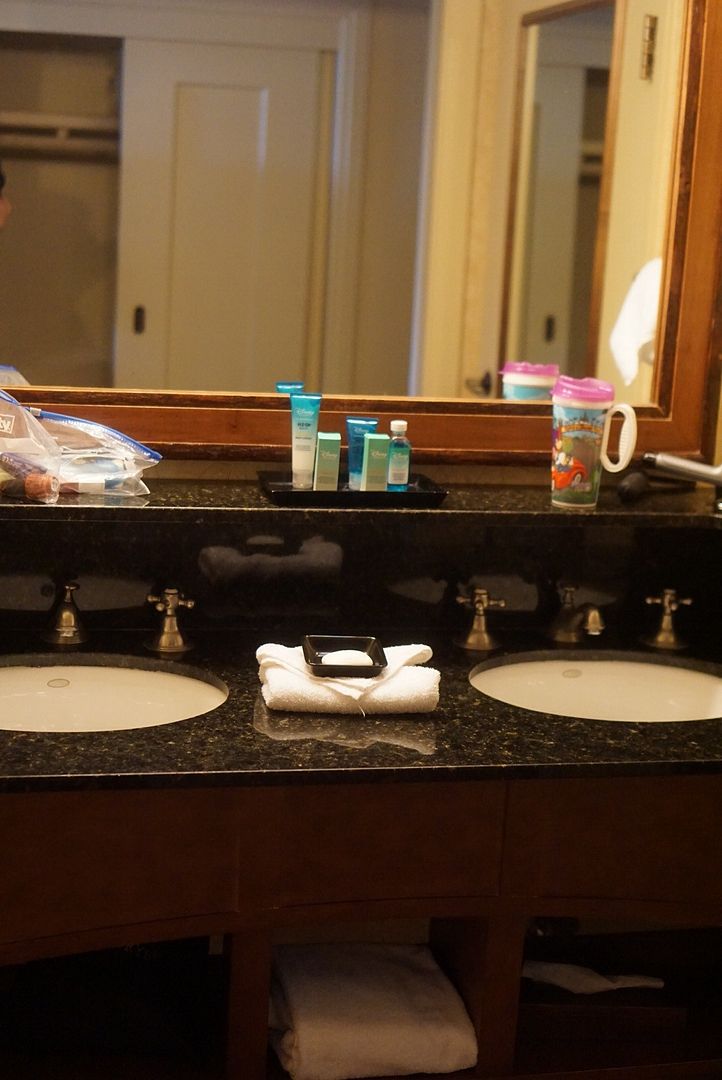 While at first it appeared that there were less complimentary toiletries here than at the Polynesian, I then saw that some of them were already in the shower…
And speaking of the shower, I like the cute shower tiles here…
I also like the fact that you can reach the towel rack while standing in the shower (unlike in the bathrooms at the Polynesian)…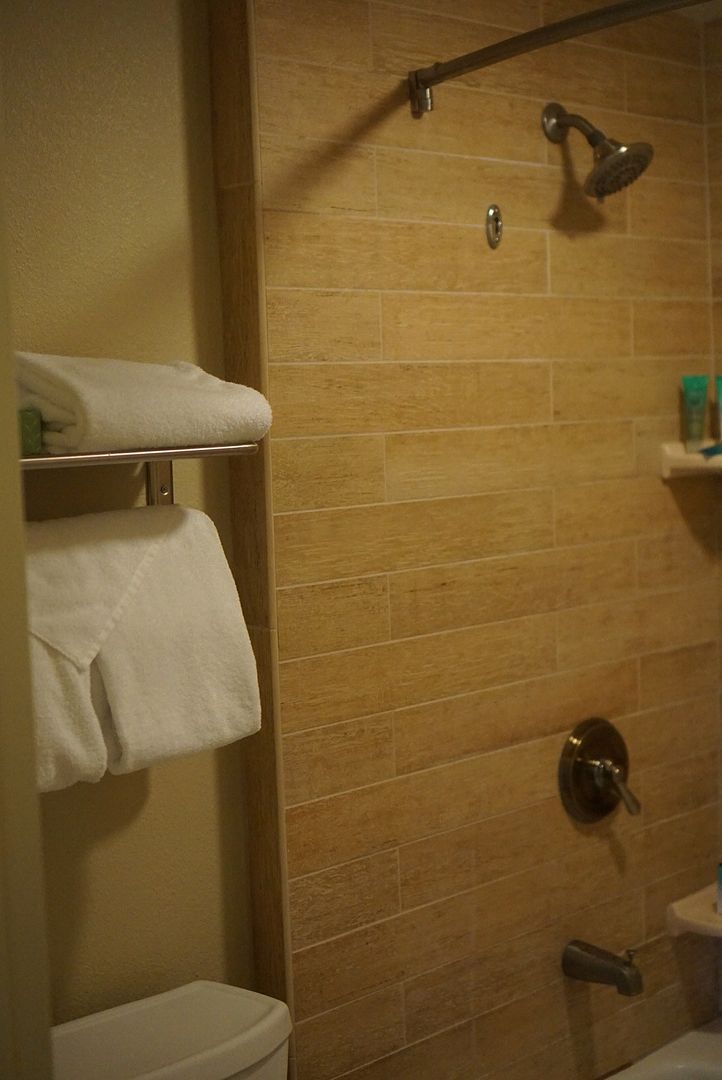 Back out in the sink area, while there is no lighted makeup mirror mounted on the wall like at the Polynesian, there is a full-length mirror mounted on the back of the bathroom door (something that they don't have in the Polynesian rooms)…
So that about covers the interior of Standard View Room #5056.  Now I'll show you the room's location and the view from the balcony.  On the map below (compiled by GrandCalifornian in 2017), Room 5056 was on the 5th floor and in the middle of the yellow section, which is on the side of the lodge which faces the Contemporary Resort and Magic Kingdom.
On my last two stays at Wilderness Lodge (both in 2016) I was just down the hall a bit further and on a different floor (Room #4046 & #6048) so basically I've had the same view every time.  Now the reason that this is considered a Standard view room is that this is often the view from your room by day…
But if you look beyond this the view is much nicer…
Oh, and at night you can sit out on your balcony…
And this can be your view…
A slightly obstructed (by the trees) view of the fireworks at Magic Kingdom, which were HalloWishes on Night #1 of my two night stay at the Wilderness Lodge.