I met up with my friends, Nicole & Mike, for an early breakfast at Woody's.  I arrived first and was able to place a mobile order…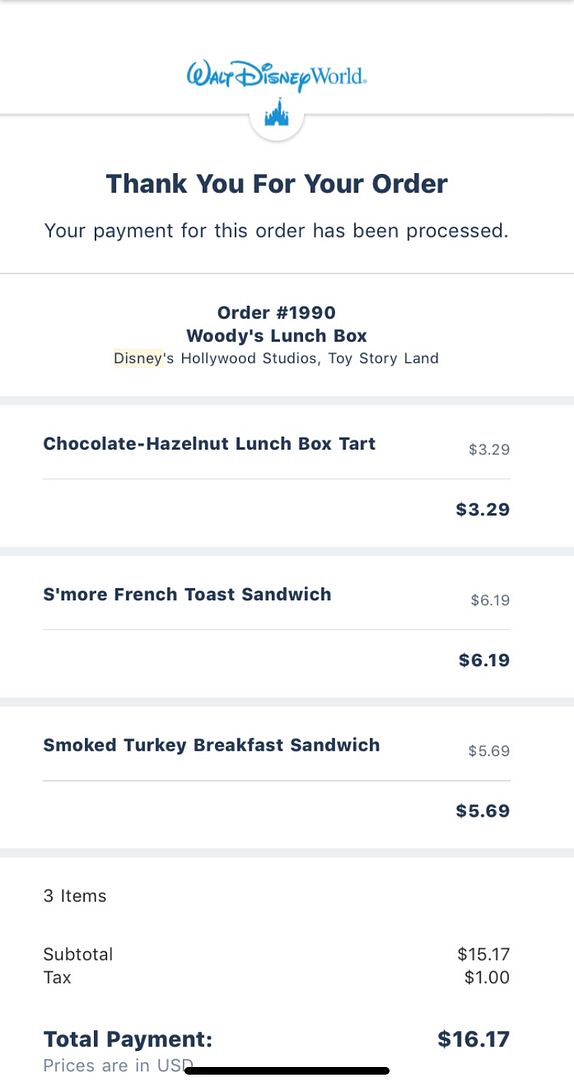 …pick up the food, and find a table for us to share with another couple.
I wanted to try a couple of things from their breakfast menu so I decided to order two items from the Kids menu for the smaller portion size.  The first of these was their…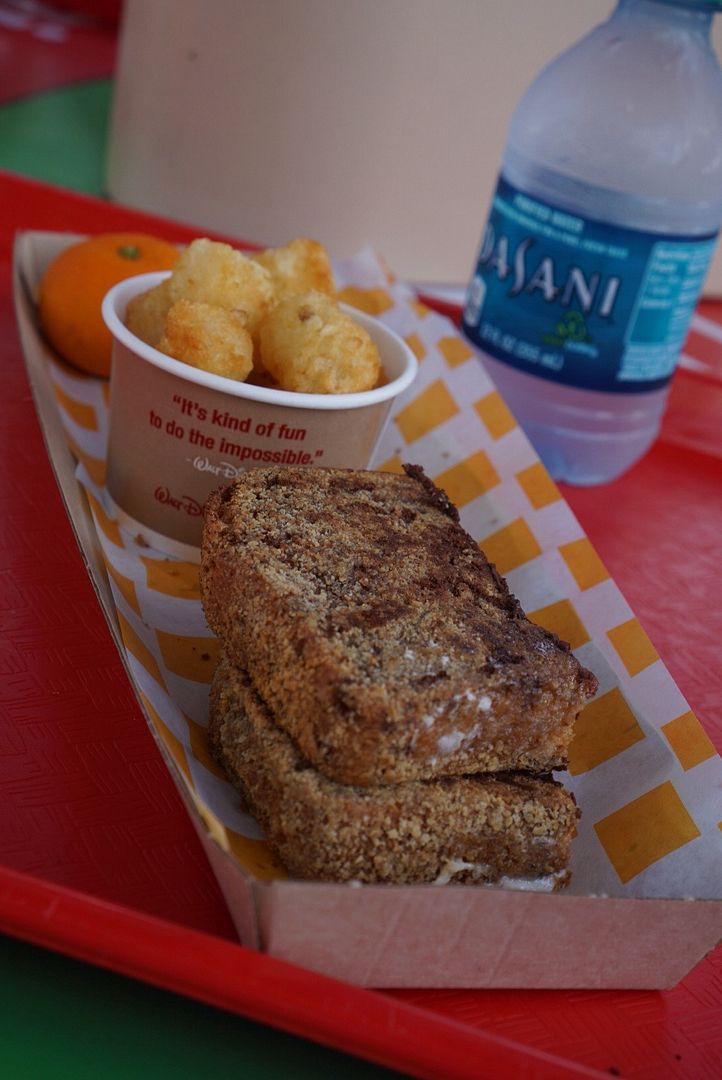 S'more French Toast Sandwich – Sandwich Half with Marshmallow and Chocolate Ganache stuffed in Grilled Custard soaked Brioche encrusted with Graham Cracker Crumbs served with a Cuties® Mandarin and Potato Barrels with your choice of Beverage ( I chose a small bottle of Dasani water) – $6.19
A closer look at the French Toast…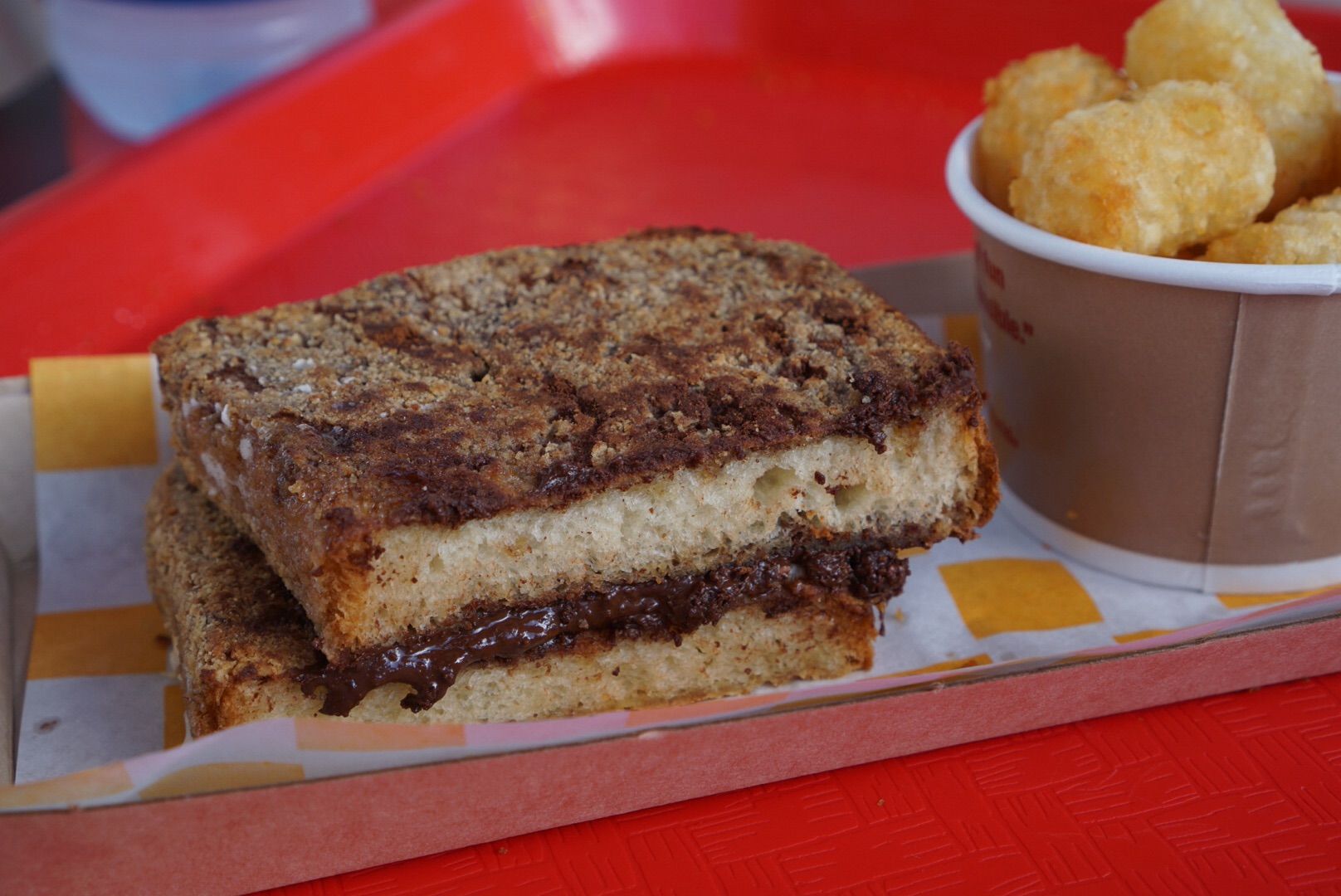 And the Potato Barrels (aka Tater Tots)…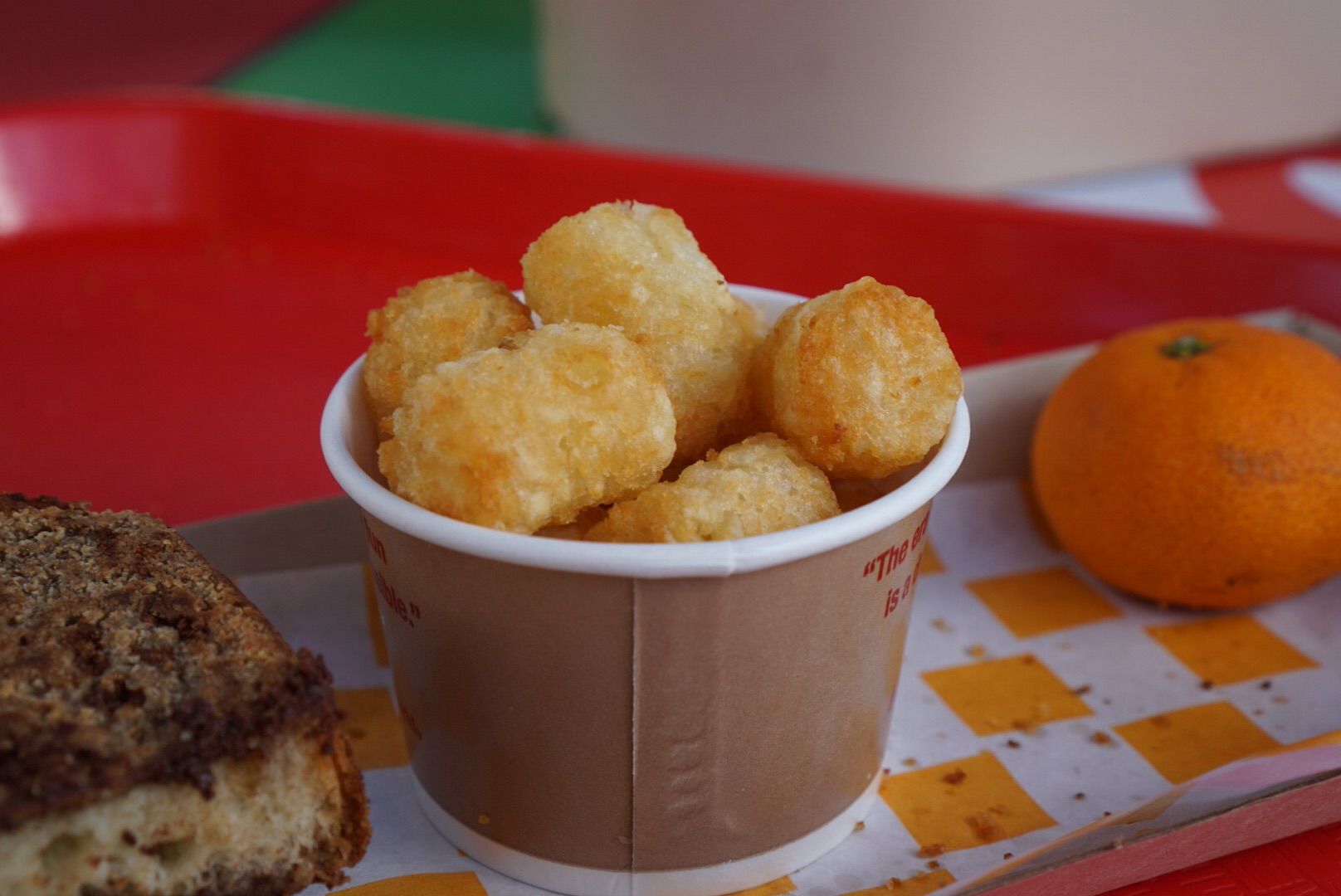 Nicole & Mike liked the French Toast better than me.  I thought it needed more marshmallow (there was very little) in the center with the chocolate ganache.  I did though enjoy the oven-baked potato barrels (instead of fried) and kind of wished I had ordered the Kid's Breakfast Bowl instead.  The Breakfast Bowl consists of the potato barrels topped with scrambled eggs and smoked brisket country gravy.  Hopefully on my next trip I'll get to try the Breakfast Bowl.  Anyway, I was too full for the Cutie (mandarin orange) but Nicole & Mike enjoyed them.  I did really appreciate having the bottle of water that was included with the Kid's meal though.  Overall this was a really good deal for $6.19 (plus tax), especially compared to the adult-size version, which is twice as much French toast but no Cutie or drink for $7.99.
As for my other choice, I got the…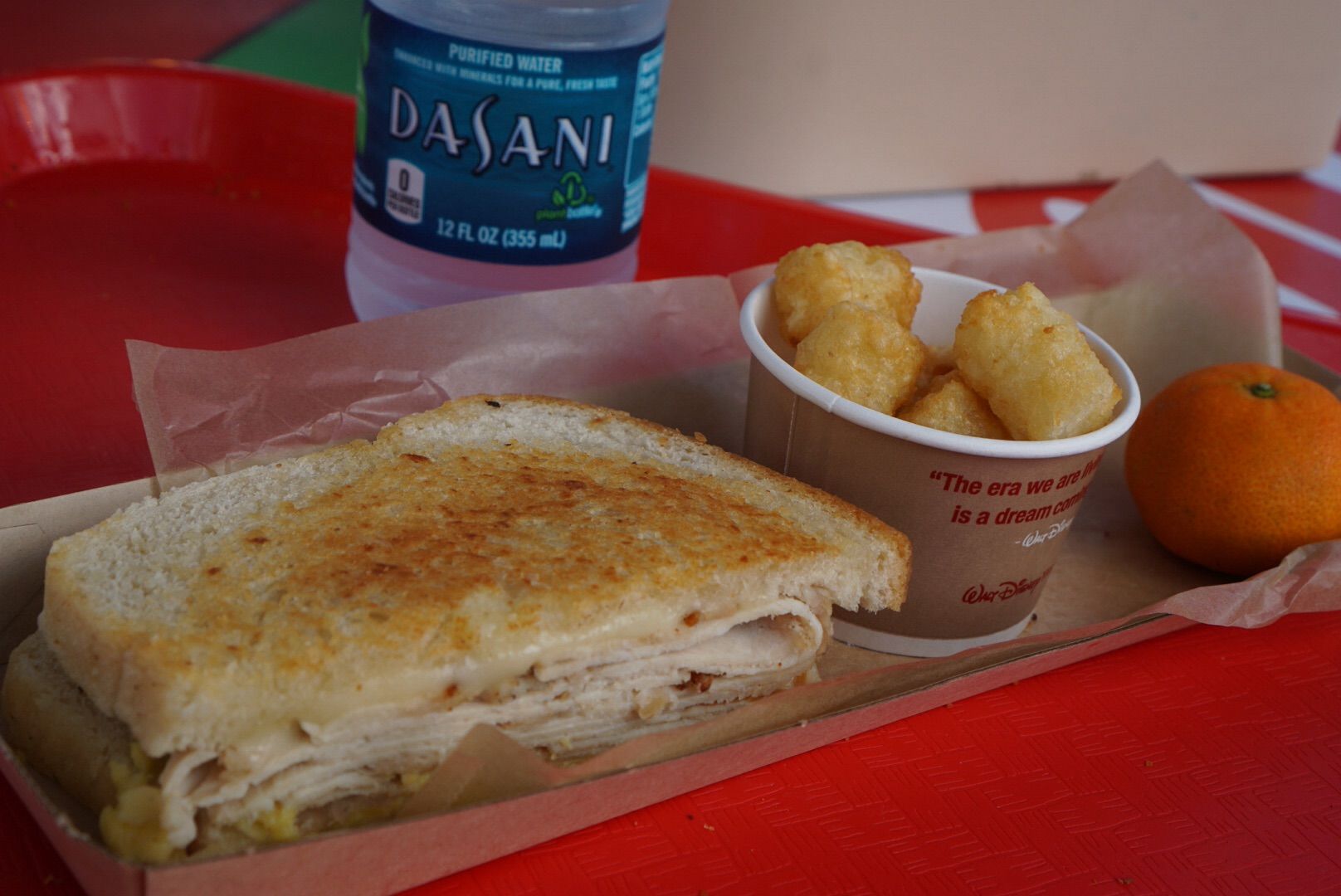 Smoked Turkey Breakfast Sandwich – Sandwich Half with Thick-sliced Smoked Turkey Breast, Melted Swiss Cheese and Scrambled Eggs on Grilled Sourdough served with a Cuties® Mandarin and Potato Barrels with your choice of Beverage (I got a second bottle of Dasani water for Nicole & Mike) – $5.69
A closer look at the sandwich…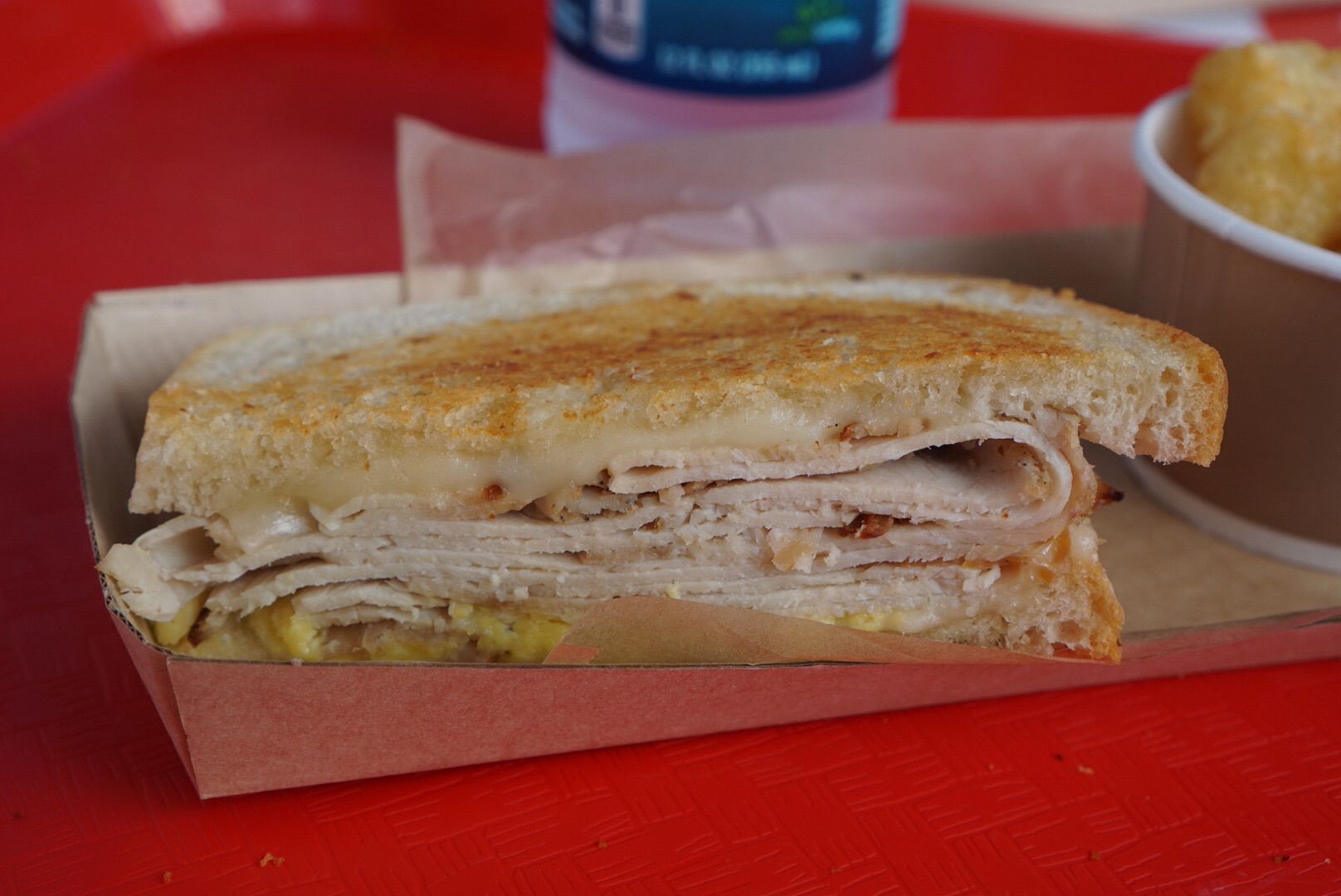 And the Potato Barrels and Cutie Mandarin Orange…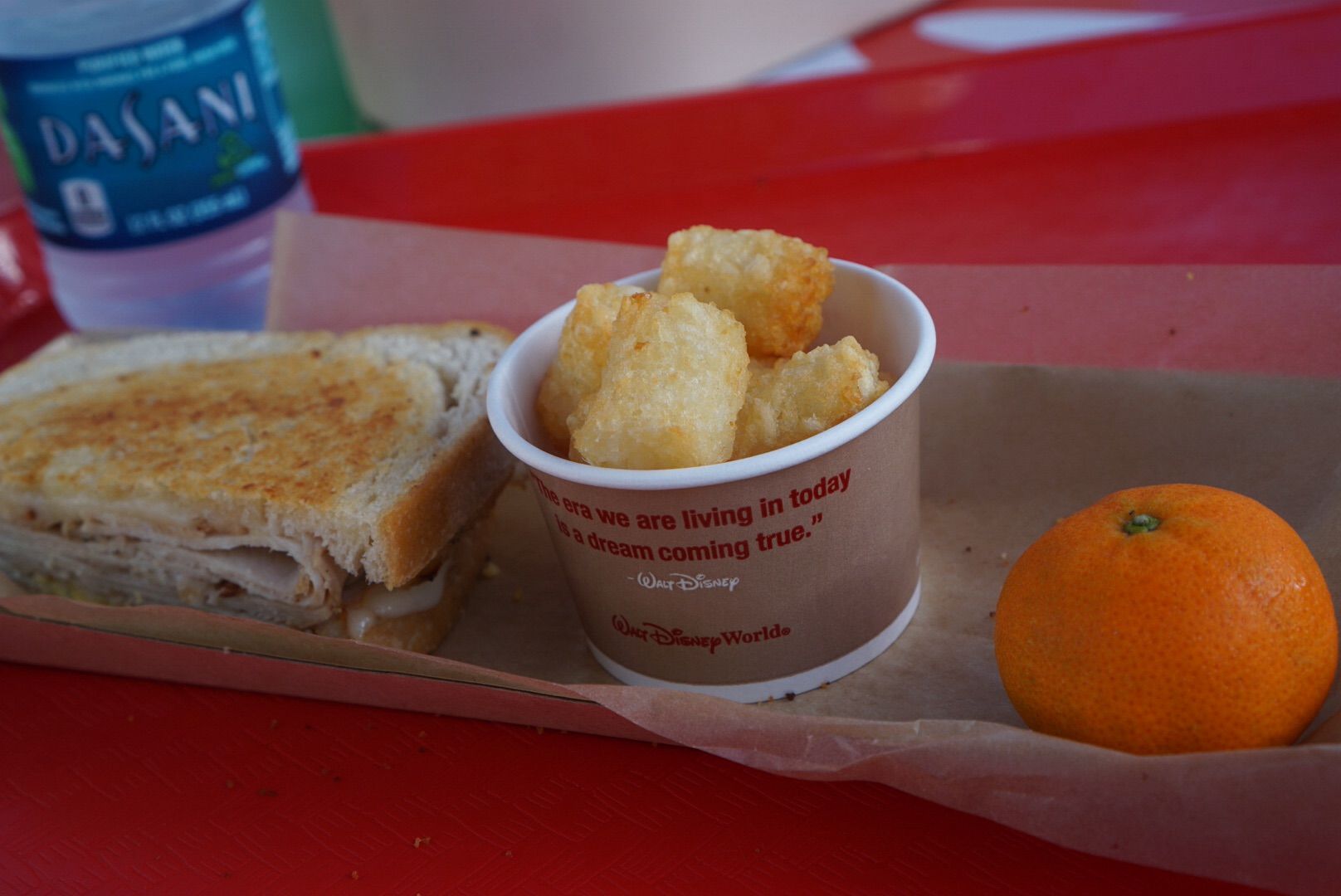 I much preferred this sandwich over the French toast sandwich.  It had a thin layer of scrambled eggs, topped by several slices of good quality smoked turkey breast, and a slice of melted swiss cheese.  Also the sourdough bread was very good.  I believe it had a hint of garlic, like the grilled cheese sandwich that I had had here for lunch earlier in this trip and loved.  Though my favorite thing at Woody's is still that grilled cheese sandwich, this sandwich was very good.
I also got this per Nicole's request…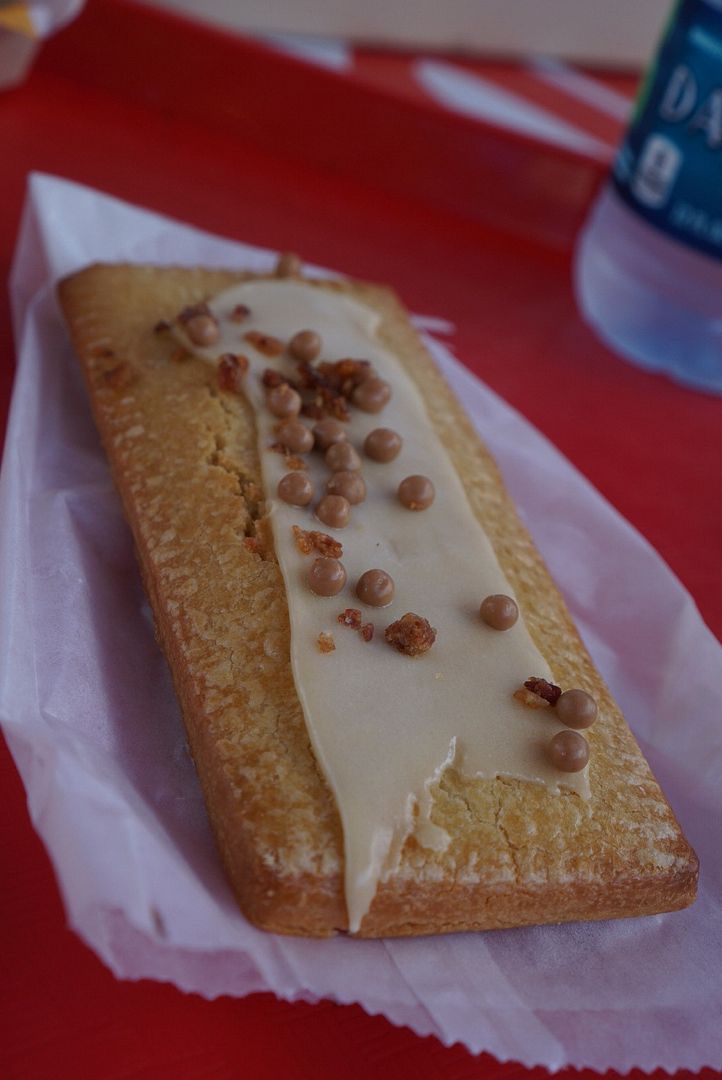 Chocolate-Hazelnut Lunch Box Tart – Chocolate-Hazelnut stuffed Pastry coated in Maple Fondant and Candied Bacon – $4.29
Nicole really liked this.  I had a bite and (like the raspberry one I tried with my lunch here) thought it was just okay.  If I had to choose between the two flavors I would say the raspberry was a bit better, which was surprising since I love candied bacon.  However, this really didn't have enough bacon on it to add much flavor.  In looking at the current menu though, I see that the raspberry tart has been replaced by a seasonal flavor, lemon-filled with blueberry frosting.  Perhaps this is temporary though, and the raspberry tart (which I thought was popular) will be brought back.  Or it's possible it will be replaced by another seasonal one (like maybe pumpkin or apple-filled) in the fall.   Anyway, at $4.29, I think it is overpriced for a (slightly better version of a) pop tart.
And that just leaves the ratings.  While Yelp reviewers gave Woody's only 3 1/2 stars, those on Trip Advisor rated it a slightly higher 4 stars.  As for me,  I would rate my lunch (grilled cheese and tomato soup) here a 4 1/2, while the breakfast would probably be somewhere around 3 3/4 stars.  So overall my rating for Woody's would be about 4 stars.