From the time it opened in late June 2018 and the first reviews hit the online blogs, I wanted to eat at Woody's Lunch Box.  The only question was, lunch or breakfast?  Unable to choose between them, I ended up having both meals at Woody's.
First was lunch, which I had there on the 4th day of my trip, during my first visit of the trip to Hollywood Studios and the new Toy Story Land.  Though I had heard how small this new quick service restaurant, I was still surprised when I saw it with my own eyes.  The restaurant's counter area was not much bigger than a food truck in size…
When I was there the lines at the two registers (manned by CMs) were pretty long.  Once your order was placed you then stood around the crowded window area for them to call out your name when your order was ready for pickup.  The window on the right seemed to be for the pick up of mobile orders and the left side was for those who ordered at one of the two registers.  When I saw the lines I attempted (several times) to place my order on my phone through MyDisneyExperience, however the mobile order app kept crashing on me.  I'm not sure if this was caused by too many people trying to use it at the same time or if the problem was my phone, which at that time was an older iPhone 6.  Eventually I gave up and got in line to order my food at one of the registers.  A castmember offered me a laminated menu to look at while I was in line, but I totally forgot to take a photo of it for my review.  I do believe though that it looked like this one that I found online…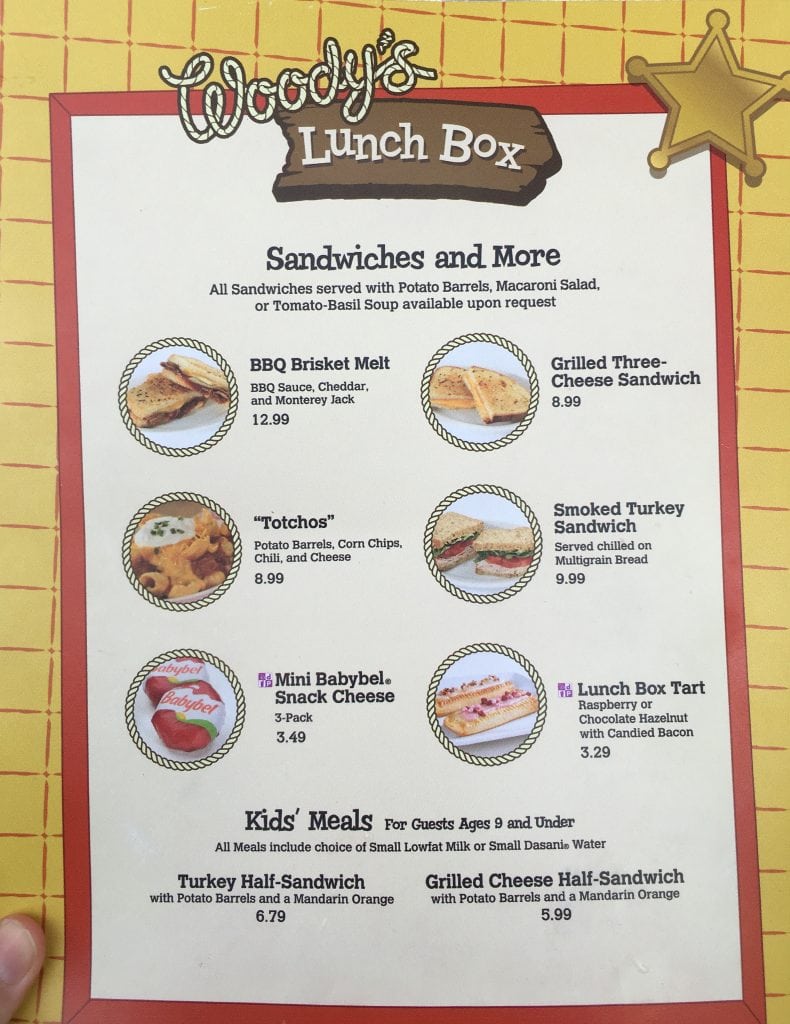 Though the line to order and pay for your food moved fairly quickly, after that the process of getting your food and finding a place to eat it was quite chaotic.   The area surrounding the pickup windows was full of people waiting for their food and I couldn't see that there was any kind of organized line to make your way up to the food pickup counter.  Eventually though I got close enough so that I could hear the names being called out and not long after that I heard my name.
My order was given to me on a tray…
I first stopped at a station to pick up a spoon and napkins, then with my tray of food I circled the (not nearly big enough) area of tables looking for a place to sit down.  If you are dining alone here (like I was) you are at a definite disadvantage, as many tables were being saved by one or more persons while their dining companion was up at the window ordering and picking up the food.
Eventually though I was able to grab a small standing table.  I quickly took my food photos then removed my food from the tray, set the tray aside, and made room to share my little table with two more people in need of a place to set down their food and eat.  So my first impression of Woody's was not a very favorable one…THEY REALLY NEED A BIGGER SEATING AREA WITH MORE TABLES!!!
But then I took a bite of my sandwich…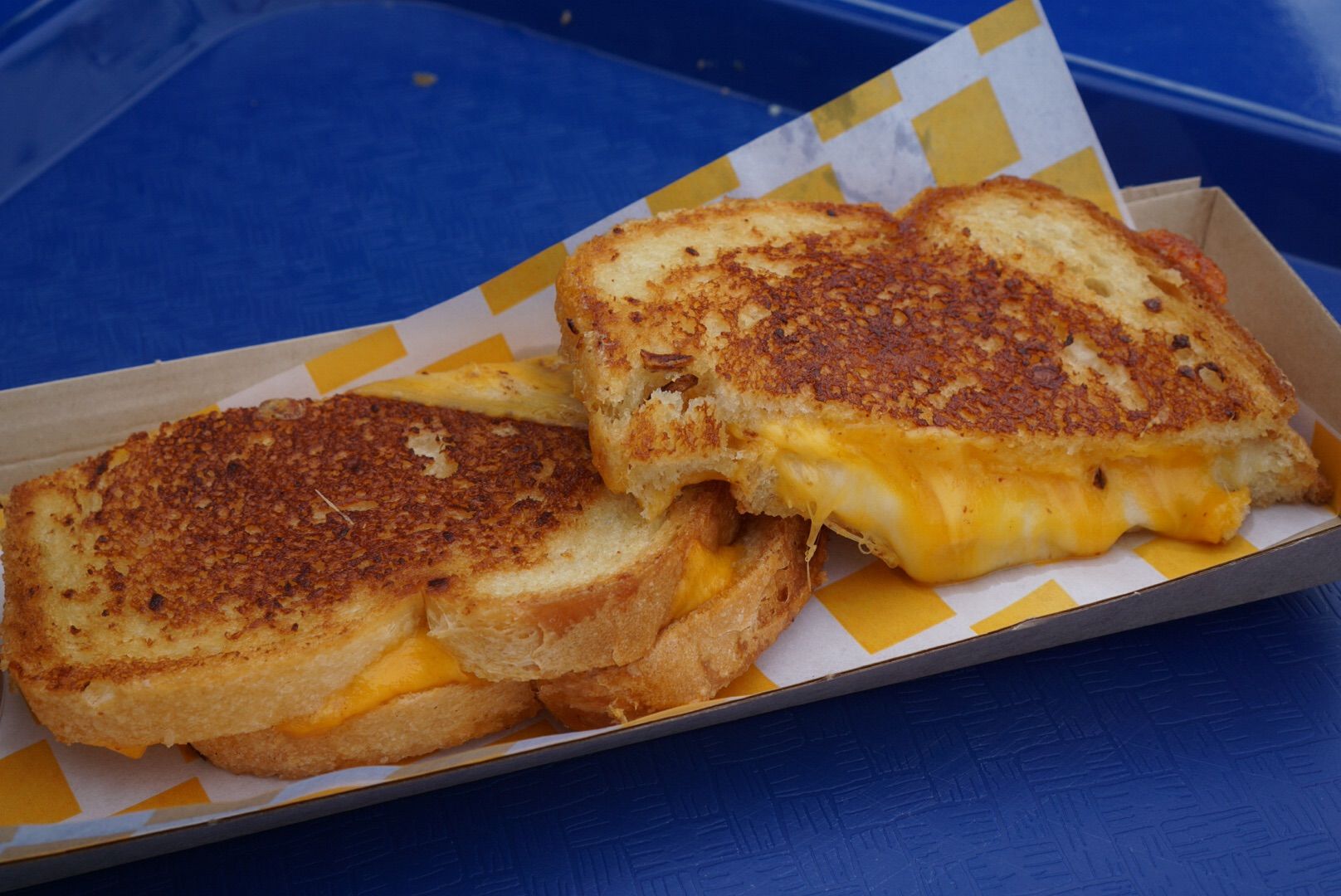 Grilled Three-Cheese Sandwich – Melted Provolone and Cheddar Cheeses with a Cheddar Cream Cheese Spread on Garlic Buttered Grilled Artisan French Bread – $8.99
OMG!!!  This was soooo good!  Probably the best grilled cheese I've had…at least in recent memory.  I loved the grilled garlic bread and I loved the mixture of cheeses that were used in this sandwich.  It was delicious!
The sandwich came with your choice of either Potato Barrels (aka Tater Tots), Macaroni Salad, or Tomato-Basil Soup, which is what I chose…
I kind of surprised myself with this choice, as I'm normally not a big fan of tomato soup.  But for some reason I was craving tomato soup on this trip, lol.  Anyway I did not regret this decision because this tomato soup was the bomb.  The soup had little pieces of fresh tomato and basil.  Really good stuff, especially for soup served in a paper cup.
So I was really happy with my food so far until I got to my dessert…
Raspberry Lunch Box Tart – $3.29
Note: I noticed that the price for the Lunch Box Tarts is now listed on the official Disney World online menu as $4.29, a price increase of $1.00 or about 30%.
This is a raspberry marmalade stuffed pastry topped with strawberry fondant and crispy pearls.  To me this tasted pretty much like a Pop Tart, but maybe just a little better.  Probably not something I would get again, especially at a price of $4.29.  However, I have friends who love these (and the chocolate-hazelnut ones) so when it comes to Woody's Lunch Box Tarts, YMMV.
Since I'll be doing a Woody's breakfast review later in my trip I'll hold off on the ratings and rankings until then.