In case you are unfamiliar with this annual Epcot Food & Wine Festival Special Dining Event, here were the details for the 2018 luncheons…
Italian Regional Food and Wine Pairing Luncheon
Held in Tutto Gusto, the Italy Pavilion's wine bar, this wine pairing event will showcase five courses paired with a variety of regional Italian wines.
Where: Tutto Gusto, Epcot's Italy Pavilion
When: Mondays and Wednesdays 12 – 2:30 pm
Price: $99 + tax. Epcot admission required.
September: 10, 12, 17, 19, 24, 26
October: 1, 3, 8, 10, 15, 17, 22, 24, 29, 31
November: 5, 7
This is an event you must book and pay for at time of booking.  My friend, Nicole, did this for our group of 5 so that we would all be under the same reservation and seated together.  We attended the luncheon on Monday, Oct. 29th.  This was my 5th year in a row attending this lunch but it was the first time for the others in our group.
I was the first to arrive of our group and I was able to check in (in the lobby of Tutto Italia, the restaurant next door to Tutto Gusto) and was seated at our preassigned table.  The tables were all set and waiting for the guests arrival.  Each place setting included 5 wine glasses, a water glass, 3 forks, two knives and a menu listing the 5 courses and wine pairings that we would be served…
And a closer look at our menu…
Also on the tables were trays of rolls and bread sticks, along with olives and olive oil (not pictured)…
Soon the rest of my group arrived.  We occupied the end of a long table (actually 2 tables that had been pushed together) which I think seated 12 – 14 guests…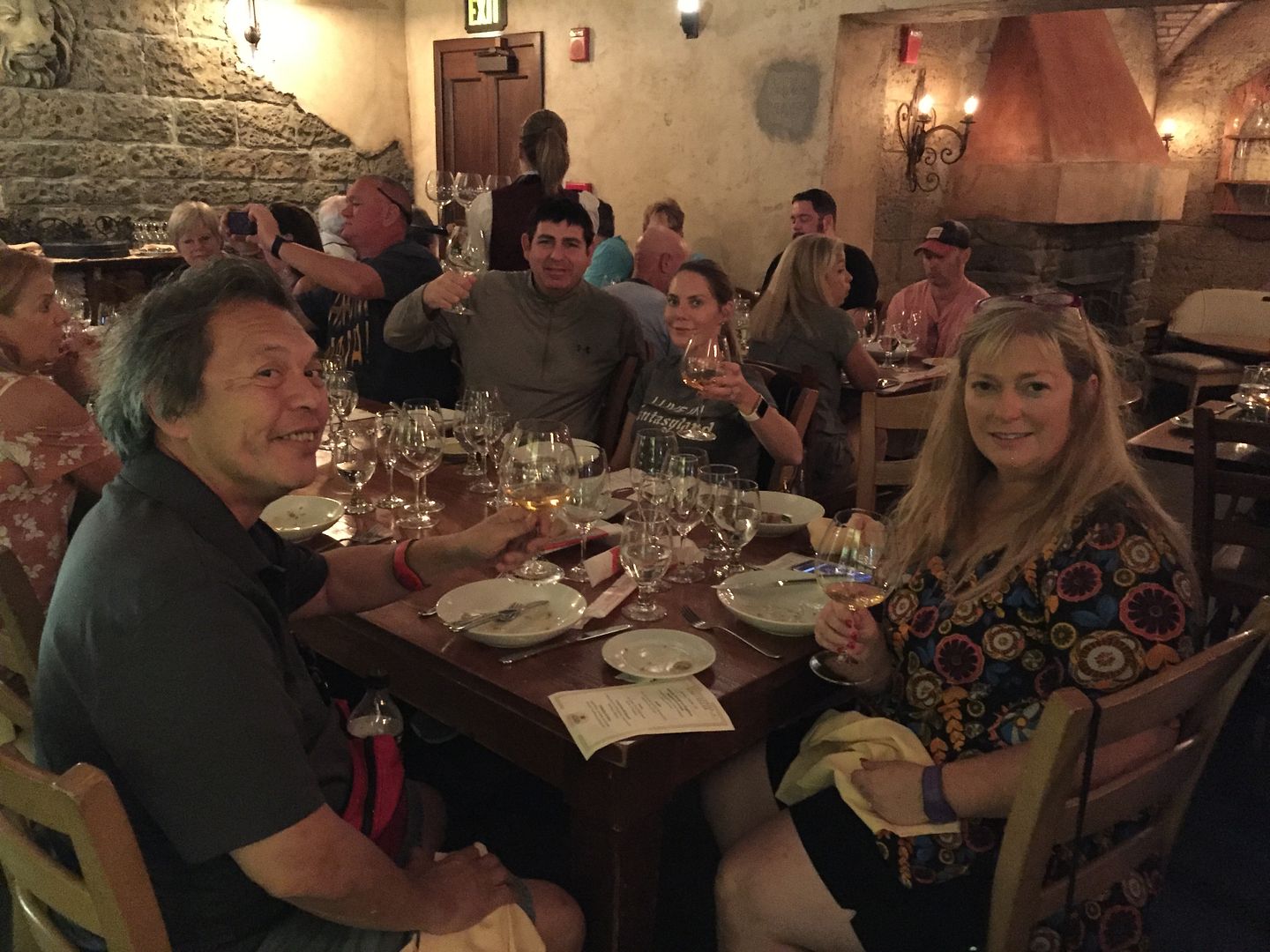 We were seated close to the bar's wine cases, which are always stocked with an abundance of Italian wines…
First up was Mark, the manager of Tutto Italia, who welcomed us and made a few opening remarks before turning it over to the sommelier, Ricardo…
Ricardo introduced our first course along with the prosecco wine he had chosen to pair with it…
Wrapped around a thin bread stick was a slice of culatello ham.  Underneath the bread stick/ham was a triangle of parmesan cheese and behind it on the plate was the mostarda (a Northern Italian condiment made of candied fruit and a mustard-flavored syrup).  The culatello ham was an expensive, high quality dry-cured ham which tasted very similar to proscuitto ham, but even better.  The parmesan cheese was a hard cheese with a strong, salty flavor.  I enjoyed eating it with the mostarda to add a bit of sweetness.  Also, I loved the Villa Sandi Prosecco that was paired with this first course.  It was probably my favorite of the five wines that were served.
Next came the pasta course…
This was Risotto made with Carnaroli, a medium-grained rice with a high starch content that is grown in the Pavia, Novara and Vercelli provinces of northern Italy.  Ricardo explained that this was considered the King of Italian rice.  The risotto also had pieces of pear, along with gorgonzola cheese.  It was finished with a large dollop of walnuts in the center.  I enjoyed the slight sweetness that the pear added to this dish.
Ricardo paired Bosco del Merlo Sauvignon Blanc with the risotto…
This was a medium-body sauvignon blanc that was dry, but not too dry.  I detected just a hint of sweetness, perhaps a bit of pineapple flavor.  For me, it was not as good as the prosecco but it paired very well with the risotto.
Next was the Fish course…
This was ginger-crusted tuna along with a grilled onion, which was paired with another white wine, Il Feuduccio Pecorino.  I learned that pecorino was not just the name of an Italian cheese.  It is also a type of wine made from pecorino grapes that are grown in the Abruzzo region of Italy, home of my ancestors.  Maybe it is for that reason that I liked it.
However I didn't really care for the tuna…
Even though I've never been a fan of  ahi tuna, I gave this a try just in case this preparation was mind-changing.  But sadly it wasn't.  However, others in our group loved it so I passed my tuna on to one of them.
I was also a bit leery of our next course…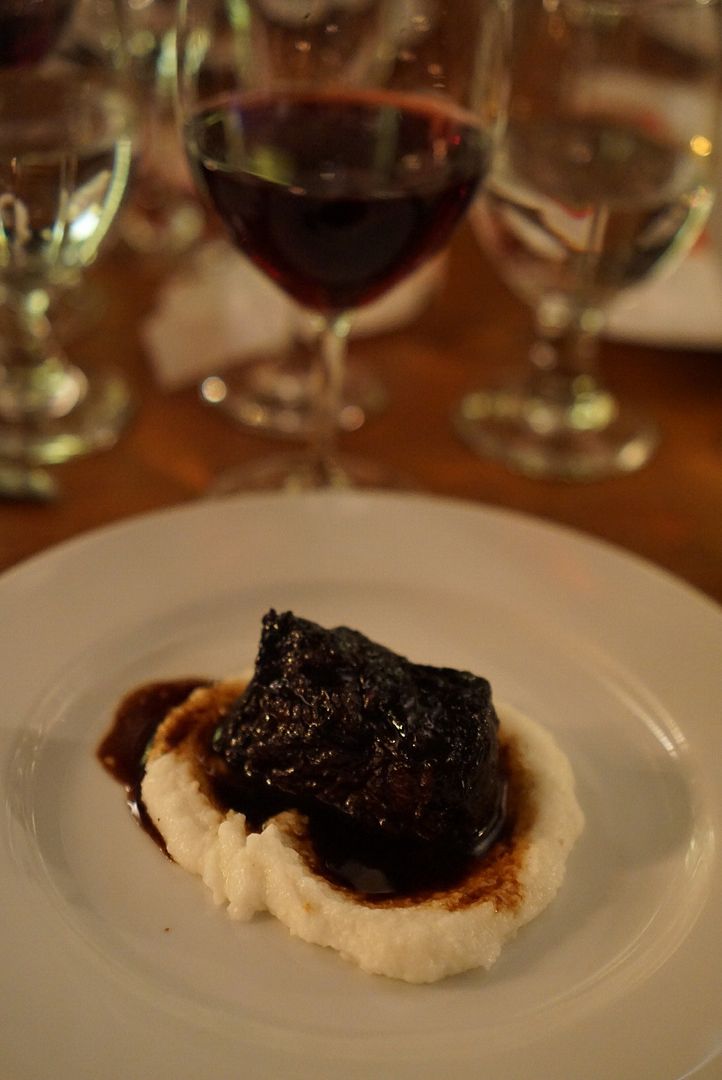 This was a braised short rib in a red wine sauce that was served on top of white polenta.  It was paired with the only red wine that was served at this luncheon, Batasiolo Barbaresco.  Now the reason for my apprehension is that more than once I've been served a short rib which was mostly fat…one of the most memorable being several years ago at Jiko.  However, thankfully this was not the case with this short rib…
It was not fatty, but still tender and flavorful.  I enjoyed both the short rib and the polenta.  I also really liked the flavor of the red wine sauce.  However, I didn't care for the red wine that was paired with this course.  But again, those in our group who prefer red wines really liked this wine.
I will mention here that this is a slow-paced lunch.  It began at noon and two hours later our 4th course of 5 was served.  This was perfectly fine with me.  However, Nicole's friends, Chrissy and Kevin, had a plane to catch so they had to leave at this point of our meal.  They accepted the offer to have their short rib dish boxed up to take with them.  They were also given cheesecake to take with them for dessert, as our scheduled dessert was still in their oven baking.
And speaking of our dessert, it was served at about 2:30, which was actually supposed to be the time at which this event ended.  However, this being my 5th time attending this lunch, I knew they usually ran longer than scheduled.
Now for our 5th and final course, the dessert…
Fresh out-of-the-oven Apple Fritters topped with a scoop of vanilla gelato.  Our dessert was paired with a sweet white wine, Fior d'Arancio Moscato.
And a closer look at the Apple Fritters…
This smelled wonderful.  This looked wonderful.  But sadly I was a bit disappointed with the taste.  The apples were a bit too "al dente" (aka undercooked).  So this wasn't bad (I really liked the gelato), but I was a little envious of the cheesecake that they had given to Chrissy and Kevin.  I suspect it was the same delicious cheesecake that I had had earlier in my trip at Tutto Italia…
Our lunch concluded at about 3:00 with the introduction of our chefs and kitchen staff and our show of appreciation with a round of applause…
So overall I enjoyed three of the five courses and all but one of the wines, therefore I was again pleased with this dining event.  I've visited every year during the Epcot Food & Wine Festival since 2014 and have attended many of the special dining events held during the festival.  This event is the only one that I've attended every year and remains my favorite.  Recently though the details of the 2019 dining events were released and I was shocked that the price of this Italian luncheon had been increased to $125 plus tax, more than a 25% increase over previous years.  I took a few days to think about whether I wanted to attend this luncheon for the 6th consecutive year and then decided to go for it.  However, as my show of protest, it will likely be the only one I will attend this year.  In past years I've done 3 or more of the special festival dining events each trip, but probably not this year.
Boo to 25% price increases Disney!!!