If you'd asked me 5 months ago (in early March 2021) if I was going to Disney World this year, I would have replied with guarded optimism, "Well, maybe in the Fall??" But then there was a series of events in March (and more importantly, people) who made this birthday trip possible for me. First I have my husband to thank for taking me on an overnight trip to Disney World on March 8th when we found ourselves in Florida on an unexpected trip. Even though Disney World is definitely not his thing he agreed to a very quick trip, because, "Happy Wife, Happy Life". This small taste of the pandemic-form of Disney World led me to believe that I could do it. I could spend a day at a Disney park while wearing a mask and still have a great time. But the fact remained that I was still not vaccinated. So was a longer Disney trip worth the risk of getting COVID? No, for me, not worth it. And vaccine appointments were still hard to come by in early March…gone within minutes after being released online by our county health department. I'd resigned myself to waiting for another month or two, when they would hopefully be more readily available. But then I received a series of texts from a dear friend on March 15th which encouraged me not to wait. That prompted me to look online for an appointment and much to my surprise, I was able to get my first dose the very next day!! Four weeks later, on April 13th, I would receive my second shot. Woohoo! Then my son, who was also fully vaccinated because of his work, pitched to me the idea of us going to Disney World to celebrate my birthday. I mean, I would be considered fully vaccinated two weeks after my second dose, which just happened to be my birthday. Sounded like fate, right? And so that's how this quickly planned birthday trip came to happen. Thanks again to my husband, my friend, my son, and most especially to the scientists who developed the COVID vaccine for making it possible!
Here are a few trip details:
Because this was my birthday trip, I splurged a bit and we stayed at Disney World's flagship resort, the Grand Floridian, for the first 3 nights of our week long trip. Then it was on to the Yacht Club, which has become my new favorite Disney resort…I think. Lol. We both had 6 day park passes and mostly just spent our mornings at the parks (one park per day, no park hopping), with afternoons back at our resort, and then went out in the evenings for dinner. Being at the parks when they opened in the morning (which was always earlier than their officially listed time), allowed us to do everything we wanted during the morning hours. However, with Epcot not opening now until 11:00, we did spend the afternoon at the park on our two Epcot days. In addition to visiting all 4 parks, we also spent two evenings at Disney Springs.
And so, here is what I will be reviewing in this trip report:
Table service Restaurants
Quick service Restaurants,Kiosks, and Lounges
Sleepy Hollow Breakfast (Magic Kingdom) – COMPLETE
Lunching Pad (now Cheshire Cafe) Snack (Magic Kingdom) – COMPLETE (see Sunday, April 25)
Spring Roll Cart Snack (Magic Kingdom) – COMPLETE (see Sunday, April 25)
Sunshine Tree Terrace Snack (Magic Kingdom) – COMPLETE (see Sunday, April 25)
Enchanted Rose Lounge Dinner (Grand Floridian Resort) – COMPLETE
Pongu Pongu Breakfast (Animal Kingdom) – COMPLETE
Gasparilla Island Grill Lunch (Grand Floridian Resort) – COMPLETE
La Cantina de San Angel Lunch (Epcot) – COMPLETE
Breakfast from the Boardwalk Bakery (Boardwalk) – COMPLETE
Yorkshire County Fish Shop Lunch (Epcot) – COMPLETE
A Few Flower & Garden Festival Booths (Epcot) – COMPLETE (see Wednesday, April 28)
Ronto Roasters Breakfast (Hollywood Studios) – COMPLETE
ABC Commissary Lunch (Hollywood Studios) – COMPLETE
Trolley Car Cafe/Starbucks Snack (Hollywood Studios) – COMPLETE
Gideon's Bakehouse Desserts (Disney Springs) – COMPLETE
Other Non-Food Stuff
Grand Floridian Resort & Boca Chica Standard Room #8522 (a dormer room, aka attic or gable room) – COMPLETE
Yacht Club Resort & Room #5210 (a corner room on the Club Level/top floor but with no Club Level services available) – COMPLETE
And so it began, on…
SATURDAY, APRIL 24 – (Was to be) OUR ARRIVAL DAY

(Grand Floridian)
"BEST LAID PLANS OF MICE AND MEN OFTEN GO AWRY" ~ Robert Burns (from the poem, "To a Mouse")
This quote is the perfect description for our first day, as our trip to visit a Mouse got off to a very bumpy start.
The Best Laid Plans: I'd spent the extra money for a non-stop flight from Chicago to Orlando to try and reduce our time on the plane and in the airport. Even though we were both fully vaccinated, I thought a direct flight would further reduce the COVID risk. So our Southwest flight was scheduled to leave Chicago at 3:05 p.m. (Central) and arrive at Orlando's MCO airport at 6:40 (Eastern). After landing I would retrieve my checked suitcase (Andrew brought only a carry-on bag), since they no longer do that for you as part of the Magical Express service, and then head as quickly as possible to the Magical Express bus station, located on the lowest level of Terminal B of the airport. Here our bus would magically appear within minutes after getting in line and whisk us away to Disney World, with its first stop being our resort, the Grand Floridian. We would arrive at the Grand Floridian with plenty of time to grab dinner from its quick service restaurant, Gasparilla Island Grill, before it closed for the evening. I already had my meal chosen, or at least narrowed down to two or three options…none of which were chicken nuggets. We would then head to bed early so we could get up very early and be on our to Magic Kingdom by 6:30 the next morning.
Sounds like a plan, right? A good plan, right? What could go wrong? Well, pretty much EVERYTHING!!
The Plans Go Awry: As we were driving to the airport, I got a series of text alerts from Southwest. The first one came in at around 11:00, about 4 hours before our flight was to depart. Instead of our flight leaving at 3:05 we were now not leaving until 7:30. So we wouldn't arrive until about 11:00 p.m. and Gasparilla Grill (as well as everything else at the Grand Floridian) would be closed. Bummer! I had just barely gotten the words out of my mouth to tell Andrew (who was driving) about our flight delay and the consequences to our dining plans, when I got another text saying our flight had been moved up to 7:15. And then 20 minutes after that a third text had our flight leaving at 6:45 and then 5 minutes later we were leaving at 6:10. Our departure time seemed to be moving back in the right direction. I was beginning to have hope. And then BAM! At noon I got a 5th text that our flight was cancelled. I was stunned.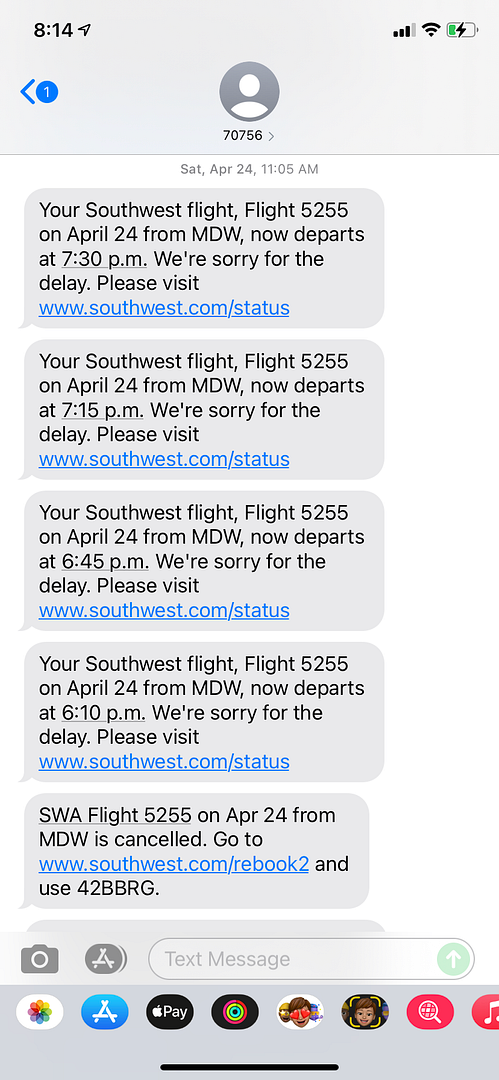 And before I could pull myself together and go to their link for the rebooking options, I got this text…
WAIT, WHAT?!?! Talk about adding insult to injury. They had rebooked us on a flight leaving at 6:15 a.m….THE NEXT DAY!!! To say I was unhappy would be an understatement. I immediately called Southwest and was put in a seemingly never-ending queue to speak to a representative. We had made a detour to a friend's house, where I borrowed a laptop to get on the Southwest website while still remaining on hold with them on my phone. At first all of the other many Southwest flights to Orlando that afternoon and evening were unavailable. I kept hitting refresh. There were then a few less than reasonable options made available, like one that connected in D.C. but left Chicago in just 20 minutes. Then another flight where we would fly to Dallas for a connecting flight to Orlando, where we would arrive at 1:00 a.m. I thought about it for a minute, but umm…NO! Then at about the 30 minute mark of being on hold, I refreshed my screen and an option popped up that I thought was doable. We would leave Chicago at 4:20 p.m. on a short flight to St. Louis, where we would have a layover of about 1 1/2 hours before boarding another plane to Orlando at about 7:00 p.m. that was to arrive at 10:15. So there would still be a good chance of being in our beds at the Grand Floridian by midnight. I'll take it! With our flight rebooked, I ended the (still on hold) phone call with Southwest and we hit the road again for the airport.
While en route to the airport's long-term parking garage I called Magical Express to give them our new flight information. The Magical Express representative I spoke to commented, "I hope the storm in Georgia has passed so that your new flight doesn't also get cancelled." Ahhh, so that was the reason for our flight's initial 4 1/2 hour delay, followed by a constantly changing departure time, and then ultimately being cancelled. It was a beautiful sunny spring day in Chicago and the weather in Orlando seemed equally good, so we hadn't really considered that the weather could be the source of our travel problems. When we arrived at our airport departure gate, we were surrounded by other travelers who were trying to get to various Florida airports. Many had also had their flights cancelled. Consequently this connecting flight (going through St. Louis) was completely full and I realized how lucky I had been to get us on it.
Before boarding the plane to St. Louis I received notification that our connecting flight from St. Louis to Orlando was being delayed, but only by 20 minutes. Normally a 20 minute delay would be no big deal, but this made me very nervous that our connecting flight from St. Louis would end up getting cancelled and we would get stuck overnight in St. Louis.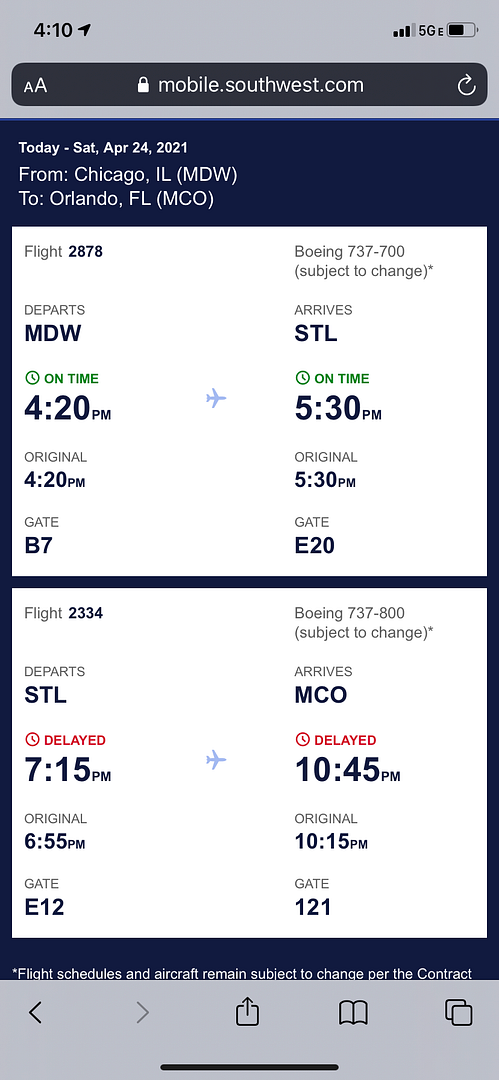 But thankfully my fear was unrealized. We used the layover at the St. Louis airport to get something to eat. So yes, the first meal of our trip was chicken nuggets from Burger King at the airport instead of something from the Grand Floridian's Gasparilla Island Grill. Boo!
Our full plane touched down at the Orlando airport at 10:00. Yes, that was 15 minutes earlier than it was originally scheduled despite our delayed departure from St. Louis…our pilot had booked it! The passengers (including myself) clapped and cheered upon landing, as we had finally made it to Florida. And thankfully, so did my suitcase. By 10:45 we were waiting in line for a Magical Express bus. We had been told that our approximate wait time for a bus would be one hour. Yikes! There was only one couple in our line, which was also for guests going to the Polynesian and Fort Wilderness resorts in addition to ours, the Grand Floridian. As we waited, we watched a few busses pull up and load guests from other, longer lines. Finally at about 11:30 our ride pulled into the station. I said ride rather than bus because they put the 4 of us on a 6 passenger Mears van. So no comfy seats or screens playing videos to welcome you to Disney World. Other than asking us where we were going (which was Fort Wilderness for our two fellow passengers) when we got into his van at the airport, our driver remained silent throughout our drive. It was kind of weird, but that was only the beginning of our weird Disney arrival experience. At 12:08 we had reached the Disney World arches and I attempted to take a photo, as I've often done before. This was the result…
It looked like something from the Twilight Zone, lol. Perhaps this was appropriate though given our current situation, which continued to be strange when our driver pulled into the entrance for the Wilderness Lodge, rather than Fort Wilderness. When the van came to a stop and he stood up to let the couple out, they told him that they were not staying here at the Wilderness Lodge but at Fort Wilderness. It took him a bit to comprehend his mistake and then he got back into the driver's seat and we were on the road again, with the next stop being ours…the Grand Floridian. (Hopefully the couple eventually made it to Fort Wilderness and aren't still stuck in the Twilight Zone, lol). So anyway, at around 12:30 a.m. we were walking through the eerily quiet lobby of the Grand Floridian. I've walked through this lobby hundreds of times but had never seen it so empty…
After stopping for a quick photo in the lobby we made our way out of the main building and onto the grounds of the Grand Floridian resort, in search of our assigned Room #8522 in Boca Chica…
Review of the Grand Floridian's Boca Chica (Dormer) Room# 8522
SUNDAY, APRIL 25 – OUR (Actual) ARRIVAL DAY & FIRST PARK DAY

(Magic Kingdom Park Reservation, Evening at the Grand Floridian)
Since we didn't reach our room at the Grand Floridian until after midnight, technically our arrival day was Sunday. After our arrival it took me awhile to unwind, get ready for bed and fall asleep. So I'd say I'd had about 3 hours of sleep before the alarm on my phone went off at 5:30 a.m…but it seemed more like a nap. My goal was to leave our room and be on our way to Magic Kingdom by 6:30. We only missed my goal by about 5 minutes, as we had located and walked the new pathway from the Grand Floridian to the Magic Kingdom and reached the line outside the entrance gates by a few minutes before 7:00. I heard someone say that the pathway was .75 of a mile, which sounds about right. From our room on the top floor of Boca Chica to the entrance gates of Magic Kingdom it took us 23 minutes (according to my FitBit). Though the official opening time for Magic Kingdom that day was 8:00, they actually started letting people in at about 7:00. By 7:15 we were in the park and had made our way down Main Street to take this selfie…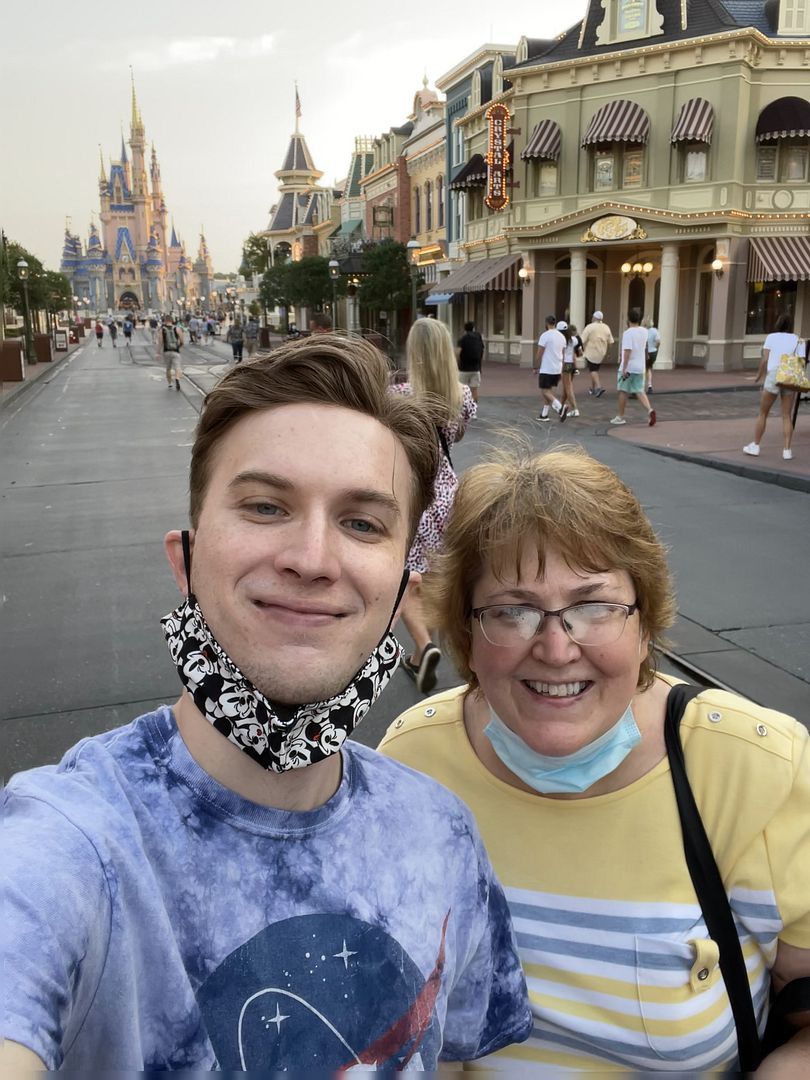 So we had 5 rides on our Priority List. Starting at 7:15 (45 minutes before the official park opening time of 8:00), how long would it take for us to ride these 5 rides?
Well we started in Fantasyland, where we entered the short line for Seven Dwarfs Mine Train at 7:23. Twenty minutes later we were on the ride and had this Photopass photo taken…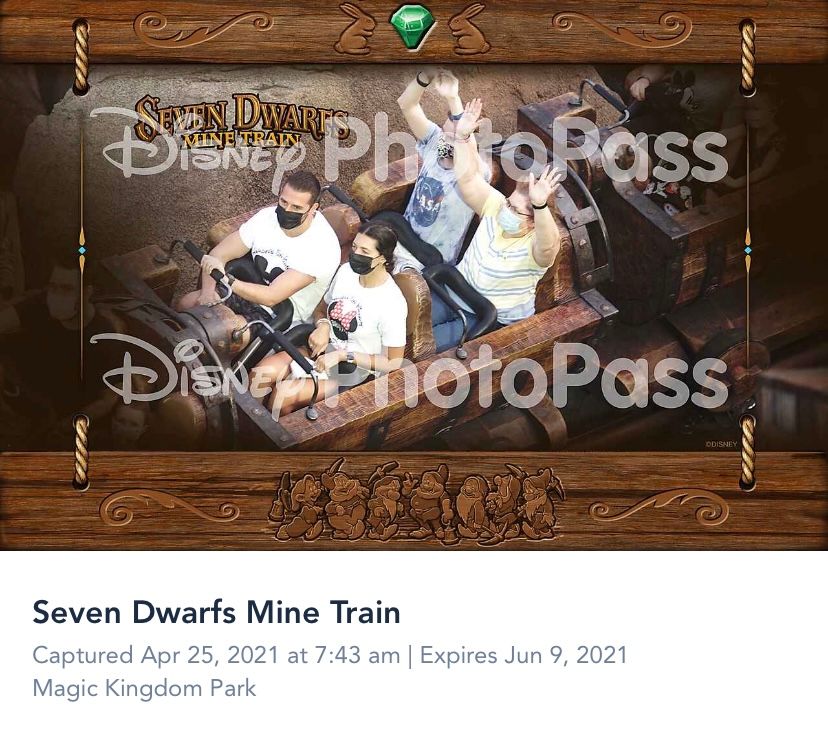 By 7:49 we were off the ride and headed towards Adventureland to ride Pirates of the Caribbean. Then by 8:20 we were in Frontierland and ready for our 3rd ride, Splash Mountain. Unfortunately it was not ready for us though, as the ride was not yet open. We decided to get in the short line of people that were waiting anyway, in hopes that it would open soon. This was a big risk but one that paid off, as Splash Mountain opened by 8:30 and we pretty much walked onto the ride. I barely had time to get my poncho on, but I'm so glad I did because we were seated in the front row of our flume…
It looks like Andrew is telling me a secret just as we are about to plunge into the water, like maybe, "Brace yourself, we are about to get soaked!" But he was actually just trying to protect his eyes from the splash, due to a problem he was having then with a contact lens. He did get soaked though and everything not covered by my rain poncho got wet as well. I remembered now why I hadn't ridden Splash Mountain for many, many years. But we had to go one last time before the theme changes from Song of the South to the Princess and the Frog. Perhaps I'll ride it again someday after the re-theming is complete…maybe? Lol
After a visit to the bathroom to remove his contact lens, we walked next door to our 4th ride, Big Thunder Mountain Railroad. By 9:22 we had ridden both BTMR and the 5th (and final) ride on our Priority List, Haunted Mansion…
By the way, the line for Haunted Mansion moved super fast because they had us walk through the Stretch Room without stopping.
So the answer to the question, "How long would it take for us to ride the 5 rides on our Priority List?" was only 2 hours and 7 minutes. We were pretty happy with our accomplishment so decided to celebrate by taking a break to have breakfast from Liberty Square's…
During our break we decided which ride we would like to do next. So after finishing our waffle we headed to Tomorrowland to ride Buzz Lightyear…
Sorry about the blurry photo but I just had to include it to commemorate the first time that I beat Andrew on this ride. However, full disclosure, you may remember that he'd removed one of his contacts earlier so it wasn't exactly a fair fight since he had just one good eye. lol.
So by now it was about 10:15 and we found ourselves very close to the Lunching Pad. At the time of this trip the Cheshire Cafe in Fantasyland was not yet reopened but their famous Cheshire Cat Tail was "temporarily" available at the Lunching Pad…but only until 10:30 in the morning. So I talked Andrew into sharing this with me…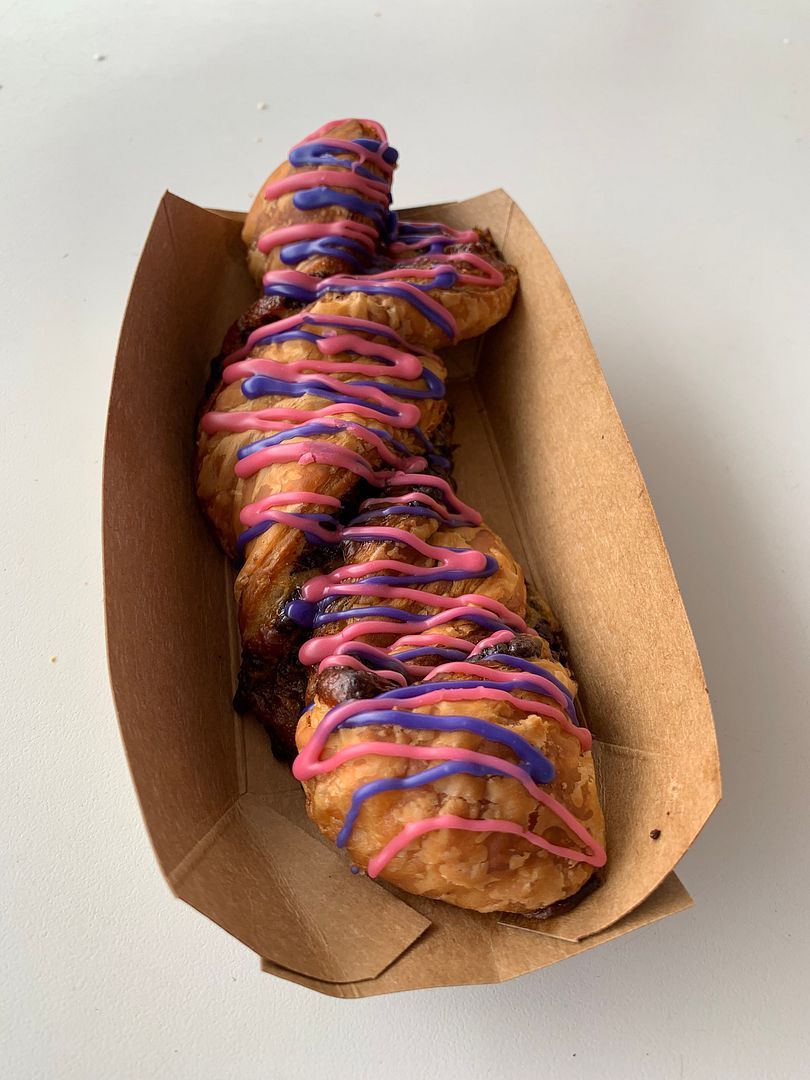 Cheshire Cat Tail – $5.49
This is described as a puff pastry twisted with chocolate and drizzled with pink and purple icing. I would describe it as a dry croissant filled with mini chocolate chips that looks good in photos because of its pretty icing. So this was another strike out for me and I was now 2 for 2 to begin this trip. But at least I got to mark off another one from my Wish List and I have a cute photo to post on Instagram, lol.
Note that the Cheshire Cafe reopened in July so if you would like to try the Cheshire Cat Tail for yourself you will need to head there. It is no longer available at the Lunching Pad in Tomorrowland…but I see they still have the Cream Cheese Warm Stuffed Pretzel there. This is another thing on my Wish List to have again, since I've not had one in more than 6 years…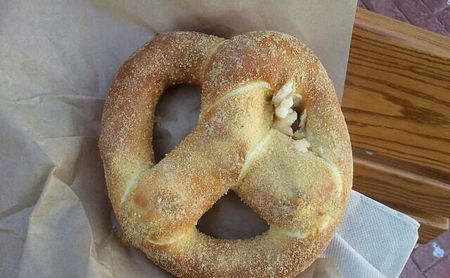 I think I got this one at a kiosk in the American pavilion area at Epcot back in 2015, but sadly they've not been available there for a long time. Does anyone know if you can find these anywhere else at Disney World? Anyway, maybe on my next trip I'll get to the Lunching Pad to mark this off of my list.
While we were sitting at a table near the Lunching Pad, I casually mentioned to Andrew how close we were to the Carousel of Progress. Ok, truth be told, I pleaded with him to come with me to see the show. I love it, but Andrew…not so much. But he gave in to his mother's pleading…
This classic Disney World attraction opened at Magic Kingdom in 1975. So although it wasn't there on opening day, October 1, 1971, it has been around for a very long time. And the song…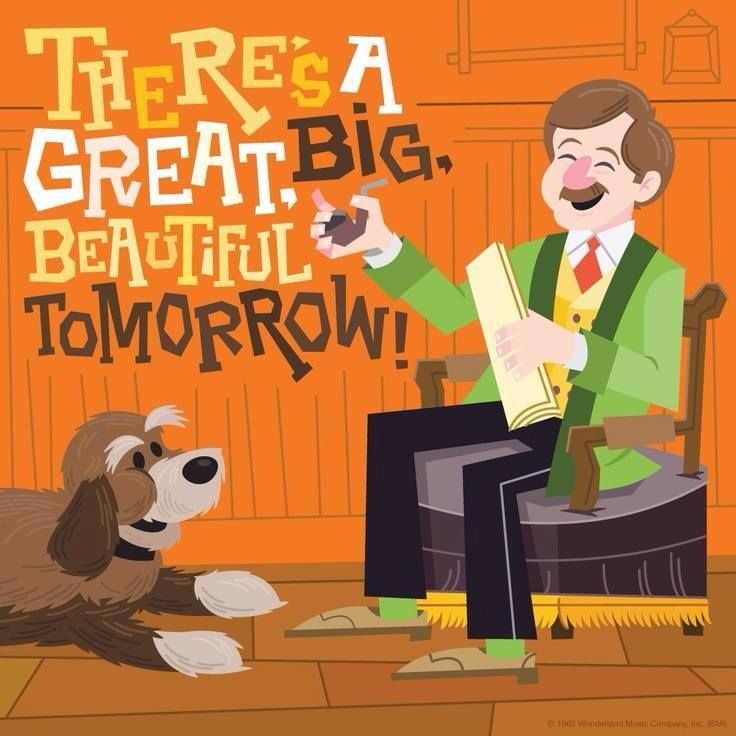 Yes, yes…it's an earworm but I love it. And who can leave this show without a big smile on their face? Well, not me…until we walked outside and it was pouring down rain. So we, along with several others who had exited the theater, took cover under the awning of the CoP building and waited out the rainstorm. When it finally slowed down to a drizzle, I put on my rain poncho and we made our way over to Fantasyland to ride It's a Small World…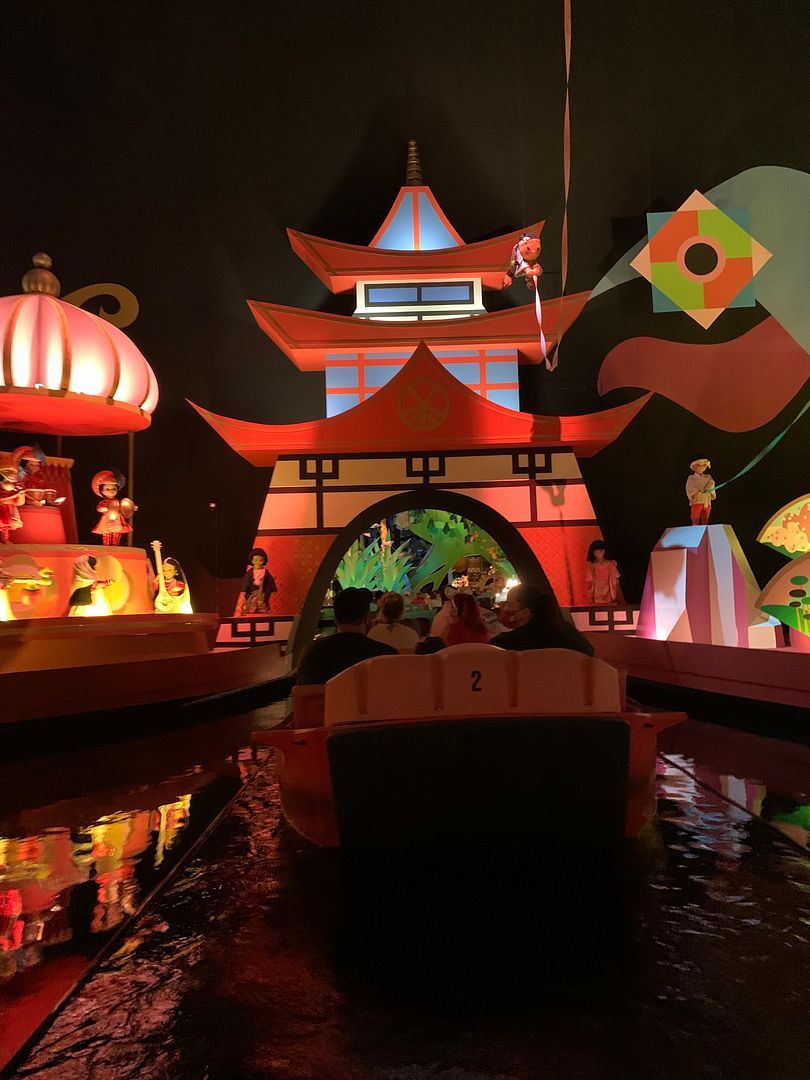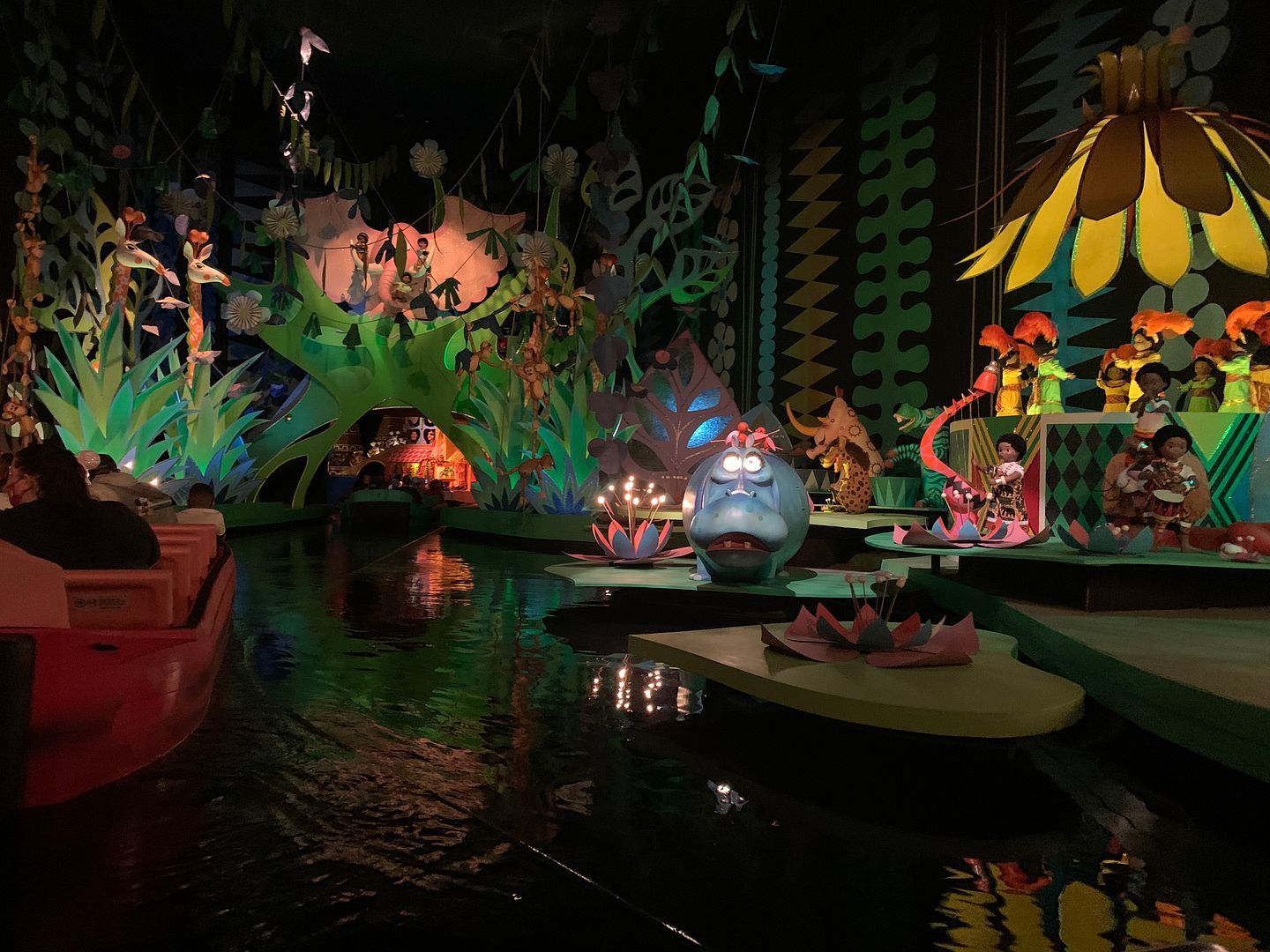 Yes, back to back attractions that were part of the 1964 World's Fair and again another earworm for a theme song. Haha!
While we were in line for It's a Small World, a line which extended outside in front of the building, it started raining harder again. Andrew didn't have a poncho or umbrella so he got pretty wet. By the time we finished riding IASM it was almost noon. Our lunch reservation was not until 2:35 so Andrew asked if we could return to our hotel for a change into dry clothes before lunch. I too wanted to change socks, as mine were annoyingly wet.
Though the rain had stopped, the sky still looked threatening so we decided to take the resort monorail back to the Grand Floridian rather than risk getting caught in another rainstorm while taking the walkway.
The monorail had been modified due to COVID concerns. Once inside we found that the seating was divided into sections, with plastic distancing barriers separating groups of guests…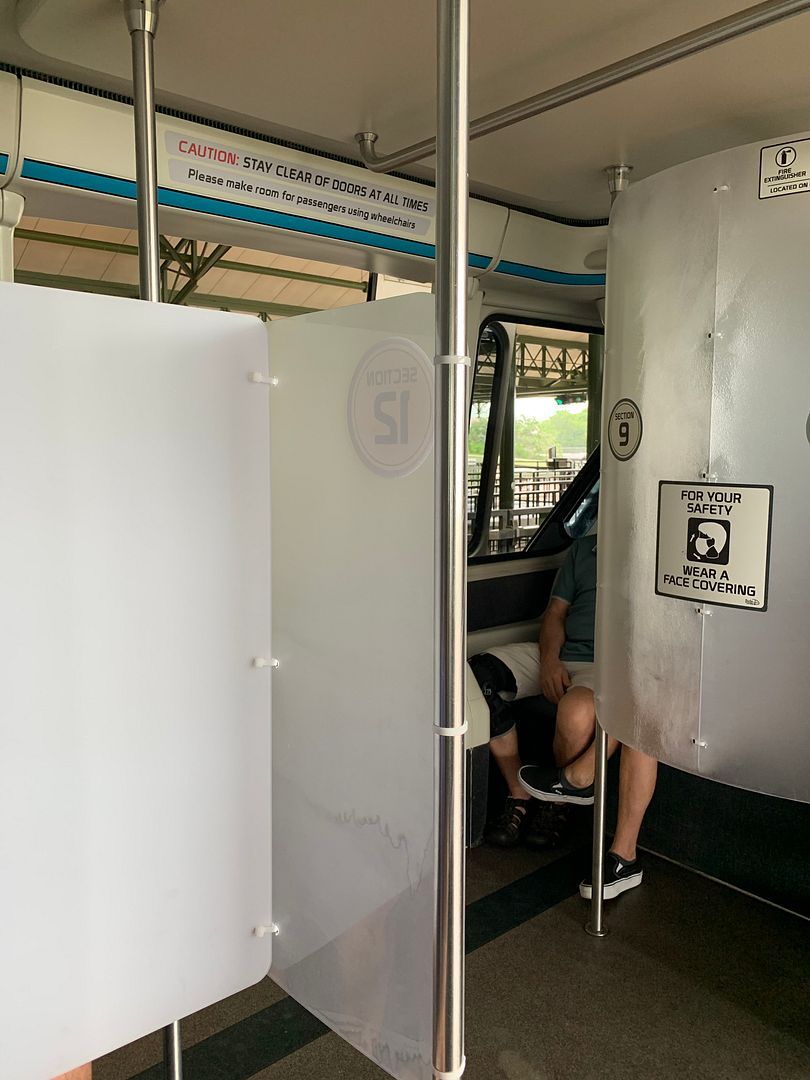 I actually kind of liked this, but I read that the dividers were removed in June. But anyway, after just two stops (Contemporary and the Transportation & Ticket Center), since the Polynesian monorail station was under construction and closed, we arrived at our resort, the Grand Floridian. Once back in our room we changed into dry clothes and relaxed for just a bit before heading back to Magic Kingdom. We again took the monorail, with the first stop being Magic Kingdom.
By about 1:40 we were back in the park, where we immediately ran into Tinkerbell rounding the circle at Town Square and spreading some pixie dust…
As we were making our way towards Skipper Canteen (our lunch destination) I spotted the Spring Roll cart to the right, just before the main entrance to Adventureland. I had read that it was open only on the weekends at that time. With this being a Sunday, the cart was open for business and there was a line of customers…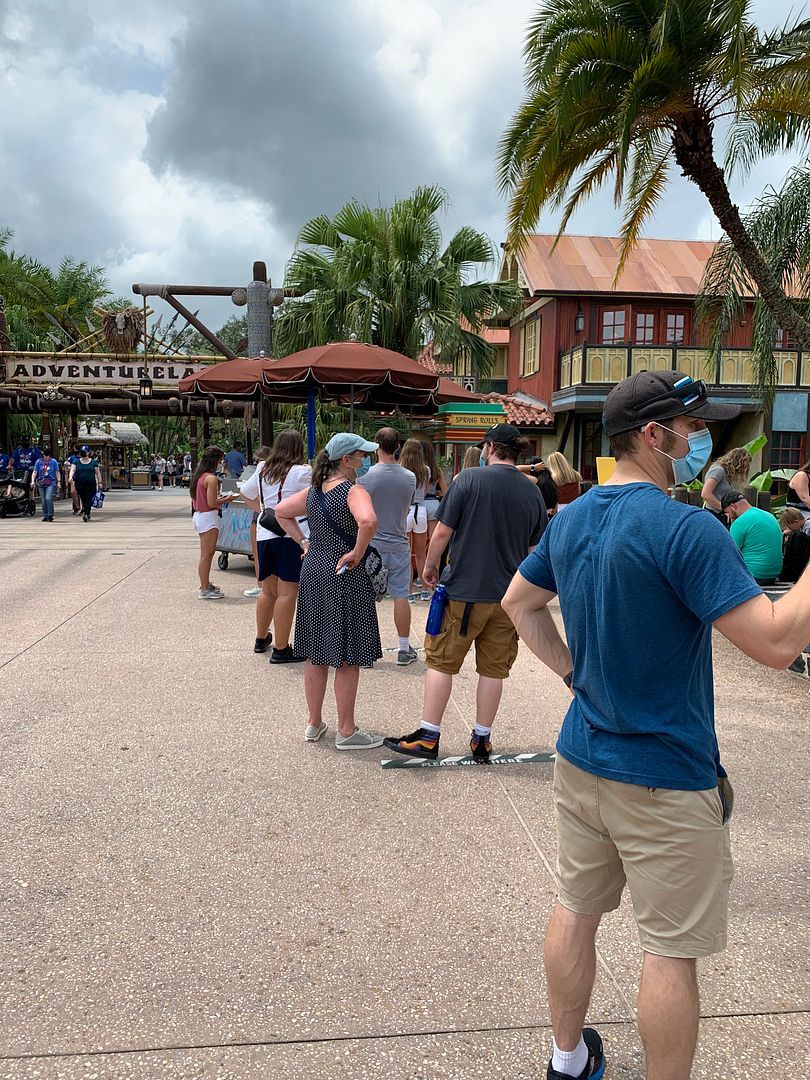 One of my favorite things served at the Fireworks Dessert Parties that I'd attended on past trips were the Cheeseburger Spring Rolls, which is what is sold at this cart. To my knowledge this is the only place in all of Disney World where they can be purchased. In addition to Cheeseburger Spring Rolls, they also have a second type. In April when we were there it was Pepperoni Pizza Spring Rolls…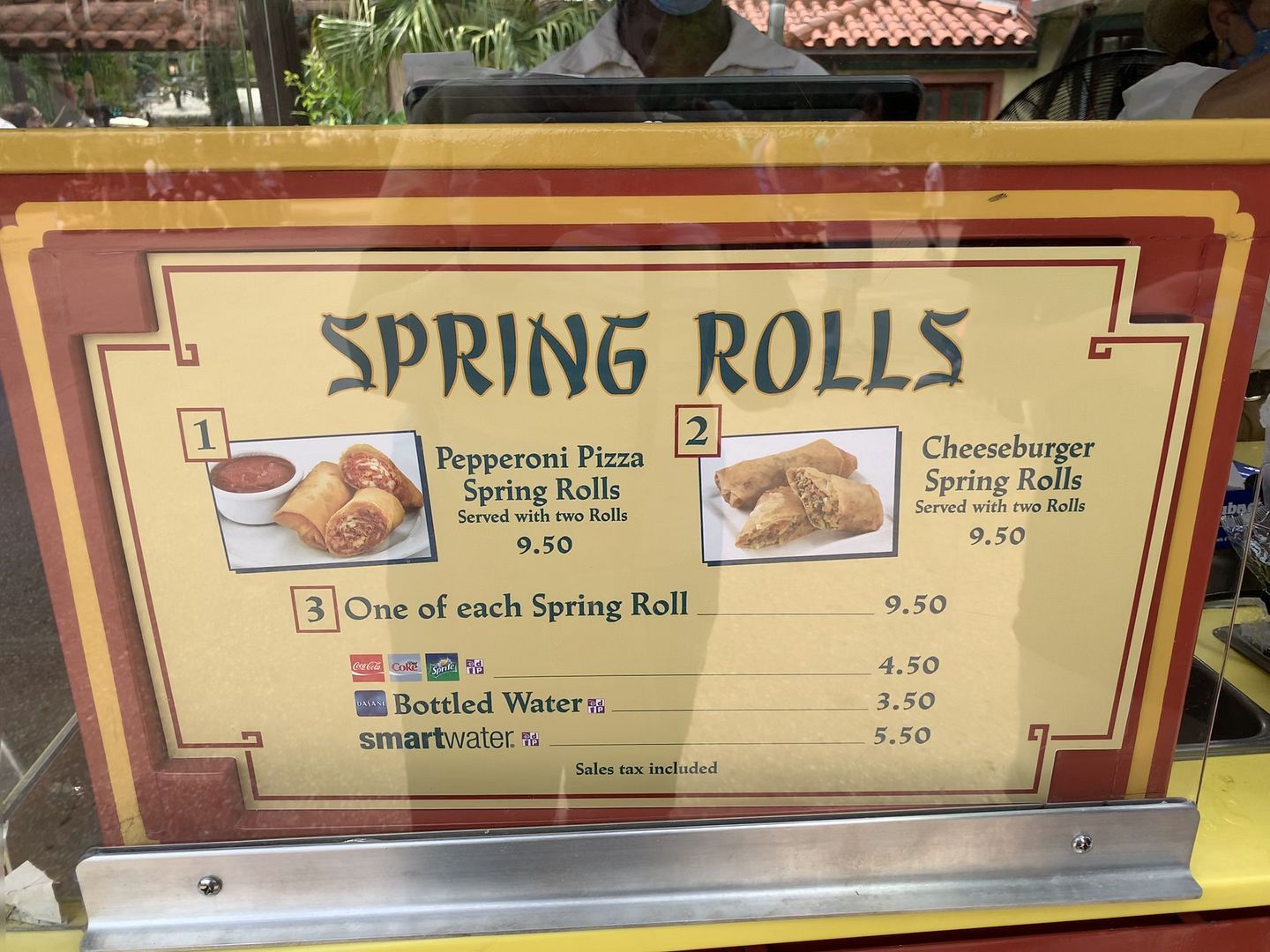 NOTE: In early June the Pepperoni Pizza ones were replaced by Buffalo Chicken Spring Rolls.
I decided to order the #3 option, which was one of each Spring Roll…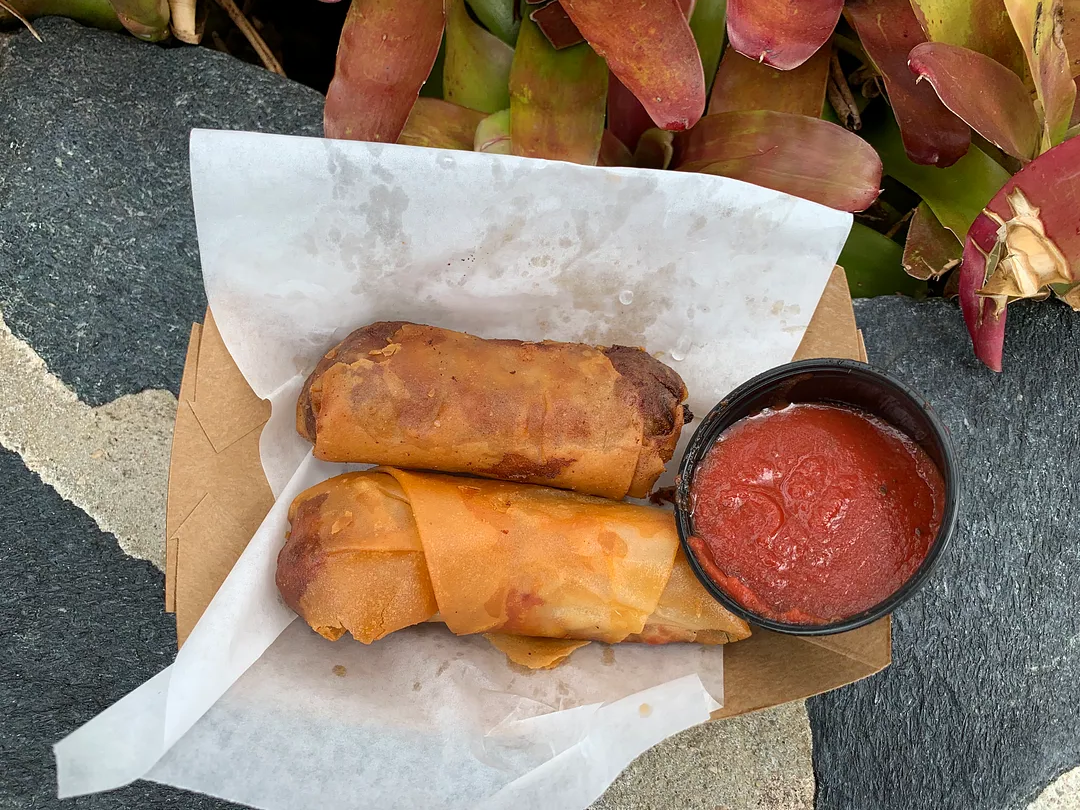 I asked for their special mayo-based sauce but was told they were out of it. So instead we got the marinara sauce. We found a place nearby the cart to eat our spring rolls and when we were nearly done a Castmember from the cart brought over a container of the other sauce, as apparently their supply had been replenished. I thought this sauce was very good with the Cheeseburger Spring Roll but preferred the marinara sauce with the Pepperoni Pizza one. As for the spring rolls themselves, we had a difference of opinion. While I preferred the Cheeseburger (and thought the pepperoni was more greasy), Andrew liked the flavor of the Pepperoni one more. But the real question regarding these is whether or not they are worth their $9.50 (for 2) price? The results of a survey done by the Disney Food Blog after a $2 price increase last spring were that 71% of their readers said that these were not worth $9.50. And I probably would agree with the 71% majority on this one. However, the line of people at this small cart seemed to prove otherwise soooo, as always, YMMV.
A few minutes after 2:00 we reached the check-in desk at the entrance to Skipper Canteen restaurant. We asked if we could check in (about a half hour) early for our lunch reservation and were told the earliest we could do so was 20 minutes before our reservation time of 2:35. So we found a seat near the restaurant and waited out the 10 minutes before we could check in for…
Our Lunch at Jungle Navigation Co. LTD Skipper Canteen
After leaving Skipper Canteen at around 3:30 we checked on the Jungle Cruise wait time. At 30 minutes that was the shortest we had seen all day so we got in line. About 20 minutes later we were boarding a boat for our river cruise…
And then, let the skipper's jokes begin…"As we enter the Nile River you will notice it goes on for niles, and niles, and niles, and if you don't believe me you are in denile." Ha, ha.
After our cruise we were ready for dessert. I had two picked out (both in Adventureland) and I let Andrew choose which one we would get to share. My first choice was a Pineapple & Coconut Swirl Dole Whip from Aloha Isle, as it sounded like a non-alcoholic version of a frozen pina colada. I've had several versions of the Dole Whip including the regular Pineapple, the Pineapple & Vanilla Swirl, the Pineapple Upside Down Cake topped with Pineapple & Vanilla Swirl, the Pineapple Dole Whip Float, and the Boozy Dole Whip with Coconut Rum, with my favorite being the Pineapple & Vanilla Swirl (and the Upside Down Cake being a close 2nd). But I had yet to try any of the other Dole Whip flavors like coconut, orange, raspberry, etc. so I was thinking this might be a good opportunity to do so. With that in mind, the second option I gave to Andrew was a float from Sunshine Tree Terrace which included orange-flavored Dole Whip.
And that is what he chose…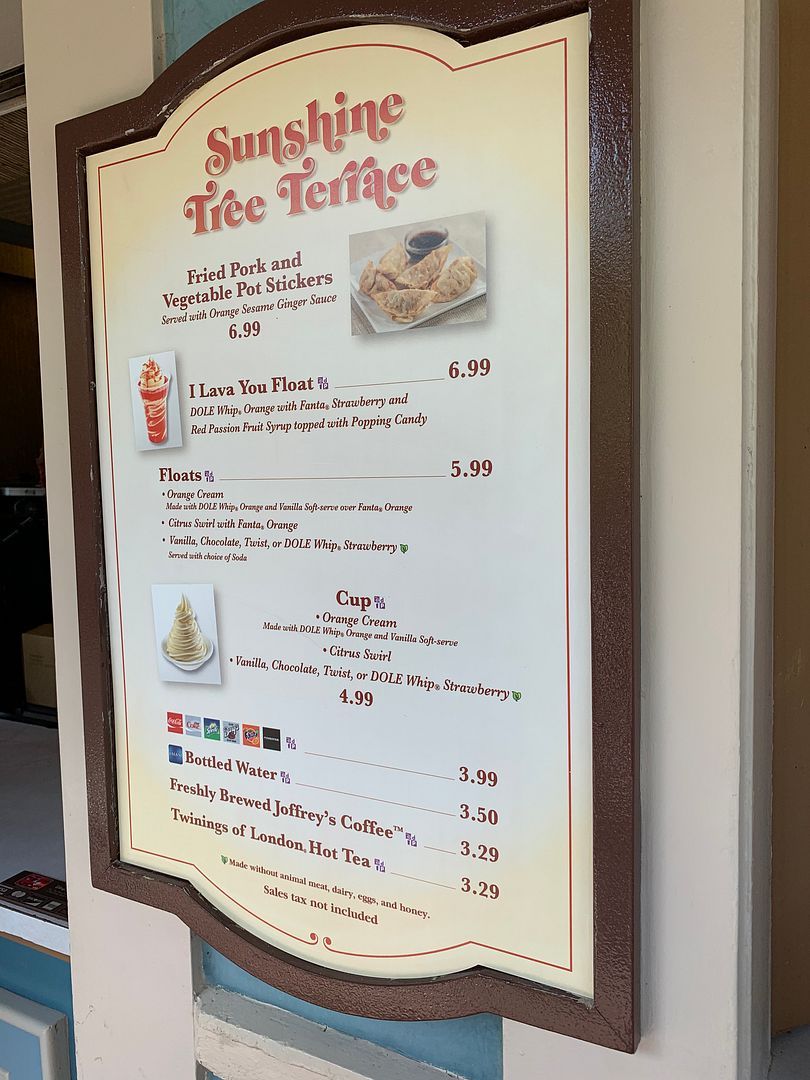 Somehow we forgot to take a photo of this (I think I thought he had and vice versa) but here is a great photo I found online on the Touring Plans website…
I Lava You Float with Fanta Strawberry Soda and Passion Fruit flavor served with DOLE Whip Orange and topped with Popping Candy – $6.99
This was delicious…so cold and refreshing on a hot day! It had been many years since I'd had Fanta Strawberry Soda and I'd forgotten how good it is. While I still prefer pineapple-flavored Dole Whip, the orange is a great alternative.
By about 4:30 we were done with our float and ready to call it day. As we were leaving Adventureland to make our way out of Magic Kingdom we came across the Royal Princess Processional on Main Street.
First was Merida on her horse…
Then Tiana, with Belle behind her…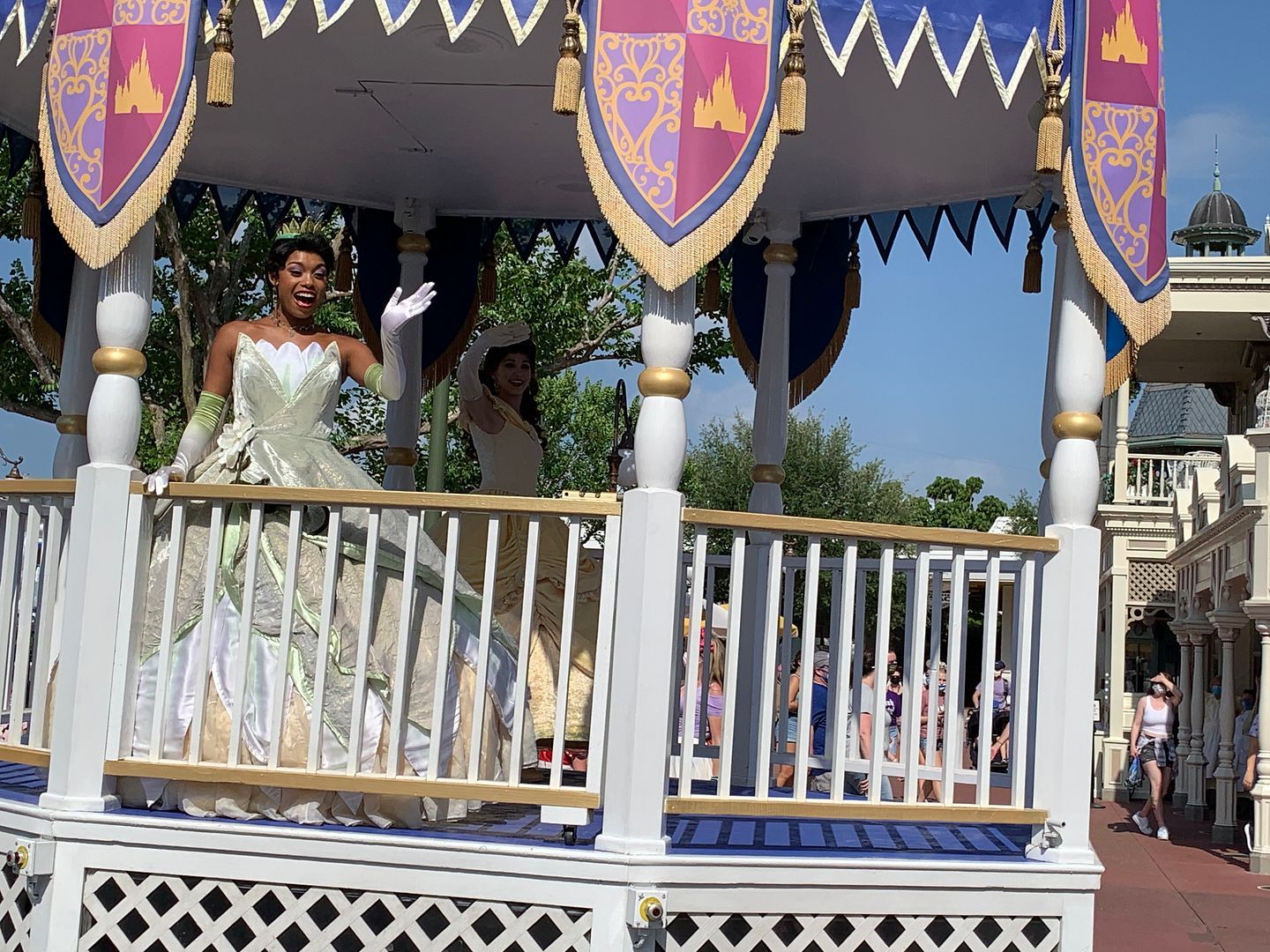 Snow White, Aurora, and Arielle…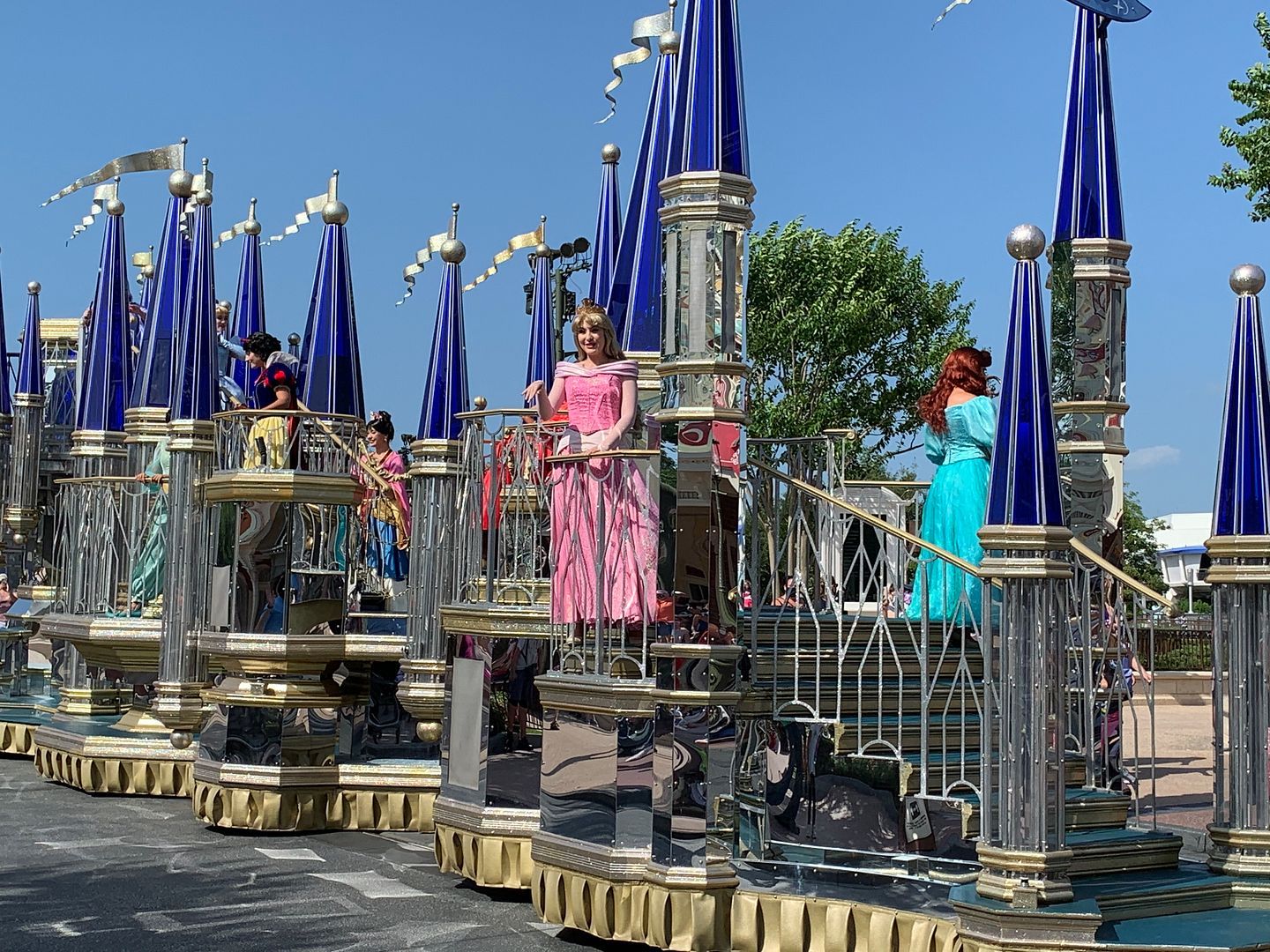 Mulan and Cinderella…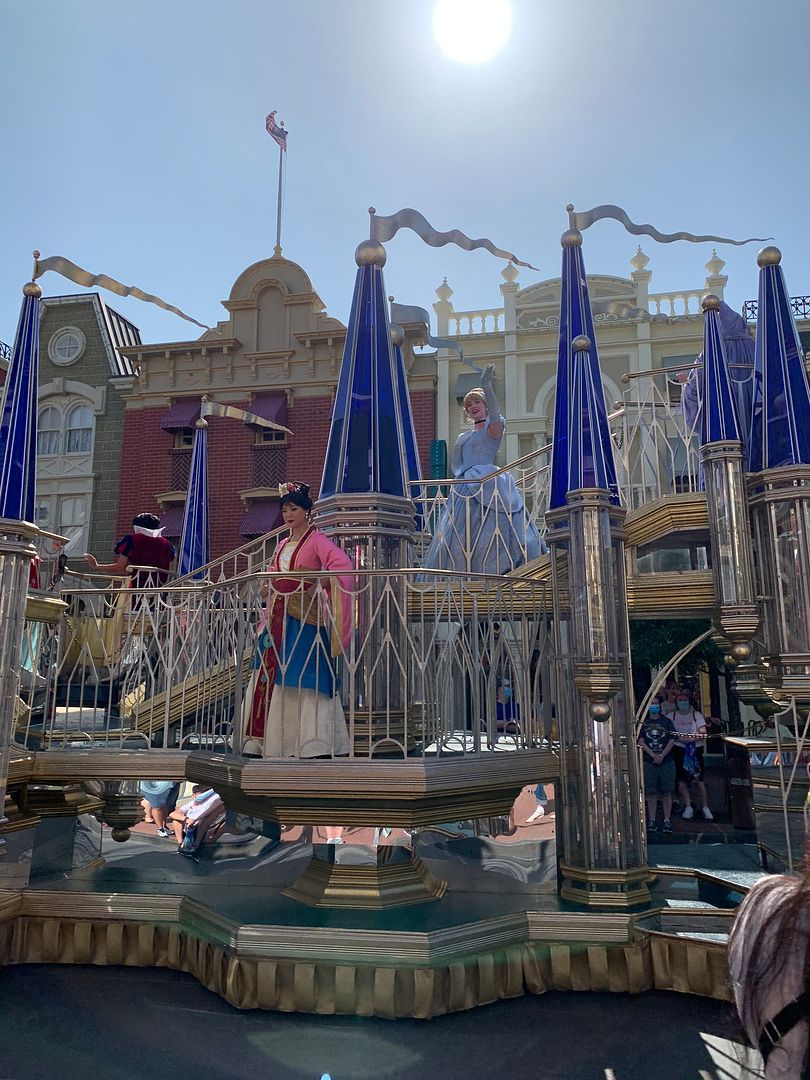 Jasmine and Elena to her right (although I didn't get a very good photo of her)…
THAT'S A LOT OF PRINCESSES!!!
And then as an added bonus we saw Pooh, Eeyore and Piglet waving from above as we exited through the train station. But where was my favorite, Tigger???…
So my original plan was to do monorail resort crawl for dinner. Start at the Contemporary's California Grill Lounge for an appetizer, another appetizer at the Polynesian's Tambu Lounge and then end with dessert at Narcoossee's at the Grand Floridian (where I was able to get a 9:20 just the day before). But we were both way more tired than hungry so we decided to go back to our room for a nap instead of going to either the Contemporary or Polynesian.
After we napped we discussed our options and decided to have dinner right there at the Grand Floridian's…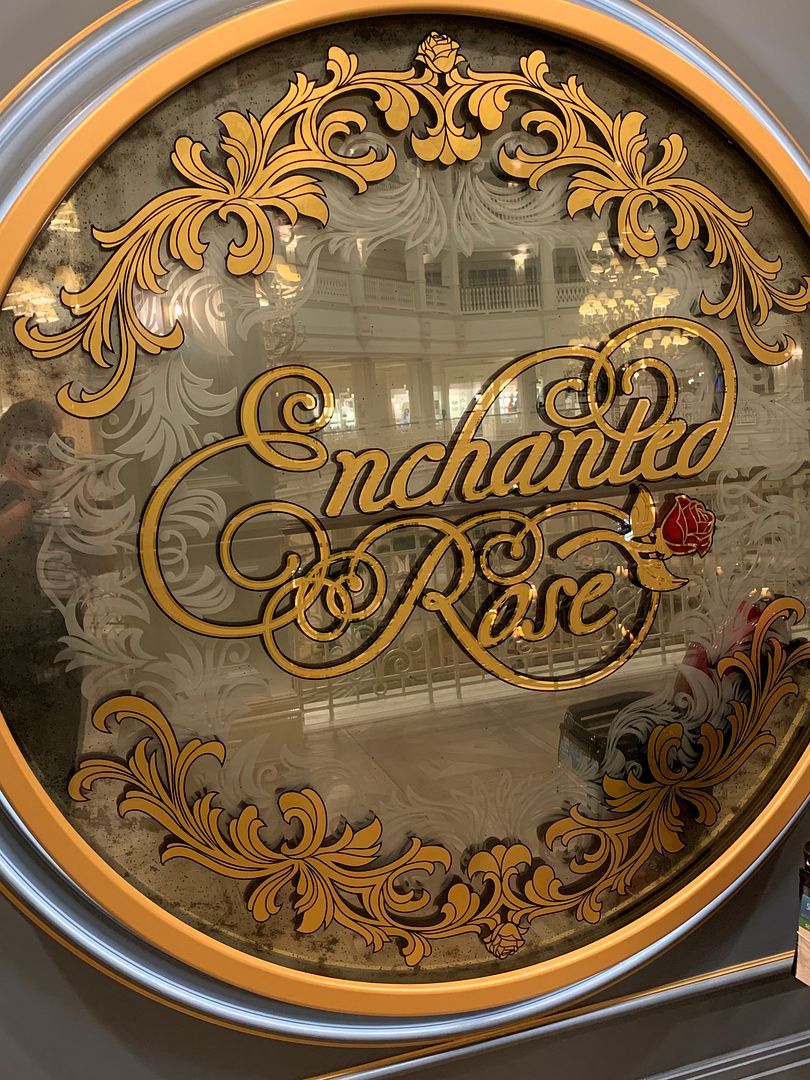 Our Dinner at the Enchanted Rose Lounge
By the way, as we walked through the lobby on our way to the Enchanted Rose Lounge we saw the pianist performing…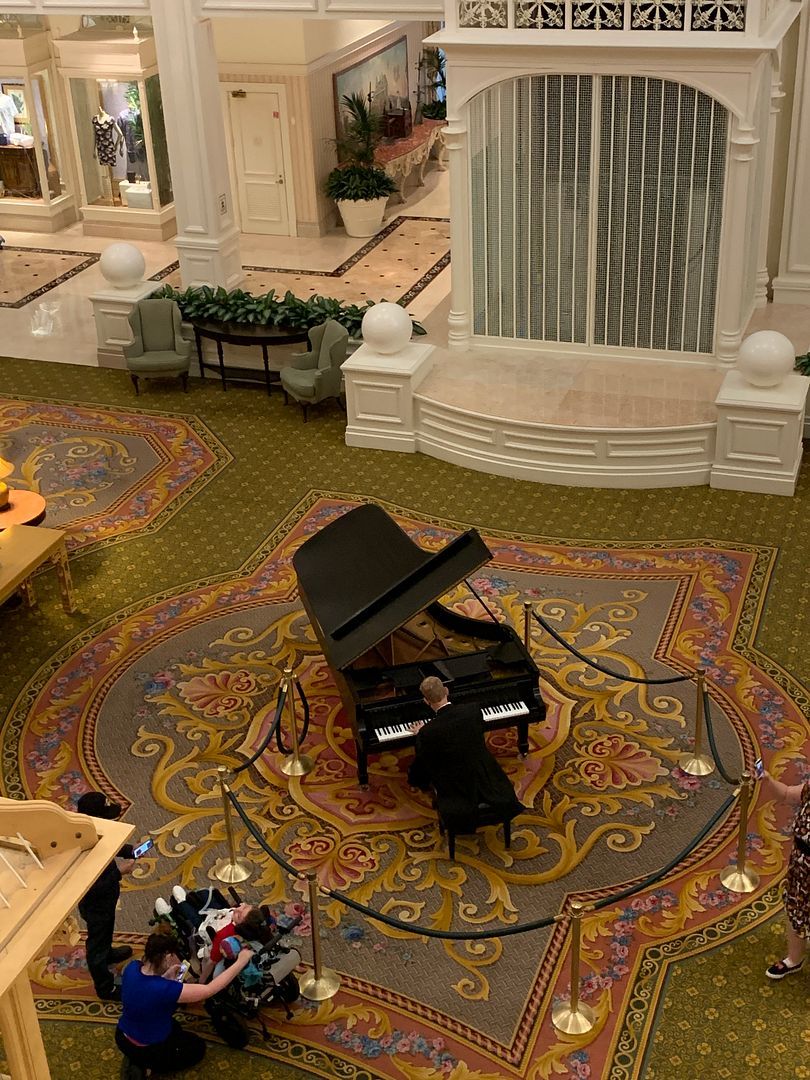 I wasn't sure if this live entertainment had survived the COVID cuts, so was happy to see him playing.
After leaving the lounge, we made our way downstairs and then outside, where we followed the path down to the water to our next destination…
Thankfully it was a very short walk back to our room in Boca Chica, one of the two buildings next to Narcoossee's. And speaking of walking, my step count for the day (per my FitBit) was 18,678 and I had walked 8.01 miles. This would end up being my second highest step count for the week and the longest distance.
.
MONDAY, APRIL 26 –

Animal Kingdom Park Reservation, Grand Floridian, Disney Springs
It was another early morning, getting up at about 5:30 to try and make it on the first bus that arrived at the Grand Floridian to take guests to Animal Kingdom, which was at about 6:45. It was actually still dark outside at 6:11 a.m. when I took this photo from the balcony of our room…
As we were about to board the bus to Animal Kingdom, Andrew realized he forgot to put on his Magic Band (which was linked to his park ticket). We decided to go without it and figure out a Plan B along the way to get him into the park. Once seated on the bus I remembered that I'd read that Disney World had recently started a new service called Disney MagicMobile. Guests could create a Disney MagicMobile pass through the My Disney Experience app and add it to their smart device's digital wallet. Andrew was quickly able to do this during our bus trip and then was able to use his iPhone to enter the park once we got there. Instead of tapping his Magic Band, he tapped the touchpoint at the entrance gate with his phone. He loved being able to do this because, while he had trouble remembering to put his Magic Band on, he never goes anywhere without his phone. haha! Also, at this time he was only able to use the digital pass to access his park ticket and park reservation but now it can also be used to charge purchases to your room if staying at one of Disney's resorts. So I doubt that he will ever wear a Magic Band again!
So anyway, our bus arrived at Animal Kingdom a few minutes after the park opened, which I believe was at 7:00. However, the official opening time for the park that day was 8:00. So just like the day before at Magic Kingdom, the park had actually started letting guests in a full hour before the official opening time.
Once in the park (shortly after 7:00) we immediately made our way to Pandora, where at 7:16 we took this selfie…
Then it was on to the line for the Avatar Flight of Passage, my favorite Disney World ride. The line moved very quickly and by 7:26 we'd reached lab with Jake in the tank…
About 10 minutes later we were in this pre-show room…
Before COVID there were actually two pre-show areas, but one of these was now skipped to help maintain social distancing.
After our (much-loved) banshee ride it was on to the nearby Na'vi River Journey ride, where we got in line at 7:59. Though the line looked long, it moved very quickly and we were on a boat within about 10 minutes. At 8:14 I took this blurry photo of the singing Shaman…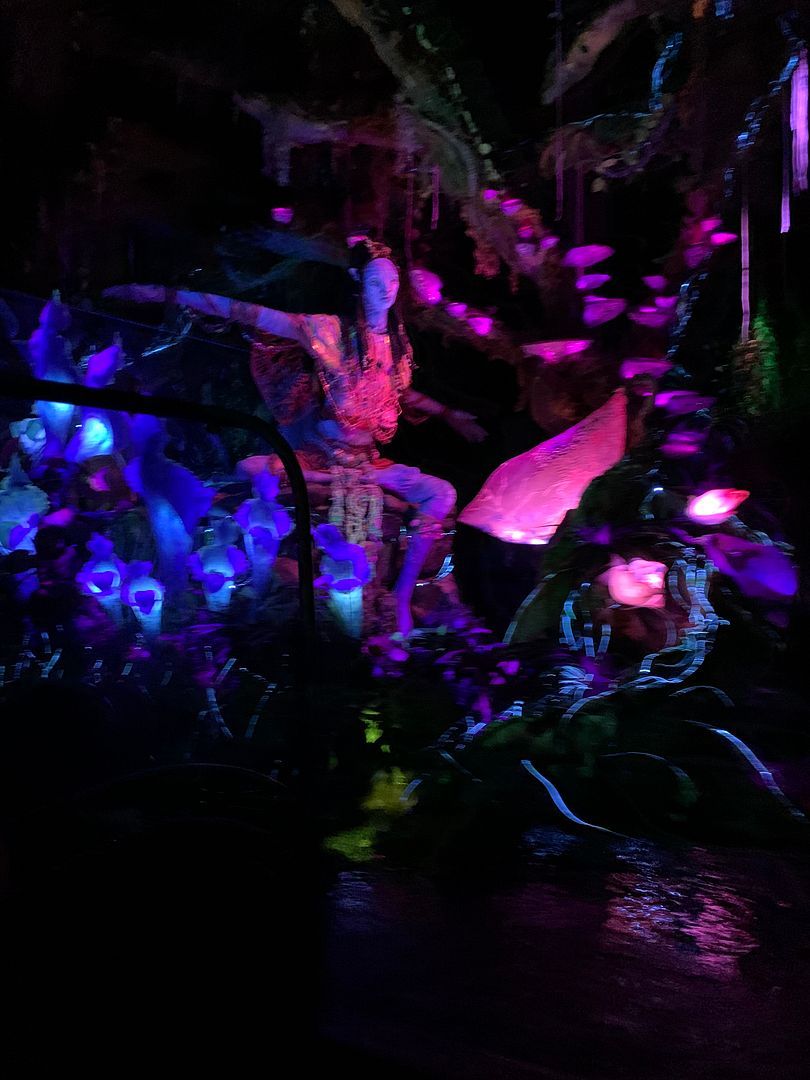 I've heard this amazing animatronic has been malfunctioning lately and yesterday (Sept. 6, 2021) he was missing from the ride, replaced by an on-screen version of him. Hopefully he gets fixed and is back soon, as he is my favorite part of this ride.
We then left Pandora and headed to Asia to ride Expedition Everest, which was a walk-on. At 8:33 this PhotoPass photo was taken of us…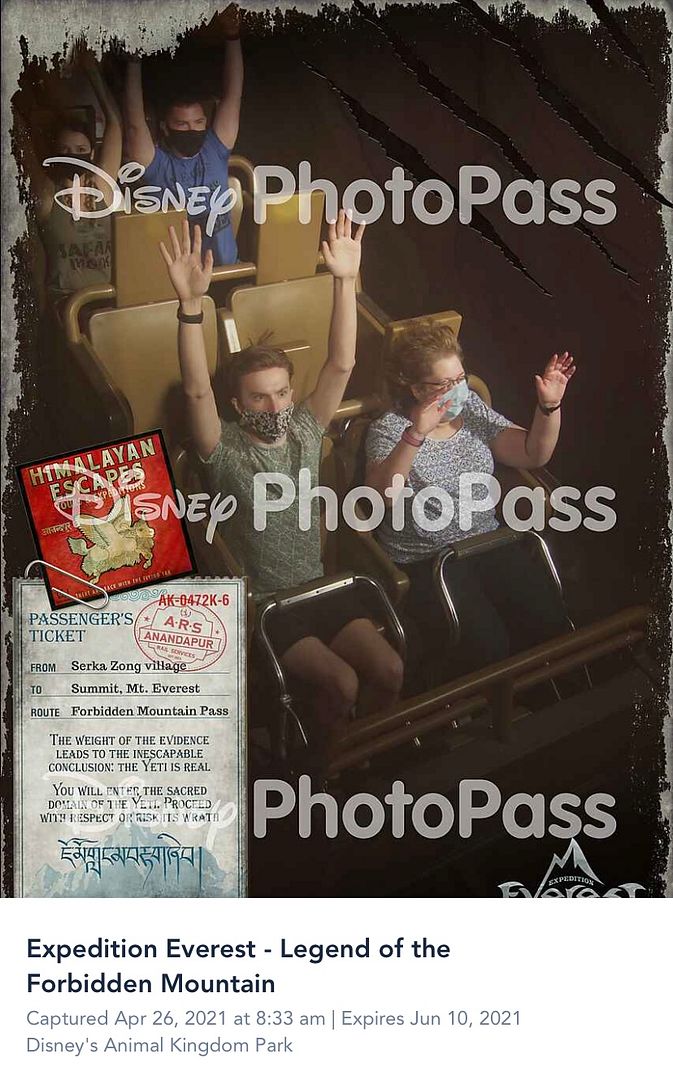 There was still no line when we got off so Andrew talked me into a second ride, so at 8:39 this PhotoPass photo was taken of us…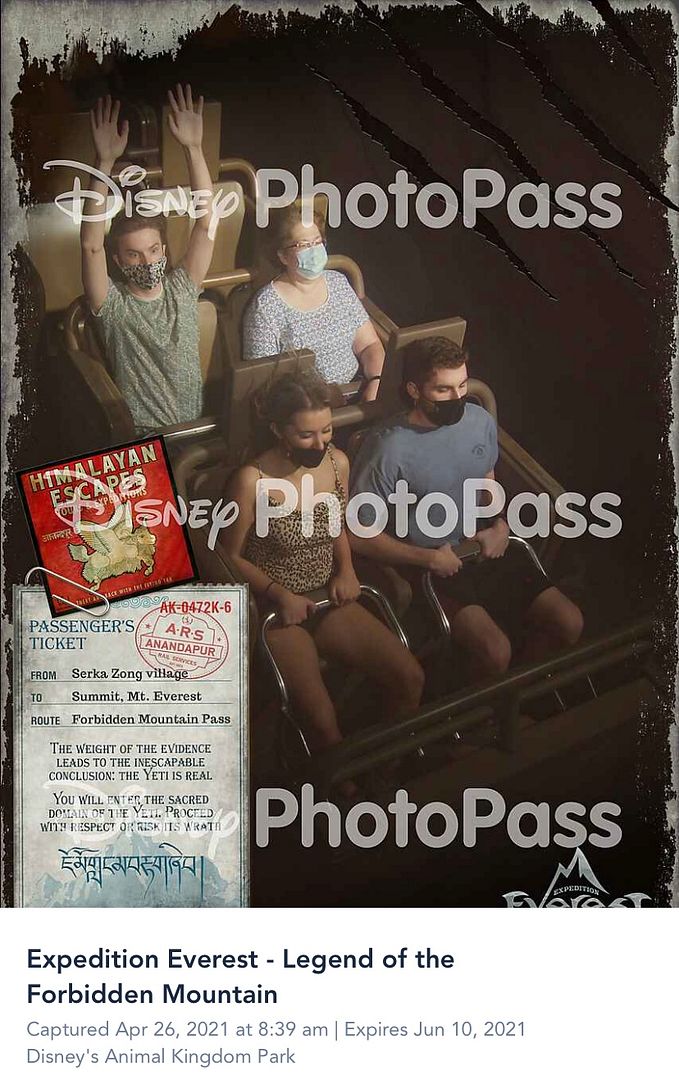 We could have easily done a third walk-on ride but I'd had enough brain scrambling for one morning, lol. I recalled doing this ride 3 times in a row with Andrew on a previous trip and it taking me awhile to recover from it. Luckily he was hungry though, so he didn't put up much of a flight for Expedition Everest – Round III.
So by 9:00 (about 2 hours after we'd entered the park and 1 hour after Animal Kingdom had officially opened) we had returned to Pandora (where the Avatar FOP now posted a wait time of 110 minutes) and had gotten our breakfast from a quick service kiosk there.
Our Pongu Pongu Breakfast Review
After taking our time eating breakfast it was around 9:30 and we checked the wait times on the MDE app…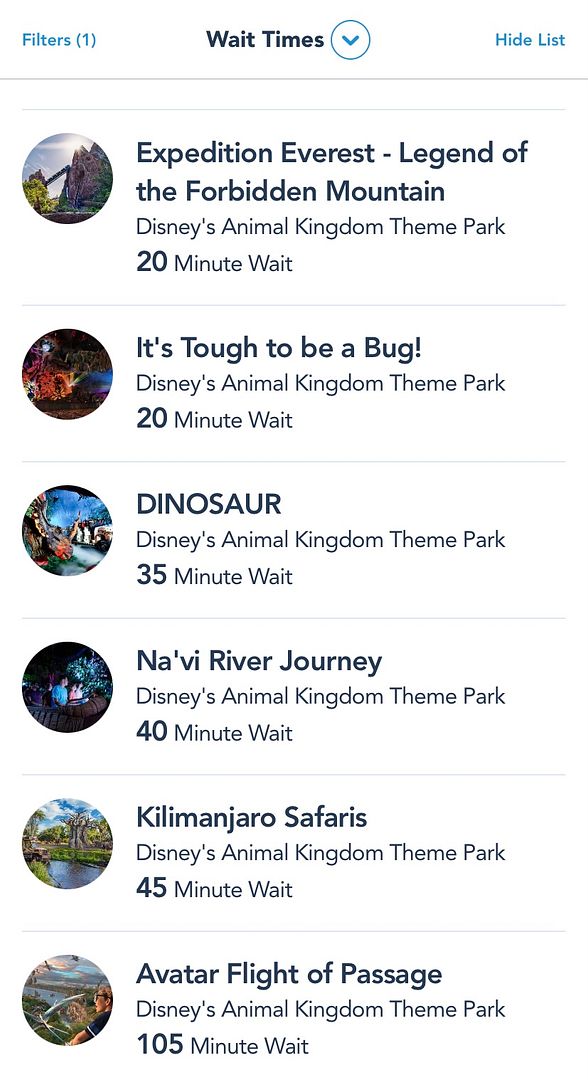 While we both wanted to ride Avatar again, we didn't want to wait 105 minutes to do it a second time. With Andrew having some remote computer work to do today, we decided to call it day and head back to our resort.
We boarded an empty bus at about 10:00…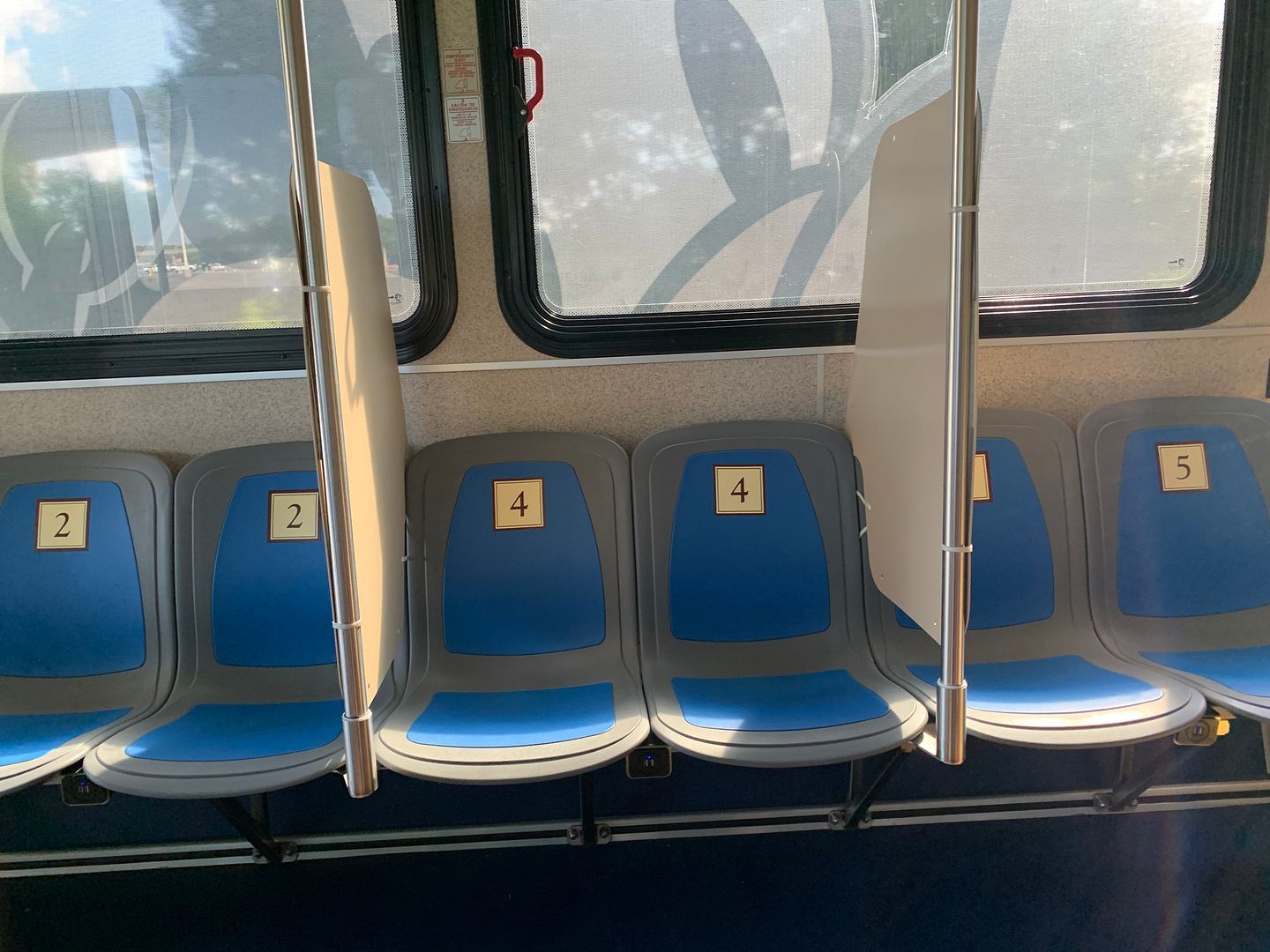 No need for our driver to assign us a seat/section because we were the only ones on the bus during the ride back to the Grand Floridian. I could get used to having my own private Disney bus, lol.
At about noon Andrew was ready for a lunch break…
Our Lunch from the Grand Floridian's Gasparilla Island Grill
After lunch we returned to our room and Andrew went out to our balcony with his laptop to work while I took a nap. I was awoken by the noise of someone entering our room. It turned out to be a cast member who let himself in to deliver what he called a gift…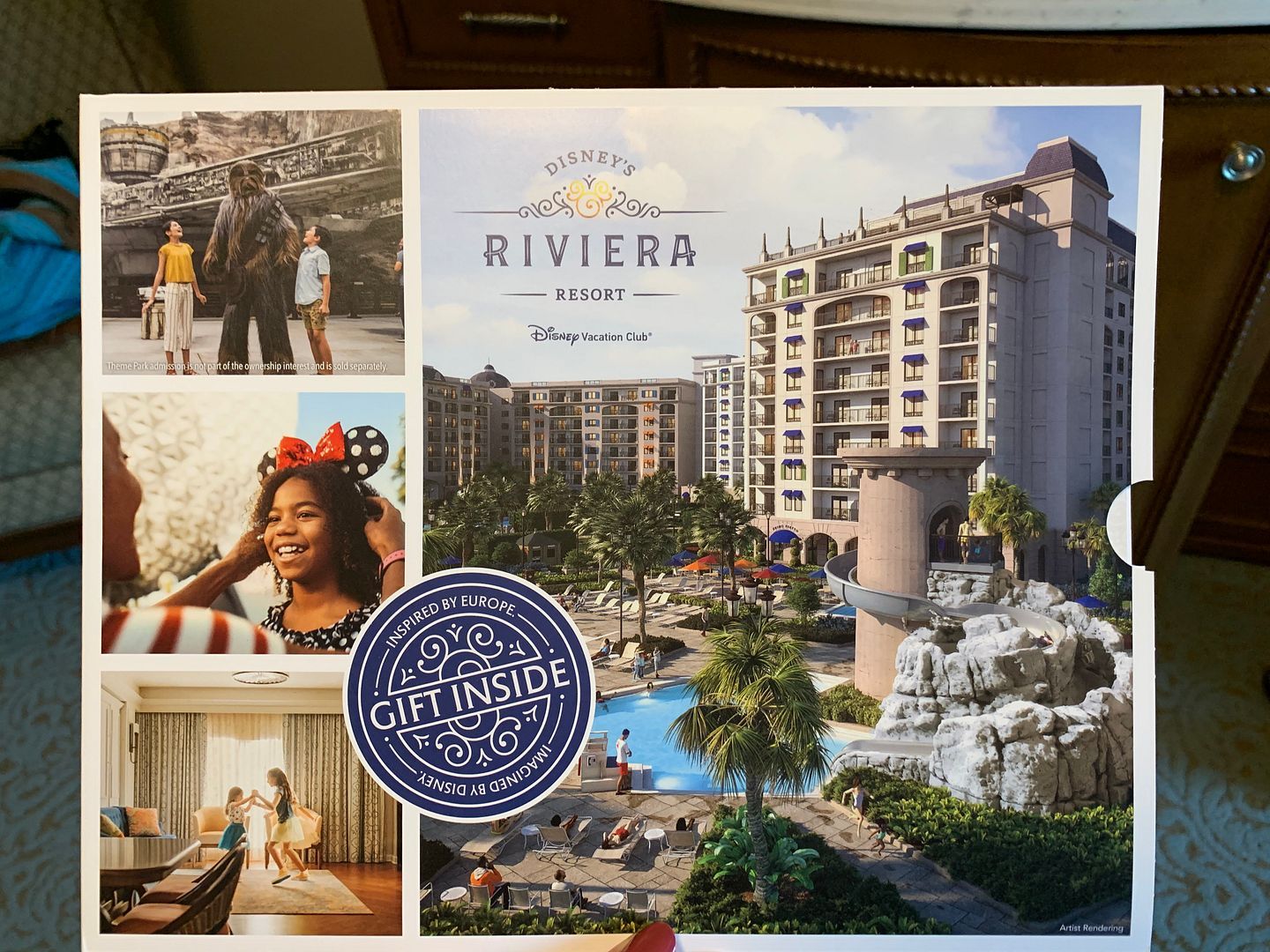 The "gift" turned out to be some Disney Vacation Club promotional materials. I was both annoyed and a little creeped out by this. For the remainder of the trip, I made sure that our door guard was latched when we were in the room.
By 5:00 Andrew was done with his work and we were both ready to head to Disney Springs for some shopping and dinner. On our way to the Grand Floridian's bus stop I stopped to take a photo of the pretty, white carriage and car at the resort's entrance…
I've read that this is a 1929 Cadillac but antique cars are not among my interests, so I can't confirm this to be true. I just thought it looked cool. Lol
After some shopping at Disney Springs, it was time to head to our…
Dinner at Wolfgang Puck Bar & Grill
After dinner we took the bus back to the Grand Floridian and we were back in our room by 10:00…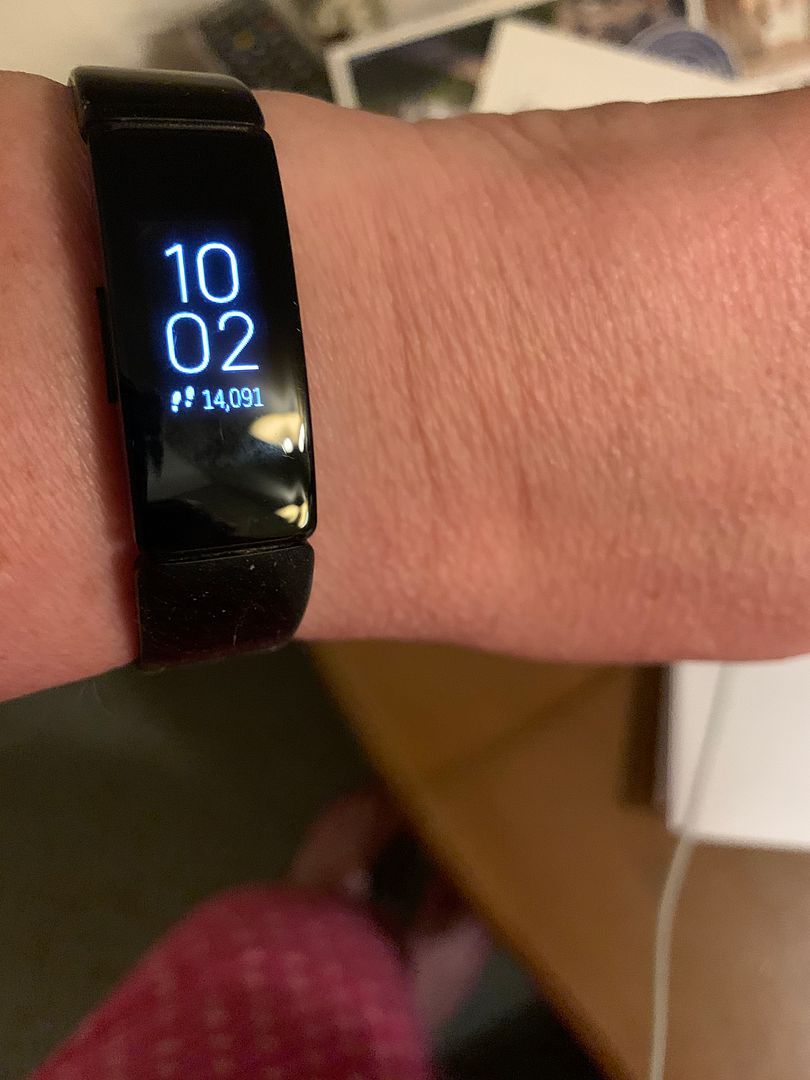 My step county for the day was 14,091 and I had walked 6.03 miles. That was more than I was expecting after just a morning at Animal Kingdom and an evening at Disney Springs.
TUESDAY, APRIL 27 – Grand Floridian, Epcot Park Reservation, Yacht Club, Dolphin
Today was my birthday and also the day we were checking out of the Grand Floridian and transferring to the Yacht Club for the remaining 4 nights of our trip. But before leaving the Grand, we had an early morning reservation for…
Breakfast at the Grand Floridian Cafe
After breakfast we headed back to our room to pack our bags. Usually when changing resorts (which I almost always do during my Disney trips), I just let Disney take care of transferring our luggage but this time we decided to take a Lyft over to our next resort, the Yacht Club, and take our bags along with us. This would allow us to walk to Epcot and enter through the International Gateway (aka the back entrance into World Showcase) and avoid the more crowded front entrance to the park. Also we avoided having to rely on a Disney bus (the Epcot monorail did not reopen until July) to get us to the park about an hour before the official park opening time, which was my goal.
So at about 9:30 we left our room and bid farewell to the beautiful Grand Floridian…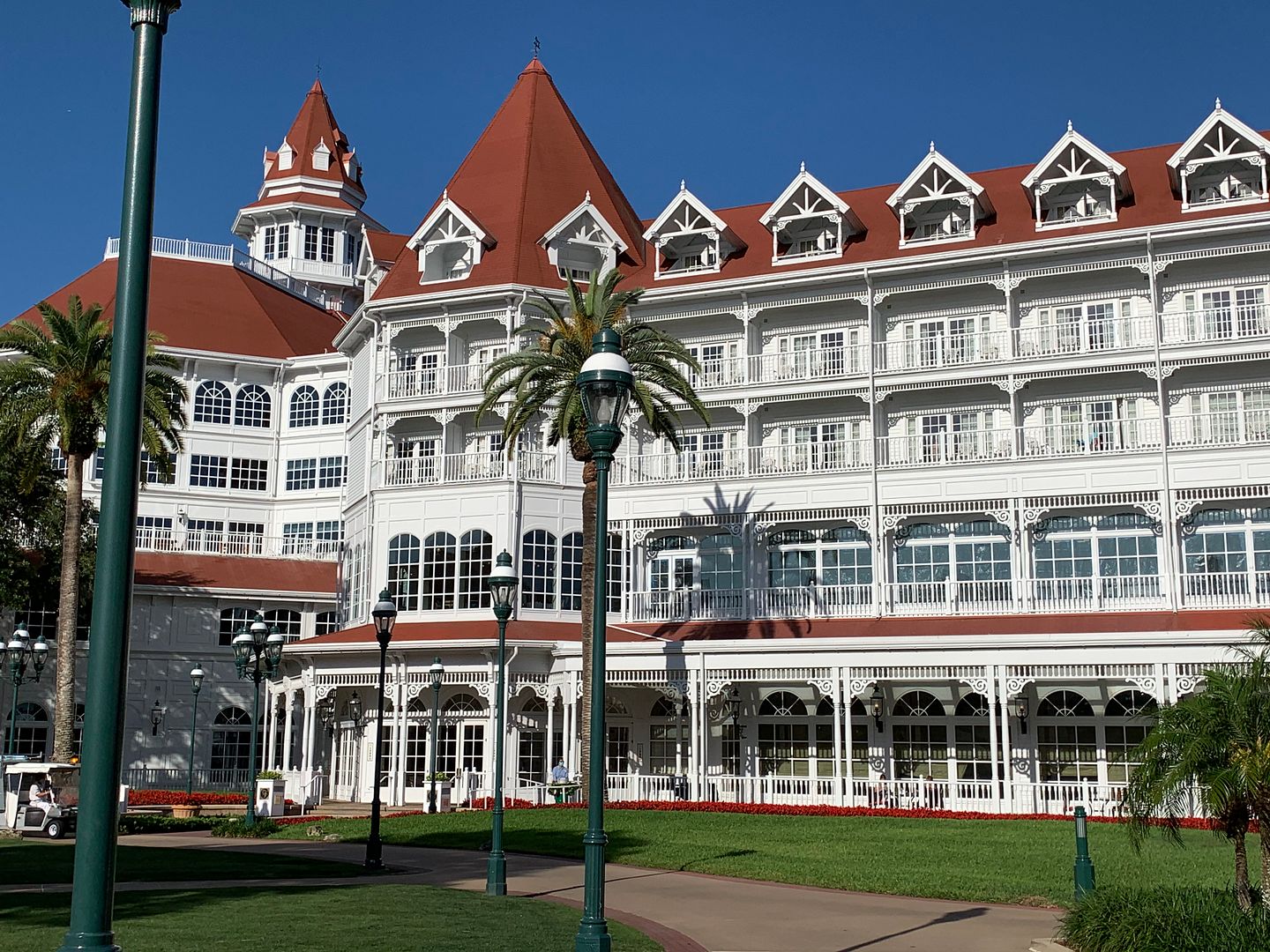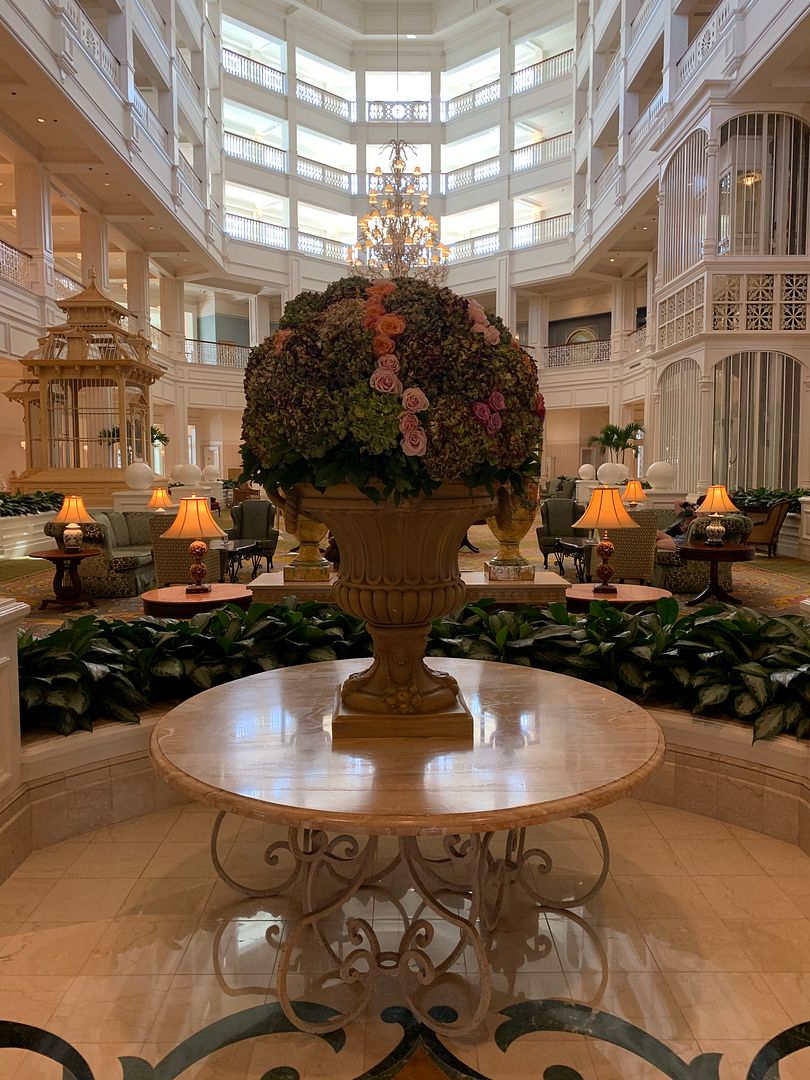 We were picked up by our Lyft driver by the resort's main entrance and 6 miles, 12 minutes, and $11.00 (plus tip) later we were dropped off at the Yacht Club resort.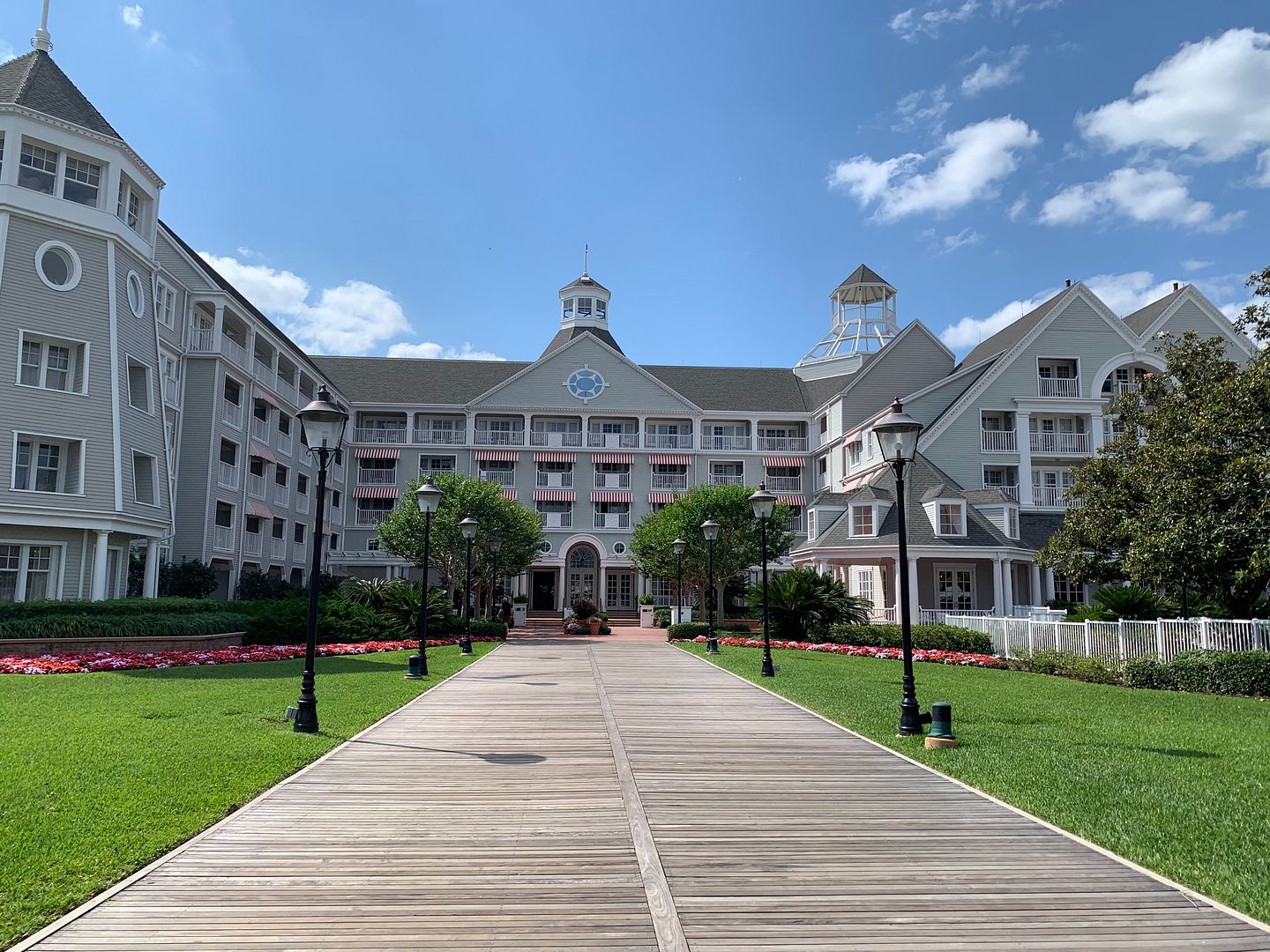 Our room was not yet ready of course, so we dropped off our bags at the Bell Services desk to be placed in storage and then we were off (by foot) to Epcot. We arrived at the International Gateway entrance at about 10:10. Though the official opening time for Epcot that day was 11:00, they started allowing guests to enter the park at about 10:15. We walked directly to my favorite Epcot ride, Soarin', and it was a walk-on. Next was Spaceship Earth, which at 11:00 had about a 15 minute wait time.
But first our daily park selfie in front of Spaceship Earth…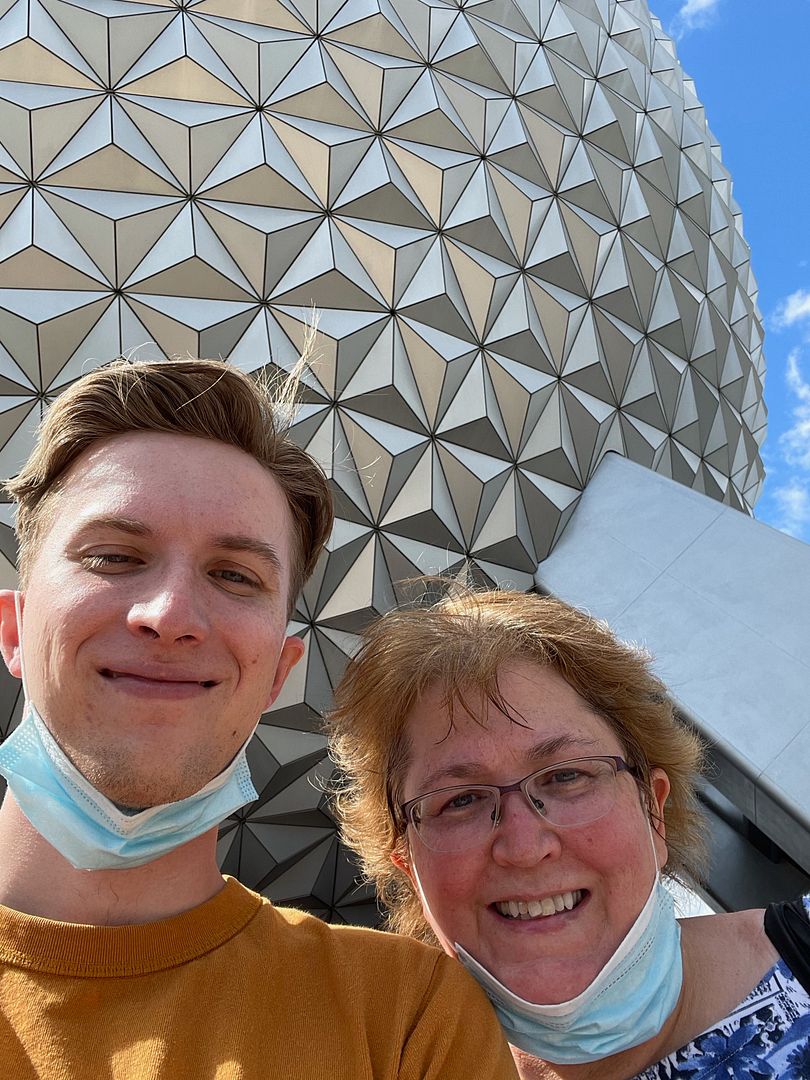 Then we were traveling through time inside Spaceship Earth…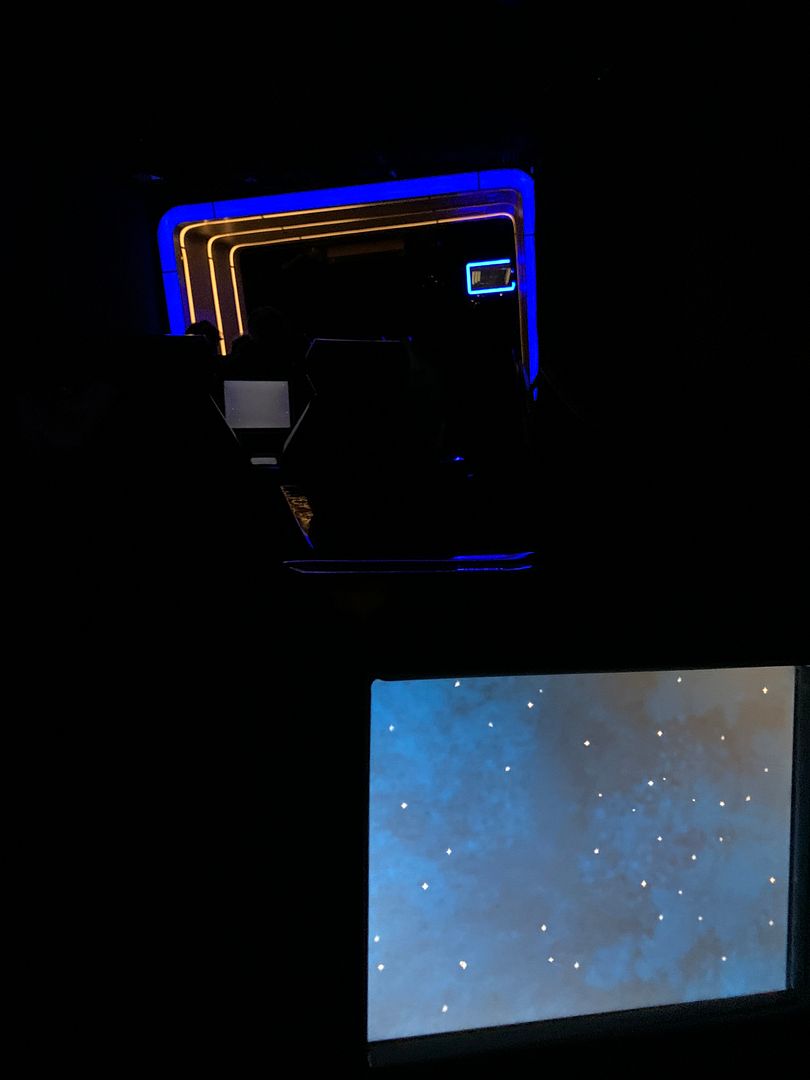 We had thought that the last time we rode Spaceship Earth (in early March 2020, right before the pandemic closure) would be the last time riding it for quite awhile, and probably the last time riding this version of Spaceship Earth. It had been announced in late February of 2020 that the ride would be closing on May 26, 2020 for an extensive multi-year refurbishment. But of course, the pandemic closure put a halt to the refurbishment plans and consequently we got to ride SSE on this trip in April 2021. I've heard rumors though that the refurbishment project is back on the schedule for Epcot but nothing official has been announced. So now I'm wondering, was this one last bonus ride or will we get to ride it again during our trip next month (October 2021)? Only time will tell I guess.
After SSE we headed over to Test Track. It was now about 11:30 and the ride had not yet opened due to technical difficulties. We could hear test cars running though so thought they might be getting close to opening. We took a chance and got into the very short line of people that were waiting for the ride to open. Thankfully, it wasn't too long before the line started moving. The Design studio room (where previously you stopped to design your own car) was a walk-thru so the line moved pretty quickly to board the ride and by 12:11 (per our PhotoPass ride photo) we were doing 65 mph around the track…
NOTE: There was no Single Rider line at this time so no strangers were added to our car at boarding time, which was nice. Andrew and I had the front row to ourselves and another party of 2 were seated in the back row of our car. However, I've read that both the Design studio section of the ride and the Single Rider line were reinstated this summer.
After Test Track we stopped by the Epcot Experience on our way to World Showcase.
We noticed only a few things had been removed since we last saw this in early March 2020, the reimagining of Spaceship Earth and the Mary Poppins attraction which was to be built in the United Kingdom area of World Showcase. While I'm on the fence regarding the proposed changes to SSE, I was looking forward to having another attraction in World Showcase so I'm sad that that project has been postponed indefinitely.
From there we entered World Showcase near the Mexico pavilion, which made Andrew hungry for Mexican food. He asked about the options available at the Mexico Flower & Garden Festival booth. Since I had already tried 2 out of the 3 food items offered there during my one day visit to Epcot in early March with my husband, I steered Andrew towards one of the permanent quick service dining locations in Mexico…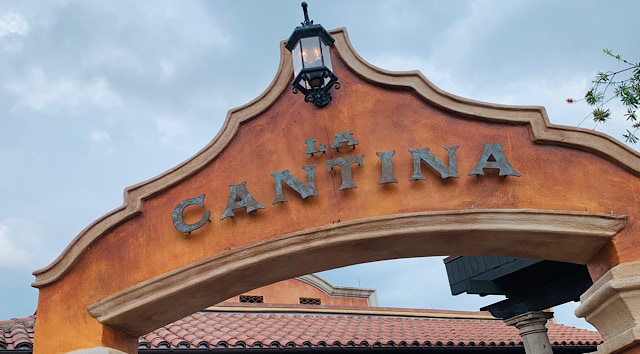 Our Lunch at La Cantina de San Angel
After lunch we crossed over to the other side of the walkway to get in line to enter the Mexico pavilion. We only stood in line for about 5 – 10 minutes though before it was our turn to enter.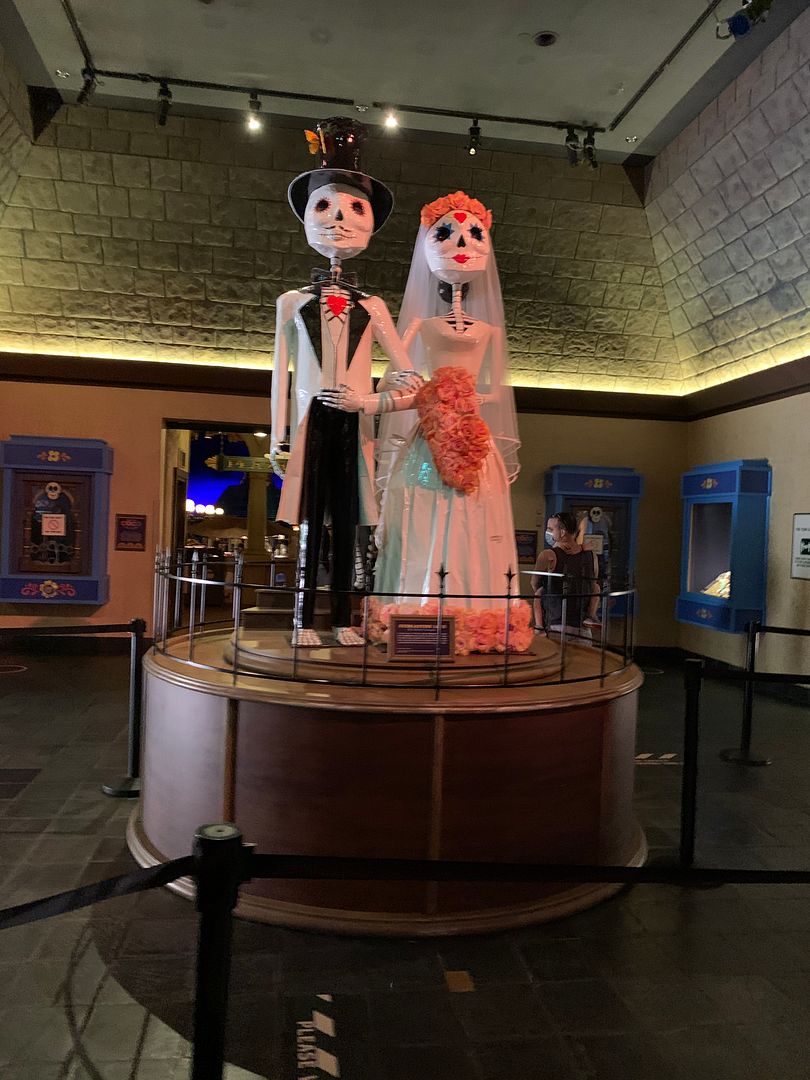 Once inside we immediately got in line for the Gran Fiesta tour boat ride. Thankfully it wasn't long and moved pretty fast because the plexiglass divided path was very narrow and made you feel a bit claustrophobic.
By 2:30 we were done with the ride…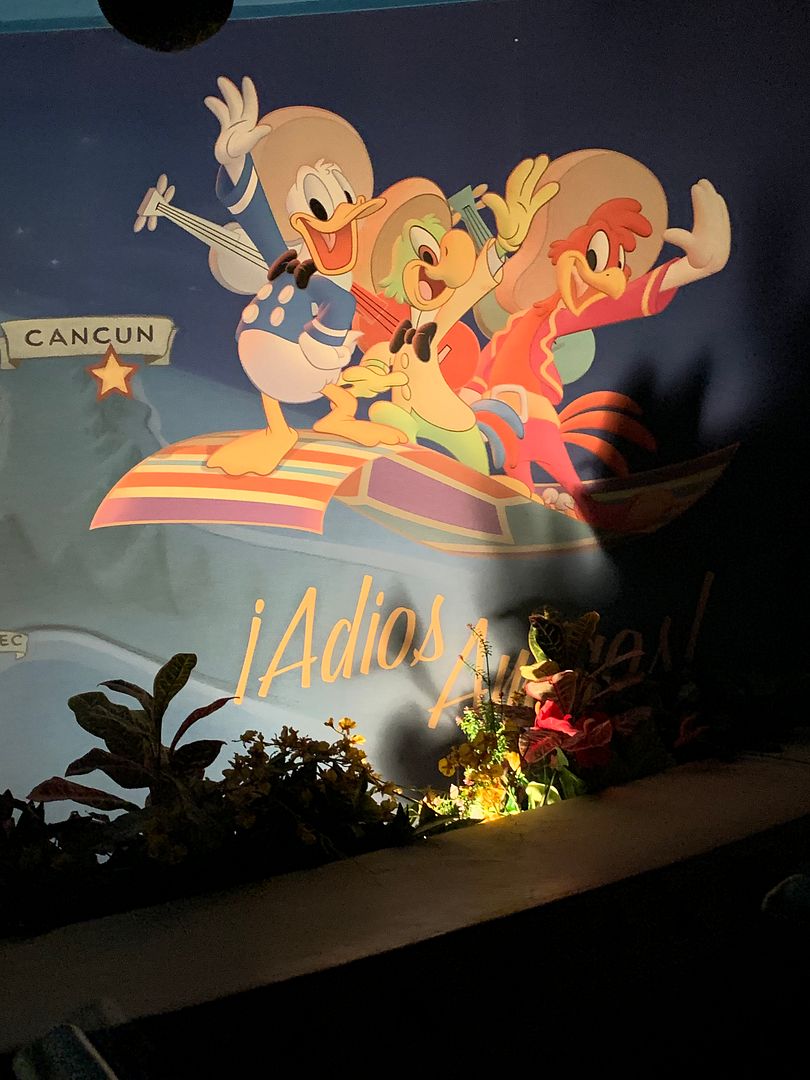 We then continued to make our way around World Showcase, stopping in Germany to take photos of the Snow White & Dopey topiaries that I had missed during my last trip…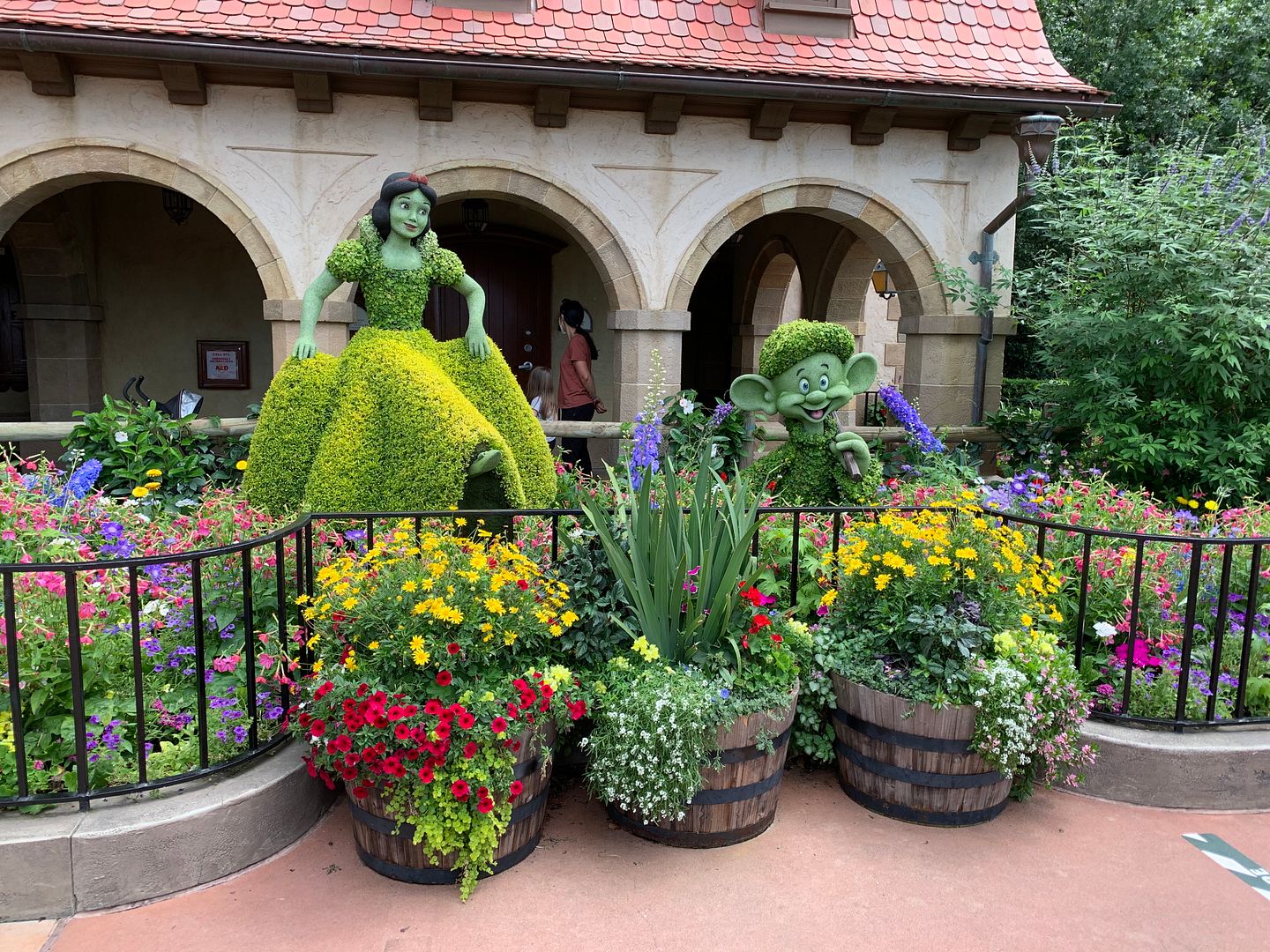 Then after seeing the 3:30 show at the American Adventure, we did some shopping at Japan's Mitsukoshi store. I was looking for some chopsticks for my and there were many there to choose from.
Here's the set I ended up buying for her…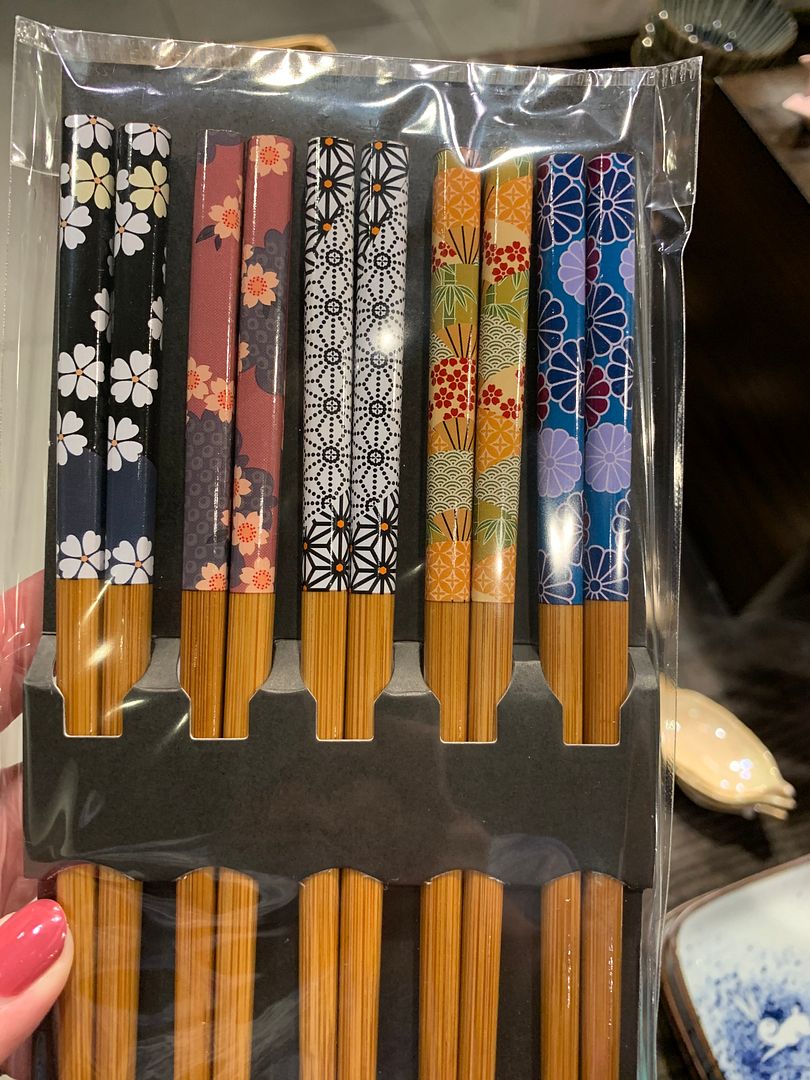 It was then about 4:30 and we were ready to call it day at Epcot so we took the International Gateway exit out of the park.
I had gotten a text from the Yacht Club at about 1:00 to let me know that our room was ready…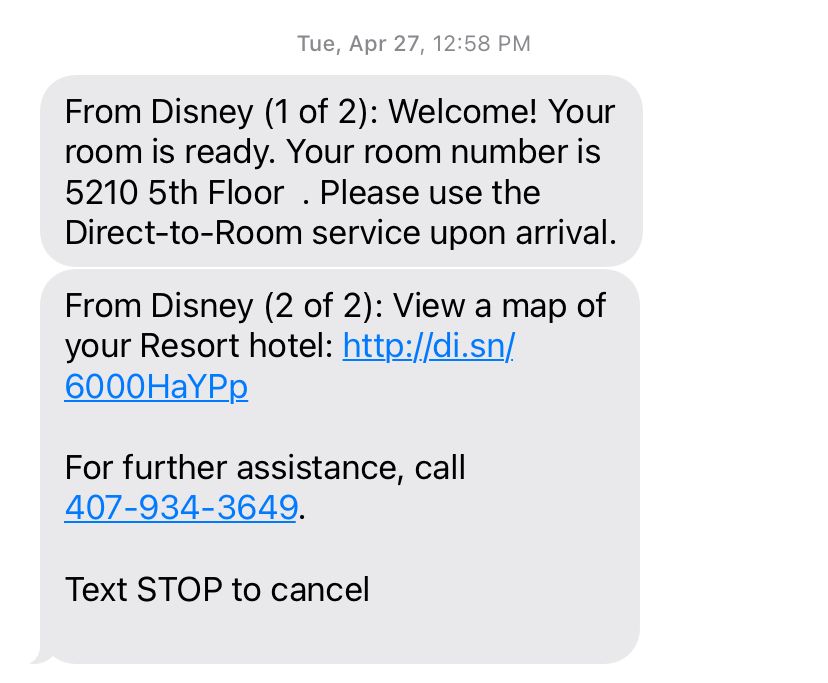 So I sent Andrew on ahead to the Yacht Club while I went in the other direction to the Boardwalk to see if I could find some pastries at the bakery to have the next morning for breakfast. Unfortunately they didn't have the cheese danish that I usually always get there. In fact the selection of pastries was much more limited than it used to be. I'll show you later in my report what I did choose.
As I was exiting from the bakery out onto the boardwalk I noticed that a boat was approaching the dock on the Hollywood Studios destination side. Knowing that the next stop for this boat after the Boardwalk would be the Yacht Club, I hurried over and got in line to board. While sitting on the boat for the short ride across the lake I checked my email messages. This is when I found this email that had been sent to me earlier that day…
I was very skeptical for two reasons. First of all they misspelled "Yacht" in the subject line plus there was a grammatical error in the first sentence of the message. This led me to believe that this message could be spam. And second, if it was really from the Yacht Club, would this "amenity" be the same as the "gift" that was delivered to my room by a castmember at the Grand Floridian…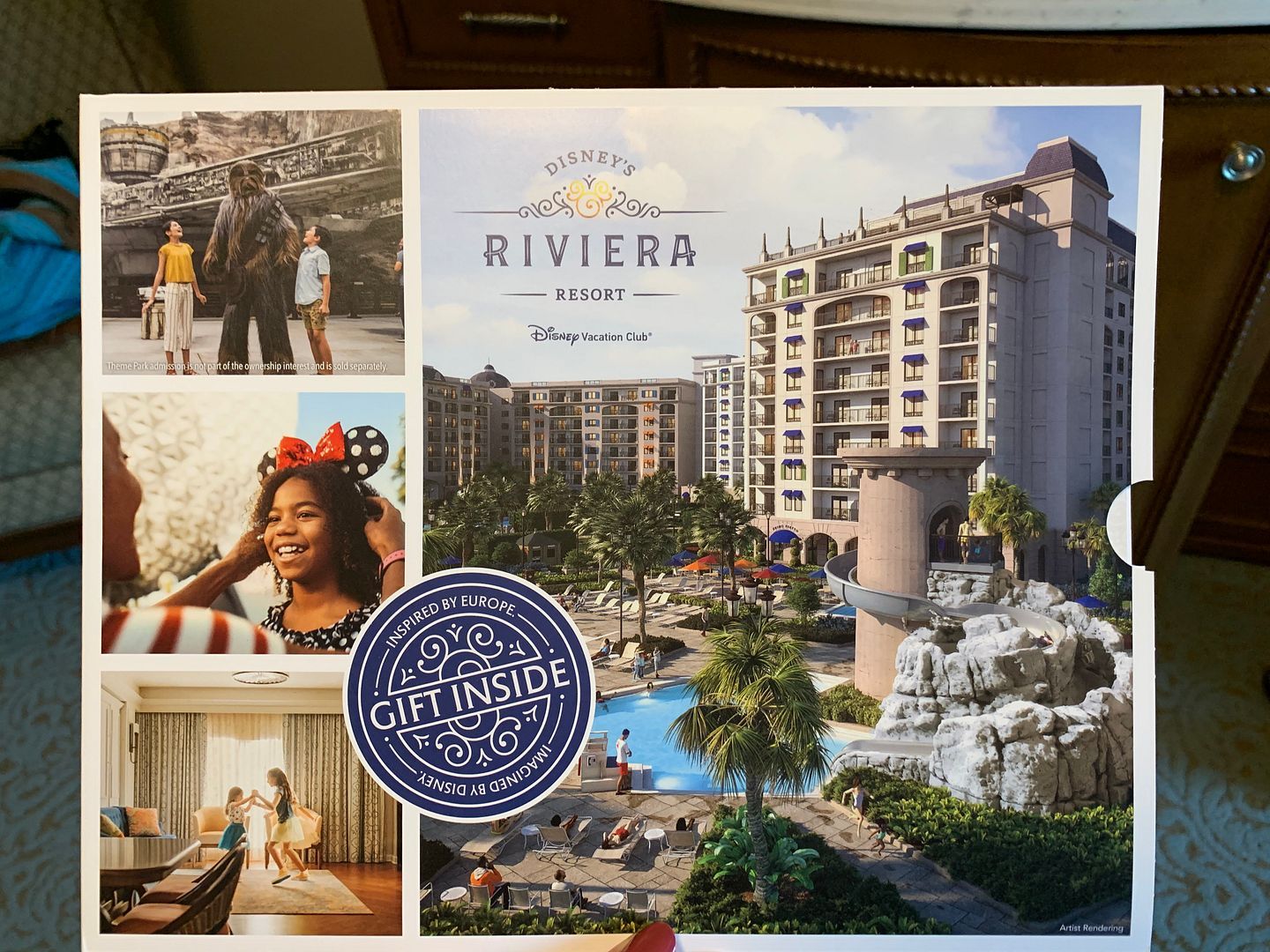 You may recall that the "gift" I received there was just a DVC brochure promoting the Riviera Resort.
So consequently I wasn't all that excited about the "amenity" that was supposedly awaiting me at the Yacht Club. When I arrived at the Yacht Club I first went to Bell Services to arrange for the delivery of our stored luggage to our room. Then I went to the Front Desk and showed them the email I received. And to my surprise, not only was the email real but so was the "amenity". The castmember retrieved this for me from their back room…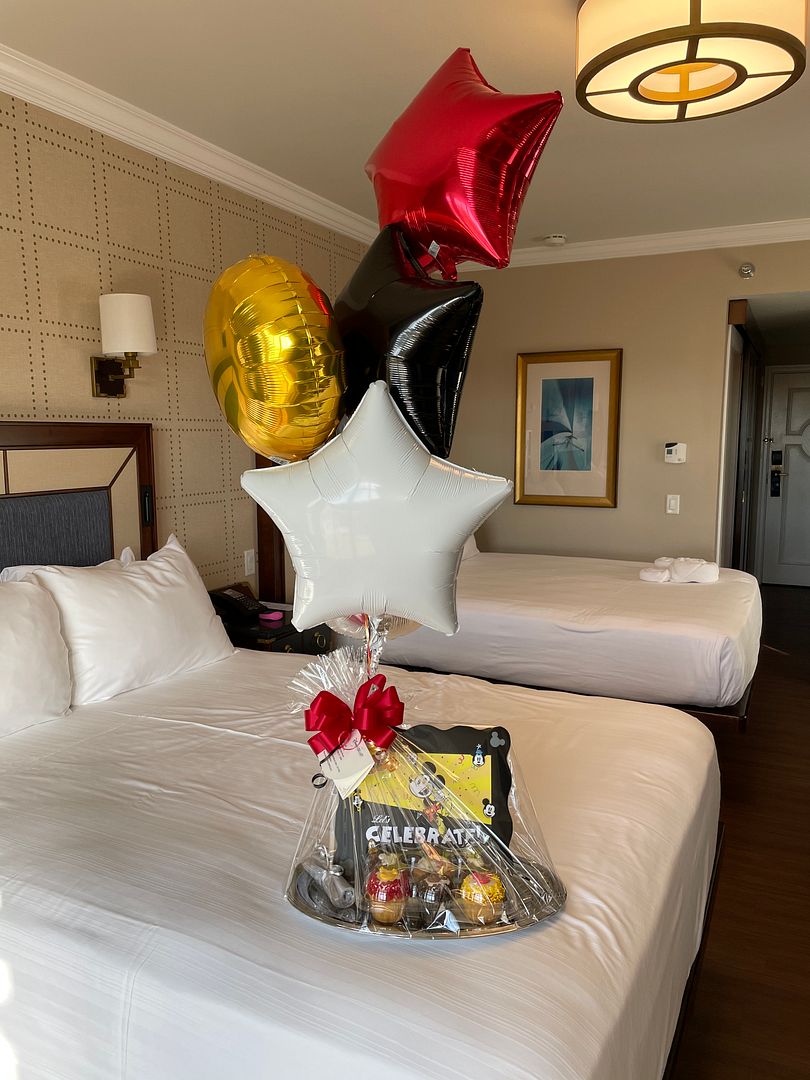 This was a gift sent to me by my family for my birthday!
There were 4 parts to the gift. In addition to the balloons, there was a cellophane wrapped package…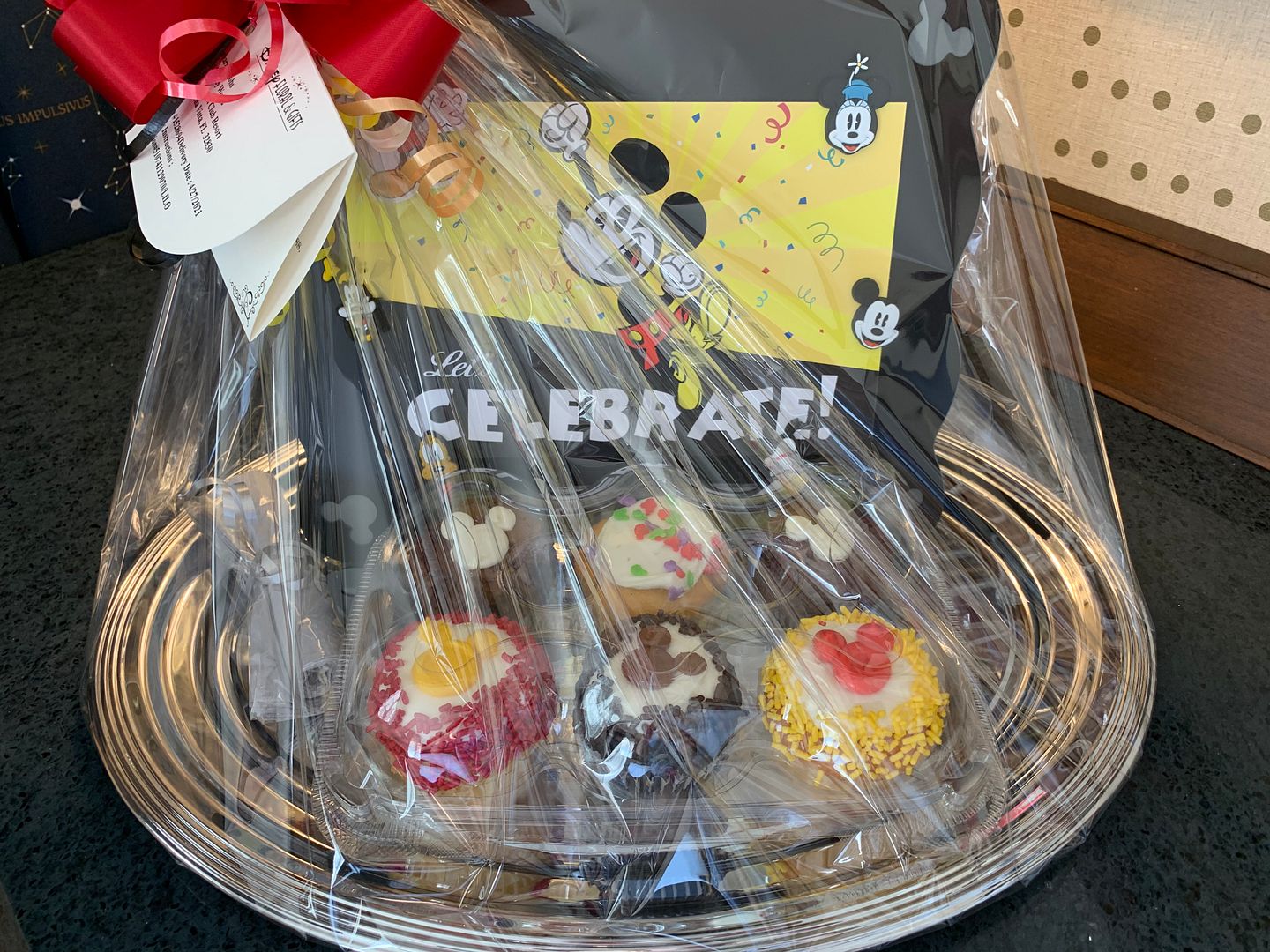 Inside were 6 Mickey-themed decorated cupcakes, 3 chocolate and 3 white…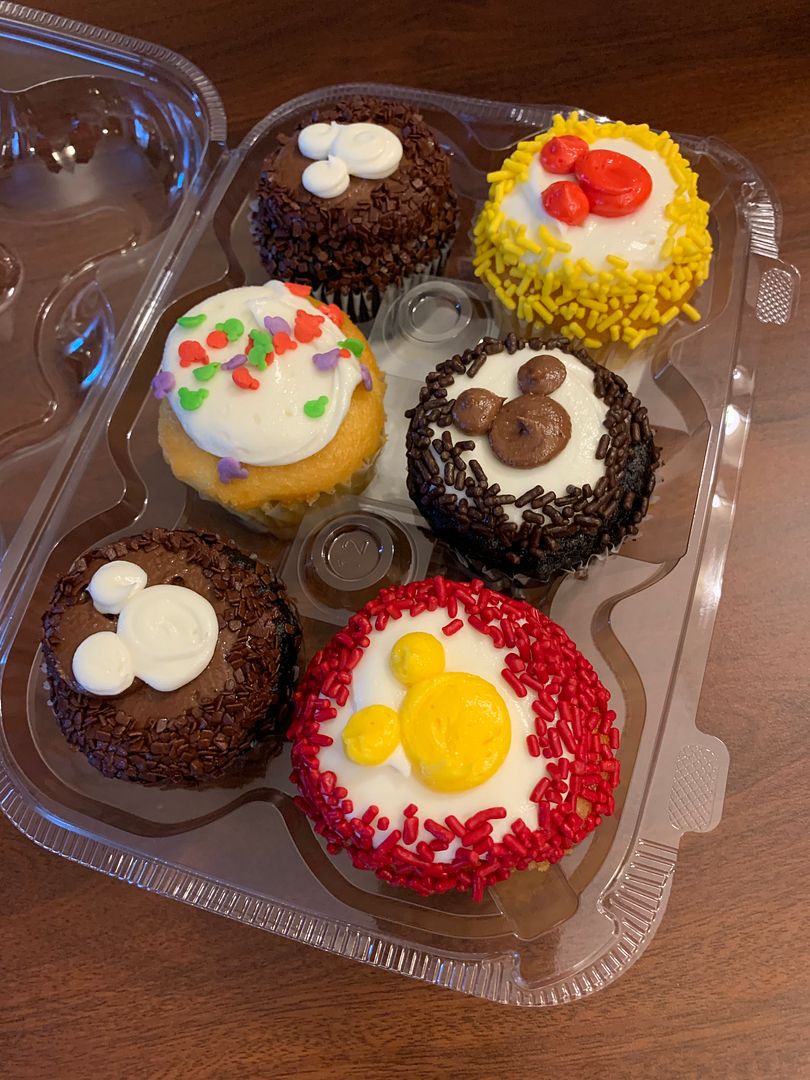 There were also a Celebration sign and a tray with the image of Cinderella's castle…
The cupcakes were delicious! We ended up only eating two and then I very carefully packed the rest into my carry-on bag for the trip home. Unfortunately when we got to security at the Orlando airport they asked that all food items be removed from everyone's bags. (Note: This was the first time in all of my air travel that this request was made) And though I carefully placed the container of cupcakes upright into the tray to go through the security scanner, when they came out on the other side they had been dumped upside down. So they did not look pretty after that but at least I had pictures to show my family and they still tasted great, even after 4 days.
Now on to our room…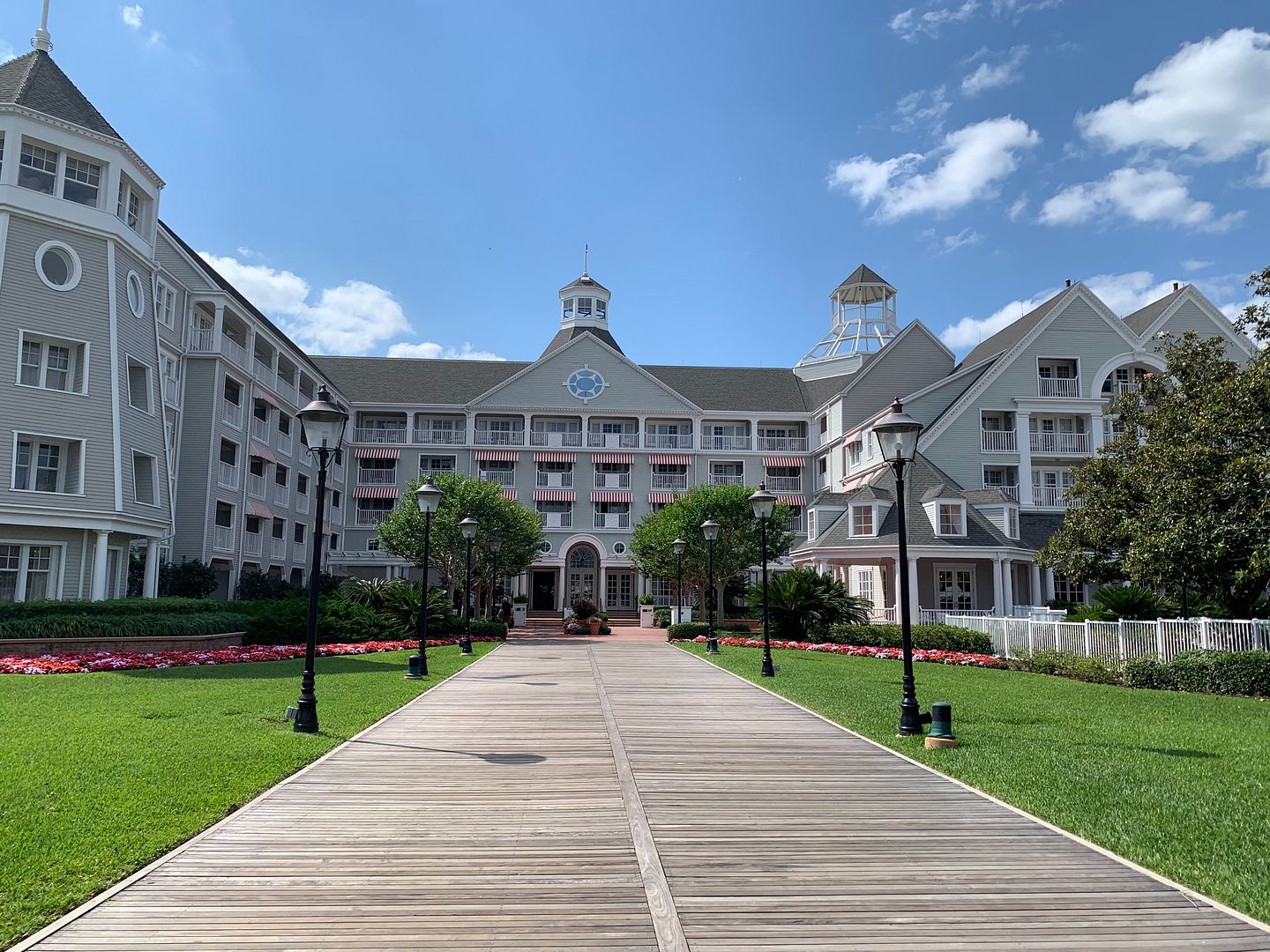 What is it like to stay on the Club Level floor when there are no Club Level services? – Our Review of the Yacht Club's Room #5210
After resting for a bit and a long shower (because I love the shower heads at the Yacht Club, lol), it was time to walk next to the Dolphin resort for…
My Birthday Dinner at Shula's Steak House
After our two hour dinner, we left the Dolphin and made our way back to the Yacht Club. Why did the distance between the two resorts seem so much longer this time? Oh, probably because my stomach was so full this time, lol.
But speaking of distance…my step count for our day at Epcot was 18,215 and I had traveled 7.79 miles by foot. So it was close, but my first day record set at Magic Kingdom of 18,678 steps and 8.01 miles still stood at this point. Which day will I surpass 18,678 steps? Day #2 at Epcot or one of our two days at Hollywood Studios? What do you think?
WEDNESDAY, APRIL 28 – EPCOT Park Reservation, Yacht Club
What, No Cheese Danish??? – A Disappointing Boardwalk Bakery Breakfast Review
For the next few days I continued to search for a cream danish (or even a fruit danish) but found none, I looked at both the quick service restaurant (The Market at Ale & Compass) at the Yacht Club and the one next door at the Beach Club, Beach Club Marketplace. No danish at either place. I saw cream cheese croissants listed on one of the online menus for The Trolley Car Cafe (aka Starbucks) at Hollywood Studios, I'll get into that more later in the trip report, but I'll let you know now that the search for my favorite cream cheese danish was unsuccessful there as well.
But anyway, today we had a park reservation for Epcot, which was scheduled to open at 11:00. We walked from the Yacht Club to the International Gateway entrance to Epcot and were there at about 10:00, so about 10 minutes earlier than the day before. Again they weren't yet letting people in but there were more people waiting in line at an earlier time, indicating that this might be a busier day at Epcot. Once they began letting people in at about 10:10, it didn't take long for us to move through the line to have our temperature checked, then the security scanner and ticket gate. Since we had not done it the day before, our first priority was to ride Frozen. After that we rode Soarin' again, as it is my favorite ride at Epcot. We had finished those two rides by 11:30 and were ready for some food before Andrew needed to head back to the room to work. As we made our way towards World Showcase, I stopped to take a photo of the Figment topiary by the Imagination pavilion…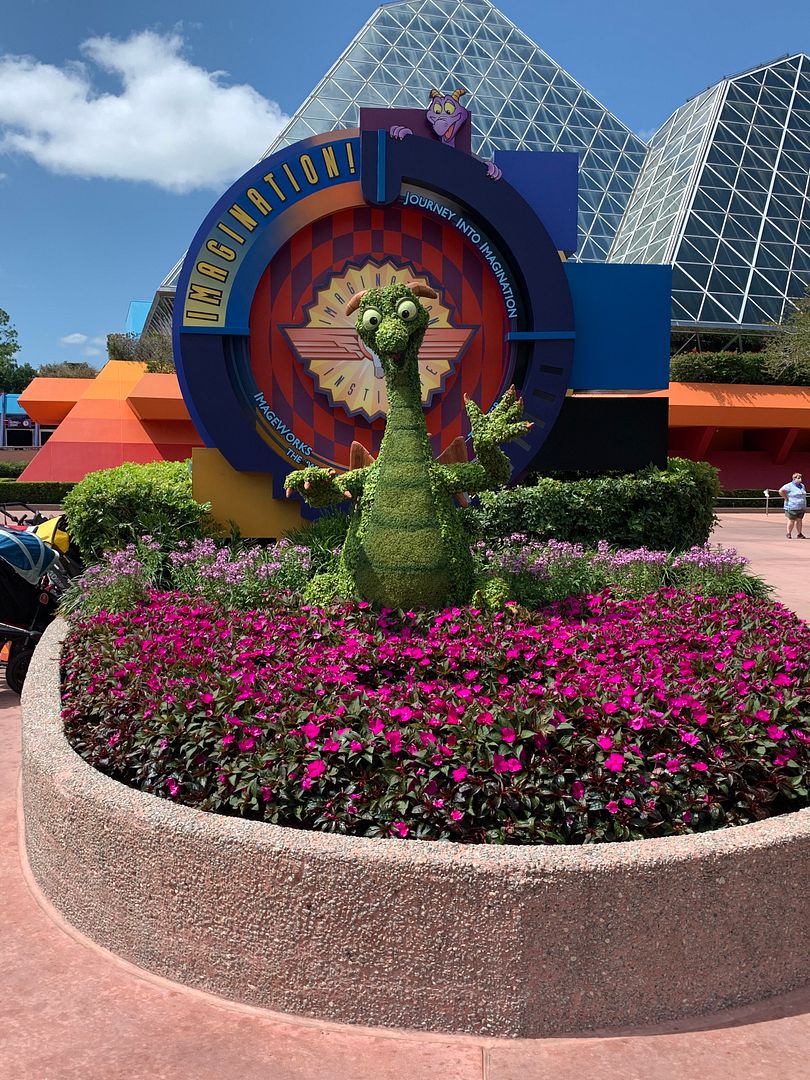 Since this was our last day at Epcot, for lunch I wanted to sample some more of the food from the Flower & Garden booths, but Andrew really wanted fish and chips from the Yorkshire County Fish Shop in the United Kingdom area of World Showcase. So we decided to compromise and stopped at one booth on the way to the Fish Shop.
That booth was The Honey Bee-stro…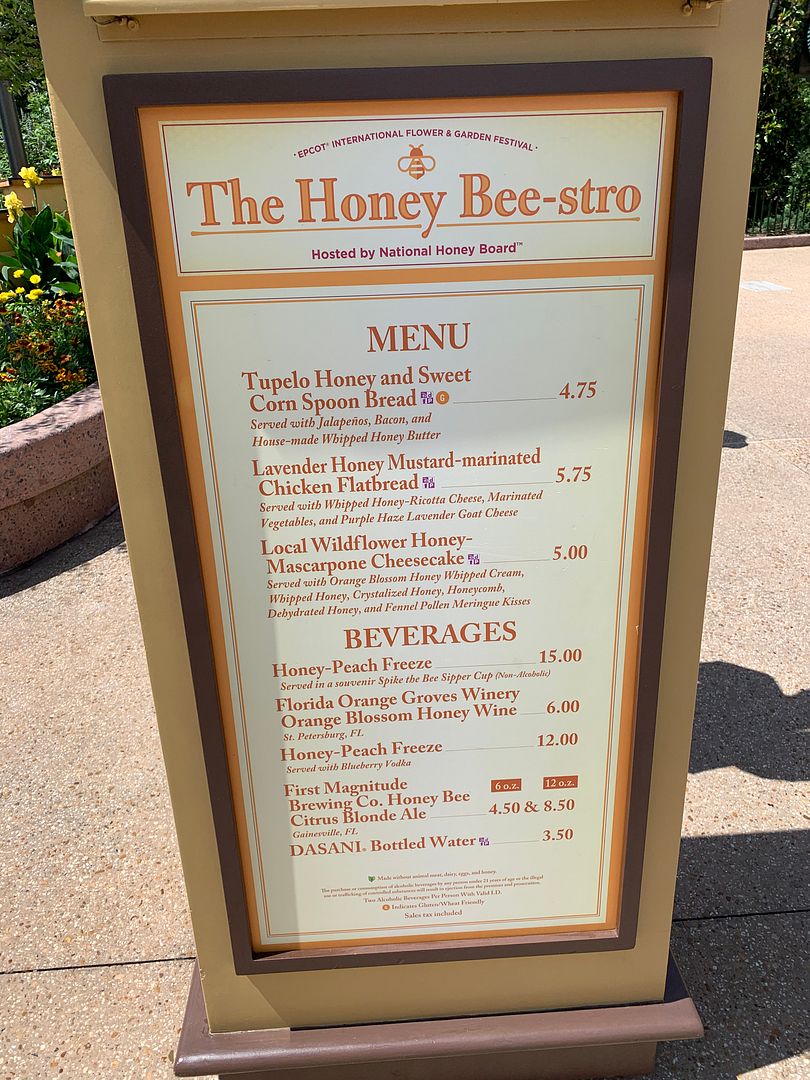 From here we tried two things…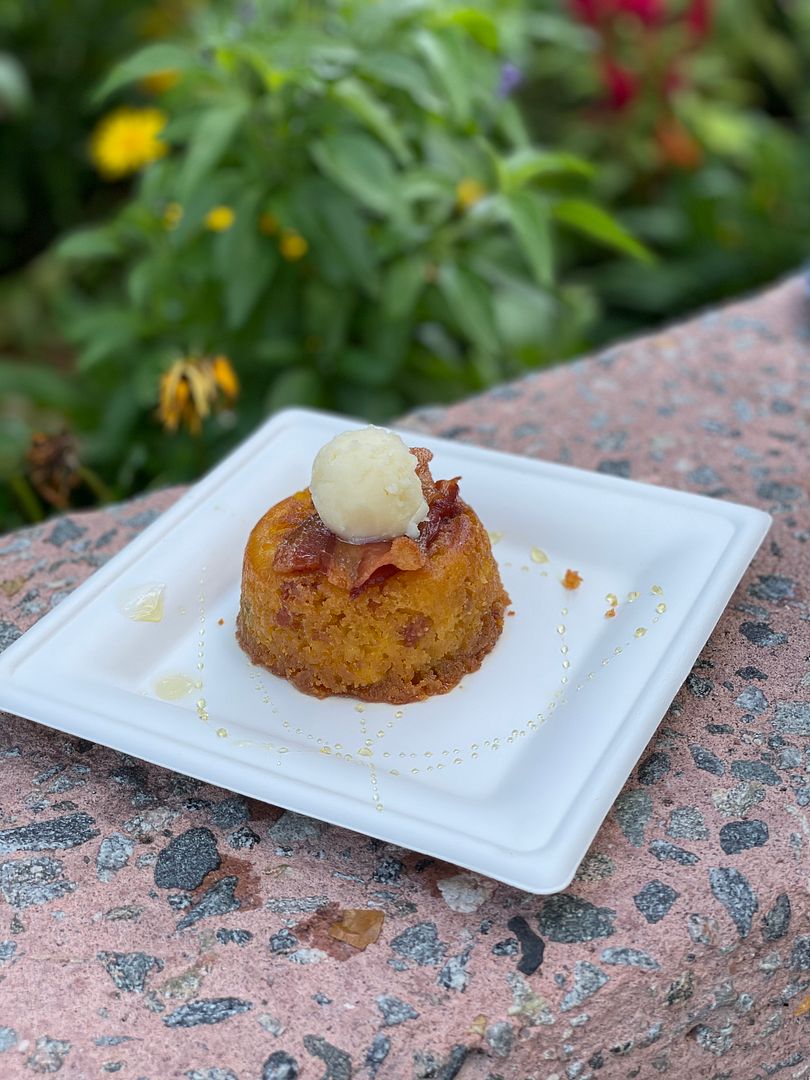 Tupelo Honey and Sweet Corn Spoon Bread served with Jalapenos, Bacon, and House-made Whipped Honey Butter – $4.75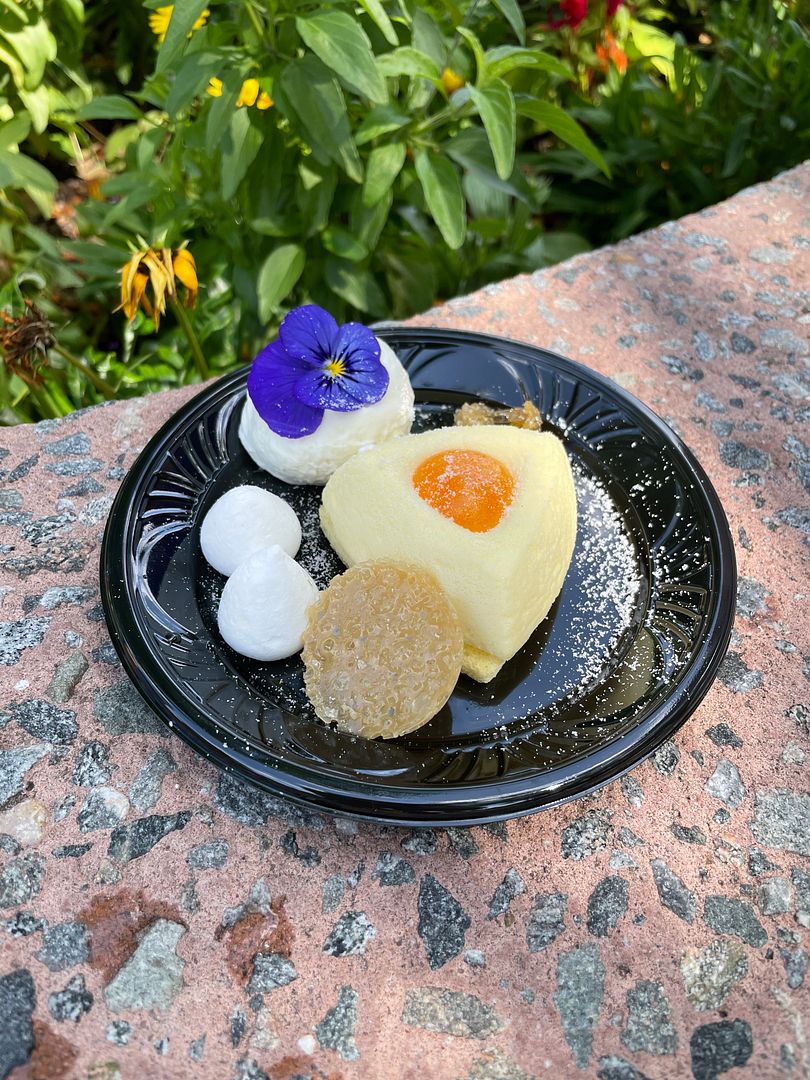 Local Wildflower Honey-Mascarpone Cheesecake served with Orange Blossom Honey Whipped Cream, Whipped Honey, Crystalized Honey, Honeycomb, Dehydrated Honey, and Fennel Pollen Meringue Kisses – $5,00
We enjoyed both of these. While Andrew favored the spoon bread, I would pick the cheesecake if forced to choose just one. But both were very good and among my favorites from this year's Festival booths. The spoon bread was a great combination of sweet (from the honey), savory (from the bacon) and a touch of spice (from the jalapeno). The cheesecake was sweet and creamy. I even enjoyed the fennel pollen meringue kisses, which didn't sound appealing but they turned out to be tasty. The only thing I didn't eat from this beautiful, photogenic plate was the flower, which was real, lol.
Then it was on to the United Kingdom in World Showcase, with a stop to see the film in Canada first. Then a few more topiary photos in the UK before it was time for lunch.
First Peter Pan…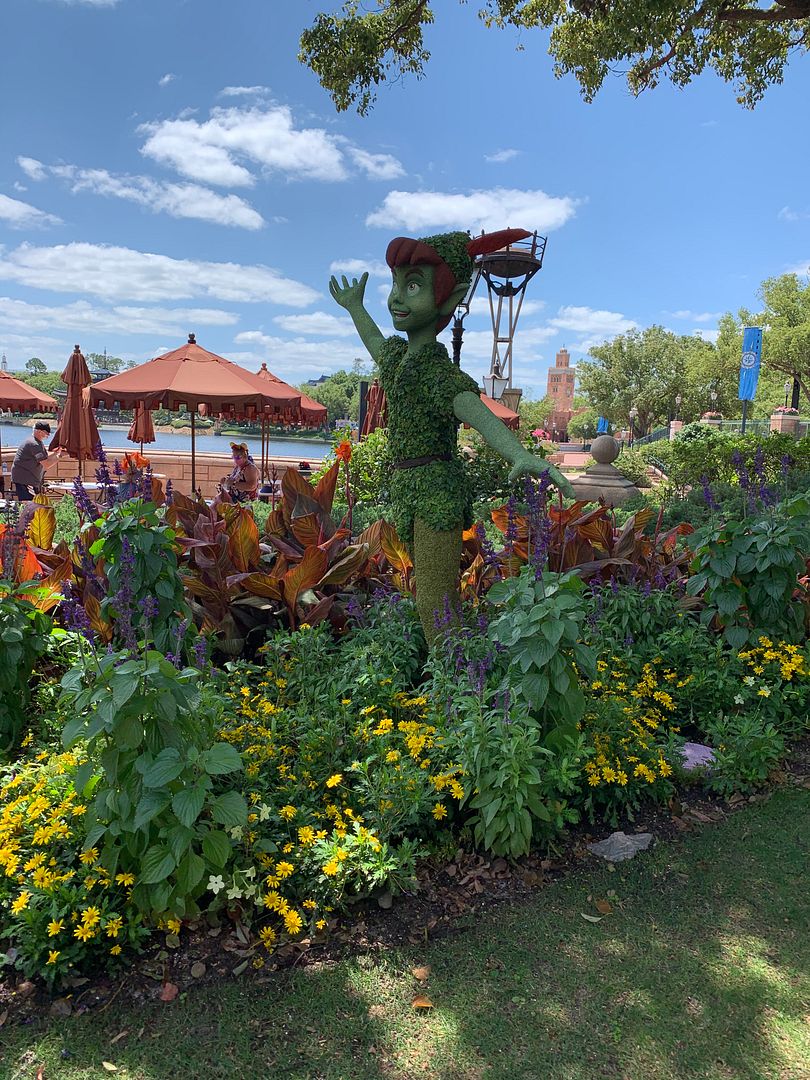 And then his nemesis, Captain Hook…
And then finally the….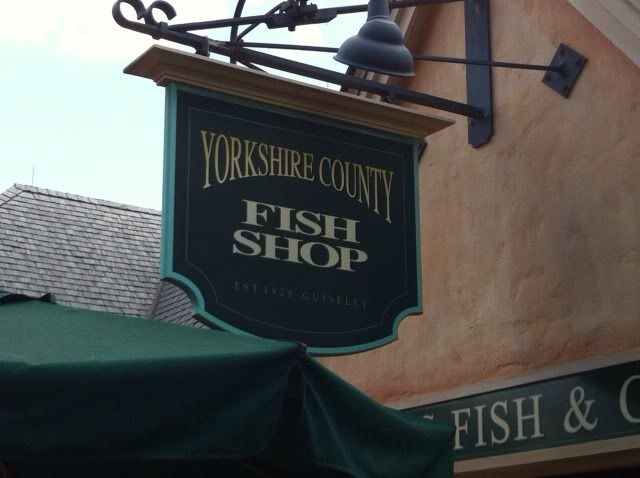 That time I didn't get Fish & Chips from the Yorkshire County Fish Shop – April 2021 Review
Andrew needed to sign in to his computer at 1:00 to work for the afternoon so after lunch he headed back to our room at the Yacht Club. However, I decided to stick around for the afternoon to explore my favorite Disney World park. I set off towards France but was stopped at the bridge, as there was a character cavalcade approaching…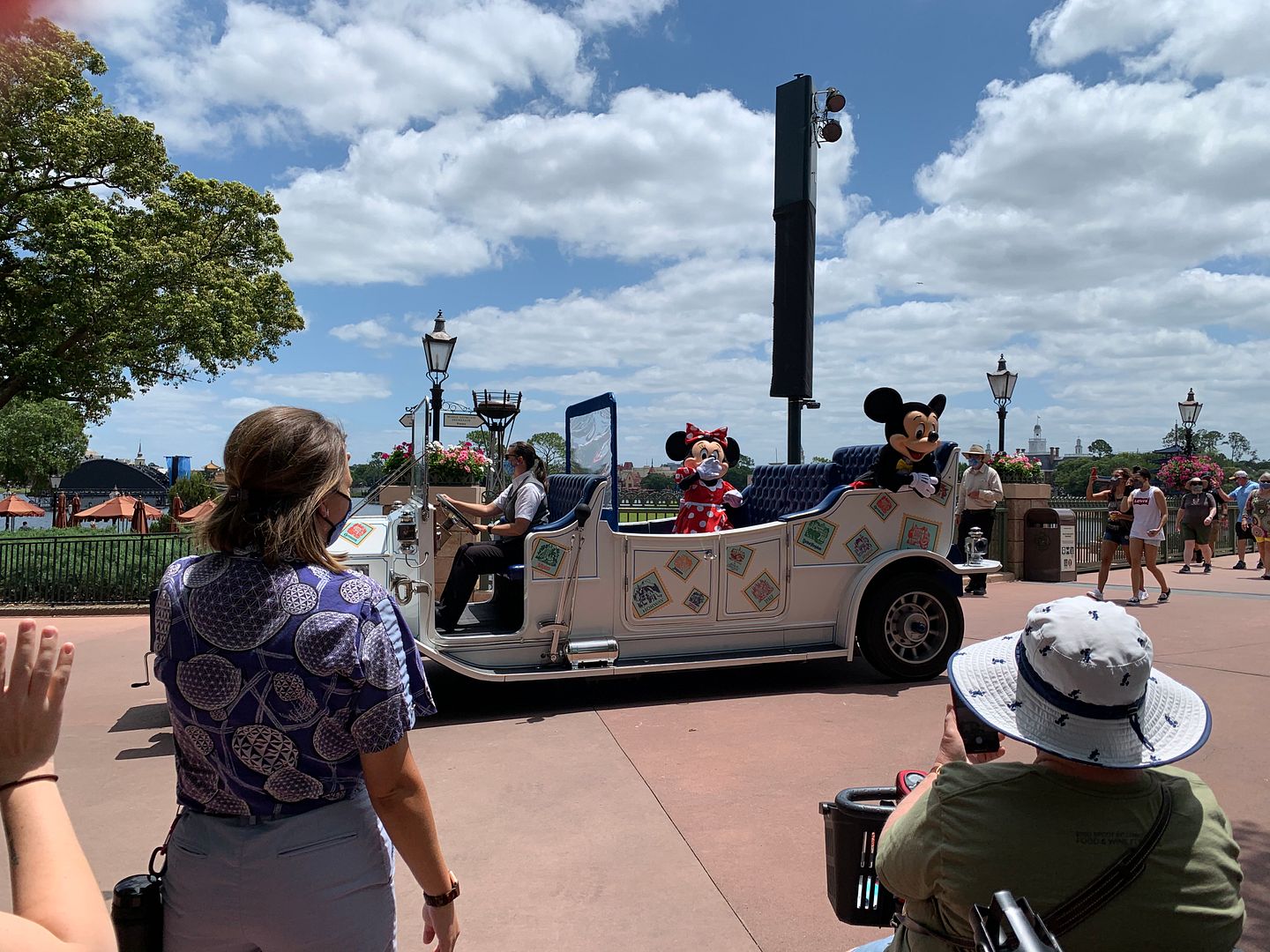 I had seen the princess one before but this was my first time seeing Mickey & Minnie. Once they had passed by, I continued on to France…
Where I was intending to catch a showing of their film, Impressions de France. I had heard that it was showing again and that it was now a remastered version with 4k resolution (so with very clear, sharp images). I was a bit disappointed to find out that Impressions is only shown in the evening (actually not until 8:00), especially since we weren't planning to be in the parks in the evenings on this trip. During the rest of the day the Beauty & the Beast Sing-Along film is shown. I had thought they rotated the two shows throughout the day so I learned something new.
Anyway, I had never seen this LeFou-centered version of the Tale as Old as Time so I decided to go for it.
This showed LeFou, Gaston's sidekick and comic relief, in an entirely different light. It was fun and I enjoyed sitting down in the air-conditioned theater. I wish I could have stayed for the next showing and taken a little nap but unfortunately they cleared out the theater between shows. Haha
After leaving France I decided to catch a boat from the dock in Morocco (next to Spice Road Table restaurant). While crossing the World Showcase Lagoon on our way to Canada, we came very close to the barges for the future night show, Harmonious.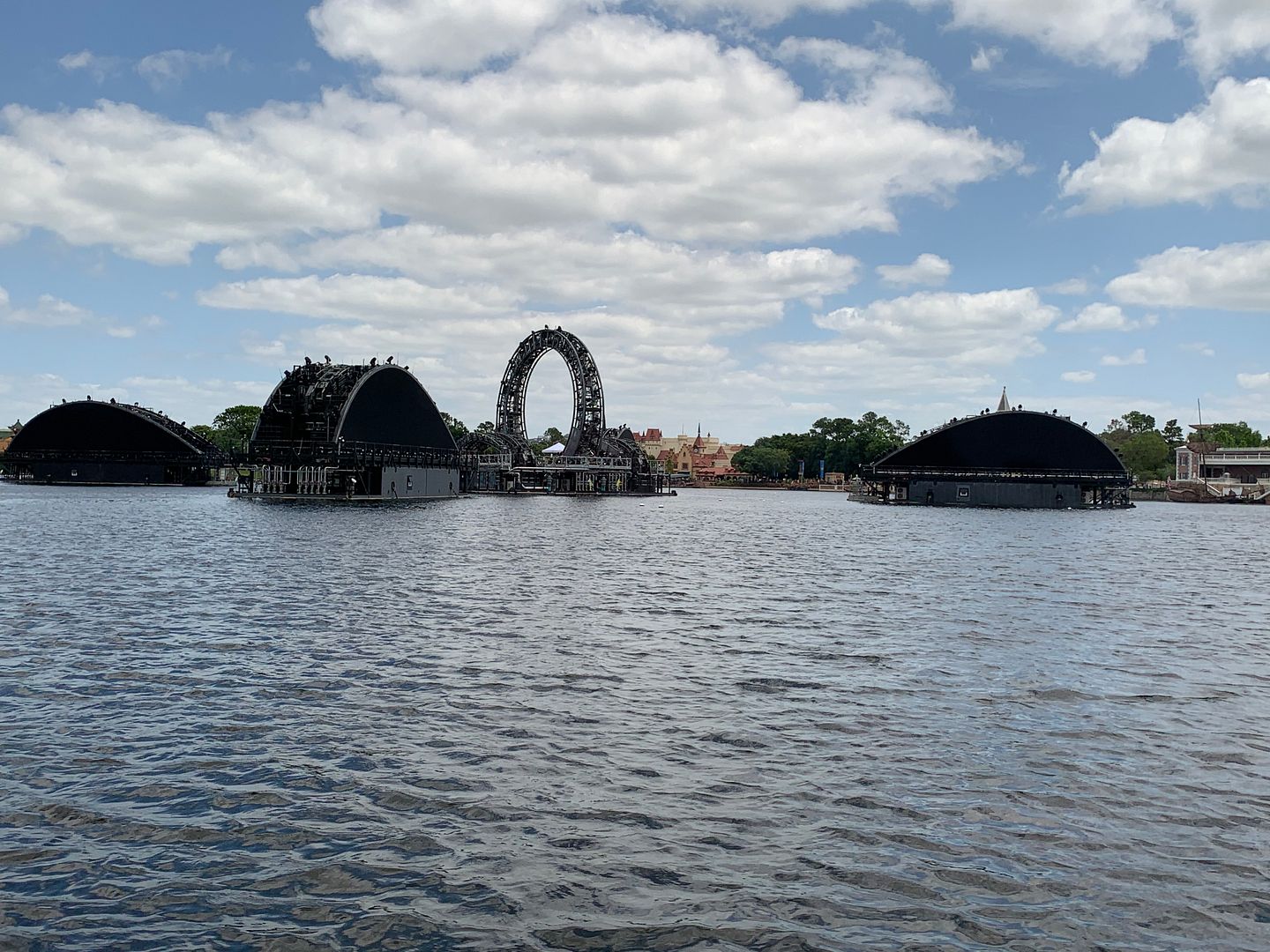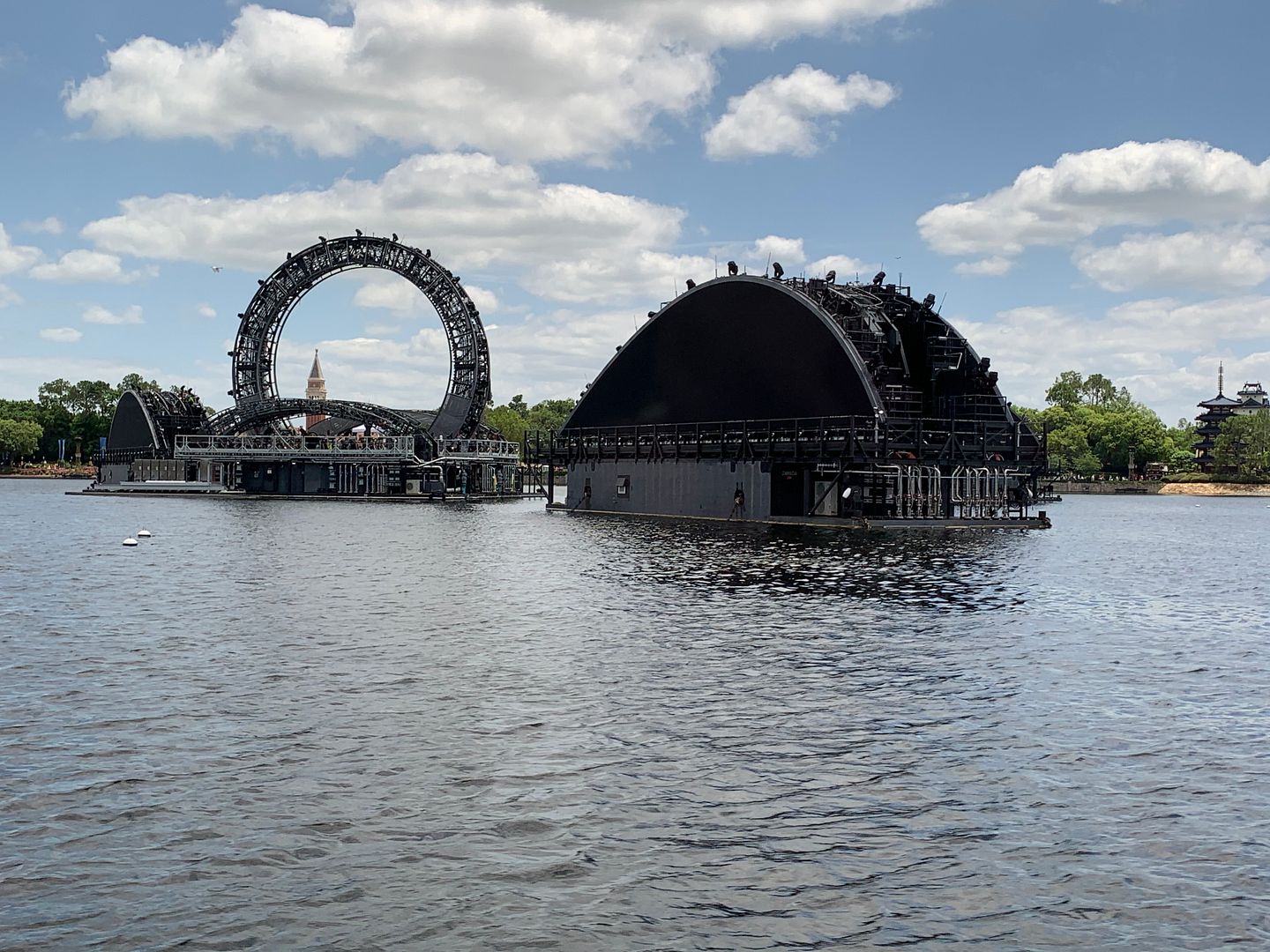 It was easy to see why people have said these look like giant tacos. I also understand why others have complained that the barges block the line of sight and beautiful view around World Showcase. I remember thinking then that hopefully the new show would be so spectacular at night that it would make everyone forget that it is a bit of an eyesore by day. Now that Harmonious has officially started and the reviews are coming in, I'm not sure that "spectacular" is the best word to describe it. From viewing it online I would say it's a good show, but not as great as I'd anticipated. Disney has hyped this show for so long (I think it was first announced in 2018?) that it has really built up our expectations and perhaps set the bar too high. But to be fair, maybe the experience will be better when seeing it in person. I guess that will be a topic to cover in my next trip report. Regardless though, I wish the barges could be hidden/stored away during the day and brought out later for the show, like what used to be done for Illuminations. But perhaps they are just too big and cumbersome to allow this to happen daily.
So anyway, my reason for returning to the Canada area of World Showcase was that one of the Flower & Garden booths that I wanted to visit was located nearby.
During my one day visit to the festival in early March, my husband and I had gotten a Dole Whip here, but since that time another item from this booth had caught my attention when reading festival reviews.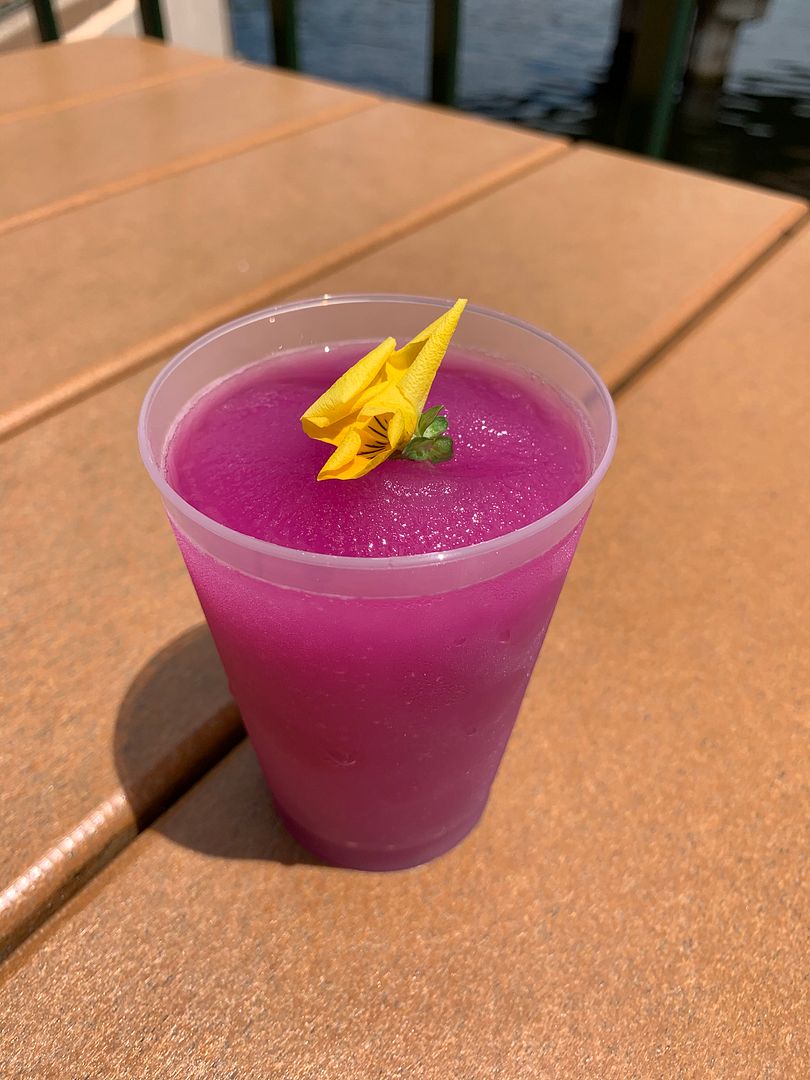 Frozen Desert Violet Lemonade – $4.50
This was so photogenic with its vibrant purple-pink color. It was also both very sweet and very tart. In fact, it tasted like frozen liquid form of Sweet Tarts candy. The flavor was little intense but I still enjoyed it.
But speaking of vibrant colors, these flowers planted next to the Port of Entry shop in Showcase Plaza were so beautiful that I had to stop and take a photo…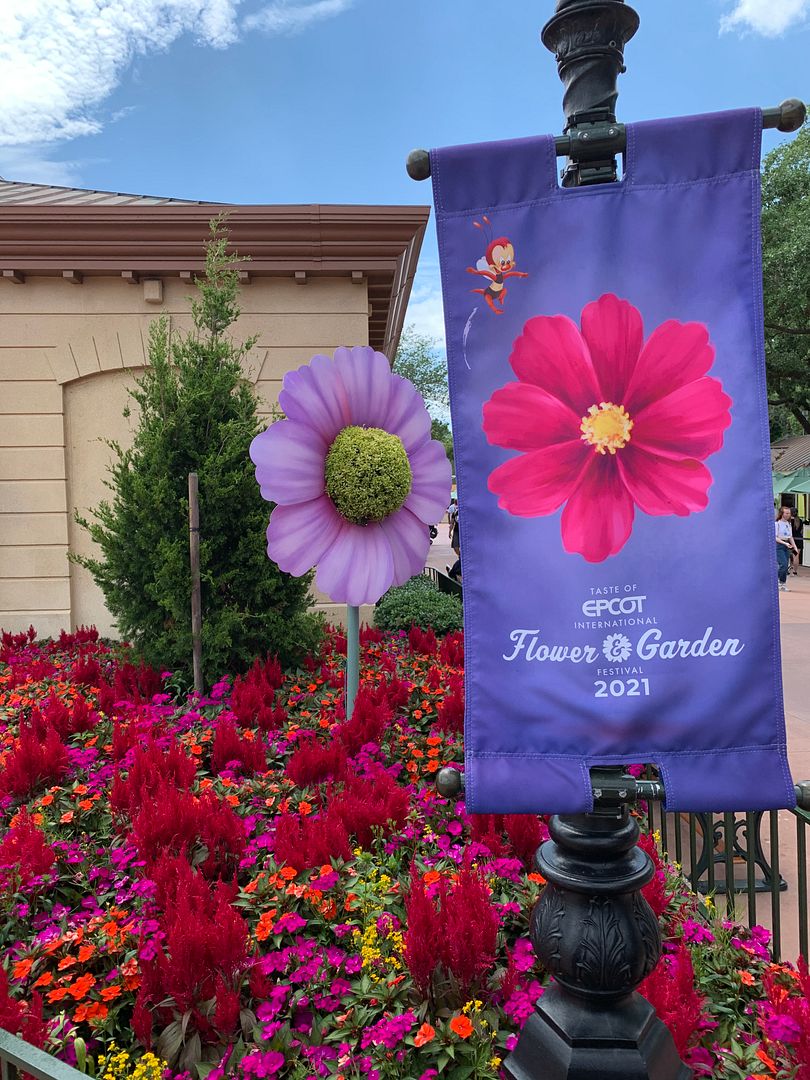 Then it was on to my last stop of the afternoon. However, along the way to my destination I had to stop for a few minutes to watch the Jammitors (aka the Jammin' Gardeners during the F & G festival) performing on Canada's Mill Stage.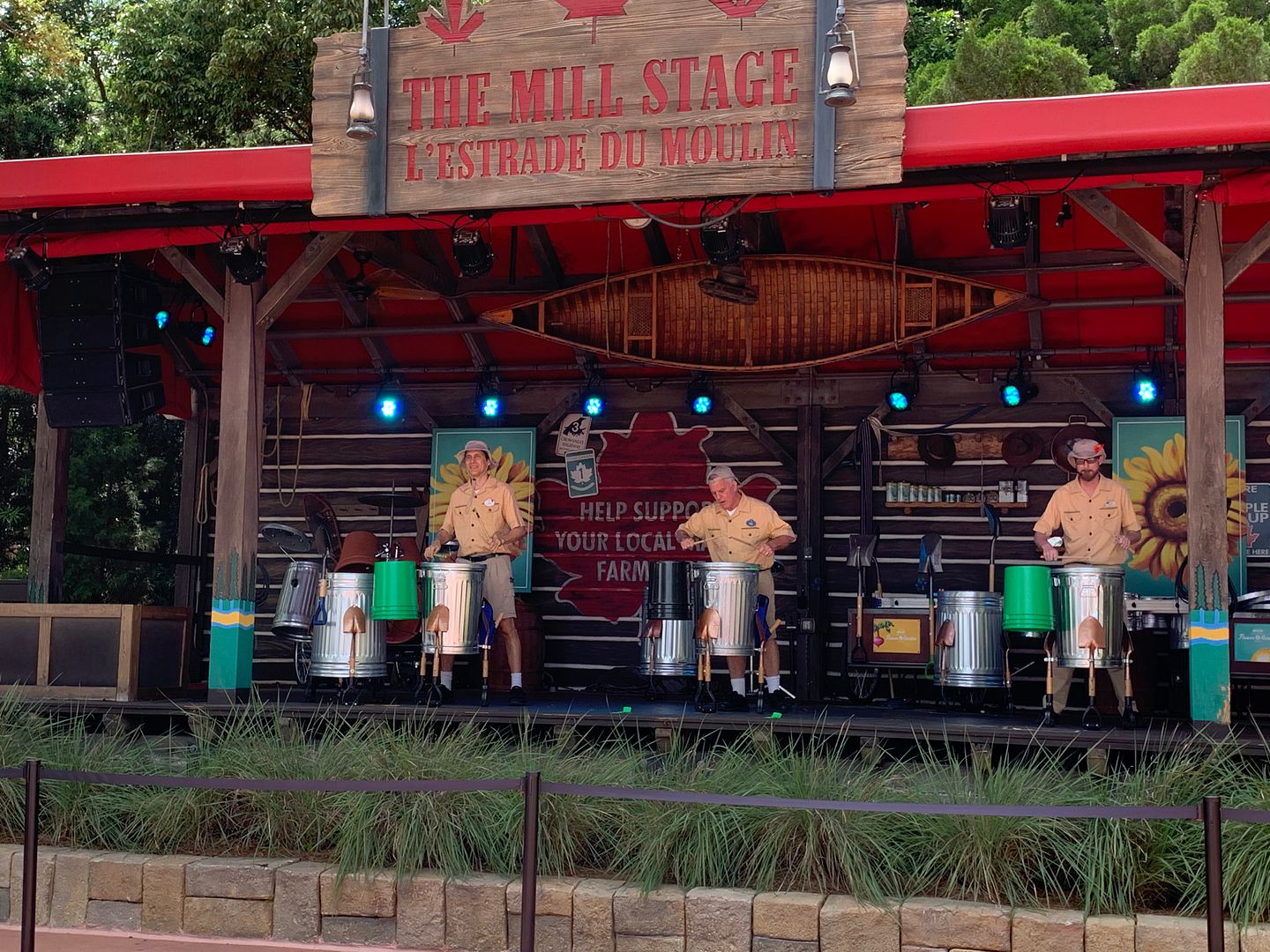 Whether they are performing as the Jammitors cleanup crew, the Jammin' Gardeners, or the Jammin' Chefs (during Food & Wine Festival) they are always entertaining. I've read that the Canadian folk band, Alberta Bound, has recently returned to the Mill Stage so I'm not sure where the Jammin' Chefs are performing now. They are perhaps back to performing near Spaceship Earth or maybe they are sharing the American Gardens stage with the Voices of Liberty and Mariachi Cobre. This is another thing I'll have to check out during my next trip and report back on.
Then it was on to the building known as World Showplace, located between the Canada and United Kingdom areas. I had heard that the entertainer who performed there during the festival (billed as the "Epcot Pianist") was Miss Carol (aka the Hat Lady) who used to perform at the Rose & Crown Pub.
I don't even remember the first time I saw her perform at the pub, as it has been too many years ago. But she is so fun and talented, with such a quick wit. Truly a gem!
So anyway, I was excited to see her again up on the World Showplace stage, playing a baby grand piano…
This was a more formal setting than the pub, therefore this was a different style of performance than I've been used to seeing her do. She was less interactive with the audience and no singing. But I still enjoyed it and was very happy to see that she had survived the pandemic shutdown, unlike so much of the other live entertainment at Disney World. I'm seeing on the current Epcot entertainment schedule on wdwent.com that "The Epcot Pianist" is back in the United Kingdom area again, but now is performing daily at the rose garden gazebo where the rock band, British Revolution, used to play before the shutdown last year. I would guess that the "The Epcot Pianist" is still Carol, at least on most days. Another thing for me to check out on my next trip. But I hope someday she is back to performing at the pub, as that was the perfect setting for her to showcase her talents.
Also, while I was killing time waiting on Carol's next performance I decided that maybe I could eat a little something from one of the 3 festival booths located inside the World Showplace pavilion. After looking over their three menus I chose something from the Farmers Feast…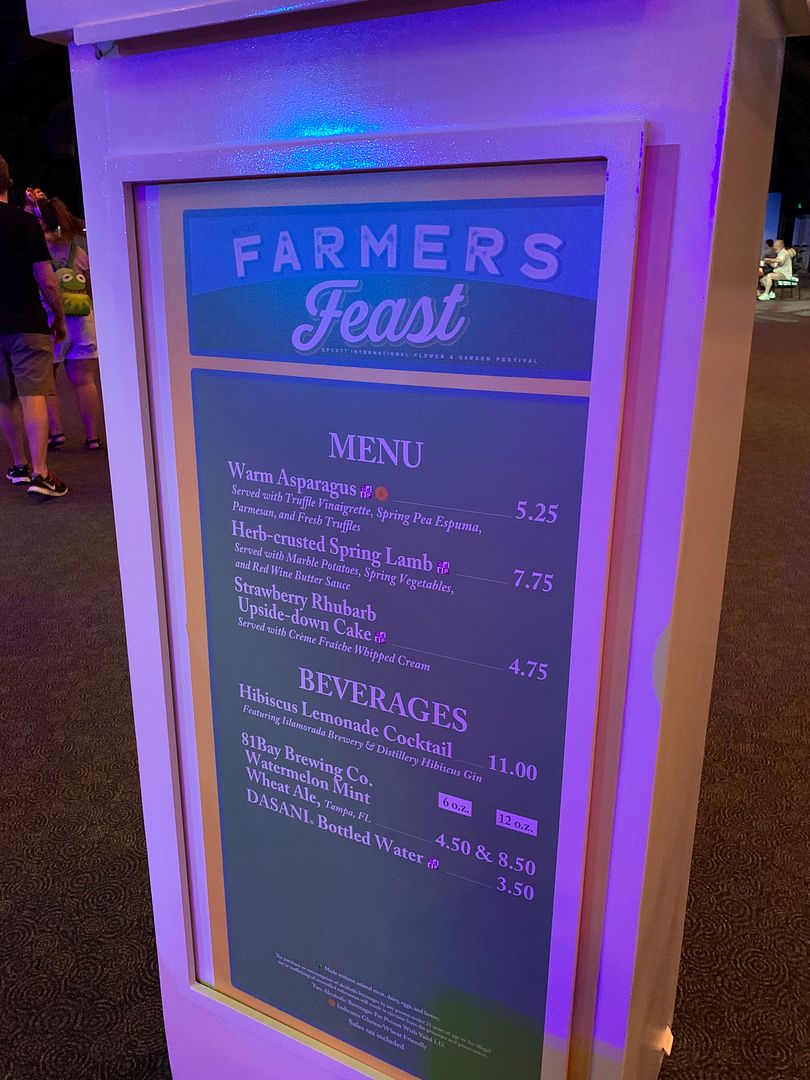 This booth had a different menu from when I visited in early March. From this new menu I chose the…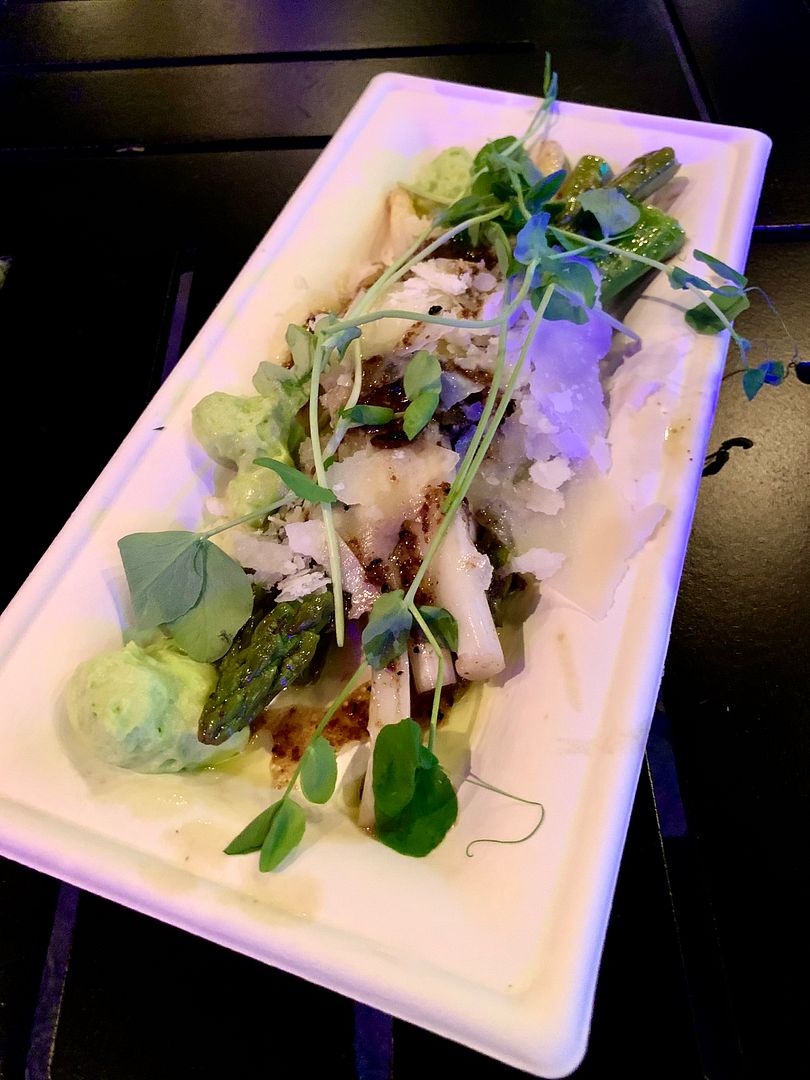 Warm Asparagus served with Truffle Vinaigrette, Spring Pea Espuma, Parmesan Cheese and Fresh Truffles – $5.25
This included both white and green asparagus and for me there was a big difference between the two. While the green was pretty good, the white asparagus was tough and stringy. I liked the flavor of the shaved parmesan, but I think if the cheese had been grated it would have adhered better to the asparagus spears and improved its flavor. The spring pea espuma basically tasted like creamy mashed peas. I happen to like peas but I'm not sure that the flavor complemented the asparagus. Not mentioned in the menu description were the microgreens, which I understand because I consider them to be more of a garnish. I suppose there are some that enjoy eating them but I just pushed them to the side.
After Carol's show I decided to call it a day and go back to the room. But first some photos from outside of the World Showplace pavilion. Here you could find these cute Mickey & Minnie topiaries…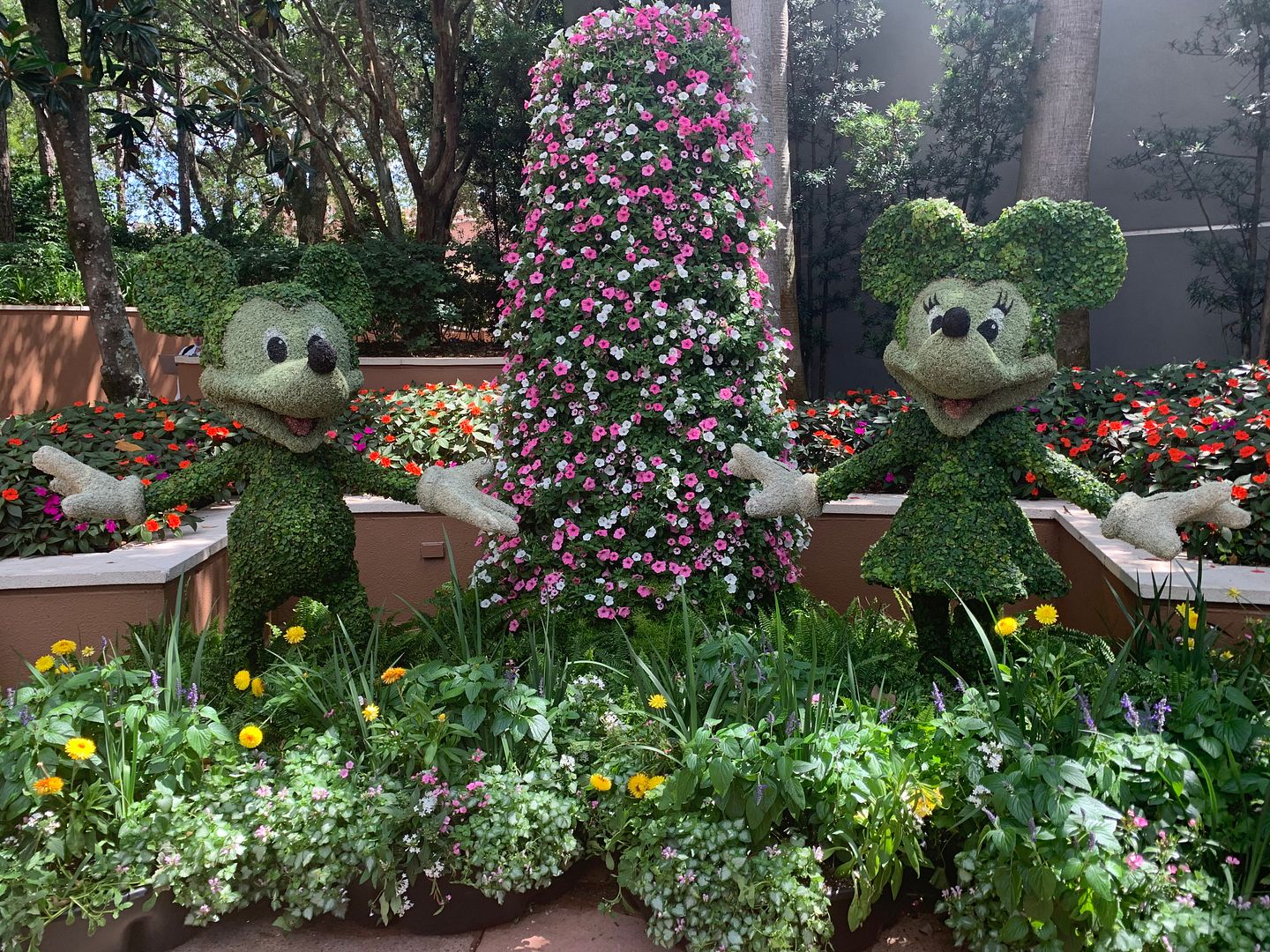 Also among the plants in this area were signs with interesting facts regarding Walt Disney World's horticulture…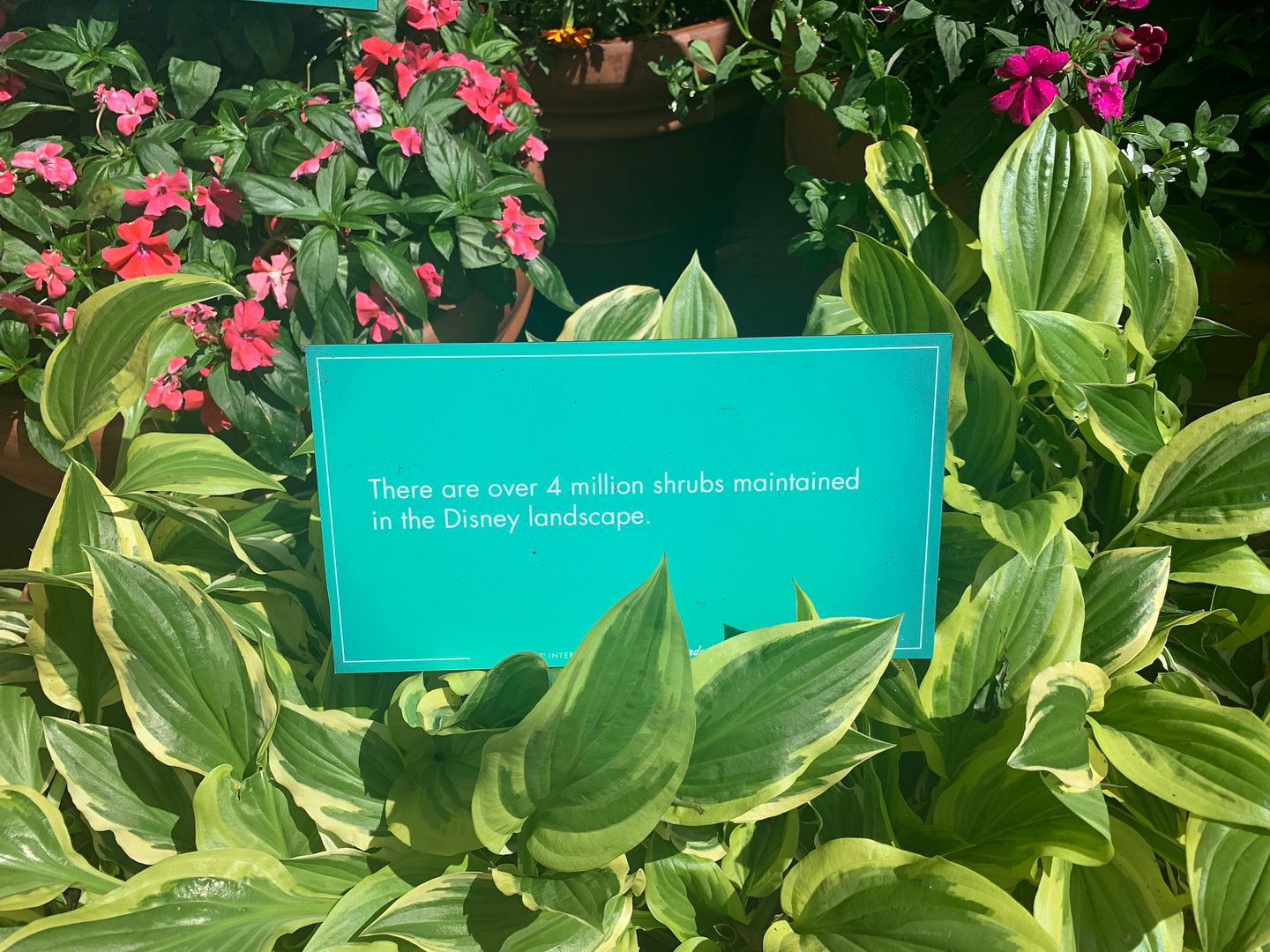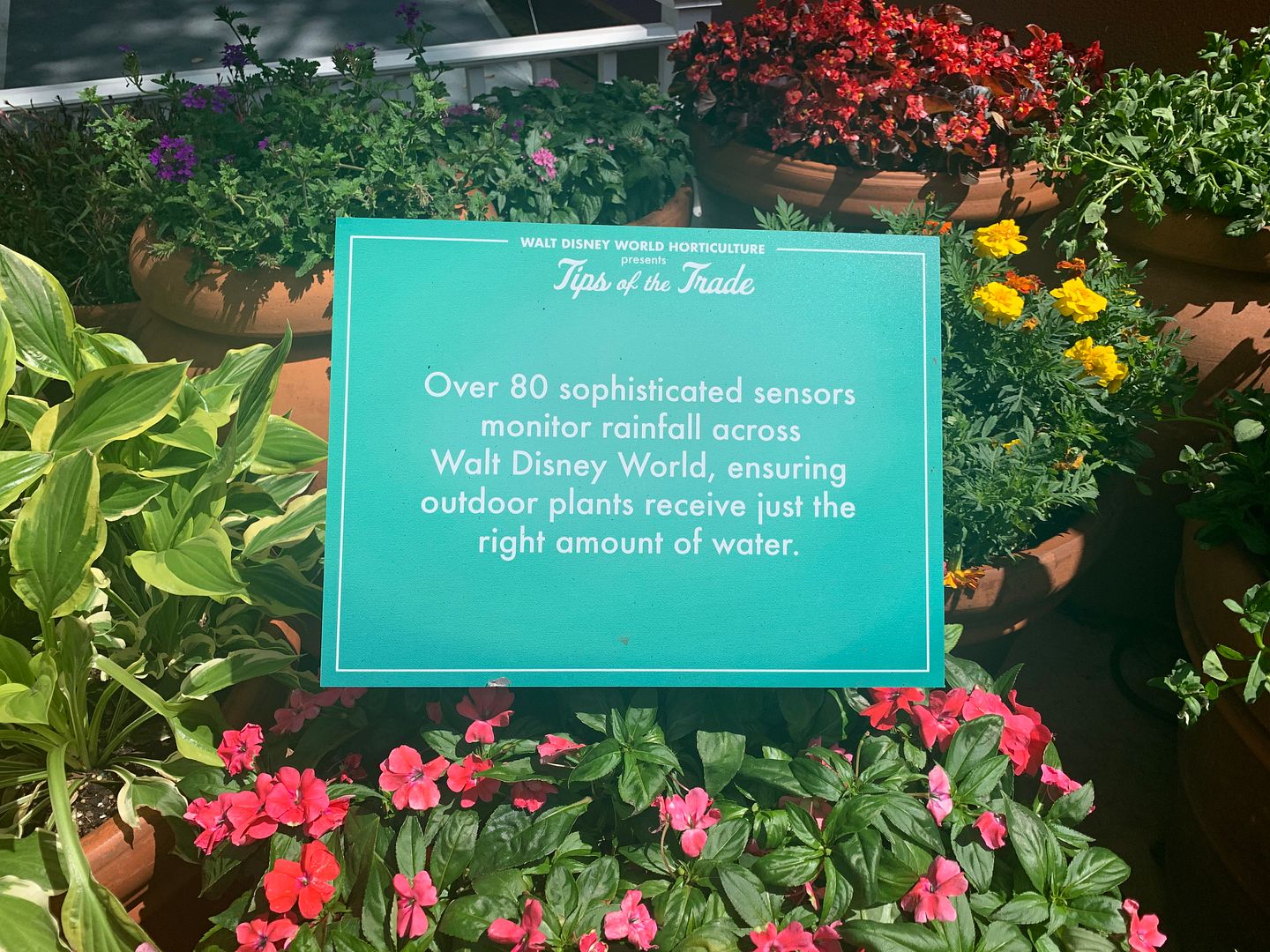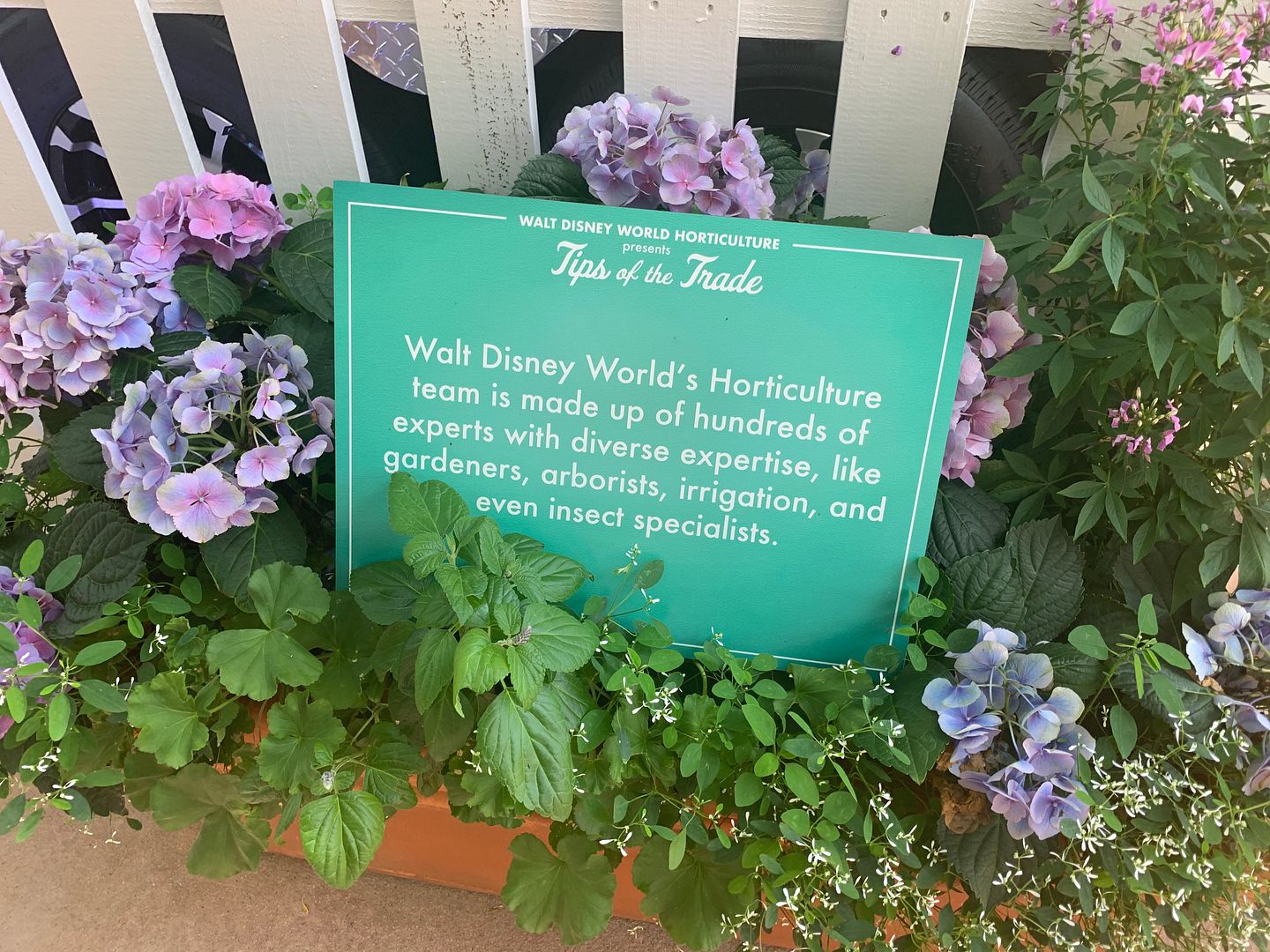 And then a few more topiary photos from the United Kingdom and International Gateway area before saying my goodbyes to Epcot for this trip..,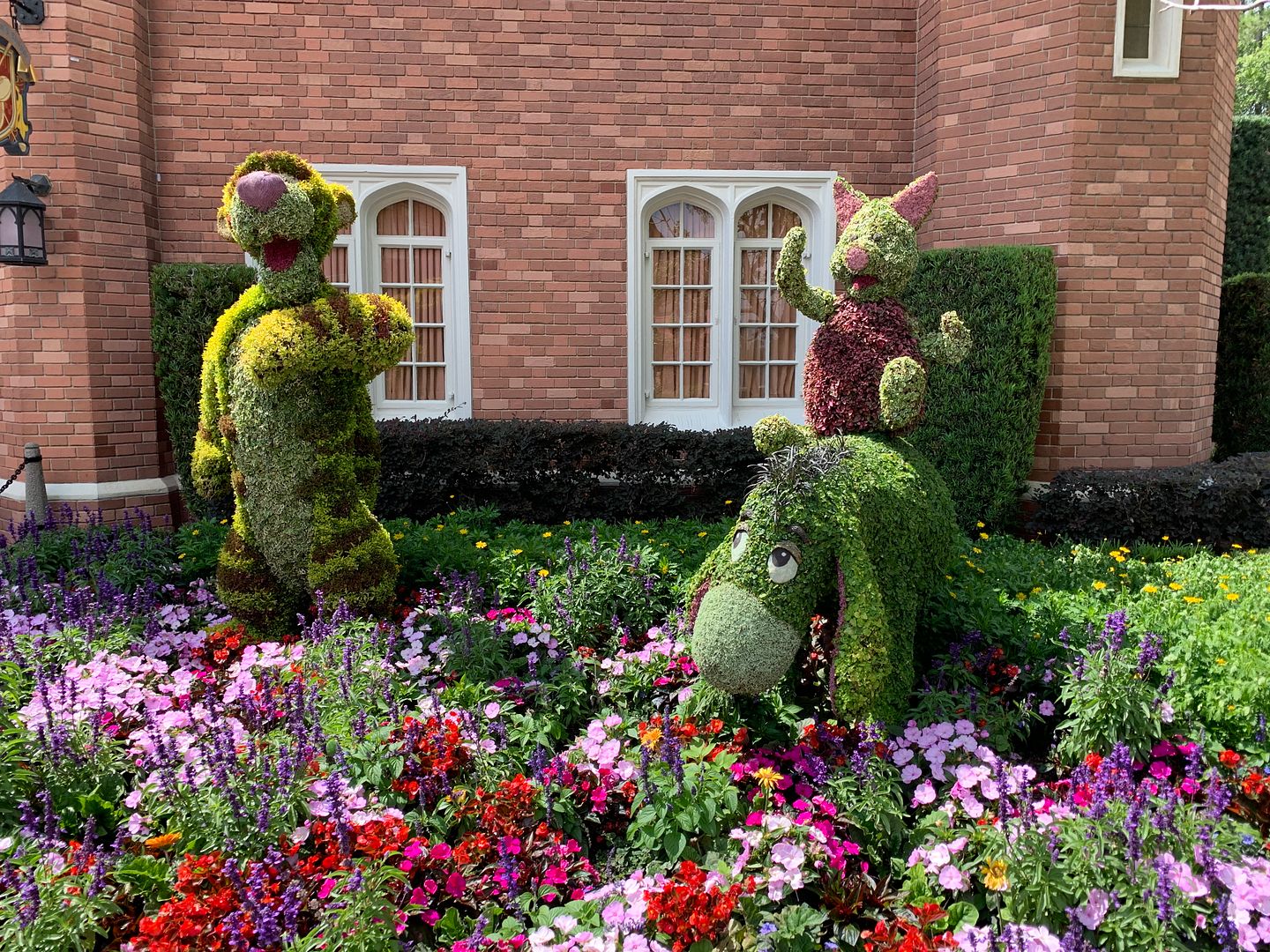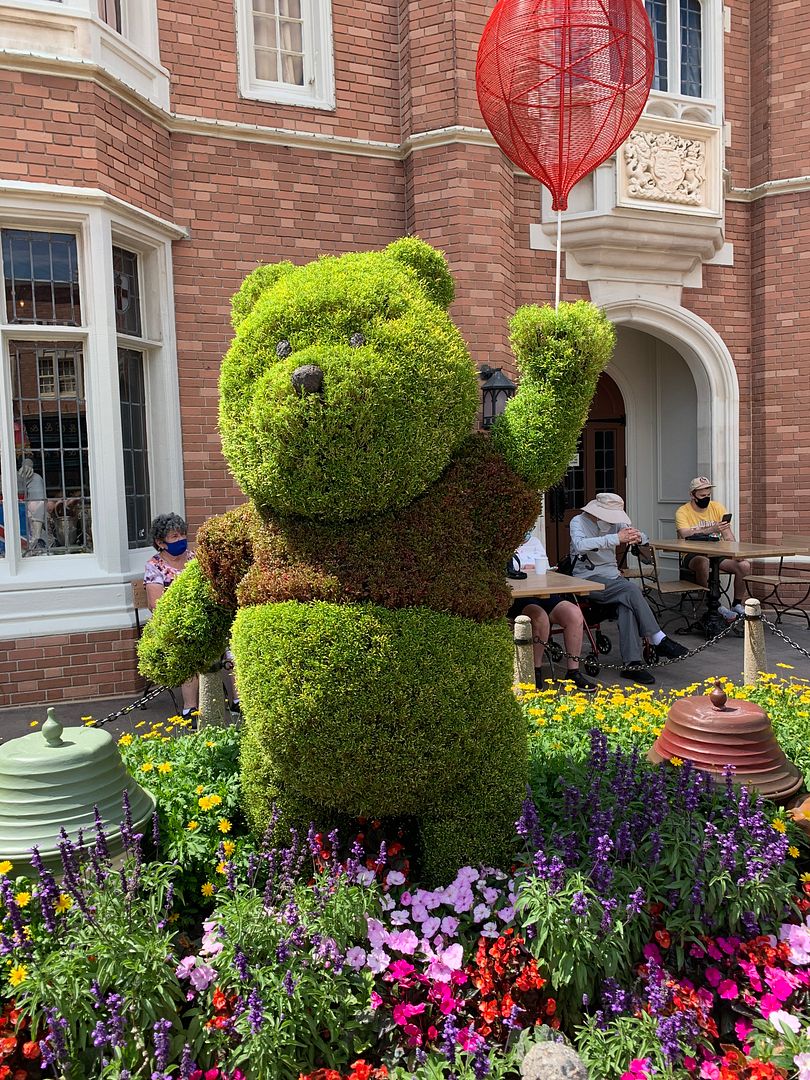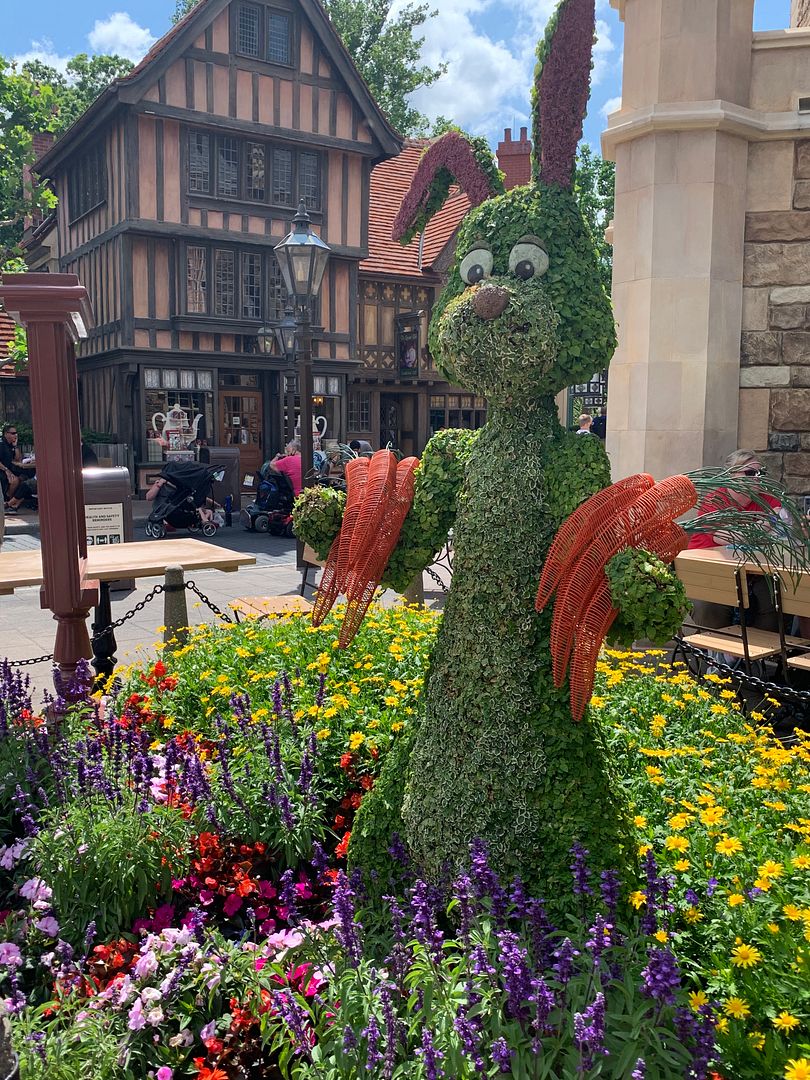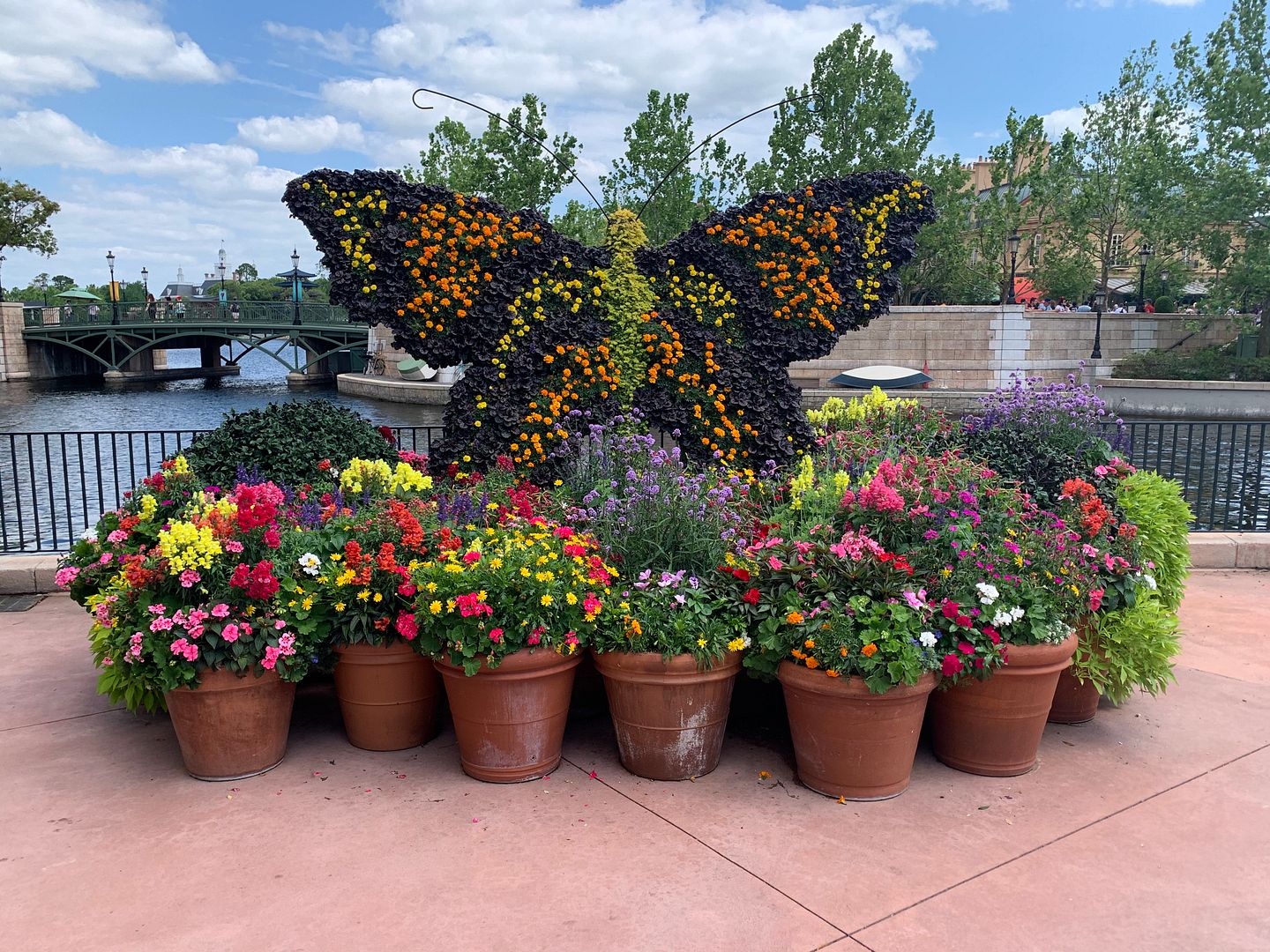 After some R & R time back in our room at the Yacht Club it was time to get ready for our 6:40 dinner reservation. It was nice that we didn't have far to go for it, just an elevator ride down to the lobby and we were there for…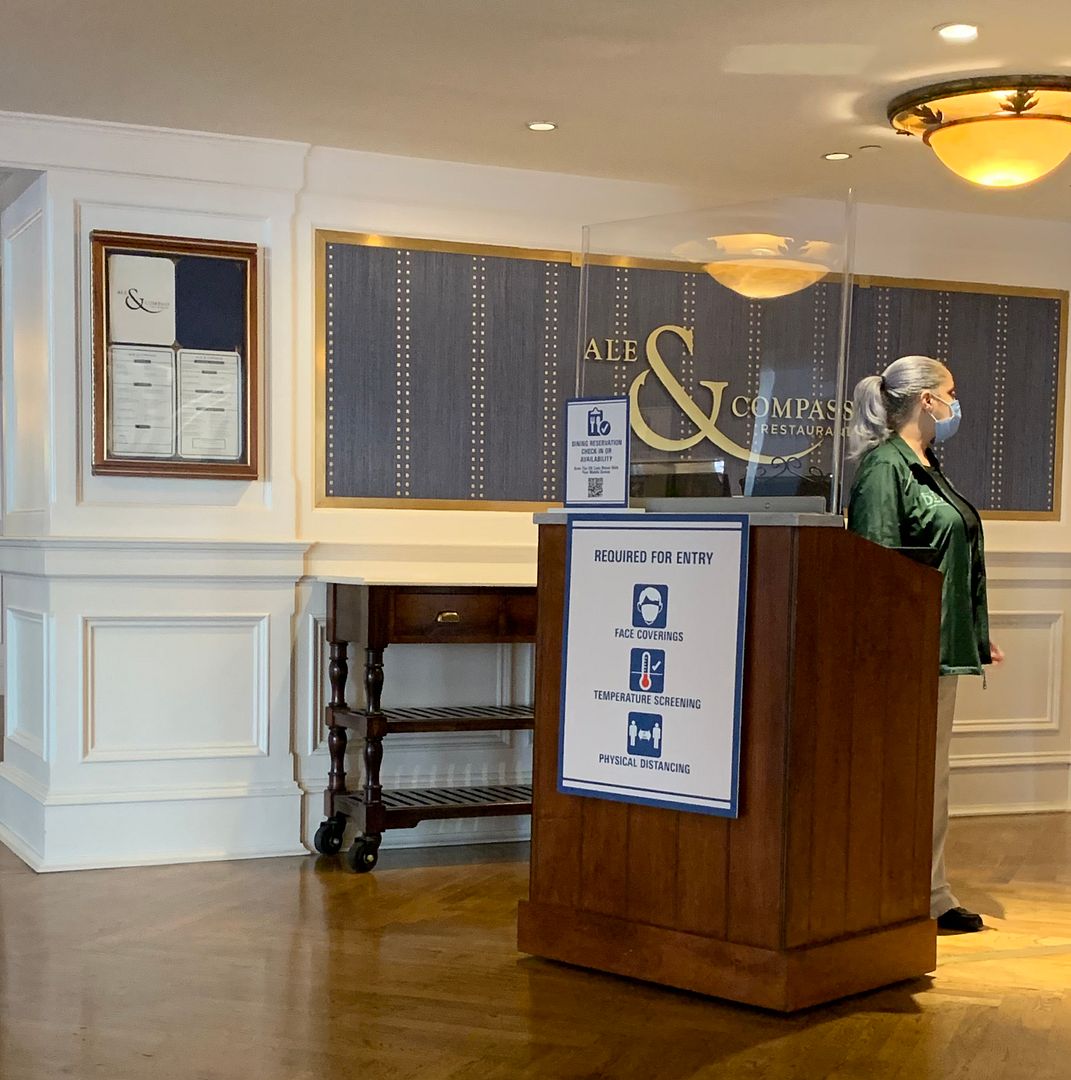 Our Dinner at Ale & Compass Restaurant
After dinner we returned to our room for the rest of the evening. I used the time to get caught up on my trip notes. So at the conclusion of this day (our 2nd and last day at Epcot), my step count was 12,588 and I had traveled 5.33 miles by foot. These were the lowest numbers of the trip.
THURSDAY, APRIL 29 – Hollywood Studios Park Reservation, Disney Springs
With a park reservation at DHS today we both were up by 7:00 and on the MDE app to try and join the virtual queue for Star Wars: Rise of the Resistance, We both used the same method of frequently refreshing the screen. Starting soon after 6:59 a.m. (ET) until the "JOIN" appeared and then going through the next screen as quickly as possible. To my surprise, I was the first to get in and receive a Boarding Group…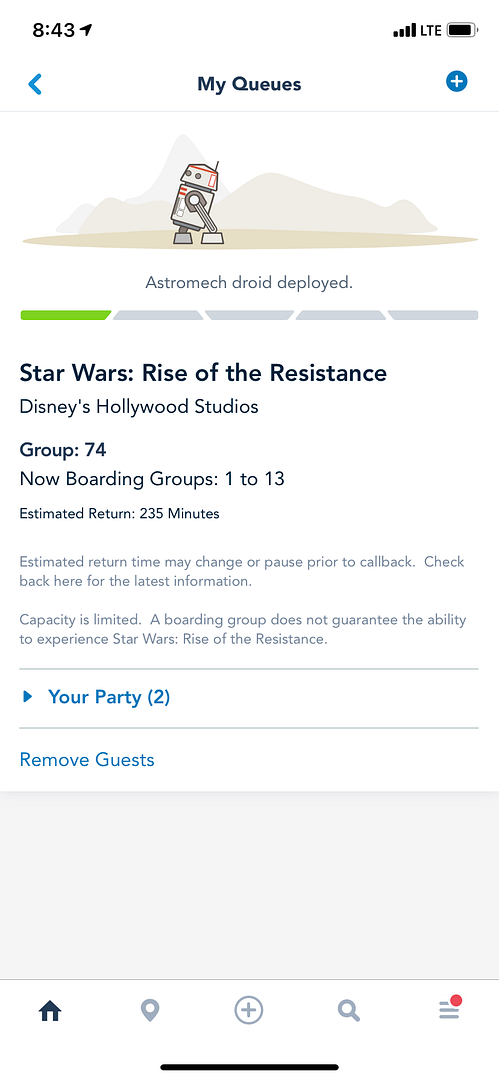 This was just slightly better than the 78 I got during my short trip in March, but I was still pretty proud of myself. Haha. The estimated time that our Boarding Group would be called was 1:00.
The official opening time of DHS that day was 9:00 but we knew from our experience throughout the week at the other parks that it would unofficially open much earlier, probably around 8:00 – 8:15. So I was ready to leave our room at the Yacht Club to walk to DHS at 7:30 but Andrew wasn't quite ready. After I impatiently waited for about 10 minutes, Andrew sent me on and said he would catch up with me, as he is a faster walker. In case you are unfamiliar with the walking path, from the Yacht Club you make a right and cross the bridge in front of the Swan & Dolphin. The path veers left then and under the Boardwalk arch. Then it continues along side the waterway behind the Boardwalk Villas. Eventually you will pass the Skyliner station located outside of DHS. I believe it took me about 25 minutes from the time I left our room to my arrival at the park entrance, which was at about 8:05. The park wasn't yet open so they were ushering everyone arriving at that time into one very long line, which was waiting to go through the temperature screening, security scanner and then the entrance gates. After waiting in this line for about 5 minutes I got a text from Andrew that he had arrived just as they were opening another temperature check area and was 2nd in that line to enter once they were notified that the park was ready to open. So I quickly left my place in the long line and joined him. However, being among the first people to enter the park did not help much in the end.
The two rides that typically have the longest wait times are Slinky Dog Dash and Hollywood Tower of Terror. [NOTE: This was when Rise of the Resistance was doing Boarding Groups/no stand-by] Since TOT is one of Andrew's favorites we decided to head down Sunset Boulevard to ride it first. Once the park opened at 8:15 we quickly executed our plan and had only a few people ahead of us walking down Sunset towards Tower of Terror. All of the others who were among the first to enter the park that day apparently headed towards Galaxy's Edge (to ride the Millennium Falcon) or to Toy Story Land (to ride Slinky Dog Dash). So we were feeling pretty proud of ourselves at this point that we had chosen to "zig" instead of "zag" with the crowd. But that soon changed.
As we approached the end of Sunset Boulevard we saw that there were cast members stationed there. When we reached them we were told that Tower of Terror was having some technical difficulties and wasn't yet open. Darn! So we took their advice and moved on to Rock 'n' Rollercoaster. At 8:29 this photo was taken of us…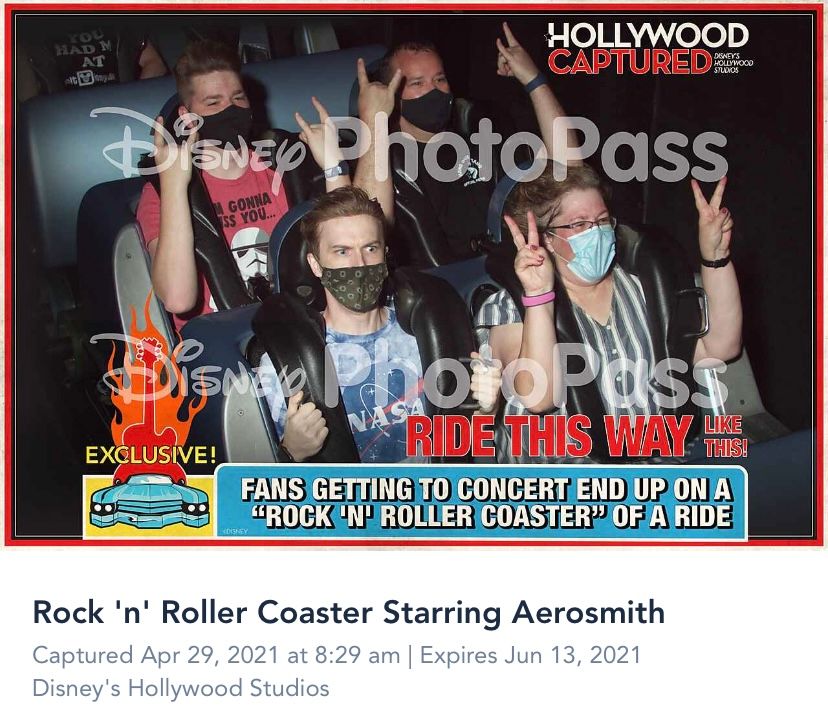 We then returned to the Tower of Terror area and it was still not open. After waiting around for a few minutes we decided it was best to move on to other things, which for us was Galaxy's Edge, and more specifically, the Millennium Falcon. We got in line at about 9:00 and by 9:15 we were here…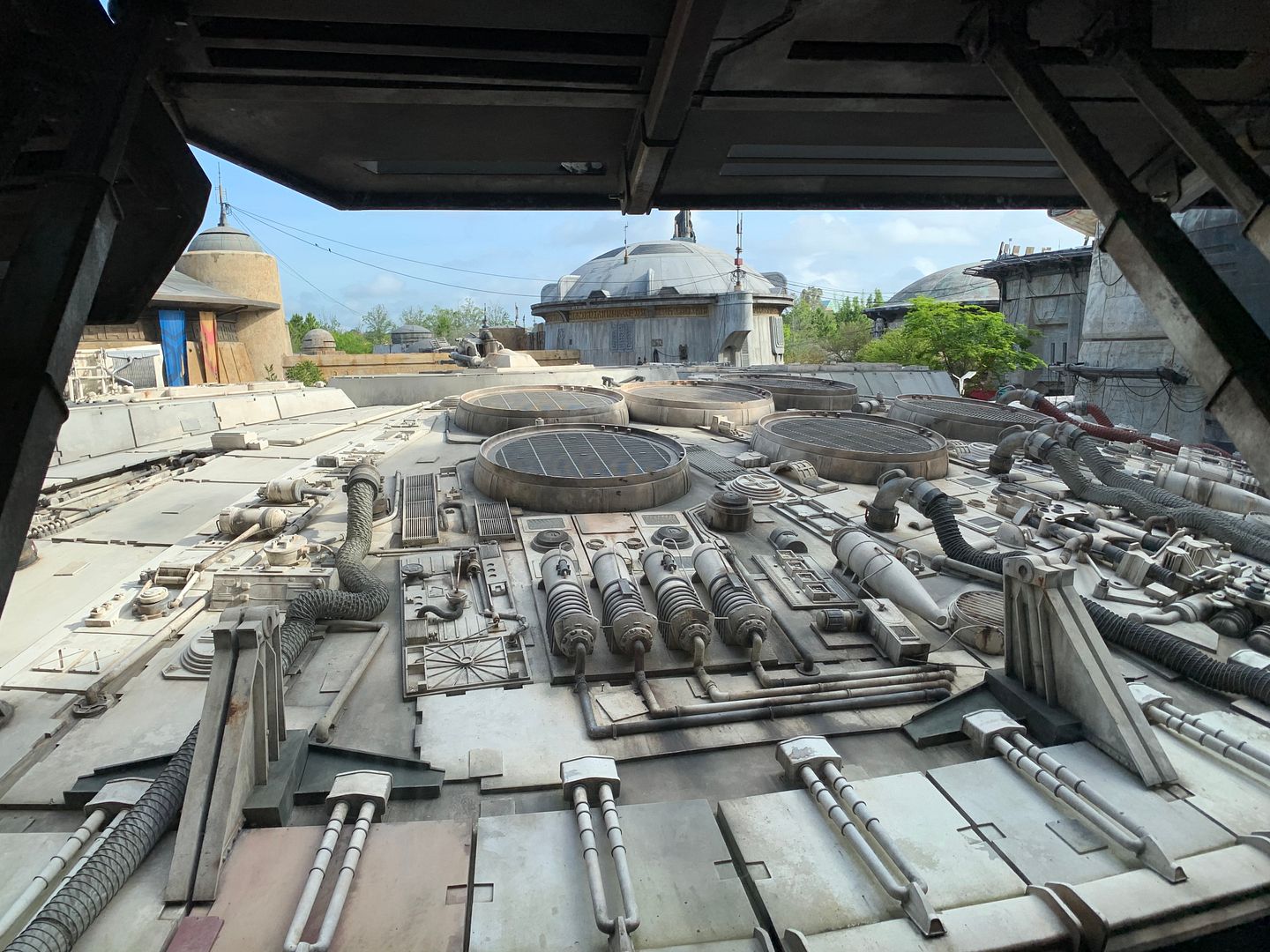 And a few minutes later we were in the pre-show area…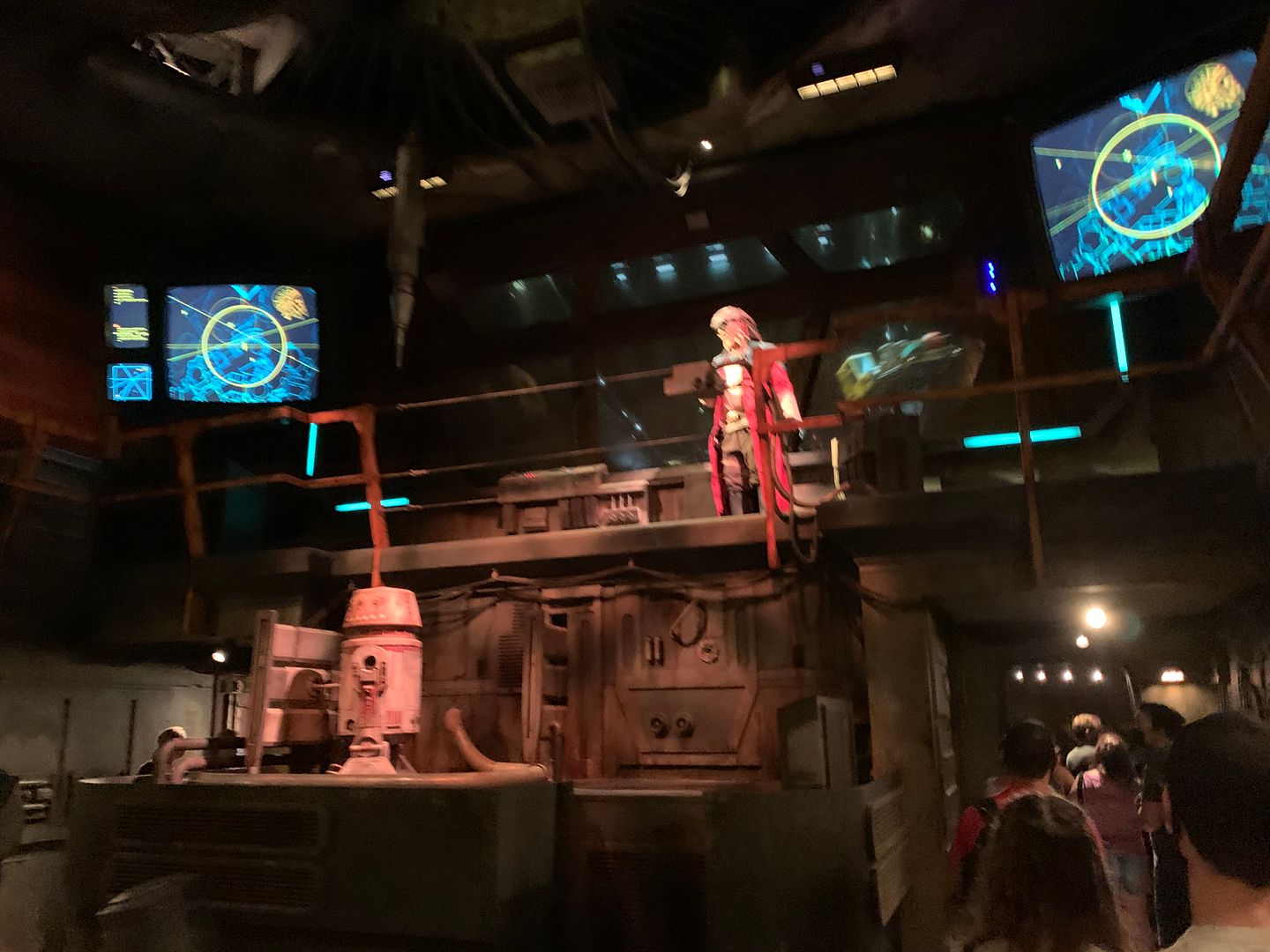 Then we took this selfie at 9:24 before boarding the ship…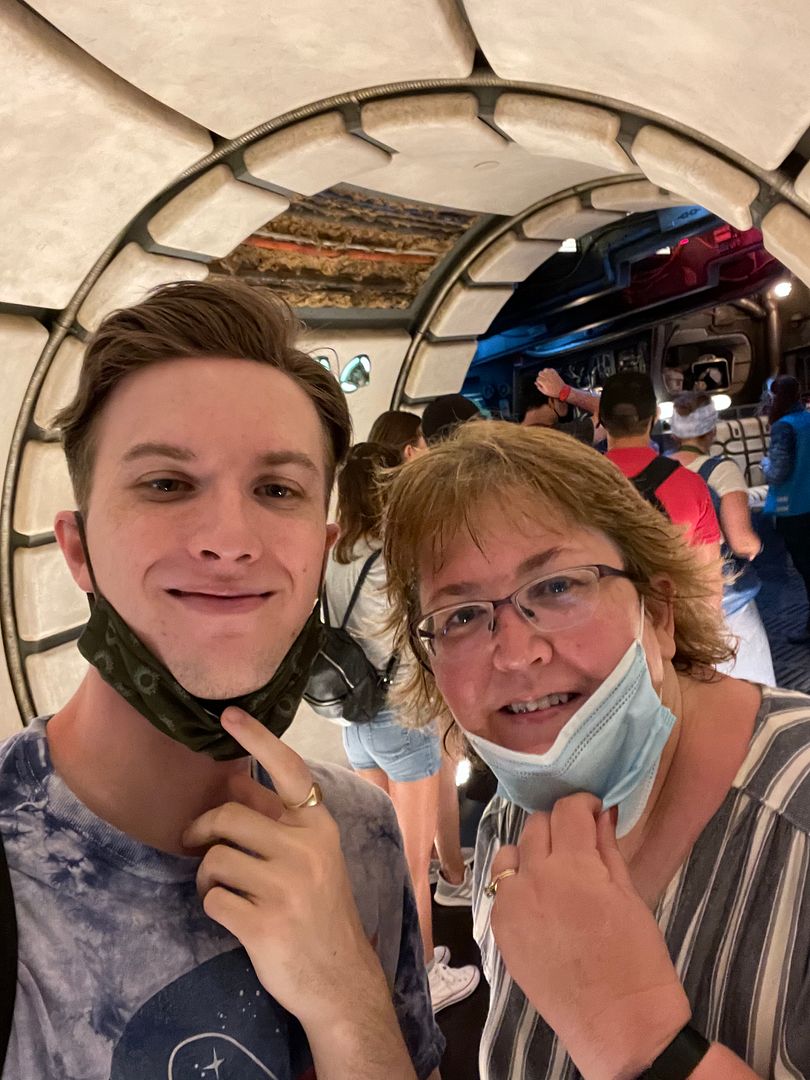 We were both assigned the job of engineer and were joined on the ship by just two others, who were our pilots. After completing our mission we decided we were hungry so went on the hunt for Ronto Roasters. I didn't not know it looked like this…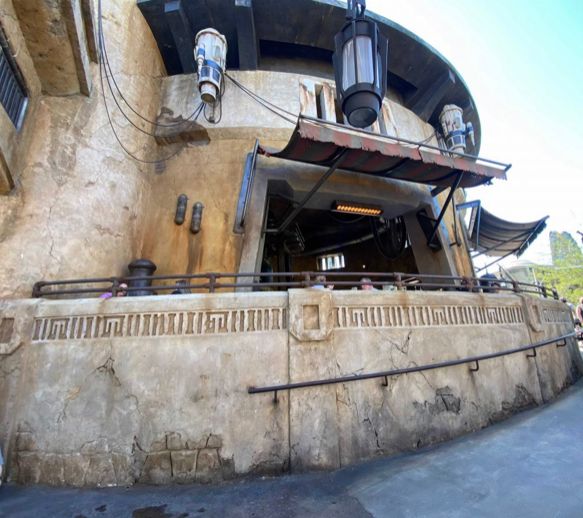 Our Breakfast at Ronto Roasters
After finishing our breakfast we headed to Toy Story Land. However, we had a little trouble remembering where exactly the two lands connected, so again we had to stop and ask a villager (aka cast member).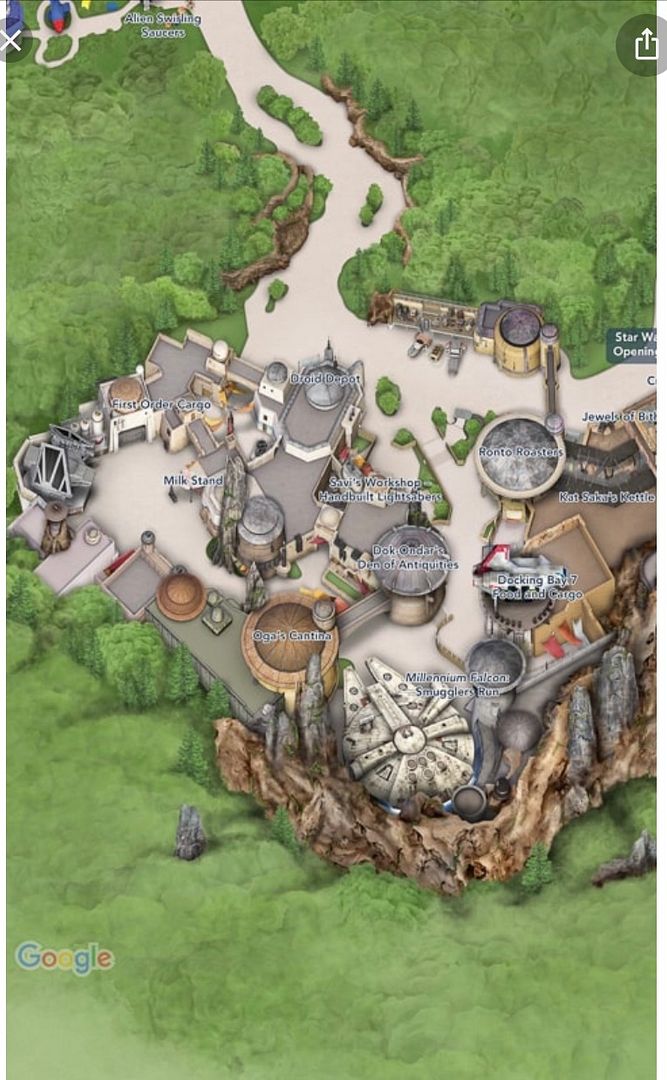 We were a little embarrassed when we found out it was pretty much a straight shot from where we started at Ronto Roasters…well, not straight but an L-shaped shot. Looking at the above map of Galaxy's Edge it seems like it would be so easy to navigate but for some reason I easily get turned around. I think maybe this is because so many of the buildings/surroundings look alike there and in keeping with the theme the signs identifying them are in the Batuu language, which is not my first language, or second, or even third. Haha.
So anyway, once we crossed over into Toy Story Land we checked on Slinky Dog Dash, but with a wait time of more than an hour we decided to pass. Instead we got in line for Toy Story Mania, which had a wait time of only 20 minutes, which ended up being pretty accurate. By 10:40 I had been beaten yet again…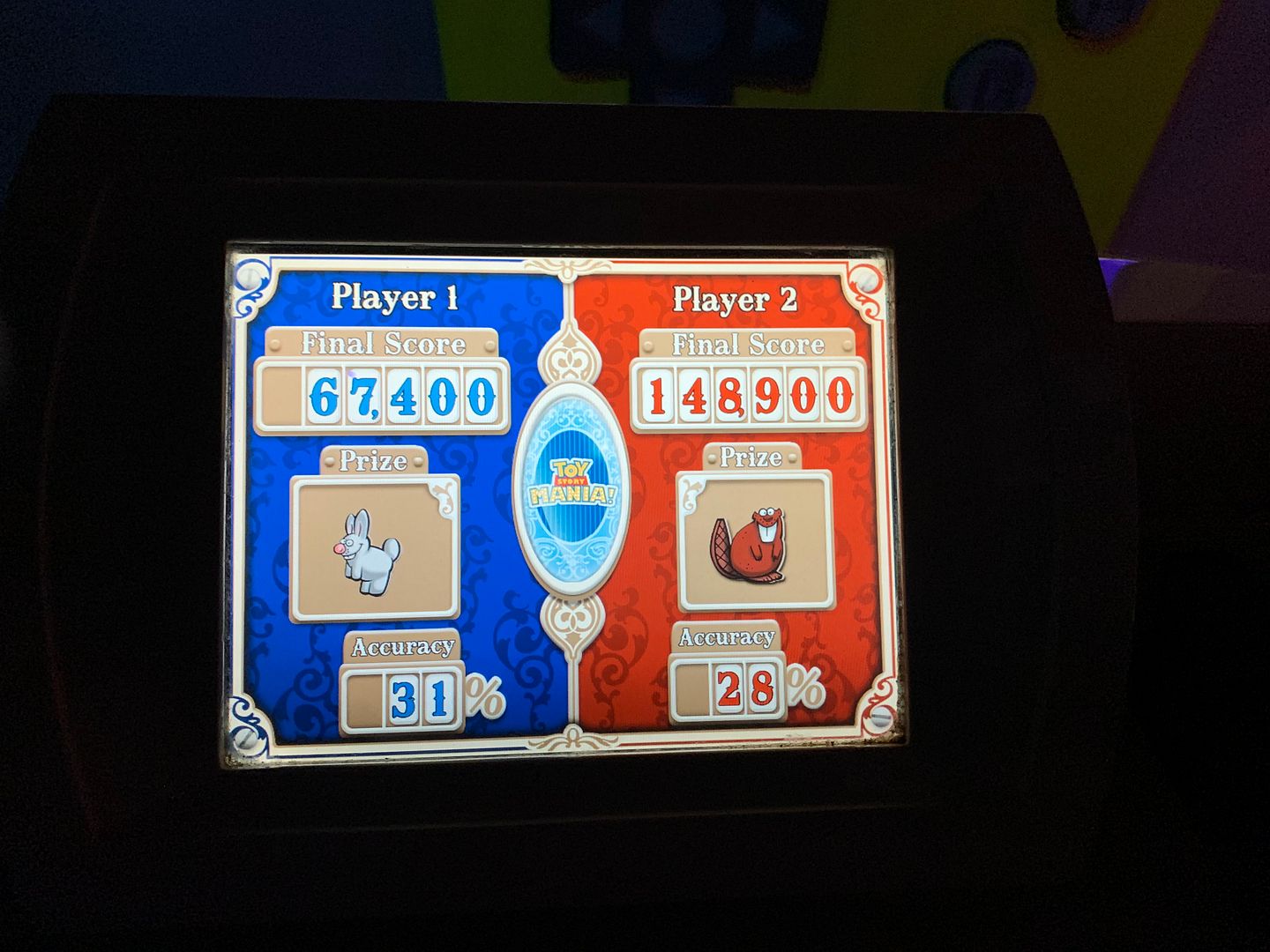 Yes, he got more than double my score, but hey, at least I beat him by 3% on Accuracy, lol. Next up was Mickey & Minnie's Runaway Railway. Andrew and I had actually ridden this on its opening day in March 2020, right before everything was shutdown due to COVID. After this second ride our opinion of this new ride remains the same. It is a cute ride and family-friendly but it should not have taken the place of the Great Movie Ride. The GMR was a classic, which just needed some updating. It did not deserve to be replaced by a cartoon ride, not even one starring Mickey & Minnie.
In the words of Forrest Grump…
We were then ready for some lunch so checked out the nearby options. We first looked at the menu for the Hollywood Brown Derby Lounge and found that they were not yet serving food. (Note: Food service has since returned to the lounge, I believe in early September.) We then decided on another option (this one a quick service restaurant) that is pretty close to Mickey & Minnie's Runaway Railway…
While we were at ABC Commissary having our lunch we got the notification that our Boarding Group was being called…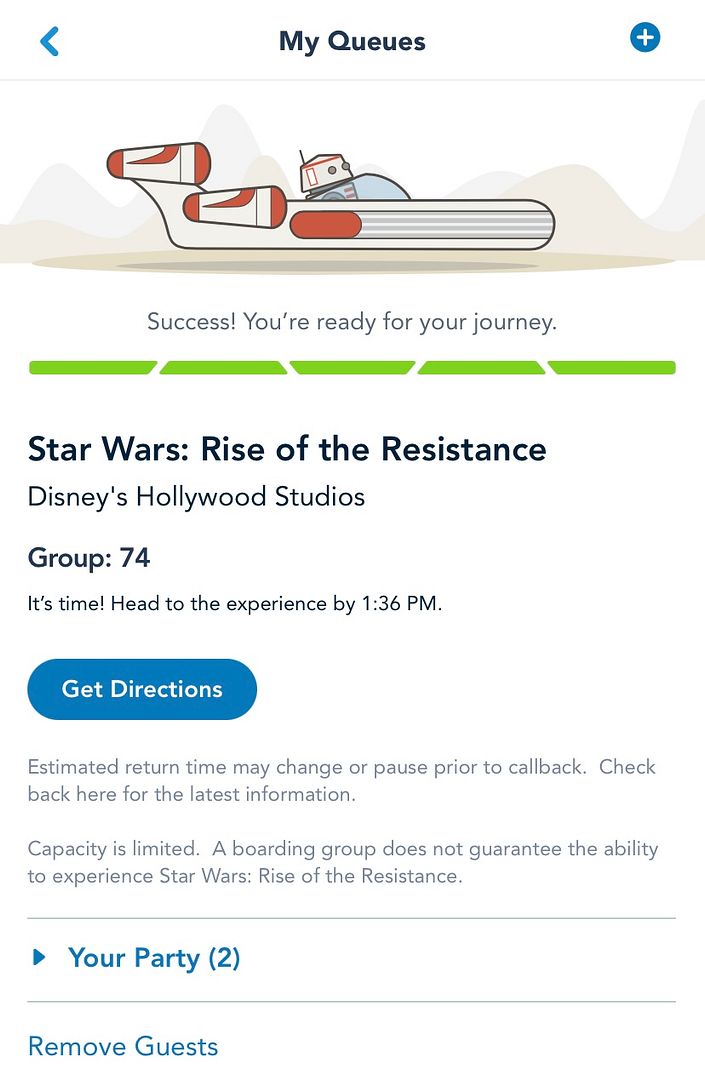 We were notified at 12:36, so we had one hour or until 1:36 to get in line for the ride. Oh, and by the way, you may recall that at 7:00 that morning when we got our Boarding Group we were given an estimated boarding time of 1:00 so that was a pretty good estimate.
We finished our lunch and then made our way back to Galaxy's Edge. By about 1:00 we had entered the fast moving line for the ride. About 5 minutes later we had entered the pre-show area with BB8…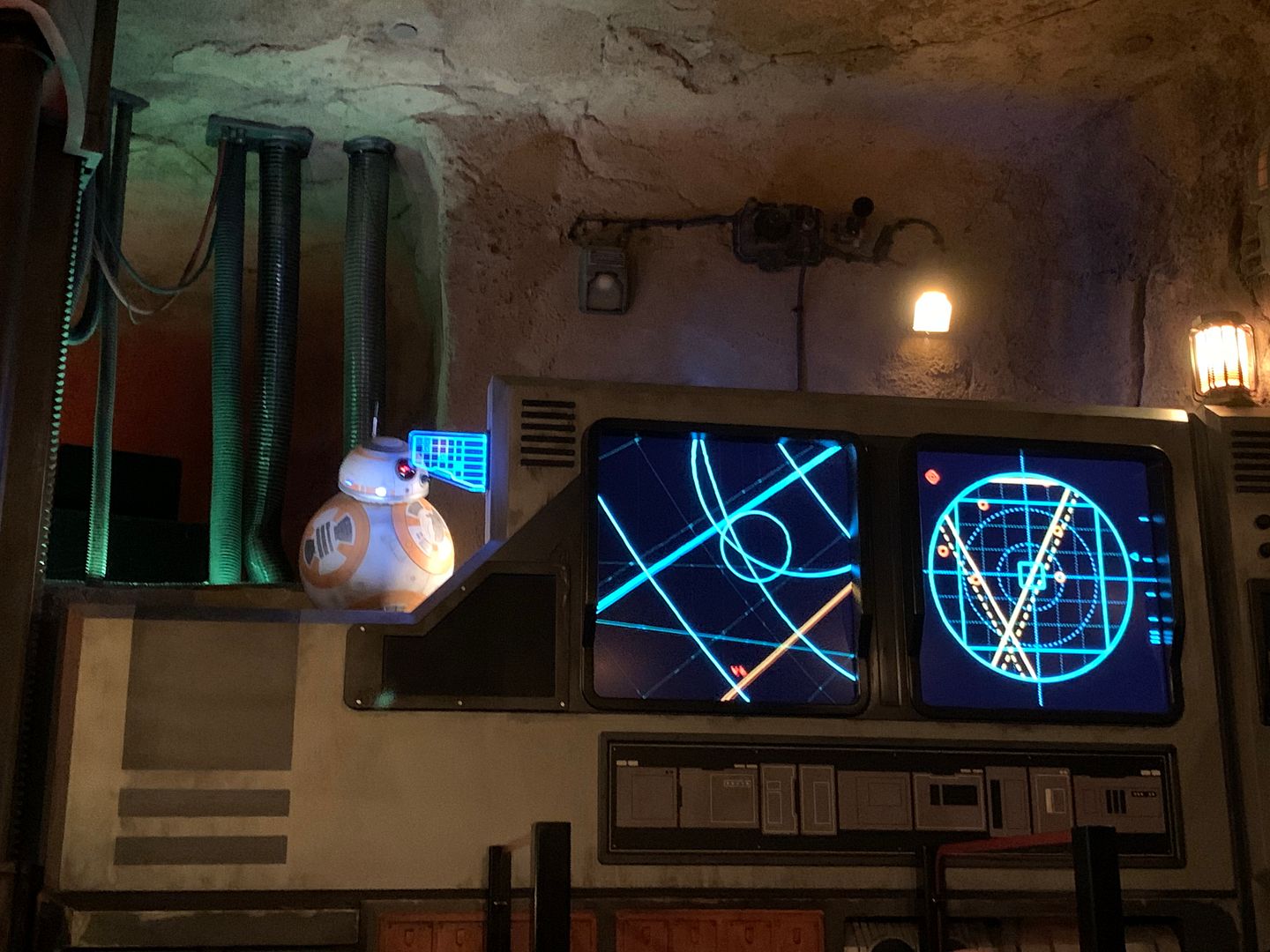 And the Rey hologram…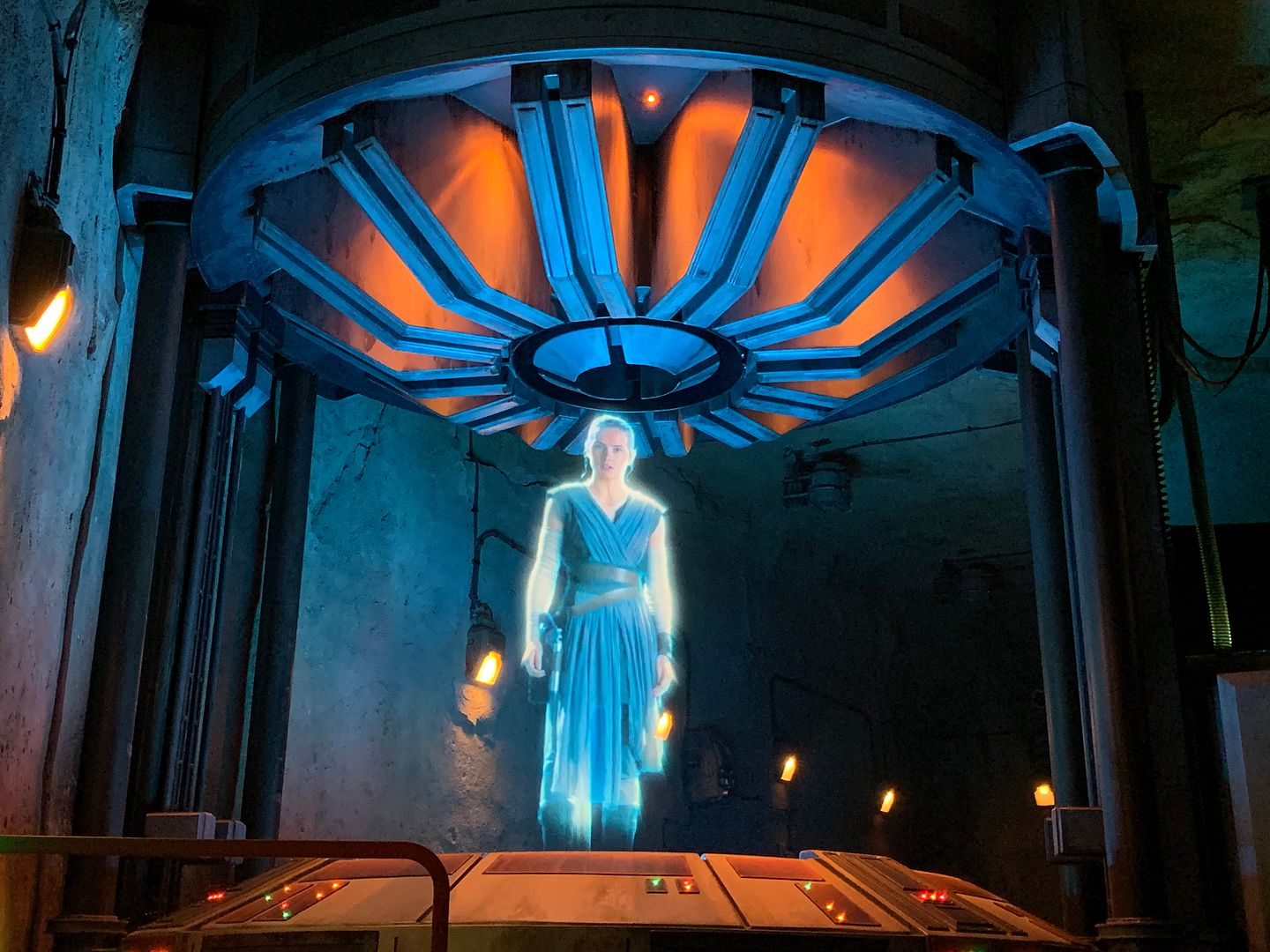 Andrew and I were able to ride this twice (on both of our DHS days) during our short trip in early March 2020 so this was our 3rd experience with Rise of the Resistance. Though they still boarded several people into the enclosed ride vehicle (aka the Resistance ship), we seemed more spread out than before and there were plastic shields installed between groups of guests. Andrew and I were lucky to be placed up front, directly behind the ship's helm, so we had a great view of our pilots, Nien Nunb and Lieutenant Bek.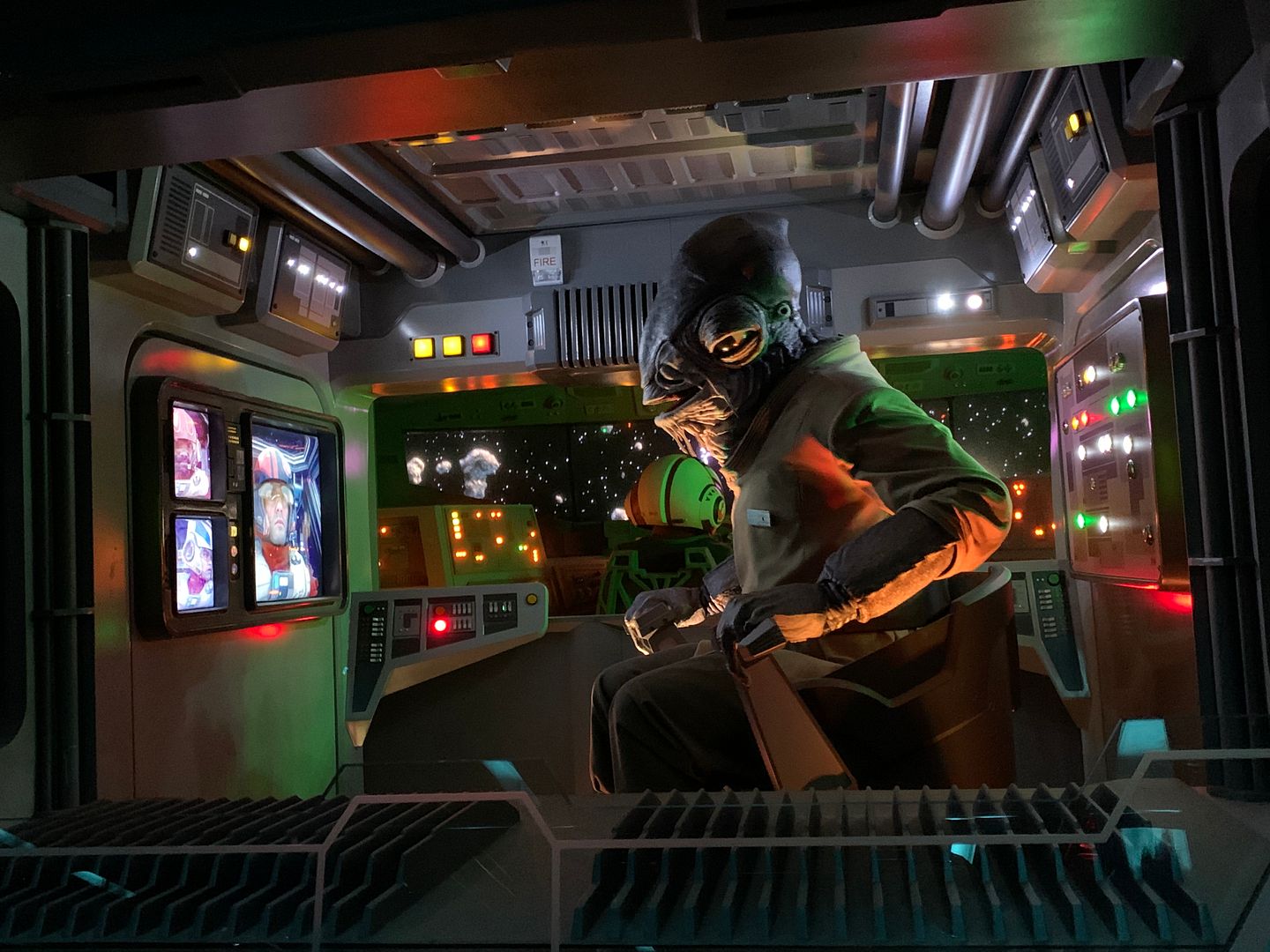 Of course, shortly after departing on our secret mission to the Resistance base on the planet of Picara, our ship was intercepted by the First Order. We, along with the other captured passengers were ordered to disembark from the transport ship and seemingly stepped into a Star Wars movie…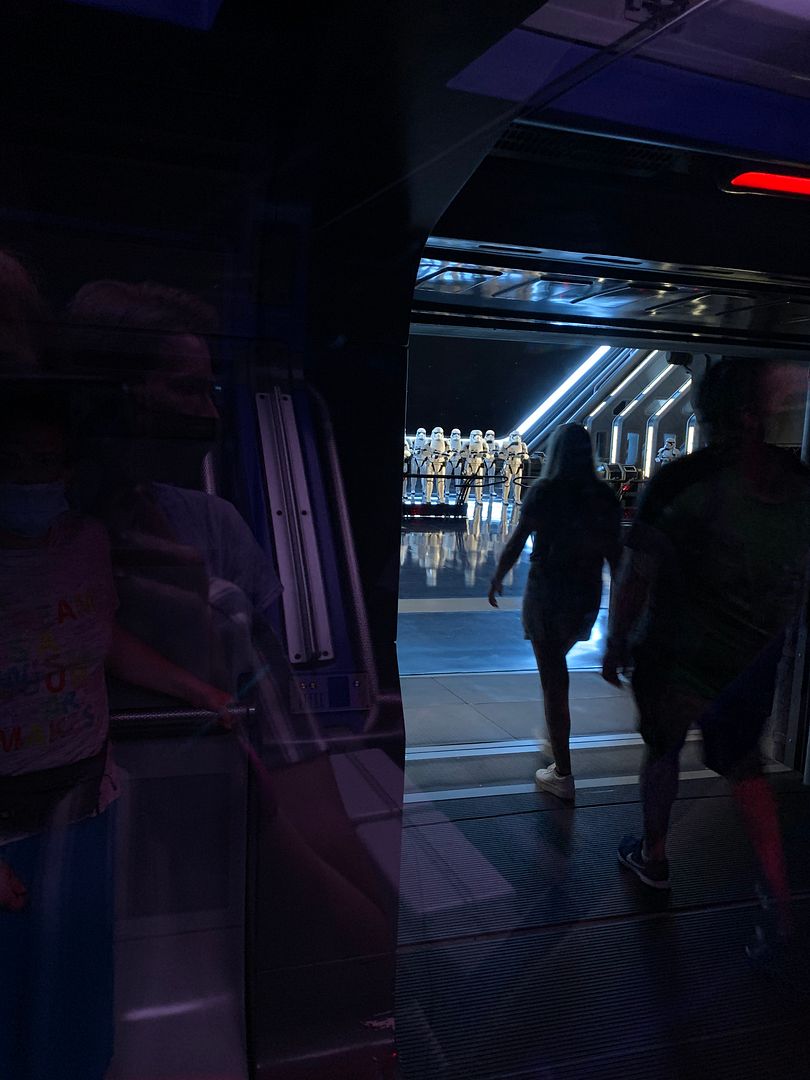 Uh oh, firing squad?…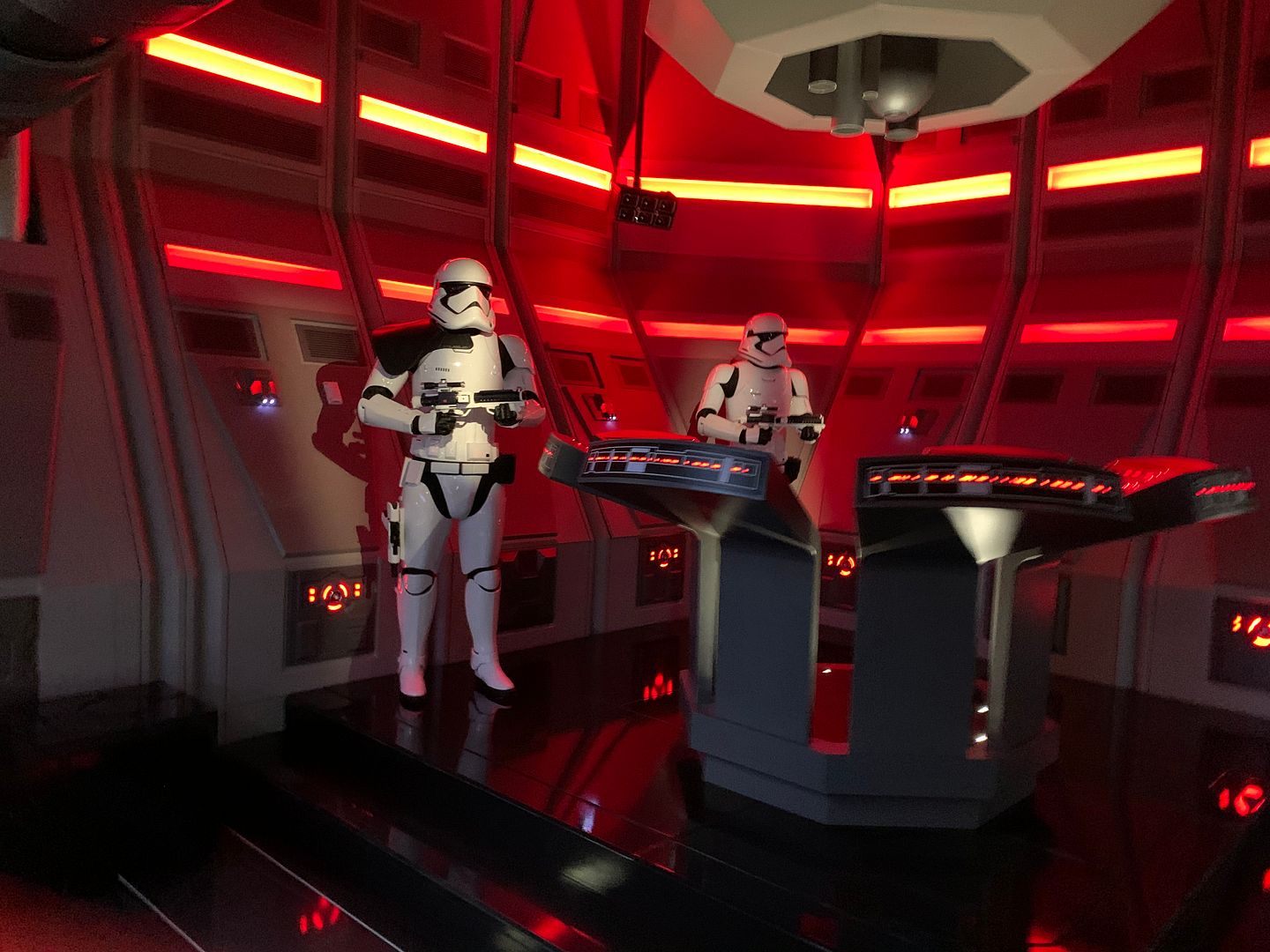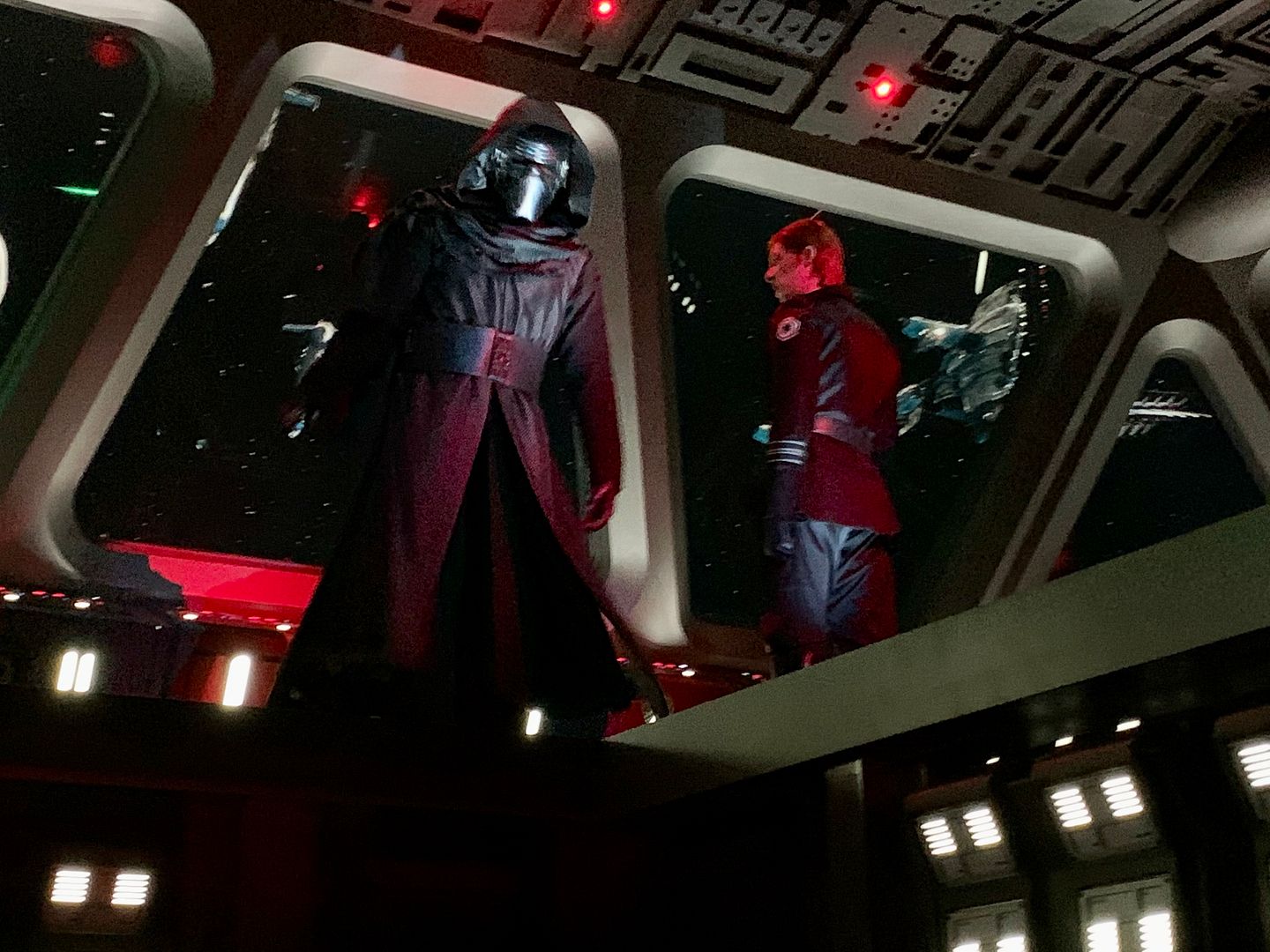 I see light at the end of the tunnel…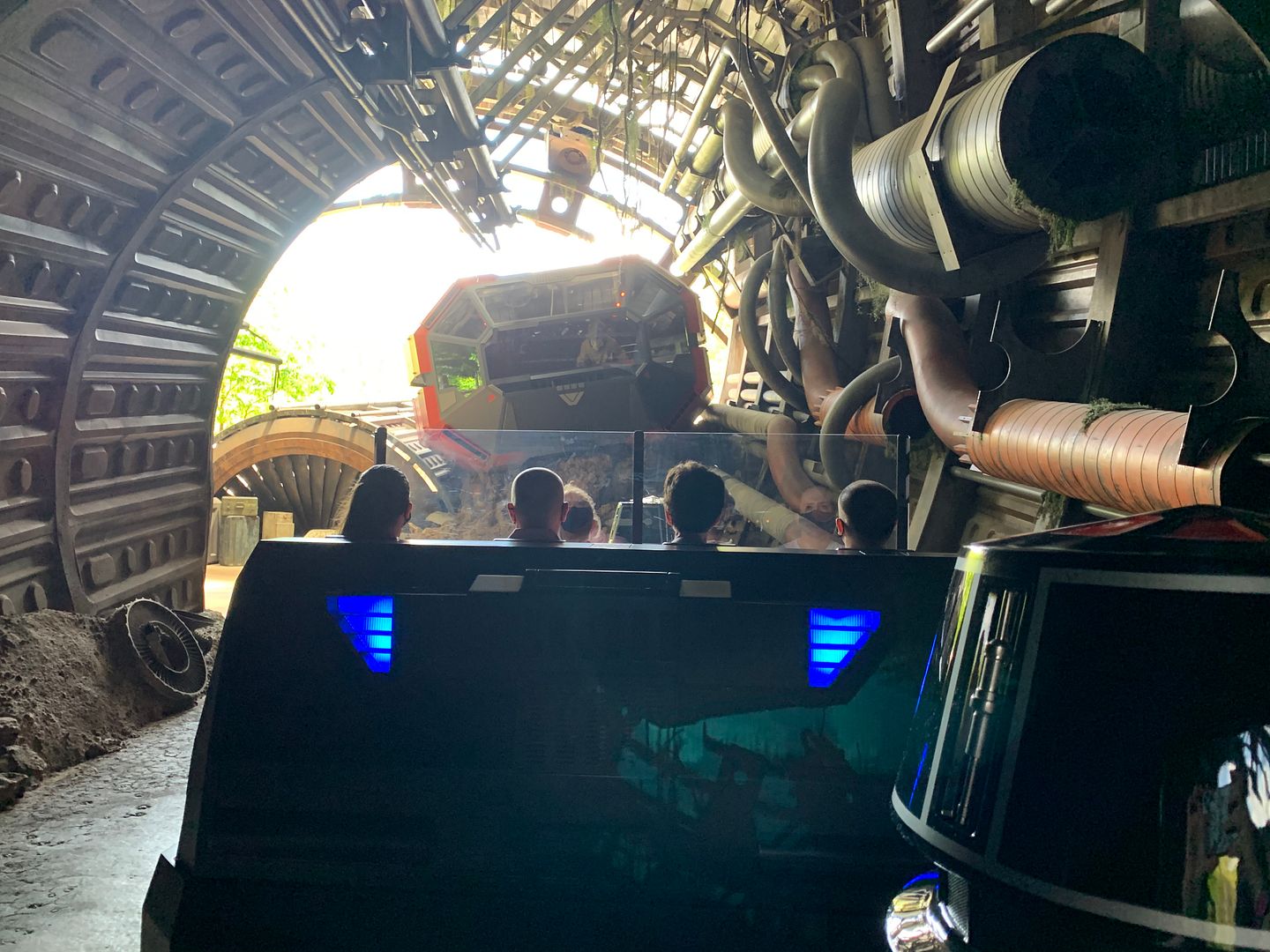 And we landed safely back in Batuu at about 1:20…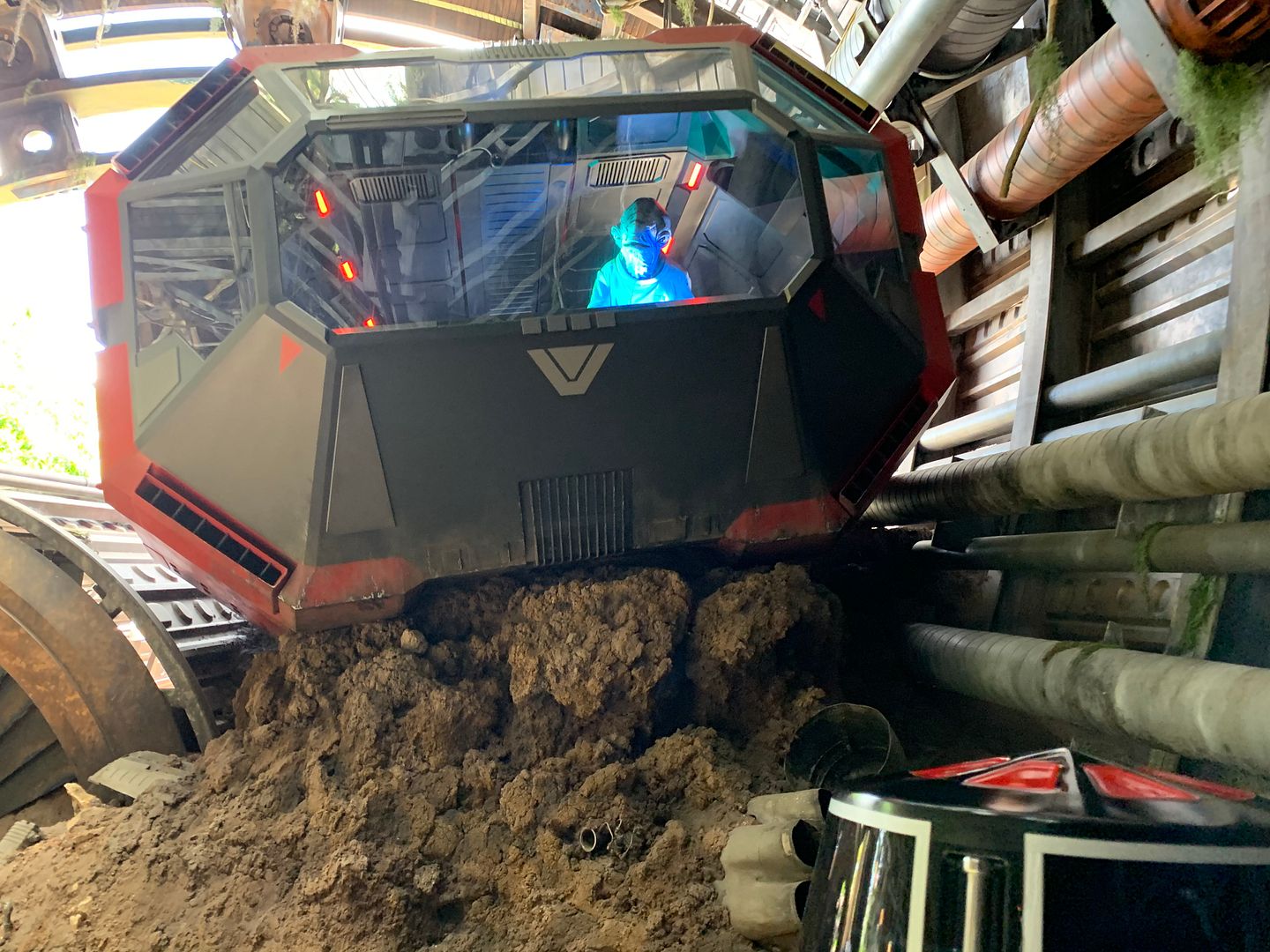 This ride is so immersive and incredible, especially if you are a Star Wars fan. It is still Andrew's favorite WDW ride, but for me remains second to the Avatar: Flight of Passage ride at Animal Kingdom. These two rides are probably the only ones for which I would consider paying the Lightening Lane Individual Attractions prices. I've heard that price will be $15 per person for Rise of the Resistance, but haven't heard yet what the price will be for Avatar: Flight of Passage. This is a decision that I will soon have to make, as I will be at Disney World next week. Though I didn't like the stress of trying to get a Boarding Pass at exactly 7:00 a.m. on the days I had a DHS park reservation, at least there was no added charge to do so. Plus I had a 100% success rate in my 5 attempts to Join the Queue and obtain a Boarding Group. With that option no longer available you must decide if you want to wait in line for nearly two hours (the current wait time for Rise of the Resistance per the MDE app is 110 minutes) or pay the $15 per person to use the Lightening Lane. Many see this as a "money grab" by Disney and I can't really disagree with their assessment. But whether you choose to pay with time or money, either way you must pay to ride Disney World's best rides now.
Ok, continuing on with our day at Hollywood Studios, which for Andrew ended here. He needed to go back to the Yacht Club for the afternoon to do his remote work. I stuck around DHS long enough to continue my search for the elusive cream cheese danish at The Trolley Car Cafe (aka Starbucks)…
My Failure & Success at The Trolley Car Cafe
After my visit to the The Trolley Car I was ready to head back to the Yacht Club. I had three options for getting there. I could walk back, but I was hot and my feet were tired so I passed on Option #1. Option #2 would have been to take the Skyliner to Epcot and then walk to the Yacht Club from there. But there is not a direct line between the two parks so you have to transfer at the Caribbean Beach Resort station. Therefore I decided that Option #3 might be the easiest one, which was taking the boat. I waited at the dock for only about 5 minutes before a boat arrived. By 2:10 our boat was approaching the Swan & Dolphin Resort to make its first stop…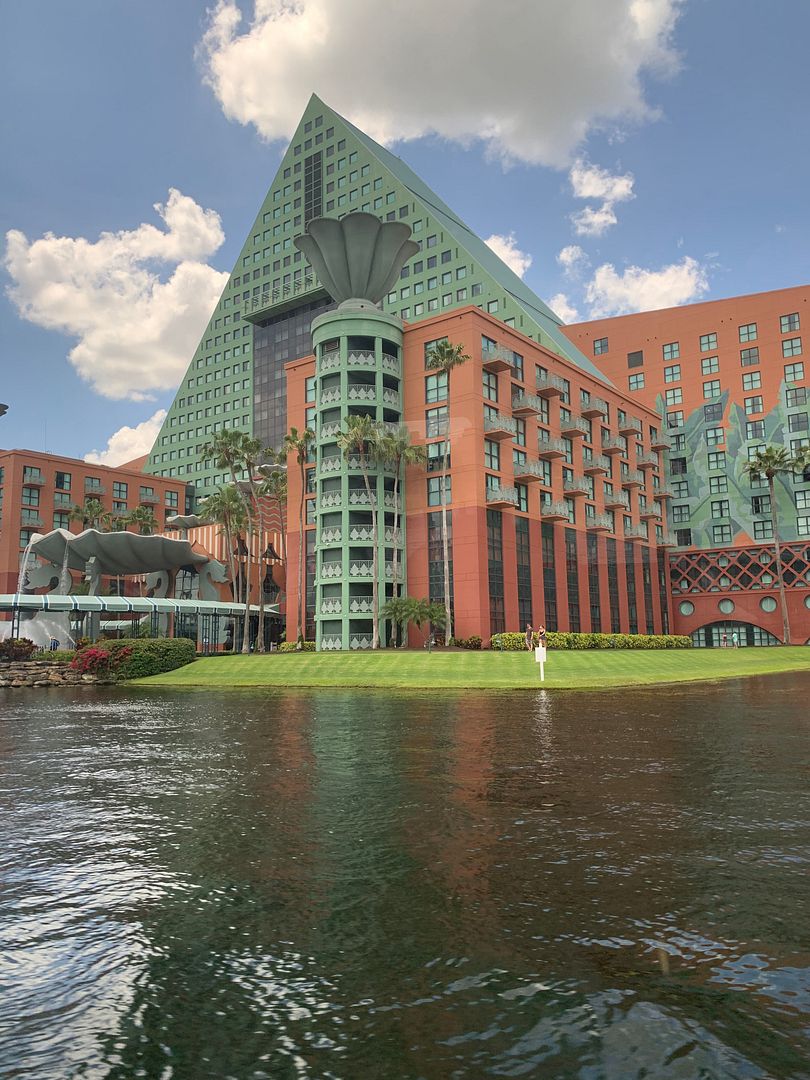 Then it was on to my destination, the Yacht & Beach Club dock…
I got off here, but the boat continues on to the Boardwalk before reaching the dock by Epcot's International Gateway entrance. The whole trip takes about 25 – 30 minutes so if you are in a hurry and not too hot and/or tired to "hoof it" then the walkway that goes around the Boardwalk is probably the faster way to get to the Epcot resorts from DHS, especially if you have to wait awhile for a boat.
So anyway, I relaxed back in our room while Andrew did his work. Once he was done we got ready for our evening at Disney Springs, which included a 7:00 dinner reservation. We took a bus from the Yacht Club to Disney Springs and arrived with about an hour to kill. We split up and Andrew went shopping while I walked around, just enjoying the surroundings. As I slowly made my way to The Landing, I bumped into a Disney friend, Rachel, and her hubby and his parents. They were getting into the line to go into Gideon's Bakehouse. After catching up a bit, as I had not seen her since my Fall 2019 trip, she explained the Gideon's queue process and highly recommended that I try their cookies. So I put my name and phone number in to enter the queue and was told to check back after our dinner. I also got a text saying that my estimated wait time to enter the line was 110 minutes. This was at a few minutes before 7:00.

I then met up with Andrew for our 7:00 dinner reservation at…
We had finished our dinner by about 8:00 and left the restaurant just in time to see the sun setting over the water…
We also stopped for a bit to listen to the band playing on the stage next to The Boathouse…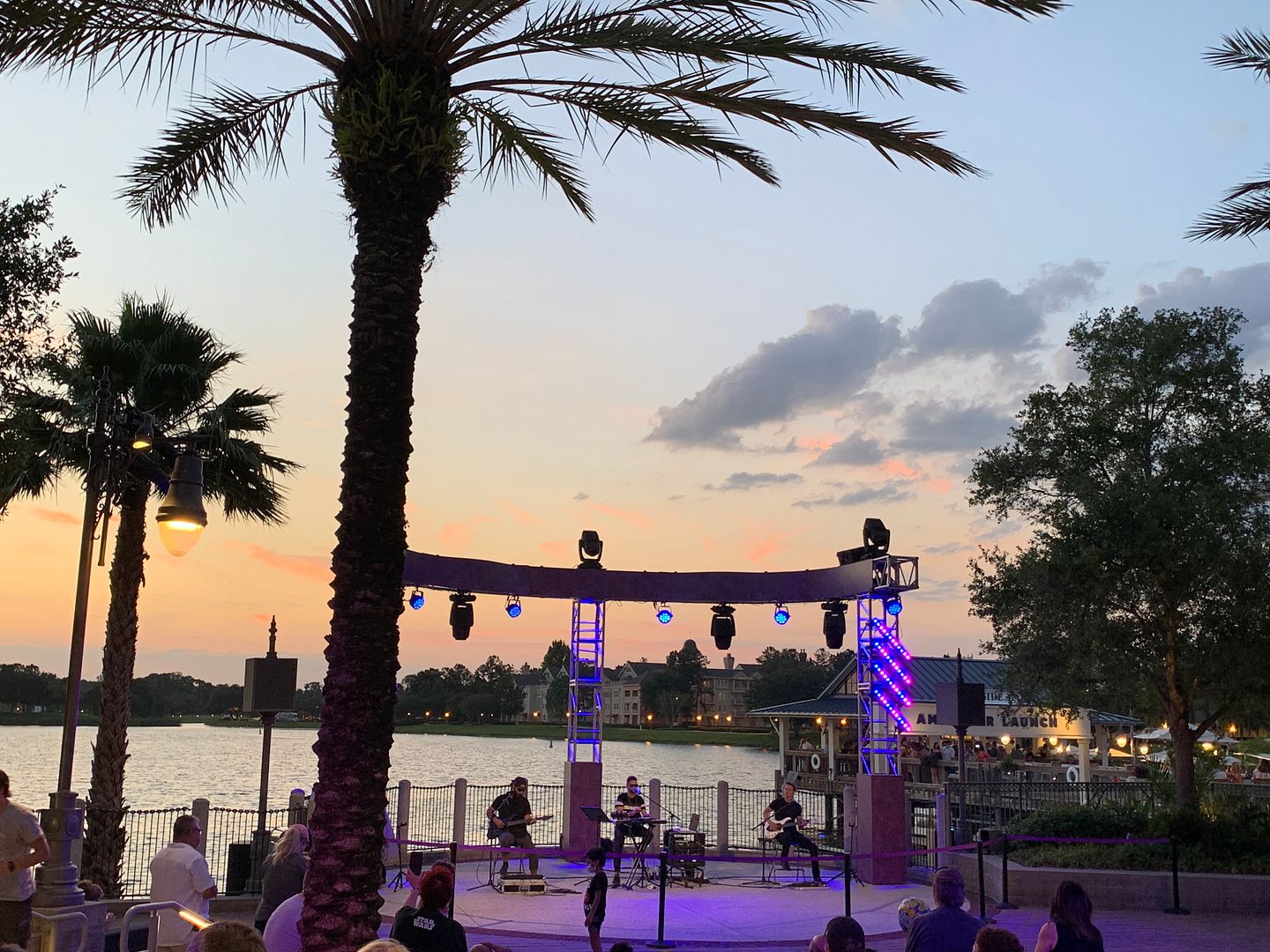 Then we split up again and Andrew went off to explore some more shops while I returned to Gideon's Bakehouse to await my text.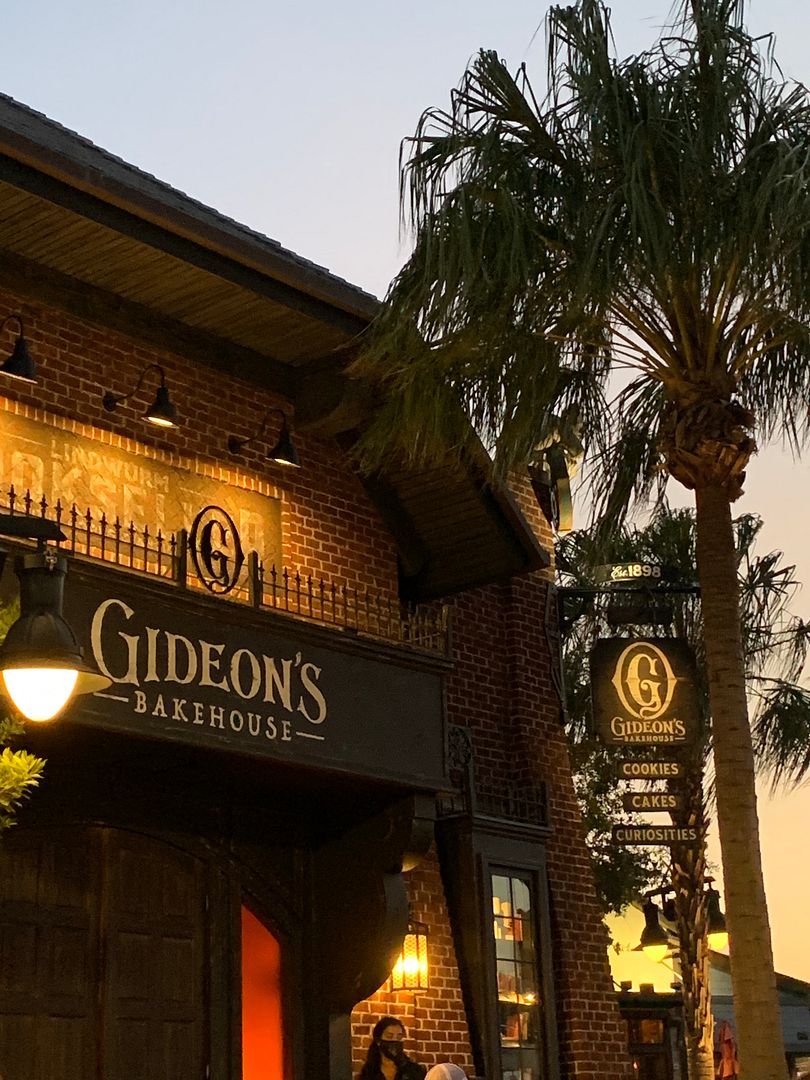 My First Ever Visit to Gideon's Bakehouse at Disney Springs 
My First Ever Visit to Gideon's Bakehouse at Disney Springs
Andrew was waiting for me outside of Gideon's and the two of walked to the Disney bus station to catch a bus back to the Yacht Club.  About 45 minutes after leaving Gideon's, I was back in my room and noting my step count and miles walked for the day.  I had taken a record breaking (for this trip) 18,717 steps and walked a near-record breaking distance of 7.99 miles.  I guess I deserved to have some of  that Gideon's cake now.  Haha.
FRIDAY, APRIL 30 – Hollywood Studios Park Reservation, Dolphin Resort
Today was another day at DHS so again we were up before 7:00 to try to join the queue for Rise of the Resistance.  I looked out our window and caught a glimpse of a Magical Express bus picking up guests to take them to the airport.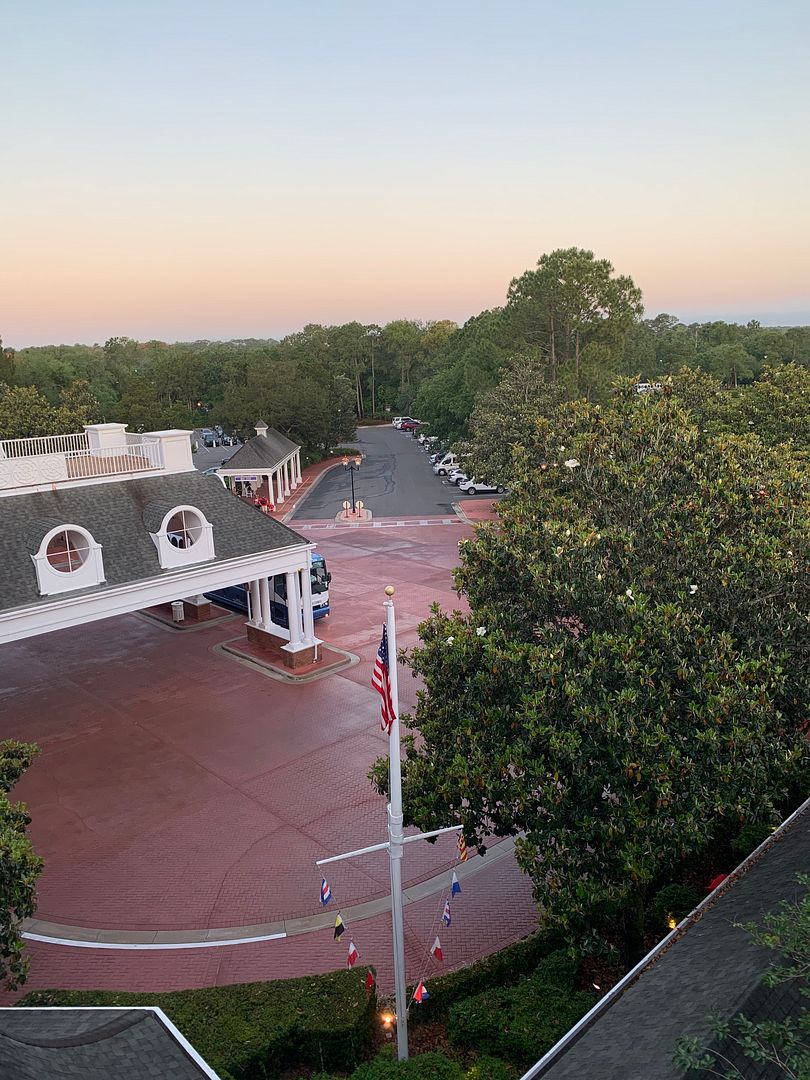 This made me sad because I knew that the next day that would be our bus.  But I quickly had to refocus my attention to the MDE app as it was almost that time.  Andrew and I both made the attempt but this time time he beat me to the punch…and it wasn't even close…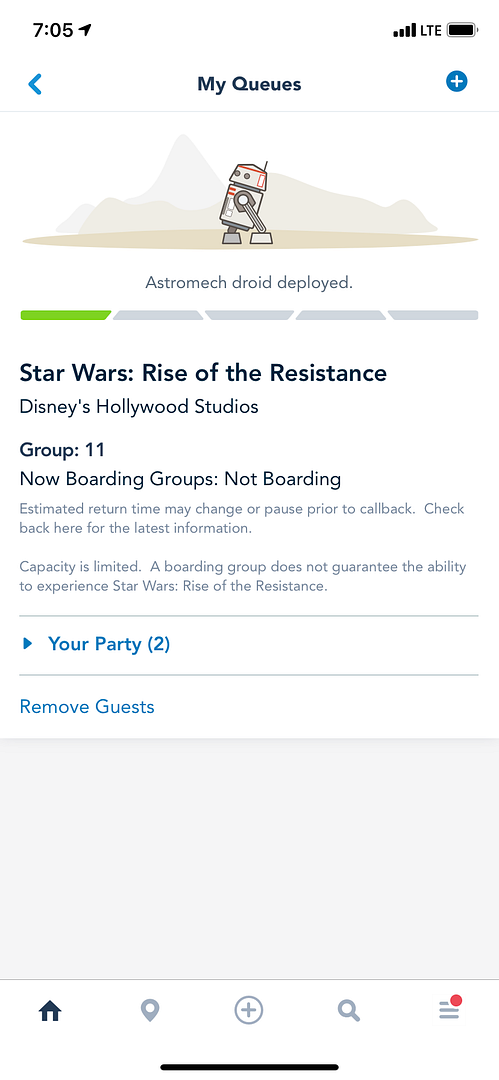 Yes, he got Group 11!!!  I was quite impressed.  
We left the Yacht Club on foot at about 7:30 that morning and made it to the DHS entrance in about 20 minutes.  Andrew can do the walk fast, but I was with him this time so were walking at a slower pace.  They started letting the line enter at about 8:15.  We were towards the front of our line so we were in the park and on our way down Sunset Boulevard just a few minutes after the gates were opened.  We headed to Tower of Terror first since we had not gotten to ride it the day before.  Thankfully it was up and running today so we made it onto the second elevator of the day.  
At 8:32 this photo was taken…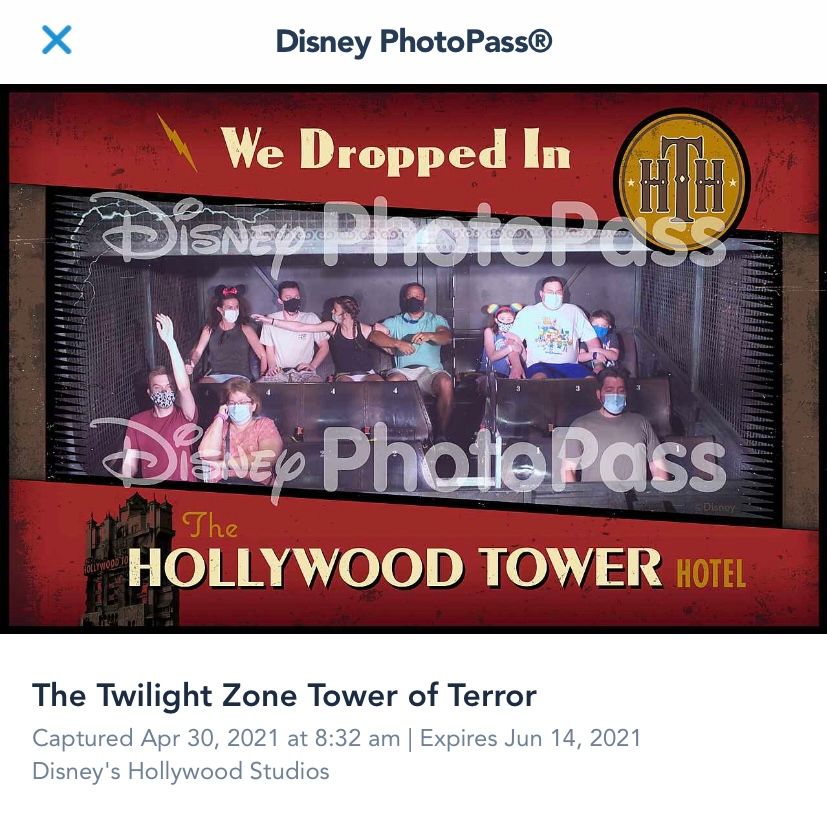 I was attempting to do my "bored" look.  Haha.
This was quickly followed by this pic of us on Rock 'n' Rollercoaster at 8:42…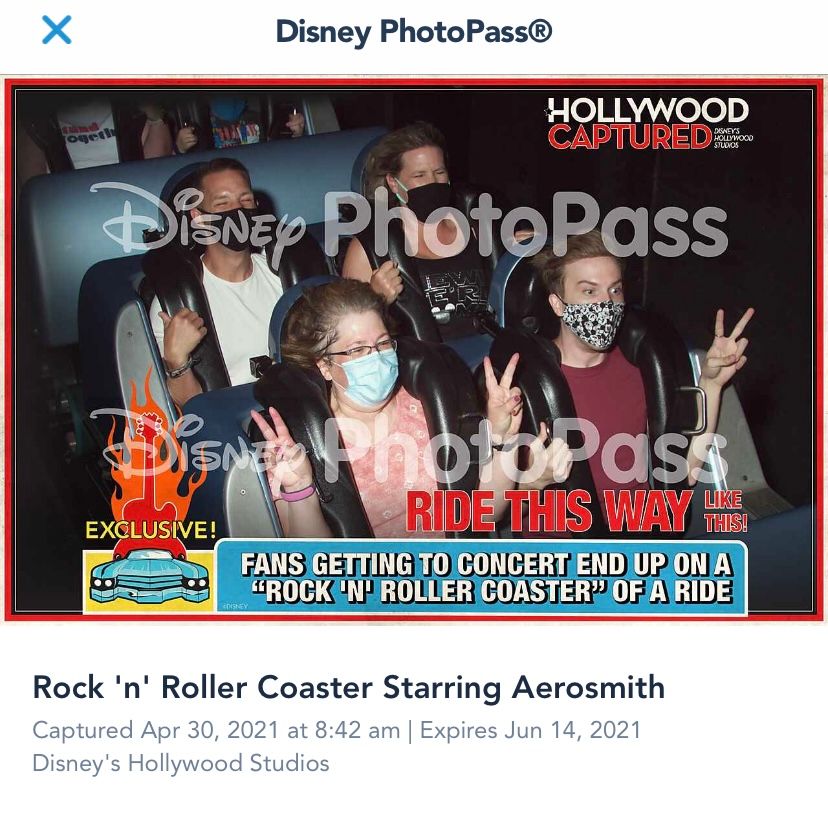 So even before the park officially opened at 9:00 we had been on two of our favorite DHS rides.  We then headed to Galaxy's Edge to get in line for the Millennium Falcon. 
After about a 1/2 hour wait we were piloting the ship.  And not only that, but we had the whole ship to ourselves.  IT WAS AWESOME!!!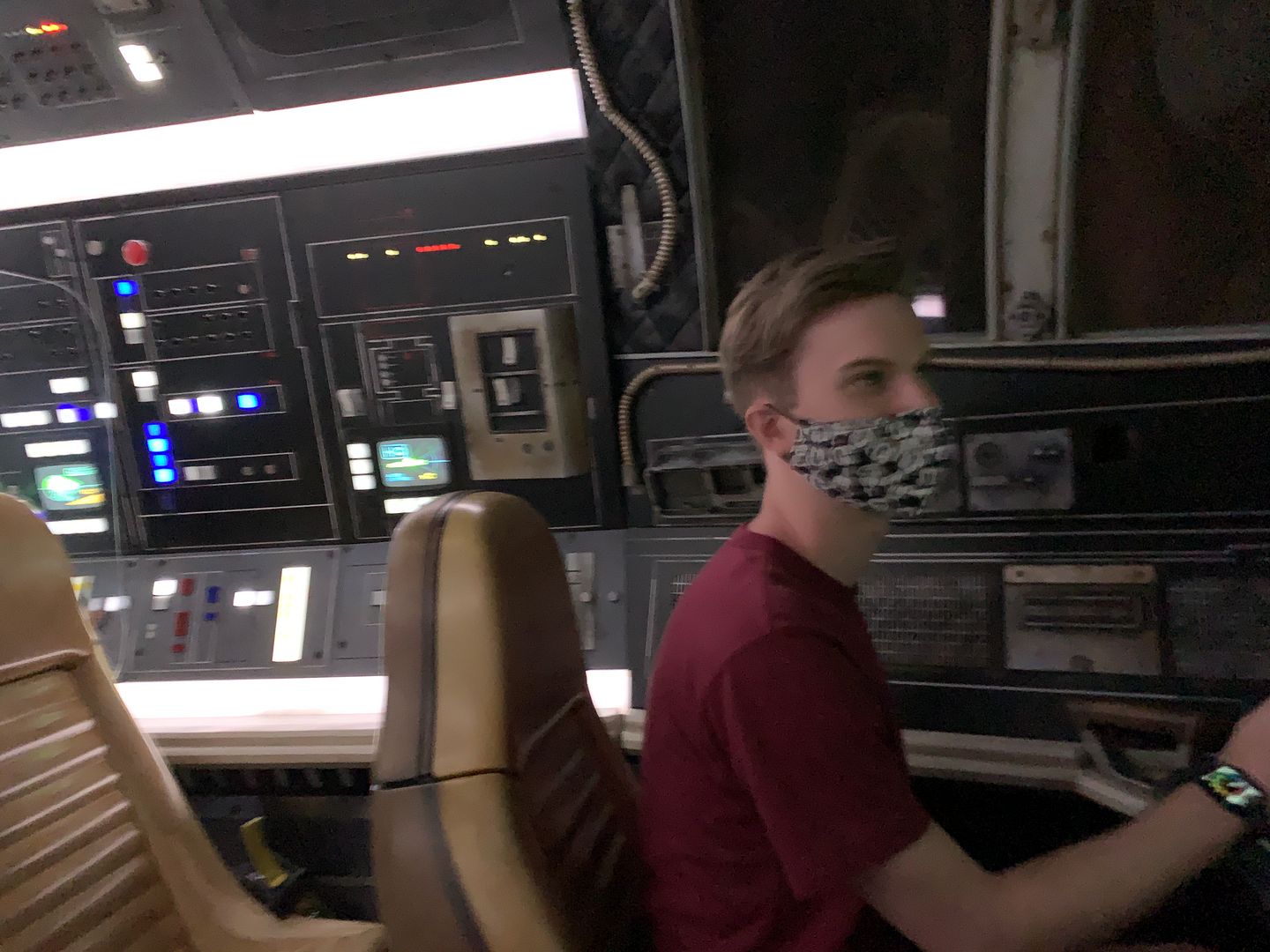 It will be hard to ride this again the normal way after this unique private experience.  We are definitely spoiled. Haha.
While we were in line for the Millennium Falcon we got the notification that our Boarding Group for the Rise of the Resistance was being called.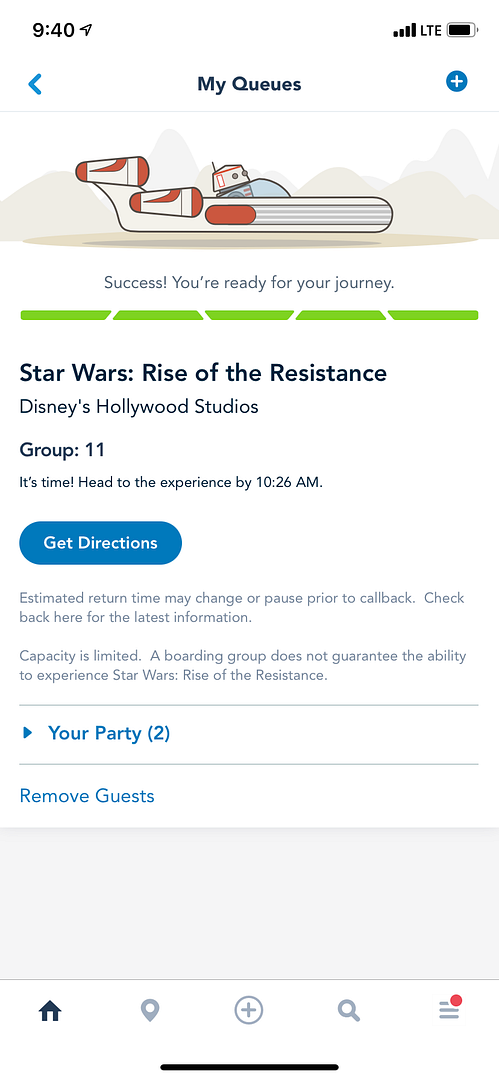 This was at 9:26, less than 1/2 hour after the park officially opened.  Woohoo!  So we wait straight from "privately" piloting the Millennium Falcon to the Rise of the Resistance ride, where by 10:15 we had entered the pre-show…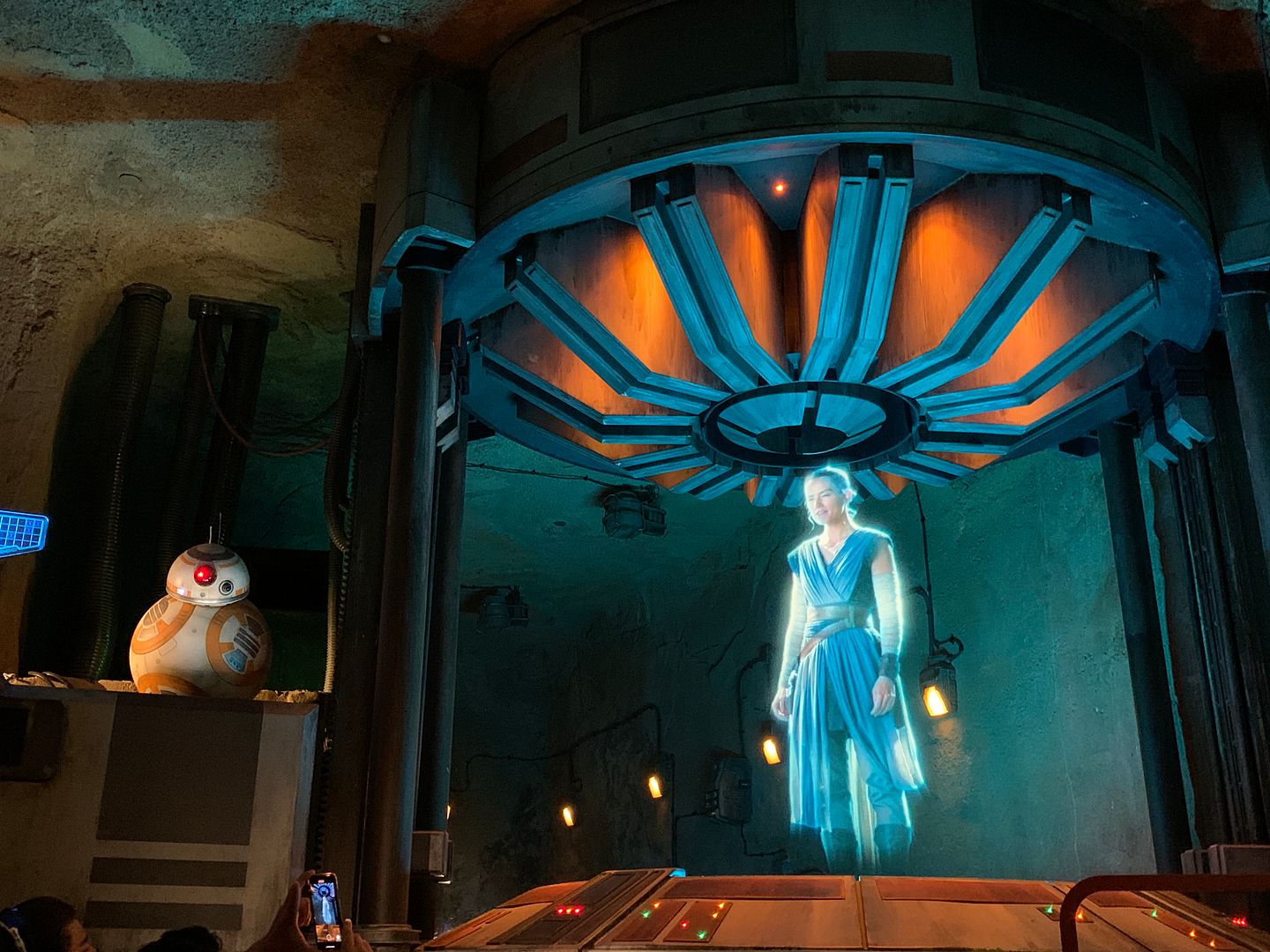 And then boarded the transport ship a few minutes later, scoring a front row view again.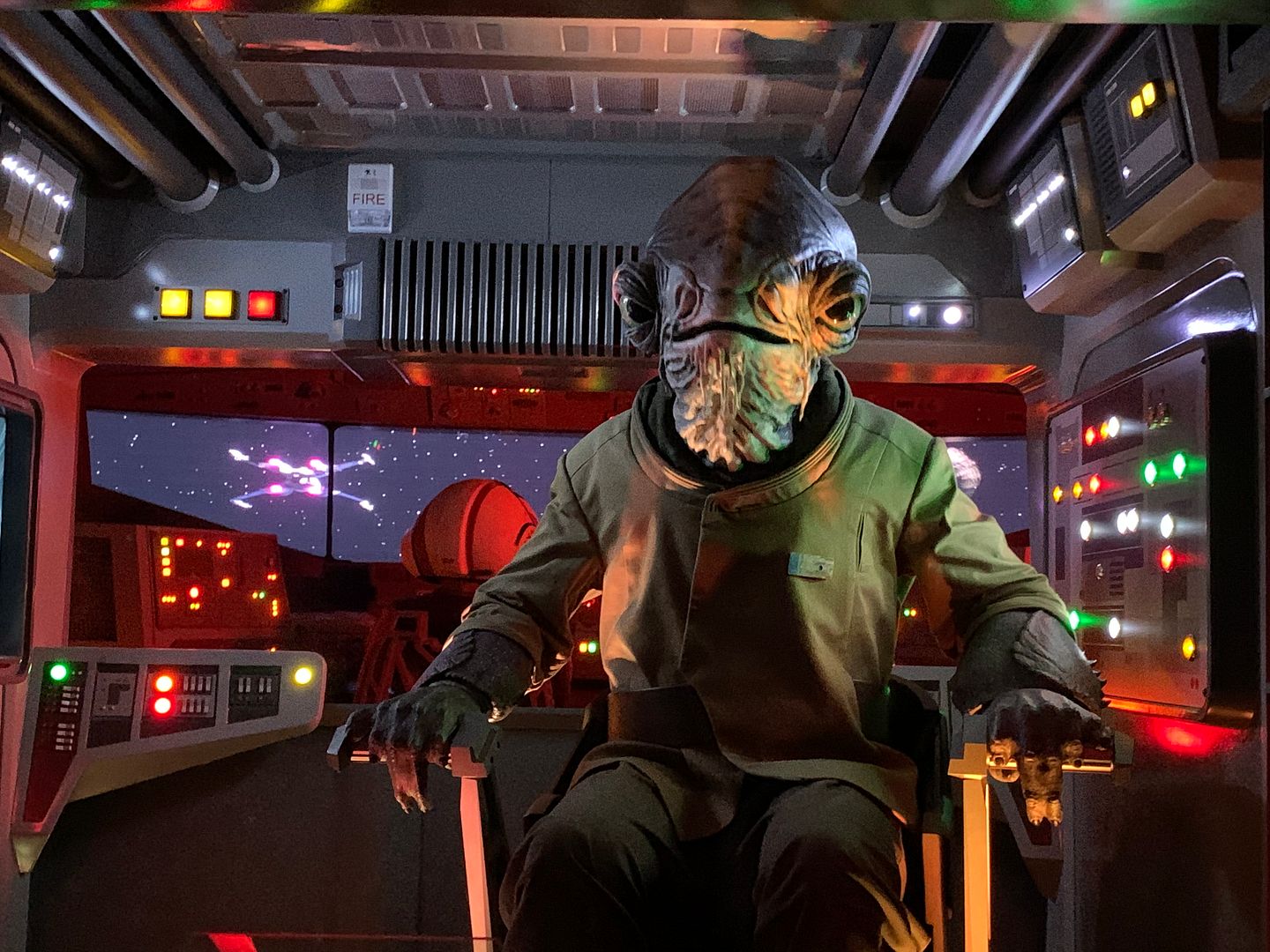 But then of course we were captured, yet again.  And got up close and personal with some Stormtroopers…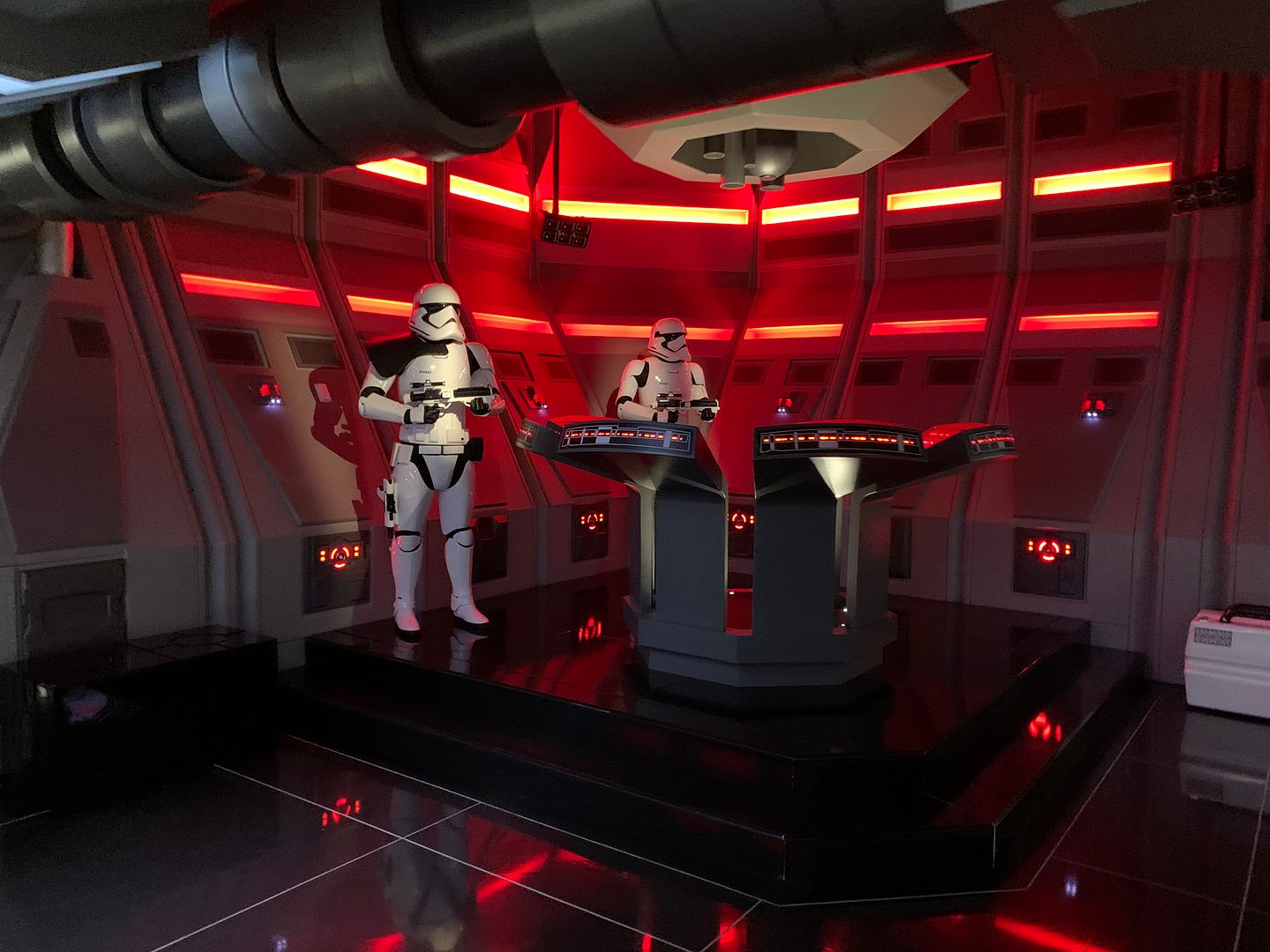 And were interrogated by an officer of the First Order…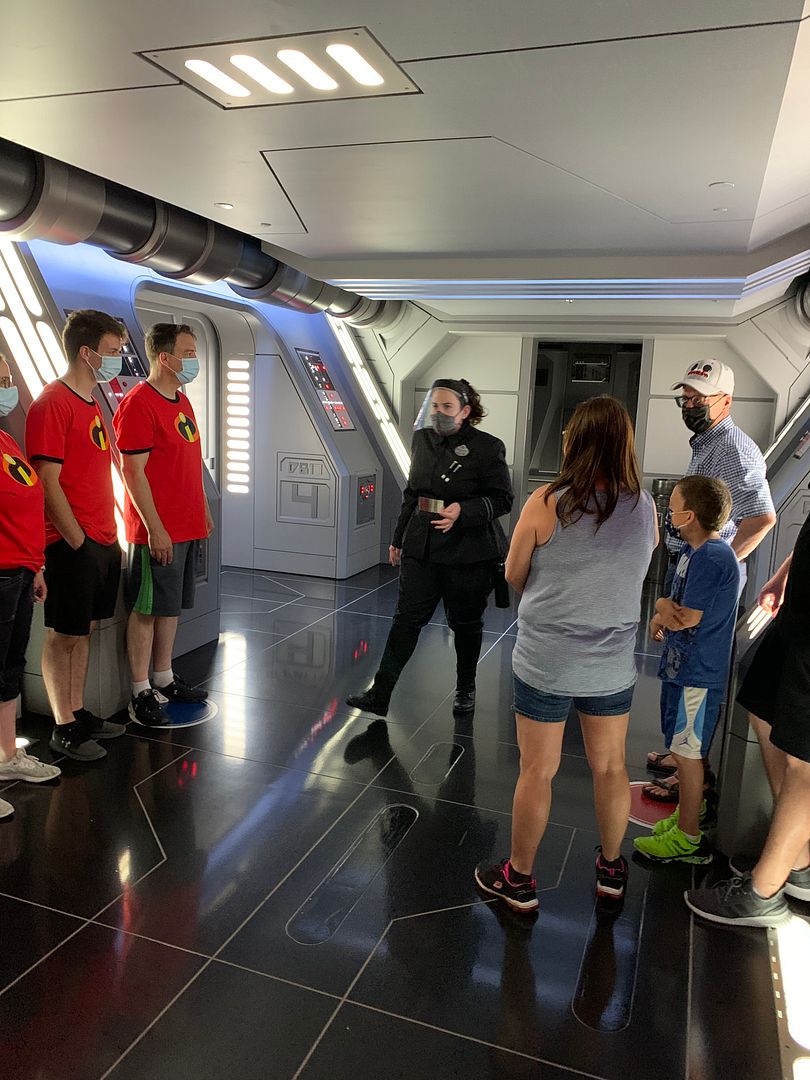 Before being saved yet again by members of the Resistance…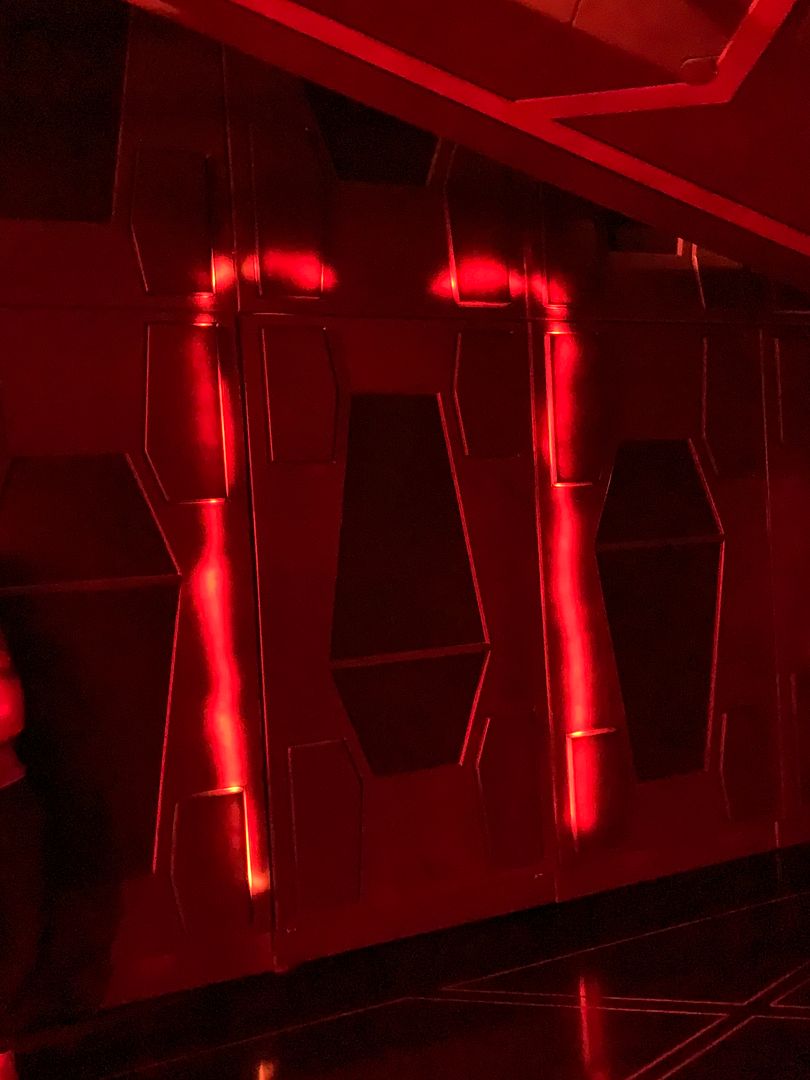 And then transported back to Batuu…
But not before having a few more run ins to make things more interesting…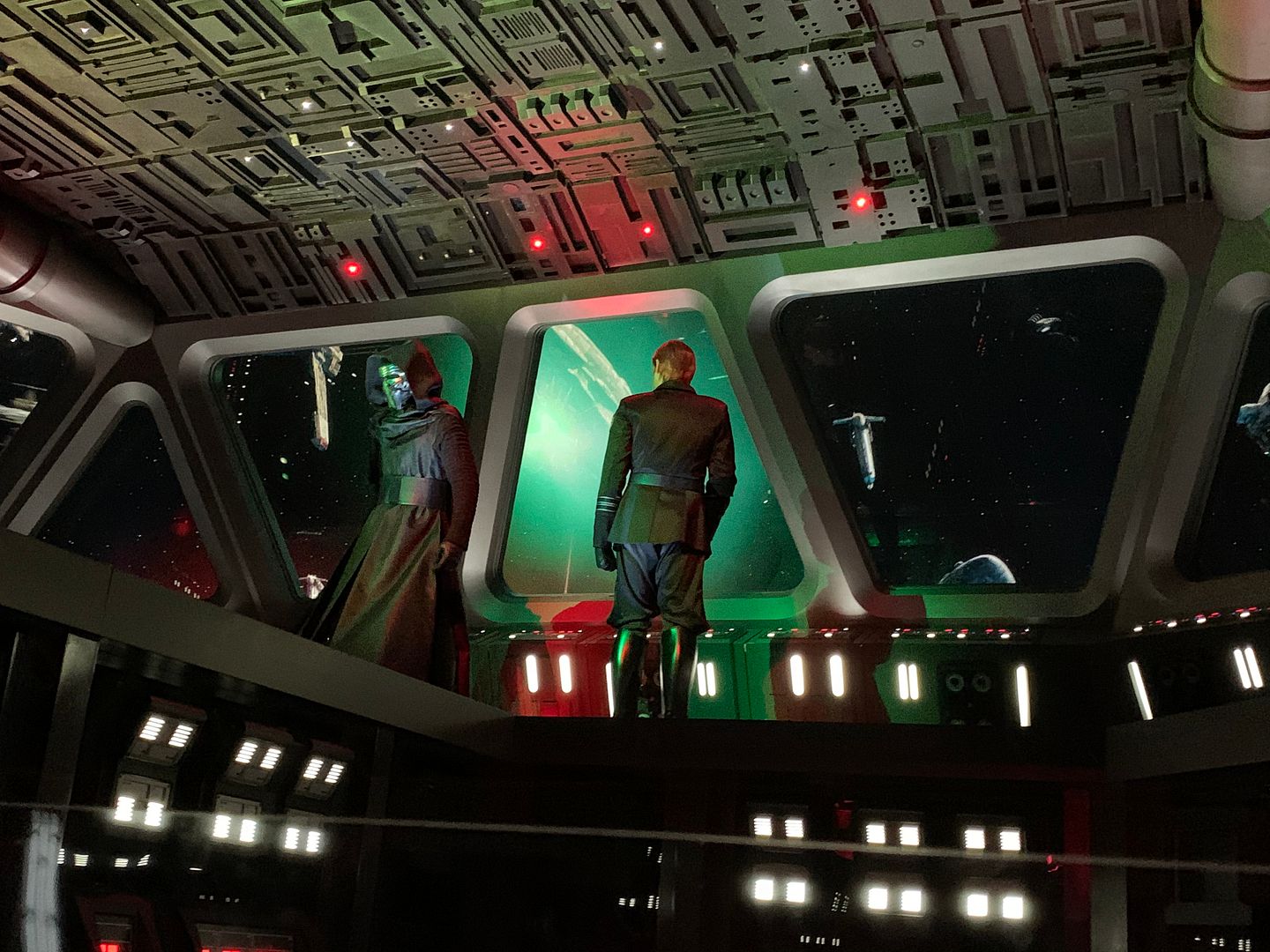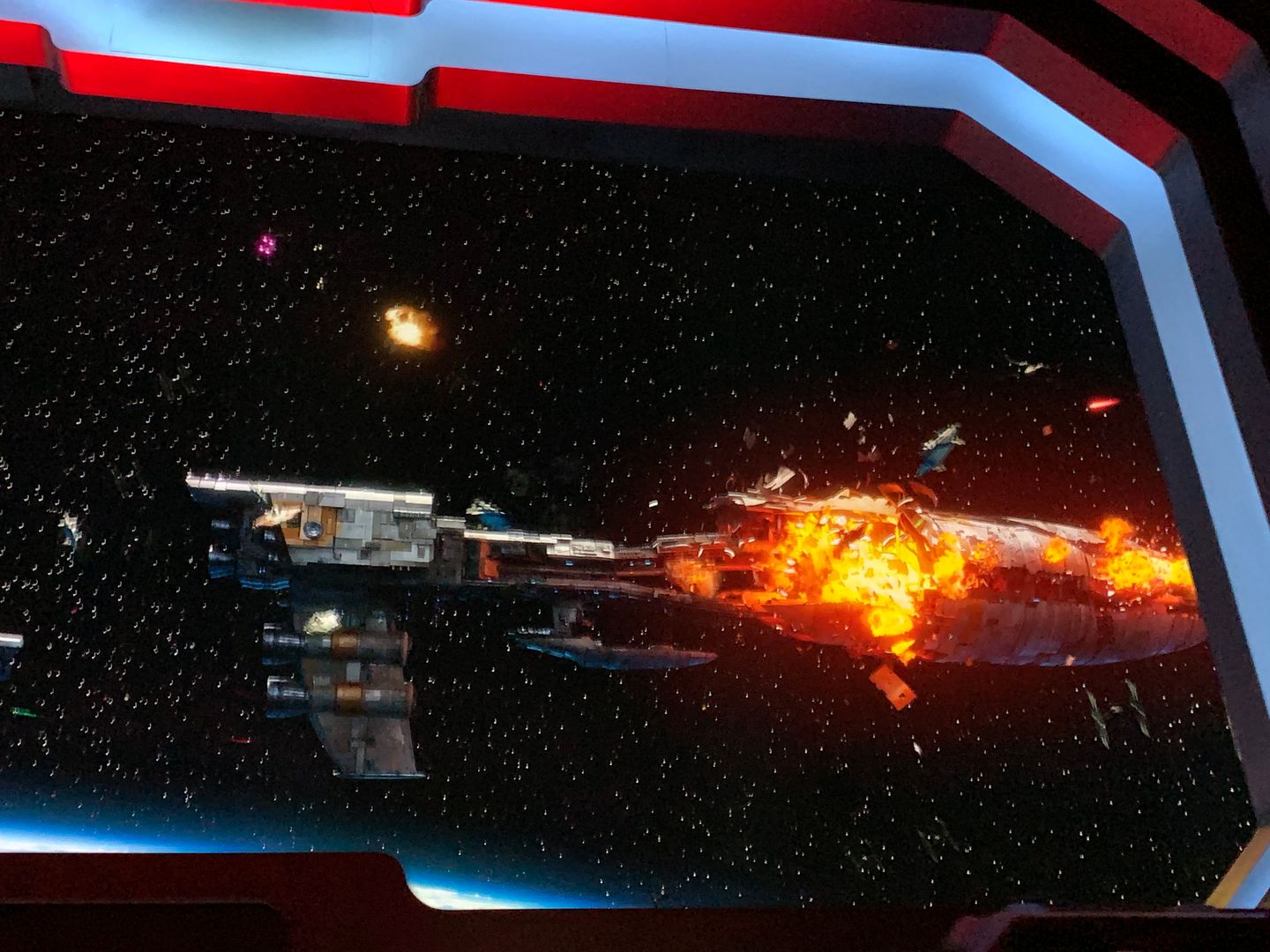 We then got breakfast from The Trolley Car Cafe, but sorry, I totally forgot to take a photo.  We shared a bagel with cream cheese and got two Strawberry Acai Lemonade Refresher, which Andrew said was even better than the regular one and he was right.  If you like strawberry lemonade then this is definitely the way to go here.  So refreshing on a hot day!
By the time we finished our breakfast it was nearly noon.  We thought about doing another ride but after seeing the wait times on the MDE app we decided to call it a day.  
It had been a perfect morning where we had gotten to ride our 4 favorite DHS rides back to back with very little wait time.  Plus we got to pilot the Millennium and had the whole ship to ourselves.  We were living the Disney World dream!  
We decided to end on a high note and call it a day.  
Realizing we had not yet ridden the Skyliner on this trip and this was our last opportunity to do so, we decided to board it at the DHS station and then transferred to the one headed to Epcot when we got to the Caribbean Beach station.  At this time of day there were no lines to board at either station and we got our own car both times, which may have been due to COVID protocols in effect at that time.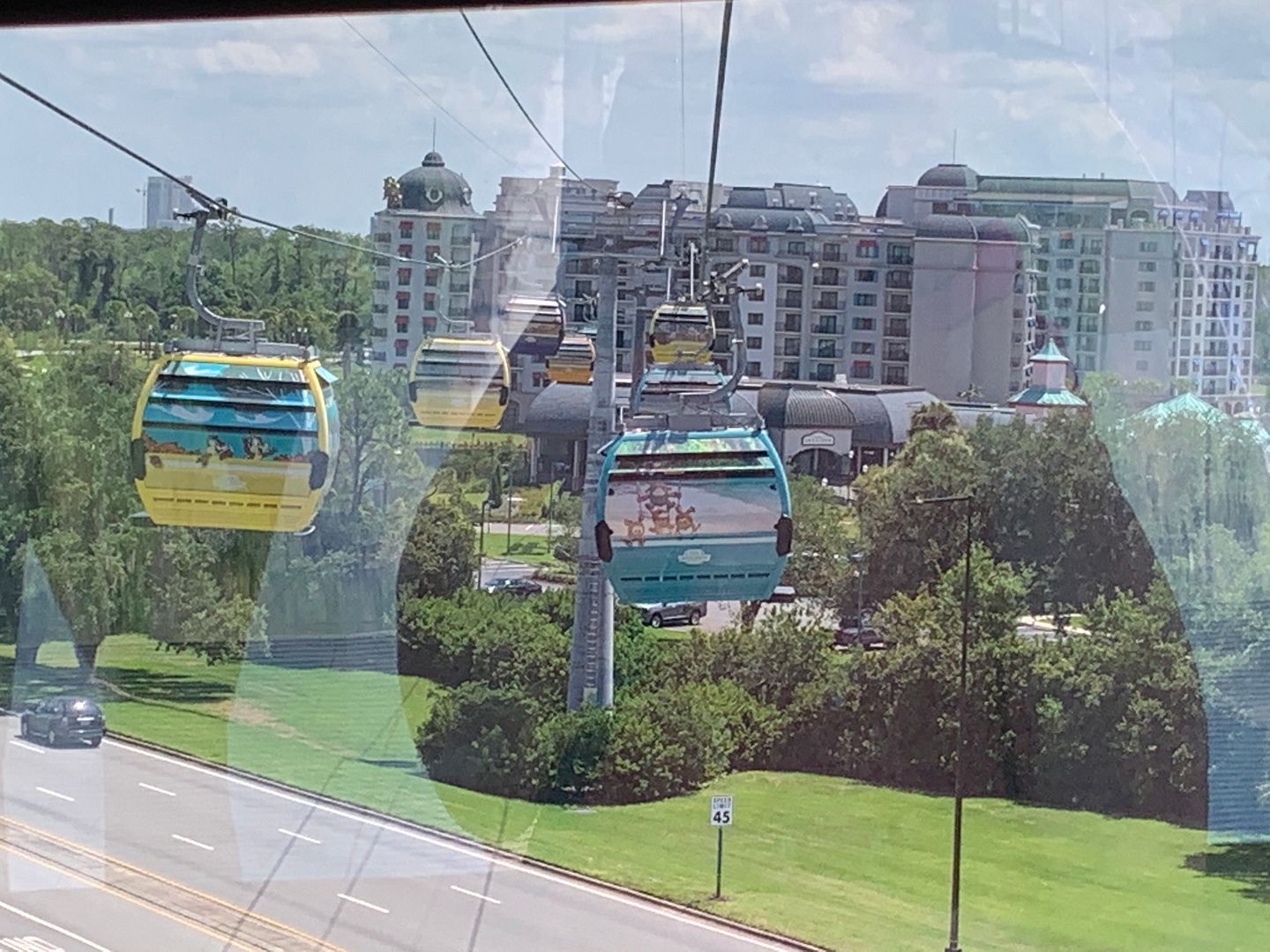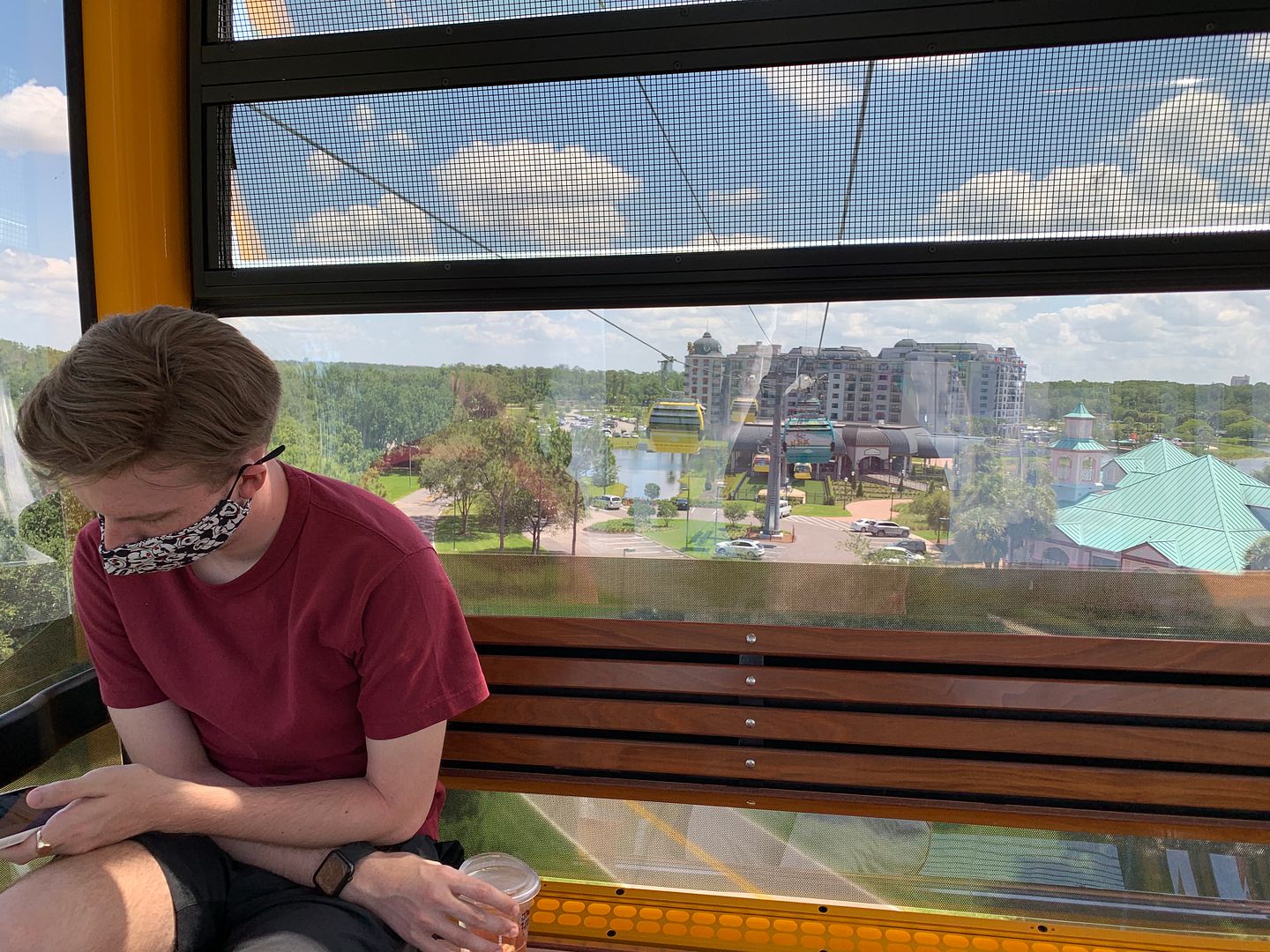 So it was a fun ride and I'm glad we took the extra time to do it again since it had been more than a year since our last ride on the Skyliner.
After having shared only a bagel we were still feeling hungry.  So we started discussing our options during our ride on the Skyliner.  We first thought of Beaches & Cream so I checked on MDE to see if by chance there was anything available there for lunch.  There was a reservation available but it wasn't until 4:00.  I went ahead and reserved it, with the idea of having dessert there later that afternoon.  I then looked on the app for other ideas for lunch and we decided on a restaurant which I hadn't been to in 8 years…
We finished our lunch at about 2:00 and walked back to our room at the Yacht Club so Andrew could get a little work done.  Then a little before 4:00 we walked over to…
We returned to our room at the Yacht Club until it was time for the final dinner of our trip at…
Our Dinner at Todd English's bluezoo
After dinner we walked back to the Yacht Club.  So for the final full day of our trip I had a step count of 16,662 and walked 7.09 miles.  
SATURDAY, MAY 1 – Yacht Club
We were up early and packing for our departure.  I decided to get our breakfast to go so that we could eat in our room.  However, after being unimpressed with the quick service breakfast from The Market at Ale & Compass that I'd had on my last trip. I opted to get take out from the Ale & Compass table service restaurant.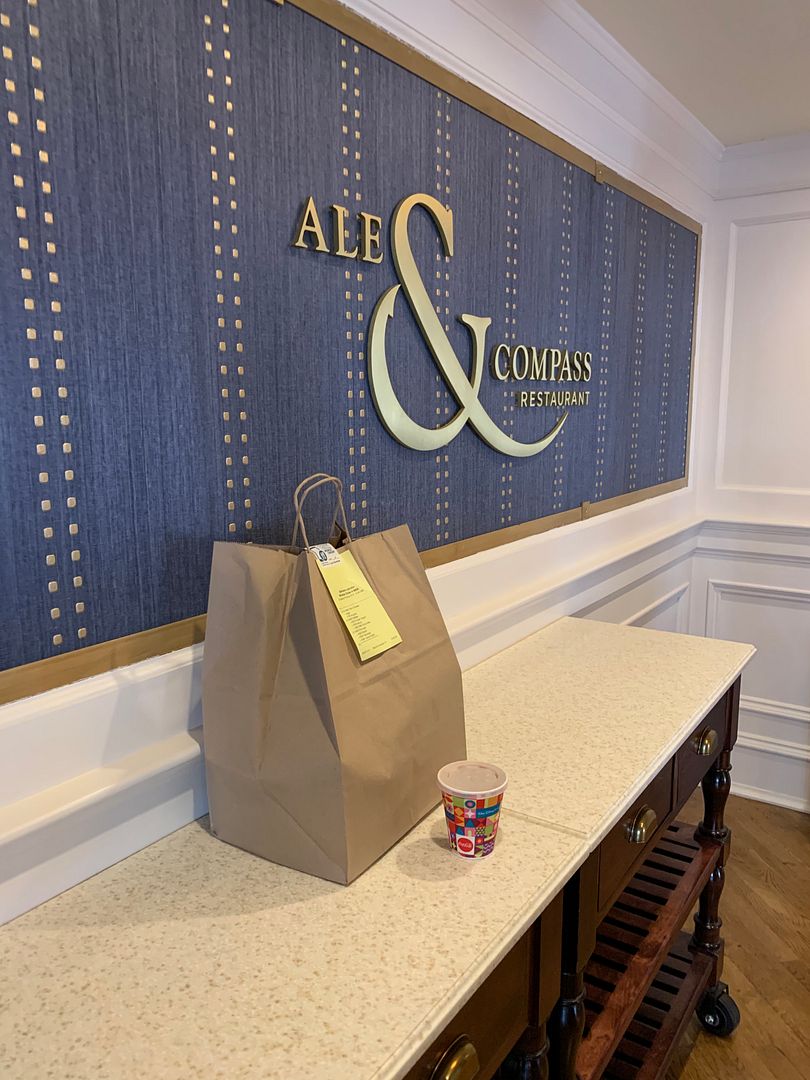 Breakfast To Go from the Ale & Compass Restaurant
And that's a wrap for this trip report.  But check back soon for the start of the trip report from our 10 day October 2021 trip to Disney World.  Thanks for following along!