During my last two trips to Disney World I'd eaten at ABC Commissary and was pleasantly surprised by how good it was. The first time (in early March 2020) was for breakfast, as we were drawn to it by the unusual options they offered, options not typically available at Disney World quick service restaurants. Breakfast options then included Mexican Corn Chilaquiles, Avocado Toast, and Fried Chicken & Doughnuts. We enjoyed our breakfast and would have returned to try more things but when they reopened after the COVID shutdown, sadly breakfast was no longer offered there. However, they still had some unusual (for Disney quick service) options on their Lunch/Dinner menu so on my next trip in early March 2021 we gave lunch a try.
Here is a photo I took of their menu posted outside of the restaurant…
NOTE: At the time that we were there (late April 2021), ABC Commissary was only open until 4:30 (as noted on the above menu).  However, I see that currently they are open until 8:00 p.m. so they have extended their hours, almost until park closing (which is 9:00).  
During my March visit, my husband and I shared the Pork Carnitas Tacos and the Chicken Club Sandwich.  Both were very good, but I wanted to try something different this time.
Of the other 4 available options, I chose the…
Buffalo Chicken Grilled Cheese Sandwich – Grilled Sourdough Bread toasted with Buffalo Chicken, Monterey Jack, Provolone, Cheddar, and Cream Cheese served with your choice of Side (I chose Steak Fries) – $10.99
This was a very good sandwich filled with lots of shredded chicken and four kinds of cheese.  The buffalo hot sauce added a little heat (spice) to the sandwich but it wasn't too spicy.  I also really liked the sourdough bread they used and I'm happy to report that it held up well (didn't fall apart).  However, I still think I prefer the Grilled Cheese Sandwich served at Woody's Lunch Box.  I believe it has American cheese instead of Monterey Jack, but otherwise the cheeses used are the same and I think the same sourdough bread is used.  The difference for me was the mayo-garlic spread on the Woody's sandwich.  I would generally prefer the flavor of garlic over buffalo (hot) spice, and this held true when comparing these two versions of grilled cheese sandwiches.  Now if it were my (not a fan of garlic) husband doing the taste test comparison he would probably choose the one at ABC.  But anyway,  if you are a fan of both grilled cheese and buffalo chicken, then this sandwich would probably be a match made in heaven.  Oh, and the thick-cut steak fries were good too! 
I had recommended both the Pork Carnitas Tacos and Grilled Chicken Club, as I thought Andrew would enjoy either of these options.  I also thought he might be interested in the California Burger (their plant-based option).
Here is what he chose…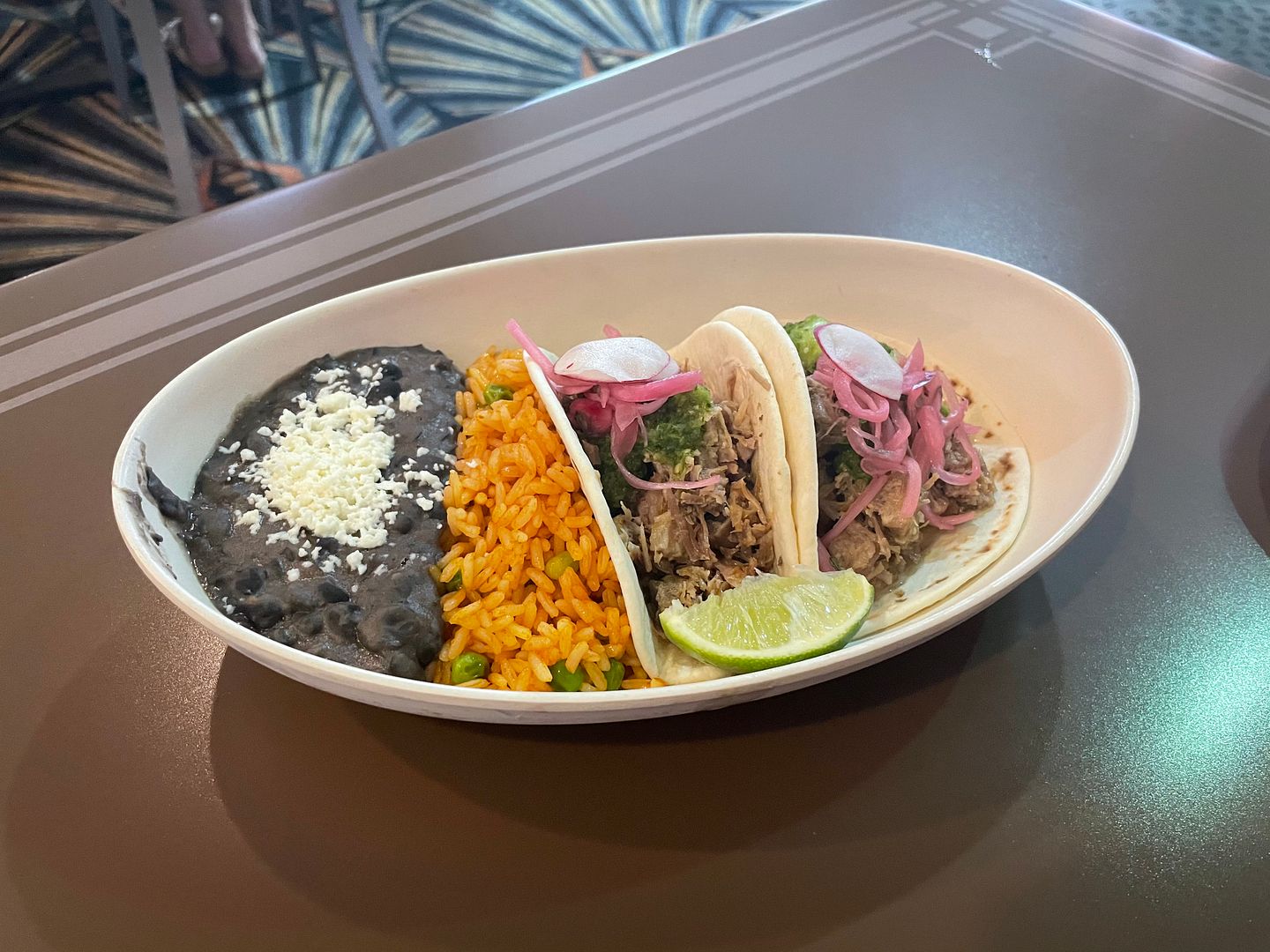 Pork Carnitas Tacos – Pork Carnitas on Flour Tortillas topped with Avocado Salsa Verde and Pickled Onions served with Mexican Rice and Black Beans with Queso Fresco – $11.49
He enjoyed the tacos as well as the sides.  We agreed that the tacos are actually better here than at Epcot's La Cantina de San Angel (the Mexico quick service restaurant), probably because we both prefer our tacos with flour tortillas rather than corn.  If you feel the same way about your tortillas then you would probably like these tacos.  Oh, and the shredded pork was moist and flavorful, especially with the added flavor of the Avocado Salsa Verde.  
We also got this tasty frozen beverage to share…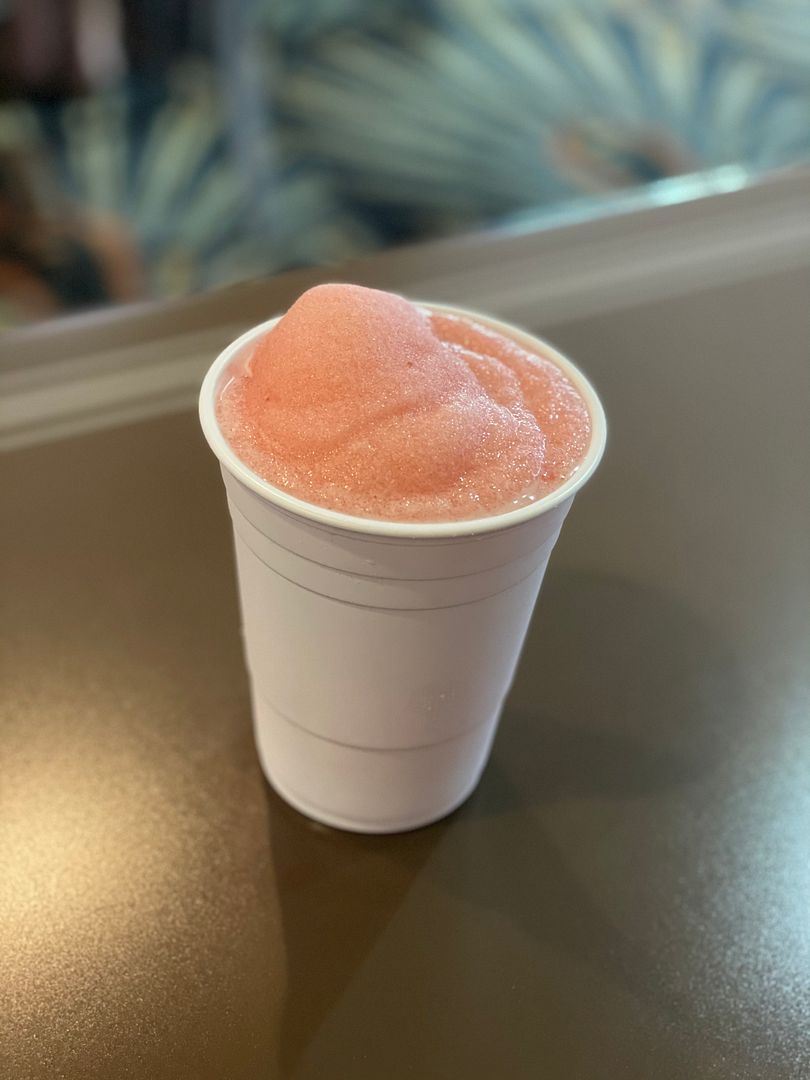 Strawberry Lemonade Slushy – $5.99
So overall I continue to be impressed with the food at ABC Commissary.  I love that the menu here is not the usual burgers and chicken tenders anymore.  And so far I've liked everything I've tried.  In my opinion, ABC Commissary probably deserves an award for being one of the most improved Disney restaurants.  Oh, and then there is the added bonus of having the option of eating indoors with air conditioning and  the seating is pretty plentiful.  We also again took advantage of the option to Mobile Order through the MDE app, which is super easy and convenient.
Based on the food alone I would probably give ABC Commissary a 5 star rating, however their one downfall is that the place lacks theming.  It looks pretty much like an ordinary cafeteria, with the addition of posters on the walls advertising ABC TV shows.  So if theming is a priority when choosing quick service dining at Hollywood Studios, then you might want to try Docking Bay 7 (in Galaxy's Edge), Woody's Lunch Box (in Toy Story Land), or I suppose even PizzeRizzo (if you don't mind their "puffy-style" pizzas).  But anyway, I'll deduct 1/2 star for the lack of a fun atmosphere (aka theming) and give ABC Commissary 4 1/2 stars.  I am surprised to find though that the reviewers on Yelp have given ABC only 3 stars and those on TripAdvisor rated it 3 1/2 stars.  So I guess I'm in the minority on this one.  In comparison, Yelp reviewers gave PizzeRizzo 3 1/2 stars and those on TripAdvisor gave it a 4 star rating.  So apparently there are a lot of people who like puffy pizza.  Interesting.