I met up with my friends, Nicole & Mike, for an early morning breakfast at Disney's Yacht Club Resort.  Though I had had breakfast a few times (and also dinner) at its predecessor, Captain's Grille, this was the first time for all of us at the refurbished and renamed (in 2017) restaurant, Ale & Compass.
First let's begin with their Breakfast menu (as of Oct. 30, 2018)…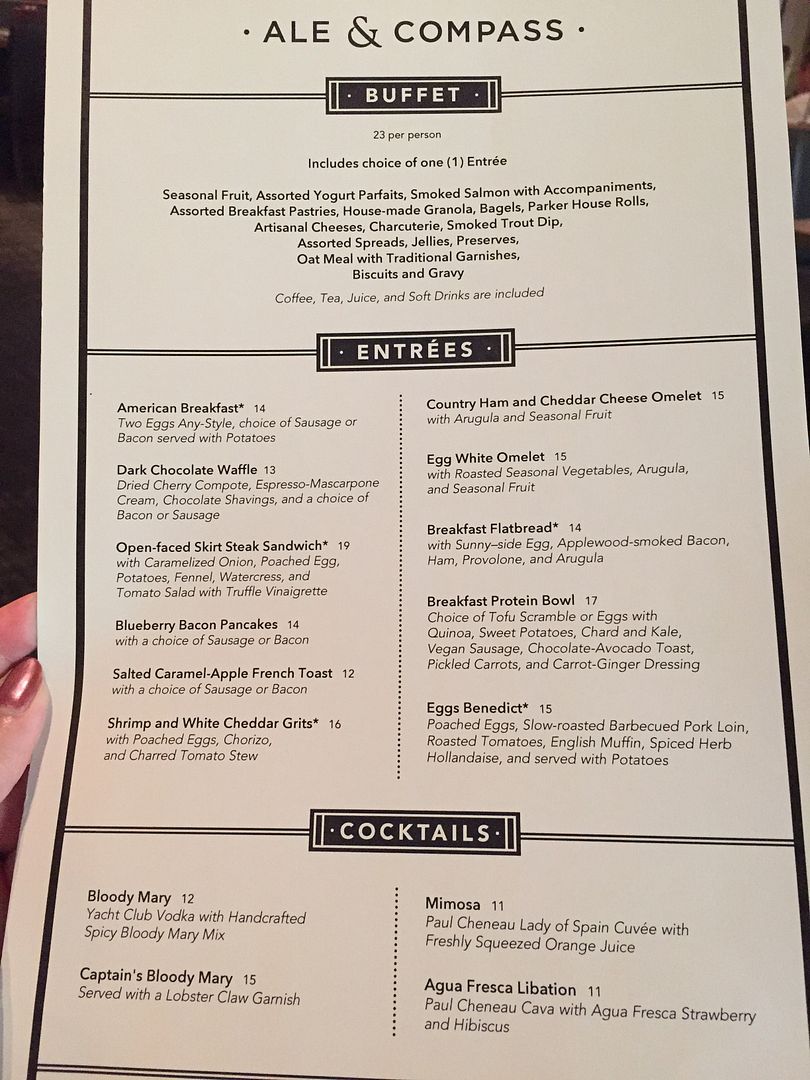 And their Morning Beverage menu…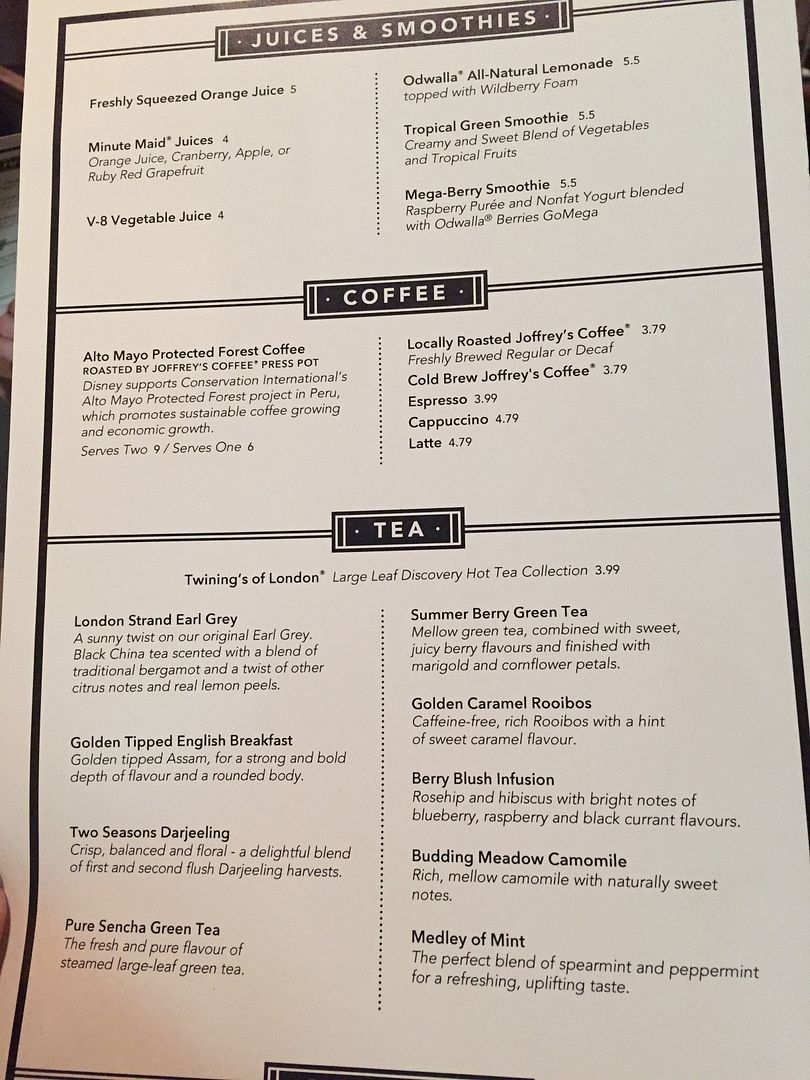 Having checked out their buffet on the way to our table, we all decided that it was worth the extra $4 – $7 (more than the a la carte entree prices) for the extra food on the buffet.  Additionally, the $23 buffet price included coffee, tea, juice and soft drinks.
I was able to get both coffee (which they brought in a carafe that was left at our table) and orange juice…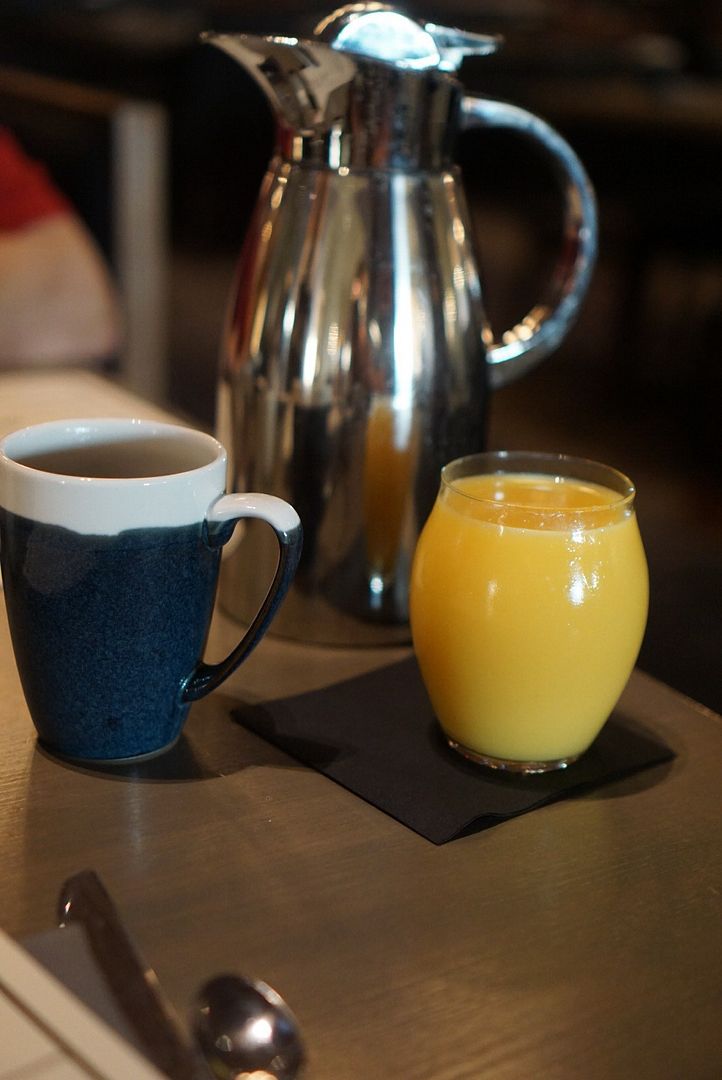 Nicole requested both apple juice and hot tea and they brought her a small teapot of hot water and an assortment of tea bags.  I thought I got a photo of this but I can't seem to find it.
Anyway let's check out the buffet starting with the Smoked Salmon…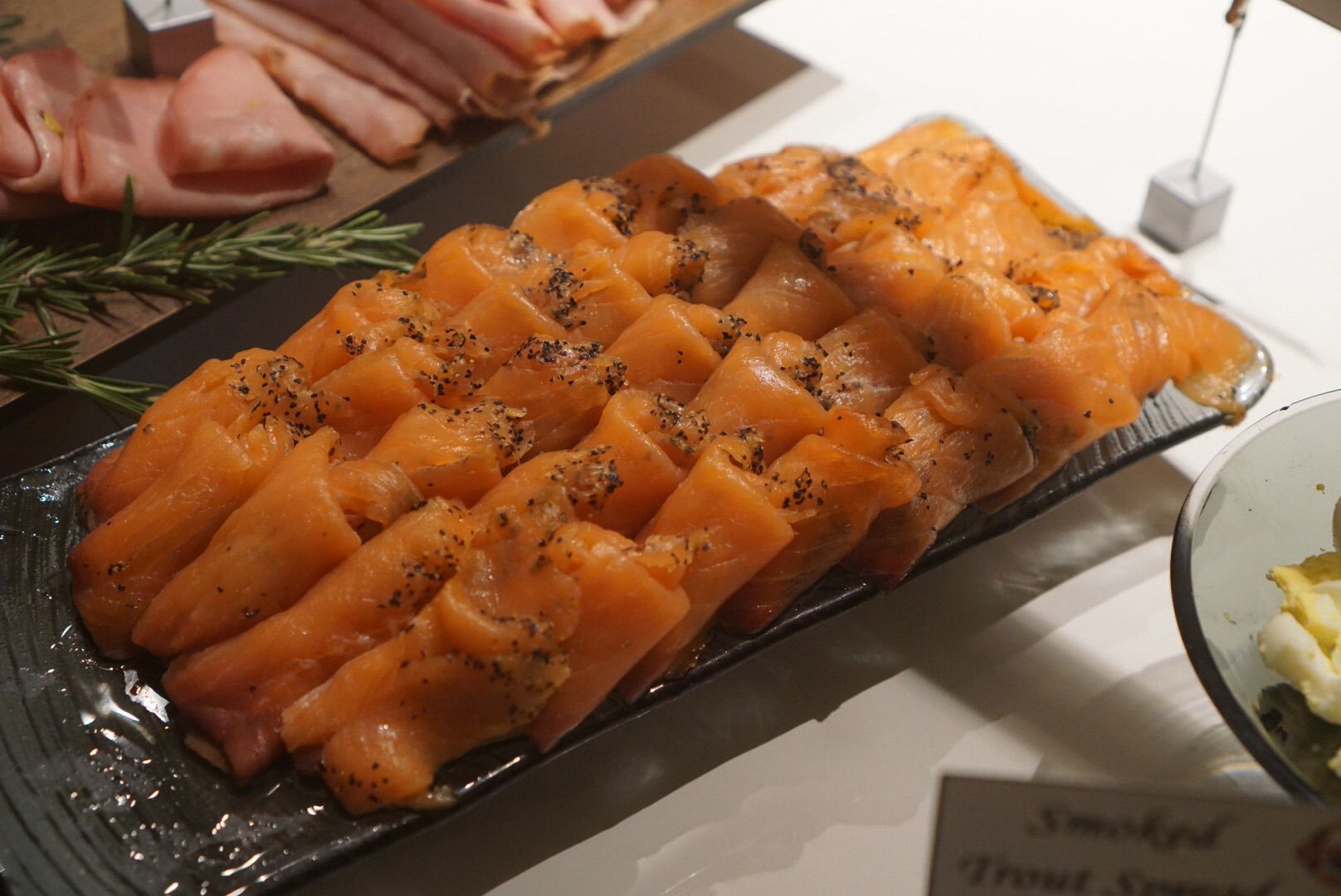 And all of the usual Accompaniments (Capers, Red Onion, & Hard-Boiled Eggs) plus Smoked Trout Dip…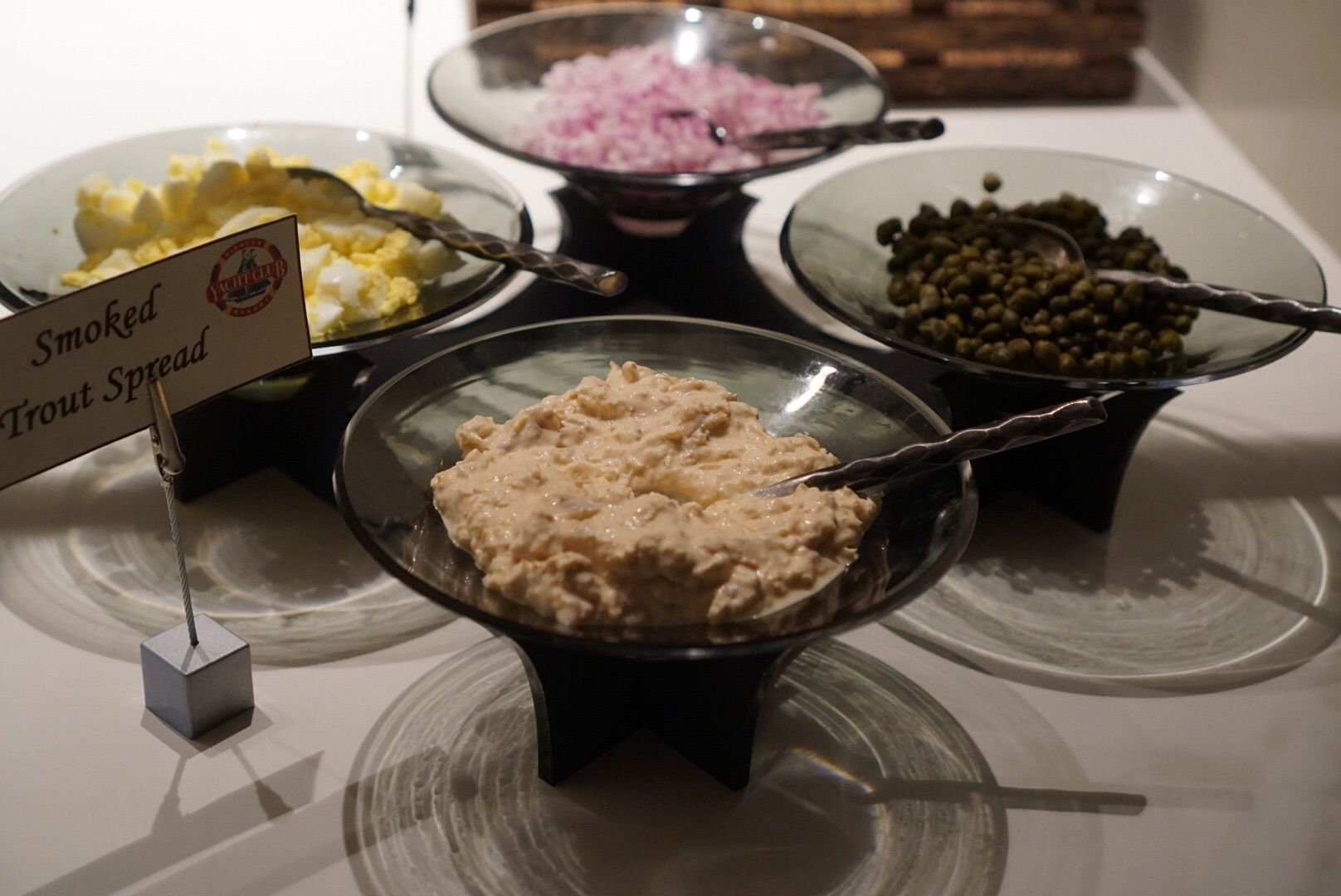 Next the Charcuterie…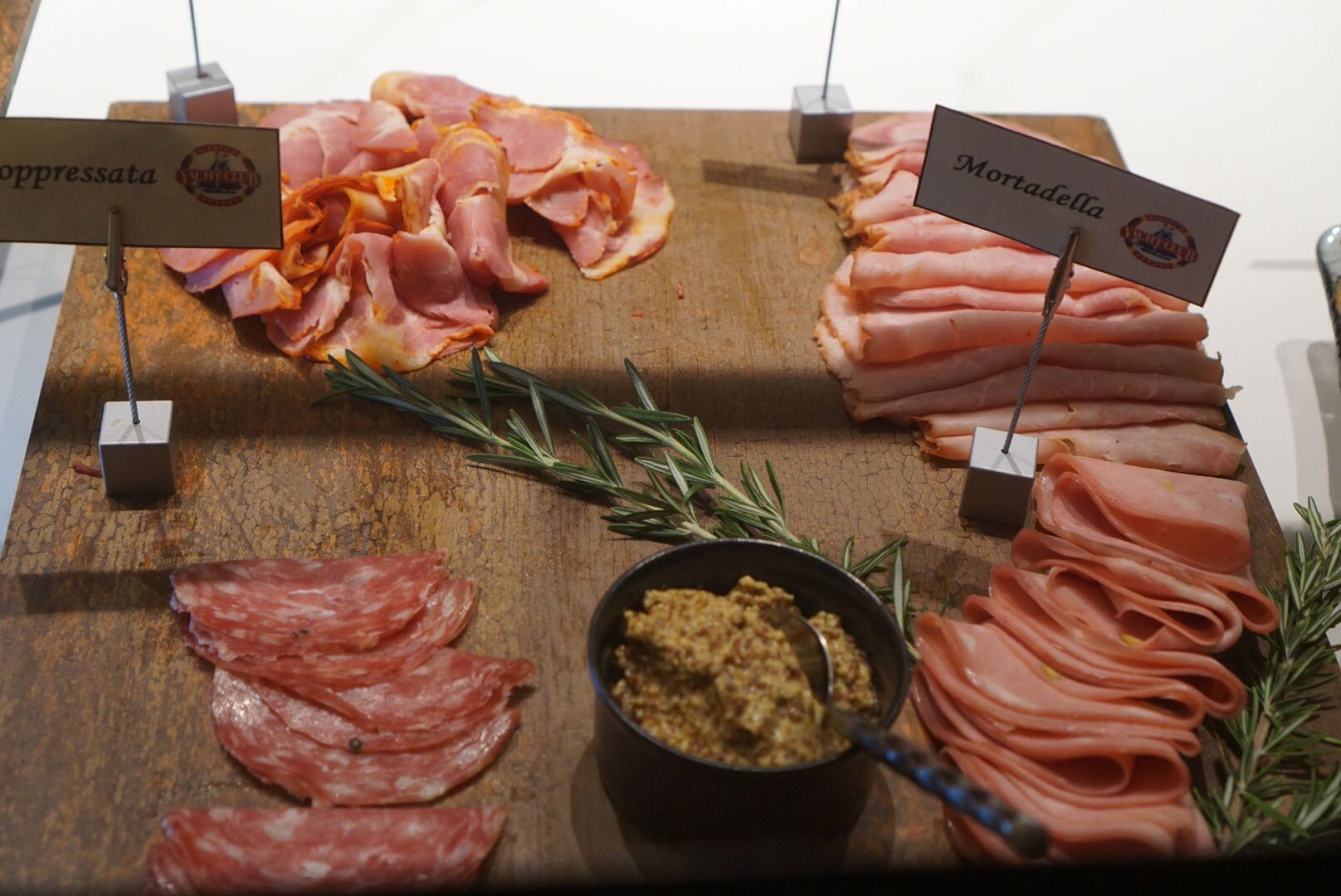 Which consisted of: Soppressata (an Italian dry salami) in the front left; Mortadella (an Italian lunch meat similar to bologna but better) in the front right;  Capicola (a cured Italian cold cut/lunch meat) in the back left; and Country Ham in the back right.
Next up, there were three Artisanal Cheeses…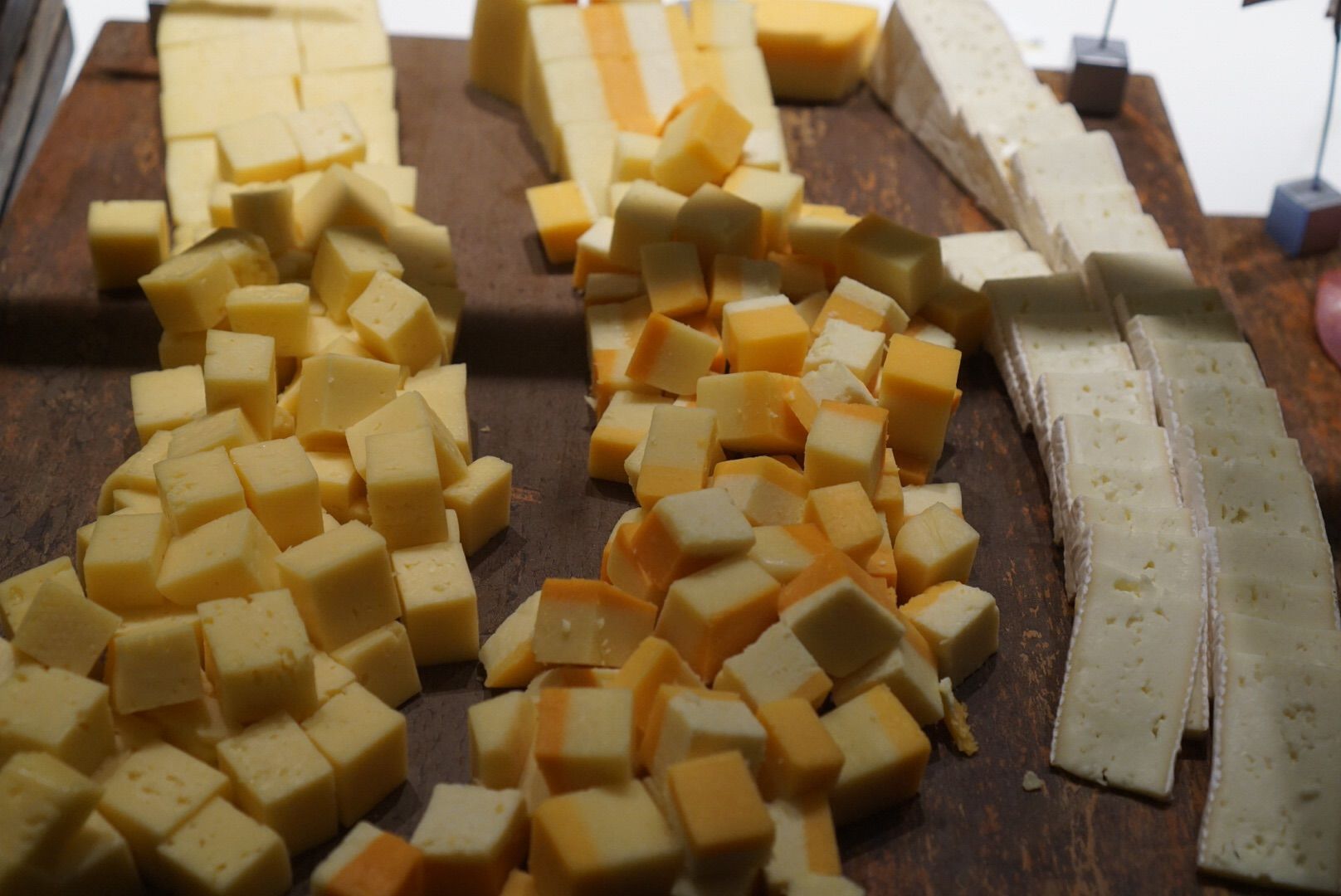 From left to right: Butterkase (German-style butter-flavored cheese), Five County Cheddar (Cheese from 5 English Counties of Cheddar, Cheshire, Derby, Double Gloucester and Red Leicester, combined in alternating layers of yellow/orange and white), and Brie (a soft French cheese).
The bread options consisted of Plain Bagels and English Muffins (both Plain & Whole Wheat)…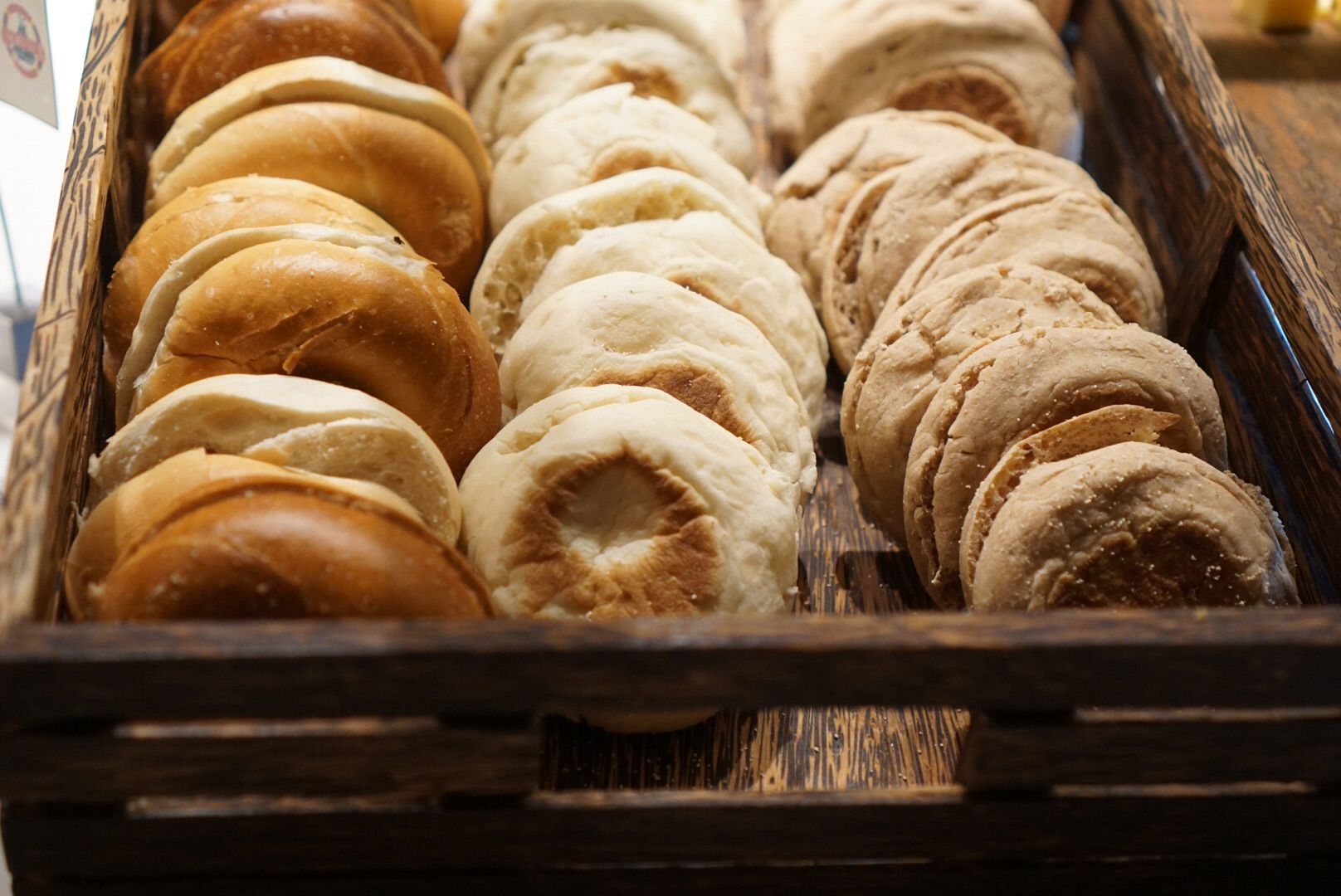 Plain & Multigrain Croissants…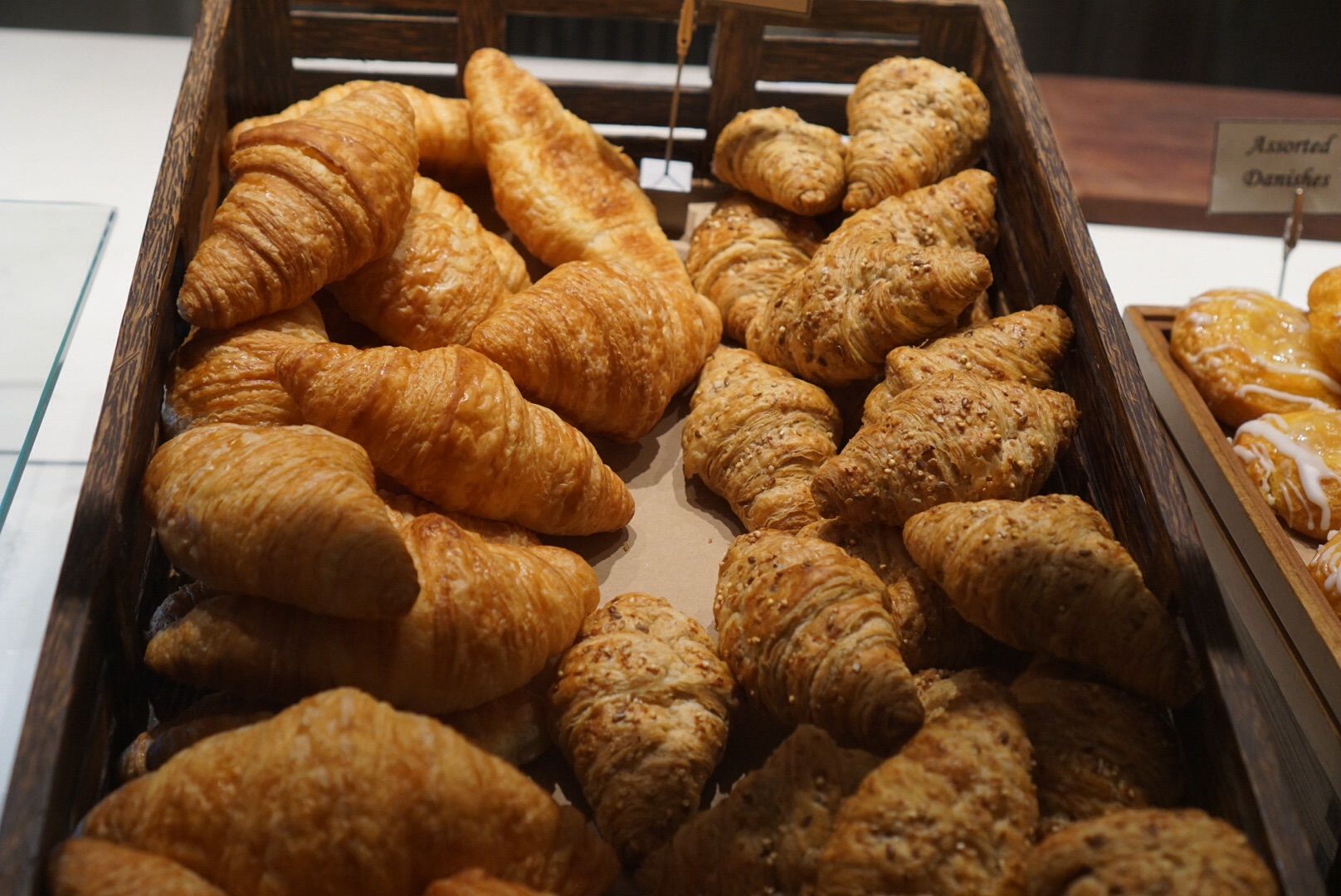 Plus of course their signature Parker House Rolls…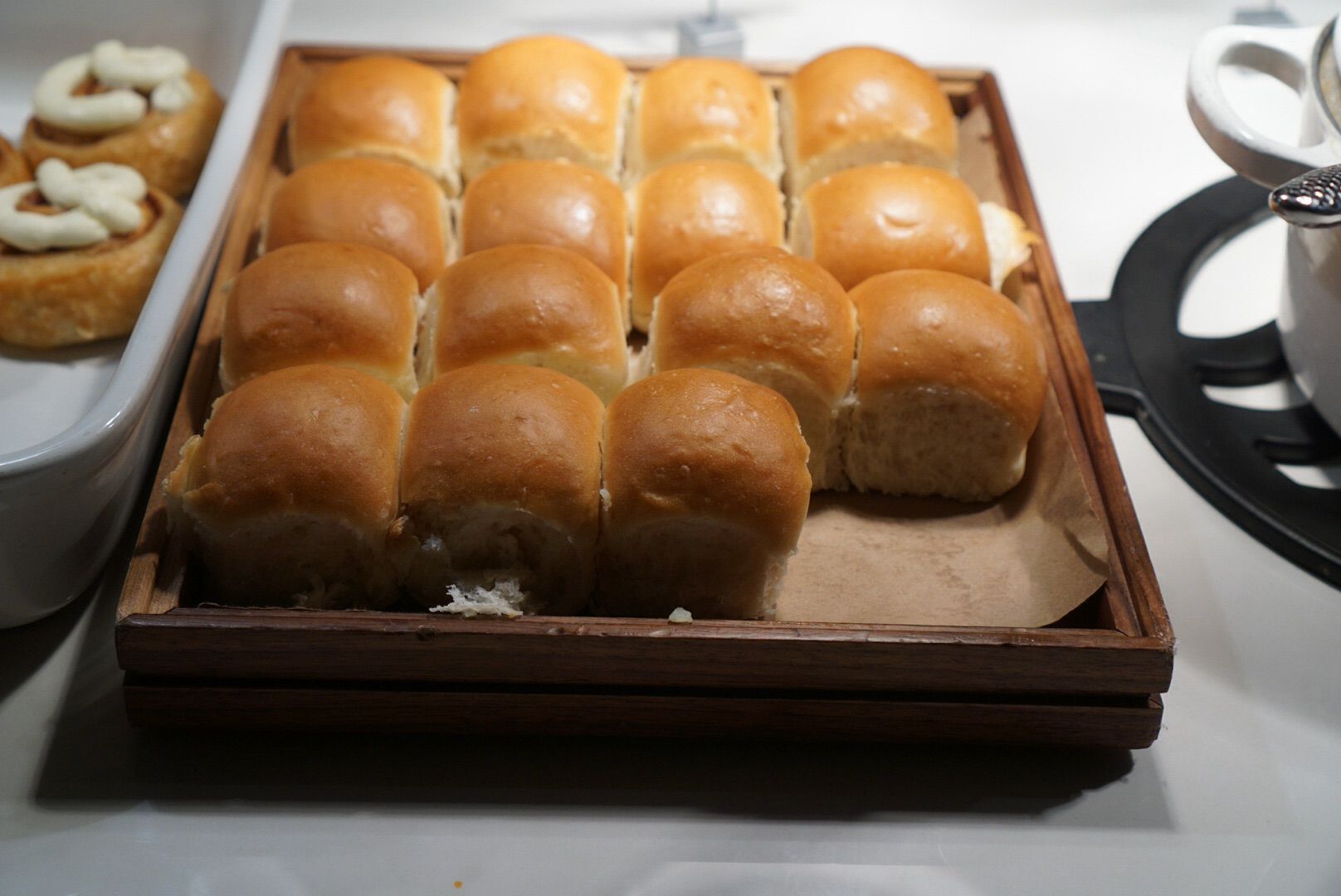 Along with balls of Butter and Cream Cheese, plus preserves and jelly…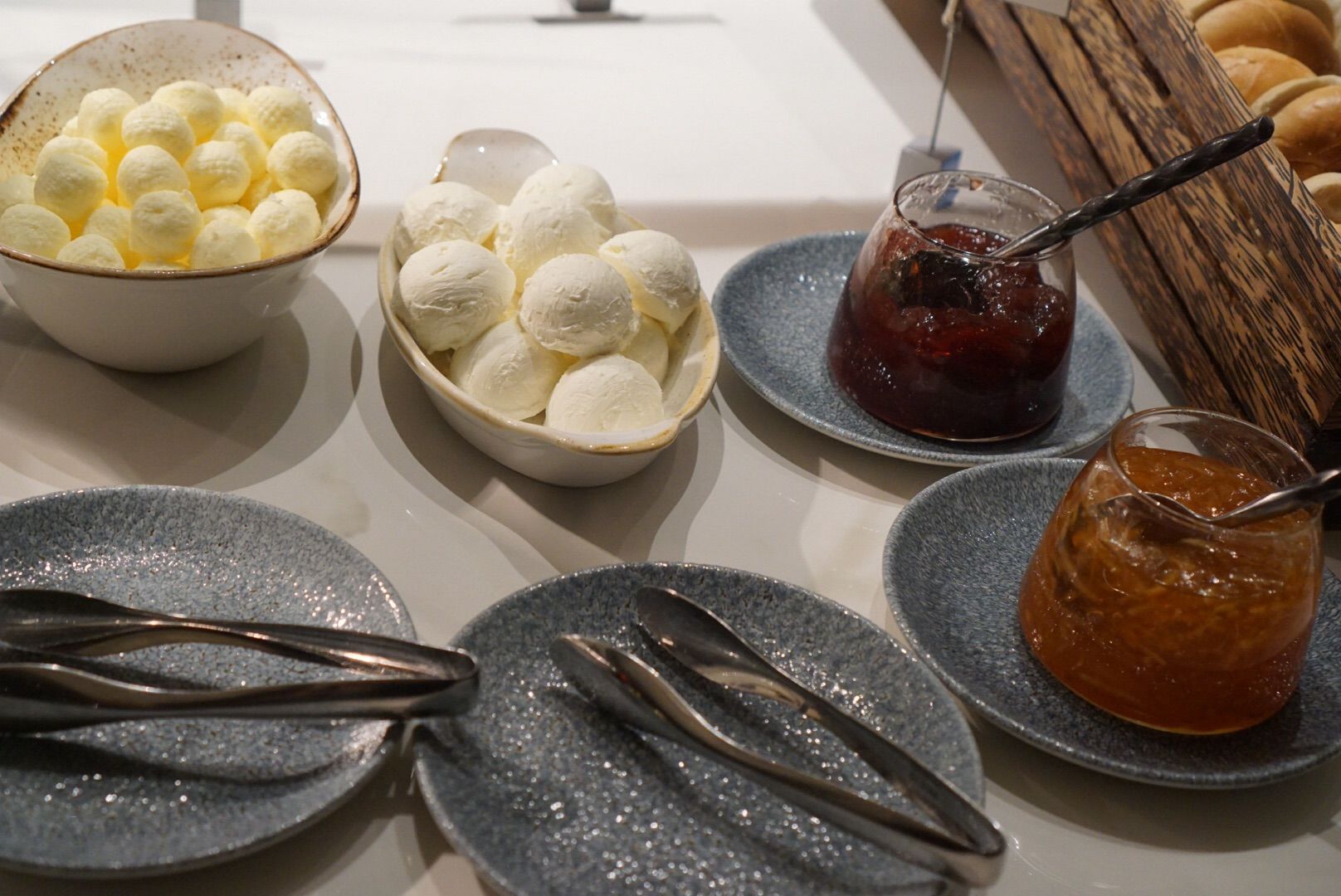 Next a few sweet breakfast pastries, like Cinnamon Rolls…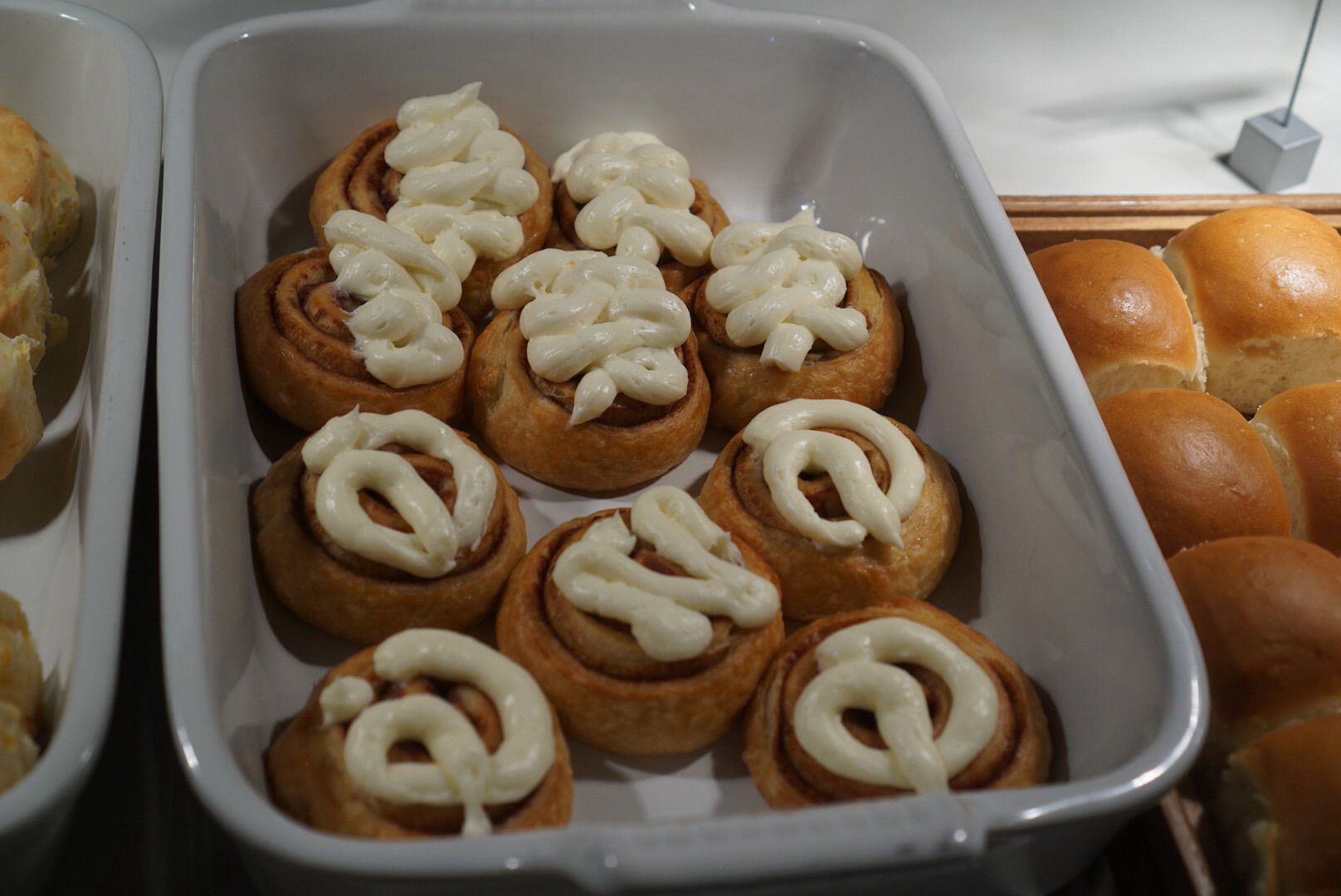 And Danish…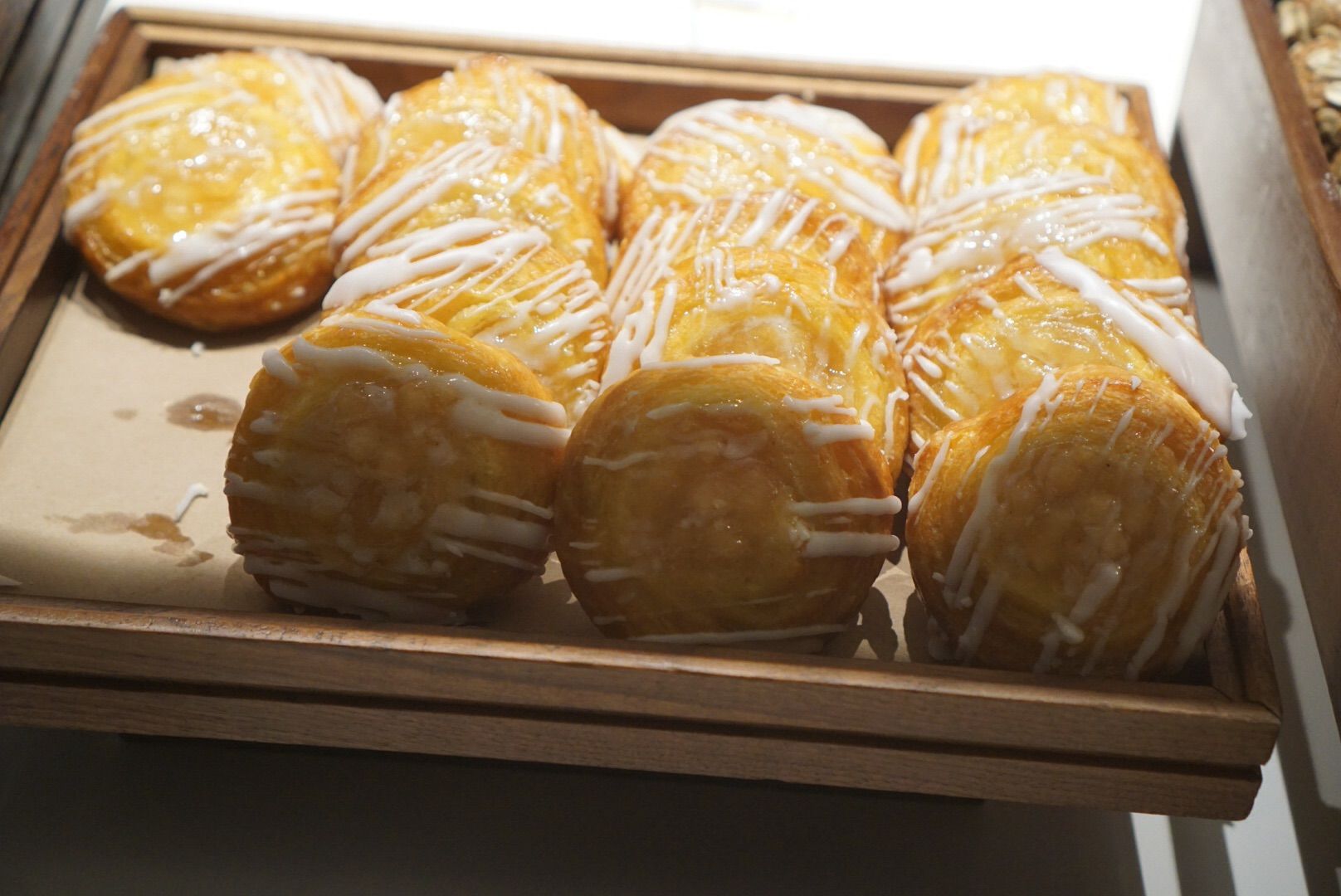 And Assorted Muffins…
Additionally there were Cheddar Biscuits…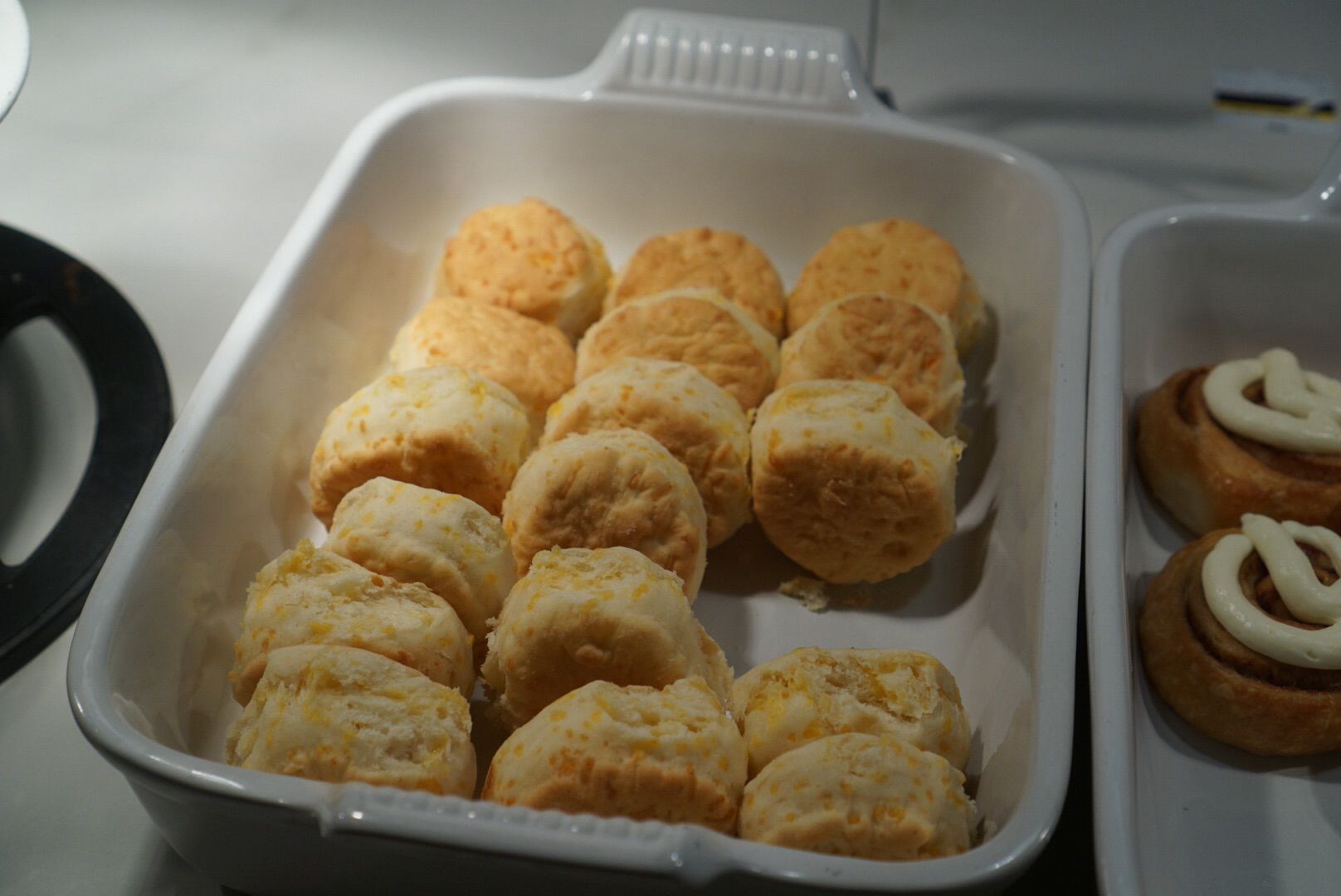 And Sausage Gravy…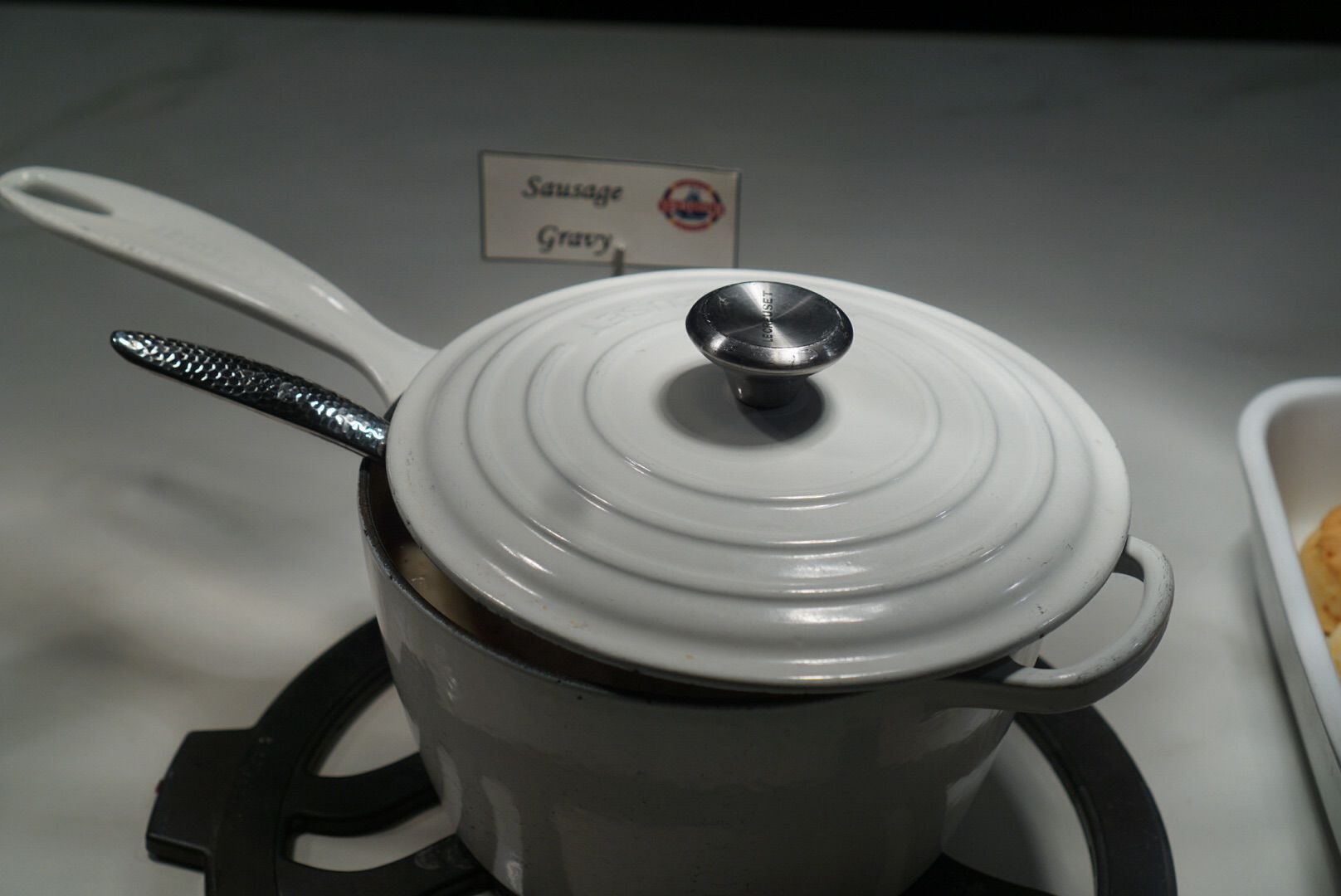 Also there was a pot of Oatmeal…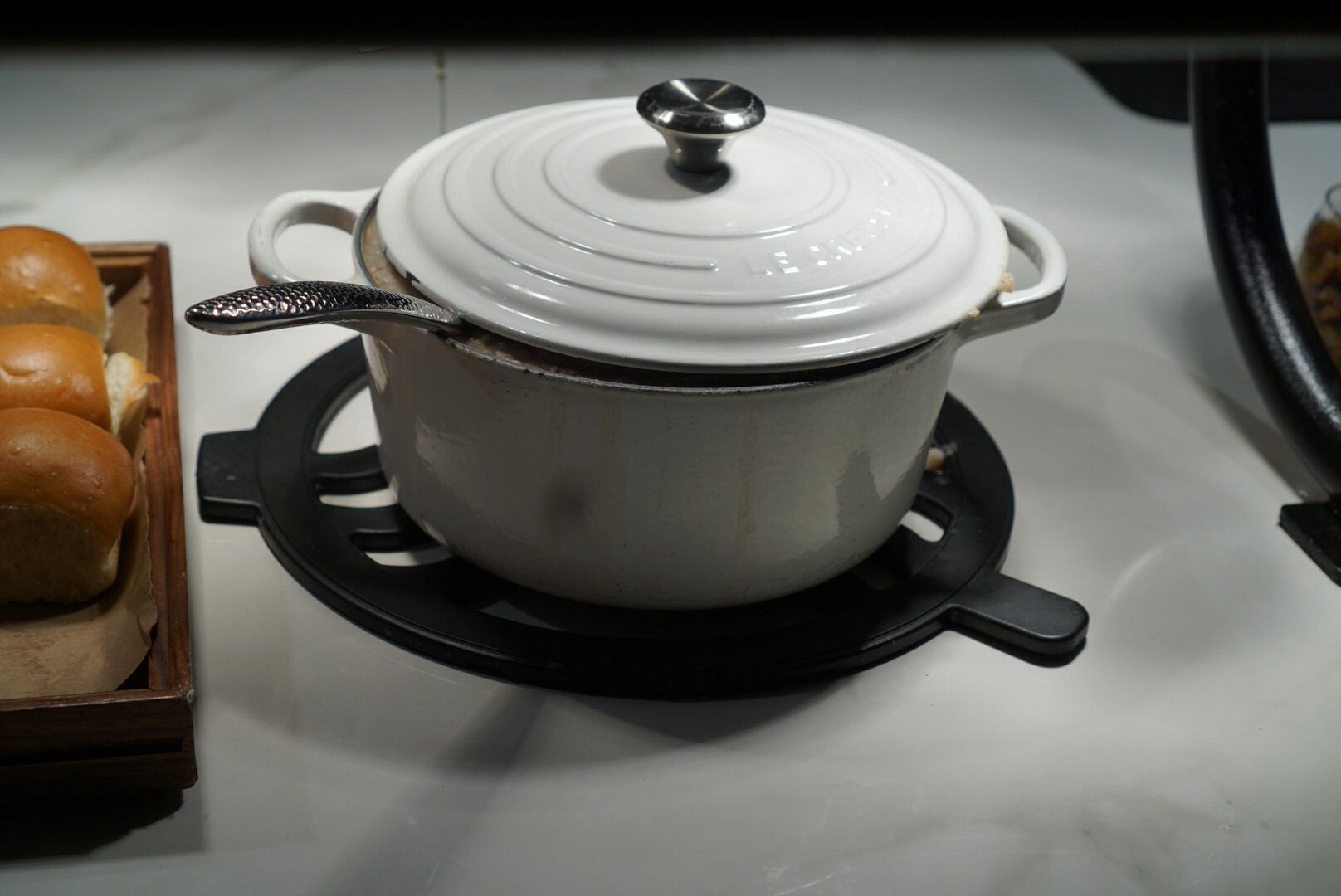 Along with toppings of Craisins, Brown Sugar, and Raisins…
Yogurt Parfaits…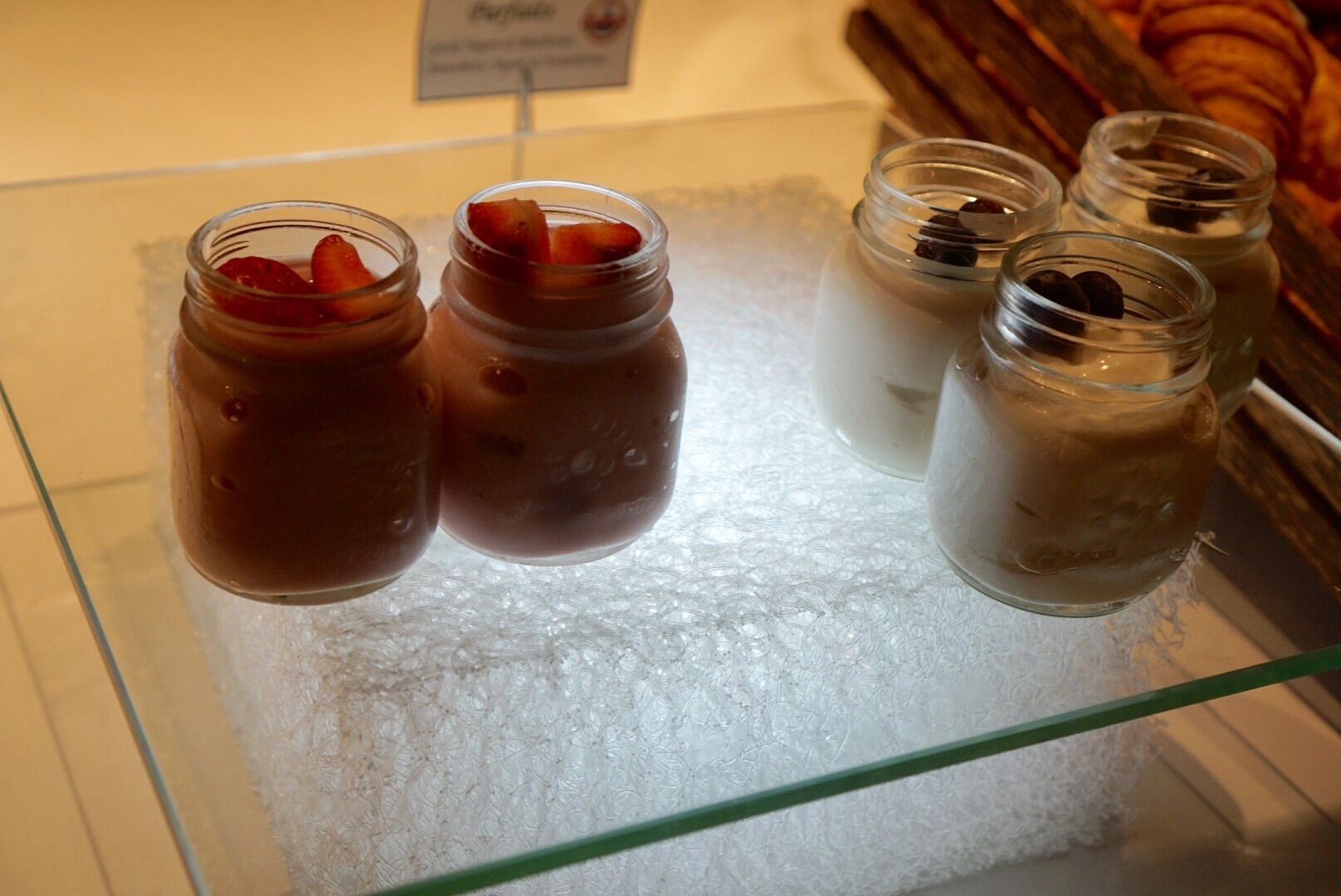 And House-made Granola…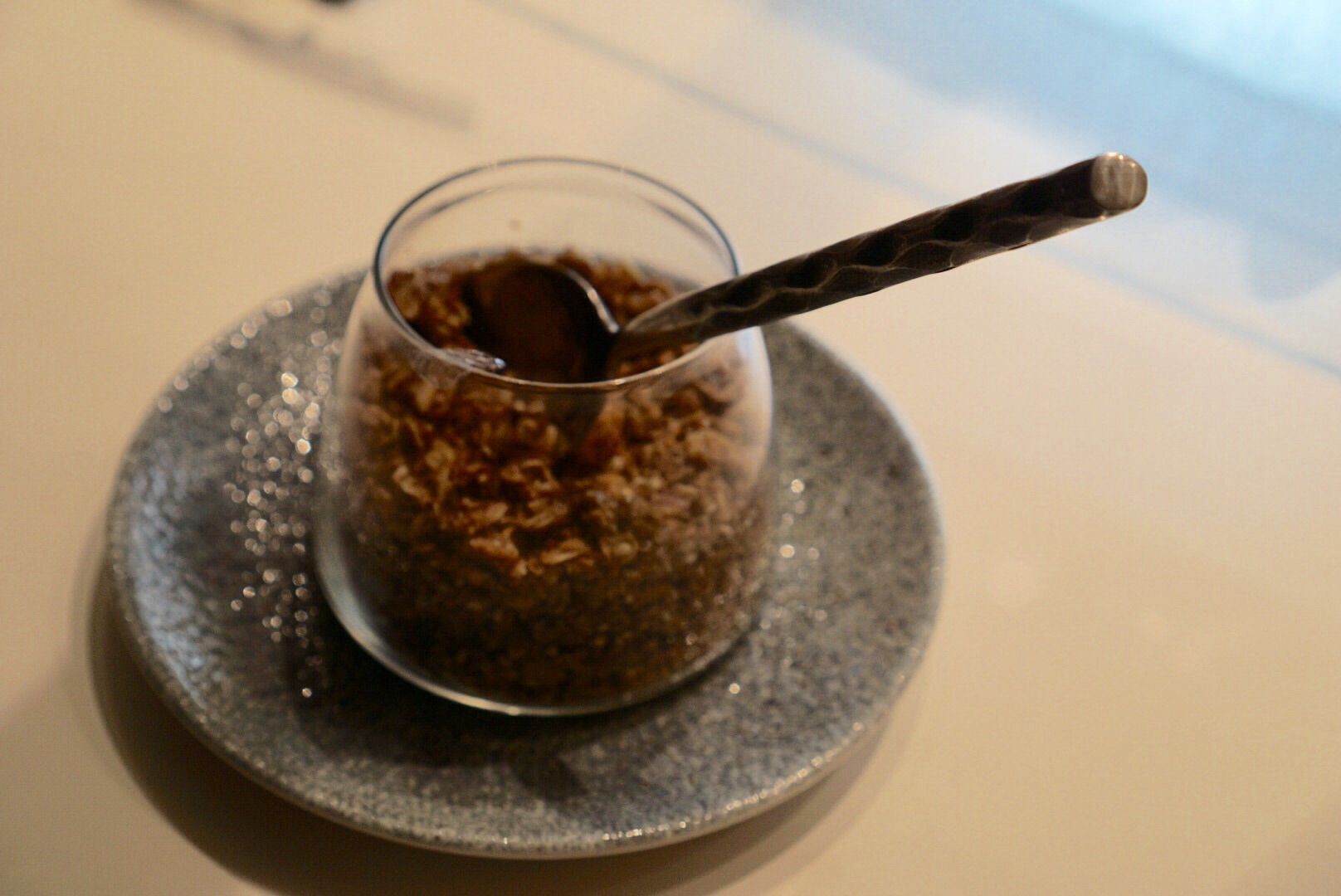 Then last but not least, the Fruit Section, which included Watermelon, Mixed Berries and Cantaloupe…
And in the back were Bananas, Oranges, and Apples…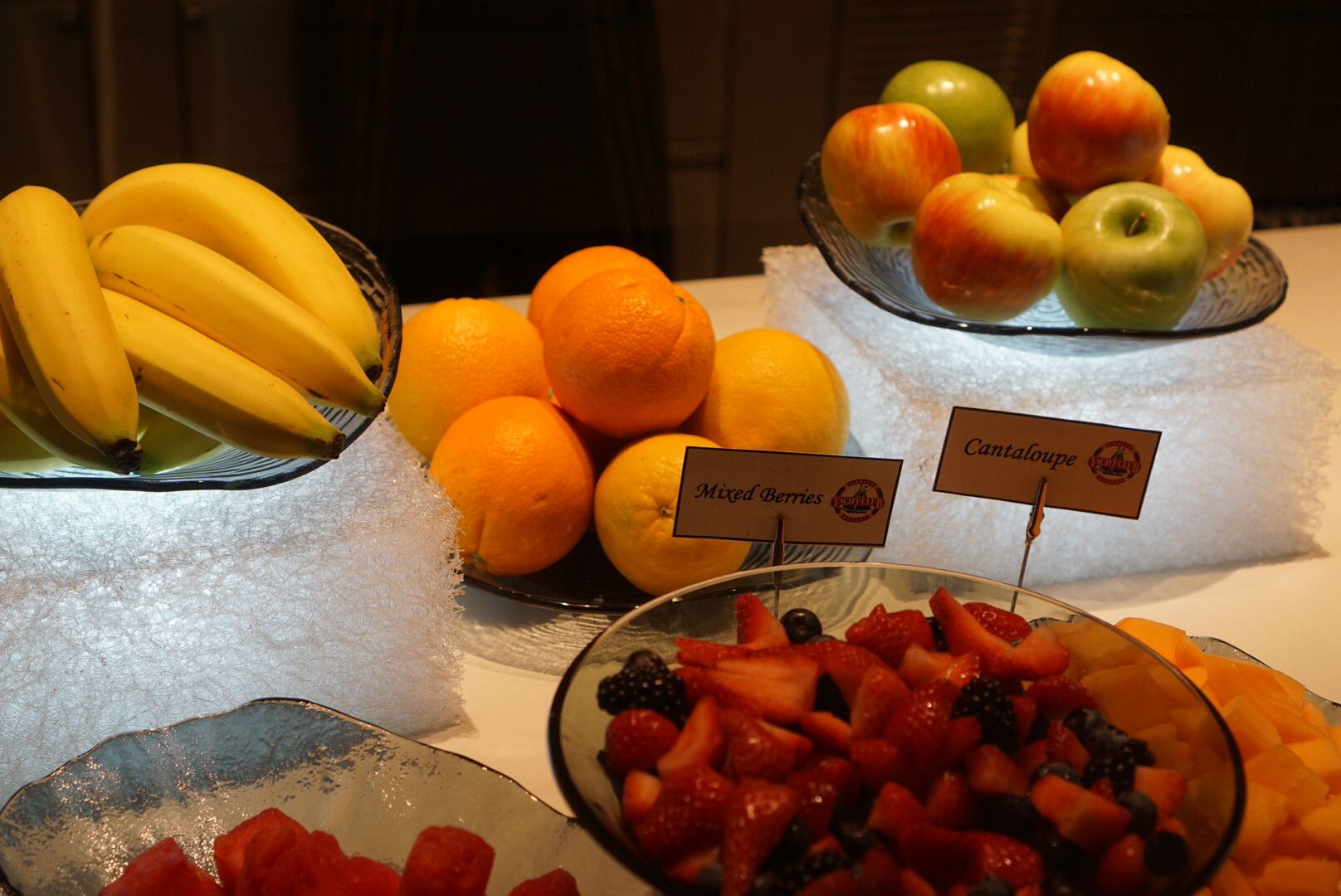 And here is what I tried from the buffet…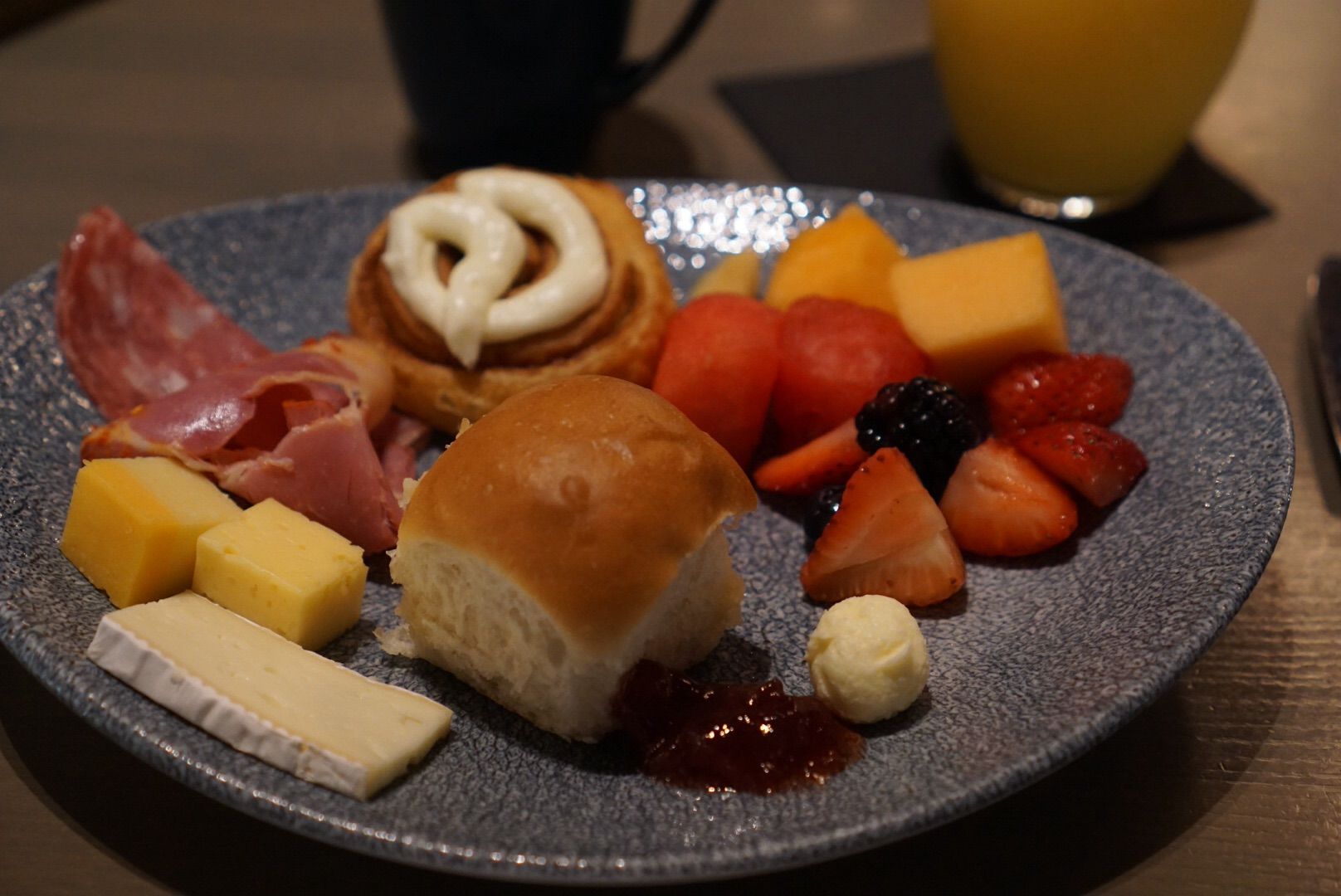 My choices: Cinnamon Roll, Fruit (both melon and berries), a Parker House roll along butter and jam, all three cheeses, and Capicola.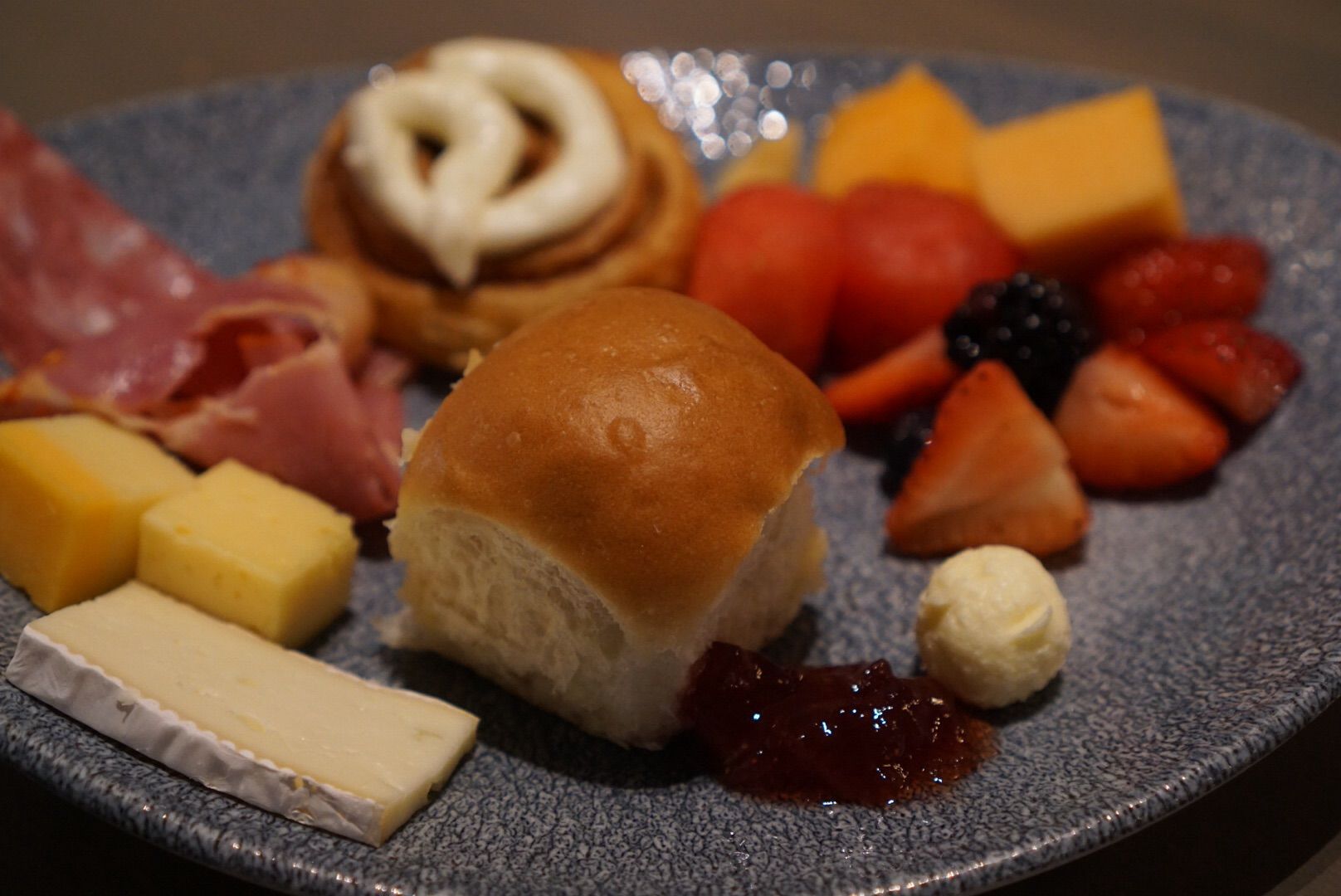 Starting with the Parker House roll, I thought it was good but nothing special.  They pale in comparison to the Onion Pull-apart Rolls that are the specialty of the other Yacht Club restaurant, Yachtsman Steakhouse.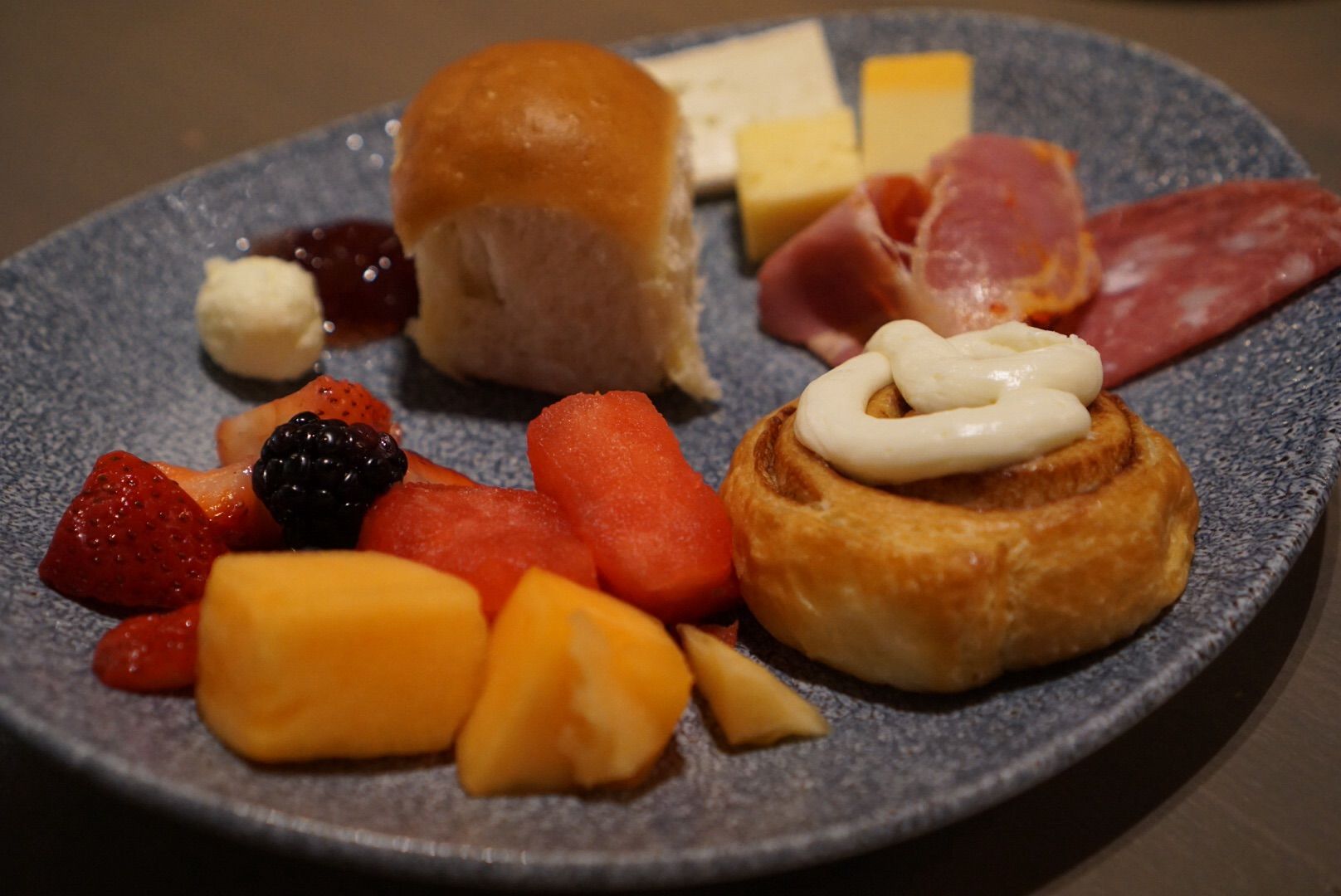 The fruit was good, especially the watermelon and strawberries.  And the cinnamon roll was very good and the perfect size.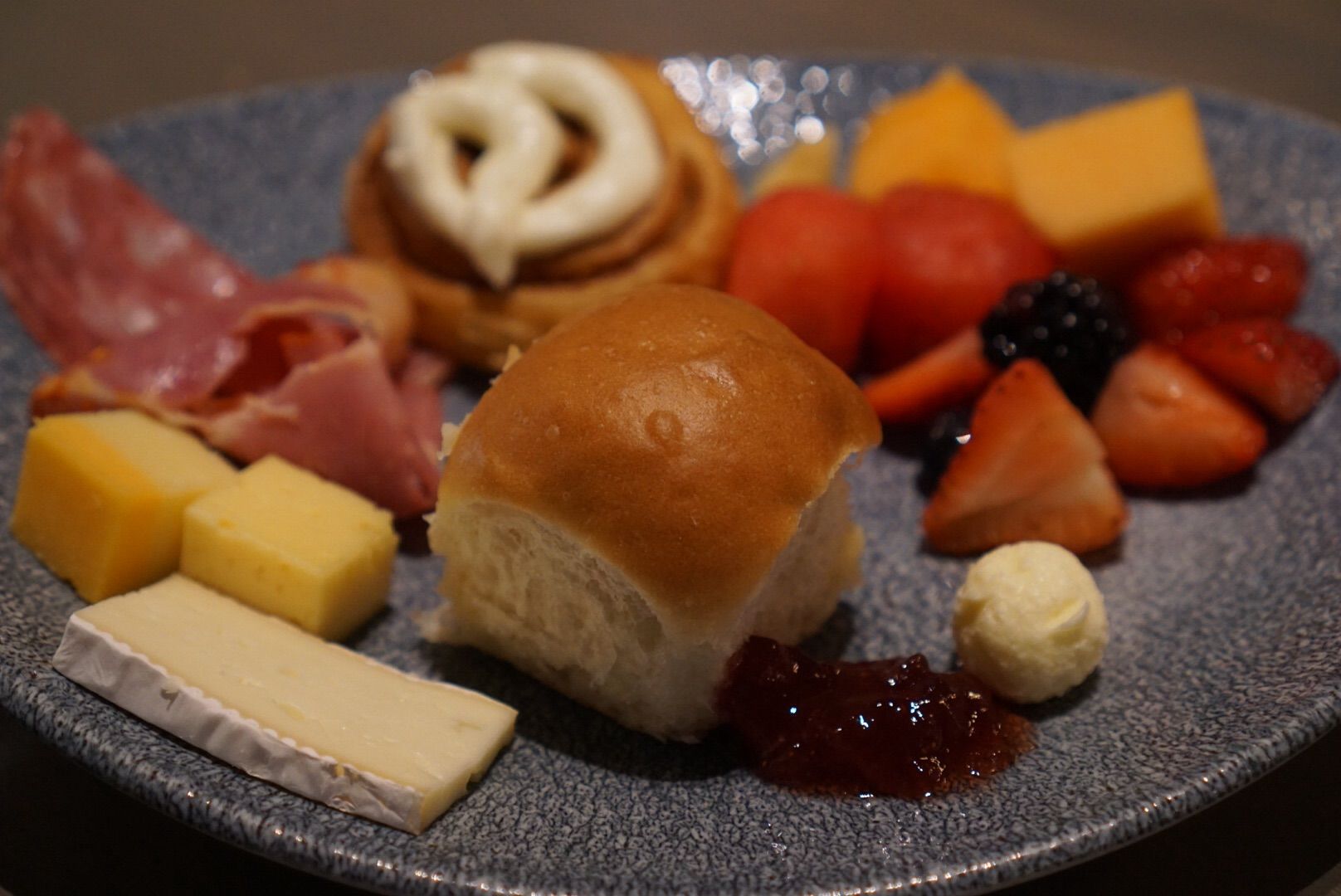 And while the capicola and cheeses were good, I missed that they didn't have a bleu cheese available (my favorite).
I failed to take photos of Nicole & Mike's buffet plates but in my notes I have that Nicole loved her strawberry yogurt parfait and that they both really enjoyed the double chocolate muffins.
Now for our entree selections, beginning with the worst (which happened to be mine)…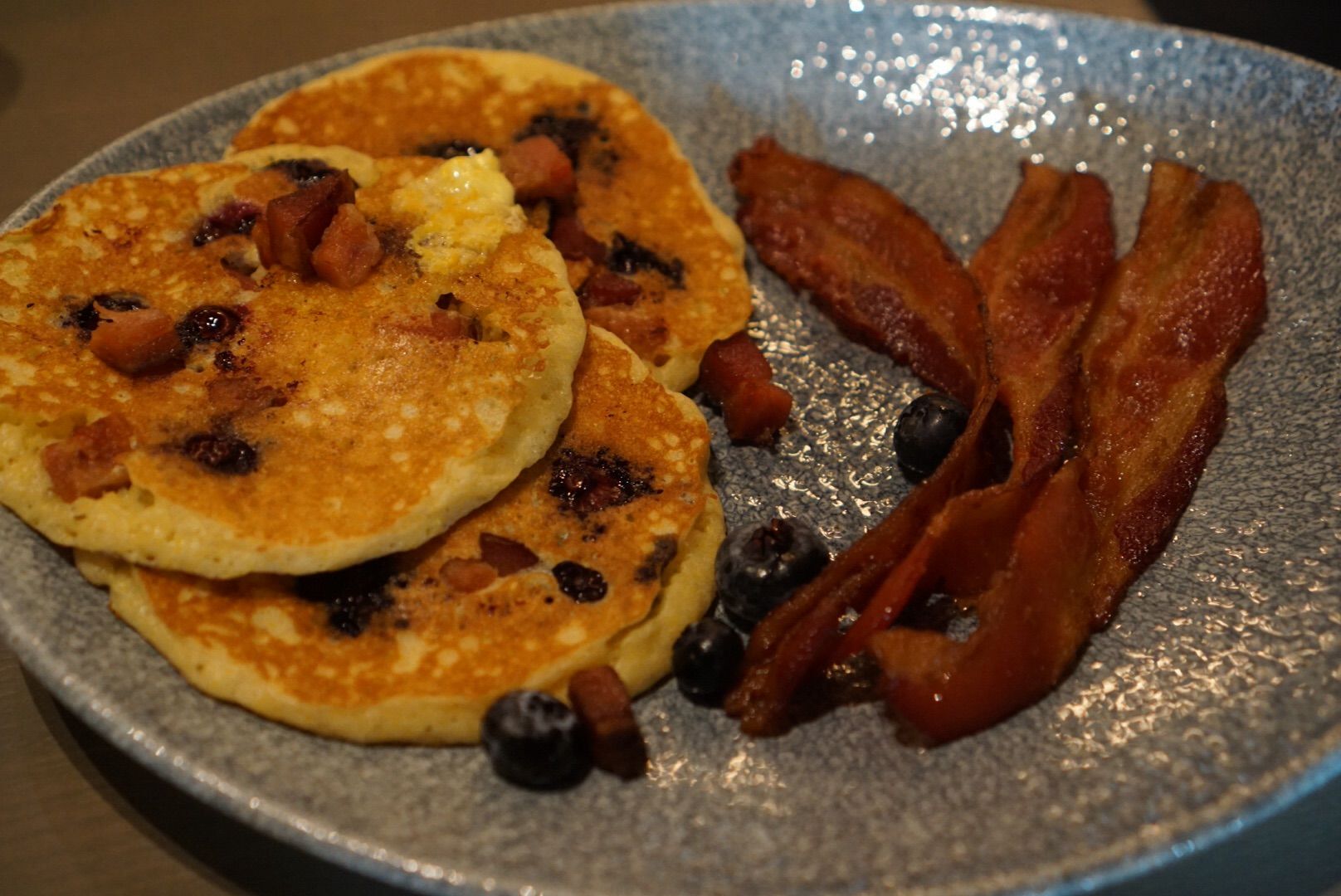 Blueberry Bacon Pancakes with Bacon
And a closer look of the pancakes…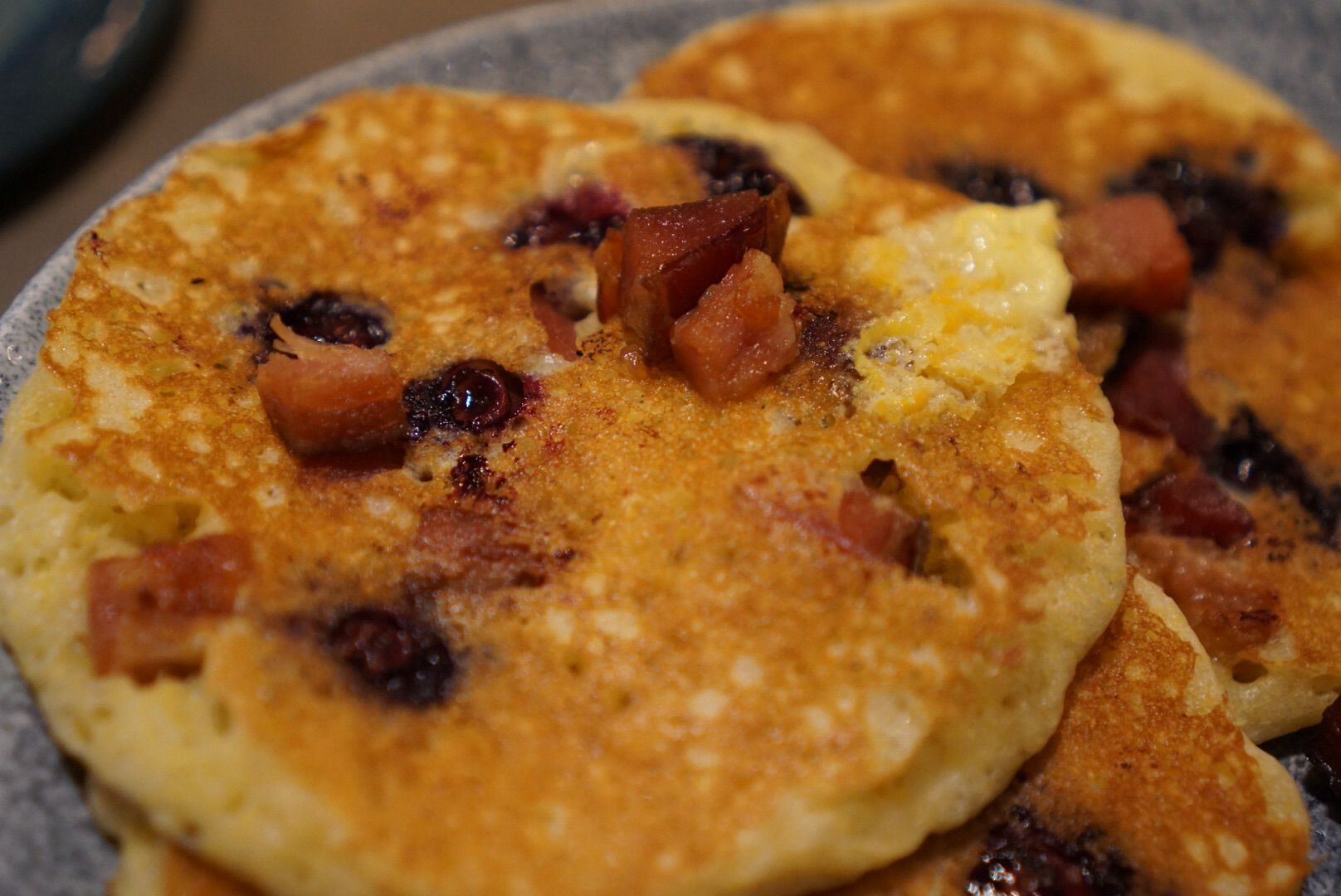 Let's begin with the one positive on my plate, the side of three slices of bacon.  This bacon was really good.  But unfortunately the bacon that was part of the pancakes was pretty bad.  It had the texture and flavor of pork belly.  That combined with some pretty sour blueberries made for some pretty bad tasting pancakes.  I tried removing the bits of "bacon" and adding lots of maple syrup and was able to eat one of the three pancakes but that was all I could do.  The rest was taken by Nicole & Mike back to their villa which had a full kitchen.  They attempted to eat them the next day for breakfast and thought they were really bad, so they ended up in their garbage.
Unfortunately Nicole didn't have much luck with her choice either…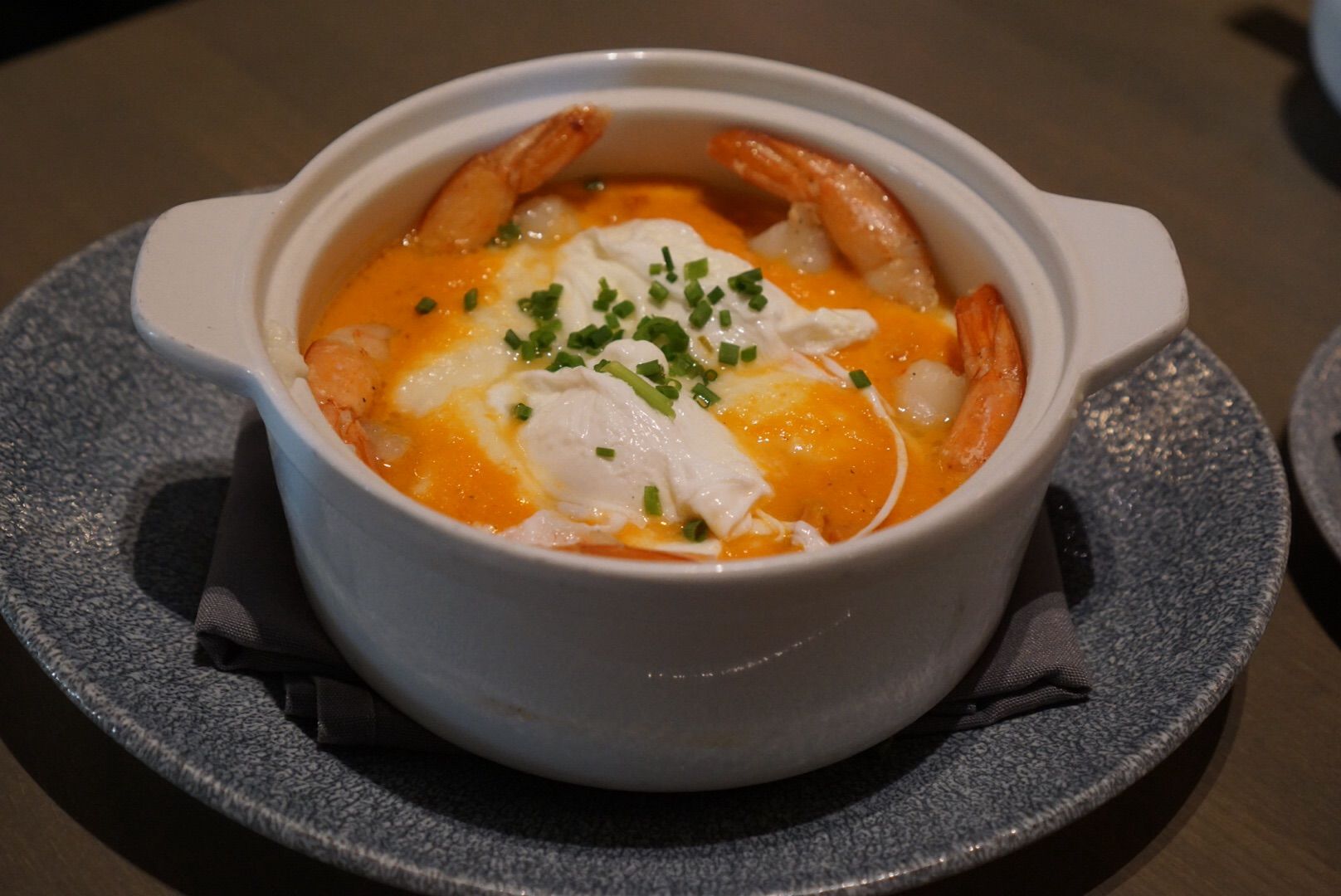 Shrimp and White Cheddar Grits with Poached Eggs, Chorizo, and Charred Tomato Stew
And a closer look…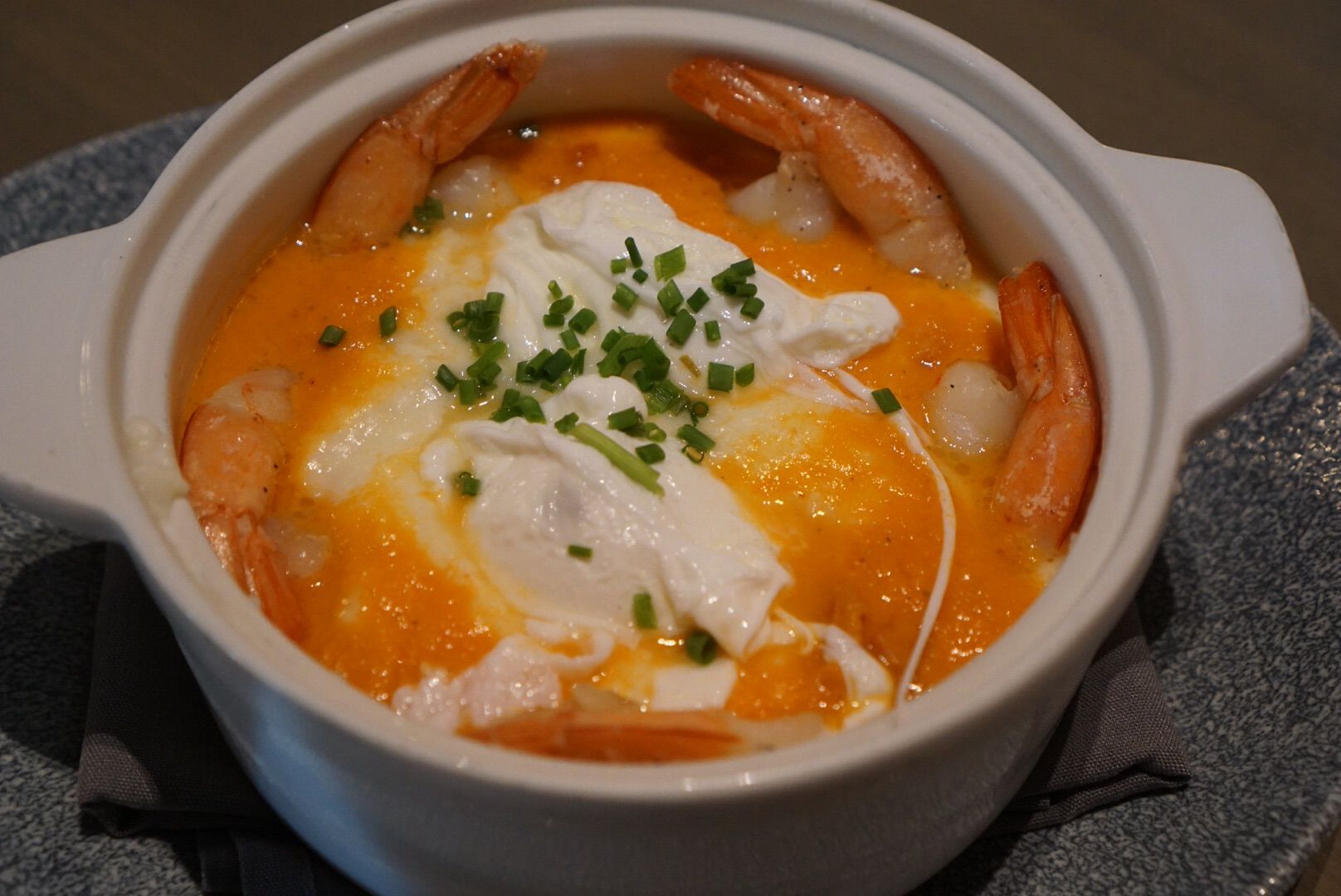 Nicole said the grits were soupy, the sauce was tasteless, and the shrimp tasted plain and boiled.  And then there was the weird, off-putting orange color.  So although her choice was better than mine, it was not something that she liked or would recommend.
Mike was the winner of this meal with his choice of the…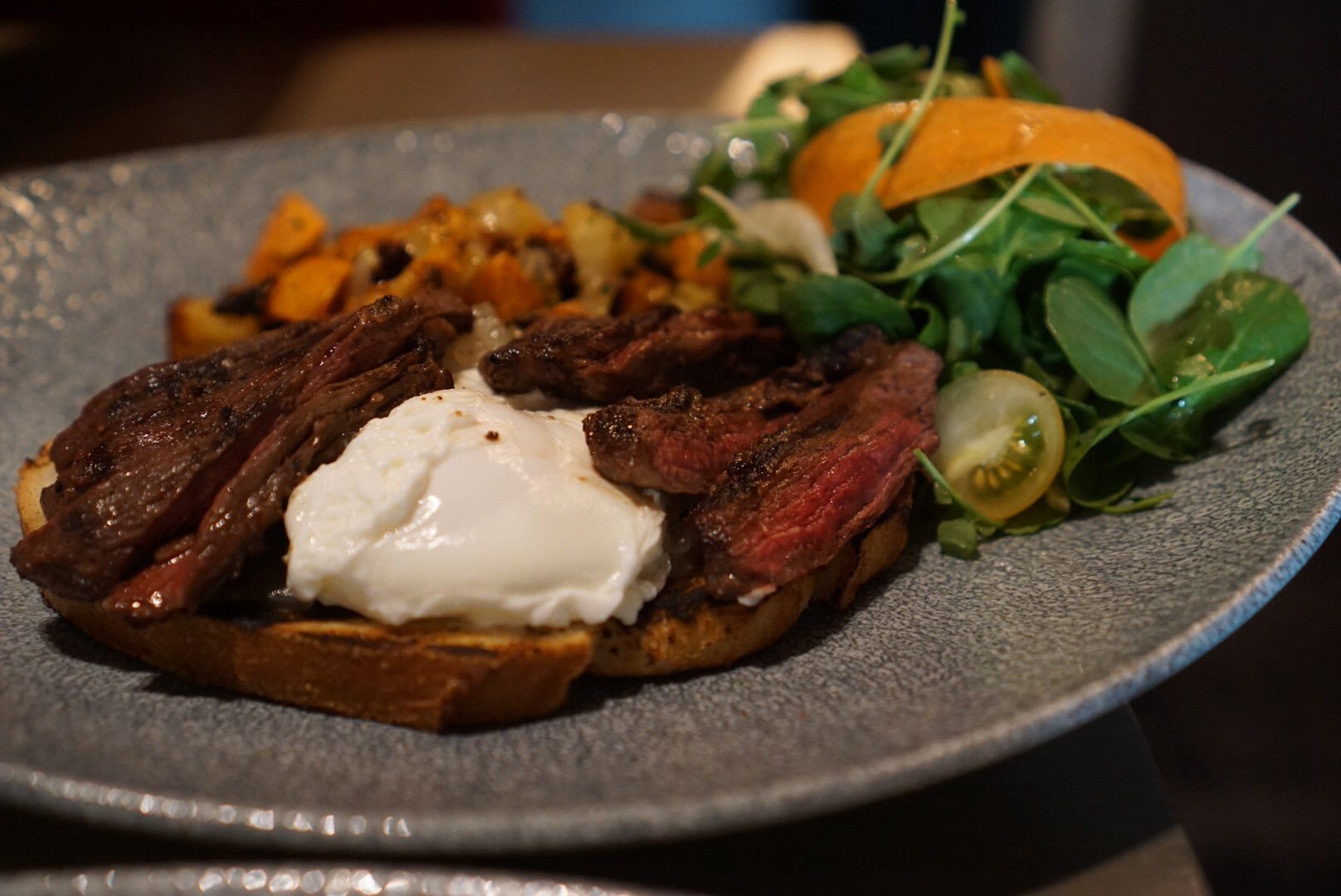 Open-faced Skirt Steak Sandwich with Caramelized Onion, Poached Egg, Potatoes, Fennel, Watercress, and Tomato Salad with Truffle Vinaigrette
He loved this!  Said the steak was a good quality.  Mike couldn't eat all of it so took the leftovers to have for breakfast the next day.  Even reheated both he and Nicole said this was really good.
So despite some pretty good buffet options, with two out of three of our entrees not being good I would probably only give our breakfast 2 or 2 1/2 stars.  I would though consider giving it another try for breakfast (maybe try the Salted Caramel-Apple French Toast, Ham & Cheddar Omelet, or the Breakfast Flatbread that is currently on the menu) or perhaps for lunch since I'll be staying next door at the Beach Club for part of my next trip.
As for the reviewers on Yelp, they rated Ale & Compass 3 1/2 stars,  Those on Trip Advisor rated them 4 stars and ranked them #363 best of the nearly 3,000 Orlando area restaurants. Narrowing this down to just the approximately 250 eateries in the Disney World area, Ale & Compass ranks #112.