Ok, first of all, the official name of this restaurant is way too long so I'll be referring to it as "Skipper Canteen" in this review. So anyway, after using mobile check-in for our 2:35 lunch reservation we found a place to sit down inside in the lobby of Skipper Canteen. Not only did it feel good to sit in the air-conditioning but also the lobby (like the restaurant) has some unusual decor…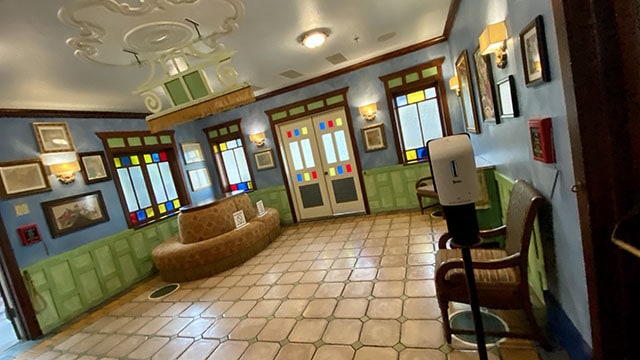 Something that caught my eye on the ceiling above the couch where we were seated was this decoration…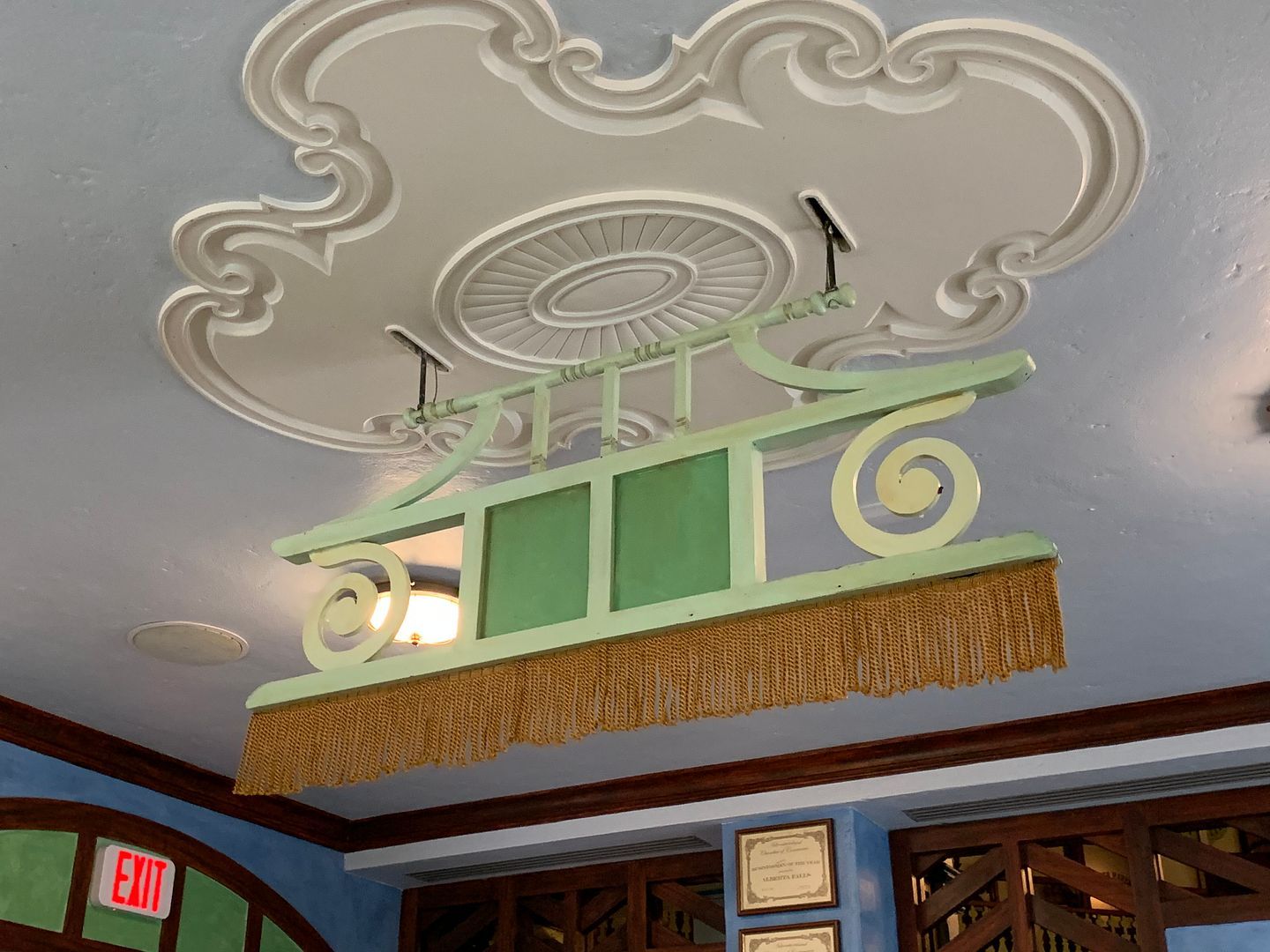 I don't think it served a purpose, as it wasn't a light fixture or fan. So I guess it's just an unusual conversation piece.
At about 2:45 my name was finally called and we were seated at a 2-top table close to the entrance to the kitchen. As was the case at most (if not all) of the table service restaurants on this trip, we were given a card with the QR code to scan with the camera on our phone for their online menu.
However I did take a photo of the menu that was outside in front of the restaurant…
This was not a complete list of their offerings (just a sampling) and did not include any prices.
Our server soon came to the table to introduce himself and get our drink order. He also told us about a couple of food items which are not listed on their regular menu. I've heard these referred to as both Secret Menu items and Not So Secret Menu items.
For our drinks, Andrew ordered one of their non-alcoholic specialty beverages…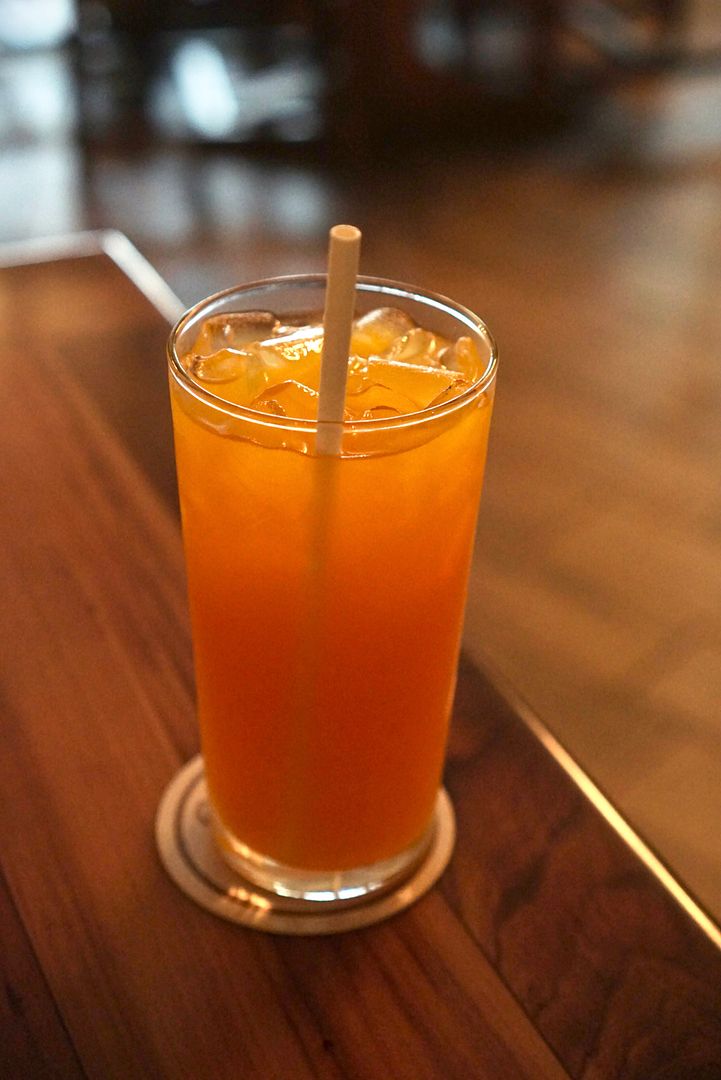 Punch Line Punch – $5.50
This was a mix of tropical fruit juices and mango purée and was sweet, fruity and refreshing.
For a price comparison, I got a Coke here and it was $4.29, so not a big price difference. I don't believe there were free refills on the punch though. Also of note is that they no longer serve any "Exotic Coca-Cola Selections" here. In 2016 we were able to have the same delicious Fanta Melon Frosty (from Thailand) that was one of my favorites at Epcot's Club Cool.
We had decided to just have appetizers only here rather than entrees and the two appetizers from the Secret (Not So Secret) menu sounded quite good so we ordered them both. The first of these was…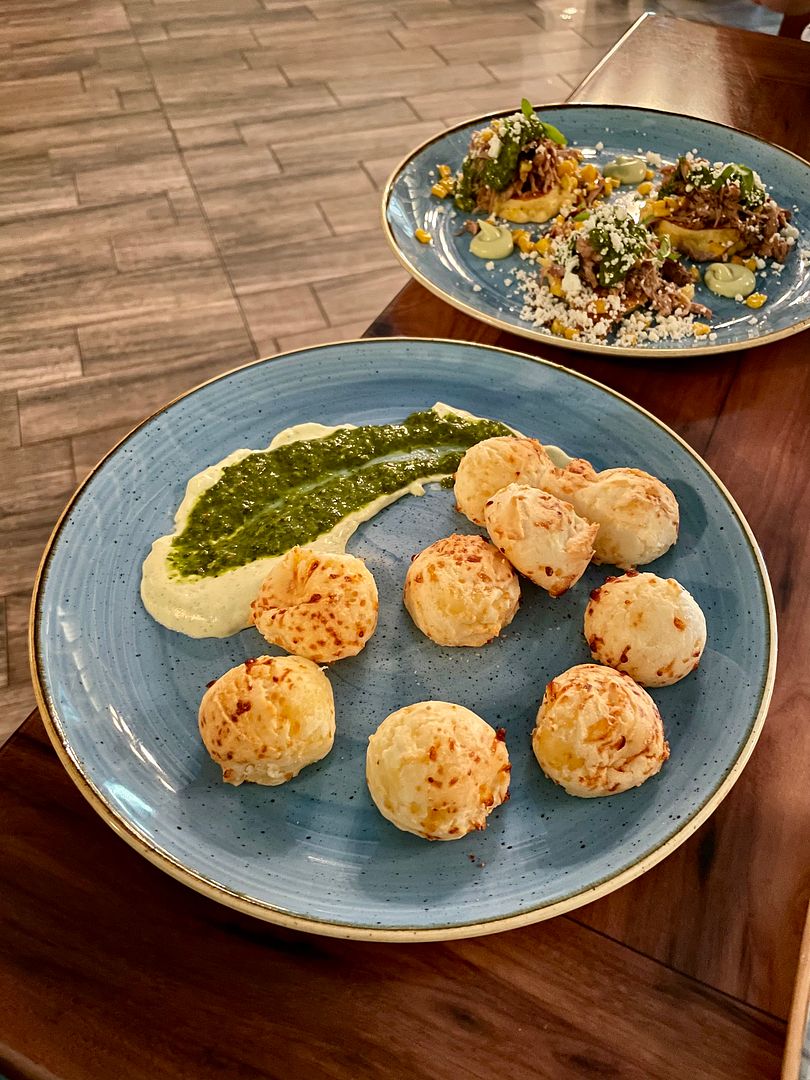 Pao de Queijo (Brazilian Cheese Bread) – $12.00
These were balls of cheesy bread with poblano cream cheese topped with chimichurri sauce served on the side. NOTE: I read somewhere that these are gluten-free because they are made with tapioca flour but please confirm this with your server before ordering if you have a gluten intolerance or sensitivity. Anyway, these were a bit disappointing for us. They seemed more doughy and less cheesy than ones I've had elsewhere. Also they could have been warmer.
The other Secret menu item we ordered was much better though…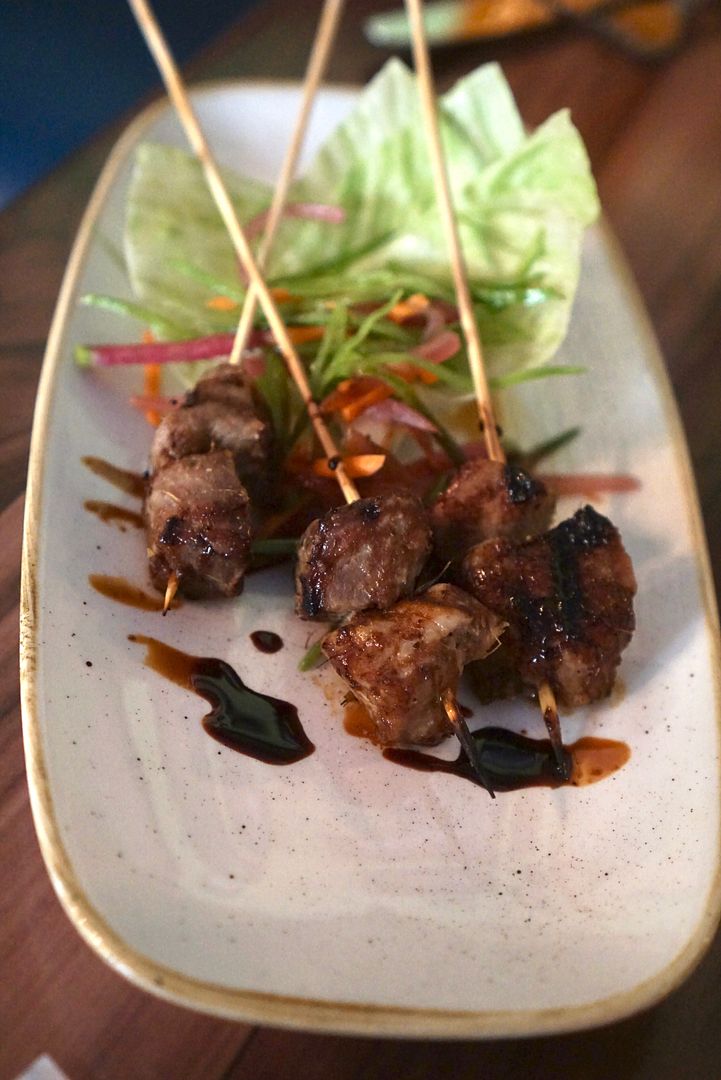 Pork Satay – $13.00
This consisted of 3 skewers (kebabs) of pork served on a bed of shredded carrots, red onion, radish and lettuce. The meat was flavored with a delicious Vietnamese sauce, which I think included soy sauce and ginger as ingredients. The pork was so tender and flavorful. We both thought it was delicious and ate every bit of the pork.
We also ordered a third appetizer to share from their regular menu…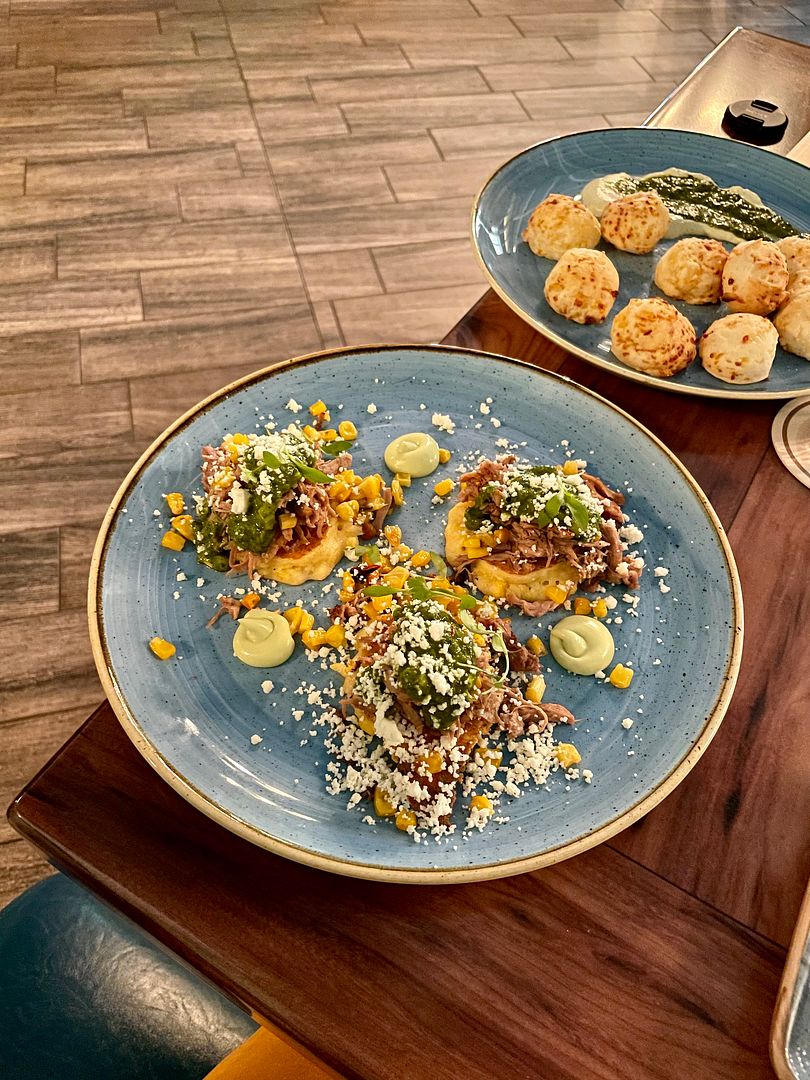 Orinoco Ida's Cachapas – House-made Corn Pancakes, Beer-braised Pork, Roasted Corn, Fresno Pepper Salsa, and Avocado Cream – $13.00
And a closer view…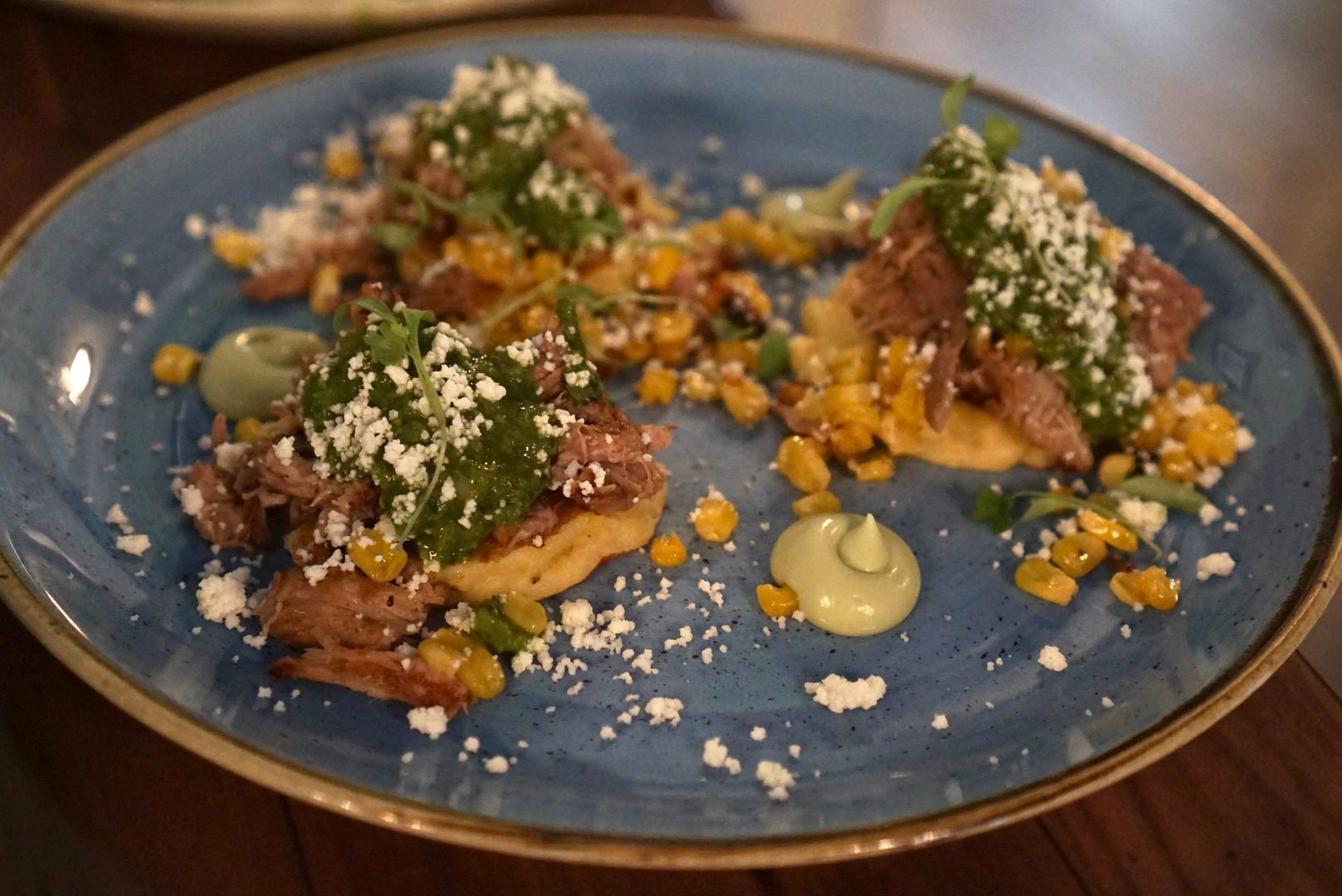 We had enjoyed these very much when we last dined at Skipper Canteen in 2016. In fact they were the highlight of our meal and we were looking forward to having them again.
Here is our photo of the Cachapas from our December 2016 lunch at Skipper Canteen…
2016 Menu Description & Price: Orinoco Ida's Cachapas – House-made Corn Pancakes, Mojo-braised Pork, Black Bean Salad, and Avocado Cream – $10.00
Unfortunately the 2021 version of the Cachapas did not live up to our memory of the 2016 Cachapas. While the beer-braised flavor of the shredded pork was good, it was not quite as flavorful as the previous mojo-braised preparation of the meat. And what was once a topping of black bean salad is now roasted corn and salsa. I prefer the fresh taste of the black beans, diced tomato, etc. of the salad over the current toppings but the corn and salsa were fine. The real problem with the 2021 cachapas was the mushy corn pancakes, which seemed undercooked. They also didn't seem to complement the other ingredients of this dish. In comparing the past and current photos, the 2016 pancakes look nice and crispy. They stood up well to all of the toppings. The 2021 pancakes were just bad and ruined this dish for us. I would have gladly exchanged them for a couple of tostadas.
I had something else (from another Adventureland food location) in mind for dessert so this completed our meal at Skipper Canteen.
Ratings & Rankings: With the exception of the pork skewers I was not impressed with what we ordered here. While the pork rated a solid 5 and would make a great entree (just add some tasty rice and maybe a veggie side), our other two appetizers brought this meal down to about a 3 – 3.5. Skipper Canteen does fare better with both Yelp and Tripadvisor reviewers though, with both rating it a 4. Also, on Tripadvisor, Skipper Canteen currently ranks #246 of the 2450+ Orlando area restaurants reviewed there, so very close to being in the top 10%. In addition, it ranks #75 of the roughly 275 Disney World area restaurants reviewed on Tripadvisor.
My Final Thoughts: Although I've heard Skipper Canteen referred to as a Hidden Gem by many Disney food reviewers, I would have to disagree based on the two meals (2016 and 2021) that I've had there. Will I give it a third chance? Maybe someday.
ETA: I used my Chase Disney VISA card to pay for this meal and received a 10% discount.