Beaches & Cream has been a longtime family favorite and one of the restaurants that I visit during almost every trip.  However, during our last trip in October/November 2019, Beaches & Cream was closed for a 4 month long refurbishment.  So when an 8:45 reservation for 2 people popped up as available when at 5:30 we were looking for dinner options for that evening, it was hard to pass up.  Plus we were staying at the Beach Club Resort, so that made it super convenient.  Back before the refurbishment, getting a reservation at this tiny restaurant was very difficult, even months in advance.  And walk-ups were nearly unheard of unless you were willing to wait for hours for a table.  But apparently the refurbishment (which was also a restaurant expansion) had changed things…hopefully for the better??
So we showed up at the check-in desk (which sits outside of the restaurant, just as used to) at our reservation time of 8:45.  We were asked if we would be willing to sit at the counter (which has several more seats than it used to) and we said we would prefer a booth or table.  So I gave them my phone number and after a few minutes we were able to get a table outside at which to sit and wait.  We were lucky in that regard, because they have added only a little (if any) more seating outside and there were several people waiting to be seated, plus a few people eating the ice cream that they had gotten from the To Go window.  Oh, and speaking of the To Go window, it too is up and running…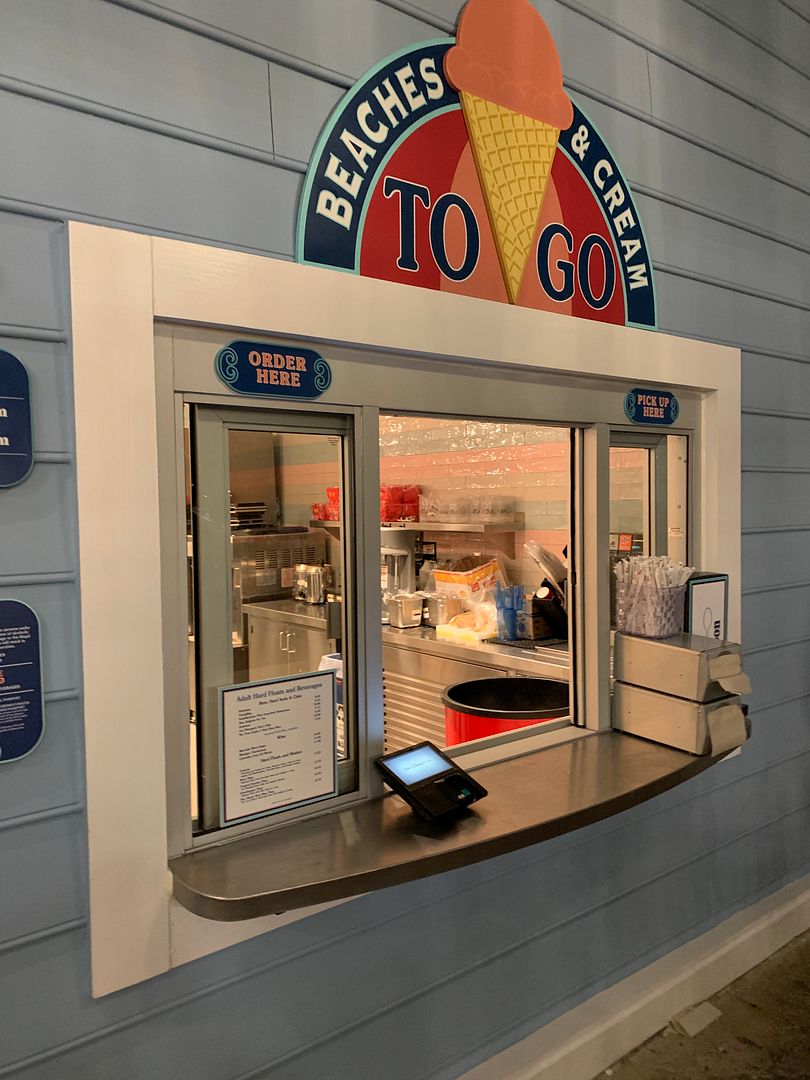 This is different than how it used to be.  Before, the To Go area was located inside the restaurant and took up a small portion of the counter.  You walked in the designated door (or sometimes the line extended out the door) and placed and received your order at the counter.  In my photo below there is a woman waiting at the counter to get her order…
Now the To Go area is a large window with the line for it/waiting area entirely outside of the restaurant…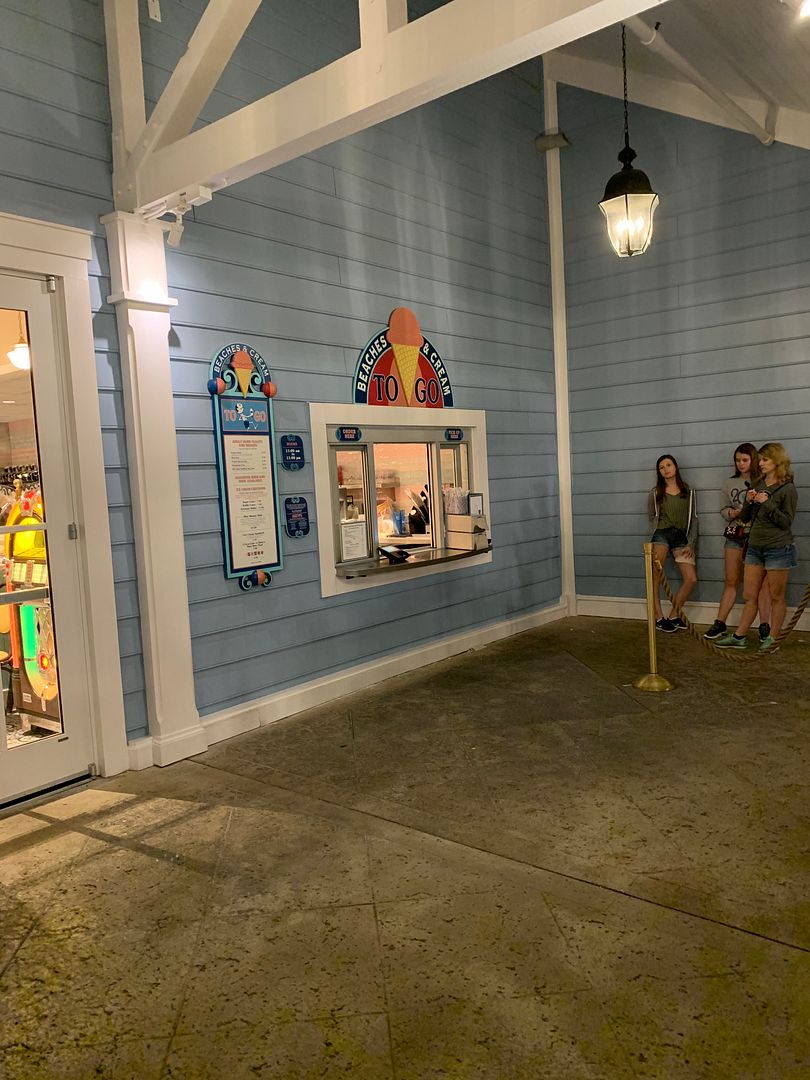 However, the posted menu looked the same…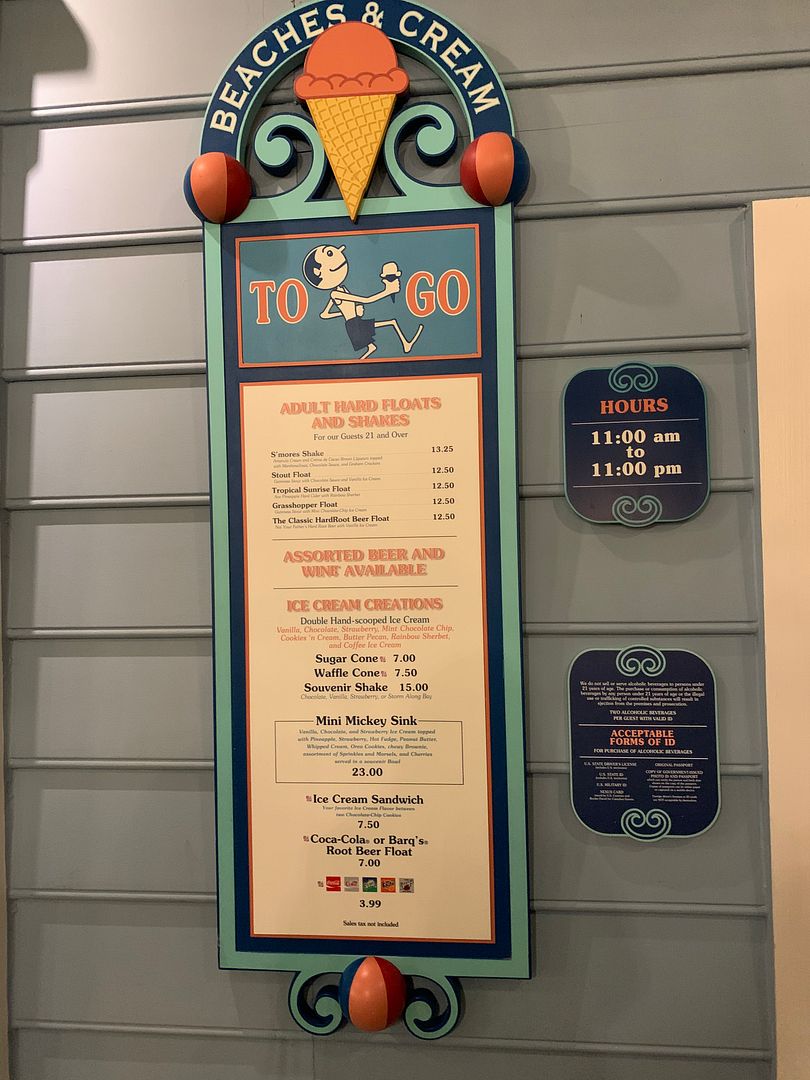 In fact, here is a photo I took in October 2018 and it is nearly identical, even the prices are the same (which is remarkable!)…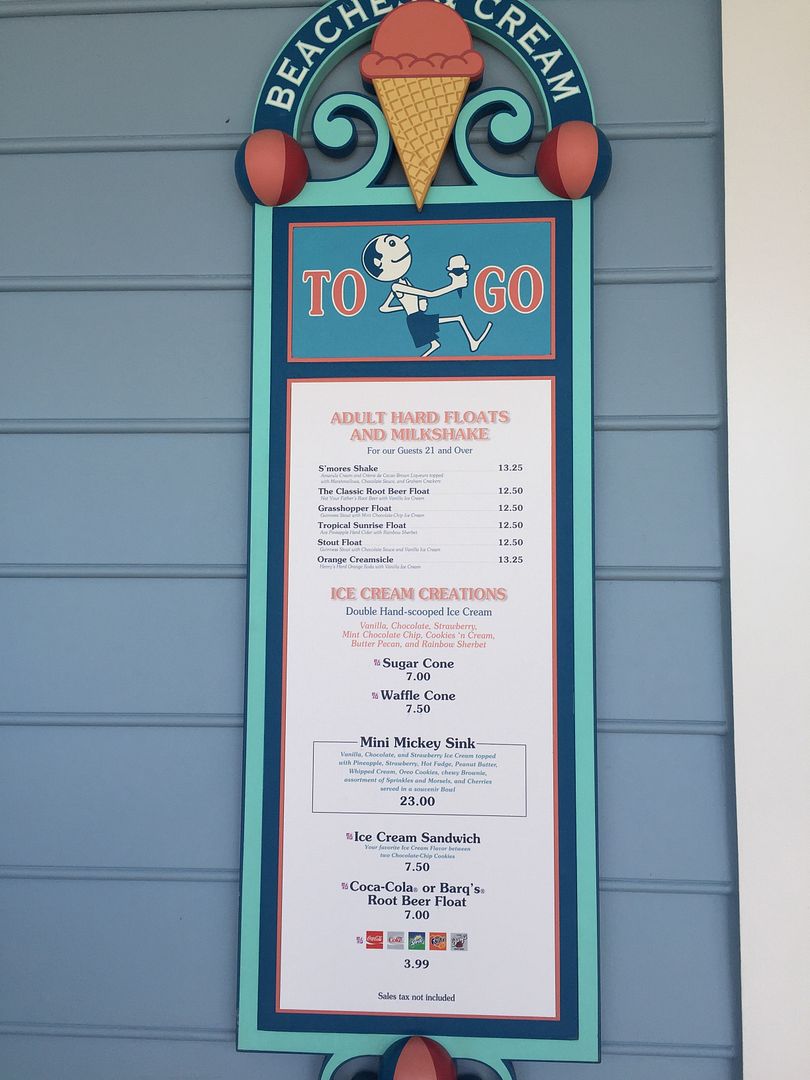 So anyway, at 9:01 I received a text which said our table was ready and to please return to the host stand.  We were then seated along the wall at a small two-table which had a booth seat on one side and a chair on the other.  We were surrounded (very closely) by tables.  Another two-top table about 20 inches away on our left side…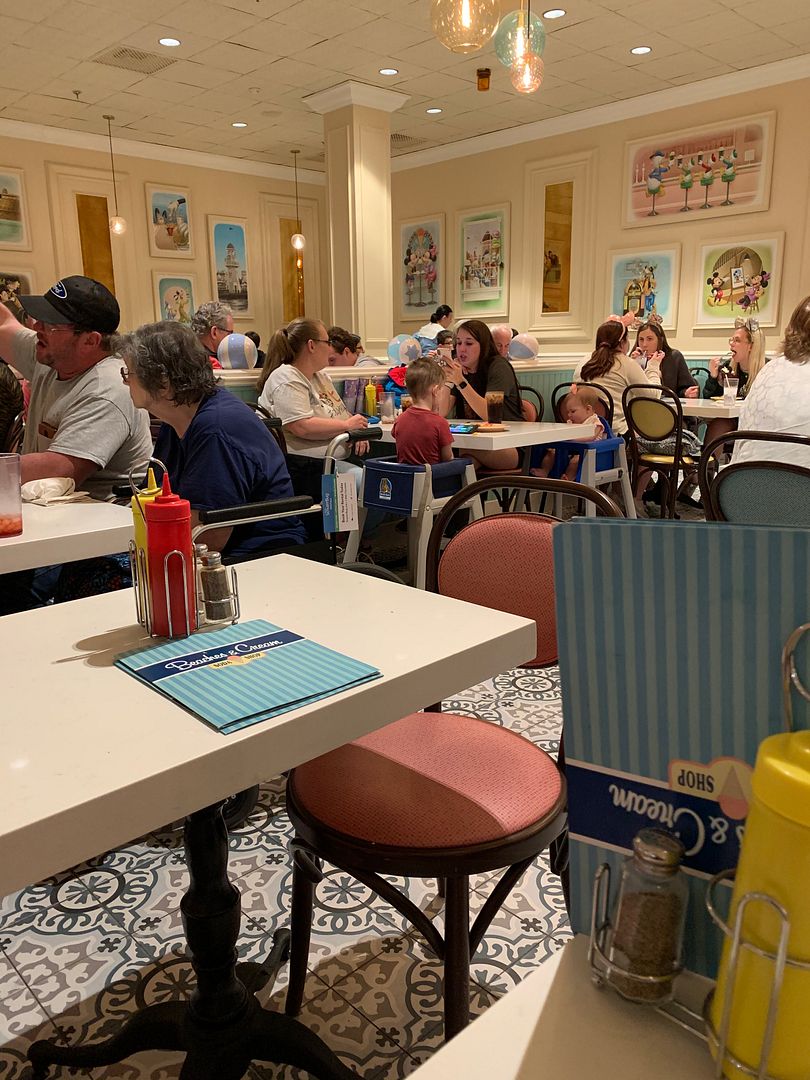 And two 4-top tables (equally distant) to our right…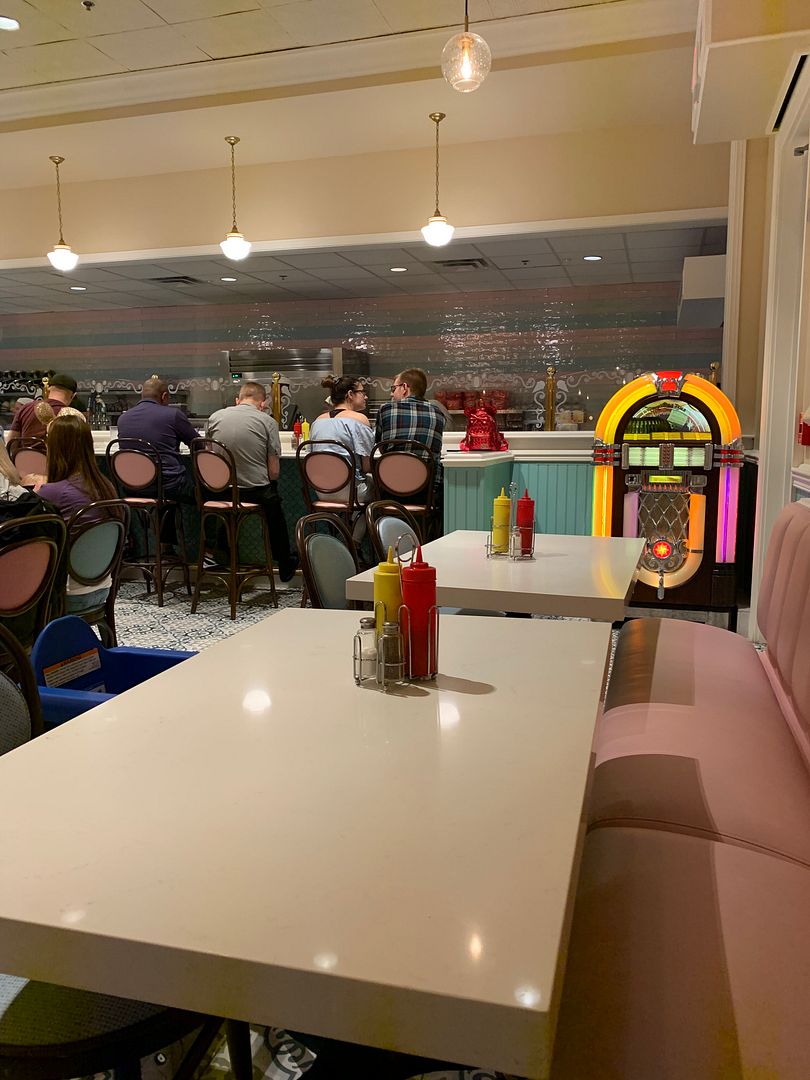 So if you thought that the tables were too close at Beaches & Cream before the remodel than you will probably not be happy with the new setup.  Here is a photo I took in 2014…
And here are photos I took during this 2020 visit to the remodeled Beaches & Cream…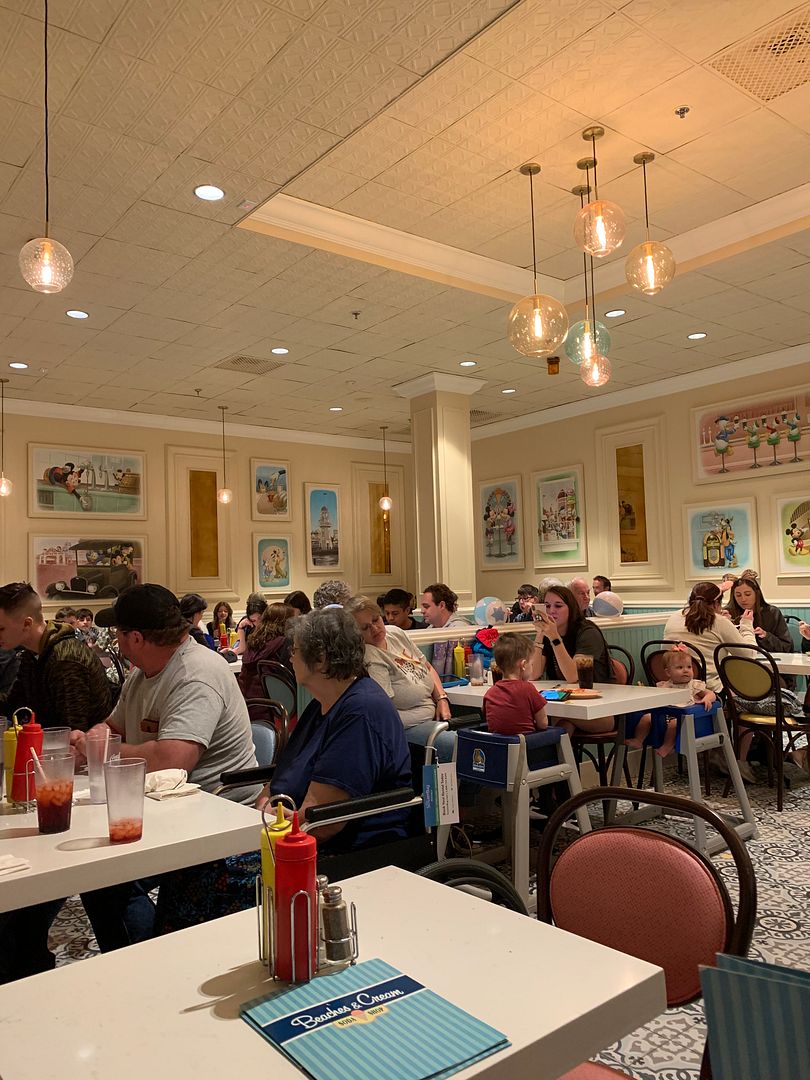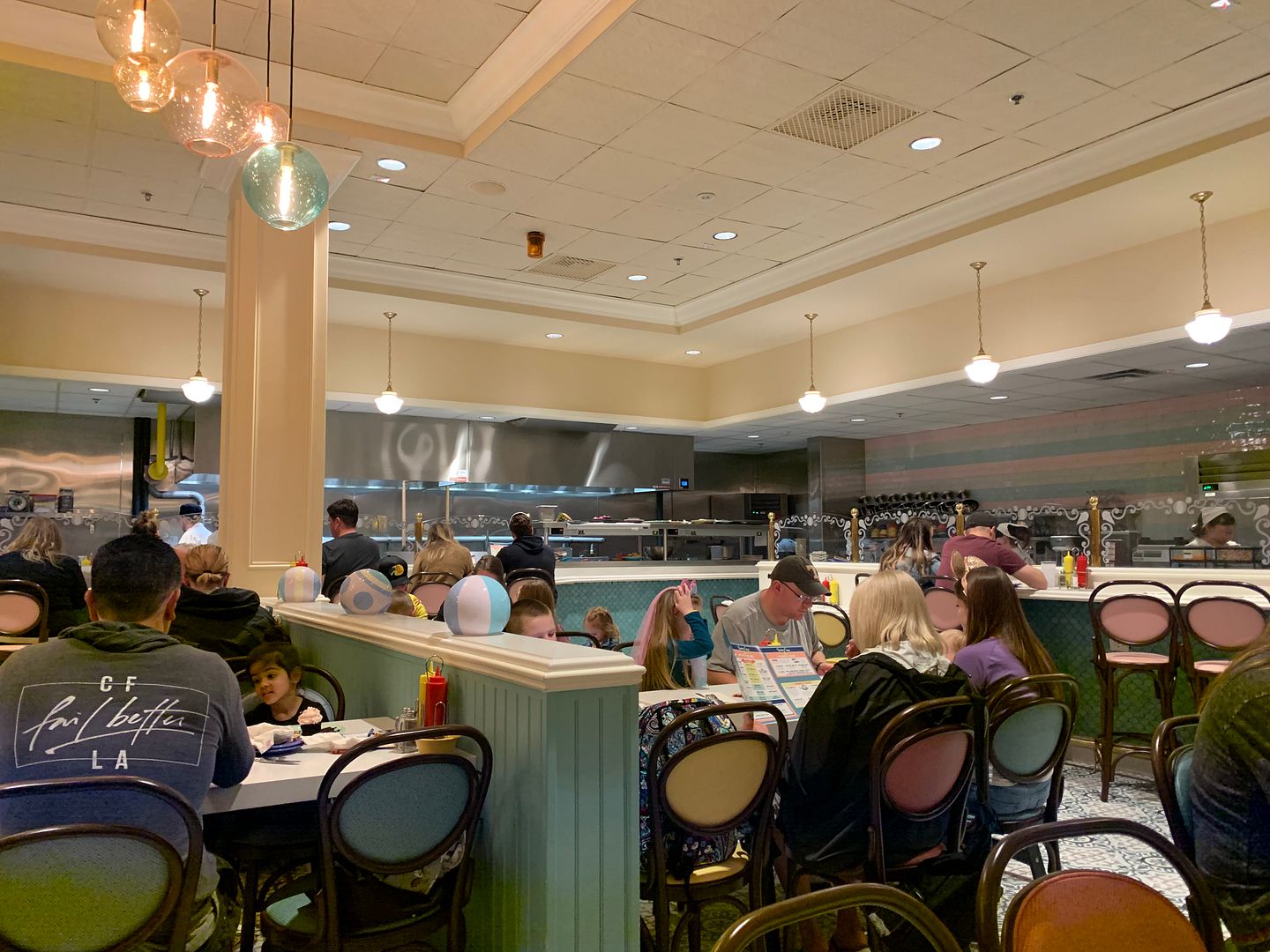 On a side note, I like the new lighting…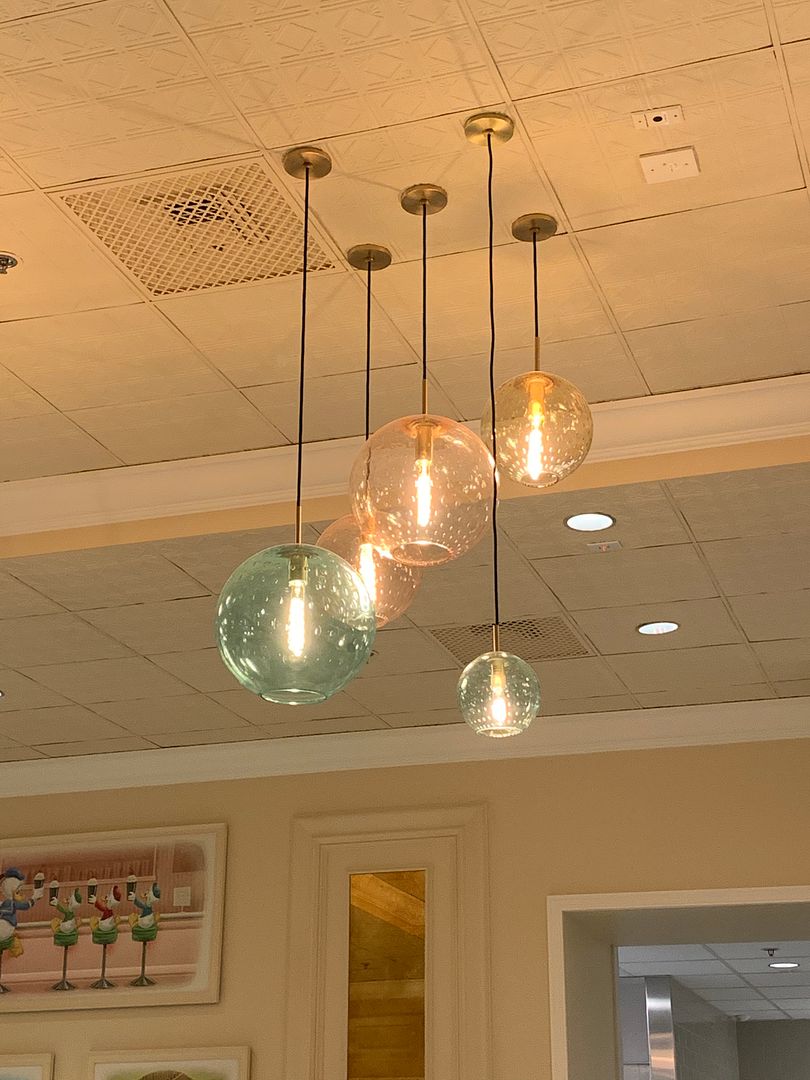 I also liked that they had kept the Juke Box from the old restaurant…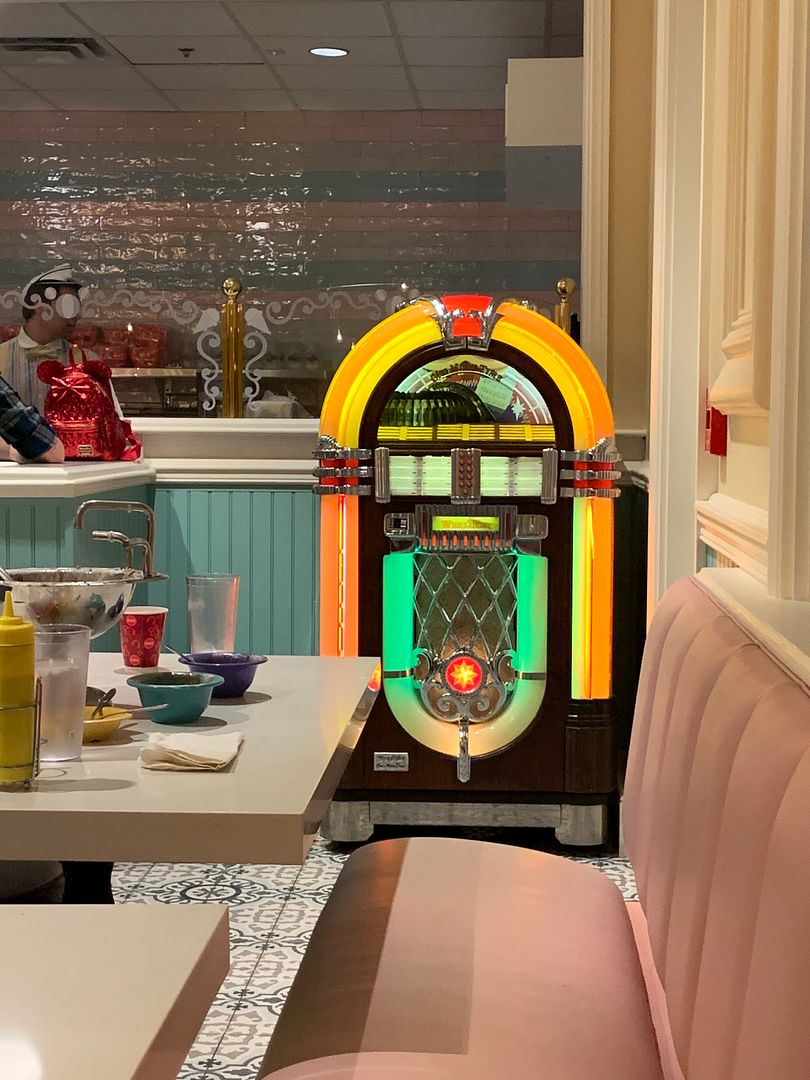 Anyway, the restaurant took over the Arcade that was next door previously so it is much bigger than it used to be.  Our server told us it is 3 times bigger and their menu is twice as big as it was before the remodel.  Here are photos of the menu on March 2, 2020, starting with the Beverages…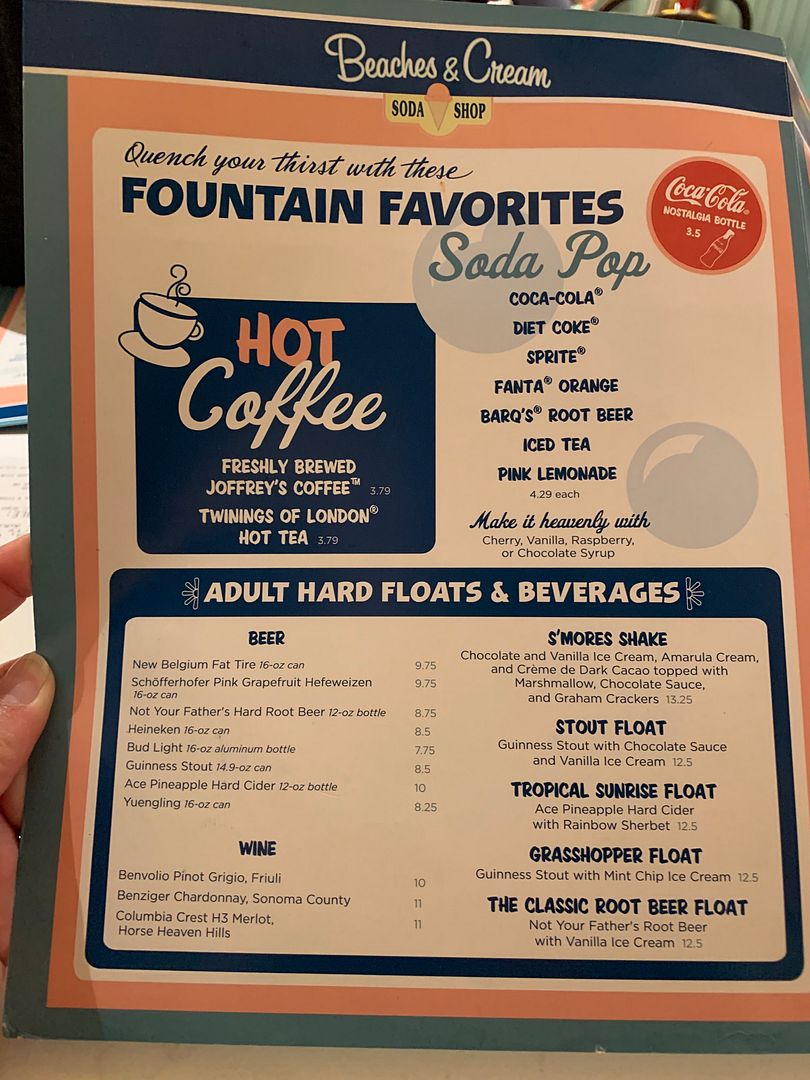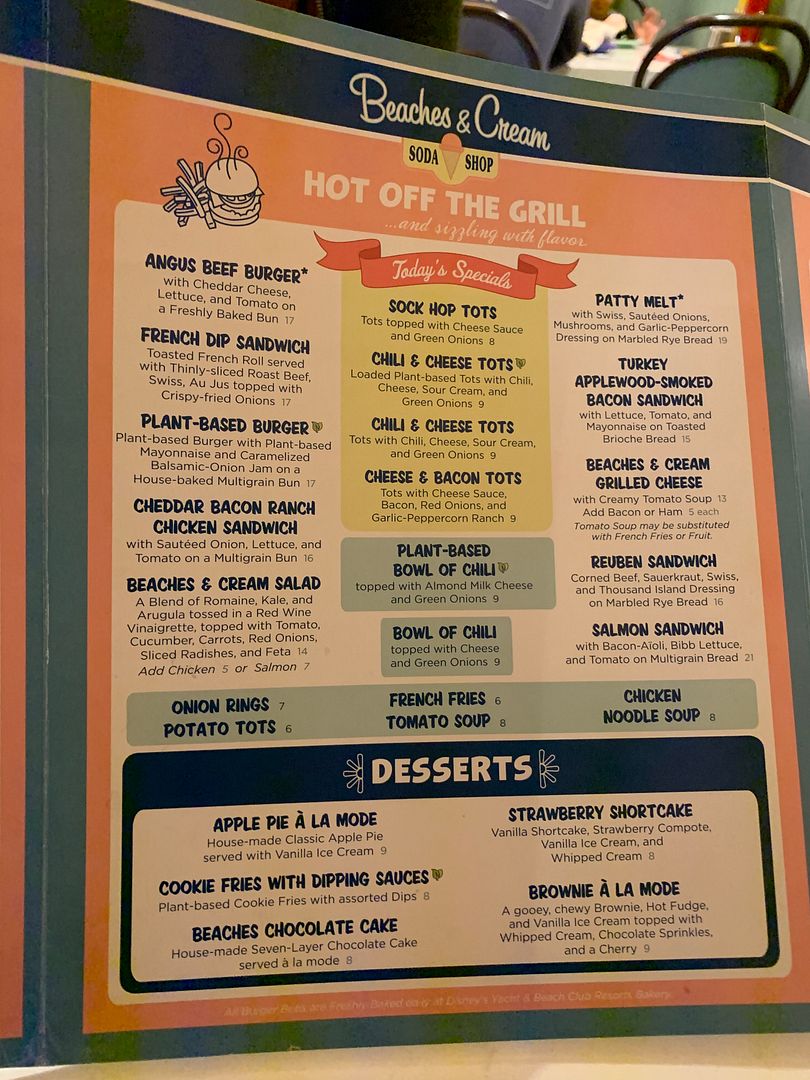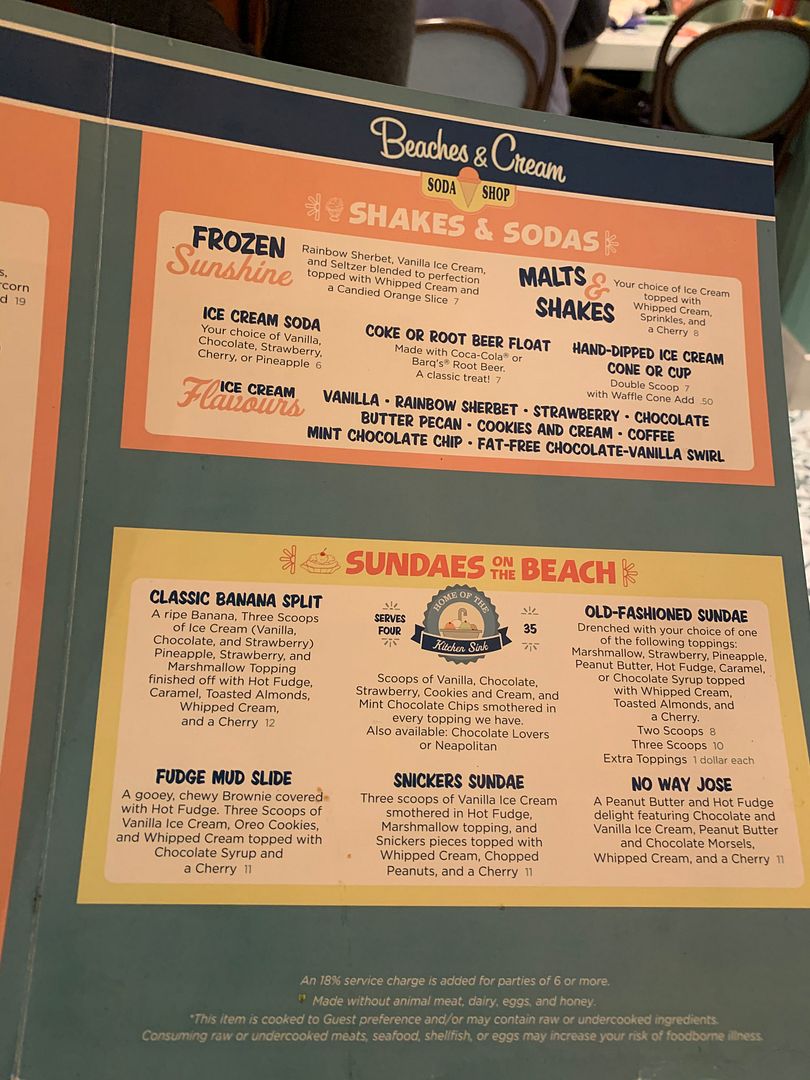 I was a bit doubtful regarding our server's claim that their menu was now twice as big.  So I took a look at my menu photo from when I last visited B & C in October 2018…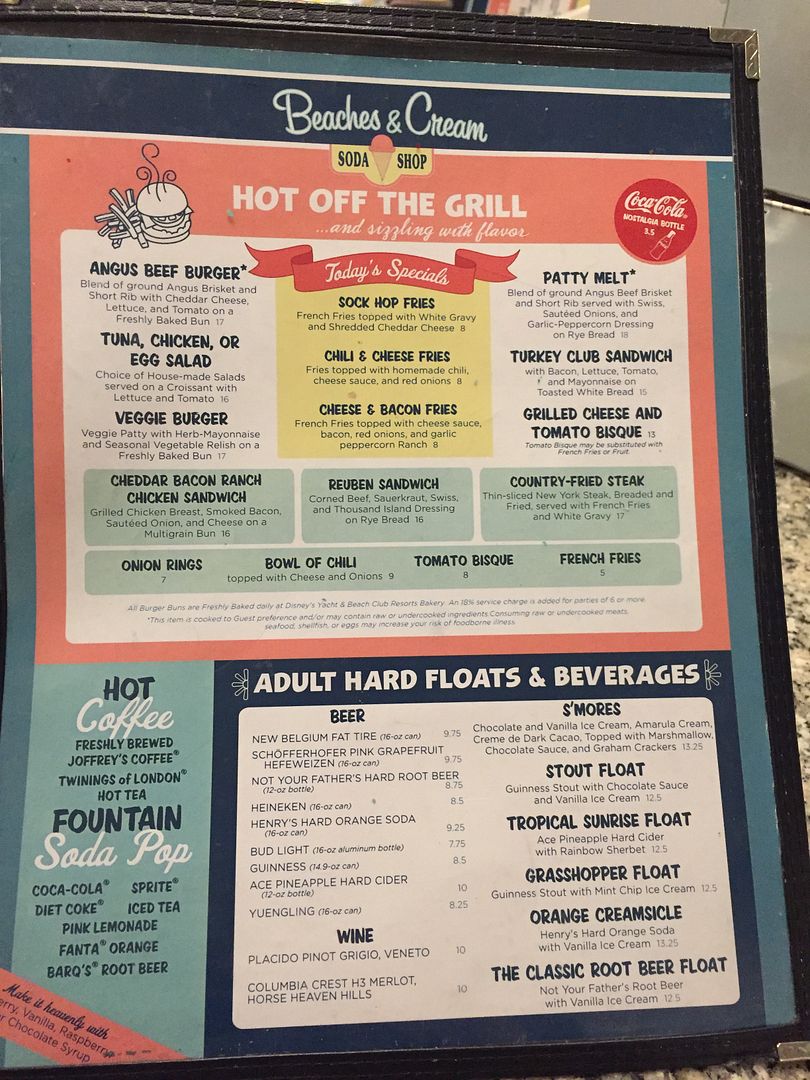 For entrees, gone from the old menu are the Tuna, Chicken, or Egg Salad Sandwich (does that count as 3 missing items/options??) and the Country-fried Steak.  New items though are the French Dip Sandwich, Beaches & Cream Salad, and Salmon Sandwich.  So the number of entree options is pretty much the same now as in 2018.  As for the sides, instead of Sock Hop, Chili & Cheese, and Cheese & Bacon Fries, they now have these same options for Potato Tots (instead of french fries), plus they have added a plant-based Chili & Cheese Tot option.  Other than that they have added Plant-based Chili, Chicken Noodle Soup and Potato Tots to their previous sides of French Fries, regular Chili, Onion Rings, and Tomato Soup…so a few additions there.
Next, comparing the new Dessert menu to the 2018 one shown below…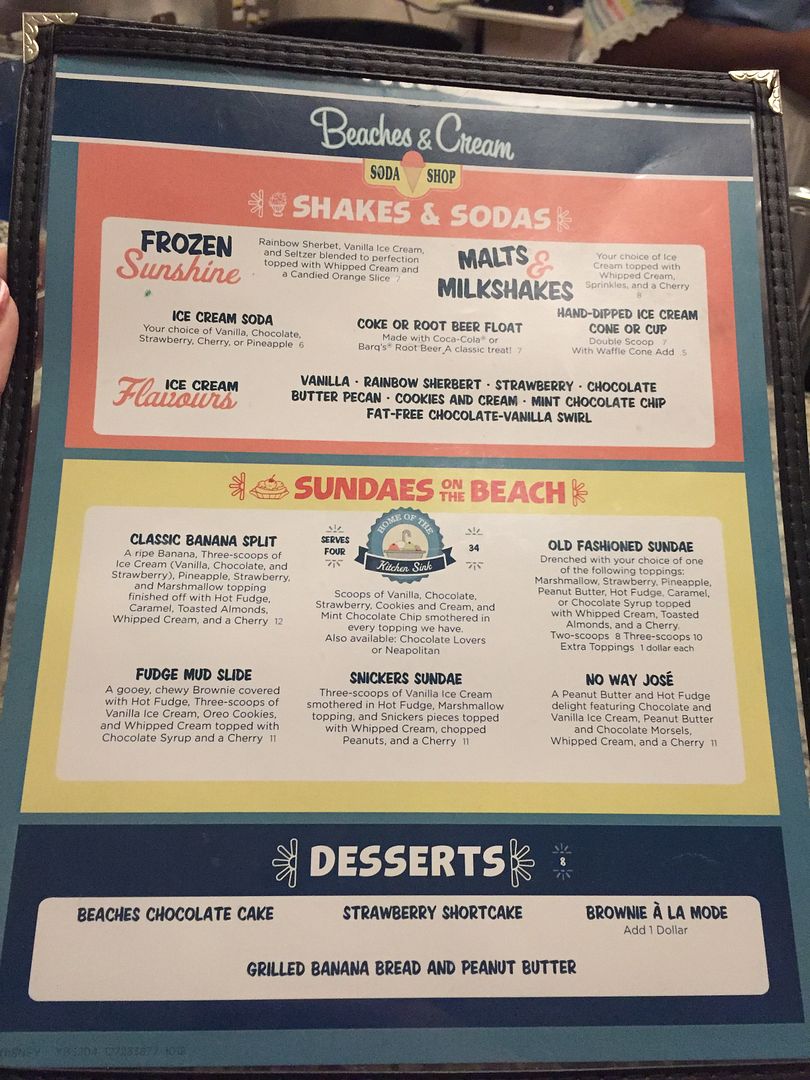 Gone now is the Grilled Banana Bread but they've added two desserts in its place, Apple Pie A La Mode and Cookie Fries with Dipping Sauces.  Also their 5 Sundaes (on the Beach) have stayed the same and surprisingly at the same price.  Only the price of the Kitchen Sink has been increased, but by only $1 ($35 instead of $34)…
They've also added these Specialty Milkshakes for $15 each (YIKES!)…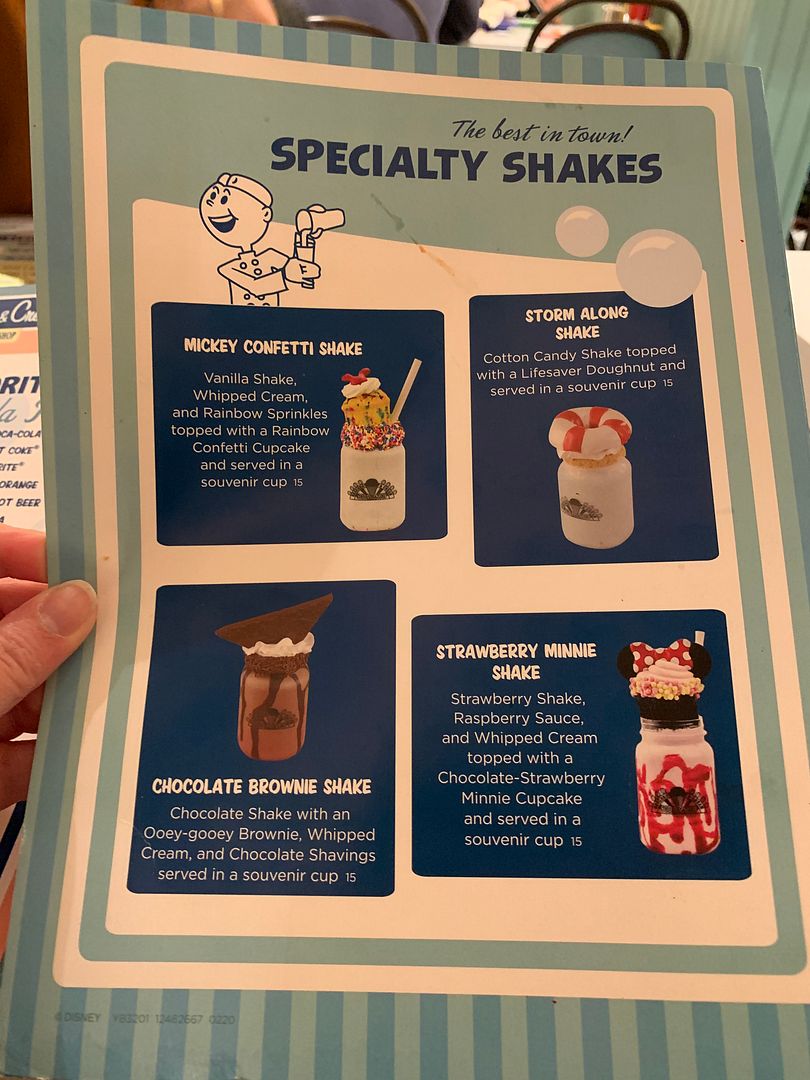 But even with the addition of the 4 Specialty Milkshakes, I'm still doubtful about the new menu being twice the size of the old one.
Anyway, let's now move on to our meal.  Here is what Andrew ordered…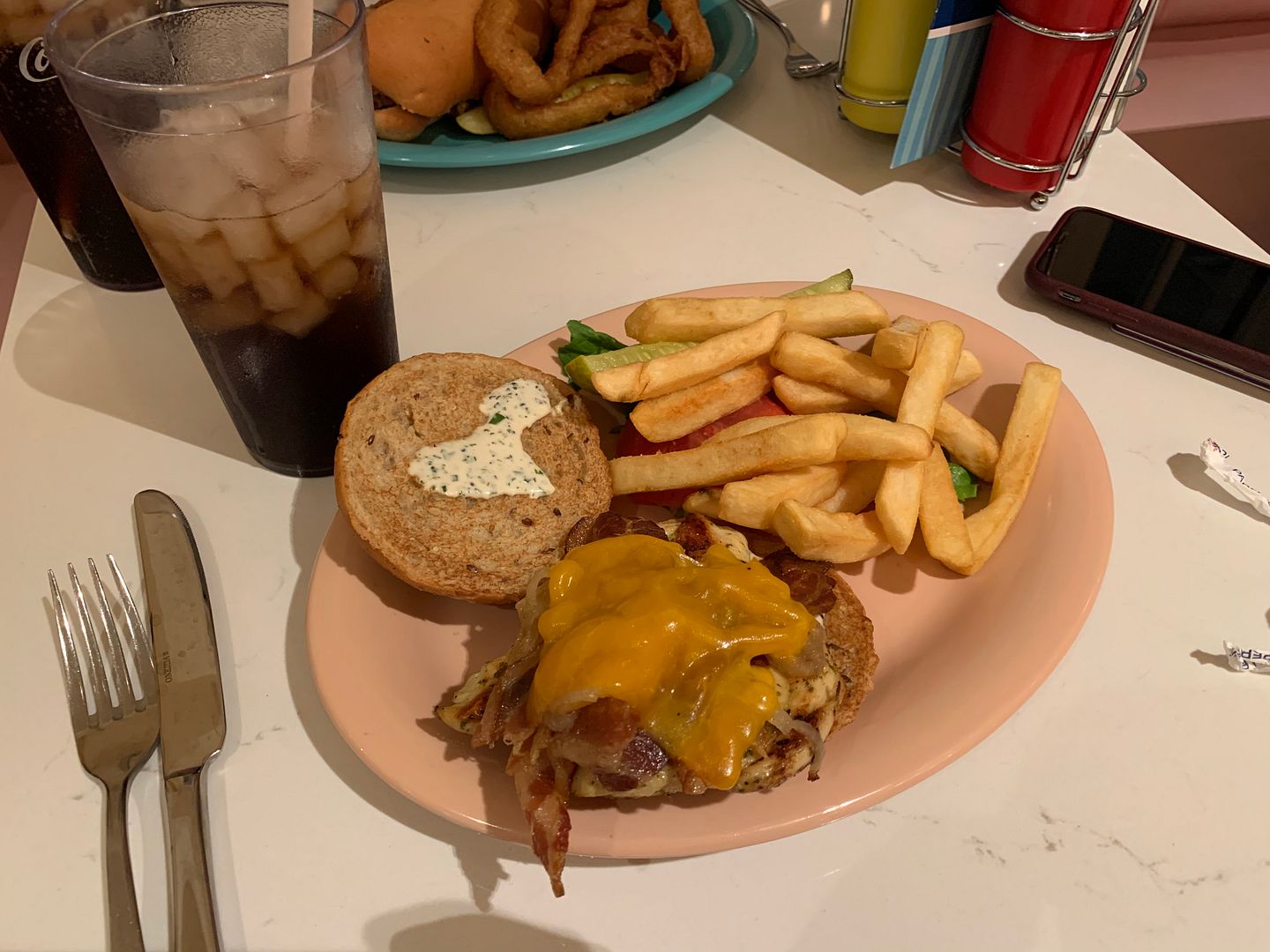 And a little closer look…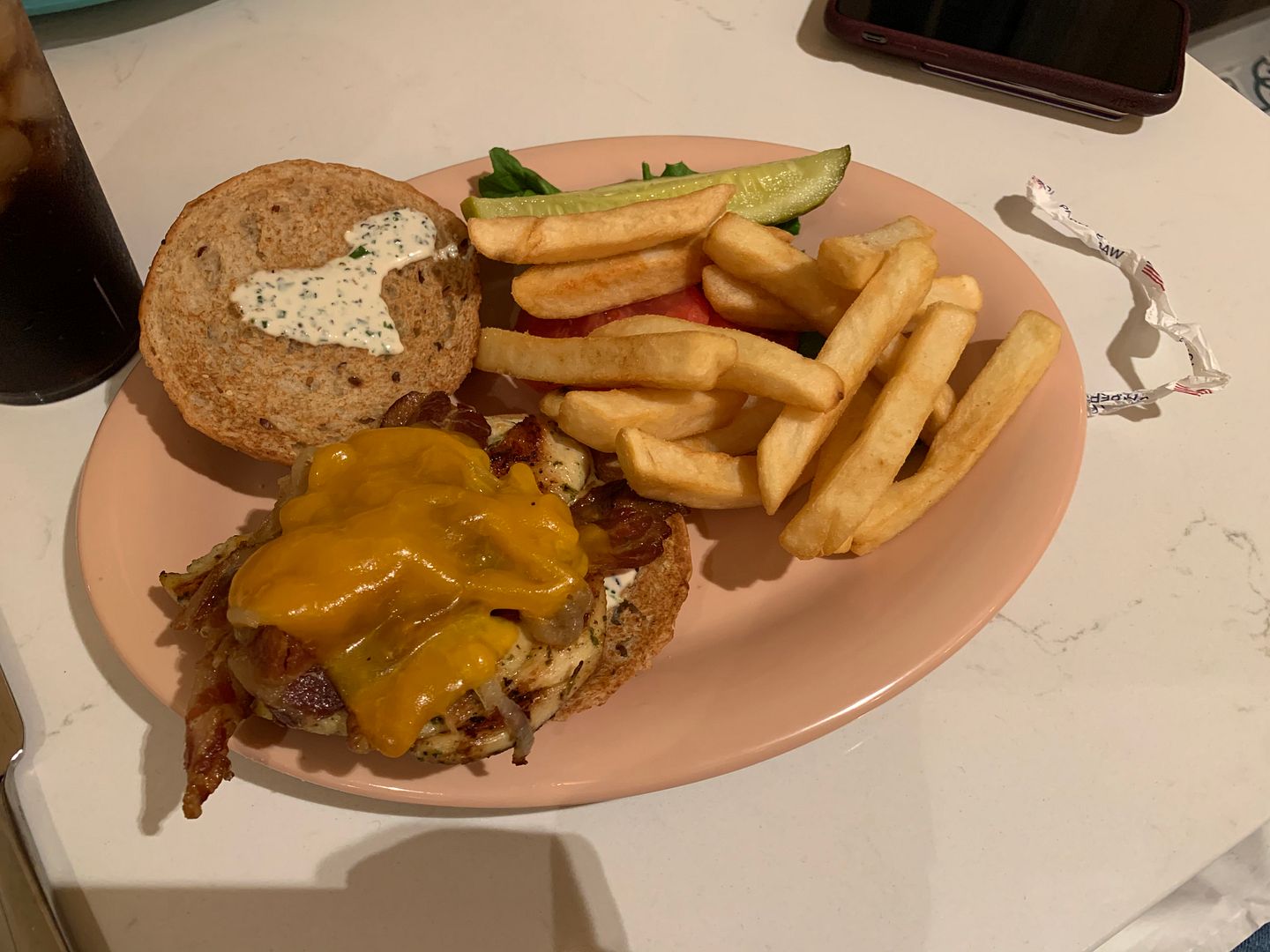 This is the Cheddar Bacon Ranch Chicken Sandwich (minus the sauteed onion, lettuce, and tomato that normally comes with it, but he requested that they be left off) on a Multigrain Bun, served with French Fries for $16.00.  We both got Vanilla Cokes.  All of their Soda Fountain drinks (plus Ice Tea and Pink Lemonade) are $4.29, with the addition of the vanilla syrup costing an extra $.50.  While this seems pretty expensive for a glass of soda, it was very tasty.  Plus there are free refills.  Andrew had drank most of his while we were still eating, so our server brought him a second glass.  I hadn't yet finished mine but we were ready to go, so I asked for a disposable cup to take the rest of my drink with me.  Instead, our server brought us both Vanilla Cokes in disposable cups, so that was nice.
As far as his food, Andrew was a bit disappointed with it.  He had first considered getting the Plant-based Burger but then remembered that the one that he had gotten at another Disney restaurant on our last trip had not been good.   So he thought that getting the Chicken sandwich would be the safer choice, but ended up not being all that happy with it.  He said the multigrain bun was pretty dry and that the sandwich needed much more of the ranch dressing (than the dribble of it that was on each side of the bun) in order to overcome the dryness.  So while the chicken, bacon and cheddar cheese were all good, the sandwich would have been better with a different bun and more ranch dressing.  He also said the (thick-cut) fries were not great.  From looking at the photo, I would guess that they were not cooked long enough.
As for me, I had planned to get the Chicken sandwich so when Andrew ordered it I had to quickly choose something else.  Here is what I chose…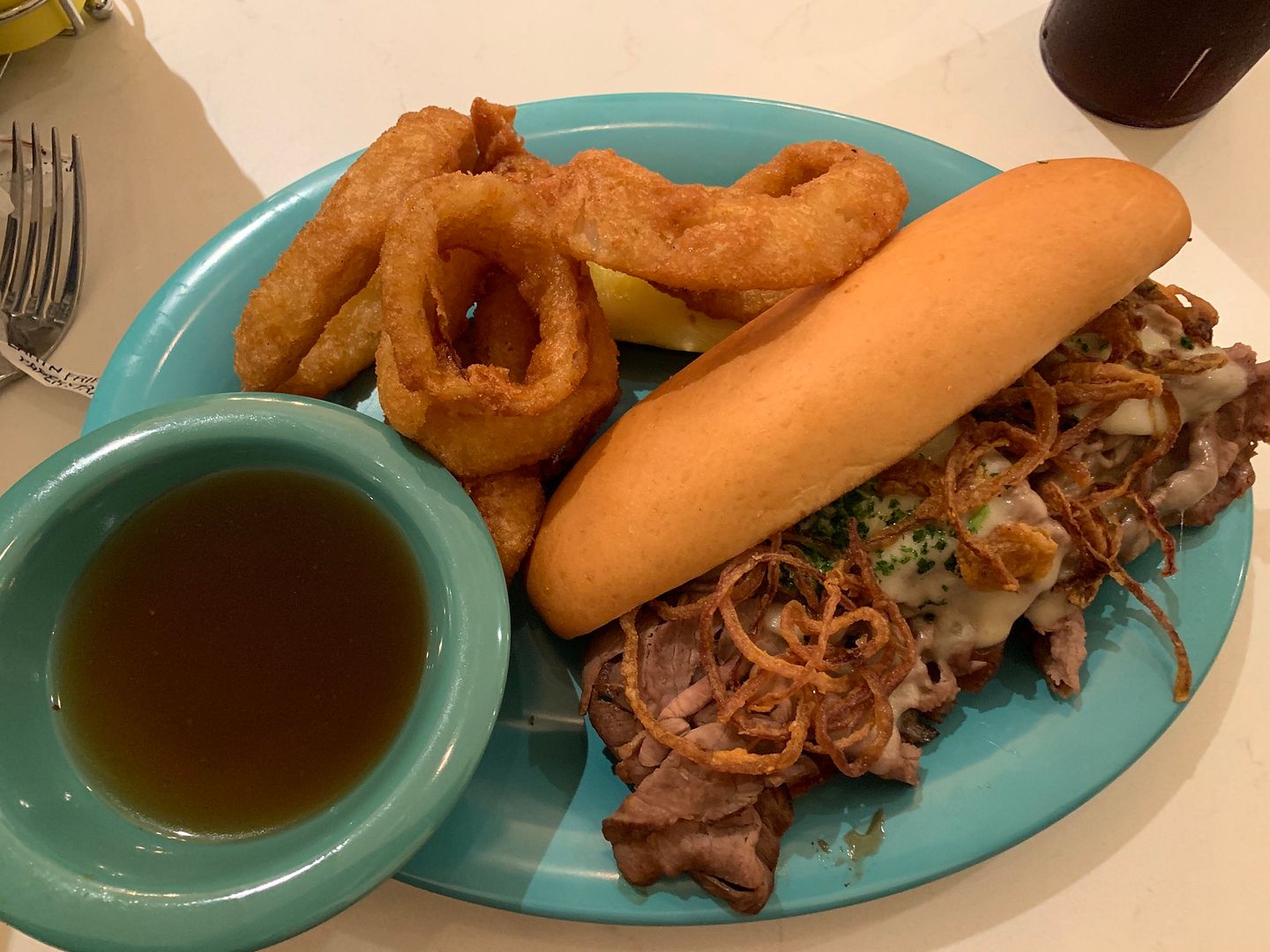 And a close-up of the sandwich…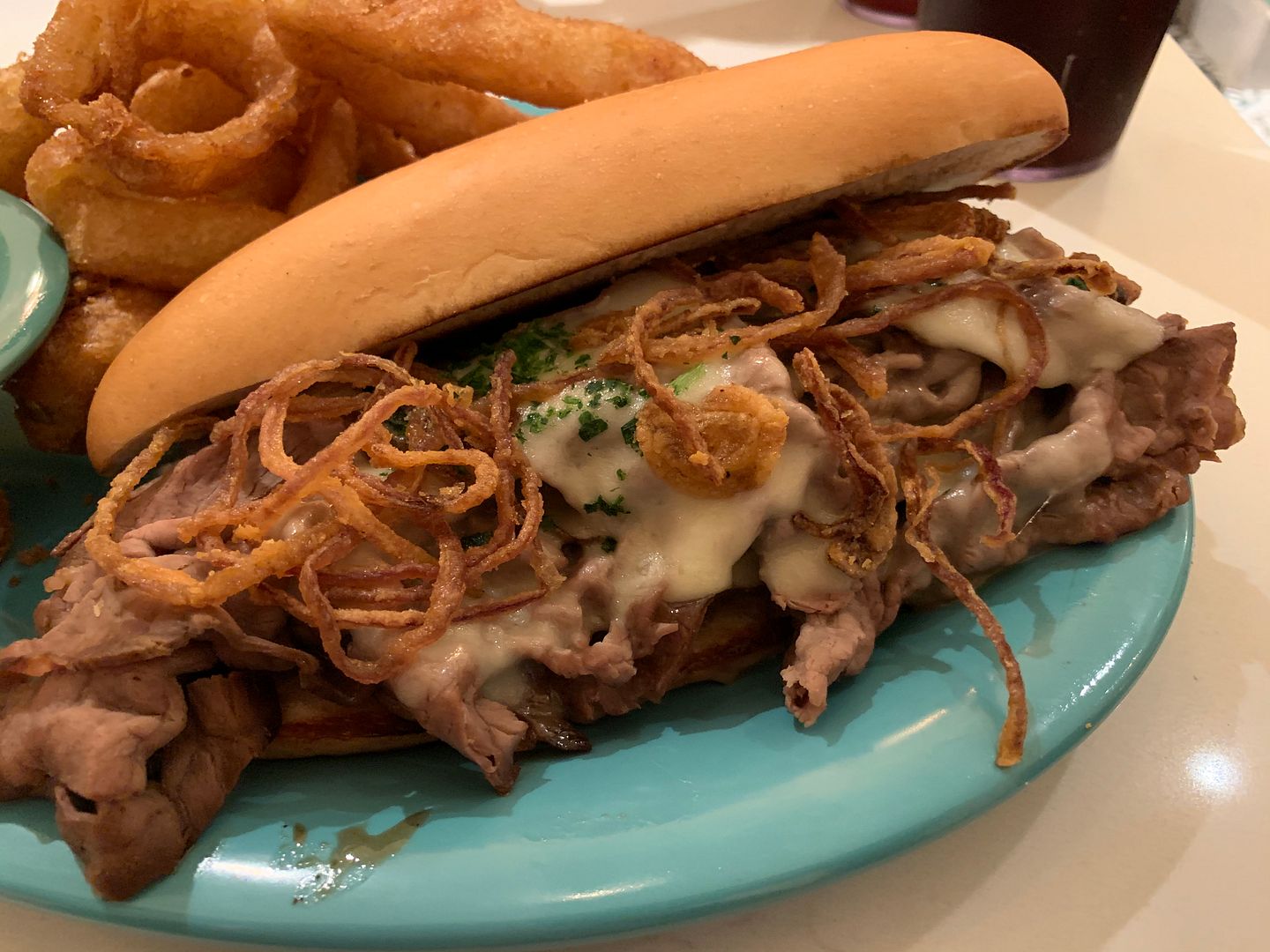 This is their French Dip Sandwich (Thinly-sliced Roast Beef topped with Swiss Cheese and Crispy-fried Onions on a Toasted French Roll with a side dish of Au Jus) for $17.00.  This is normally served with French Fries but I requested that they be substituted for Onion Rings, which cost an extra $1.25.   I am very glad that I got the onion rings because they were the best part of my meal.  The sandwich was not good.  Like Andrew's, my bun was also dry (tasted a little stale).  But the worst part was the meat.  It tasted like lunch-meat quality roast beef that had been boiled until it was rubbery and flavorless.  Very, very disappointing, especially after paying $17.00 for it.
So since I didn't eat much of my sandwich, I still had some room for dessert.  I really wanted to get my favorite sundae, the No Way Jose, but thought I should expand my horizons here for the sake of my review.  During the previous week that I had been in Florida I had heard (from Florida residents) about the delicious, fresh strawberries that were being sold currently at the various farmers markets and festivals.  So when I saw the Strawberry Shortcake on their Dessert Menu, I thought it would be a guaranteed winner.  So that is what I ordered, and this is what we got…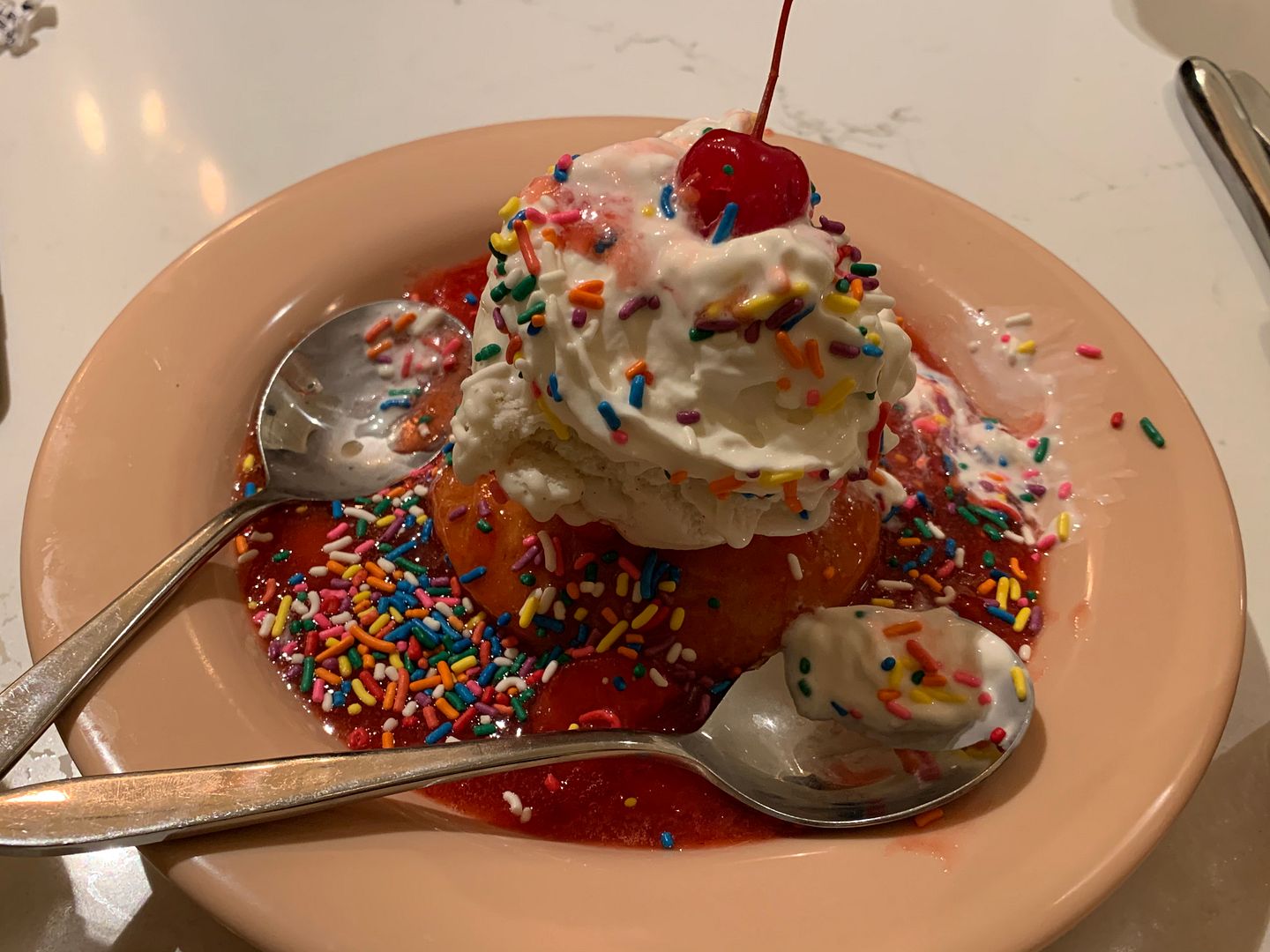 Strawberry Shortcake – $8.00
This was a huge disappointment! The strawberries were of the frozen variety, with some of the strawberries still frozen.  The shortcake tasted pretty much like the grocery store "sponge cake" variety.  Then to make things worse, they covered this with candy sprinkles.  This made me so sad.
So the first meal of our trip was nearly a total failure, with only the Vanilla Coke and Onion Rings being good.  Since Beaches & Cream had long been a family favorite, I thought it would be a slam dunk for kicking off our trip.  Sadly I was wrong.  While I haven't totally given up on Beaches & Cream, I will not likely be returning for awhile.
So I guess that just leaves the ratings.  Based on our (mostly) disappointing meal this time, we gave  Beaches & Cream a rating of only 2,   However, fans of Beaches & Cream will be happy to hear that (with average  ratings of 4 and 4 1/2 stars) most of the reviewers on Yelp and Trip Advisor disagree with us.  Perhaps if we'd stuck with burgers and ice cream our rating would have been more aligned with theirs??