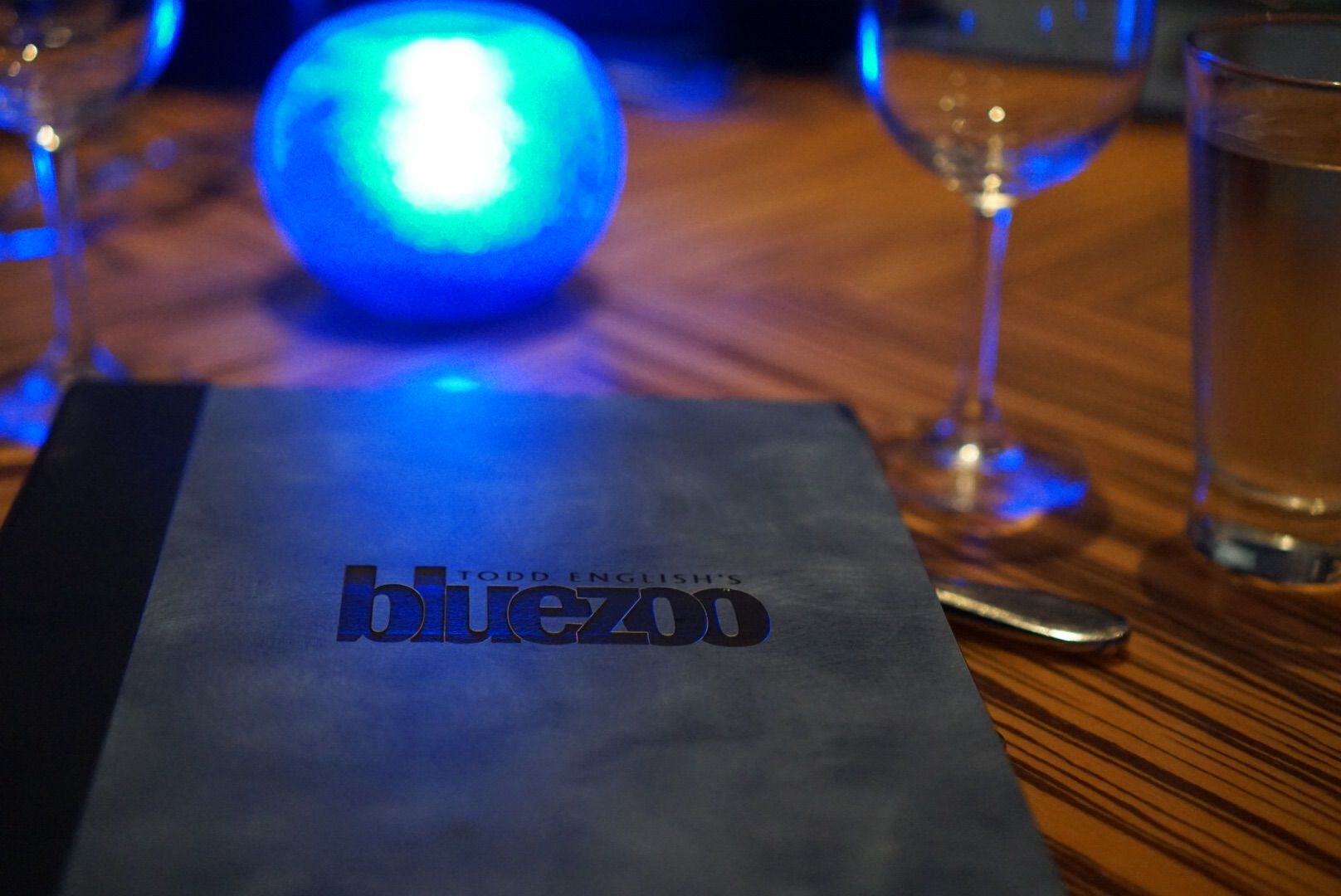 My friends, Nicole & Mike, and I were seated at a 4-top table shortly after checking in for our reservation.
For those of you who are unfamiliar with Todd English's bluezoo, it is one of the Swan & Dolphin Resort's signature restaurants. Because it is not a Disney owned restaurant the Disney Dining plan can not be used here. However they do accept Tables in Wonderland for a 20% discount.
The restaurant is beautiful, especially the blown glass light fixtures…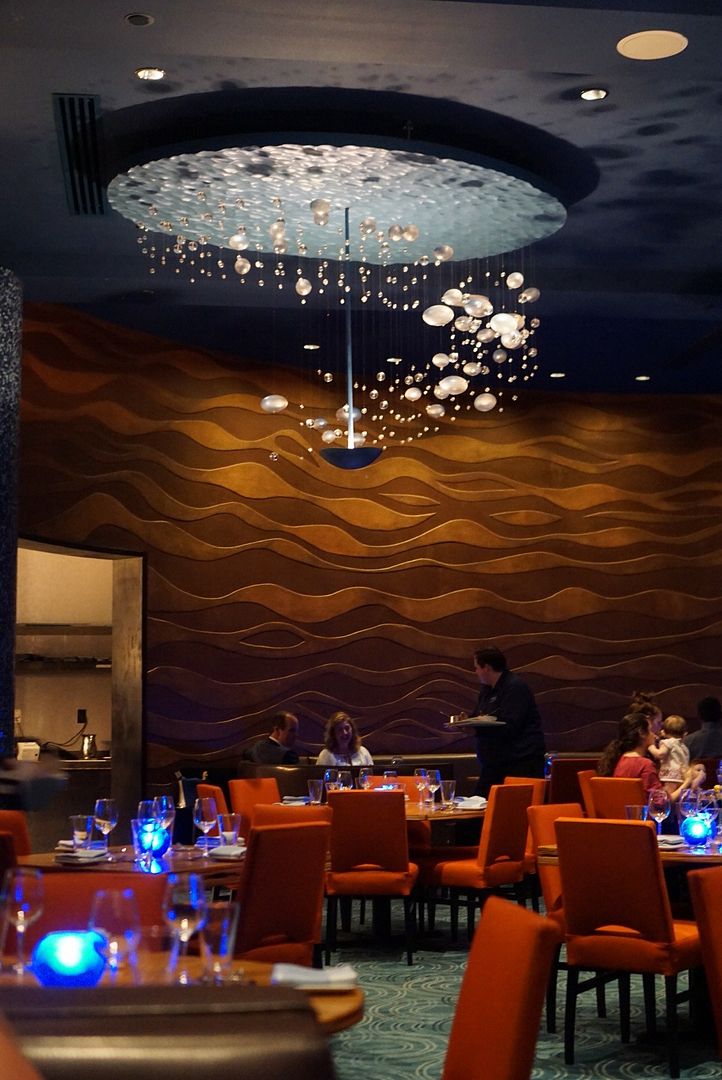 The lighting did seem to wreak havoc on my photos though, so I apologize for them in advance.
First a look at their Cocktail menu…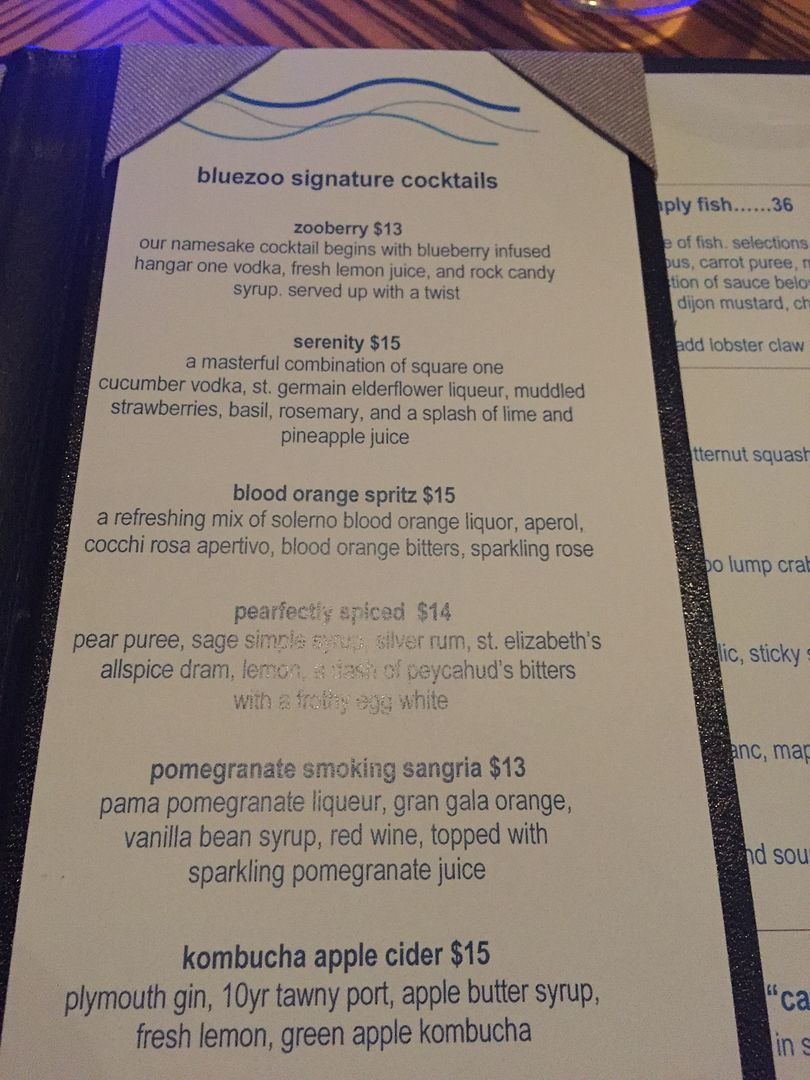 From this menu I chose their signature cocktail…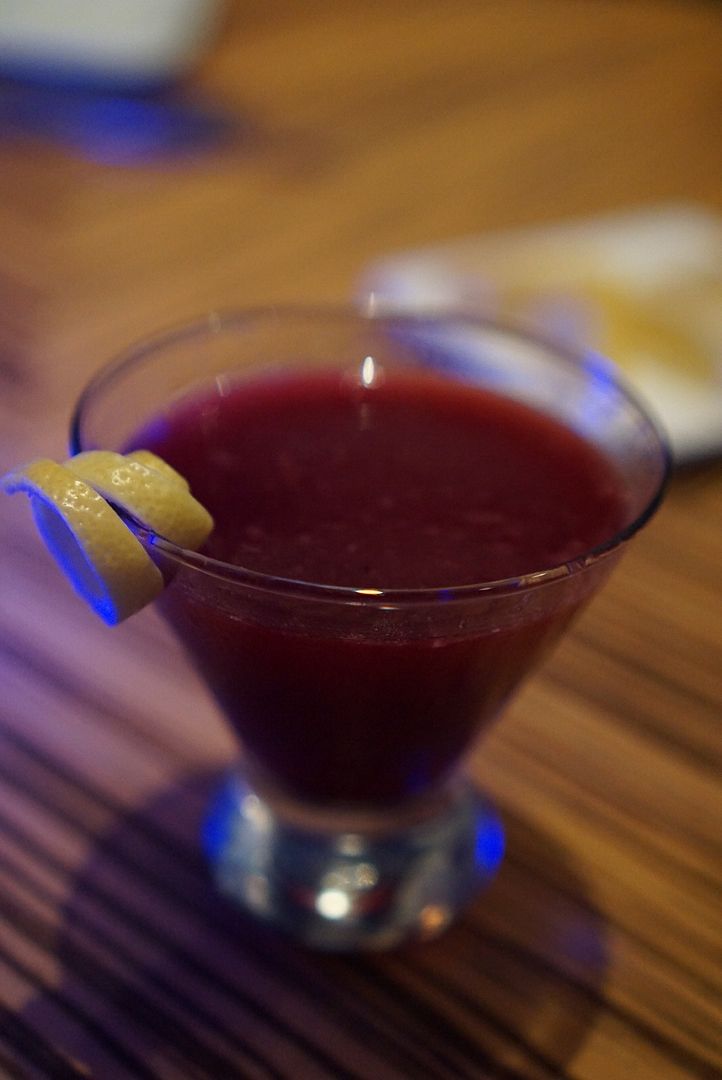 Zooberry – Blueberry infused Hangar One Vodka, fresh Lemon Juice, and Rock Candy Syrup, served with a lemon twist – $13.00
I asked our server for his recommendation for a sweet and fruity cocktail and this was what he recommended. While it was somewhat sweet (from the candy syrup) and fruity (with the blueberry vodka), because it had quite a bit of lemon juice the Zooberry was a little more tart than my ideal cocktail. Still quite drinkable though.
Next up is the complimentary bread basket…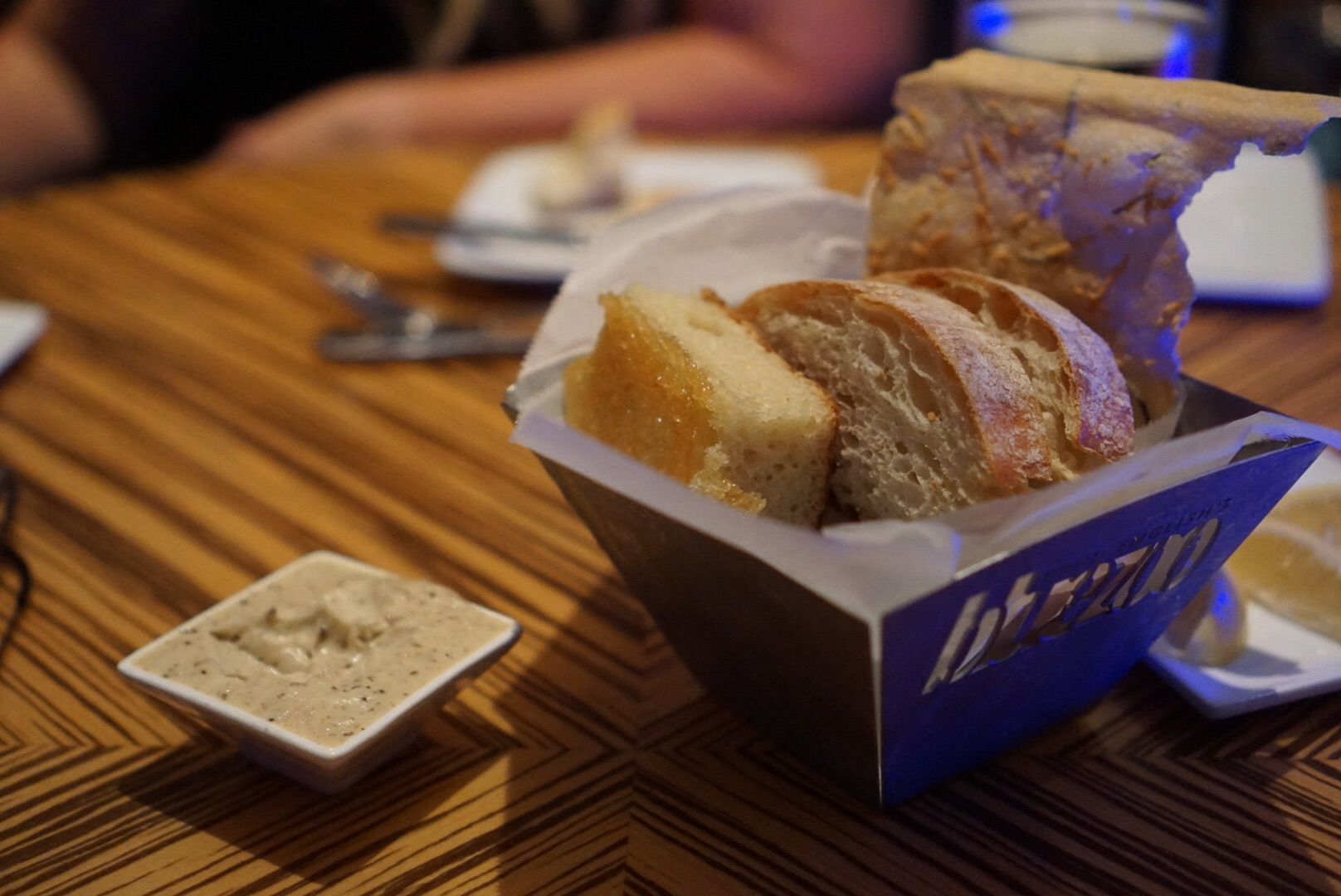 I believe this was ciabatta, sourdough, and lavosh along with herb butter.
Next a photo of the appetizer section of their menu…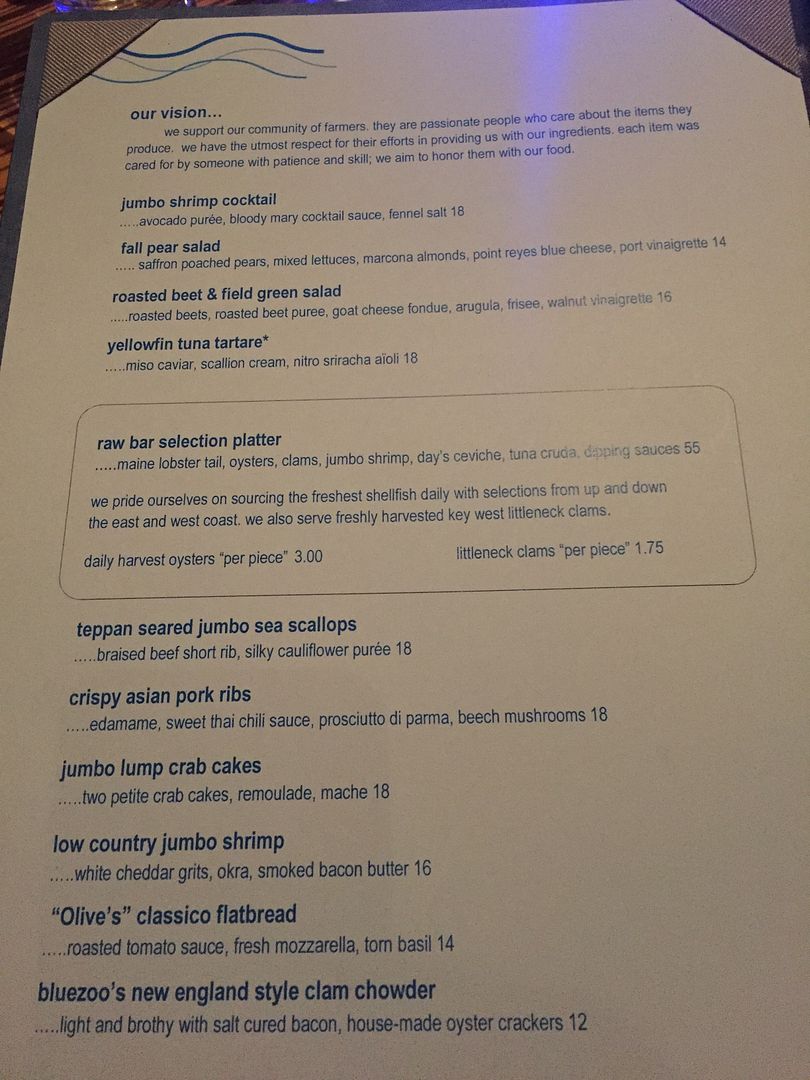 Nicole and Mike shared this for their appetizer…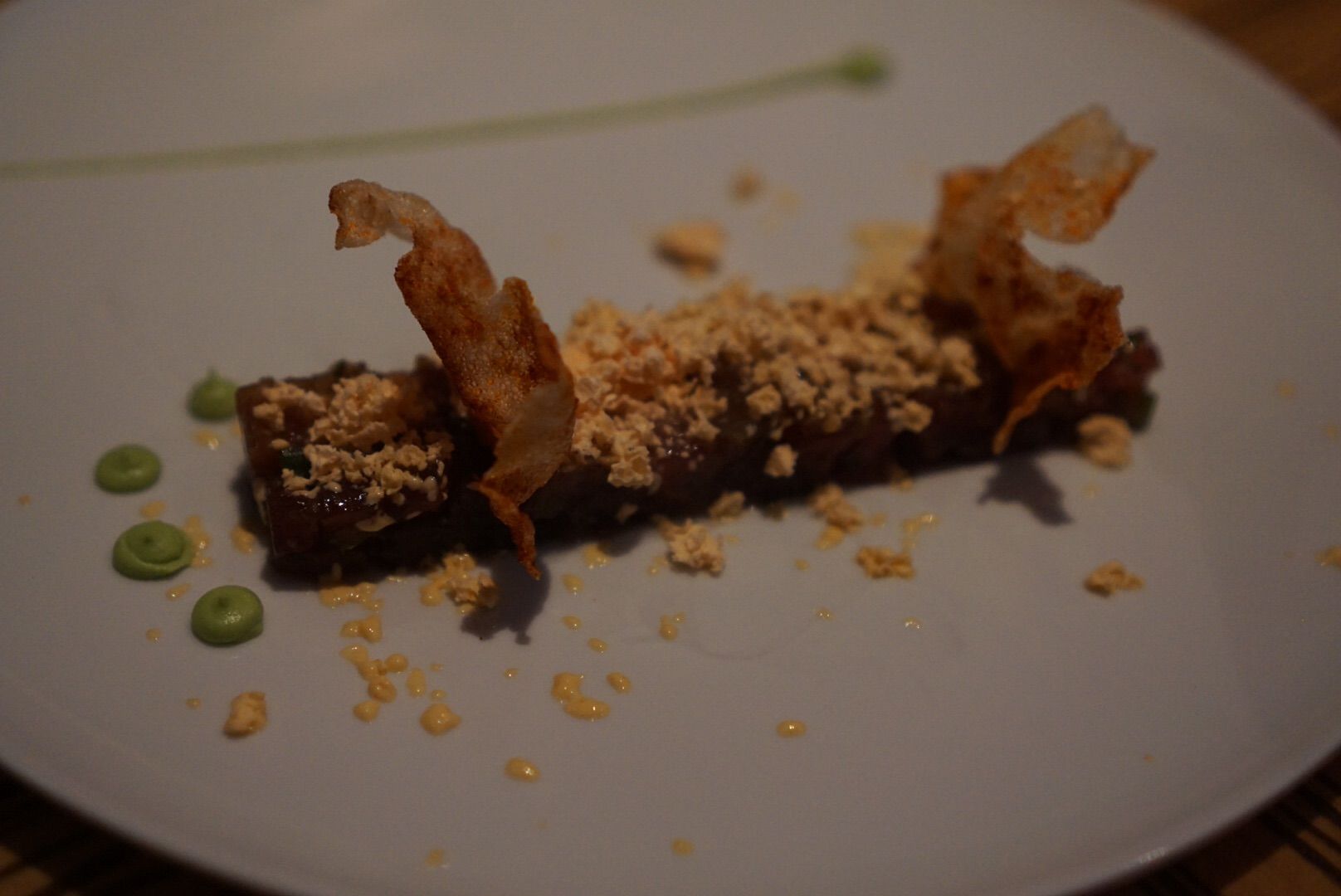 Yellowfin Tuna Tartare with Miso Caviar, Scallion Cream. and Nitro Sriracha Aioli – $18.00
Nicole's review: "One of my favorite foods ever! This is miso marinated chopped raw tuna. What really makes this dish is the nitro sriracha aioli. Imagine dippin dots made of spicy sriracha mayo. The presentation is cool, as it is brought out smoking from the nitro. The wasabi sauce is really good too. Put it all together and you have a really tasty dish. I know I rave about this almost every time , but I just can't describe how much I love this dish!"
As for me, I started with their Seasonal Salad…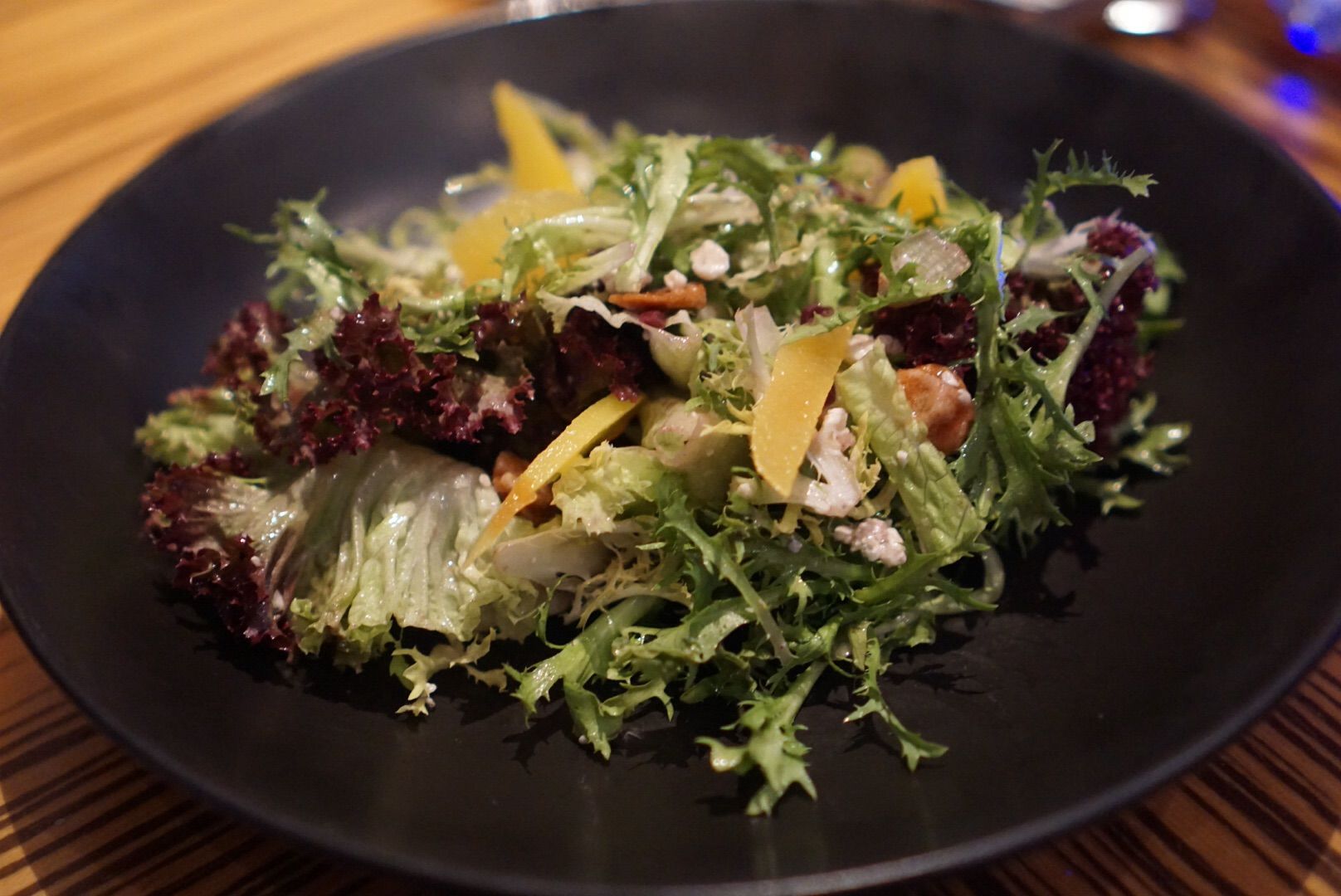 Fall Pear Salad with Saffron Poached Pears, Mixed Lettuces, Marcona Almonds, Point Reyes Blue Cheese, and Port Vinaigrette – $14.00
I liked everything about this salad except that the mixed lettuces turned out to be mostly frisee, which is my least favorite type of lettuce. Otherwise it was very good.
Now for our entrees, chosen from this section of the menu…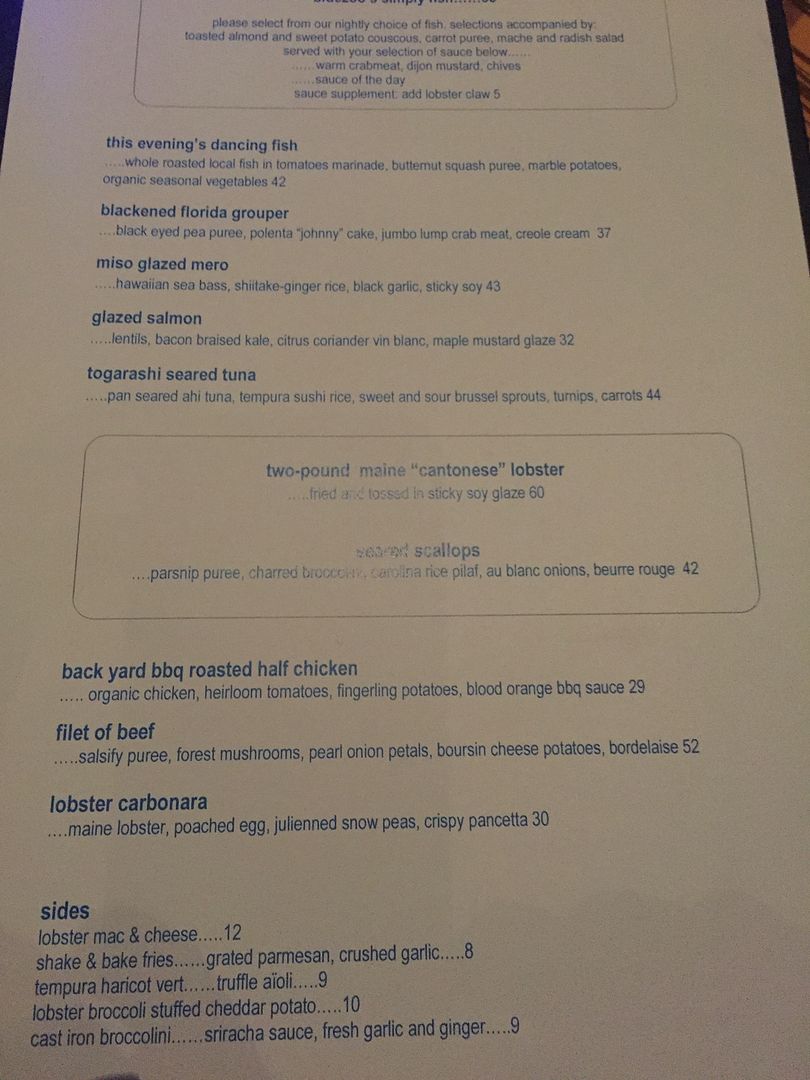 Nicole went with the…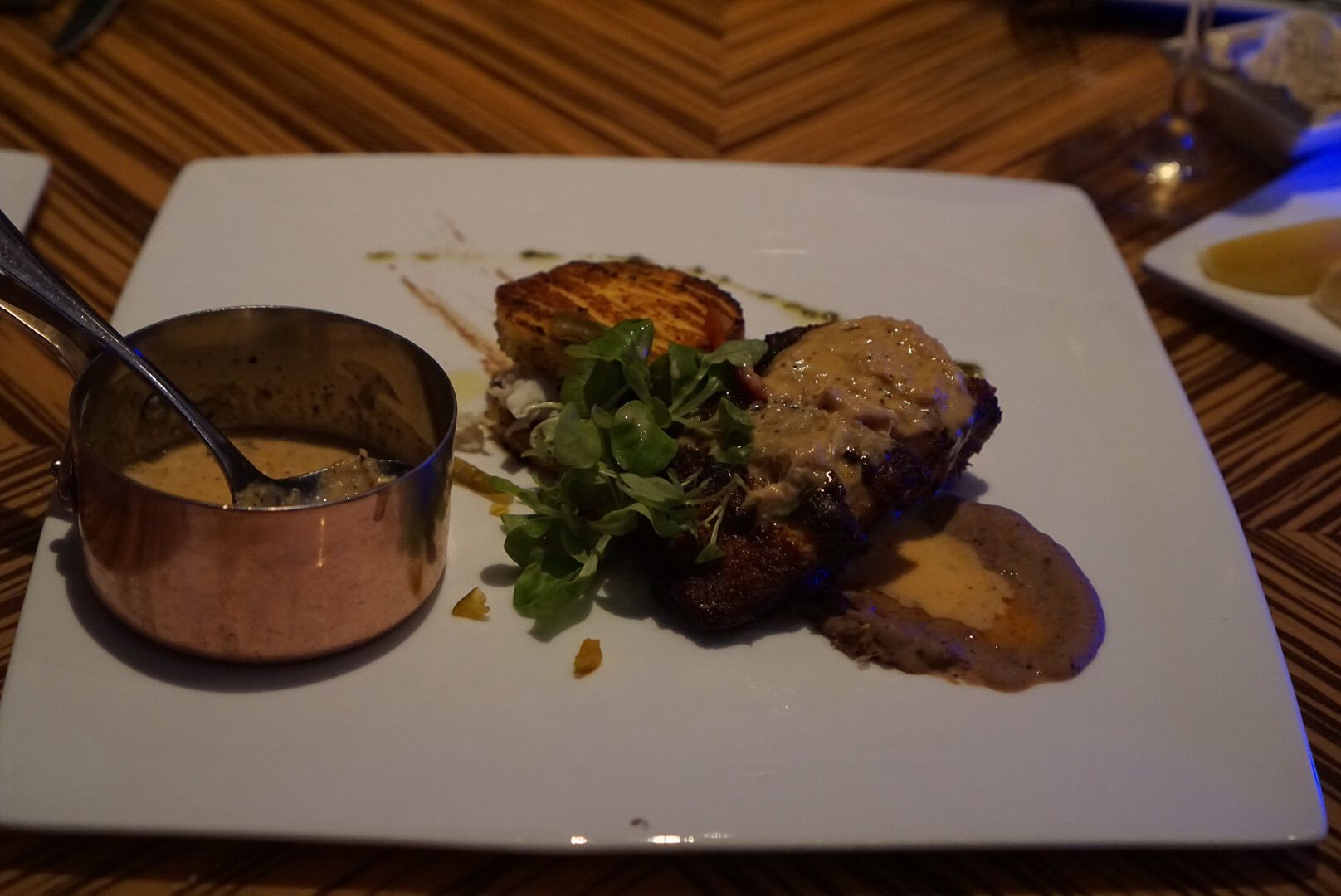 bluezoo's Simply Fish – select from our nightly choice of fish accompanied by toasted almond and sweet potato couscous, carrot purée, mache and radish salad. Served with your selection of sauces – warm crab meat, dijon mustard, chives or sauce of the day – $36.00
From another angle…
Nicole chose the blackened grouper for her fish and the warm crab meat sauce.
She said, "The fish was very mild in flavor and the texture was meaty. The crab sauce was fabulous!! Huge chunks of crab really made this sauce delicious."
Mike went with their Dancing Fish, which was on display in the front of the restaurant…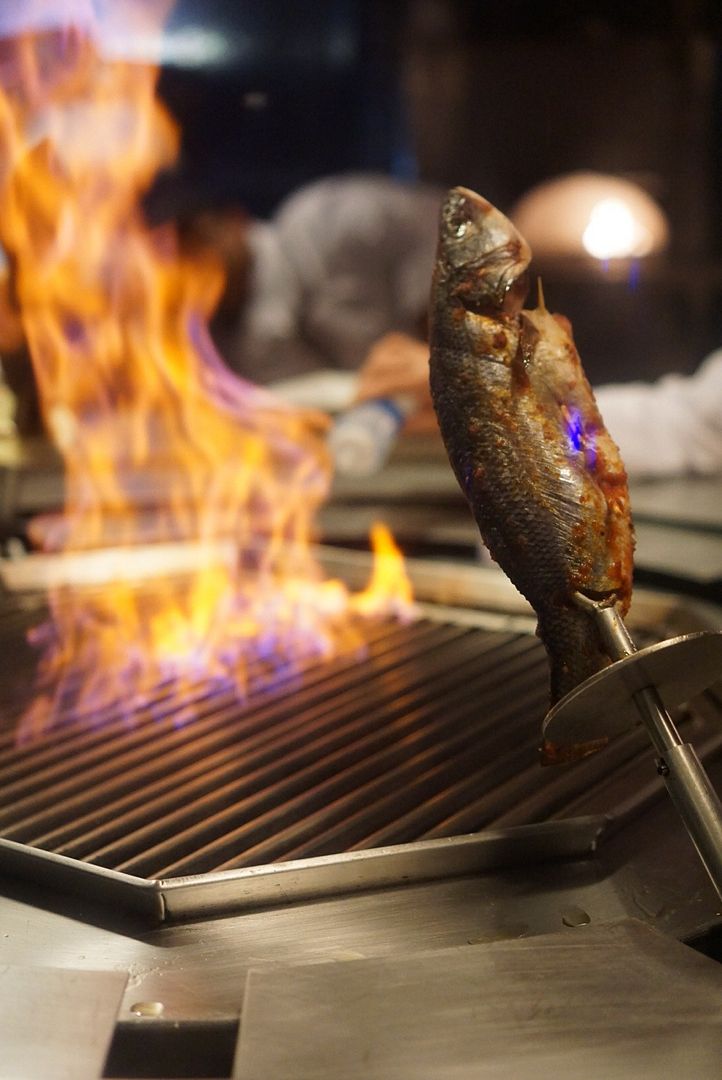 And here is Mike's Dancing Fish…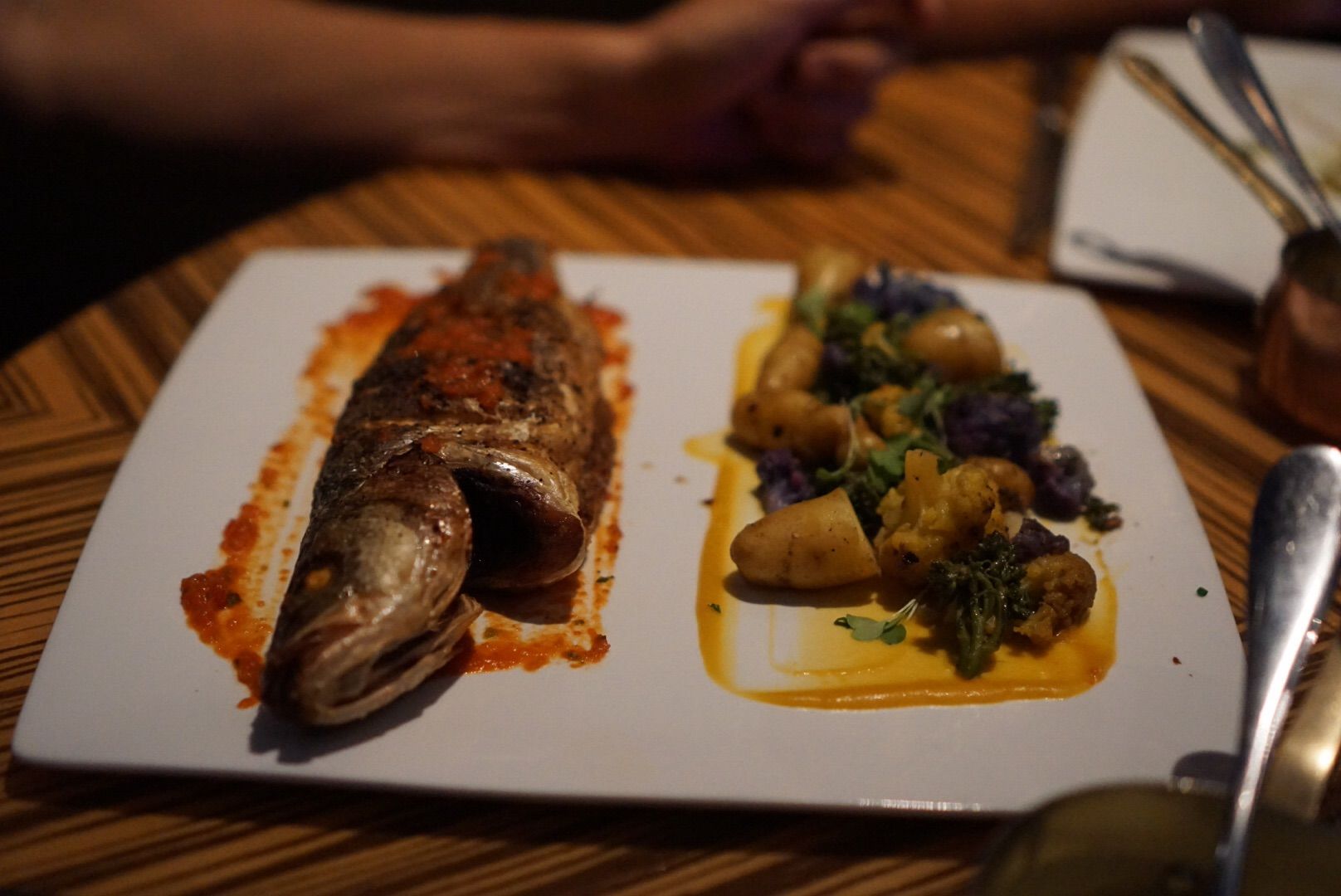 Whole Roasted Local Fish in Tomatoes Marinade, served with Butternut Squash Puree, Marble Potatoes, and Organic Seasonal Vegetables – $42.00
From another angle…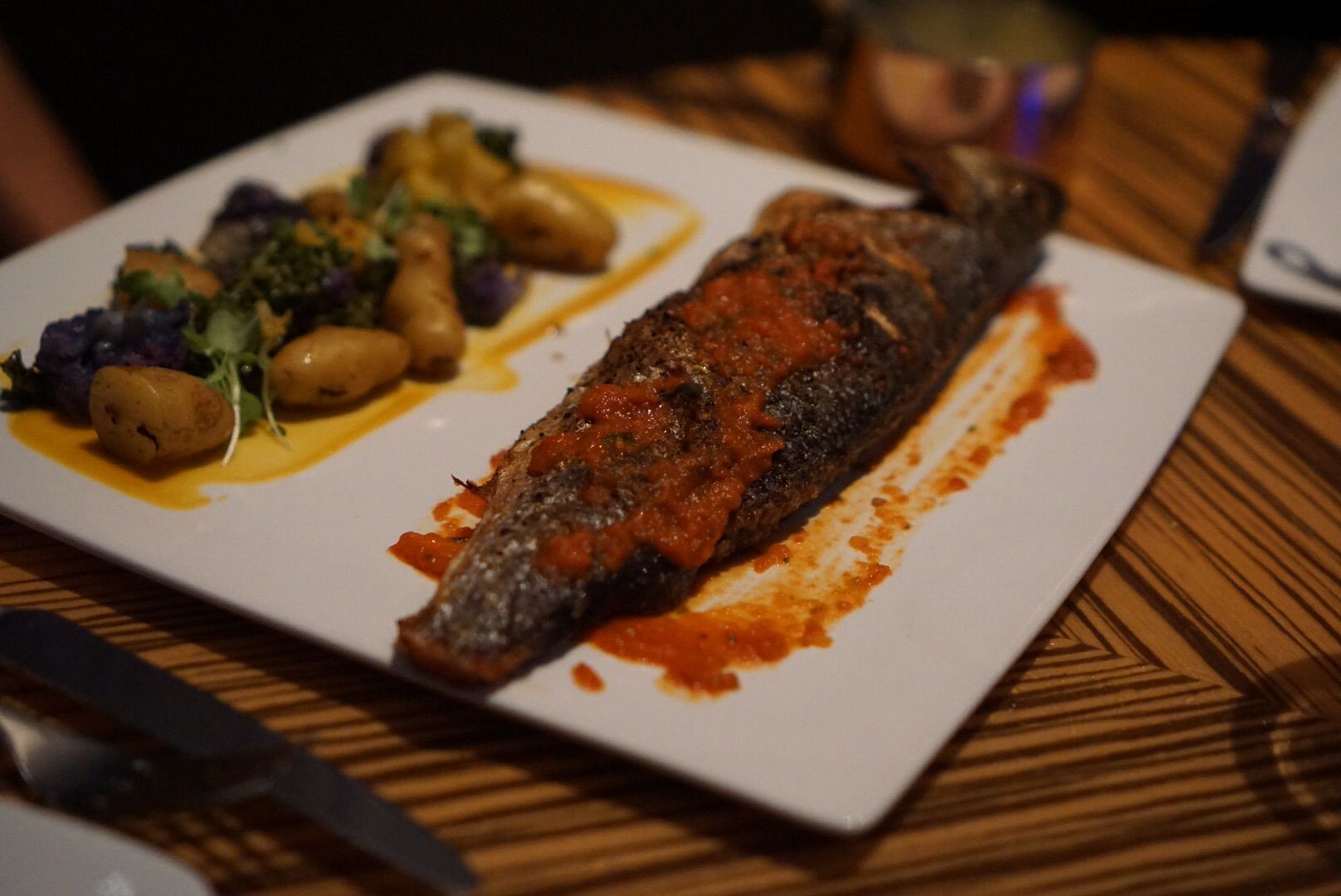 I believe this was branzino (a type of sea bass). Mike was asked how he wanted this served and he chose to have it whole, so not deboned and with the head intact. He loved it!
As for me, I chose Turf instead of Surf for my entree…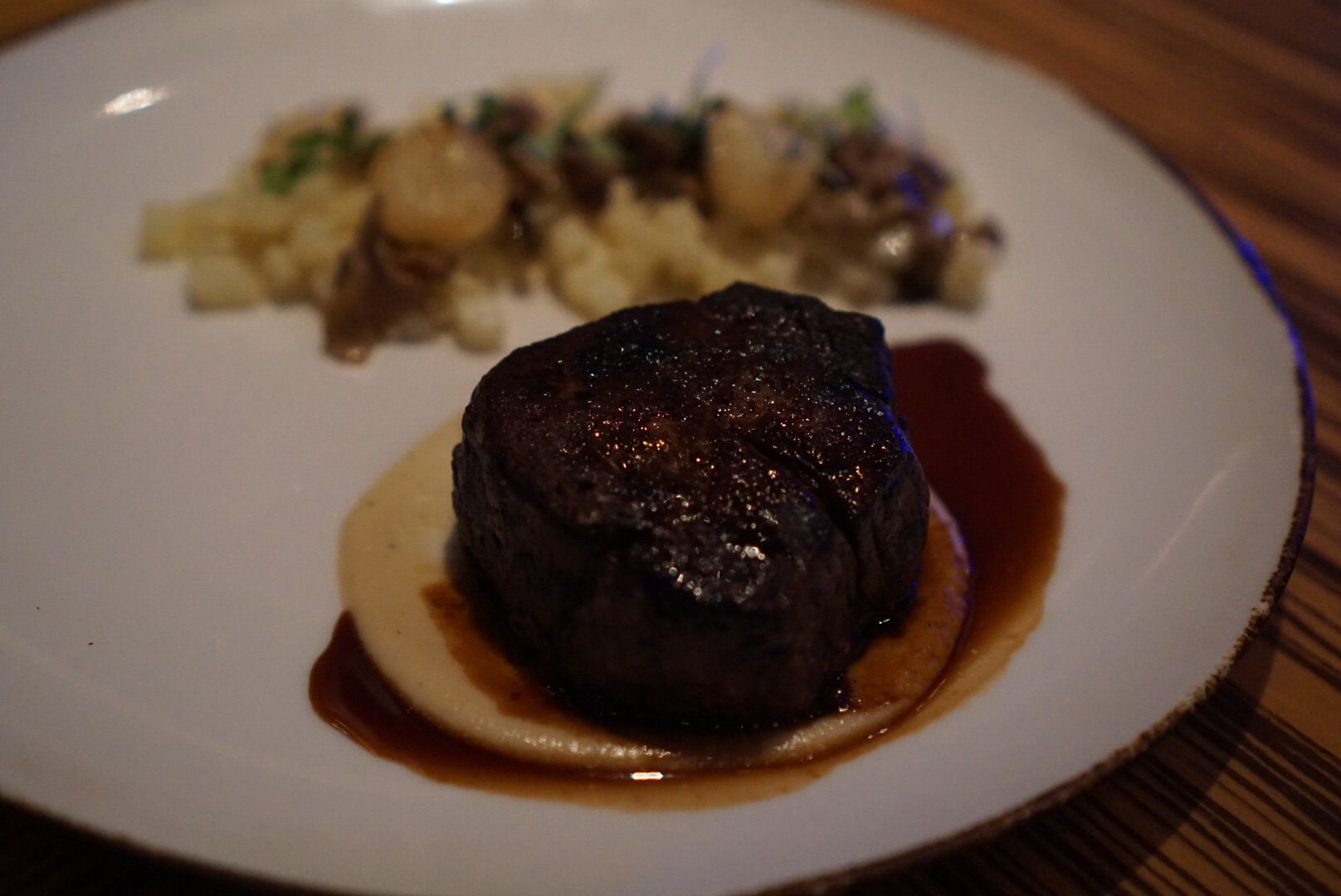 My Filet of Beef ($52.00) was very good! Although I ordered it cooked medium, I believe it was medium well. This was not a problem though since the meat was well-seasoned and the bordelaise sauce was delicious. This was the best steak of my trip!
Served with my filet was this wonderful side dish…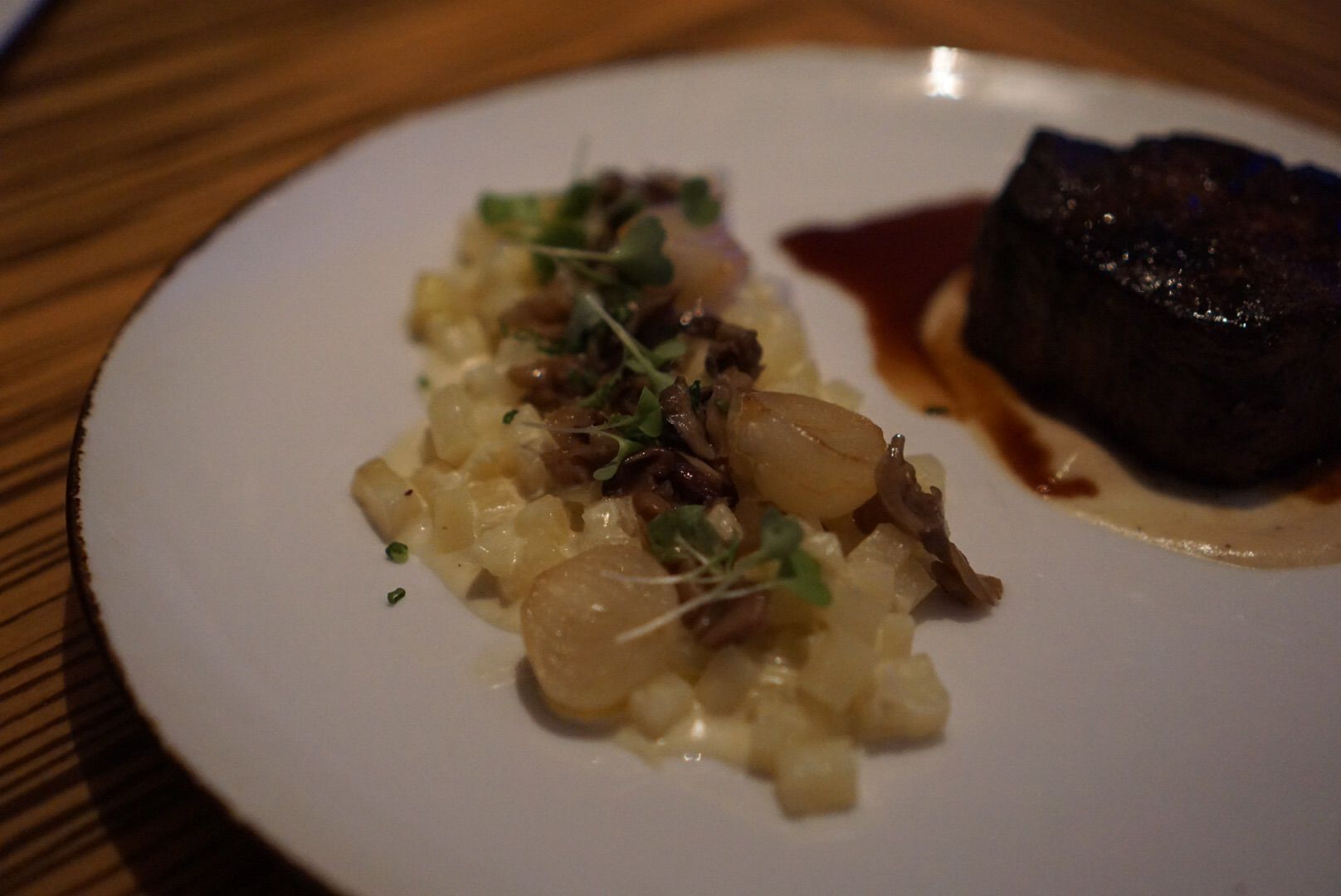 Boursin Cheese Potatoes with pearl onions and forest mushrooms
Cheesy hash brown (diced) potatoes topped with thinly sliced and sauteed, fresh mushrooms…simple, yet so delicious! This was one of my favorite entree/side dish combos of the trip. Consequently I ate every bite and was way too full to think about dessert.
But Nicole and Mike were up for dessert…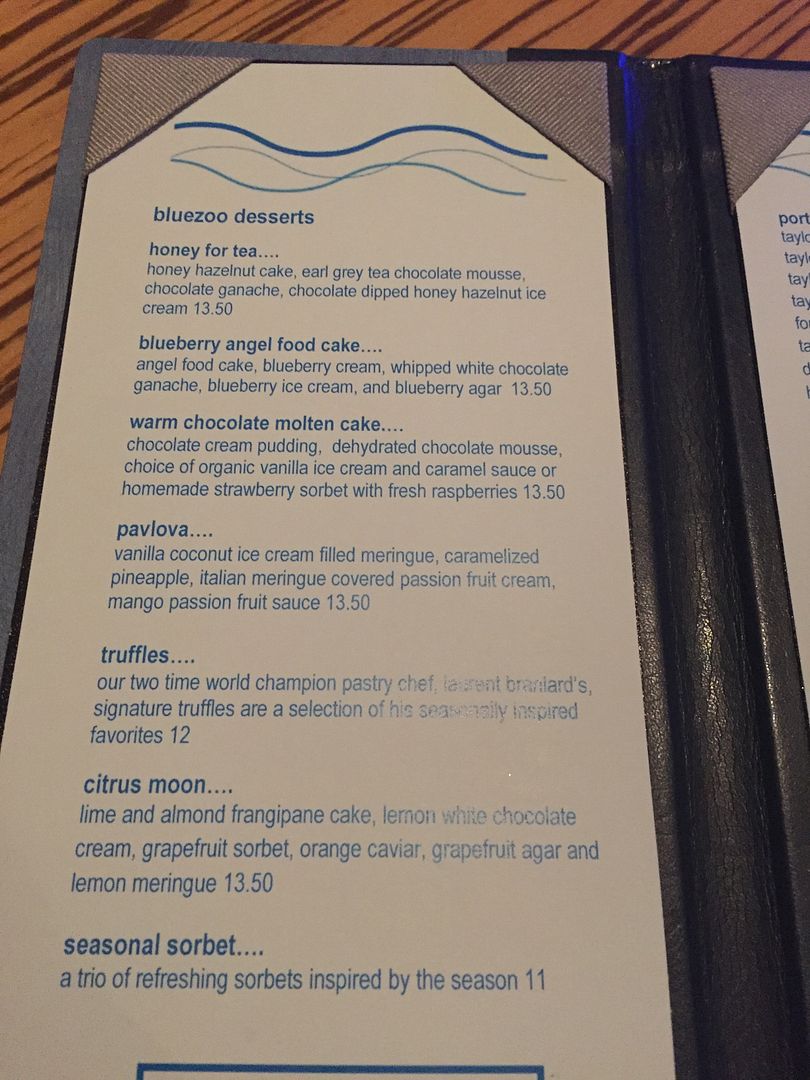 They chose the Honey for Tea…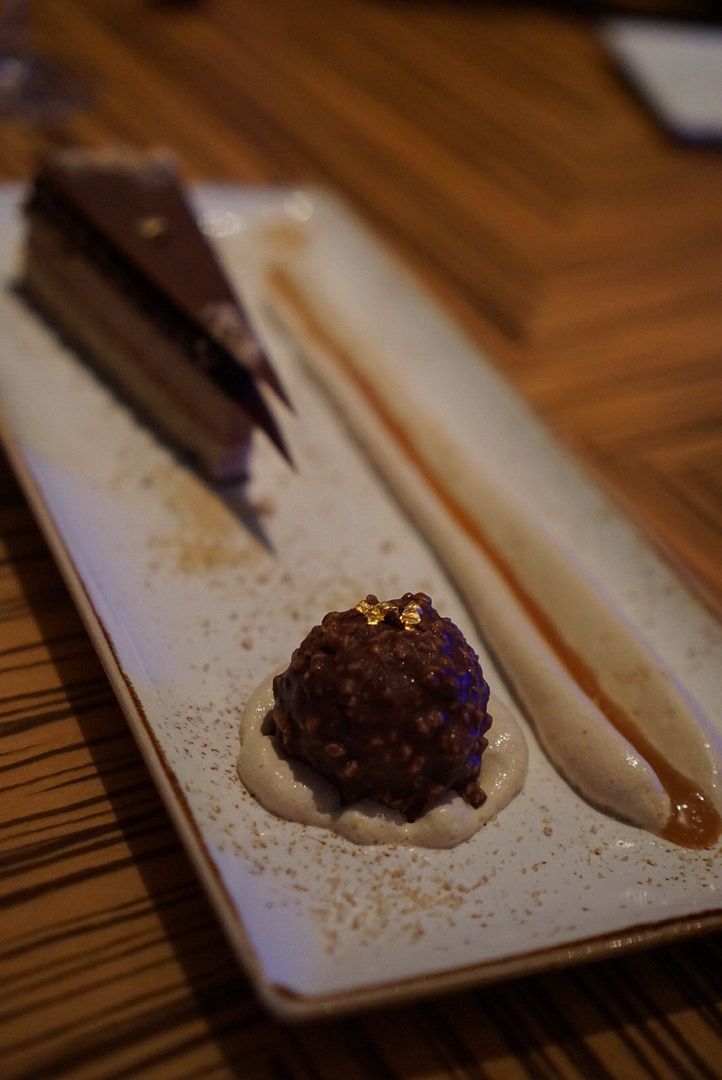 Wow, there was so much going on with this dessert! Let's begin with the cake. The bottom layer was honey hazelnut flavored. The next layer was Earl Grey tea and chocolate mousse and the top was chocolate ganache. The ball at the other end of the plate was honey hazelnut ice cream dipped in chocolate. I believe the foam stripe on the side of the plate, as well as the foam sitting underneath the ice cream ball, had a hint of honey flavor. And then the sauce which topped the foam stripe was hazelnut flavored I think. Nicole and Mike seemed to enjoy their dessert. Sadly I was too full to even think about partaking of this.
In addition to great food, we also received top-notch service here. So I was a little surprised to see that Yelp reviewers gave bluezoo only 3 1/2 stars. Trip Advisor reviewers though gave it 4 1/2 stars, which is more in line with my thoughts. Bluezoo also ranks #94 among the nearly 3,000 Orlando area restaurants reviewed on Trip Advisor. Narrowing this down to just the Disney World area eateries, bluezoo ranks #26, which is in the top 10%. Of the restaurants I tried on this trip, only Narcoossee's and Chef Art Smith's Homecomin' rank higher on Trip Advisor.